French Vanilla Pastry Cream (crème pâtissière)
An easy-to-follow basic vanilla pastry cream recipe. You will find the step-by-step instructions on how to make a smooth and beautiful French pastry cream.
This is a recipe for vanilla pastry cream that is easy to follow and delicious. This French pastry cream is made with a base of egg yolks, sugar and milk, and a little cornstarch to help the cream thicken up. You will find all the tips to a smooth pastry cream, the base of many desserts and fillings, as is the case with this Gateau Basque recipe which is filled with pastry cream and cherry jam. You will also learn that pastry cream is the base of many desserts and creams in French pastry. This basic crème pâtissière recipe will give you the freedom to create your own cake fillings using this as a base recipe for your creations.
Ingredient Notes
Milk: use whole milk.
Vanilla bean: this is used to flavor the pastry cream. You can leave it out and make a plain pastry cream. Or replace it with good quality vanilla extract.
Egg yolks: fresh ones are recommended.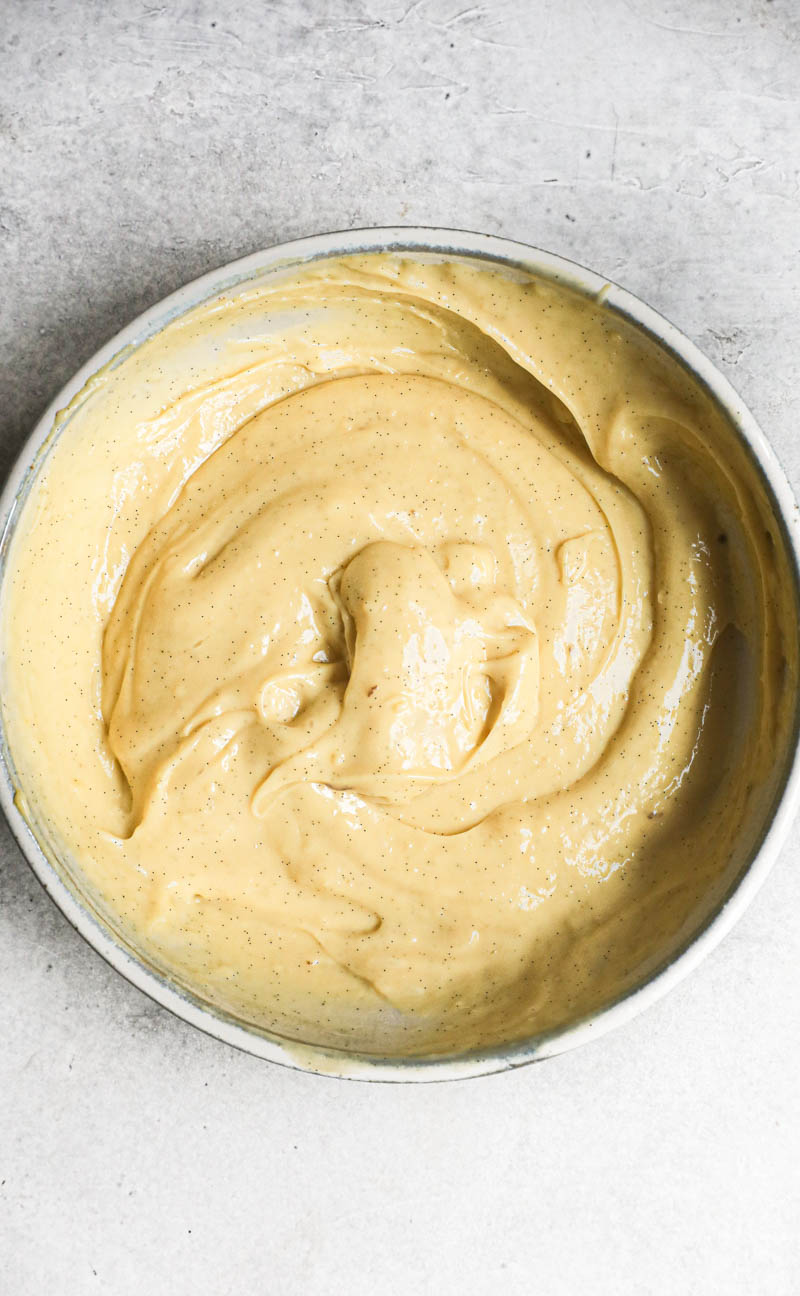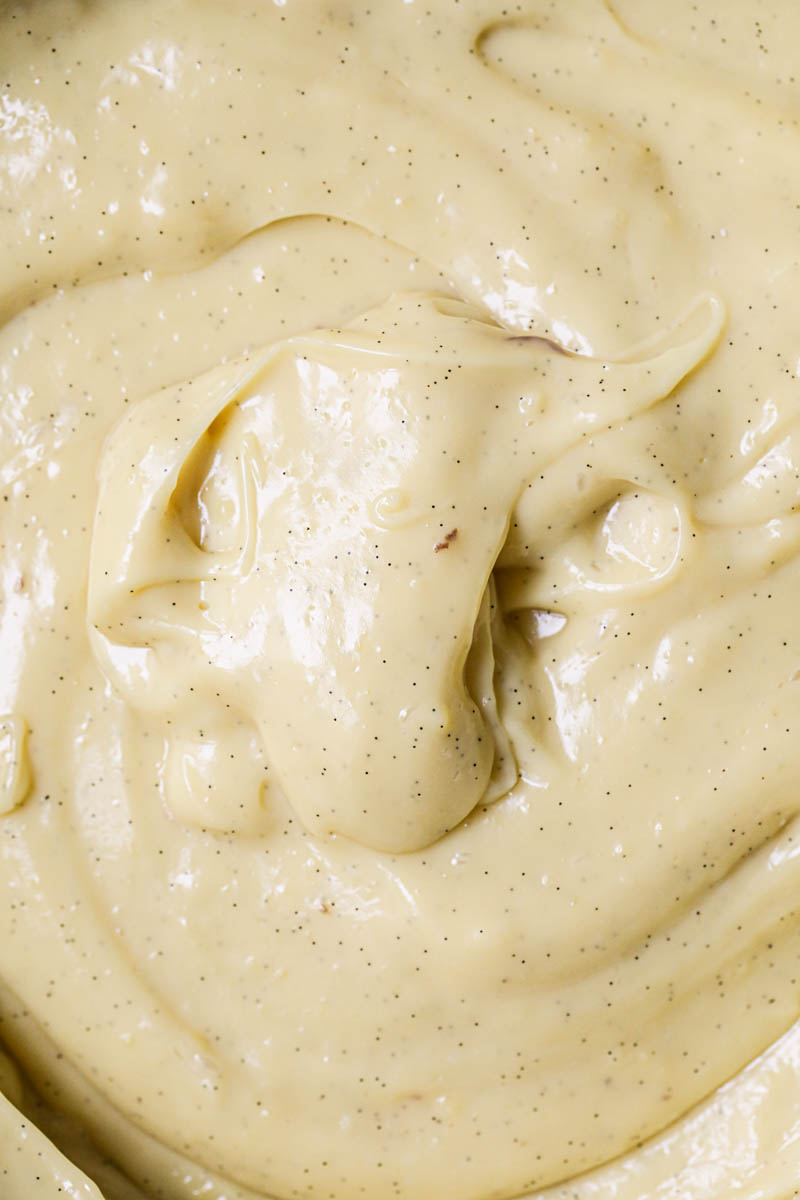 How to make this recipe
To make this vanilla pastry cream you simply must:
Whisk the egg yolks, sugar, and cornstarch
Bring the milk vanilla and ½ the sugar to a boil
Whisk in half the milk/sugar mixture over the egg yolks
Pour this mixture onto the remaining milk
Bring the pastry cream to a boil and cook for an extra minute while mixing energetically
Transfer to a container, cover with saran wrap, and refrigerate until it has completely cooled down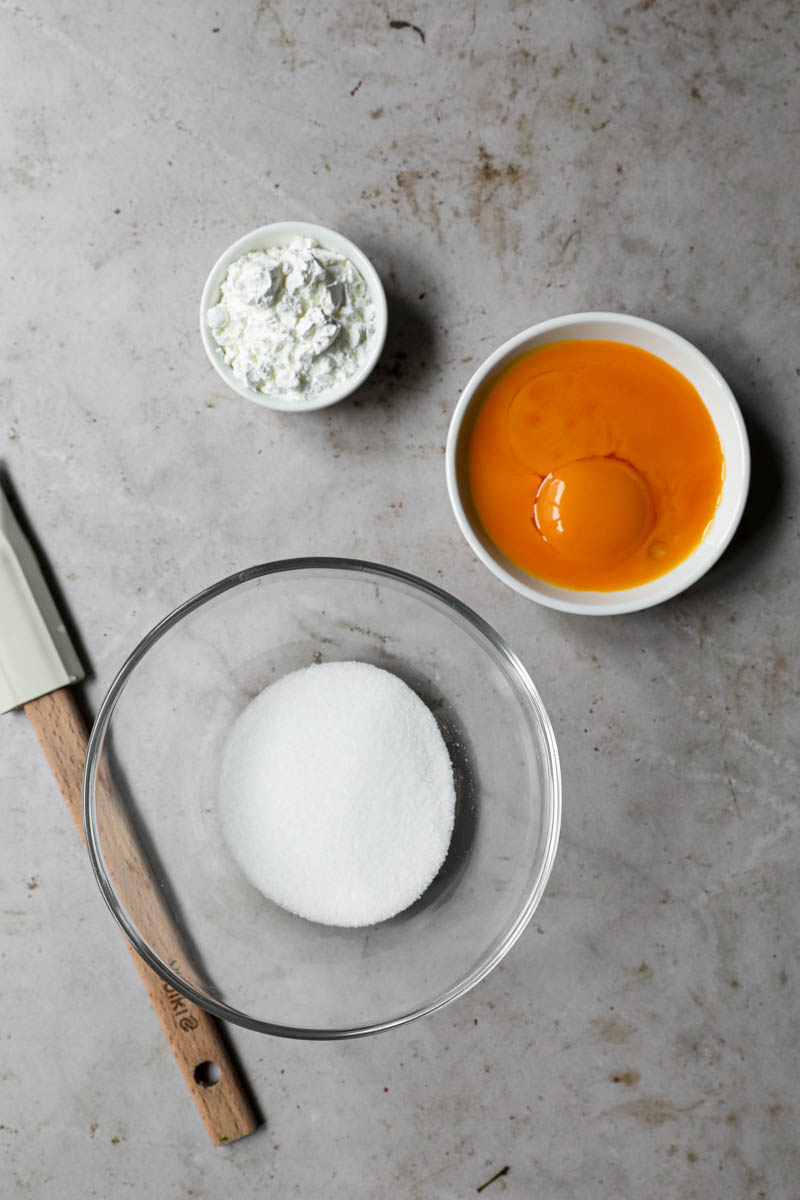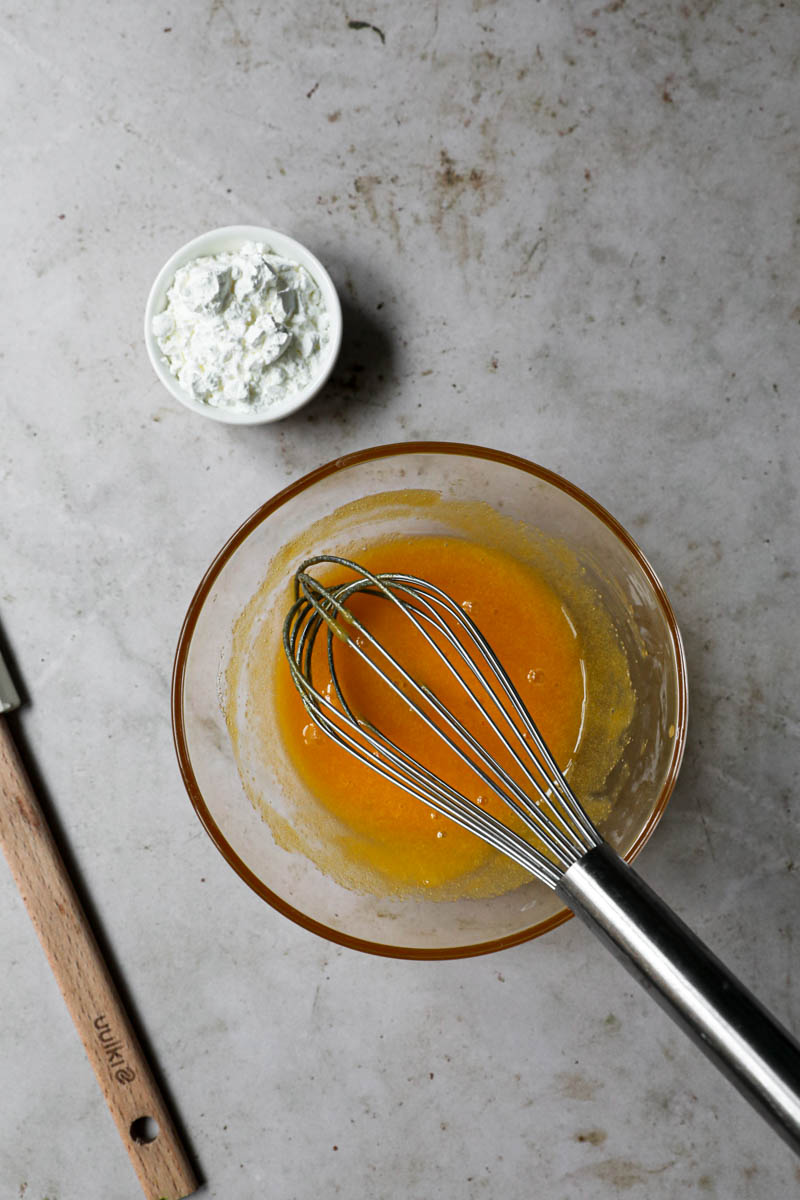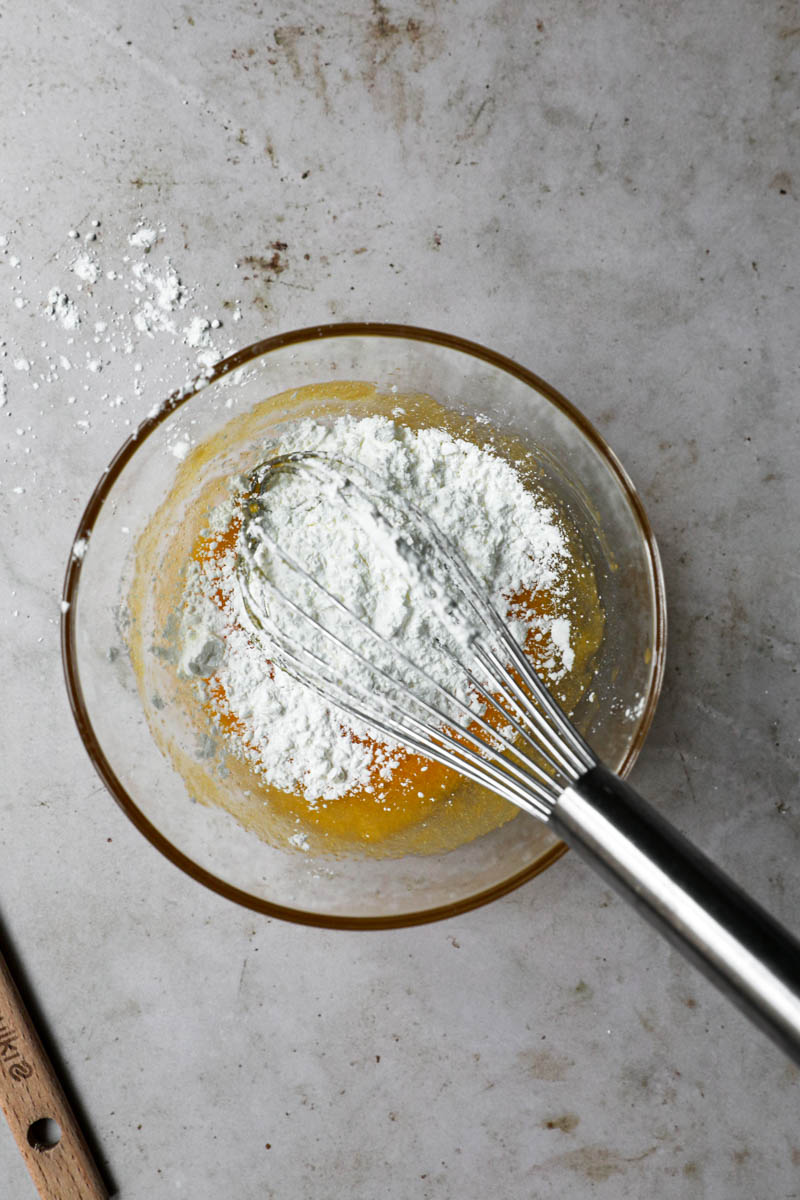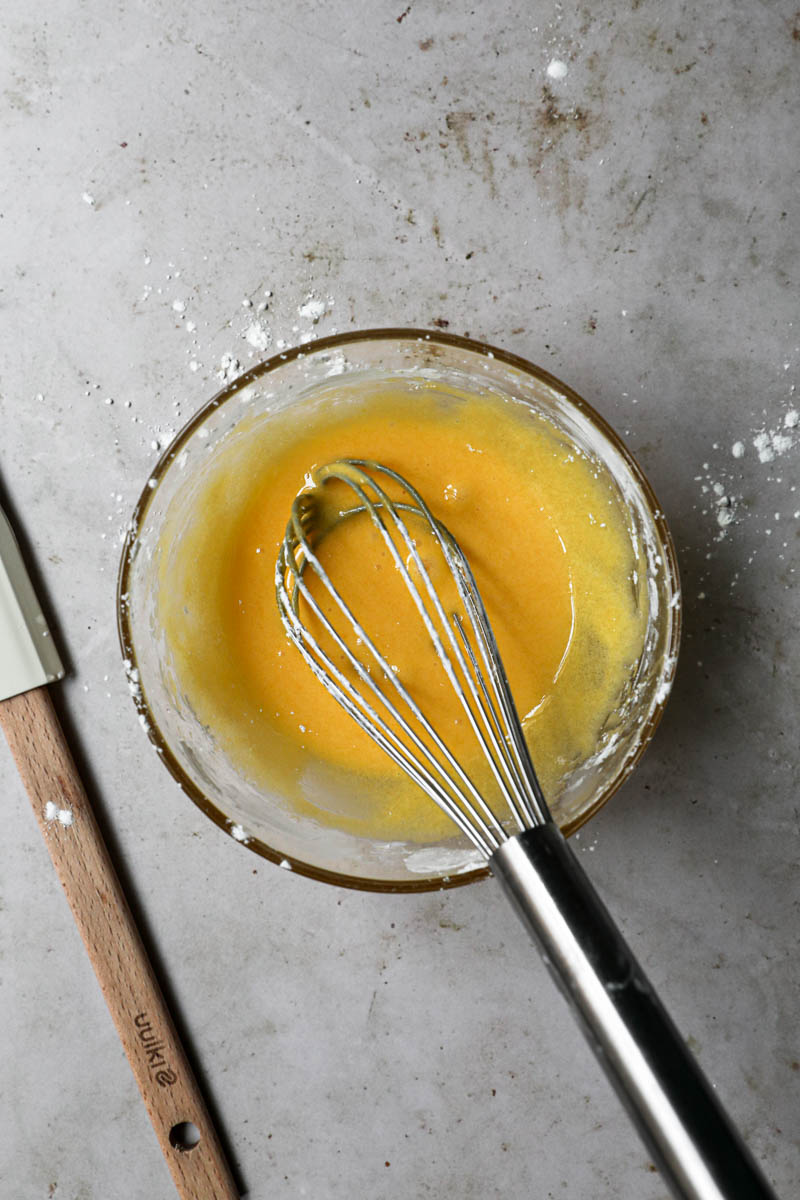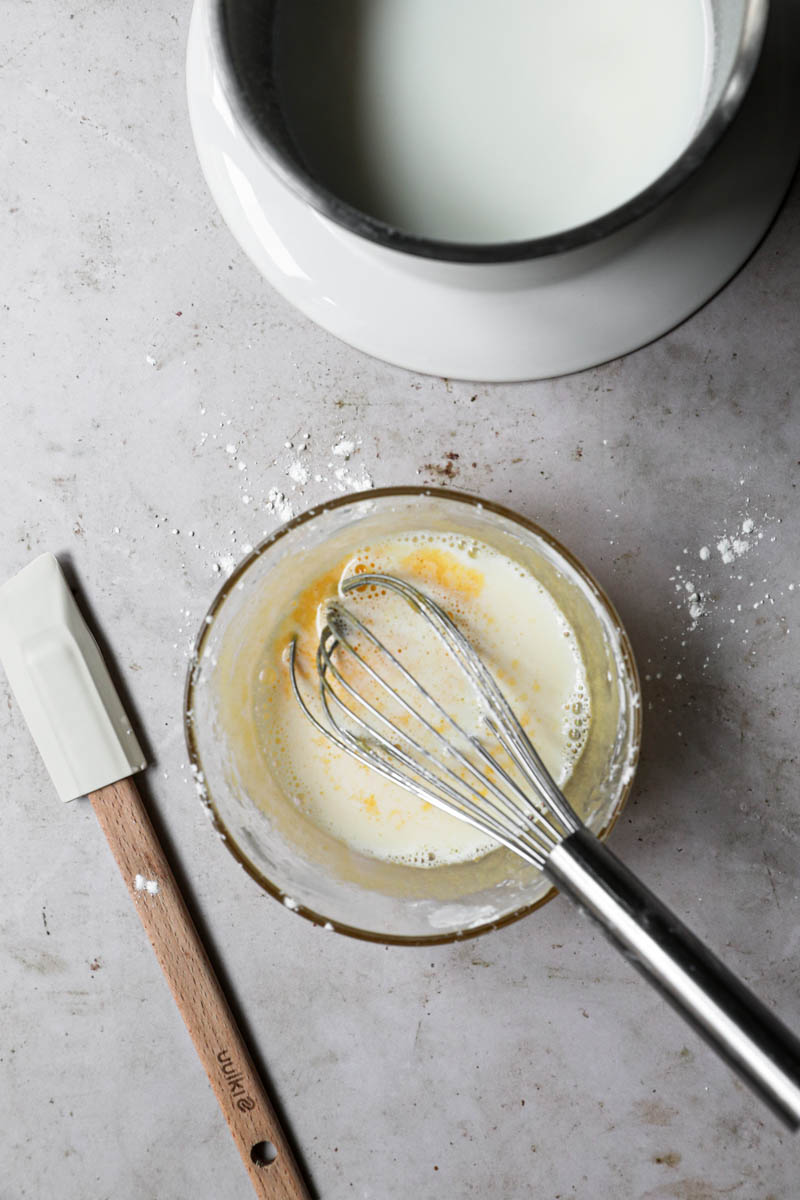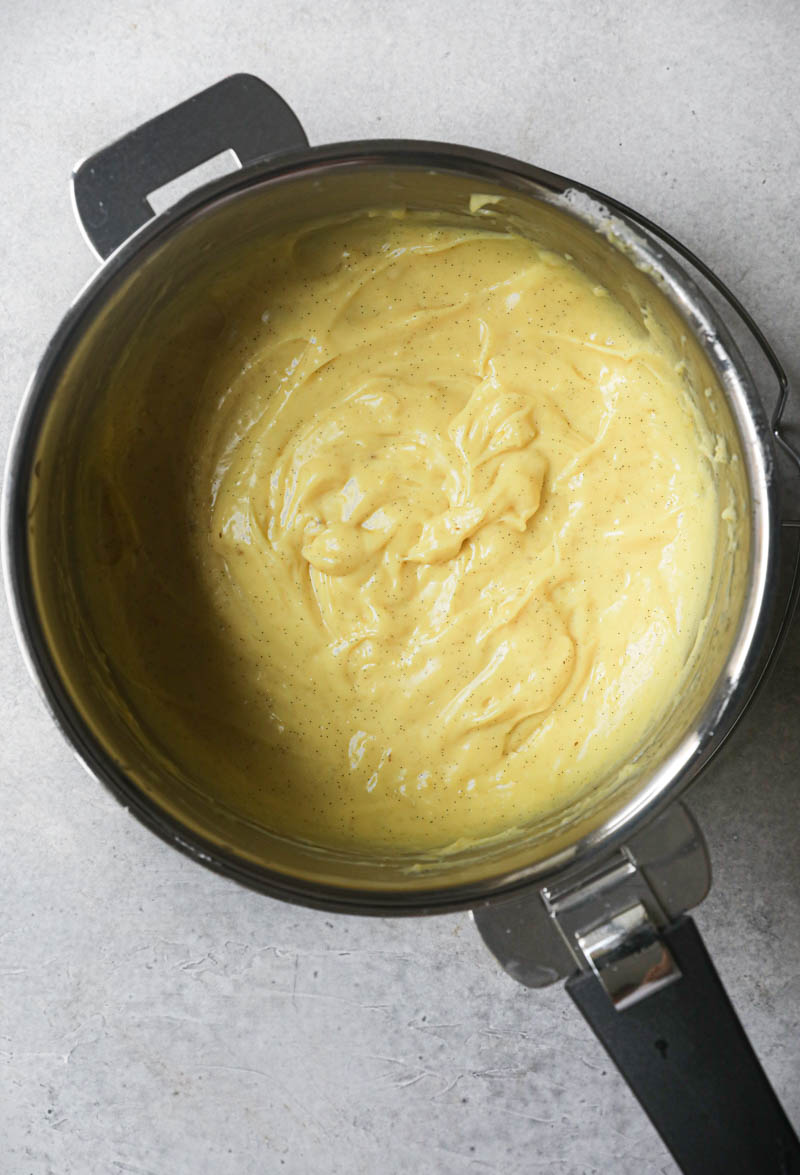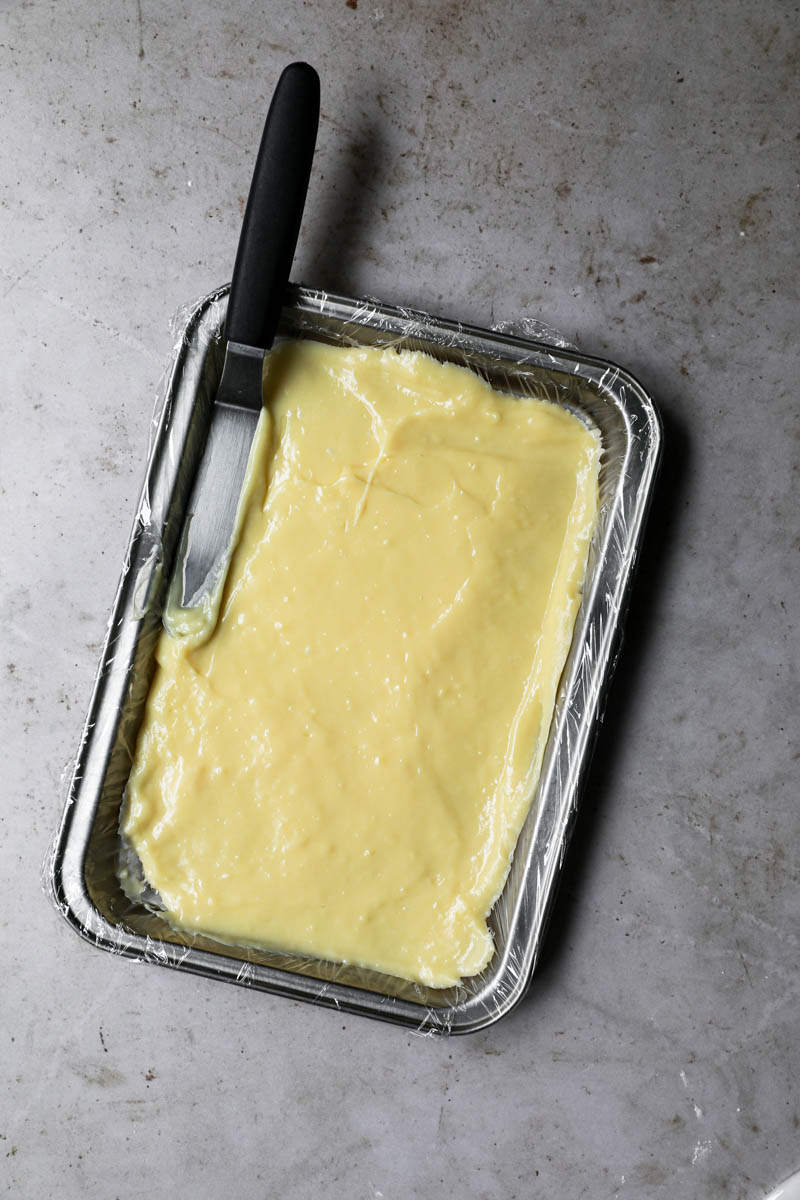 Recipe Notes
Scrape the vanilla bean and add the seeds into the milk along with scraped been.
If you are replacing the bean with vanilla extract, it should be added in with the egg yolks.
When you add the sugar to the egg yolk, mix immediately or the sugar will burn the egg yolks and your pastry cream will turn out lumpy!
You can place a kitchen towel around the bowl with the yolks/sugar so that it remains stable when you whisk in the milk.
Only half the milk is poured onto the yolks so that the pastry cream can cook faster.
Make sure to have 2 clean rubber spatulas on hand: one for manipulating the raw egg yolks, one for removing the pastry cream from the pan once it's cooked.
When the pastry cream has come to a boil, continue to whisk as fast as you can for about a minute. This will help smooth out the pastry cream!
To make the pastry cream cool down quicker: cover a baking tray with saran wrap, transfer the pastry cream onto it, and evenly spread it out. Then cover with saran wrap and refrigerate right away.
Expert Notes
Pastry cream is used when completely cooled off, except if you are making souffle. In that case keep it warm over a water bath until ready to use.
Pastry cream is not to be confused with vanilla custard. The difference being the latter only needs to be cooked to 82 C° (not boiled) and it has no corn-starch to thicken it as does the pastry cream. It is much runnier, and it is used as a base recipe for ice creams, ganache, and French buttercream among other things.
Making Ahead
This French vanilla pastry cream can be made ahead of time, kept in the refrigerator (properly wrapped), or inside a hermetic container for 5 days. It is idealto make ahead of time if you will be using it as a filling for other pastries or cakes.
Storage Tips
Whipping cream: must be whole fat cream: over 35 % of fat content.
Vanilla pastry cream can be kept in the refrigerator properly stored in a hermetic container for up to 5 days.
Smooth it out using a whisk before using it to fill your pastries.
Freezer Instructions
It can be frozen for up to 3 months if properly stored in a hermetic container. However, the texture and the taste may be slightly altered. I personally never freeze pastry cream.
Pastry cream: the base for other known creams in French Pastry
Pastry Cream
Pastry Cream + almond cream = Frangipane Cream
Pastry Cream + Chantilly Cream = Light Vanilla Cream
Pastry Cream + Butter = Mousseline cream
Pastry Cream + Italian Meringue = Chiboust Cream
Pastry Cream + Whipped cream + gelatin = Diplomat Cream
What can pastry cream be used for?
Pastry Cream can be used to create many desserts and fillings. Depending on how you use it:
Pastry cream: to fill donuts, Gateau Basque, eclairs, or to top this Easter Bread for example. It is also used as a base for sweet souffle recipes.
Frangipane Cream: for Pear Frangipane tart, plum almond tart, or classic French King Cake.
Light Vanilla Cream: it is used to make Milles Feuilles. You can download a recipe here.
Mousseline Cream: used to make the classic Fraisier Strawberry Cake for example.
Chiboust Cream: can be used to decorate cakes as an alternative to buttercream for example.
Diplomat Cream: can be used to fill fruit tarts that won't be cooked like this Berry tart, or to fill choux pastry and eclairs too.
Variations to this recipe
Vanilla Pastry Cream can be the base to different pastry cream flavors:
Vanilla pastry cream + chocolate ganache = chocolate pastry cream
Vanilla pastry cream + coffee (added into the milk) = coffee pastry cream
Vanilla pastry cream + lavender (added into the milk) = lavender pastry cream
Vanilla pastry cream + rum (added at the end) = rum pastry cream.
When replacing the milk with juice or fruit puree you can have different fruit pastry cream flavors:
If replaced with lemon juice = Lemon Pastry Cream
If replaced with strawberry puree = Strawberry pastry cream
These are just some examples, but there is no limit to what we can create with French Vanilla Pastry Cream as a base for our dessert fillings!
The ingredients used in all recipes on this site are measured using the metric system. I use a
scale
to be precise with my measurements and ensure good results. If you would also like to use a scale, here are some:
USA
,
Canada
,
UK
,
Australia
,
France
.
Subscribe to the newsletter
Whole Milk

375 g

Vanilla Beans

1

Granulated Sugar

90 g

Egg Yolks

4

Cornstarch

30 g
If you made this recipe I would really appreciate it if you leave a rating or comment below! Also, if you share on social media please use #cookwithbelula, I would love to see what you create!