Seeing berries at my local grocery shop makes me incredibly happy! It means that summer is not far away, that days become longer, and that people smile more. It also means that we can start baking delicious and colourful desserts like this summery tart. This berry is elevated, and your friends and family will love you (even more) for it! It has a layer of raspberry jam, a rich vanilla mascarpone cream and its topped with all the berries you can find! I hope you love it as much as I do!
What will you need to make this berry tart?
Strawberries, raspberries, blueberries
A shortbread crust/pate sable
Raspberry jam
Vanilla mascarpone cream
Rolling pin
A tart tin 20 cm in diameter
Whisk or electrical mixer
How to make the pate sablee?
The most important thing when working with this type of buttery, flaky dough is to not overwork it! Because it will:
Shrink in the oven
Become chewy and not particularly good
For a full step by step, with video included guide on how to make shortbread crust, see Shortbread Crust.
If you do not feel like making the crust, you can use a store-bought version. I prefer homemade 😊.
How to make raspberry jam?
Making raspberry jam (confiture de framboise in French) is easy. Only a few steps and you are done. You can make raspberry jam with frozen berries or fresh berries. Both work for this recipe.
If you can make the jam one night in advance, so much better. If not, there is no problem just make sure it is cold before you use it to assemble de berry tart.
Use a big pot, as the raspberry jam tends to make super big bubbles and it might spill onto your stove (not a fun job to clean this afterwards :).
Mix the raspberries and the sugar, cover in plastic wrap and let it macerate in the fridge overnight.
After maceration, cook over a medium high heat. Bring the raspberry jam to a boil and continue to cook until you have little bubbles of the same size. Because it is not a big quantity, it should not take long, maybe 10 minutes. If you do a larger batch it will take longer.
Note that once raspberry jam boils, it will make big uneven bubbles, then big ones, and finally it should calm down. That is when it is done.
If you can, using a skimmer remove the foam, these are the impurities from the sugar.
Once the raspberry jam is ready, transfer to a hermetic container and let it cool down at room temperature before chilling. Set aside until you are ready to assemble the berry tart.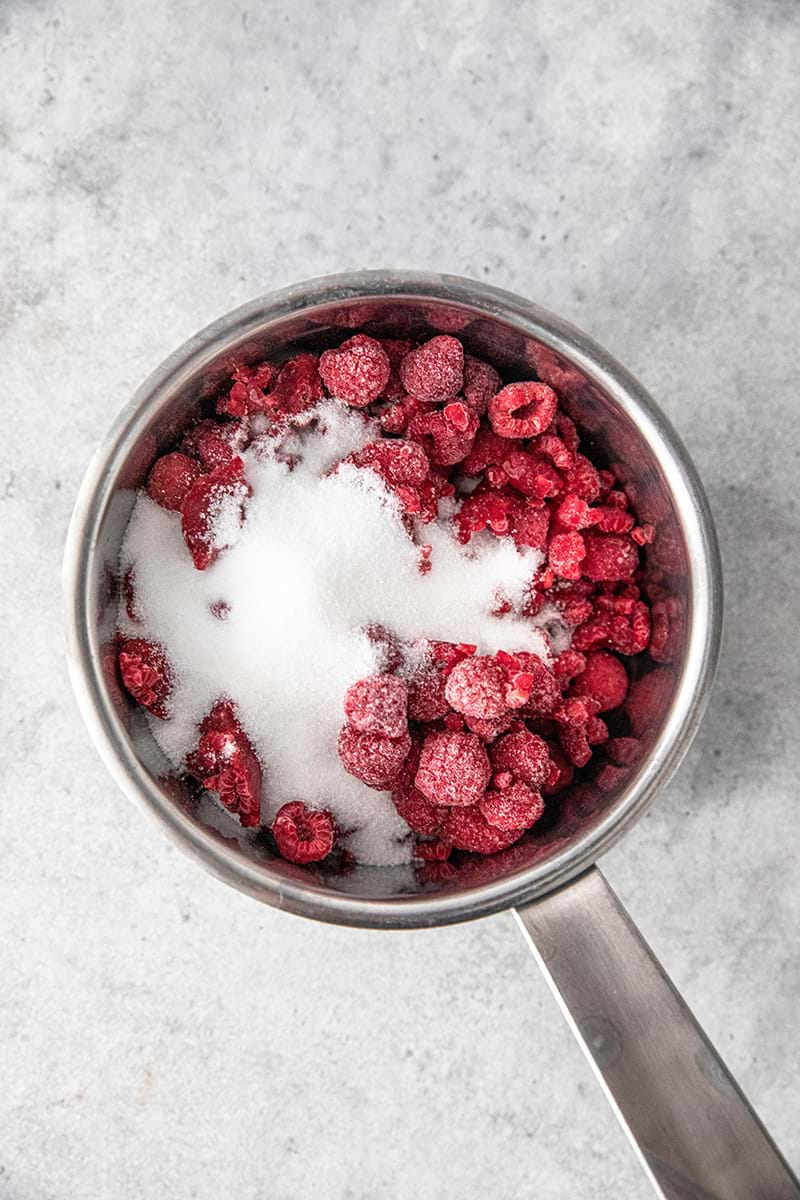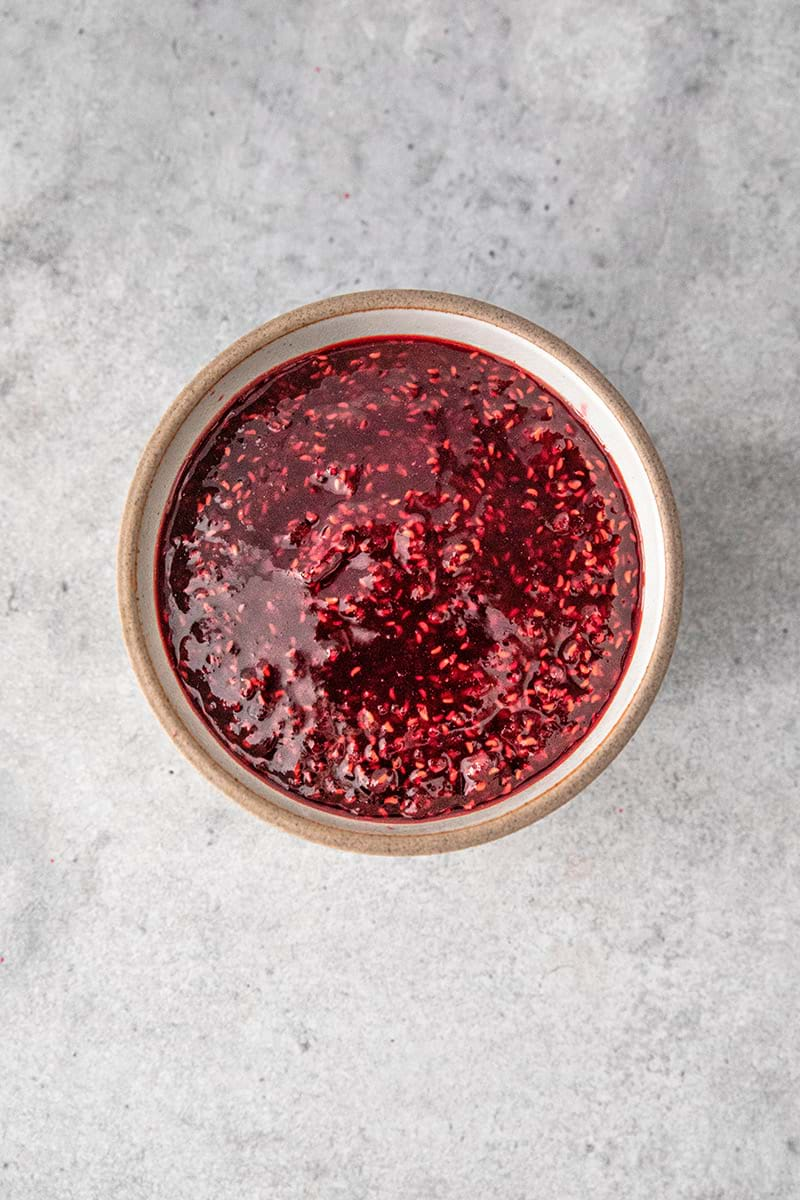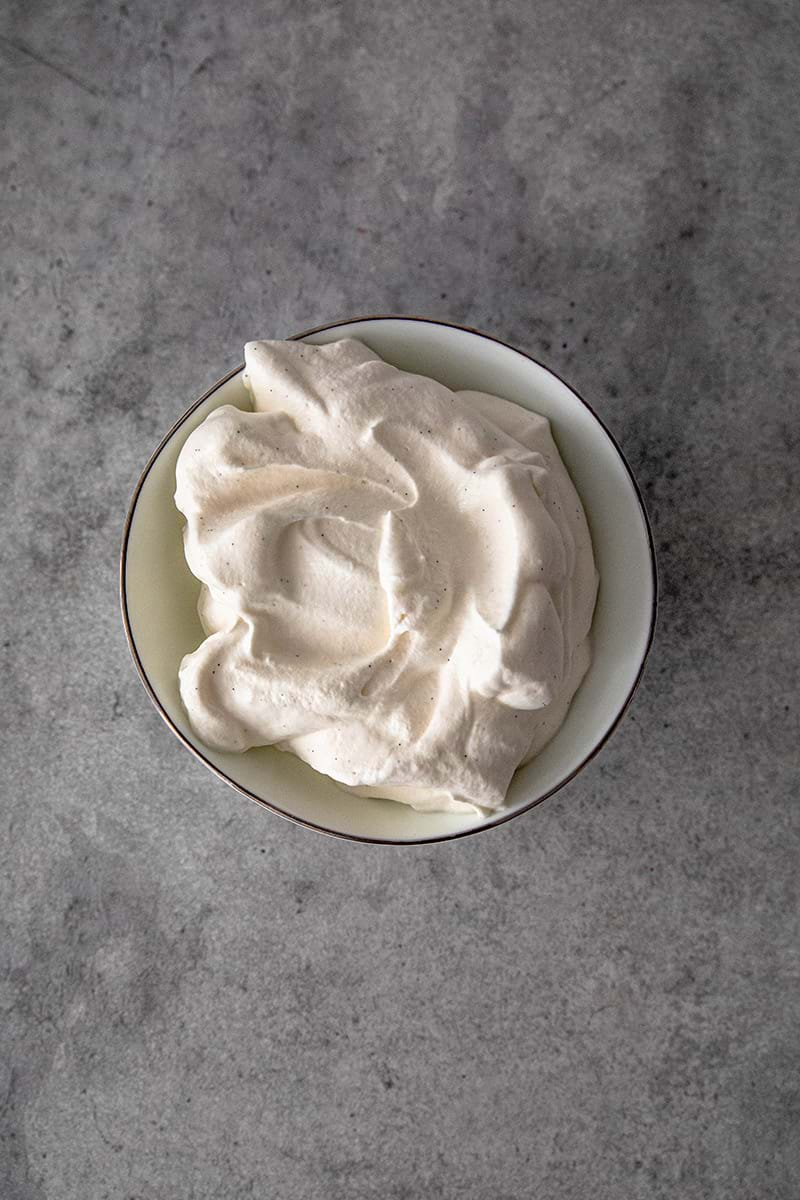 How to store raspberry jam?
If you are making a larger batch and you would want the jam to keep longer, you should transfer to glass jars using a ladle, cover with the lid, and let the cool at room temperature in an inverted position. The lid should be touching your kitchen counter.
Once it has properly cooled down you can transfer to the refrigerator. It keeps for 3 months..
If you would like to go ahead and can your jam so you can keep it at room temperature and make it last longer, you can read all about the canning method here Canning Jam, From Preparing the Jars to Testing the Seal.
How to make vanilla mascarpone cream?
Making vanilla mascarpone cream for this berry tart recipe is rather easy. We are mixing 2 different elements that should have the same texture or be close:
Using a whisk, smooth out mascarpone cheese making sure there are no lumps in it.
In a separate bowl whisk the whipping cream, the vanilla bean seeds, and the powdered sugar until it has formed soft peaks.
Add 1/3 of the whipped cream into the mascarpone and mix until smooth. Fold in the rest of the cream.
You are now ready to assemble the berry tart!
Assembling the berry tart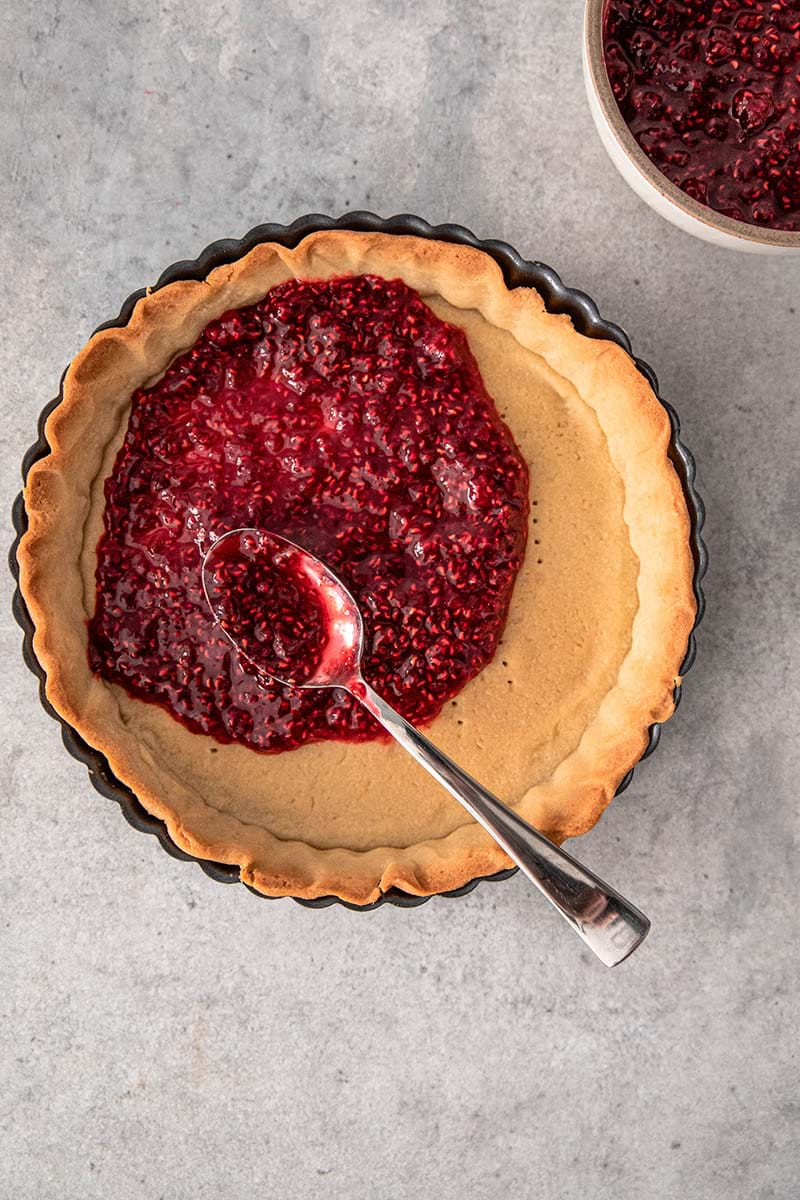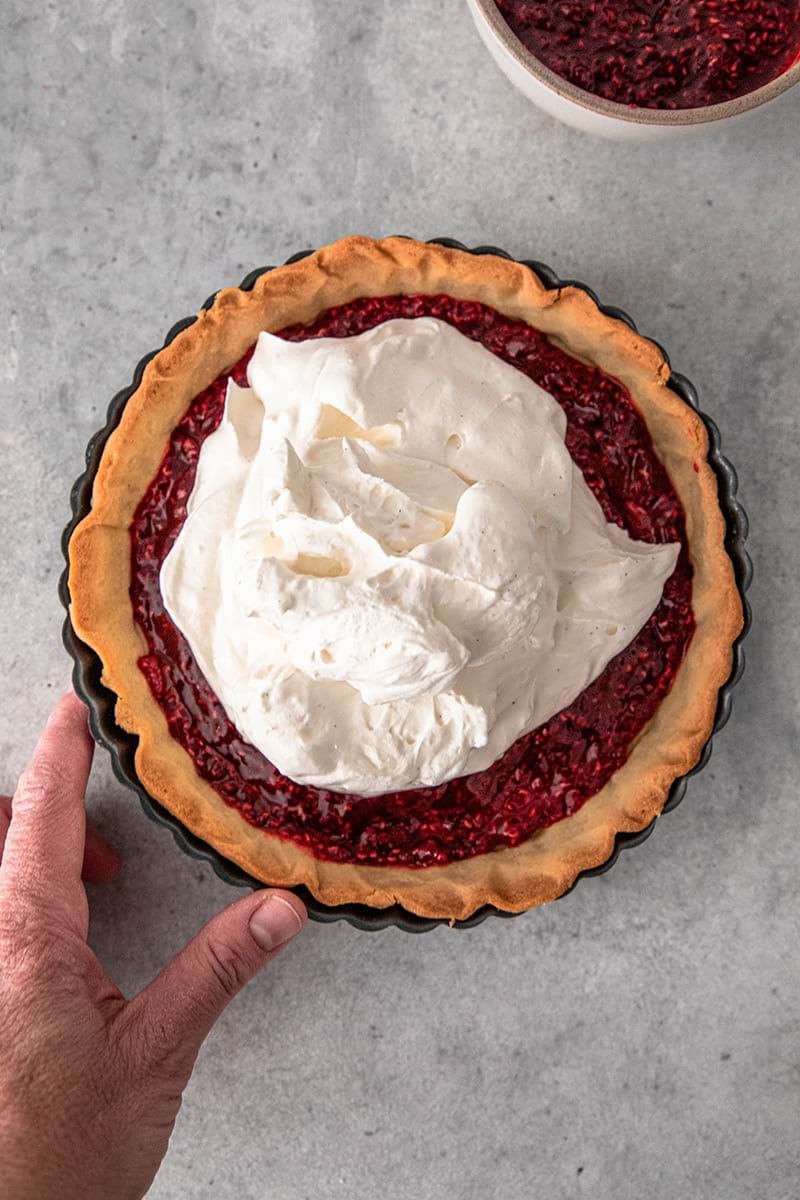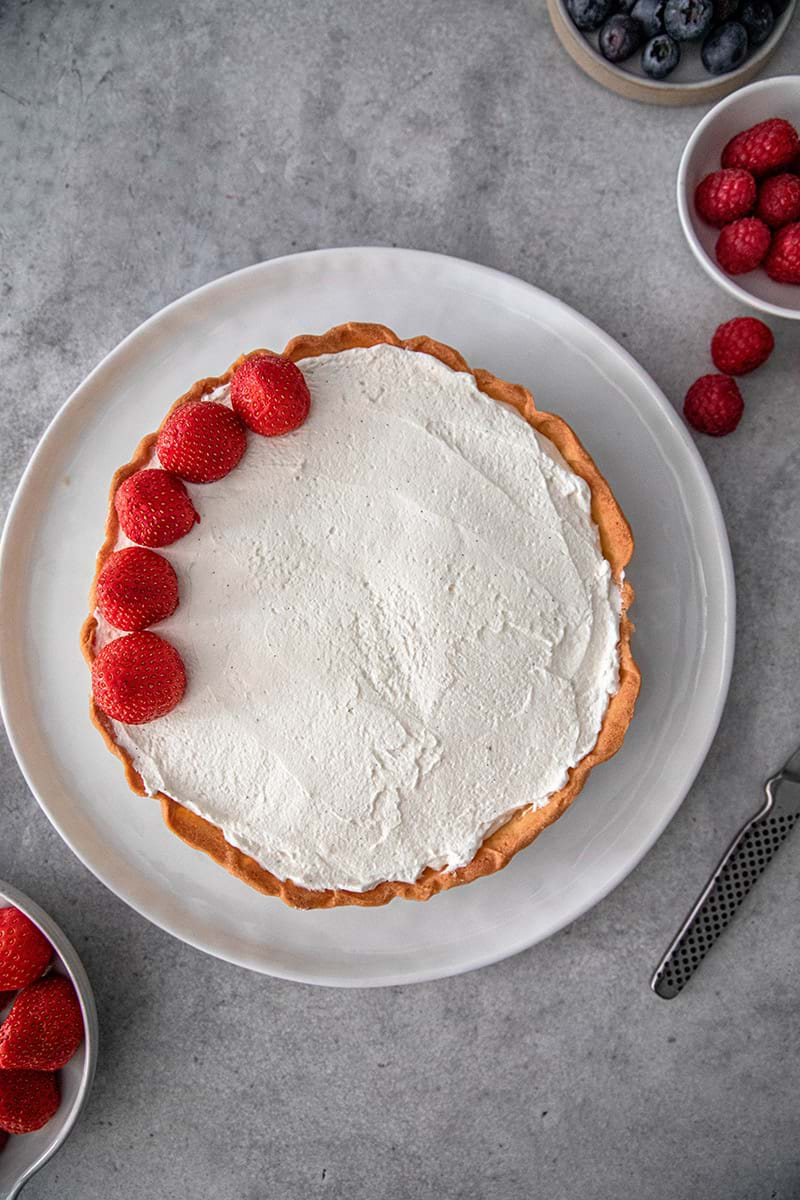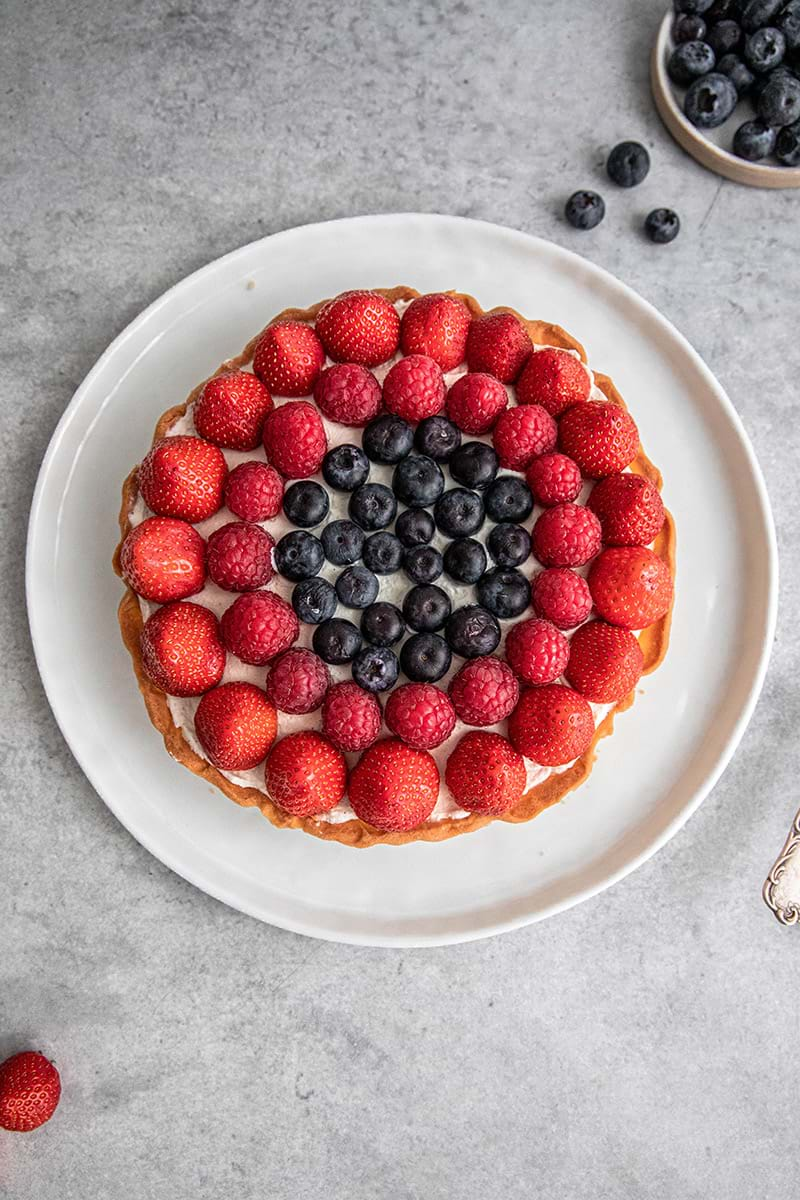 Variations for this berry tart recipe
You can choose the berries you like the most and make for example just a strawberry tart or just a blueberry tart. They both pair divinely the mascarpone cream.
You can also make this recipe into various tartlets. It makes approximately 6 small tarts.
You can replace the raspberry jam by dulce de leche and the vanilla mascarpone cream by a simple Chantilly. Then top with the berries.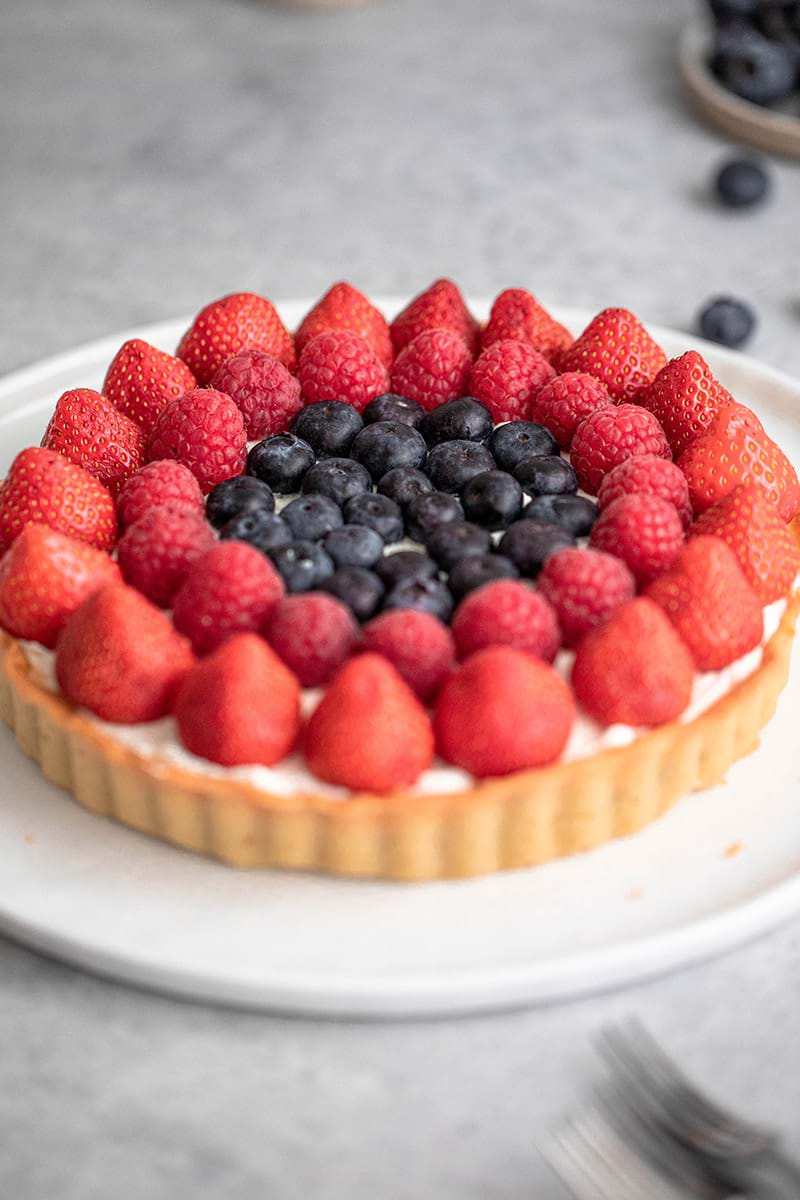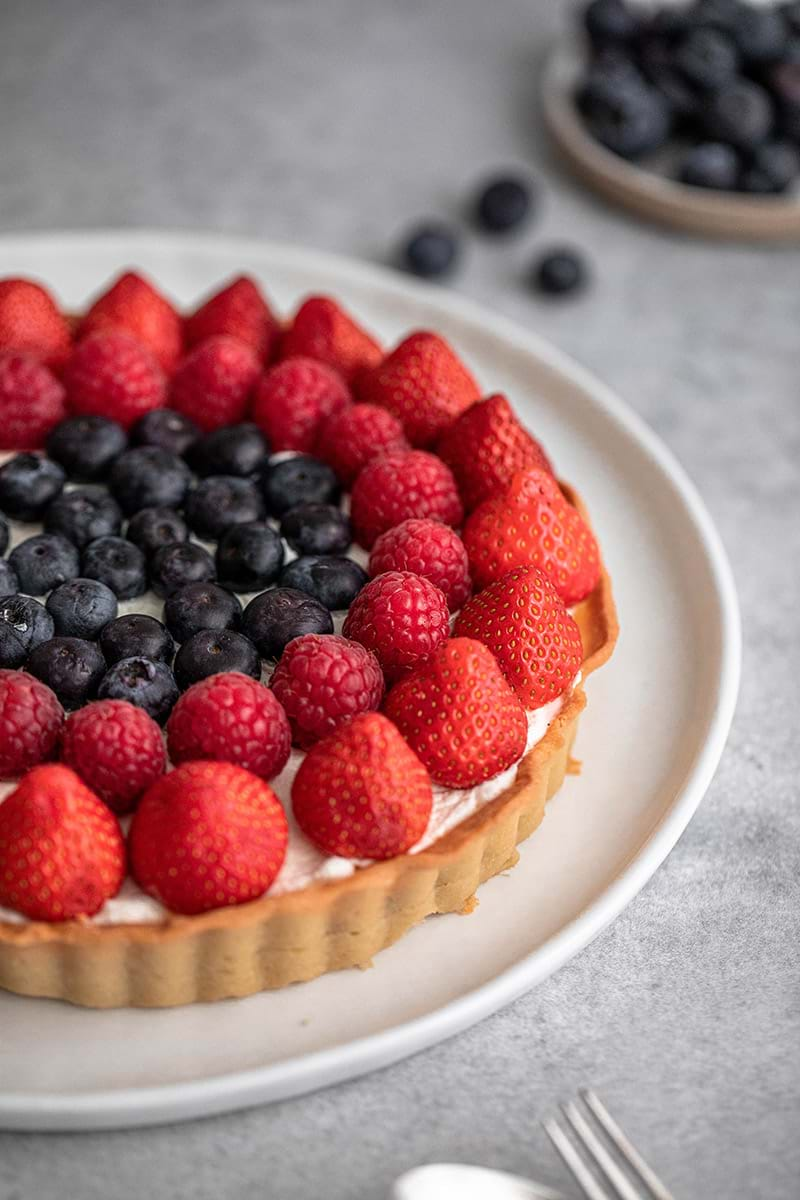 If you made this recipe I would really appreciate it if you leave a rating or comment below! Also, if you share on social media please use #cookwithbelula, I would love to see what you create!