Simple Almond Paste Coffee Cake
This simple almond cake is made using almond paste (and not almond flour) resulting in a moist and fluffy almond paste coffee cake. This almond cake is so easy to make!
This simple almond cake will become a favorite in your household (as it has in mine!)! Such an easy treat to prepare, this cake is made using almond paste instead of almond flour, which makes it extra moist and fluffy. Almond coffee cake is super easy to make, takes almost no time, and is totally worth it; It can also be made gluten-free! I hope you love this almond paste cake as much as we did at home! I can't wait for you to give it a try.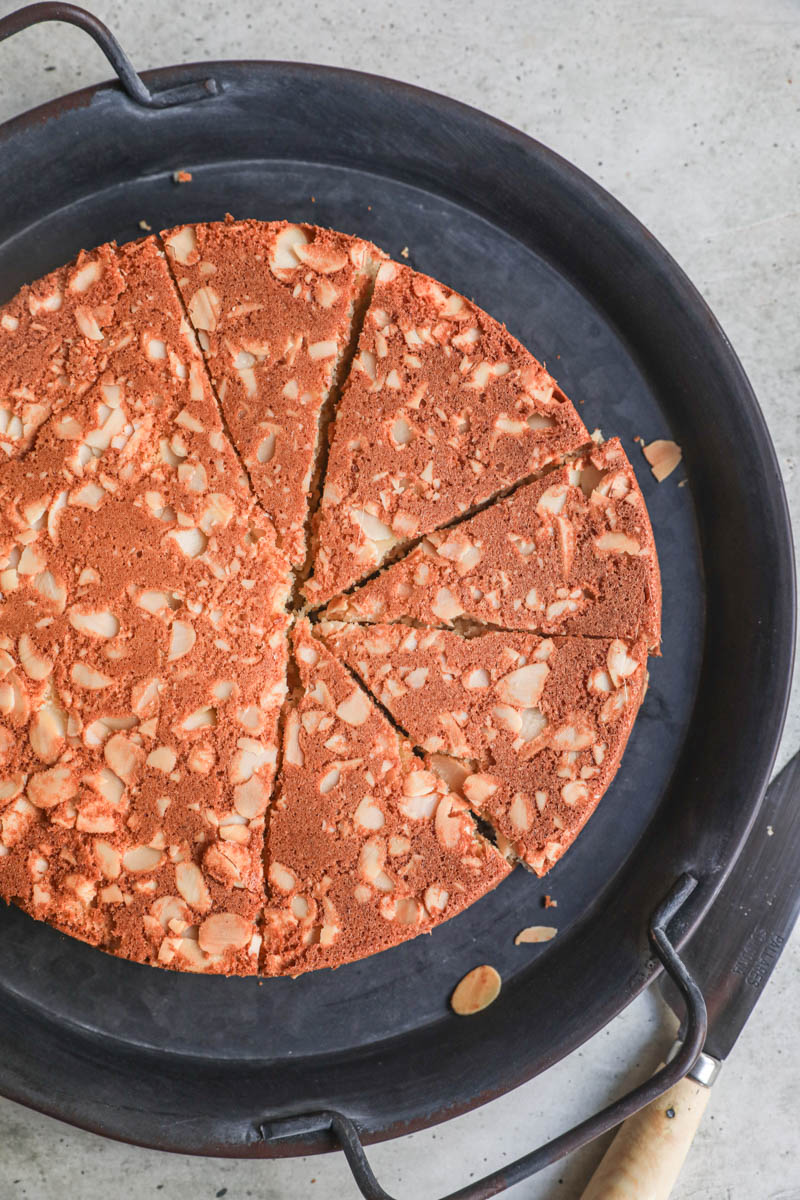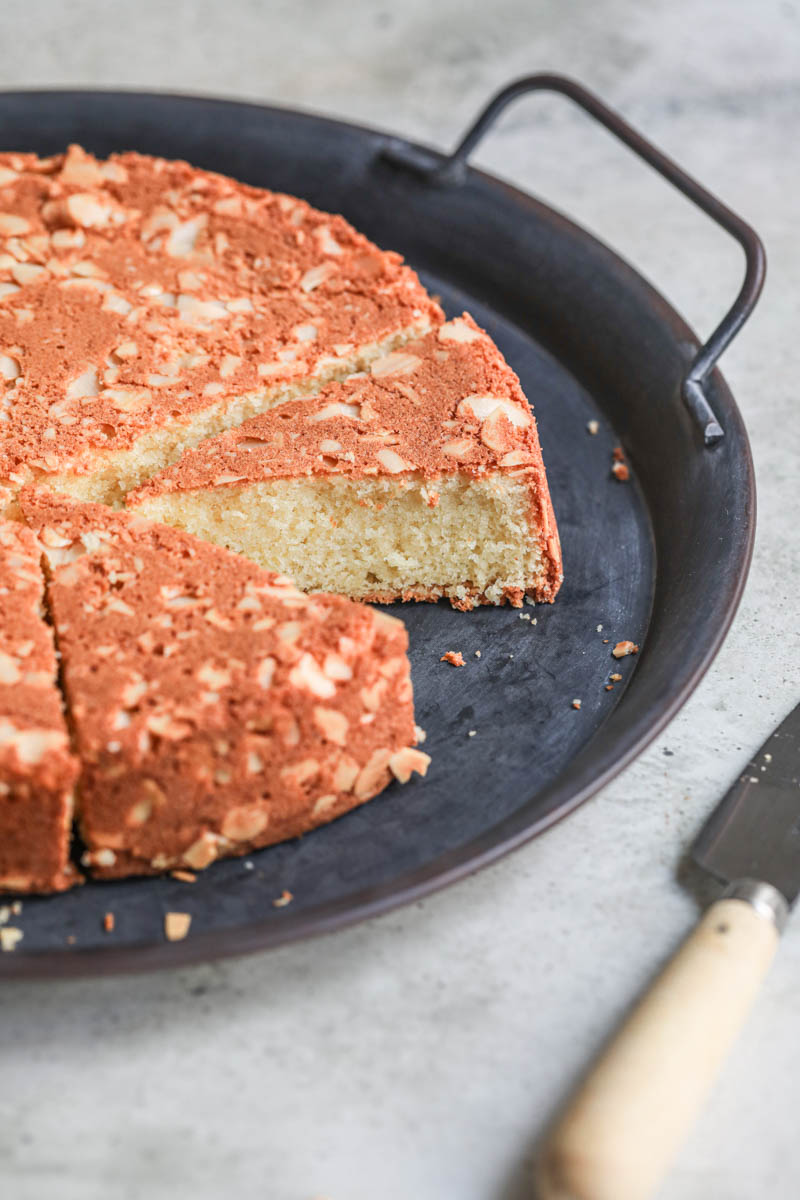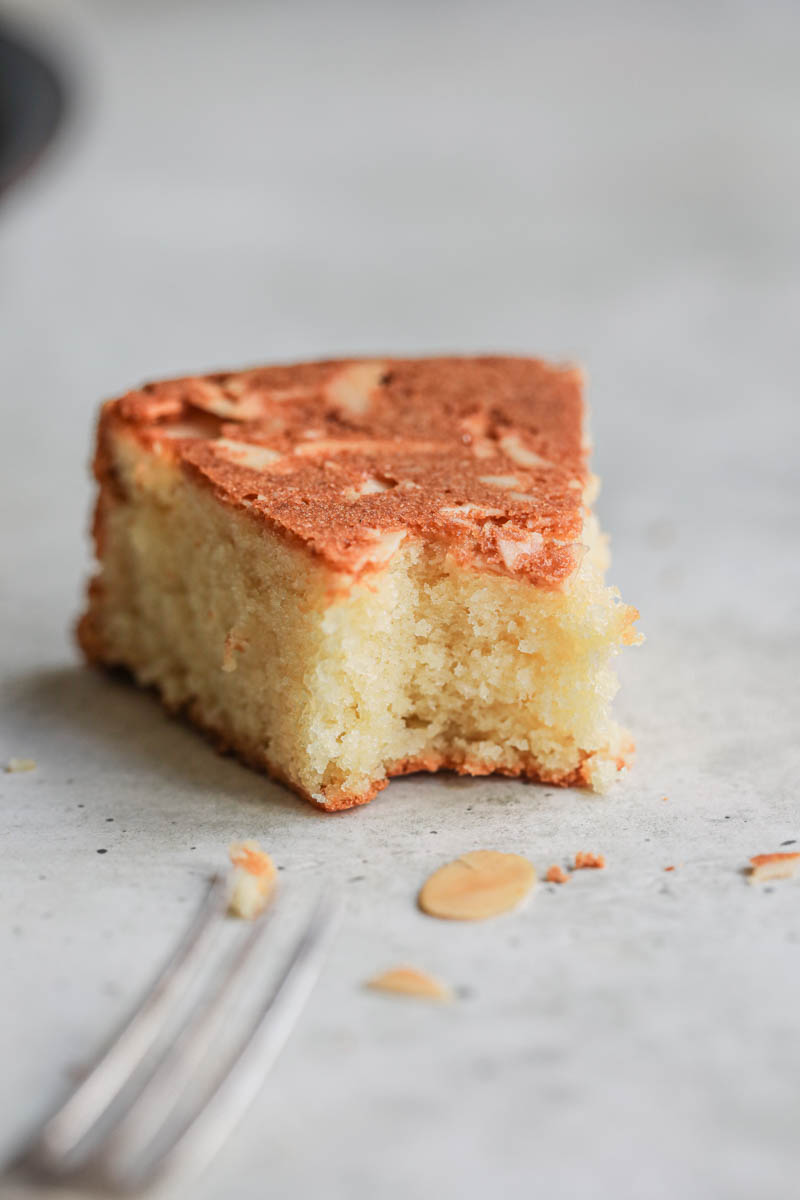 Ingredient & Material Notes
Almond paste: use one that is at least 50% almond.
Sliced almonds: these are used to cover the cake and make it look pretty. If you don't have them or can't get them, no worries, this almond paste cake will still taste great without them.
24cm round cake tin: I used this cake tin as it is nonstick and makes removing the cake that much easier.
How to make this recipe
Making this simple almond cake is straightforward. You just:
Prepare the cake tin.
Make the almond cake batter.
Bake the almond paste cake.
Remove the cake from the tin.
Enjoy!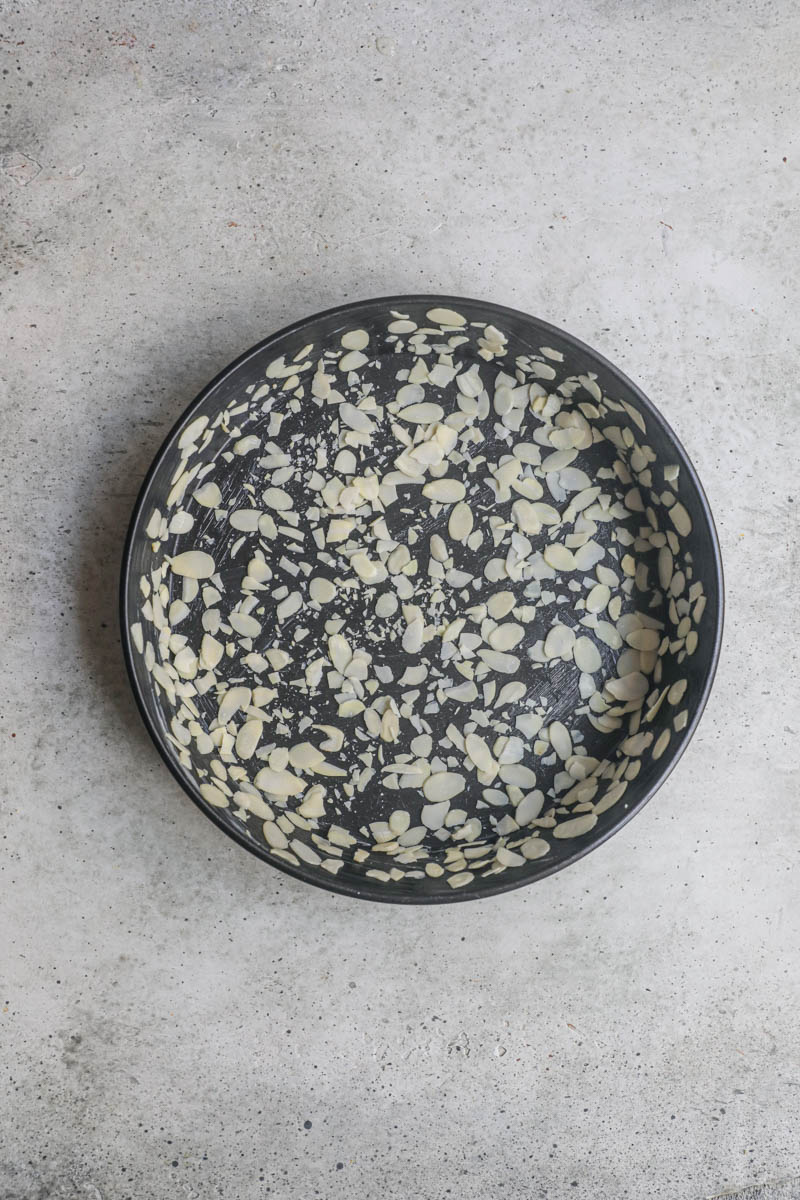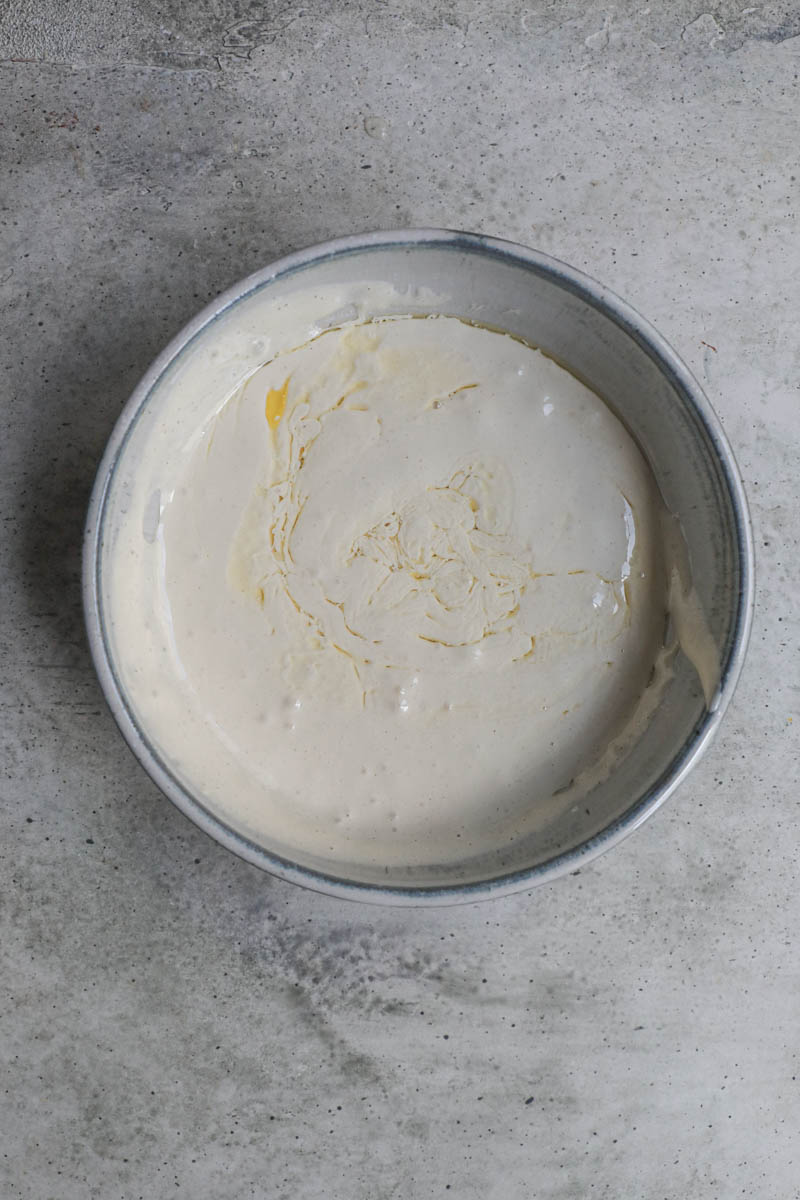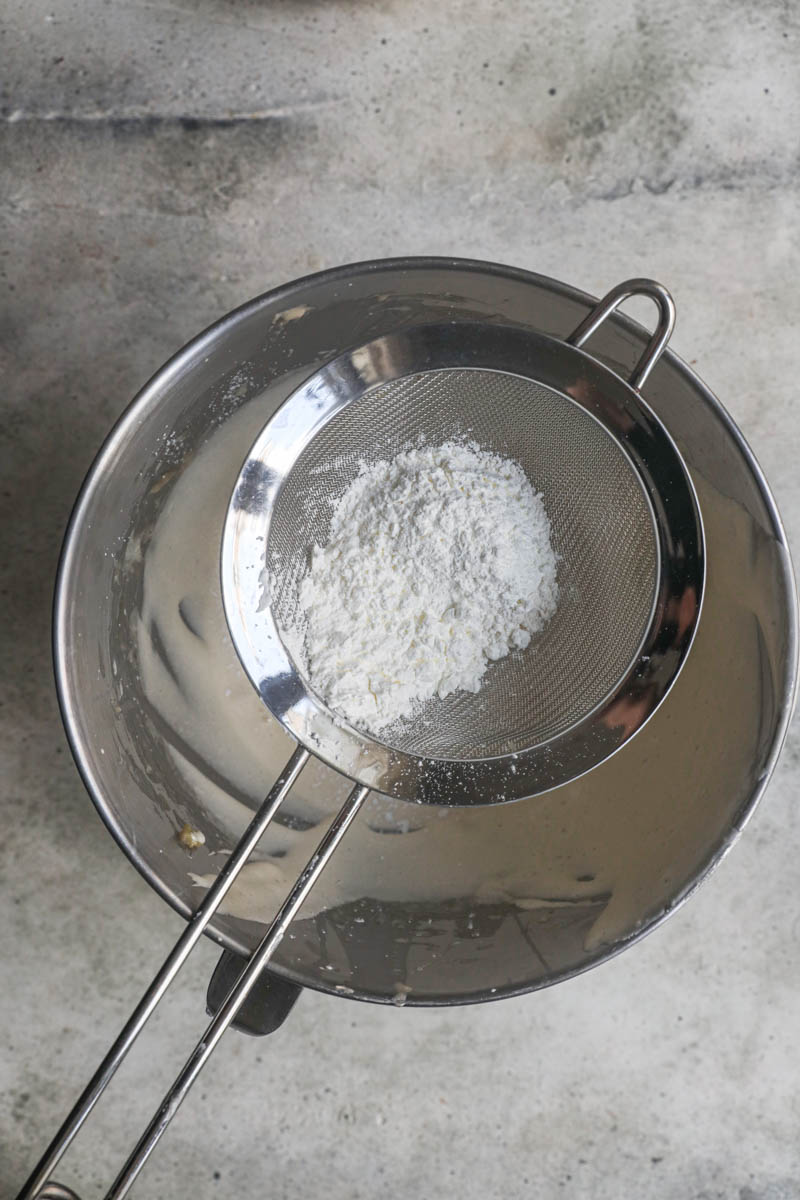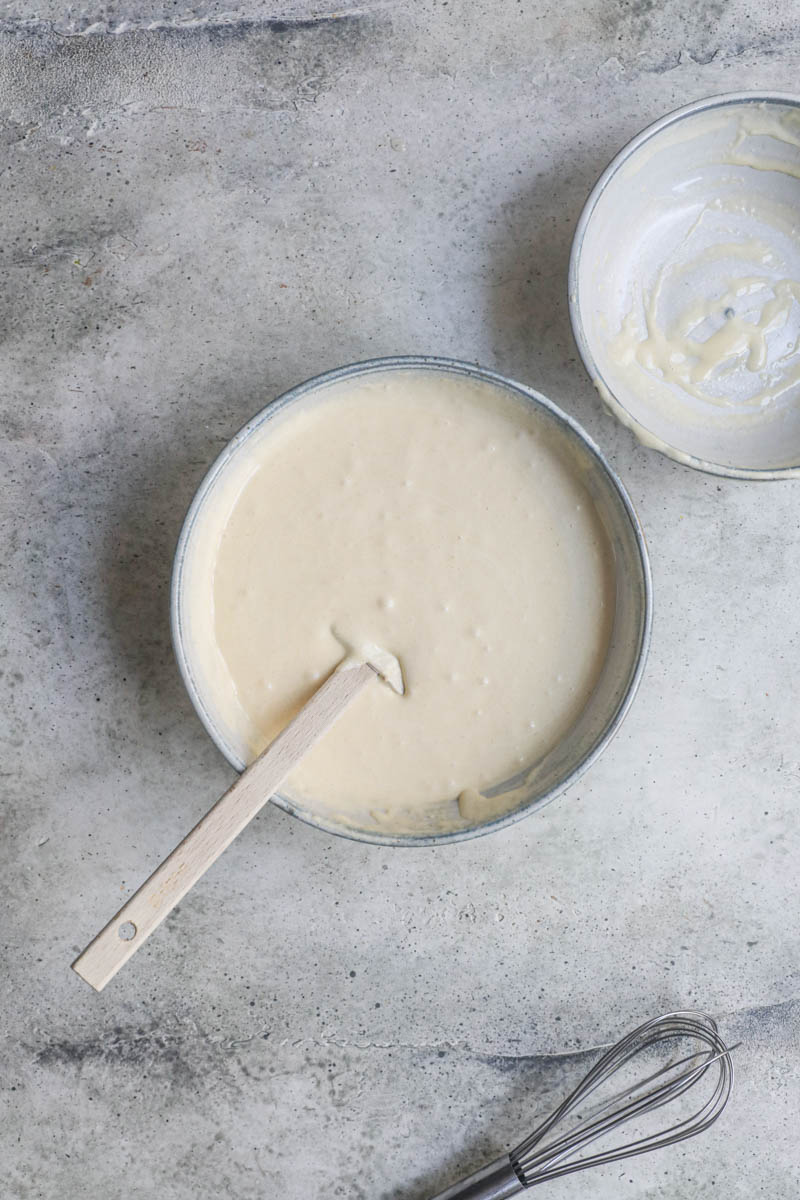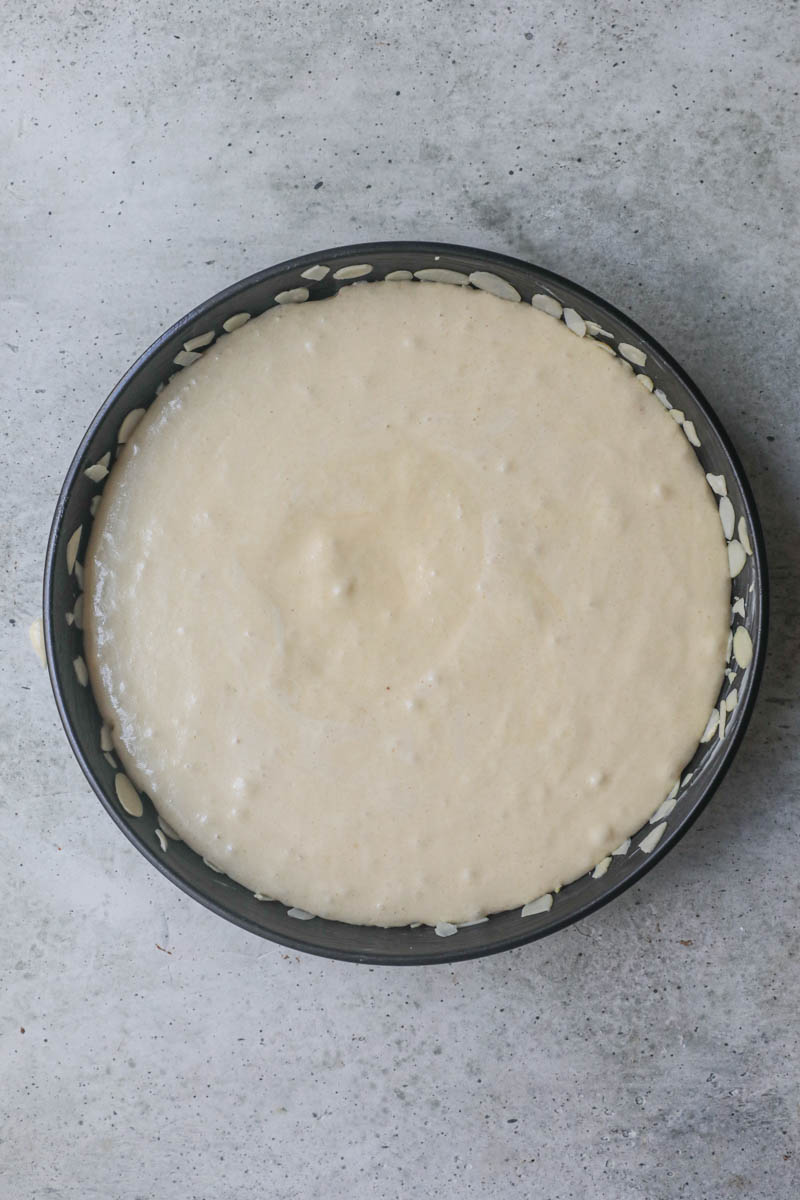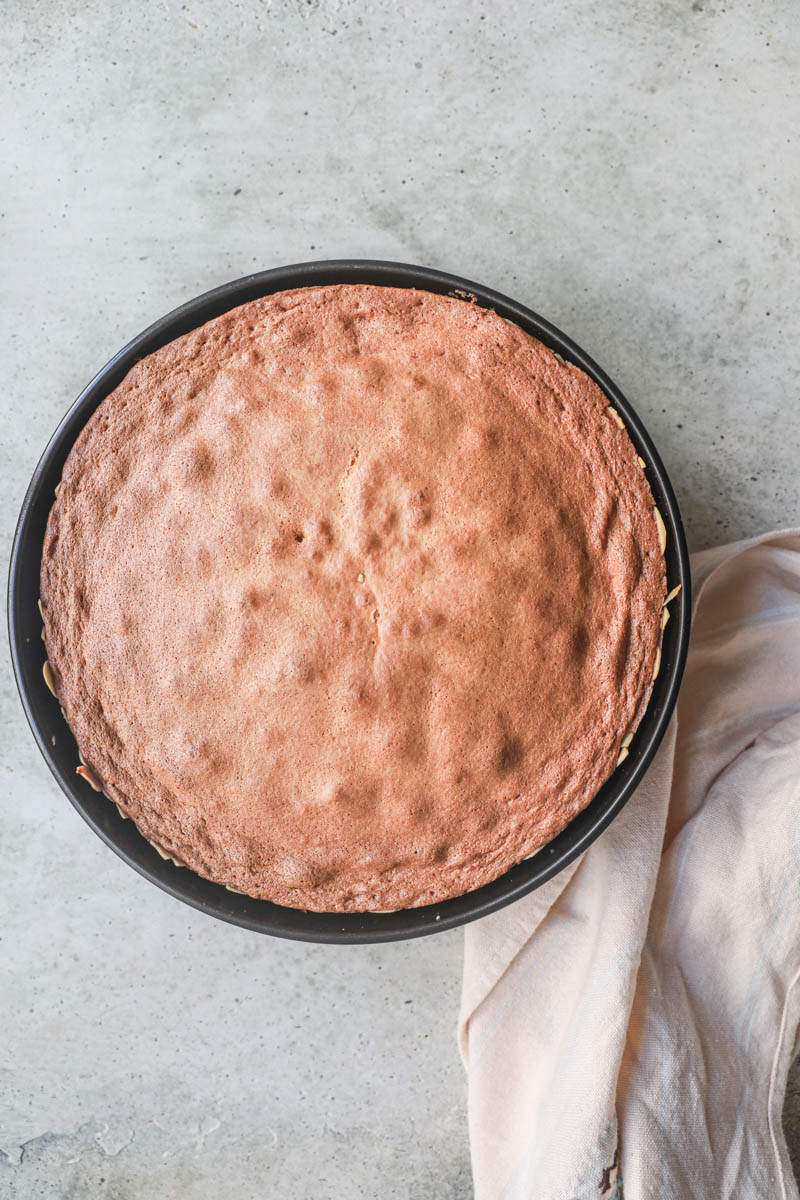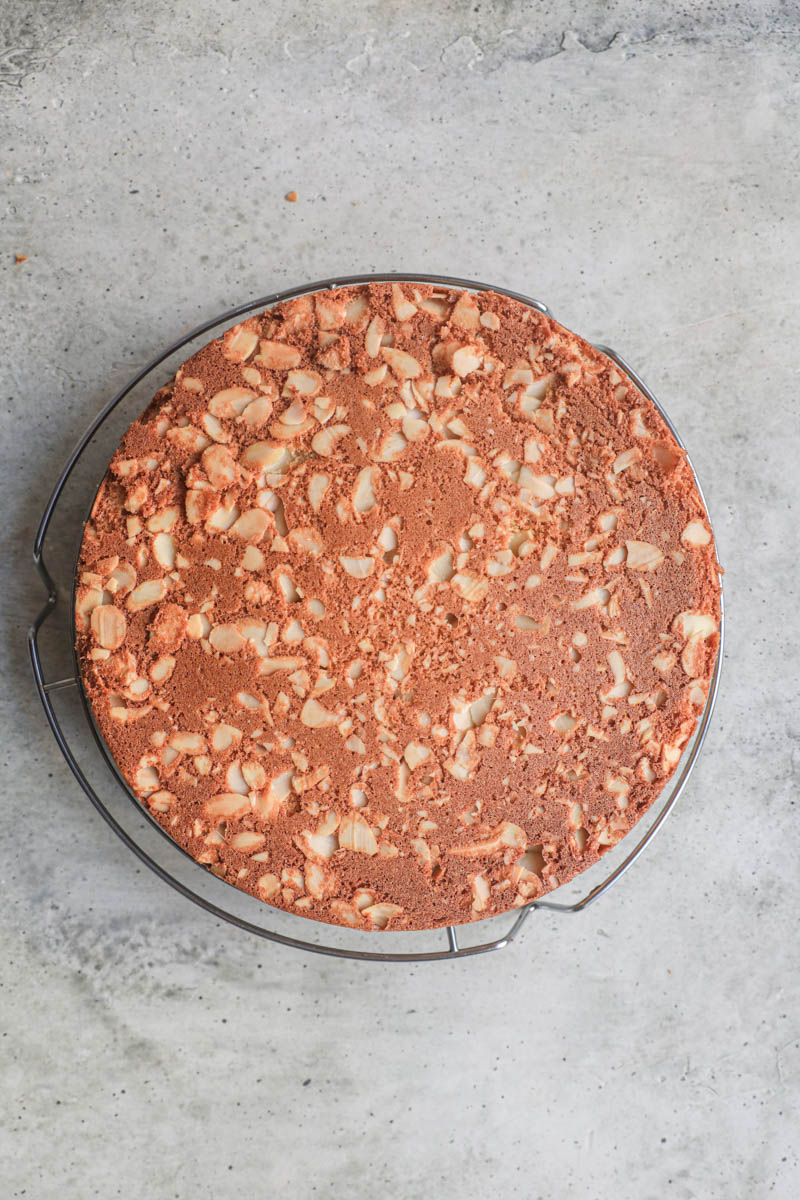 Recipe notes
Use softened butter to butter the cake tin.
To make softened butter, either leave the butter at room temperature for about 1 hour. Or use the microwave in small intervals until the butter has attained the consistency of mayonnaise.
Use a brush to butter the cake tin.
Cover the whole tin, both the bottom and the sides, with the sliced almonds. Try not to touch the tin when doing this as you will remove the butter. Just place the almonds inside the tin, then move the tin around in a circular manner. Turn it over to remove any excess sliced almonds. If you see it has not been properly covered, then repeat this once again.
Preheat the oven (160°C /320°F) before you start to make the almond paste cake. This way you can bake it straight away once you are done.
Melt the butter first, then set aside until ready to use. You want to mix the butter into the almond cake batter while still warm but not hot.
Make sure to smooth out the almond paste with 1 egg before adding the rest of the eggs into the batter.
Use the paddle attachment to mix this cake batter.
Once you have added all 4 eggs into the batter, mix for 10 minutes at medium speed.
Make sure to sift the flour and cornstarch before adding them to the batter.
If you will be using rum, you can add it to the almond cake batter at the end.
Expert notes on Baking this Almond Paste Cake
This almond cake will be turned over once it has been baked, and the sliced almonds will show on the top and the sides of the cake, making it look pretty.
This is why I use a nonstick cake tin, as lining the cake tin with parchment paper is not an option if we want to go for this specific look.
Properly buttering the tin is key to being able to remove the cake from the pan!
If you don't have the sliced almonds or don't want to add them, then you can bake the almond paste cake like any other cake, in which case you can line the cake tin with parchment paper to help you remove it once it has been baked.
To remove the almond cake from the tin, let it sit for a couple of minutes on a wire rack inside the cake pan. Then, run a knife between the cake and the cake tin (if necessary) and turn the cake tin over the wire rack letting the cake fall.
If it doesn't come out, it means you didn't butter the cake tin properly and it might be stuck. In this case, you can grab the cake tin and the wire rack together and shake them 3 times to help remove the cake.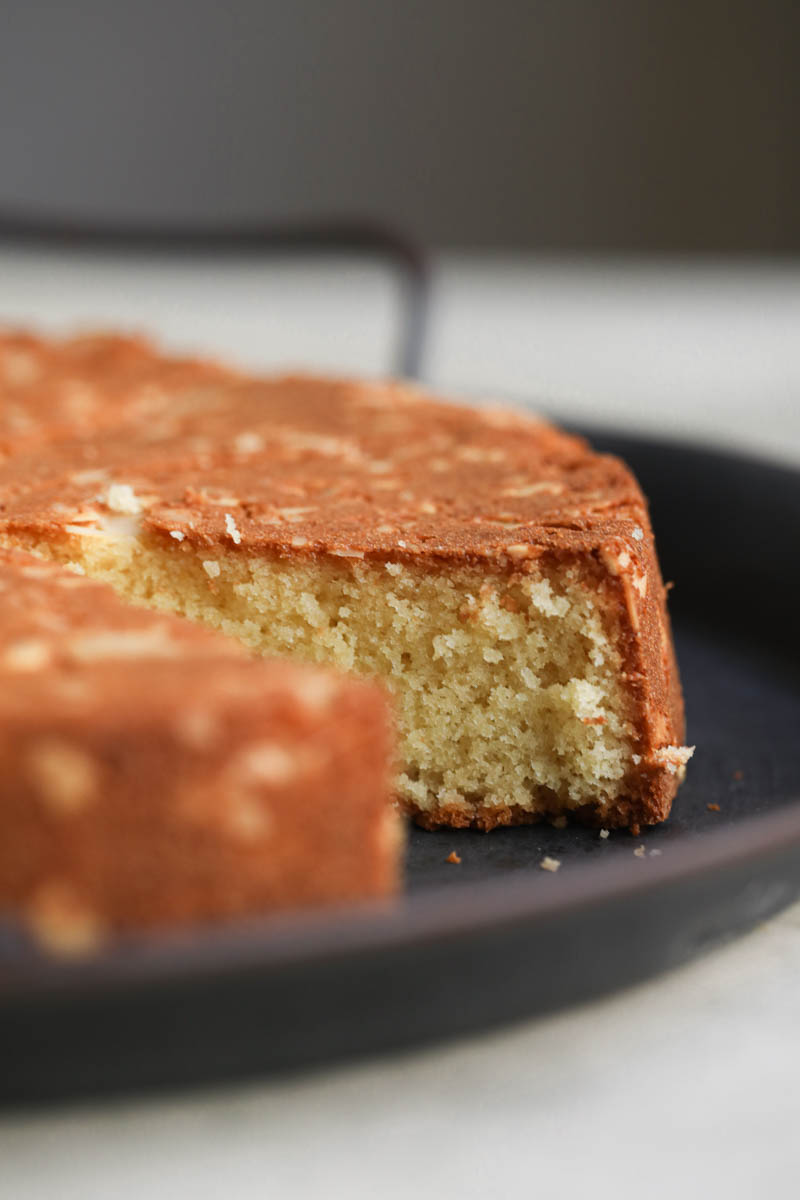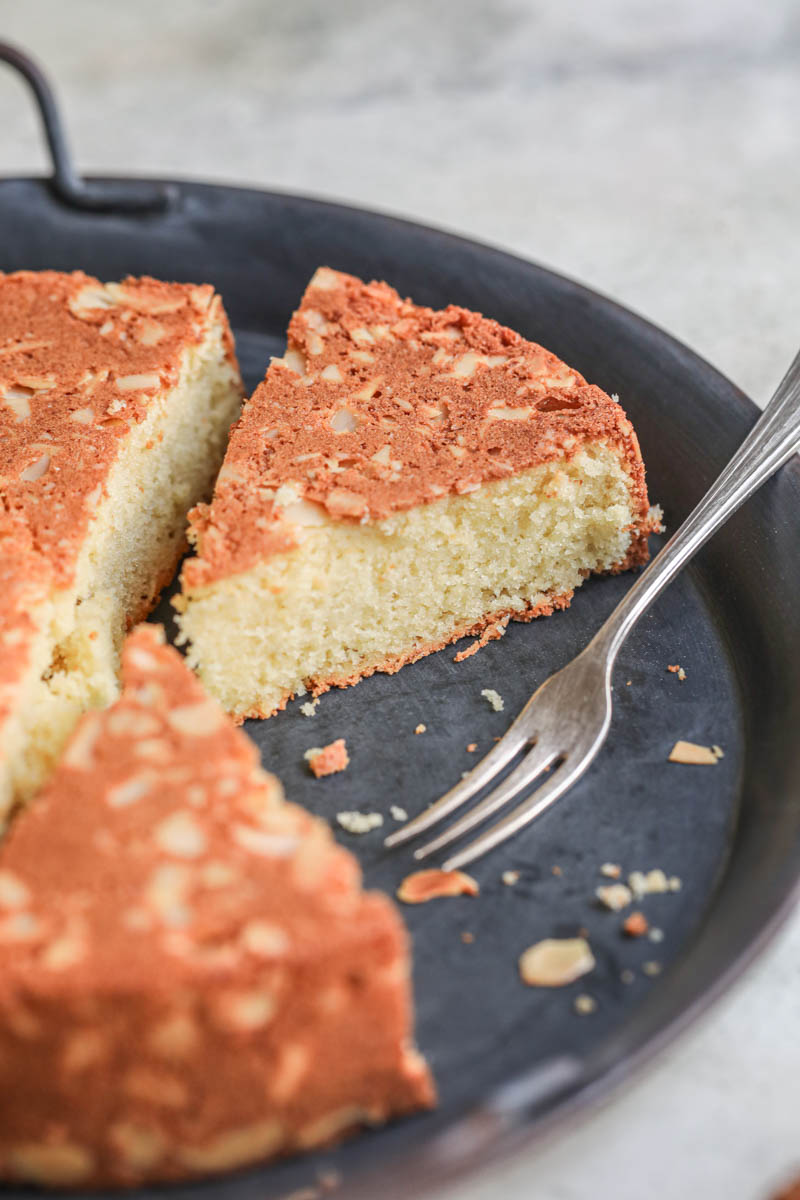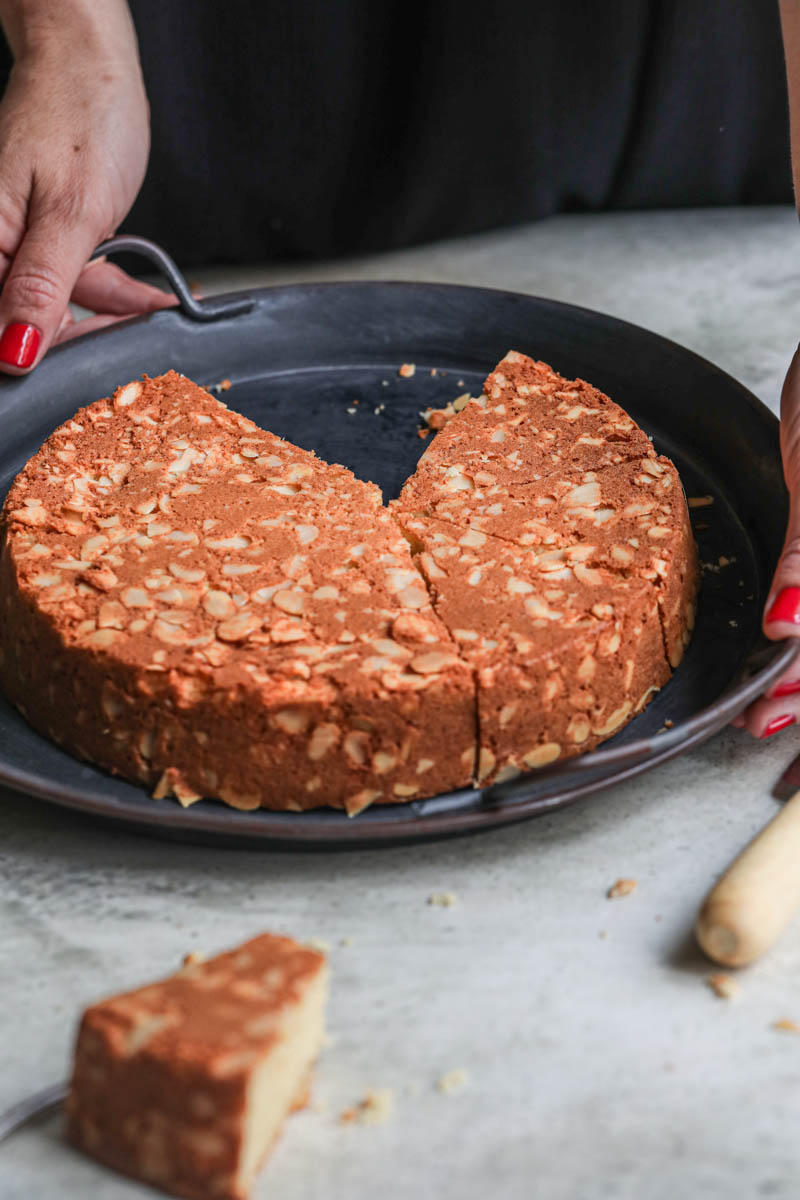 Storage tips
This fabulous, moist, almond coffee cake keeps at room temperature for 5 days. Once it has been sliced open you can cover the edges with saran wrap to prevent it from drying out.
You can keep it inside an airtight container if you prefer, but it's not mandatory.
Freezer instructions
This simple almond cake can be frozen and does so beautifully. I often double the recipe and make 2, then freeze one to have for later!
To do so, once the cake has completely cooled, cover with 2 layers of saran wrap, place in an airtight container or freezer bag, and place inside the freezer. It keeps for up to 3 months.
To defrost: place at room temperature overnight. Then remove the saran wrap and enjoy!
Variations for this recipe
This simple almond coffee cake can easily be made into a raspberry almond cake. To do so, once you have placed the batter inside the cake tin, add 50g of crushed raspberries to the batter. You can also replace the rum with raspberry alcohol.
This cake can be made gluten-free. To do so, simply replace the flour in the recipe with the same amount of cornstarch.
For a pretty finishing touch you can also sprinkle the cake with powdered sugar before serving.
The ingredients used in all recipes on this site are measured using the metric system. I use a
scale
to be precise with my measurements and ensure good results. If you would also like to use a scale, here are some:
USA
,
Canada
,
UK
,
Australia
,
France
.
Subscribe to the newsletter
Almond Paste

300 g

Eggs

4

All-purpose Flour

25 g

Cornstarch

25 g

Unsalted Butter

90 g

Rum (optional)

10 g

Sliced Almonds (for baking)

30 g
If you made this recipe I would really appreciate it if you leave a rating or comment below! Also, if you share on social media please use #cookwithbelula, I would love to see what you create!