These French raspberry macarons are made with homemade raspberry jam filling, and it's refreshing and delicious. You will find a step-by-step roadmap to make the perfect macarons shells, troubleshooting why macaron shells my crack or spread too much. I know macarons can be intimidating but let them not be. You can do this!!
What is a macaron?
A macaron is a meringue-based French round cake. The macaron shells are made of meringue, almond flour and powdered sugar, and the filling can be made to taste. Classic macaron fillings are vanilla, chocolate, pistachio, raspberry, and lemon for example.
Macarons can be made using French meringue, swiss meringue or Italian meringue. This recipe calls for French meringue.
Materials & Ingredient Notes
Almond flour: sifted.
Powdered sugar: sifted.
Egg whites: must be at room temperature.
Food coloring: use gel food coloring. The liquid kind adds humidity to the macarons and are harder to bake through.
Raspberry jam: you can use storebought jam or you can make your own. I strongly second the second option as it takes little time and its super easy. You can get a great recipe here.
Piping bag: the disposable ones work great. You can get them in specialty stores or here.
Piping tip: I use a number 10 piping tip.
Macaron silpad: to help you pipe them regularly. You can also make your own template. See below for instructions.
Baking tray: make sure the silpad or the parchment paper you use fit perfectly into the tray.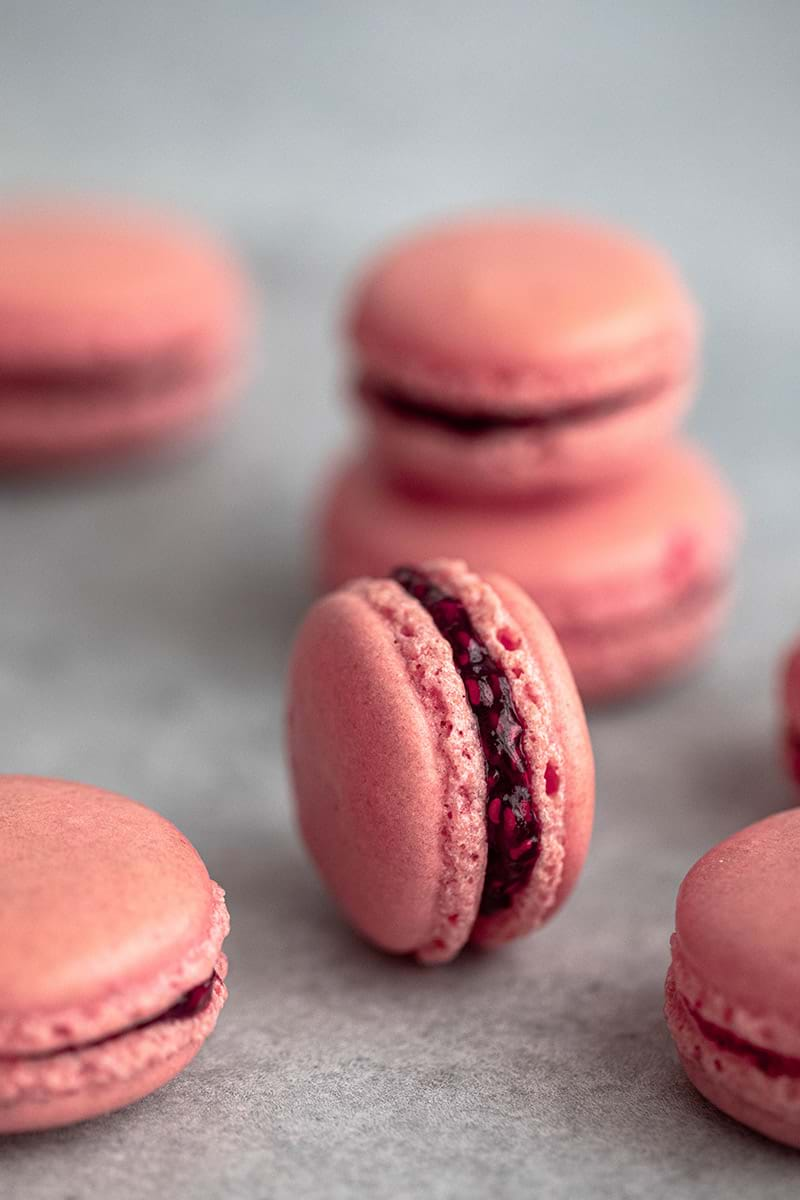 Recipe Notes for French raspberry macarons success
Leave the egg whites overnight at room temperature.
Its preferable egg whites are old.
Put the almond flour and the powdered sugar in a food processor and pulse until you obtain a thin powder.
Make sure you sift the almond flour/powdered sugar mixture.
Remember to tap the tray against your kitchen counter several times before baking. It is the way to get rid of any air bubbles in your macarons. The reason why macarons crack during baking is due to the air bubbles present inside the macaron shell. This is an important step! TAP THAT TRAY!
Use gel food coloring to avoid adding humidity into the macaron shells.
Remember color fades a little in the oven, especially lighter colors. Do not be afraid to make them a little more colorful than you want them to look like as a finished product.
After filling the macarons, let them rest in the fridge for 24 hours before eating. Macarons get better with time!
How to make raspberry macarons?
Make a French Meringue. It should take 10 minutes to properly beat the egg whites: start on low speed with a little sugar and slowly up the speed. When its almost ready, add coloring and the sugar and turn the speed up to maximum. Beat for about 30 more seconds to properly incorporate de sugar.
Then add the powdered sugar and almond flour in 3 additions and mix with a rubber spatula.
Once the dry ingredients and egg whites are mixed, continue mixing using a rubber spatula until your batter is shinny and smooth. And until the batter falls into ribbons while holding the spatula. This is called "macaronner".
How do you know if the macaron batter is ready to be pipped out?
If you are unsure whether the raspberry macarons batter is ready, you can make a test!
Add a little batter onto your piping bag and pipe out 2 macarons. Wait for about a minute. If the macarons expanded a little and become smooth after this time, you are good to go. If on the contrary, they kept their shape and the little pointy thing at the centre is still there. In this case, you can go back and mix a little further.
How to pipe macarons?
Prepare a piping bag with a number 10 piping tip.
Fill the piping bag with the batter.
Use a macaron template under the parchment paper to help pipe regular sized macarons. You can find a macaron template one here. Remember to remove it before baking the macarons. You can also use a macaron silpad (I used both, one for each tray).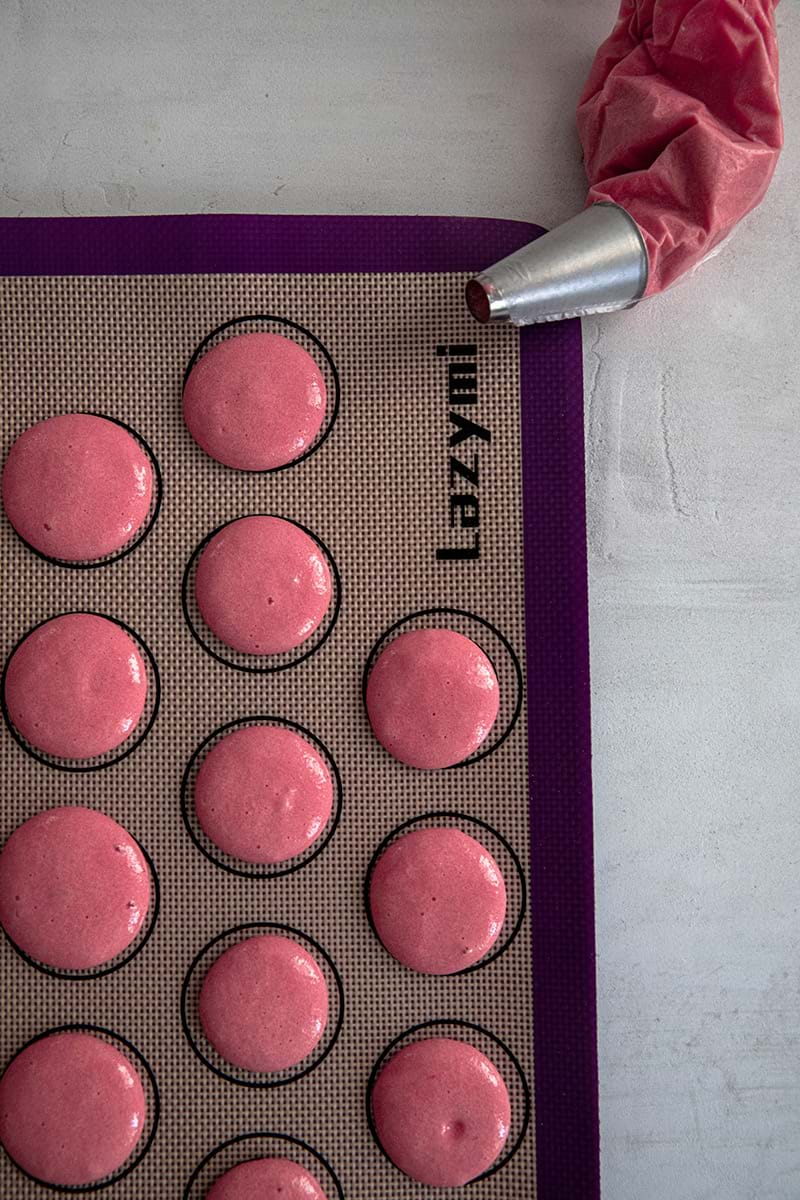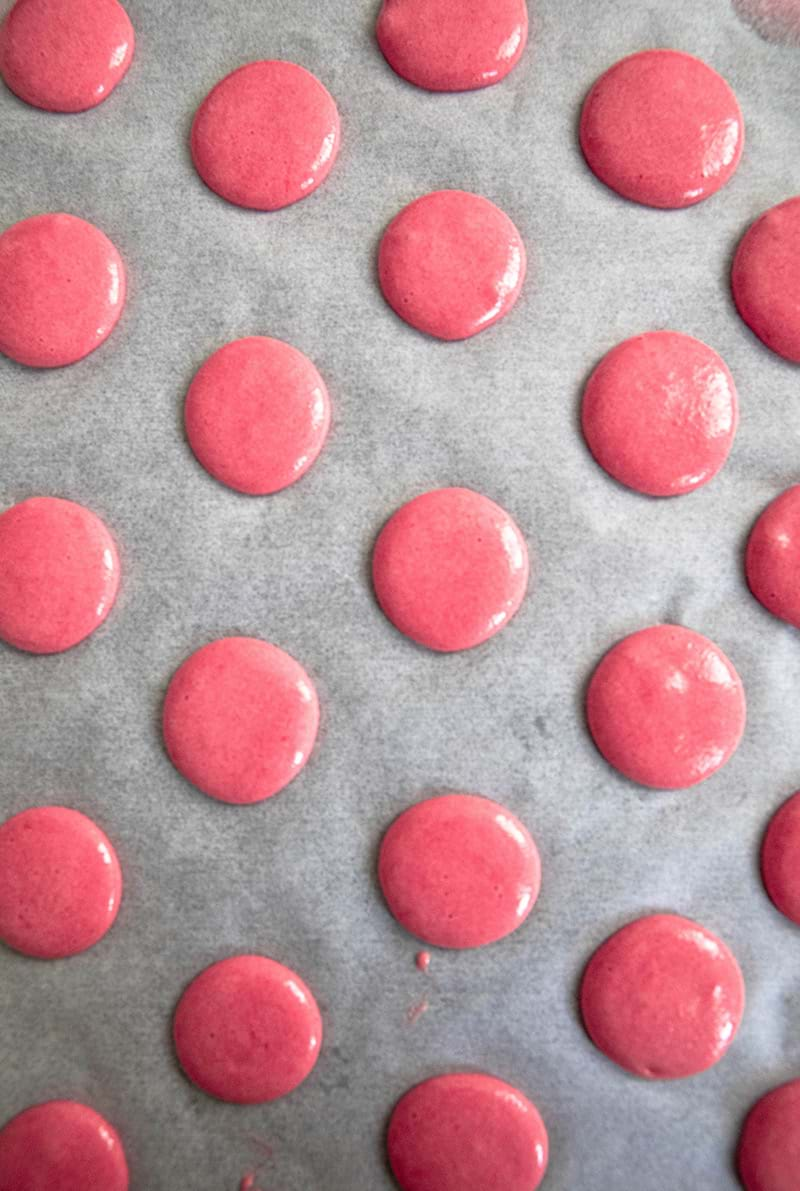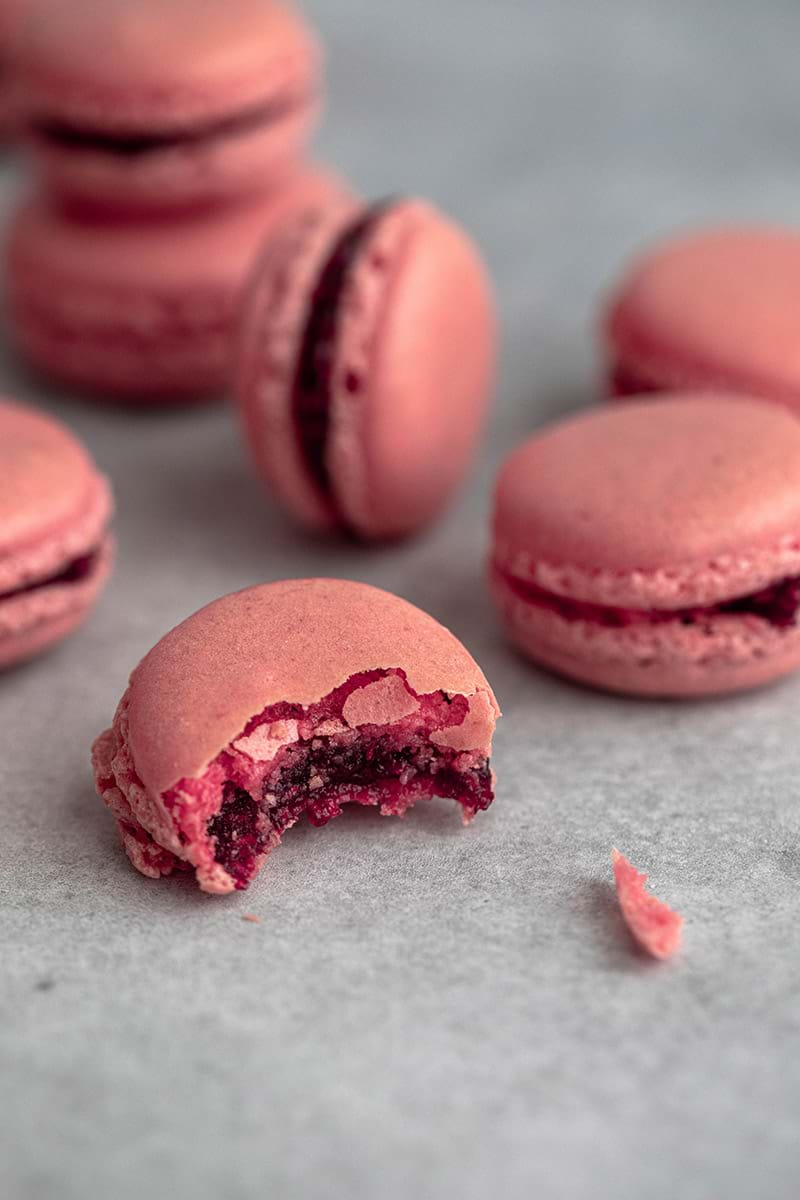 Expert notes
Why do macarons spread? because you have overmixed the batter and the macarons will not hold their shape in the oven. You have to restart the process all over.
Why do macarons crack? They crack during baking because they were undermixed.
How to bake raspberry macarons?
Macarons are usually baked using low temperatures to get that mushy inside.
This raspberry macaron recipe calls for 20 minutes baking at 140 degrees Celsius (280 F).
Bake until the feet are well risen. To be sure they are ready hold the macaron by the top and move it slightly it should not wiggle.
Transfer the parchment paper with the macarons on it onto a wire rack. Wait until they have completely cooled off to detach them.
Let cool down before filling.
How to make raspberry macarons filling?
Make the filling one day in advance to assure its properly chilled and will hold inside the macaron.
Raspberry jam. My preferred option and the one I chose for this raspberry macaron recipe. Making raspberry jam is rather easy, you can check out how to make it here.
Raspberry ganache. If you prefer to go with the raspberry chocolate macaron option there's a recipe for raspberry ganache you can check out White Chocolate & Raspberry Ganache.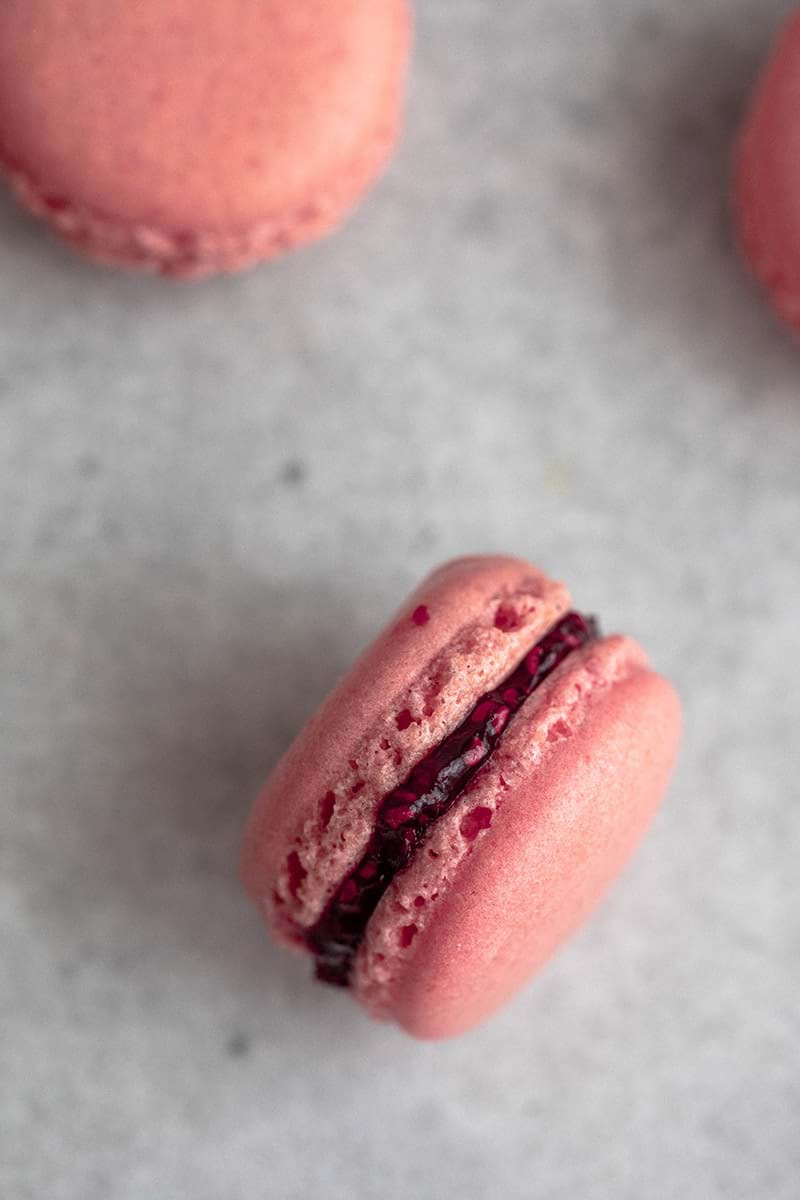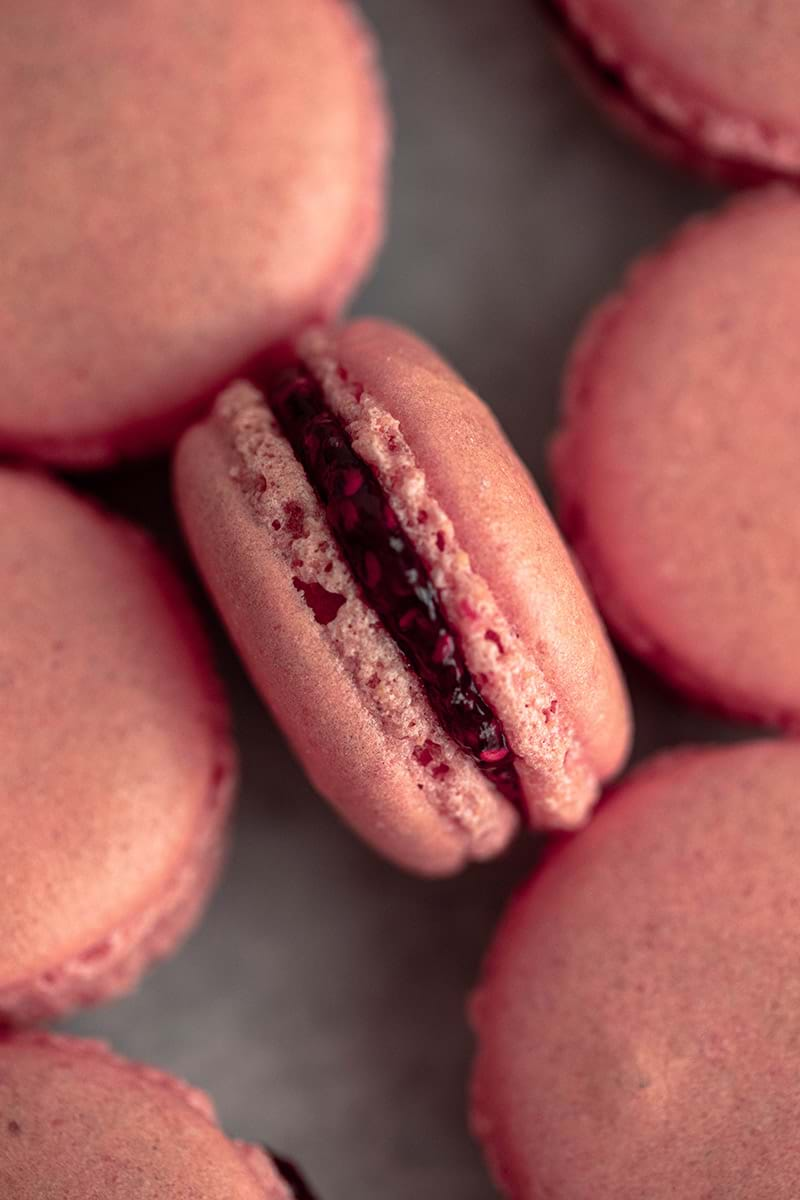 Storage tips
They should be stored in the fridge in an airtight container. They last 5 days stored in the refrigerator.
Freezer instructions
Macarons can be frozen stored in an airtight container to protect the shells from cracking as they are very fragile.
You can keep in the freezer for up to 3 months.
To defrost: Place in the fridge overnight.
If you made this recipe I would really appreciate it if you leave a rating or comment below! Also, if you share on social media please use #cookwithbelula, I would love to see what you create!