My final exam at Ecole Lenôtre School was 2 days long! We had a long list of products we needed to elaborate and present as a buffet by 5 pm on the second day. The first day was dedicated to "mise en place" (prep day) to get everything ready to be as performant and productive ass possible on day 2 and be able to make the deadline. The apricot tart was off course on the list of final products we had to present. We had to make 2 of them. This version is a little different from the classic French version (which has a layer of almond cream inside) because it is a rustic apricot tart. This means you don't need a tart tin and you don't need to line the mold! It is just the shortbread crust, the apricots with a little added flavor, all baked in the oven and sprinkled with the most delicious crumble topping.
What will you need to make apricot tart?
1 shortbread crust: I used this recipe to make it Shortbread Crust.
Fresh apricots (you can also use canned apricots to make this tart).
Vanilla bean or vanilla extract.
Orange juice.
Sugar.
Crumble topping.
Parchment paper.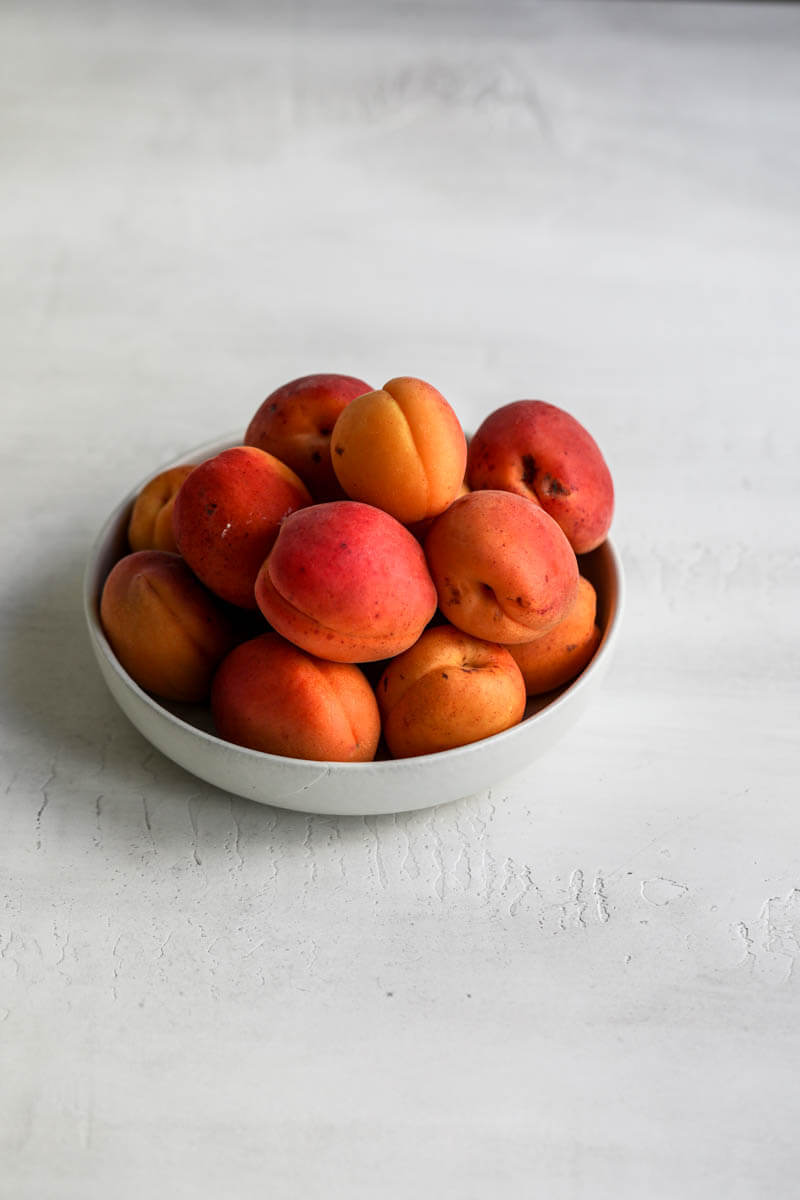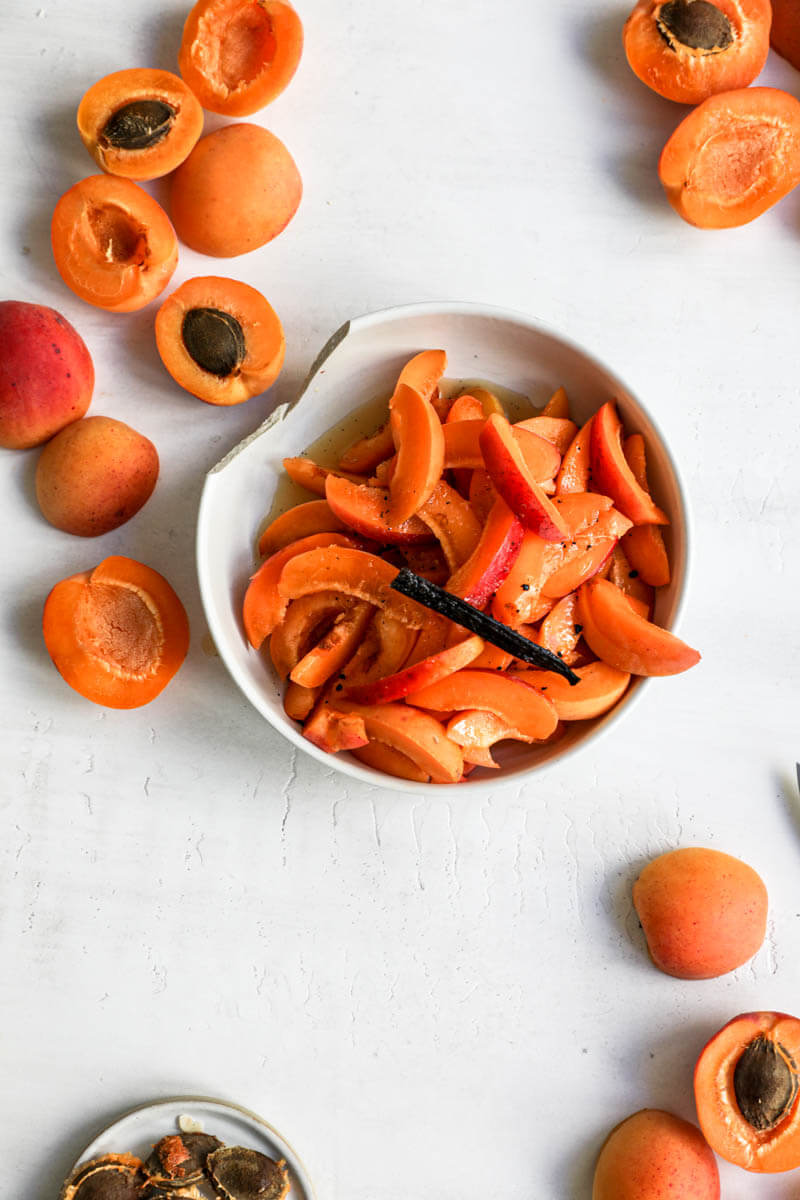 How to make shortbread crust?
Making shortbread crust or sable dough is straightforward. There are a few tips and tricks to succeed that I talk about here Shortbread Crust. There are photos and videos to help you make the best dough ever!
A little sneak peek:
Never overwork the dough.
Always work with chilled dough. It helps a lot to get better results and not get frustrated when rolling it out 😊.
How to make crumble topping?
This a different crumble topping recipe because it is not baked along with the tart but rather made separately. I love this technique because it allows me to make a batch and store it in an airtight container and to top tarts, ice cream, mousse. Any dessert is better with it!
To make it you must:
Break down and roast the hazelnuts in the oven for about 10 minutes at 170 C.
Mix the ingredients together until you obtain a homogeneous dough.
Roll out to 1/2 cm, in between two pieces of parchment paper and refrigerate for about 1 hour.
Pre-heat the oven at 170 C.
Transfer the crumble on to a baking sheet and remove the top parchment paper. Bake until brown (about 15 minutes).
Let cool off on a cooling rack.
Break down and store in an airtight container to keep crumble from getting soggy.
A note: I pass the crumble through a thin mesh strainer. You can break it using your hands too.
Crumble topping keeps for about 2 weeks safely stored.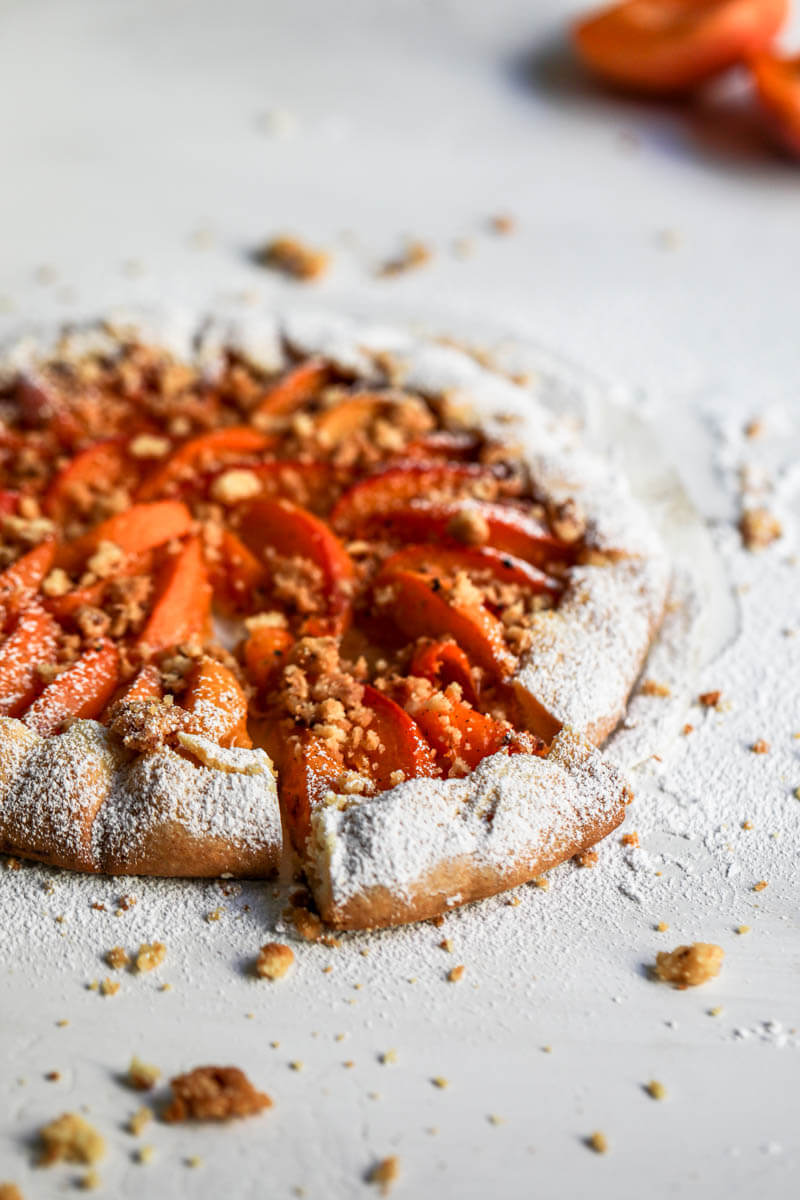 How to make the apricot filling?
Making this filling is the easiest thing:
Cut the apricots into quarters and remove the pits onto a bowl.
Zest and squeeze the juice of half an orange onto the apricots. Add the vanilla bean seeds, the brown and toss together. Refrigerate for half an hour minimum. The more you let the apricots macerate with the rest of the ingredients the more enhanced flavours will be.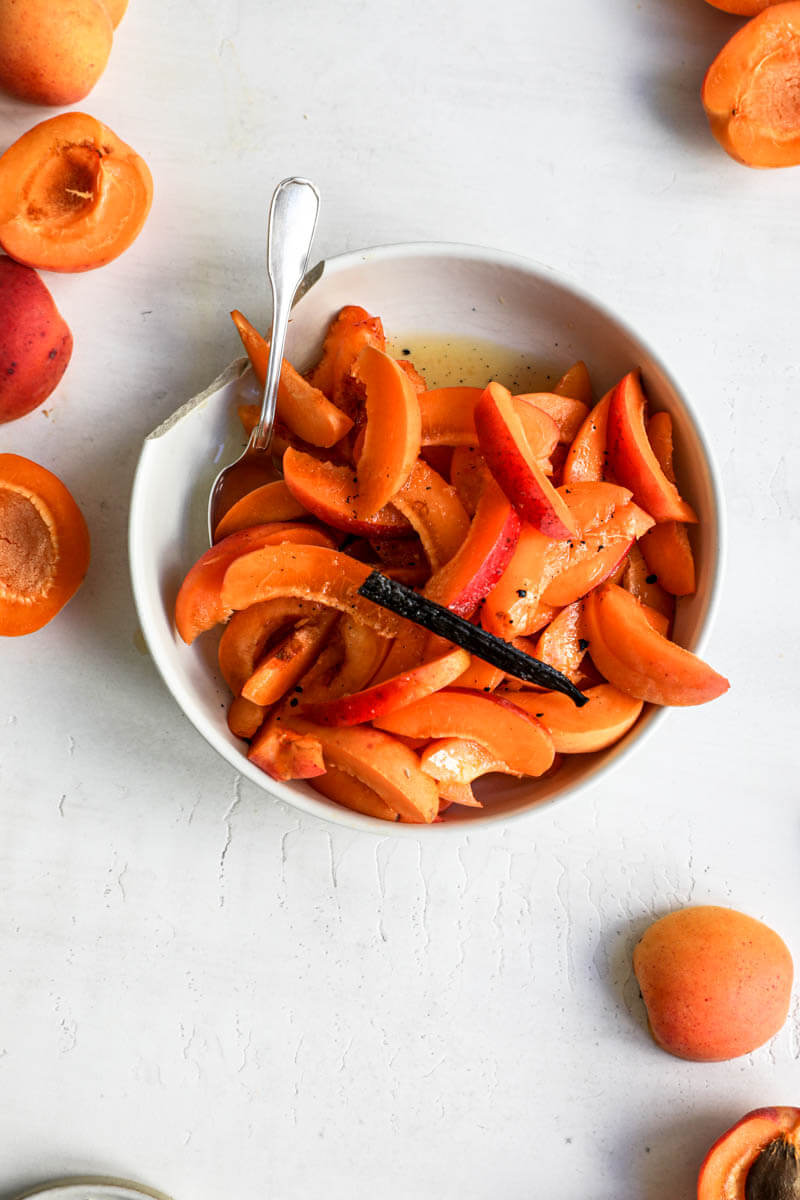 How to make this baked apricot tart?
Once you have all your components you are ready to assemble the tart.
Pre-heat the oven to 180 C° (360 F).
Roll out the dough to 4/5 mm and cut out a circle of 25 cm in diameter.
Place the dough on a baking tray lined with parchment paper. As this is a rustic apricot tart you do not need to line a mold (YAY)!
Strain the apricots and dispose on top of the crust leaving 2.5 cm on each side free of fruit.
Close the dough onto the apricots and brush the apricots with melted butter.
Bake until golden. About 45 minutes.
While the tart is in the oven, put the rest of the maceration liquid in a small pot and let it simmer until it has reduced in volume and changed to the consistency of syrup. This is how you make an easy glaze for tarts.
Brush with the syrup as soon as you remove it from the oven.
Transfer to a wire rack and let cool down at room temperature.
Sprinkle with crumble once is had cooled off.
Enjoy!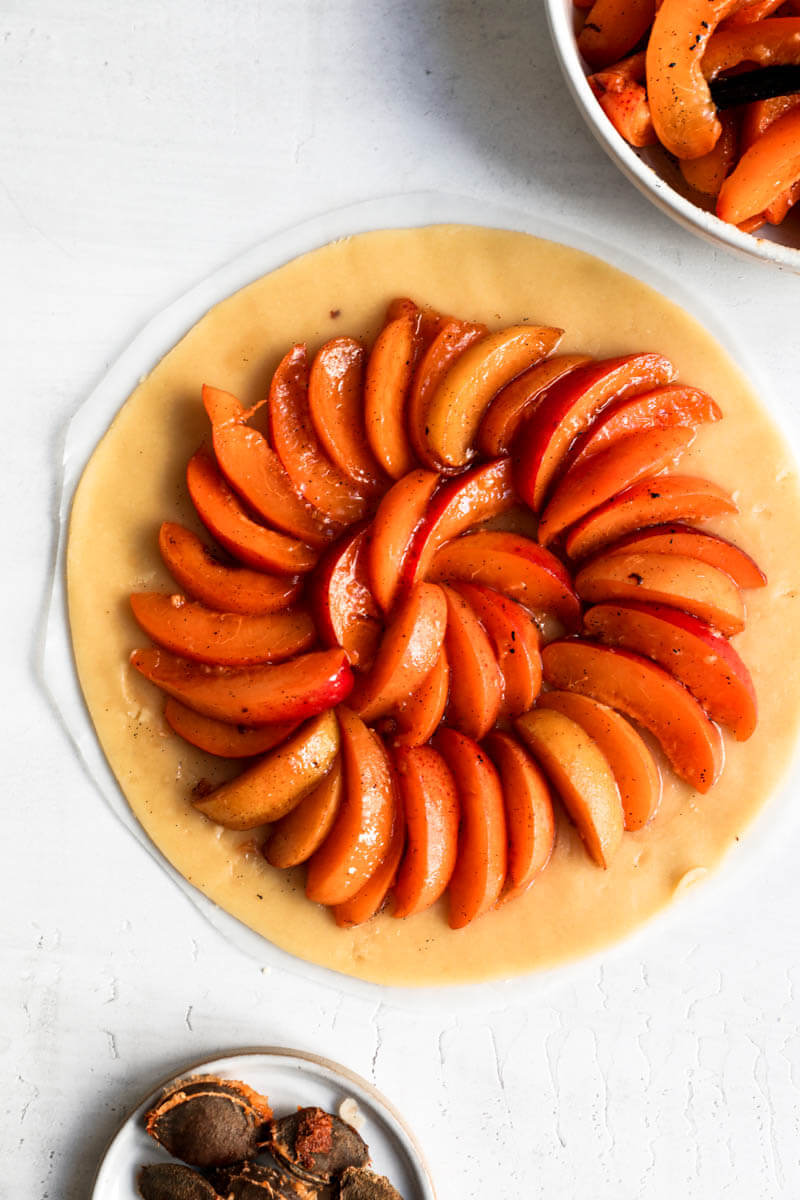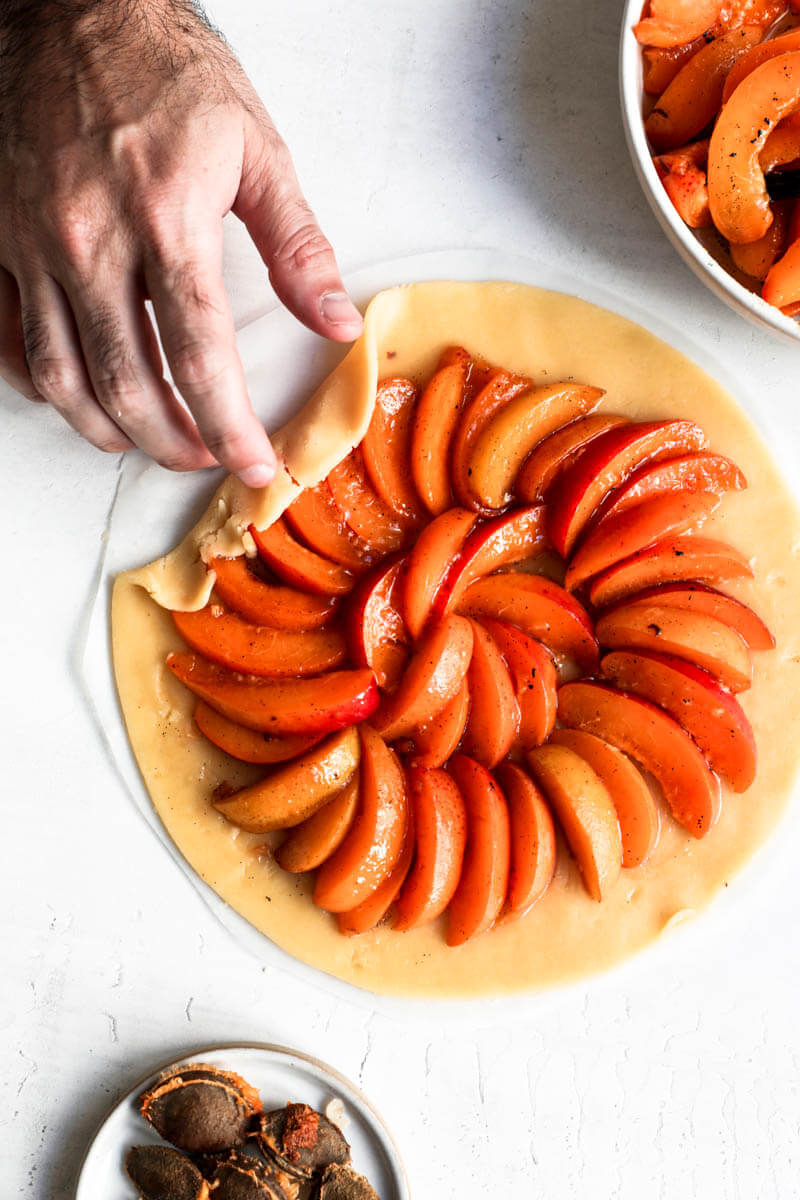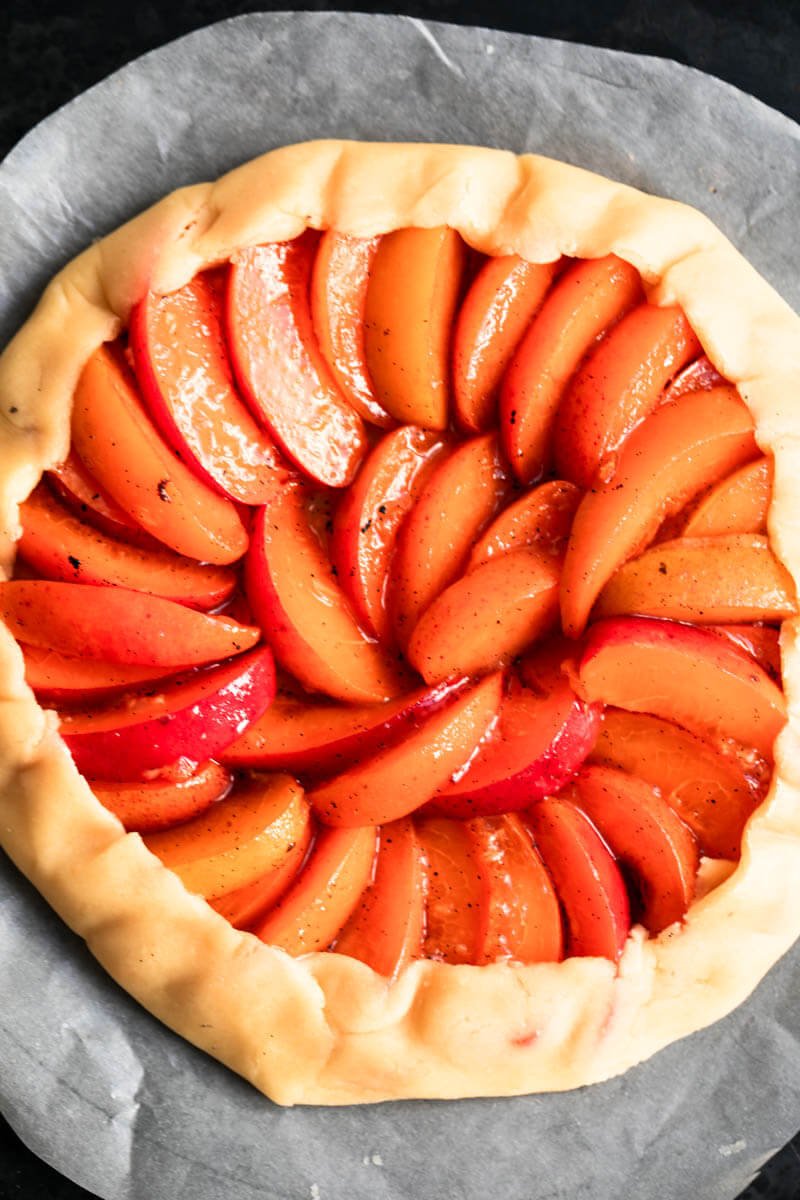 About Freezing apricot tart
I would not recommend freezing this tart because it has fruit that has been baked and when defrosting it will release too much water and become soggy.
What you can do is freezing the raw dough and be ready whenever you have a craving for this easy dessert.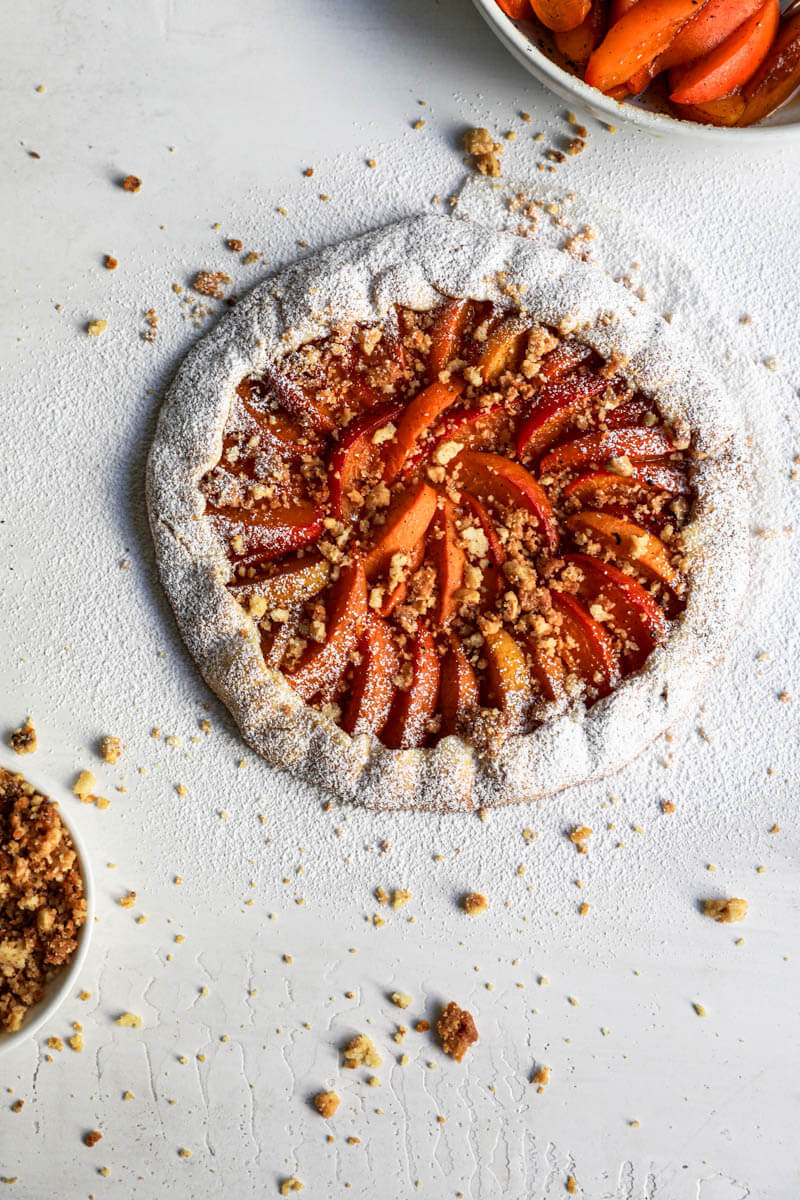 How to serve this dessert
You can serve this tart with a scoop of vanilla ice cream and top it with a spoonful of the syrup you made earlier and some extra crumble to make this even more perfect!
You can get a great recipe for vanilla ice cream here if you feel like making your own Old Fashioned Vanilla Ice Cream Recipe!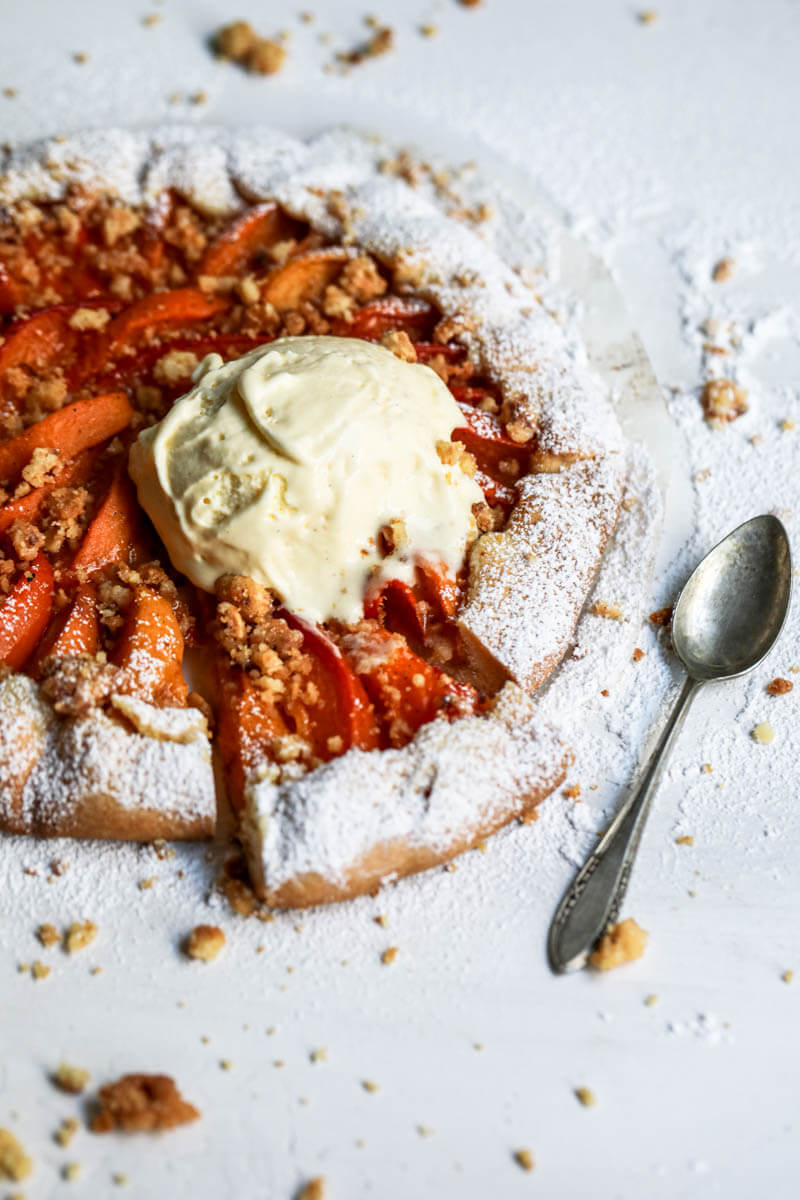 Variations to this tart
If you want to make the classic French apricot tart, you can add a layer of frangipane cream between the dough and the apricots. You can get a recipe for frangipane here Pear Almond Tart.
You can also change the apricots for peaches or red berries if you prefer!
If you made this recipe I would really appreciate it if you leave a rating or comment below! Also, if you share on social media please use #cookwithbelula, I would love to see what you create!