Rustic Apricot Crumble Tart
A rustic apricot tart recipe made with a crumbly shortbread crust filled with vanilla-flavored apricots and baked in the oven. It is then topped with a delicious crumble topping.
This rustic apricot tart is delicious and super easy to make. If you want to go the extra mile, you can make your shortbread crust! This apricot crumble tart is made with an almond crust, filled with fresh apricots that have been soaked with orange juice and vanilla bean, it is then baked in the oven. Finally, this apricot tart recipe called for a sprinkle of my hazelnut almond crumble topping! I can't wait for you to try it out!
Material & Ingredient Notes
Shortbread crust: I used this recipe to make it: Shortbread Crust. However you can use a store-bought one if you prefer!
Fresh apricots: I prefer them fresh. But you can also use canned apricots to make this tart. If you use canned apricots, make sure to pat them dry using a kitchen towel.
Crumble topping: I like this to give the tart an extra crunch.
Vanilla ice cream: this is optional but strongly recommended!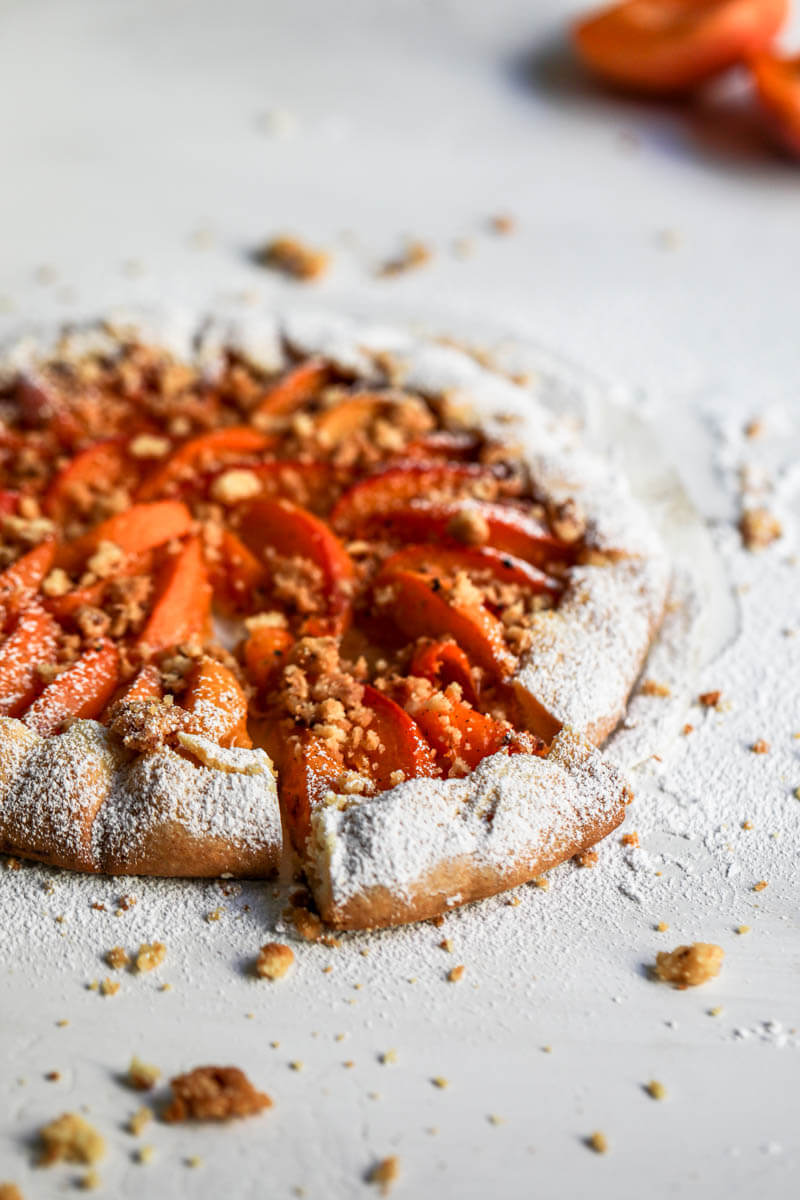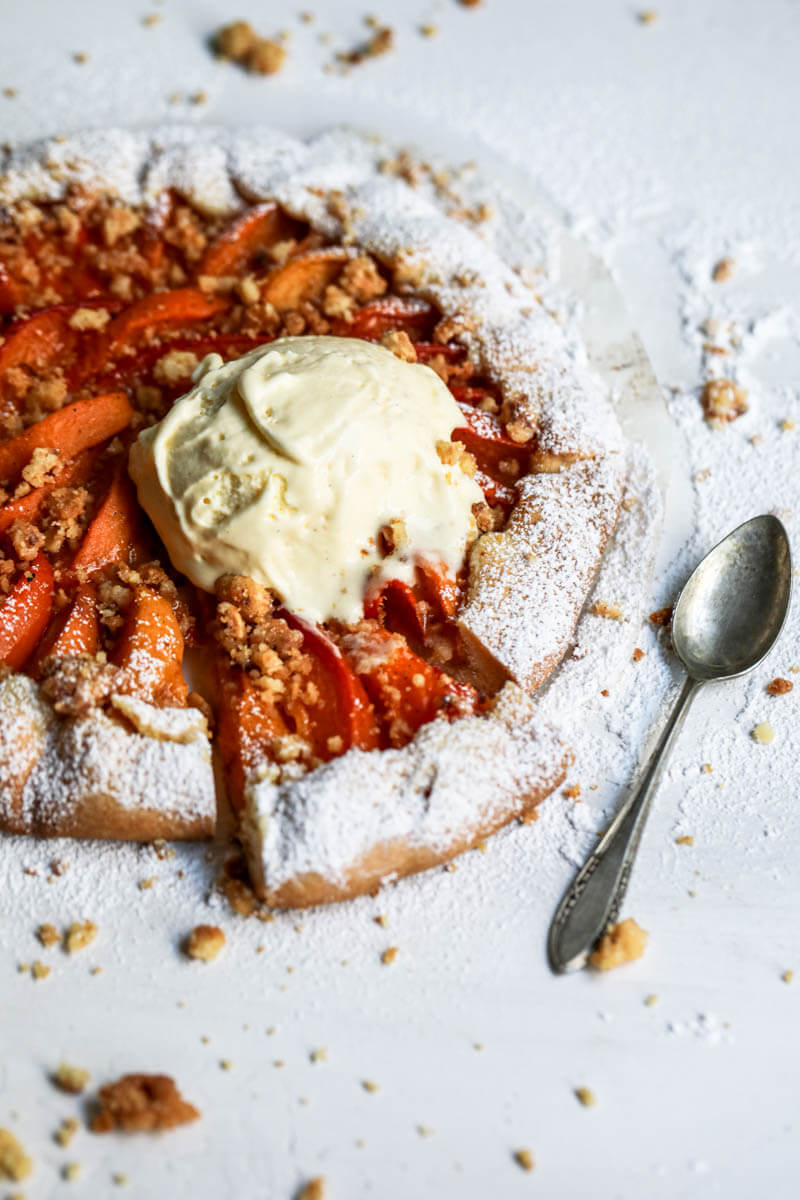 How to make this recipe
Making this rustic apricot tart is rather simple:
Make the shortbread crust
Make the crumble topping
Prepare the apricot filling
Assemble the apricot crumble tart
Bake the tart
Top the apricot tart with the crumble topping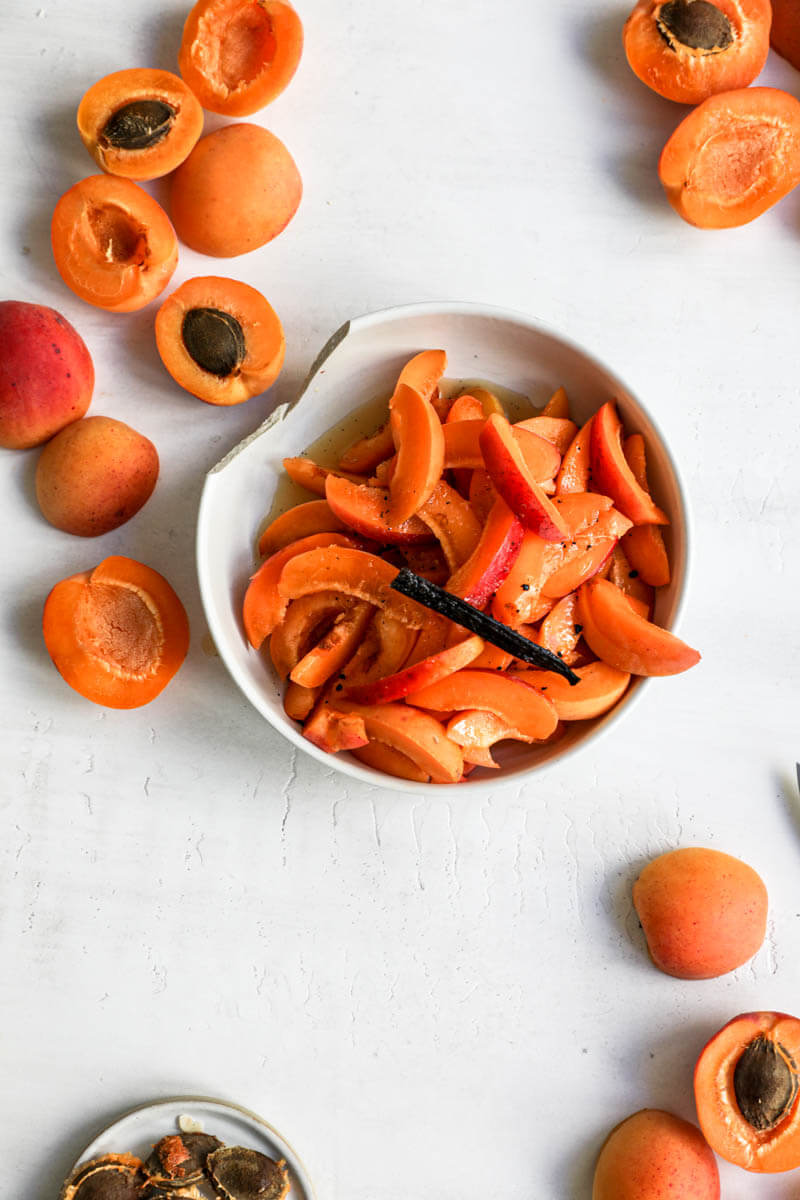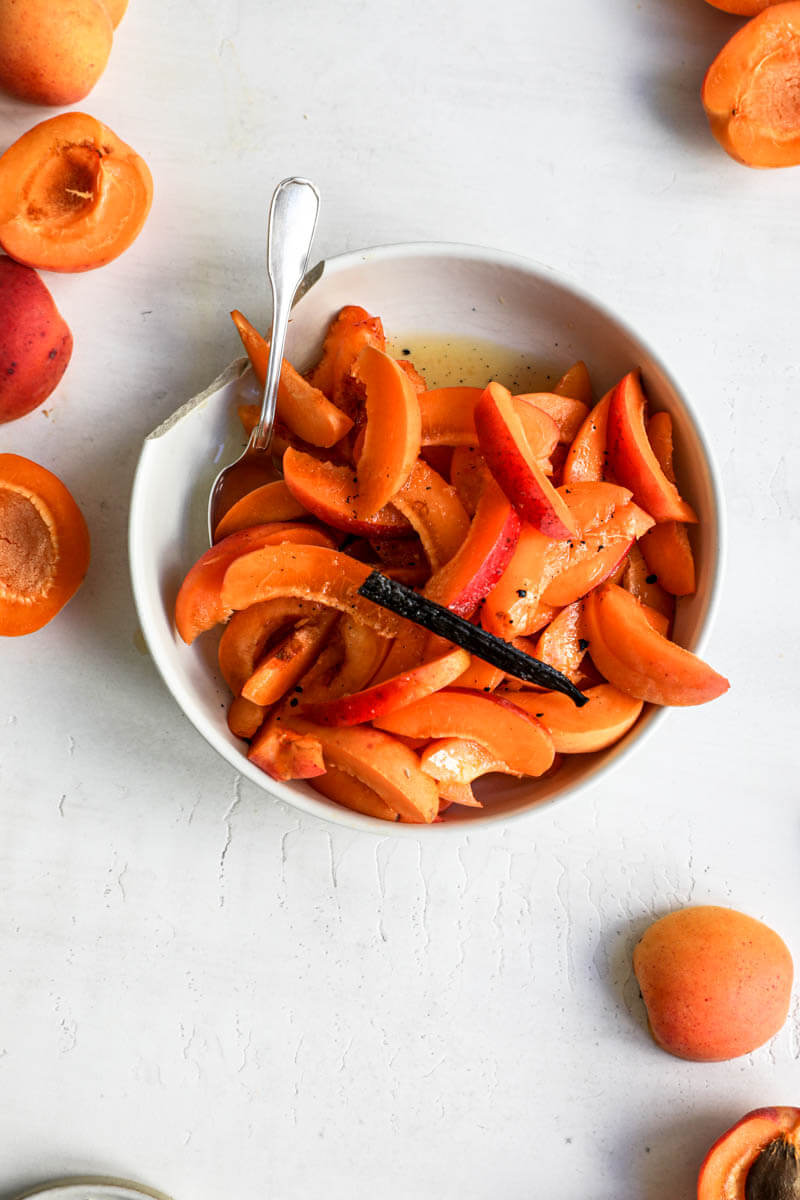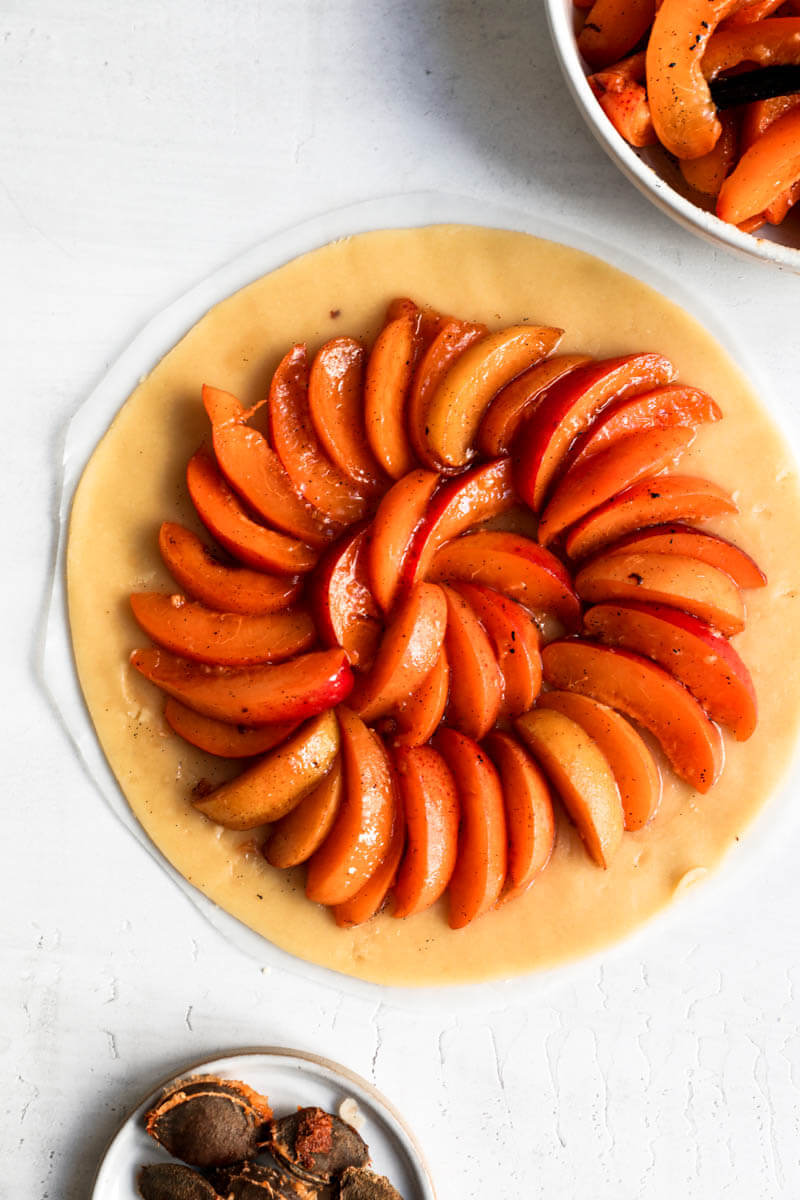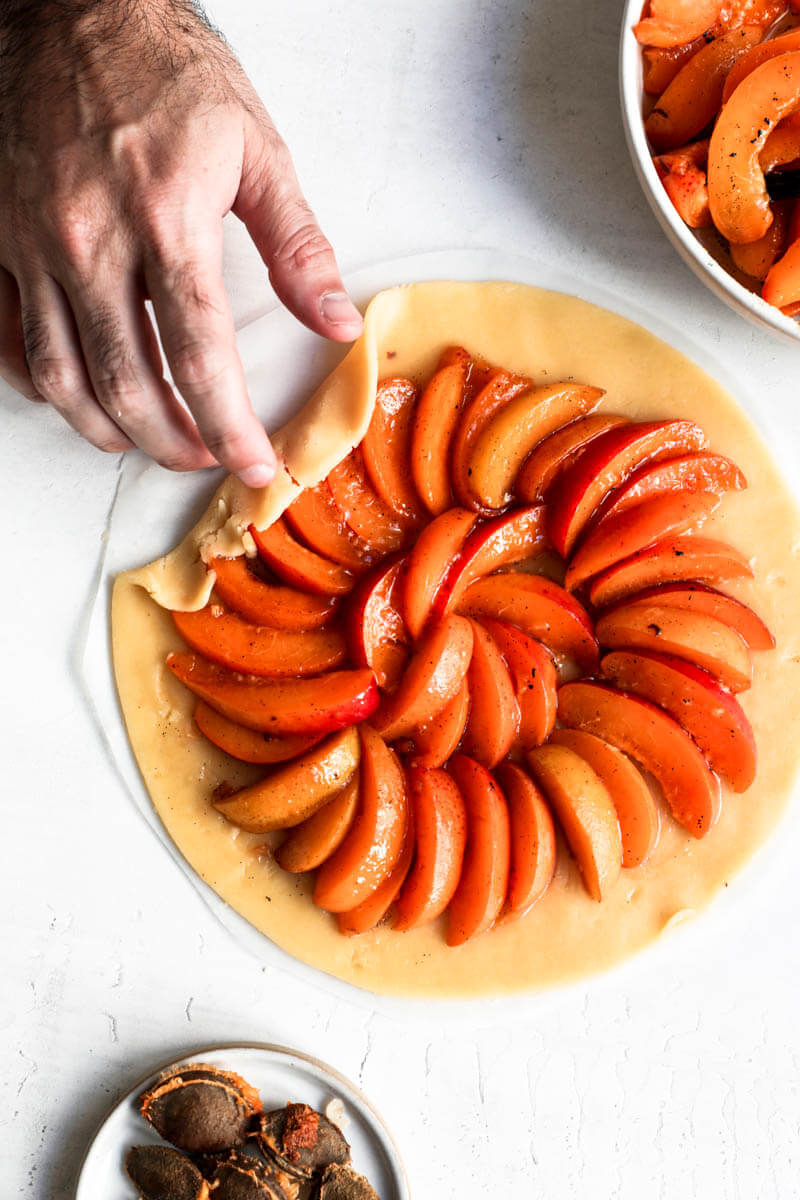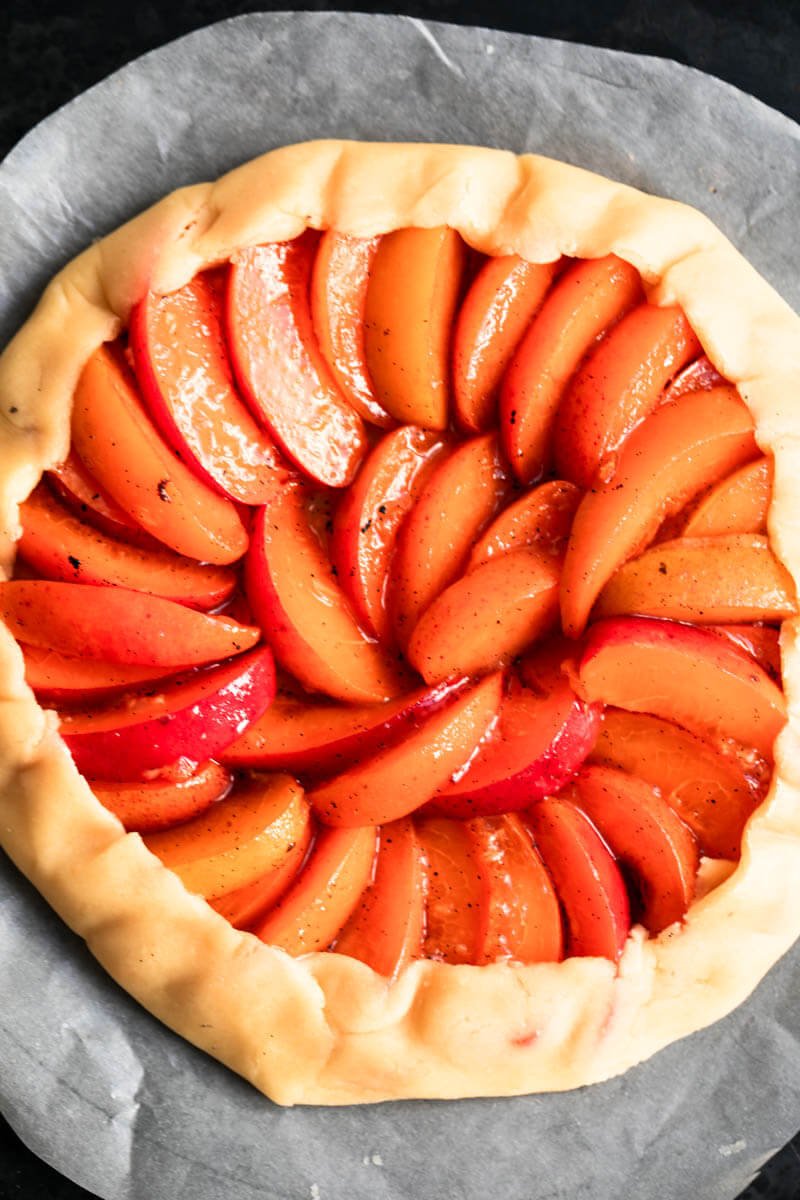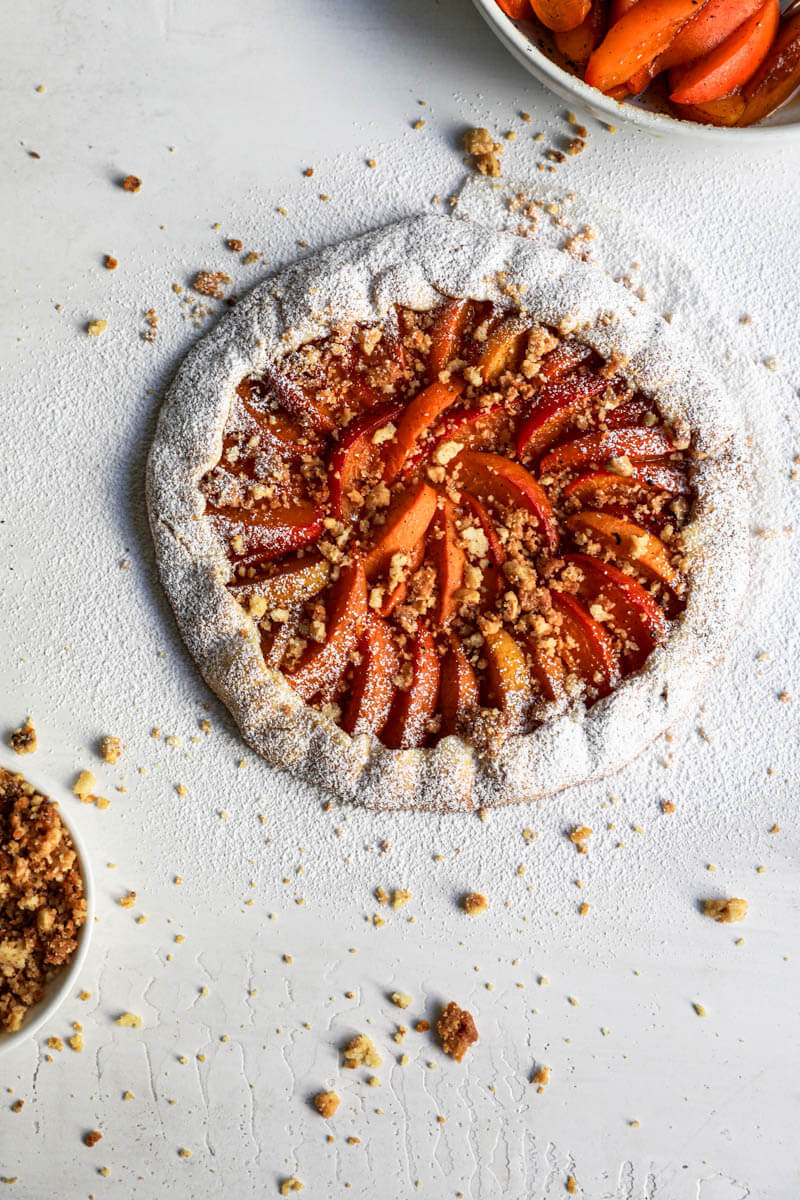 Recipe notes
Make the crumble topping first as it lasts for quite some time.
You can find all the step by step instructions, tips and tricks for the making the crust here: your shortbread crust recipe
Once you have rolled out the shortbread crust, cover with parchment paper and refrigerate for an hour before assembling the tart.
In that time, soak the apricots with the orange juice and the vanilla bean.
Before assembling the tart make sure you strain the apricots and KEEP the soaking liquid.
You must assemble this rustic apricot tart on a piece of parchment paper placed on a baking tray, as it will be difficult to move after.
You can arrange the apricots however you like. I arrange them making circles to make the tart look nice.
While the tart is baking in the oven, let the soaking liquid simmer in a small pot until it had acquired a syrup-like consistency, and has reduced in volume.
Let the tart completely cool off over a rack before you sprinkle it with the crumble topping.
Recipe notes on making this crumble topping
This a different crumble topping recipe because it is not baked along with the tart but rather made separately. I love this technique because it allows me to make a batch and store it in an airtight container and to top tarts, ice cream, mousse. Any dessert is better with it!
To make it you must:
Roll out the dough in between two pieces of parchment paper and refrigerate for about 1 hour.
Transfer the crumble onto a baking tray and remove the top parchment paper. Bake until brown (about 15 minutes).
After is has completely cooled off, break down and store in an airtight container to keep crumble from getting soggy.
I pass the crumble through a thin mesh strainer. You can break it using your hands too.
Crumble topping keeps for about 2 weeks safely stored.
Expert notes
The soaking liquid turned syrup will be used to glaze the rustic apricot tart once it is removed from the oven to make it shine a little.
Storage tips
This tart must be kept in the refrigerator to avoid the crust from getting soggy too fast. It lasts for up to 3 days stored in an airtight container. However, it is best enjoyed the day it has been baked.
Freezer instructions
I would not recommend freezing this apricot tart as the fruit has been baked and will release too much water and become soggy when it defrosts..
What you can do is freeze the raw dough and so it's ready whenever you have a craving for this easy dessert. The shortbread crust lasts for 3 months stored in an airtight container.
How to serve this rustic apricot tart
You can serve this tart with a scoop of vanilla ice cream and top it with a spoonful of the syrup you made earlier and some extra crumble to make this even more perfect!
You can get a great recipe for vanilla ice cream here if you feel like making your own Old Fashioned Vanilla Ice Cream Recipe!
Variations to this recipe
If you want to make the classic French apricot tart, you can add a layer of frangipane cream between the dough and the apricots. You can get a recipe for frangipane here Pear Almond Tart.
You can also change the apricots for peaches or red berries if you prefer!
The ingredients used in all recipes on this site are measured using the metric system. I use a
scale
to be precise with my measurements and ensure good results. If you would also like to use a scale, here are some:
USA
,
Canada
,
UK
,
Australia
,
France
.
Subscribe to the newsletter
Dough
Apricot Filling
Apricots

350 g

Brown Sugar

60 g

Orange

0.5

Vanilla Beans

1

Butter

20 g
Crumble Topping
Butter

25 g

Brown Sugar

25 g

Salt

1 pinch

Almond Flour

30 g

All-purpose Flour

20 g

Roasted Hazelnuts

20 g
If you made this recipe I would really appreciate it if you leave a rating or comment below! Also, if you share on social media please use #cookwithbelula, I would love to see what you create!