To make a sweet tart unforgettable it must have the most delicious homemade shortbread crust as a base. One of the first things I learned at Pastry School was how to make a "pâte sable" recipe and how to line a tart tin with it. They drilled this into our brains! Tarts are particularly important in French Pastry, if you go into a Pastry Shop half of their offering will be tarts in many different flavours and colours. But the technique to making a shortbread tart crust remains the same. Always. Hopefully, this will help you take your pâte sablée game to the next level.
Utensils & Ingredient notes
Butter: must be unsalted and cold, cut into cubes.
How to make this recipe: step-by-step instructions
In a bowl mix together all the dry ingredients (flour, almond flour, powdered sugar) and the vanilla seeds. Add the butter (cold cold) cut into small cubes.
Using your fingertips, break down the butter, until you obtain a sandy, grainy consistency. There should be pieces of butter still visible, and the color of the dry ingredients has changed towards a more yellowy tone.
Add the egg and mix using one finger.
Transfer the dough onto your working surface and using the palm of your hand to smear the dough and obtain a homogenous mixture. (The technical French term is "fraiser"). You can repeat the operation up to 3 or 4 times.
Form a rectangle of about 2 cm tall (it is easier to roll it out after); wrap it in plastic and chill in the fridge for at least 2 hours. If you can do it the day before, even better!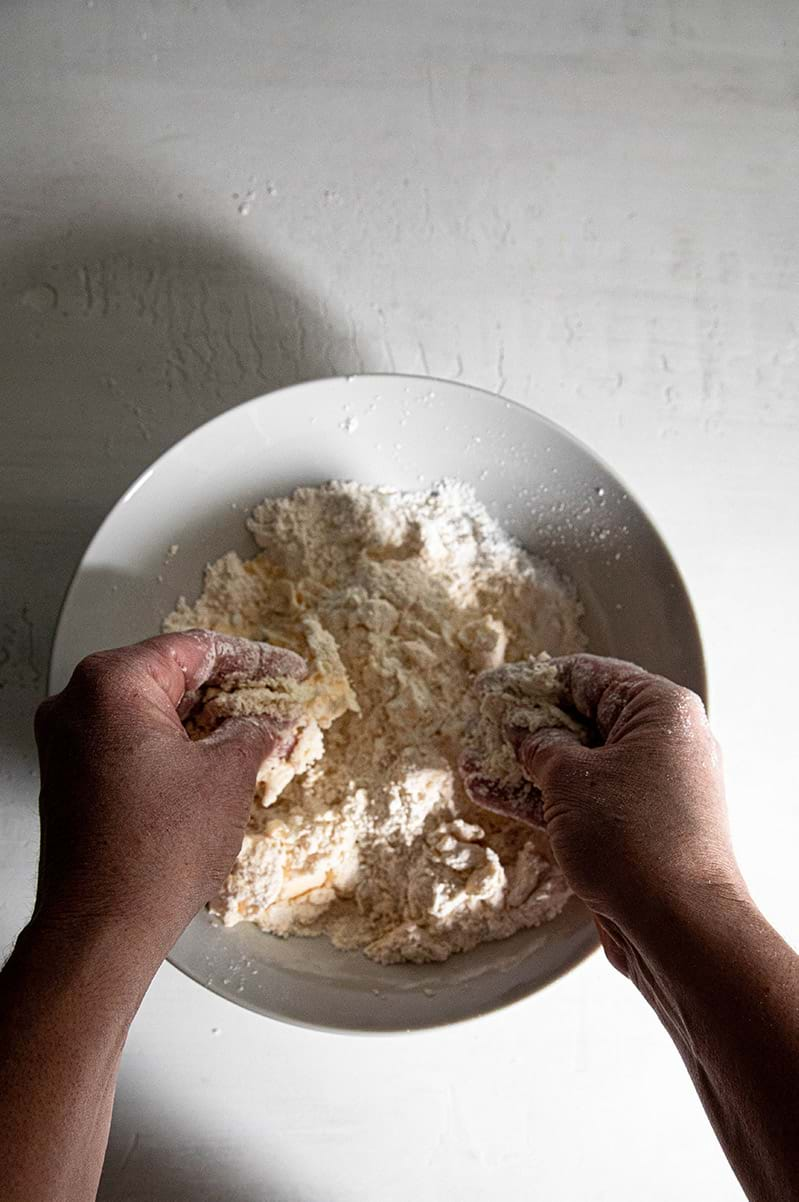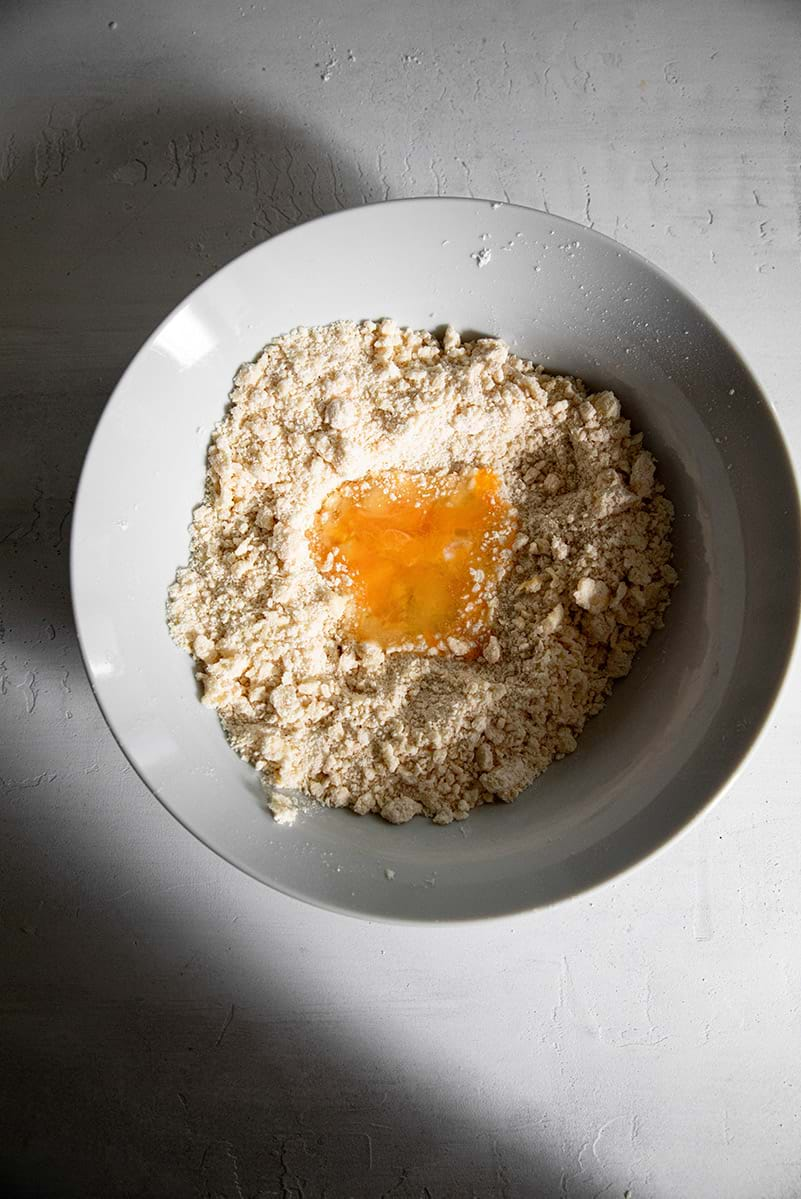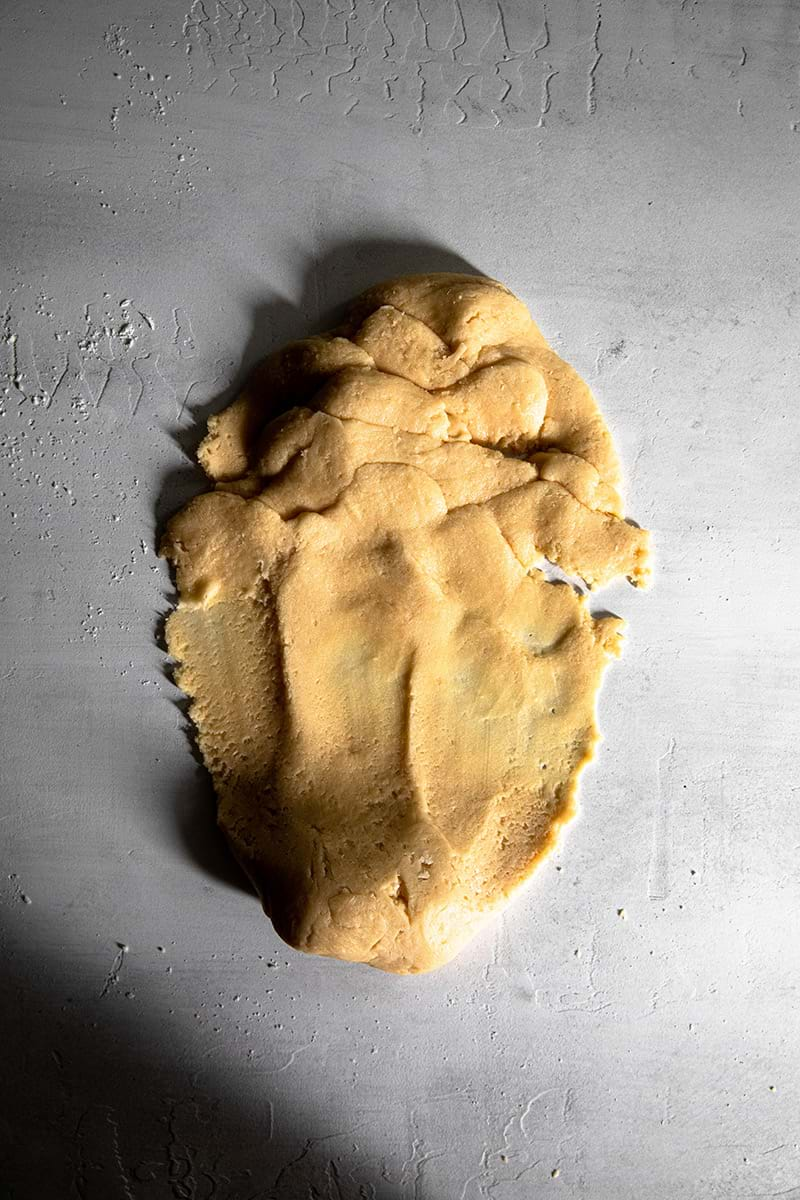 You can also watch how to make shortbread tart crust by hand in this video:
Expert notes on lining a tart tin
The most important thing to know when working with shortbread pastry is that you must work with chilled dough. If at any point you feel it is difficult to handle, pop back the dough in the fridge for 10/15 minutes before continuing. Working with cold dough makes this process much easier.
Roll out the pastry to 3 mm approximately and line your tart tin. To roll out the dough first tap with the rolling pin to make it thinner. This way you will avoid breaking the crust when rolling out.
Remember cut out the dough in a circular shape and about 4/5 centimetres bigger than the tart tin you are going to line.
Line the tart tin and then cut the excess dough either using a knife or using the rolling pin.
Pinch the base of the tart with a fork.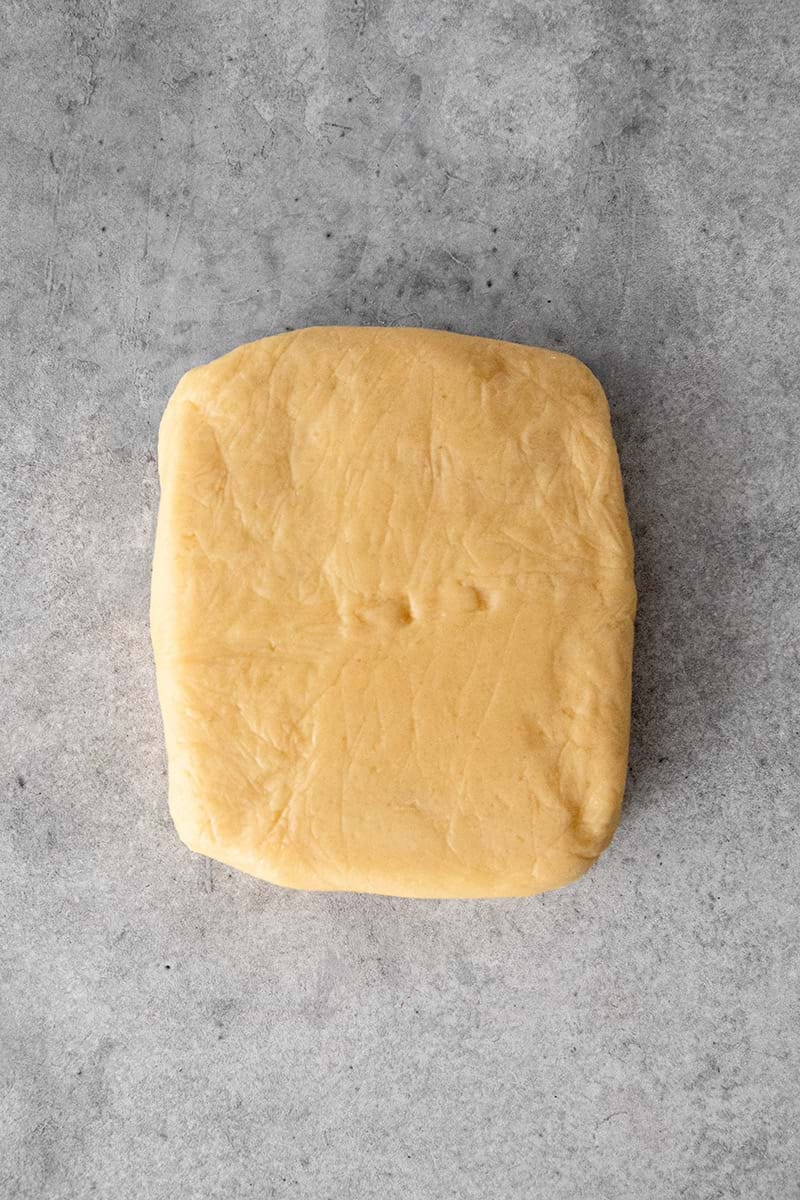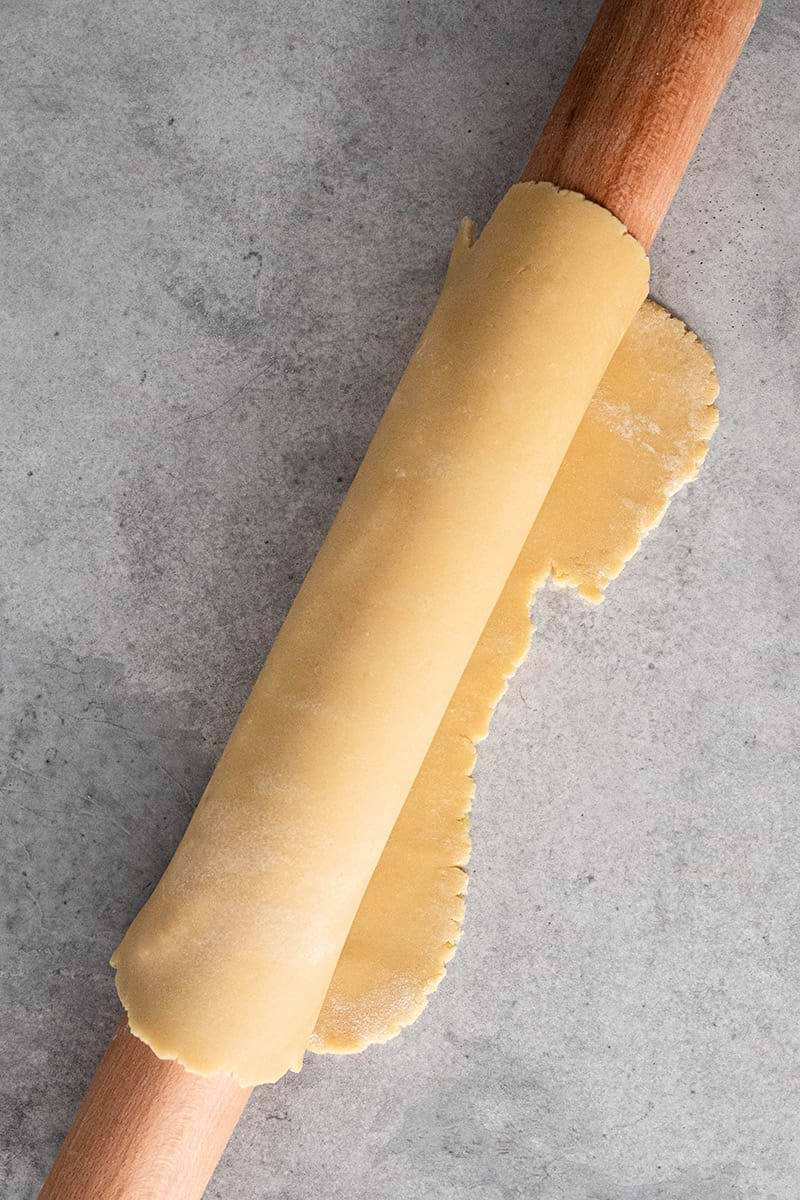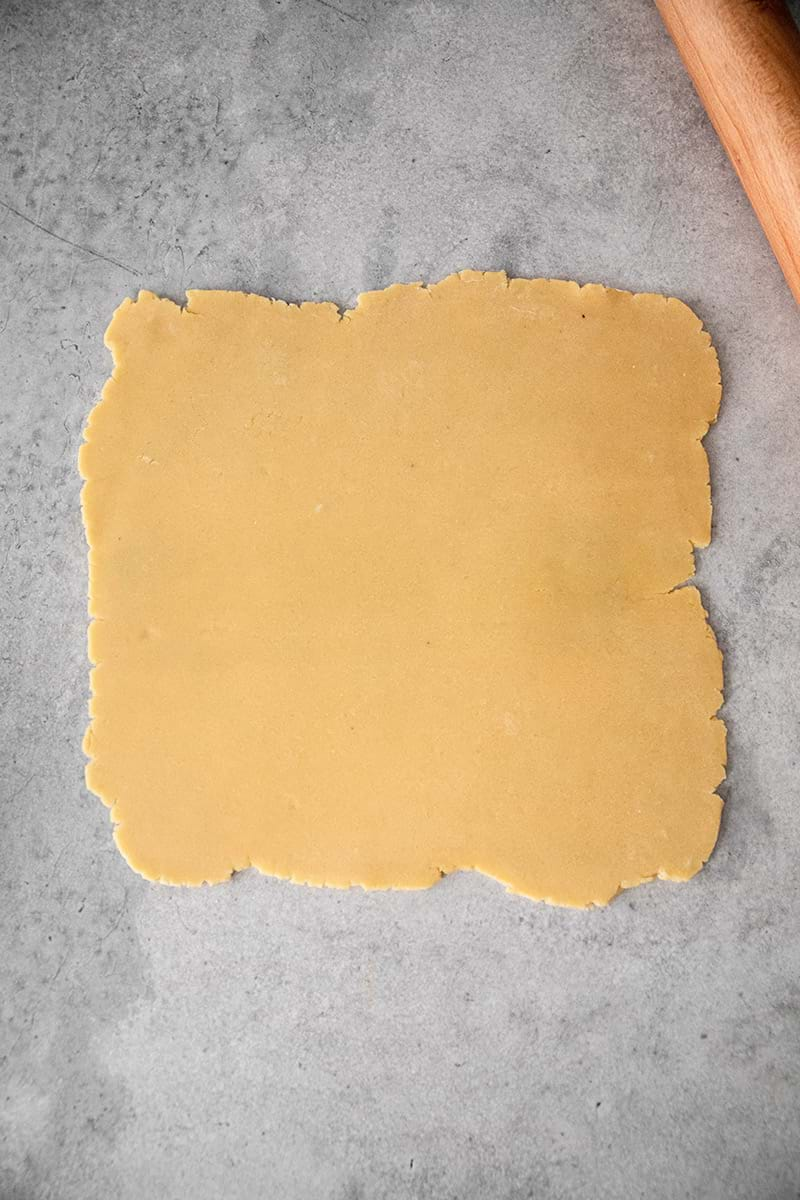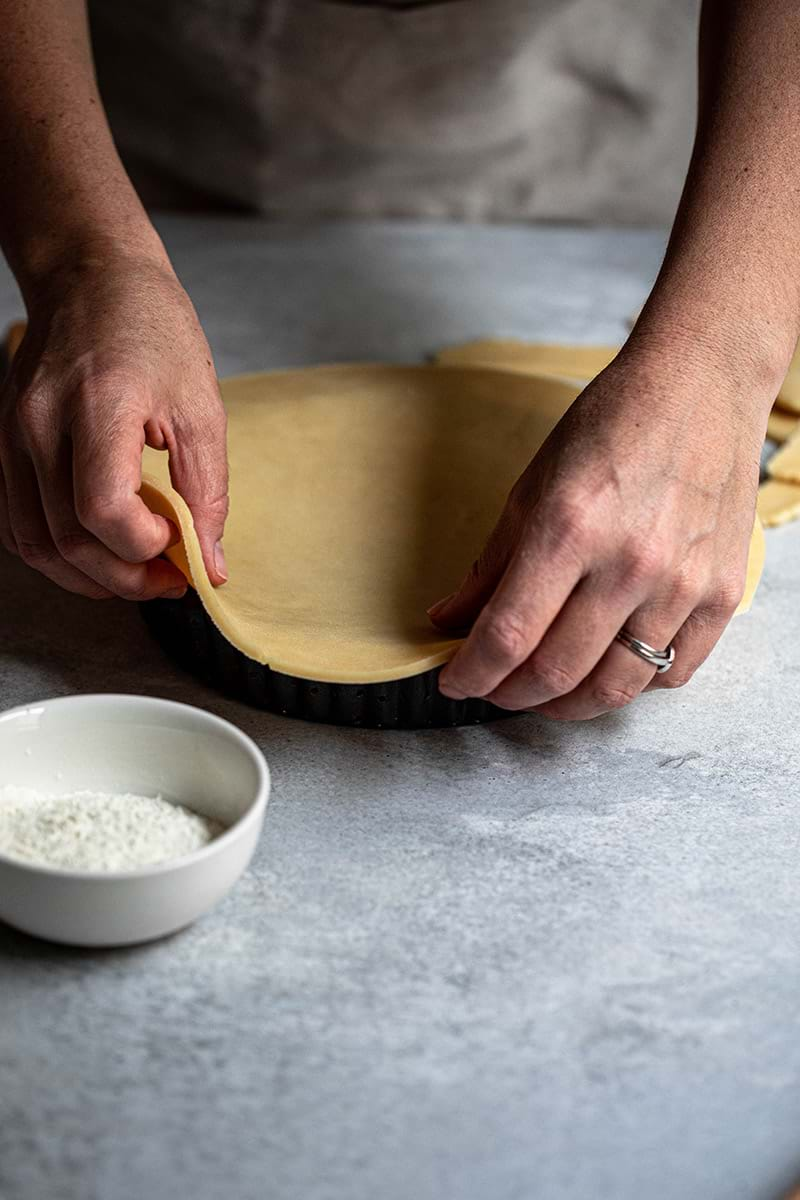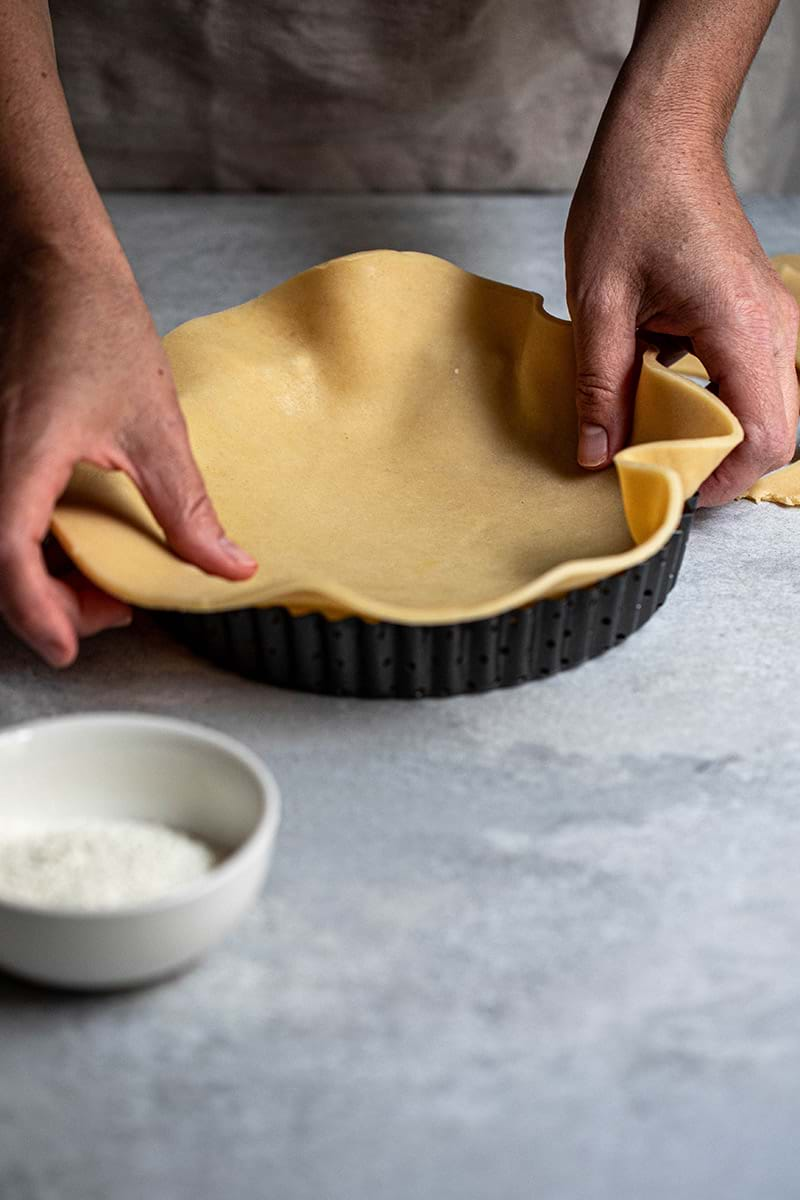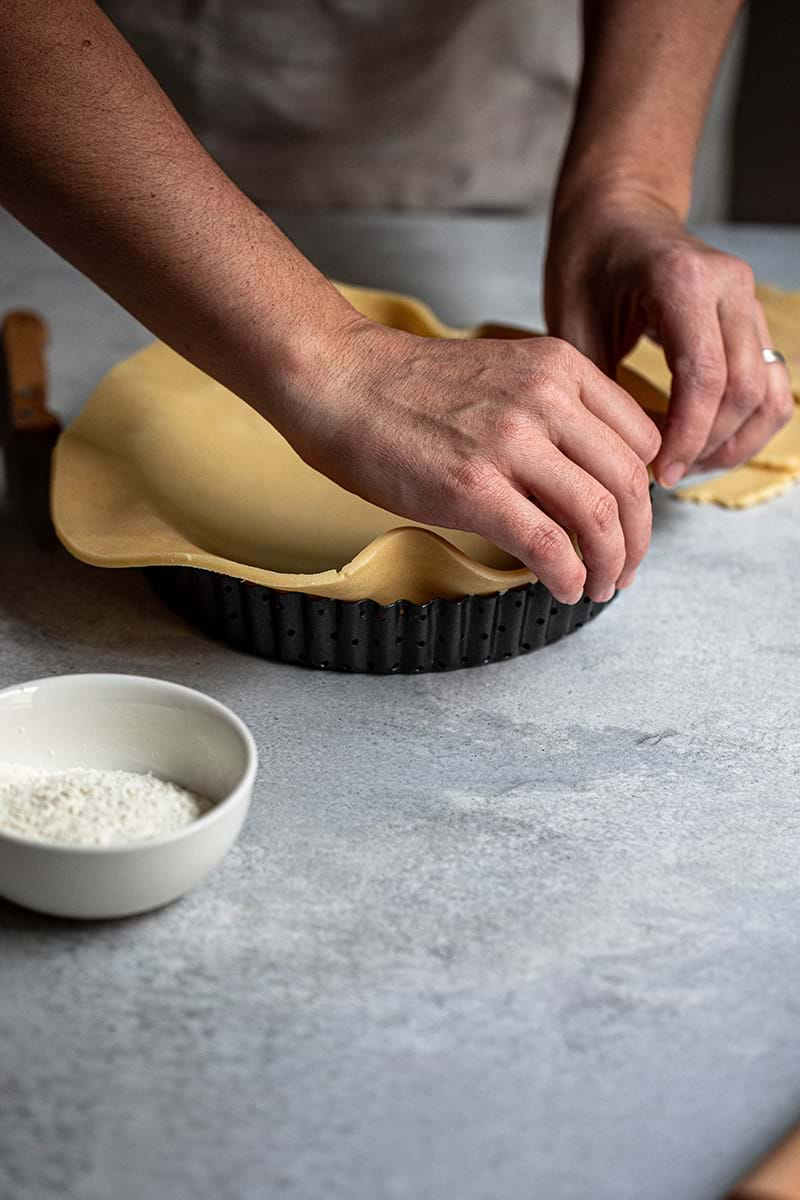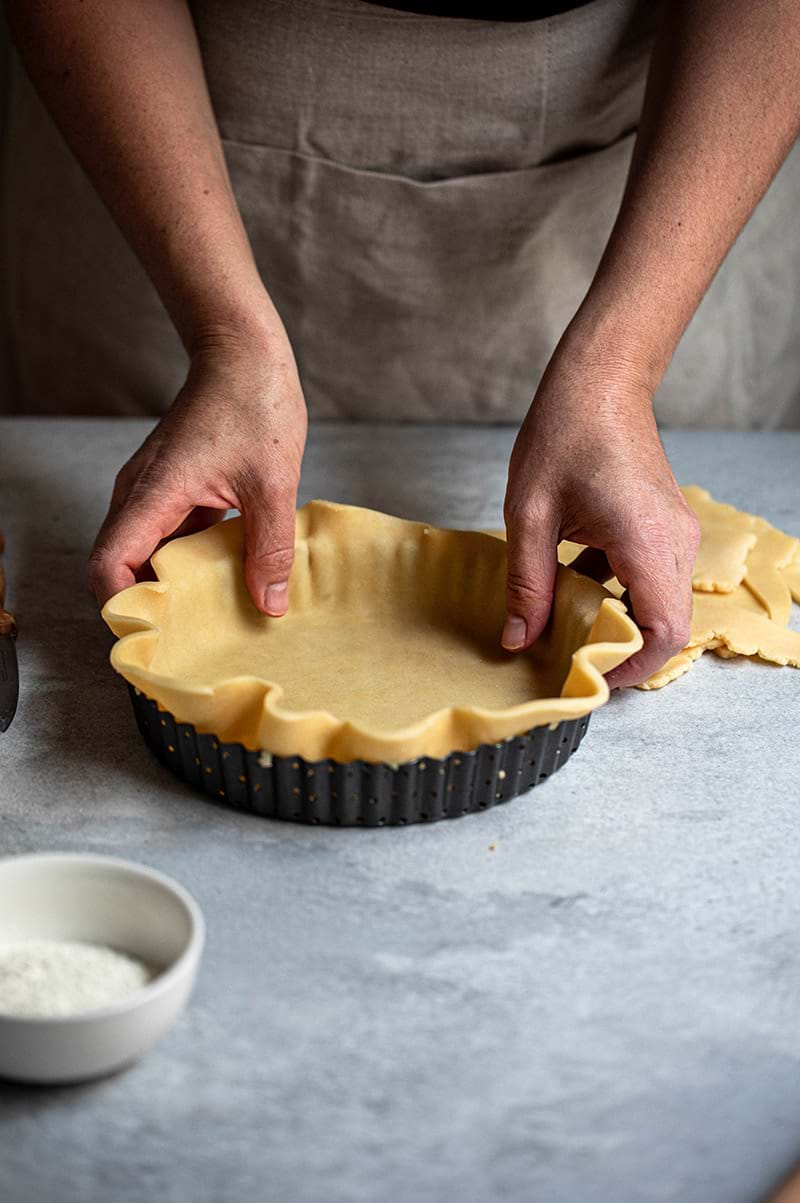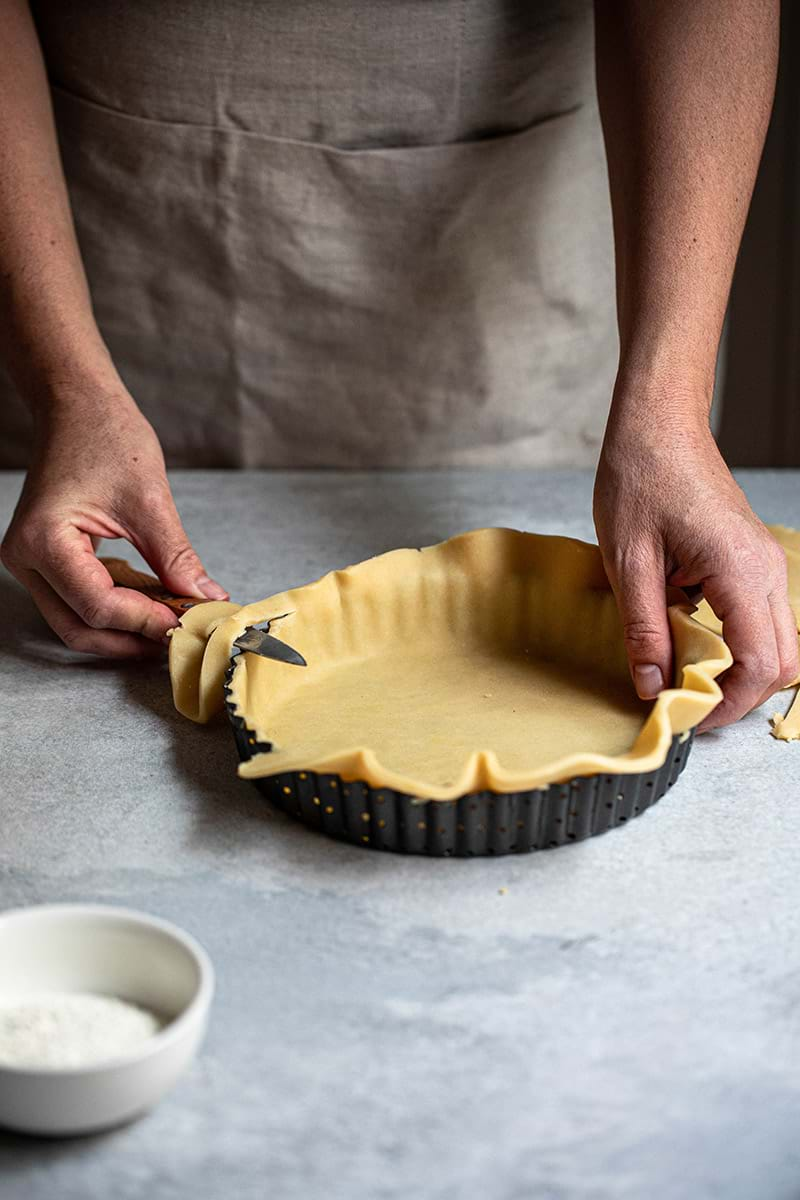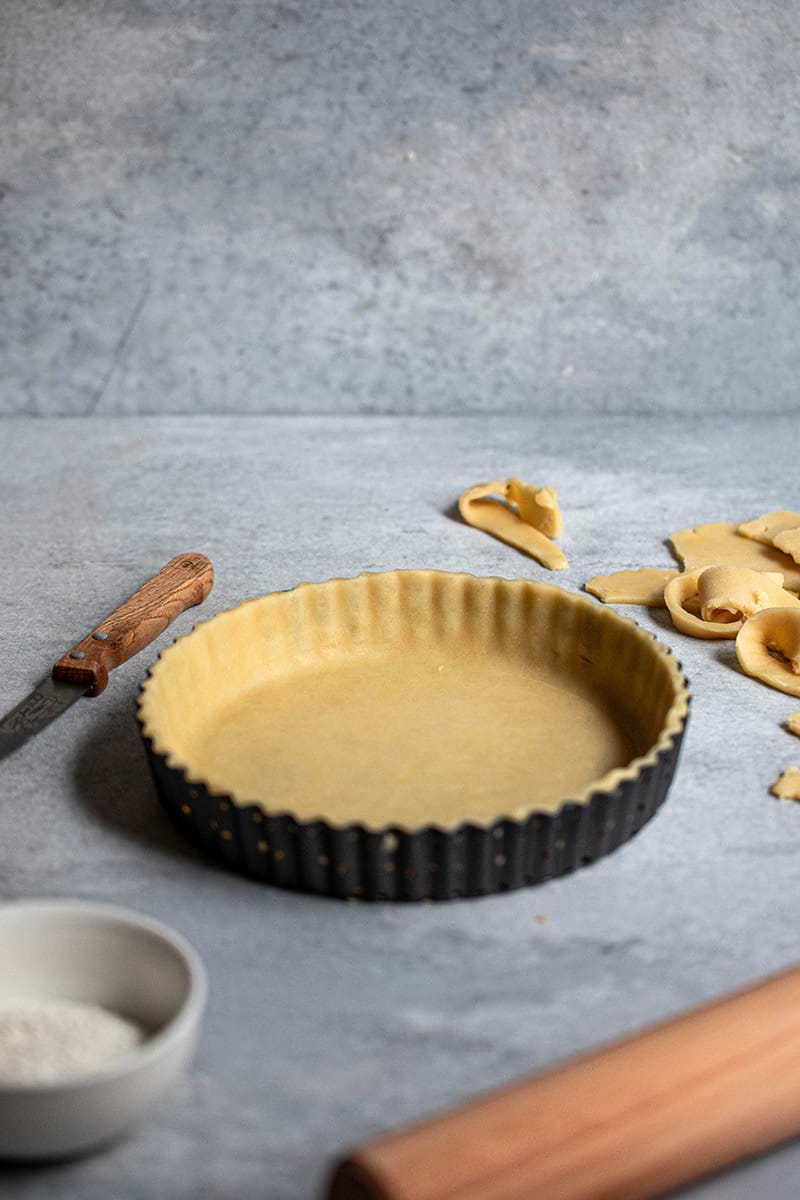 You can watch an easy way to line your tart tin here: How To Line A Tart Tin.
Baking tips
After lining the tin transfer to the fridge cover in plastic wrap for 30 minutes.
Make sure your oven is pre-heated.
Depending on which tart recipe you want to make you will have to:
Bake your empty curst:
Line the quiche tin and line the interior of the crust with parchment paper. Fill with beans or rice and blind bake for 12 minutes.
Remove the beans/rice and the parchment paper and bake until the quiche crust is cooked and coloured.
Let it come to room temperature and assembly the tart of your choosing.
Bake the raw tart shell with the filling directly. In which case, you don't have to pre bake the shortbread crust.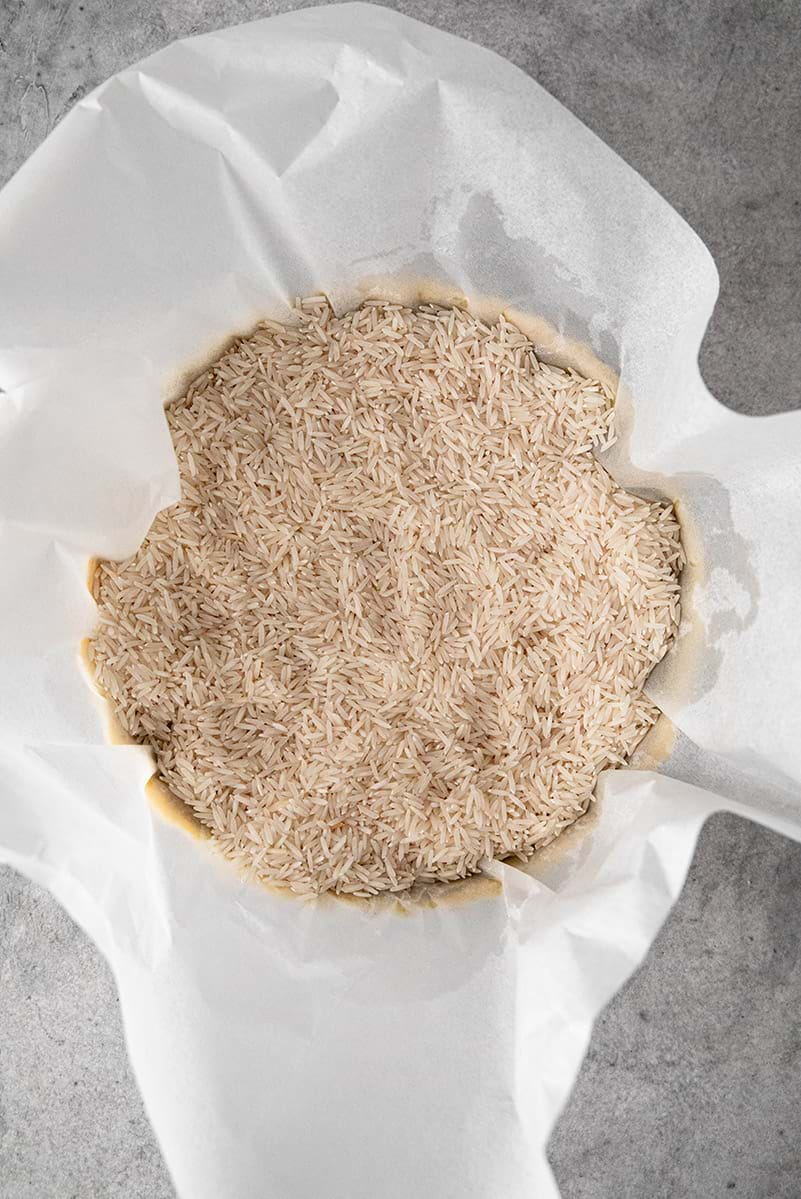 Storage tips
You can keep in the refrigerator wrapped in film wrap for up to 2 days.
Once you are ready to roll out the dough, remove from the refrigerator and let it sit at room temperature for about 5 minutes before working the dough.
Freezer instructions
Yes! You most definitely can. After you make it and shape it into a rectangle of about 2 cm high, covered in plastic wrap twice and transfer to freezer bag.
You can keep in the freezer for up to 3 months.
You can double or triple the recipe to make extra dough to freeze and have ready whenever you feel like having a delicious dessert.
To defrost: let it rest overnight in the fridge (still wrapped in plastic). Before rolling out, let it sit a room temperature for about 10/15 minutes.
Ideas of Desserts made with shortbread crust
Possibilities for desserts with shortbread pie crust are endless:
You can make fruit tarts using this kind of dough, mainly in two different ways.
Cooked fruit: in which case you fill the crust with the fruit, or cream and fruit, and then bake all together. Like this Pear Frangipane Tart or this Apricot Tart.
Fresh fruit: you need to bake the tart first (check out how to do this here Quiche Crust) and then fill with cream and top with fresh fruit. Like this Berry Tart or you can fill the baked tart dough with a layer of dulce de leche, followed by a layer of Chantilly cream and topped with fresh raspberries.
Chocolate. Always chocolate. One idea might be this Salted Caramel Tart. A chocolate mousse tart is also a great idea: Chocolate Mousse Tart
Custard tarts are also a great idea. It is one of the things French love the most!
If you made this recipe I would really appreciate it if you leave a rating or comment below! Also, if you share on social media please use #cookwithbelula, I would love to see what you create!