Quiche Crust
A flakey and buttery quiche crust recipe. An easy recipe that shows exactly how to make the perfect crust for your quiche.
I am a quiche fan. There I said it. I could have quiche for every meal, no questions asked. And if it's with homemade crust so much better. Ever since I learned how to properly make it, I enjoy my favourite meal even more. It also reminds me of Sunday lunch at my parents' house: there was always a quiche as part of the menu!
What do you need to make quiche crust?
To make pie crust for quiche you need:
All-purpose flour
Butter
Water
Egg yolk
Salt
A quiche tin 20 cm in diameter (8 inch)
Parchment paper
Rolling pin
Rice or beans for blind baking your crust
A scale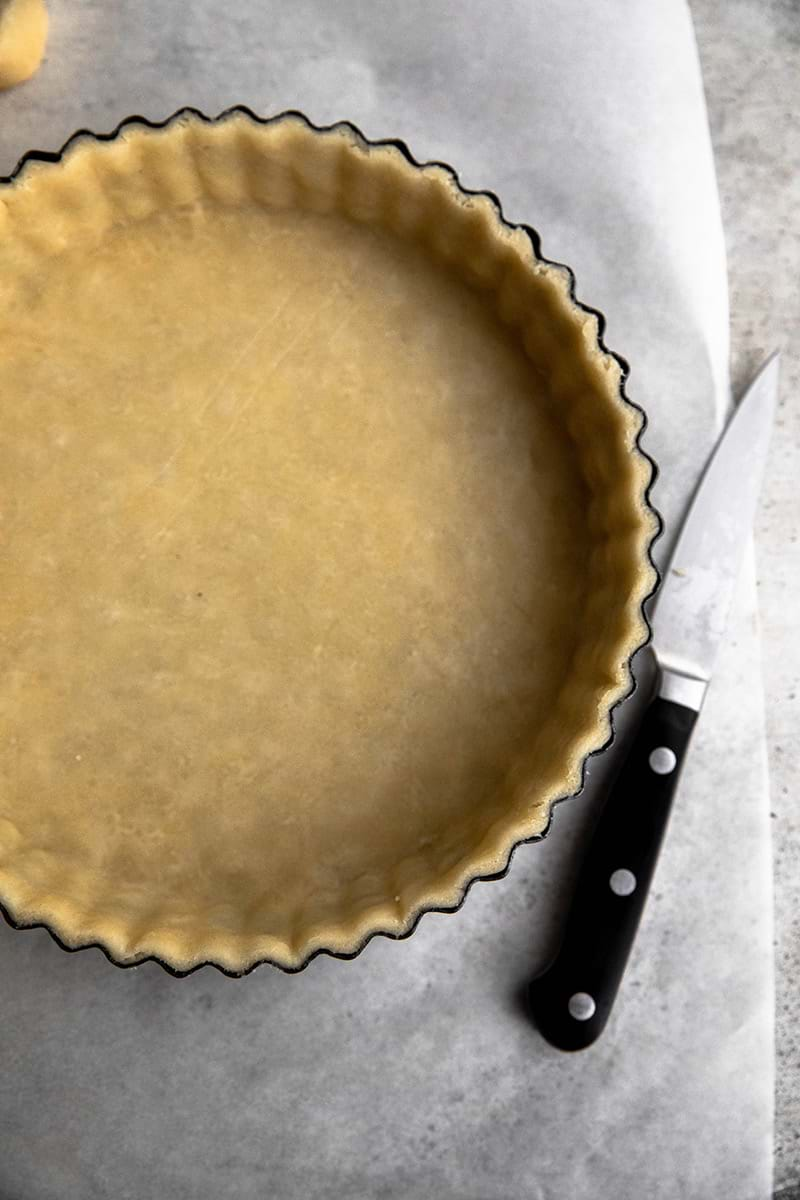 How to make quiche crust?
Making this dough is rather easy and straightforward. A few tips:
Butter must be cold.
The water you use must be ice cold to.
Do not overwork your dough. You do not want it to become super elastic or it will shrink in the oven.
The step by step is simple:
In a bowl mix together all the dry ingredients and add the cold butter cut into small cubes.
Rub the butter and the flour together until you end up with a sandy/breadcrumb consistency.
Add the egg and mix using one finger.
Transfer the dough onto your working surface and use the palm of your hand to smear the dough and obtain a homogeneous mixture. You can repeat the operation up to 2 or 3 times. You can watch how to smear the dough in the video below.
Shape into a rectangle of 2 cm high and refrigerate for a minimum of 2 hours.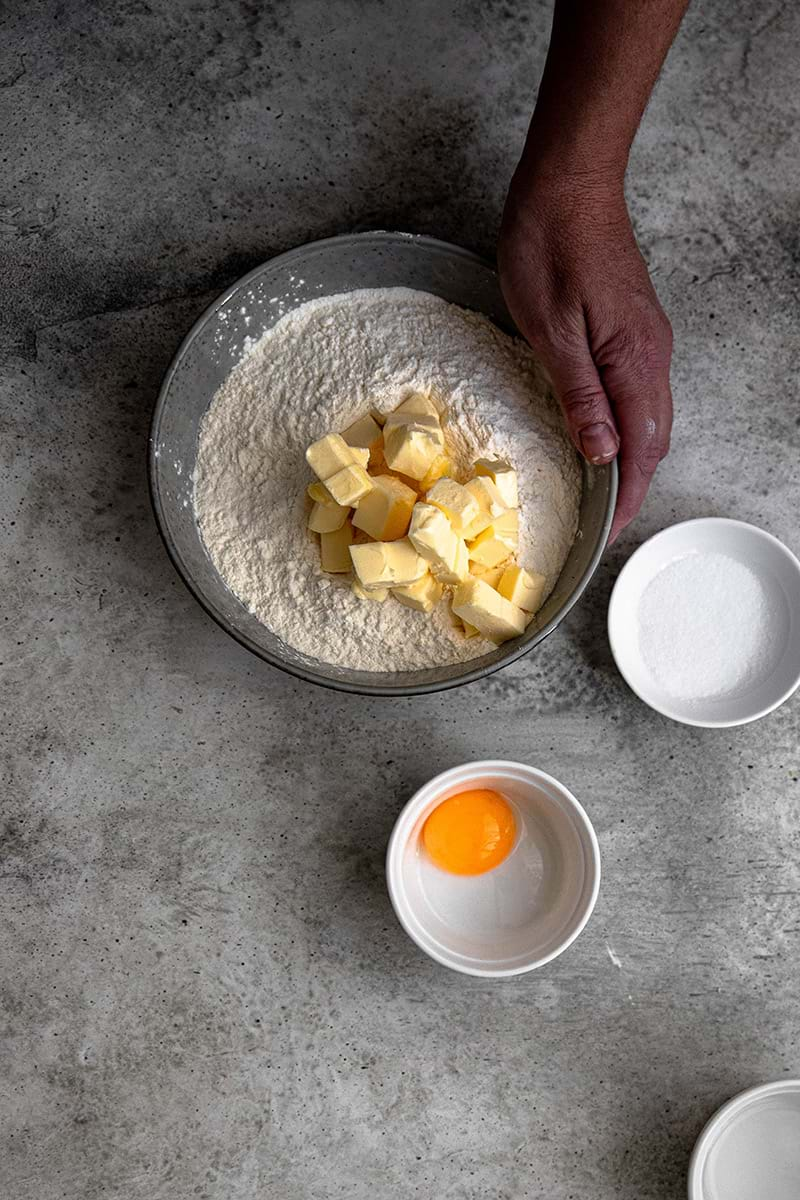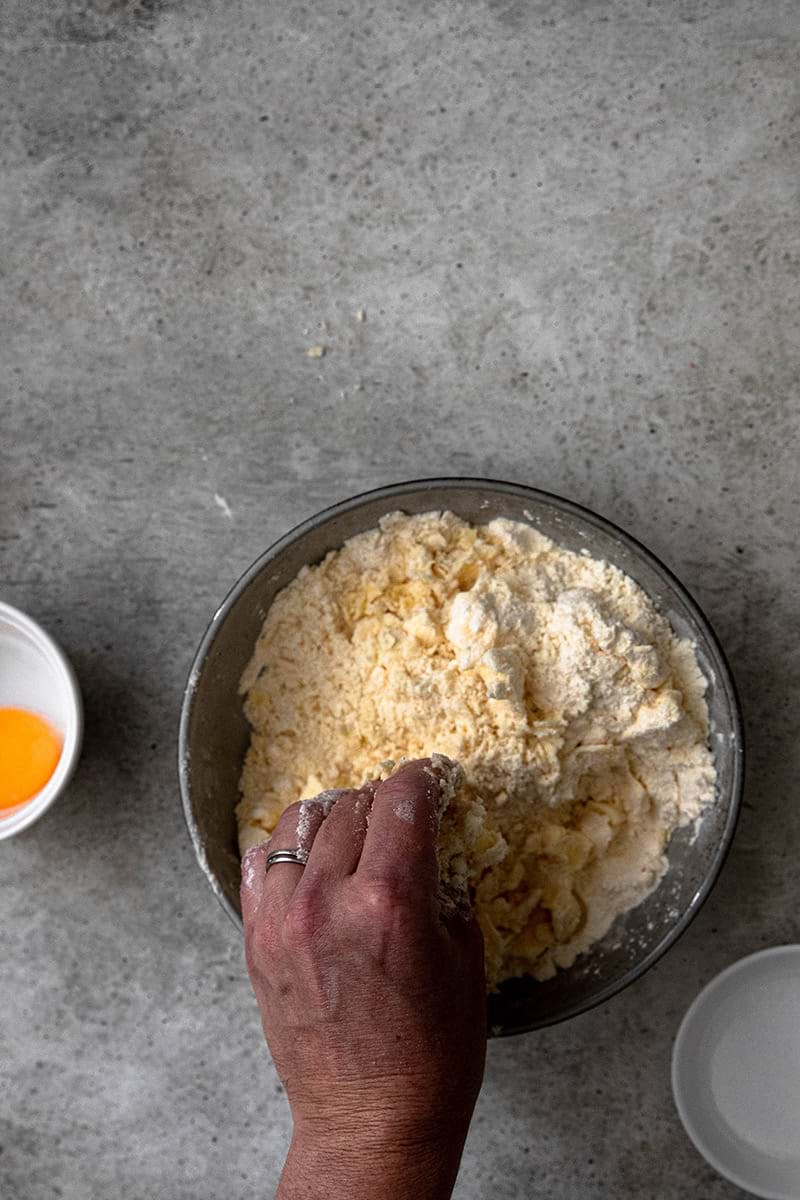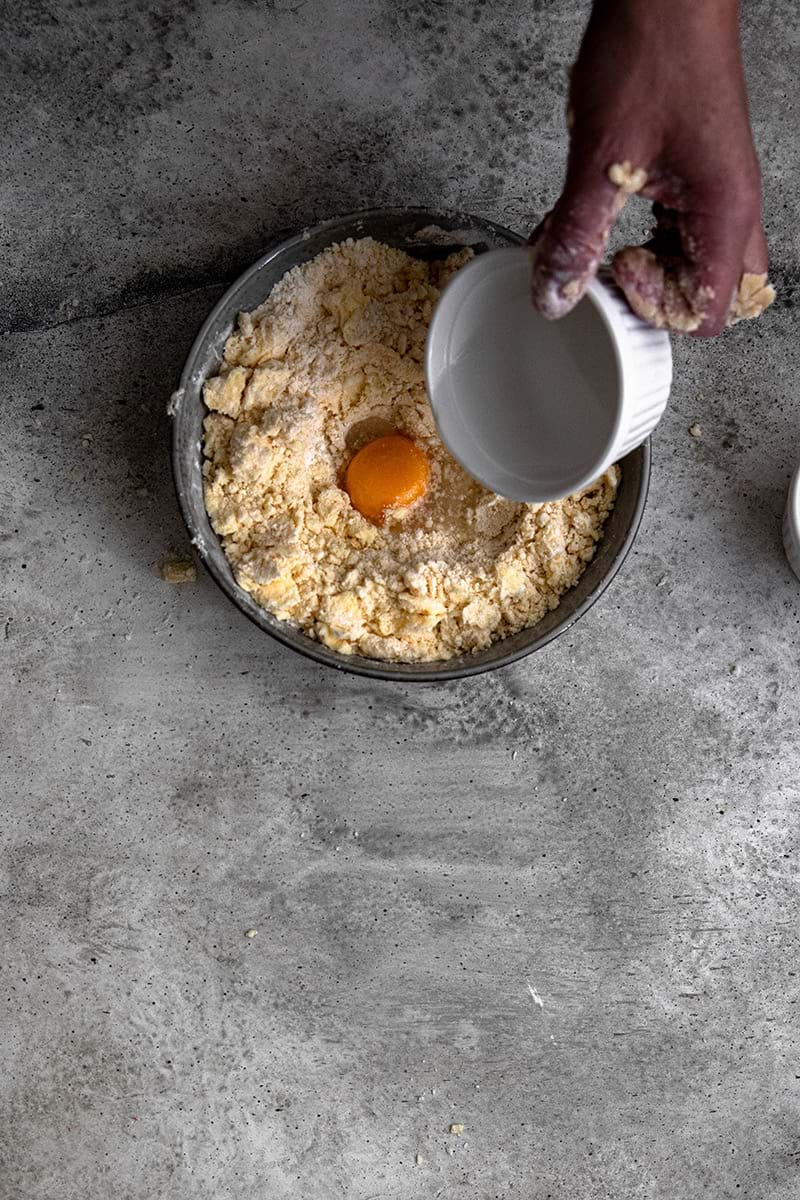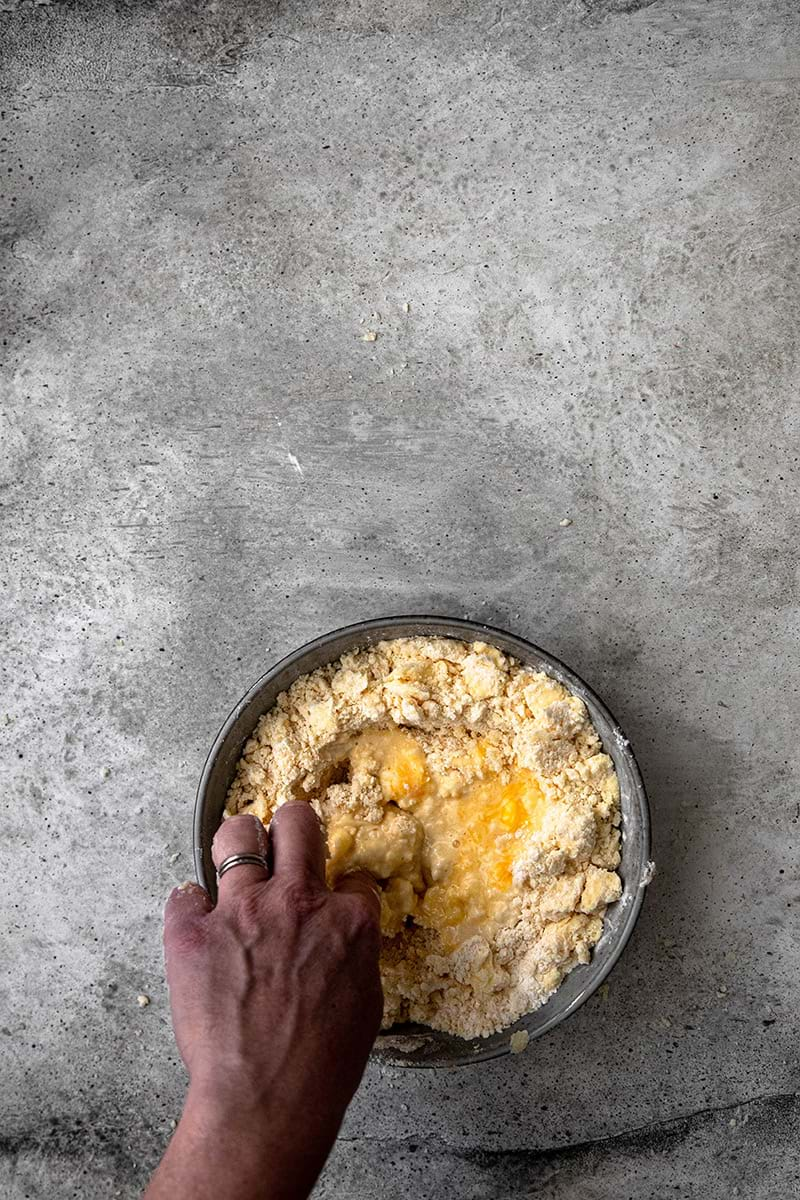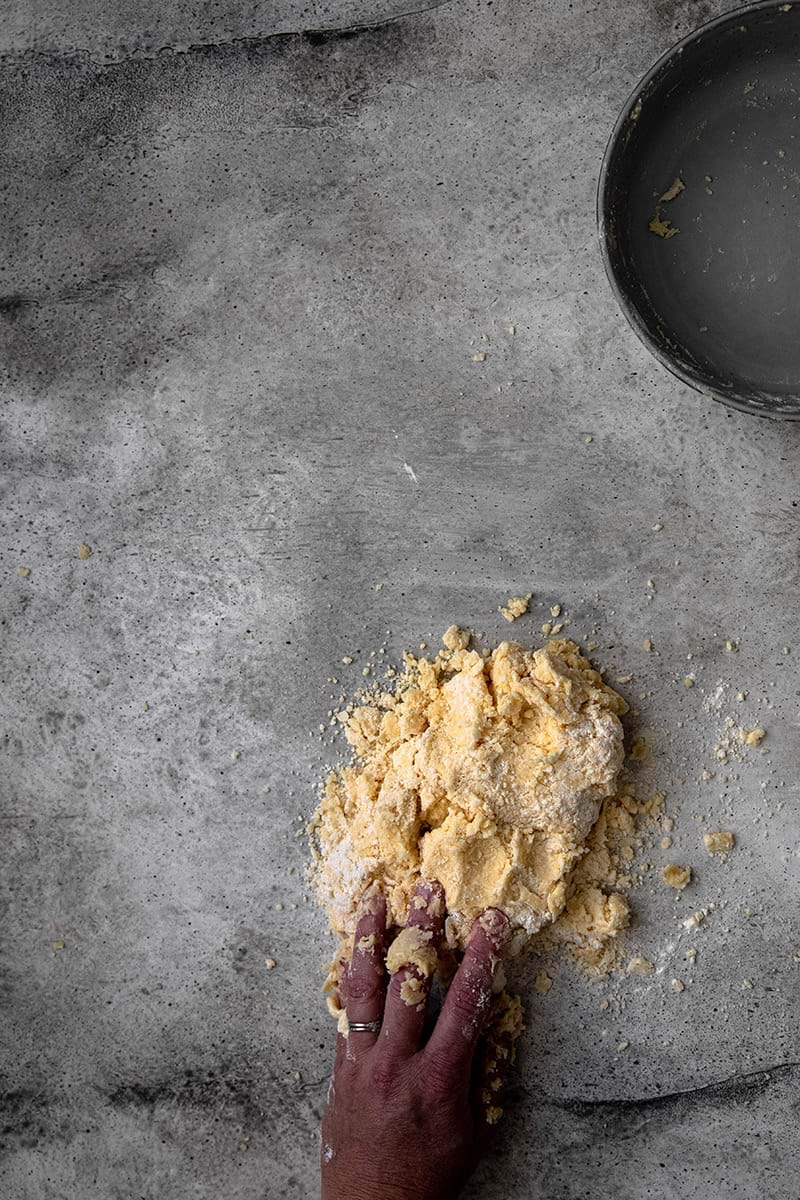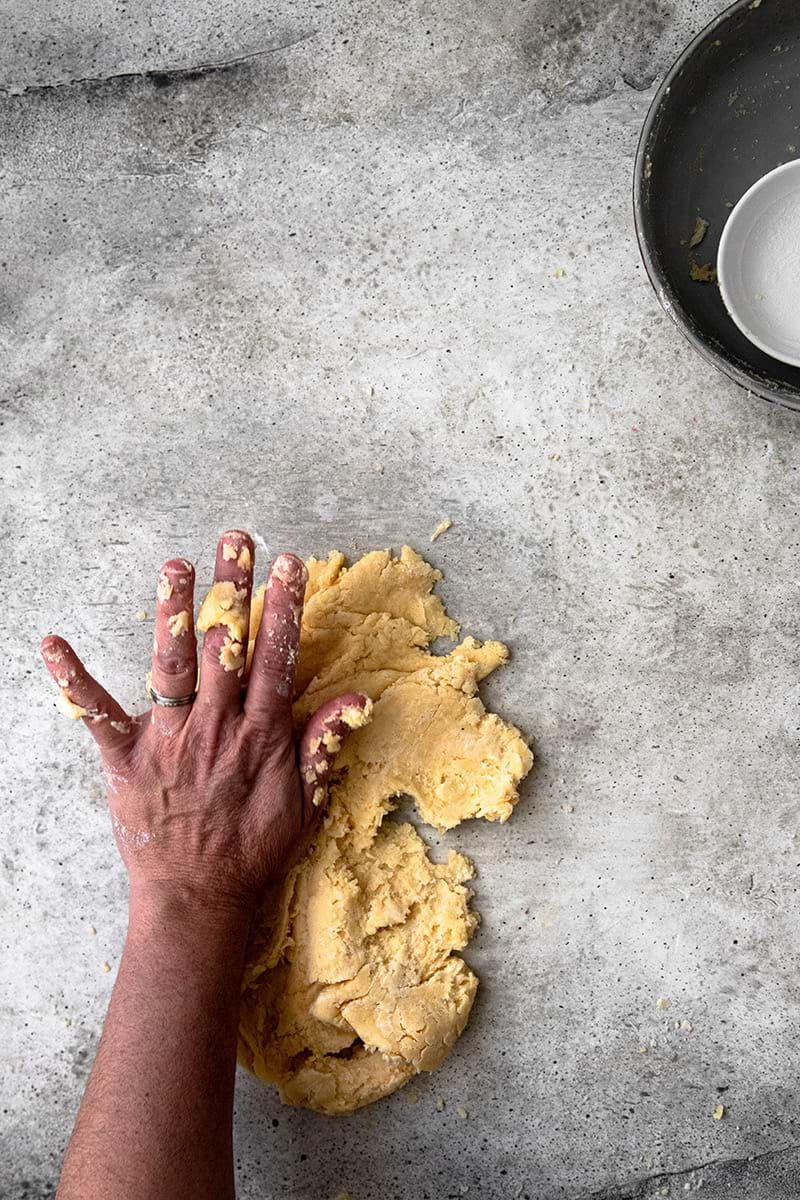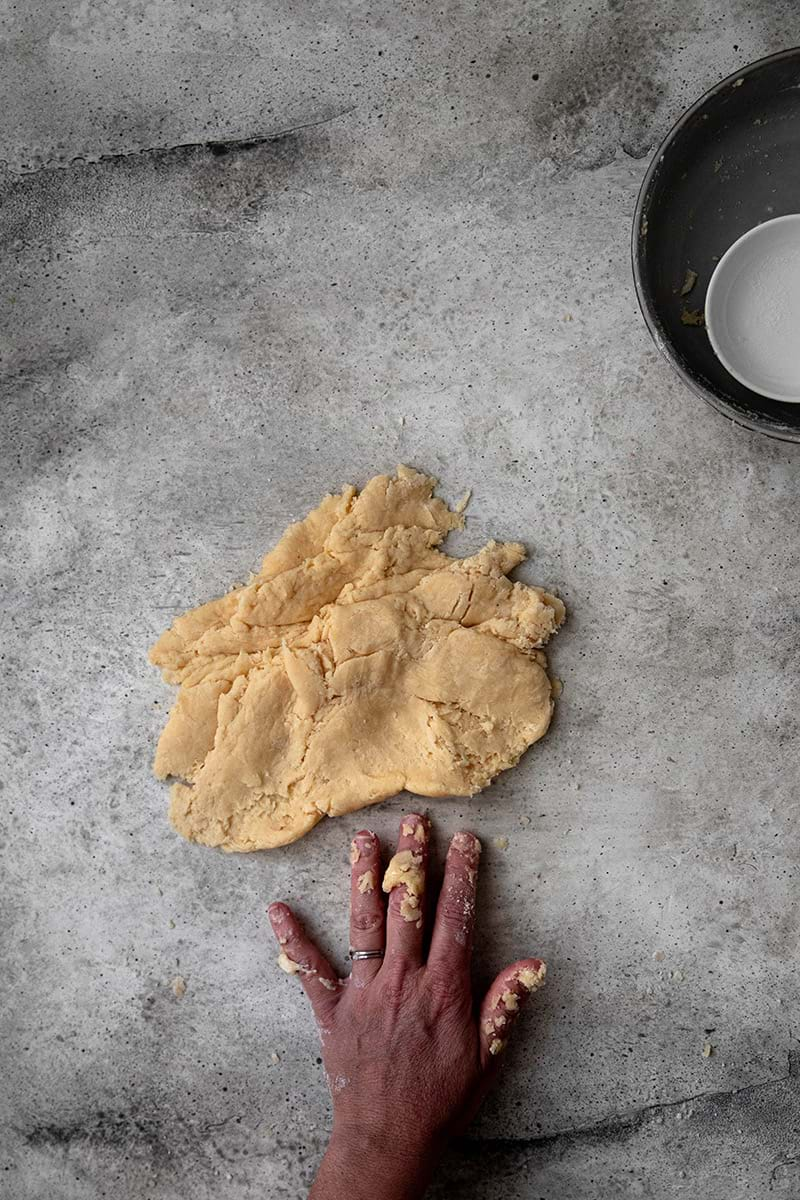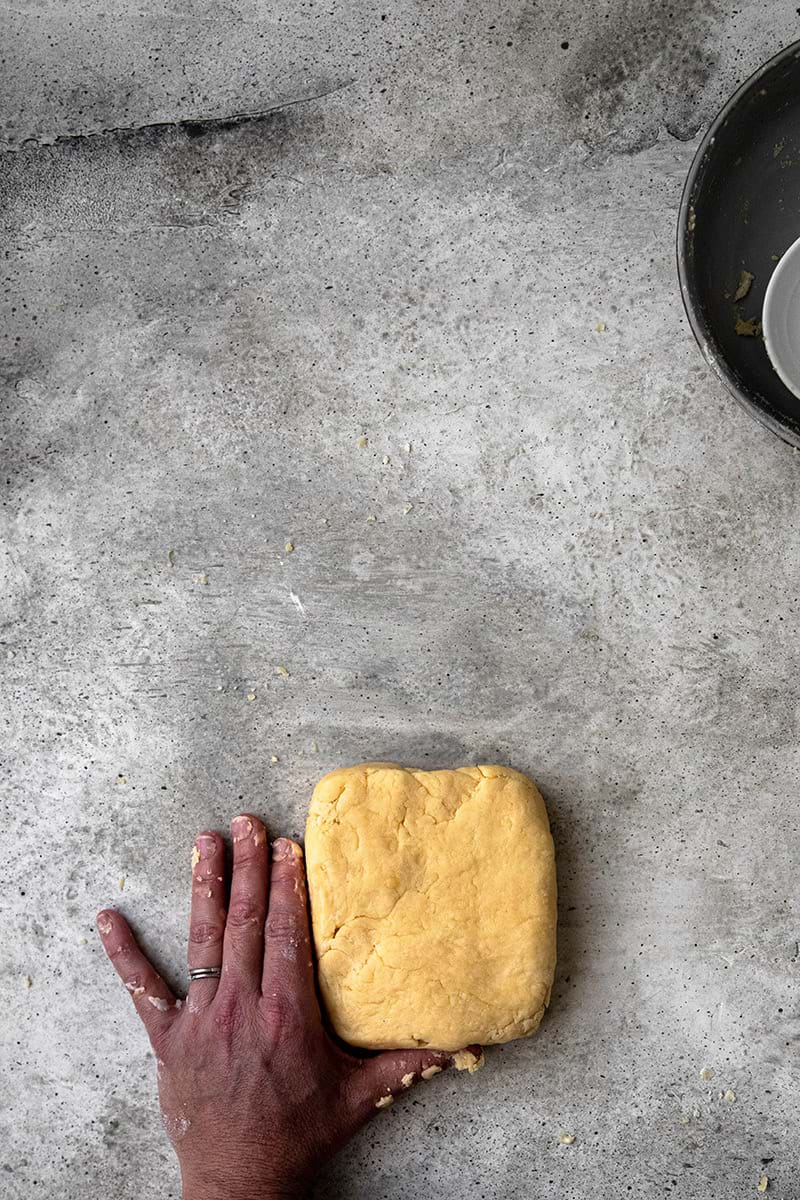 How to line a quiche tin?
Some tips to help you succeed:
Work with cold dough. If after rolling it out you find it difficult to handle, put it back in the fridge for 15/20 minutes before continuing.
Make sure your work surface is slightly floured always. It prevents the dough from sticking to your kitchen counter.
After every time you pass the rolling pin over the dough, turn the dough 90 degrees. This will ensure that the dough will be evenly rolled out throughout the surface.
Cut a round slightly bigger than your quiche tin.
Try to work fast. Lots of butter in the dough make it trickier to work with.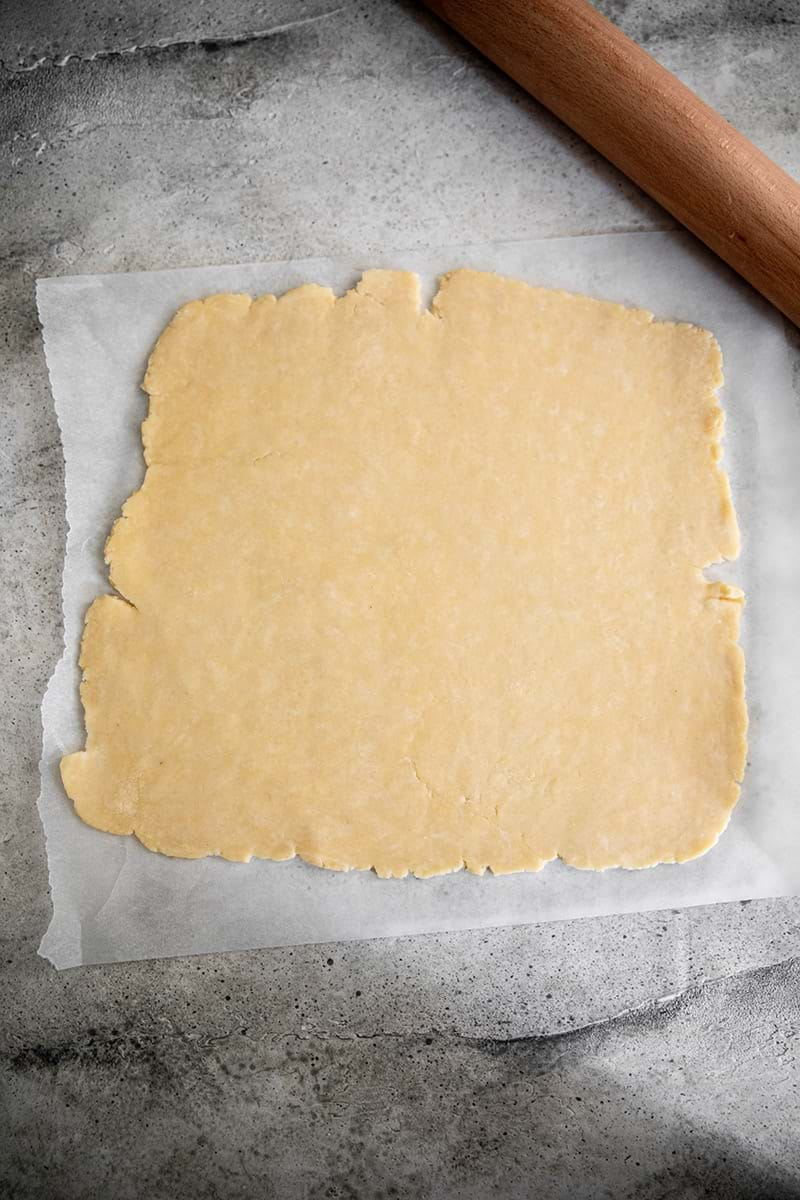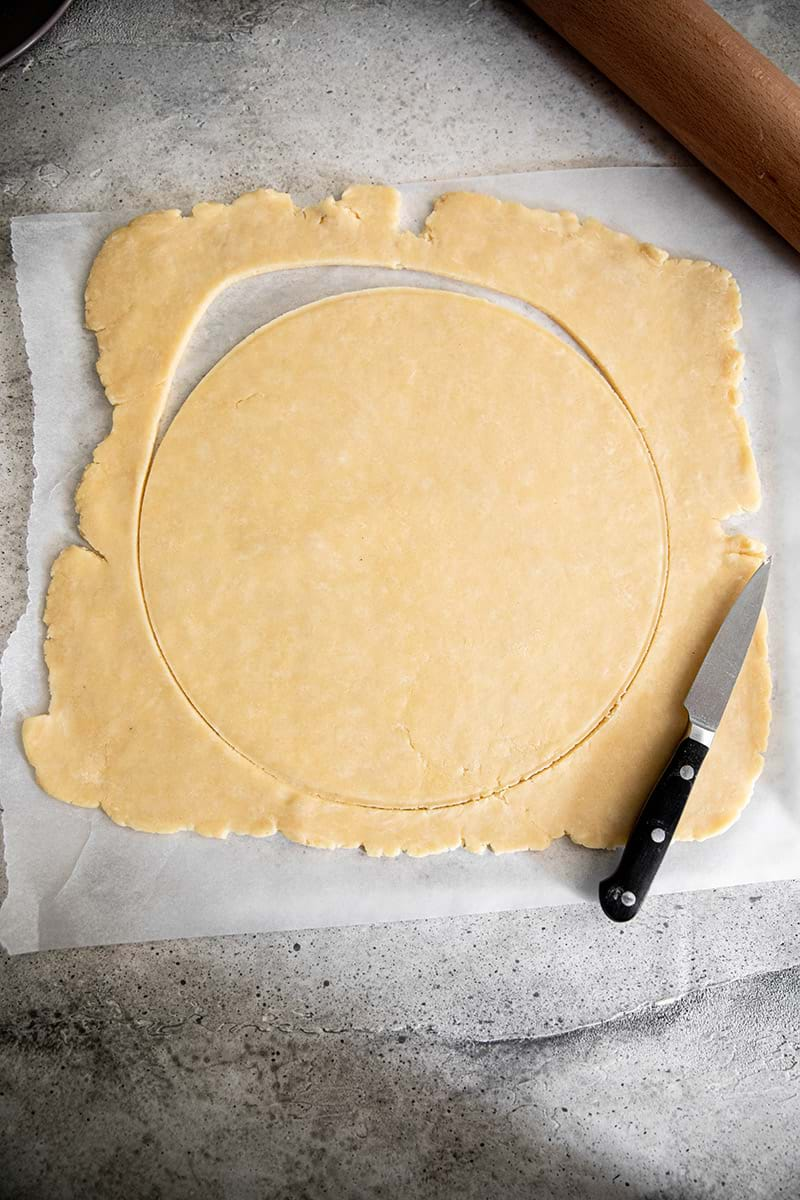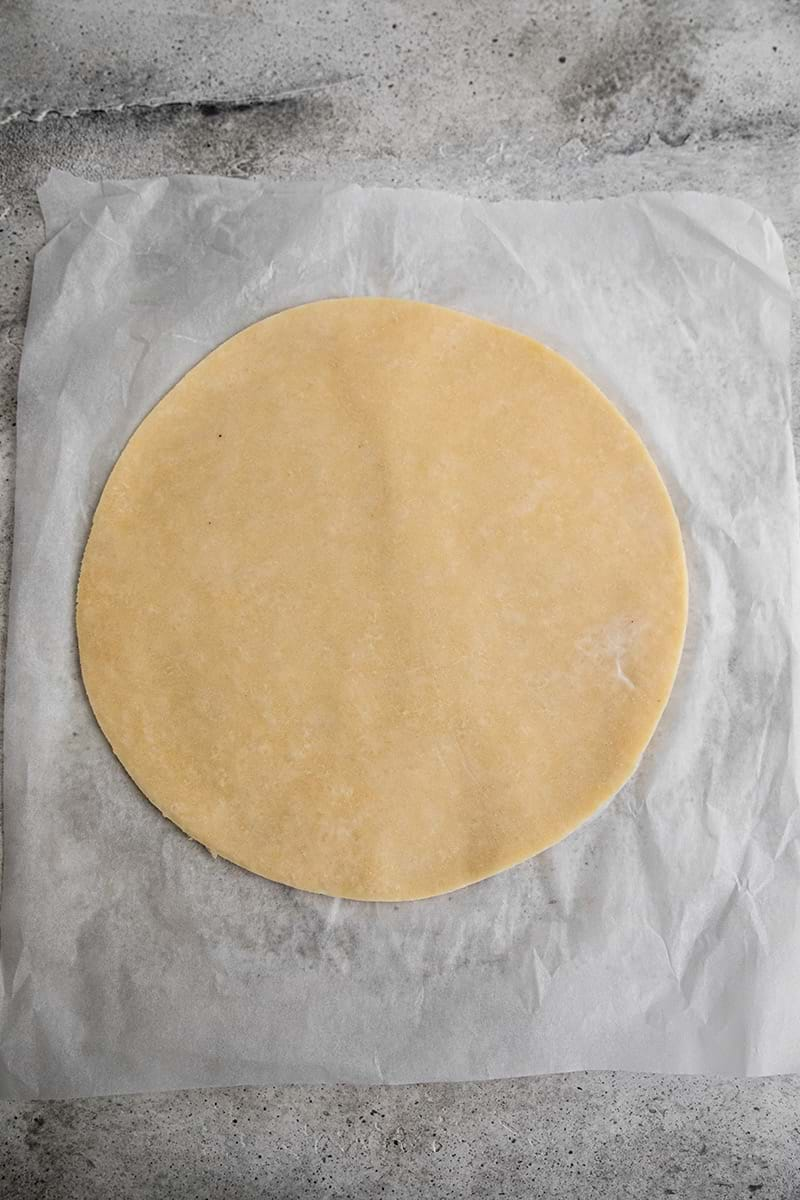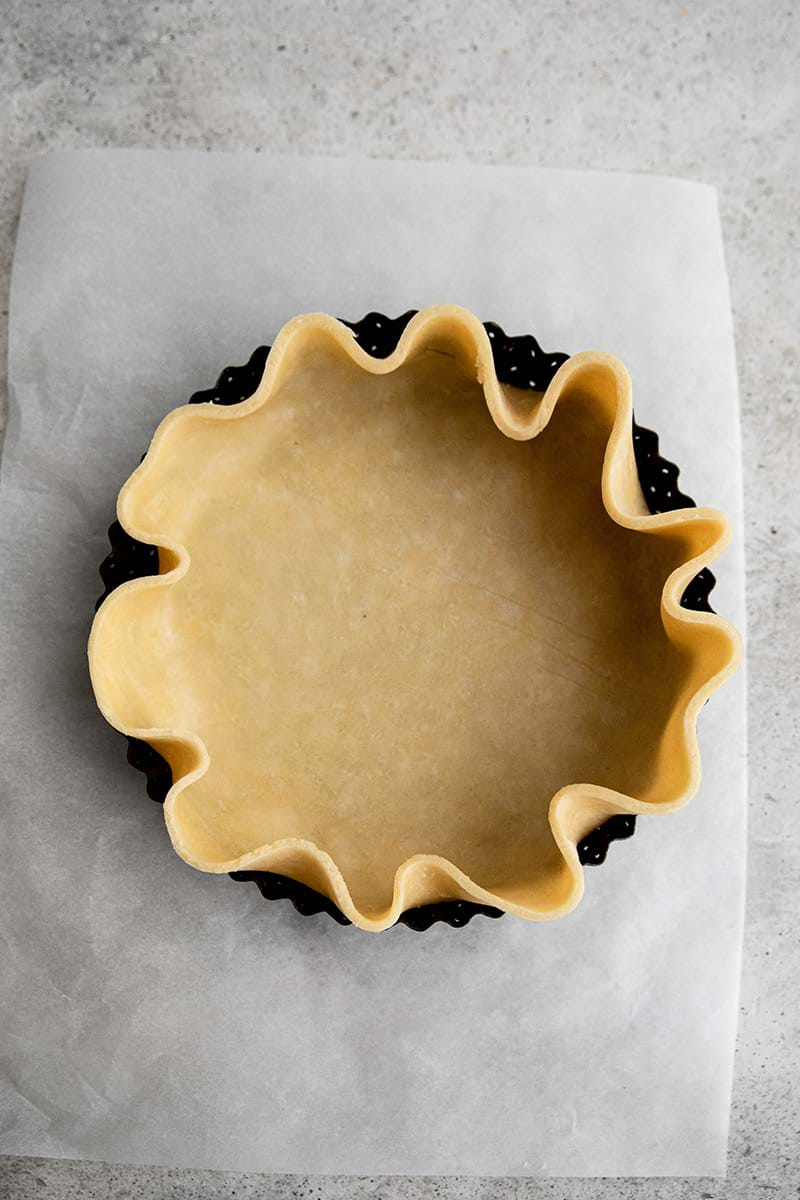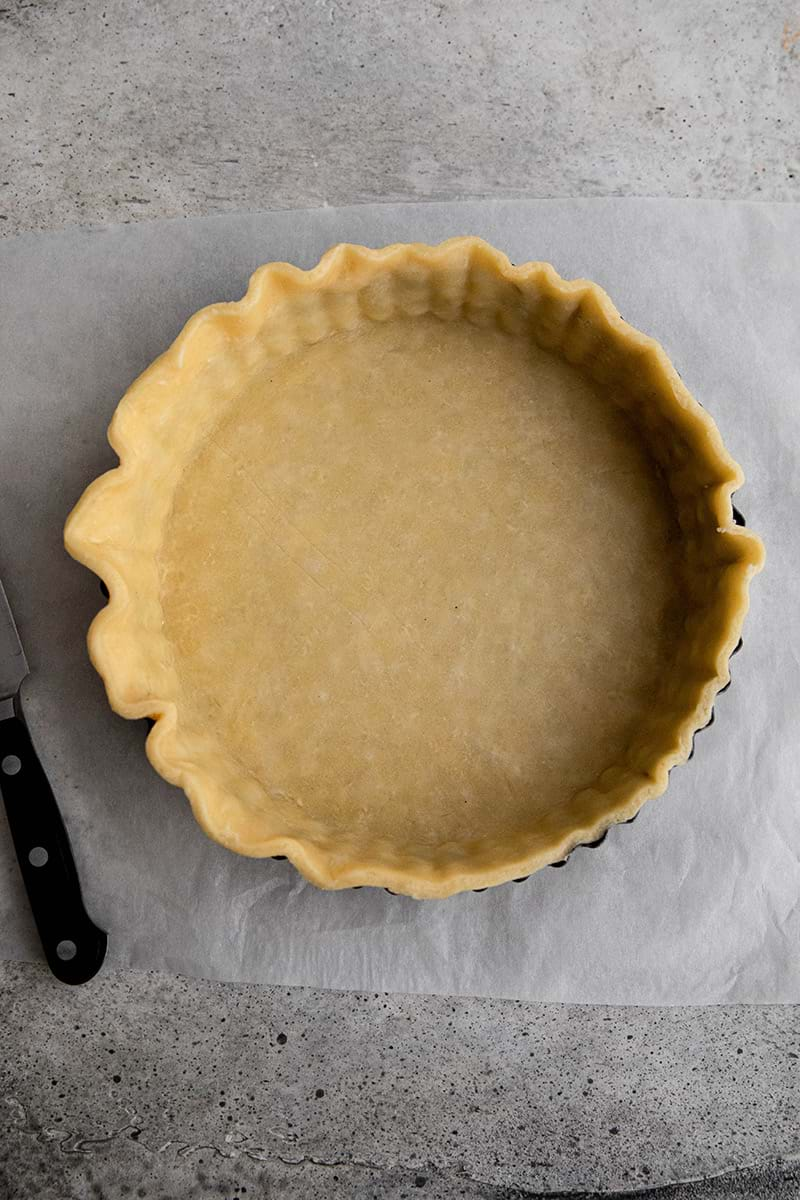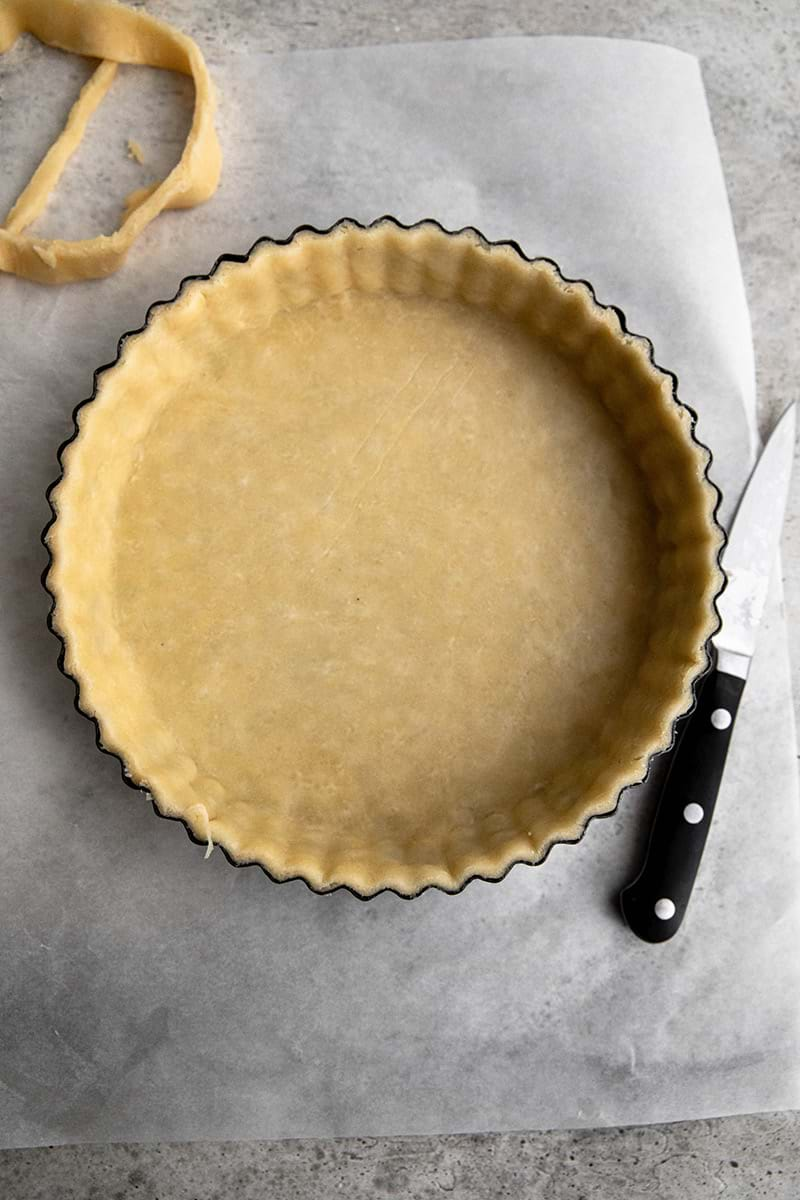 You can watch how to line a quiche tin in this video: How to line a tart tin with shortcrust pastry.
How to bake crust for quiche?
Some tips:
After lining the tin transfer to the fridge cover in plastic wrap for 30 minutes.
Make sure your oven is pre-heated.
Prebake/blind bake your curst: - Line the quiche tin and line the interior of the crust with parchment paper. Fill with beans or rice and blind bake for 12 minutes. - Remove the beans/rice and the parchment paper and bake until the quiche crust is cooked and is still without colour.
Now the dough is ready to be filled with the filling of your choice and baked until golden.
About Freezing this Crust
Freezing this dough is an excellent idea. As a matter of fact, I highly recommend tripling or quadrupling the recipe, dividing the dough in 4 parts, and freezing each one separately. This way you work once and have quiche crust for 4 different occasions.
To freeze the crust:
Shape it as a rectangle of about 2 cm high.
Cover in plastic wrap twice and then transfer to freezer bag.
You can keep it in the freezer for up to 3 months.
To defrost:
Transfer to the refrigerator overnight.
Remove from fridge and let it sit on the counter for about 15 minutes.
Roll out the dough.
Variations
If you want to make this a gluten free quiche crust you can replace the all-purpose flour by a gluten free store-bought mix. You might need to add a little more water as the gluten free flour mix absorbs more liquid than regular flour does.
You can find a gluten free quiche crust recipe here if you prefer Gluten-Free Quiche Crust.
Some ideas for quiche fillings
Now that you have your crust ready, here are some ideas for quiche fillings:
The ingredients used in all recipes on this site are measured using the metric system. I use a
scale
to be precise with my measurements and ensure good results. If you would also like to use a scale, here are some:
USA
,
Canada
,
UK
,
Australia
,
France
.
Subscribe to the newsletter
Total Time:
2 hours 40 minutes
---
All-purpose Flour

250 g

Butter

125 g

Salt

7 g

Water

50 g

Egg Yolks

1
If you made this recipe I would really appreciate it if you leave a rating or comment below! Also, if you share on social media please use #cookwithbelula, I would love to see what you create!