I could eat quiche every day. I have probably done that at some point in my life lol I think almost everything, and anything goes well inside a quiche and it even tastes better! By husband would totally disagree though! And even he liked this spinach bacon quiche recipe, which made me so happy! If you are a quiche lover this is for you! If you are on the fence, give it a try, you might be surprised!
What ingredients will you need to make this quiche?
You are going to need:
Quiche crust: you can buy it or make your own. I strongly recommend the second option! I have you covered: you can find a step by step detailed recipe and guide on how to make quiche crust here Quiche Crust.
Spinach: good quality fresh spinach is my choice. You can use frozen spinach if you like. In which case you should cook it and properly strain before adding to the quiche.
Smoked bacon: cut in thick slices and then cut into thin strips. You can used unsmoked bacon if that is your preference.
Parmesan cheese: good quality parmesan makes a difference.
Pine nuts: to give the quiche a little crunch.
Eggs, egg yolks: will hold the quiche together and give it structure.
Cream: will give the quiche extra flavour and smoothness. It also acts as the binder together with the eggs.
Milk: to lighten up the cream. You can use only cream if you prefer.
A quiche tin: I love this one! It has little holes and lets the crust bake evenly.
A bowl and a whisk.
How to make quiche crust?
It is very straightforward. There are a few tips and tricks that should guide you in this recipe Quiche Crust. You can also find there all you need to know about lining a tart tin!
How to make Spinach Bacon Quiche?
To make this tart make sure you have all your components ready:
Spinach thinly sliced.
Bacon sliced into thin strips and cook over medium heat on a slightly greased sauté pan. Pat dry with kitchen paper towel and set aside.
Grate the parmesan.
Line your quiche tin and blind bake: line the crust with parchment paper and fill with rice/beans. Bake for 12 minutes. Remove the parchment paper and the rice and continue baking for an extra 8 minutes. No coloration.
Toast the pine nuts for about 10 minutes in the oven set to 170/180 C°/360 F.
In a bowl whisk the cream, milk, egg, and egg yolks. Season with salt, pepper, and little nutmeg.
Now you are ready to assemble the quiche:
Spread half the bacon over the blind baked crust.
Add the spinach/parmesan mixture. And top with the rest of the bacon.
Pour the quiche batter until the filling is covered. Top with the rest of the parmesan and the roasted pine nuts.
Bake at 175 C° until the quiche has set and golden. About 40 minutes.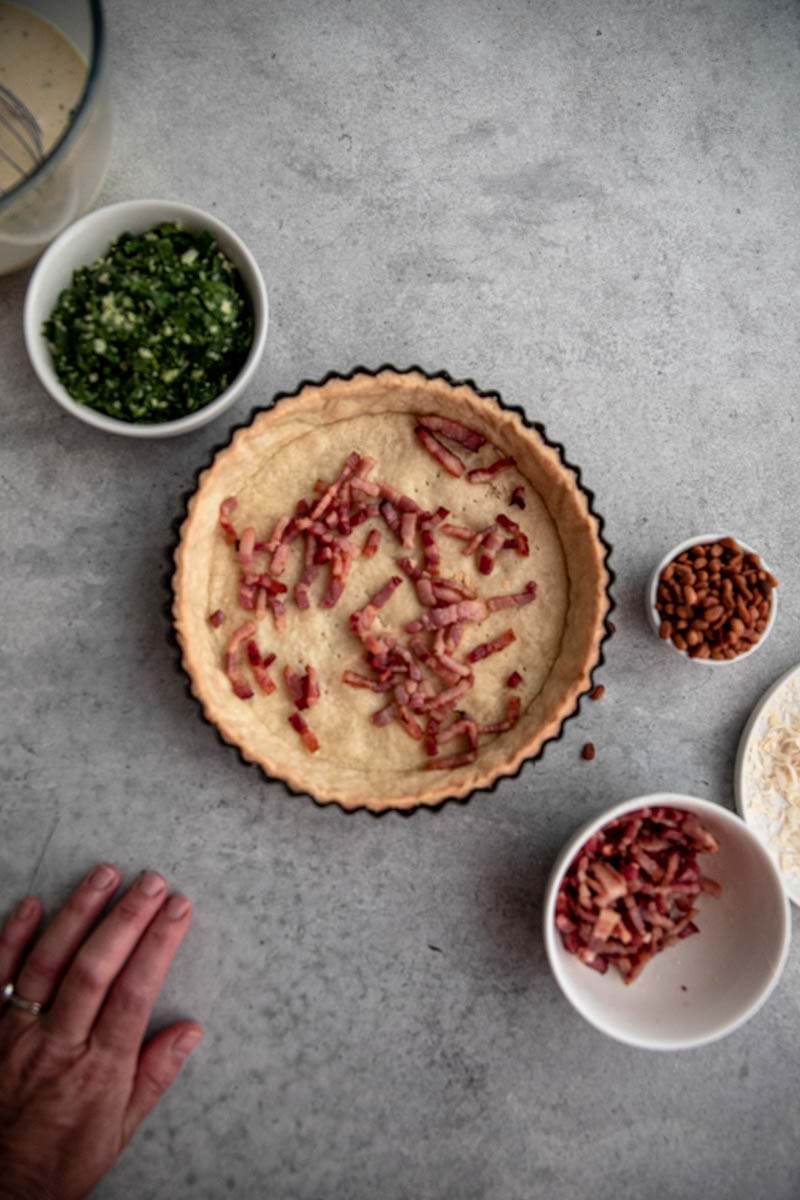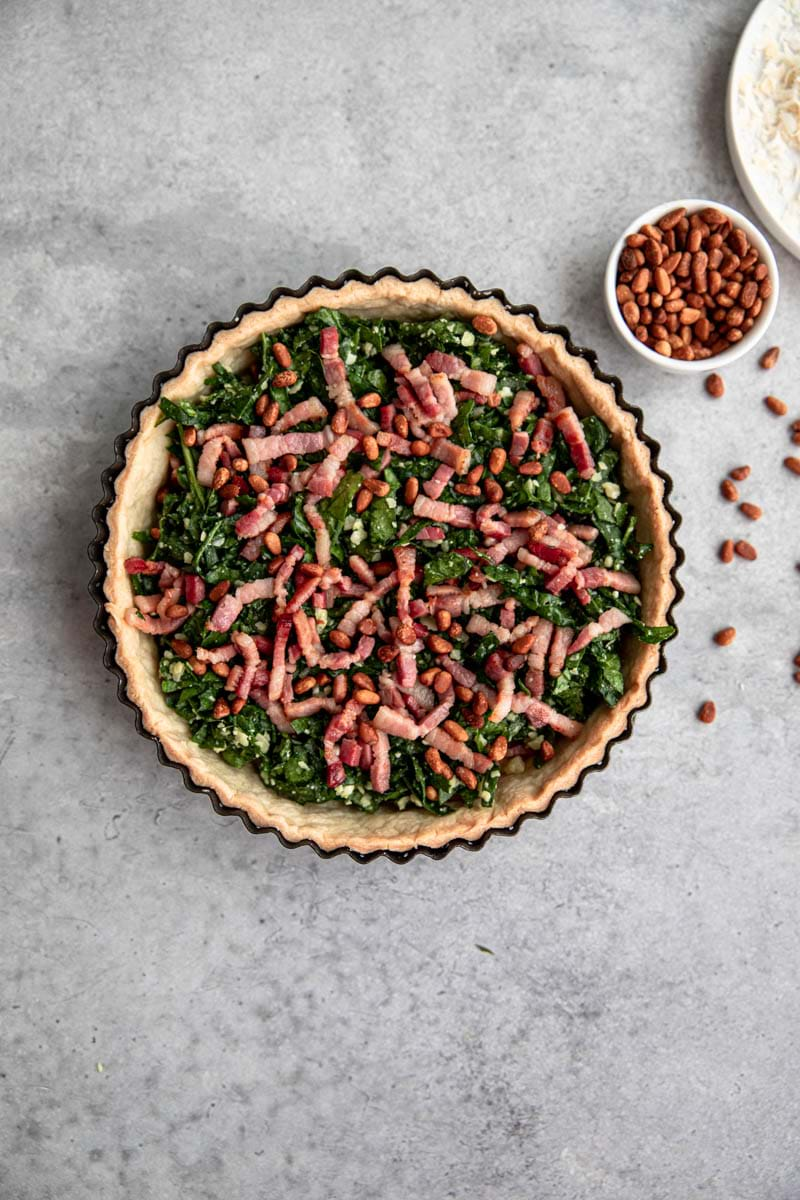 How to bake quiche?
There are two stages to bake quiche:
To defrost: let it sit on the kitchen counter, wrapped, overnight.
First you need to blind bake the crust by itself to make sure you end up with a crumbly and not a soggy crust.
Then you fill the quiche with your filling of choice and bake until it has set and attained a golden colour.
How to reheat quiche?
Pre-heat the oven to 160 C°. Place the quiche on a baking tray lined with parchment paper and re-heat in the oven.
I strongly discourage using the microwave to do this. It makes the crust soggy and chewy.
In the oven it will take a little longer, but it is worth it!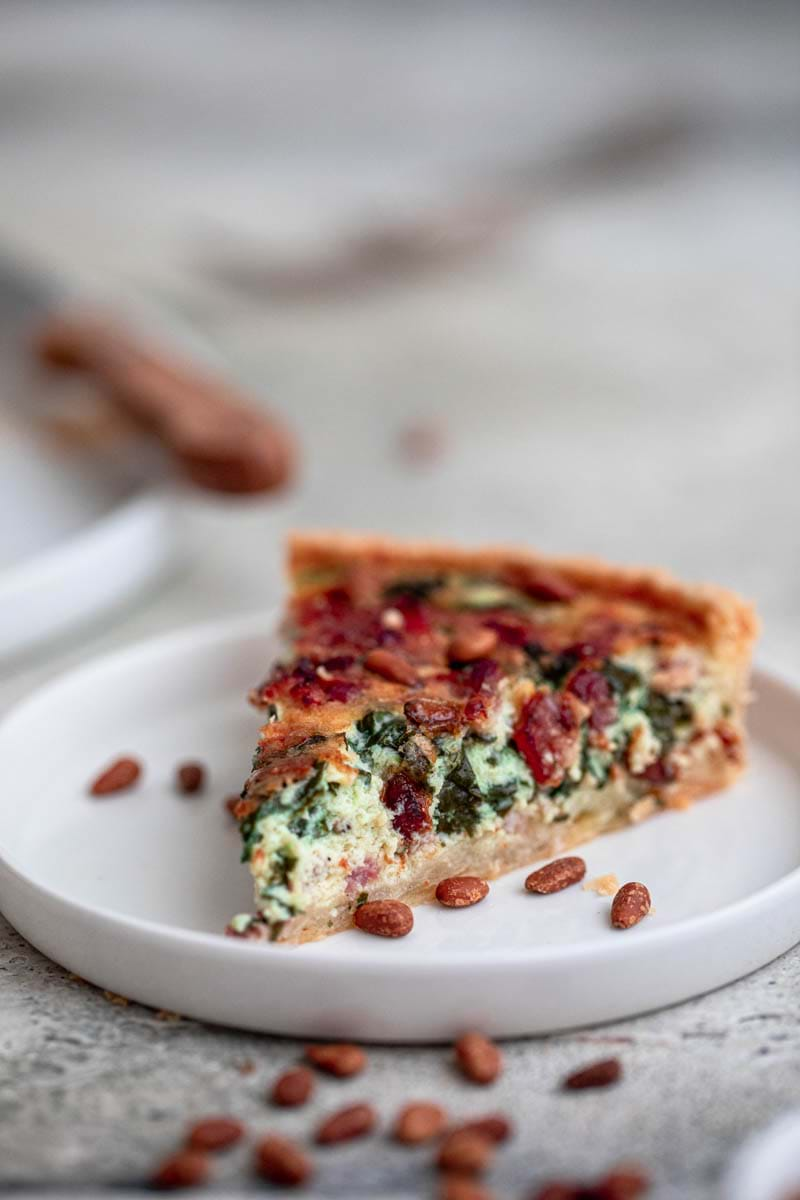 What to serve with this spinach quiche?
A green salad with a lemon vinaigrette is the perfect match for quiche.
I use a mix of arugula, baby spinach and romaine lettuce. You can find a great guide on how to make your own vinaigrette dressing here Super Salad Dressing.
A word about freezing quiche
You can freeze the raw crust covered in plastic wrap and inside a freezer bag. It keeps for 3 months.
If you want to freeze the baked quiche, under bake it. This means that you should remove it from the oven when it has set but has not browned yet.
Let cool down at room temperature and remove from the tin. Cover in plastic wrap and transfer to freezer bag. It keeps for a month.
To defrost: remove the plastic wrap, transfer to a quiche tin, and refrigerate overnight. Bake until golden. Enjoy.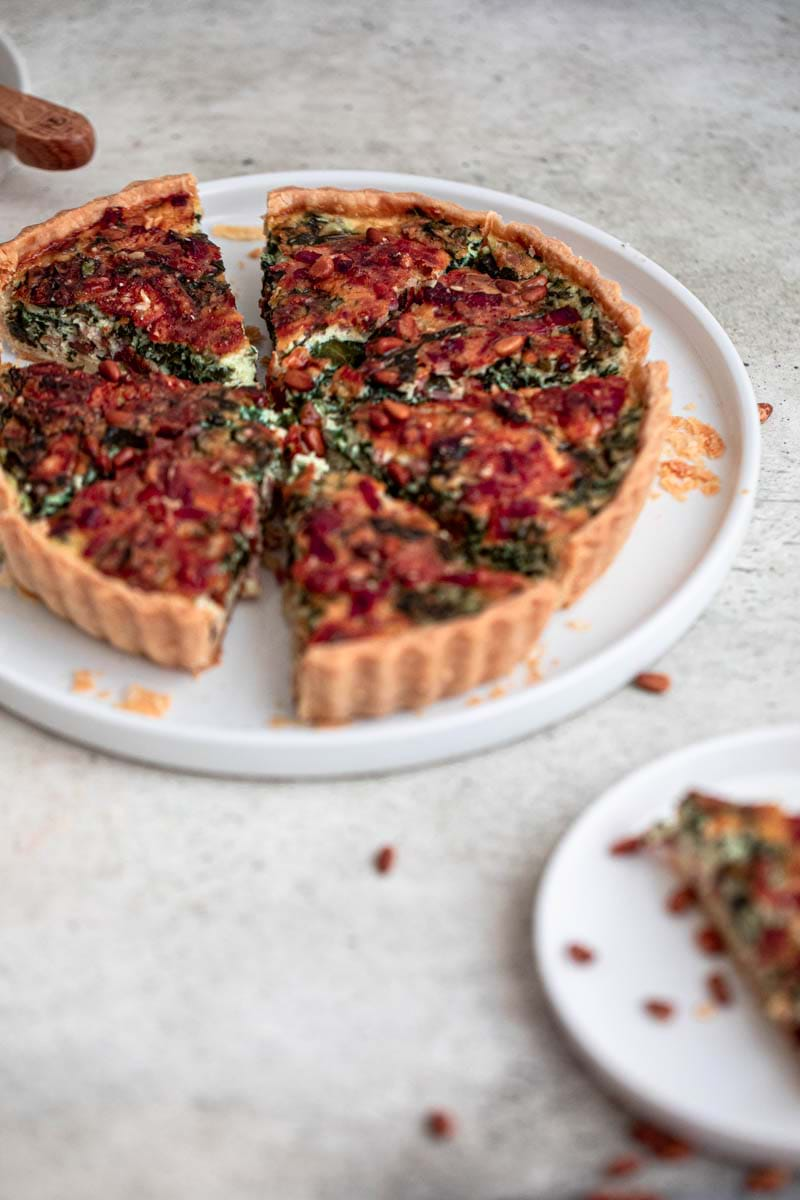 If you made this recipe I would really appreciate it if you leave a rating or comment below! Also, if you share on social media please use #cookwithbelula, I would love to see what you create!