These easy parmesan cheese cookies were a childhood classic growing up. They were made in both my grandparents' houses and served with as an appetizer dinner or lunch. Ideal for your cheese and charcuterie boards this summer!
These homemade cheese sable cookies were so good, they had to be properly stored and hidden in the pantry so we couldn't find and eat them all in one afternoon!
These parmesan cheese cookies are a dream come true and I hope you will treasure this recipe as much as I do. I cannot wait for you to try them out!
Material & Ingredient Notes
This recipe for cheese cookies doesn't have complicated ingredients or materials.
Parmesan cheese: the quality of the cheese you use will show in your parmesan cheese cookies! It's up to you, but I would use a good one!
Knife: to cut out the cheese cookies into rectangles. If you prefer them to be made into circles, use a round cookie cutter of your choice.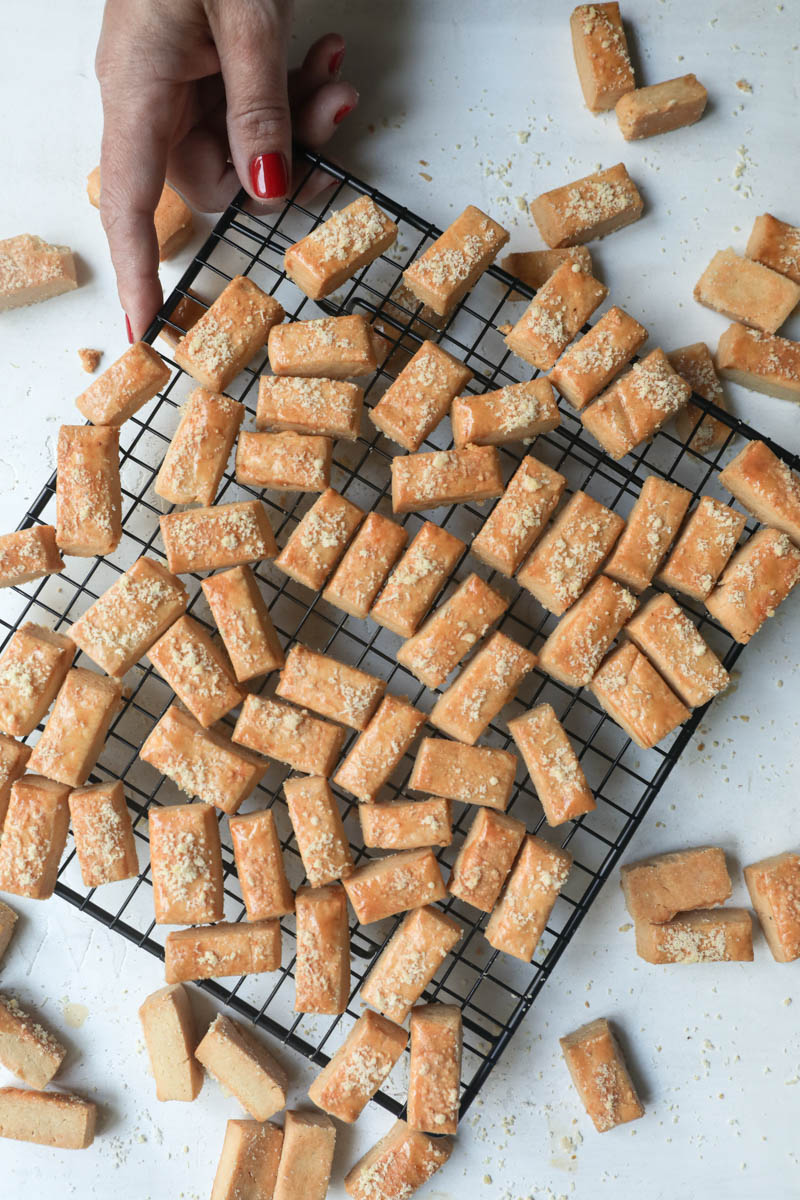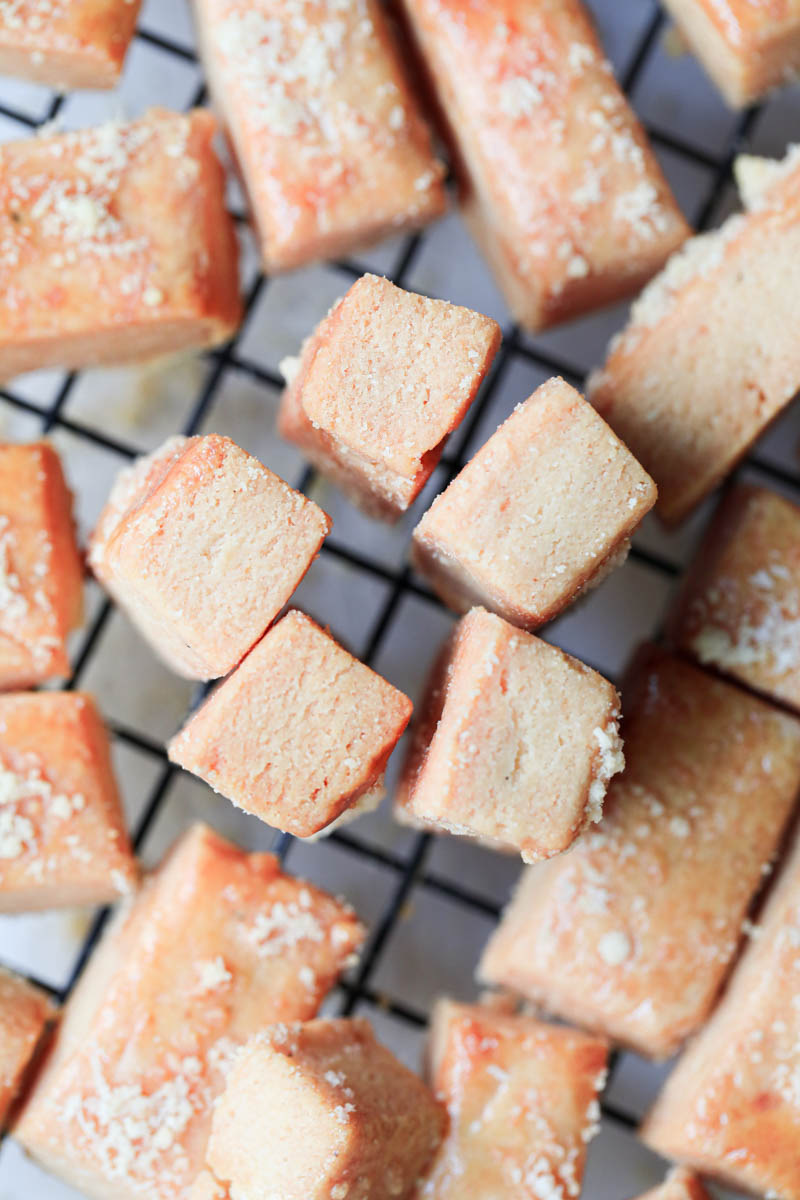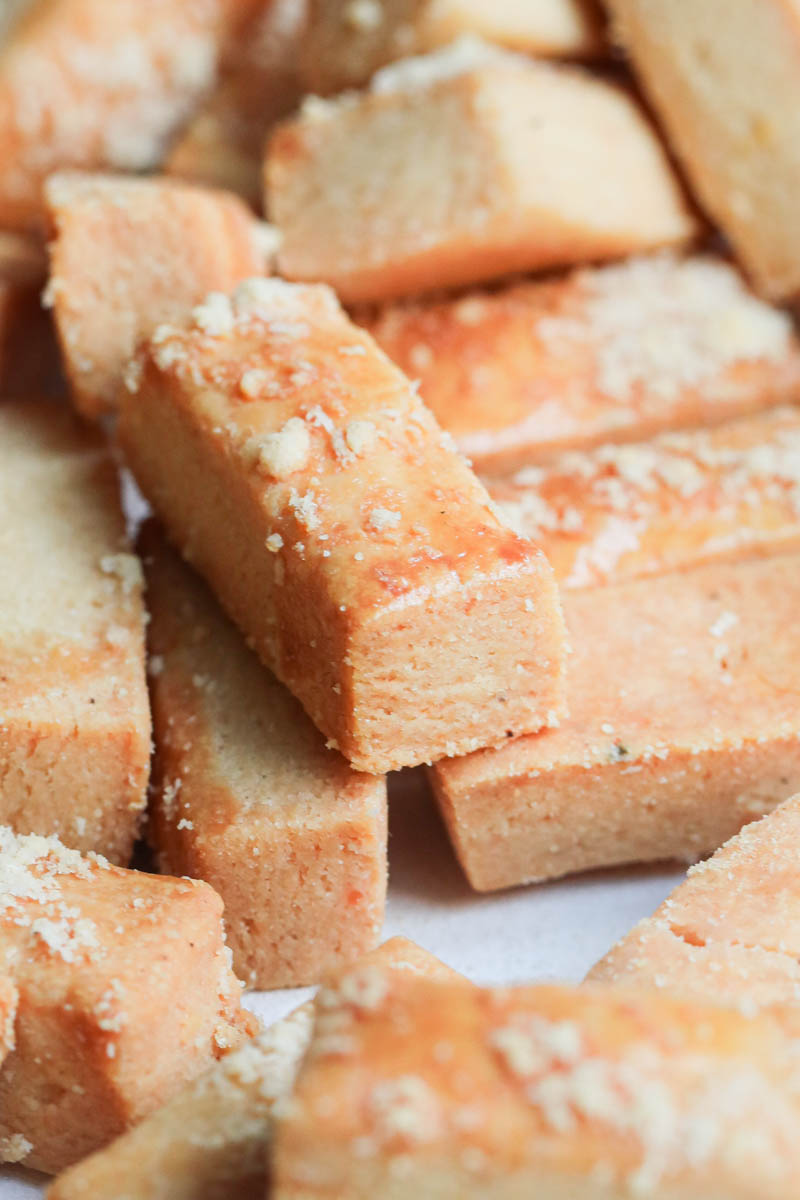 How to make parmesan cheese cookies
Making parmesan cheese cookies is rather easy; You follow the same technique as with any other butter crust (quiche crust, etc.). You simply have to:
Prepare the parmesan sable dough and refrigerate it
Shape the homemade cheese cookies
Bake the cookies
Enjoy!
See below fo tips on how to make this cheese sablee dough.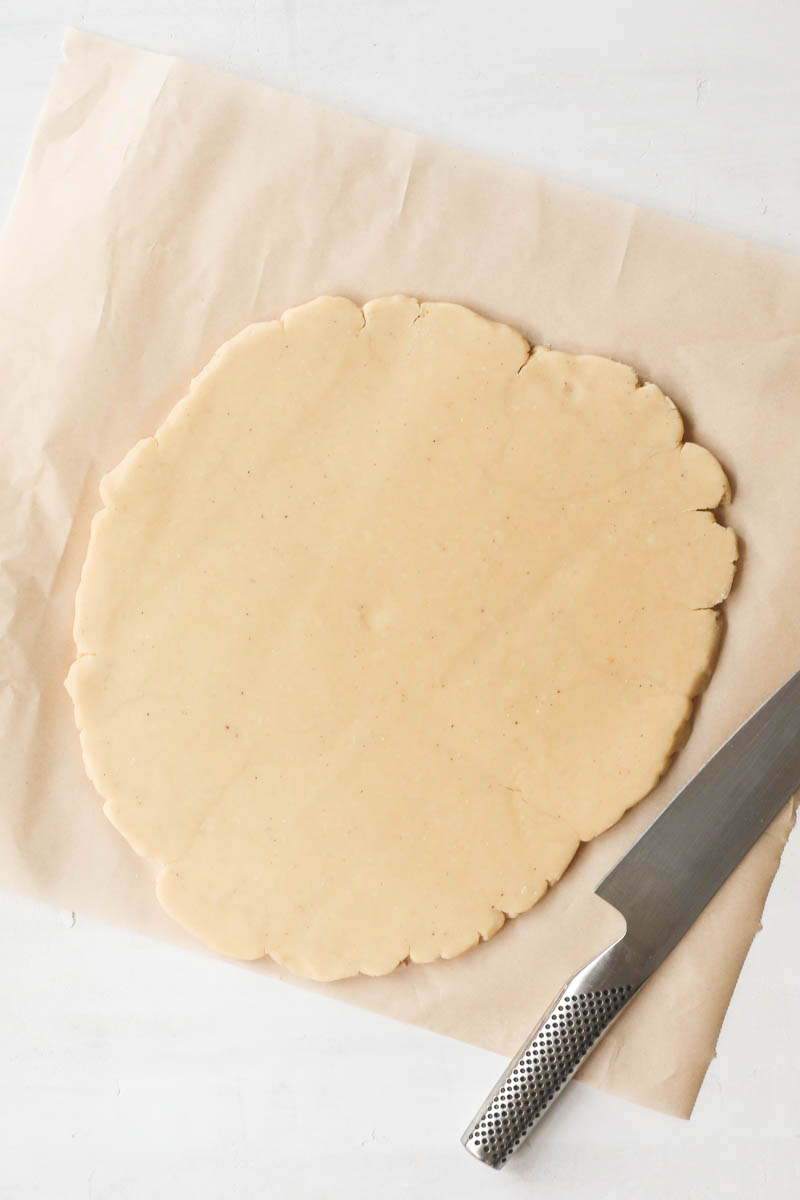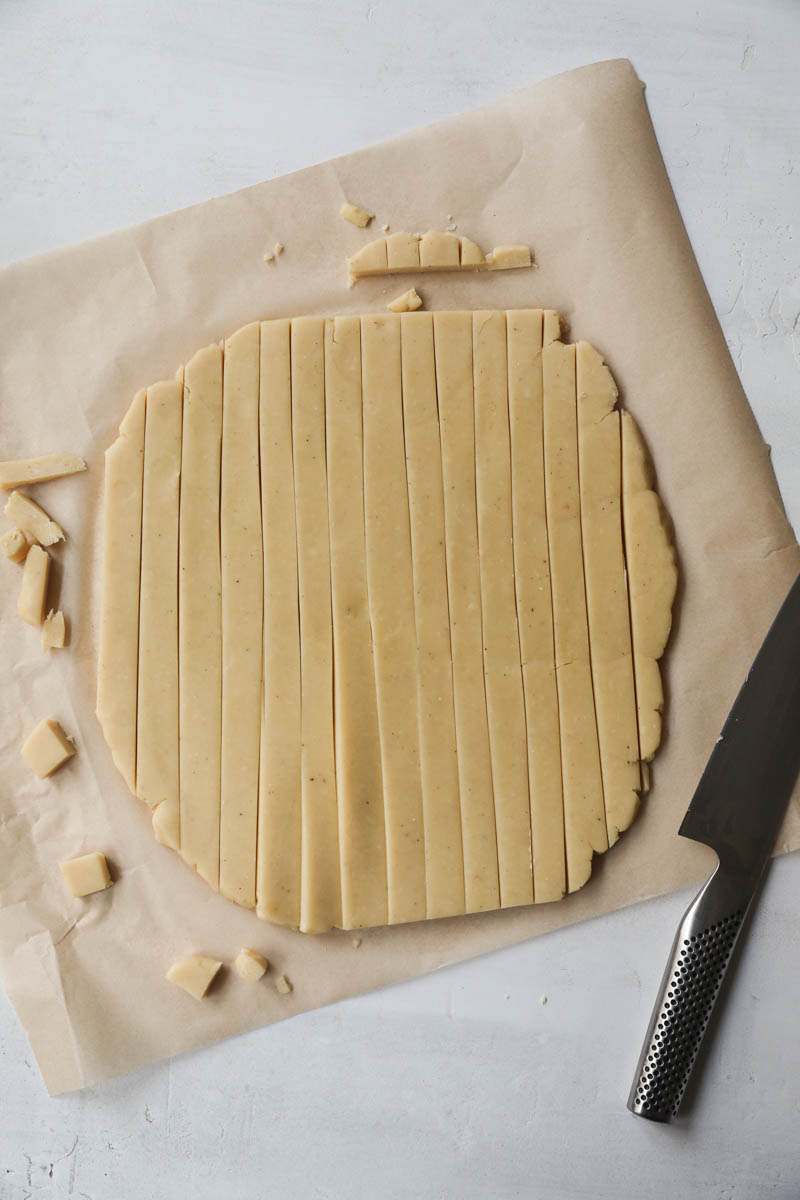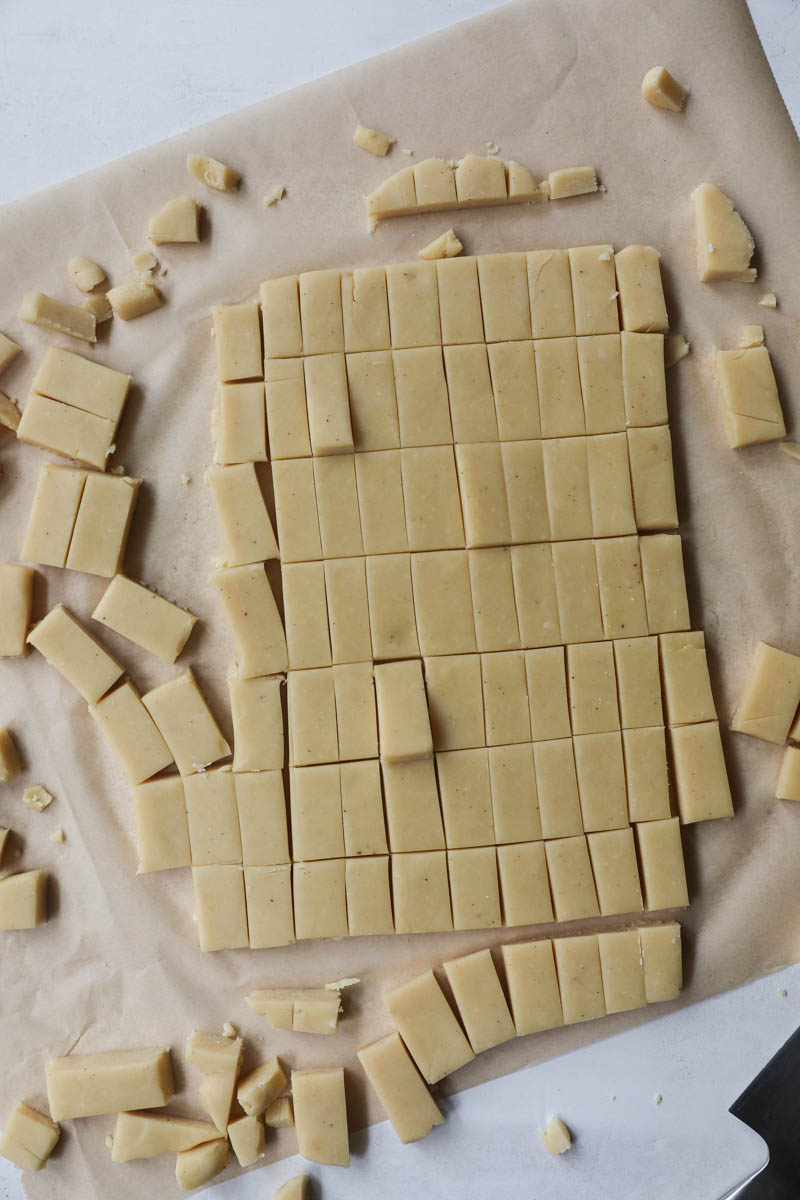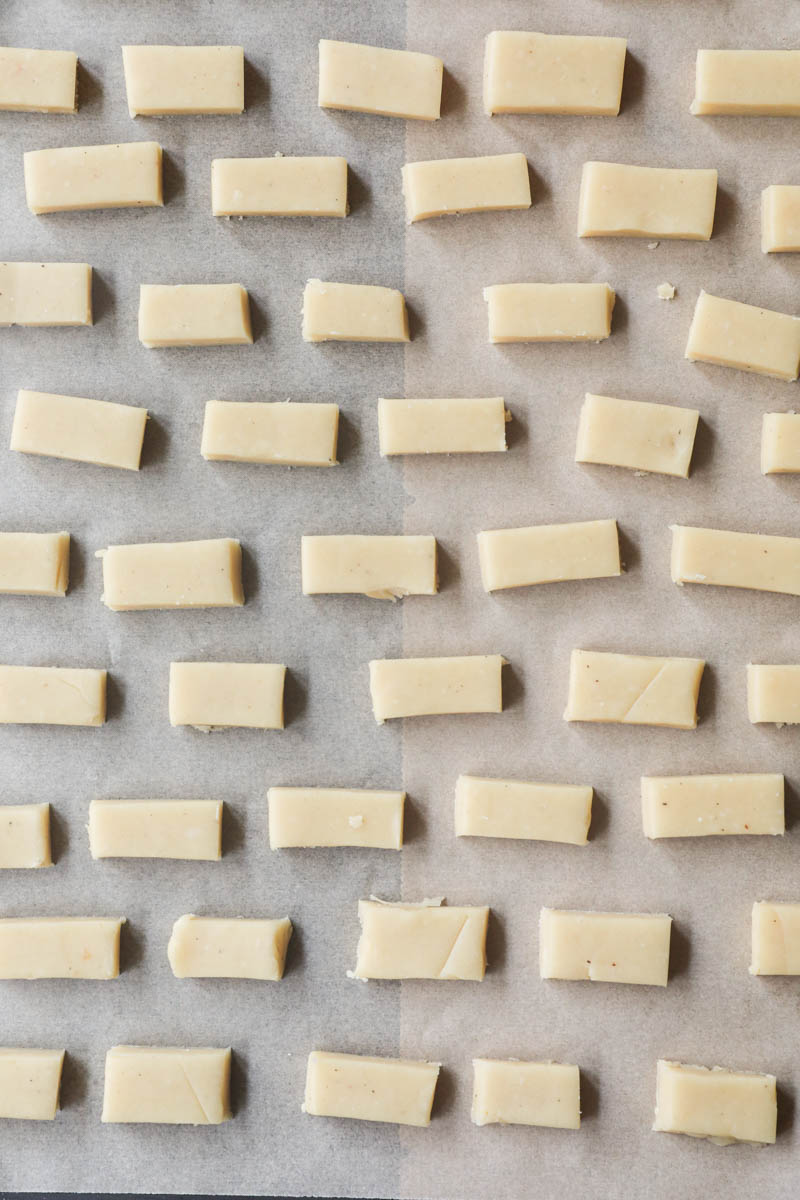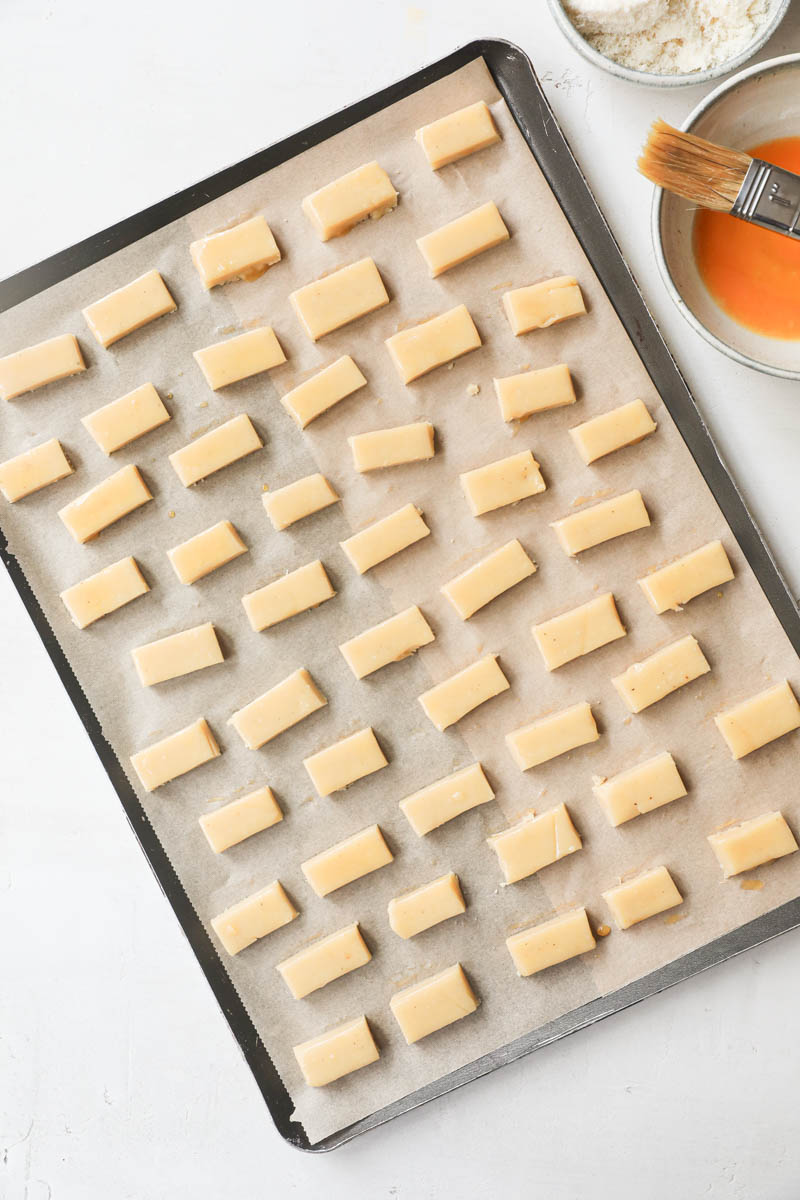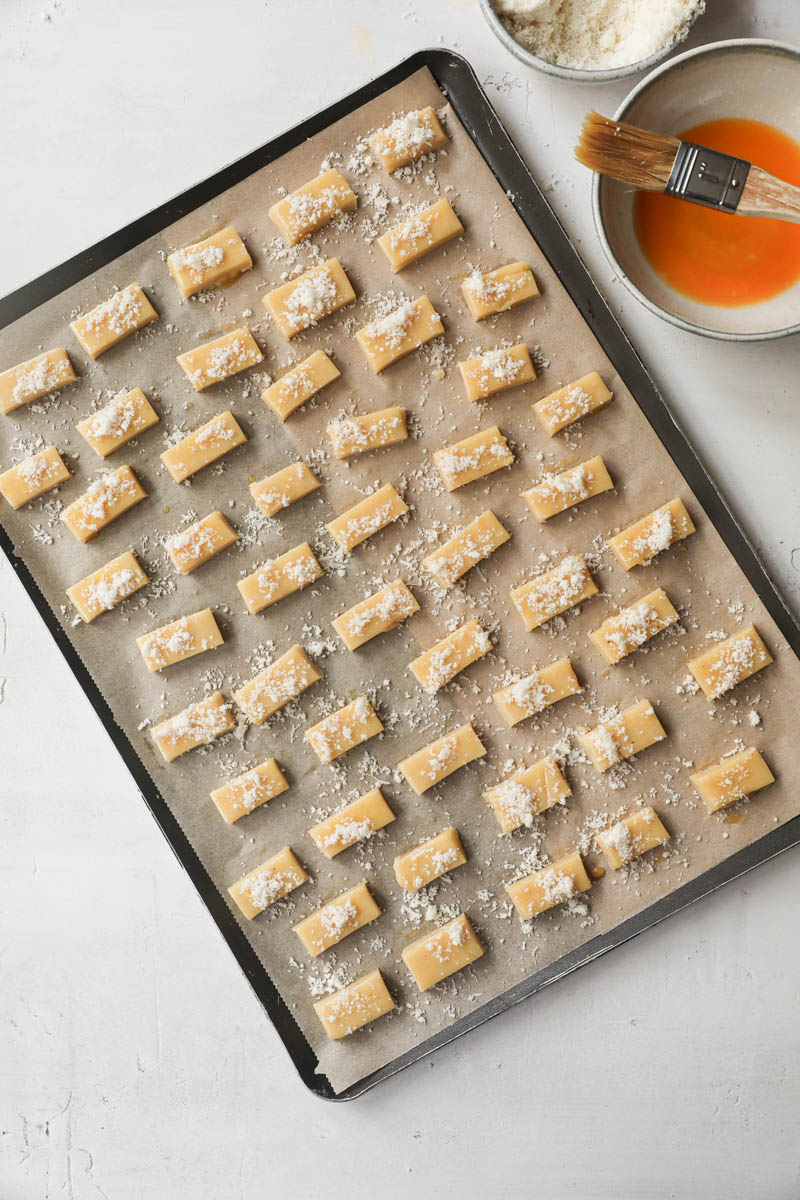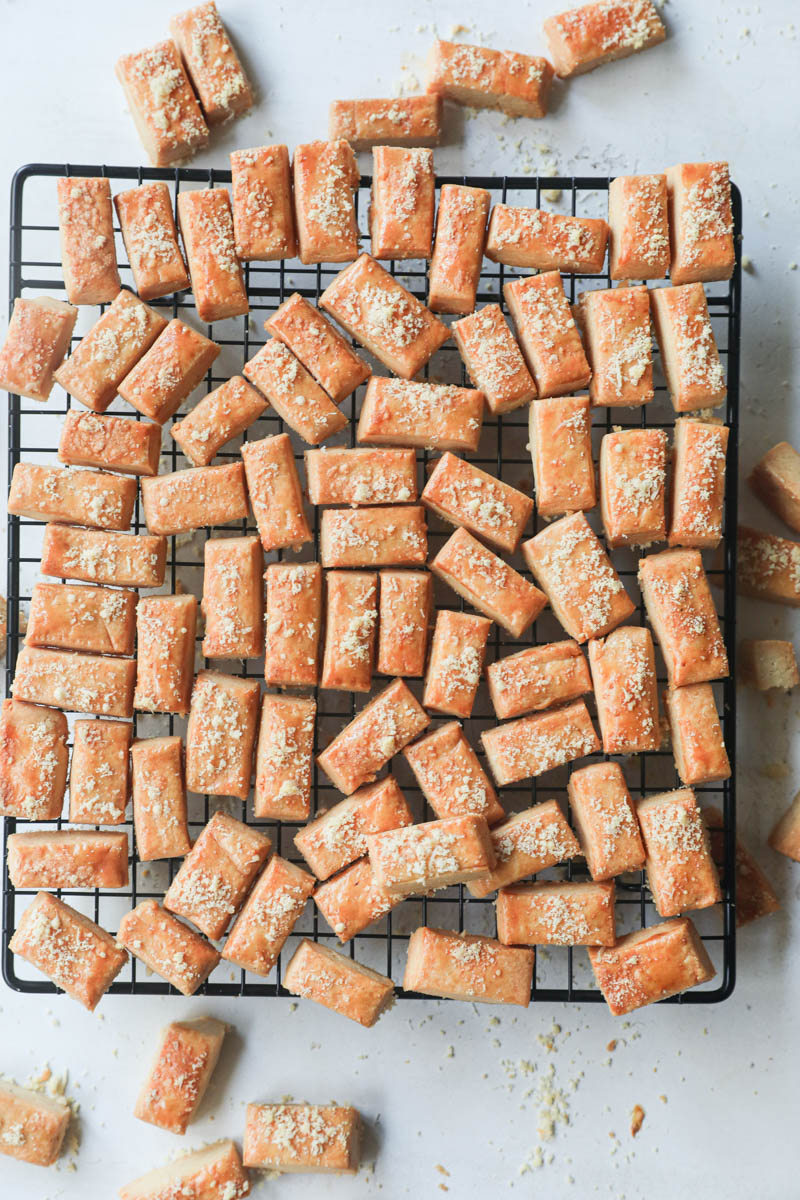 Tips on making the cheese cookie dough recipe
Scraping the bowl - Always scrape the sides and the bottom of the bowl before adding a new ingredient to the dough.
These parmesan cheese cookies can be made using a mixer or by hand .
Stand mixer - First smooth out the butter by mixing it with the parmesan using the paddle attachment, then add the egg and about 1/3 of the flour. Finally, add the remaining flour and mix until the dough has come together.
By hand - use the tip of your fingers to mix the butter (cut into cubes) and the flour until you obtain a sand-like consistency. Add in the egg and the parmesan cheese and mix until combined. Use the technique of "fraisage" to make the dough come together until there are no chunks of butter left, and avoid kneading the dough. You can check out this this video to how this is done.
Butter – in both cases, the butter should be cold.
Chilling the dough - The parmesan cheese dough must be refrigerated for at least 1 hour before you roll it out and shape the cheese cookies.
Cheese cookies thickness - In this recipe, the dough should be rolled out to 1 cm (0.4 inches). You can make the cookies as thick or as thin as you like, however, bear in mind you will have to adjust baking times accordingly, though, this special size is nice for the appetizer board!
Baking tips
Once you have rolled out the dough cut out rectangles of about 3 x 1 cm (1.2 x 0.4 inches) and directly place them on a baking tray lined with parchment paper.
Spacing out the cookies - When placing the parmesan cheese cookies on the tray, make sure to space them out a little. They grow as they bake and we don't want them to stick to one another.
Egg wash - Brush with egg wash (twice) and sprinkle with parmesan before baking.
Baking time -The baking time for this recipe (15 minutes) is approximate. It will vary depending on the oven you have and how thin or thick you have made your cheese cookies.
Remove from the oven - These parmesan cheese cookies are ready when they are a lovely golden color.
Tips on making egg wash
To make egg wash, mix one egg, 1 egg yolk, and a pinch of salt, then strain the mixture. It keeps for up to 3 days when stored in an airtight container.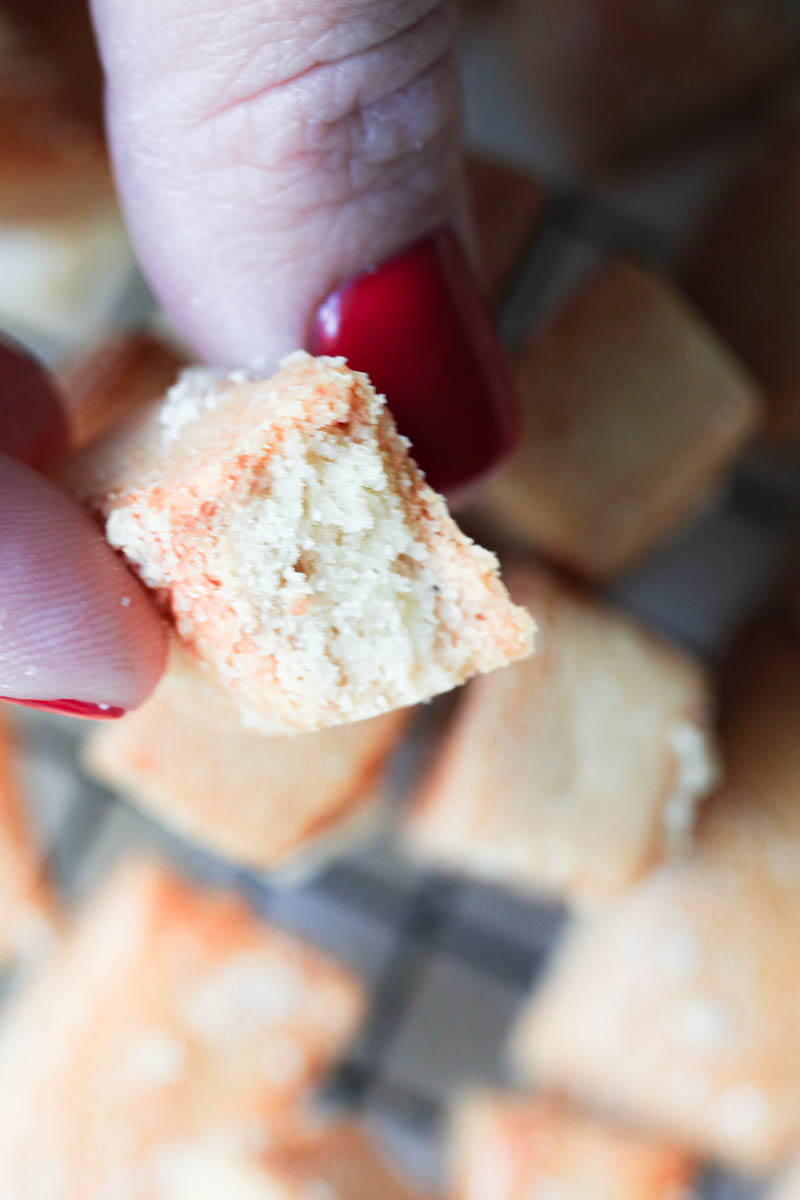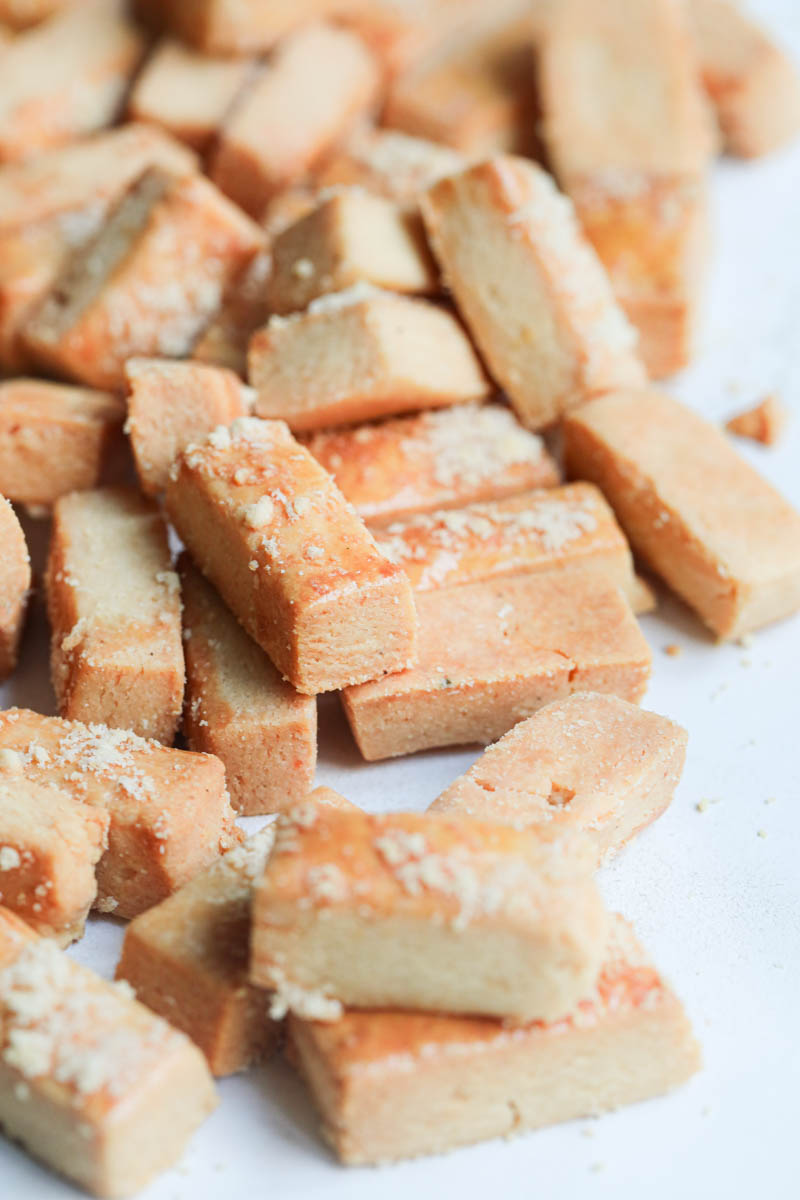 Storage tips
These homemade parmesan cheese cookies keep extremely well for a rather long time! Place them in an airtight container, and keep them at room temperature for up to 2 weeks.
If there are not many people in your home (as are we), one batch can last you for many aperitifs!
Freezer instructions
These homemade cheese biscuits can be frozen.
Before baking:
Place the cookies on a baking tray lined with parchment paper, without them touching one another.
Cover with saran wrap, then place in the freezer until they are completely frozen. Transfer to a freezer bag or airtight container and place back in the freezer. They keep for up to 3 months.
To bake - place frozen cheese biscuits on a baking tray lined with parchment paper and proceed as instructed in the recipe. Baking time will be about 5 minutes longer.
After baking:
If you baked the whole batch and don't think you will eat them in the next 2 weeks, you can always freeze these cheese cookies. Place in an airtight container and place in the freezer. They keep for up to 1 month.
To defrost: Remove from the airtight container and let them sit at room temperature overnight.
Make ahead
The dough - It can be made 2 days in advance and kept well-wrapped in the refrigerator. You'll proceed as instructed in the recipe when ready to make them.
The shaped parmesan cheese cookies - they can be shaped and kept in the refrigerator for up to 2 days. Then bake as instructed in the recipe.
The baked cheese cookies - They can be made up to 2 weeks in advance as they keep beautifully when stored in an airtight container.
Variations to this recipe
Size - These parmesan cheese biscuits can be made in the shape and size you like. I like this small size to make them into bite size appetizers, nevertheless, you can make them as big as you like.
Quiche base - You can also roll this dough out thinner, and use it as a quiche base! Here are some quiche filling ideas you might enjoy: tomato & cheese, spinach & bacon, brie & caramelized onion.
If you made this recipe I would really appreciate it if you leave a rating or comment below! Also, if you share on social media please use #cookwithbelula, I would love to see what you create!