Tomato Mozzarella Quiche
Mozzarella tomato quiche made with a flaky pie crust filled with cherry tomatoes, mozzarella and oregano all covered with a delicious quiche batter.
During summertime, back in Argentina we eat easy to prepare food that doesn't require long hours in the kitchen. It is hot. Real hot. Usually during the weekends, me and my brothers and sisters used to go to my mom's house (when we all still lived there) and we are spoiled madly; we get to eat delicious food and spend time together. This tomato and mozzarella tart, or a variation of it, is almost always on the menu. Hope you love it as much as we do!
What is quiche?
Quiche is a French savoury tart, made of a buttery and flaky dough filled with a custard and flavoured with vegetables, meat, or cheese. There are as many variations of quiche flavours as people who enjoy making it.
The famous Quiche Lorraine is a classic from the French Cuisine, made with lardons and cheese. If you want to know a little more about quiche and its origins check What Is Quiche?.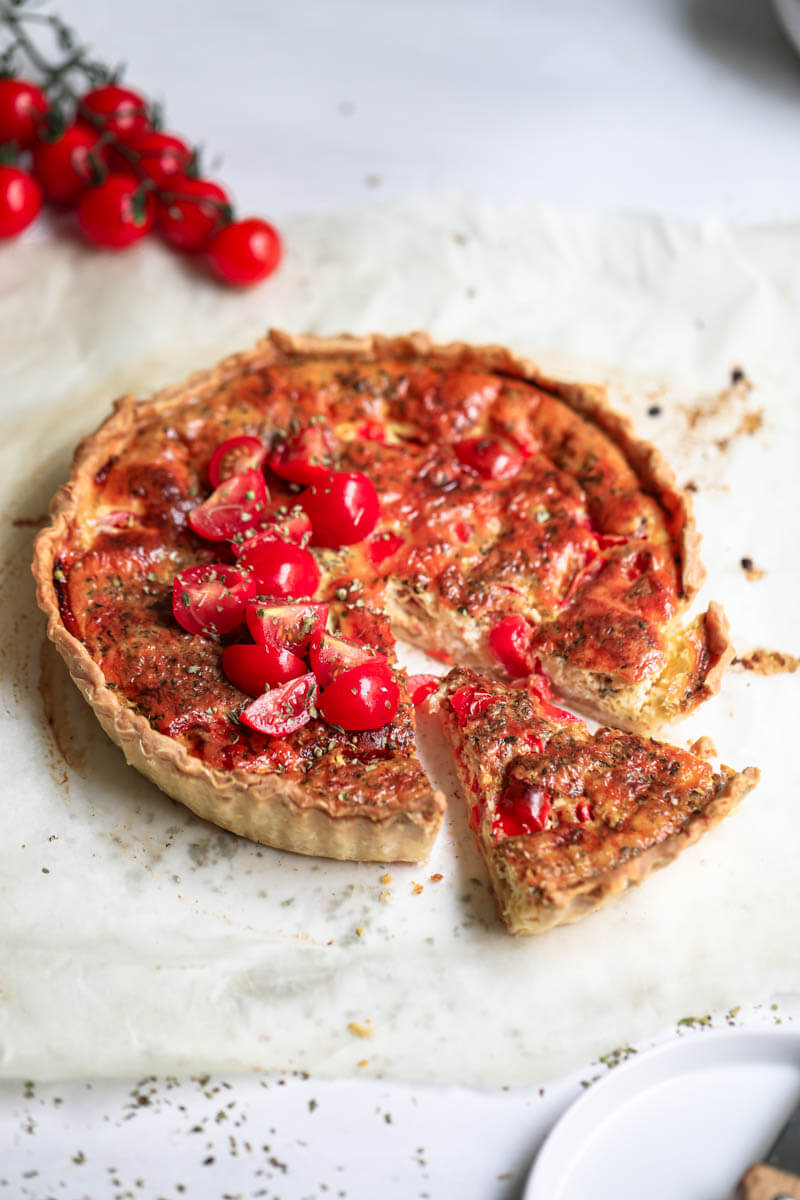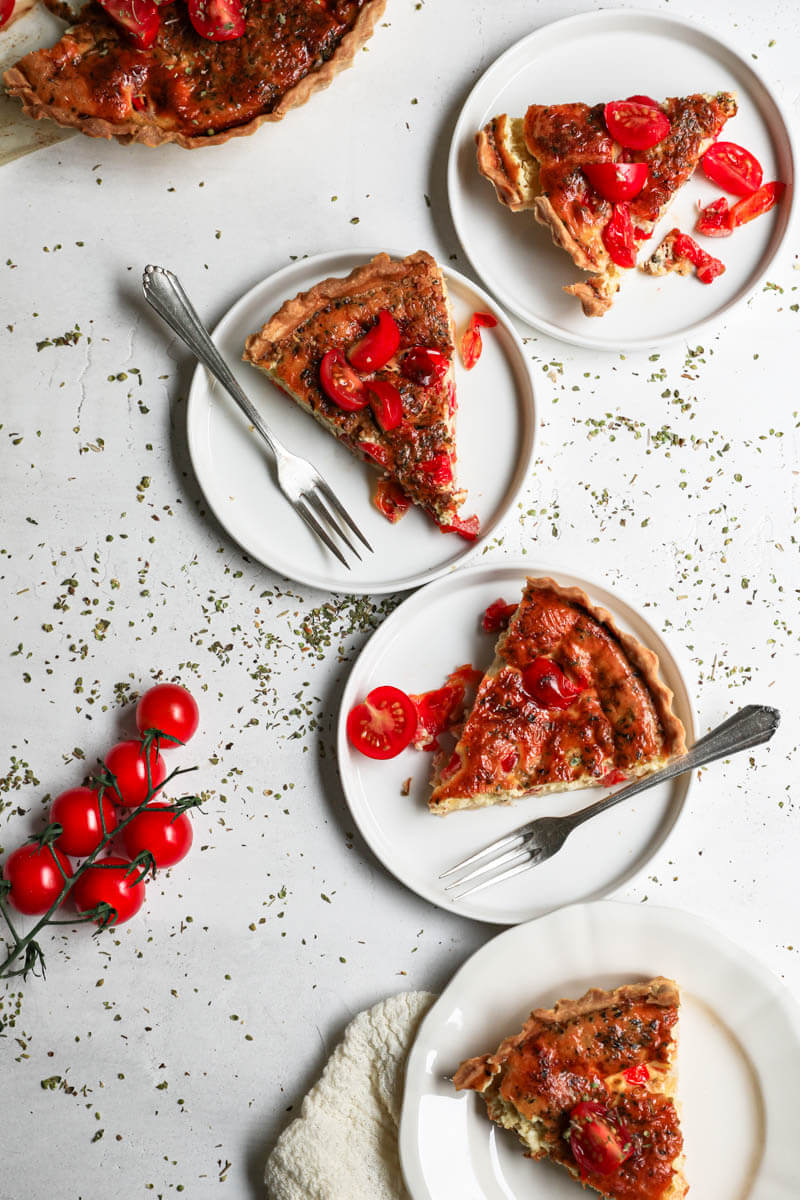 How to make quiche crust?
Making this flaky dough is rather easy and you can do it by hand. No fancy equipment necessary.
First mix the flour, salt and butter using the tip of your fingers until you obtain a breadcrumb consistency. Make sure butter is cold.
Secondly, Add the water and mix until the dough has come together. Use cold water.
Finally, cover in plastic wrap or beeswax paper and refrigerate for 2 hours.
After the 2 hours have passed, roll out the dough to 4 mm, line the tart tin and blind bake! Now you are ready to make this tomato quiche! If you want a detailed explanation on how to line a tart, or a different quiche crust recipe tin check Quiche Crust.
You can use a store-bought quiche crust if that is your preference.
How to make tomato mozzarella quiche?
Probably the easiest quiche out there. I promise. Is just an assembly of 4 components and you are done in under 10 minutes:
Prepare you quiche batter by whisking all the ingredients together. Season to taste. Do not forget the oregano!
Slice the cherry tomatoes in half or quarters.
Cut the mozzarella into medium size chunks.
Cover the blind baked quiche crust with the cherry tomatoes and the mozzarella. Pour the batter over the filling until it is properly covered.
Bake until set and golden.
Done! Enjoy!
Probably took longer for me to write this than to make this quiche!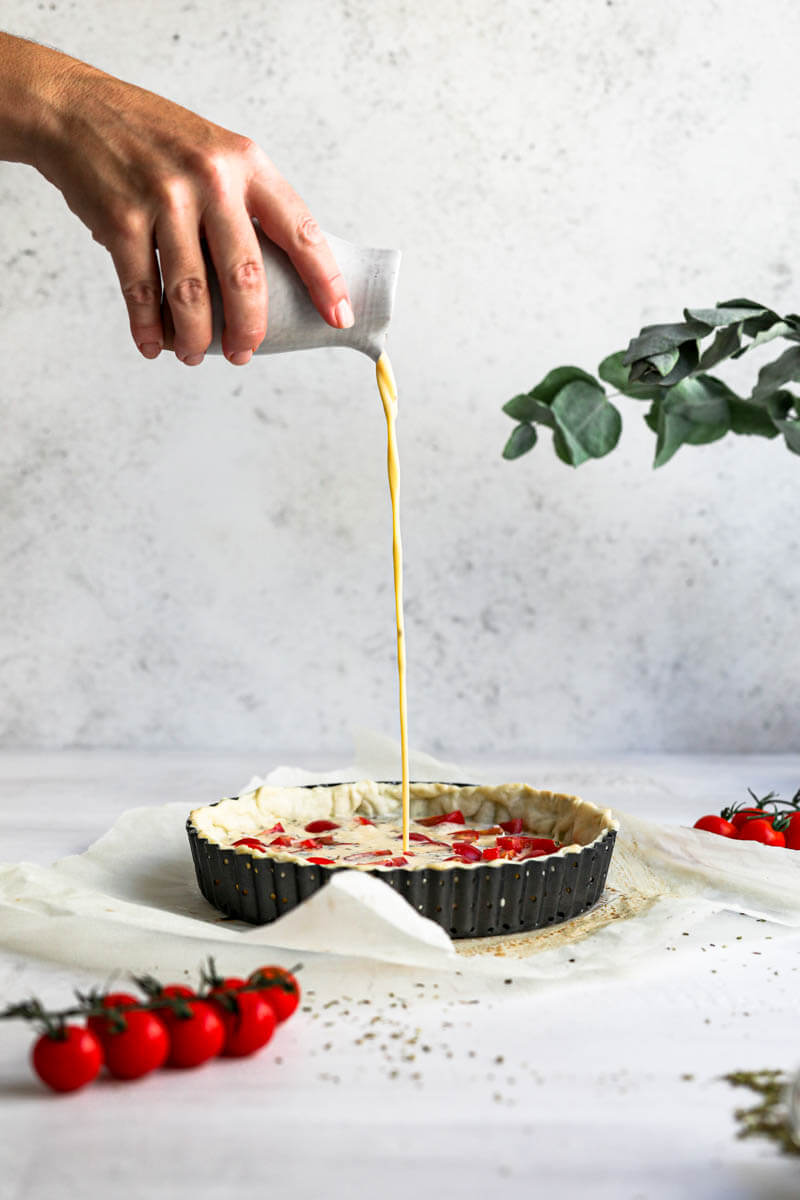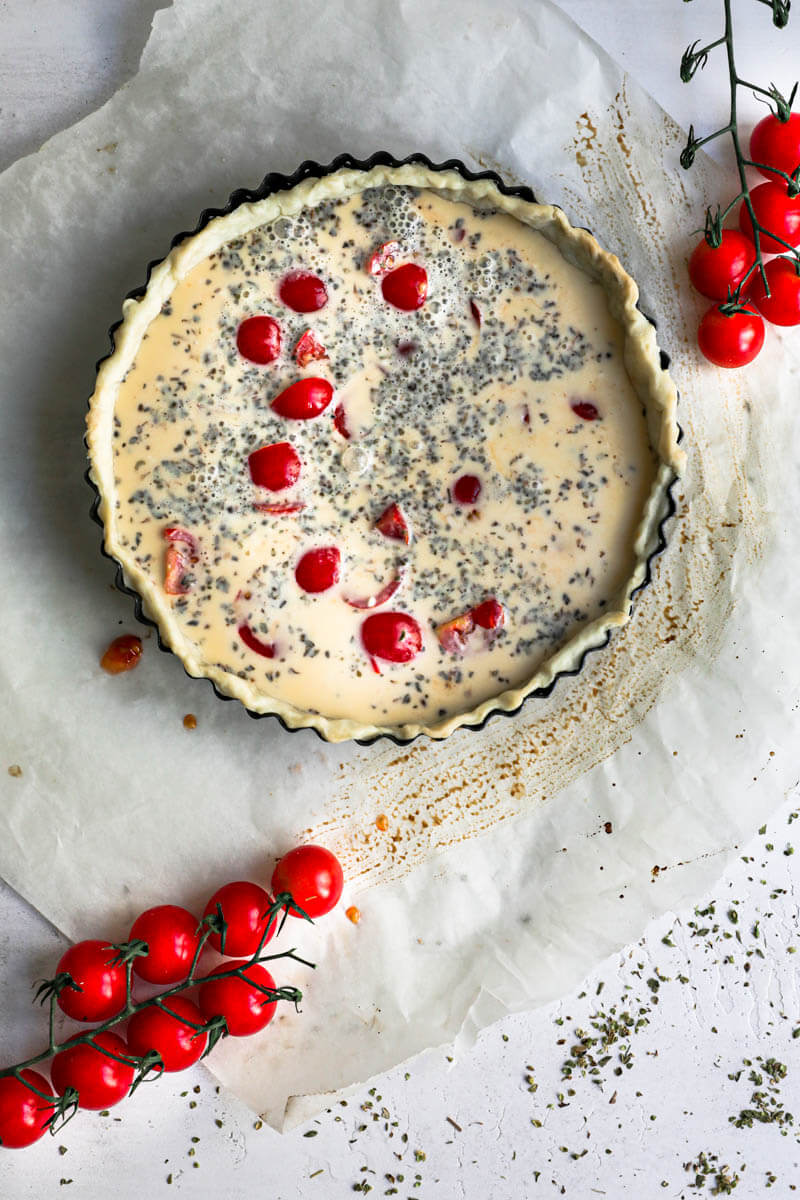 Variations for this easy quiche recipe
You can use any other tomato variety you like instead of the cherry tomatoes!
You can find other ideas for quiche fillings here Quiche & Pie Recipes.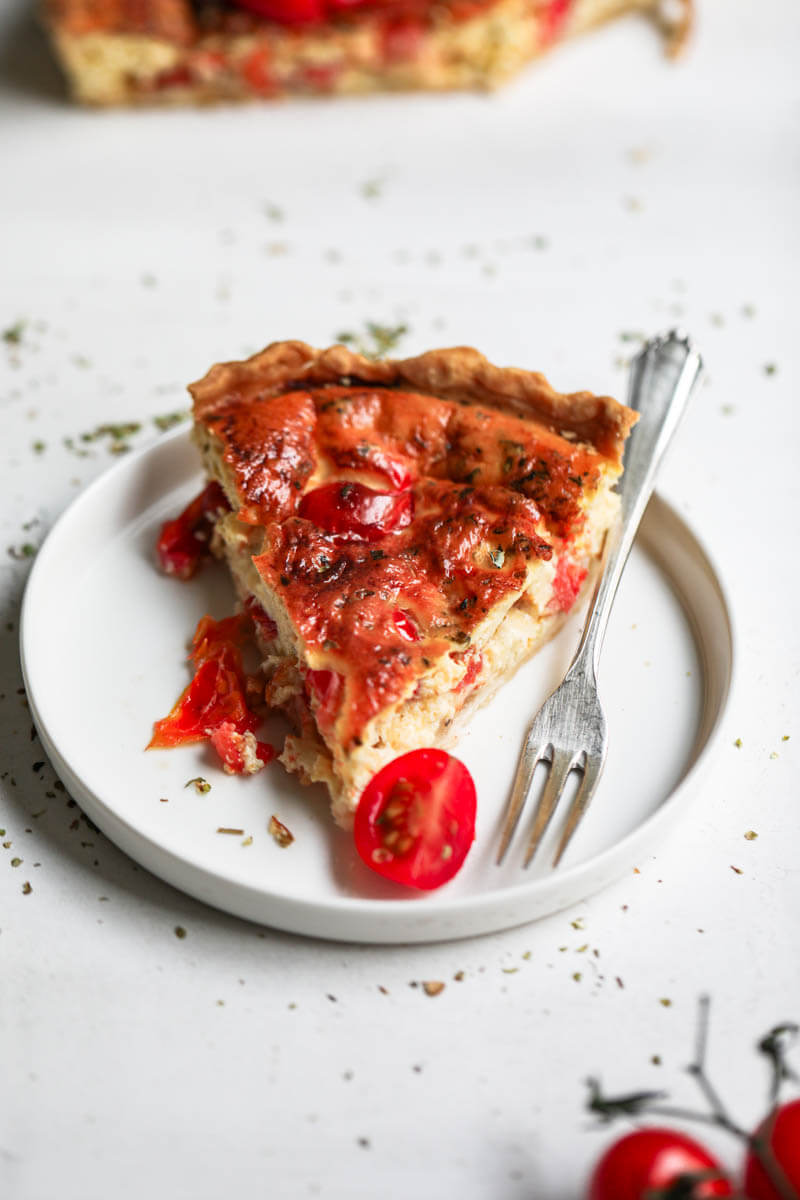 The ingredients used in all recipes on this site are measured using the metric system. I use a
scale
to be precise with my measurements and ensure good results. If you would also like to use a scale, here are some:
USA
,
Canada
,
UK
,
Australia
,
France
.
Subscribe to the newsletter
Total Time:
1 hour 10 minutes
---
Quiche Crust
Flour

250 g

Butter

85 g

Water

90 g

Table Salt

5 g
Filling
Egg Yolks

1

Eggs

2

Cherry Tomatoes

200 g

Mozzarella

200 g

Salt

Pepper

Oregano

Cream

100 ml

Milk

100 ml
Quiche Crust

1. Mix the flour, salt and butter using the tip of your fingers until you obtain a breadcrumb consistency.
2. Add the water and mix until the dough has come together.
3. Wrap in plastic wrap and refrigerate for 2 hours.

Assembly

1. Butter the mould and pre-heat the oven to 170 C°.
2. Roll out the dough and line your tart mould. Using a fork pinch the dough. Blind bake the quiche crust for about 15 minutes, until its cooked but not coloured. It should be white.
3. In the meantime, prepare the filling. Whisk the eggs, the egg yolk, the cream, the milk. Season with salt, pepper, and oregano to taste.
4. Slice the cherry tomatoes in half or quarters and remove the seeds.
5. Cut the mozzarella into small cubes and toss with the cherry tomatoes.
6. Once the tart base has been blind baked, evenly distribute the mozzarella/cherry tomatoes in it.
7. Pour the batter over the quiche.
8. Bake for another 40 minutes or until the quiche has set and it is beautifully coloured.
If you made this recipe I would really appreciate it if you leave a rating or comment below! Also, if you share on social media please use #cookwithbelula, I would love to see what you create!