Easy Deep Dish Zucchini Parmesan Quiche with Ricotta Cheese
Loaded with zucchini, shallots, parmesan, and ricotta cheese, this easy deep dish zucchini quiche recipe is super simple and full of flavor.
Growing up we had quiche almost every weekend at my parents' house and I continue the tradition at my own home. I make quiche of about anything you can think of, and we love it. This is an easy zucchini parmesan quiche recipe with ricotta cheese that I make very often. If you follow me on Instagram you would know! I use my foolproof homemade quiche crust recipe for this zucchini quiche to make it even better. It is about time I share the whole recipe for this deep dish zucchini quiche with you. Hope you love it as much as we do!
Material & Ingredient Notes
A quiche crust: I like to use homemade quiche crust. You can find a recipe with step-by-step instructions and all the troubleshooting here Quiche Crust. You can also use a store-bought quiche crust!
Heavy whipping cream: helps bind the batter. Use one with a minimum of 30% fat content.
Cheese: I use parmesan and ricotta in this recipe for the extra flavor. I think zucchini and parmesan were born to be friends! Use a good ricotta, as it will have a lot less water content.
The start ingredient: zucchini.
The supporting ingredient: shallots. Love shallots, but feel free to replace them with onions if you are not a fan or can't get them where you live.
A quiche tin of 24 cm (9.4 inches) and 6 cm high (2.3 inches).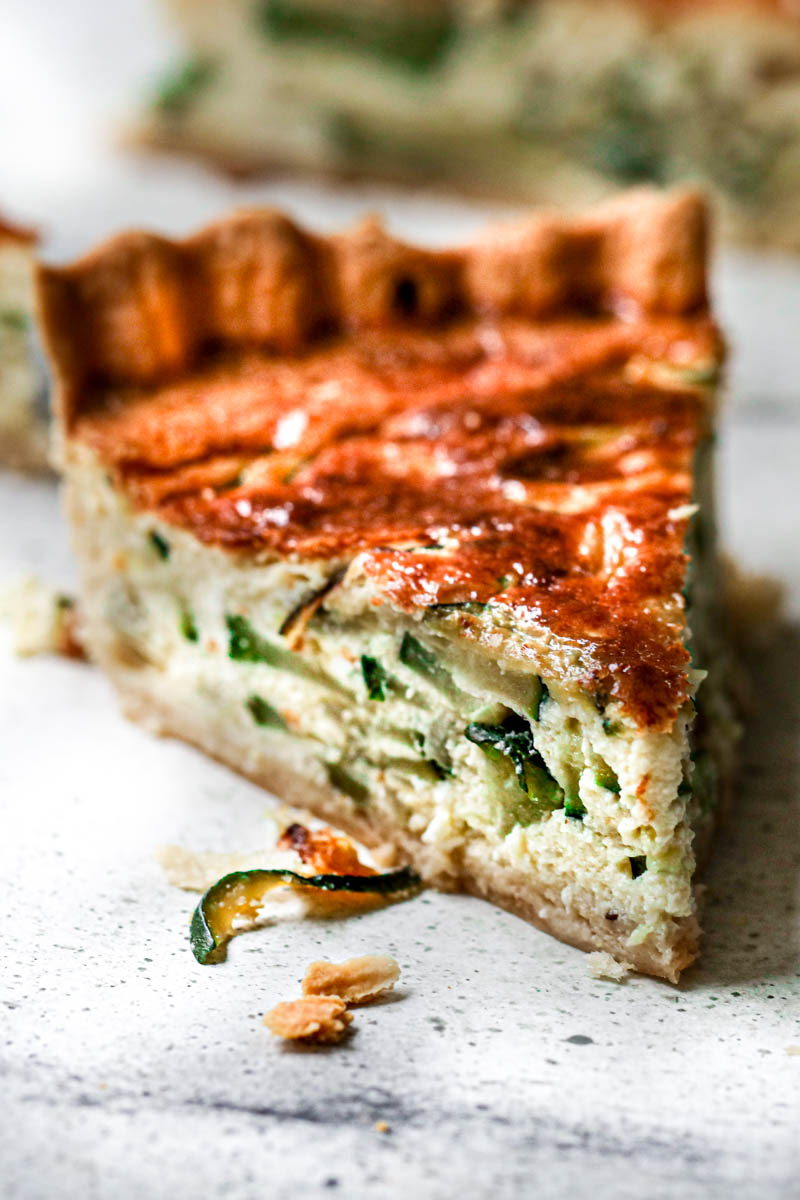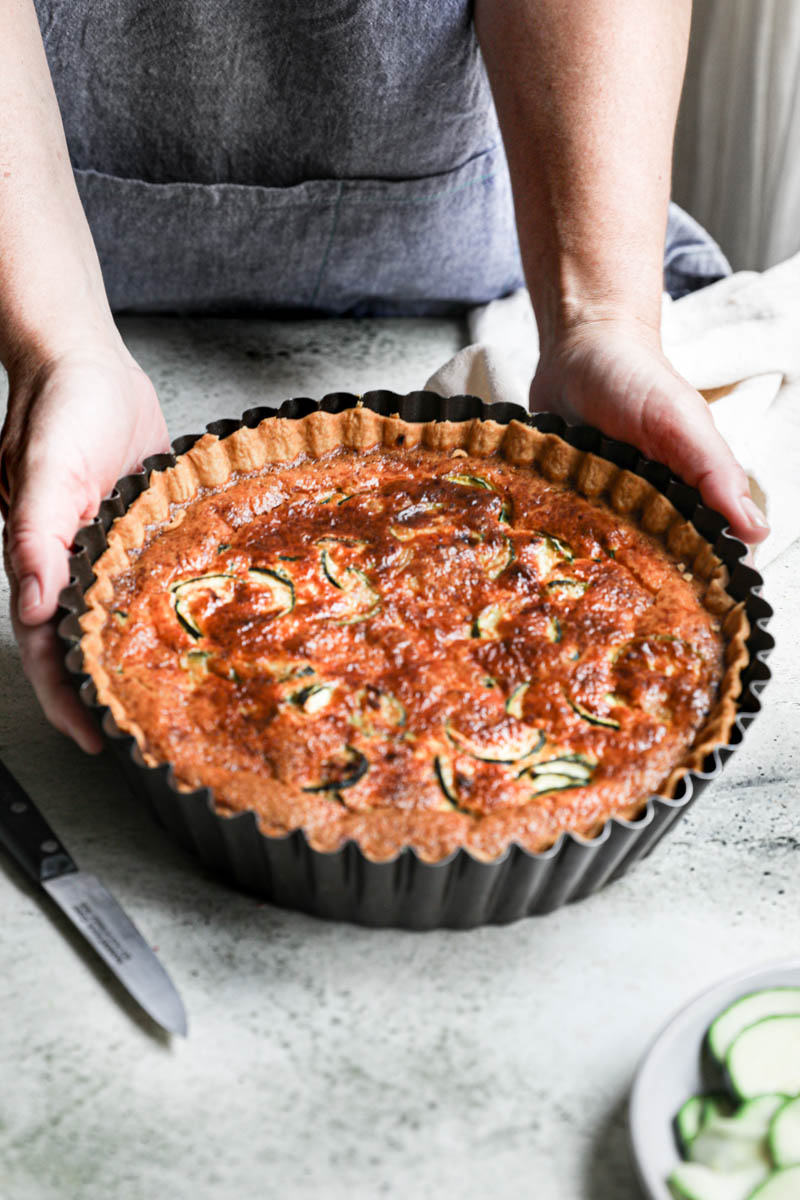 How to make this recipe
Making this quiche is super easy and ideal for a quick meal, be it lunch or dinner. You must:
Line the deep dish quiche tin with the quiche crust and pre-bake it. You can use a homemade quiche crust, like the one I recommend above with all the tips and tricks to make a killer dough or you can go with a store bought one!
Prepare the filling: Sauté the shallots in a pan drizzled with olive oil over low heat until tender. Add in the sliced zucchini and cook covered for about 5 minutes at medium heat, then remove the cover and cook for extra 5/7 minutes until the zucchini are cooked. Season with salt and pepper and set aside.
Prepare the quiche batter by simply whisking the eggs, cream, ricotta and parmesan together. Remember to season your batter, especially important!
And finally, assemble the quiche: Fill the pre-baked quiche crust with the zucchini and shallot mixture of the pre-baked quiche crust. And then pour over the quiche batter covering the filling.
You are ready to bake until the zucchini quiche is golden and set. About 45 minutes.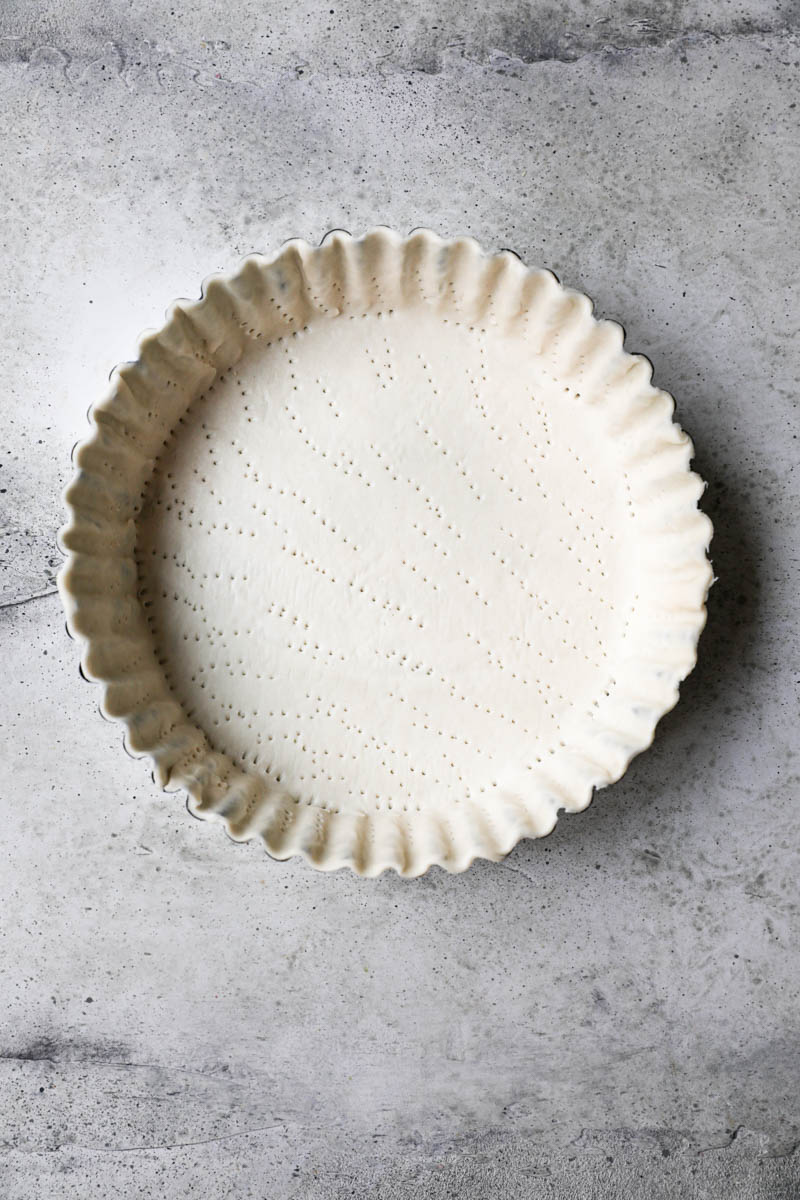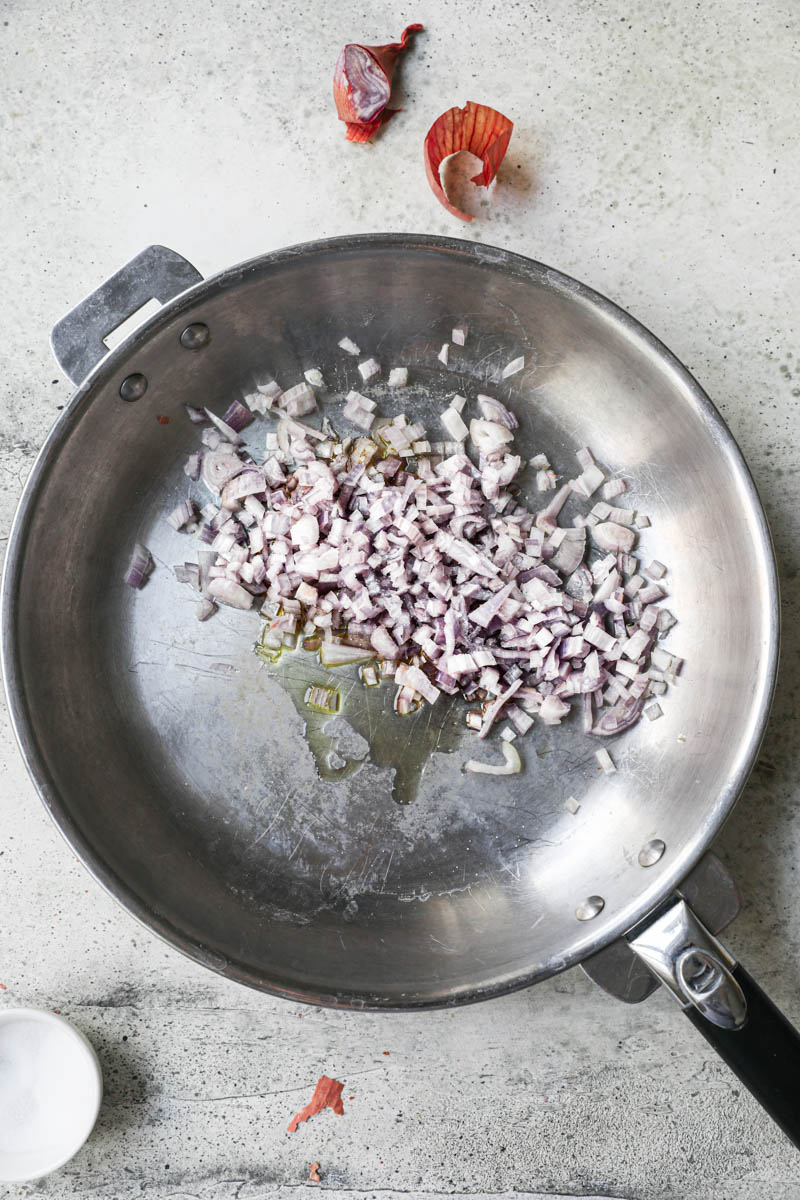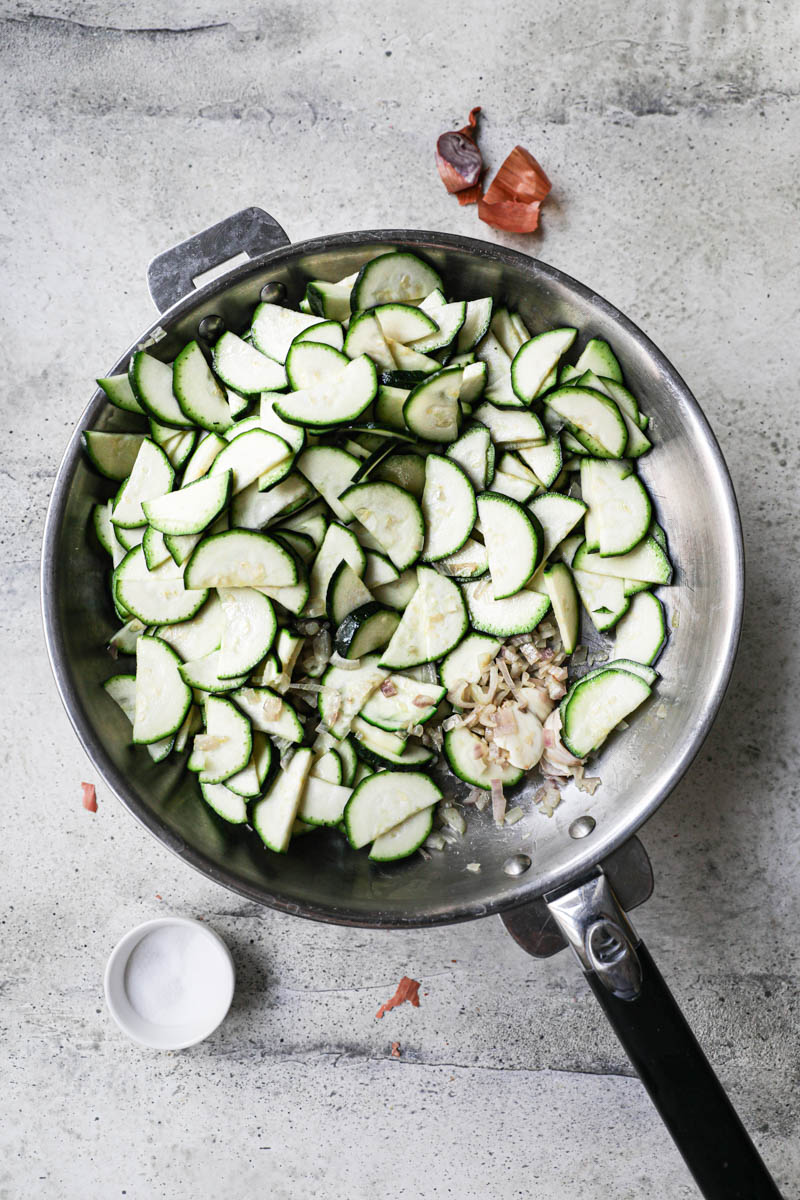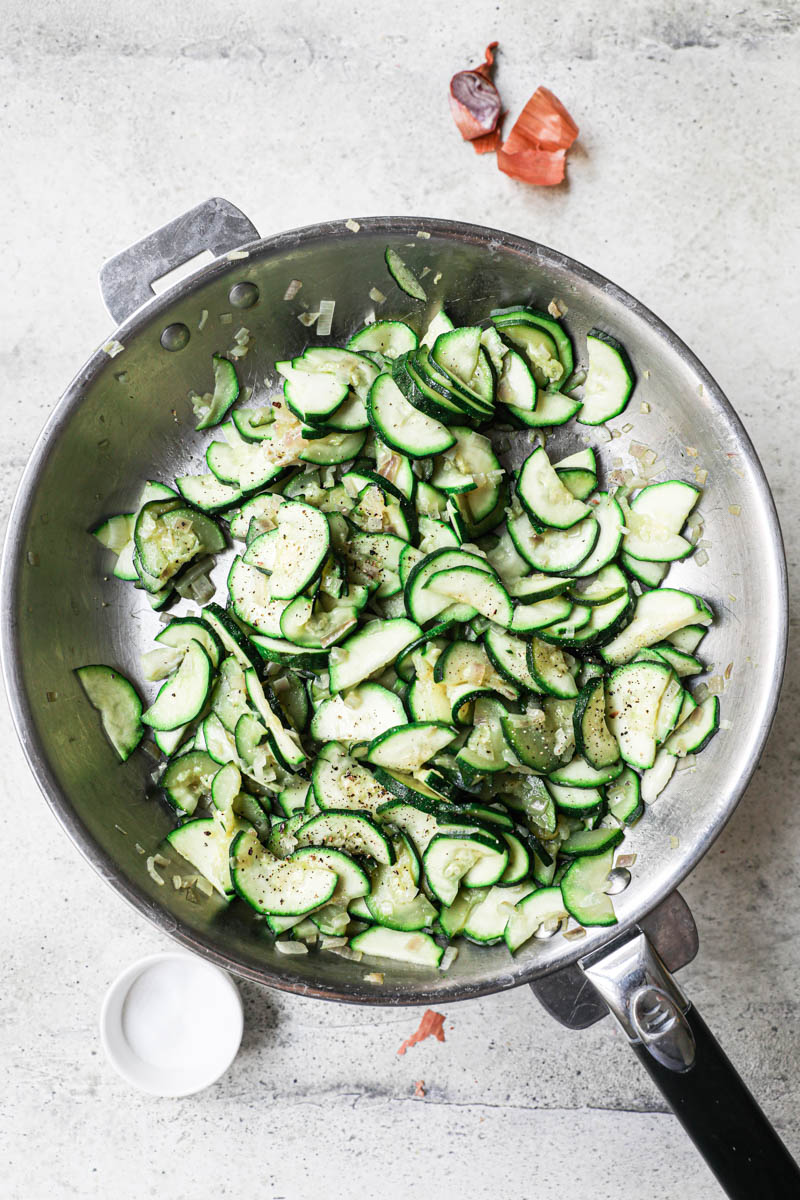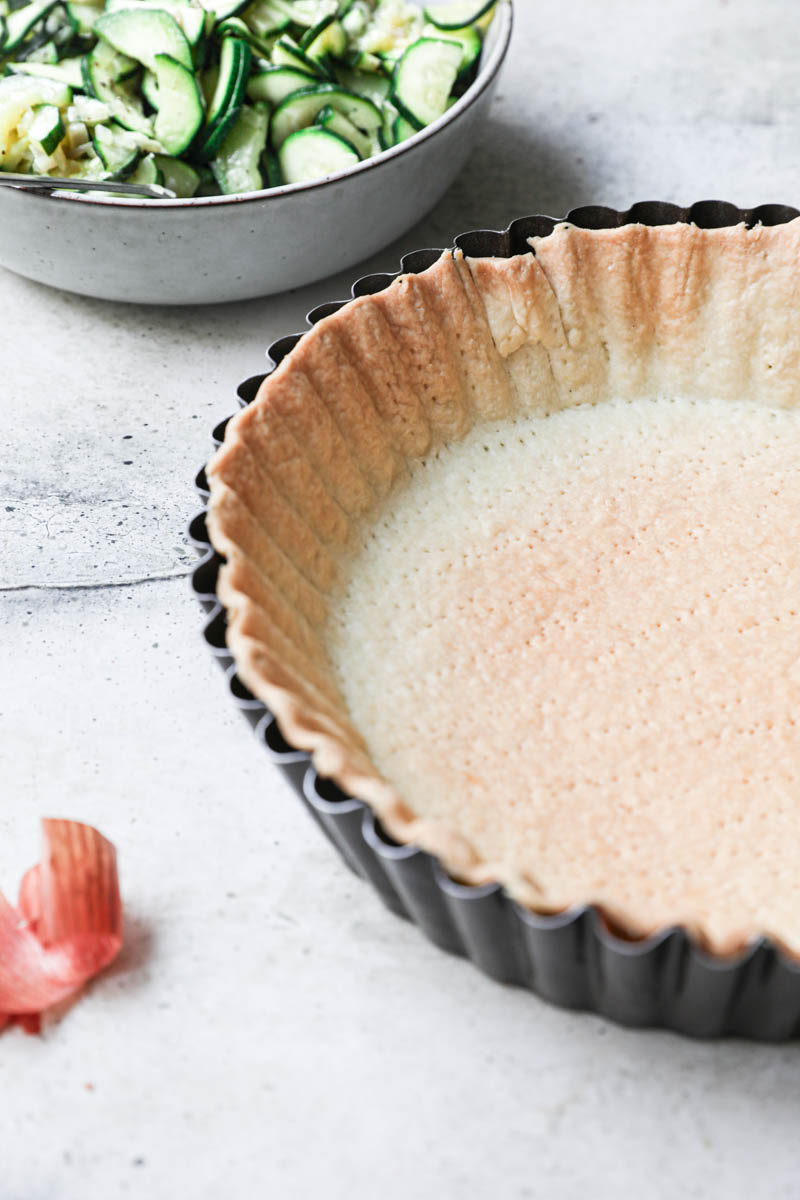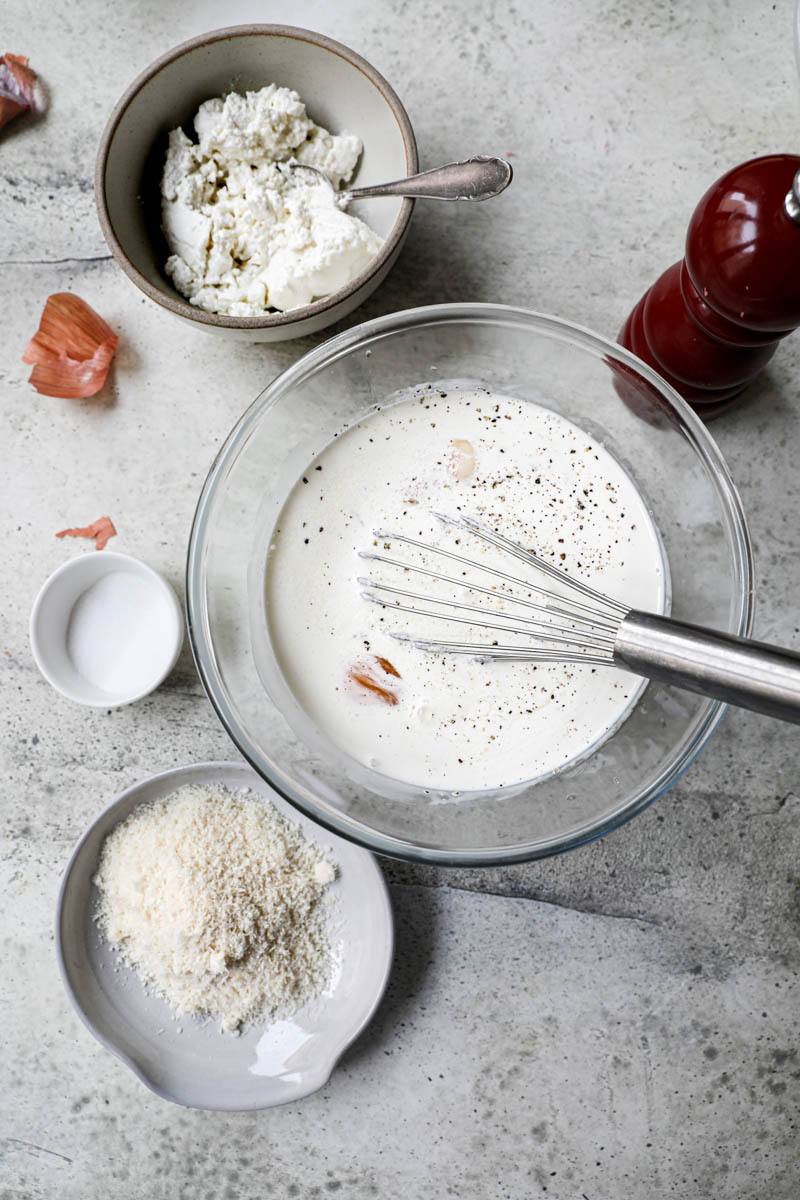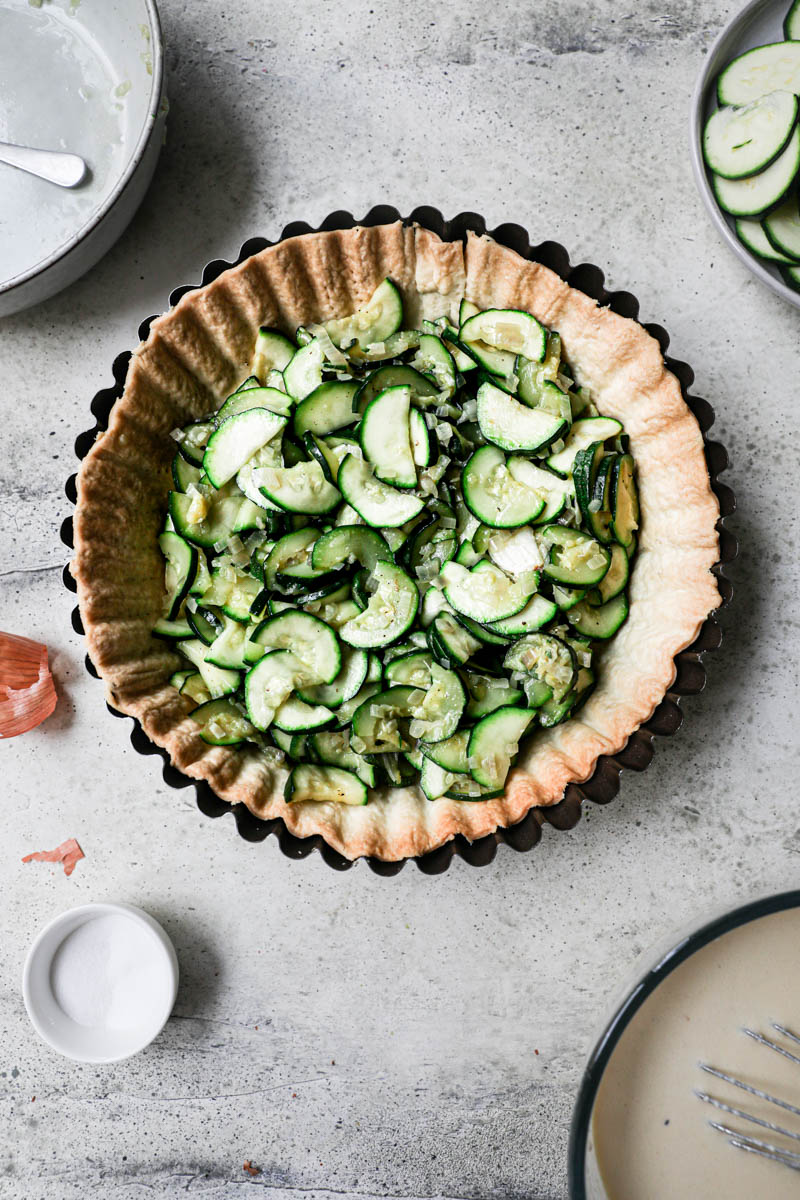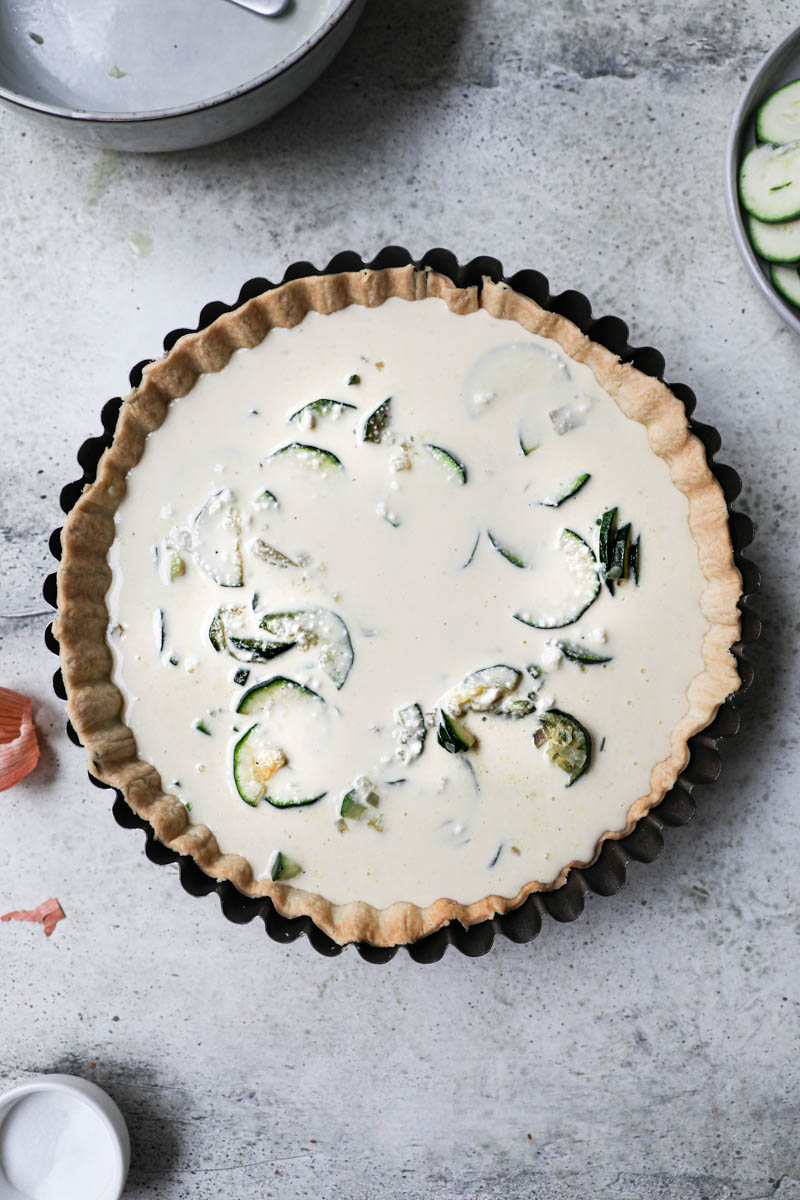 Some notes on how to prep your ingredients.
Shallots: chop as small as you can.
Zucchini: it has a high-water content. So, to avoid soggy quiches, you must slice each zucchini in half (as shown in the photo below) and season with salt. Let it sit for about 20 minutes, pat dry with a paper towel, and thinly slice it. The salt helps release all the water.
Ricotta cheese: place a strainer in a bowl and then place the ricotta inside the strainer. Let it release all the excess water for about 30 minutes.
Parmesan cheese: finely grate it.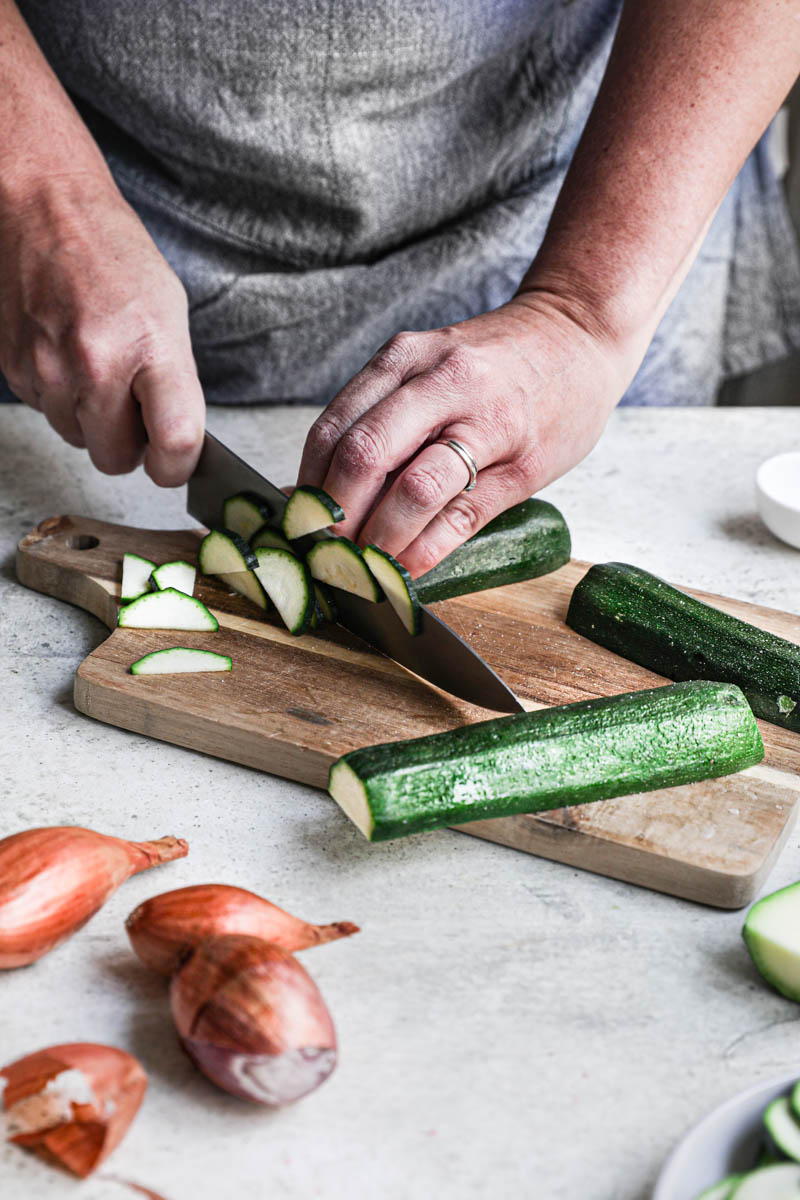 A note on pre-baking your deep dish quiche crust
At cooking school, they have always told us to pre-bake the crust but never to color it! I disagree; because most of the time this means the bottom of the quiche won't be crisp and you'll end up with a soggy crust!
To be safe, and have a crunchy delicious crust, what I do is:
Line the deep dish tart tin with a quiche crust.
Line the crust with parchment paper and fill with pie weights (or beans).
Bake for 10-15 minutes, until the crust has turned white.
Remove the pie weight and the paper and bake for an extra 10 minutes in the lower rack of the oven, until slightly colored.
Then add the filling and completely bake your zucchini quiche with ricotta cheese!
What to serve with zucchini quiche?
In France they usually serve quiche with a green salad seasoned with a light vinaigrette.
Storage tips
This zucchini quiche can be kept covered with saran wrap in the refrigerator for up to 5 days. When ready to eat, simply reheat the quiche in a 200 C° oven for about 15 minutes. Enjoy!
Freezer instructions
This easy zucchini quiche can be frozen. You simply have to:
Underbake the quiche a little bit. Remove from the oven before it gets that beautiful golden color. And it has not set 100 %.
Let it cool down at room temperature.
Remove from the tin and cover with plastic wrap, twice. Then transfer to freezer bag or a freezer container. You can also portion the quiche and wrap each piece separately.
Freeze and keep for up to a month.
To defrost: Place on a baking tray for 1 hour at room temperature, then bake until golden.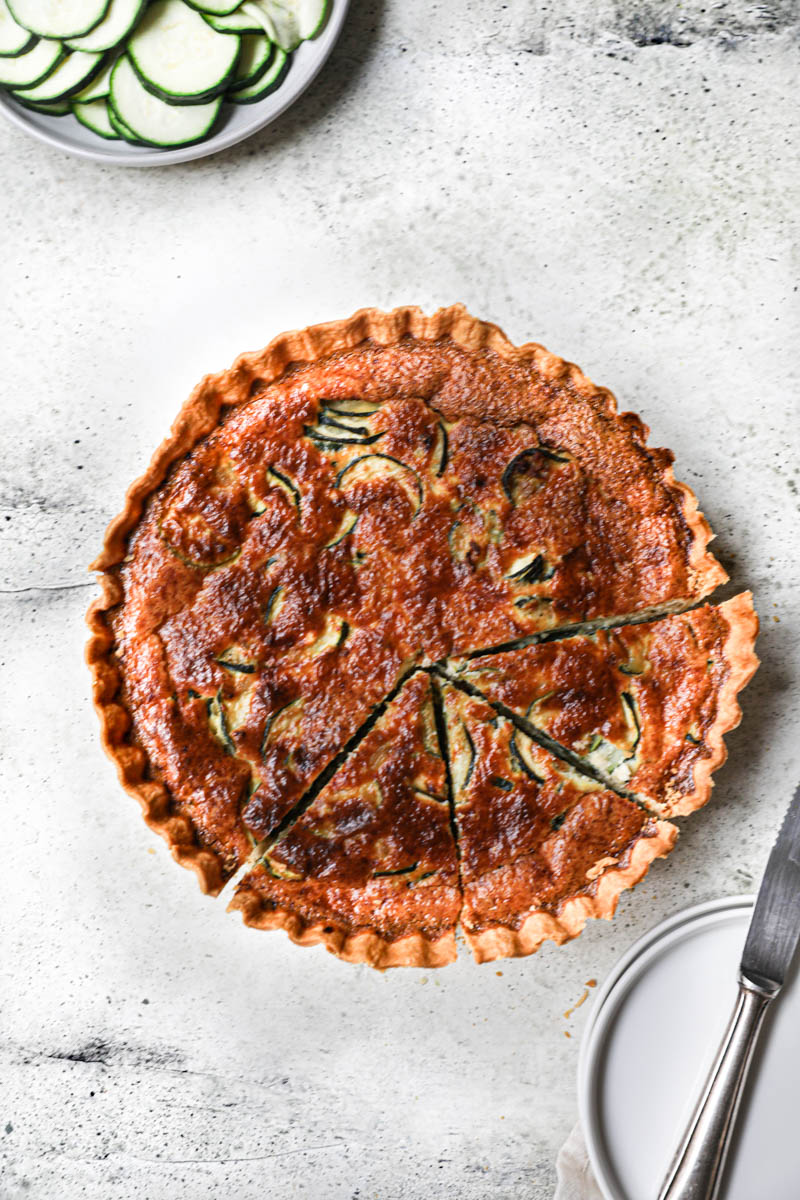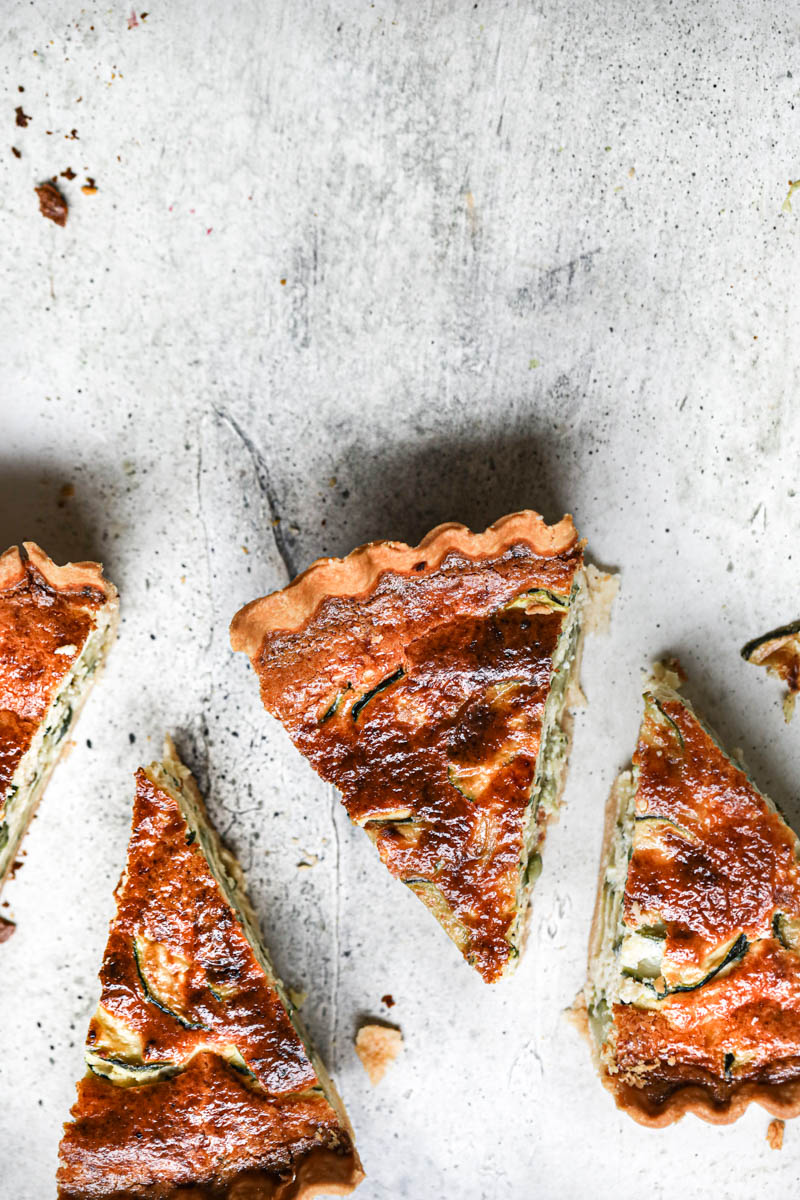 Variations to this recipe
You can make this easy zucchini parmesan quiche into a crustless zucchini quiche. Simply use a deep round baking dish instead of a quiche tin. Then fill the dish with the zucchini filling, pour over the quiche batter, and bake until golden and set. About 45 minutes.
You can also replace half the zucchini with sauteed leeks. This is a wonderful combination - I do it often and love it!
The ingredients used in all recipes on this site are measured using the metric system. I use a
scale
to be precise with my measurements and ensure good results. If you would also like to use a scale, here are some:
USA
,
Canada
,
UK
,
Australia
,
France
.
Subscribe to the newsletter
Total Time:
1 hour 25 minutes
---
Quiche Crust

1

Zucchini

3

Shallots

3

Parmesan Cheese

60 g

Ricotta Cheese

110 g

Eggs

4

Heavy Cream

250 g

Olive Oil

Salt

Pepper
If you made this recipe I would really appreciate it if you leave a rating or comment below! Also, if you share on social media please use #cookwithbelula, I would love to see what you create!