Bonci's Roman Style Cold Ferment Pizza Dough (For Sheet Pan)
This is Bonci's recipe for roman style pizza dough for sheet pan. It is a no knead cold ferment pizza dough and needs to be treated with care when stretching and folding.
This is Gabriele Bonci pizza dough recipe. It is a Roman style cold ferment (as it slowly ferments for 24 hours in the refrigerator, and this is what gives the dough its distinctive flavor and this will give the dough the fluffiness and the airiness) pizza dough, with no need for a pizza stone or any type of machinery. This recipe is meant for a sheet pan and is known as Sheet pizza: a style of roman pizza that is sold by the slice. It's baked in baking trays, and they are sliced directly on them. We are making Gabriele Bonci's famous homemade pizza dough! It's delicious. Hope you love it!
Pizza dough Ingredients & materials notes
To make homemade pizza dough you only need a few ingredients. Quality over quantity 😊.
Flour: the key ingredient for making pizza. This Italian pizza dough recipe is best served with Italian Flour tipo 0 or tipo 1. You can get it on amazon, no problem. I live in France and used T65 flour. If you live in the United States you can use bread flour. However if you have the possibility of buying Italian flour it will change the final result. If you are in Argentina you can use Haring 00 or 000.
Water: use lukewarm water. Not to cold, not to warm. Warm water can kill your yeast.
Olive oil: it gives the pizza dough extra flavour. Use a good quality one!
Active dry yeast: The yeast is what will help the dough rise! To test that it's still active, you can lix a little bit with water and wait for about 5 minutes. If bubbles start to develop that means you can go ahead and make this active yeast pizza dough.
Salt: particularly important ingredient when making bread-like doughs. It not only enhances the flavours of the other ingredients and will help the dough stay moist.
Baking tray: 30x40 cm baking trays are used in this recipe.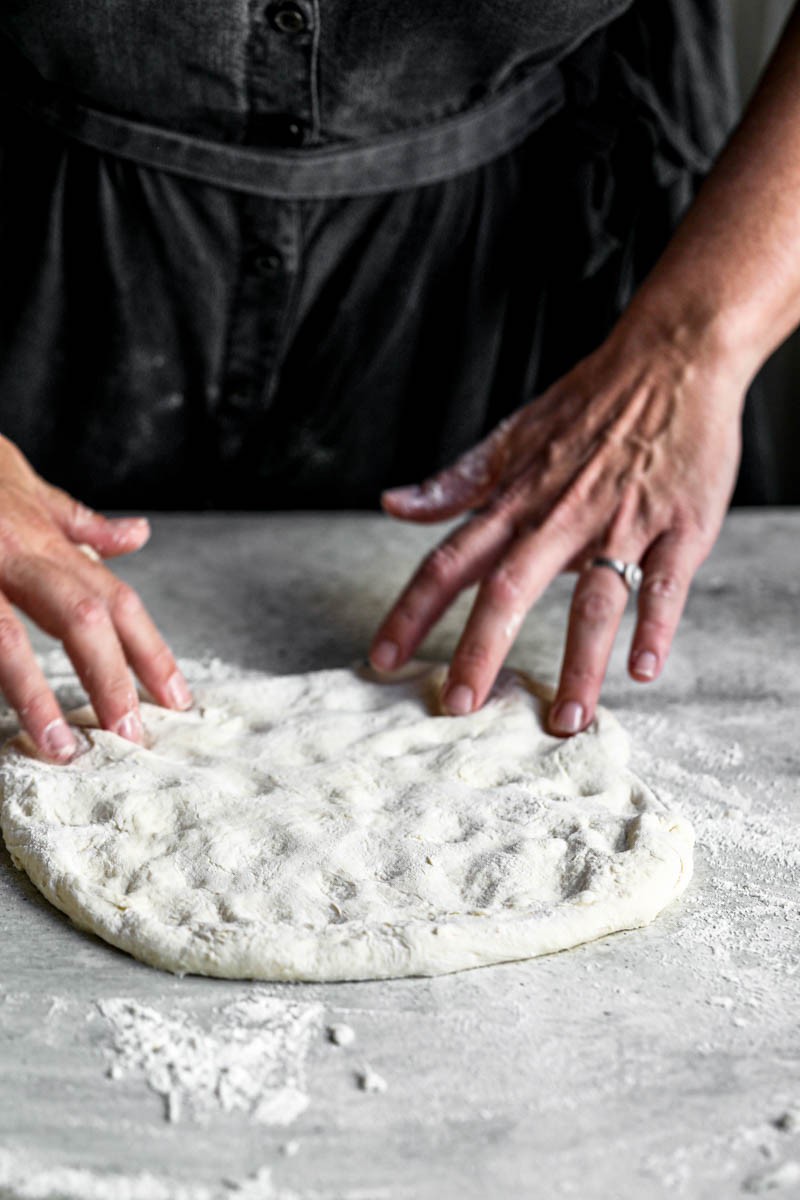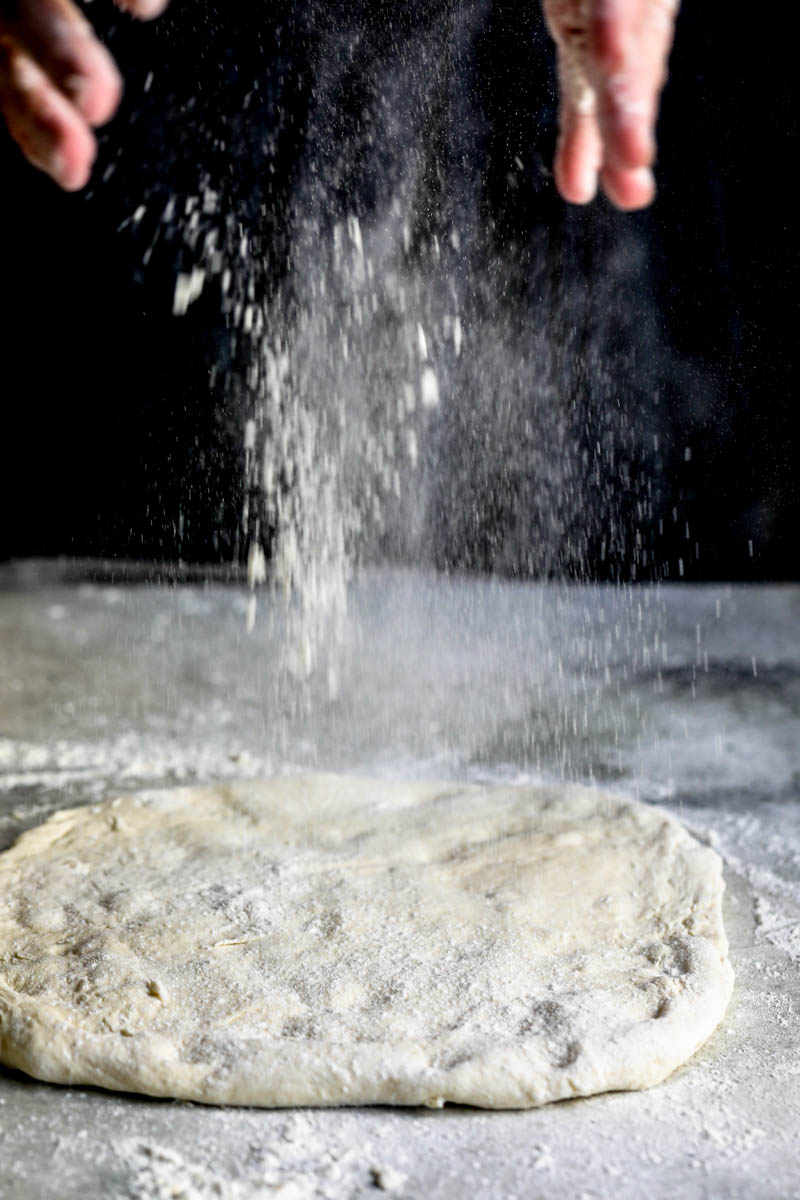 How to make this recipe: step-by-step-instructions
There are 4 steps:
Mixing the dough: In a bowl mix the flour, the water and the yeast using a spoon. Once it has begun to form lumps add the oil and the salt. Continue to mix and then transfer to a lightly floured surface. Don't worry if the dough seems too sticky and watery. This is the way it's supposed to be.
Kneading the dough: This is an important part of the process as we don't want to overwork the dough. The proper way to do this is to fold the dough in half over itself towards you. Grab it and turn it 90 degrees and fold again. Repeat the operation again and again. Folding and turning. You'll notice that it will become less and less sticky. I repeated the aeration for at least 30 times. Place in a slightly oiled bowl and cover with humid kitchen towel or plastic wrap and let it rest for 15 minutes.
Regenerating the dough: Transfer onto your working surface and fold the dough onto itself once again. Transfer to the bowl and let it rat for another 15 minutes. Repeat the operation 3 times. By the third time the dough will have changed its texture and it will no longer be sticky.
Leavening process: Transfer to the bowl, cover in plastic wrap and refrigerate for 24 hours.
Recipe notes
To stretch pizza dough for sheet pizza you must:
Remove the pizza dough from the refrigerator and let it rest for an hour at room temperature before working with it.
Divide the dough in 3 equal pieces, as you will make 3 30x40 cm sheet pan pizzas. (If you use smaller trays, then divide the dough into more pieces)
Work on a heavily floured surface.
Be kind to the dough
Use your fingertips to stretch the dough starting form the outside in. It's a very gentle movement, it's as if you were massaging the dough.
The best way to explain how to roll out pizza dough is to show you this video of the man himself, Gabriele Bonci, stretching the dough: Gabriele Bonci Pizza Lesson.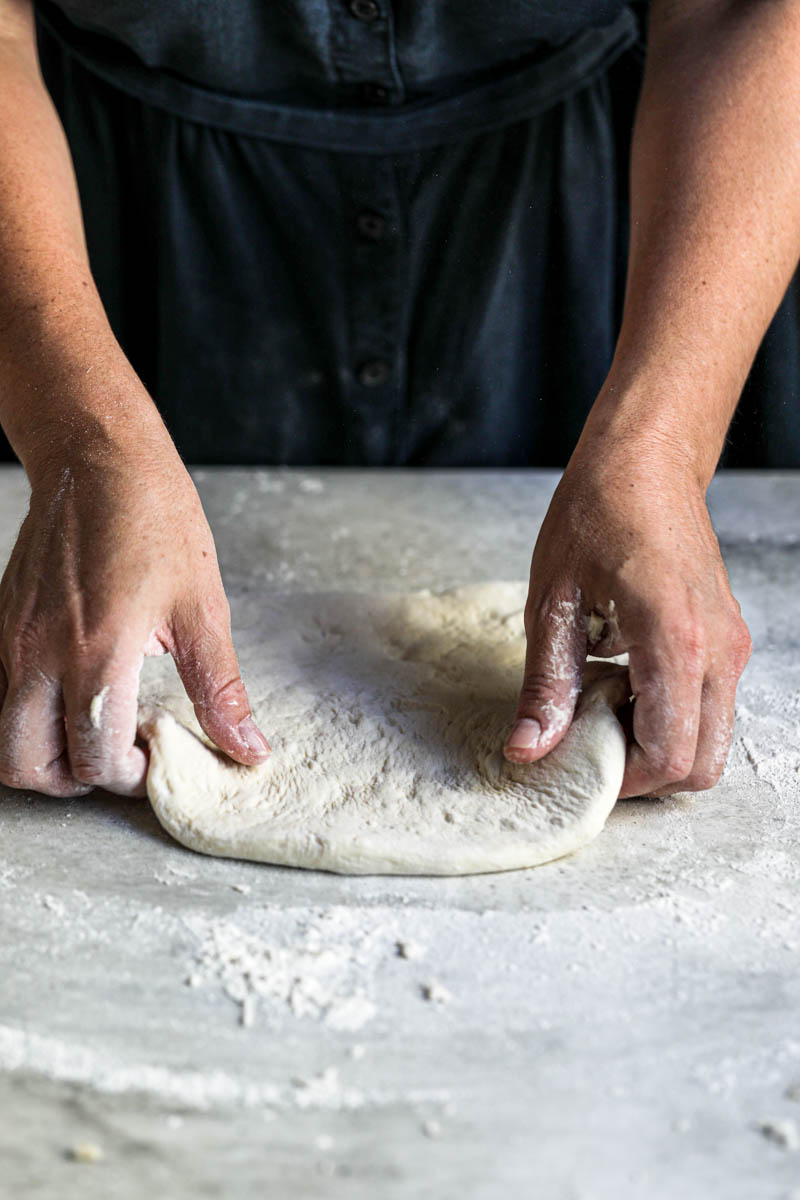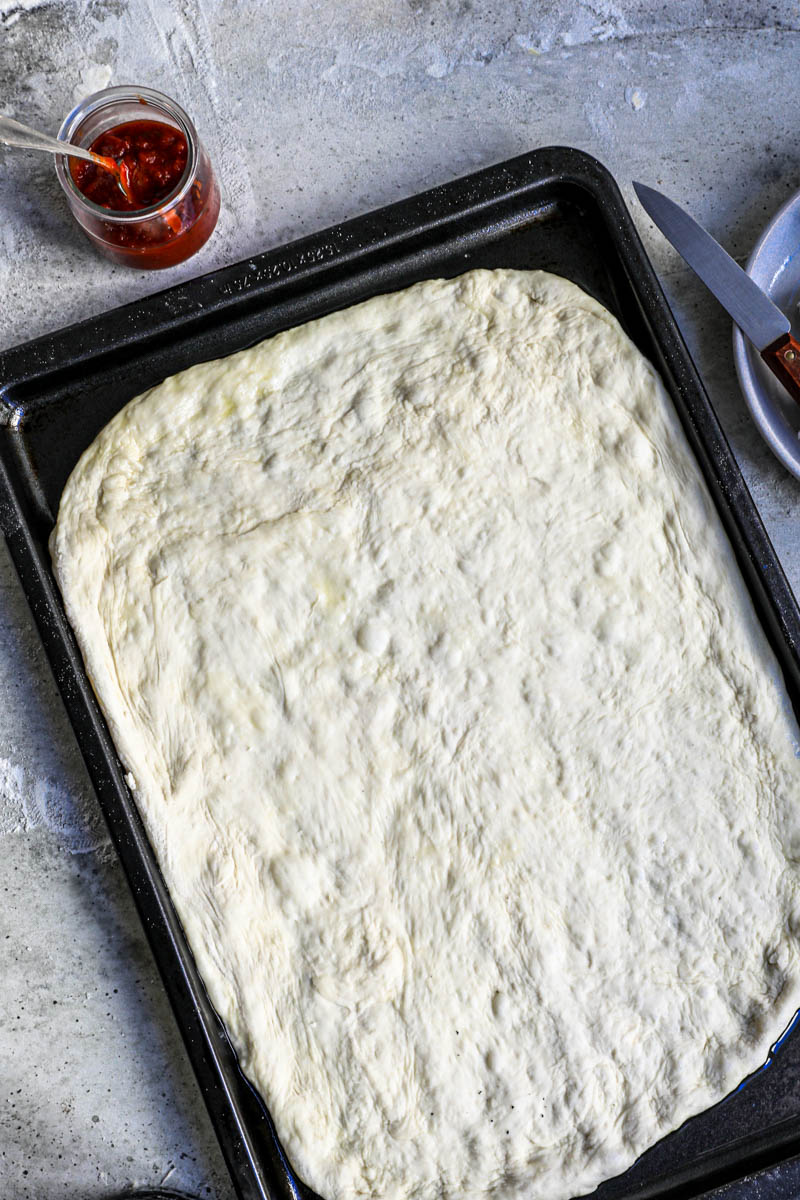 Baking tips
Make sure you work with an extremely hot oven (250 C°).
This sheet style pizza needs pre-baking first! After you have stretched the pizza dough and placed it on the baking tray, cover with tomato sauce (see Gnocchi alla Sorrentina) or canned San Marzano tomatoes, properly seasoned.
Place the tray at the bottom of the oven and bake for about 10/15 until the base of the pizza starts colouring. To verify, using a spatula lift the corner of the dough a check it out. If slightly coloured, move the pizza to the middle rack and bake for extra 10 minutes.
Now you are ready to add the toppings of your choosing; I made a simple margherita pizza this time. Re bake until the cheese has melted, and it is ready to eat!
This is the best pizza recipe by hand you will ever had! I hope you give it a try!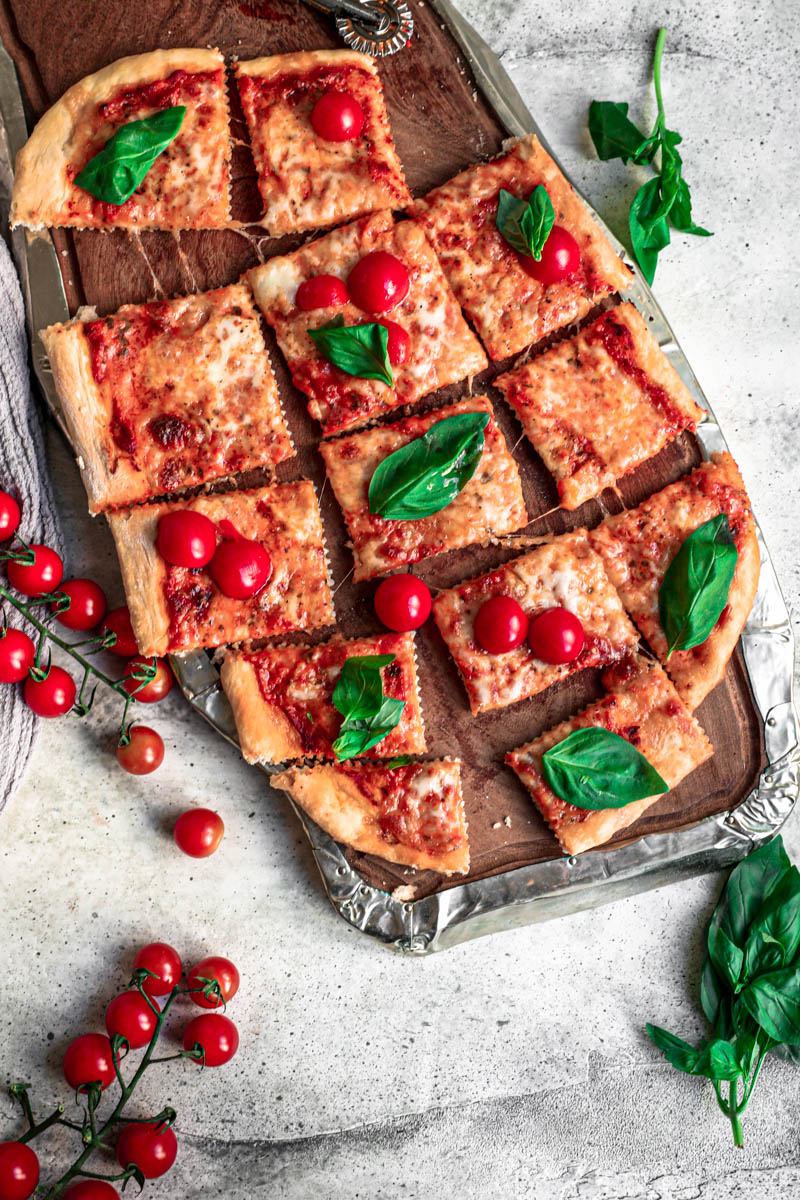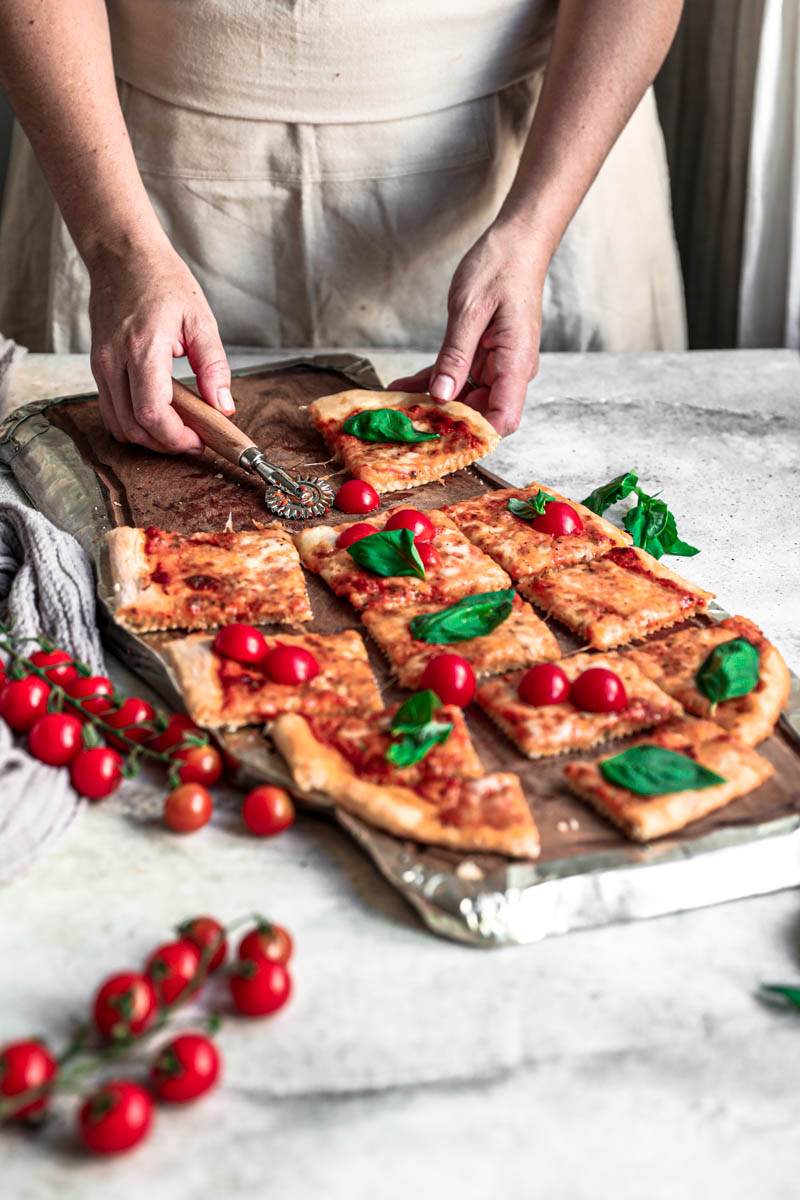 Freezer instructions
There are 2 ways to freeze pizza dough:
Raw: after the dough has risen divide it in smaller parts and at this point you can wrap the raw pizza dough in plastic wrap, transfer to freezer container/bag and freeze for up to a month. To defrost: let the pizza dough at room temperature for 3 to 4 hours. Then stretch and bake.
Cooked: after you have pre-baked the dough, remove from oven, and let it cool down at room temperature. Properly wrap and store in the freezer for up to a month. To defrost: Directly in the oven for 10 minutes. The proceed to add the toppings and finish baking the pizza.
The ingredients used in all recipes on this site are measured using the metric system. I use a
scale
to be precise with my measurements and ensure good results. If you would also like to use a scale, here are some:
USA
,
Canada
,
UK
,
Australia
,
France
.
Subscribe to the newsletter
Cook Time:
1 day 10 minutes
Total Time:
1 day 2 hours 10 minutes
---
Bread Flour (tipo 0 or tipo 1 Italian Flour)

1 kg

Water

700 g

Olive Oil

40 g

Dried Yeast

7 g

Salt

20 g
If you made this recipe I would really appreciate it if you leave a rating or comment below! Also, if you share on social media please use #cookwithbelula, I would love to see what you create!