Cheese soufflé was a classic at my parents' house growing up. During my last years of high school, we use to have French cheese souffle once a week. It was a happy day for the whole family; we loved having this airy, light and delicious cheese bomb. Many years later, as I sat in class watching the chef how to make cheese souffle I thought about those days, when we had family diner in our pajamas, and it made me smile. I love to make classic cheese souffle and it is a lot less complicated than popular belief. I promise. Just a few key tips you must follow, and you will end up with the most gorgeous looking cheese souffle ever.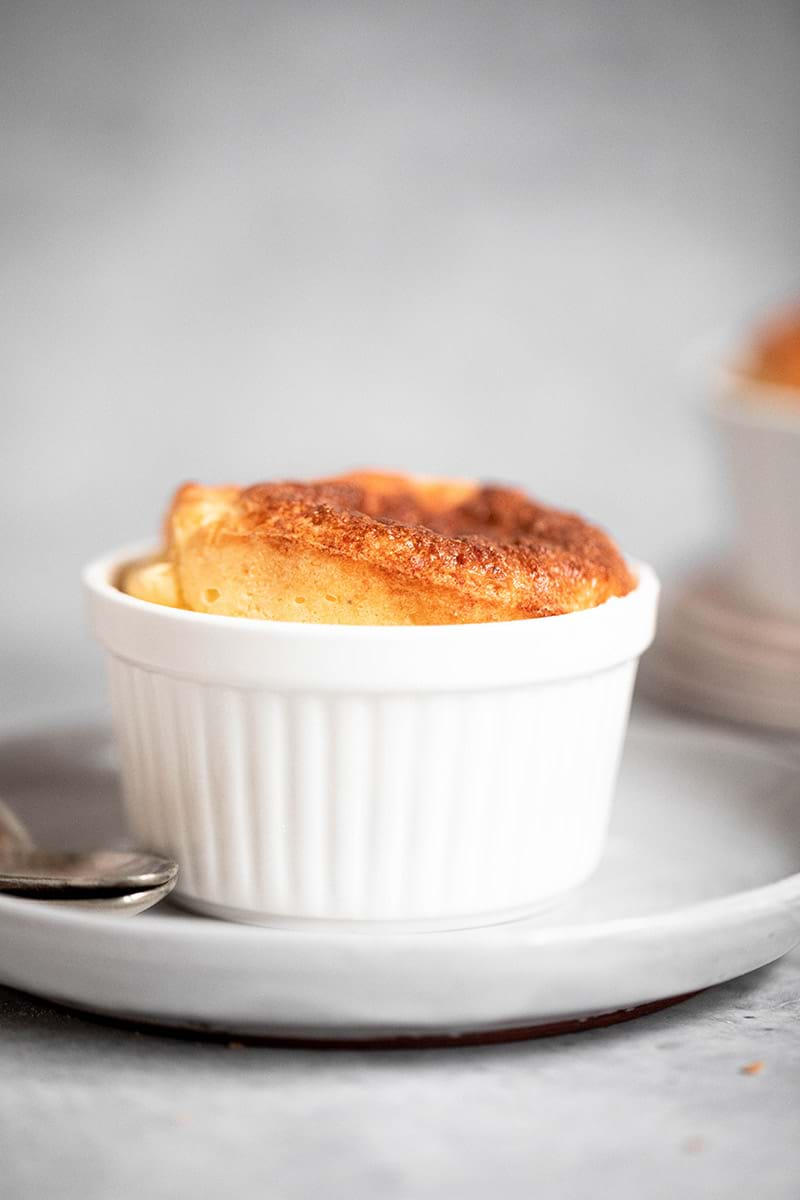 What is Cheese Souffle?
Cheese souffle is baked dish that that has 4 main components:
Beaten egg whites
Egg yolks
Bechamel sauce
Cheese (hard paste cheese! Ex. Comte, gruyere, emmental and even parmesan so make a delicious parmesan souffle. It would be a little more Italian than French)
Cheese souffle was originated in France during the 18th century.
Is cheese souffle gluten free?
No, it is not. But you can make it gluten free by replacing the flour by corn starch in this cheese souffle recipe.
Can I make other savory souffle using this cheese souffle recipe?
Yes, you can! And you should 😊. The base for every savory souffle is the bechamel sauce + yolks + beaten egg white. You can then go ahead and replace the cheese by any pureed vegetable of your choosing. Just make sure you strain all the water out of the vegetable you are using before adding it into the souffle.
My personal favorites: spinach souffle and zucchini souffle.
How to make cheese souffle?
Pre-heat the oven to 200 degrees Celsius and put an empty baking tray on the middle rack. The temperature of the oven is crucial to get those souffles growing nicely. The tray is important to create a quick thermic shock when you put you souffles in the oven.
Butter and flour the molds. Buttering the moulds when making savoury cheese souffle is particularly important! If they are not properly buttered chances are the soufflé will not rise evenly! So, take your time and make sure you cover every corner. I use a brush to do this. It is easier and it lets you work in a cleaner way!
Put the empty molds on a baking tray.
To make the cheese souffle first, you must make the bechamel sauce. You can find detailed instructions on how to make bechamel sauce here Spinach & Mozzarella Empanadas.
Keep the bechamel warm over a water bath and covered with plastic wrap.
Separate egg yolks from egg whites. You can watch how to do that here How to separate egg whites and egg yolks.
Beat the egg whites until they form soft peaks. Now that you have everything ready you can proceed to make the cheese souffle batter:
Add the egg yoks to the béchamel (it should still be hot) and whisk together. Add the cheese and mix to combine.
Add 1/3 of the egg whites and whisk until properly incorporated. Add the other 2/3 and fold in delicately using a spatula. It is important to be gentle so that you do not break the egg whites and you keep your soufflé fluffy.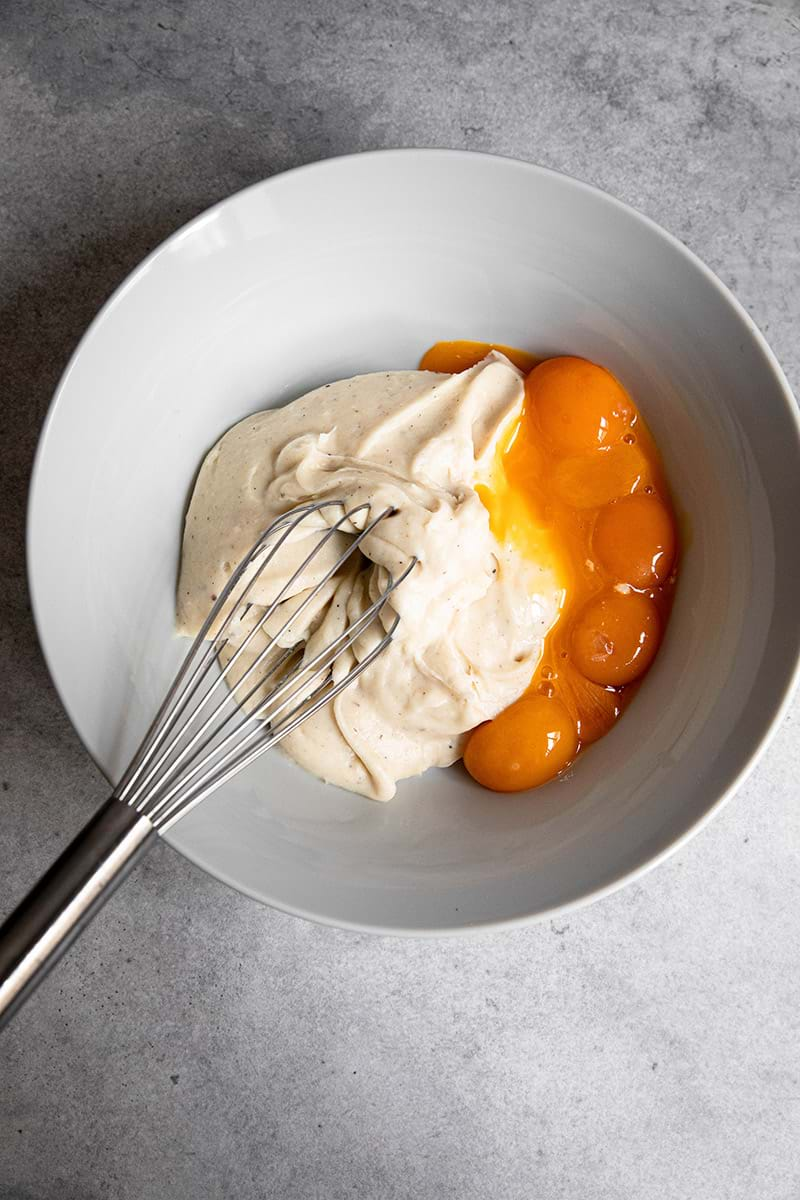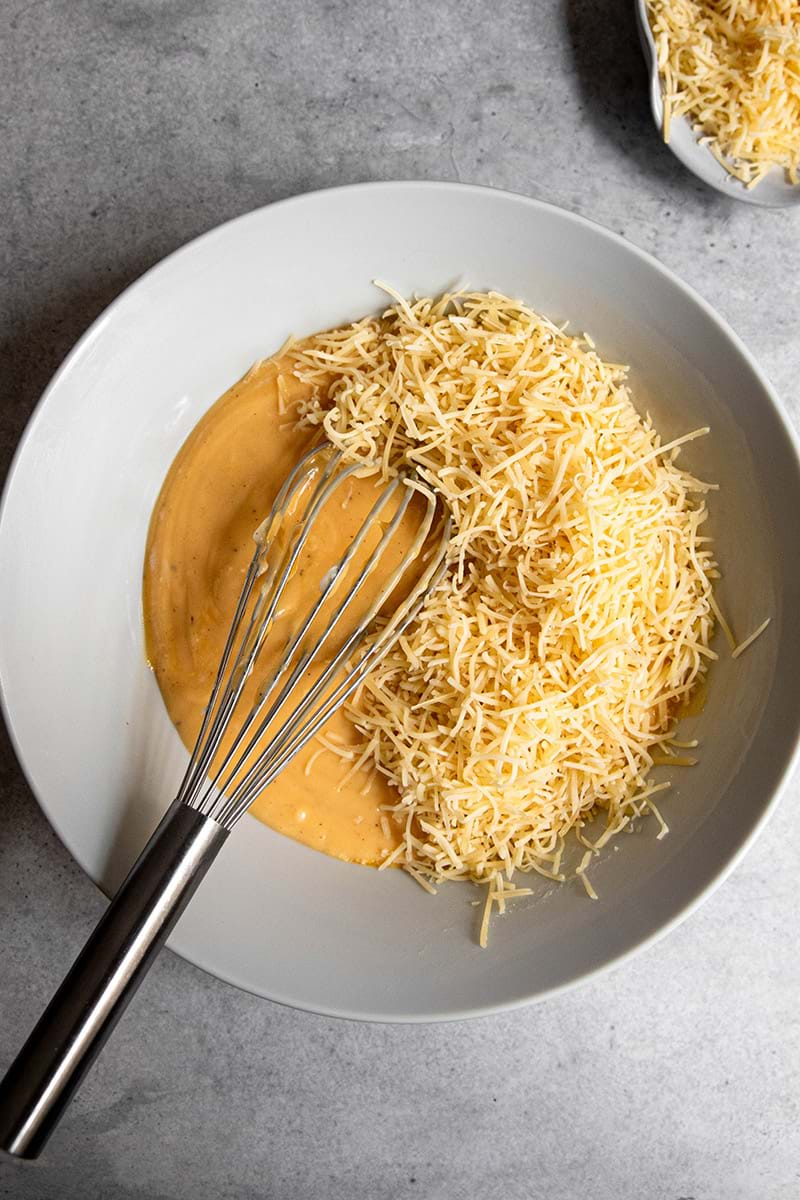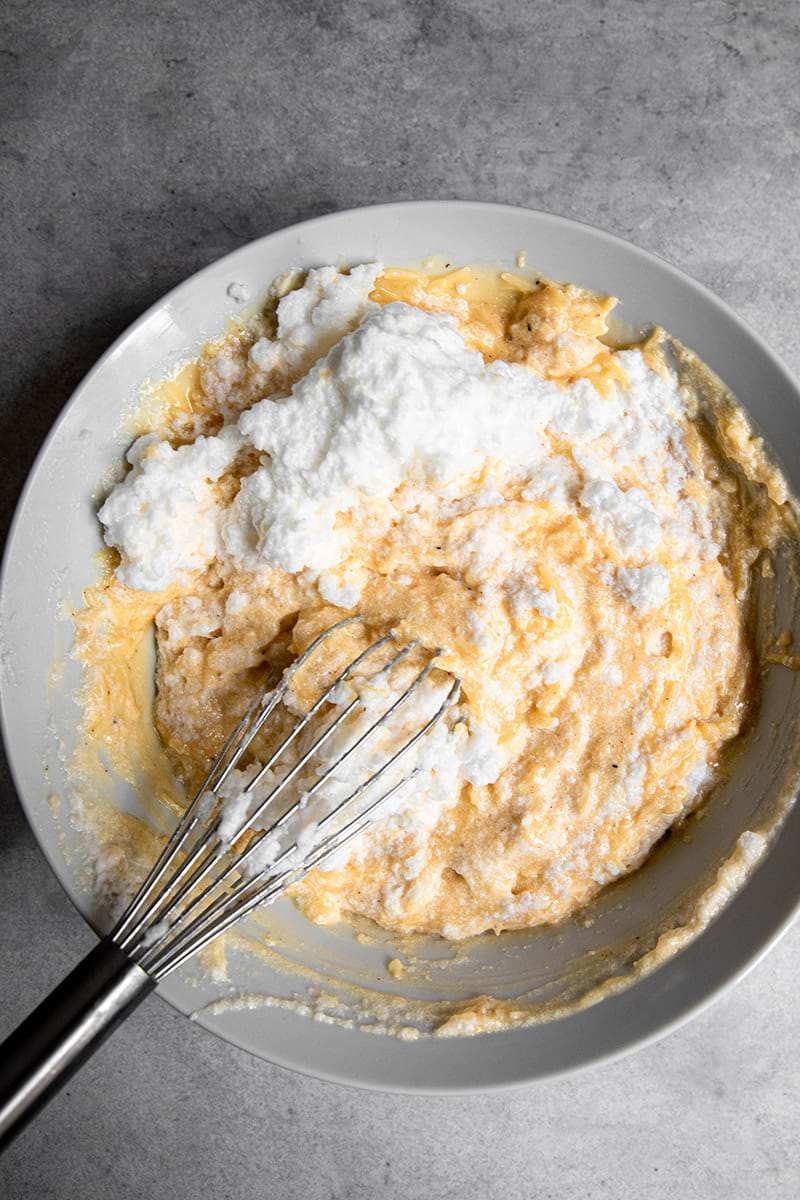 Transfer the cheese souffle batter to the moulds. Fill up to the inner rim of the mould!
Baking Cheese Souffle
Check that the oven is hot, and that you have placed the baking tray inside.
Put the baking tray with the cheese souffle on top of the empty and extremely hot baking tray.
Bake until they have risen and are golden. About 30 minutes. If using a bigger mold, it will take longer.
Do not oven the oven while this classic cheese souffle is baking. It will deflate in the moment.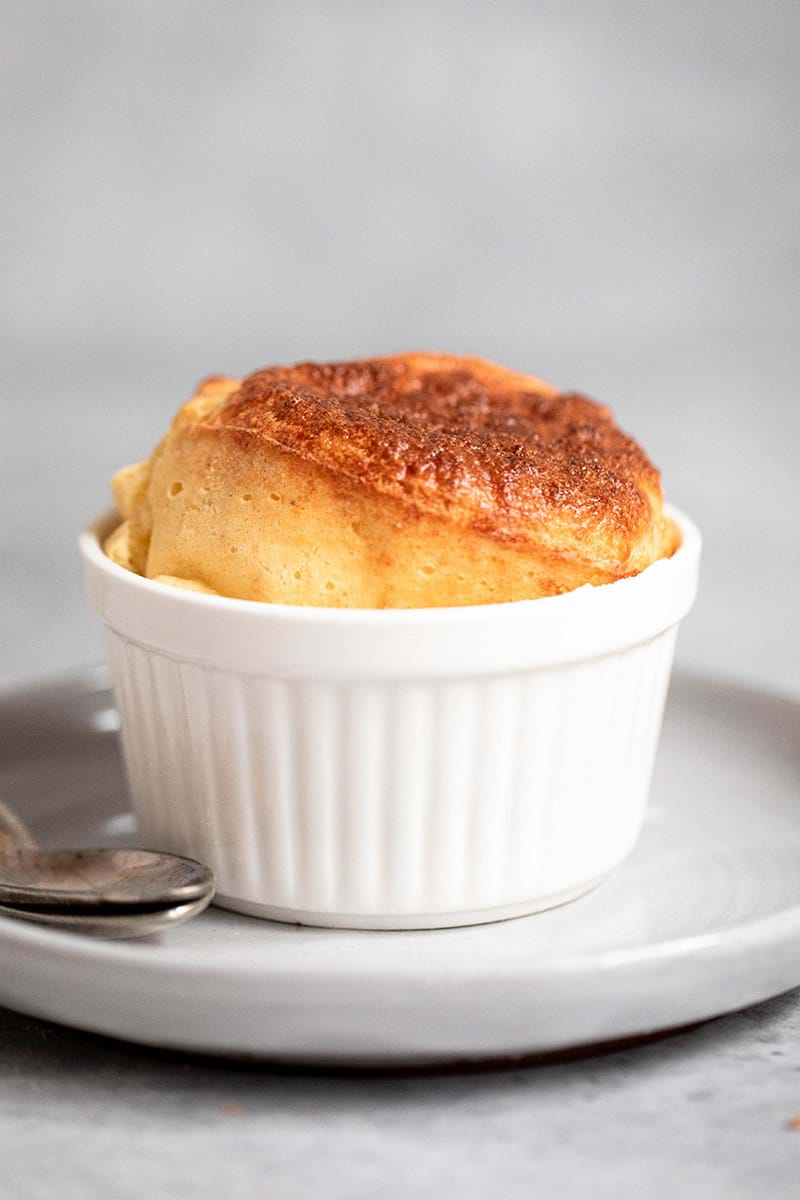 Can Cheese Souffle be frozen?
No, cheese souffle cannot be frozen. If you have leftovers you can reheat in the oven the next day. They will not be as fluffy or beautiful, but they will taste phenomenal.
Can you make Cheese Souffle in advance?
No and yes. You cannot prepare the whole souffle in advance because the whites will not hold long, and you will end up with a flat cheese souffle.
No and yes. You cannot prepare the whole souffle in advance because the whites will not hold long, and you will end up with a flat cheese souffle.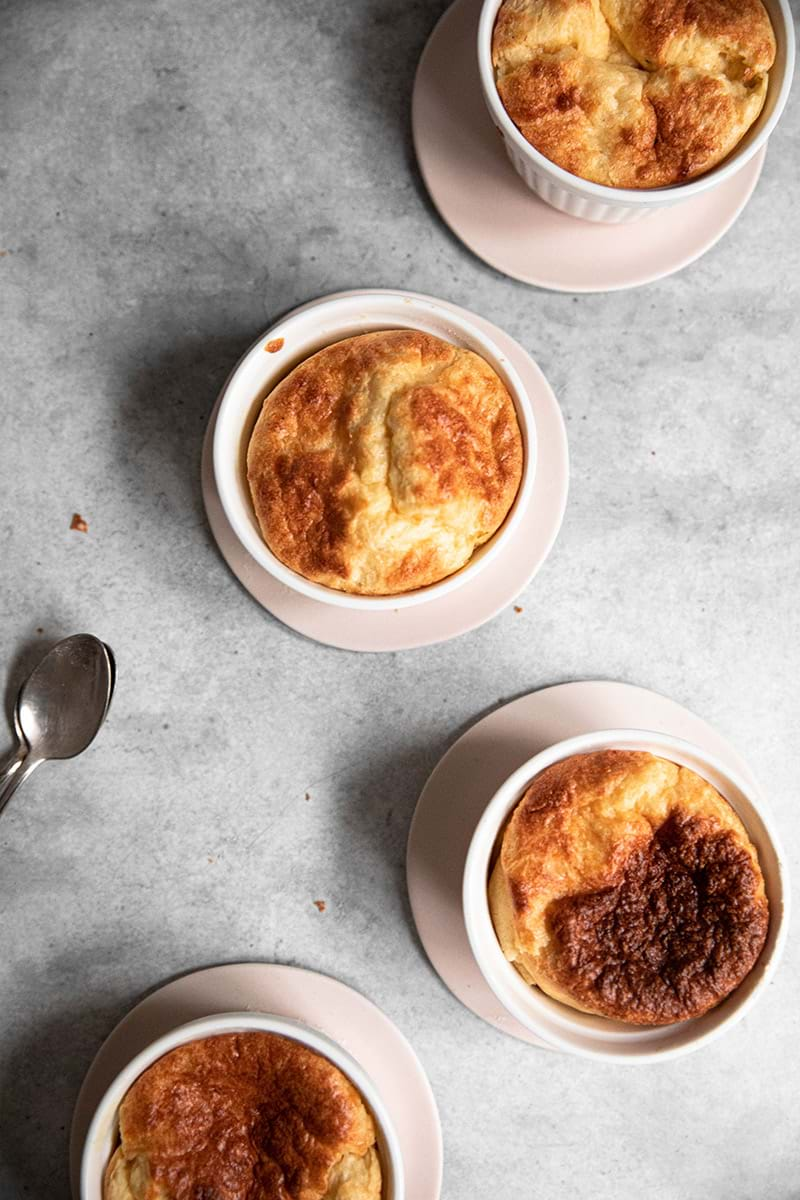 How to serve Cheese Souffle?
Cheese souffle can be served as a main course with a green salad as a side dish. The perfect balance.
If you are used to heavier meals, you can serve it as a side to a grilled meat.
It should be served immediately after of removing from the oven. The nice fluffiness only lasts for a few minutes.
Where is the best place to have cheese souffle in Paris?
Many years ago I was invited by family friends to have dinner at a Parisian restaurant called Le souffle: they serve savoury and sweet souffles of many different flavours. It is so good. Definitely the place to enjoy savoury souffle and especially French cheese souffle.
If you made this recipe I would really appreciate it if you leave a rating or comment below! Also, if you share on social media please use #cookwithbelula, I would love to see what you create!