No Bake Passion Fruit Cheesecake Tart
This passion fruit cheesecake tart is made with a biscoff crust, a rich passion fruit cheesecake filling and topped with a passion fruit jelly. An easy no bake cheesecake tart.
This no bake cheesecake tart is so delicious and fresh it will soon become a favorite. A passion fruit cheesecake tart made with a biscoff crust base, filled with the most creamy passion fruit cheesecake batter and topped with a thin layer of passion fruit jelly. If you prefer you can use my shortbread crust instead of the cookie crust, it turns out great too. This cheesecake tart is full of flavor, an elevated dessert for every occasion.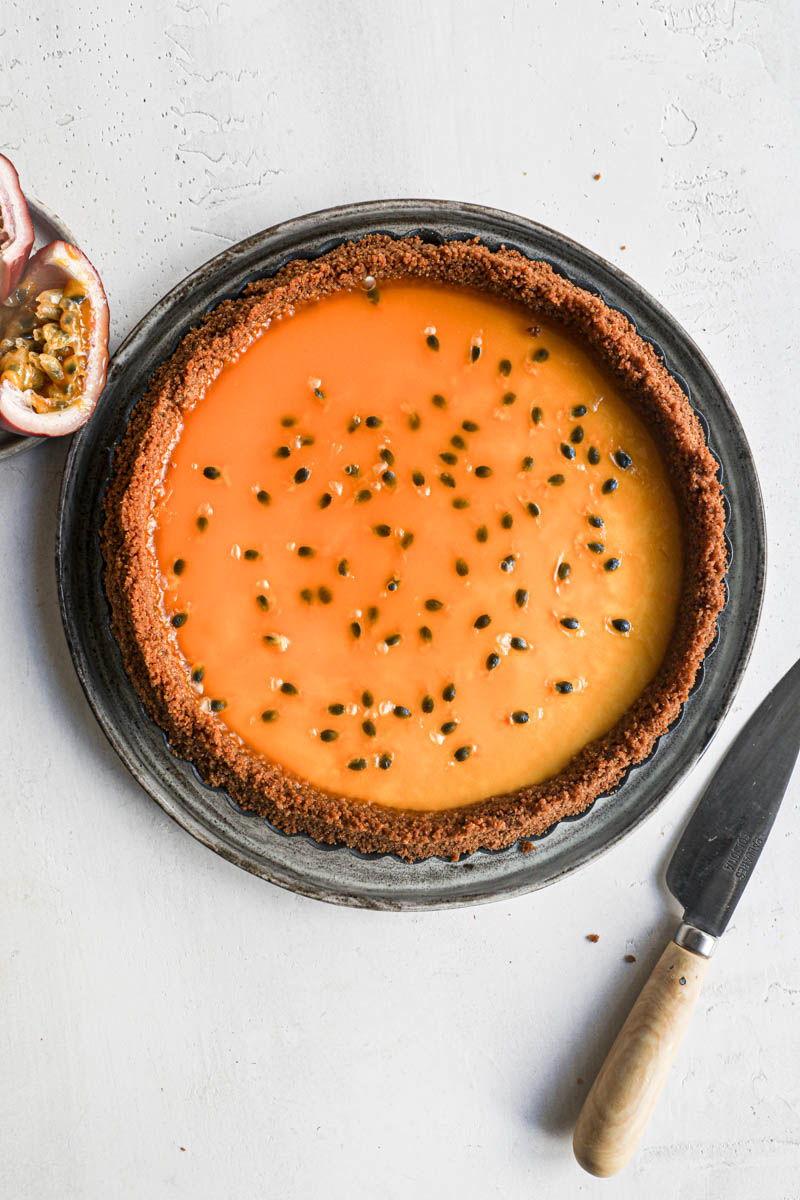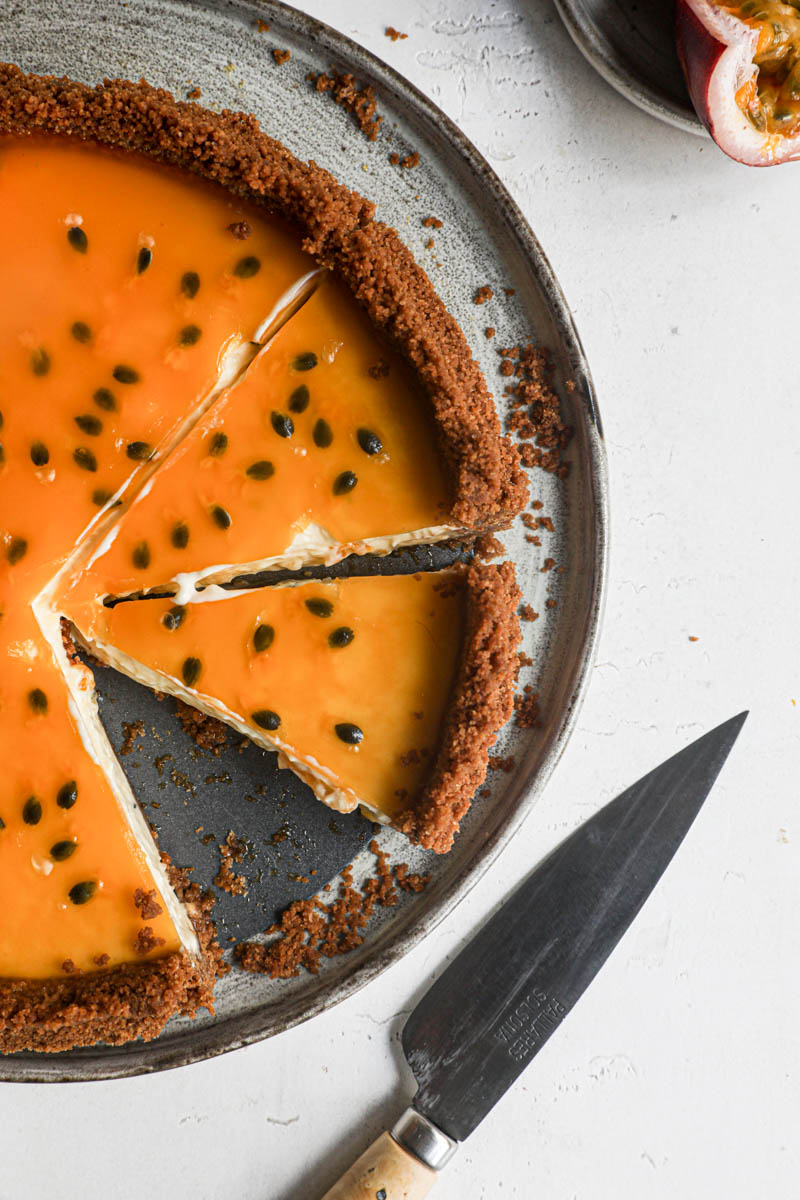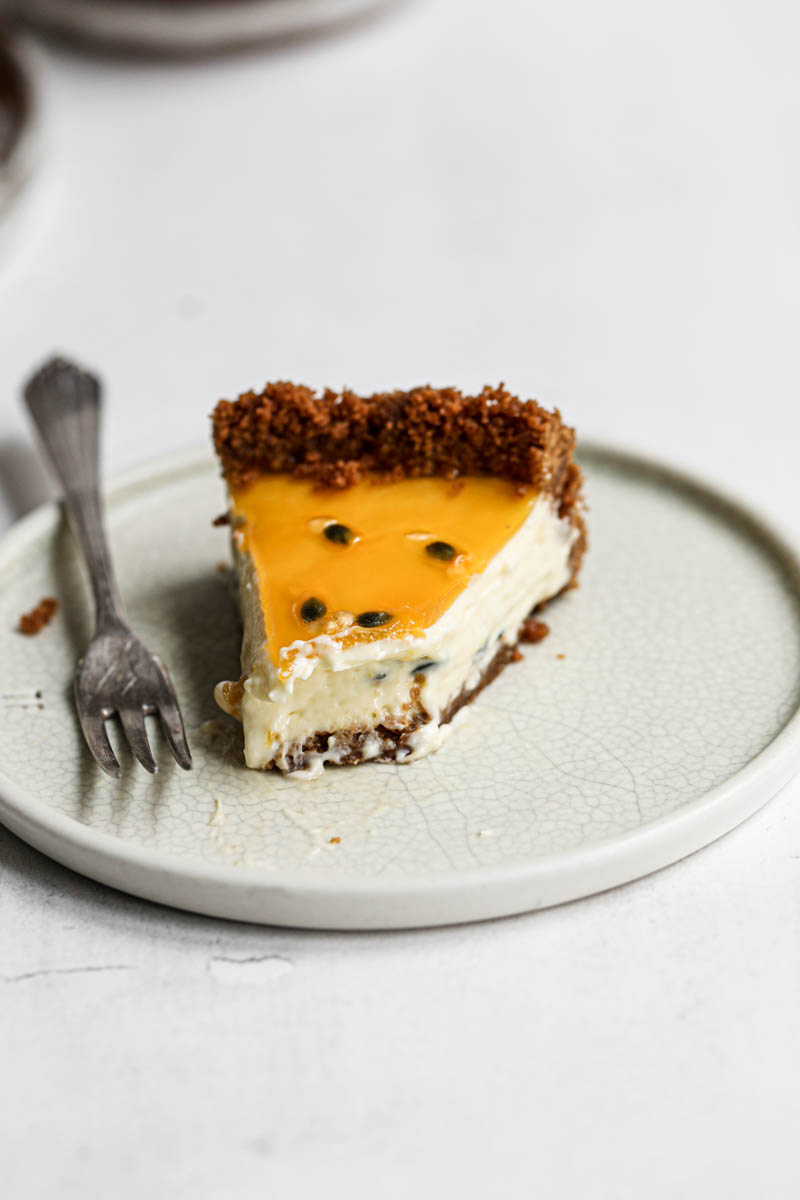 Ingredient & Material Notes
Tart tin: this recipe calls for a 20 cm/8 inch tart tin with a removable bottom. You can also use a regular tart tin and serve it directly on there.
Passion fruit: this recipe calls for passion fruit in the filling and for the jelly. However for the jelly you can replace some of the passion fruit with good quality passion fruit juice.
Cream cheese: I like using Philadelphia cream cheese. You can also try making this no bake cheesecake tart with mascarpone cheese. I turns out lovely!
Heavy Whipping cream: must have a 30% minimum fat content.
Lotus biscoff cookies: I used these for the cheesecake tart base, but you can replace them with other cookies of your taste.
How to make this recipe
To make this passion fruit cheesecake tart you have to:
Make the lotus biscoff cookie crust
Make the passion fruit cheesecake filling
Assemble the cheesecake tart
Make the passion fruit jelly
Top the passion fruit cheesecake tart with the jelly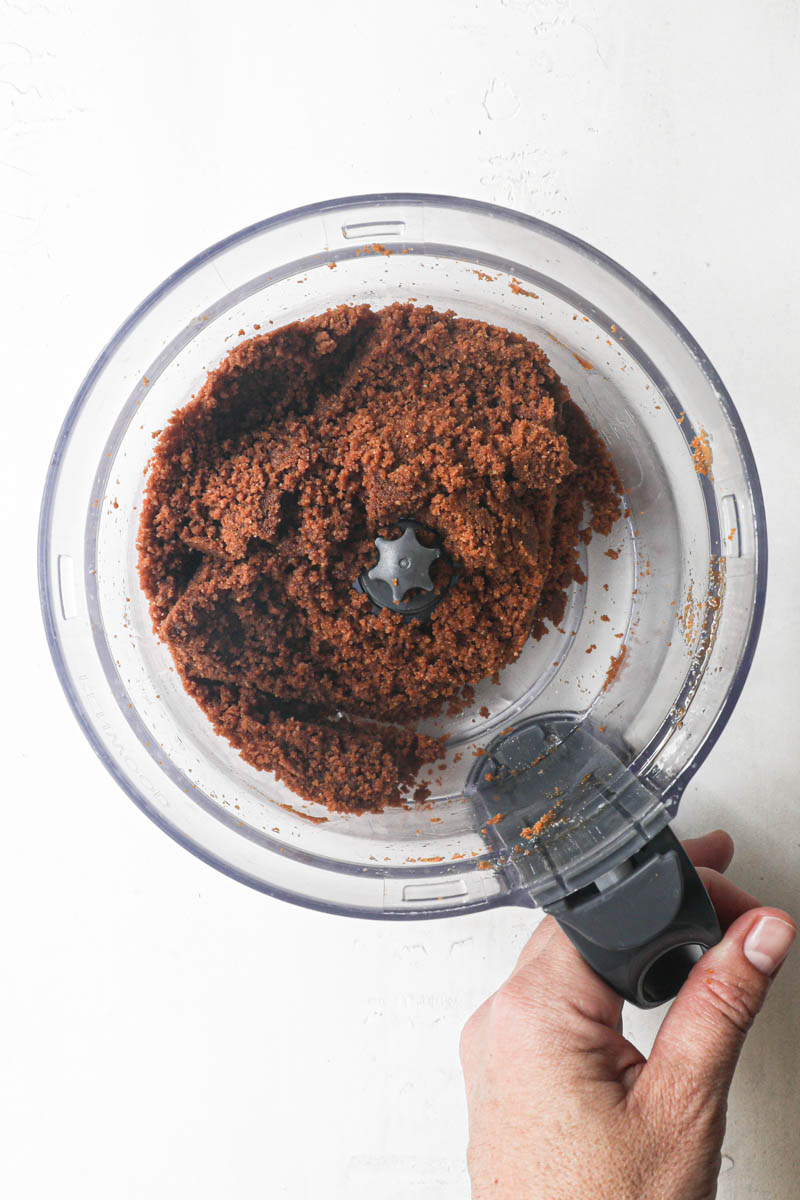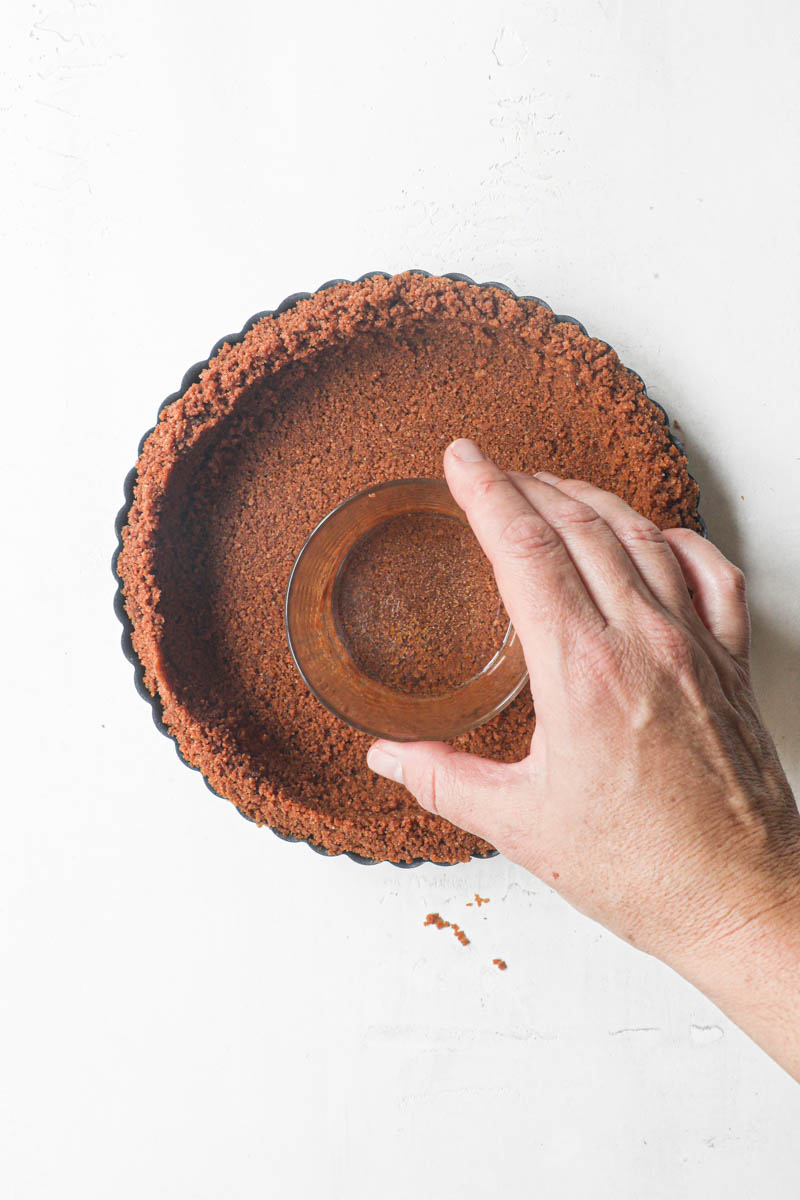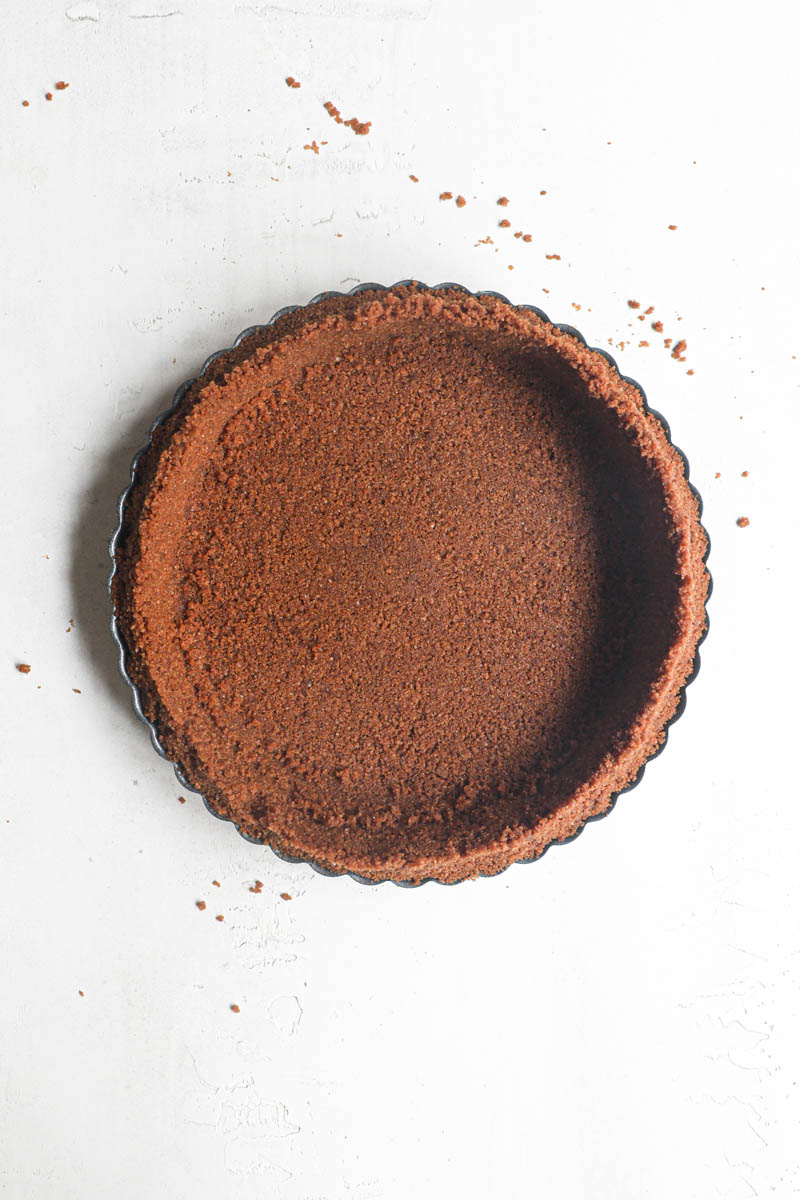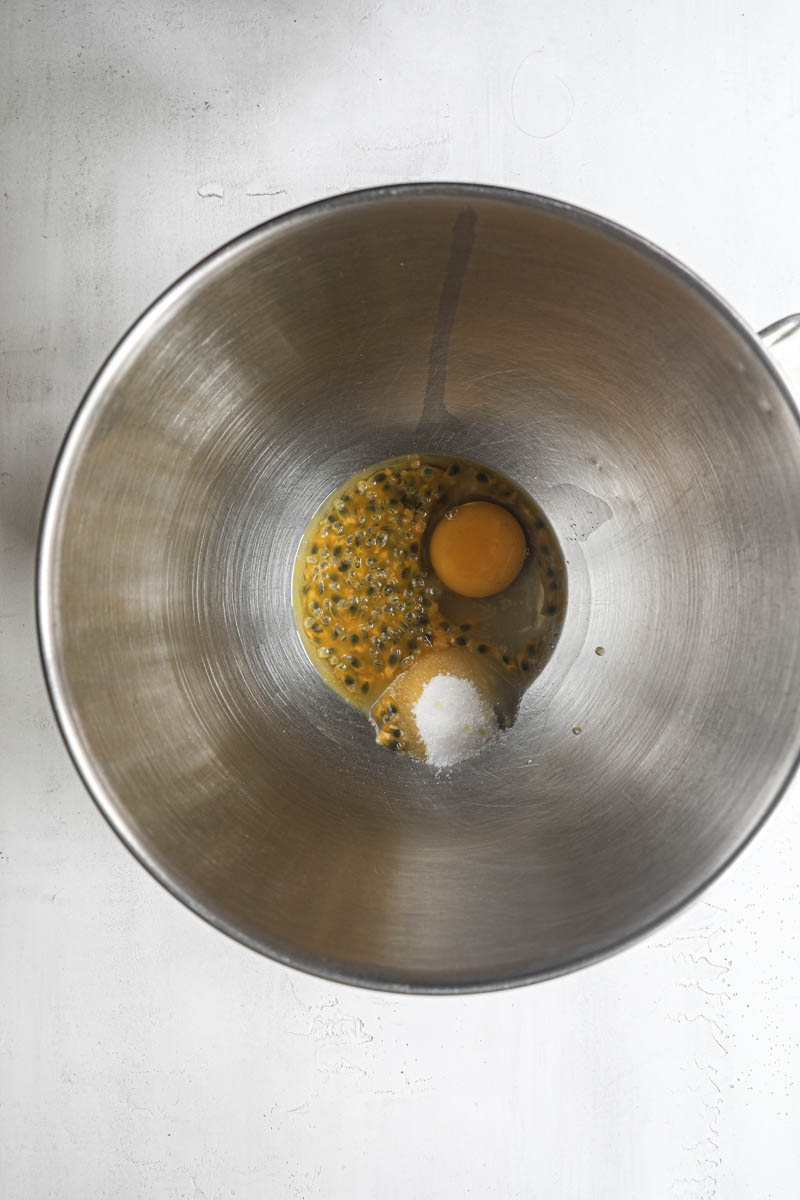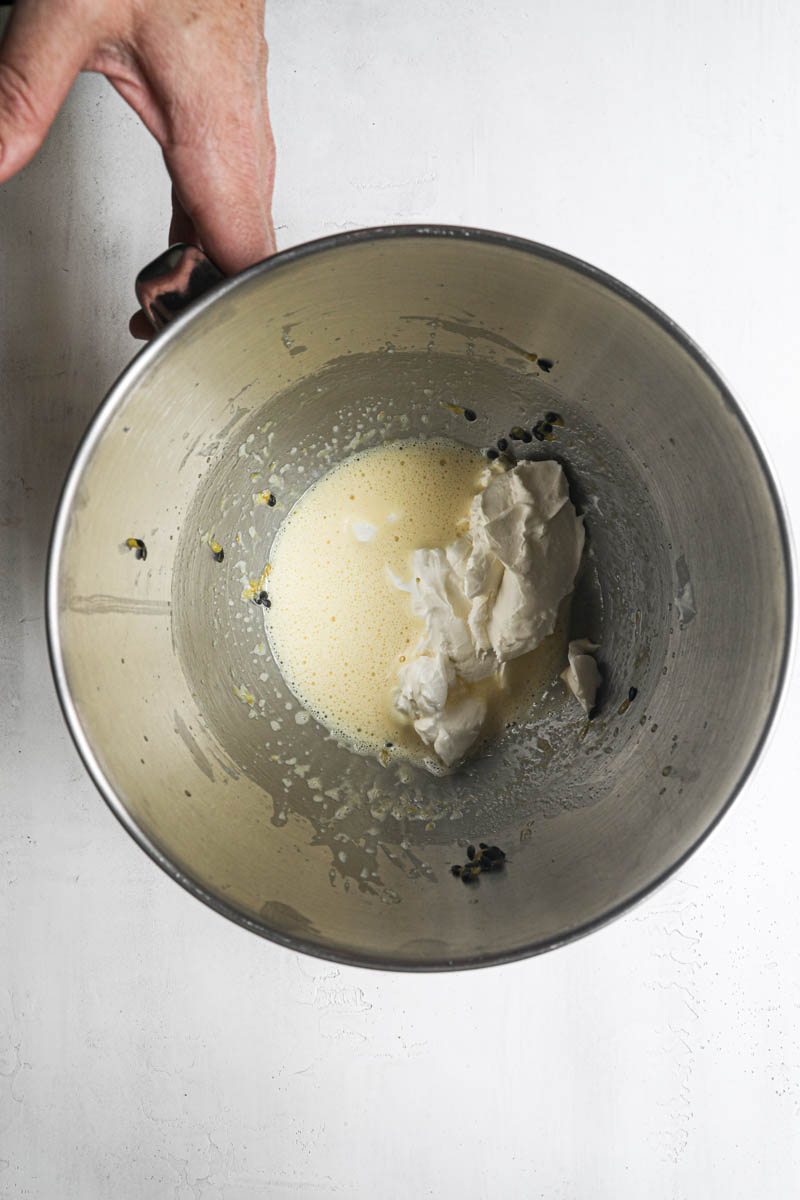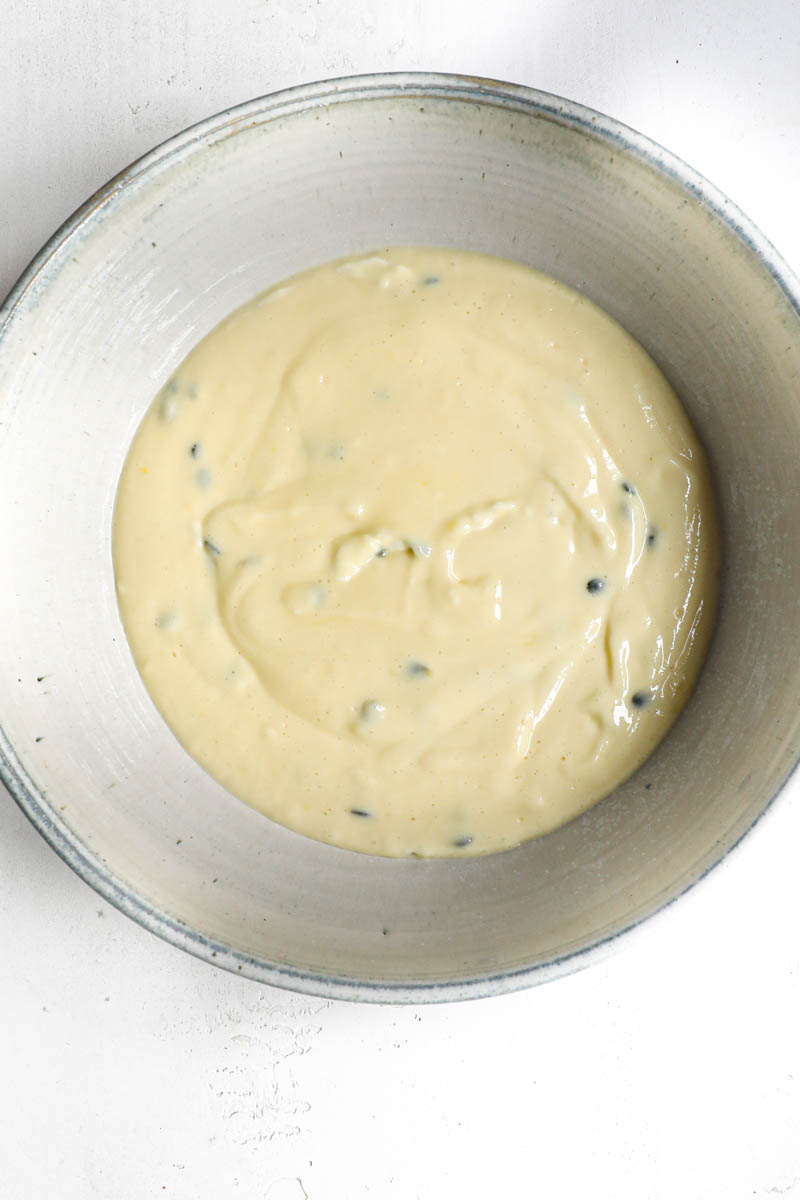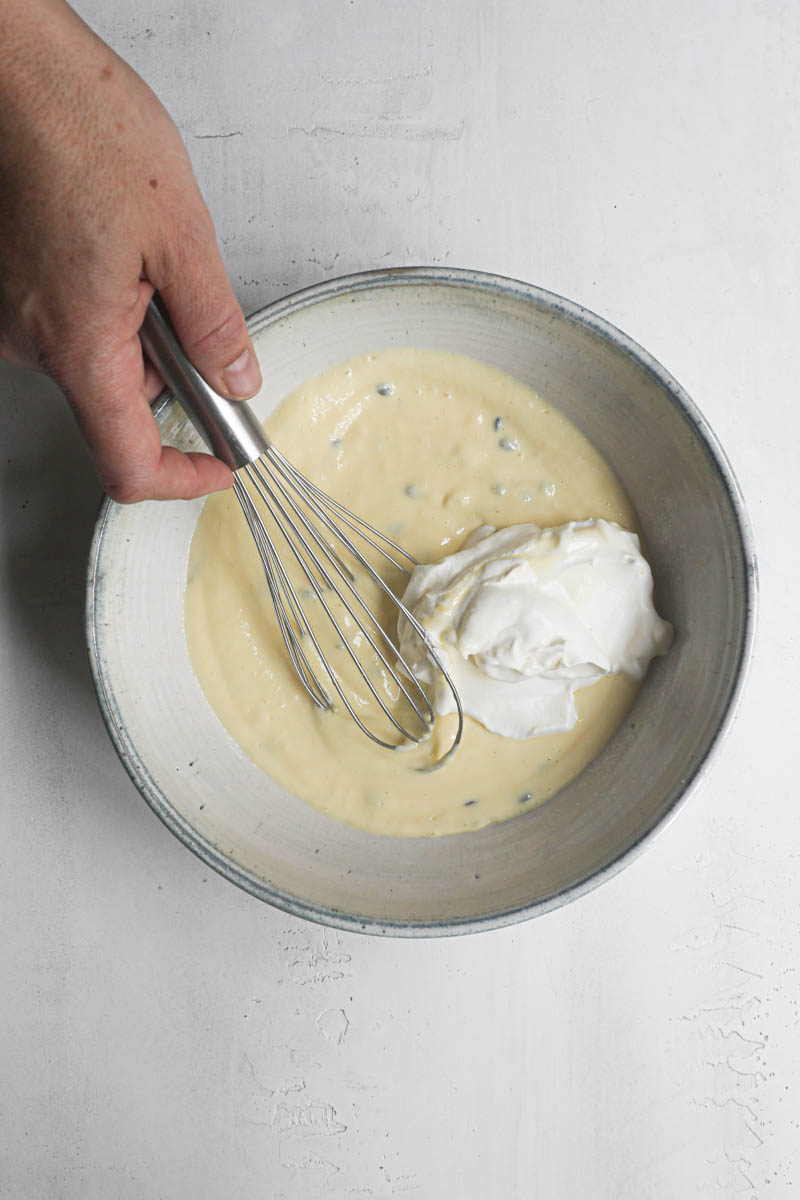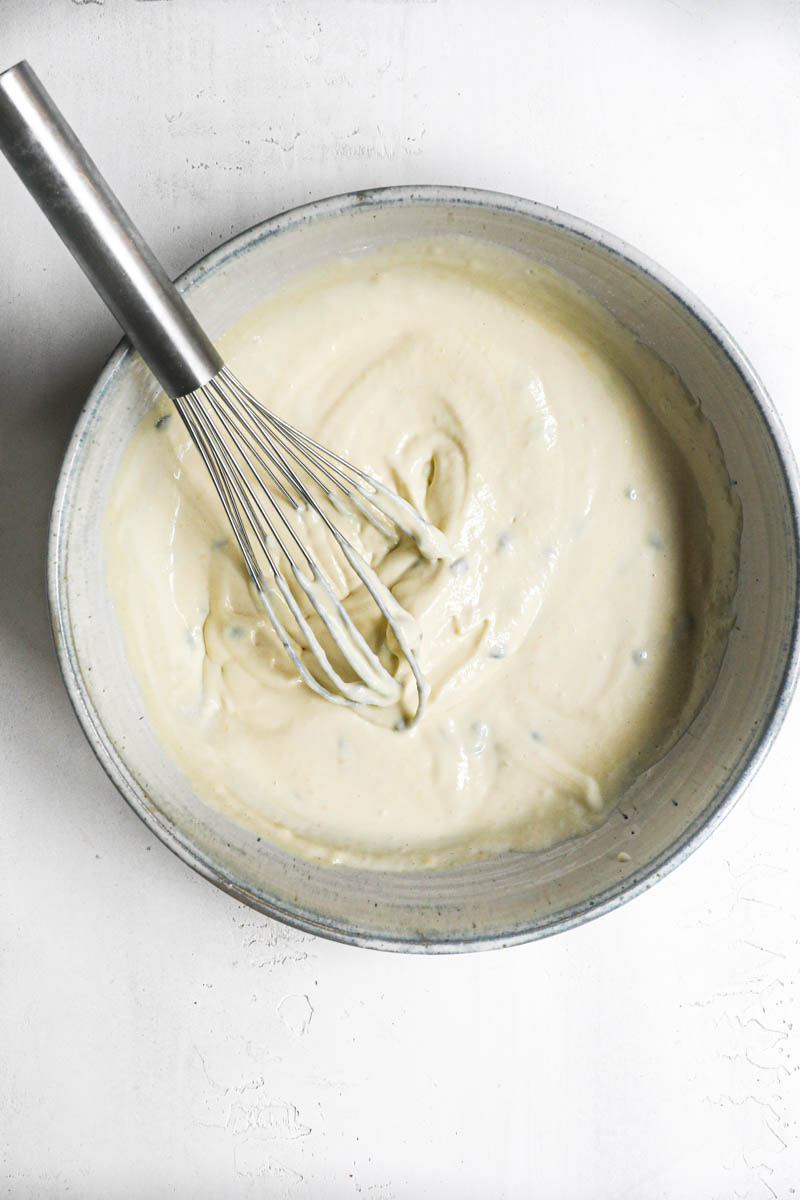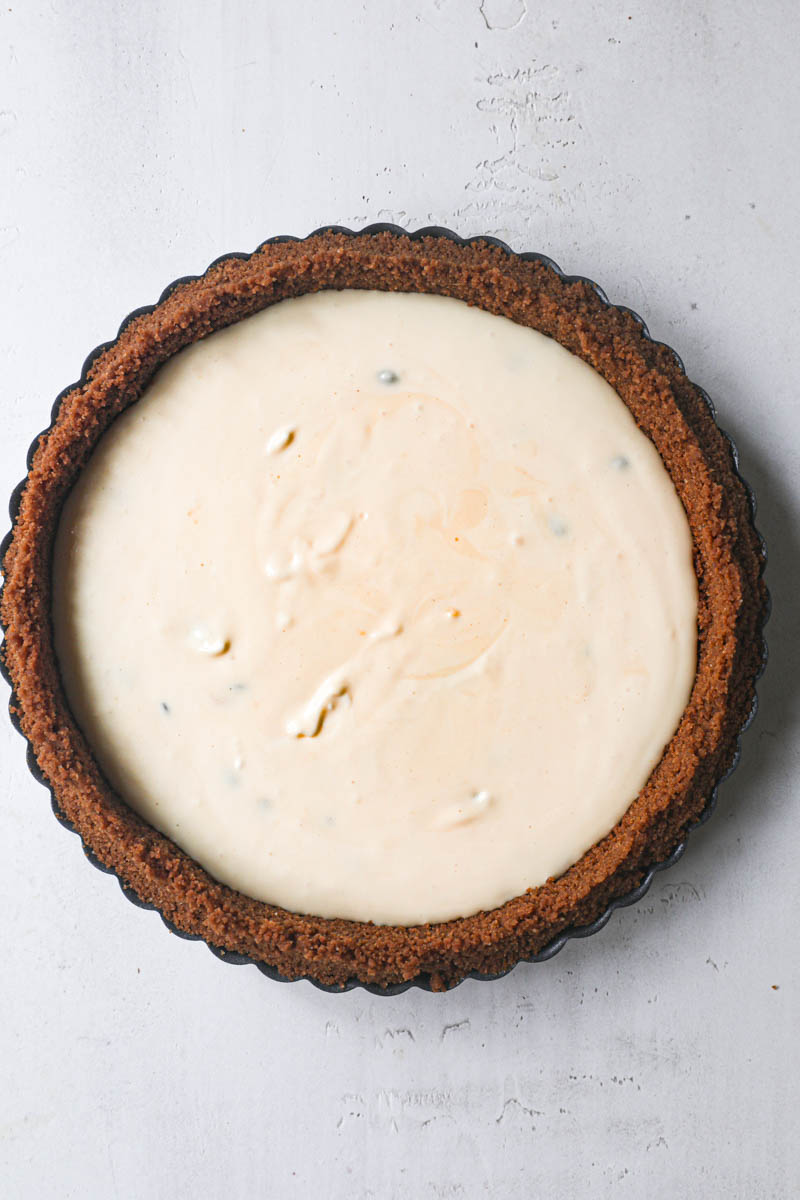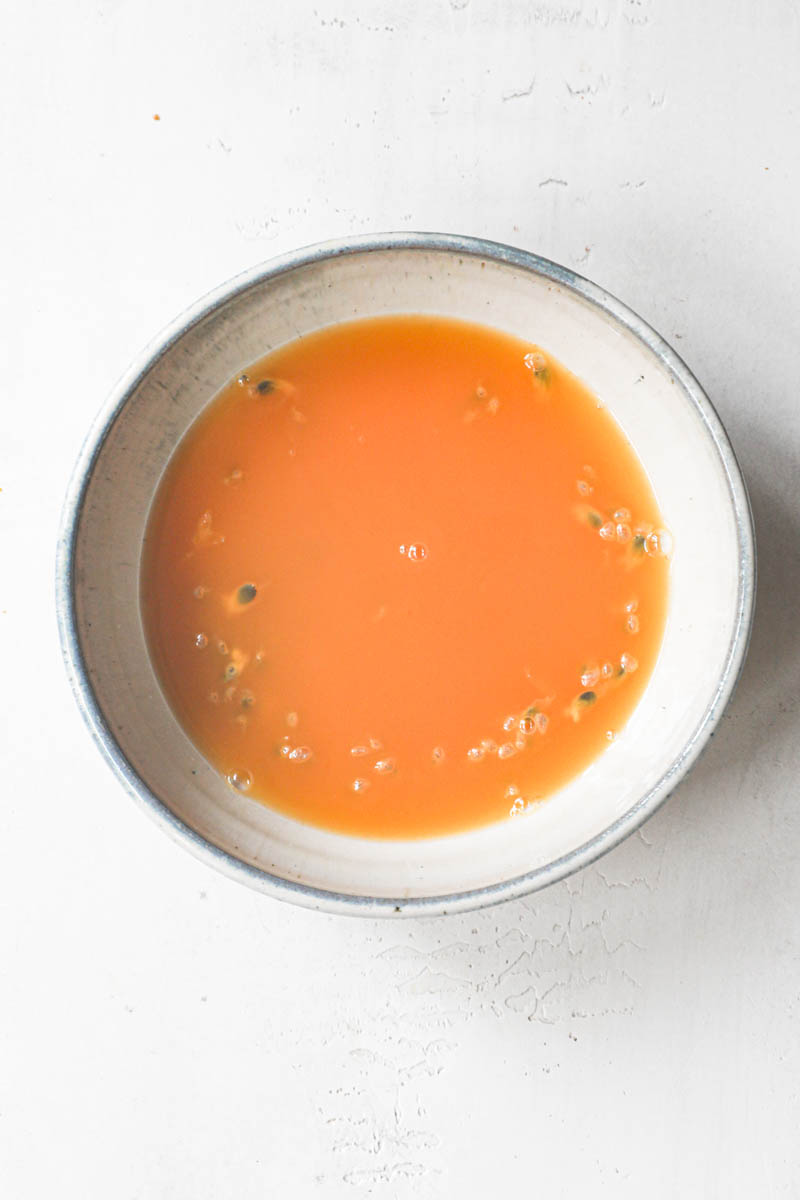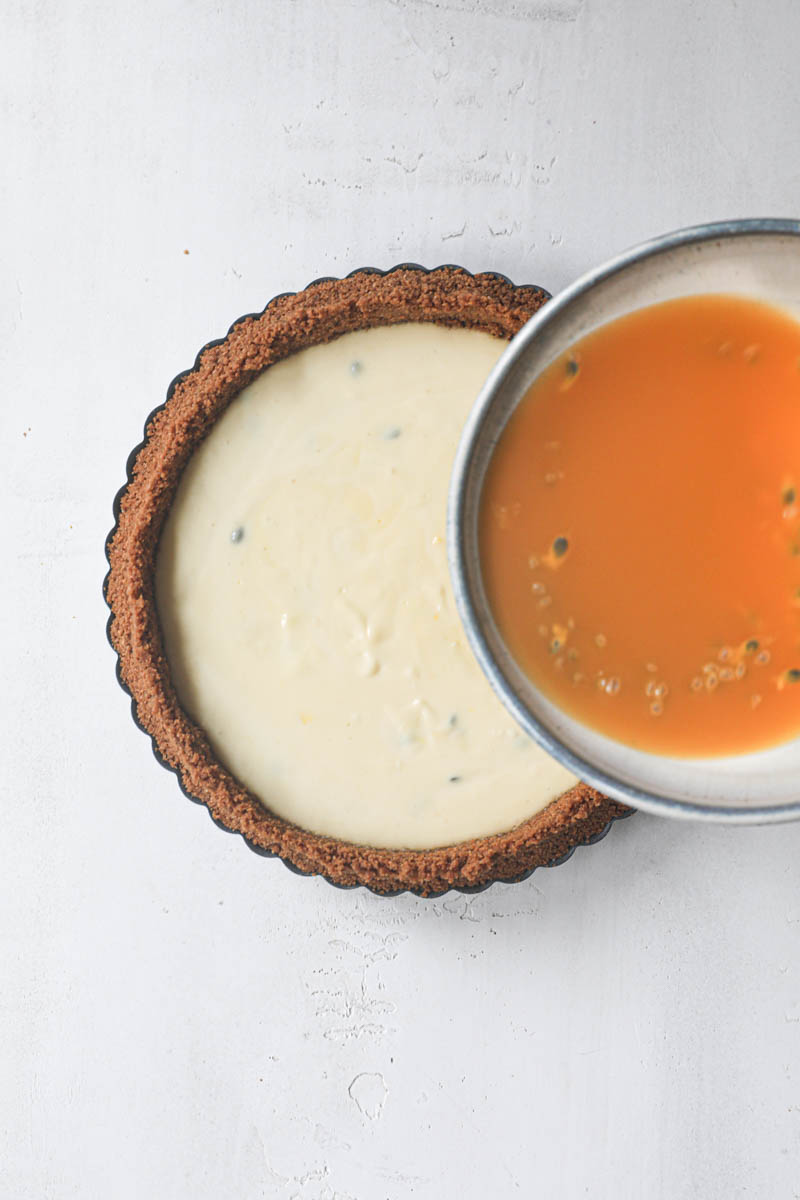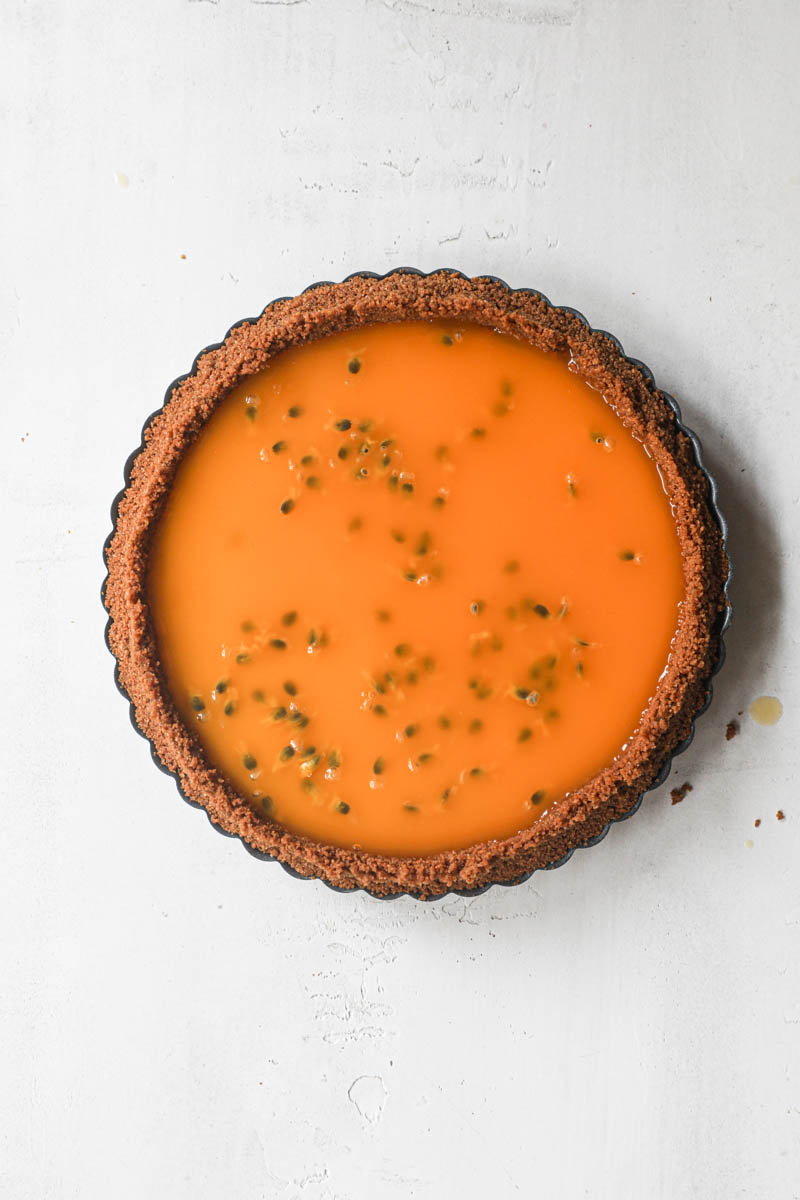 Recipe notes
Prepare the crust first, let it chill in the refrigerator for about 1 hour before filling it with the passion fruit cheesecake batter.
To make the biscoff crust, if you don't have a food processor, you can place the cookies in a Ziploc bag, then tap using a rolling pin until they are finely crushed.
You must first whip the heavy cream to soft peaks and then place it in the refrigerator until ready to use.
To make the passion fruit cheesecake filling you must warm up the eggs the sugar and passion fruit juice over a water bath until the mixture has thickened a bit and it has attained a temperature of 65 C°.
Be careful not to cook the eggs. In order to avoid this, whisk constantly while on the water bath.
To avoid a lumpy filling: let the cream cheese sit at room temperature for about 1 hour, and make sure to smooth it out using a whisk or spatula before you add into the cheesecake batter.
Fold in the whipped cream into the filling delicately.
Once it has passion fruit cheesecake tart has set, you can make the jelly.
Place the tart tin on a baking tray, if possible inside the refrigerator and pour the filling over the cheesecake there. This will prevent the jelly from moving and spilling over.
Let the jelly set overnight in the refrigerator.
Make sure the baking tray with the cheesecake tart is placed straight inside the refrigerator so that the jelly sets evenly. If slightly inclined, then the jelly will be all on one side of the tart!
Expert notes
This recipe calls for 1 sheet of gelatin (gold bloom) which is equivalent to 3.5 grams (1 teaspoon) of gelatin powder. To use the gelatin powder, also hydrate the powder, but this time, in warm water. Once you have hydrated the geltin proceed as instructed in the recipe.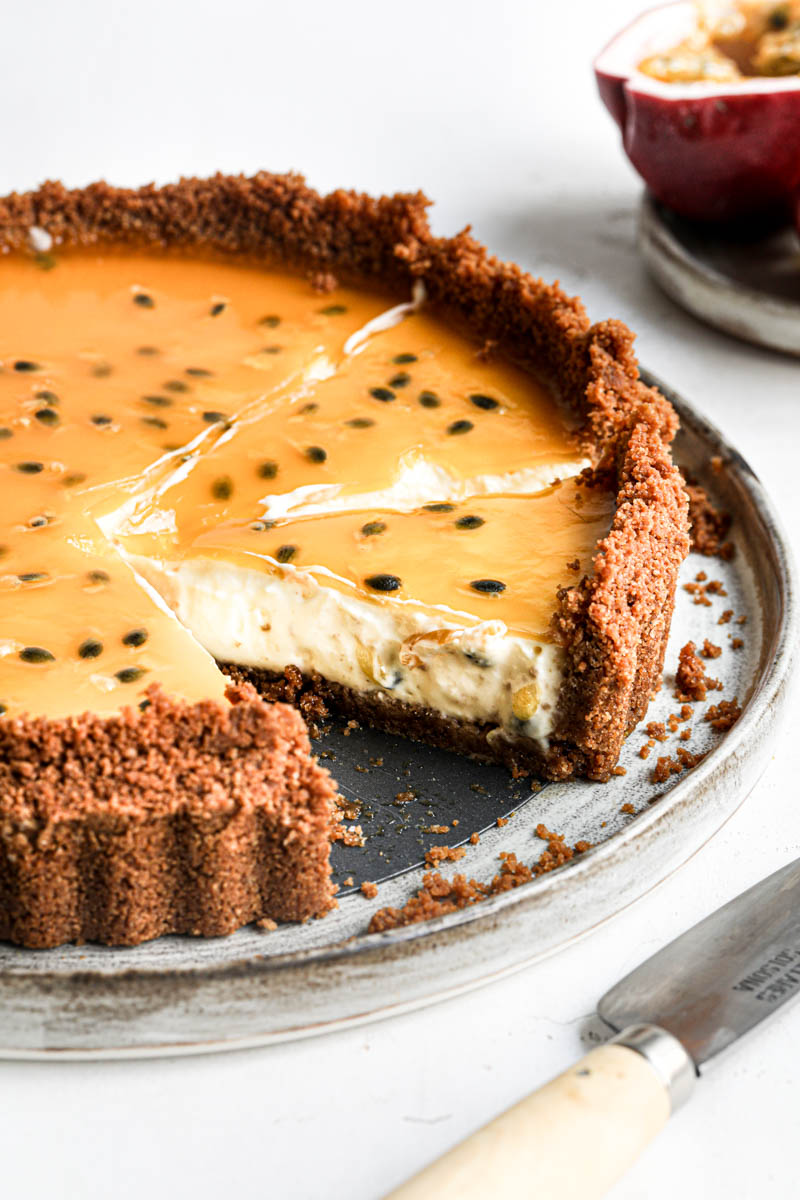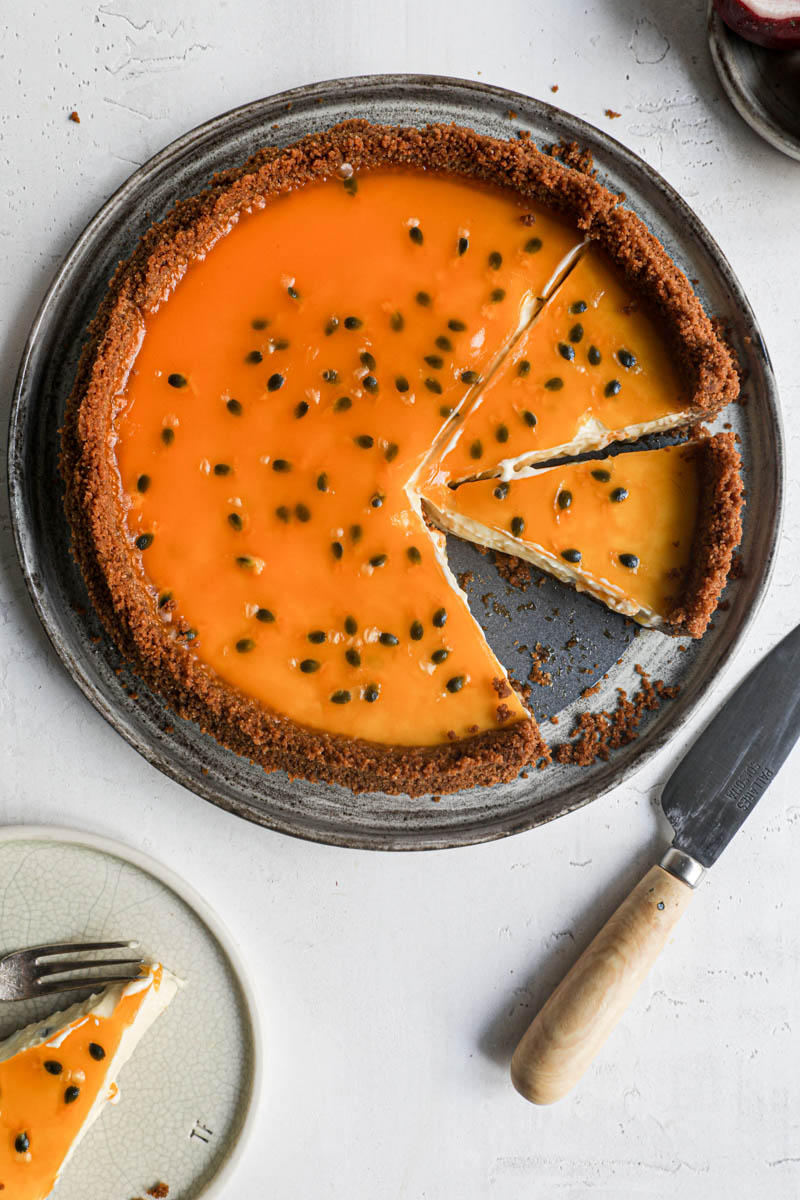 Make ahead
Some elements of this no bake passion fruit cheesecake tart can be made ahead, others can't:
Biscoff crust: it can be made up to 2 days in advance and kept refrigerated.
Cheesecake batter: must be made once the crust is ready. The unfinished cheesecake tart can be kept in the refrigerator for up to 3 days before topping it with the passion fruit jelly.
Jelly: it can't be made in advance.
Storage tips
This no bake cheesecake tart keeps in the refrigerator for up to 5 days. However after the first 2 days the crust may become a little soggy.
Freezer instructions
This passion fruit cheesecake tart can be frozen without the passion fruit jelly. To do so, wrap in several layers of saran wrap and place inside a freezer container. You can keep it for up to 1 month.
To defrost: place in the refrigerator overnight. Once it has defrosted, make the jelly as instructed in the
You can make a double batch, then make 2 cheesecakes, one to have now, one to have later. Your future you will thank you for it!
Variations for this recipe
This recipe can me made into a no bake mango cheesecake tart by replacing the passion fruit in this recipe with mango juice.
You can make this into a no bake passion fruit cheesecake by doubling the cheesecake filling recipe and then using a cake ring or a springform cake pan instead of the tart tin.
The ingredients used in all recipes on this site are measured using the metric system. I use a
scale
to be precise with my measurements and ensure good results. If you would also like to use a scale, here are some:
USA
,
Canada
,
UK
,
Australia
,
France
.
Subscribe to the newsletter
Lotus Biscoff Crust
Biscoff cookies

220 g

Butter

90 g
Passion Fruit Cheesecake filling
Egg

1

Granulated Sugar

35 g

Passion Fruit

25 g

Cream Cheese

200 g

Heavy Whipping Cream

100 g
Passion Fruit Jelly
Passion Fruit

150 g

Gelatin Sheet

1
If you made this recipe I would really appreciate it if you leave a rating or comment below! Also, if you share on social media please use #cookwithbelula, I would love to see what you create!