Traditional French King Cake (Galette des Rois)
This French king cake recipe has 2 layers of flaky puff pastry filled with frangipane cream. Also known as galette de rois, it is made to celebrate epiphany.
This recipe for Traditional French King Cake is a classic cake made to celebrate epiphany. It is made with homemade puff pastry and filled with almond cream. For the puff pastry you can use this easy rough puff pastry recipe, or you can try and make this homemade puff pastry recipe if you are feeling it! In France the "Galette des Rois" (as it is known here) can be found in all pastry shops throughout the month of January, tradition being that the youngest person in the room hides under the table and names the person who will be having each slice. The person who finds the figurine hidden inside is crowned King! It is made with homemade puff pastry and filled with almond cream filling. For the puff pastry you can use this easy rough puff pastry recipe, or you can try and make this homemade puff pastry recipe if you are feeling it! Can't wait for you to try this recipe!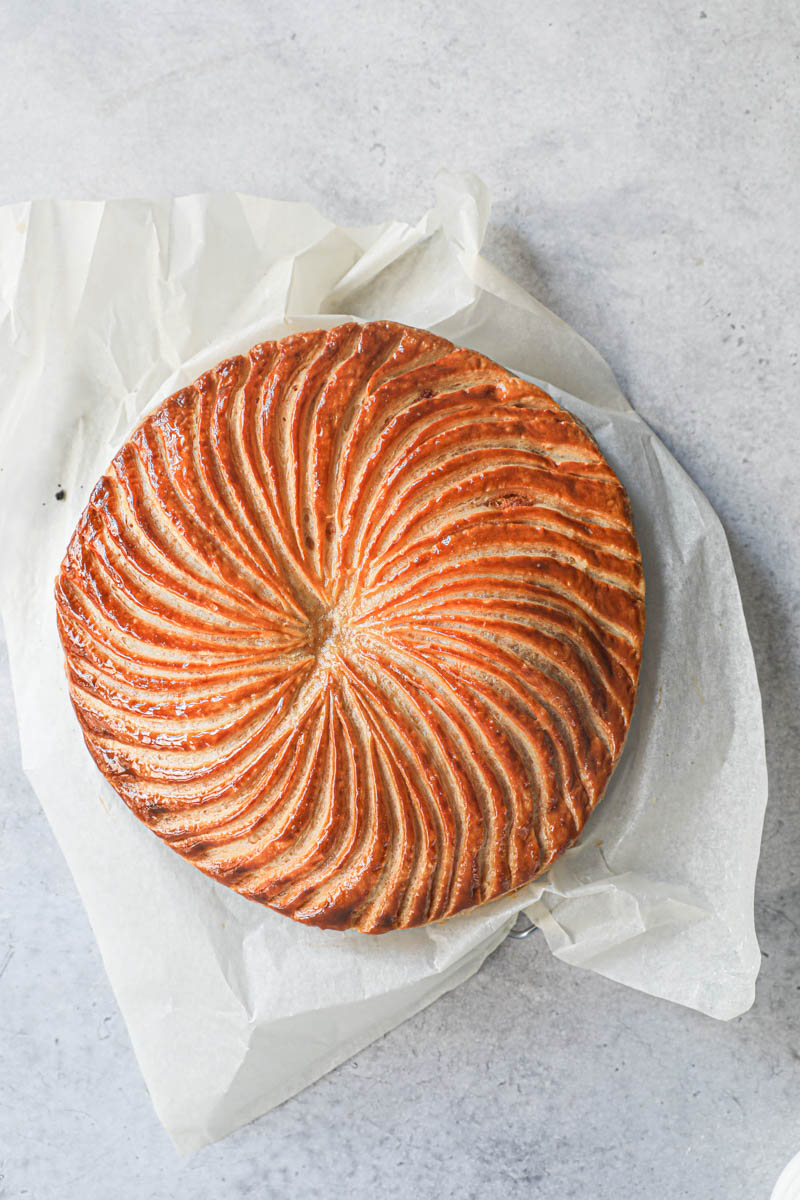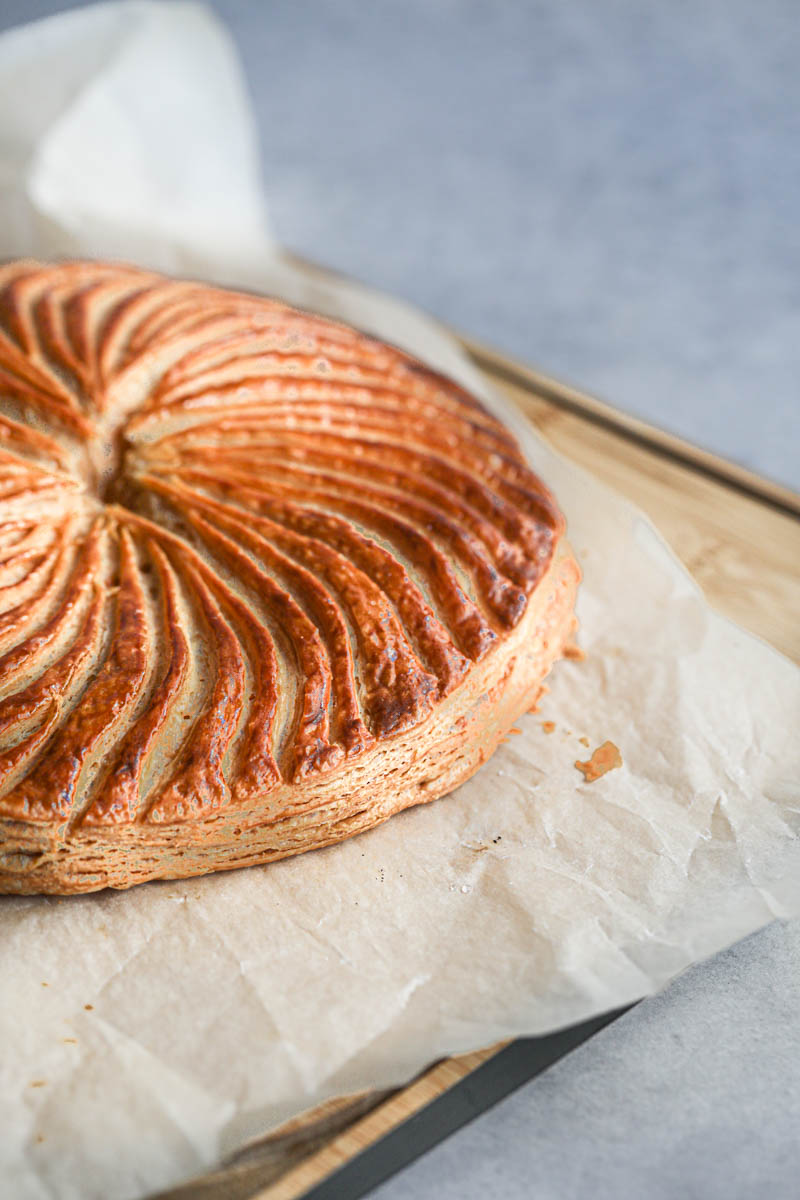 Ingredient & Material Notes
Almond cream Filling
Frangipane cream filling: while this recipe only calls for almond cream, you can replace it with frangipane cream, which is made of 2 parts almond cream + 1 part pastry cream.
Puff pastry: you can use store-bought puff pastry, or you can make your own. You can either make this rough puff pastry or go for it and make the real deal. Get a guide to make the flakiest handmade puff pastry here.
Ceramic figurines: this is usually placed inside the galette, hidden in the almond cream. The person who gets the "feve" is then crowned king! This is optional off course, but it is a nice touch!
Bread scoring knife. Or you can use a small sharp paring knife.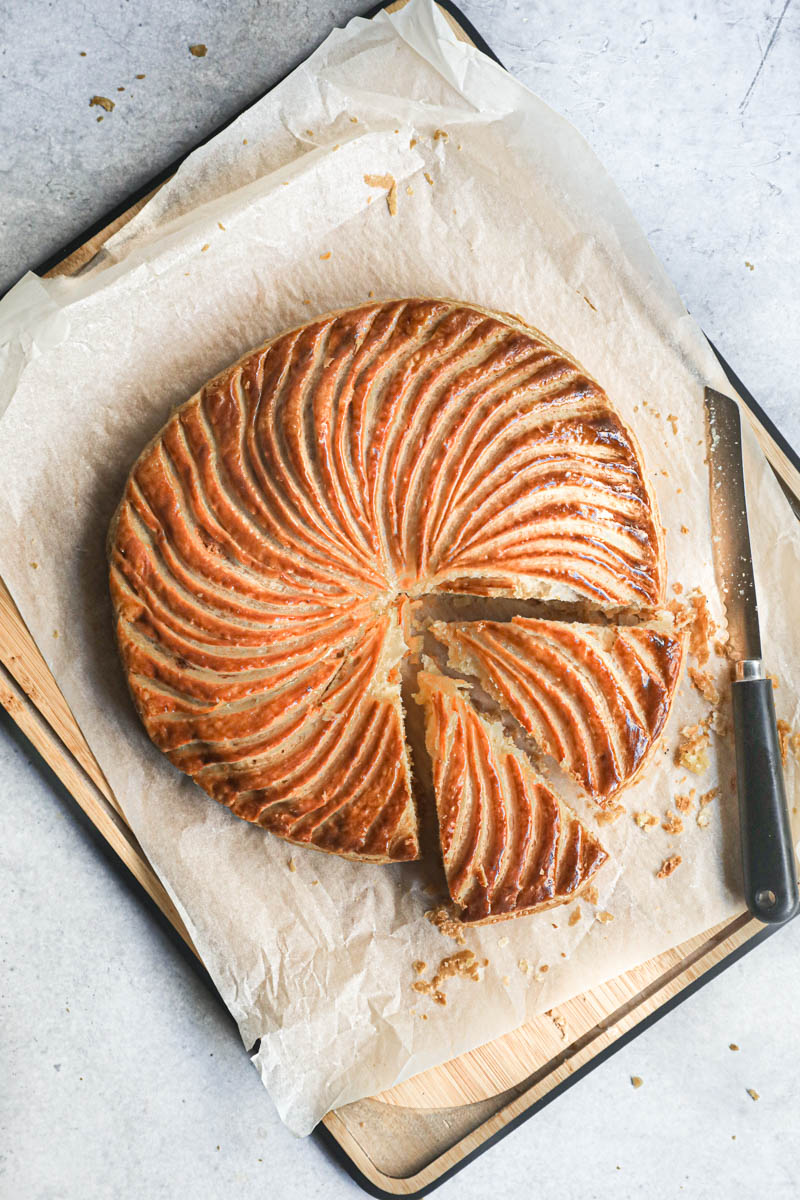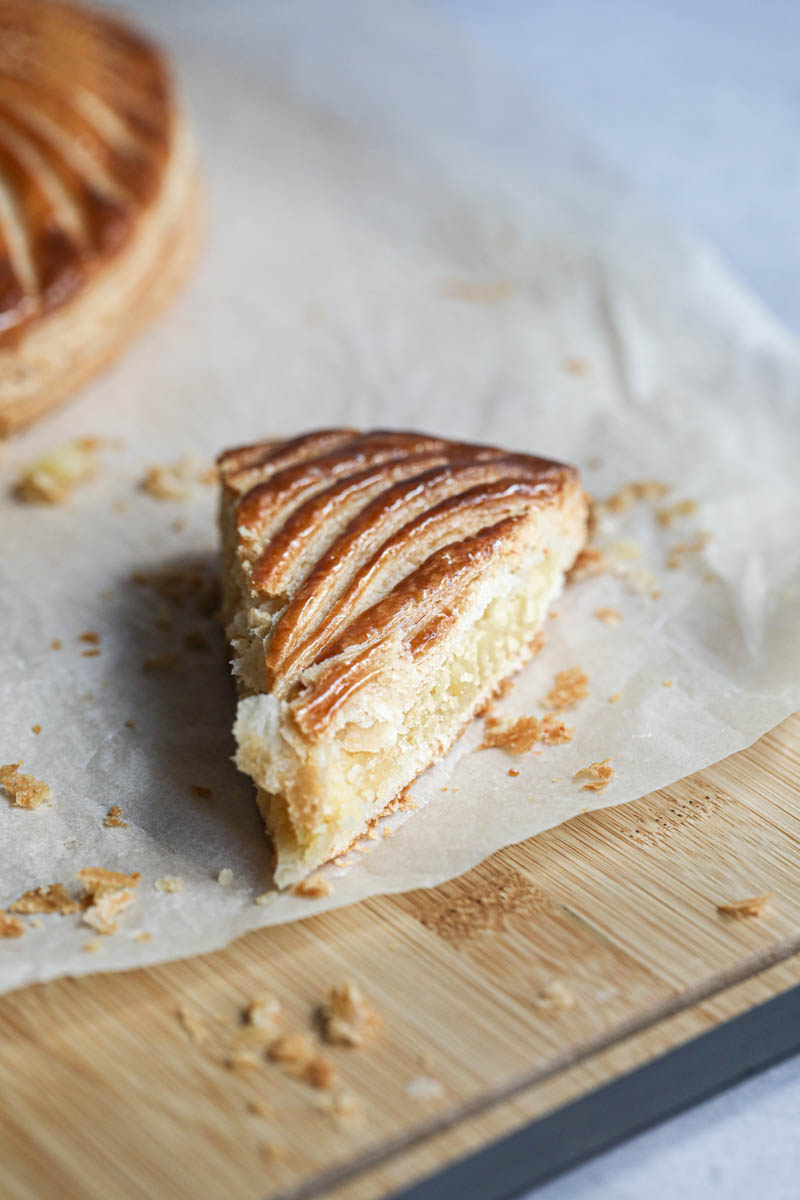 How to make this recipe
To make this tradition King cake you must:
Roll out the puff pastry and cut to 24 cm rounds.
Fill the almond cream, hide a figurine inside and top with the second puff pastry round.
Brush with egg wash and score the top of the King cake.
Bake and enjoy!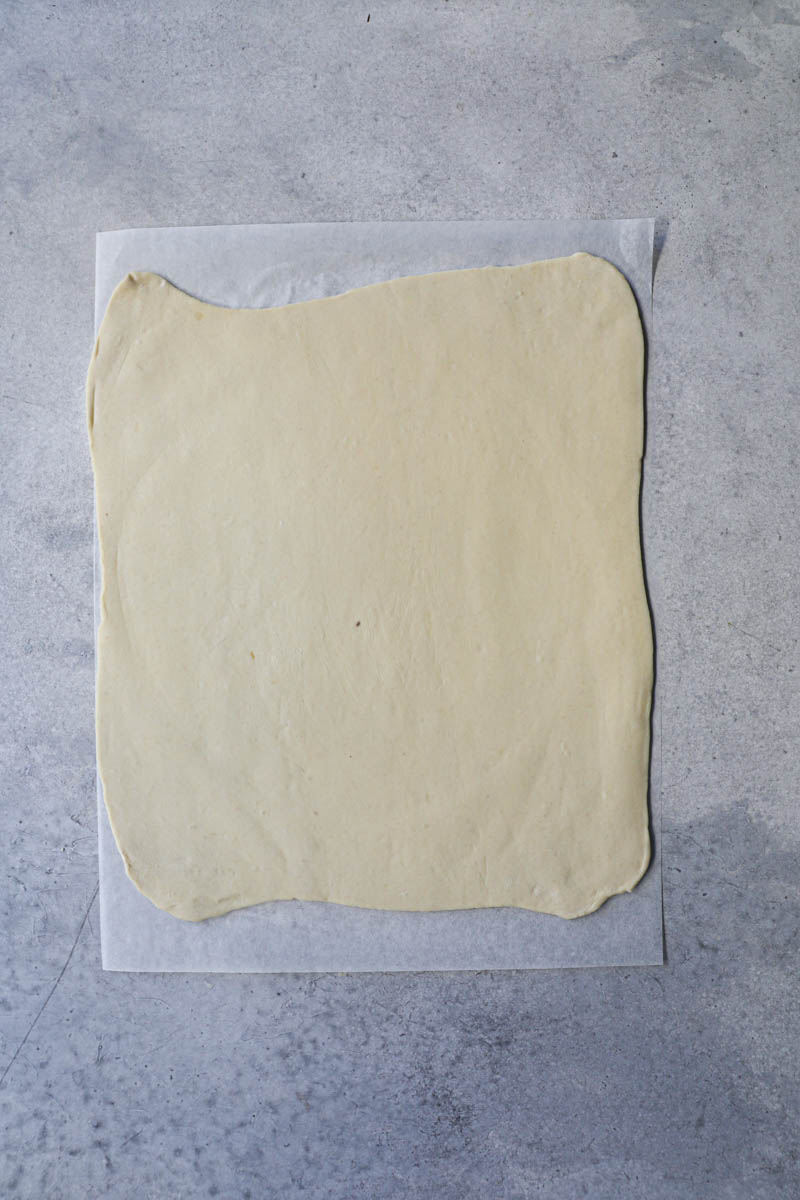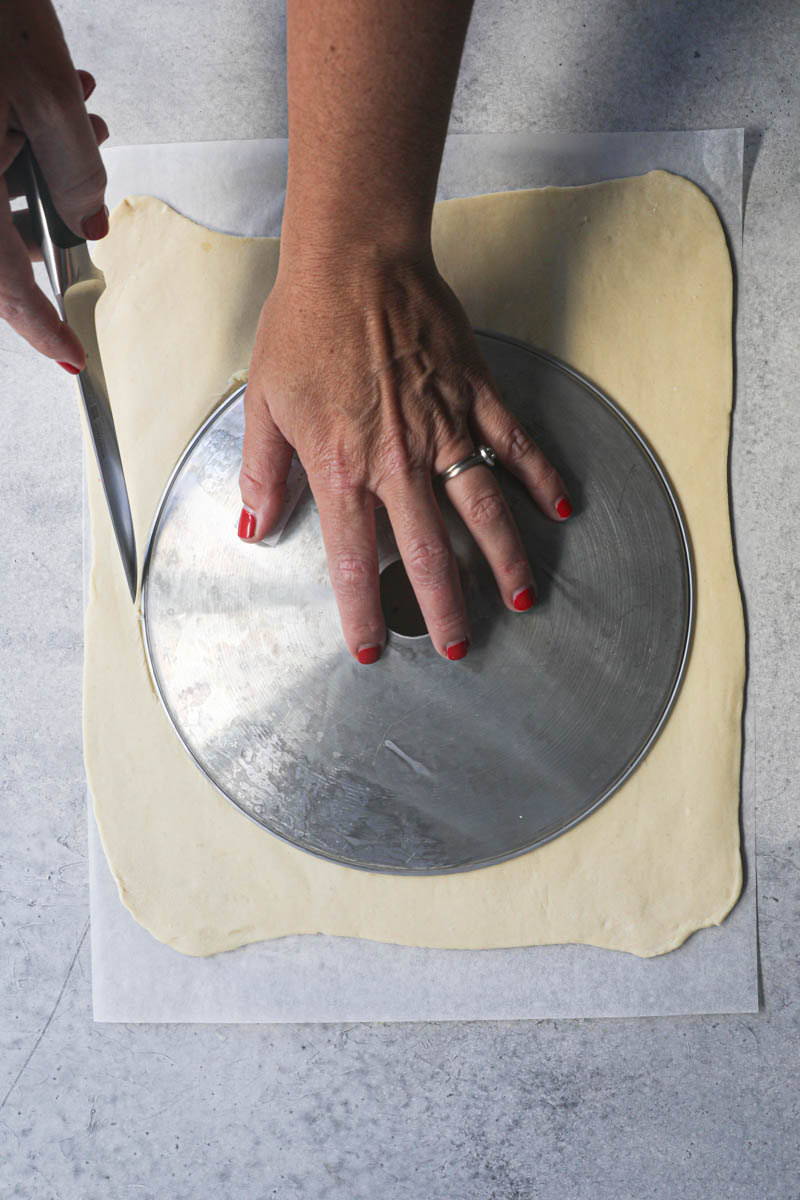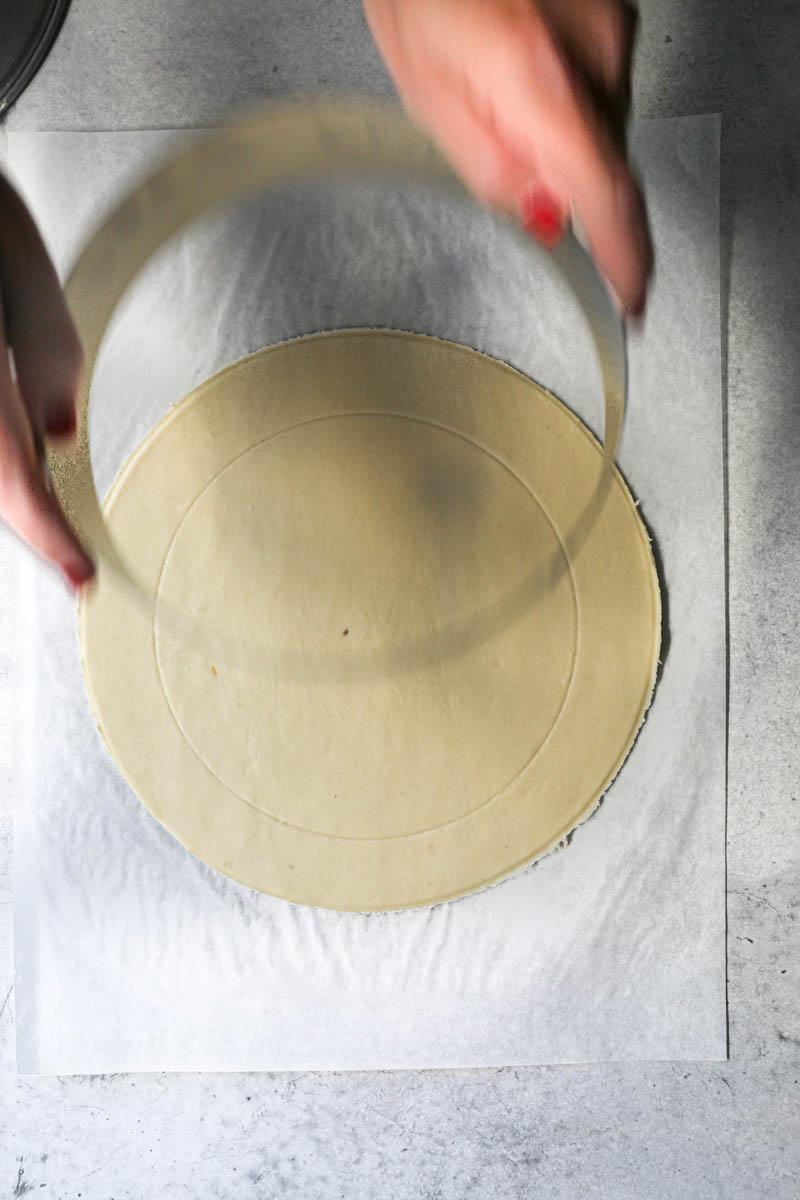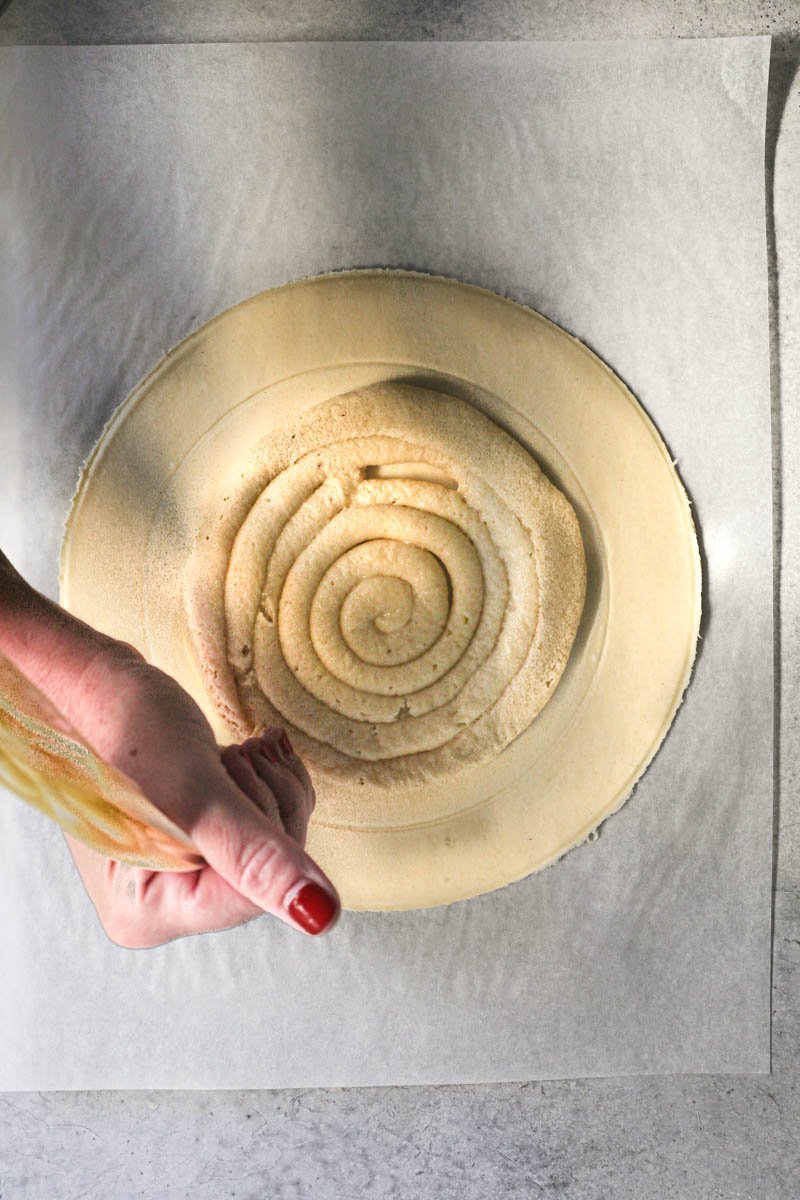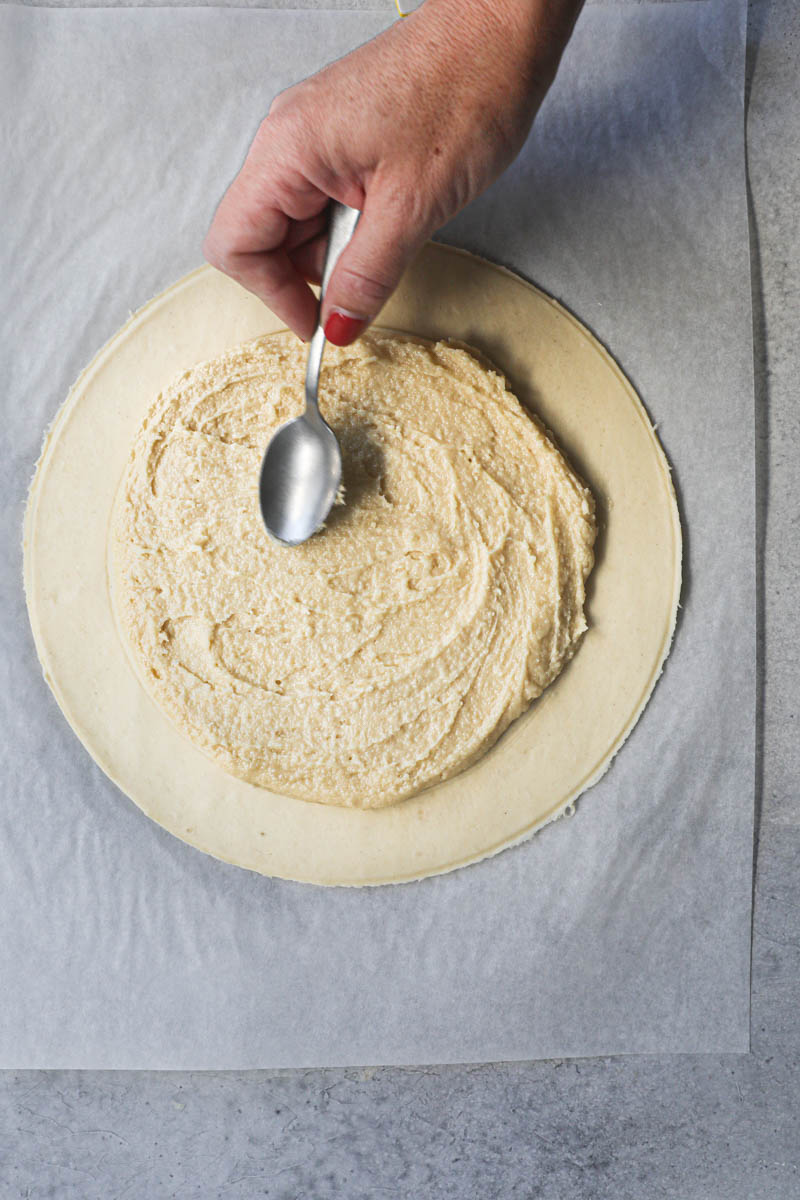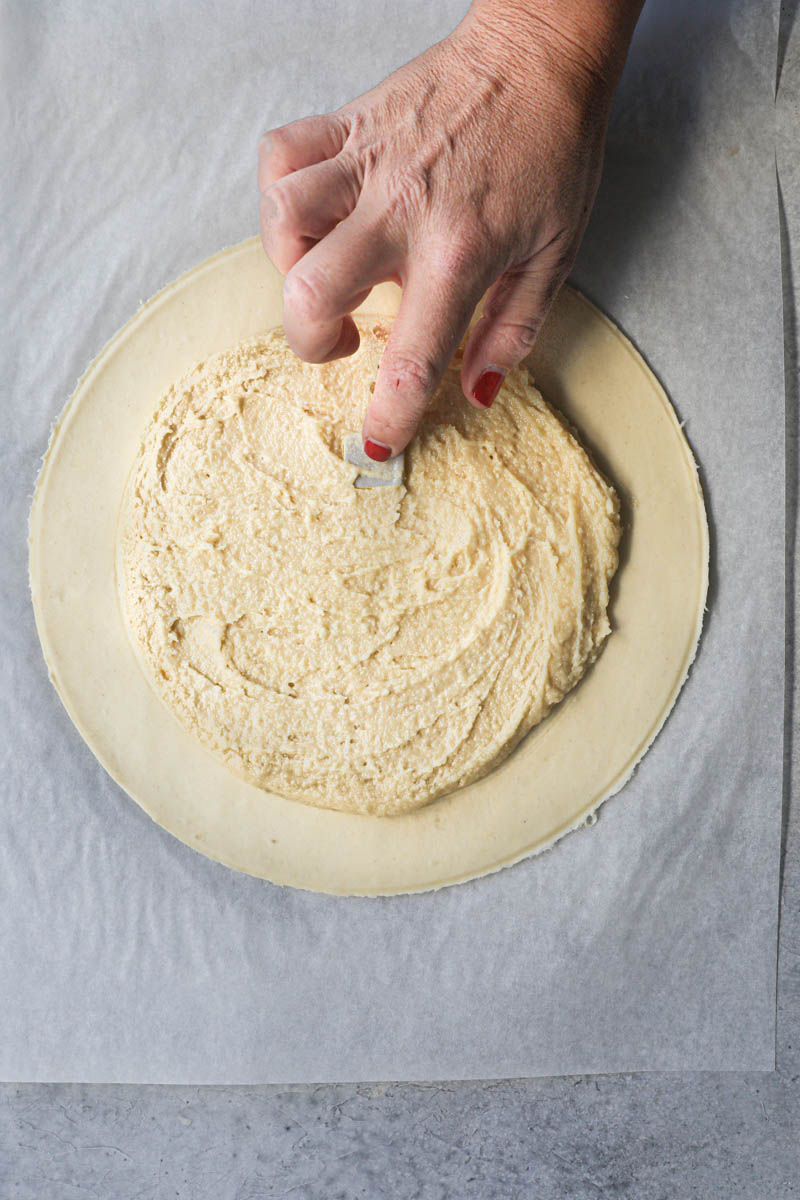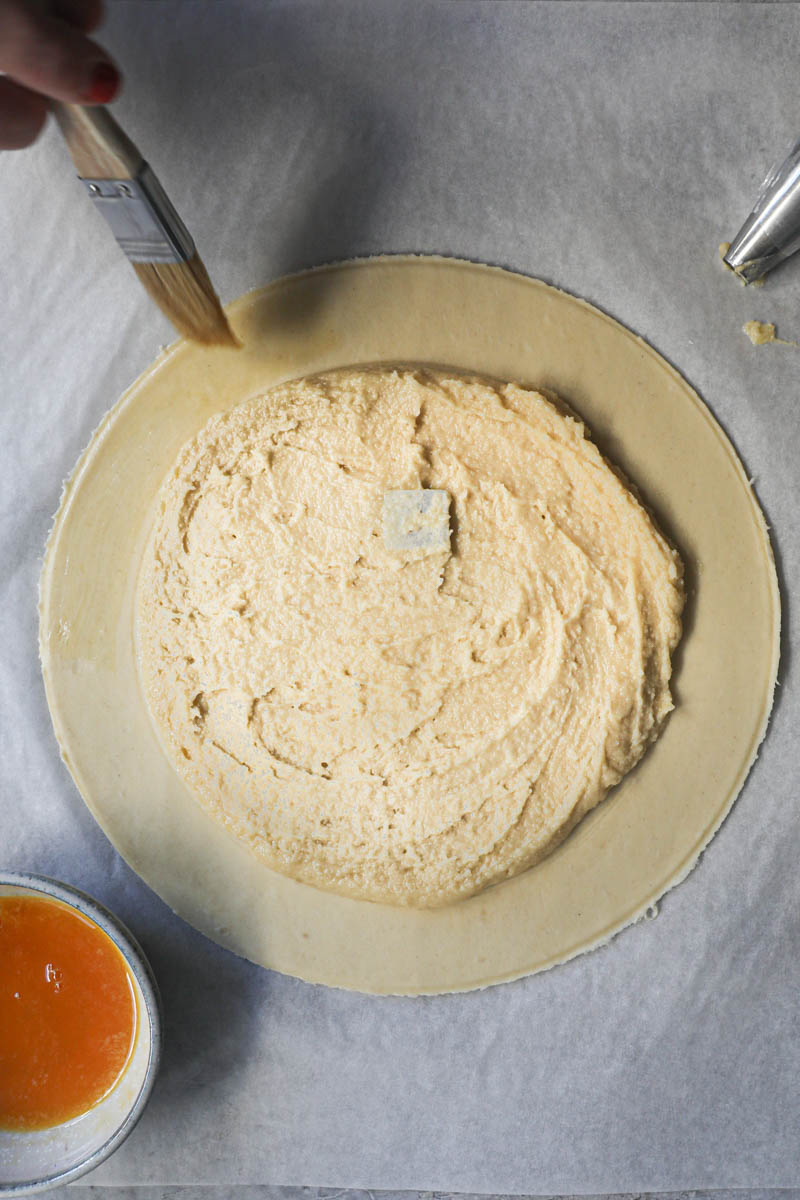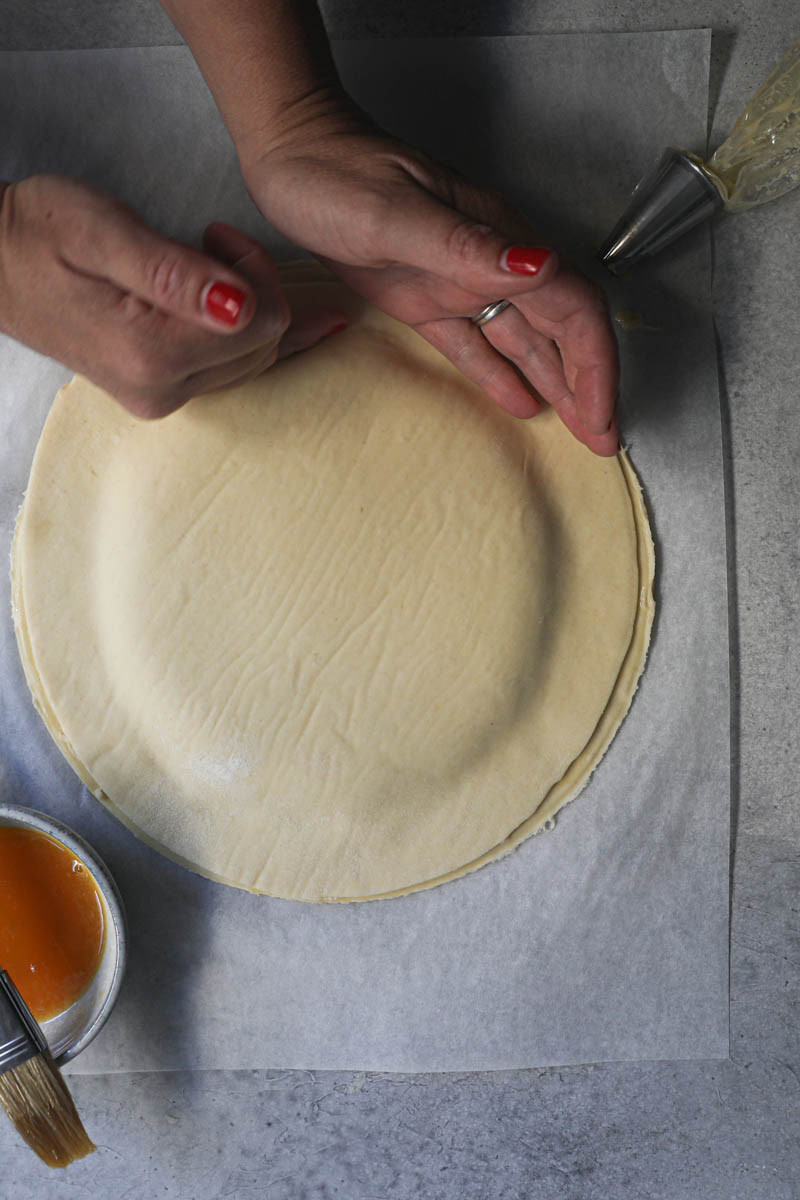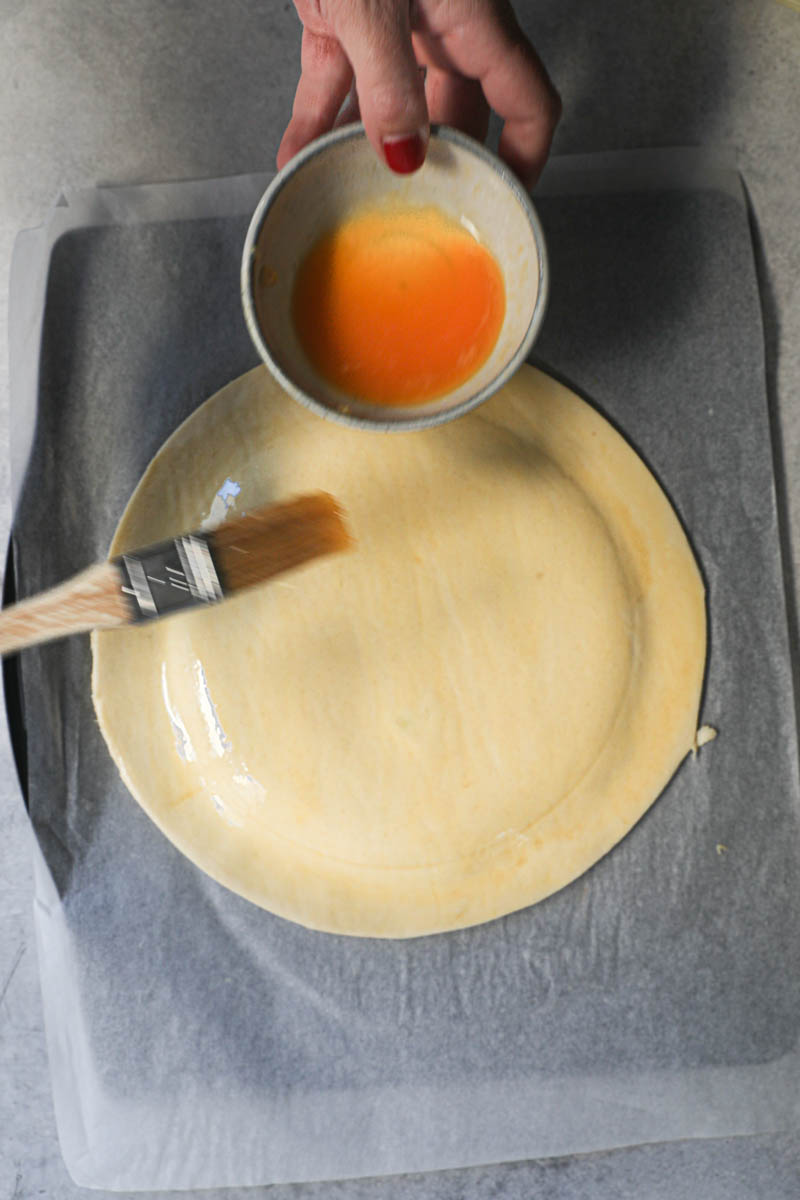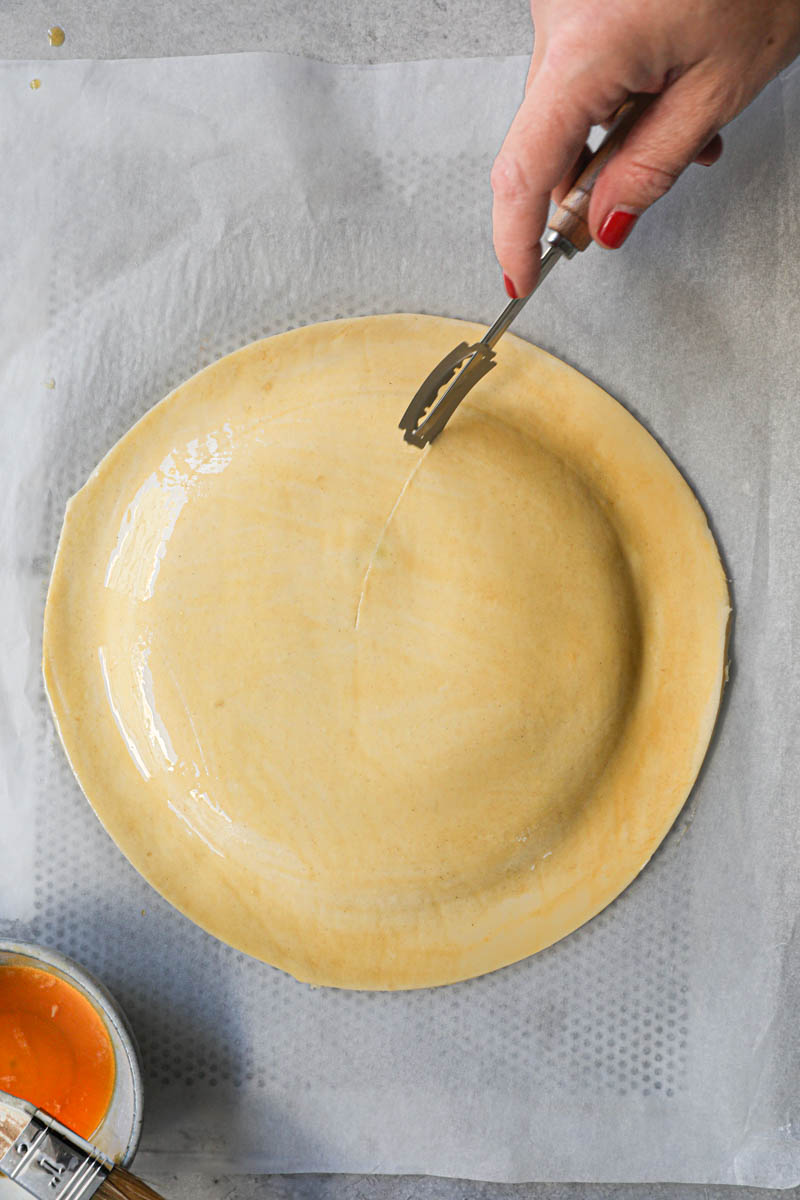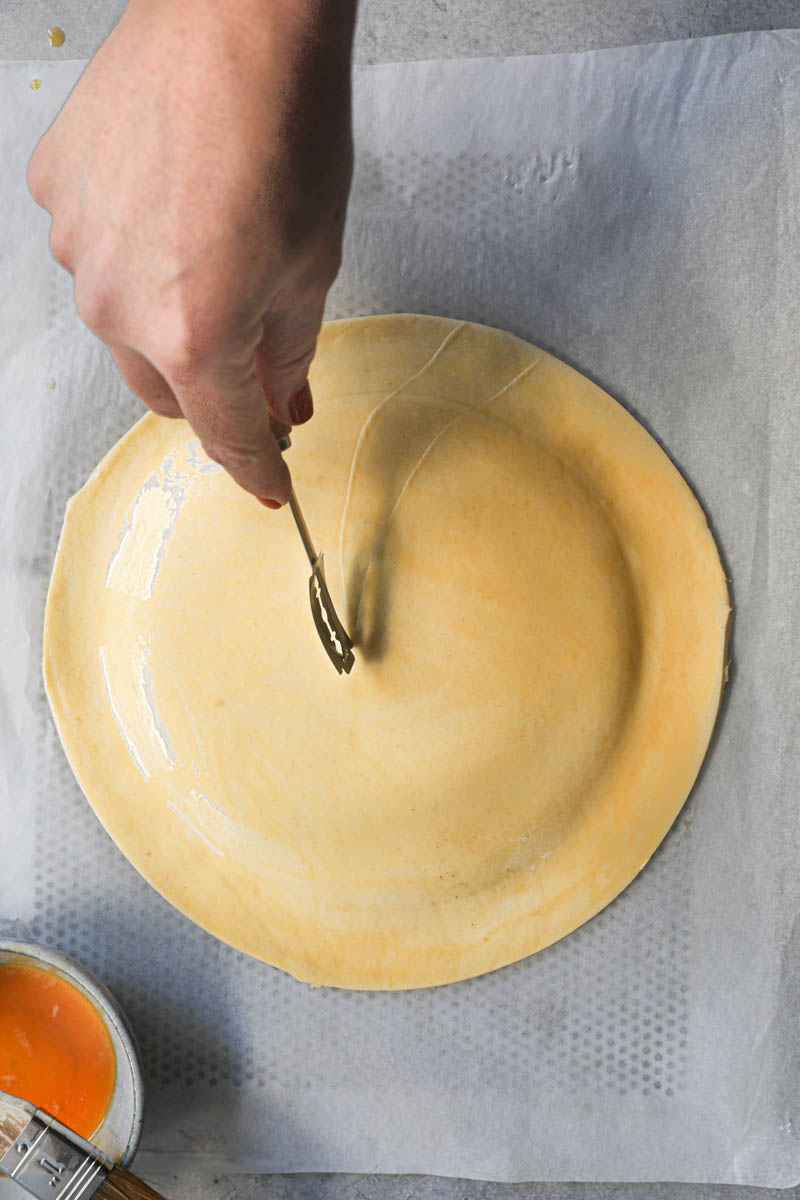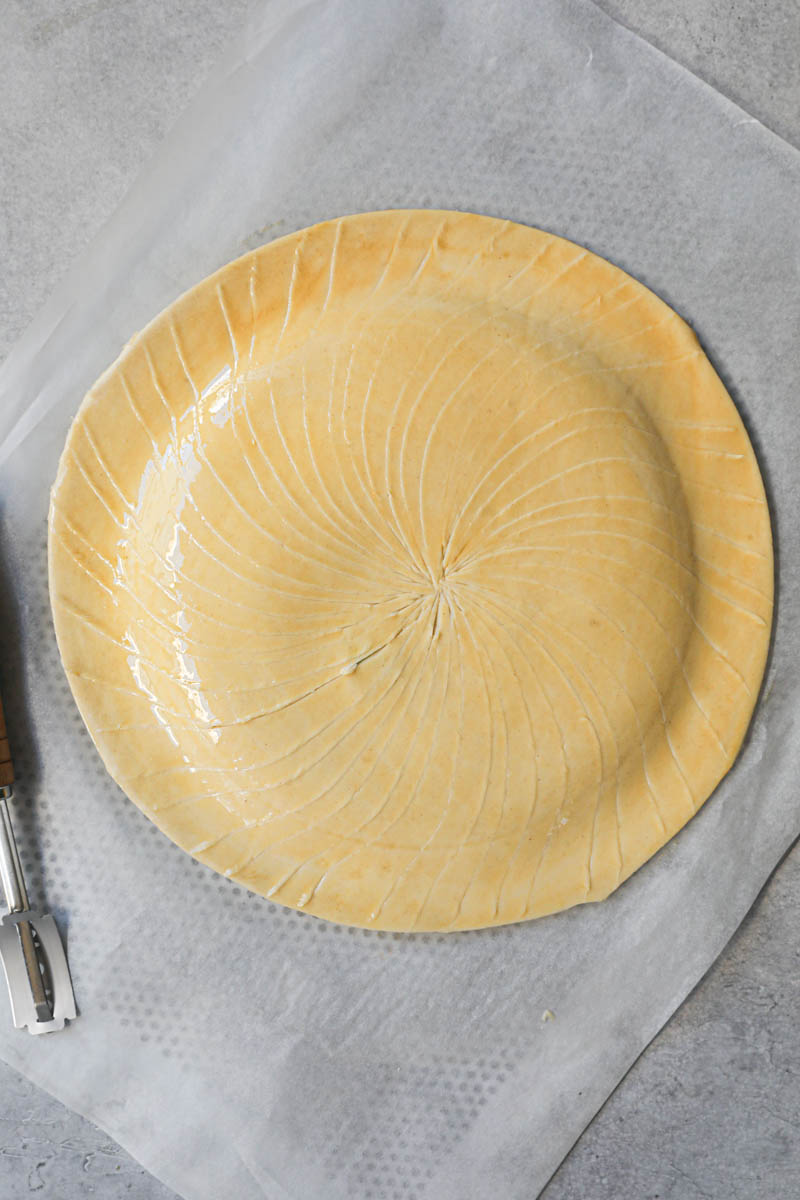 Recipe Notes
If you are using store bought puff pastry you don't need to roll it out, but make sure you have enough to cut out 2 24 cm in diameter discs of puff pastry.
When rolling out the puff pastry make sure you keep your countertop surface lightly floured to prevent the dough from sticking and breaking apart.
Chill the rolled-out pastry for 30 minutes before cutting out the discs. This will help the layers to grow beautifully in the oven.
Place an 18 cm cake ring on top of the puff pastry disc and slightly press it down to mark a smaller round, inside of which you will be piping out the almond cream. Make sure not to press too much because you will cut through the puff pastry.
You can also leave the cake ring on top of the puff pastry, place the almond cream inside, evenly spread it using a spoon or a spatula and then remove the ring.
When covering the King cake with the second round of puff pastry, make sure the edges of the bottom and top disc are aligned.
Use both your hands to press around the almond cream to remove air bubbles.
Turn around the King cake and refrigerate for about 30 min/1 hour before scoring. If the dough is cold and hard, scoring is much easier, and you won't damage the puff pastry.
Brush with egg wash just before scoring, it helps the knife slide better.
Traditionally the scoring done to the galette des rois is the one you can see on the photos, but you can do whatever design inspires you.
When scoring, slightly incline the knife or scoring knife to the side and don't press too hard. You are not supposed to cut through the dough!
You can paint brush with a light syrup as soon as the king cake is out of the oven to make it shine! This is completely optional but recommended!
Storage tips
This king cake must be kept at room temperature. It keeps for up to 3 days.
However, eating it on the same day is strongly recommended because the puff pastry tends to become less crunchy as days go by.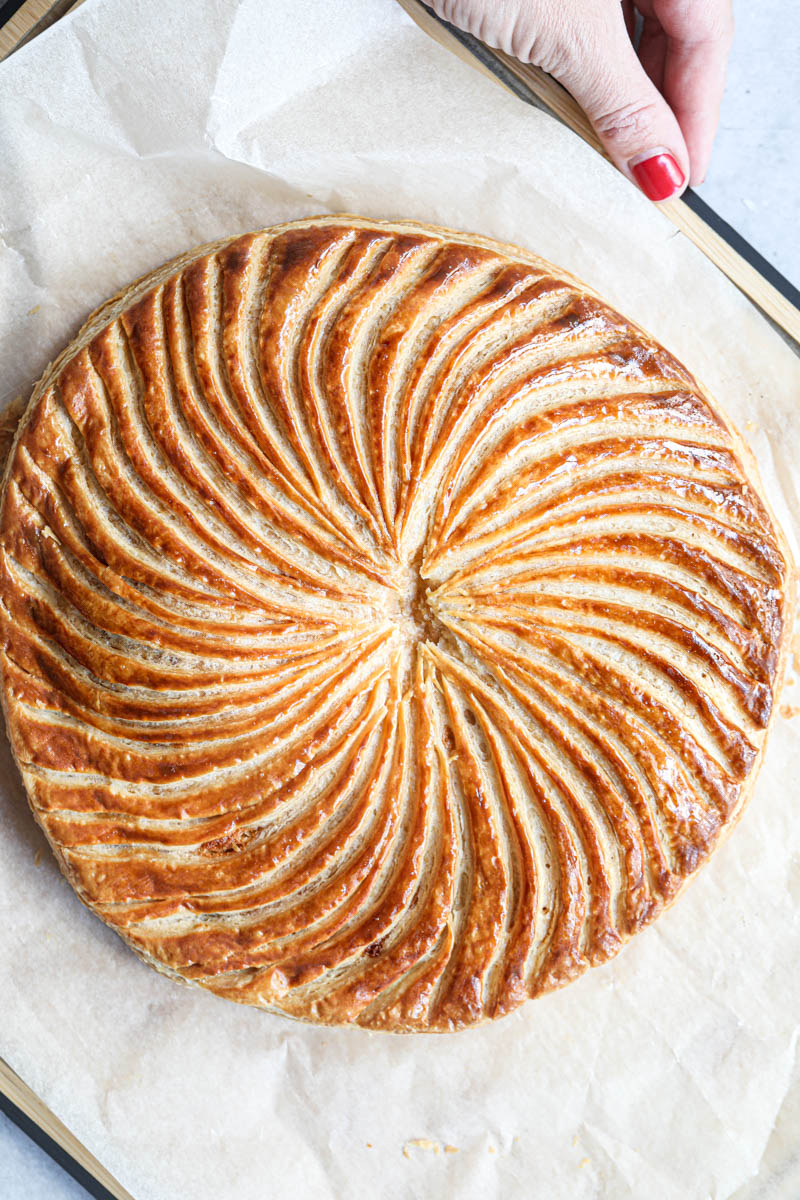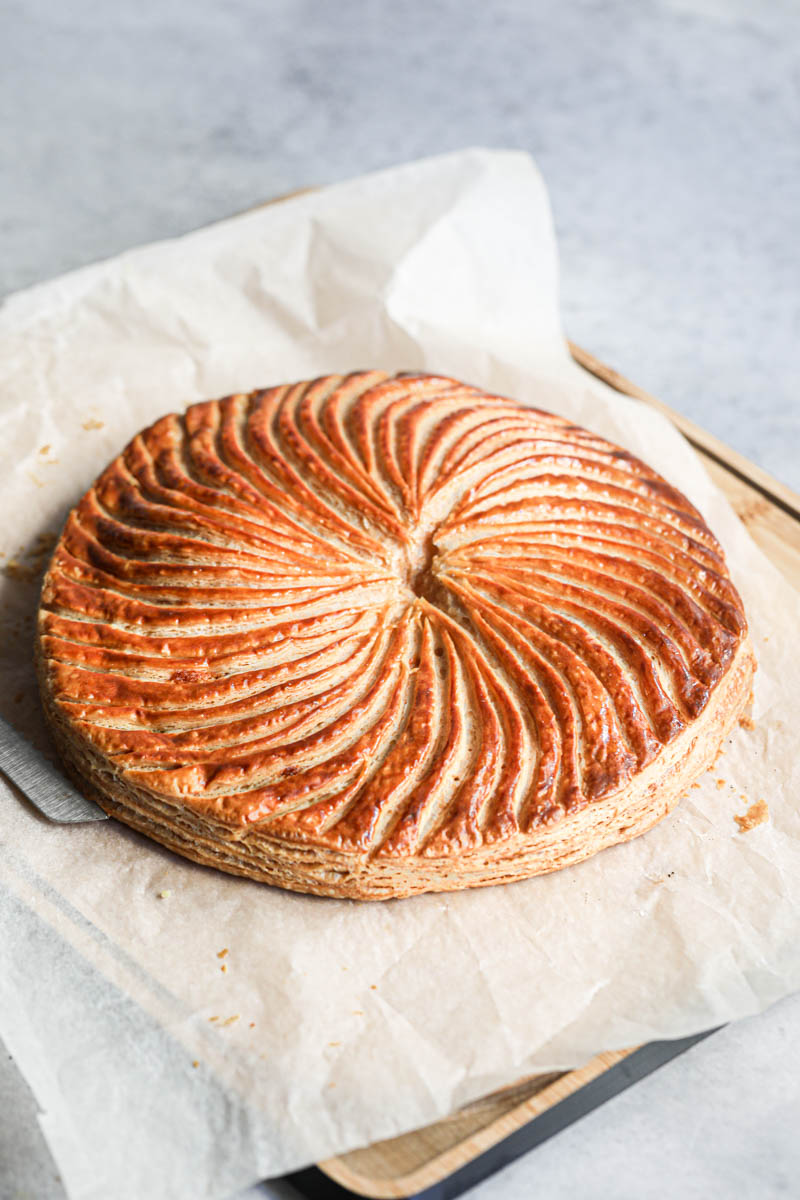 Freezer instructions
You can freeze the galette des rois once it is assembled. Wrap in saran wrap, twice or three times, then place in a freezer container and place in the freezer. It lasts for up to 3 months.
To defrost: place overnight in the refrigerator. Then place on a baking tray lined with parchment paper, and proceed to paint with egg wash, score and bake as instructed in the recipe.
Variations to this recipe
You can make any number of fillings for the galette the rois if you are feeling inspired:
Replace the almond meal with hazelnut meal for example.
If you are making a frangipane, you can make the pastry cream a chocolate pastry cream or a dulce de leche pastry cream!
The ingredients used in all recipes on this site are measured using the metric system. I use a
scale
to be precise with my measurements and ensure good results. If you would also like to use a scale, here are some:
USA
,
Canada
,
UK
,
Australia
,
France
.
Subscribe to the newsletter
Total Time:
1 hour 45 minutes
---
Dough
Almond Cream Filling
Unsalted Butter

100 g

Powdered Sugar

100 g

Cornstarch

4 g

Eggs (medium)

2 g

Rum (optional)

15 g

Ceramic Bean

1

Almond Meal

100 g
Egg Wash
Eggs

1

Egg Yolks

1

Salt

1 pinch
Basic Syrup
If you made this recipe I would really appreciate it if you leave a rating or comment below! Also, if you share on social media please use #cookwithbelula, I would love to see what you create!