One of the first things I learned how to make at Ecole Lenotre when I came first to France was a version of this French pear tart. Do not be discouraged by all the components; you can make one element by day and assemble the tart by day three, if going at it in one go is proves to be overwhelming! It is worth the effort 😊. Hope you love it.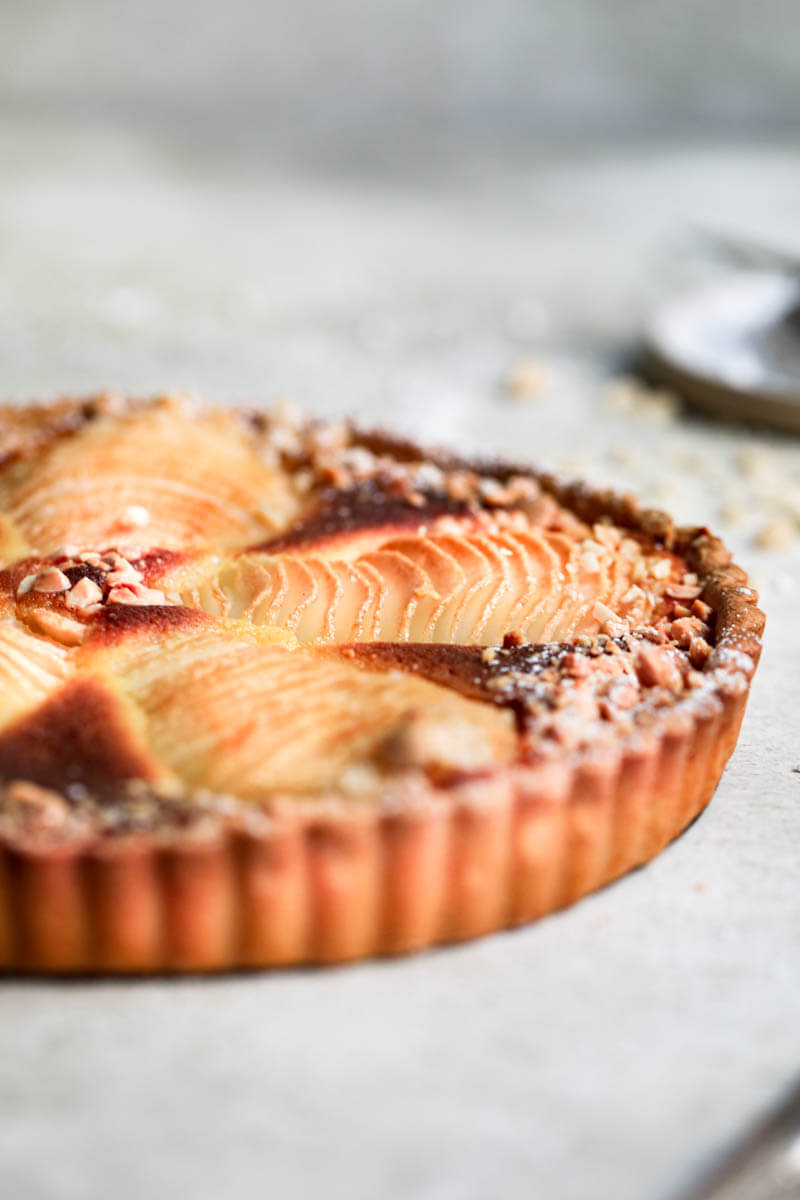 What you will need to make this Pear Frangipane tart?
1 round tart tin 24 cm in diameter (you can make a rectangular version too)
1 Shortbread crust. You can either make it your self or use a store-bought crust if that is your preference. If you go with homemade you can find a step by step explanation and recipe on how to make sable dough here Shortbread Crust
Frangipane cream
Fresh pears and lemon juice
What is Frangipane
Frangipane is a cream used to garnish tarts, cakes and Danish. It is not to be mistaken with almond cream.
It is the mixture of:
Almond cream (2/3)
Pastry cream (1/3)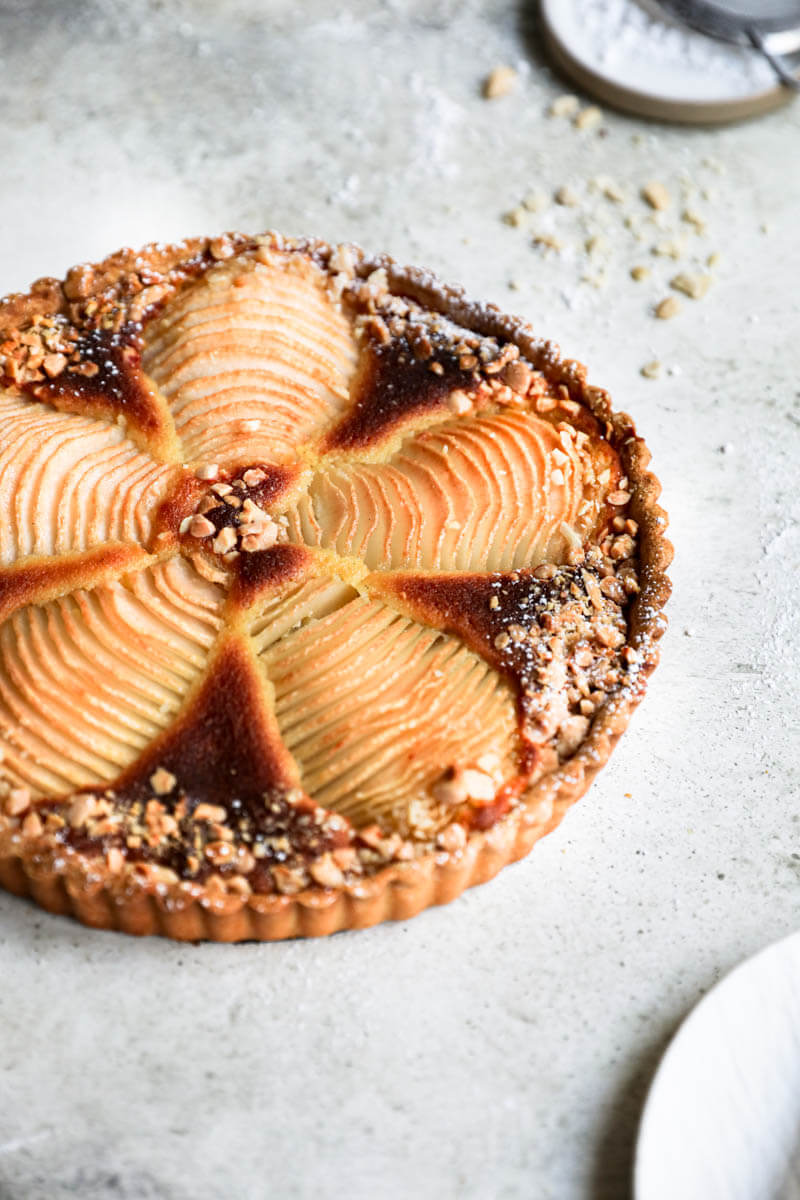 How to make Frangipane?
To make this frangipane recipe you must first prepare its 2 components separately ahead of time.
Make the almond cream and refrigerate for at least 2 hours. Then make the pastry cream and refrigerate. If you want a step by step explanation of how to make pastry cream you can check it out here Gateau Basque Cake.
Finally, when both the almond cream and the pastry cream are cold and its time to assemble the pear tart you can put together the frangipane super-fast.
Simply smooth out the almond cream using a whisk and then add the pastry cream and mix to combine. Make sure there are no lumps in the cream.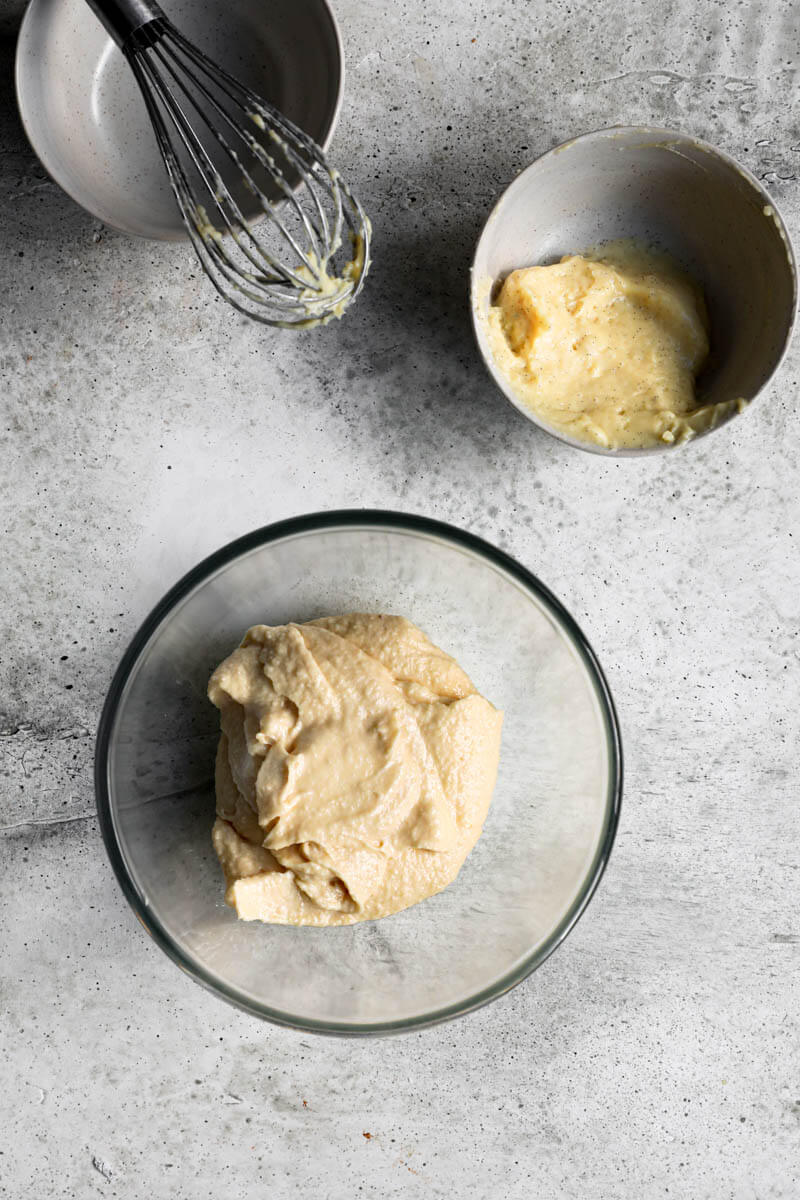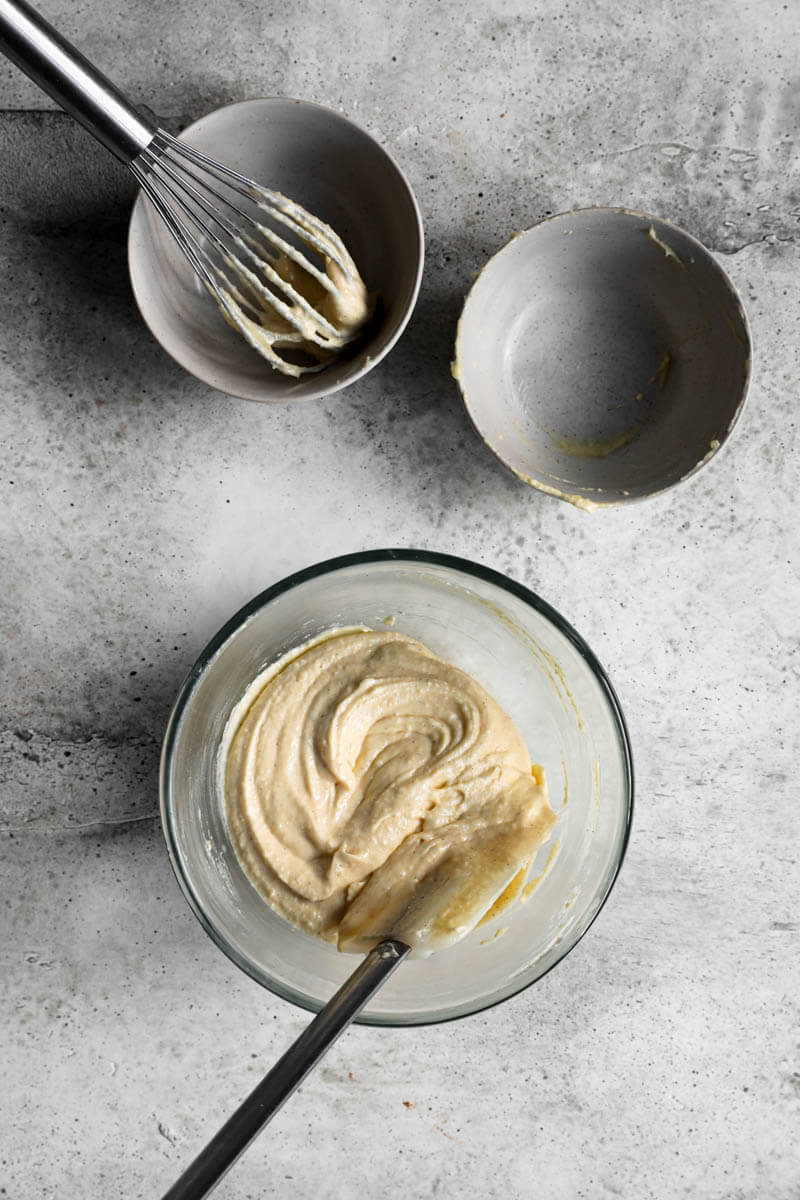 How to make a pear frangipane tart
To make this French pear tart you need to assemble 3 main components:
Shortbread crust
Frangipane cream
Thinly sliced pears
First, roll out the dough to 5 mm and line the tart tin. Refrigerate for 30 minutes before garnishing.
Secondly, while the dough is chilling prepare the Frangipane my mixing the almond cream and the pastry cream until you obtain a smooth and shiny cream.
Then, fill the base of the tart with the Frangipane. You can either use a piping bag, the back of a spoon or an offset spatula. Make sure that it has been evenly spread. Tip: Don't over garnish the tart because it will overflow, and you will be cleaning the oven for a while! 😉
Thinly slice the pears and place them on top of the cream. Use a few drops of lemon juice to coat the pears after you have peeled them to avoid oxidation!
Finally add some chopped almonds along the tart border.
You are ready to bake the frangipane tart now.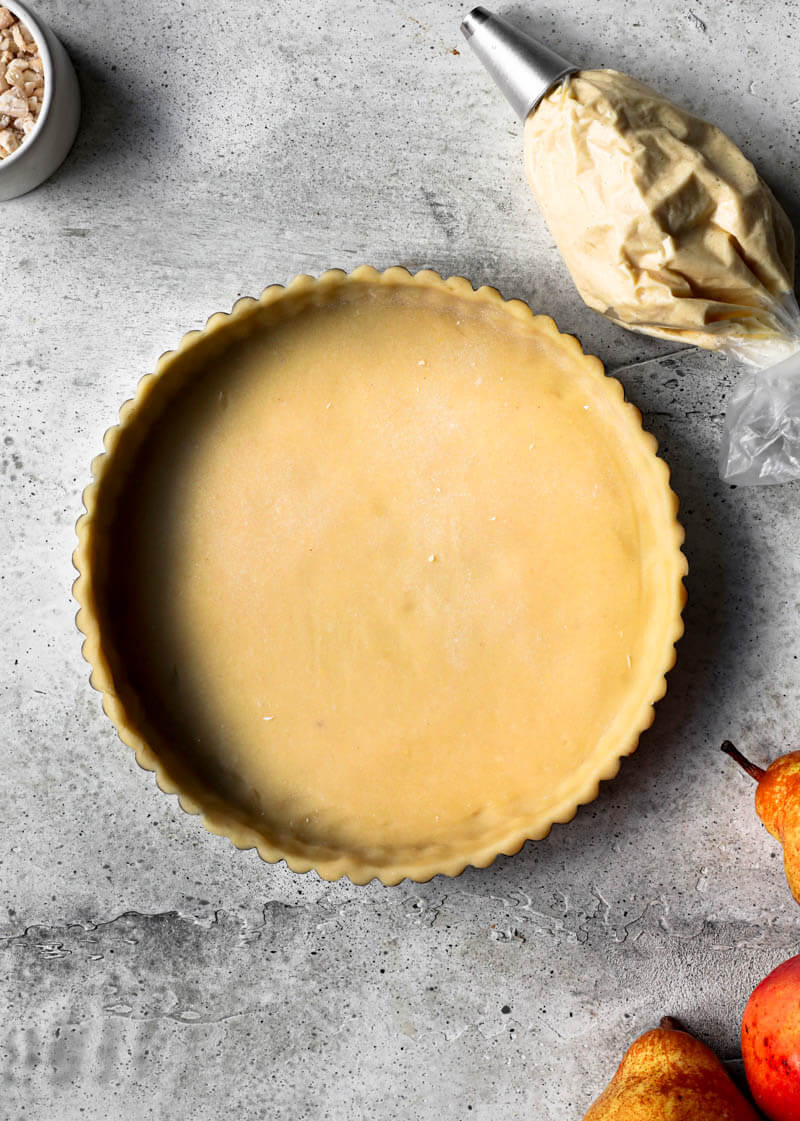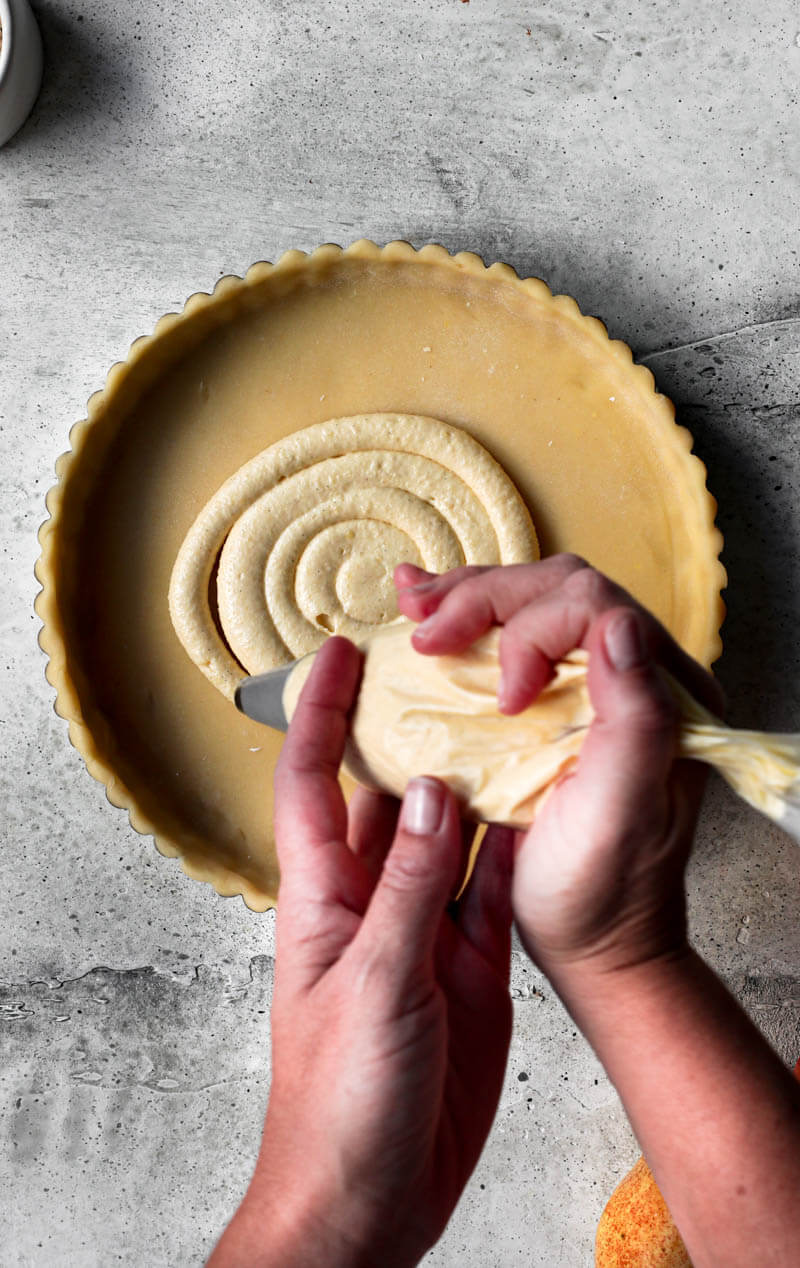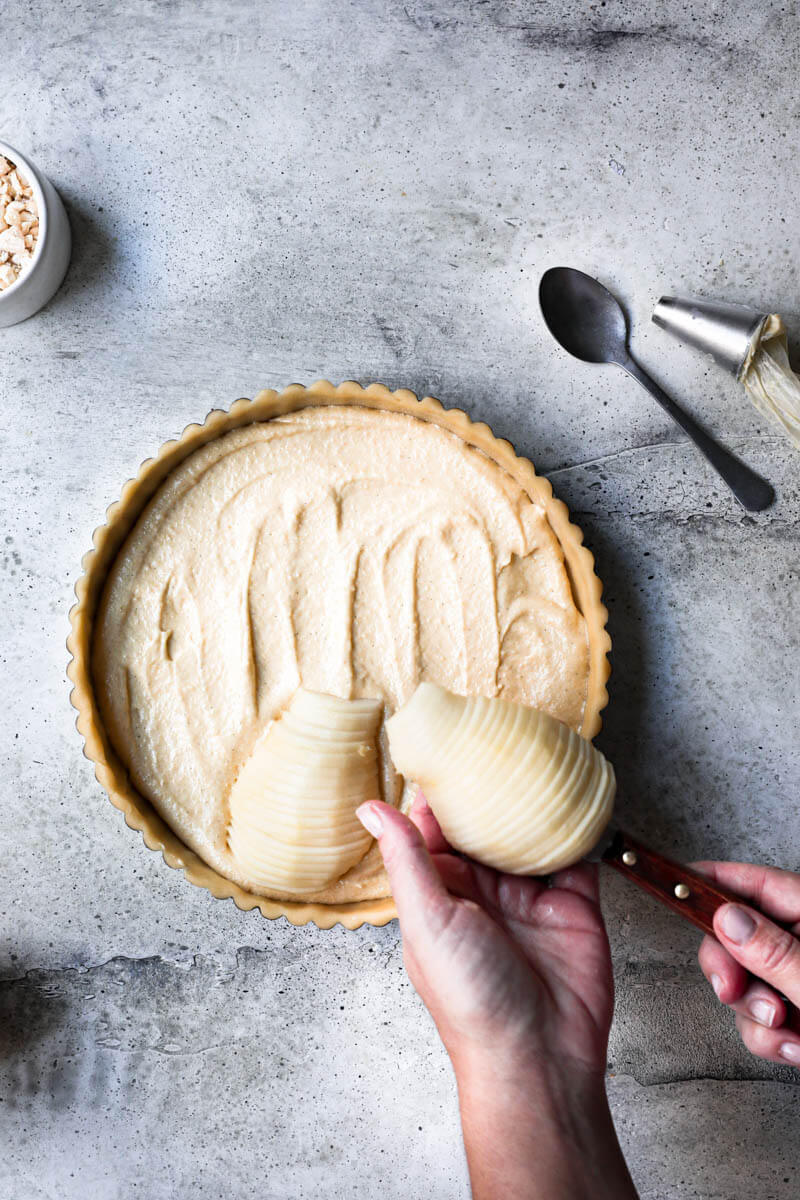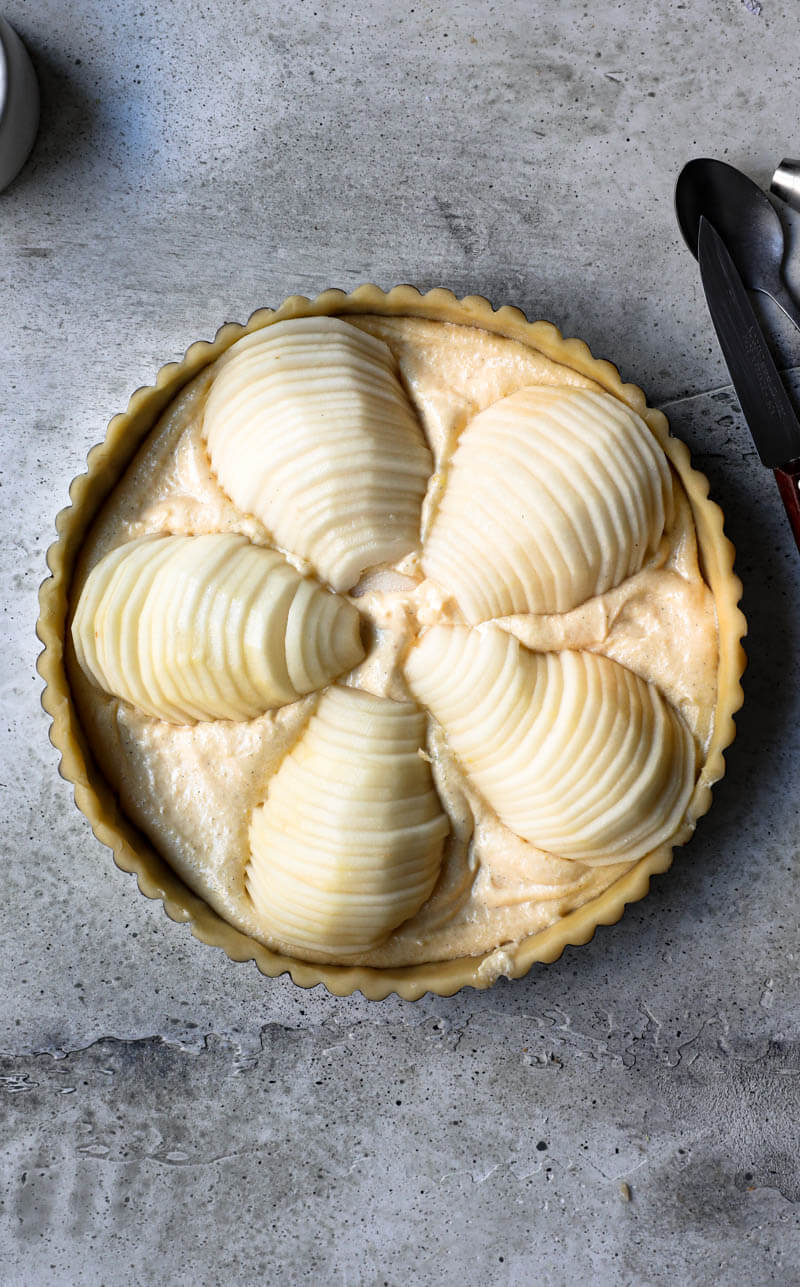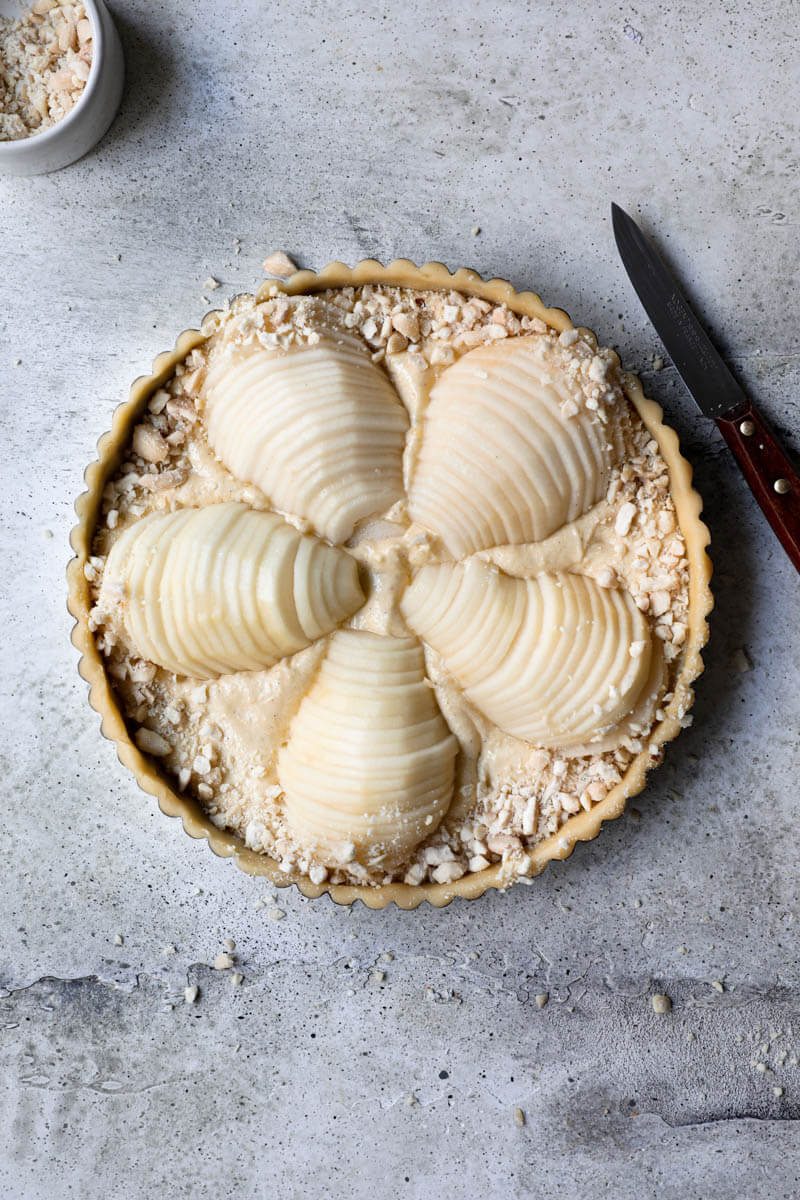 How to bake this Pear tart?
Bake in a pre-heated oven at 170 C°/350 F. Rotate the tart in the oven halfway through the baking time.
Can pear and almond tart be made ahead?
Yes, it can. You can make ahead all of the components and then assembly the tart when you are ready to have it.
The shortbread crust can be made 2 days in advance and kept lined in the tart tin properly covered.
The pastry cream can be made ahead and kept for 3 days in the refrigerator.
Finally, the almond cream is best made on the same day you will be baking this tart.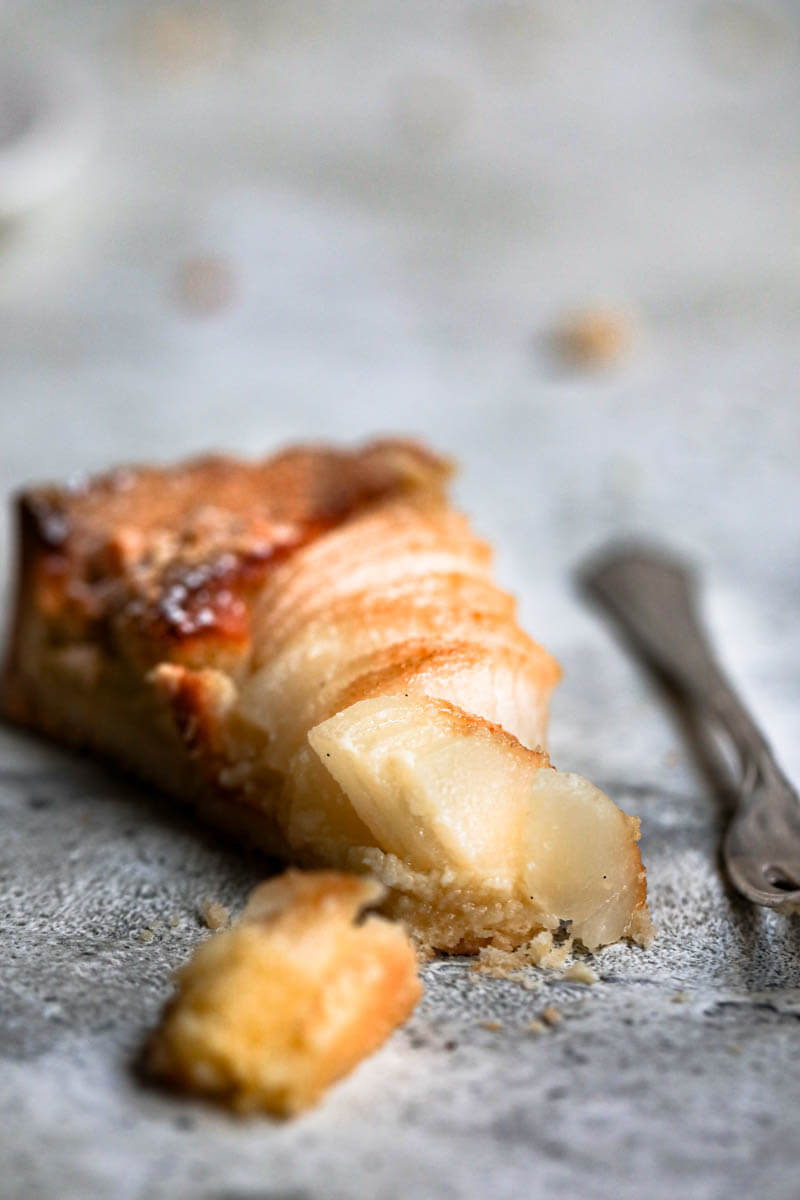 Can you freeze pear frangipane tart?
Yes, you can freeze this tart. Let it cool down at room temperature, cover and freeze for up to 1 month.
To defrost: let it sit on your counter overnight.
If you made this recipe I would really appreciate it if you leave a rating or comment below! Also, if you share on social media please use #cookwithbelula, I would love to see what you create!