No Bake Creamy Lemon Blueberry Square Bars from Scratch
This no bake lemon square bars recipe shows you how to make them from scratch. It has a cookie crust base, a creamy tart lemon cream with blueberry sauce swirled into to it.
This is an easy lemon square bars recipe. It takes almost no time to put together, no oven required, as it is completely no bake, and it is delicious. Made with a press in cookie crust, topped with the creamiest tart lemon cream, and topped with homemade blueberry sauce that you swirl into the cream. All you need to do is wait until it has set and is properly chilled to dig in and enjoy! It was a total hit with my neighbours (my official recipe testers) and I hope you will love these blueberry lemon square bars as much as they did!
Ingredient and utensils notes
Cookies: I recommend lotus biscoff cookies for the crust. You can replace with graham crackers or make these lemon bars with homemade shortbread crust.
Gelatine: the recipe calls for gelatine sheets. You can replace them with gelatine powder too.
Blueberries: frozen blueberries are perfect for the sauce
Lemons: use good quality lemons with lots of flavour such as Meyer lemons.
A 20 cm (8 inch) square cake ring or a 20 cm (8 inch) cake pan lined with parchment paper.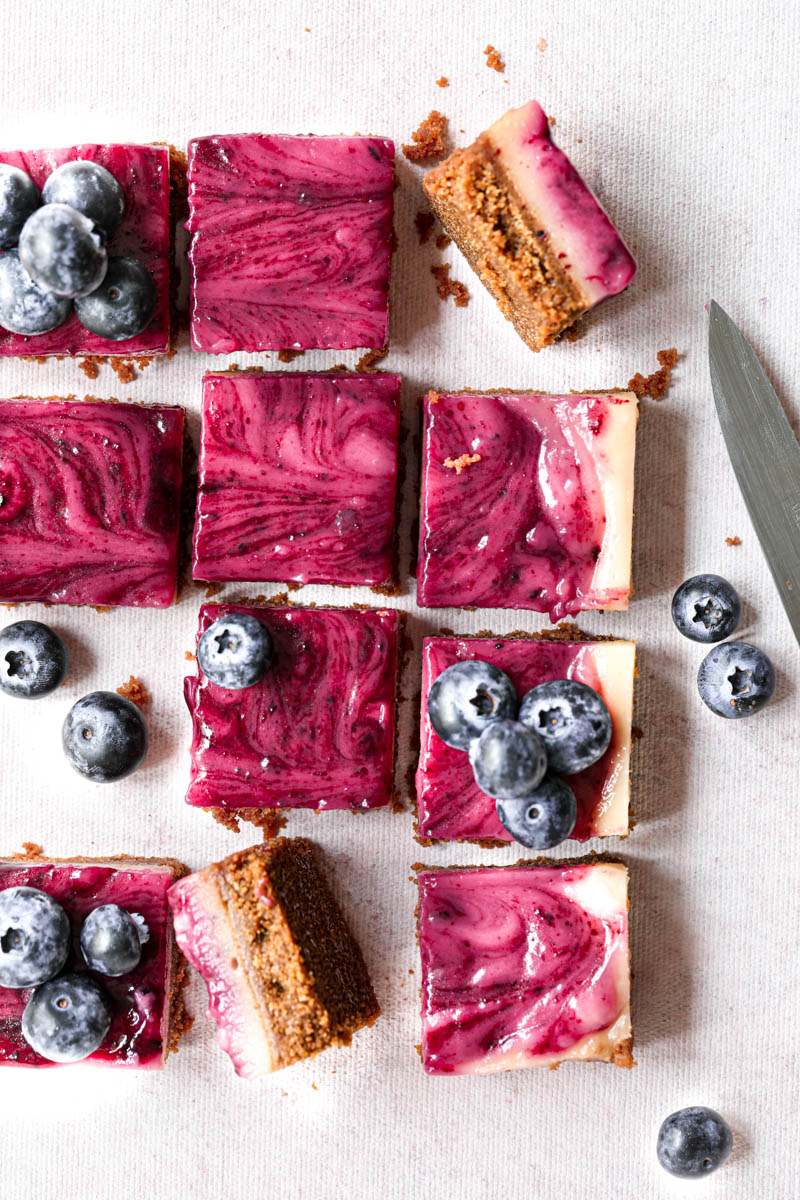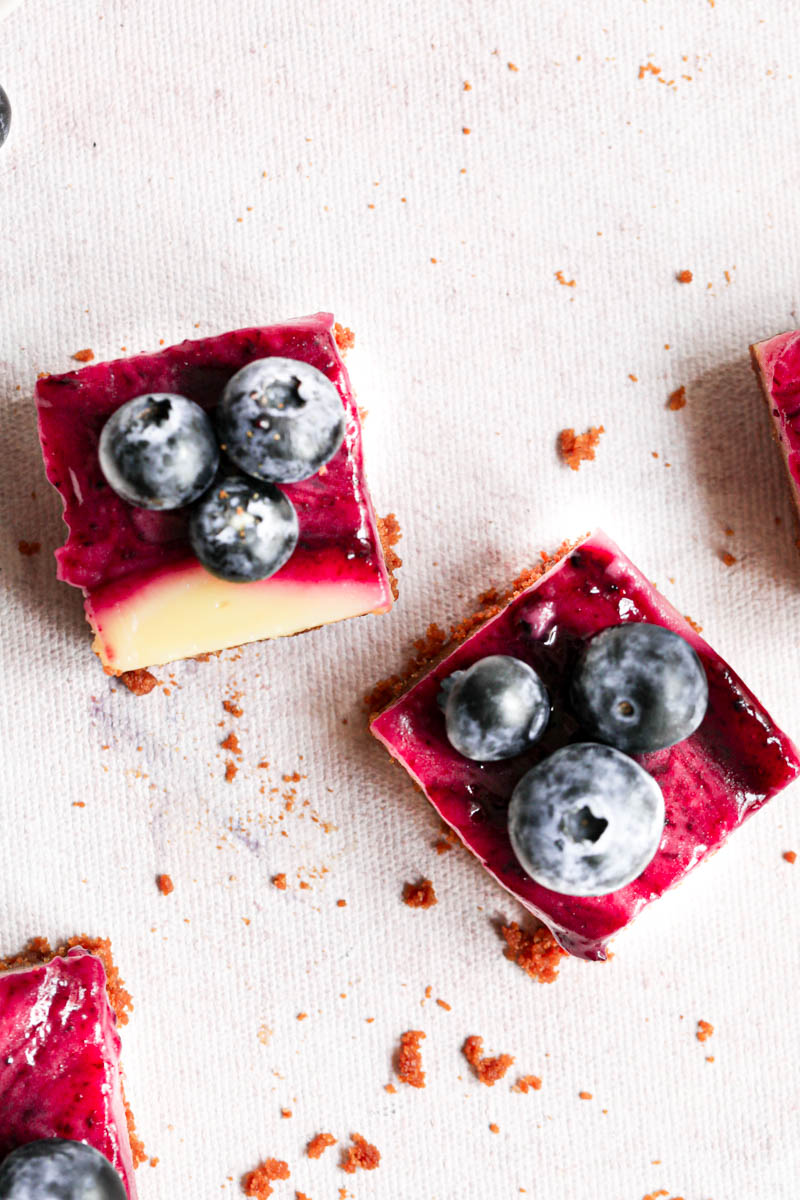 How to make this creamy lemon bars recipe
Making this recipe is easy. You simply must
Make the press in cookie crust.
Make the blueberry sauce and set aside.
Make the lemon cream, which uses the same technique as a pastry cream, but instead of milk it uses a combination lemon juice and melted butter as a base for the cream.
Swirl in the blueberry sauce and refrigerate overnight.
Remove the cake ring
On a cutting board, cut into 5x5 cm squares.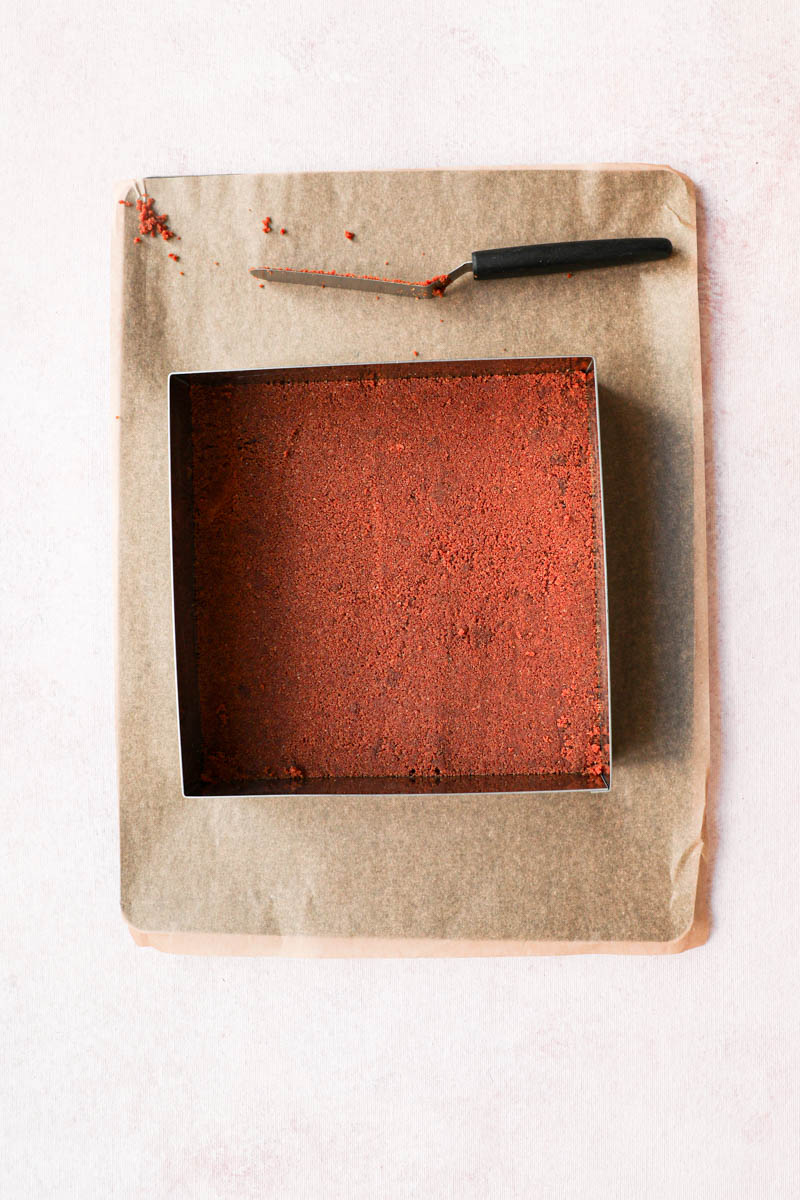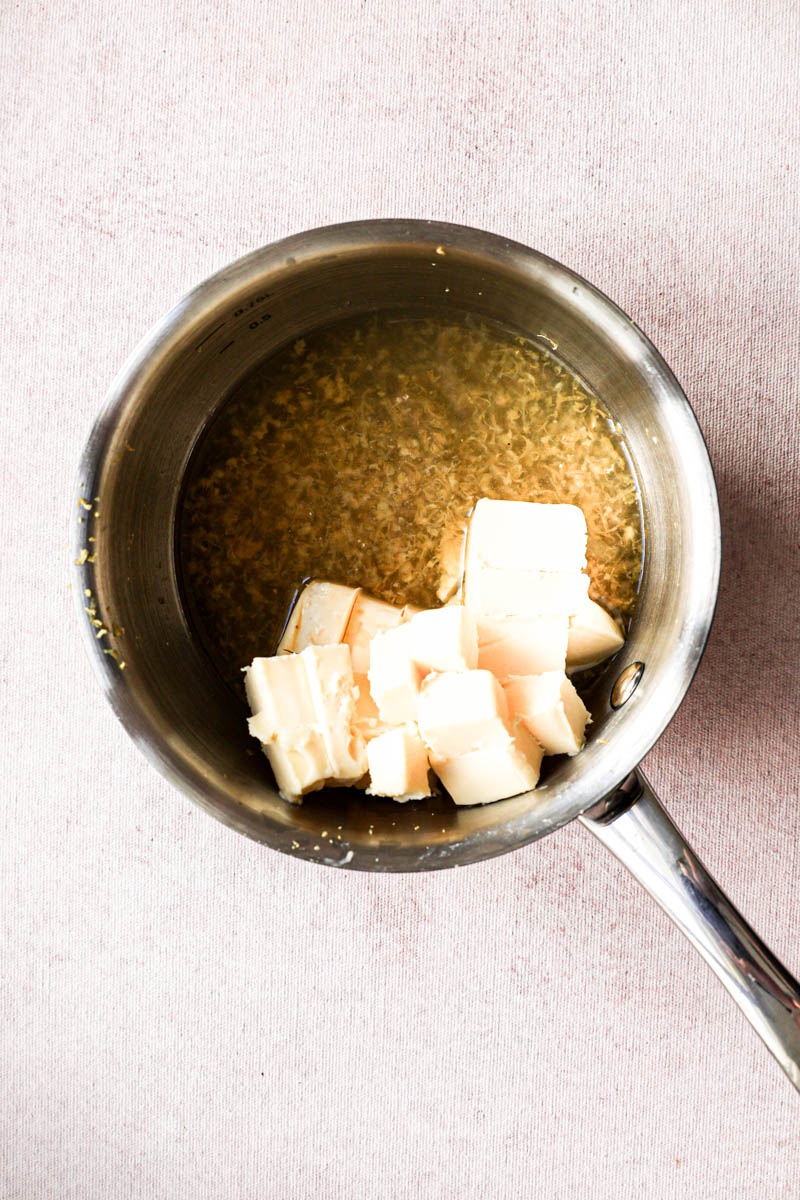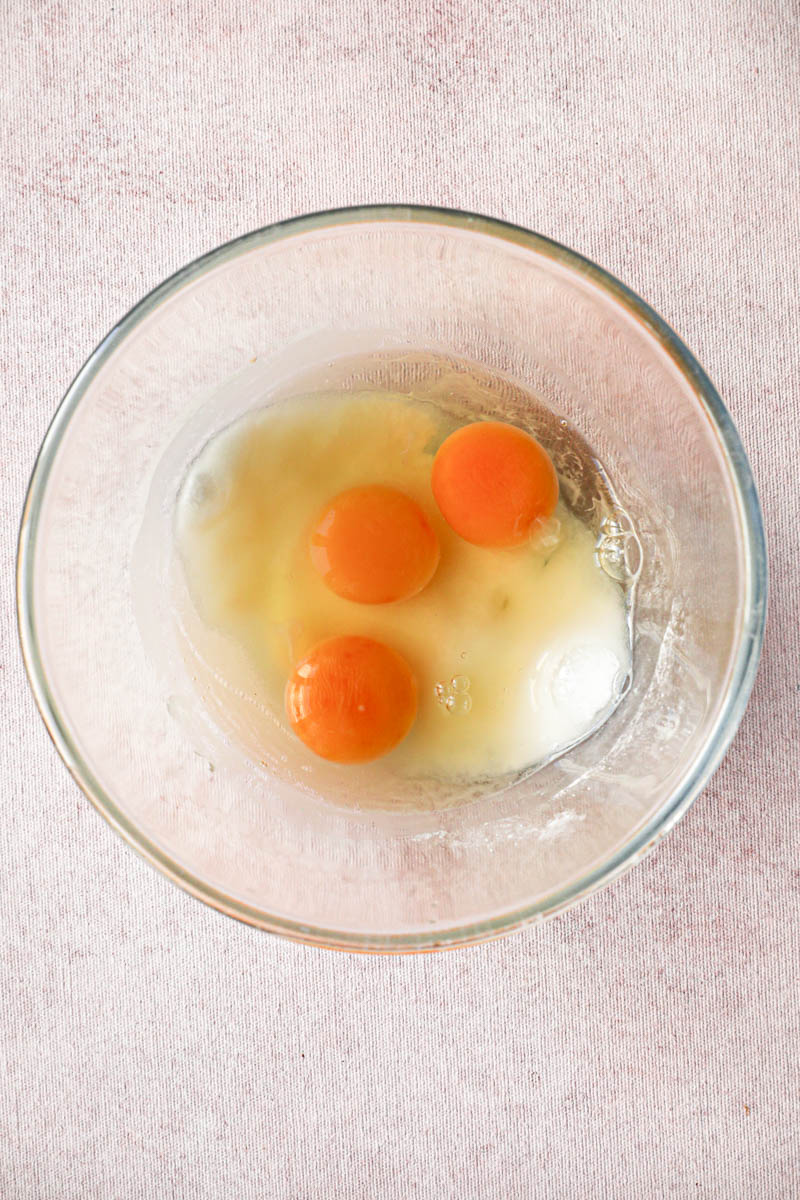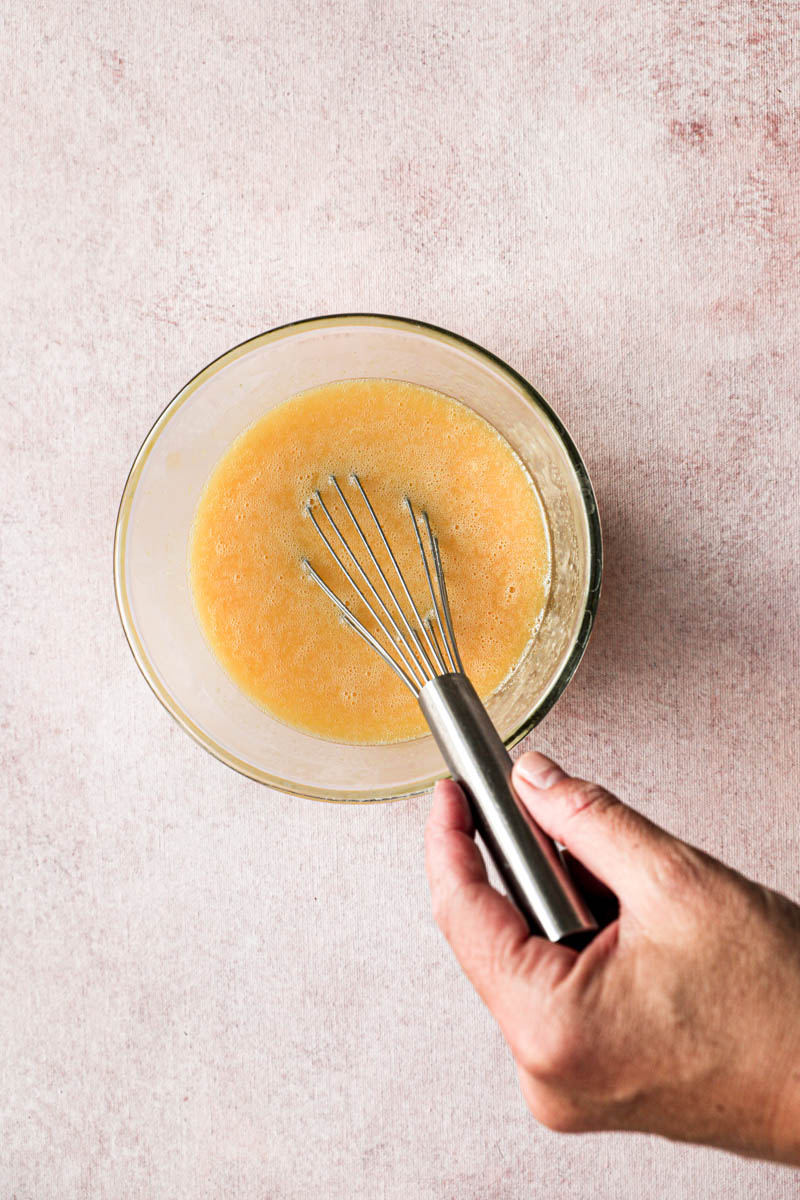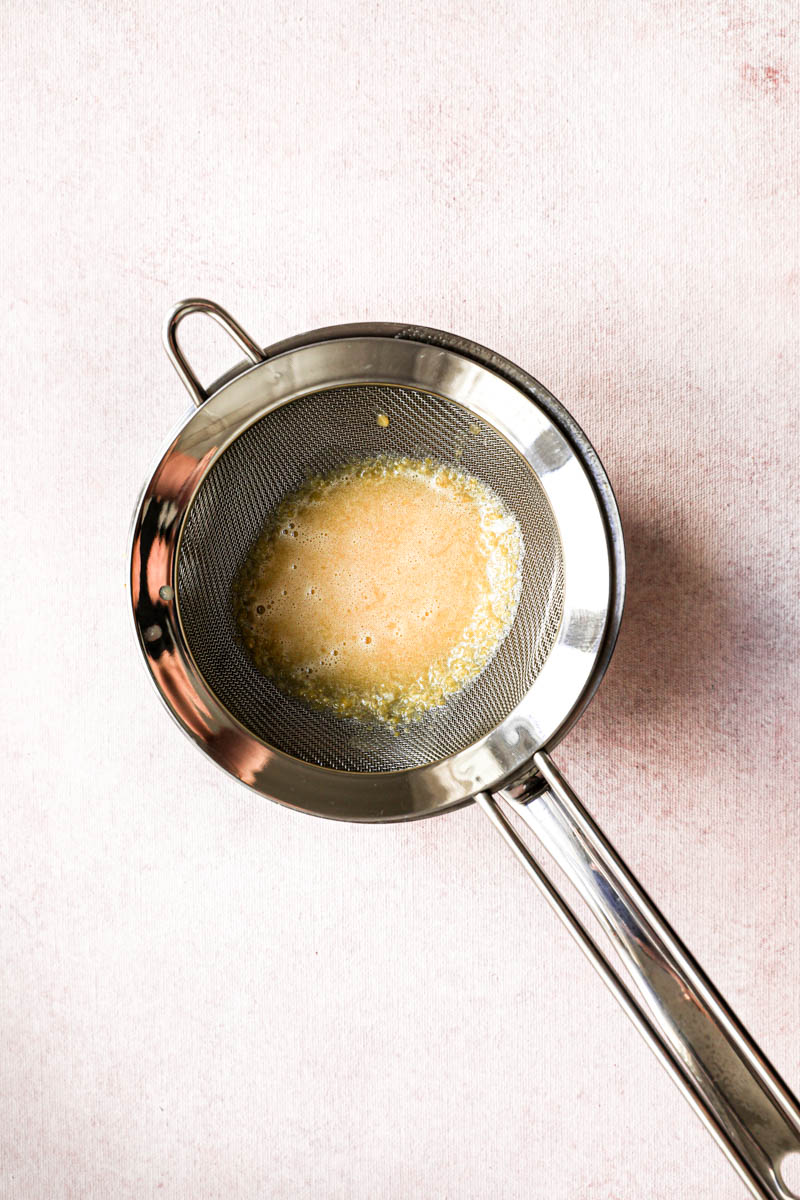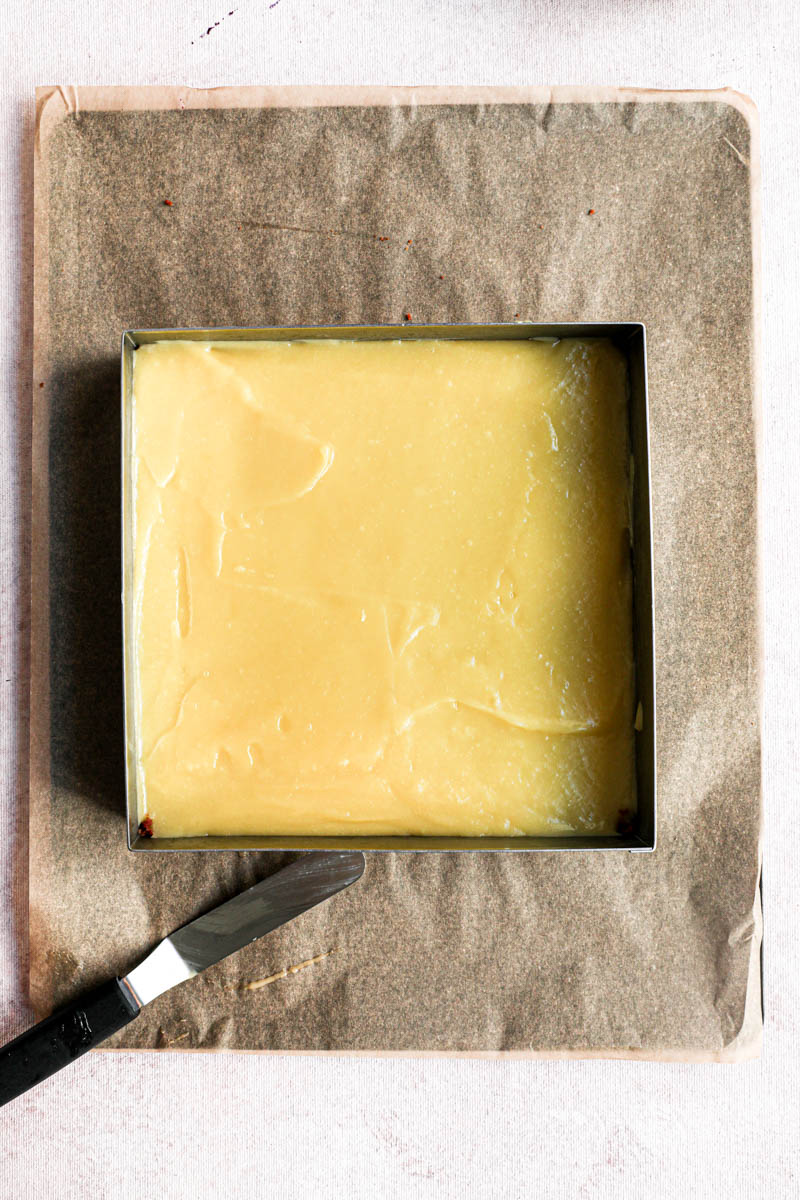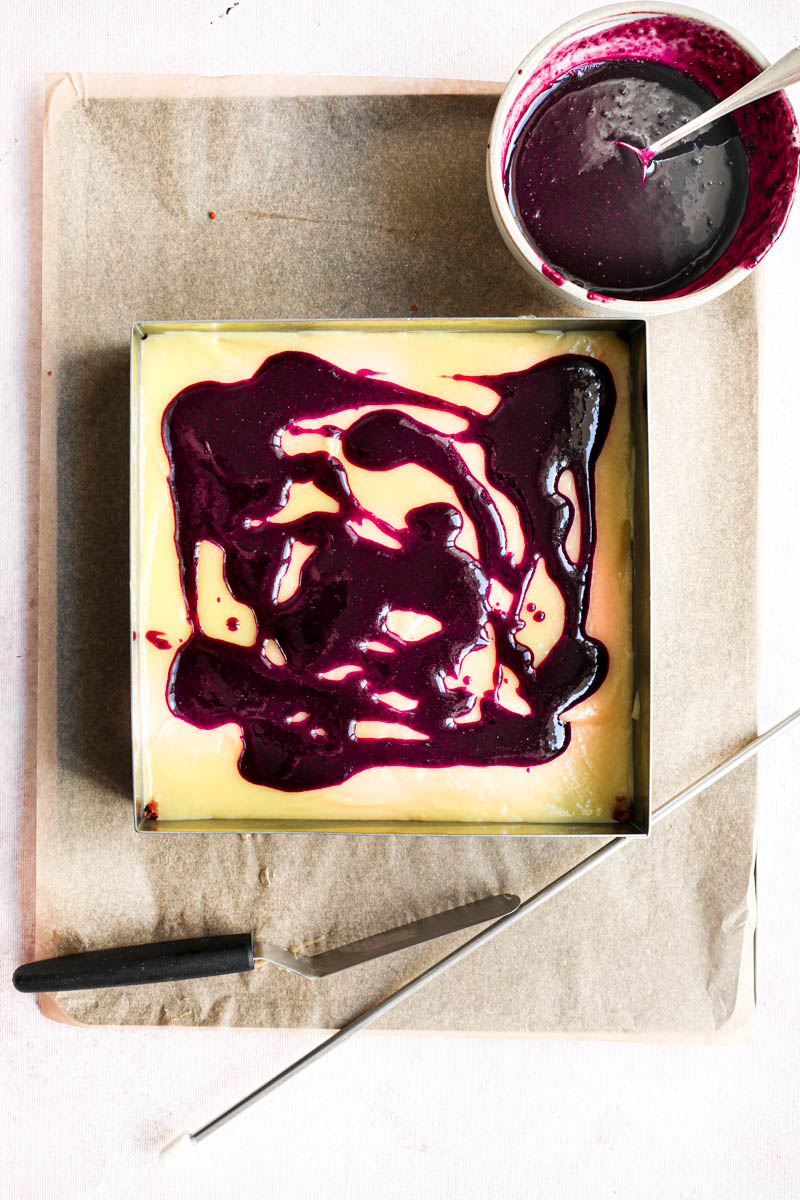 Recipe notes
To make the cookie crumbs you can either use a food processor or do it manually if you don't have one. Place the cookies inside a Ziploc bag, then using a rolling pin tap the bag until the cookies turn into crumbs! It is kind of therapeutical too!
When making the blueberry sauce, as it is a small quantity, it goes very fast. Stay close and don't let it get too thick, or you'll end up with a jam like consistency. Not to liquid either because it will also make your lemon cream a little runny.
After you bring the lemon juice, zest and butter to a boil pour over the eggs/corn-starch/sugar mixture and whisk until combined. Strain this mixture over the pan and bring to a boil once again. This will help remove any egg impurities present in the cream and make your cream extra smooth!
Gelatine must be hydrated in ice cold water for about 10 minutes. Then squeezed to remove excess water before mixing into the lemon cream.
Use an off-set spatula to evenly spread the lemon cream over the crust.
Using a spoon cover the lemon cream with little drops of blueberry sauce. Then use a knife or skewer to swirl the sauce into these tart lemon bars.
Let the creamy lemon bars refrigerate overnight. They must be eaten when very cold. It is a game changer.
Use a sharp knife to cut the square lemon bars
How to store lemon bars
This square lemon blueberry bars must be placed in a hermetic container and stored in the refrigerator. They keep for up to 4 days.
Can you freeze lemon bars?
These lemon bars can be frozen in an airtight container for up to 1 month.
To defrost: place in the refrigerator overnight.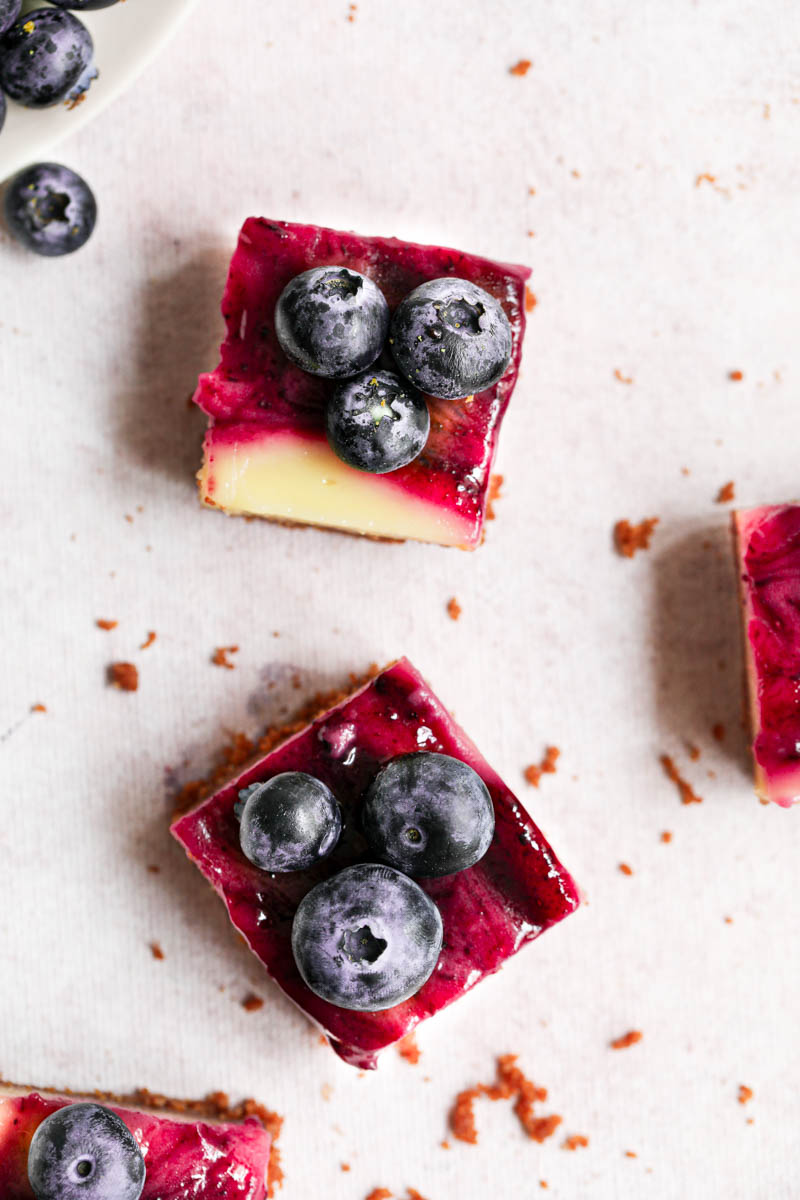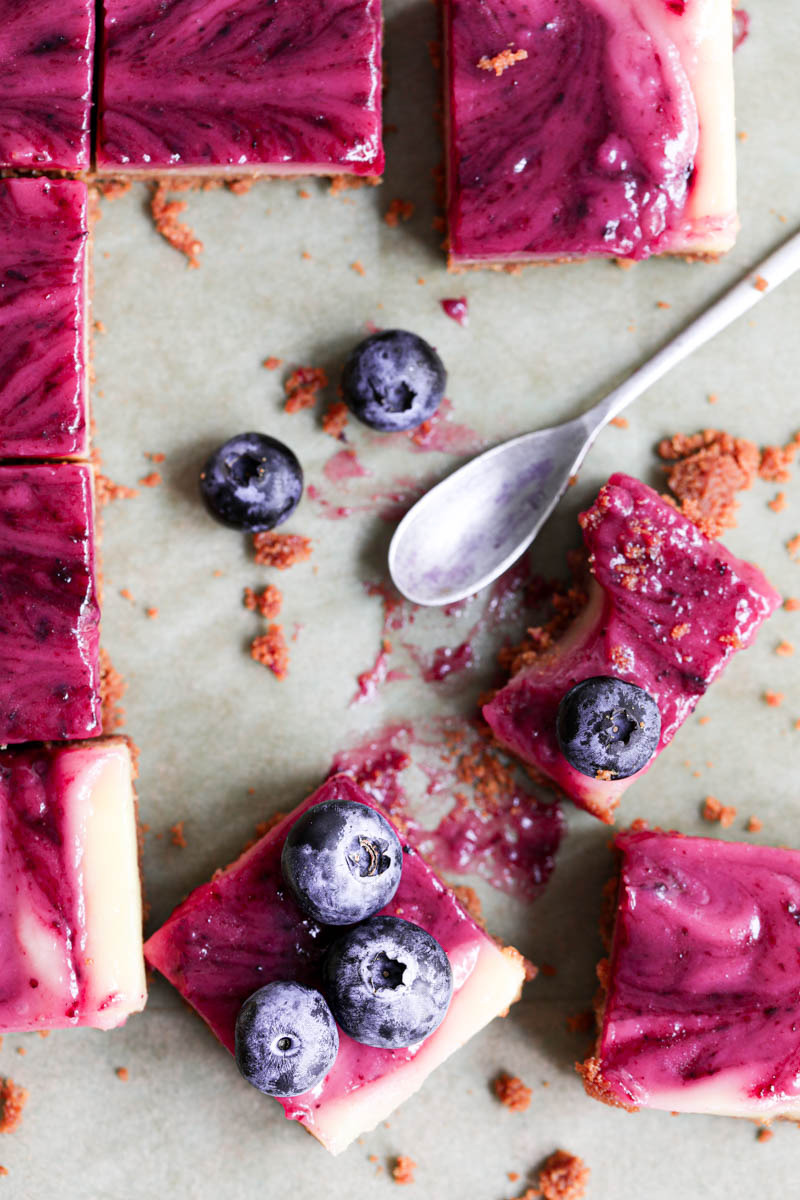 Making ahead
Cookie crust: you can prepare 1 day in advance
Blueberry sauce: can be made up to 5 days in advance. Remove from the fridge and if necessary warm up a little to lighten it up before swirling into the lemon cream.
Lemon cream: must be made once the cookie crust is ready to be able to spread it over it and properly set in the cake ring.
Variations to this no bake recipe
You can make these raspberry lemon bars by simply replacing the blueberries in this recipe with raspberries.
You can make this a simple lemon bars recipe by leaving out the blueberry sauce.
You can make these lemon bars with shortbread crust instead of using cookie crust.
The ingredients used in all recipes on this site are measured using the metric system. I use a
scale
to be precise with my measurements and ensure good results. If you would also like to use a scale, here are some:
USA
,
Canada
,
UK
,
Australia
,
France
.
Subscribe to the newsletter
Cookie Crust
Lotus Biscoff Buiscits

250 g

Butter

100 g
Lemon Cream
Lemon Juice

125 g

Lemon Zest (the zests of 3 lemons)

3

Butter

125 g

Eggs (large)

3

Sugar

120 g

Corn Starch

5 g

Gelatin Sheet (or gelatin powder 3 g)

1
Blueberry Sauce
Blueberries

75 g

Sugar

20 g

Water

15 g

Fresh Blueberries

125 g
If you made this recipe I would really appreciate it if you leave a rating or comment below! Also, if you share on social media please use #cookwithbelula, I would love to see what you create!