Lemon & Orange Brioche Easter Bread Wreath
This Brioche Easter Bread recipe, is made with a lemon and orange scented brioche, shaped aslike a wreath, topped with homemade pastry cream. It is also known as Rosca de Pascua.
This Easter Bread recipe is made with lemon & orange brioche dough that is shaped like a wreath and it is topped with homemade pastry cream. This lemon & orange Easter bread is simple, yet so flavourful. It is something that you can find in every pastry shop in Argentina around this time of the year, where it is known as "Rosca de Pascua". It smells heavenly. This Easter Bread ring can also be found in the south of France too.
What is Easter Bread?
It is a traditional bread eaten around Easter time in many European countries. It is usually shaped like a wreath and is made of sweetened yeasted dough. This recipe follows the Spanish and French tradition as it is topped with pastry cream and has butter in the dough.
Because European immigration in Argentina has been so important, many of our culinary traditions come from the old continent; as is the case with this Easter Bread.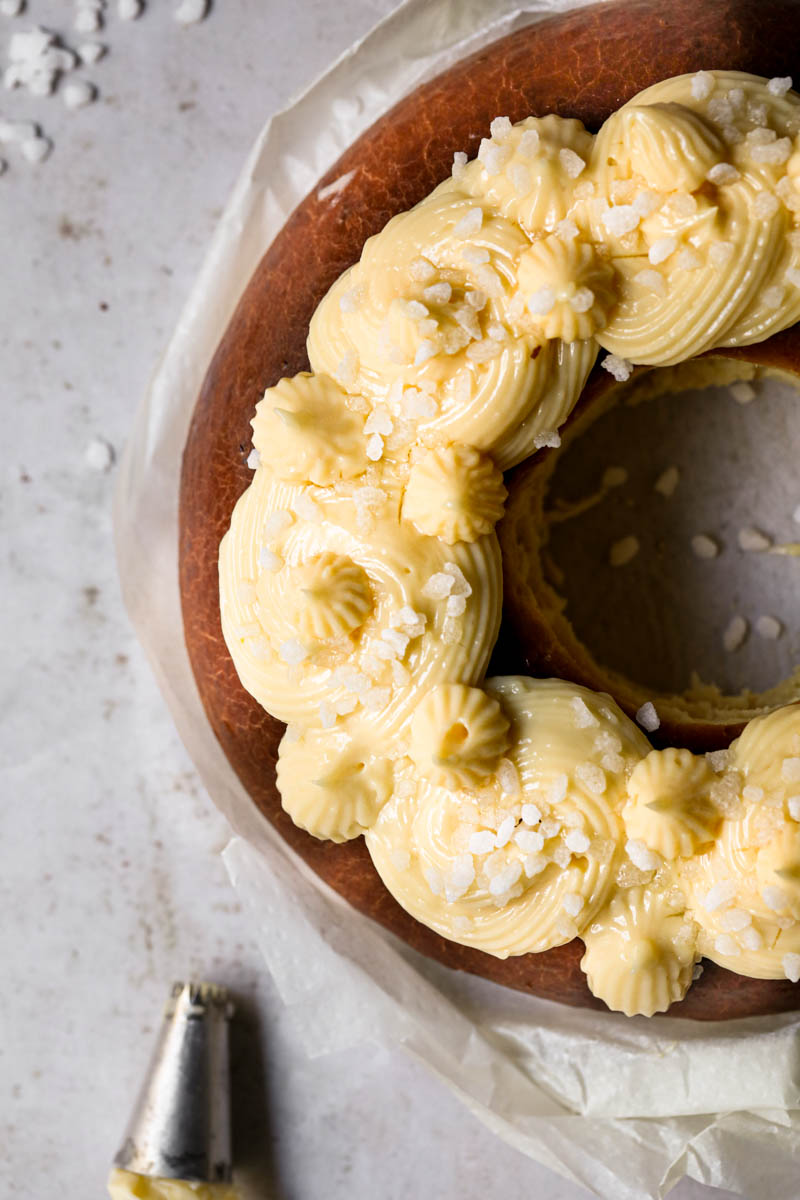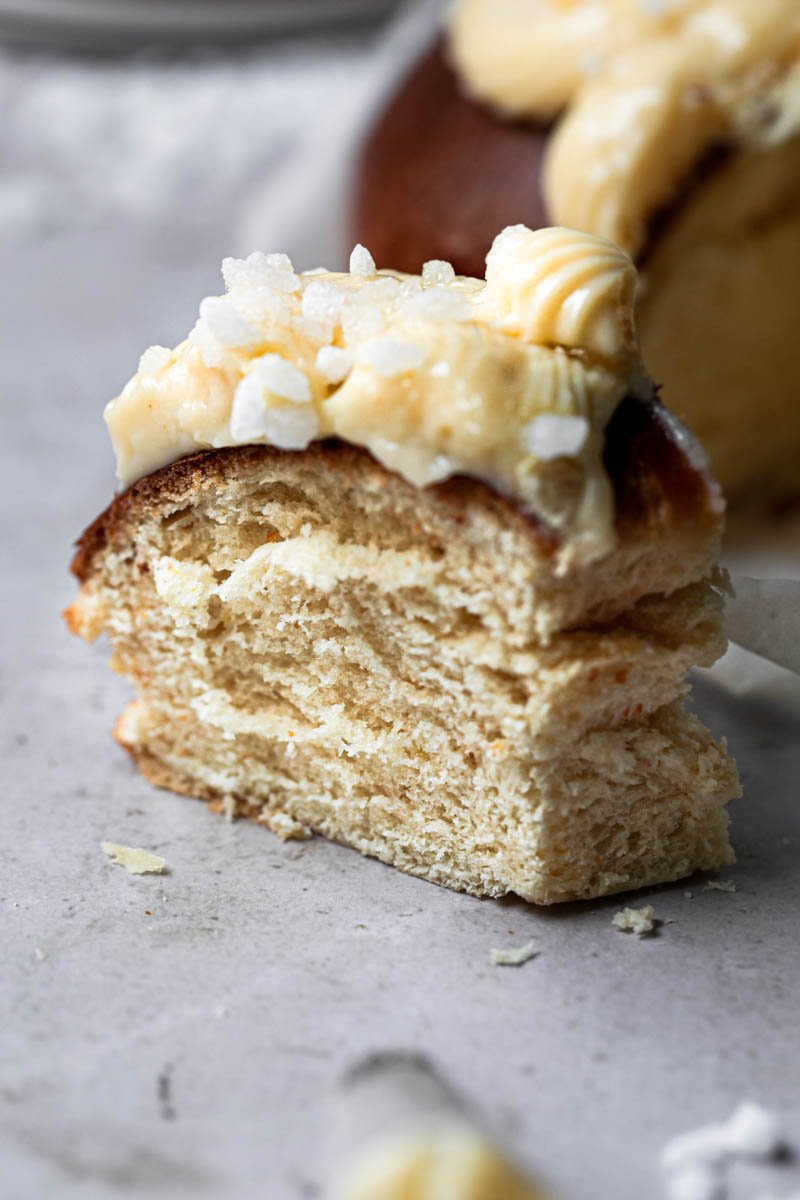 Ingredient notes
Fresh yeast: You can replace the 16 g of fresh yeast with 6.5 g of dry active yeast You multiply by 0.4 the amount of fresh yeast in any given recipe to obtain the amount of dry yeast it needs to be replaced with.
Citrus Zest: must be added in freshly grated, because otherwise it will dry out and lose much of its flavor..
Butter: should have at least 82% fat content and must be added cold into the dough.
Pastry Cream: if you make your own, which I highly recommend, you can find a great recipe here.
How to make this recipe
Make the lemon & orange brioche dough and refrigerate 24 hours.
Make the vanilla pastry cream.
Shape the dough into a wreath-like bread.
Let the Easter bread wreath rise.
Bake the brioche Easter Bread.
Top with pastry cream and pearl sugar.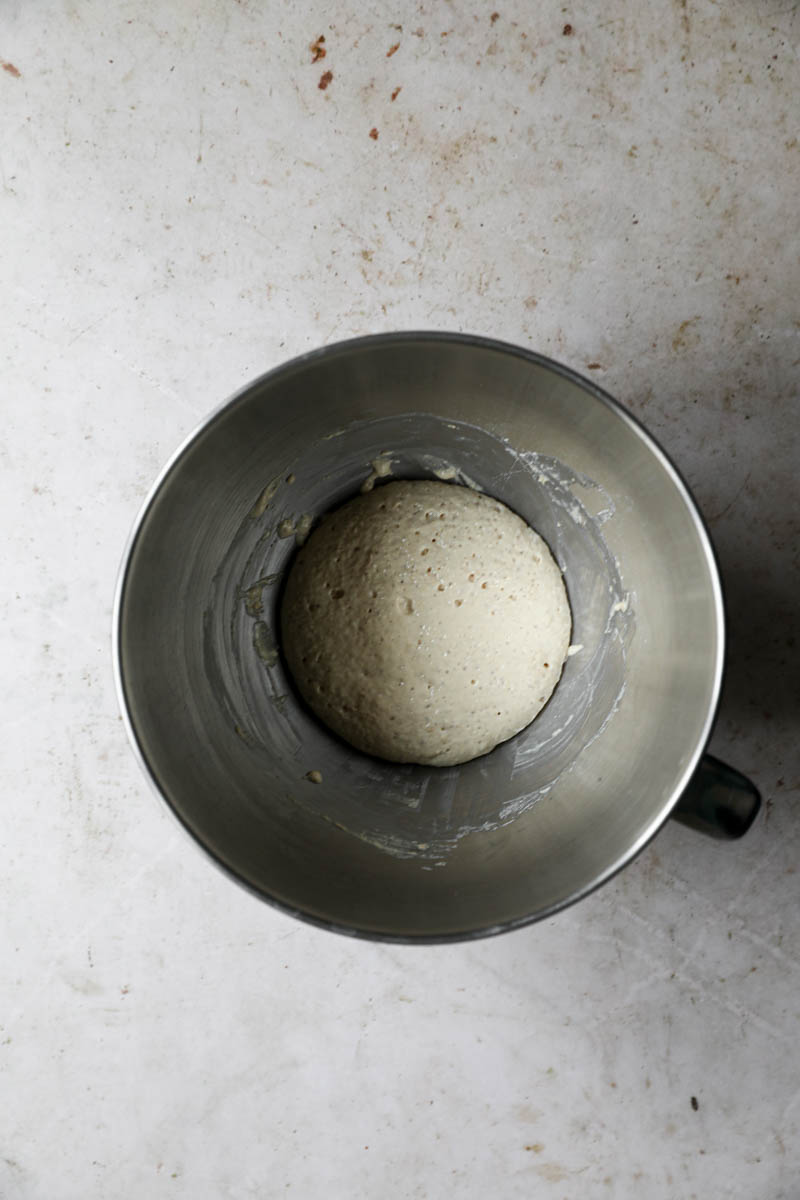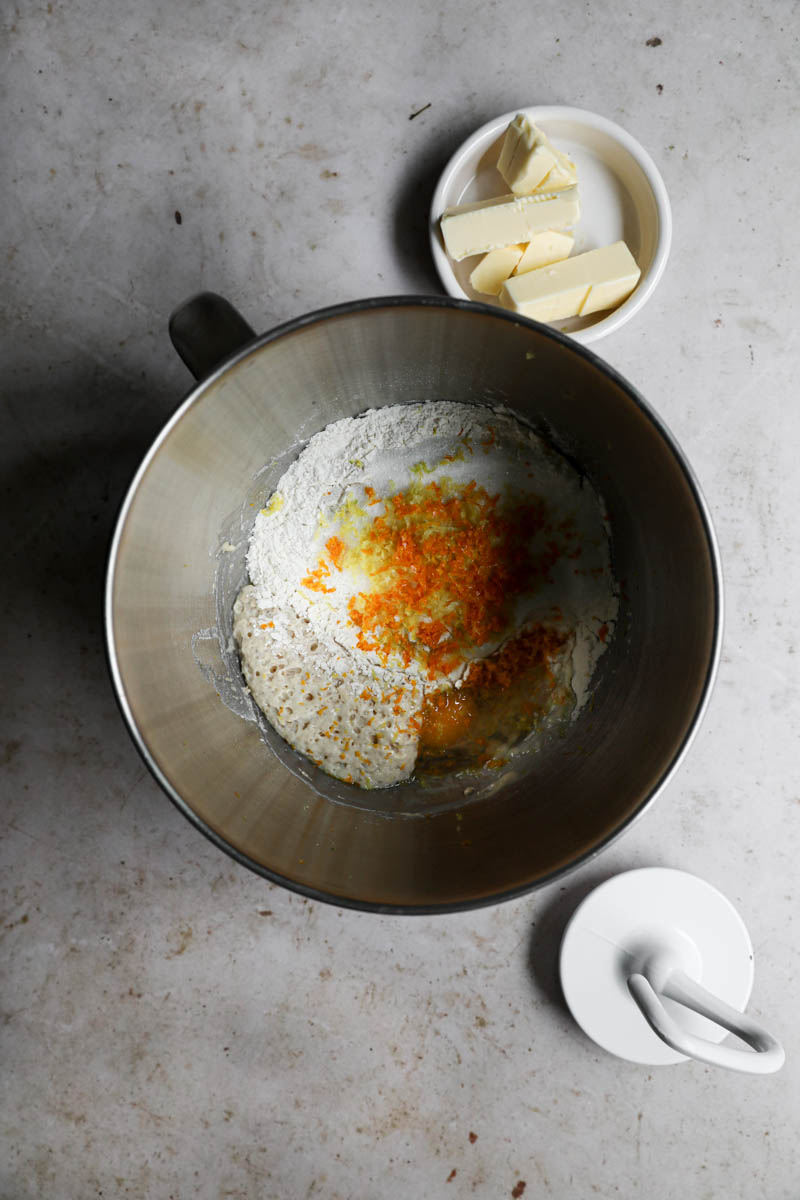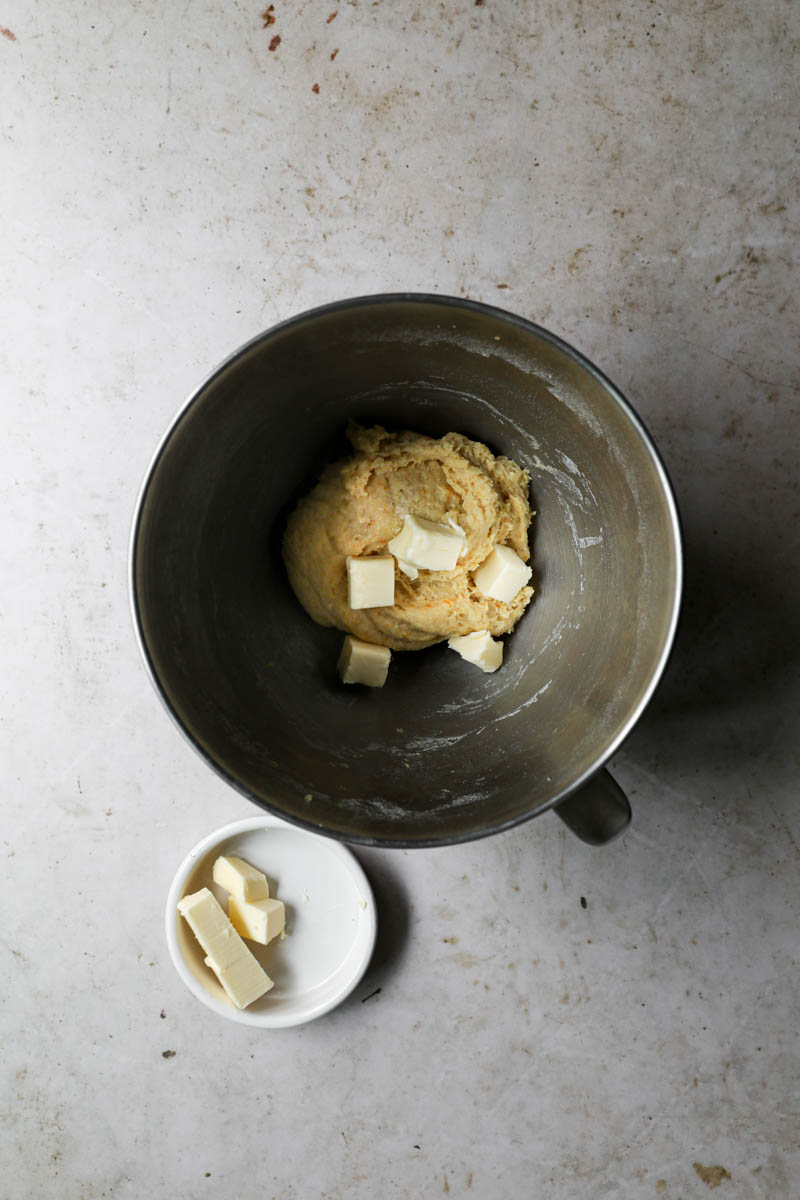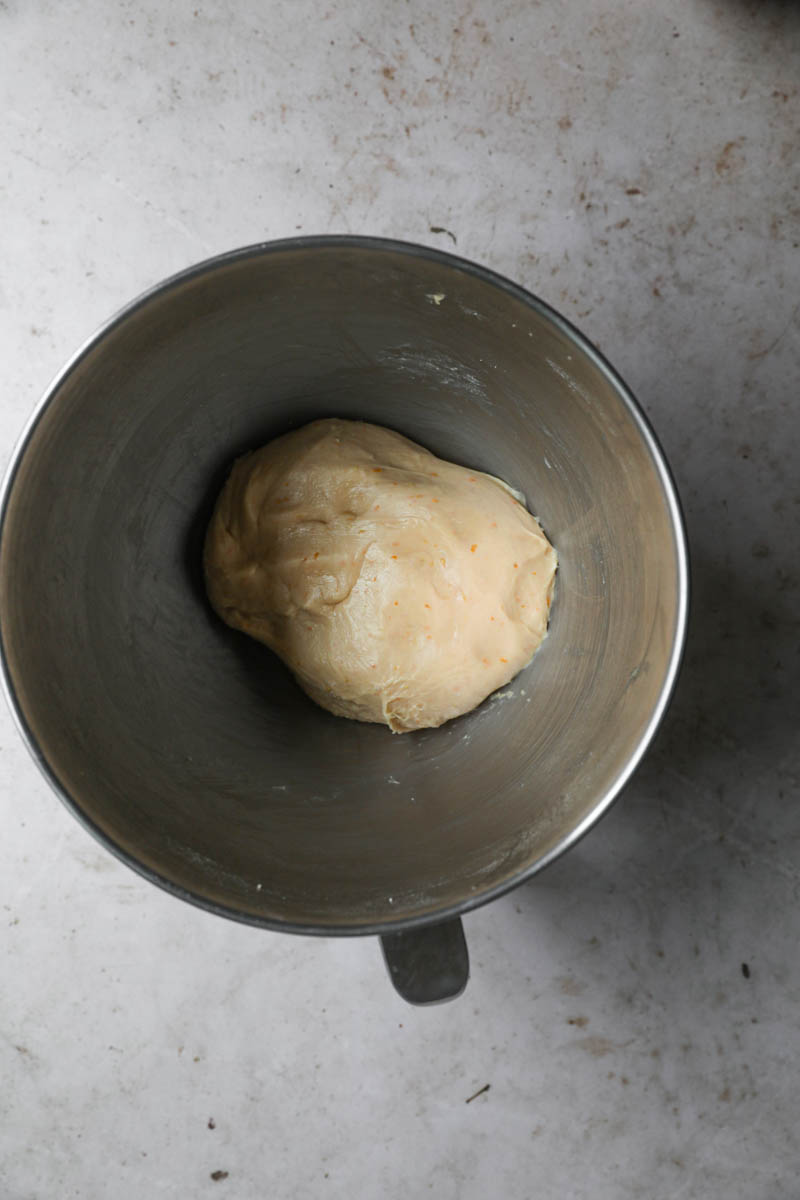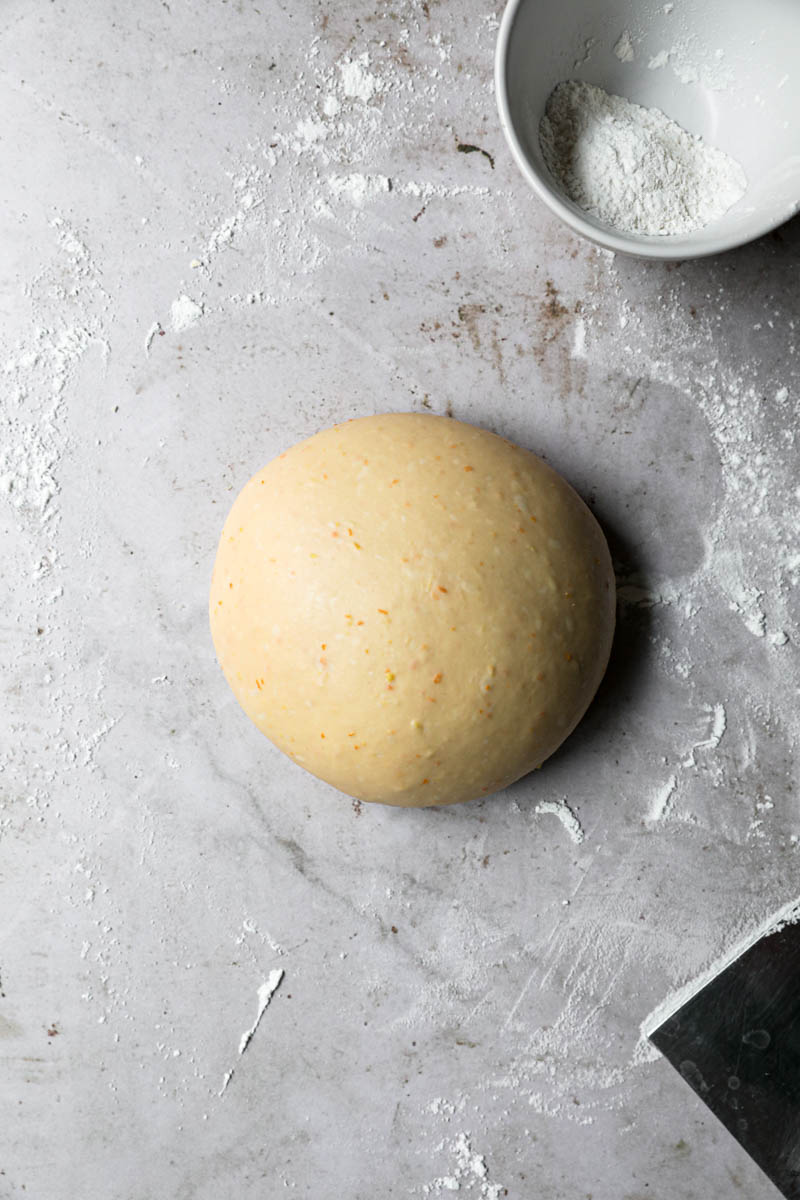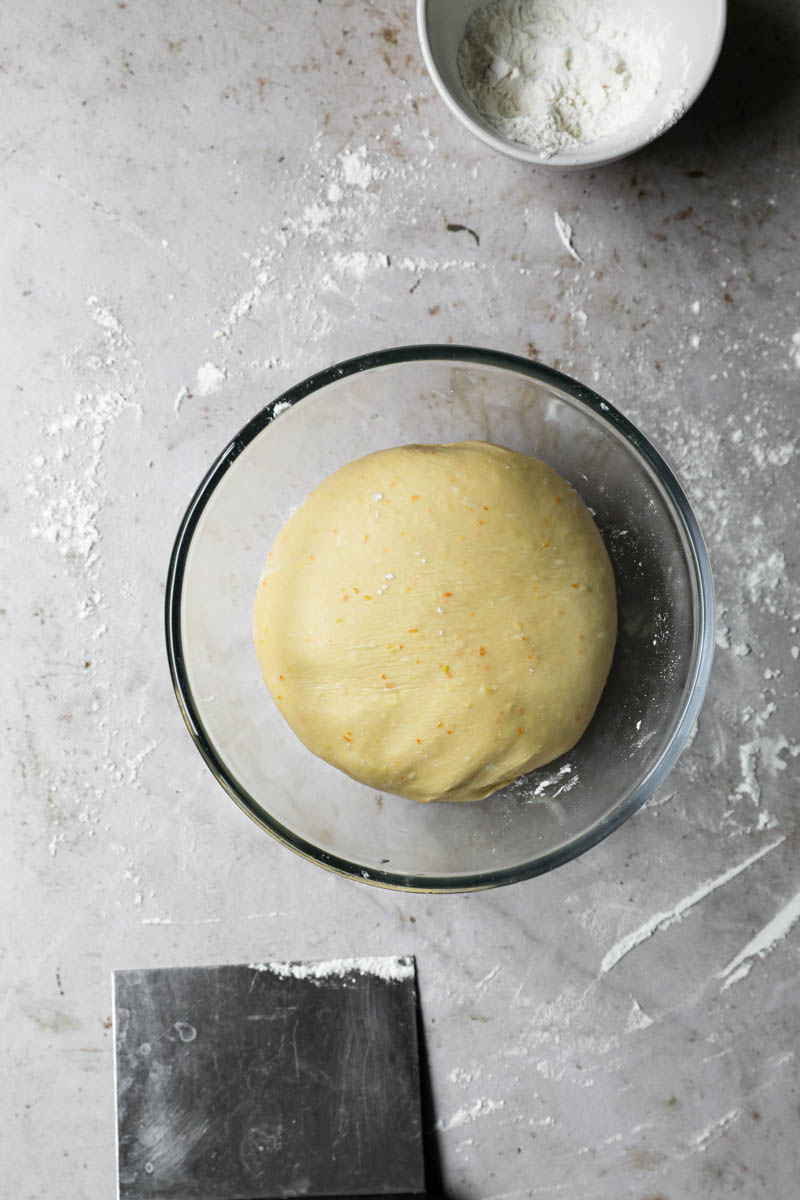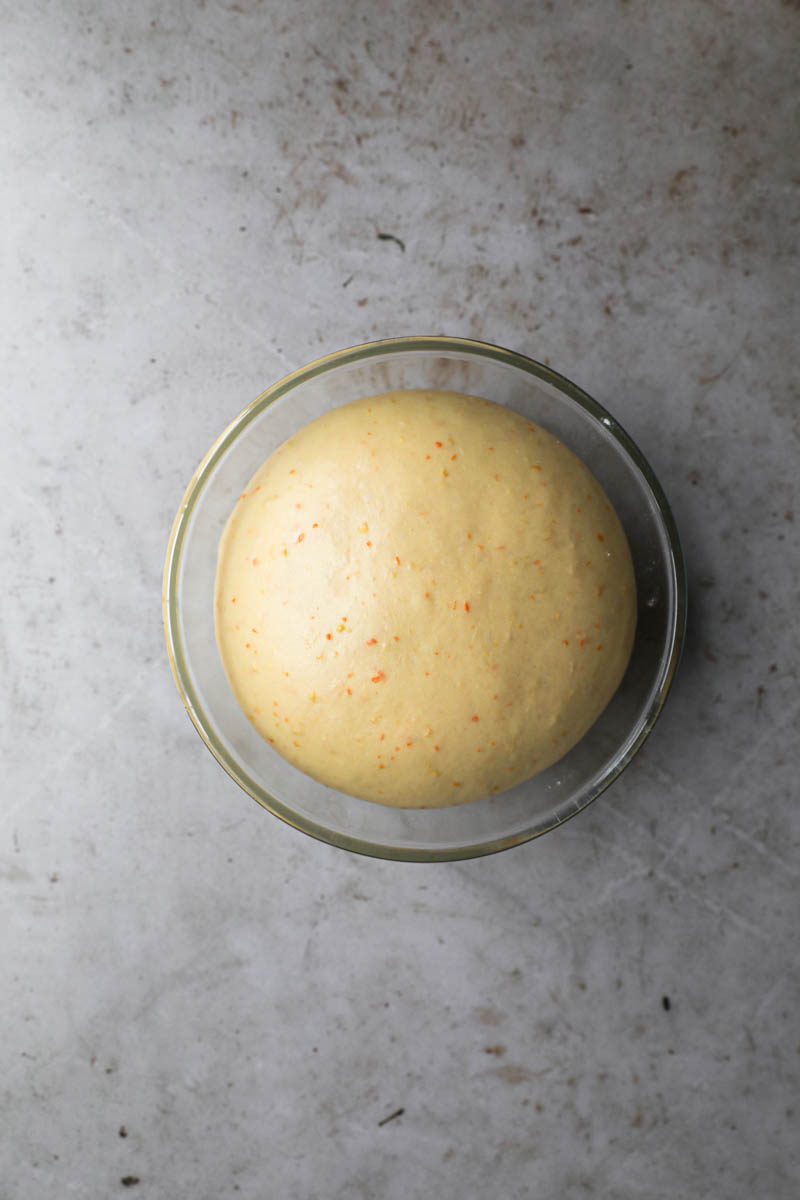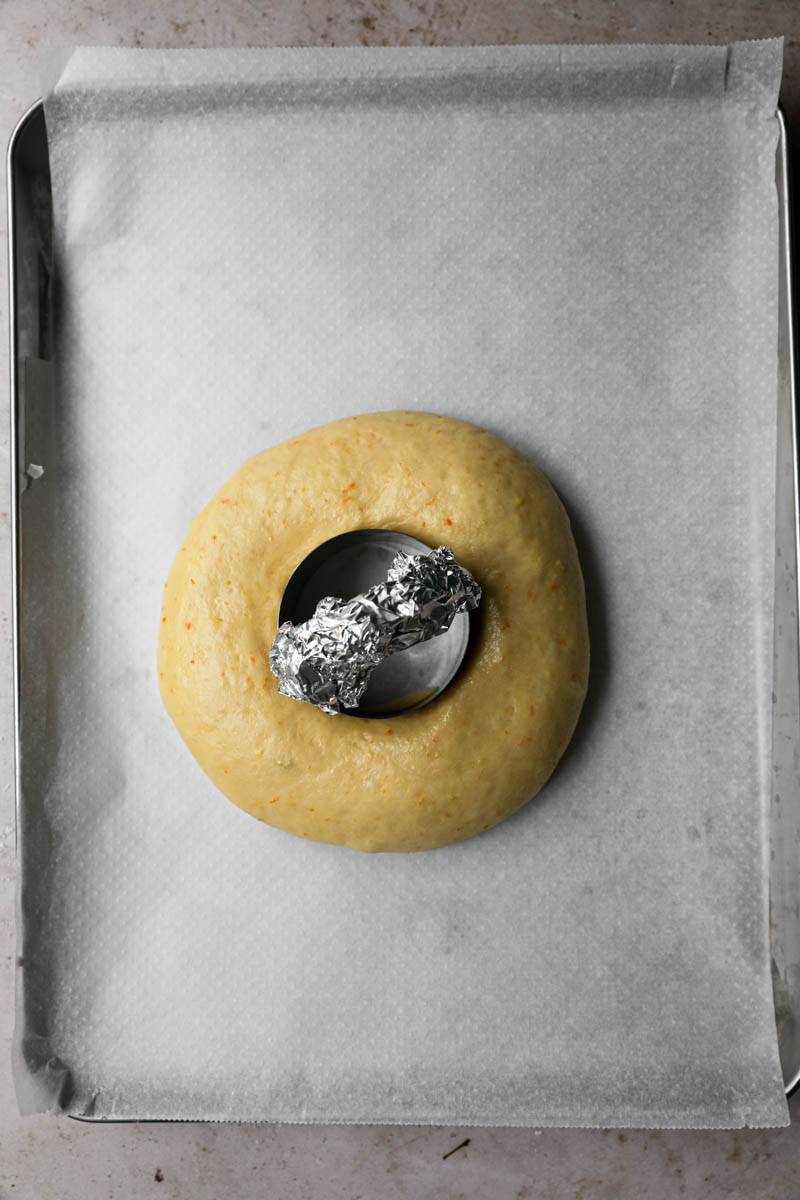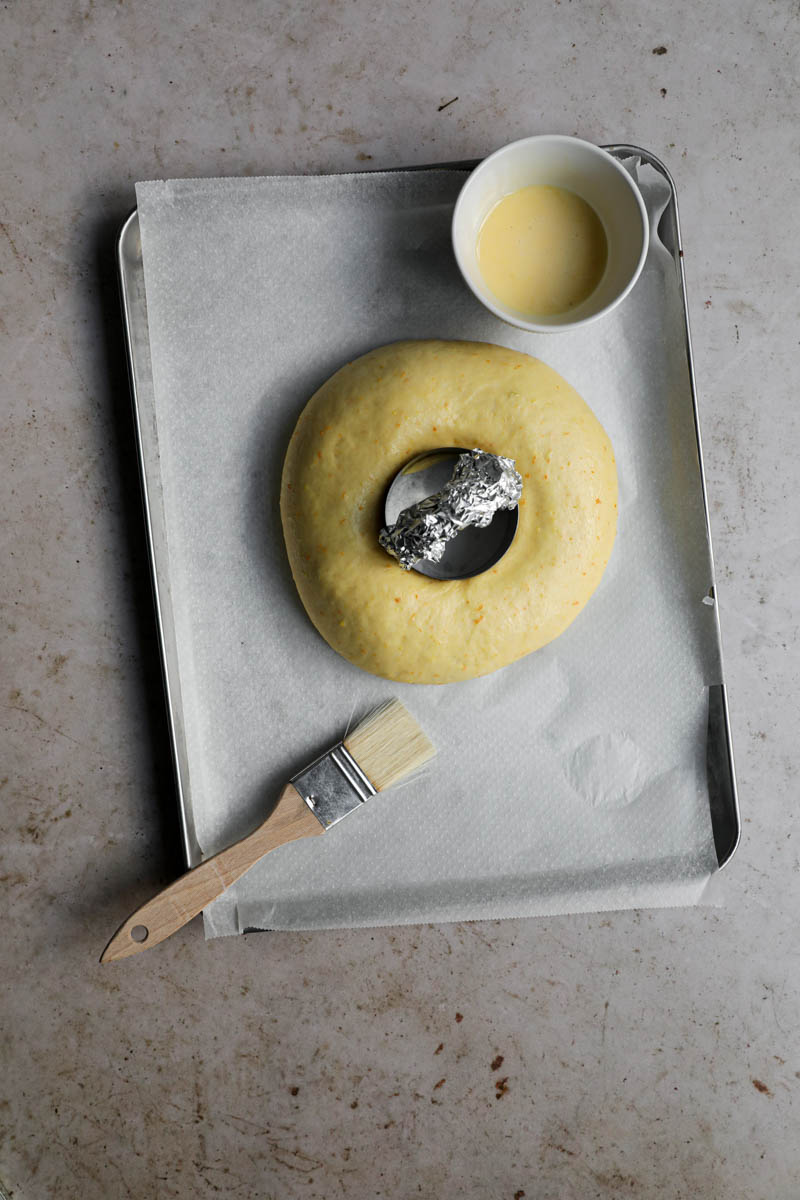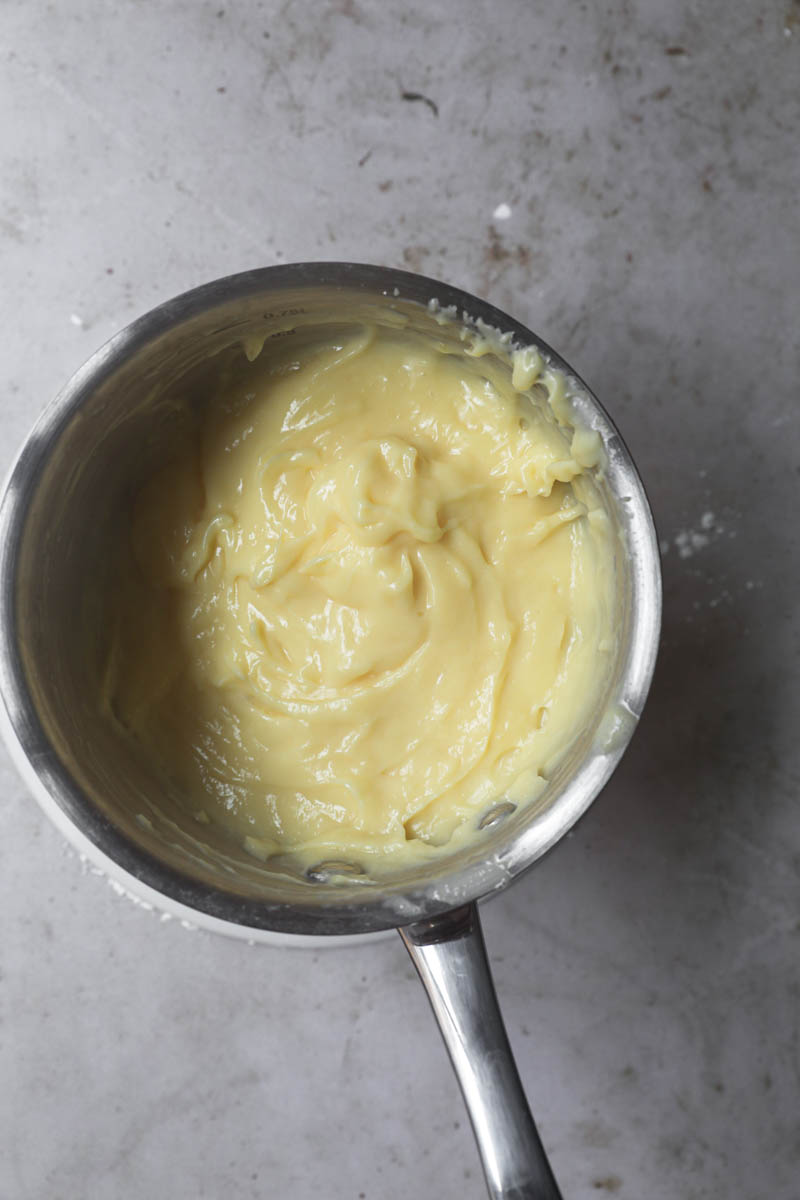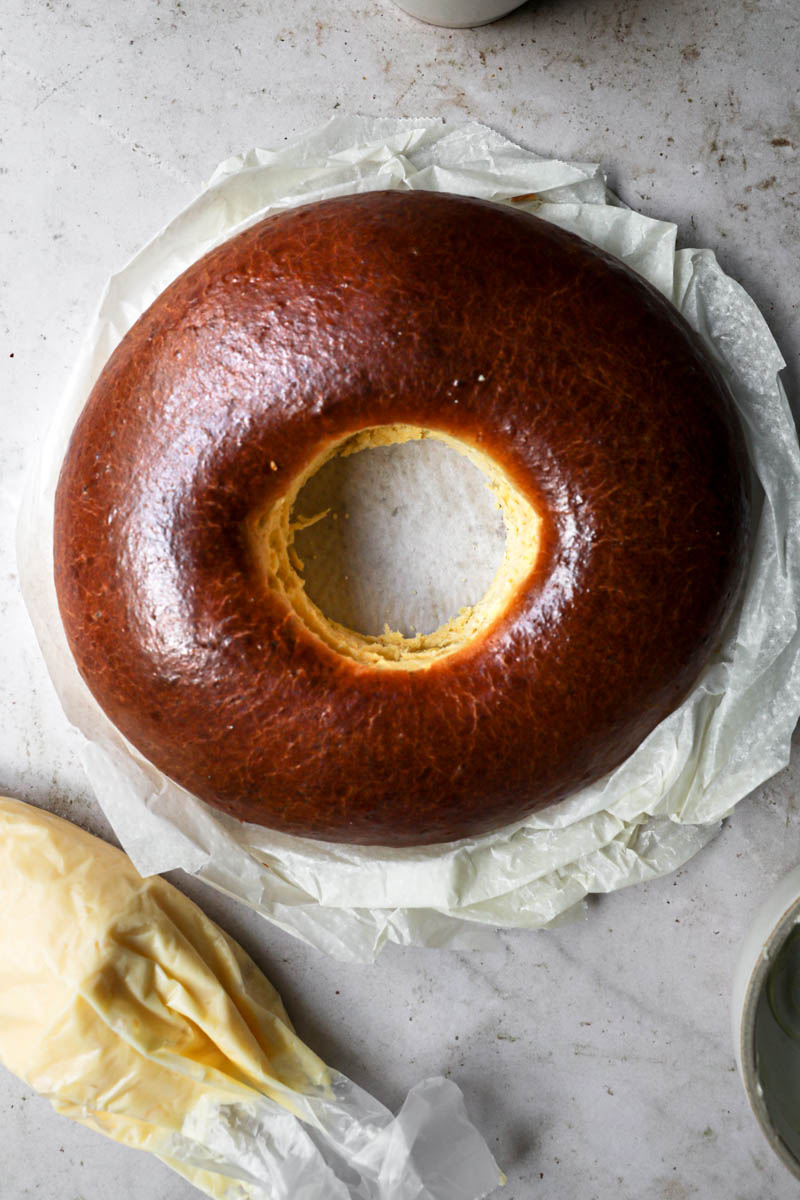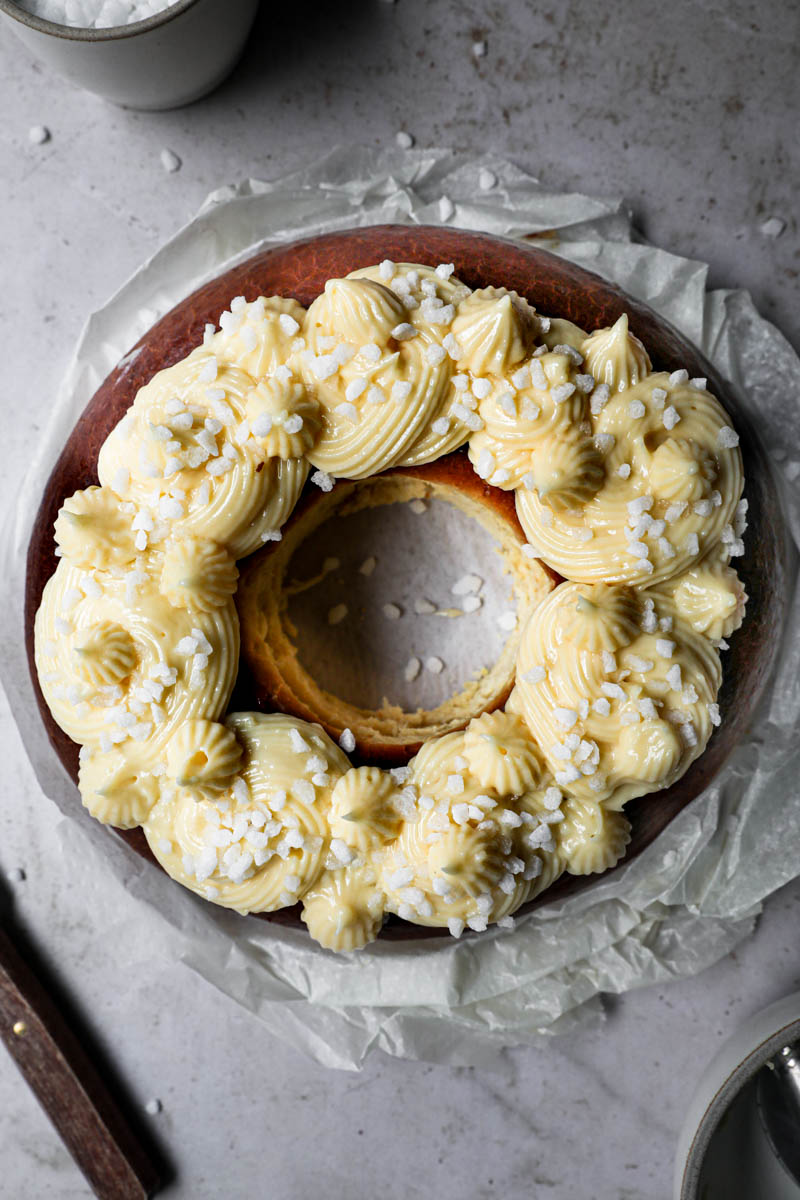 Recipe notes
I used this French brioche recipe for the Easter bread. I added lemon and orange zest for that extra citrus flavor.
Keep in mind the brioche dough needs to rest 24 hours in the refrigerator before you can shape it.
I used this basic vanilla pastry cream recipe and I removed the vanilla bean. You can get all the details and step-by-step explanations there.
Once you remove the dough from refrigerator, let it sit for 15 minutes before shaping it into a ball as it risks to break if too cold.
When shaping the dough work as fast as possible as brioche dough tends to get sticky when it loses temperature and becomes harder to work with.
Shaping happens in 2 stages: first, the dough needs to be shaped into a tight ball. You can watch how to do that here. Once that ball is super tight, you can proceed to shape this bread into a wreath.
Place the easter bread on a baking tray lined with parchment paper. Use both your hands to make a hole at the center of the brioche ball and place a small ring, old clean can or circular cutter in the hole to help hold its shape.
This metallic ring will hold the shape of the crown/wreath and prevent the dough from losing its shape during proving and while baking.
It is important to place the easter bread on a baking tray lined with parchment paper before making the hole at the center. Otherwise, it will lose its shape once you transfer it onto a baking tray!
The rising time after shaping the easter bread wreath is about 2 hours. Time is approximate as it will be directly impacted by the room temperature.
The ideal temperature is 29 C°, so if it's colder than that, rising time will be longer and vice versa.
What you are looking for is that the brioche wreath has grown more than twice its size.
If air bubbles forming at the top of the dough, it means proofing time has gone too far.
Baking time will depend on the oven and the dough. Be attentive to its coloration and check regularly after 30 minutes have gone by.
You can top this Easter Bread with the pastry cream once it has completely cooled down.
Smooth the pastry cream using a whisk when you are ready to use.
You can use a piping bag to decorate this Easter bread. However, if you are not comfortable using a piping bag, you can use a spoon or an off-set spatula to do this.
Storage tips
This Easter bread should be kept at room temperature. It keeps for up to 4 days without the pastry cream. After that it becomes stale. You can use the old bread to make this bread pudding.
Once you have topped the wreath Easter Bread with the pastry cream it must be eaten immediately.
Once you have sliced it open, cover the edges with saran wrap to prevent it from drying out.
Freezer instructions
I don't recommend freezing this Easter bread wreath because of the pastry cream, as it doesn't freeze well.
Variations to this recipe
There are two ways to serve this delicious Easter bread wreath. It is all about the pastry cream:
You can top the bread after it has been baked and once you are ready to have this dessert. Or,
You can bake this Easter Bread with the pastry cream.
I prefer the option I present here, with the fresh pastry cream added on top of the Easter bread once it has been baked.
However, if you prefer to add the pastry cream before the Easter bread wreath has been baked, this is how you can do it:
Once you have shaped the dough and have made the whole at the centre, using he tips of your fingers gently press down the dough to flatten it out.
Bush with egg wash, and let it dry for about 10 minutes.
Now decorate with pastry cream and the pearl sugar.
Let it rest covered for 45 minutes, or until it has doubles in size.
Bake as instructed in the recipe.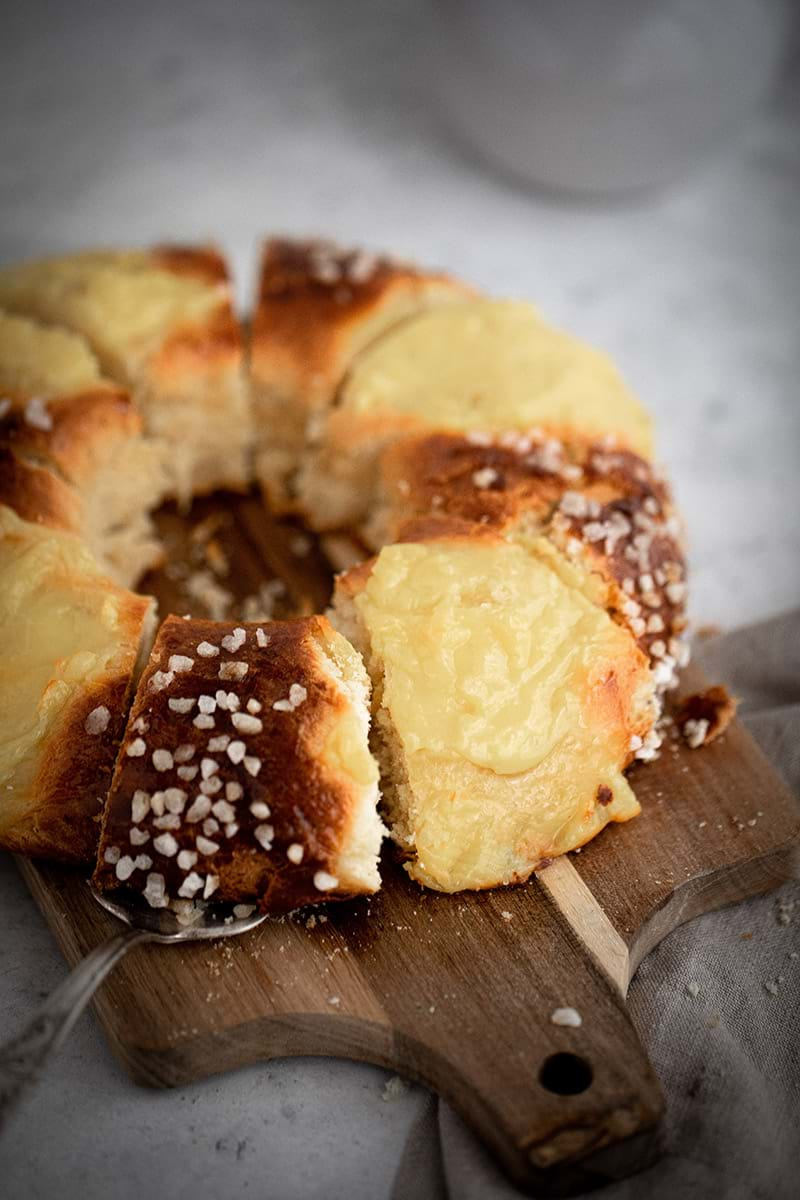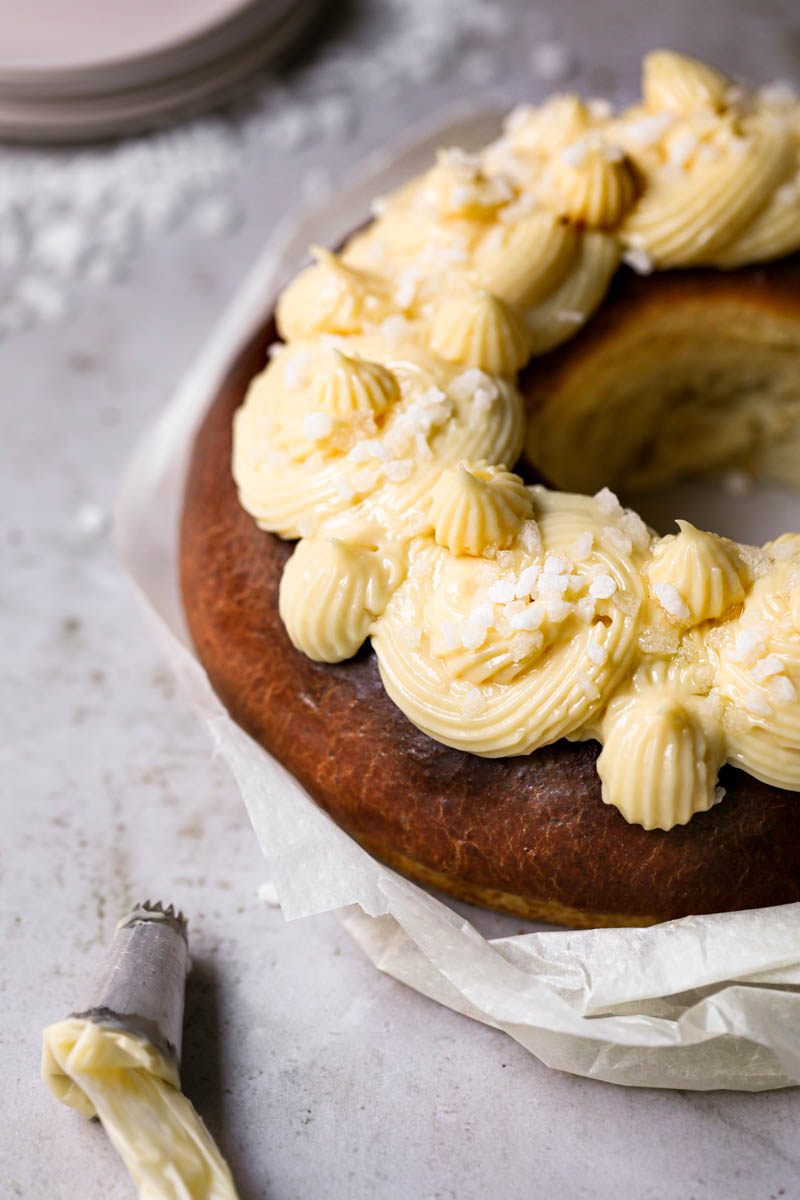 The ingredients used in all recipes on this site are measured using the metric system. I use a
scale
to be precise with my measurements and ensure good results. If you would also like to use a scale, here are some:
USA
,
Canada
,
UK
,
Australia
,
France
.
Subscribe to the newsletter
Total Time:
3 hours 30 minutes
---
Brioche Easter Bread Dough
Milk

10 g

Yeast (dry)

8 g

Eggs

2

Salt

1 pinch

Granulated Sugar

20 g

Bread Flour

200 g

Unsalted Butter

100 g

Lemon (the zest of 2 lemons)

2

Orange (the zest of 2 oranges)

2
Pastry Cream
Milk

125 g

Egg Yolks

2

Granulated Sugar

30 g

Cornstarch

10 g
Decoration
Egg Wash
Eggs

1

Egg Yolks

1

Salt

1 pinch
If you made this recipe I would really appreciate it if you leave a rating or comment below! Also, if you share on social media please use #cookwithbelula, I would love to see what you create!