There are all kinds of plums at the Parisian markets right now, Reine Claude, red plums, little plums, and my favourite kind: Mirabelle plums. They are small bites of heaven. They remind me of my friend Simon, and his mom. It was her who first introduced me to Mirabelle plums many years ago, when I came to Paris as an exchange student to Sciences Po. They are as good now as they were then. And they taste great in this almond plum tart. Hope you like it.
What are Mirabelle plums?
Mirabelle plums are a small yellowy fruit, that is very sweet and are grown in the Lorraine region of France. If you would like to know more about them check Mirabelle Plum Care: How To Plant Mirabelle Plum Trees.
What can you make with Mirabelle plums?
You can make this Mirabelle plum tart or Mirabelle jam which I like with vanilla bean seeds too. Or you could enjoy them fresh with a scoop of vanilla ice cream.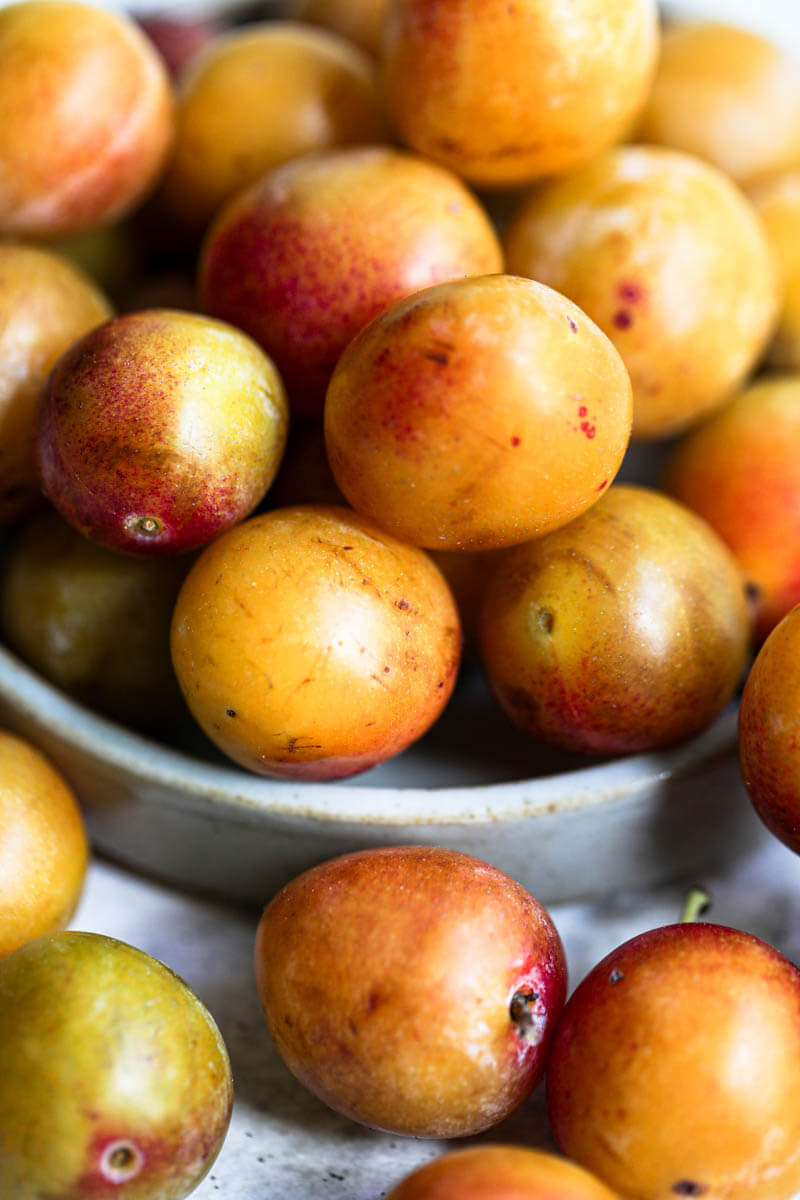 How to make this orange shortbread crust?
You can make this orange shortbread crust either using a stand mixer or by hand.
With a stand mixer:
First beat the butter until it obtains the consistency of mayonnaise (beurre pomade to use French terminology, or softened butter). Then add the sugar and orange zest and mix until incorporated.
Then add the egg, salt and 1/3 of the flour and mix until incorporated. Remember to scrape down the sides of the bowl.
Finally add the rest of the flour and mix until it is incorporated into the dough (about 30/45 seconds). Do not mix very long because we want to prevent the activation of the gluten in the flour, as we do not want the dough to become elastic (it will shrink when in the oven)!
By hand:
Using your fingertips mix the dry ingredients, the orange zest and the cold butter cut into cubes until you obtain a breadcrumb consistency.
Make a well at the center and add in the egg. Incorporate using one finger or a spatula.
Transfer the dough onto your countertop and finish putting together the shortbread crust my smearing the dough using the palm of your hand. You can see how to do that in this video Almond Shortcrust Pastry.
In both cases form a rectangle 2 cm high and refrigerate covered for a minimum of 2 hours before rolling it out.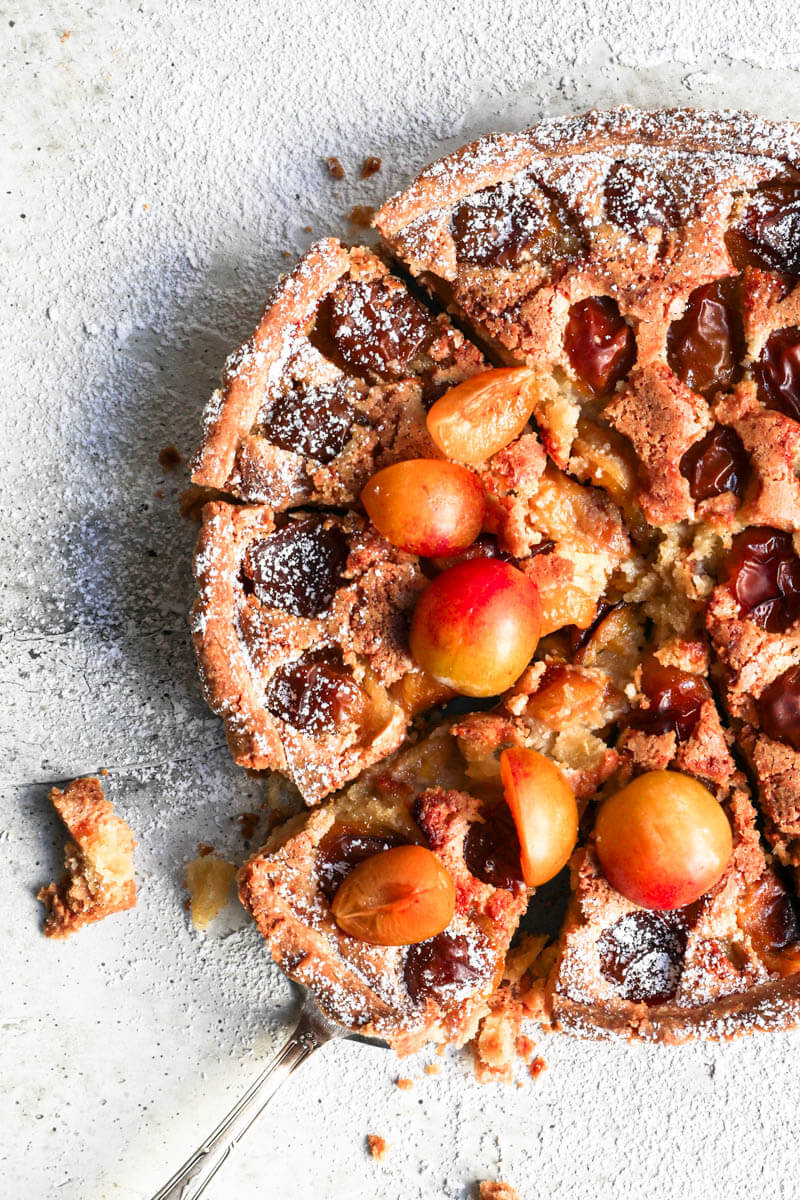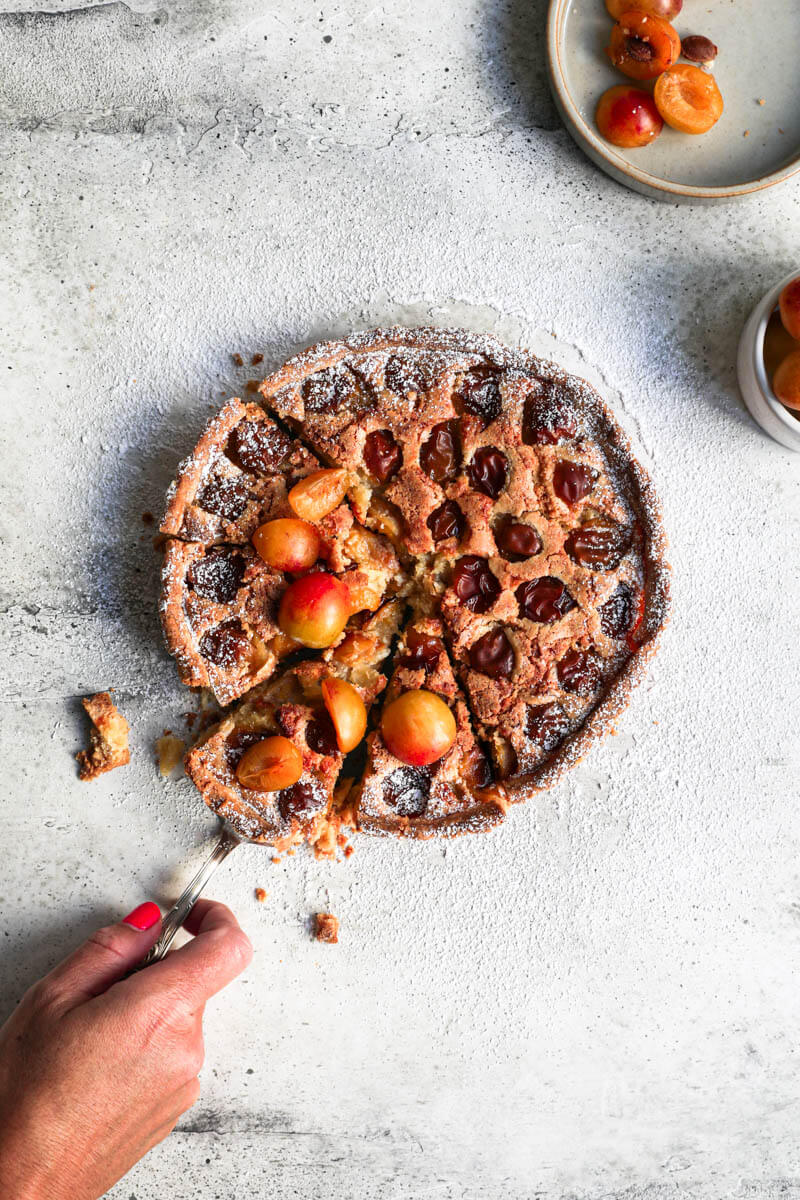 How to make almond cream?
This is probably the easiest recipe out there. You simply must:
Bring the butter to the consistency of mayonnaise. In other words, make softened butter.
Mix in the sugar, almond flour, and the flour until incorporated. Just for a couple of minutes.
Finally add the egg. And one tablespoon of rum if you like it too!
What is softened butter a.k.a beurre pommade?
Softened butter is butter brought to the consistency of mayonnaise by letting it come to room temperature (about 19 to 20 C°).
How to make softened butter?
You can use the microwave to make softened butter, by heating it up in slots of 10 seconds. Make sure to mix in between each slot to prevent it from melting.
Or if you live somewhere where it is hot leave it outside the fridge for 30 minutes. That should do the trick!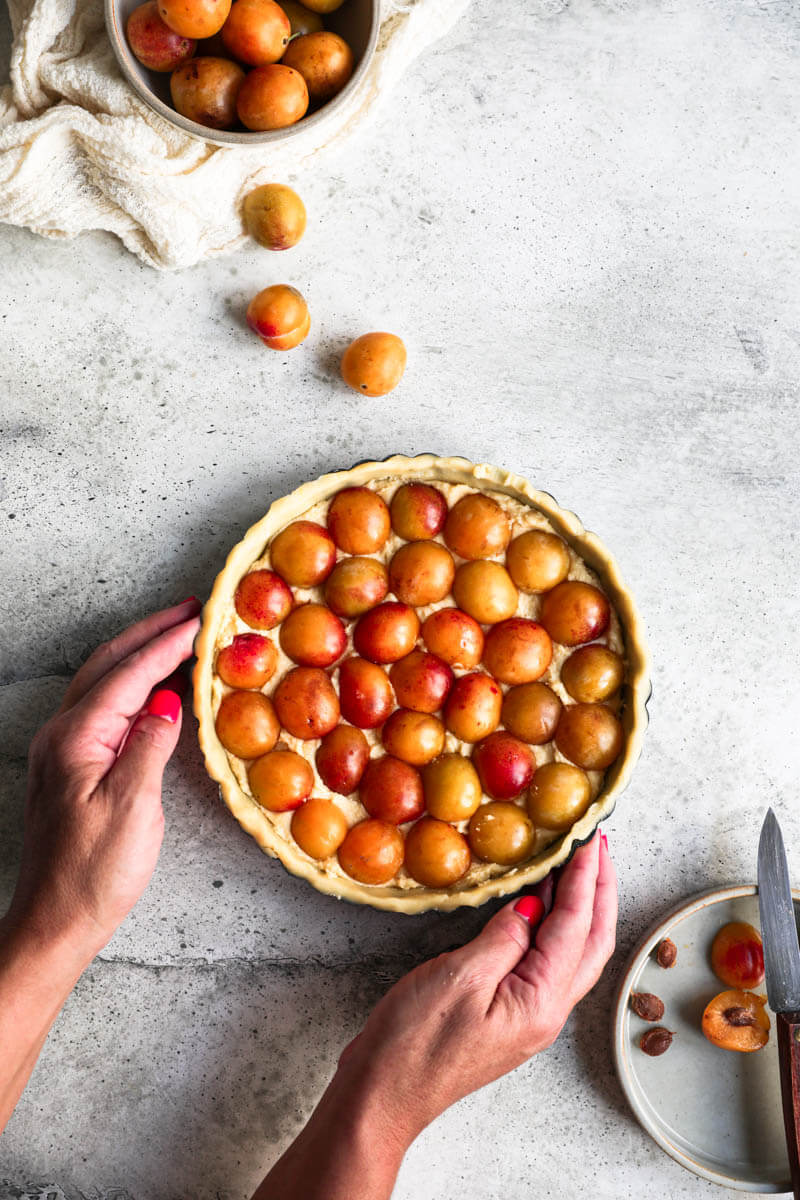 How to assembly this Mirabelle plum tart?
Only 4 easy steps:
Roll out the dough and line the tart tin.
Fill the bottom with a thin layer of the almond cream. In this case you will use all the cream.
Top with the Mirabelle Plums.
Bake until golden!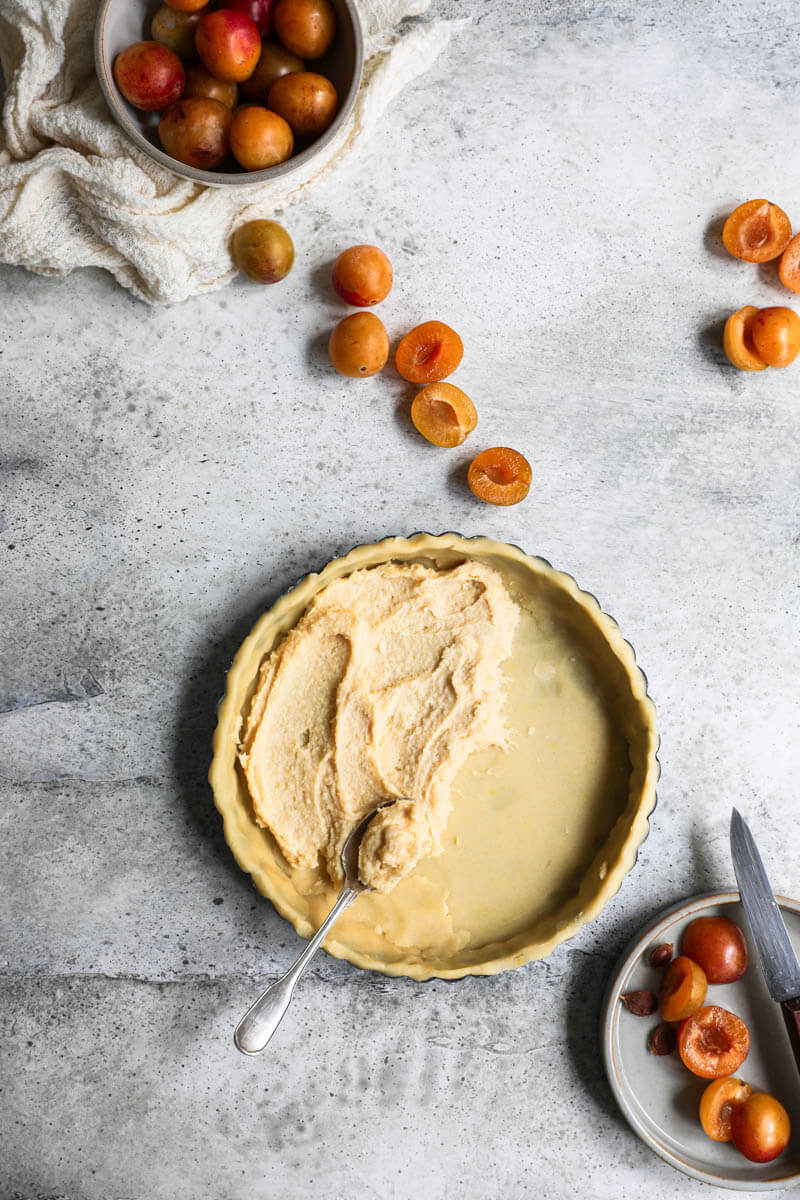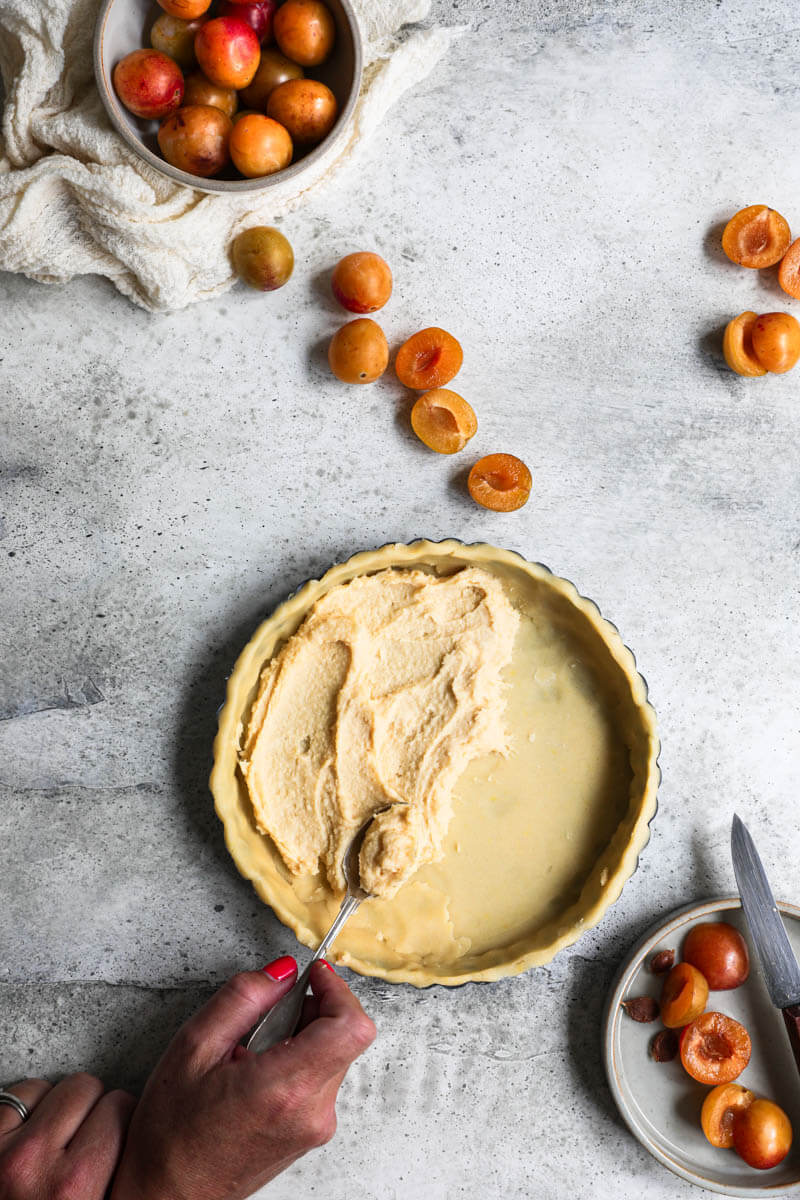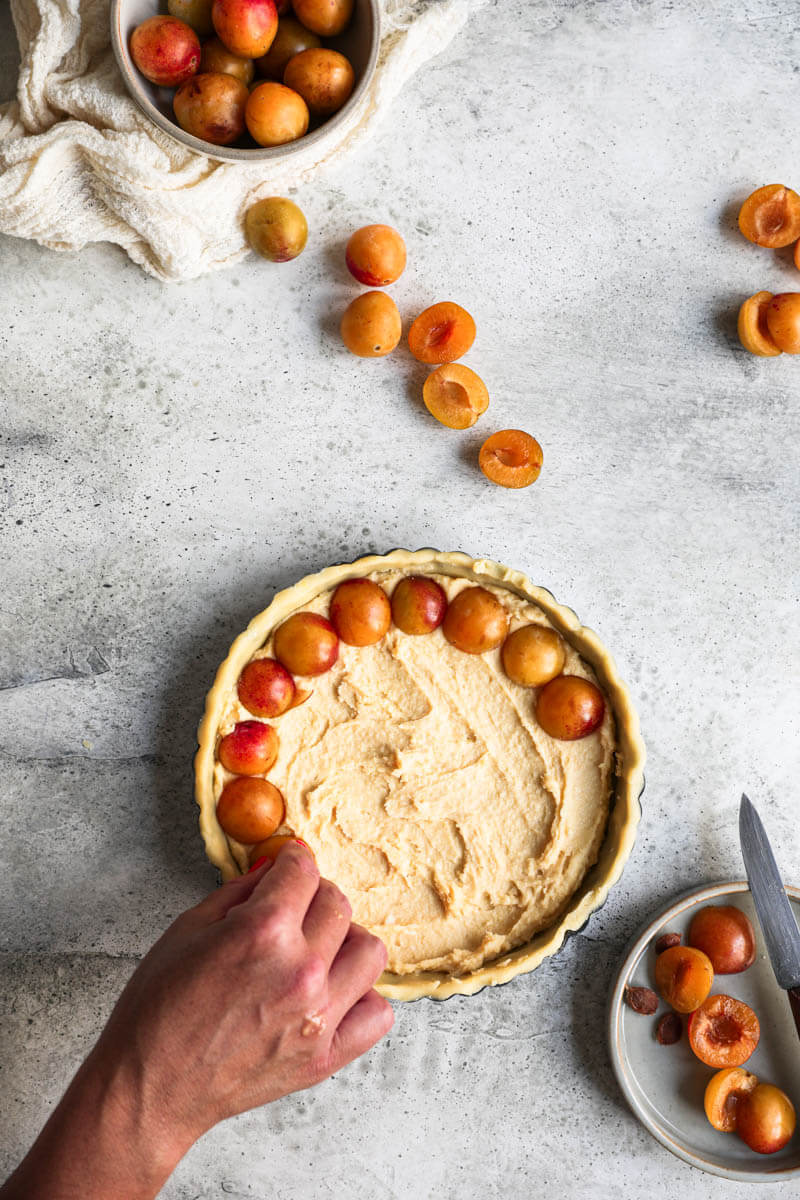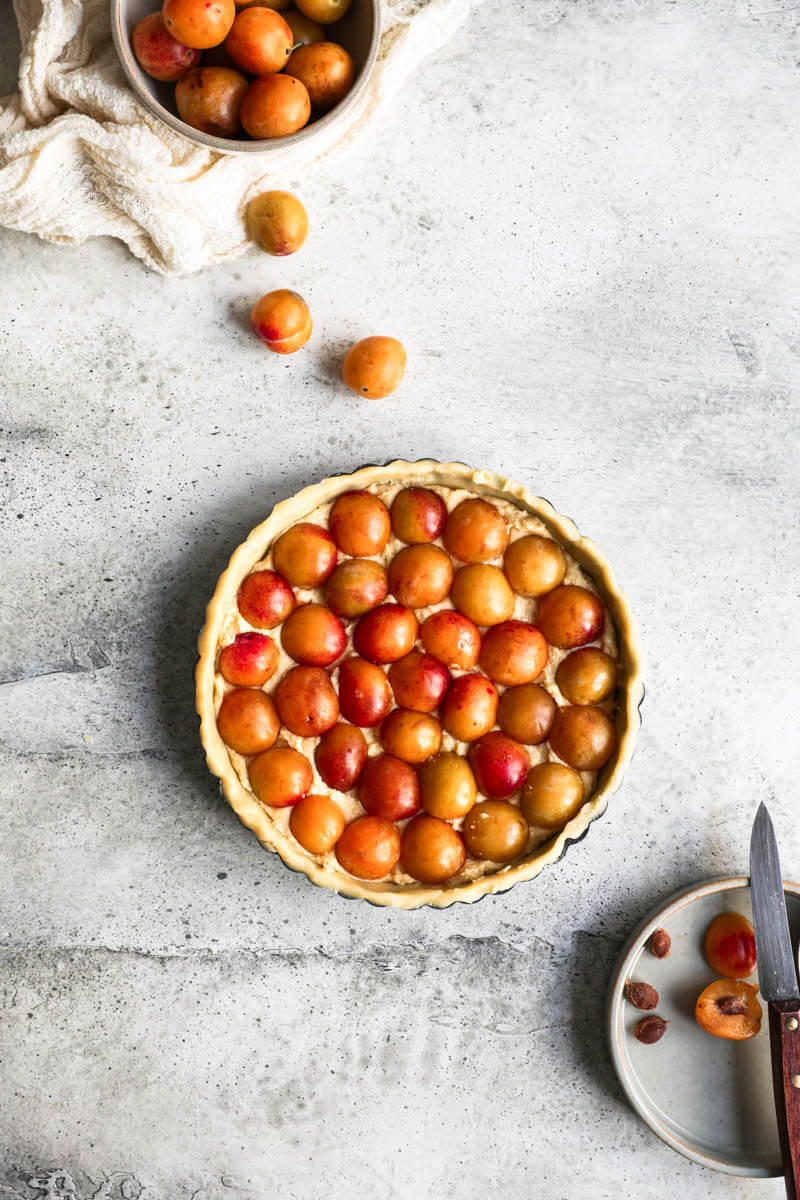 Variations to this delicious end of the summer sweet tart
You can replace the Mirabelle plums for any other kind of plums you can get or like. By any another kind of stone fruit actually! They will all taste amazing: apricots, peaches, nectarines!
You can turn the almond cream into a frangipane cream by adding pastry cream (ratio is 2/3 almond cream to 1/3 pastry cream). You can find a delicious recipe of pastry cream here Gateau Basque Cake.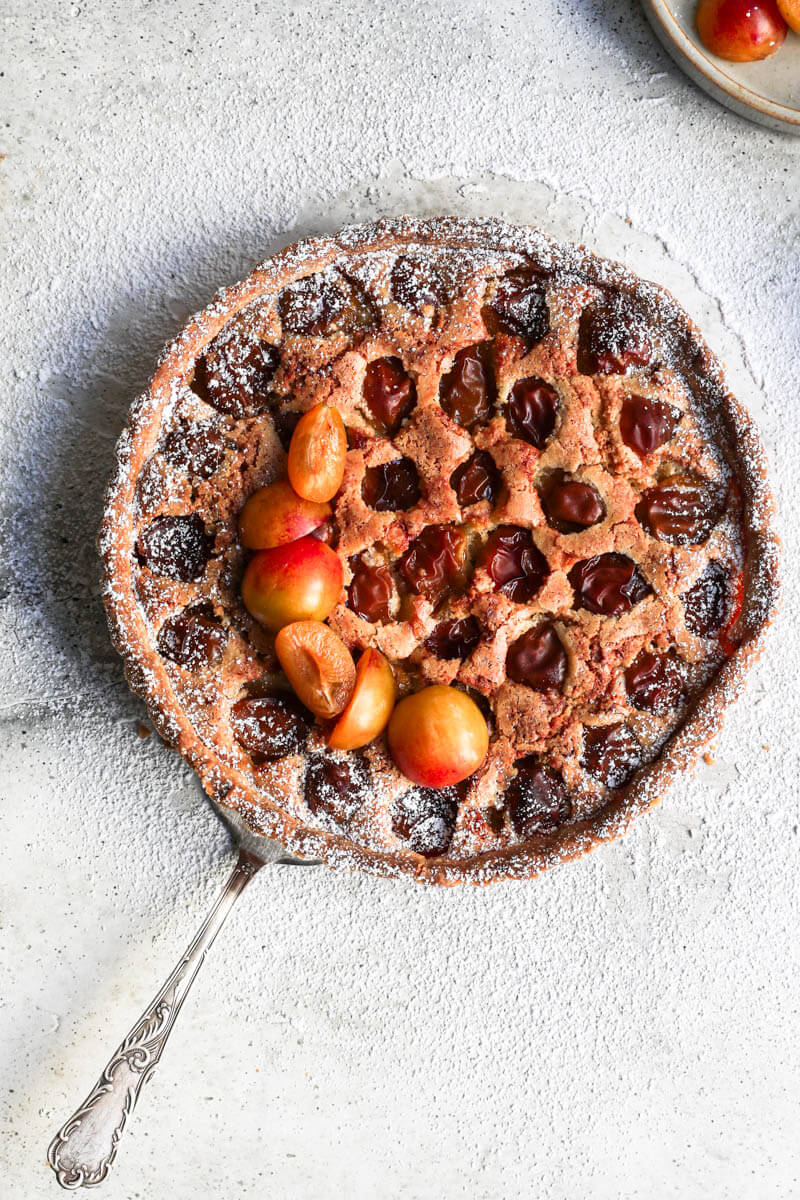 If you made this recipe I would really appreciate it if you leave a rating or comment below! Also, if you share on social media please use #cookwithbelula, I would love to see what you create!