Small Batch Creamy Lemon Curd with Egg Yolks
The best homemade lemon curd recipe you will ever need. Easy to make and super creamy, this small batch lemon curd is made with egg yolks and uses both lemon juice and zest.
Learn how to make this easy small batch lemon curd recipe. This recipe will take you through every step of the way to get a smooth and super creamy lemon curd. This recipe is made using only egg yolks with both the juice and the zest of the lemon for extra flavor. It is perfect and versatile as it can be used for many different things: as a filling for a lemon curd tart, filled cookies, or even to fill doughnuts. It can also be used as a spread over brioche bread or to swirl into a scoop of ice cream. The sky is the limit. Hope you love this recipe as much as I do!
What is lemon curd?
Lemon curd is a spread or topping made with lemon juice, sugar, butter, and lemon zest. Curd can be made with other citrus fruits, like orange, tangerine, or lime. Lemon curd is usually cooked to 83-85 C° (185 F).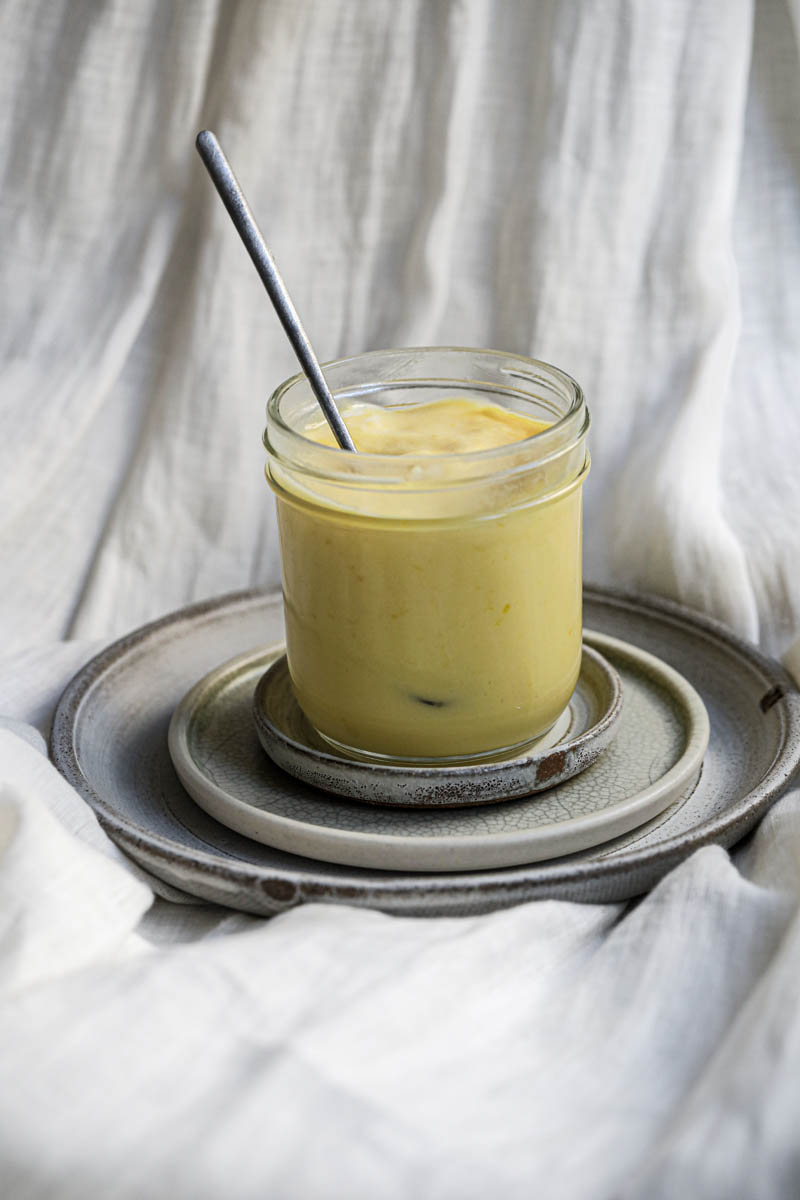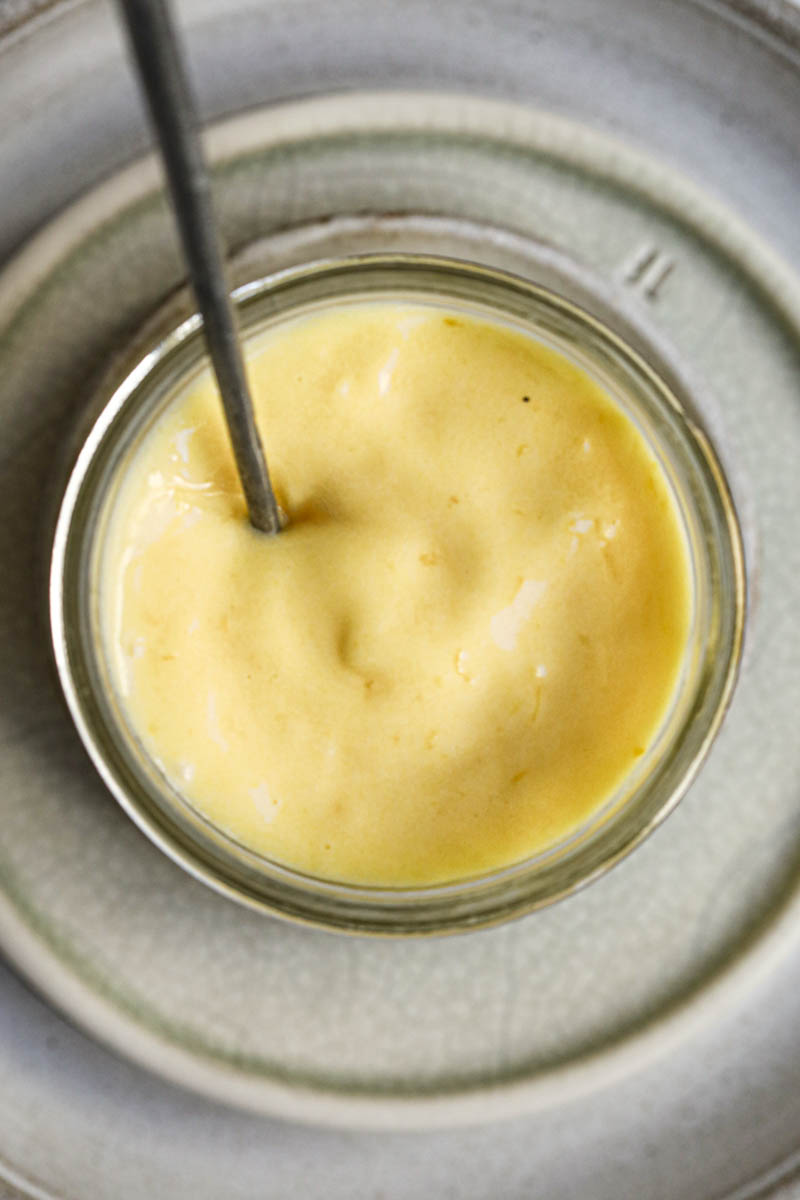 Material & Ingredient notes
Lemon zest: must be used freshly grated
Butter: at least 82% fat content and must be cut into small cubes and at room temperature before adding in.
Kitchen Thermometer: to cook the lemon curd. However, if you don't have one, you can easily make this creamy lemon curd recipe without it. See the notes section for precise instructions.
Unsalted butter: half the butter must be added into the curd cold and cut into small cubes.
How to make this recipe
Making this small batch lemon curd tart is amazingly simple and straightforward. To make this easy creamy lemon curd recipe, you must:
Prepare all the ingredients and materials you will need
Cook the lemon curd on the stove
Store the lemon curd to let it cool down.
Use as needed! See below all the things you can make using this homemade lemon curd.
Enjoy!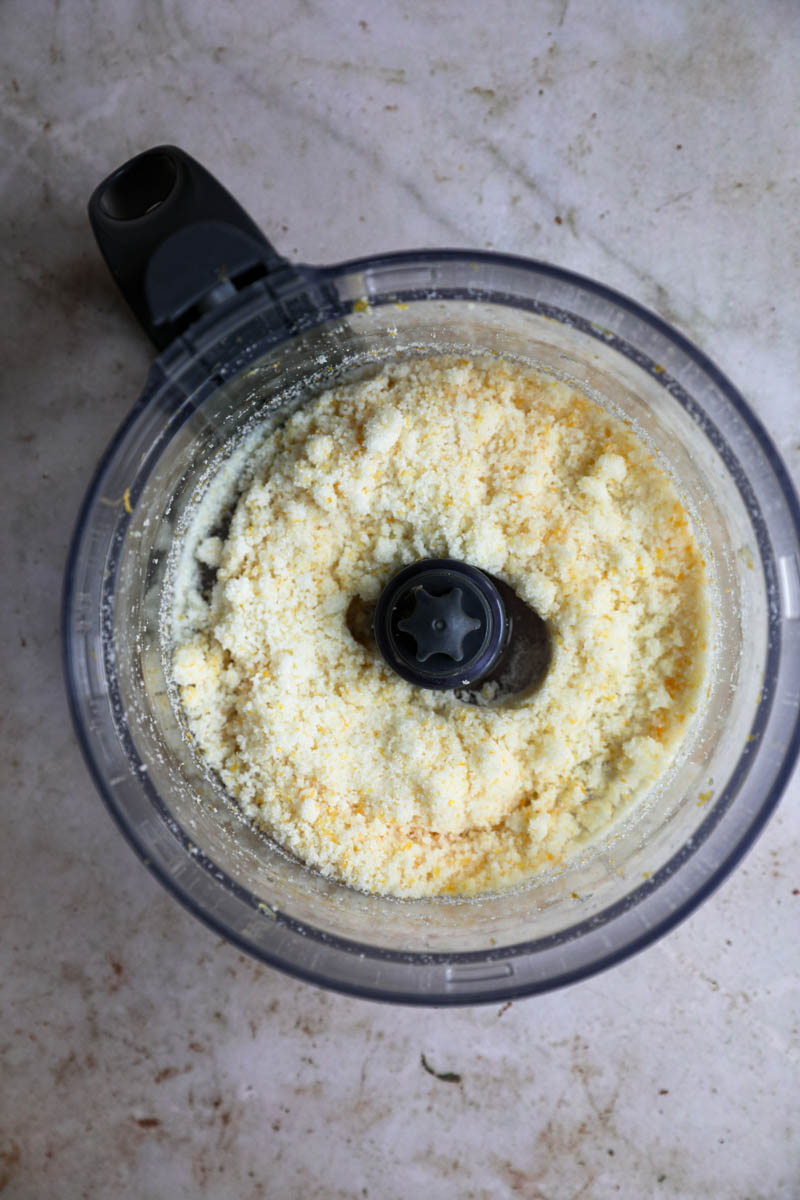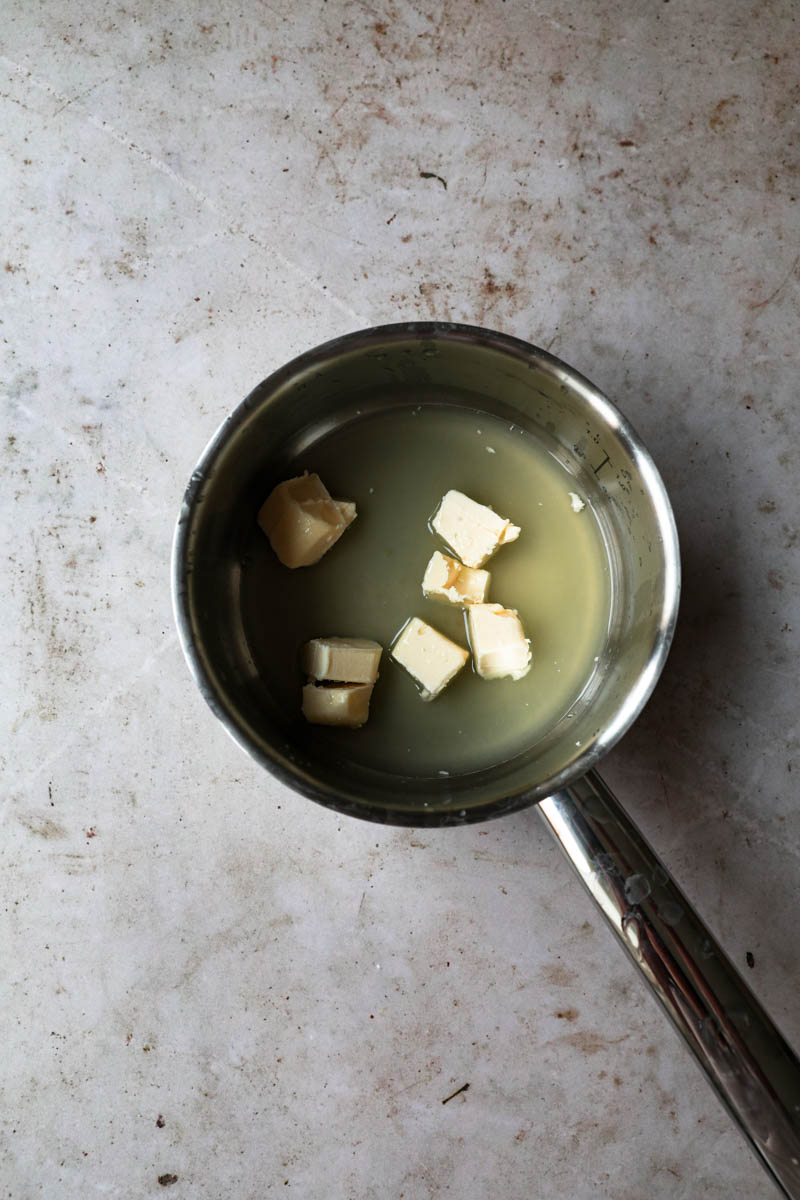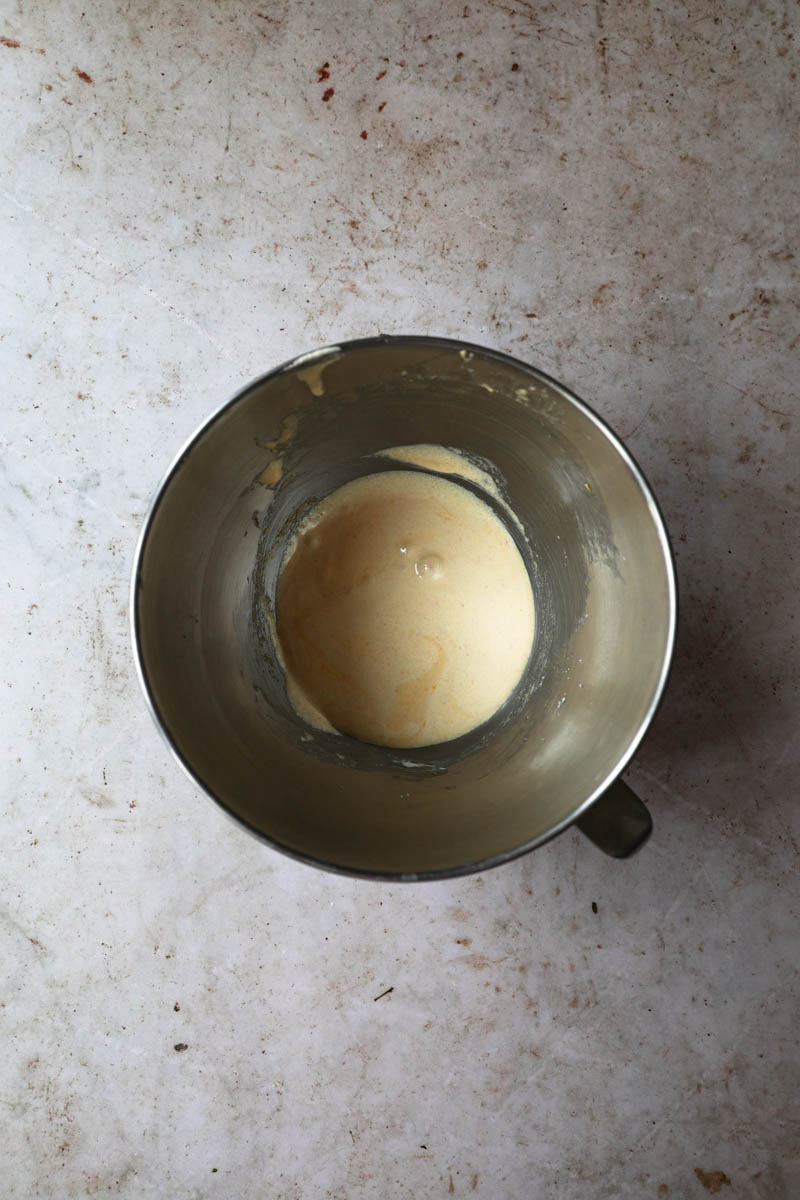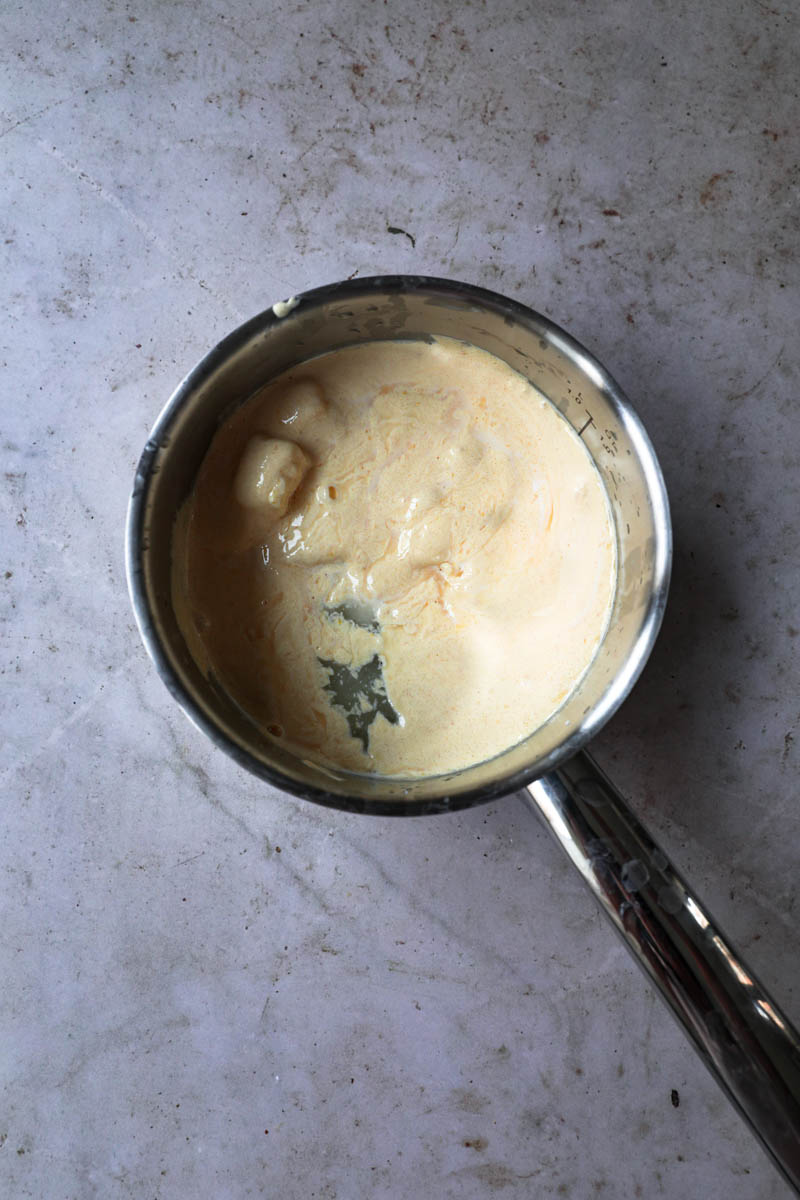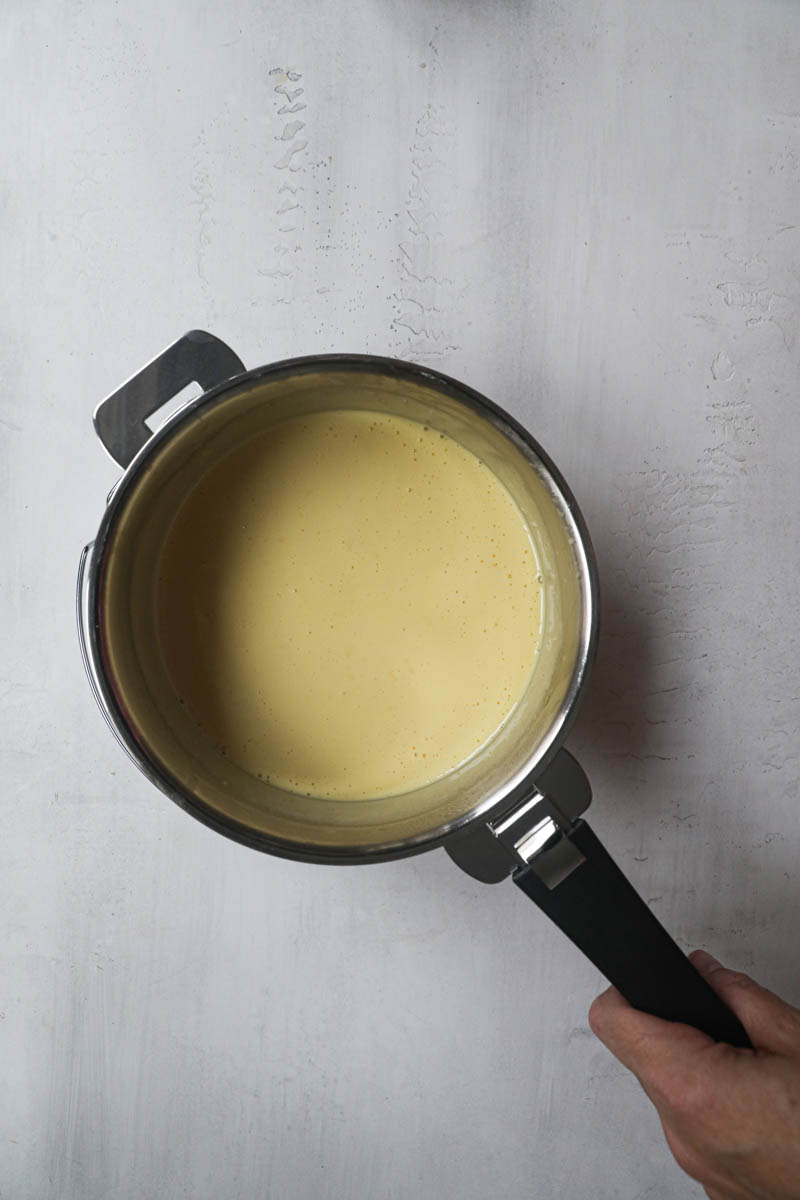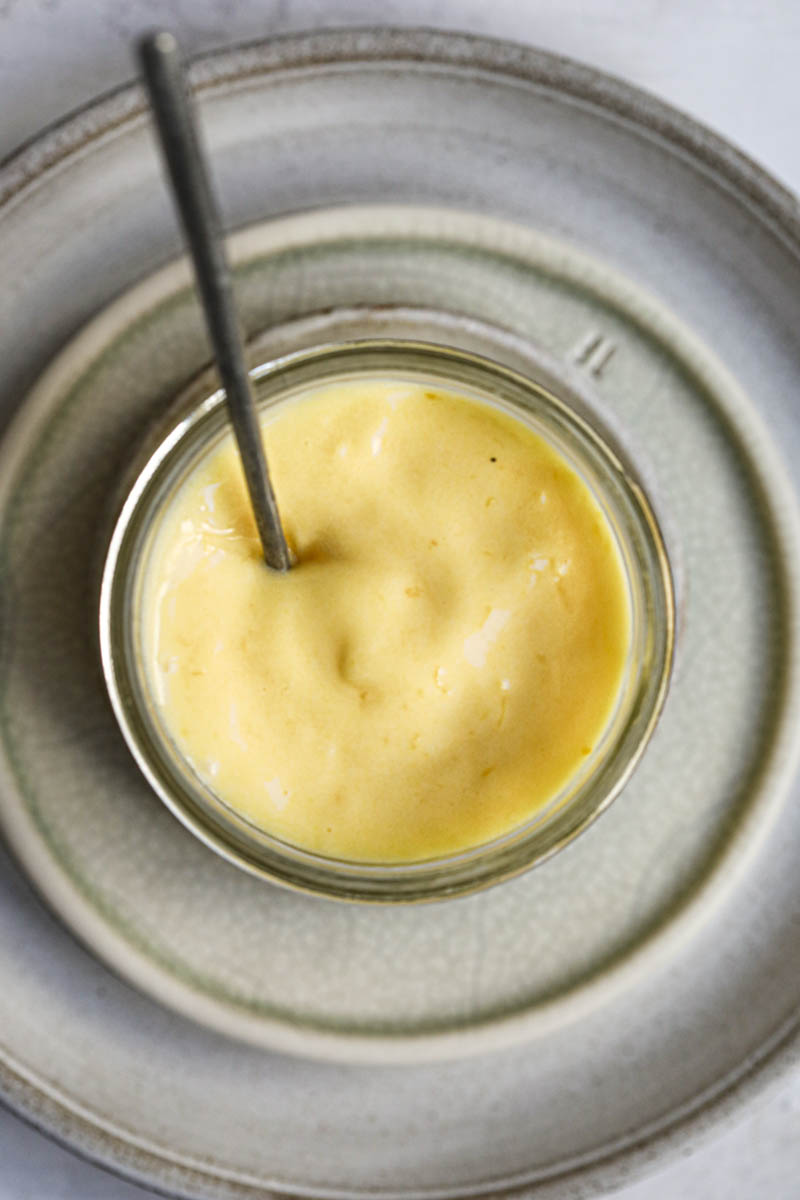 Recipe Notes
Zest is added in with the sugar to help the zest release all its flavor.
I recommend mixing the sugar and the zest in a food processor to keep the curd as smooth as possible.
If you want to take it a step further, you can strain the lemon curd once it's done.
To blanch eggs and sugar means that you should whisk until they have gained in volume and changed to a pale-yellow color. It takes about 5 to 7 minutes.
Mixing constantly when cooking the lemon curd is important as it will prevent the curd from sticking to the bottom of the pan.
The butter must be whisked into the lemon curd cold so that it properly emulsifies it.
Notes on cooking this homemade lemon curd
It doesn't have to boil, if it does, you have gone too far.
If using a thermometer, lemon curd is done when it has attained 83-85 C° (185 F).
If you are not using a thermometer, you can tell lemon curd is done when it has thickened enough that it can coat the back of a spoon.
If you feel lemon curd is not as smooth you can mix it using an immersion hand blender.
Storage Tips
You can keep the lemon curd, stored in an airtight container, for up to 2 weeks in the refrigerator.
You can make a double or triple batch of this small batch lemon curd as it keeps nicely for a rather long time.
Freezer Instructions
This small batch lemon curd recipe can be frozen stored in an airtight container and can be kept for up to 3 months in the freezer.
To defrost, place in the refrigerator for 24 hours.
Lemon curd uses
Lemon curd can be used in many different types of recipes:
As a doughnut filling. You have a killer filled donut recipe here, only replace the raspberry jam with the lemon curd.
As a tart filling, to make lemon curd tart or to replace the cranberry curd in this cranberry curd tart topped with whipped white chocolate ganache.
As a spread over brioche bread or toast.
As a topping on cheesecake and even ice-cream.
This creamy lemon curd can be used as a cake filling too. You can make this lemon cake and bake it in a round pan instead, then slice in 2 and fill with the lemon curd. Simple and delicious.
To fill cookies.
The ingredients used in all recipes on this site are measured using the metric system. I use a
scale
to be precise with my measurements and ensure good results. If you would also like to use a scale, here are some:
USA
,
Canada
,
UK
,
Australia
,
France
.
Subscribe to the newsletter
Egg Yolks

4

Granulated Sugar

150 g

Lemon Zest (zest of two lemons)

2

Lemon Juice

100 g

Unsalted Butter

100 g
1. Prepare the ingredients and materials: prepare a clean airtight container or a clean glass jar to store the lemon curd in. In a food processor, mix the sugar and the lemon zest for about 2 minutes.
2. Make the lemon curd: Blanch the sugar/zest and egg yolks using a whisk. In the meantime, bring the lemon juice and 50 g of butter to a simmer. Add the blanched sugar/egg yolk/zest mixture to the pot and cook over medium heat, constantly mixing with a spatula, until it has thickened. Mixing constantly is important because it will prevent the curd from sticking to the bottom of the pan. Lemon curd is ready when it has thickened, and you can coat the back of a spoon (at 85 C°/185 F if you use a thermometer). Remove from heat and whisk in the remaining 50 g of butter. Mix until completely incorporated.
3. Store the lemon curd: Once the butter is properly incorporated into the curd, remove from the pan and place in an airtight container covered in saran wrap in contact with the curd, then cover the container with the lid. Refrigerate until cold and ready to use.
If you made this recipe I would really appreciate it if you leave a rating or comment below! Also, if you share on social media please use #cookwithbelula, I would love to see what you create!