Swiss Meringue Christmas Pavlova Wreath
This Christmas Pavlova wreath is made using Swiss meringue, topped with a cranberry swirl Chantilly cream and topped with sugared cranberries.
This pavlova wreath is super simple to put together, especially because the recipe calls for Swiss Meringue, which is the easiest meringue to make. It is later topped with a Chantilly cream enriched with a smooth and beautiful cranberry curd and topped with sugar cranberries. This is the perfect Christmas Pavlova Wreath to enjoy during holiday season! Can't wait for you to give it a try.
Ingredient Notes
Swiss meringue: you can get a step-by-step recipe with all the tips and tricks here
Cranberry Curd: you can get a step-by-step recipe with all the tips and tricks here
Heavy whipping cream: fat content should be at least 30 %, or else you won't be able to get those stiff peaks when making the Chantilly cream.
Fresh cranberries: needed to make the sugar cranberries to top this Christmas pavlova wreath.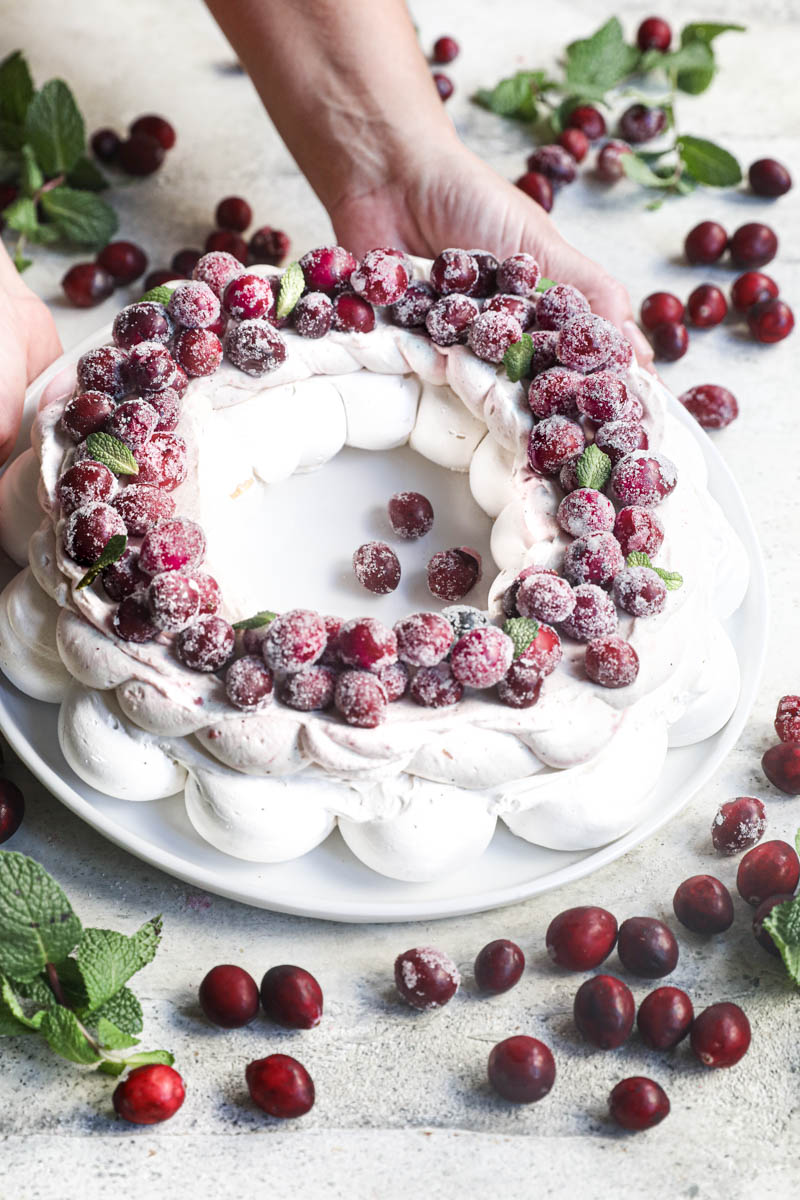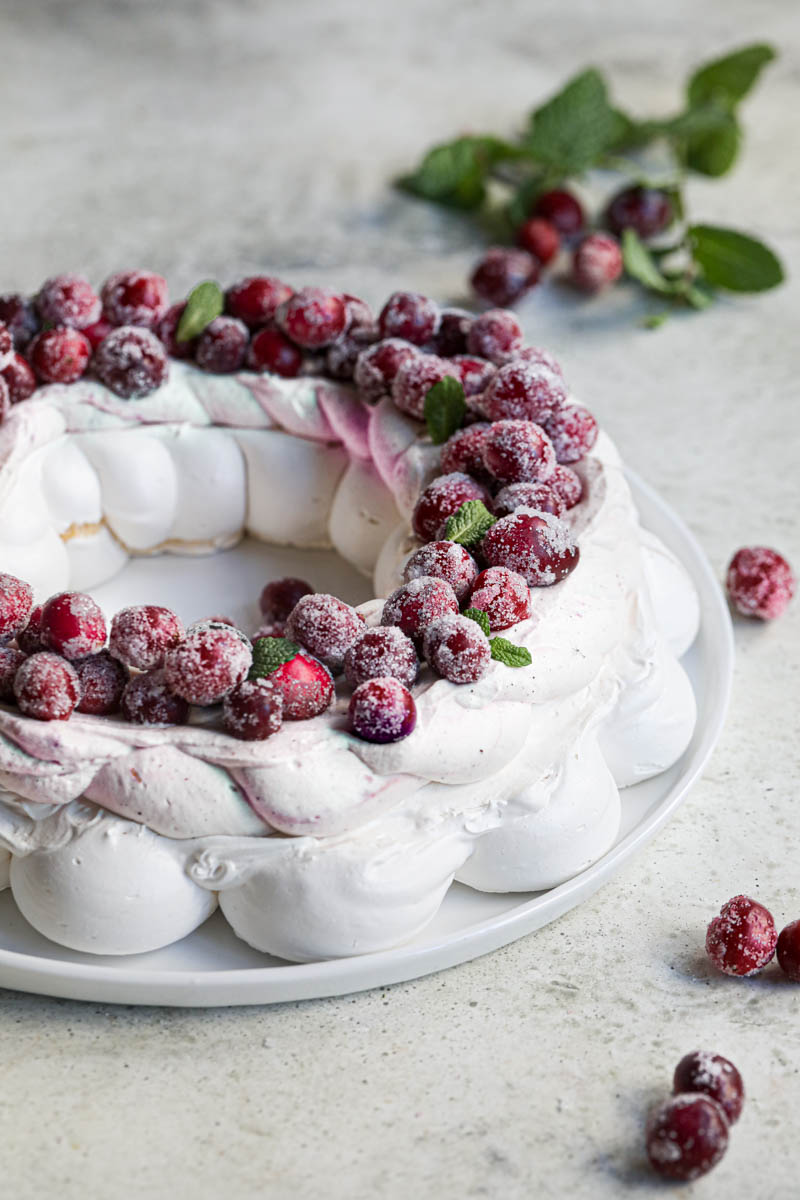 How to make this recipe
To make this Christmas pavlova wreath you must simply:
Make the sugar cranberries one day in advance.
Make the cranberry curd.
Make the Swiss meringue wreath-like base.
Make the cranberry swirl Chantilly cream.
Top the meringue base with the cream and the cranberries!
Dip the shortbread cookies in chocolate and sprinkle with pistachios.
Enjoy!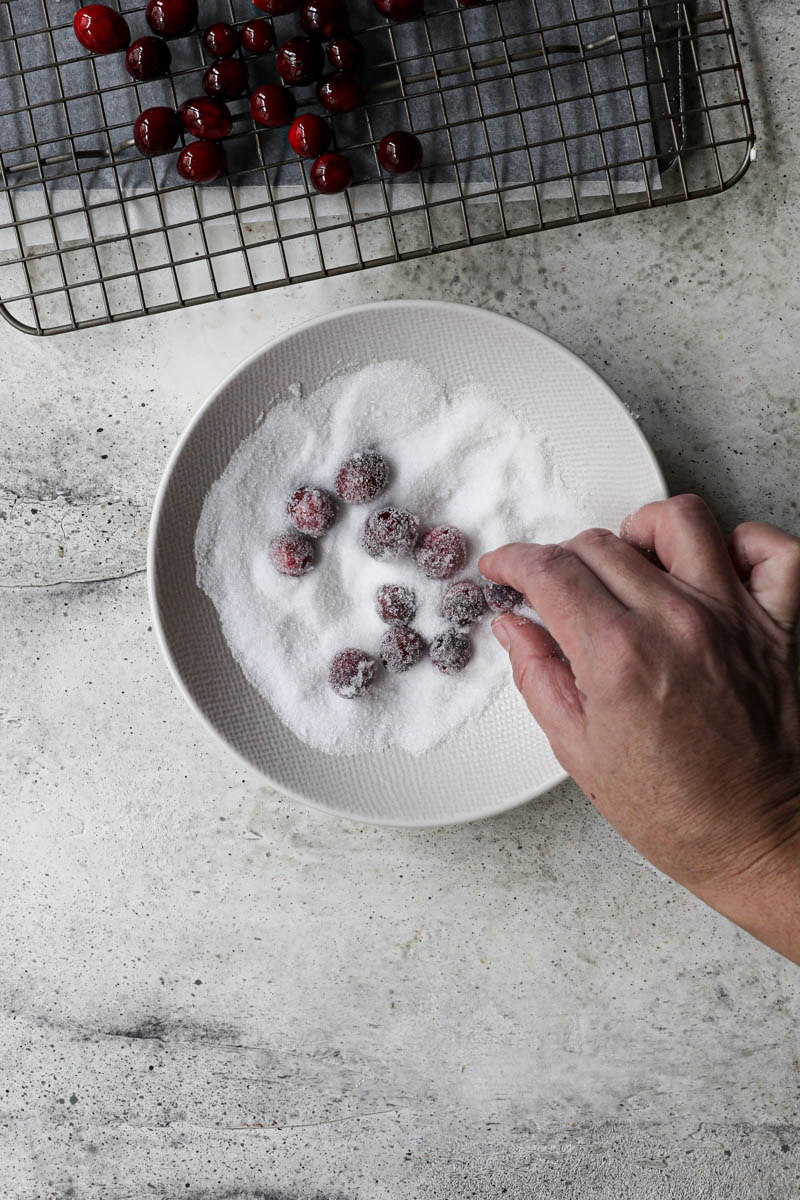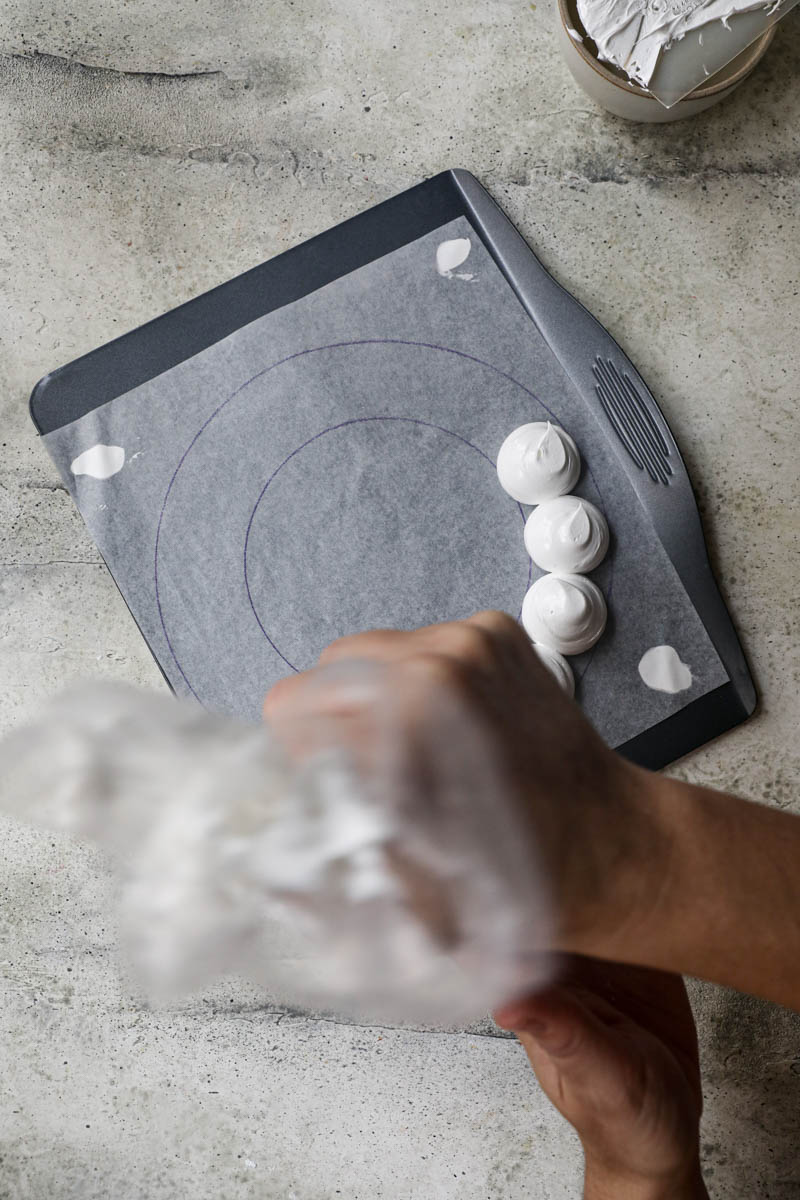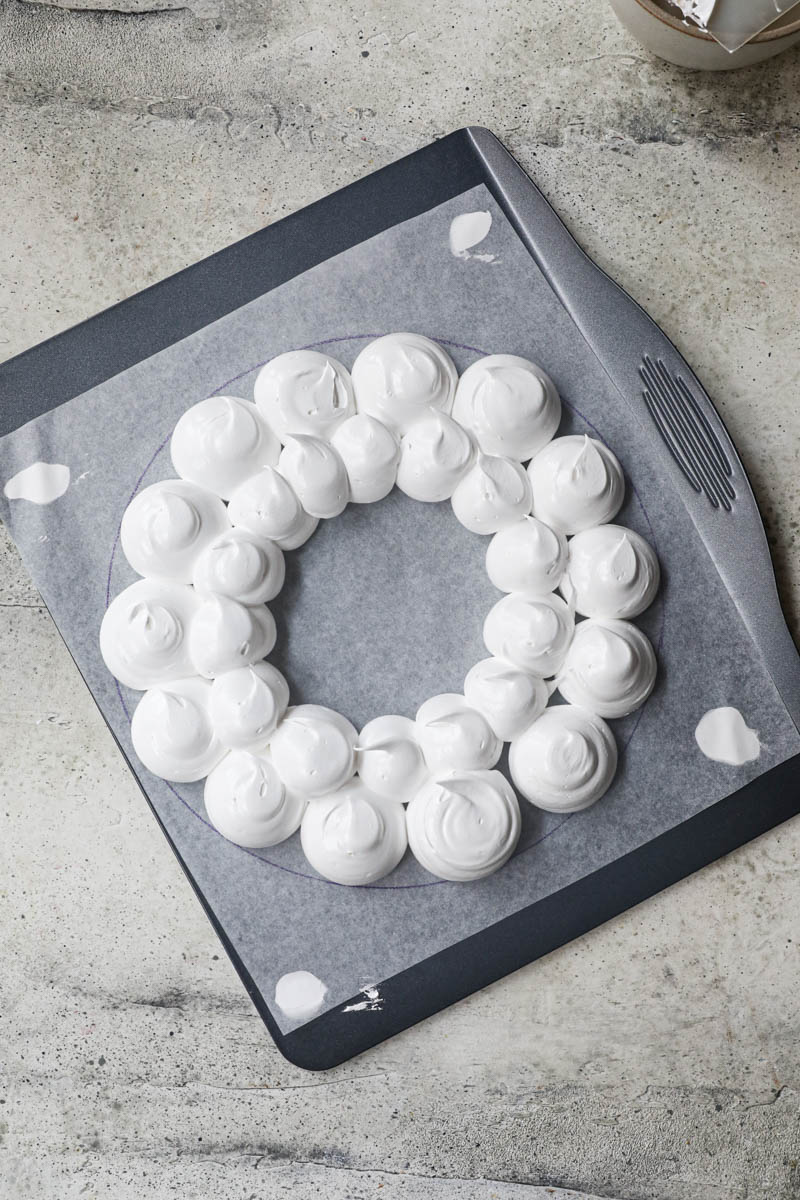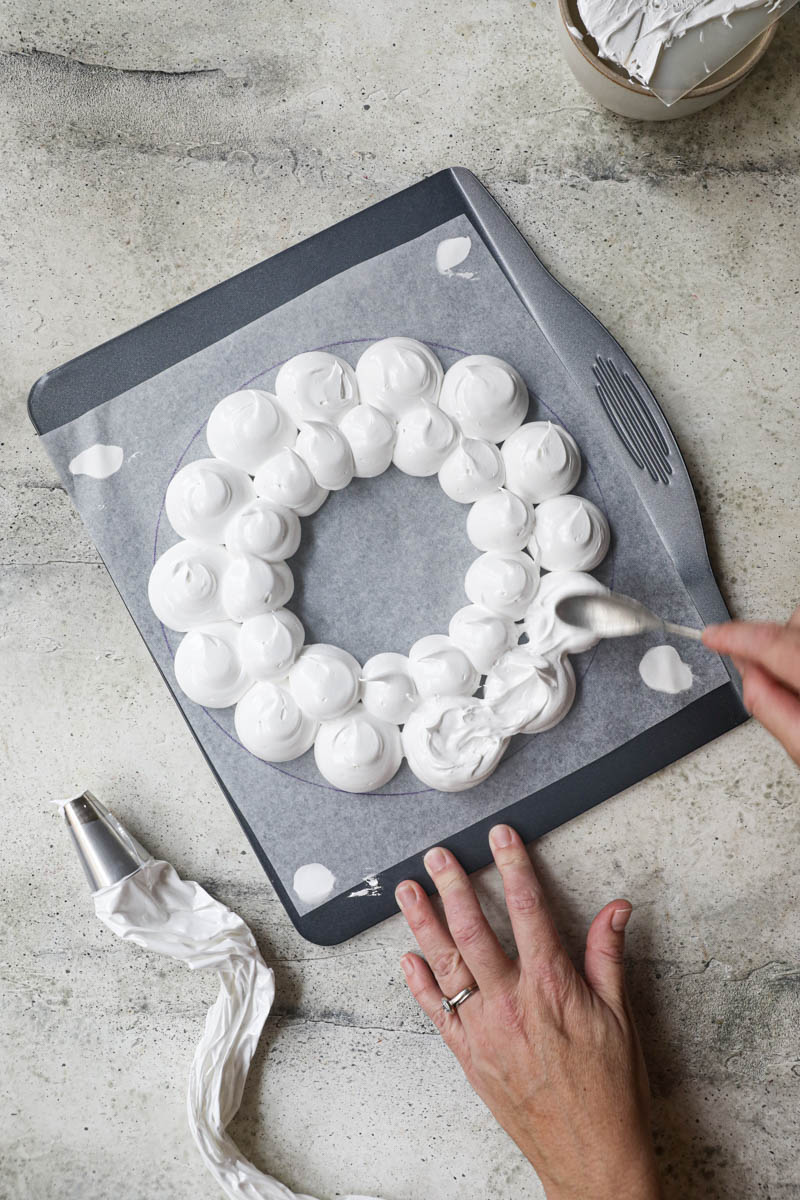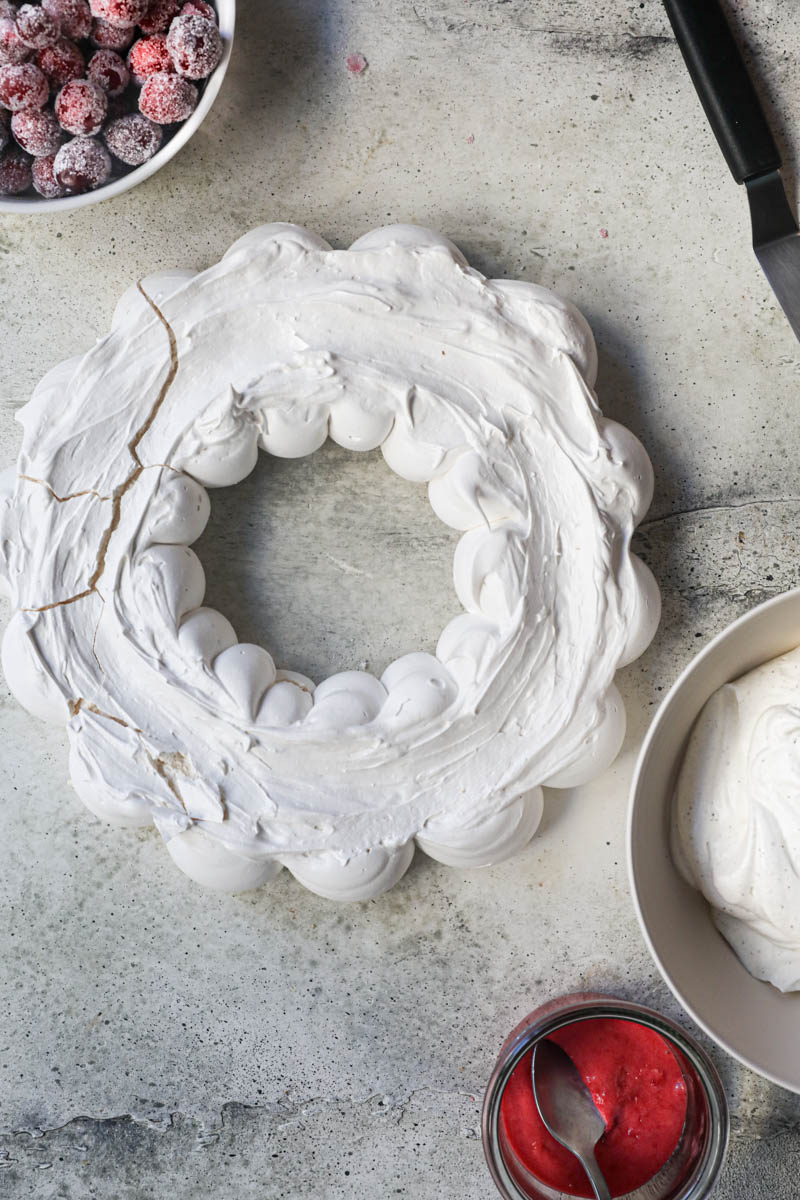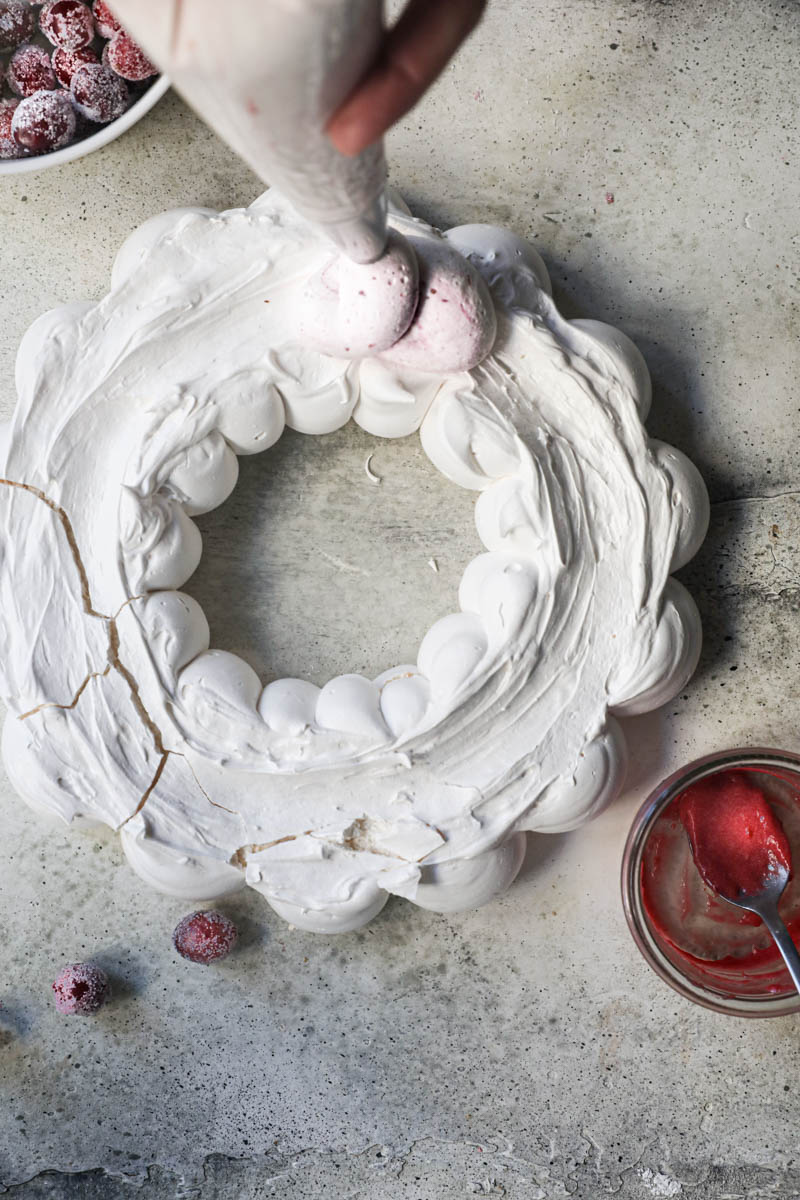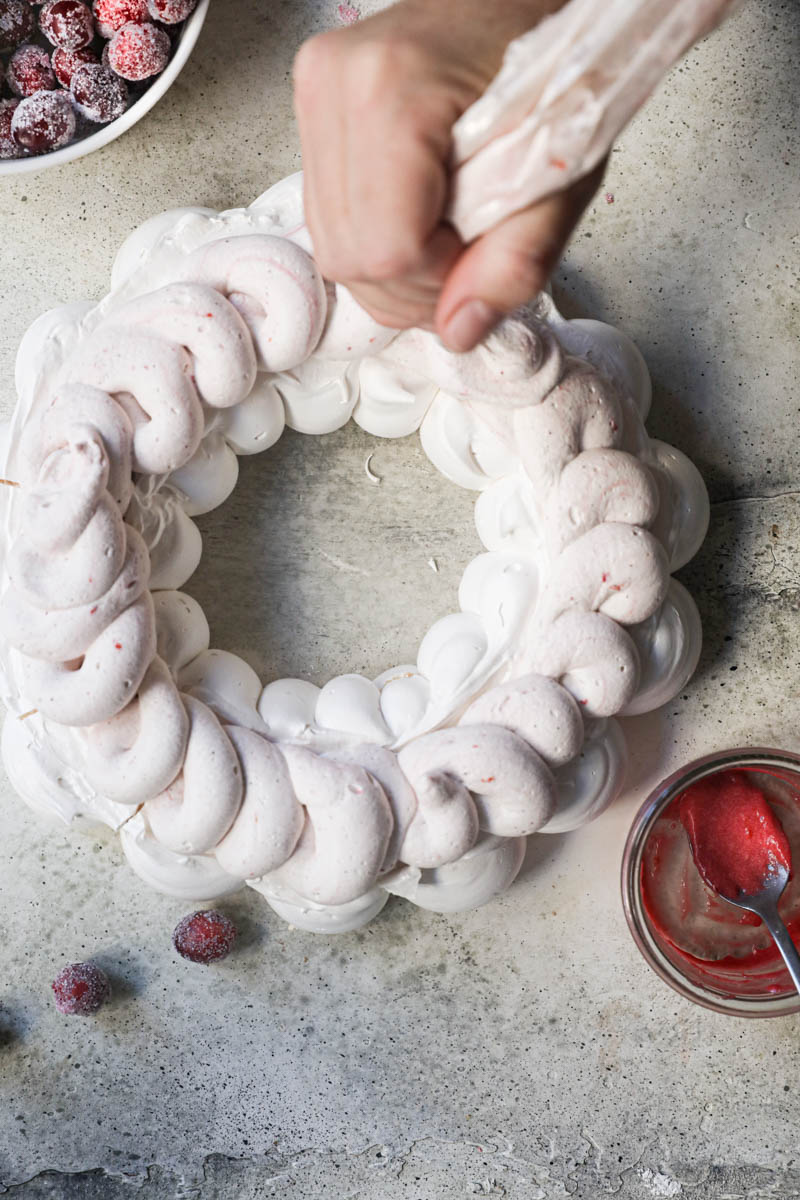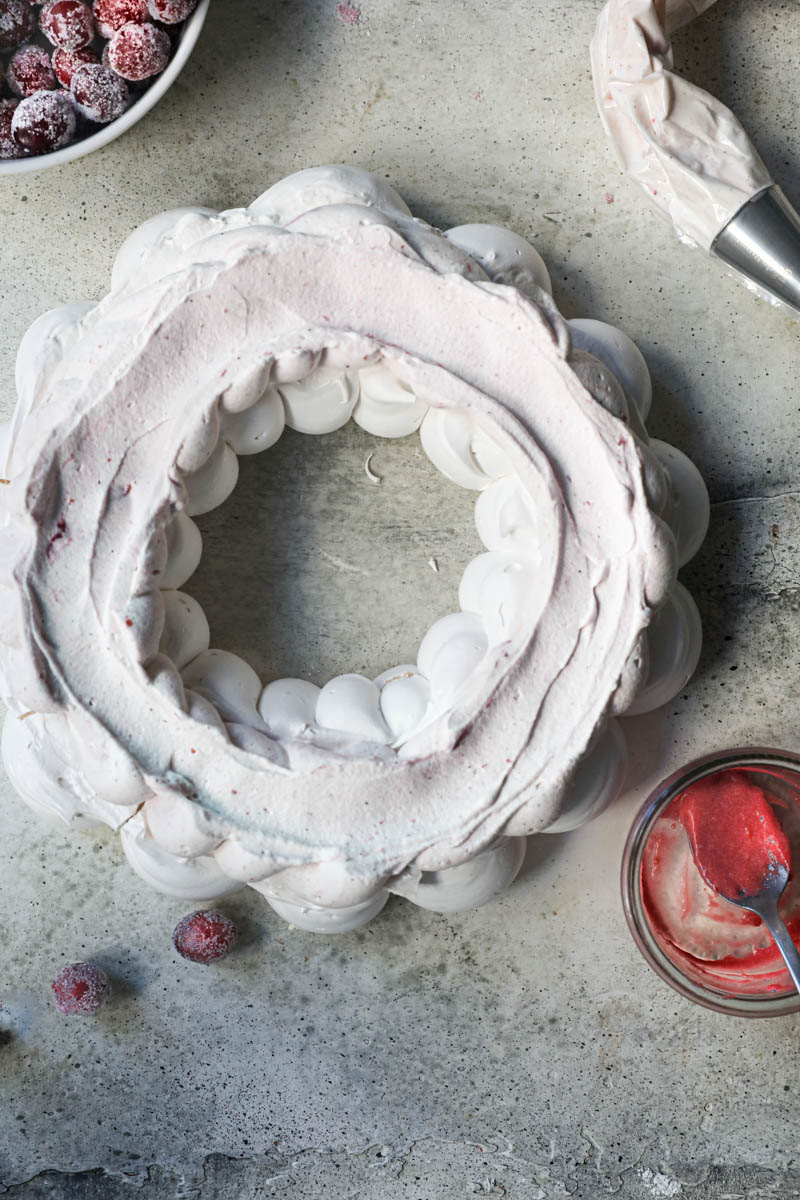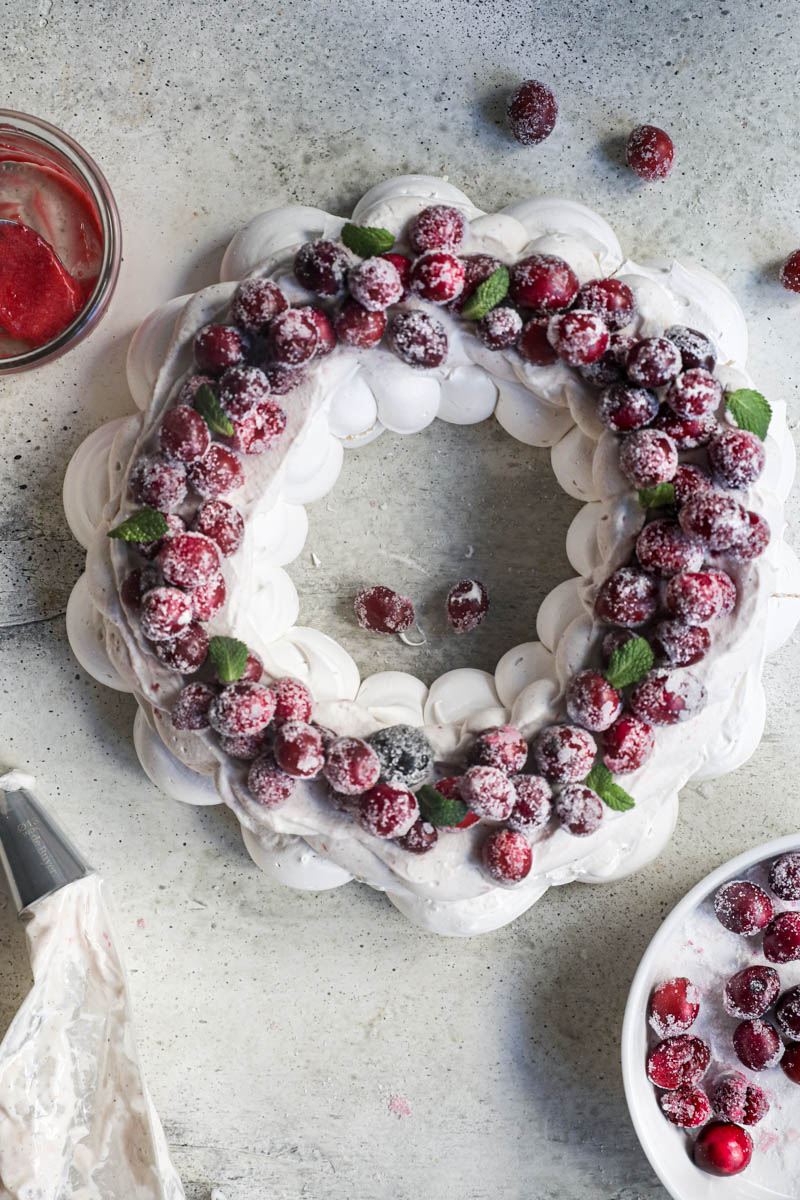 Recipe Notes
When making sugar cranberries, don't transfer them directly from the syrup onto the sugar. Make sure they rest for a couple of minutes over a wire rack before then.
Make sure to leave the sugar cranberries to dry out at room temperature for 24 hours before using them.
For all the tips on how to make a killer Swiss meringue, please check this post!
Bake the pavlova wreath at 100C° (212 F) to avoid coloration!
The pavlova wreath is ready when it is hard on the outside and a little soft on the inside.
Baking time called for in this recipe is approximate. It will depend on how big and how high the wreath is.
Make the cranberry curd one day in advance so make sure it is properly chilled before swirling into the Chantilly cream.
Cream must be cold for it be able to be whipped. You can also place the mixing bowl in the refrigerator for 30 minutes prior to whipping the cream, to help along the process.
Whip the cream to stiff peaks to ensure it holds its shape once topped with the sugar cranberries.
Notes on how to shape the pavlova wreath
First make sure you make a template to make things a lot easier on yourself. On a piece of parchment paper draw out one circle (24 cm / 9.5 inches) on a smaller one on the inside (14 cm / 5.5 inches).
Pipe out a small meringue kiss on each corner of the baking tray, then stick the parchment paper onto the tray.
Pipe out the meringue filling out this circular band you just drew.
Then using the back of a spoon smooth out the center of the wreath.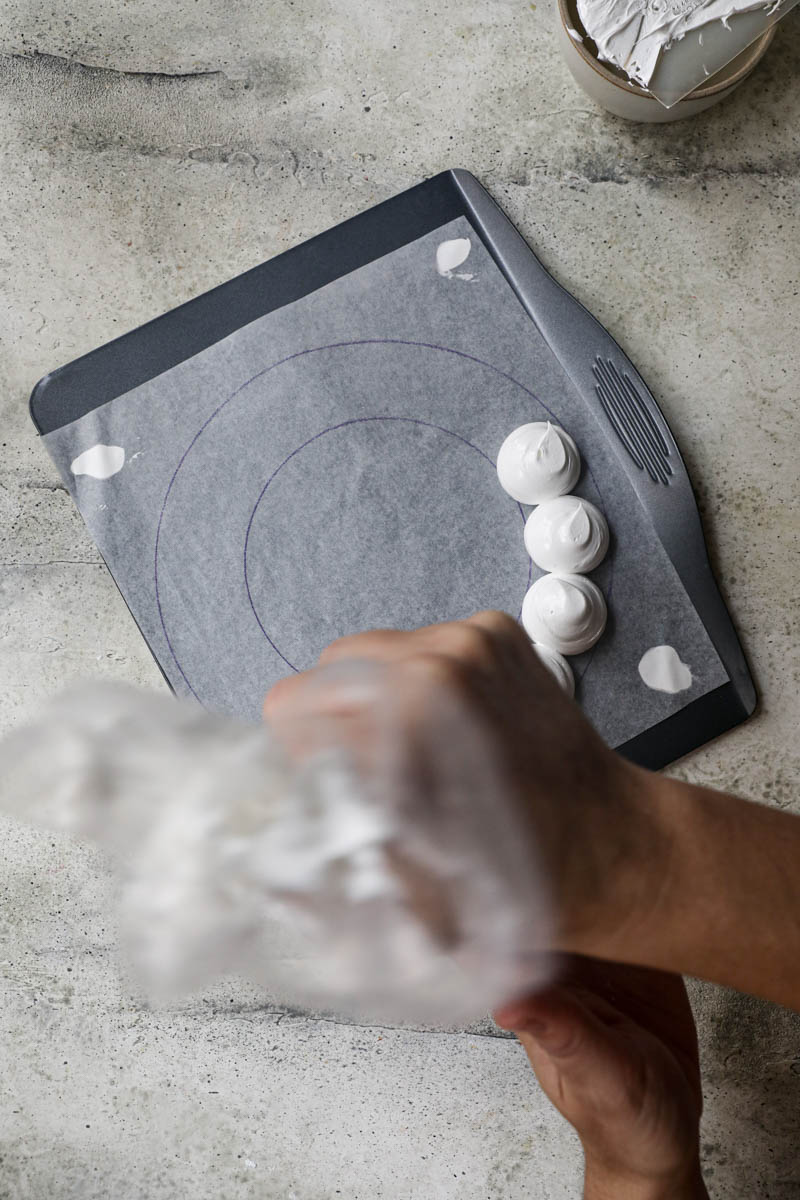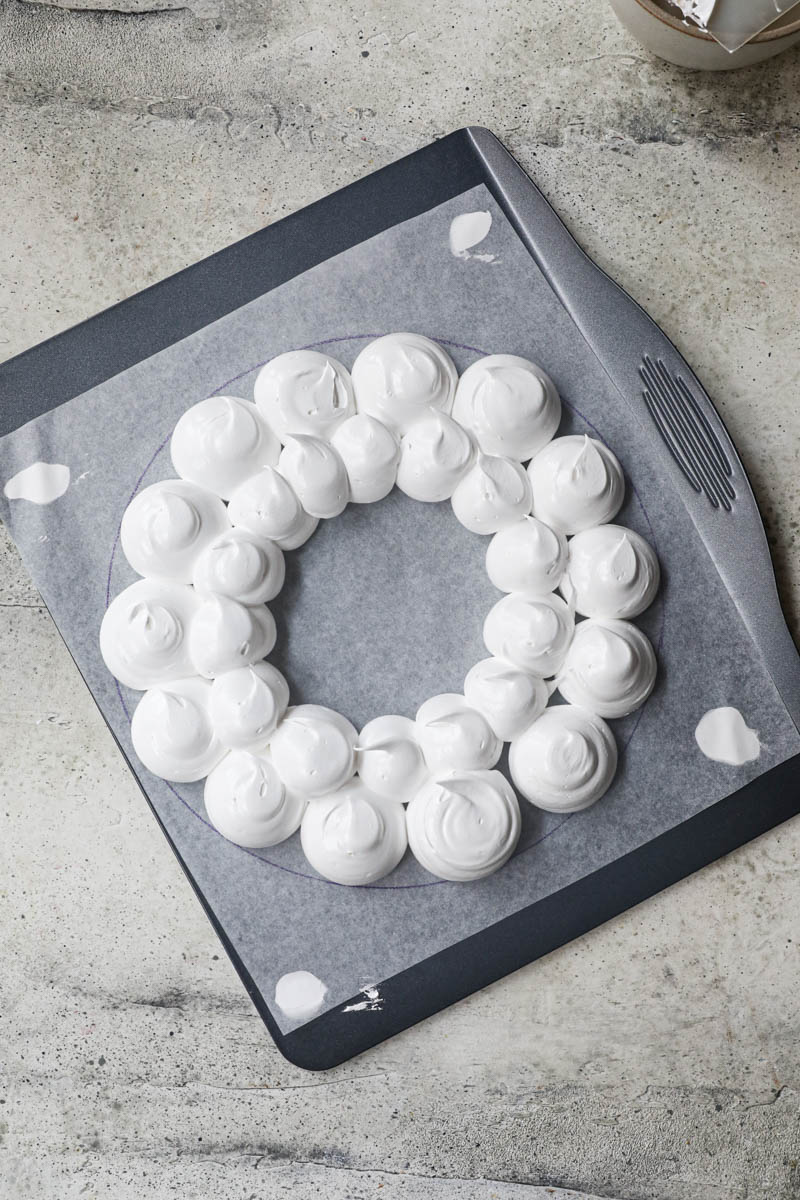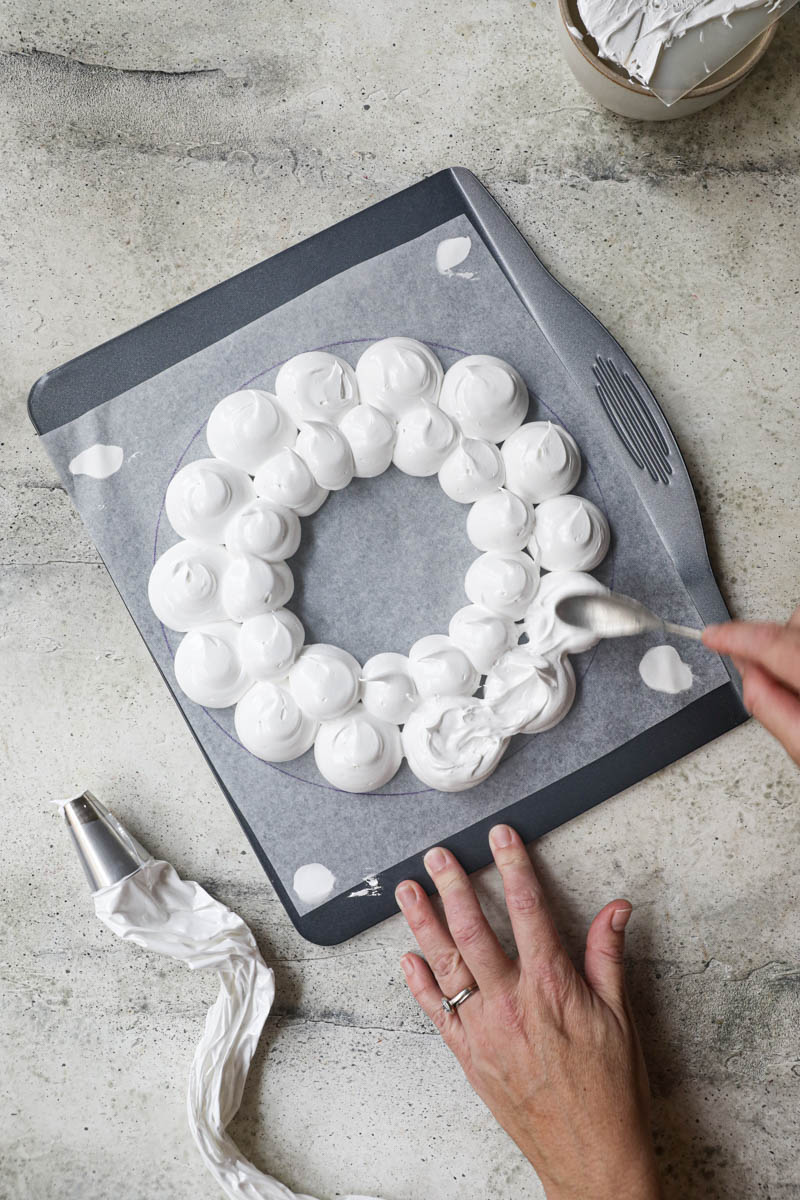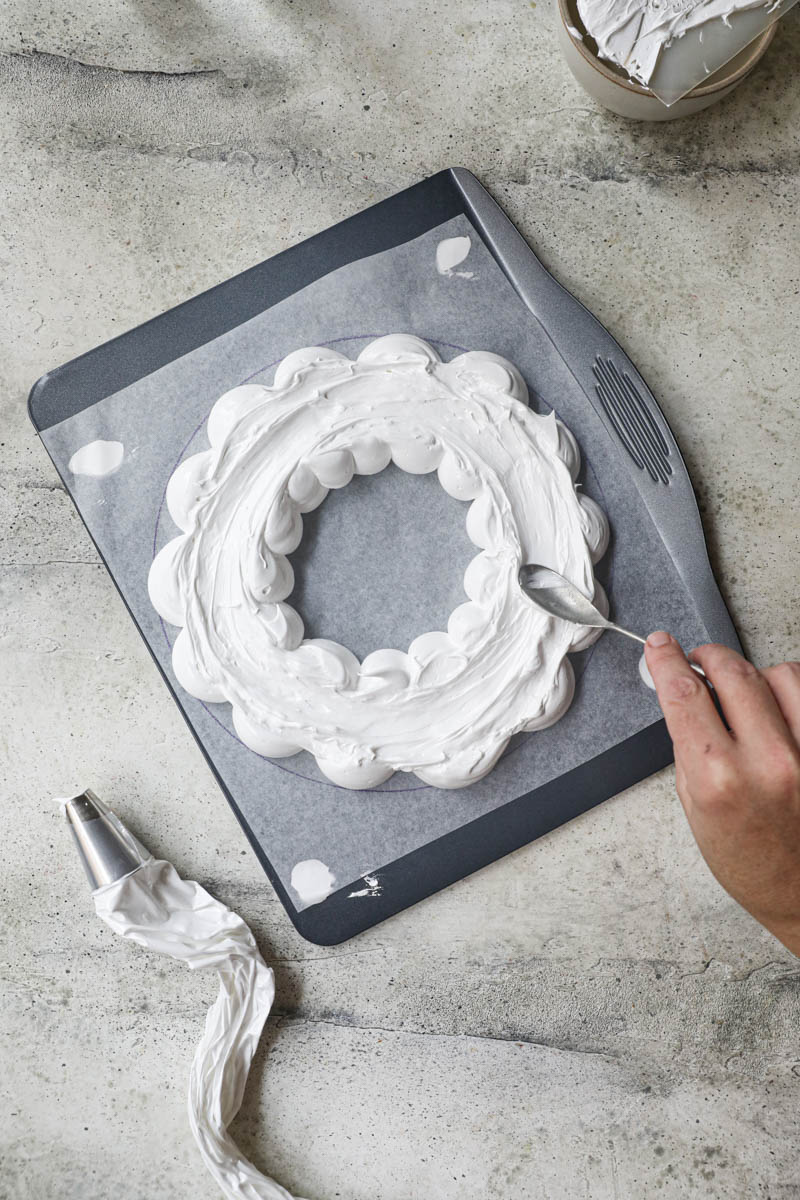 Storage tips
The Swiss meringue pavlova wreath can be kept at room temperature stored in an airtight container for up to 3 days without the cream and sugar cranberry toppings are added. If you live somewhere very humid, I wouldn't recommend this. Bake on the same day you will be eating the dessert.
Once this dessert has been assembled, keep in the refrigerator for up to 2 days.
Freezer instructions
I do not recommend freezing this pavlova wreath or any other pavlova.
You can however freeze the cranberry curd if making a big batch. To defrost: place in the refrigerator overnight.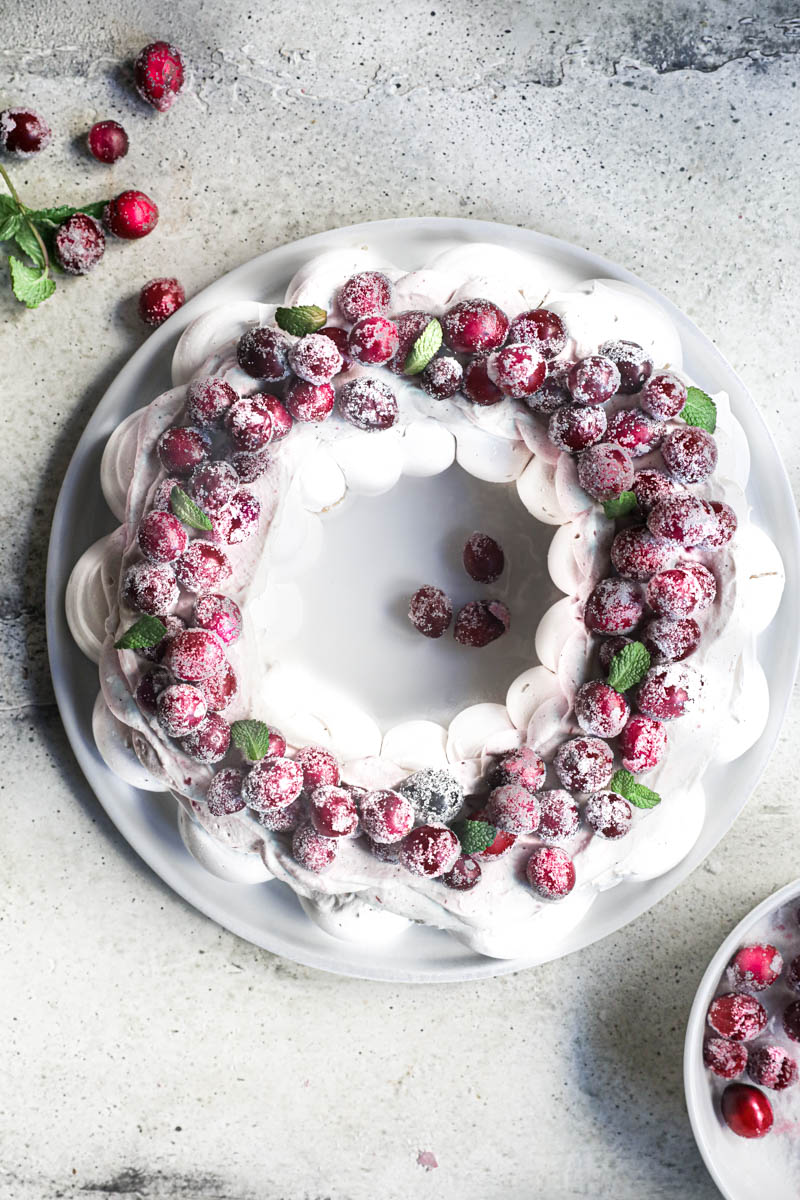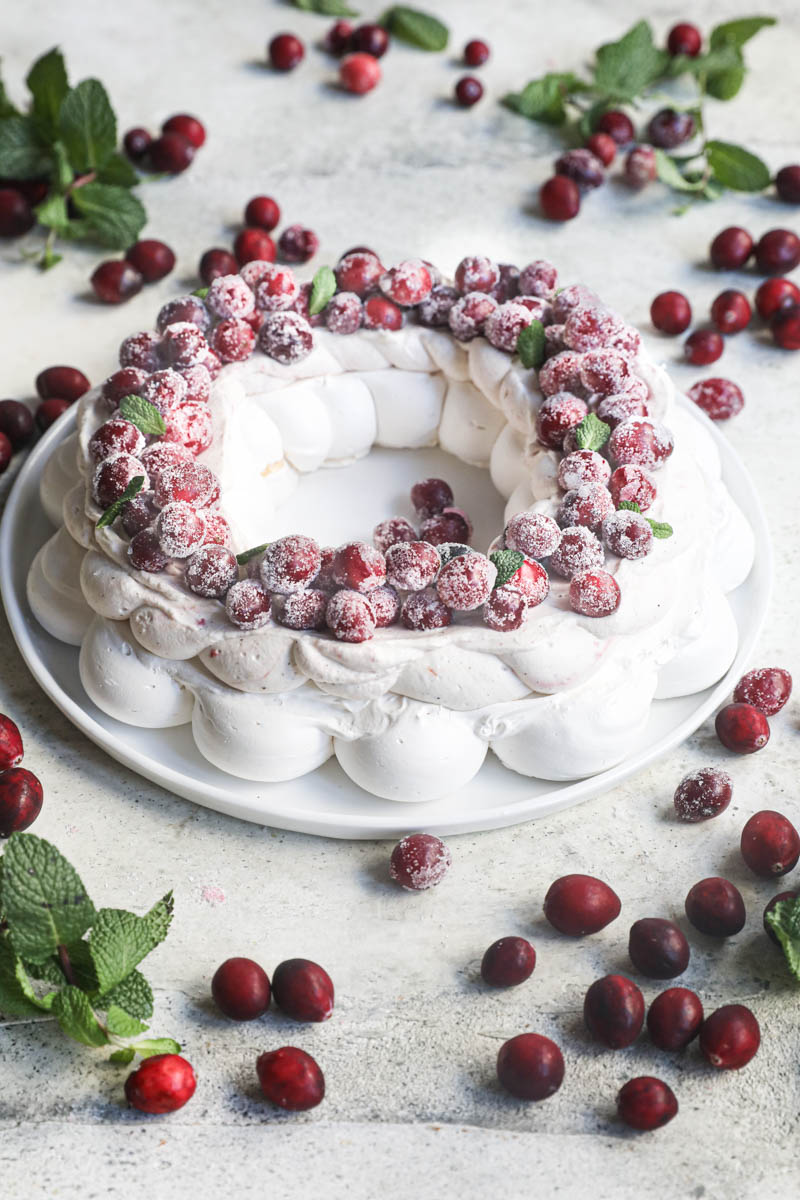 Variations to this recipe
If you want to use a classic pavlova recipe to make this Christmas pavlova wreath, check out this recipe.
You can make this into a layered kind of pavlova: making a base cranberry curd layer (in which case you should use a bigger quantity of curd than this recipe calls for), then top the curd with a simple Chantilly cream and finally add on the sugar cranberries.
You can replace the cranberry curd with any other curd, like this lemon curd.
You can top with any fruit you find at the market if cranberries are not available to you, or you simply don't like them that much. Raspberries and pomegranates are a good option.
The ingredients used in all recipes on this site are measured using the metric system. I use a
scale
to be precise with my measurements and ensure good results. If you would also like to use a scale, here are some:
USA
,
Canada
,
UK
,
Australia
,
France
.
Subscribe to the newsletter
Total Time:
2 hours 25 minutes
---
Swiss Meringue Pavlova Wreath
Powdered Sugar

200 g

Egg Whites

100 g
Cranberry Swirl Chantilly Cream
Cranberry Curd

100 g

Heavy Whipping Cream

200 g

Powdered Sugar

20 g

Vanilla Beans

1
Sugar Cranberries
Water

200 g

Sugar

200 g

Fresh Cranberries

300 g
If you made this recipe I would really appreciate it if you leave a rating or comment below! Also, if you share on social media please use #cookwithbelula, I would love to see what you create!