When I go back to Argentina for the holidays, this is the cake I make the most often. A crowd pleaser and such an easy treat to make. Pavlova is the perfect way to put those egg whites you do not want to throw away to good use. It is also gluten free in case you have friends and family members that cannot eat gluten. It is the perfect summer dessert and one of the best gluten free desserts out there!
What is Pavlova?
Pavlova is a meringue-based dessert that was created in Australia and New Zealand in honour of the ballet dancer Anna Pavlova. It has a crunchy exterior and a soft/marshmallow interior and it is usually topped with whipped cream and fresh fruit.
For this strawberry Pavlova recipe, I used:
French meringue
Chantilly Cream
Strawberry Compote
Fresh Strawberries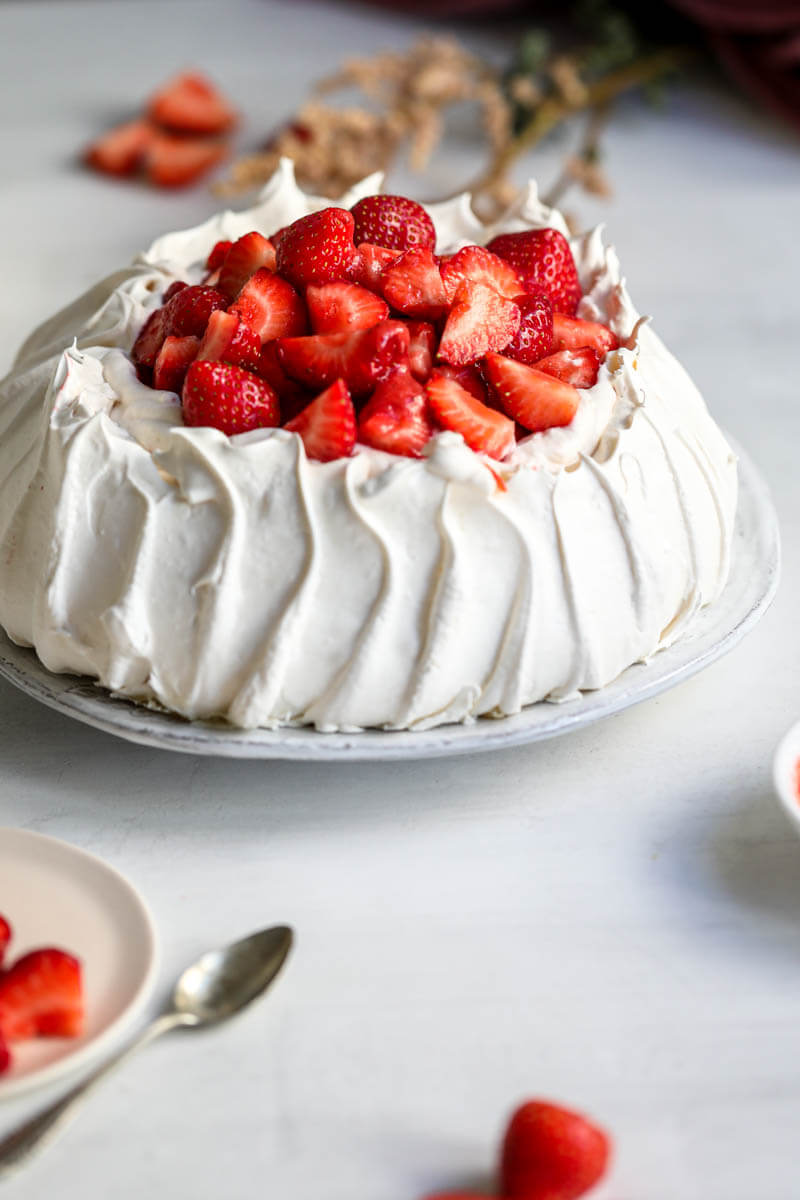 A few tips for French meringue success:
Use old egg whites.
Leave the egg whites at room temperature overnight.
Do not forget to add the salt! It enhances the flavours and it also helps with stability of the egg whites. To learn more about the role of salt in meringue you can click here What does salt do to a meringue mixture?.
Bake at low temperature (100 C°/210 F) to prevent colouring of the French meringue disk.
Can You do French Meringue without a Stand Mixer?
Funny story when I went to pastry school, we had no stand mixers in the practical room, we had to make everything by hand, from French buttercream, to bread, to croissants, to meringue.
The answer is yes! You can make French meringue either by hand or using a hand or stand mixer. Either way it works! So, if you do not have a mixer don't be discouraged, you can still make this yummy dessert. It will take a little longer, and your arm will be a little sore :).
How to Make Chantilly Cream?
You need whipping cream, powdered sugar, and vanilla bean. The most important thing to remember is the ratio of sugar to cream:
It is 1 part of powdered sugar to 10 parts of whipping cream! (10%)
Whisk the cream, the sugar and vanilla bean seeds until they hold stiff peaks.
Some tips for success:
The cream should be extremely cold for better results!
If you can refrigerate the container where you will whip the cream, even better! Your success is guaranteed.
These are all the tricks necessary to make Chantilly cream recipe!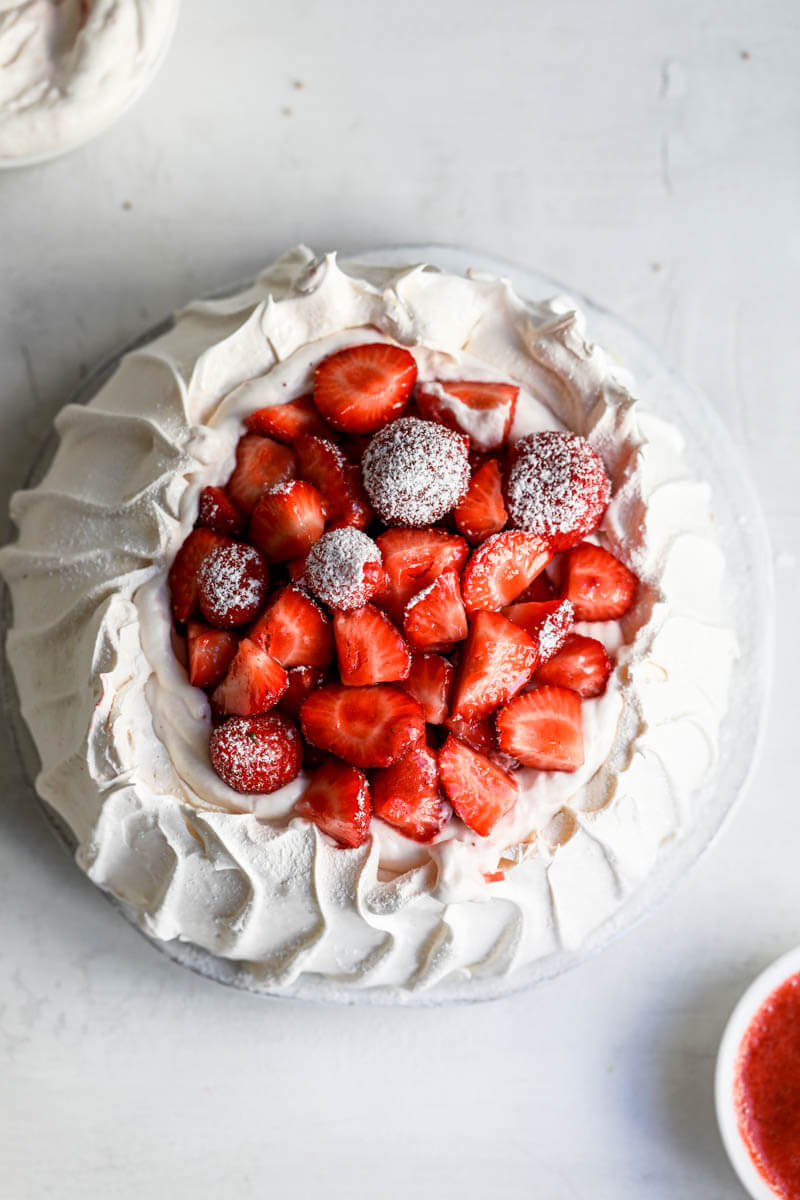 How to Make Strawberry Pavlova?
To make this strawberry pavlova recipe you need to prepare 3 key components:
French meringue
Chantilly cream
Strawberry compote
Once they are ready you can proceed to assembly the cake:
Mix ¾ of the compote into the Chantilly cream. They should both be cold.
Fill the meringue base with the strawberry Chantilly cream.
Top with Fresh strawberries and enjoy!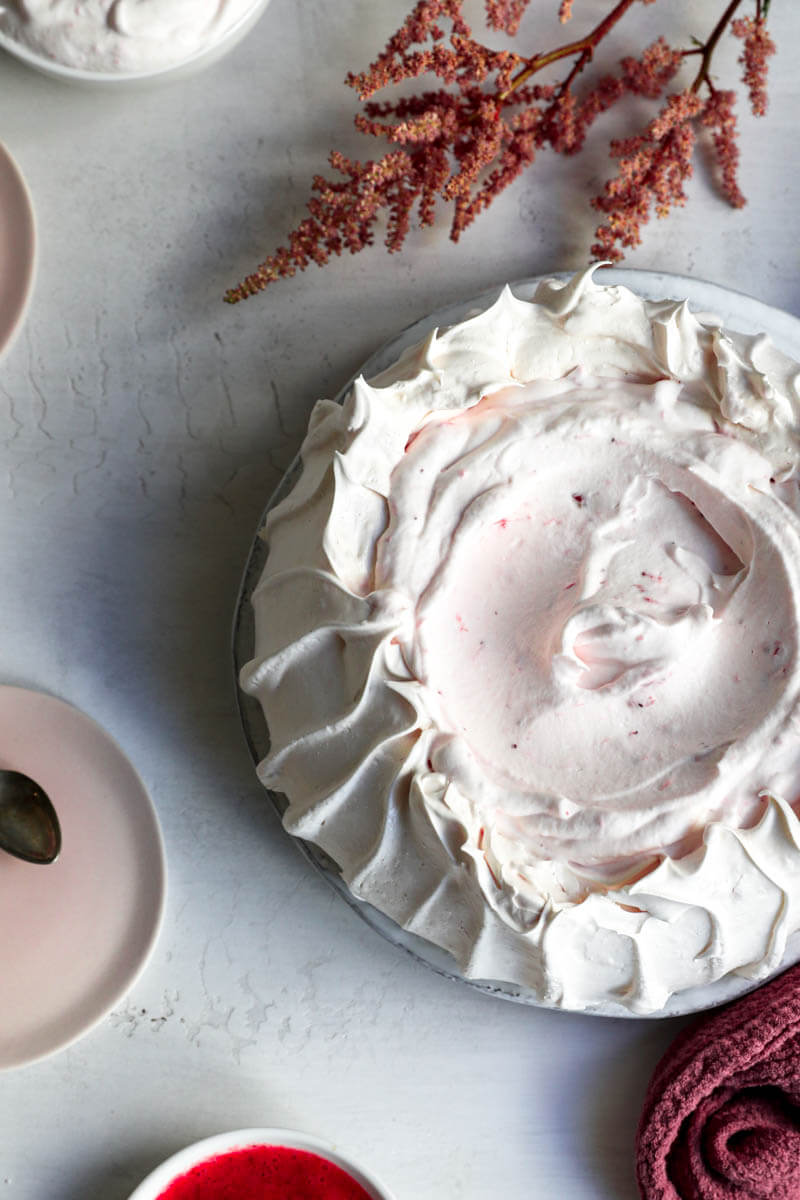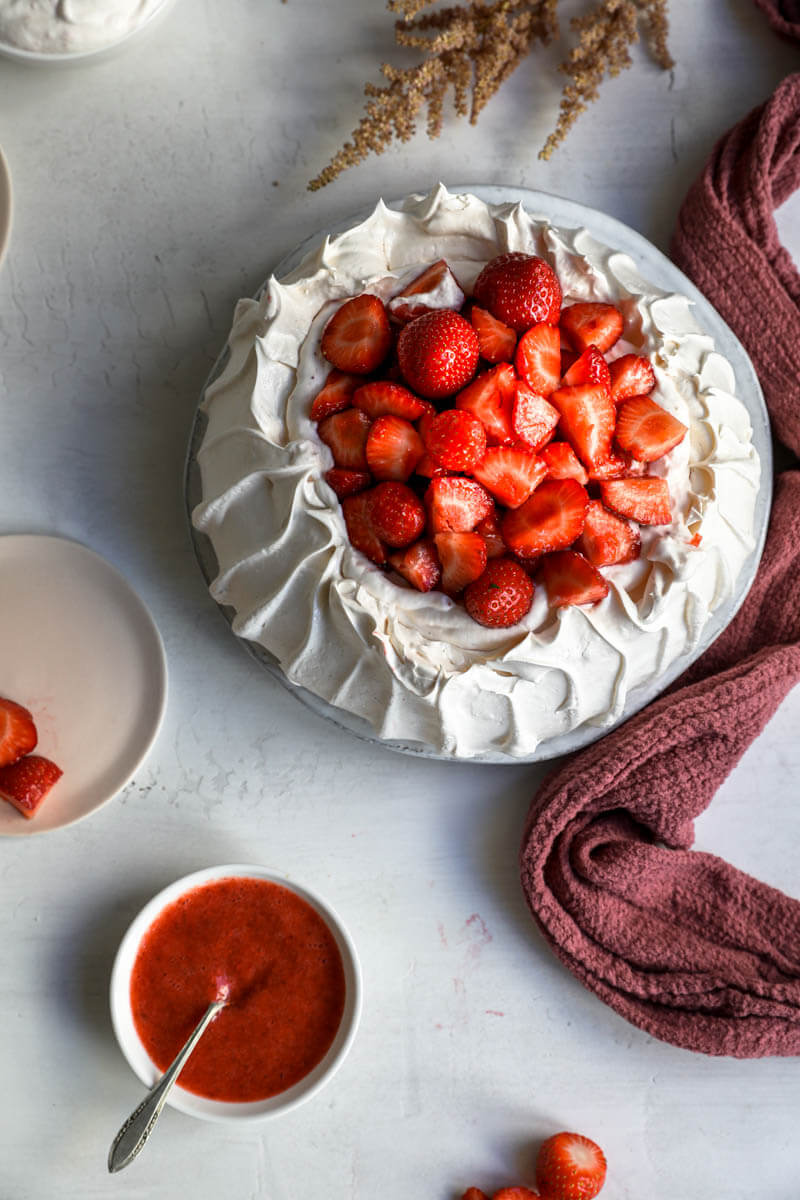 A note: to give strawberries some shine you can toss them with one teaspoon of powdered sugar!
Variations for this Strawberry Pavlova
You can make a mini pavlova version of this dessert too. This recipe makes 6/8 mini individual pavlovas.
You can also add a layer of dulce de leche underneath the Chantilly cream if you want to try it the Argentine way 😊.
You can replace the strawberries by any other fresh fruit you choose: raspberries, blueberries, mango. This list goes on!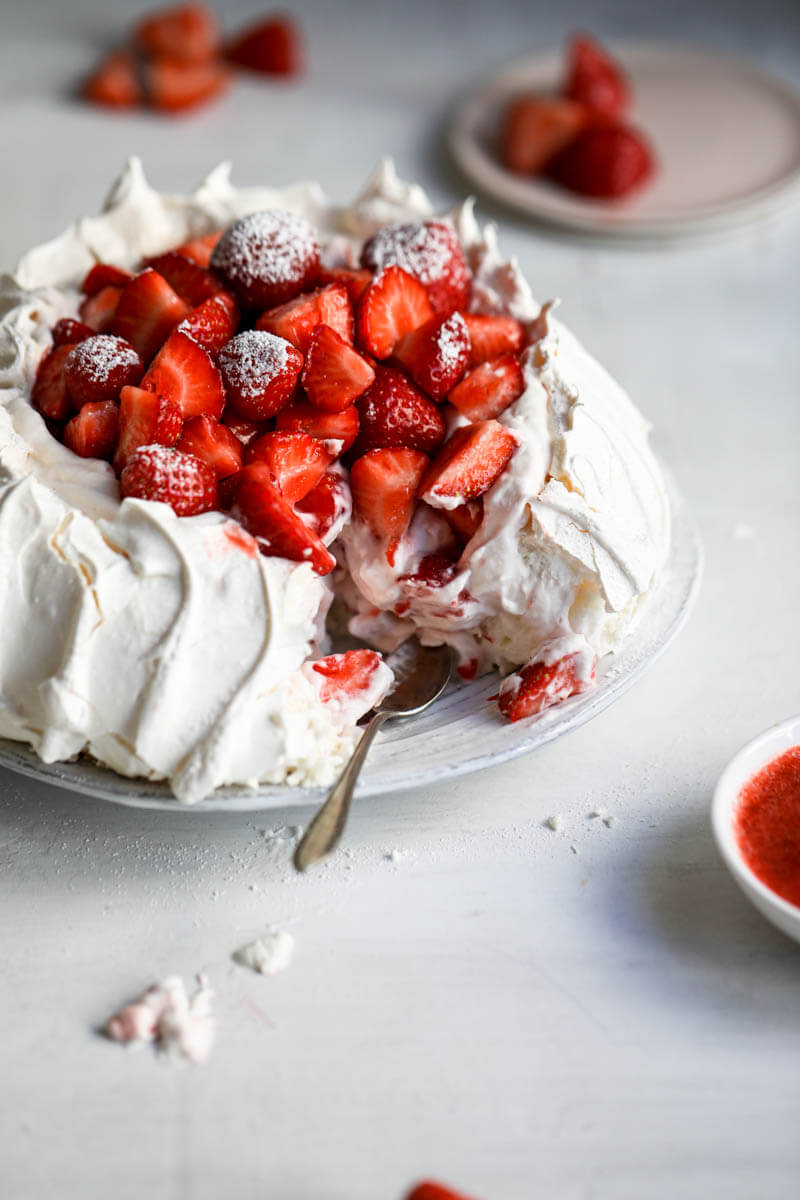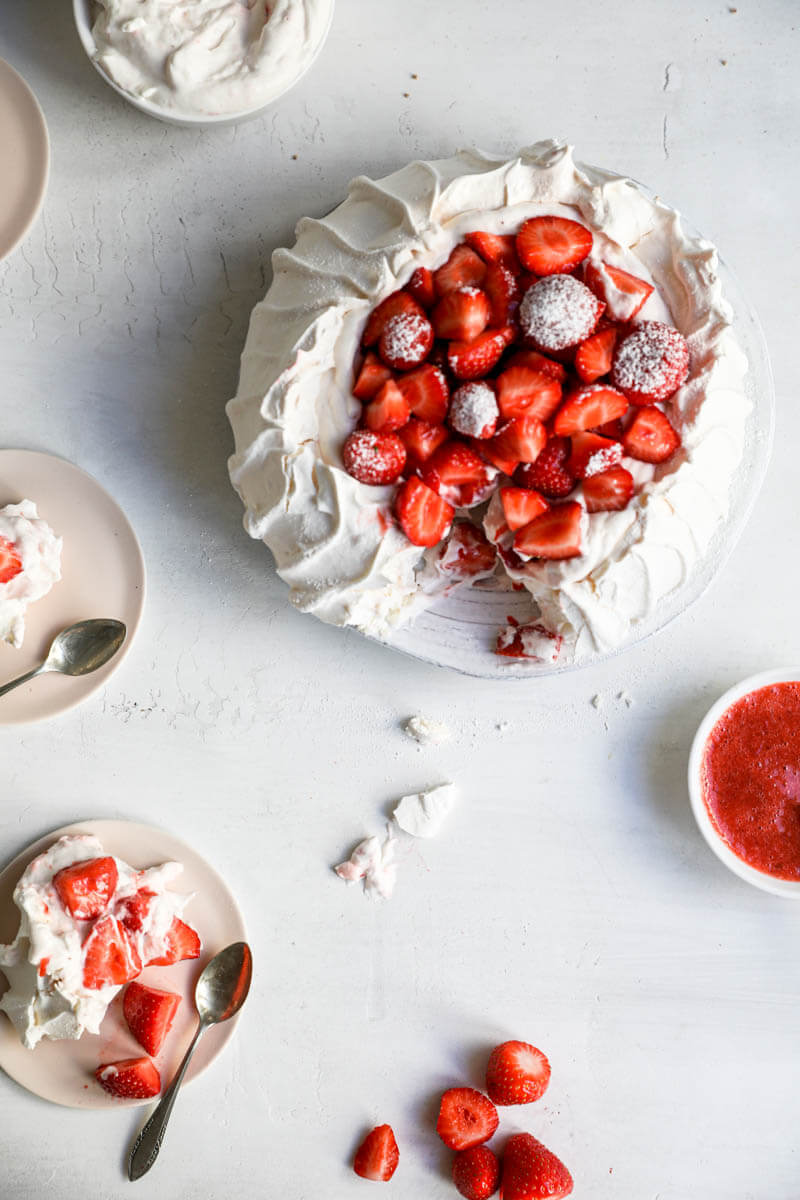 If you made this recipe I would really appreciate it if you leave a rating or comment below! Also, if you share on social media please use #cookwithbelula, I would love to see what you create!