If you are looking for an easy and impressive chocolate dessert, search no more. You have found it. This chocolate mousse tart is all I have ever dreamed off: almost effortless and it still looks like you have spent hours making it! The perfect dessert in my book 😊. Chocolate fan over here, and if you are like me, you will love this.
What will you need to make this no bake chocolate mousse pie?
Very few ingredients and utensils are necessary:
Oreo cookies. You can use store bought or you can make your own. You can find a great recipe here Homemade Oreos (only make the chocolate cookies, not the filling!).
Melted butter.
Dark Chocolate: use a good quality one, it will make all the difference. I use Valrhona chocolate and I love it.
Heavy Cream. Make sure it has all the fat, no skimmed cream or fat free.
Milk. Also, no skimmed milk please.
A 20 cm tart mould.
A food processor to pulse the cookies for. You can do this using a bag and a rolling pin if you don't have one 😉.
A mixer or a strong arm and a whisk for whisking the cream!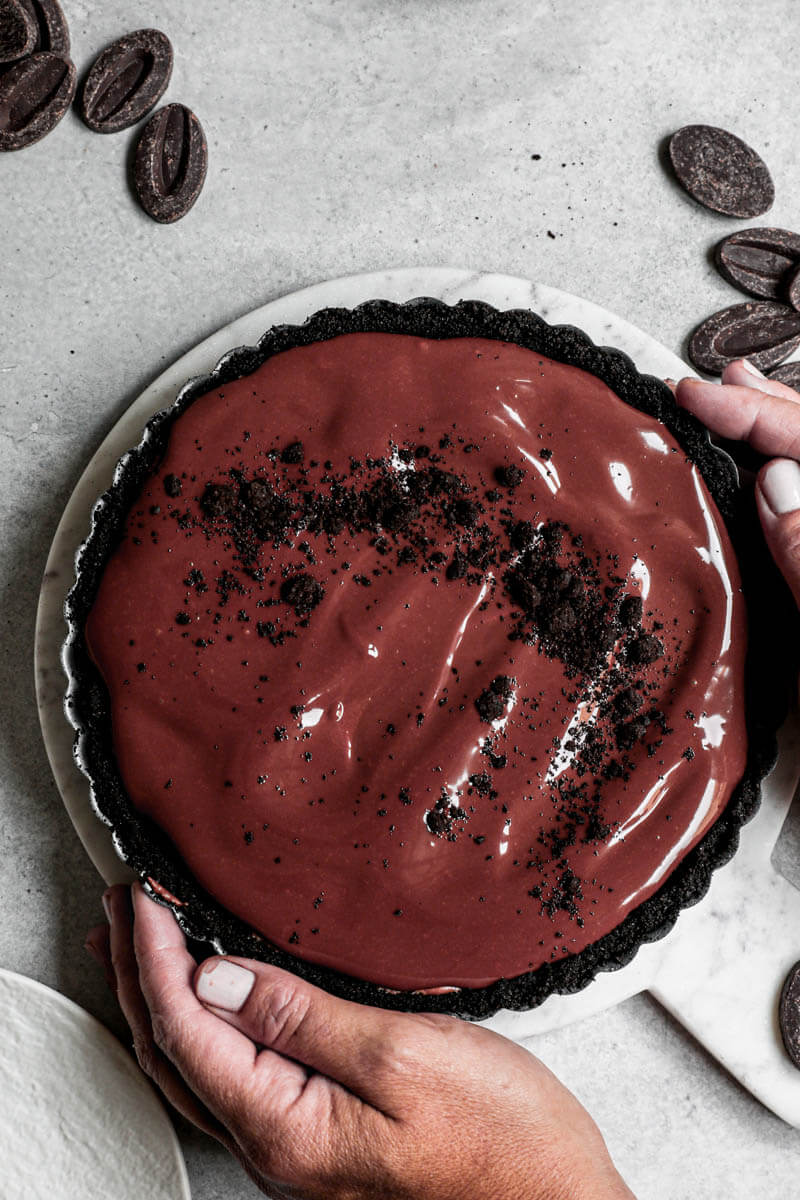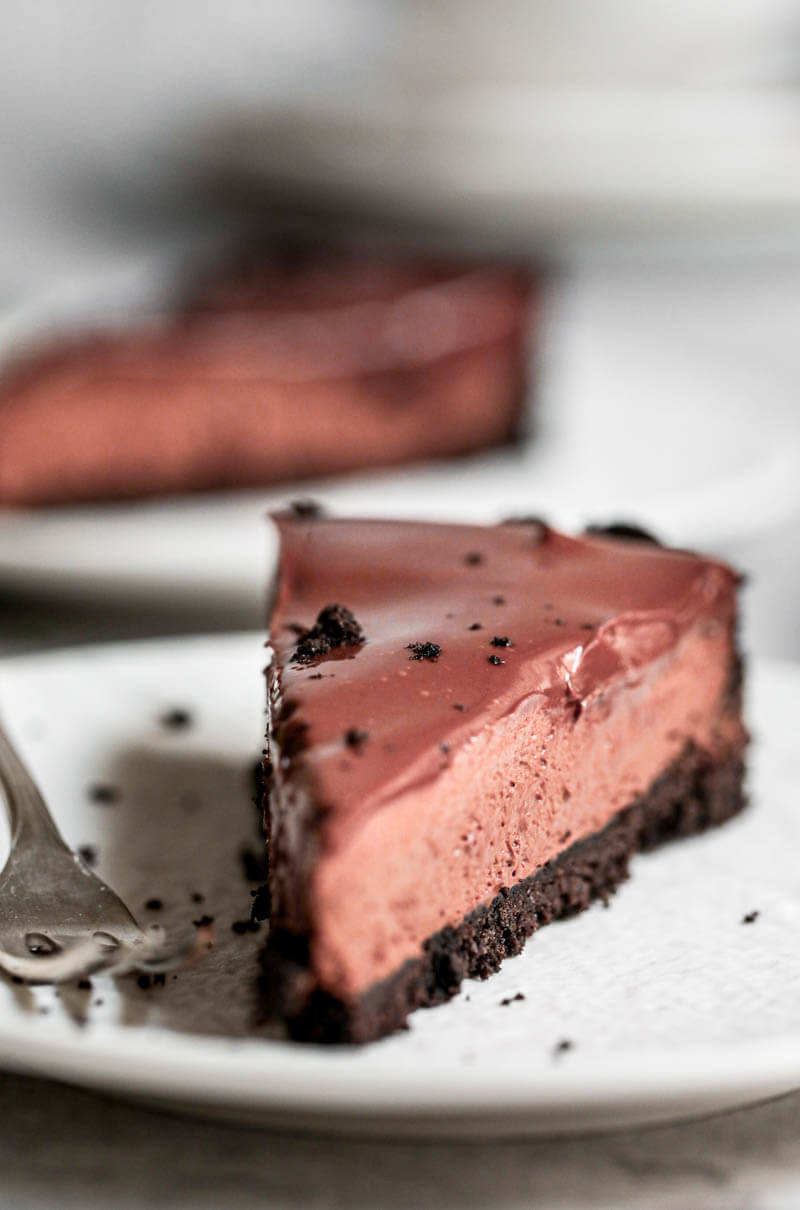 How to make chocolate mousse pie?
To make this chocolate mousse pie recipe there are three main components you need:
Oreo cookie crust
Dark chocolate mousse
Chocolate ganache
First you need to make the oreo pie crust by combing the cookie crumbs and the melted butter in a small bowl. Pour into a greased 20 cm tart mould, then press into an even layer along the bottom, reaching up to the sides until they are completely covered. Refrigerate while you make the mousse.
Once the crust is ready, make the chocolate mousse (detailed explanation in the next question 😉) and then fill the pie with it. Spread evenly using an offset spatula or the back of a spoon. Refrigerate until the mousse has set and chilled. About 4 hours.
Once the mousse has set and the four hours have passed, make the chocolate ganache and top the chocolate mousse pie with it. Sprinkle some crushed oreos over it.
This pie must be enjoyed chilled!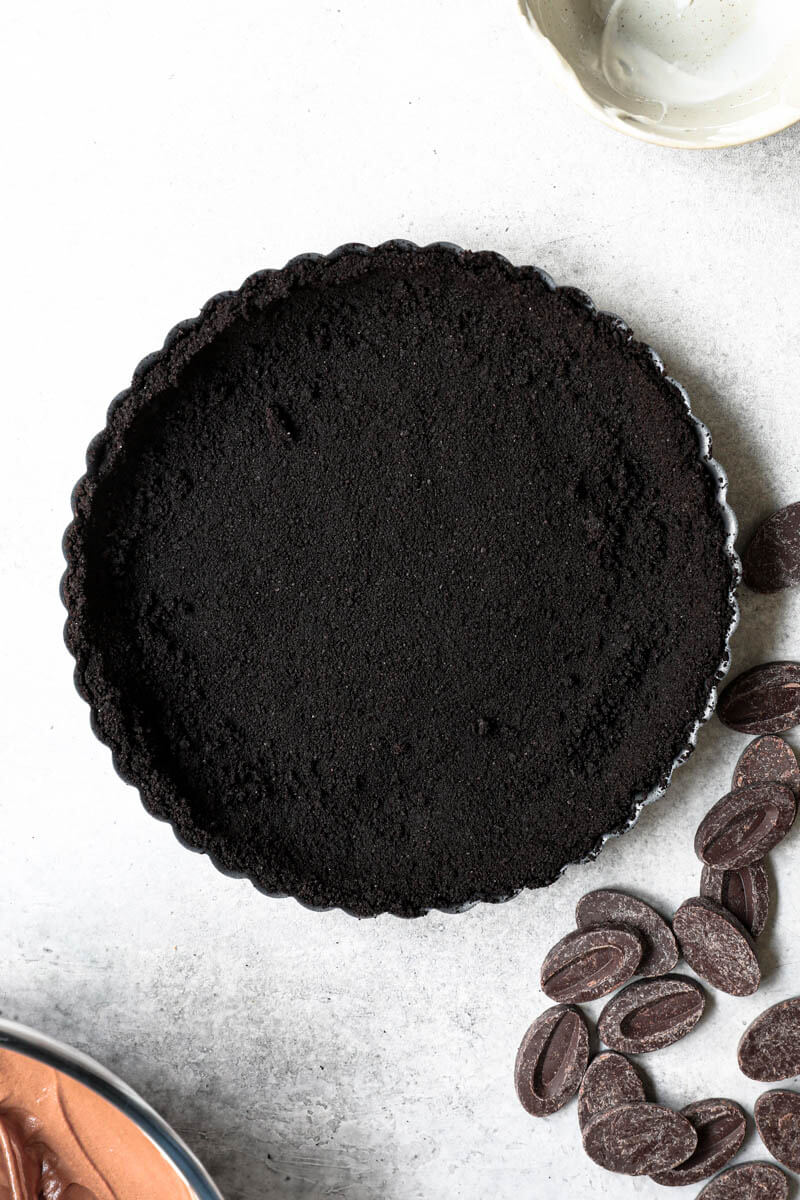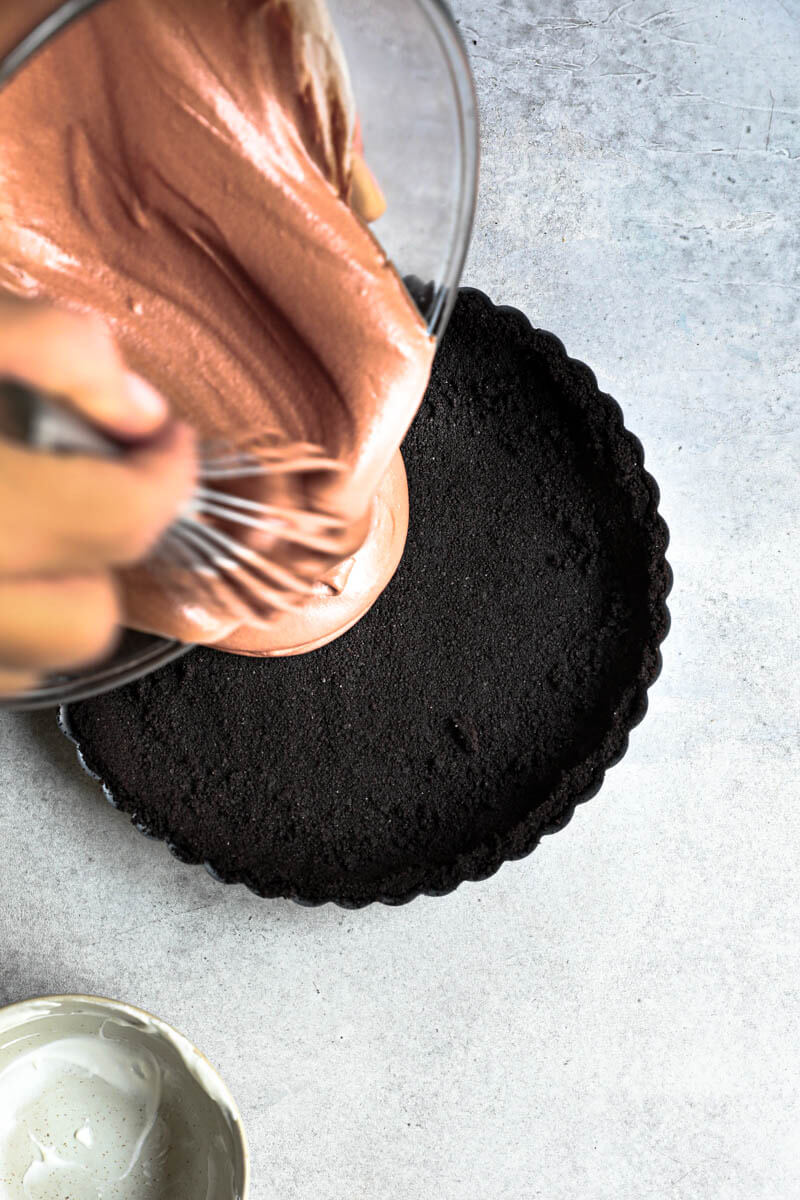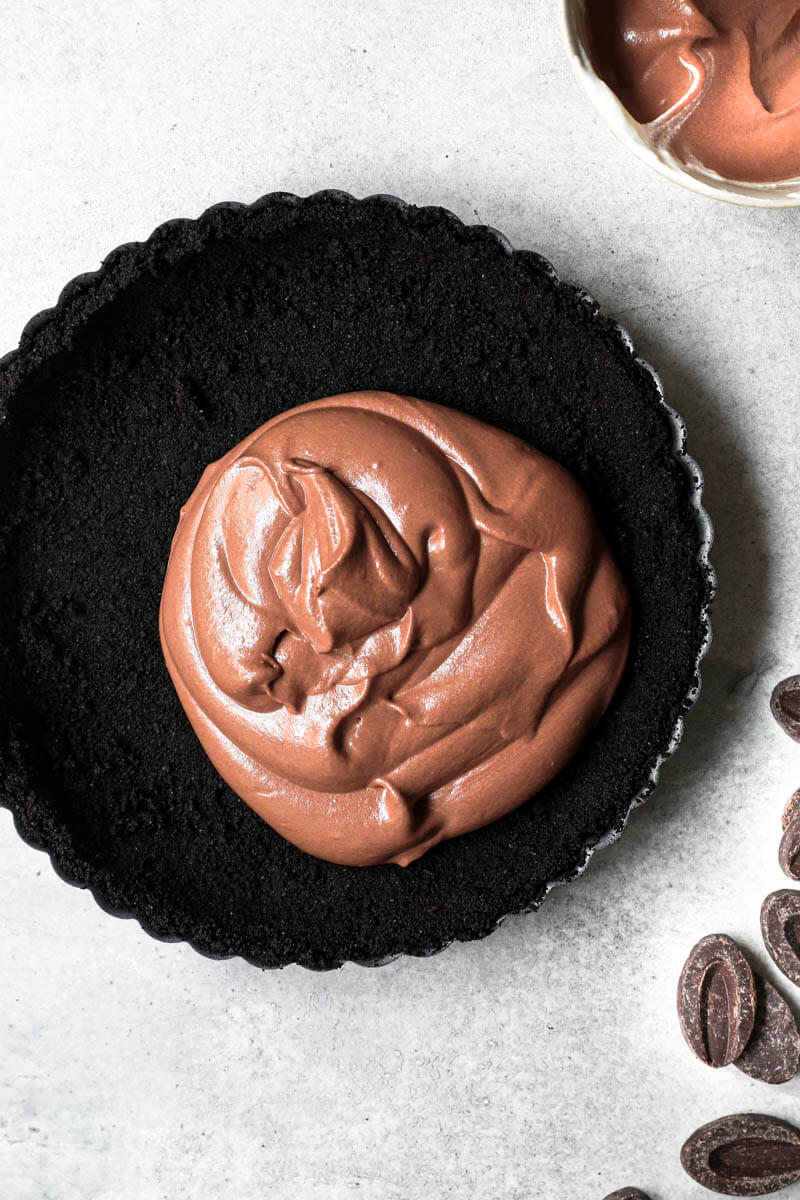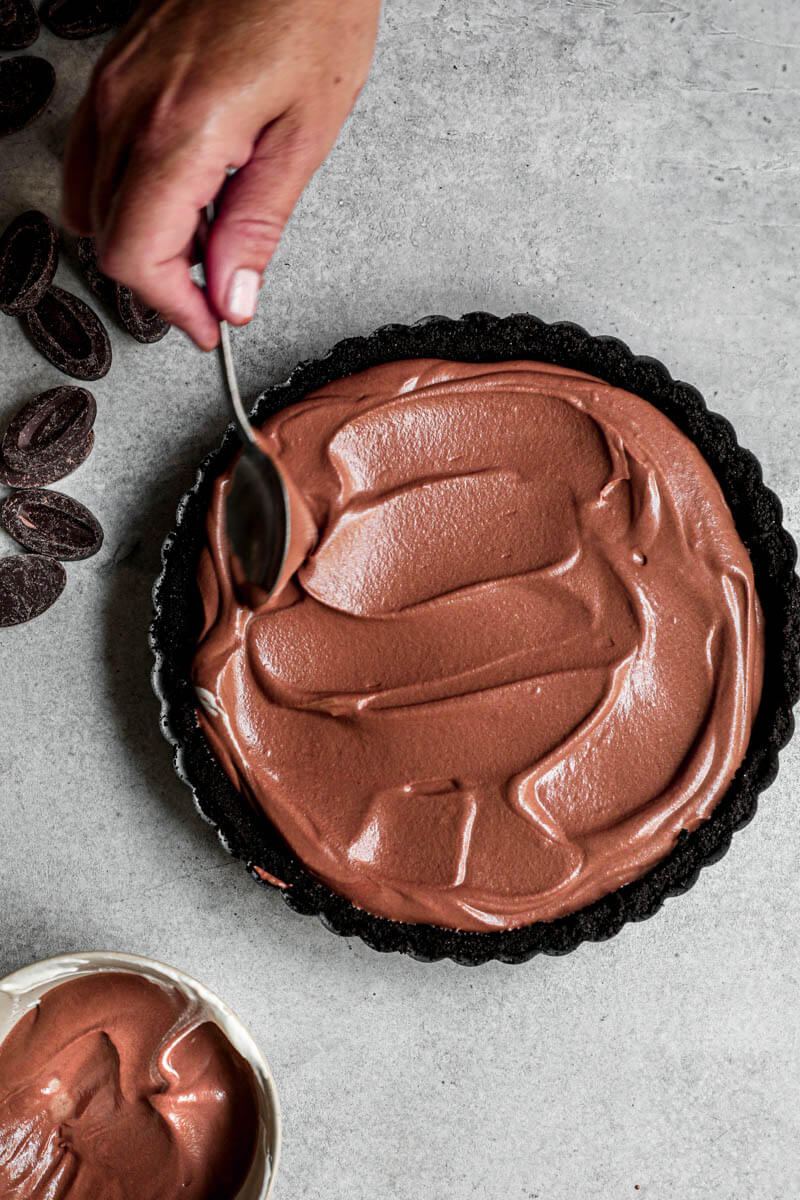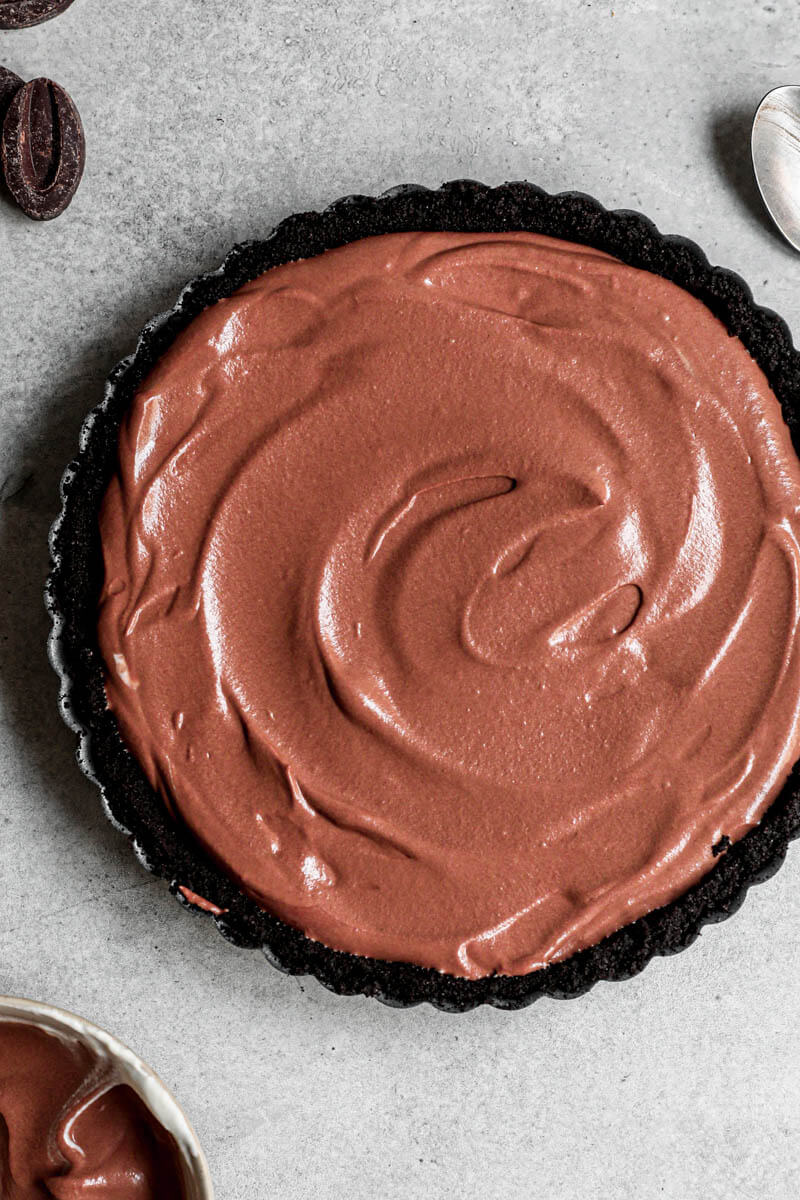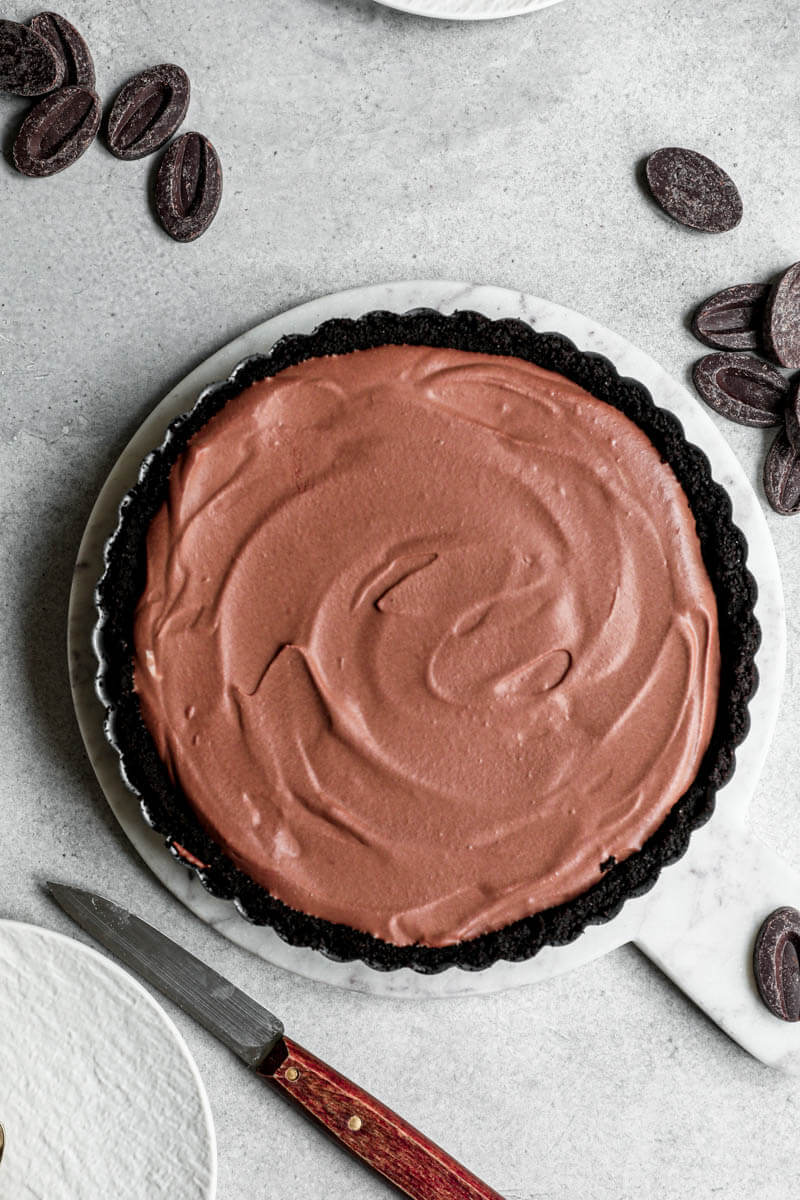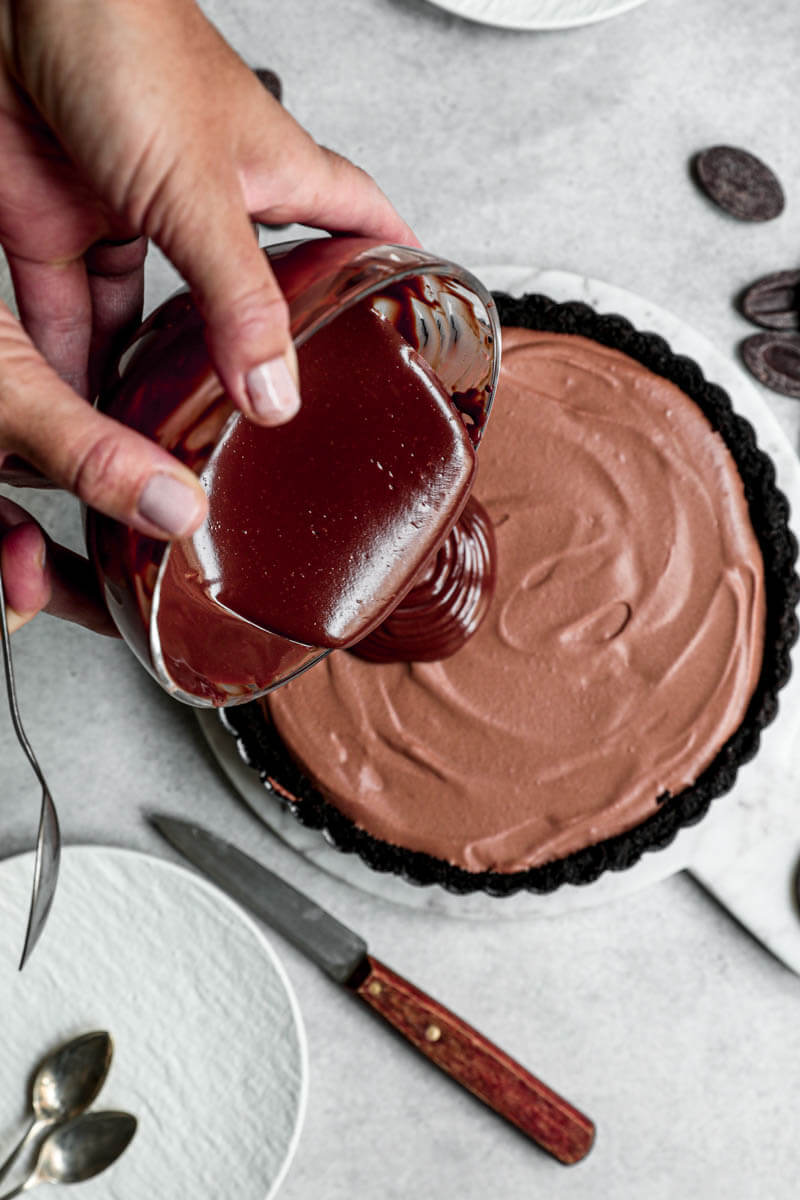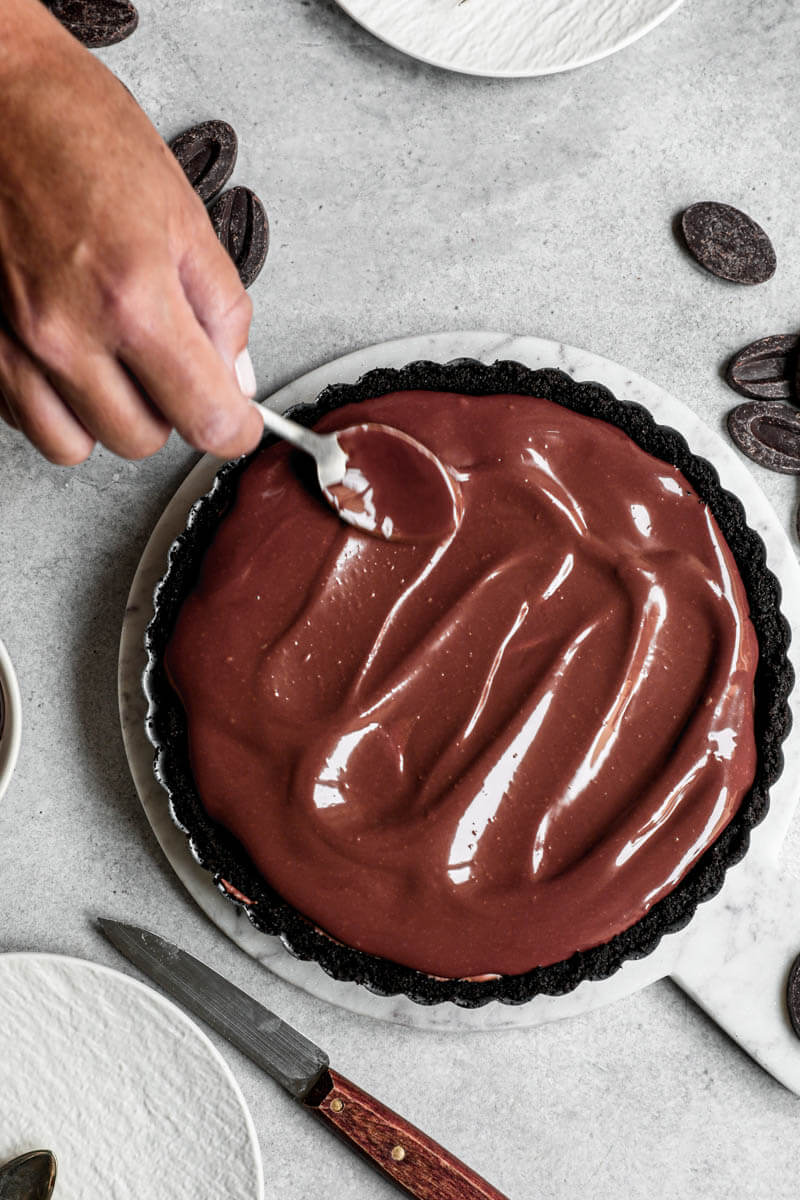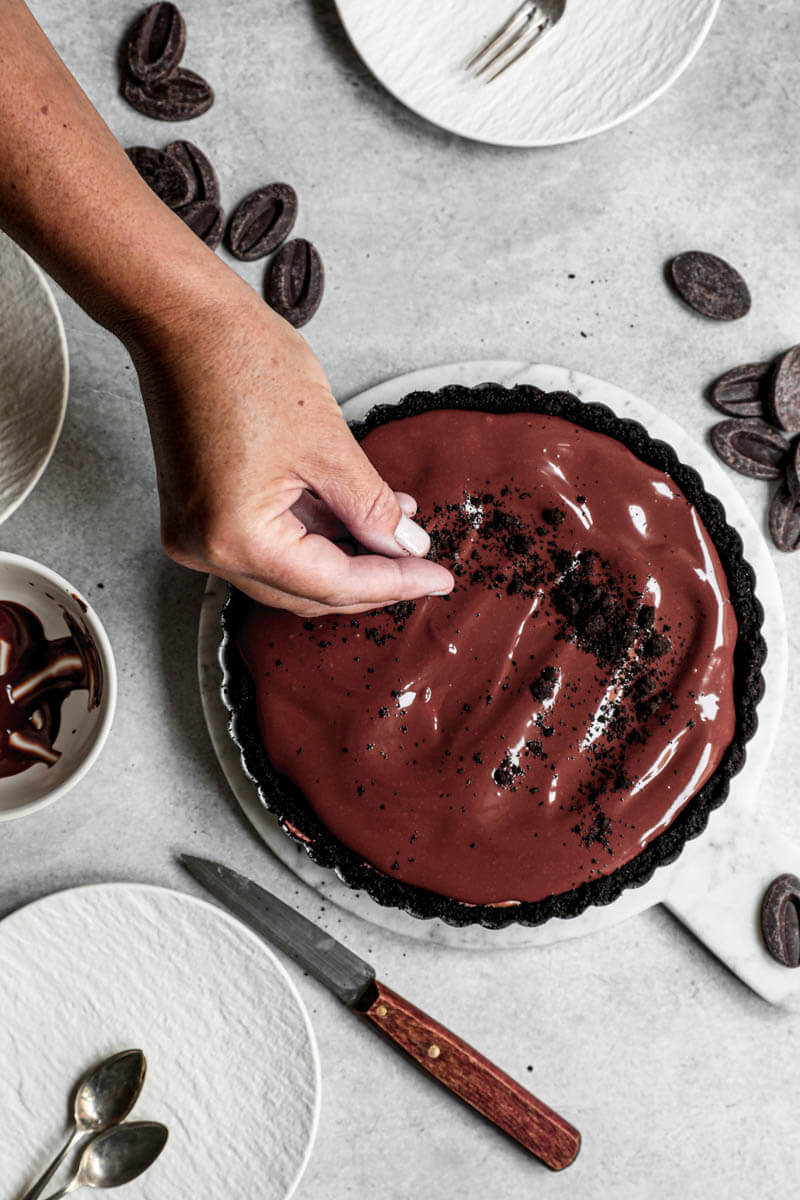 How to make chocolate mousse filling?
To make this easy chocolate mousse you need to:
Whip the cream until it holds stiff peaks. Keep in the refrigerator until needed. Beware: don't over whisk the heavy cream. We are looking for a smooth consistency. Pro tip: refrigerate both the cream and the bowl you will be whisking the cream. Cream must be very cold to properly gain volume and hold up.
Make a ganache using the milk and the chocolate: bring the milk to simmer and pour over the chocolate. Let it sit for a few minutes. Using a whisk start mixing from the center and as the chocolate and milk emulsify move towards the side of the bowl. Let it sit at room temperature for 5 minutes.
Fold in the whipped cream (in 2 additions) into the chocolate ganache.
Fill the tart mould with the mousse and spread evenly.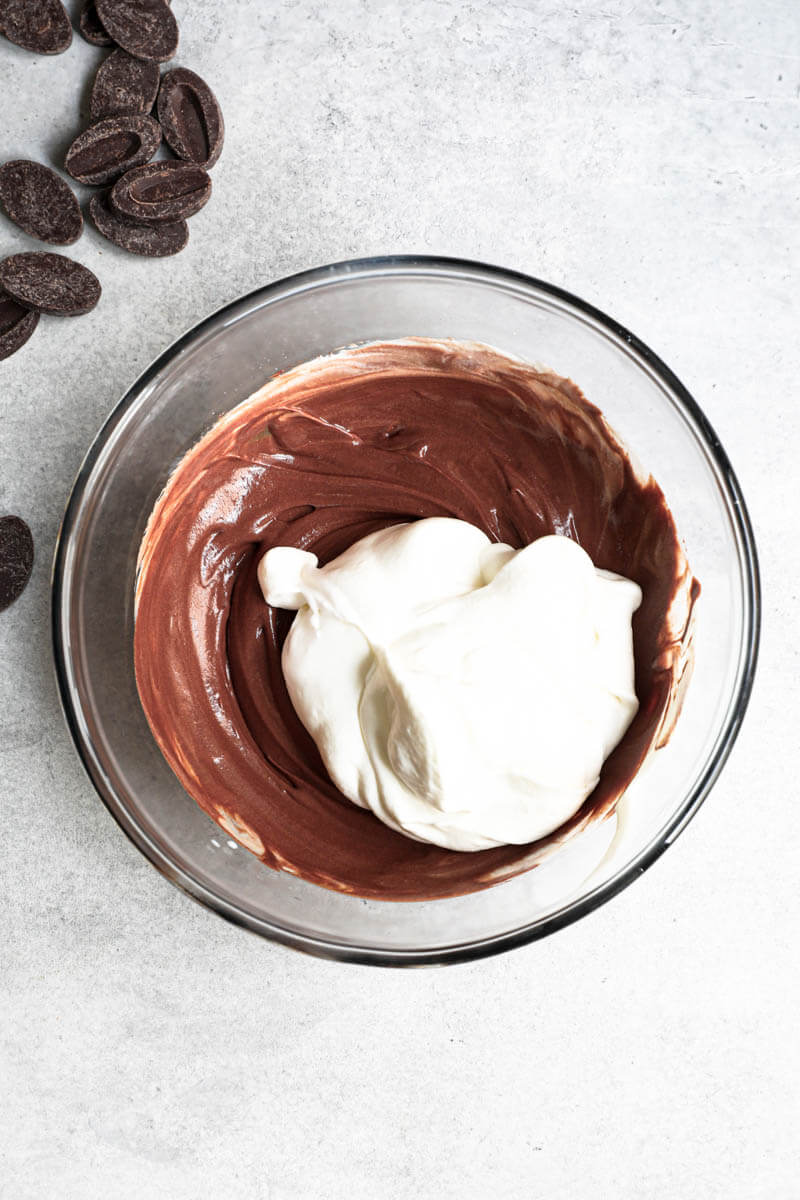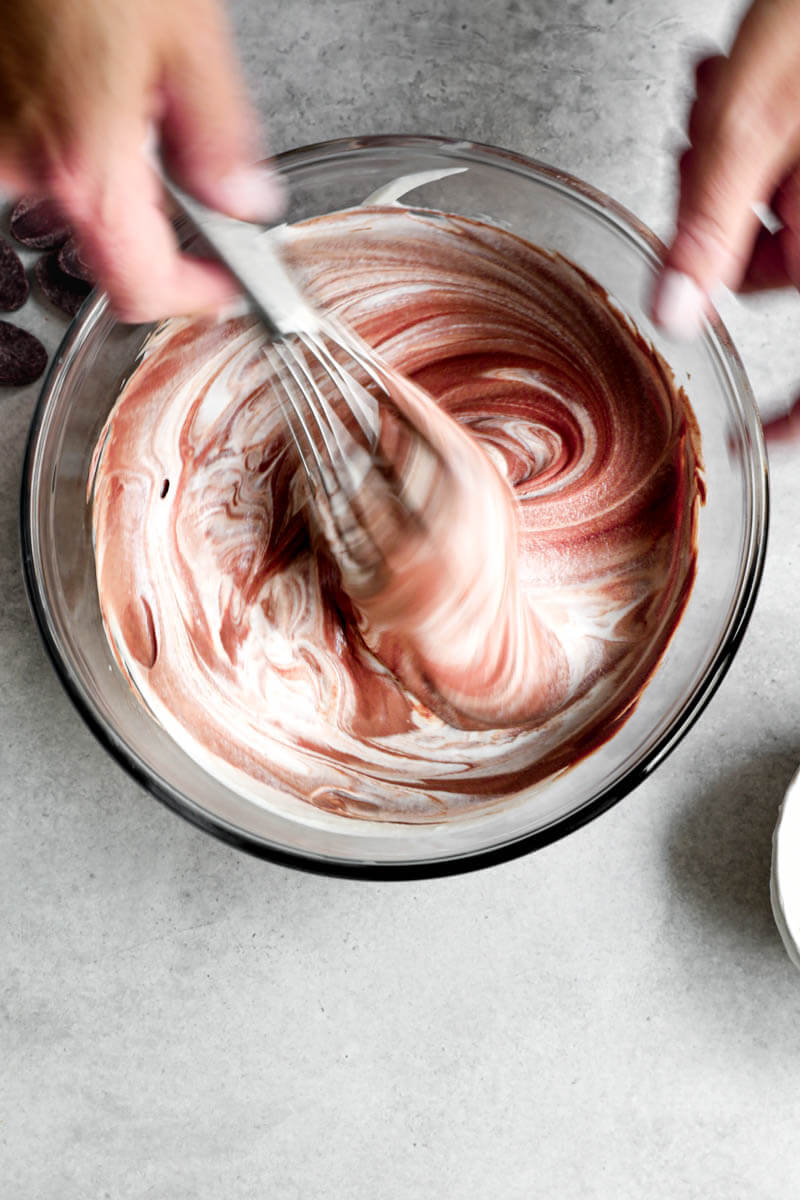 Can chocolate mousse be made in advance?
Chocolate mousse can be made in advance if you will be having it as a dessert on its own. Up to 2 days in advance is fine.
However, if you are using this chocolate mousse as a pie or cake filling it must be prepared at the time you are planning to assemble said tart or cake. It can't be made in advance in this case.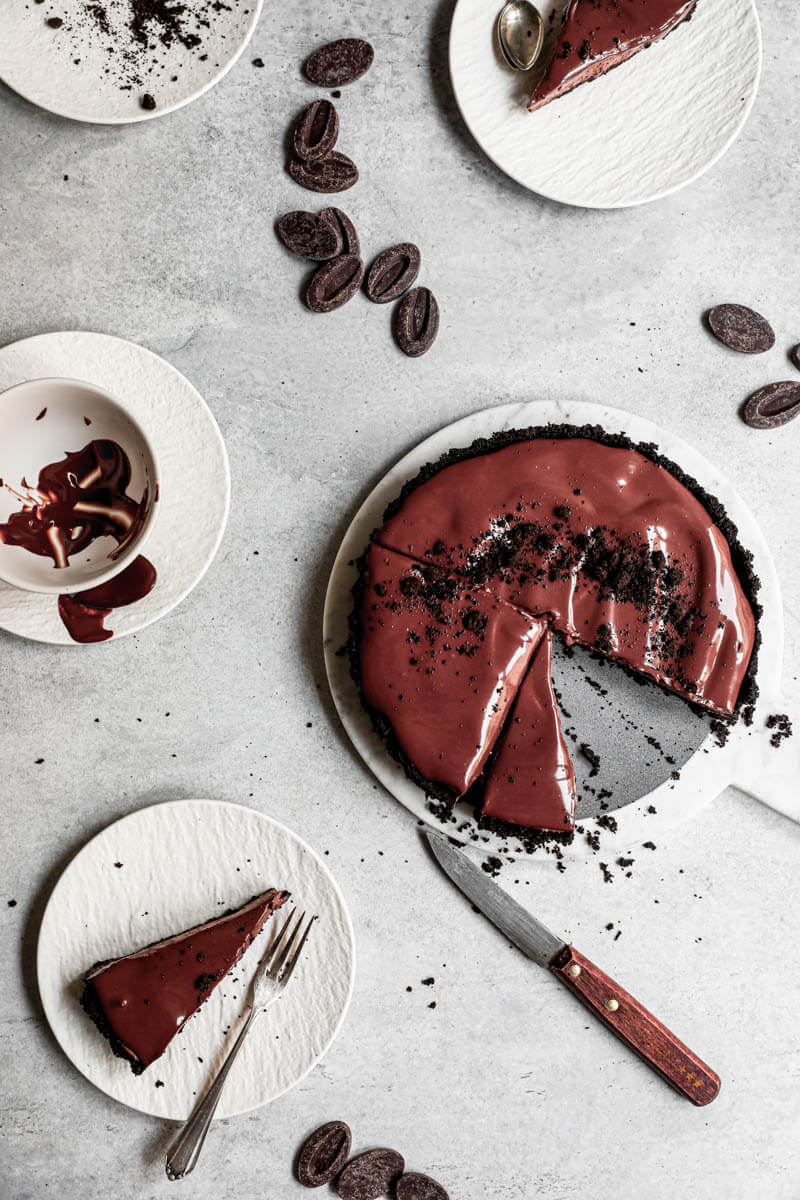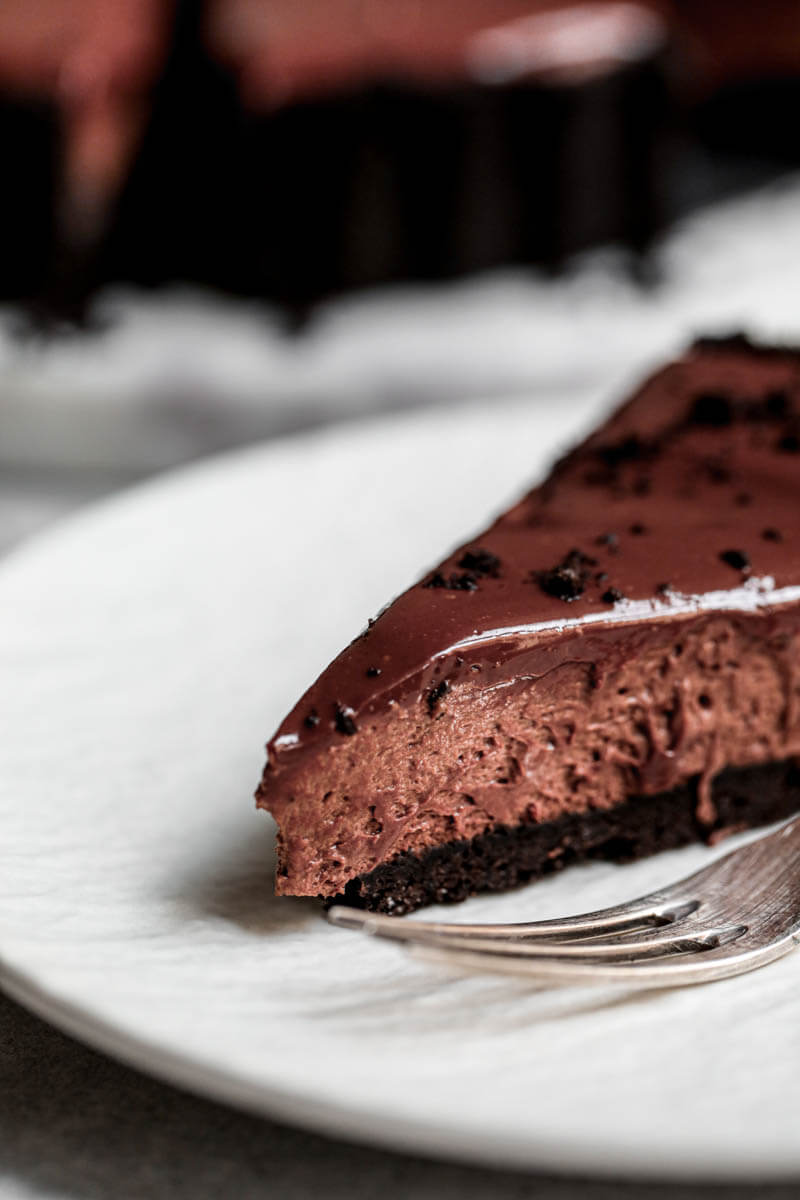 Can chocolate mousse be left out?
Chocolate mousse cannot be left out. It needs to always be refrigerated.
How long does chocolate mousse pie last?
This chocolate tart lasts for 3 to 4 days in the refrigerator. If it lasts this long 😉.
Can you freeze chocolate mousse pie?
You can freeze this dessert. I would recommend freezing it without the chocolate ganache frosting.
As soon as you have filled your pie tin with the chocolate mousse, cover it and freeze for up to 1 month.
To defrost: let it sit in the refrigerator overnight. Top with the chocolate ganache and enjoy.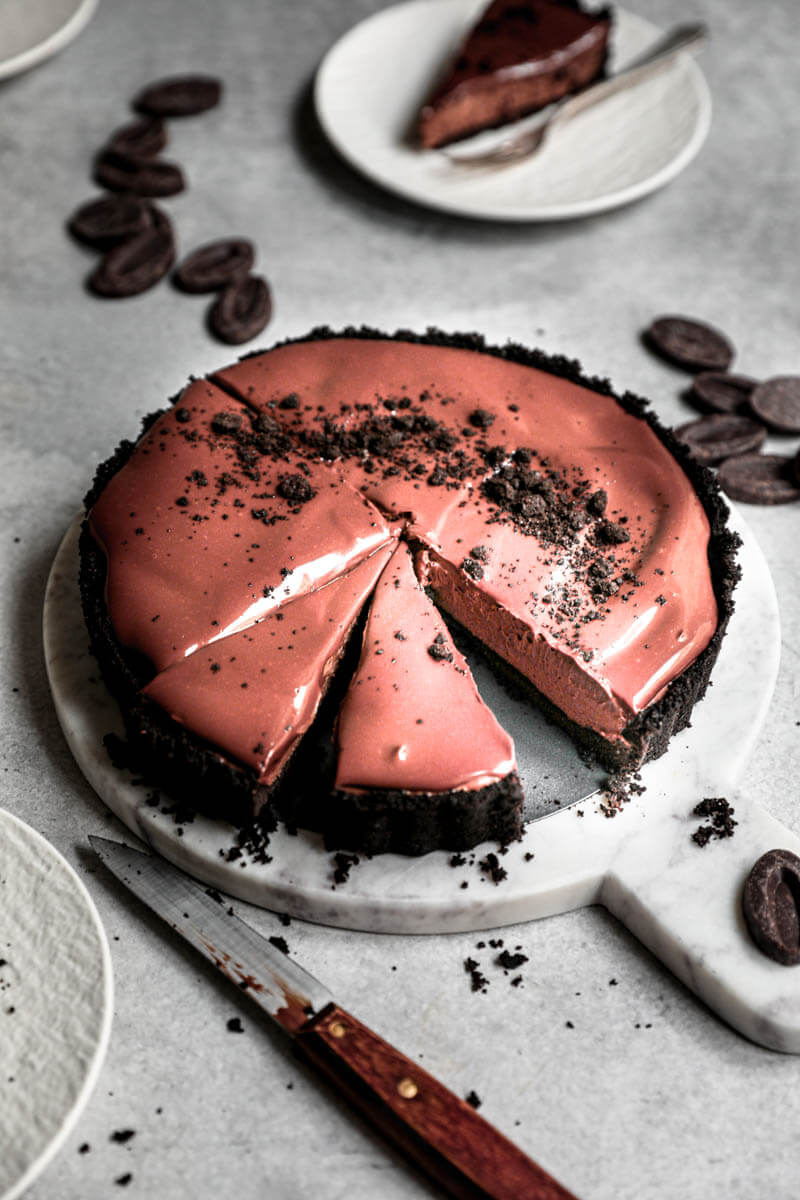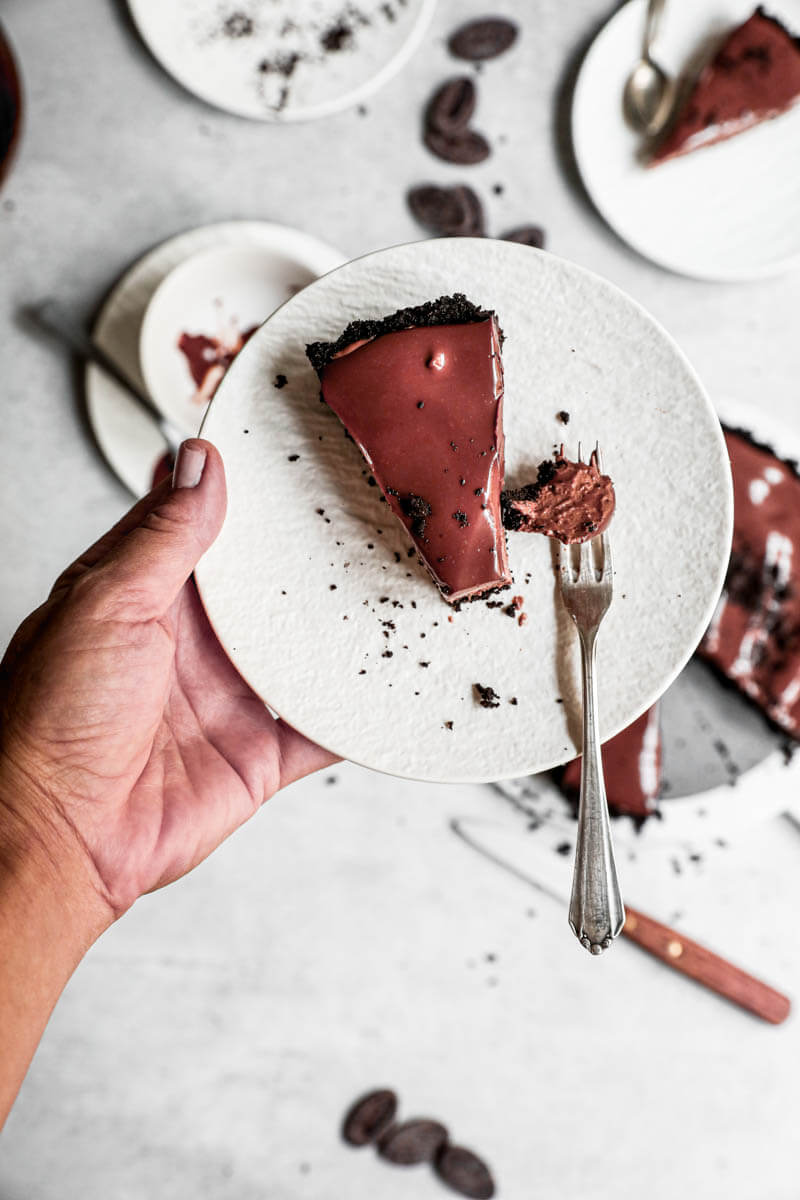 If you made this recipe I would really appreciate it if you leave a rating or comment below! Also, if you share on social media please use #cookwithbelula, I would love to see what you create!