Easy No Bake Dark Chocolate Mousse Pie with Oreo Crust
This easy no bake dark chocolate mousse is simple and quick to make. Made with an Oreo crust, a generous 3-ingredient chocolate mousse filling topped with chocolate ganache.
If you are looking for an easy and impressive chocolate mousse dessert, look no more - You've found it! This easy no bake chocolate mousse pie is all I have ever dreamed of; almost effortless and it still looks like you have spent hours making it! It is made with a base of Oreo crust, a 3-ingredient dark chocolate mousse filling, and topped with a silky chocolate ganache frosting. The best dark chocolate mousse pie ever! Chocolate fan over here, and if you are like me, you will LOVE this.
Material & Ingredient Notes
Oreo cookies. You can use store bought or you can make your own. You can find a great recipe here Homemade Oreos (only make the chocolate cookies, not the filling!).
Melted butter.
Dark Chocolate: use a good quality one, it will make all the difference. I use Valrhona chocolate and I love it.
Heavy Cream. Make sure it has all the fat, no skimmed cream or fat-free.
Milk. Also, no skimmed milk, please!
Chocolate ganache: for the frosting of the chocolate pie. You can find all the details and tips on how to get a smooth chocolate ganache here.
A 20 cm / 8-inch tart mold. I like this one.
A food processor to pulse the cookies for. You can do this using a bag and a rolling pin if you don't have one 😉.
A mixer or a strong arm and a whisk for whisking the cream!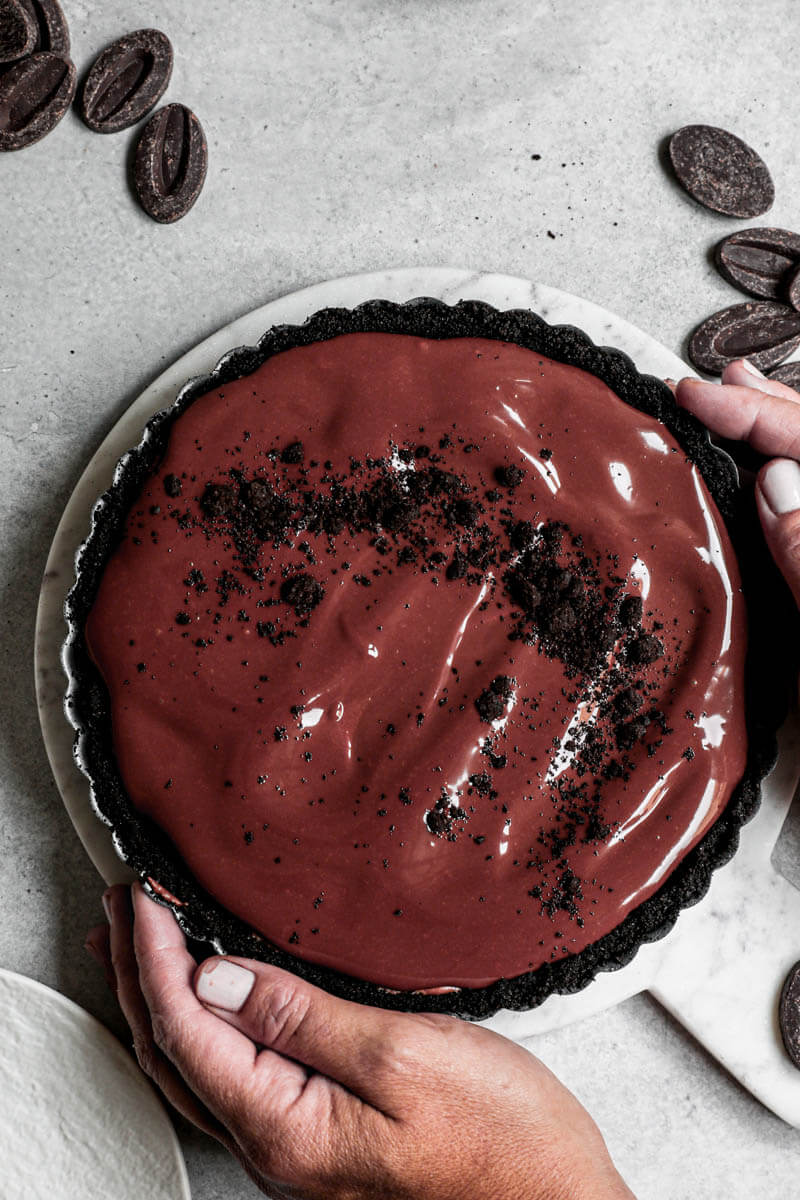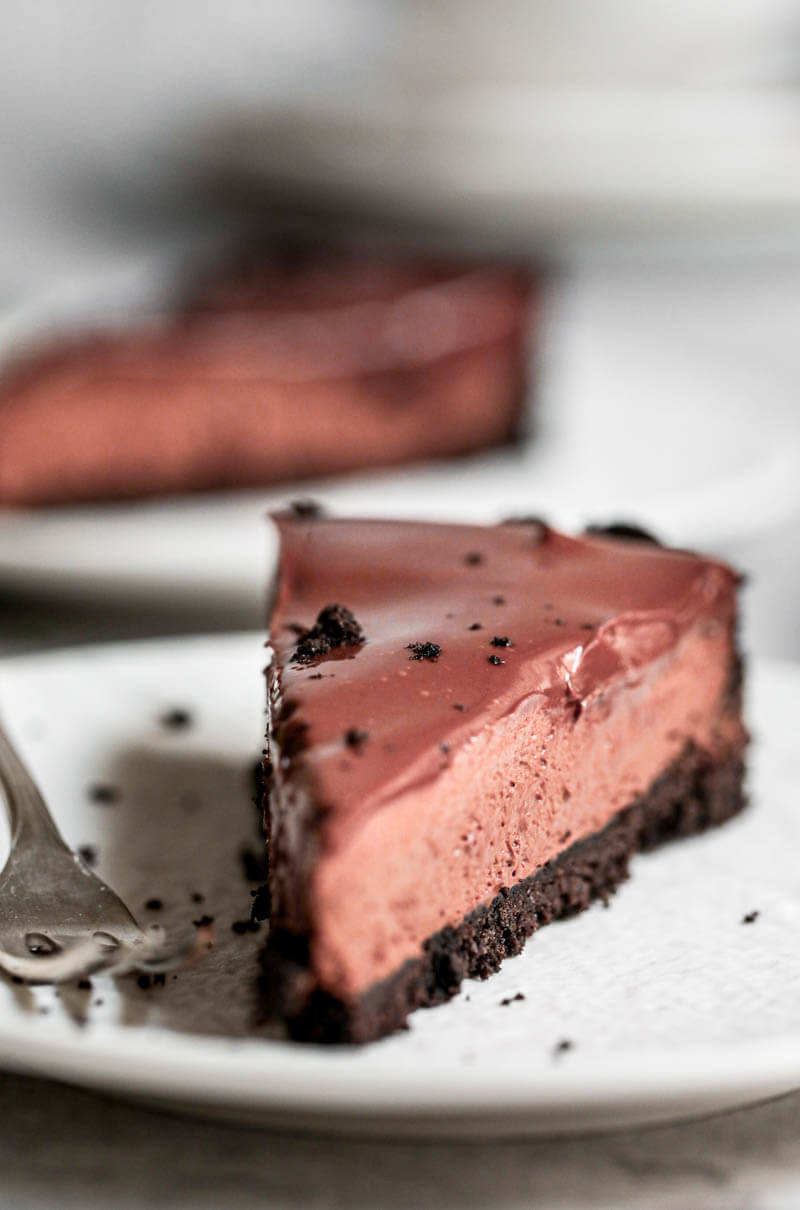 How to make this recipe
Ok, now how do we make a delectable chocolate mousse pie with oreo crust? You simply:
Make the oreo cookie crust
Make the dark chocolate mousse filling
Make Chocolate ganache
Glaze the pie
Enjoy!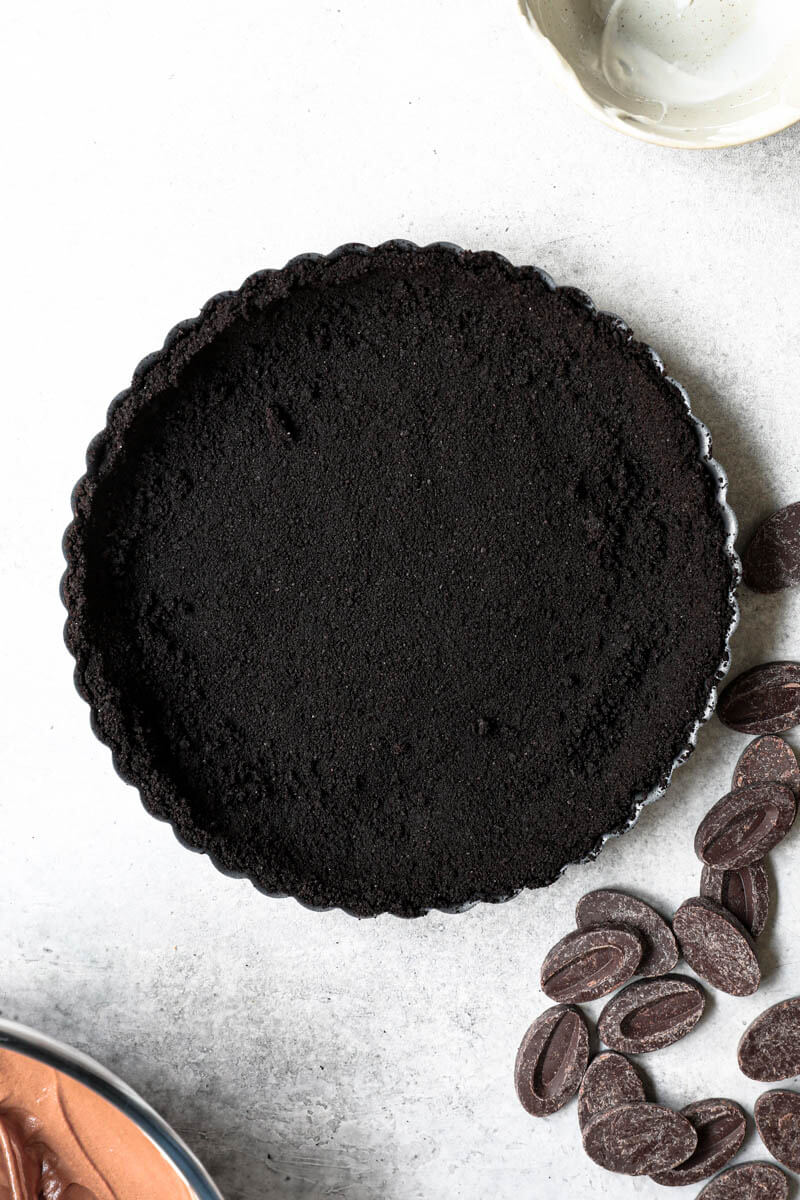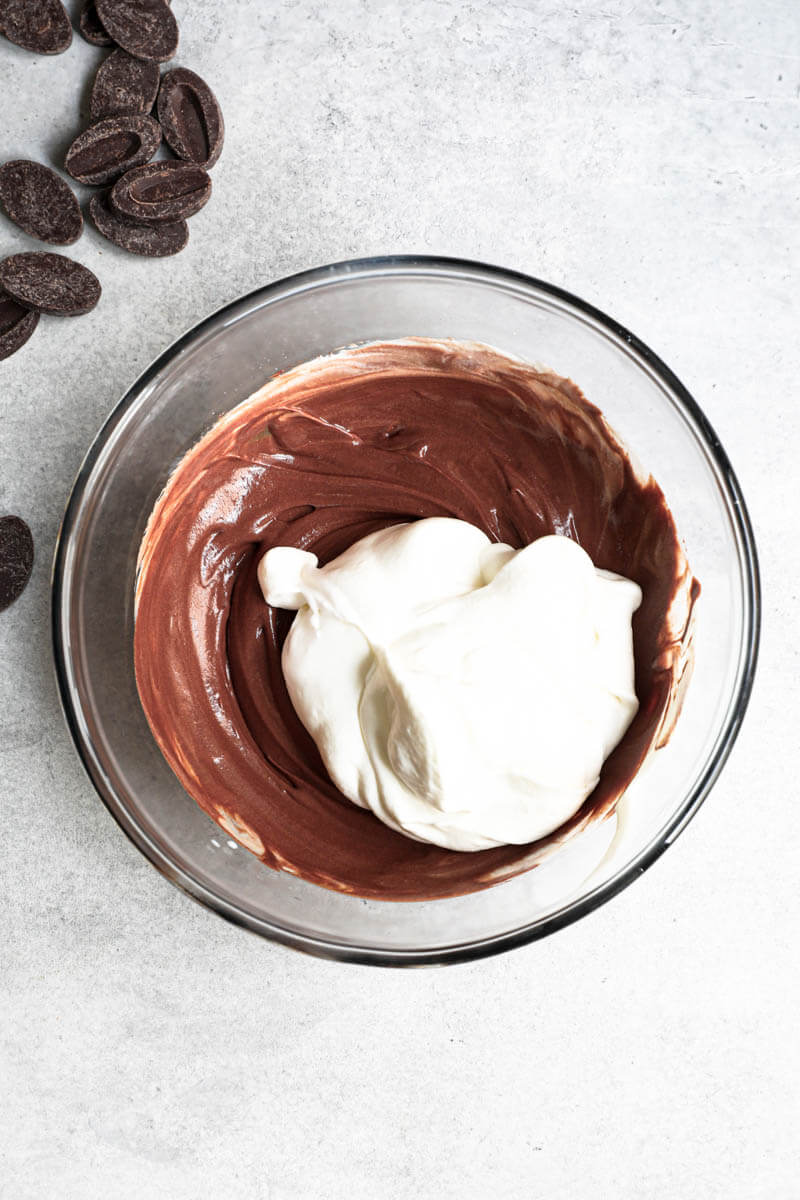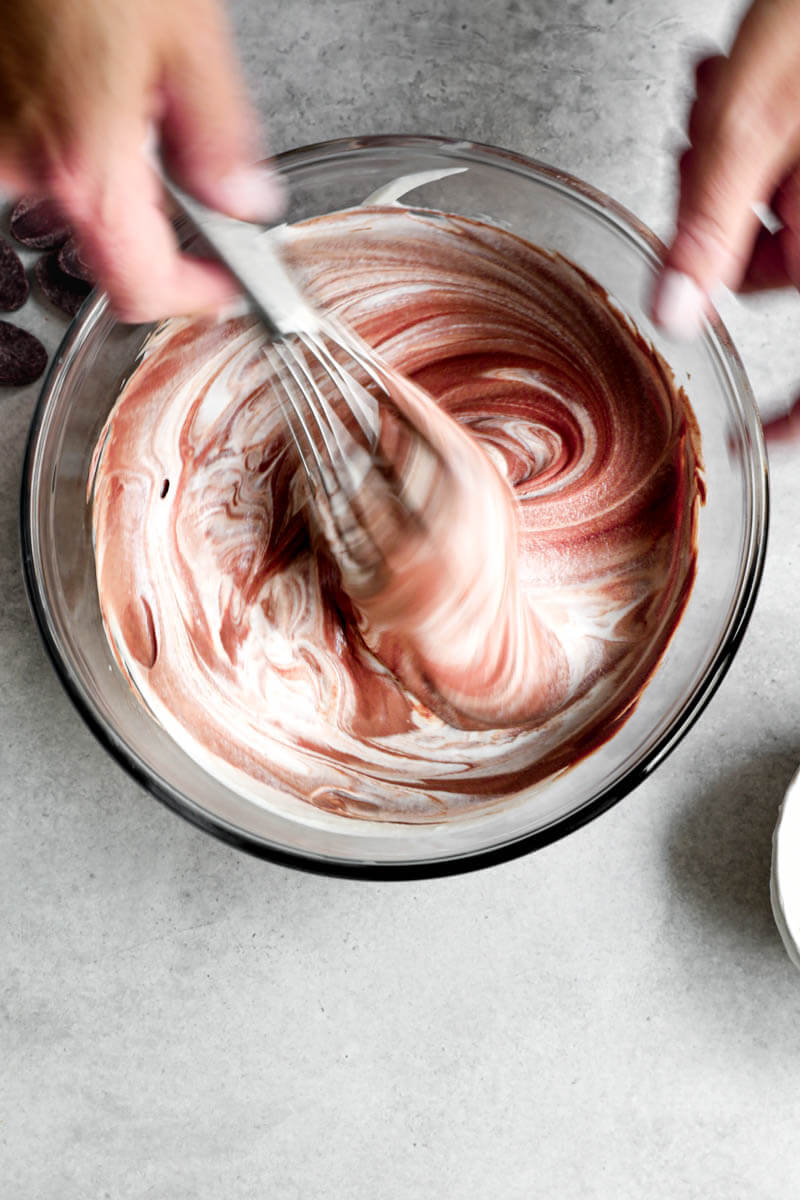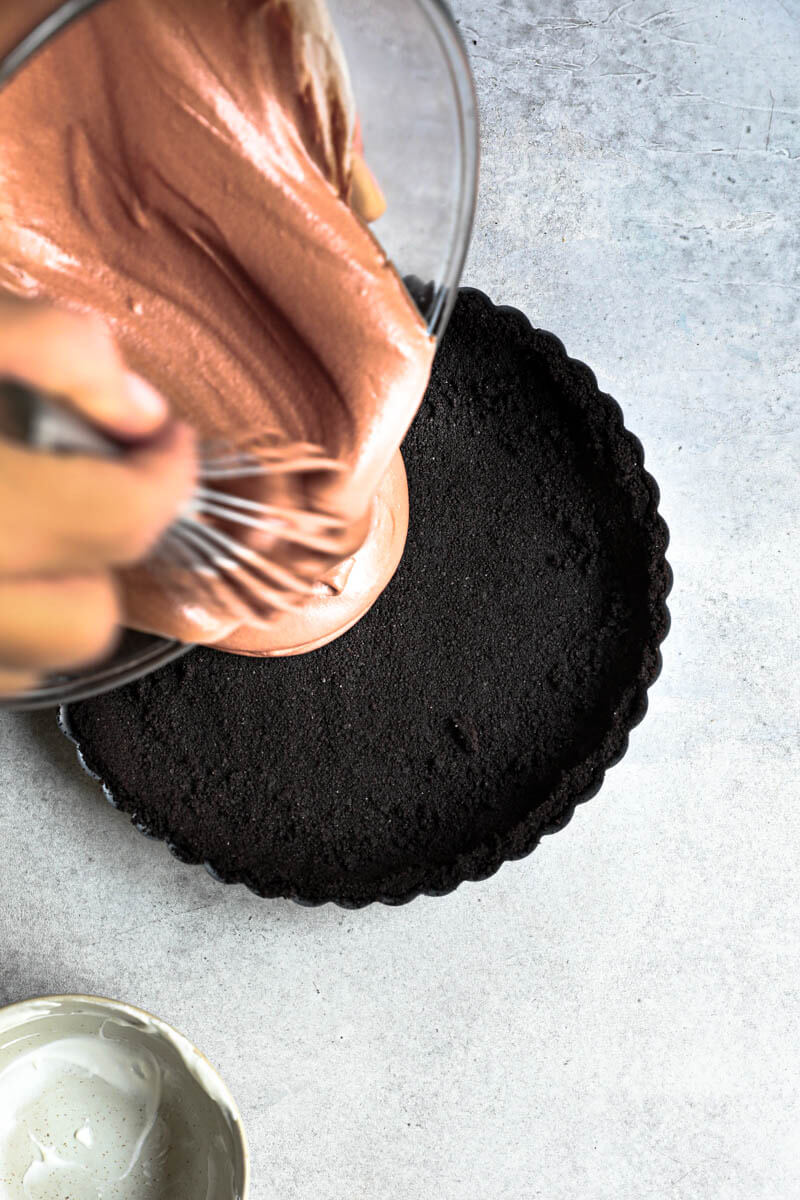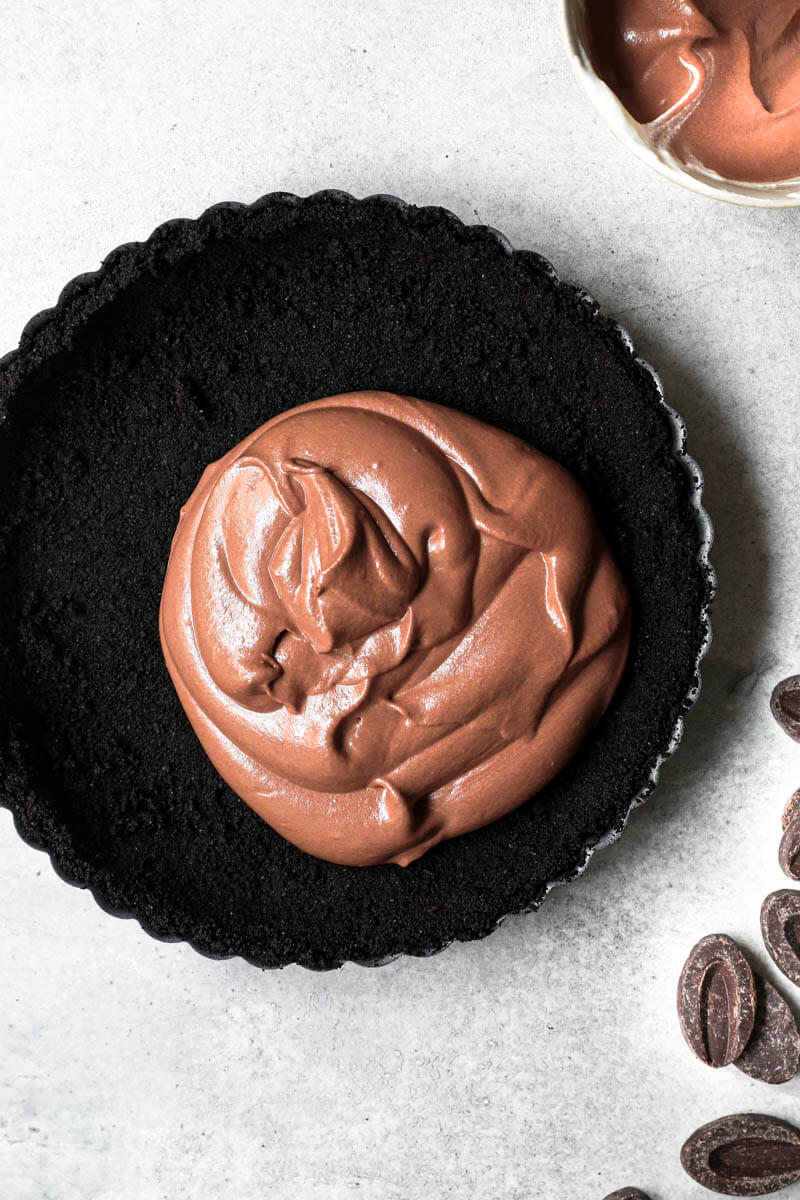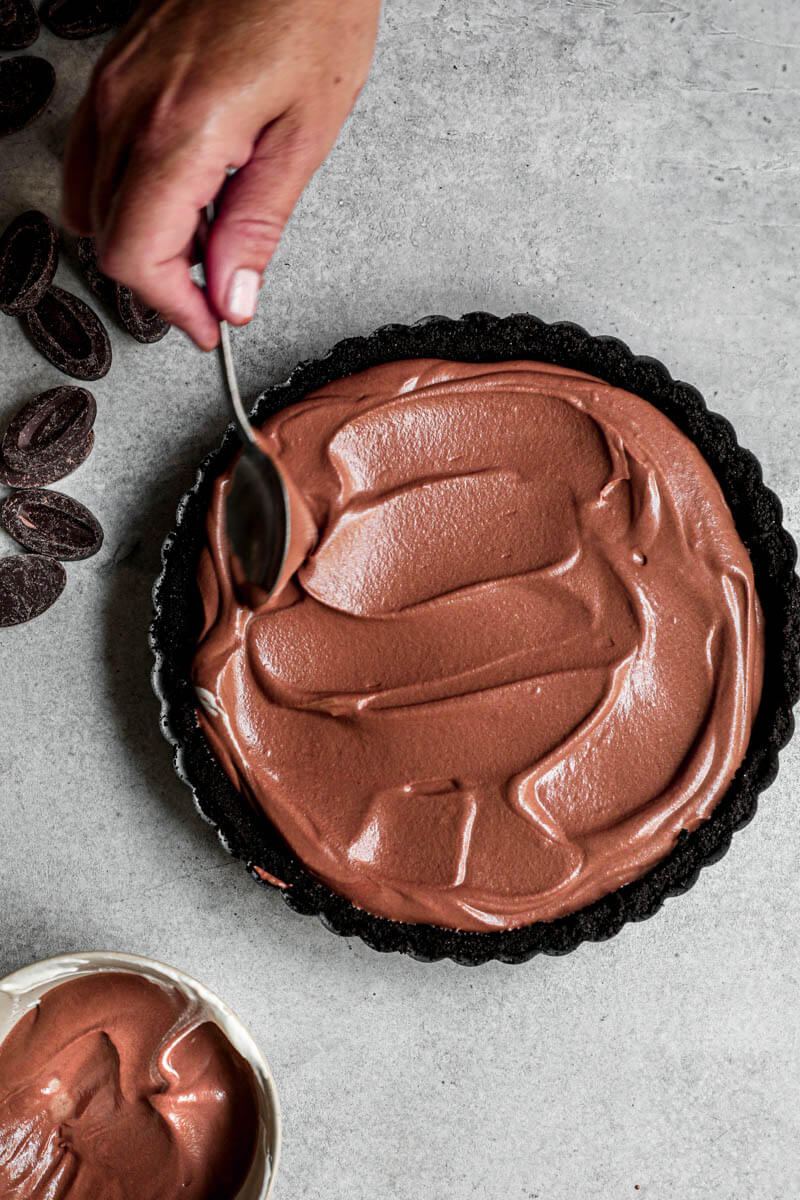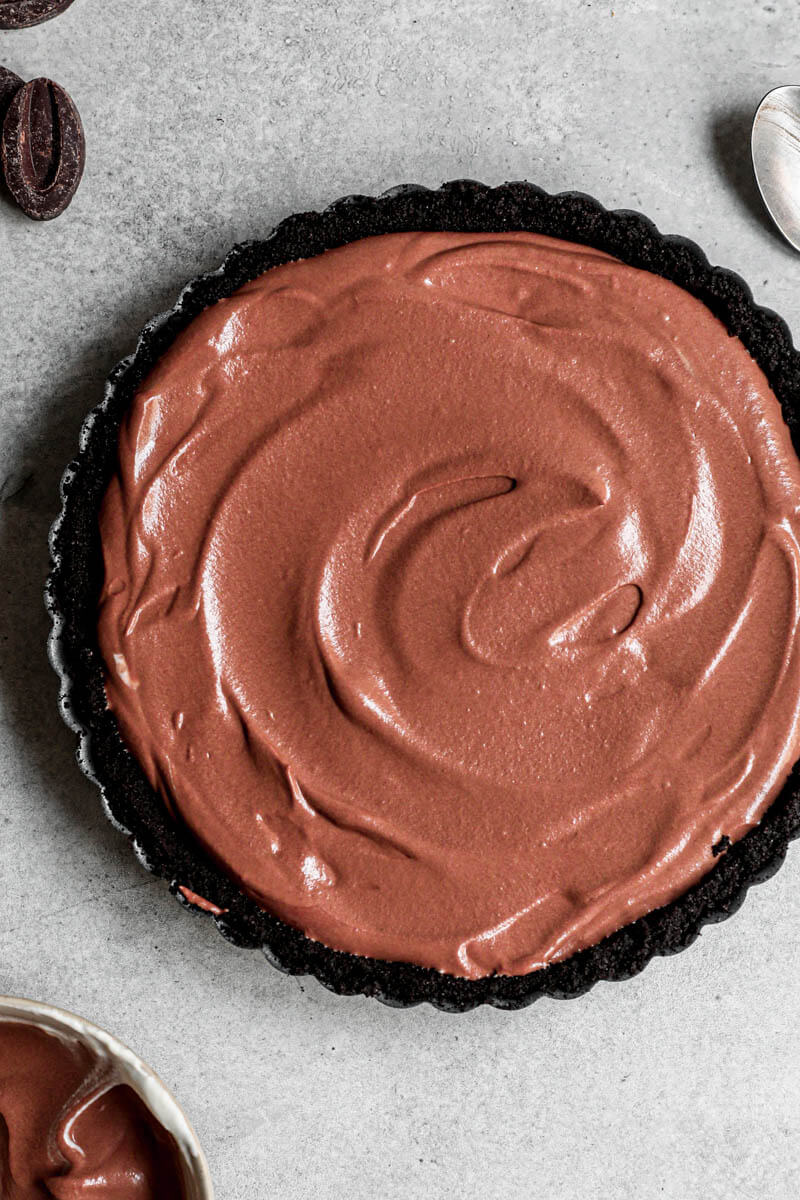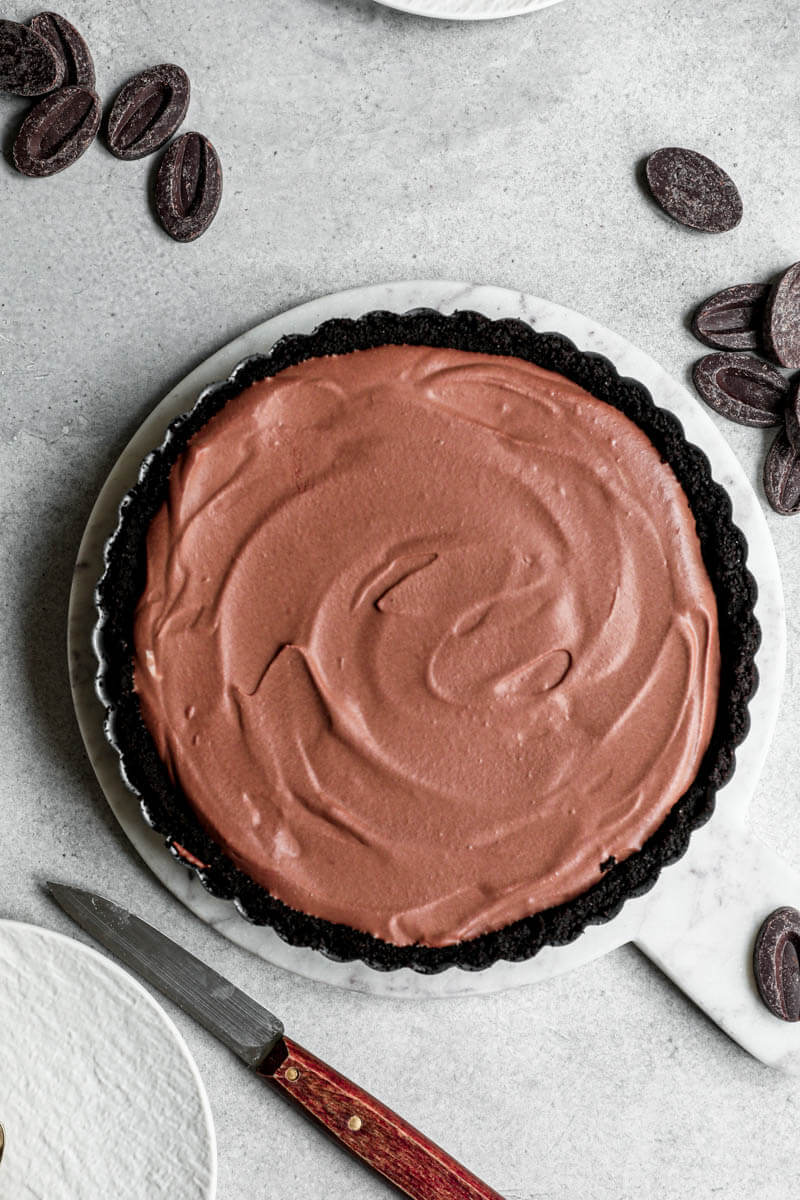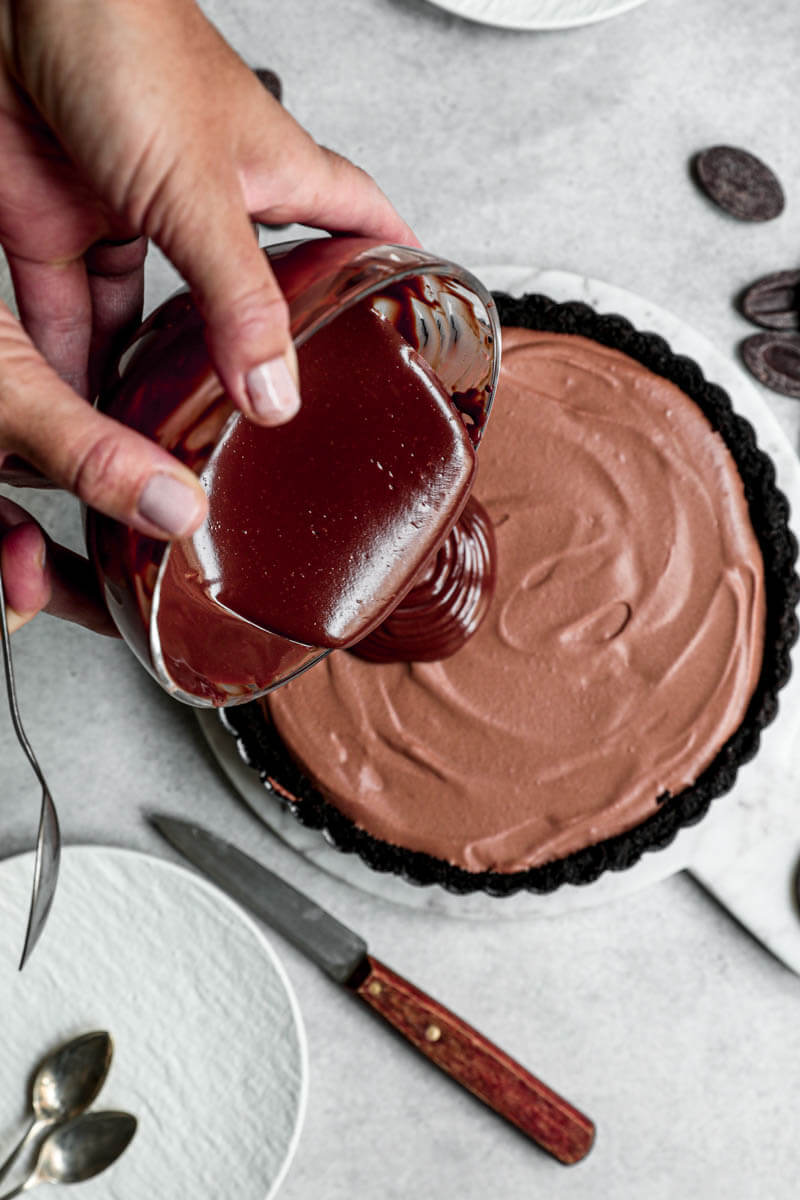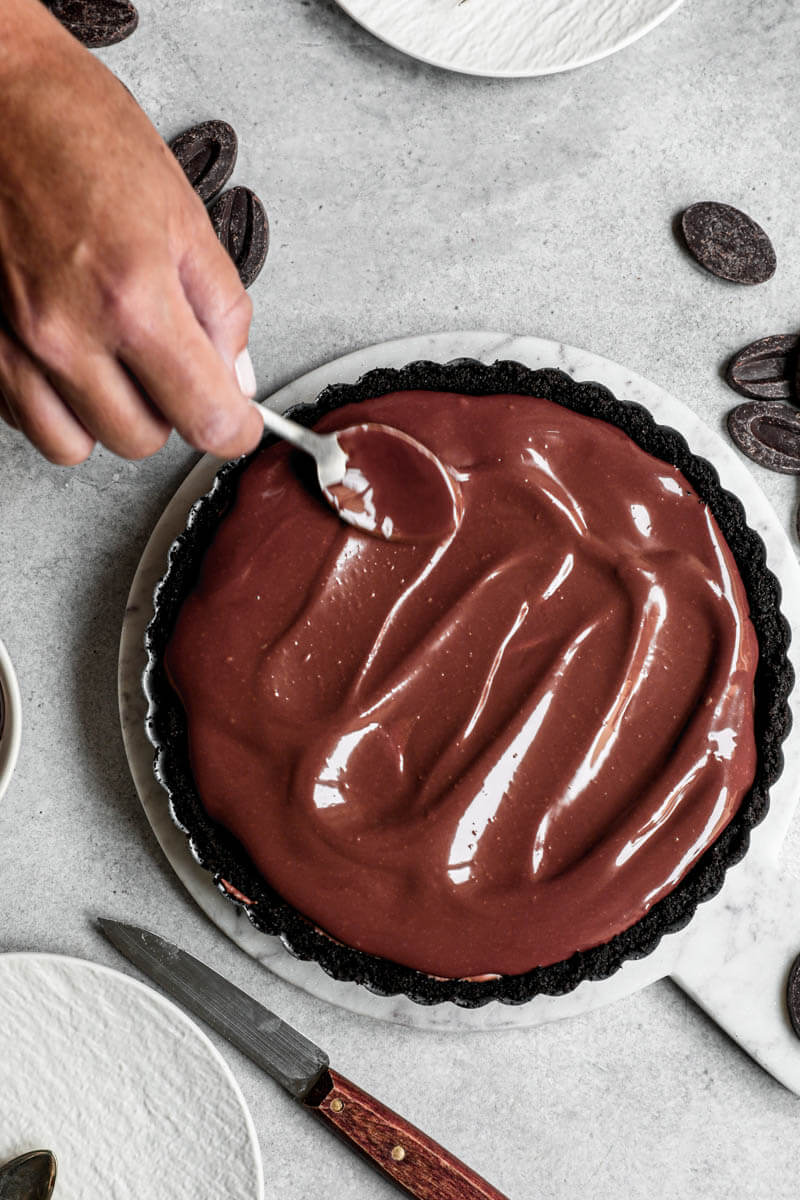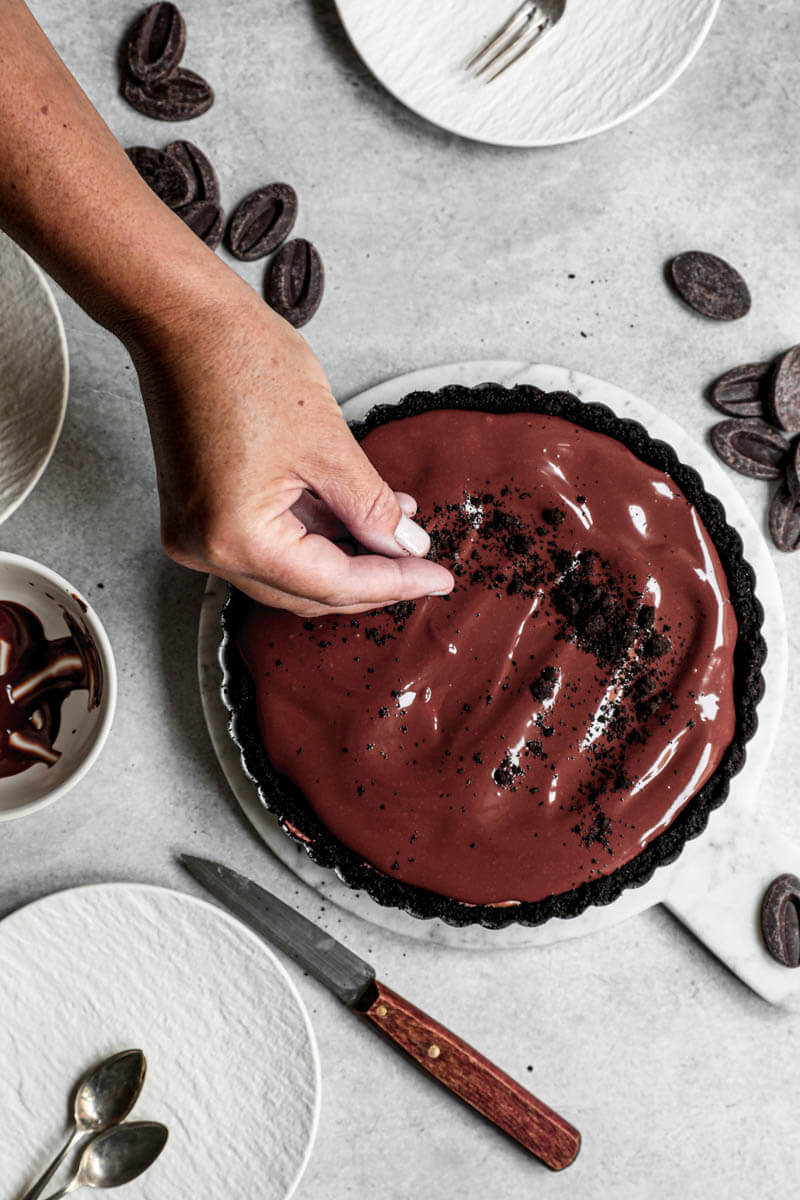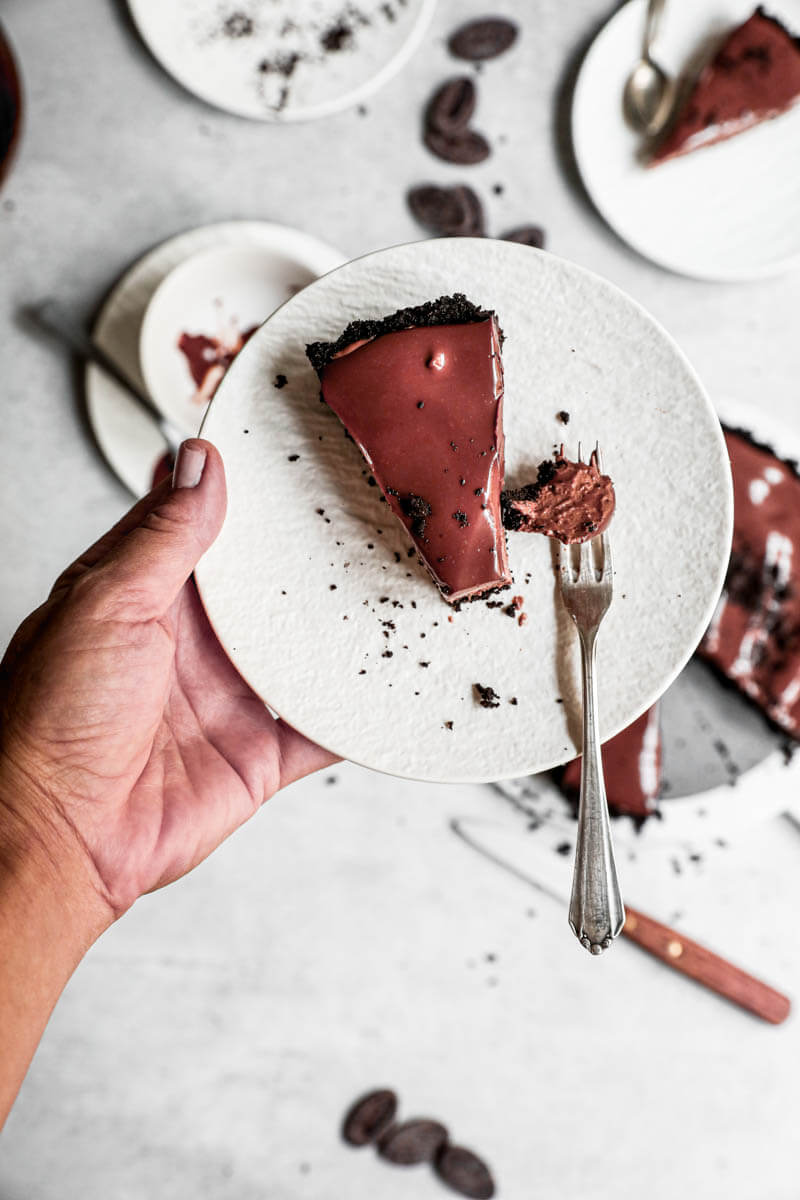 Recipe notes
The chocolate mousse must be prepared once the crust has been made and is ready to be filled.
It must set and cool inside the pie's shell.
When making the chocolate mousse, the whipped cream must be folded into the chocolate ganache; once it has cooled down a little but has not started to set. The ideal temperature is 27/30 C°- 80/86 F.
The chocolate ganache frosting is added to the chocolate mousse pie once it has been chilled and the chocolate mousse filling has set.
This no bake pie must be enjoyed chilled! Chocolate mousse cannot be left out - it always needs to be refrigerated.
Expert notes
When making mousse, ideally we want to mix 2 elements that have similar textures. Therefore, we add the whipped cream into the chocolate ganache in 2 steps and not all at once.
First, add in 1/3 of the whipped cream to loosen up the ganache and make it more similar in texture to the whipped cream.
Once it has been fully incorporated, you can fold in the remaining 2/3 of the cream, gently and lovingly!
Ideally, let the chocolate mousse filling set overnight. If you are in a rush, 4 hours will be enough.
Making ahead
You can make this easy chocolate mousse pie up to 48 hours in advance and keep in the refrigerator without the chocolate ganache.
A few hours before wanting to eat the dessert, make the ganache and top the pie. Let it set in the refrigerator for at least 1 hour. Enjoy!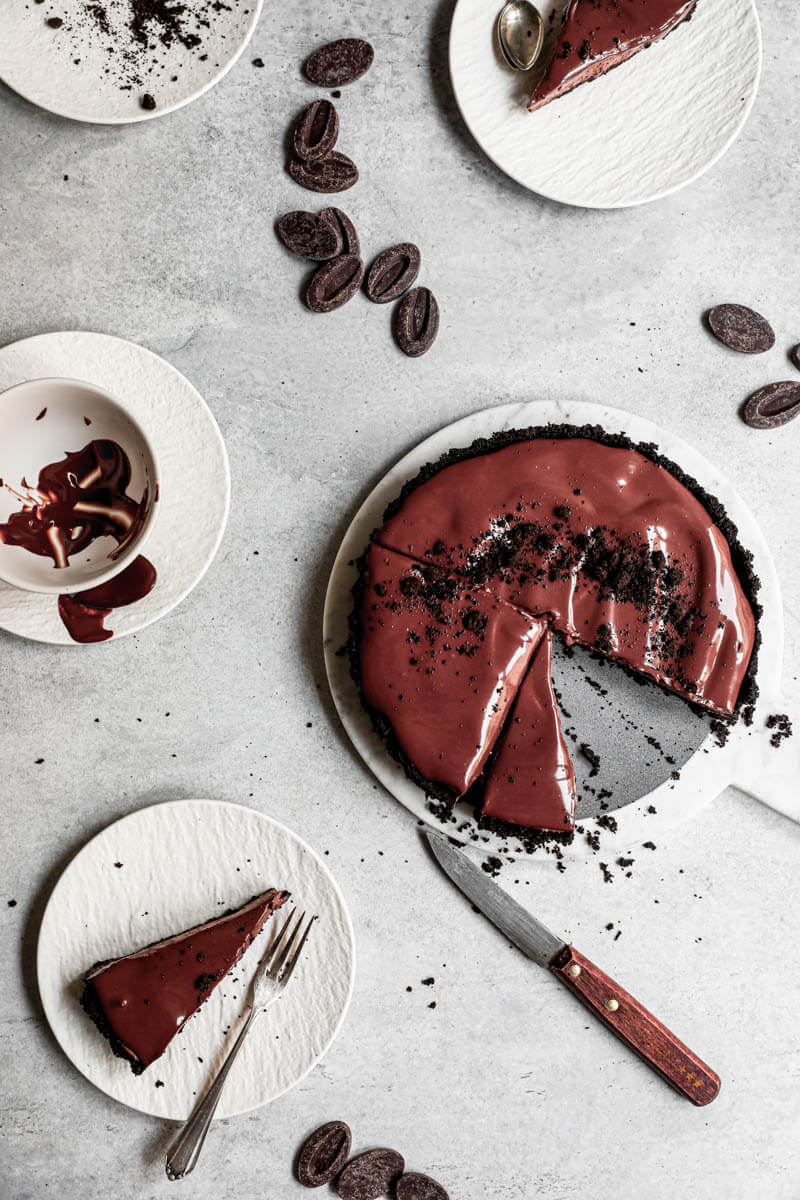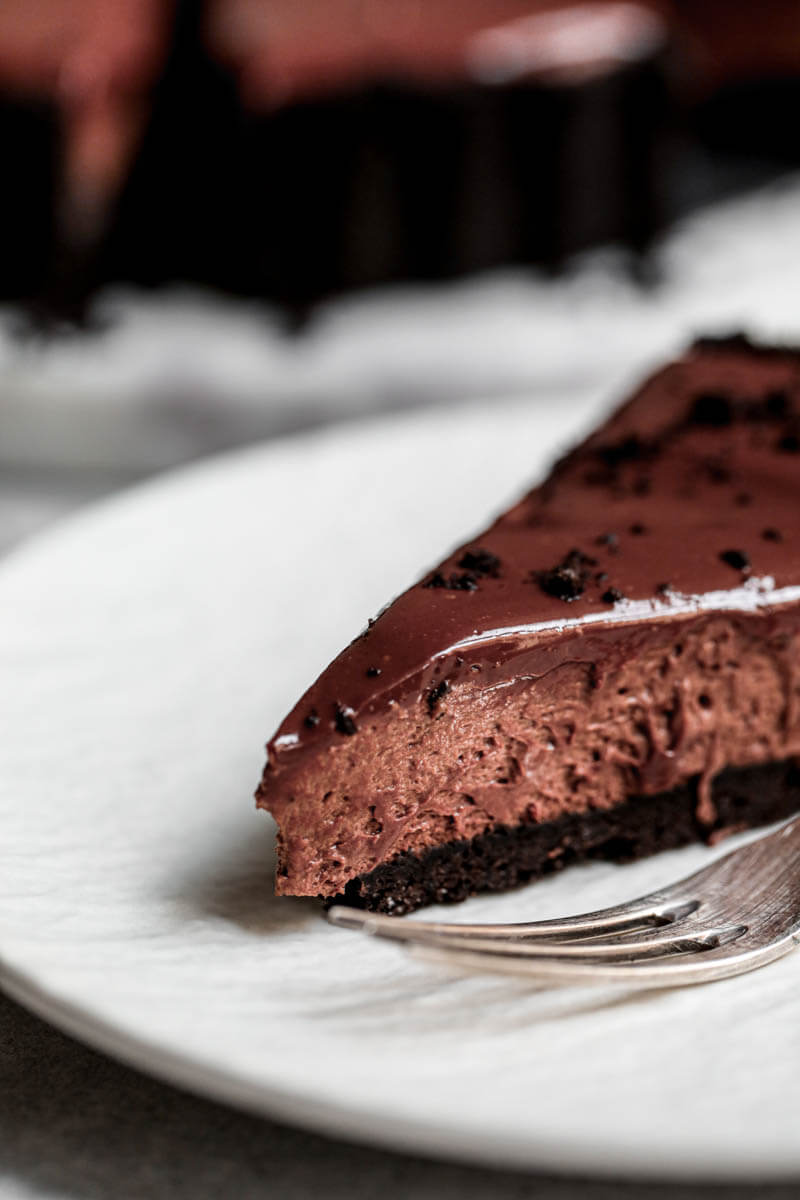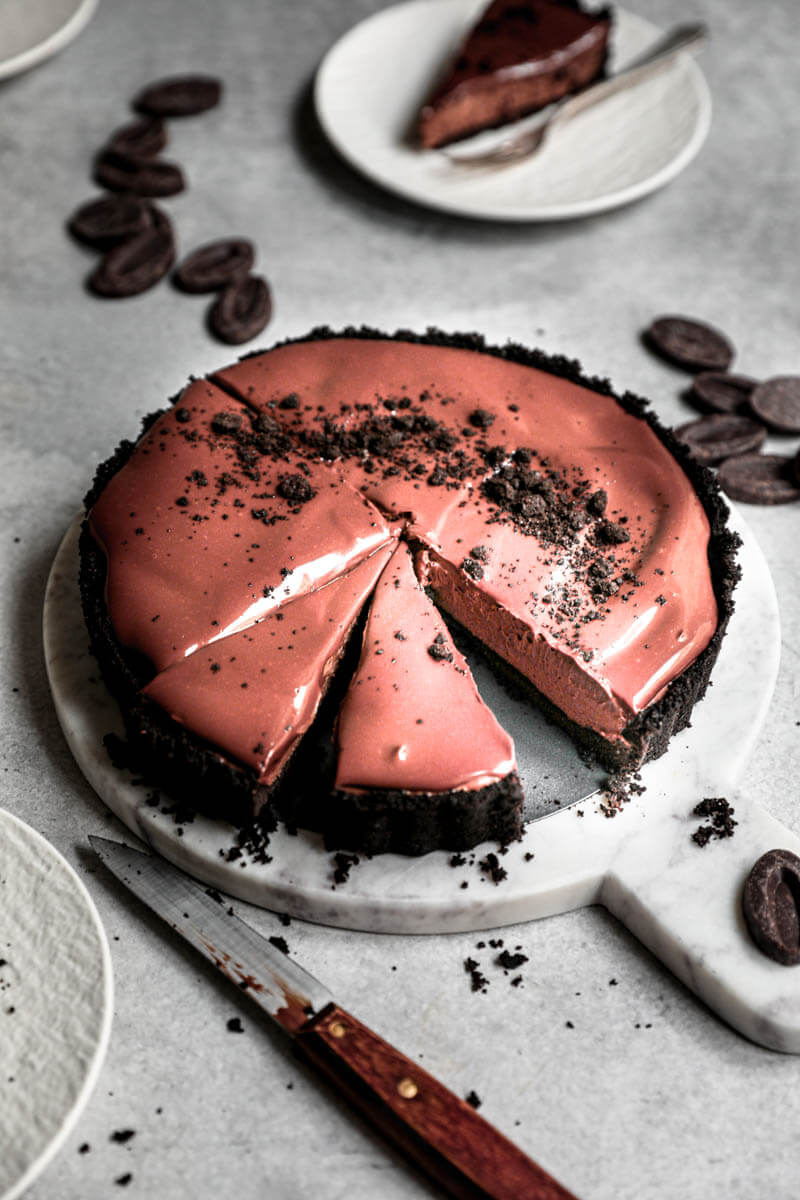 Storage tips
This chocolate mousse pie keeps for 3 to 4 days in the refrigerator. If it lasts this long 😉.
Freezer instructions
You can freeze this chocolate mousse pie,but I would recommend freezing it without the chocolate ganache frosting.
As soon as you have filled your pie tin with the chocolate mousse, cover it in saran wrap and freeze for up to 1 month.
To defrost: let it sit in the refrigerator overnight, top with the chocolate ganache and enjoy.
Variations to this recipe
Chocolate ganache can be replaced with meringue frosting. You can do a simple swiss meringue - and you can find all the step-by-step instructions and troubleshooting here.
You can also replace the Oreo crust with any other chocolate cookie crust or with this homemade shortbread crust.
You can make this into a white chocolate mousse pie by simply swapping the chocolate mousse by this simple white chocolate mousse recipe.
The ingredients used in all recipes on this site are measured using the metric system. I use a
scale
to be precise with my measurements and ensure good results. If you would also like to use a scale, here are some:
USA
,
Canada
,
UK
,
Australia
,
France
.
Subscribe to the newsletter
Total Time:
4 hours 30 minutes
---
Oreo Crust
Chocolate Mousse Filing
Milk

80 g

Dark Chocolate

120 g

Heavy Cream

200 g
Chocolate Ganache
Dark Chocolate

50 g

Heavy Cream

80 g

Butter

10 g
If you made this recipe I would really appreciate it if you leave a rating or comment below! Also, if you share on social media please use #cookwithbelula, I would love to see what you create!