Homemade Oreo Cookies with White Chocolate Cream Filling
This homemade Oreo cookie recipe has two chocolate shortbread cookies with a white chocolate cream ganache filling. Simple and easy to put together.
Oreos are good; but homemade Oreos are better. This recipe for homemade Oreo cookies is the best: simple, easy, and delicious. Two buttery, flaky, chocolate shortbread cookies with a cream filling made with a whipped white chocolate ganache. If you like Oreos, some recipes using Oreos you might enjoy: No-bake chocolate mousse pie or this creamy dulce de leche cheesecake with Oreo crust. Hope you enjoy this recipe.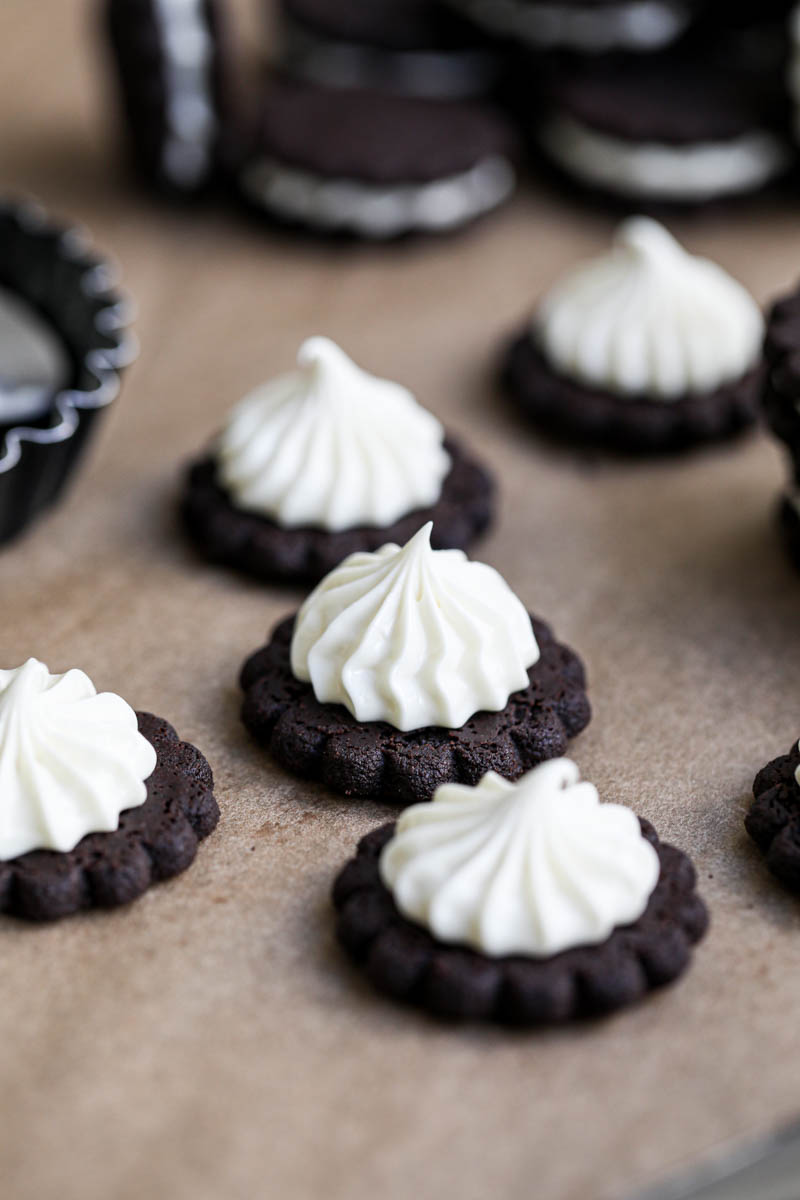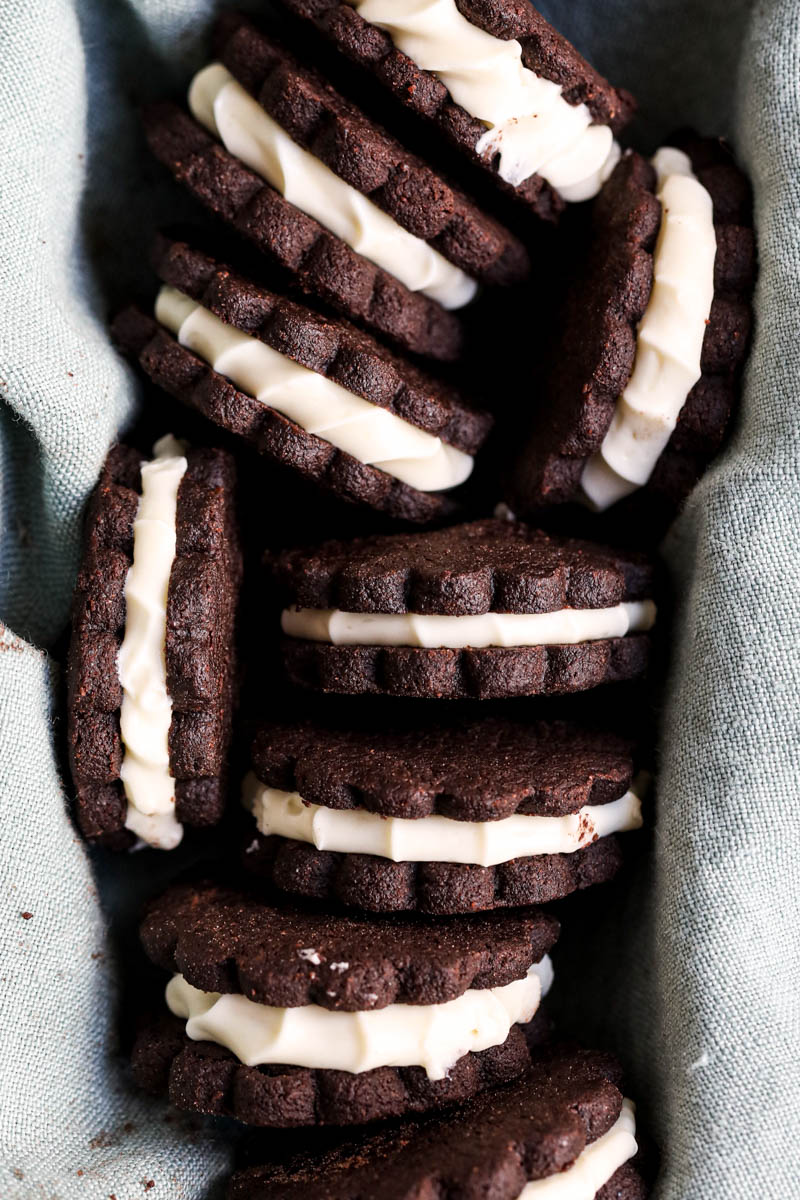 Material & Ingredient Notes
White chocolate: used to make the white chocolate cream filling. Use a good quality one like this one Valrhona 4660 Ivoire Feve.
Heavy cream: or whipping cream. Either one must have a fat content of over 30 %.
Butter: unsalted. This recipe calls for softened butter. For tips on how to make softened butter see below.
Round cookie cutter: this recipe calls for a 4 cm/1.6-inch fluted cookie cutter. You can use a regular cutter too.
How to make this recipe
To make this homemade Oreo recipe is quite simple. You must:
Make a white chocolate cream ganache filling.
Make the chocolate shortbread Oreo cookie dough.
Assemble the cookies.
Enjoy!
Step-by-step instructions: the chocolate shortbread dough
Sift the flour, the cacao and baking soda. Set aside.
Beat the softened butter, the salt and the sugar until fluffy, about 4 minutes.
Scrape down the edges and add half of the sifted dry ingredients. Mix until just combined. Add the second half and mix until the dough begins to come together.
Transfer the dough to your working surface and using the palm of your hand smear the dough against the countertop. You can see how to smear the dough in this video Almond Shortcrust Pastry.
Once there are no more visible butter lumps, form a rectangle 2 cm high. Wrap with parchment paper and refrigerate for at least one hour.
Remove the dough from the refrigerator and place it between two pieces of parchment paper.
Using a rolling pin tap the top of the dough, working from left to right, to begin to flatten it, then turn the dough 90 degrees and repeat.
Roll out the dough to 3 to 3.5 mm. If the dough has softened slide it onto a sheet pan and refrigerate until it is firm enough to cut.
Using a 4-cm/1.5-inch cutter cut rounds from the dough. Arrange the rounds on the sheet pan leaving space between them.
Bake for 10-11 minutes, turning the pan around halfway through baking. Transfer the cookies onto a wire rack to let them cool off completely.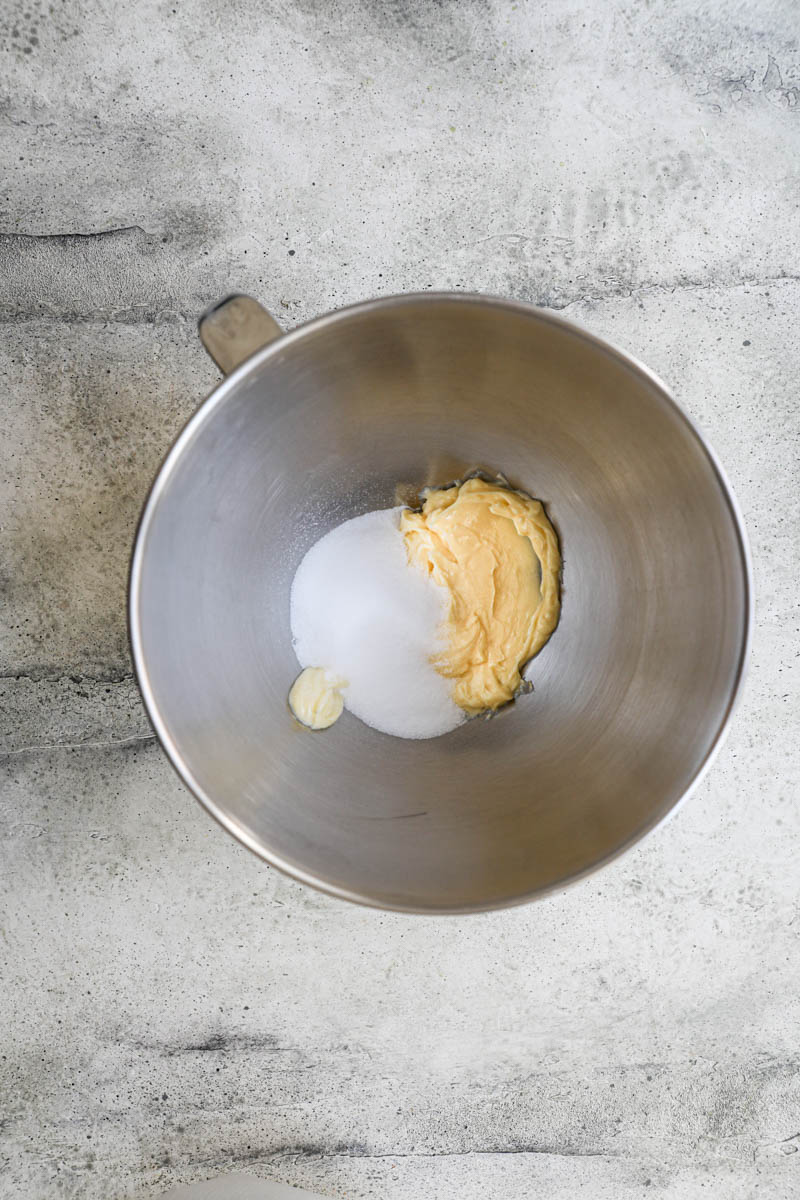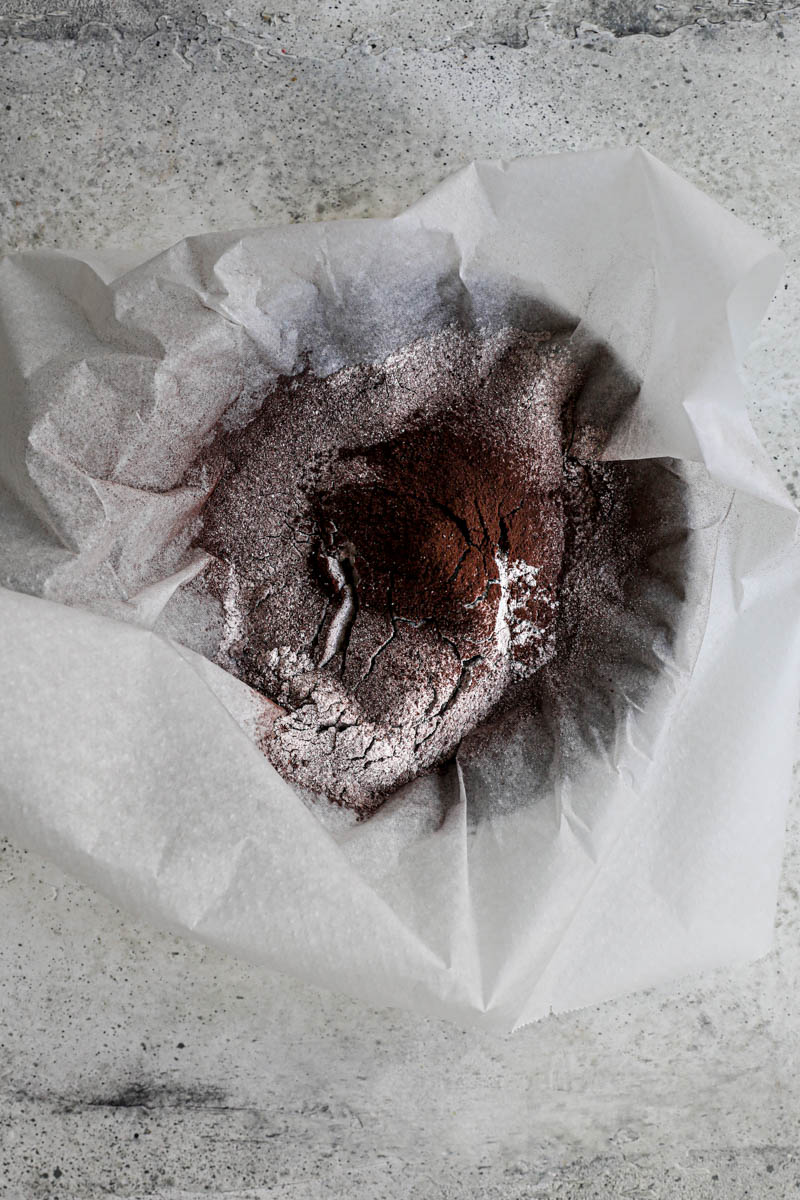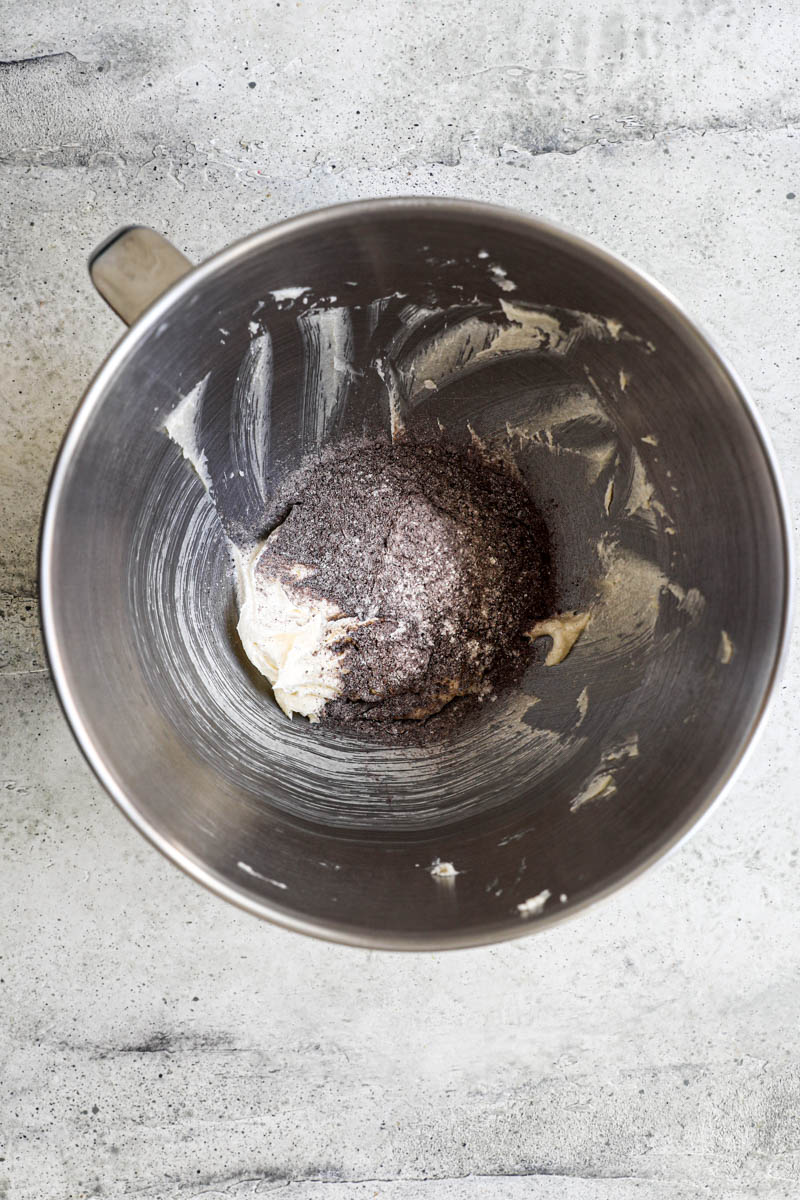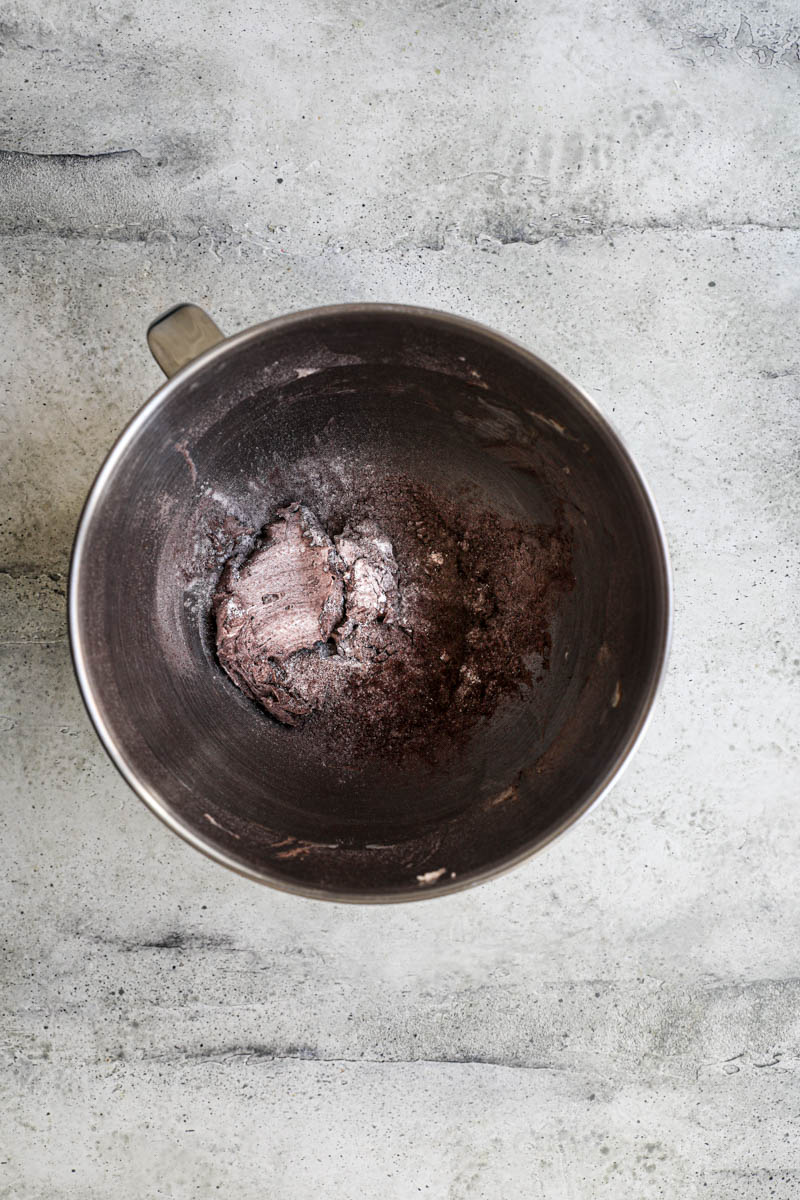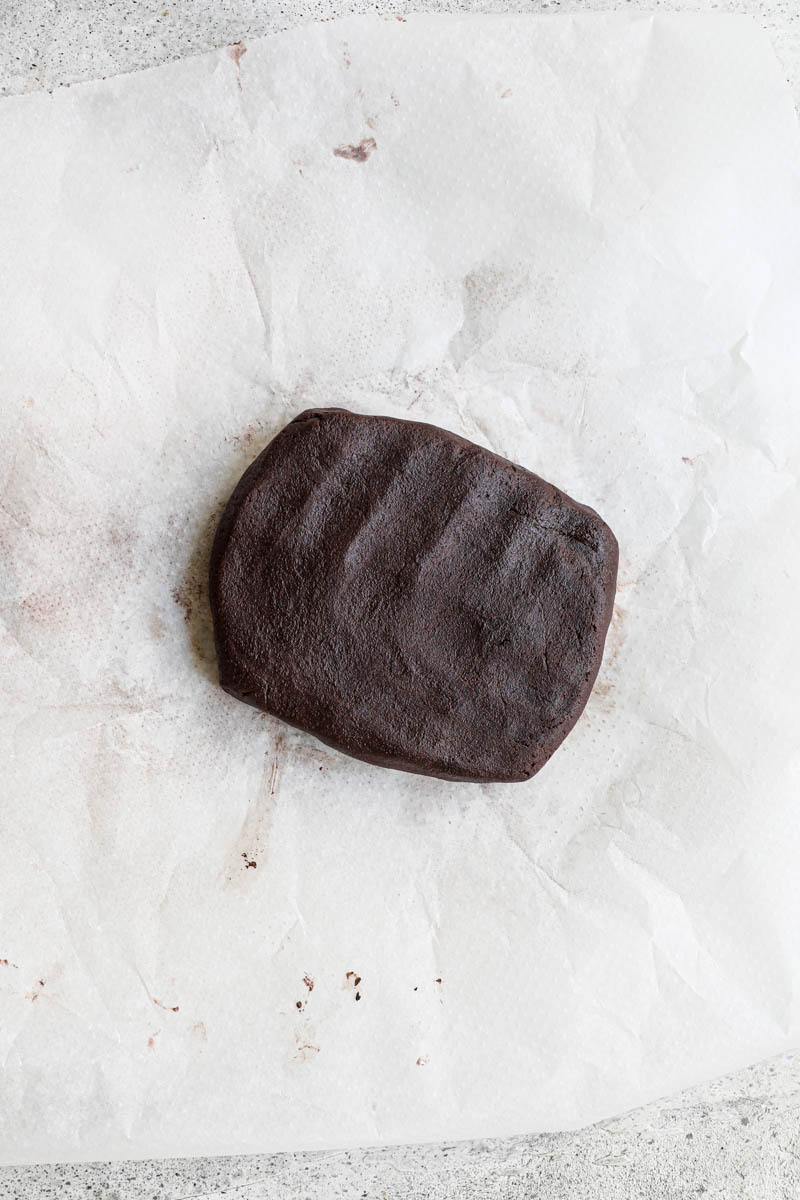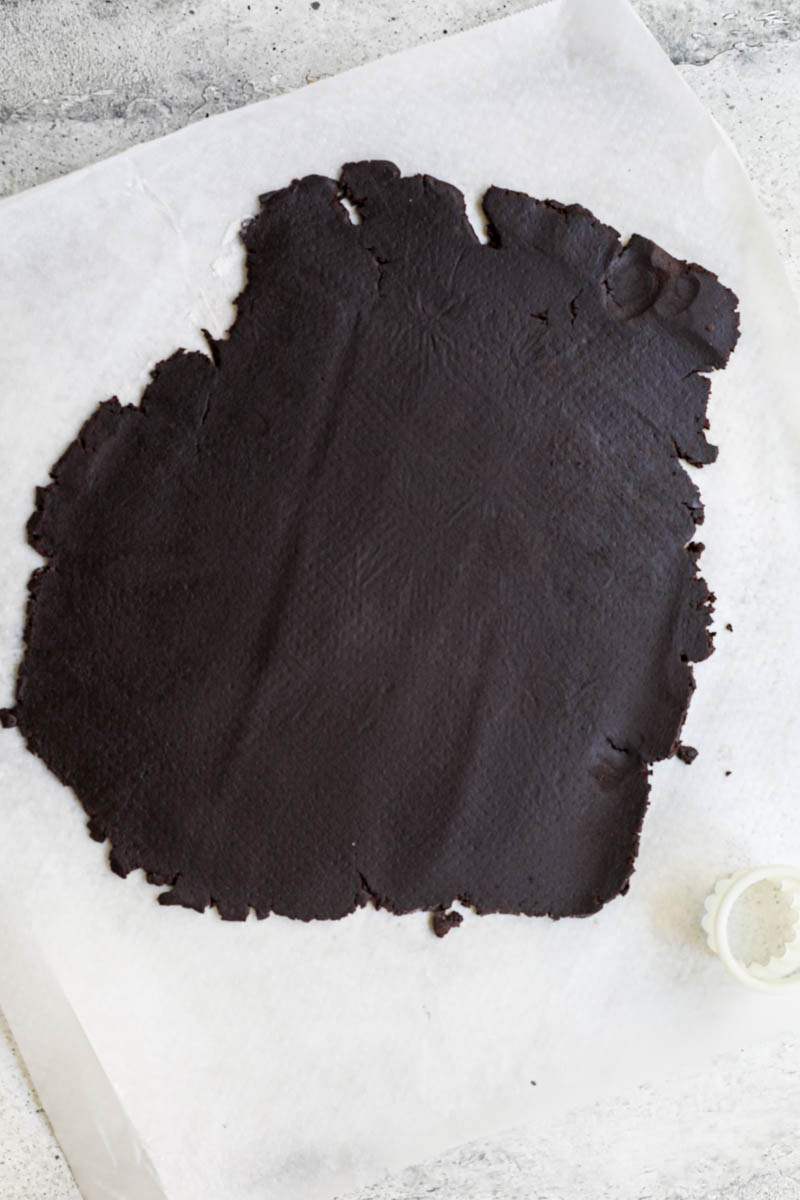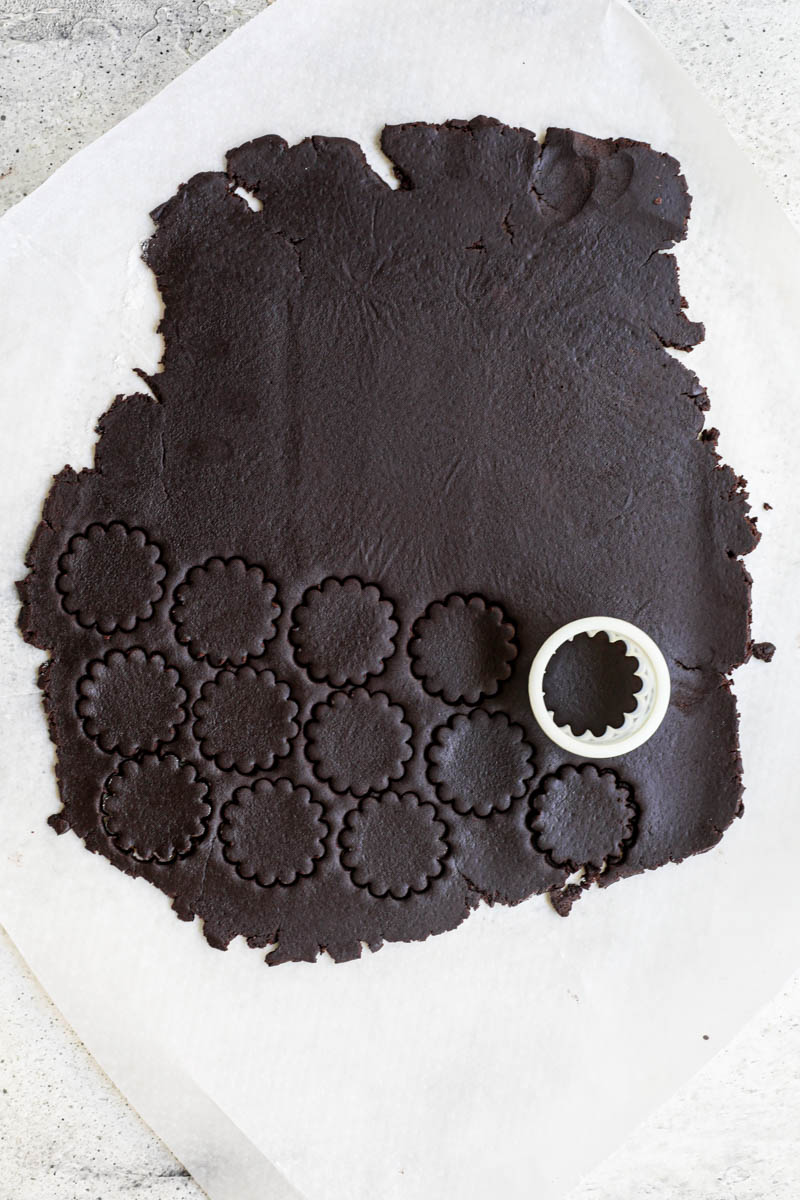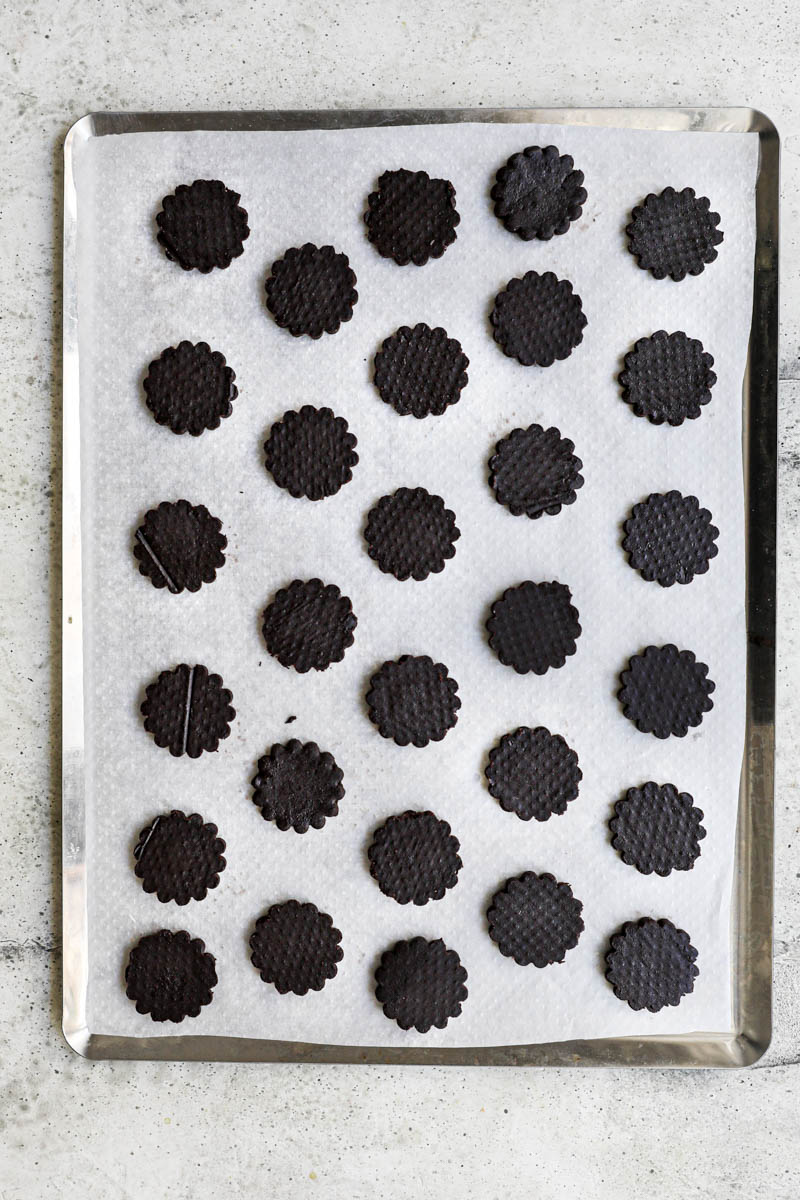 Step-by-step instructions: the white chocolate cream filling
Melt the chopped white chocolate stirring constantly, over a water bath.
Heat the cream to just under a simmer.
Pour the cream over the melted chocolate and whisk to combine. Make sure to scrape the edges so that there's no chocolate left behind.
Transfer into a hermetic container and refrigerate for at least 4 hours, or up to 1 day.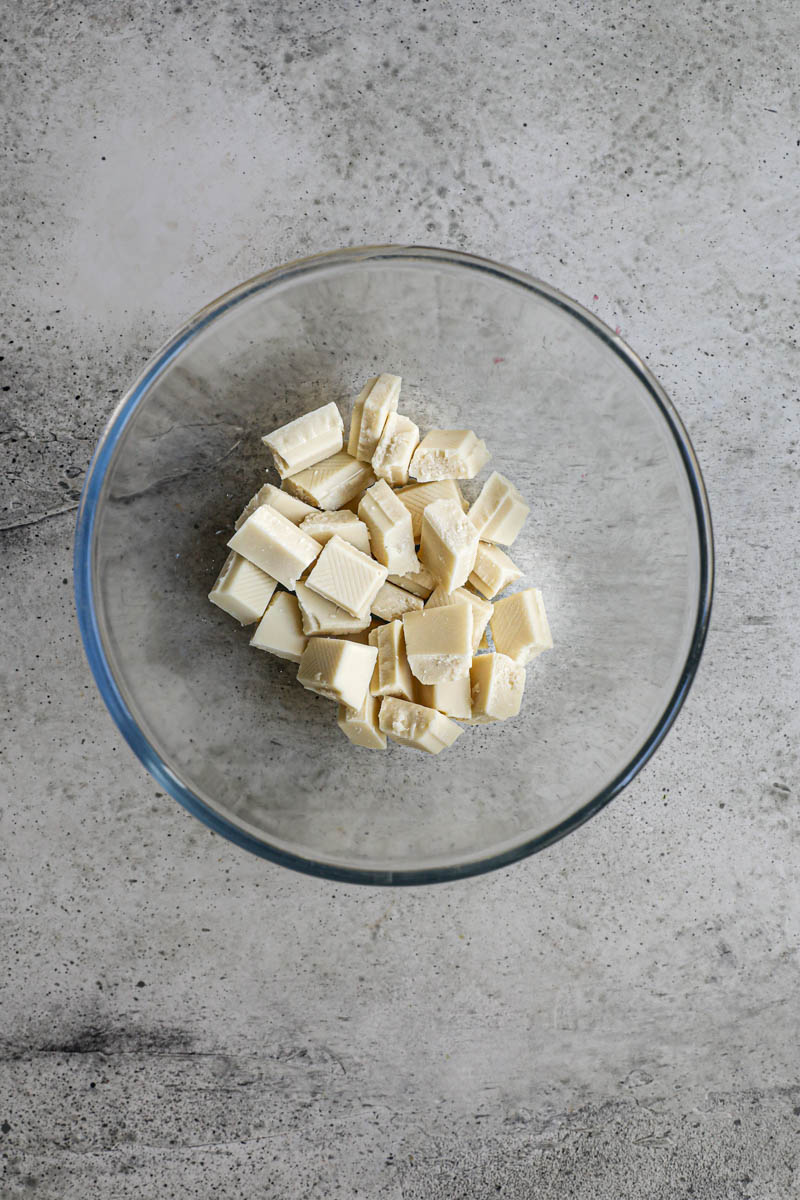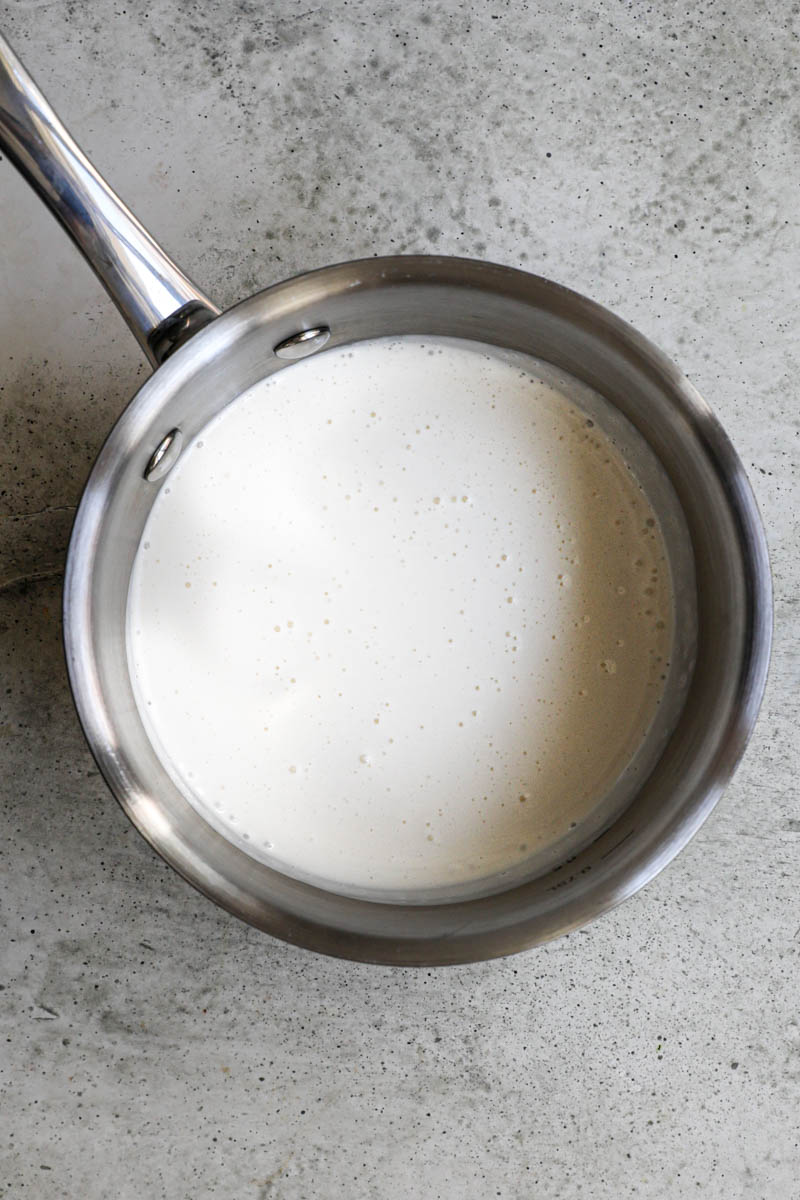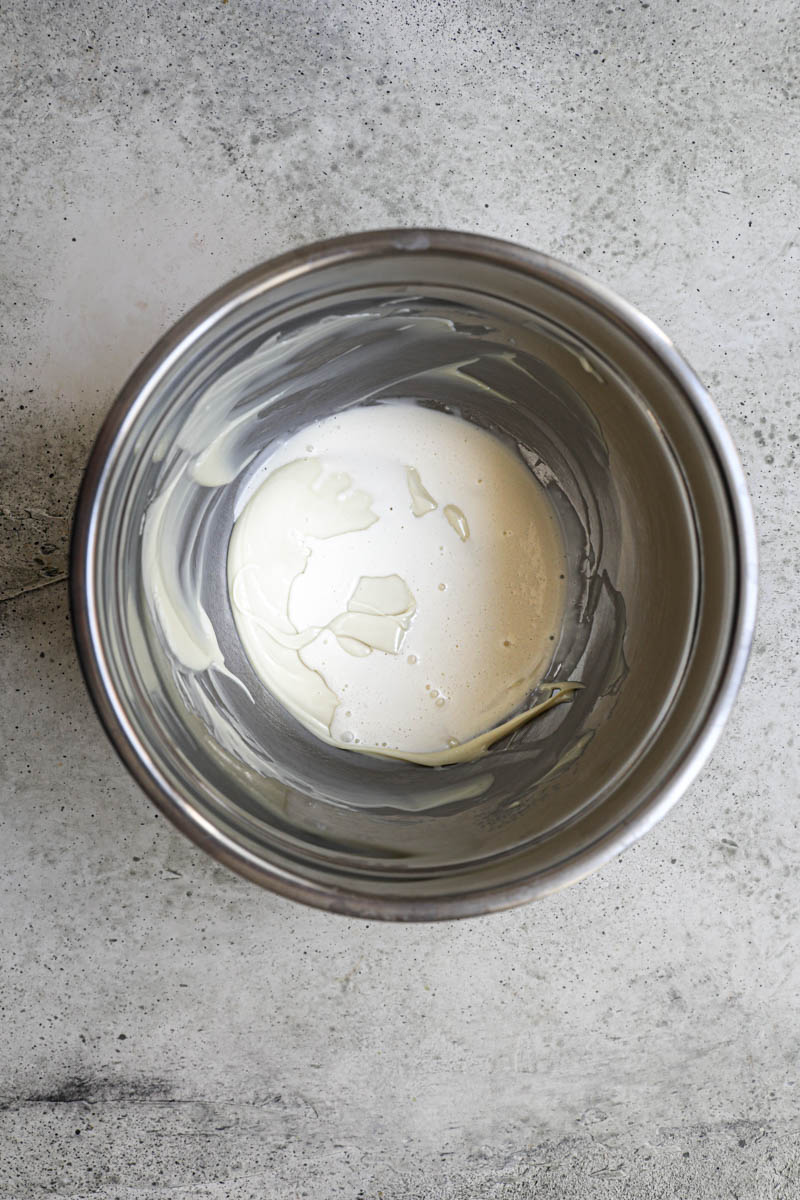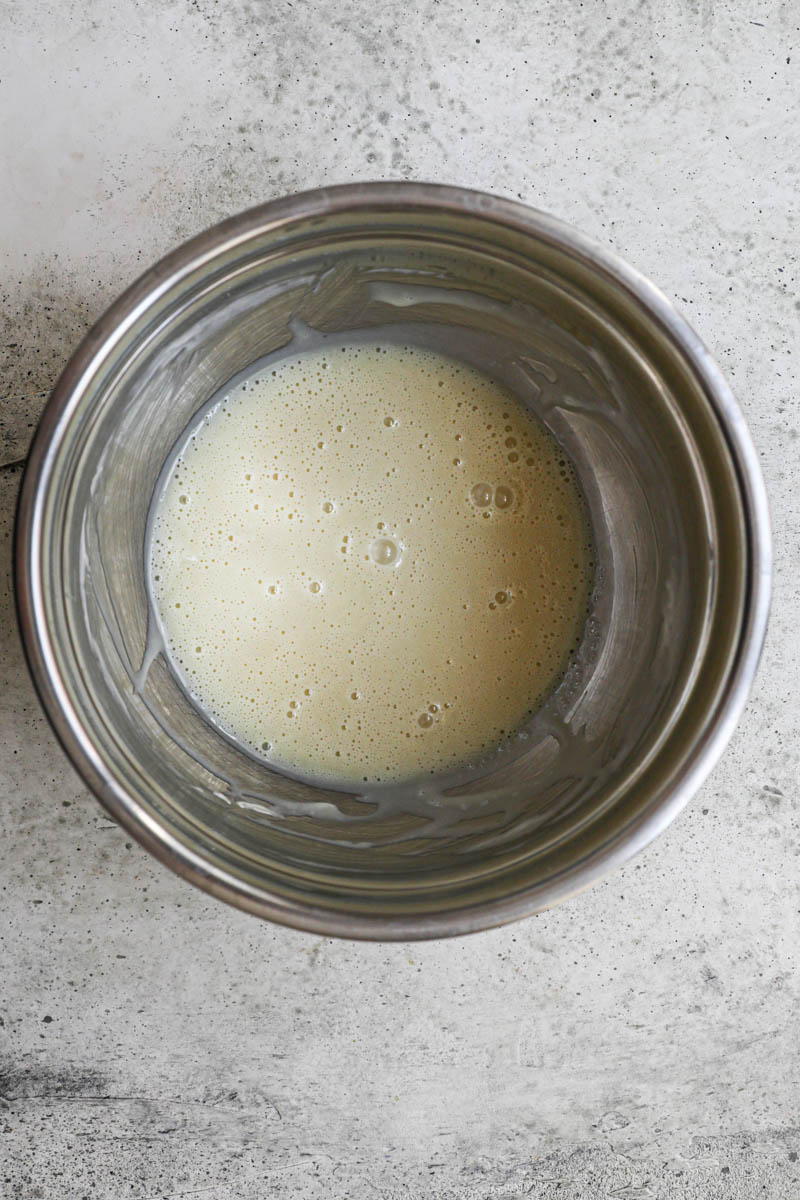 Step-by-step instructions: assembly of the Oreo cookies
Place the white chocolate filling in the bowl of a mixer, fitted with the paddle attachment, and beat until smooth.
Transfer to a piping bag. Turn half of the cookies over. Pipe a generous dollop of the white chocolate cream filling at the centre of each one.
Top each with a second chocolate cookie and press gently to sandwich the cookies.
Refrigerate for 1 hour before eating.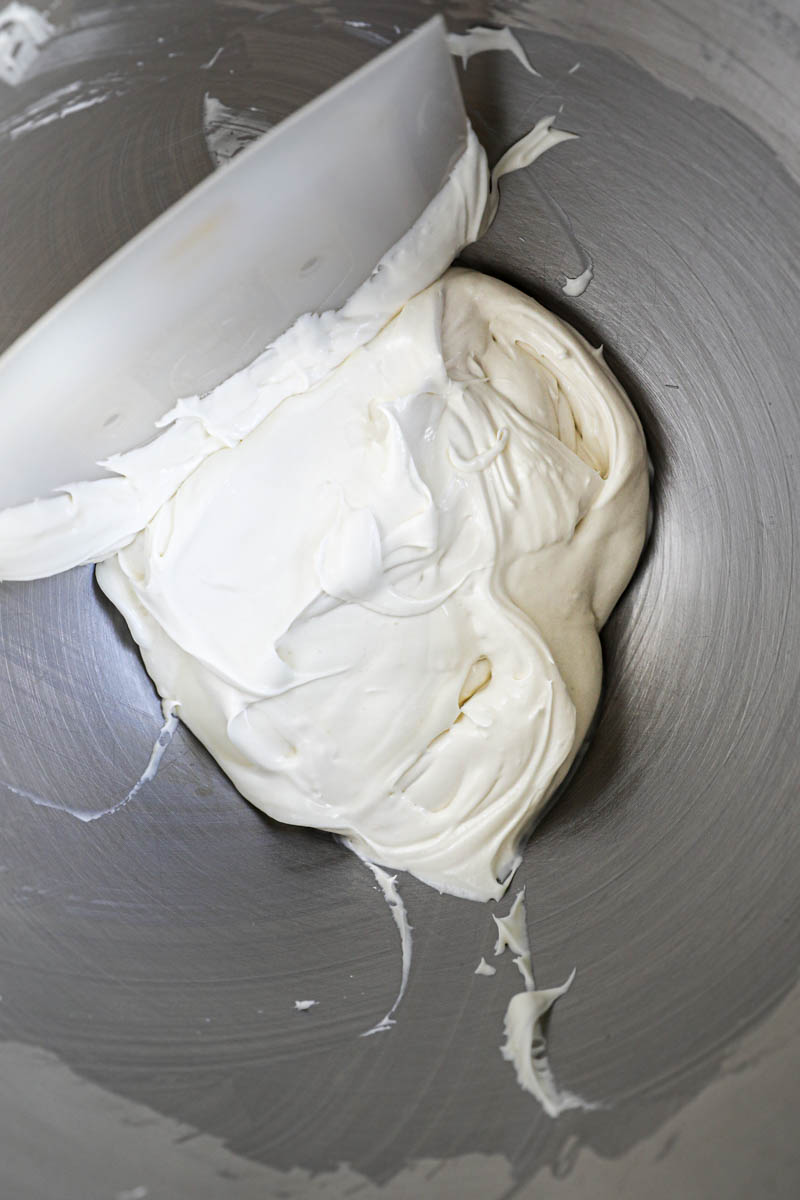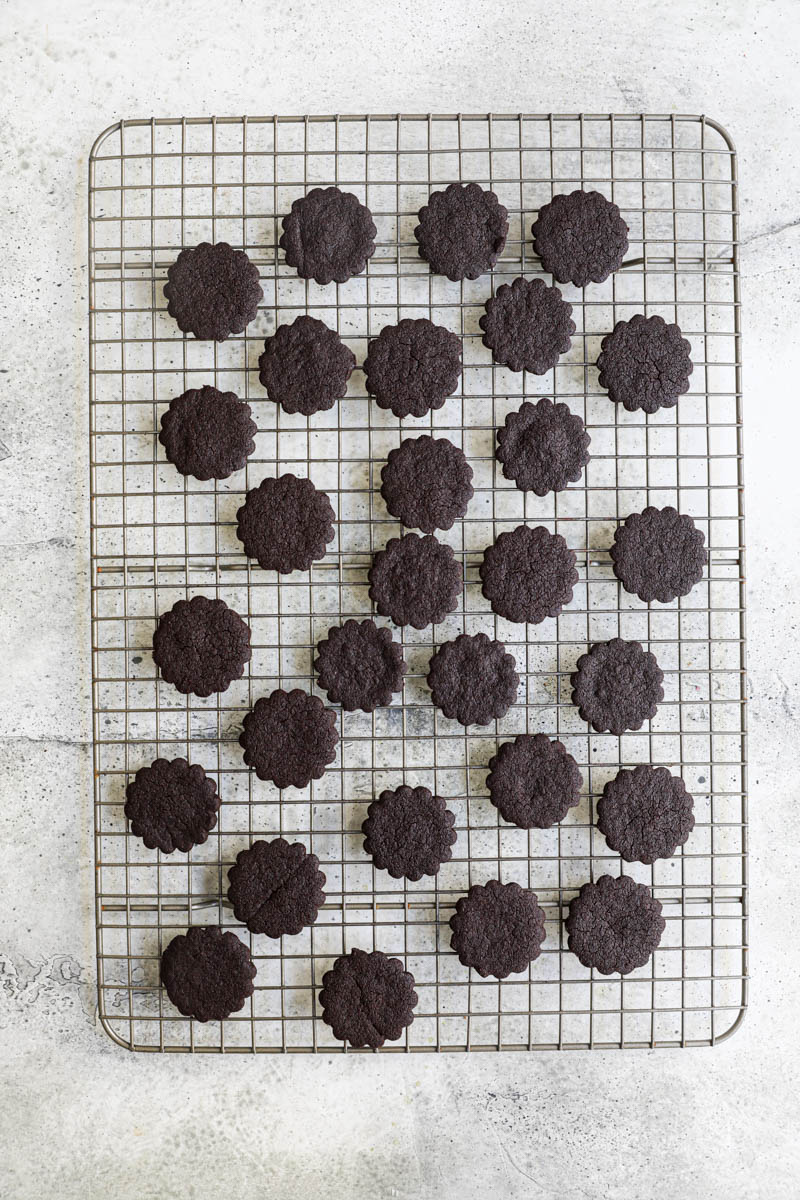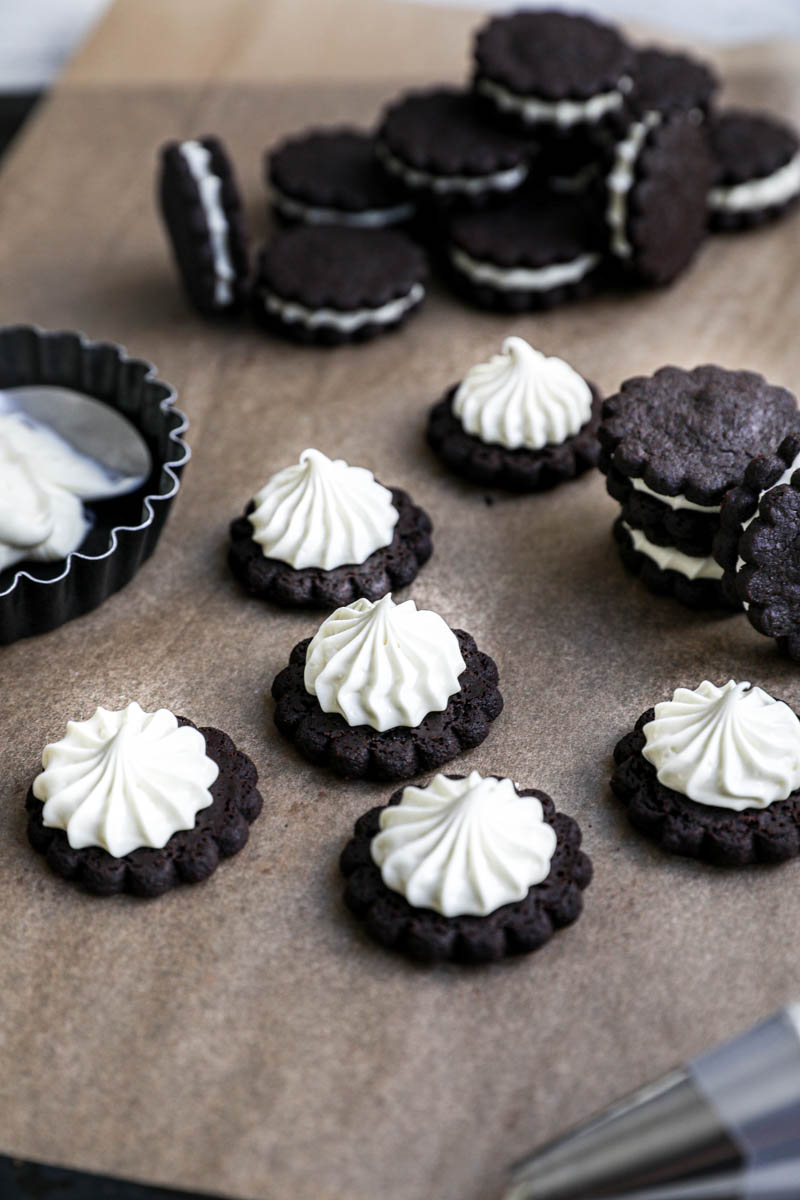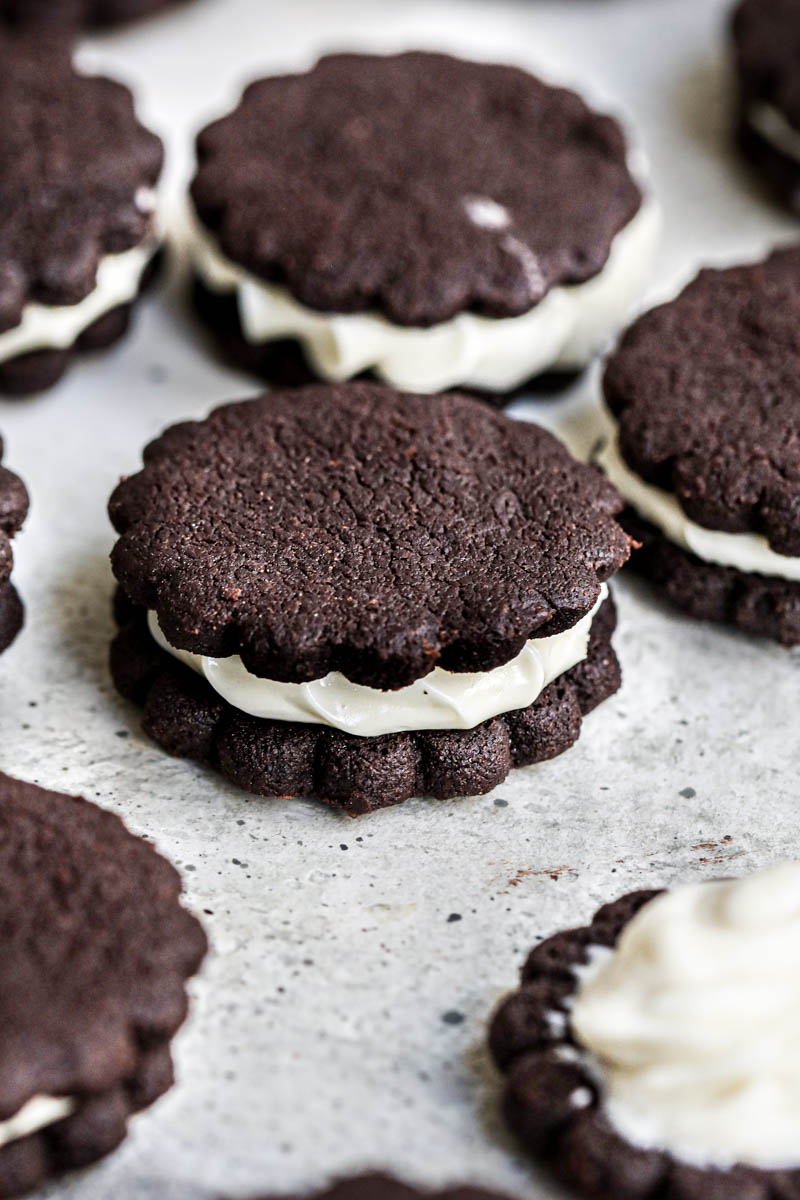 Recipe notes
To make softened butter, you can use the microwave at 15 second intervals, mixing after each one. When the butter has the consistency of mayonnaise, you can stop. The butter is now softened.
If the dough has softened while rolling it out, slide it onto a sheet pan and refrigerate until it is firm enough to cut.
Make sure you don't skip the pounding part because it will prevent the dough from cracking as it is rolled. Plus, if you feel like you have too much energy, this is a good way to let go!
You can use the microwave, at 15 seconds intervals, to melt the white chocolate. Stirring between intervals.
White chocolate ganache should be able to hold soft peaks. It Is ready then.
If you don't have a piping bag, fill each cookie (half of them) with a teaspoon full of filling. Make sure to put it in the centre of the cookie. Top each with a second cookie and press gently to sandwich the cookie. Enough to evenly distribute the filling.
I used a 6 cm cutter. Feel free to use whichever size makes you happy! In a smaller, bite size version these are fantastic! However make sure to check and adjust your baking time according to size!
Expert notes
I divided the dough in 2. This was it's easier to manipulate when rolling out later on.
When rolling out the dough it is important to work fast to prevent the dough from softening and heating up, because it will break.
It is imperative that it always remains cold, otherwise cutting the rounds will be hard and they will lose their round shape when you try to arrange them on the sheet pan! Don't try to hurry and listen to your dough.
The key to successfully making this filling is stirring constantly while you melt the butter and the chocolate together. You will notice that the mixture changes consistency becoming rather firm. Make sure there are no chunks of non-melted chocolate because it will make piping the filling rather hard; pieces of white chocolate might block the piping tip!
If the white chocolate ganache filling becomes grainy when whisking it, it means you have gone to far. Stay close and watch the filling while y you are whipping it, it goes fast!
Baking tips
Baking time is estimate! It will depend on your oven, the size and thickness of the cookies amongst other things. So be vigilant, a good sign is when your kitchen starts to smell divine, plus you should notice some cracks on the surface of the cookies. Then they are ready to remove from the oven.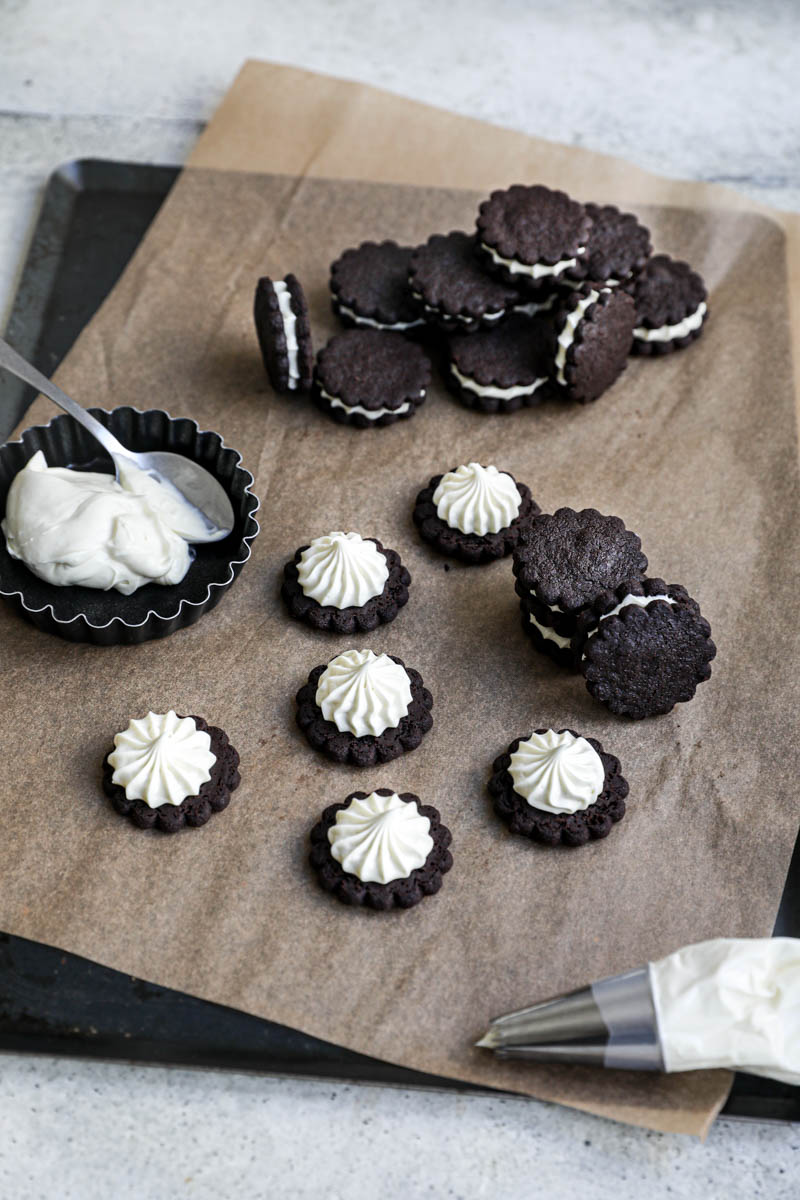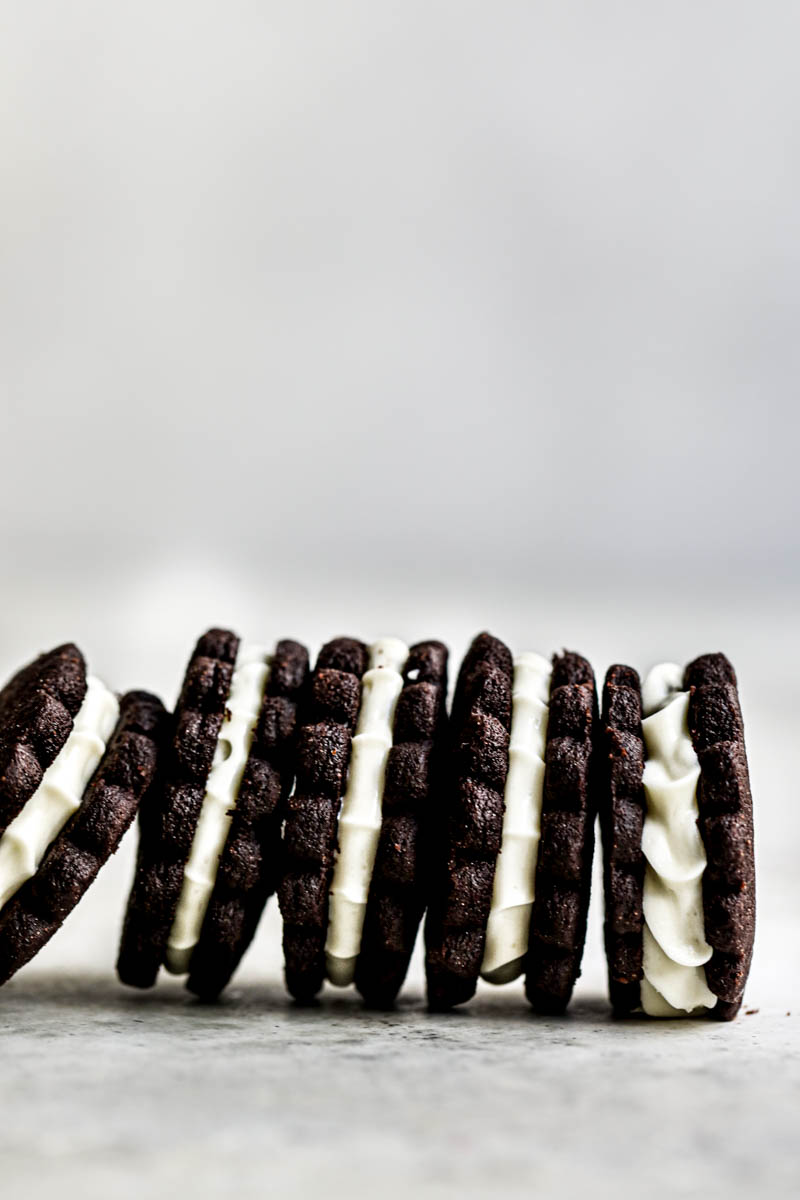 Storage tips
The Oreo cookie dough can be refrigerated for up to 2 days.
The cookies are best eaten the same day you make them.
If you don't and you have already filled them, you can refrigerate for up to 3 days.
If you haven't yet garnished them, you can keep the cookies at room temperature in a covered container also for up to 5 days.
Freezer instructions
The raw shortbread cookie dough can be frozen for up to a month safely wrapped and stored in an airtight container (or freezer bag).
You can also freeze the shaped dough on the sheet pan – wrapped in a few layers of plastic wrap for up to 1 month. I used half the dough and froze the other half after cutting the fluted rounds. When you want to enjoy them, you only have to transfer them to a new sheet pan, let them sit at room temperature for 30 minutes and bake following the recipe instructions.
Variations to this recipe
If you don't like white chocolate cream ganache filling, you can replace it with cream cheese filling. Simply smooth out the cream cheese with some drops of vanilla extract and 1 tablespoon of powdered sugar.
You can cover this oreo cookies with chocolate glaze. Here you can find a recipe One Bowl Chocolate Loaf Cake With Cocoa Powder & No Butter, just remove the almonds from it.
The ingredients used in all recipes on this site are measured using the metric system. I use a
scale
to be precise with my measurements and ensure good results. If you would also like to use a scale, here are some:
USA
,
Canada
,
UK
,
Australia
,
France
.
Subscribe to the newsletter
Total Time:
1 hour 5 minutes
---
White Chocolate Cream Filling
White Chocolate

100 g

Heavy Cream

100 g
Oreo Chocolate Shortbread Cookies
All-purpose Flour

130 g

Cocoa Powder (unsweetened)

45 g

Baking Soda

1 g

Butter (unsalted)

115 g

Salt

1 pinch

Sugar

80 g
If you made this recipe I would really appreciate it if you leave a rating or comment below! Also, if you share on social media please use #cookwithbelula, I would love to see what you create!