One bowl Chocolate Loaf Cake with Cocoa Powder & No Butter
This quick one bowl chocolate loaf cake is made with olive oil (no butter) and cocoa powder It is moist, delicious, and easy to make. Covered with almond chocolate icing.
Chocolate cake is my favorite cake. Hands down. I like it fudgy Chocolate Fudge Cake, I like it layered with dulce de leche Chocolate & Dulce De Leche Cake. I also love a quick one bowl chocolate loaf cake recipe like this one: no mess, done in under 15 minutes (prepping the ingredients included!), ready for any occasion. This cake is the best cake: it is made using cocoa powder and olive oil (no butter required!), one bowl and a whisk. Covered with chocolate icing, it is versatile, easy, delicious. I hope you like it too.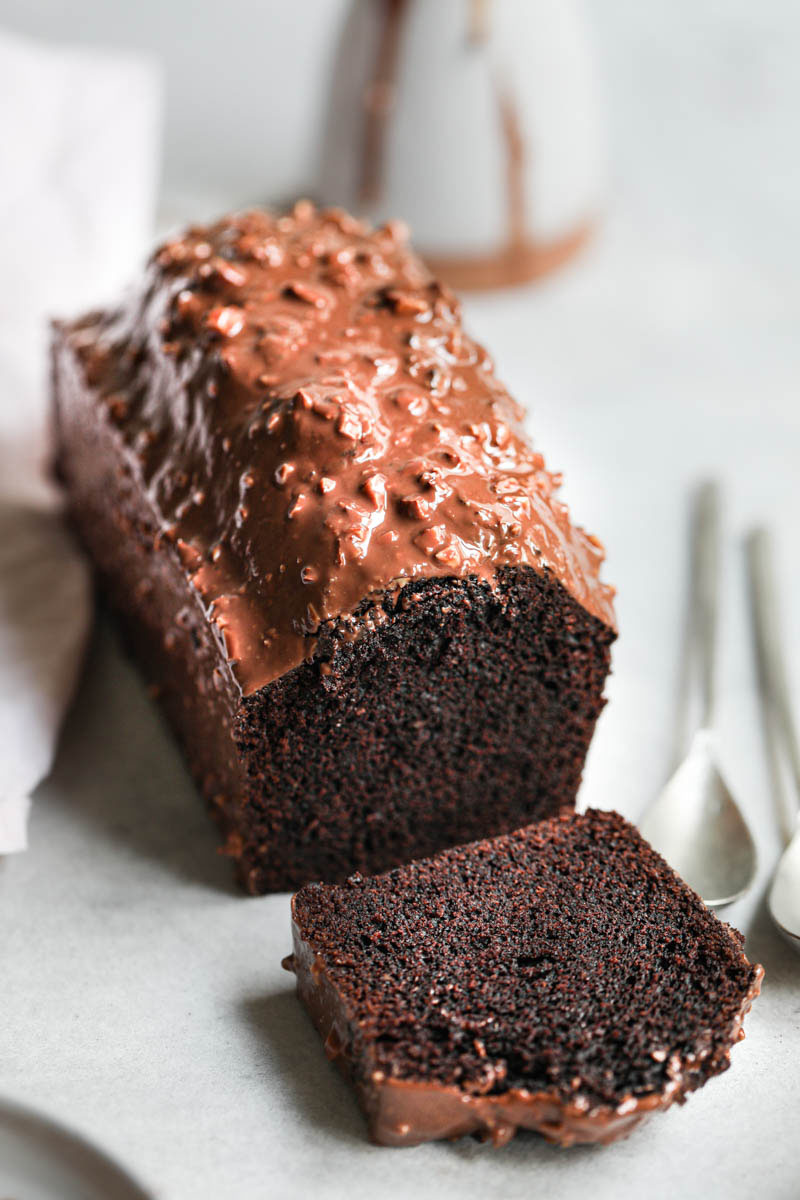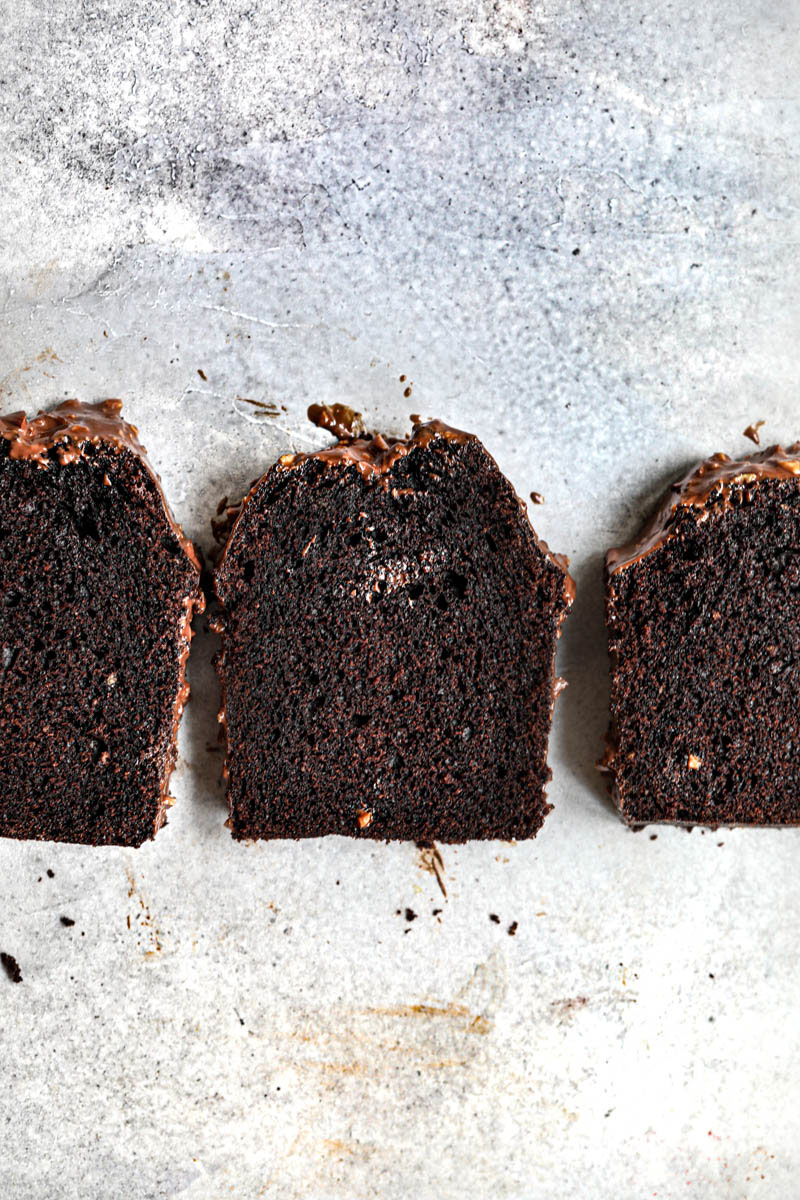 Ingredient notes
You will need:
Simple ingredients you probably already have, like egg, milk, white vinegar, sugar, flour, baking soda.
Cocoa powder: use a high quality one. I like to use Valrhona or Callebaut cocoa.
Olive oil: use a good quality one. I enjoy this one.
One pound cake loaf pan.
A bowl and a whisk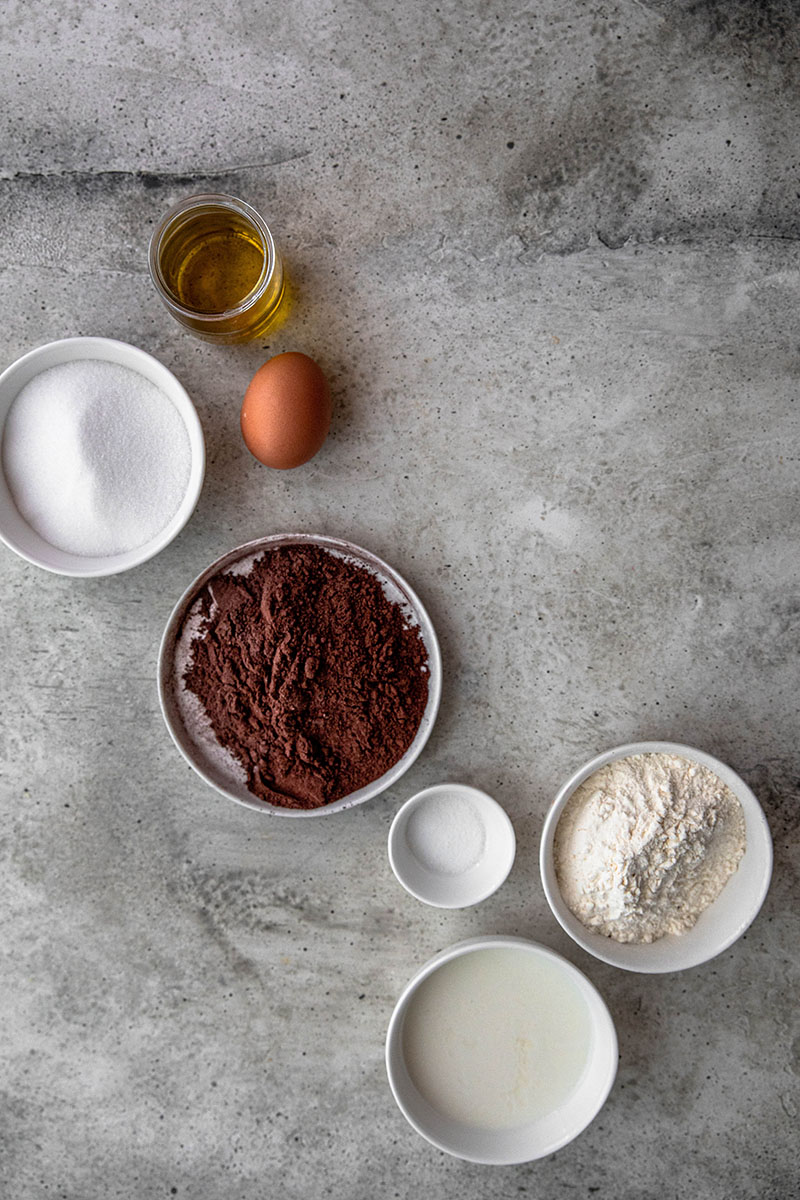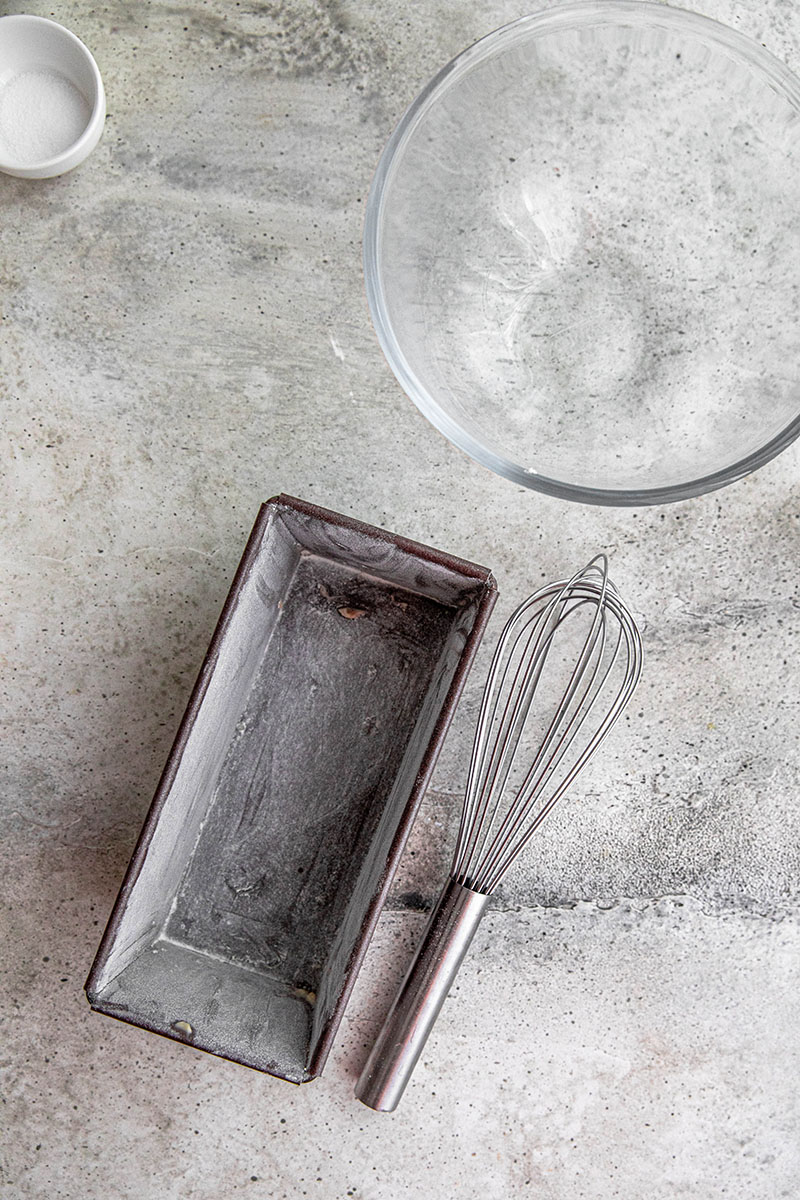 How to make this recipe: step by step instructions
Making this recipe is quick and super easy to make. All you must do is add the ingredients to a bowl in a certain order, then transfer to a greased and floured cake loaf pan and bake!
Using a whisk, mix the milk, vinegar, and egg.
Add the oil while whisking at the same time to incorporate.
Then add the sugar and mix it in. Followed by the sifted flour.
Finally add the cacao, baking soda and salt and whisk until there are no more visible lumps.
Transfer the batter to the cake pan and bake until set. About 45 minutes.
That is, it! Probably longer to read the recipe than to make it.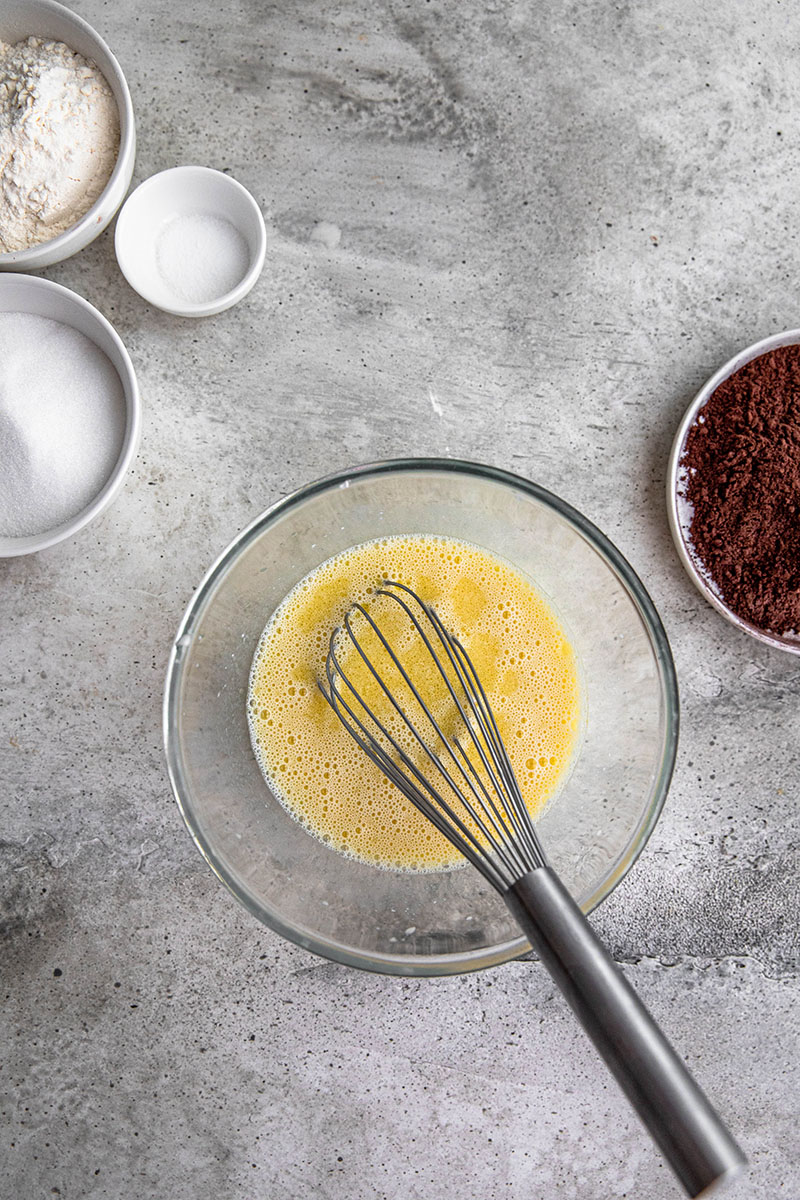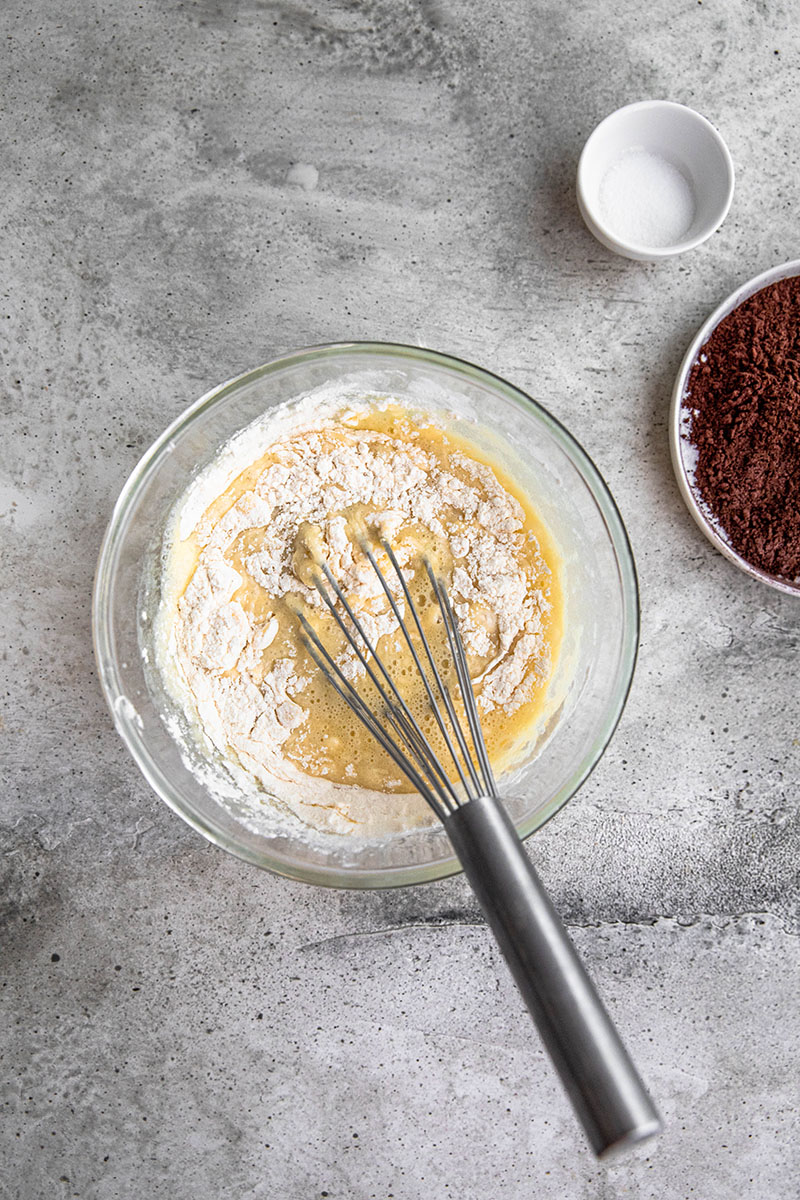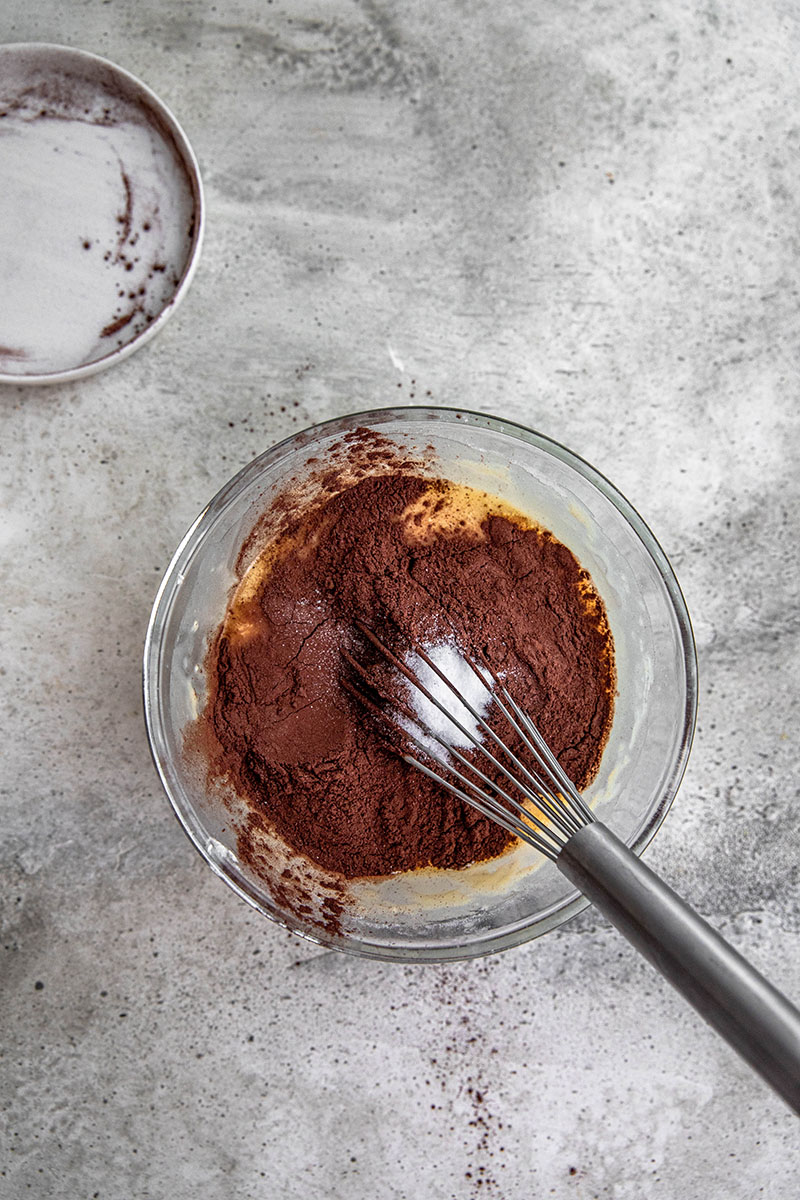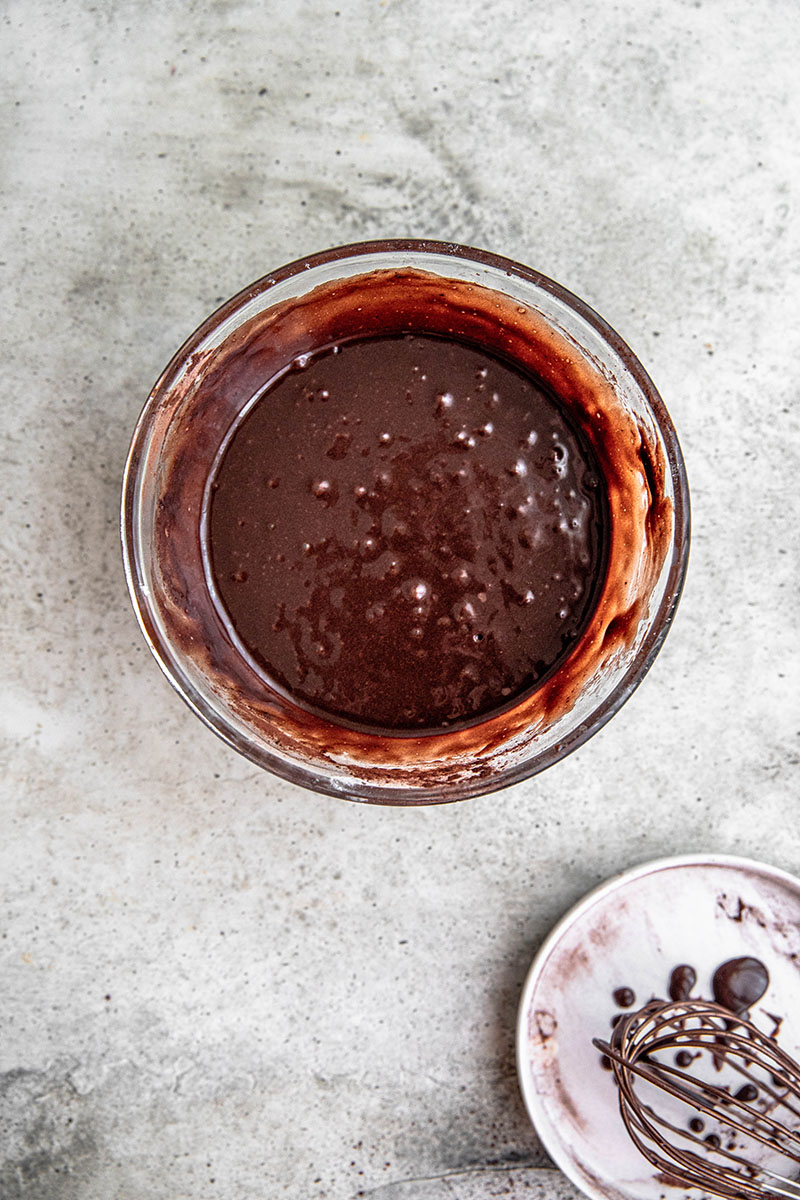 Baking Tips
Make sure to butter and flour your cake pan.
This recipe calls for a 500 g / 1 pound loaf cake pan (20 cm long, 8 cm wide).
If you use a bigger loaf cake pan, make sure to double the recipe.
You can also use a Bundt cake pan or a regular cake pan.
Do not open the oven until the loaf has grown nicely. About 40 minutes.
To check if the cake is ready, insert and skewer or a knife at the center. If it comes out dry, it means it is ready!
Unmold immediately after you remove from the oven. Let cool down on a wire rack at room temperature before covering with the almond chocolate glaze.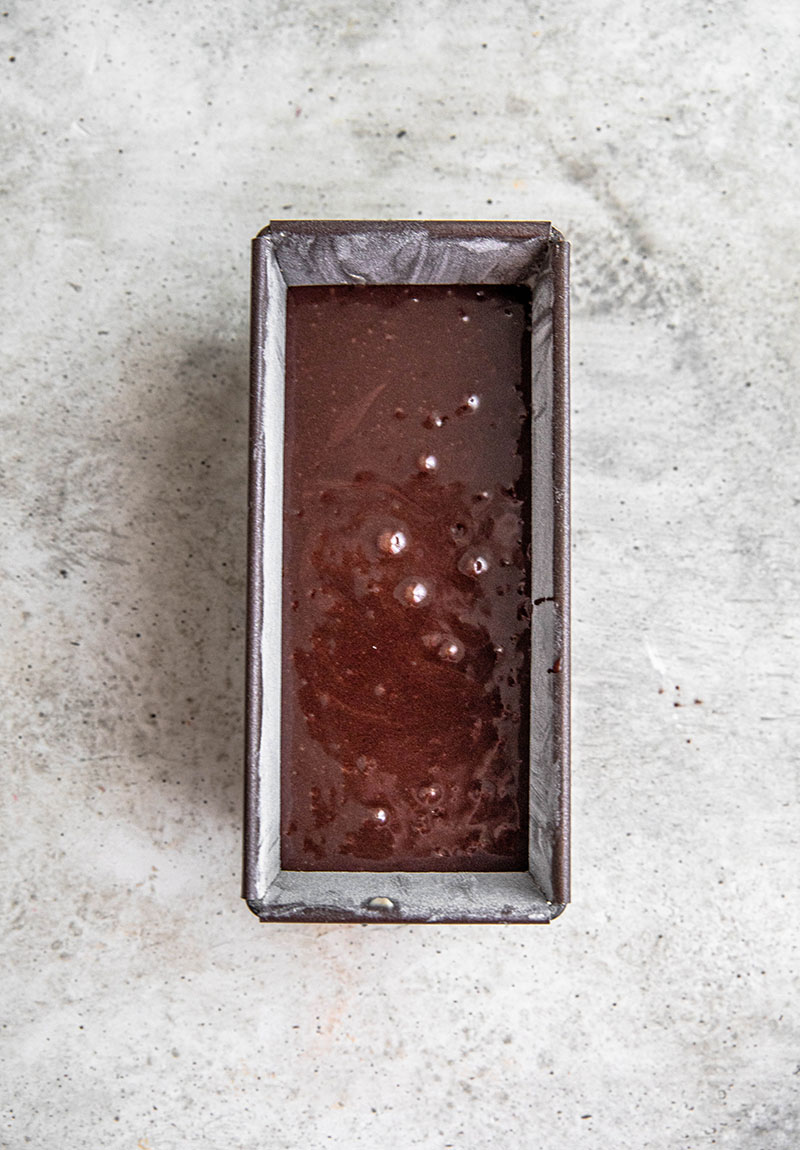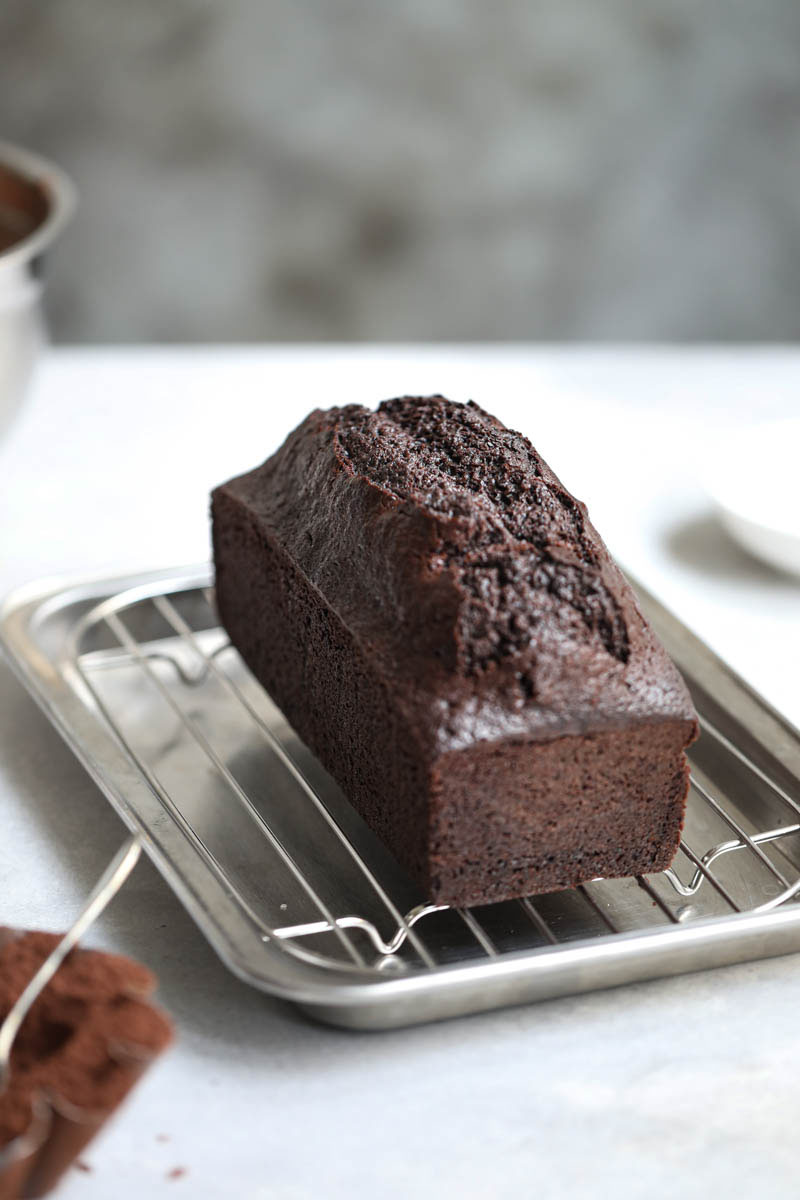 How to make the almond chocolate icing?
To make this chocolate glaze for cake is straightforward. You must:
Chop the almonds really small and roast for 10 minutes at 170 C° / 338 F.
Melt the milk chocolate to 45 C° / 113 F over a water bath.
Remove from heat and add in the sunflower oil and the roasted almonds. Mix to combine.
Keep warm until ready to use.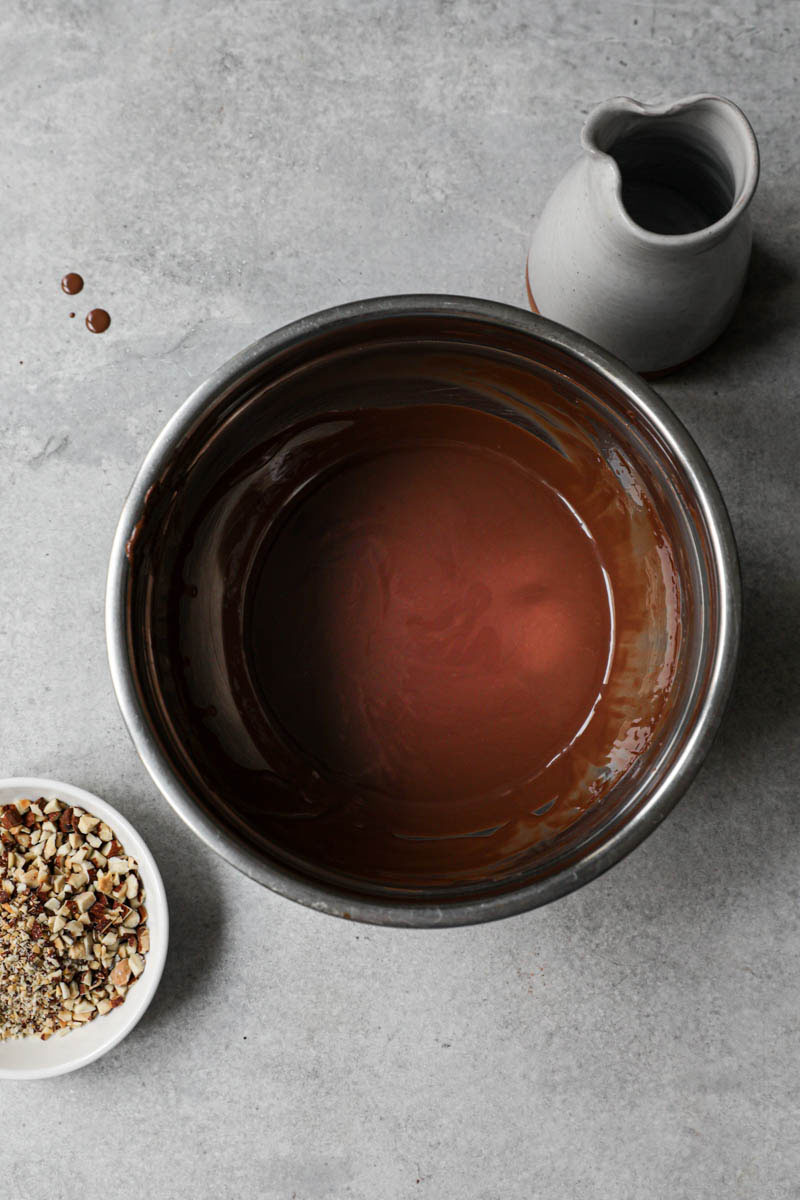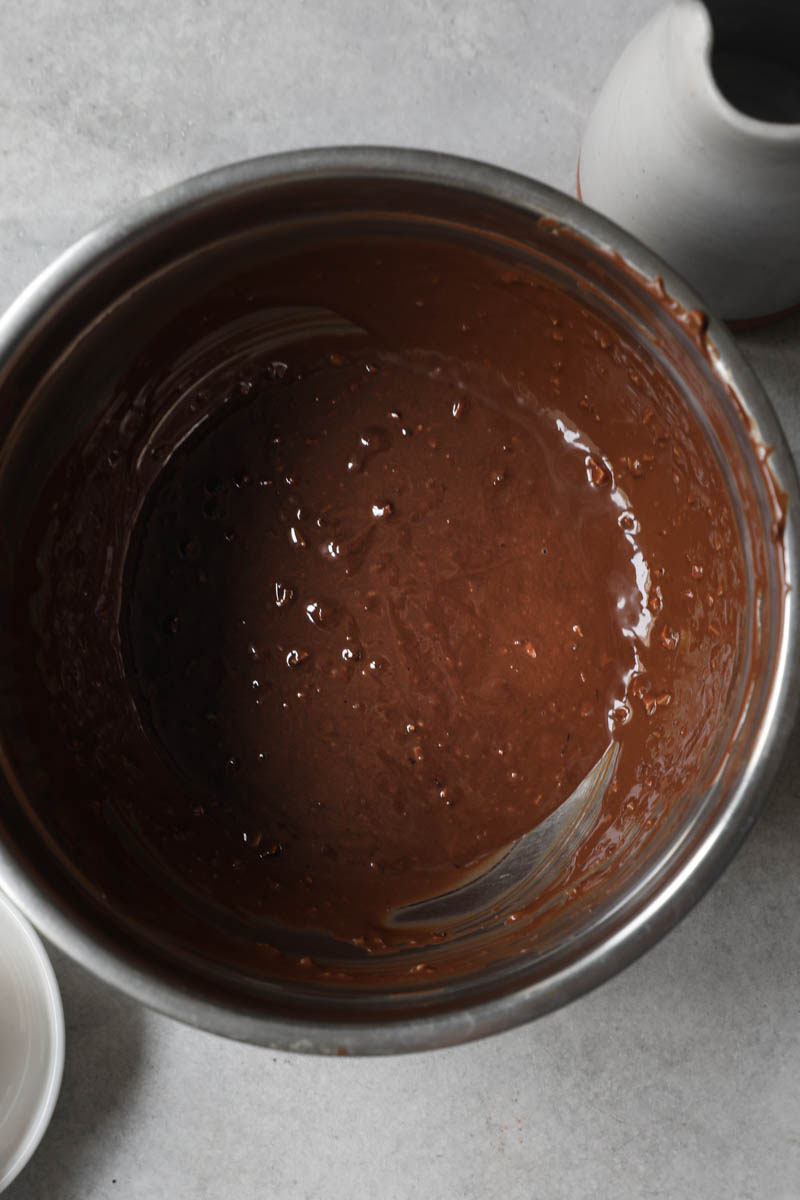 Glazing tips
Once the cake has completely cooled down:
Place a piece of parchment paper under the wire rack holding the cake.
Pour the glaze over the one bowl chocolate cake until completely covered.
Let the glaze set before slicing.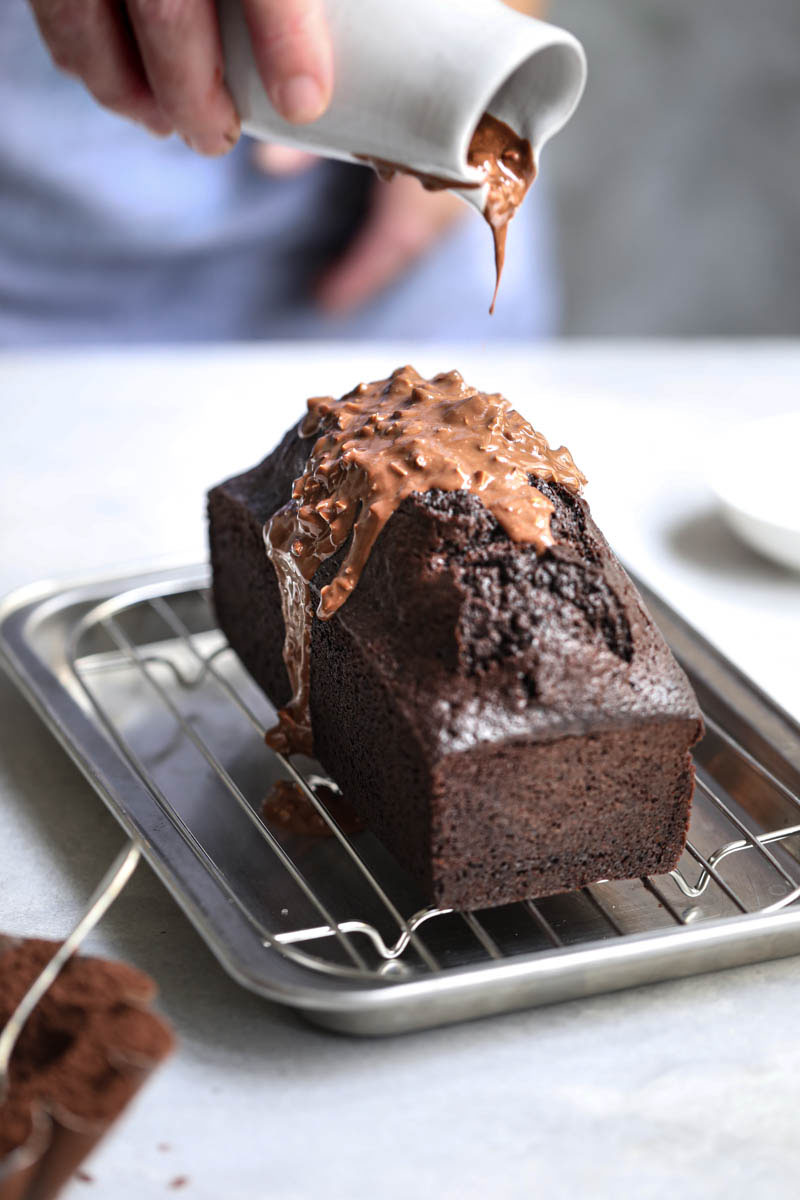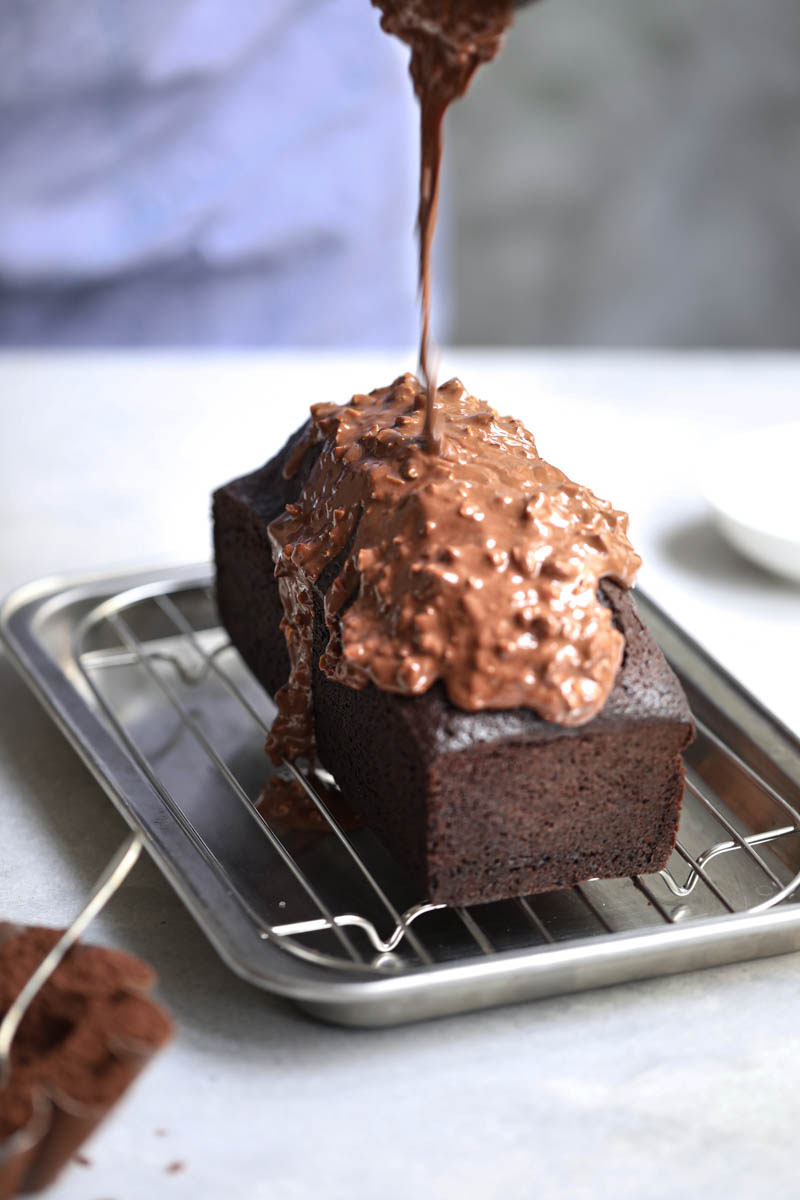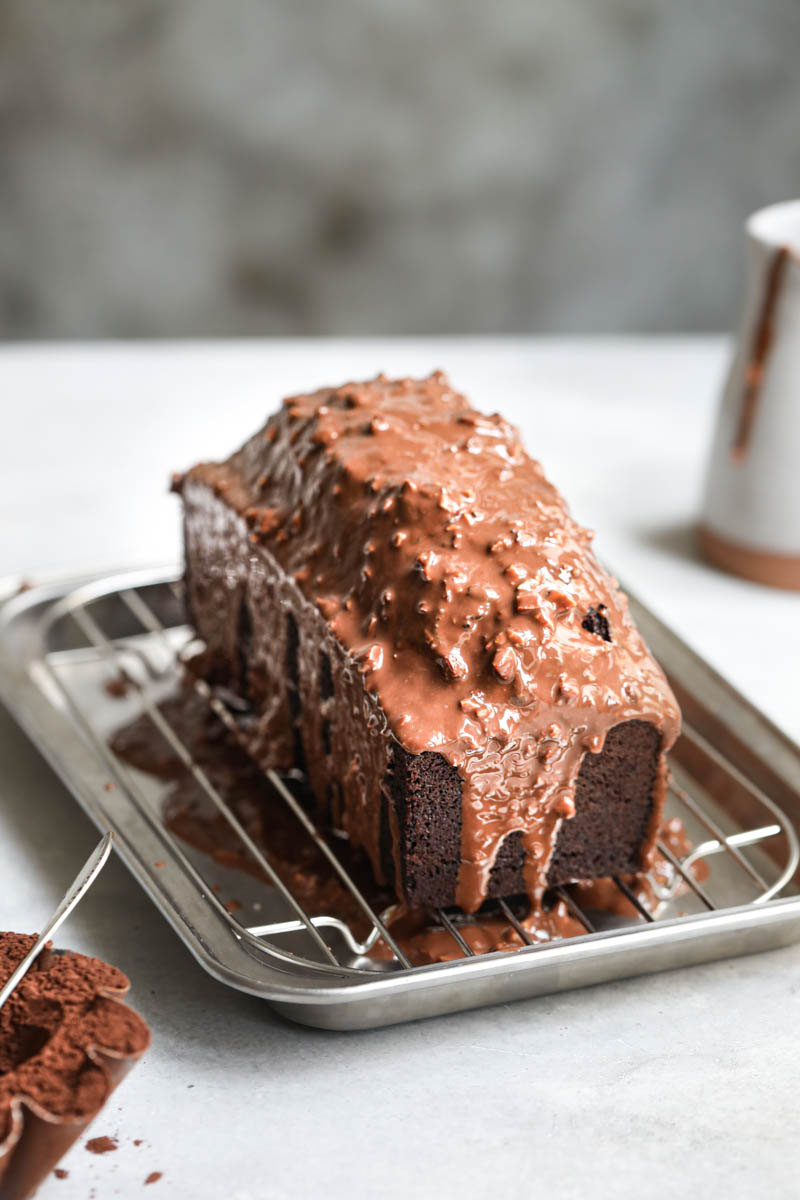 Storage tips
It keeps at room temperature covered with a cake keeper for up to 5 days.
Freezing instructions
This cake freezes splendidly. Let it cool down and wrap in plastic wrap twice. Transfer to the freezer. It keeps for a month.
To defrost: let it sit on the kitchen counter, wrapped, overnight.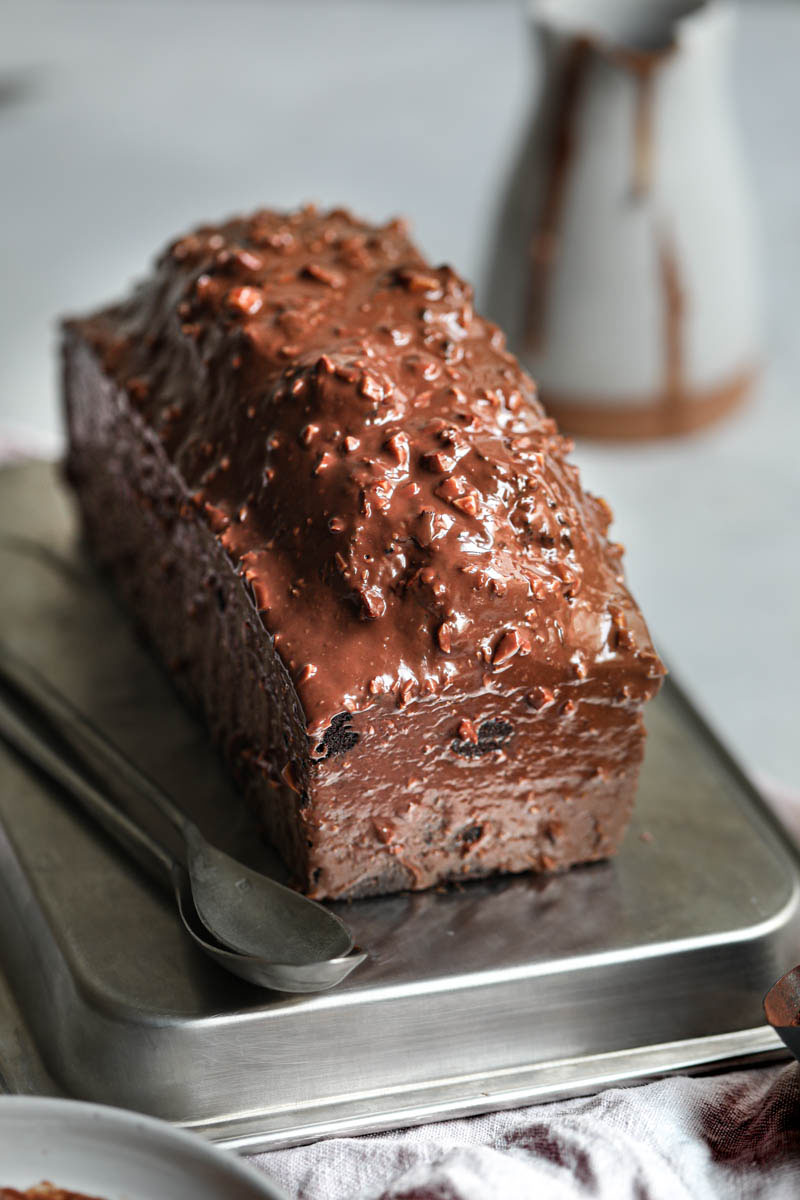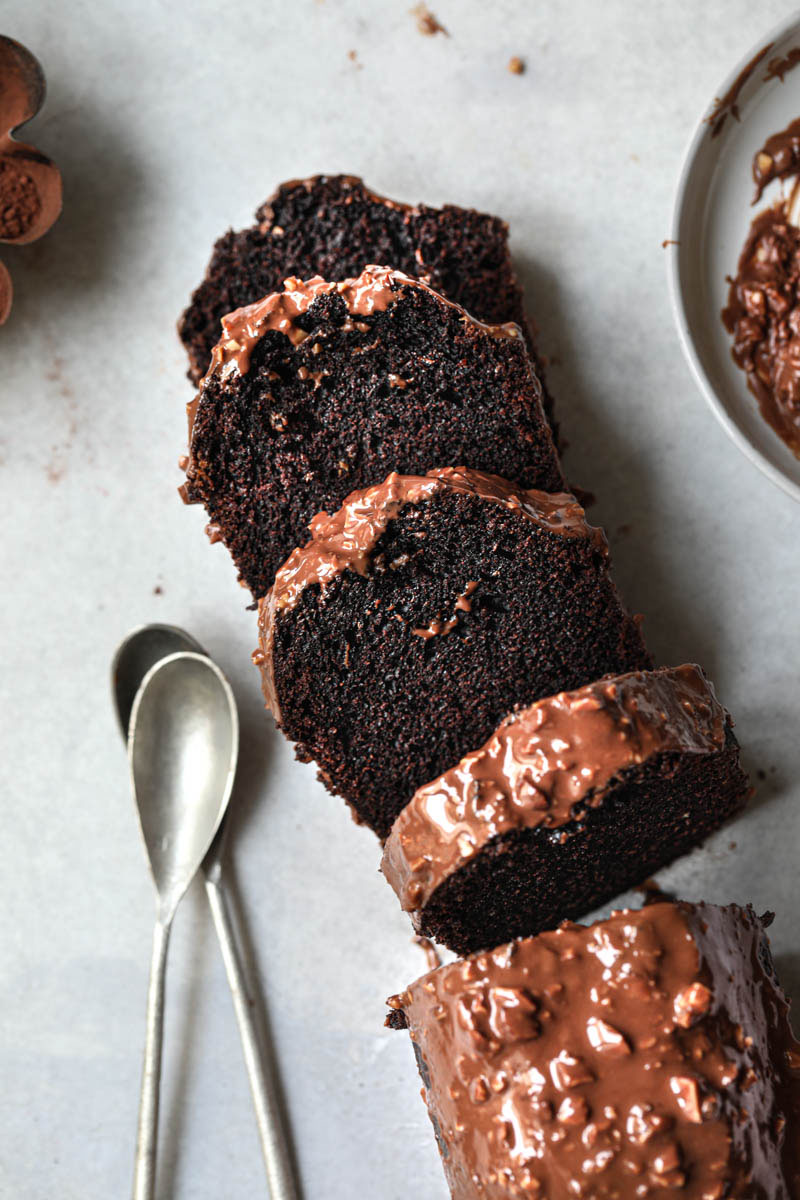 Variations to this recipe
I used olive oil to make this cake. It can be replaced buy sunflower oil or other neutral oil. I kept it amazingly simple here, just dusting the cake with some cacao powder. However, if you are looking for some frosting ideas, here are some:
The ingredients used in all recipes on this site are measured using the metric system. I use a
scale
to be precise with my measurements and ensure good results. If you would also like to use a scale, here are some:
USA
,
Canada
,
UK
,
Australia
,
France
.
Subscribe to the newsletter
One Bowl Chocolate Loaf Cake
Milk

125 g

White Vinegar

3 g

Olive Oil

70 g

Eggs

1

Sugar

145 g

Flour

130 g

Cacao Powder

40 g

Baking Soda

3 g

Salt

2 g
Almond Chocolate Icing
Milk Chocolate

135 g

Sunflower Oil

30 g

Toasted almonds

30 g
If you made this recipe I would really appreciate it if you leave a rating or comment below! Also, if you share on social media please use #cookwithbelula, I would love to see what you create!