Chocolate Fudge Cake
This is a moist chocolate fudge cake recipe, rich and chocolatey. It is baked in 2 stages and filled with dulce de leche. It is also a flourless and very addictive.
Recently I bought Ottolenghi's cookbook (Ottolenghi, the cookbook) and I have been exploring it. I bought it mostly because I decided to eat healthier meals and he has tons of recipes where vegetables are the main characters. So I figured it would be a good source of inspiration for a new more varied diet.
What will you need to make this chocolate fudge cake recipe?
To make this cake you will need:
An 18 cm (7 inches) springform cake mould. Ex. Leakproof Springform Pan
Parchment paper
Good quality chocolate. I use Valrhona chocolate: Valrhona Dark Chocolate.
Dulce de leche: this is optional, as you can avoid it completely and make 100 % chocolate. If you do add the dulce de leche, I like these brands: I like to use those Argentinian brands: La Serenisima - Dulce de Leche (USA), San Ignacio Dulce de Leche (USA, Canada, UK, France), Chimbote Dulce De Leche (Australia).
Regular pantry ingredients: brown sugar, butter, eggs (medium size).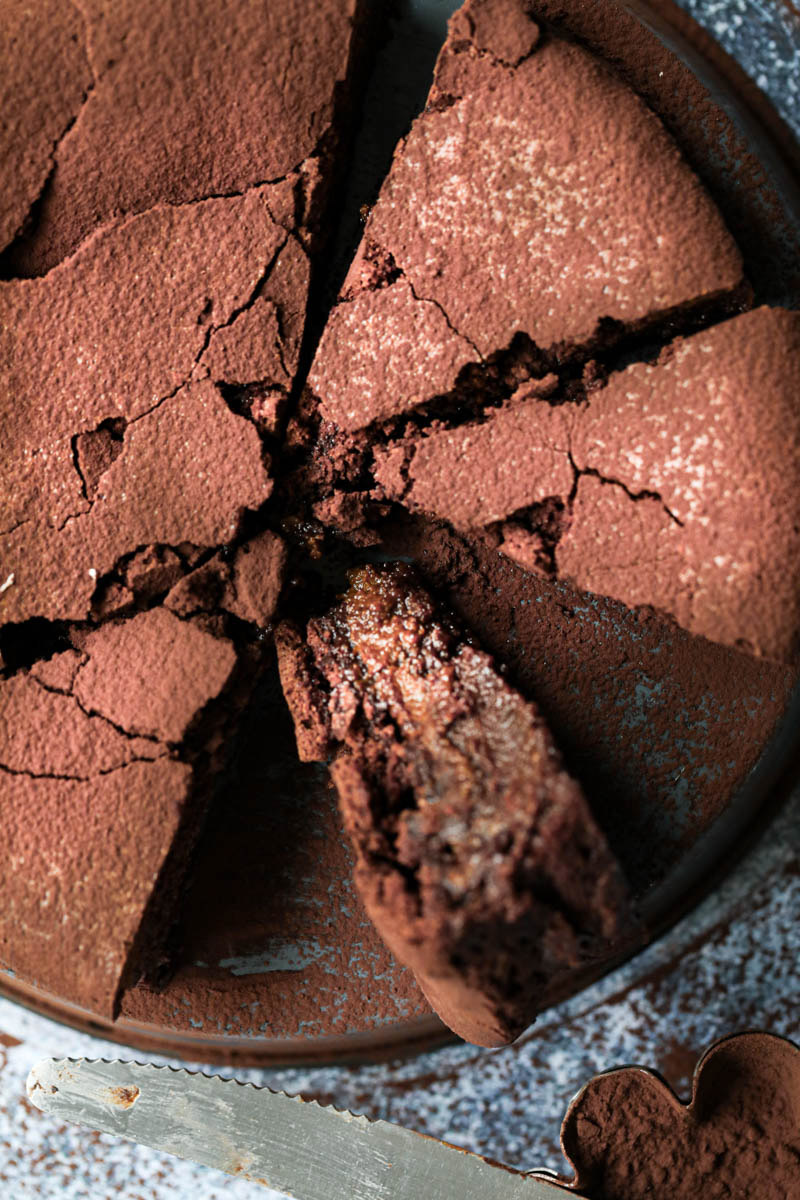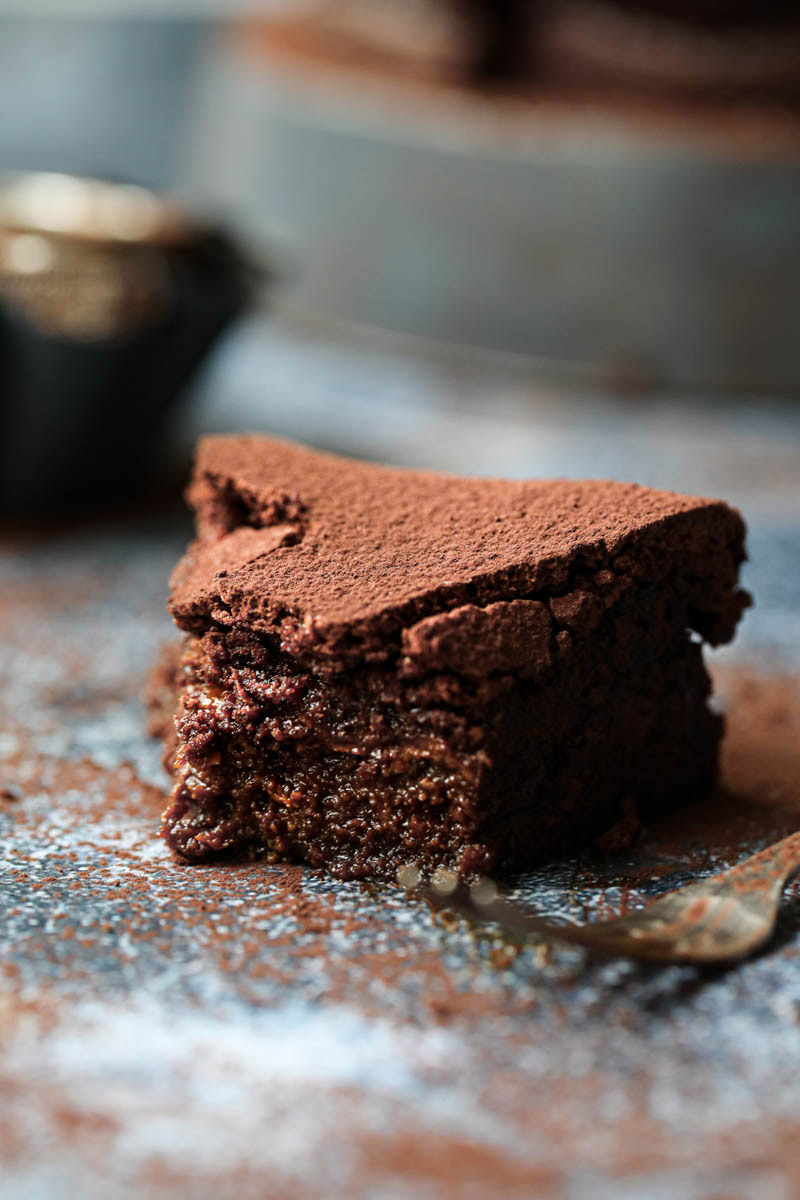 How to make chocolate fudge cake?
This is an easy chocolate fudge cake: It is all about the egg whites! You just need to follow these instructions and tips:
In a big bowl that can resist high heat combine de chocolate and butter cut into small pieces.
In a small pan bring 125 g of the sugar and the water to a boil stirring frequently. Pour the sugar/water mixture over the chocolate/butter mixture and let it sit for about 3 minutes. Stir until all the ingredients are combined.
Add the egg yolks one at a time. Set aside the bowl and let it come to room temperature.
In the meantime, beat the egg whites with the remaining 20 g of the sugar and the pinch of salt until you obtain a firm meringue. You can do this using an electric mixer, a stand mixer or your hands and whisk! A little exercise!
Add the meringue to the chocolate mixture in 2 additions. Make sure you fold it in gently and with love and care. You can either use a spatula or a whisk if you feel comfortable enough. This is an essential part of the procedure! It is particularly important not to over beat the egg whites, because they become watery. Also, when mixing them in, make sure you fold them in gently, without flattening out the whites.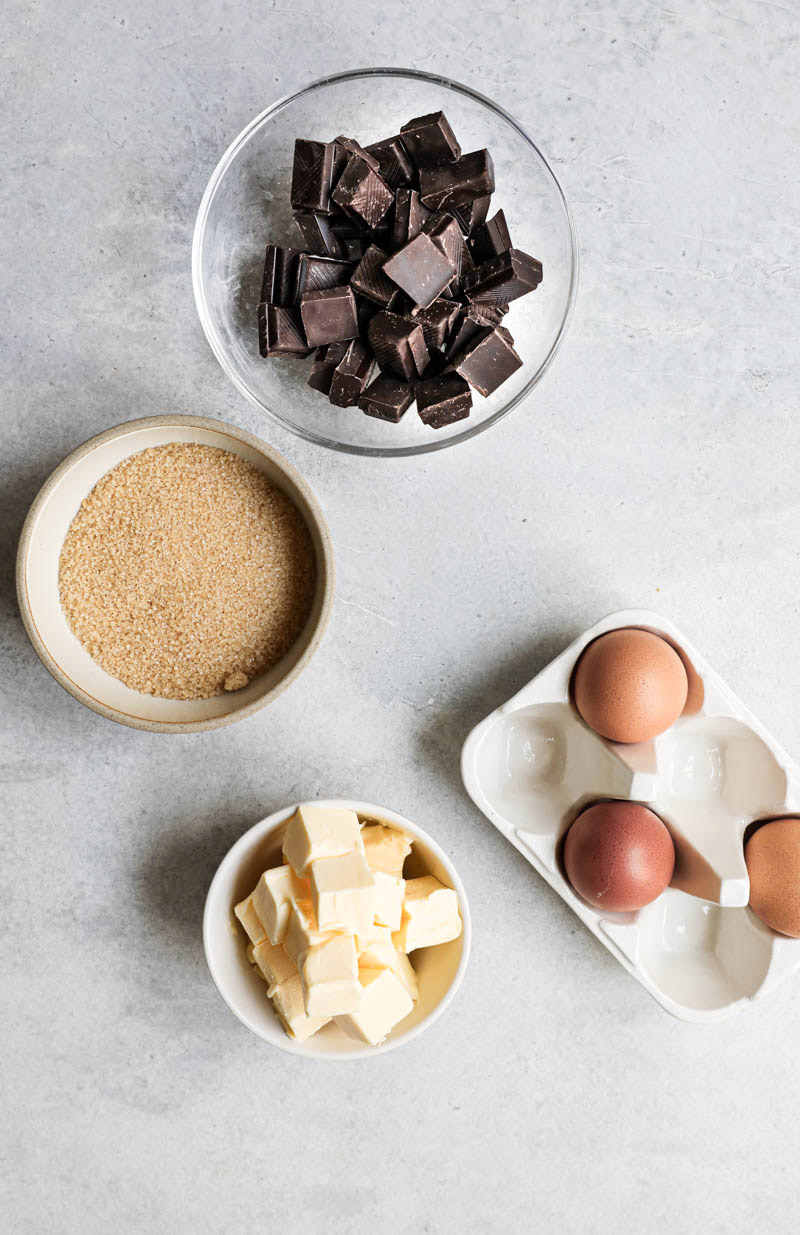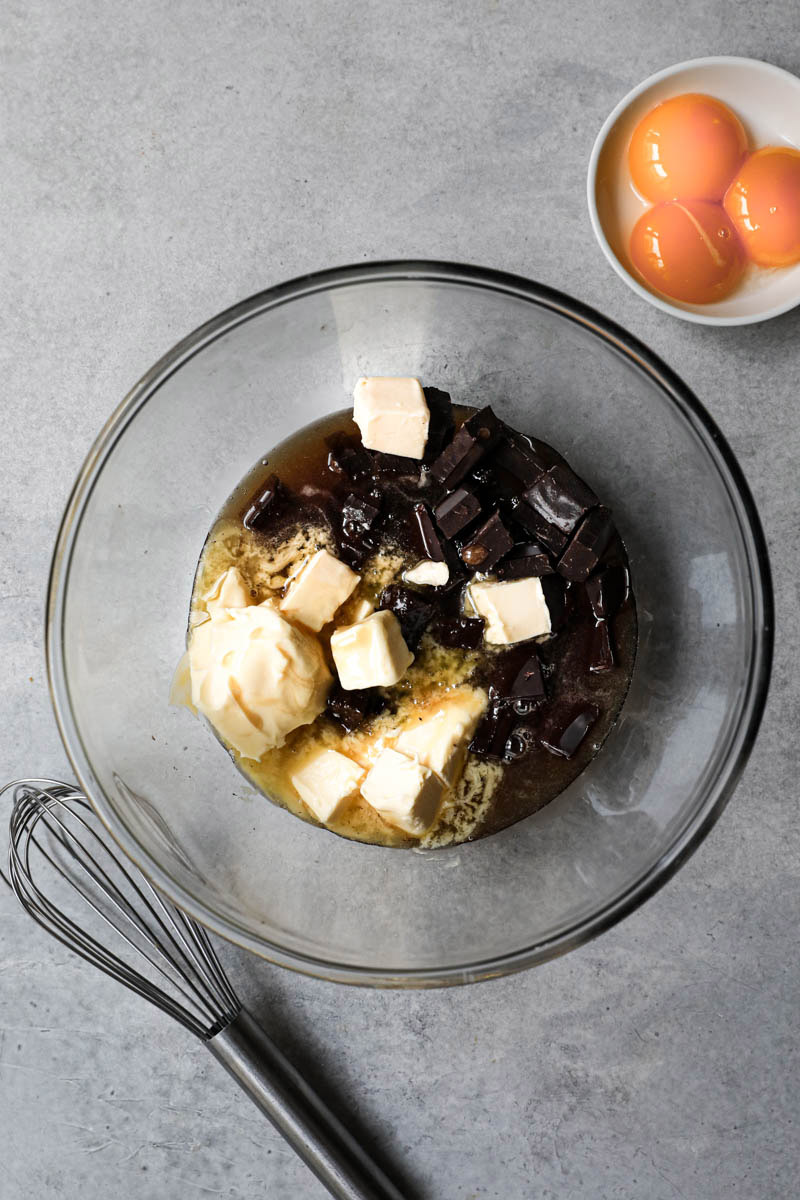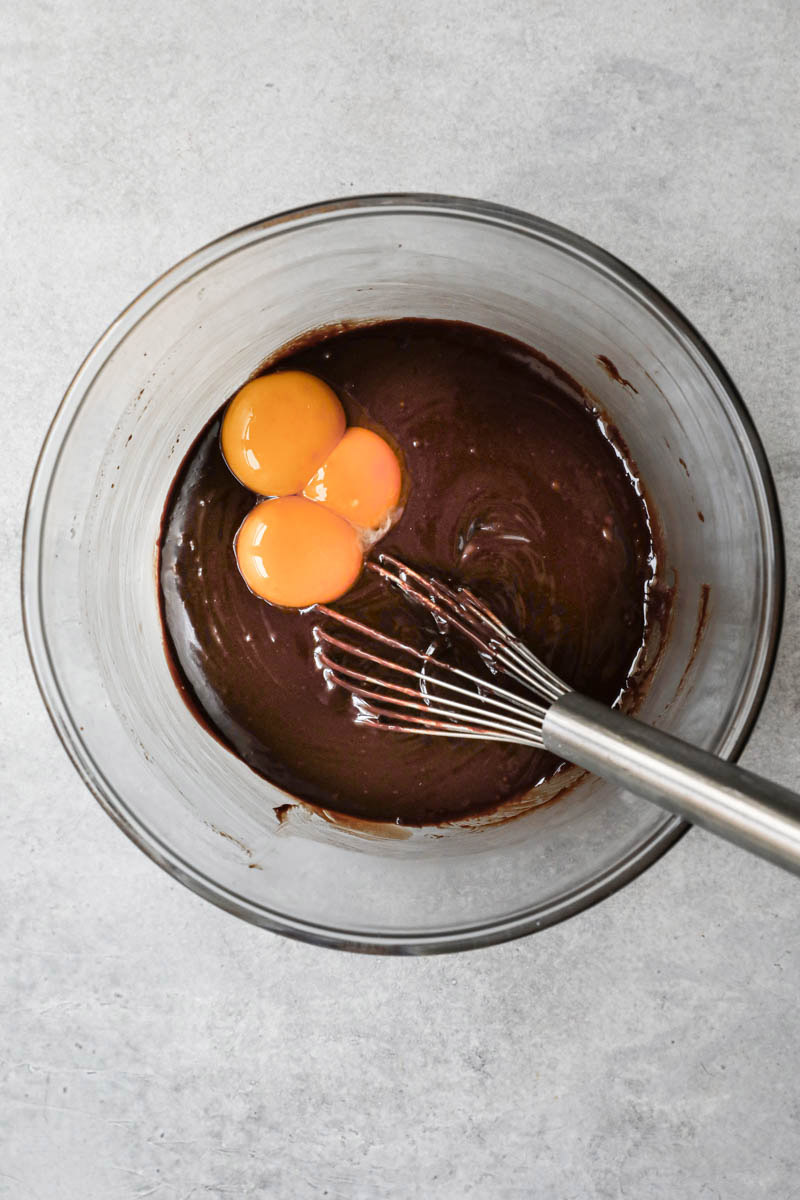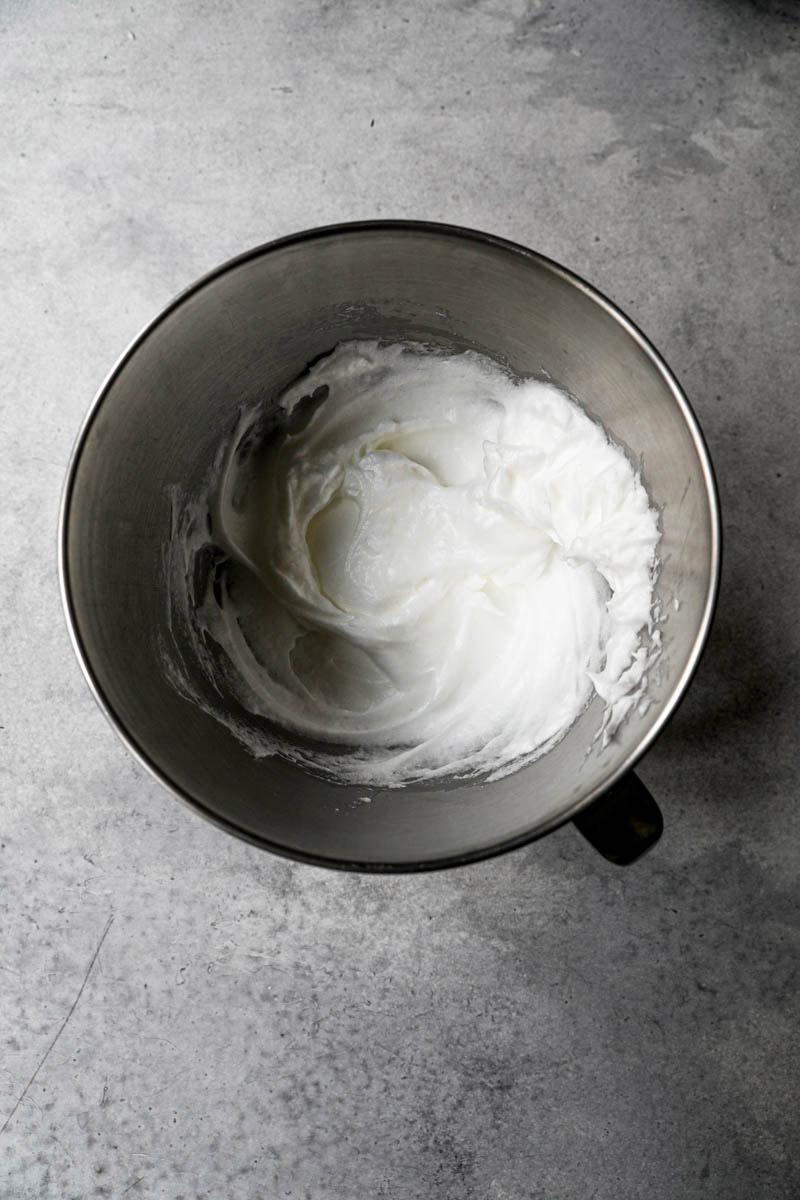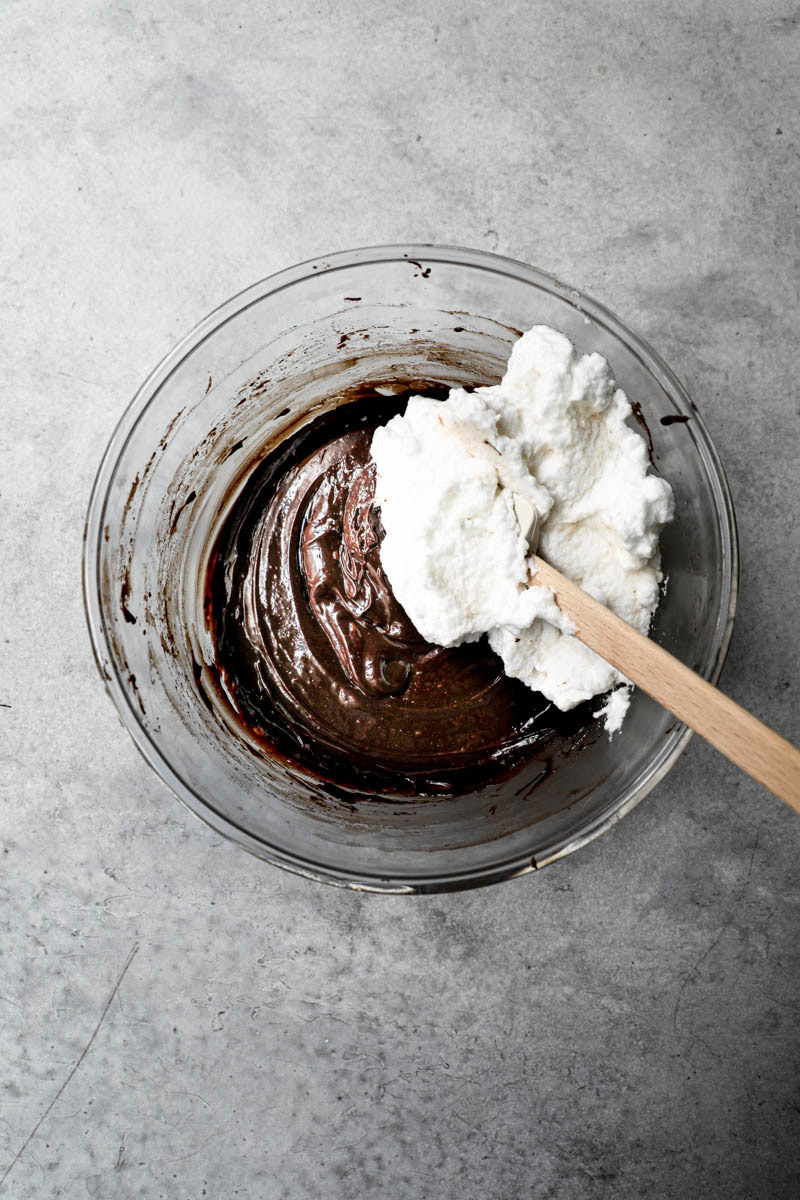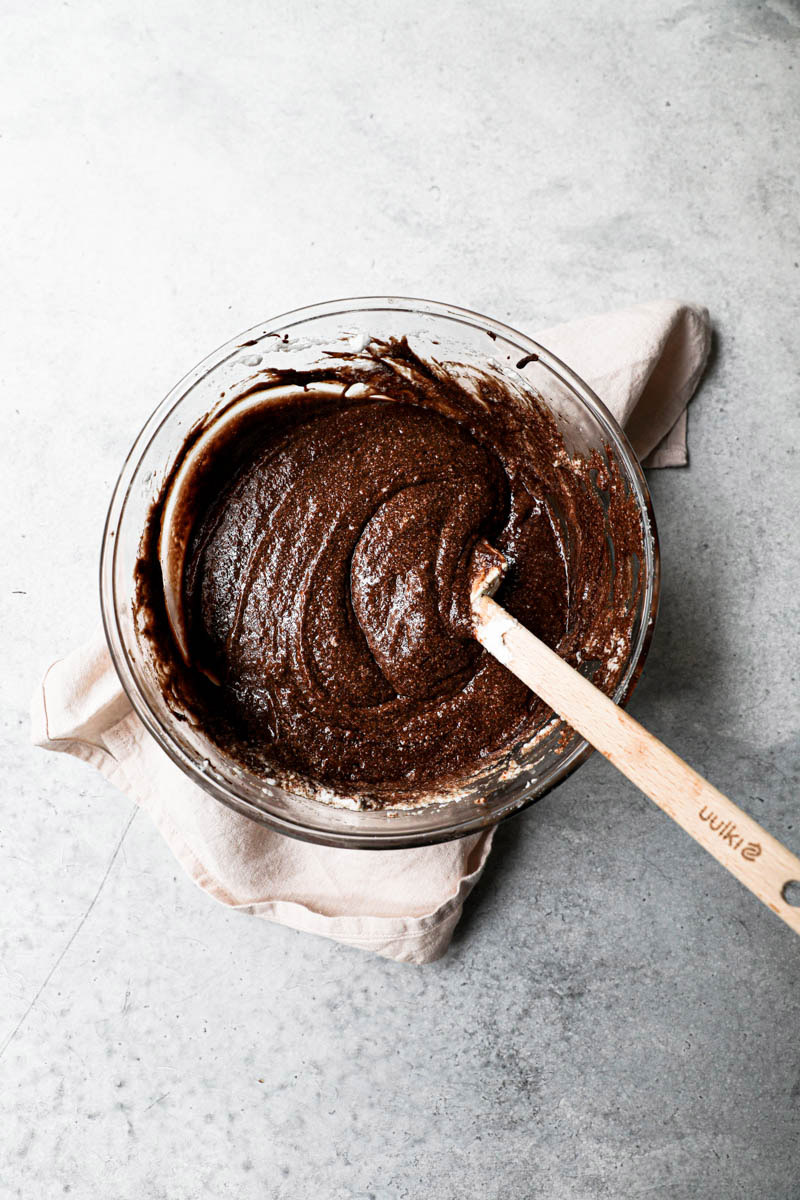 Tips on how to bake this flourless chocolate cake
This method of baking in 2 stages allows for a textured cake, with the bottom part being stiffer and the top part more fudgy!
To bake this fudge cake:
Grease the mould with baking spray or melted butter. Then line the mould with baking paper.
Fill an 18 cm springform cake with 2/3 of the cake batter and bake at 180 °C for 40 minutes.
When you insert your cake taster/skewer/brochette stick at the centre of the cake it should come out almost clean. Remove from the oven and let it cool down completely.
Once it has cooled off, cover with dulce de leche, and top with the remaining 1/3 of the cake batter and evenly distribute it over the dulce de leche.
Bake for an extra 25 minutes.
Remove and let it cool down completely before unmoulding.
For the baking times and right textures, you will probably have to adjust to your oven and own taste. Some might prefer this cake on the super moist side, others a little less. So, trust your instinct!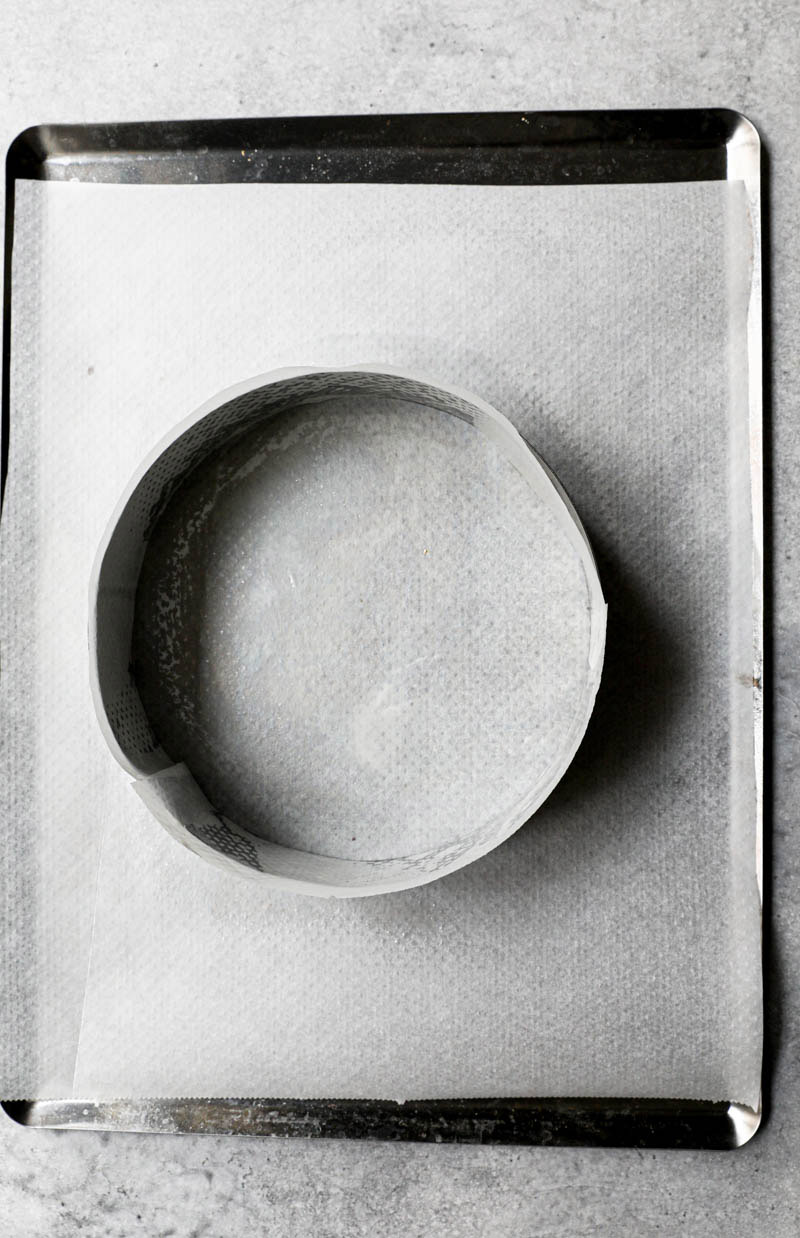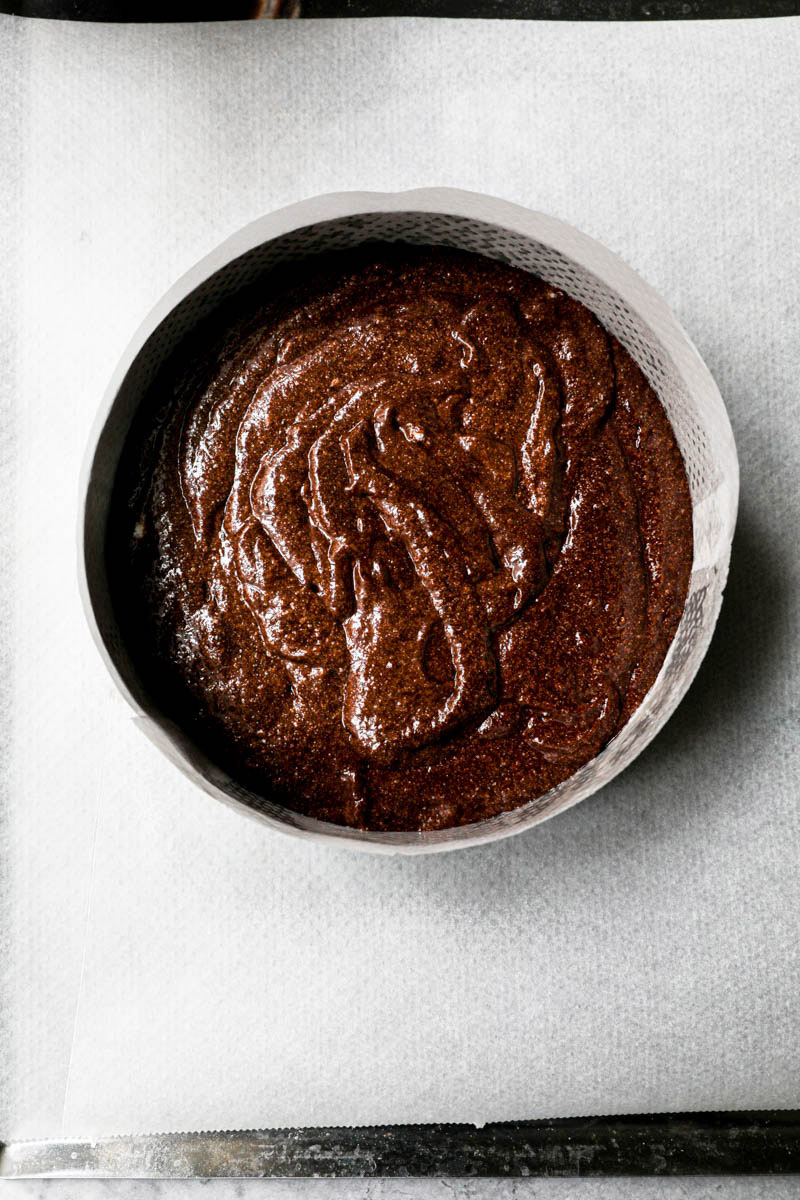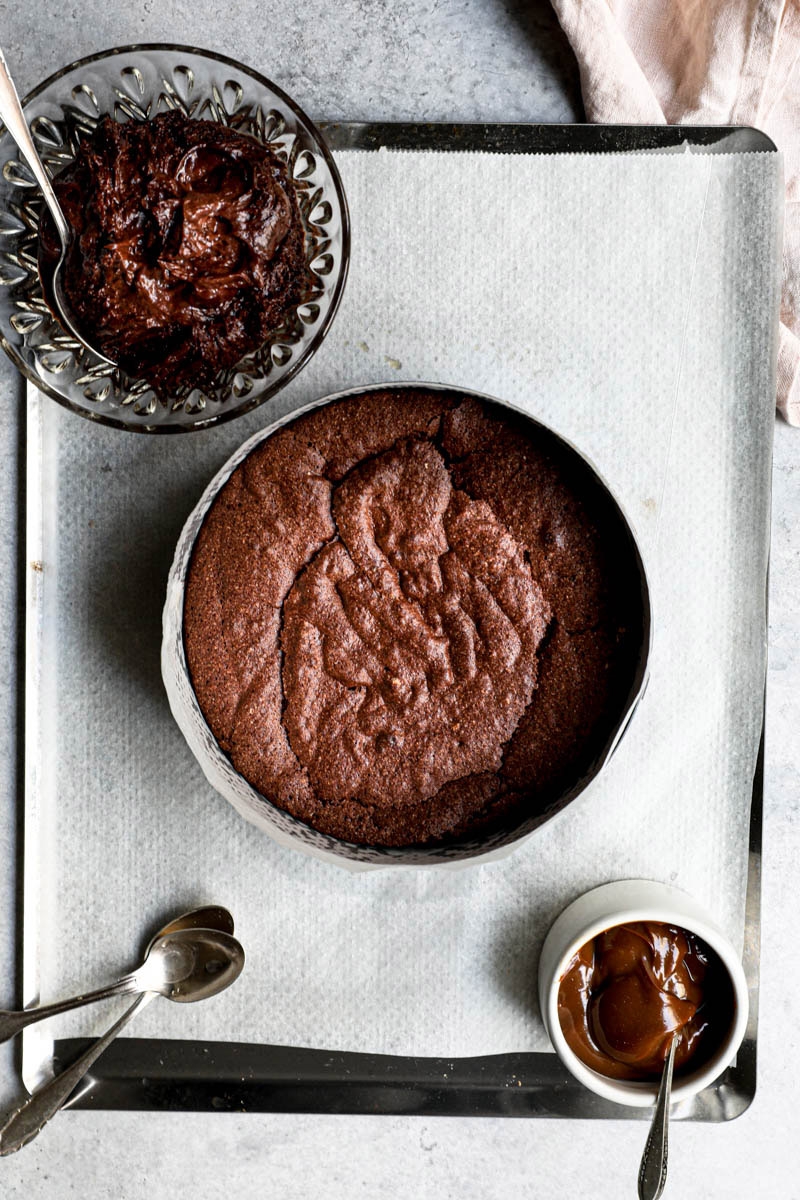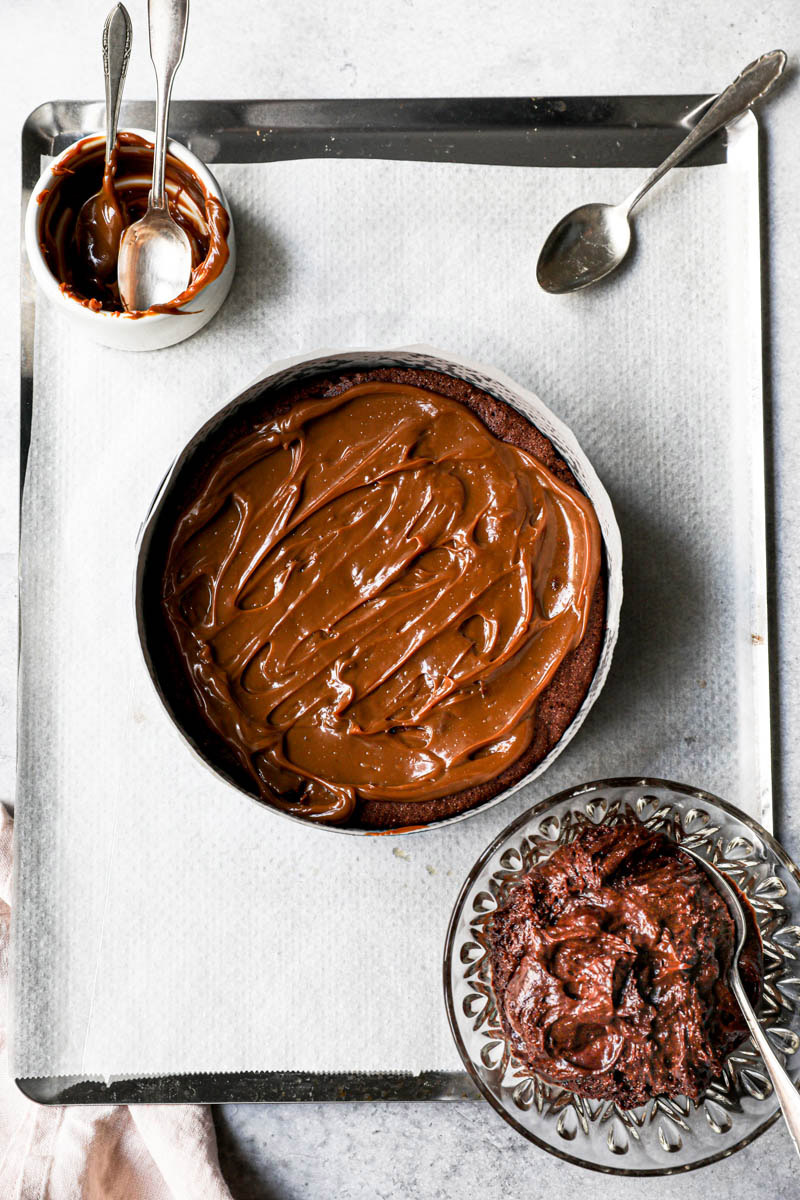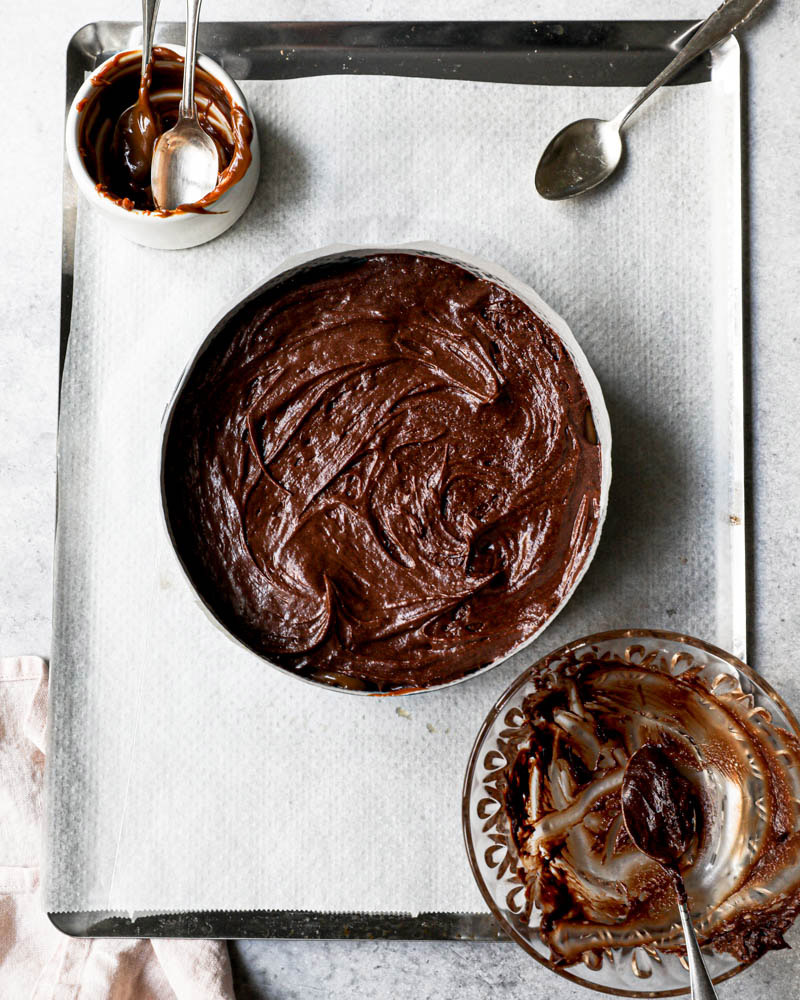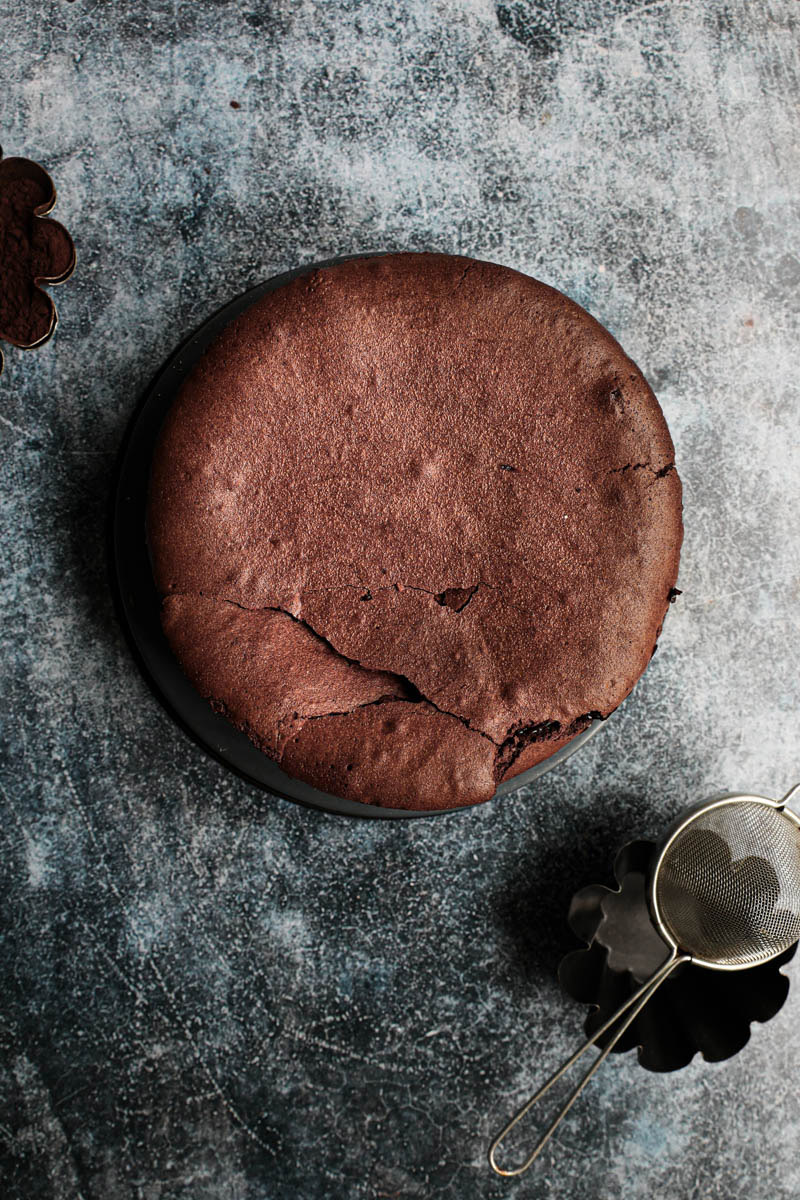 How to unmould this cake?
Because its super fudgy, it is tricky to unmould. To prevent it from breaking and getting stuck to the pan, you must:
Remove the ring of the springform cake pan.
Then using the parchment paper remove the cake from the pan and place on a serving plate.
Using a pair of scissors cut the extra parchment paper around the cake to make it look pretty.
Beware not to serve a piece of parchment paper when serving the cake!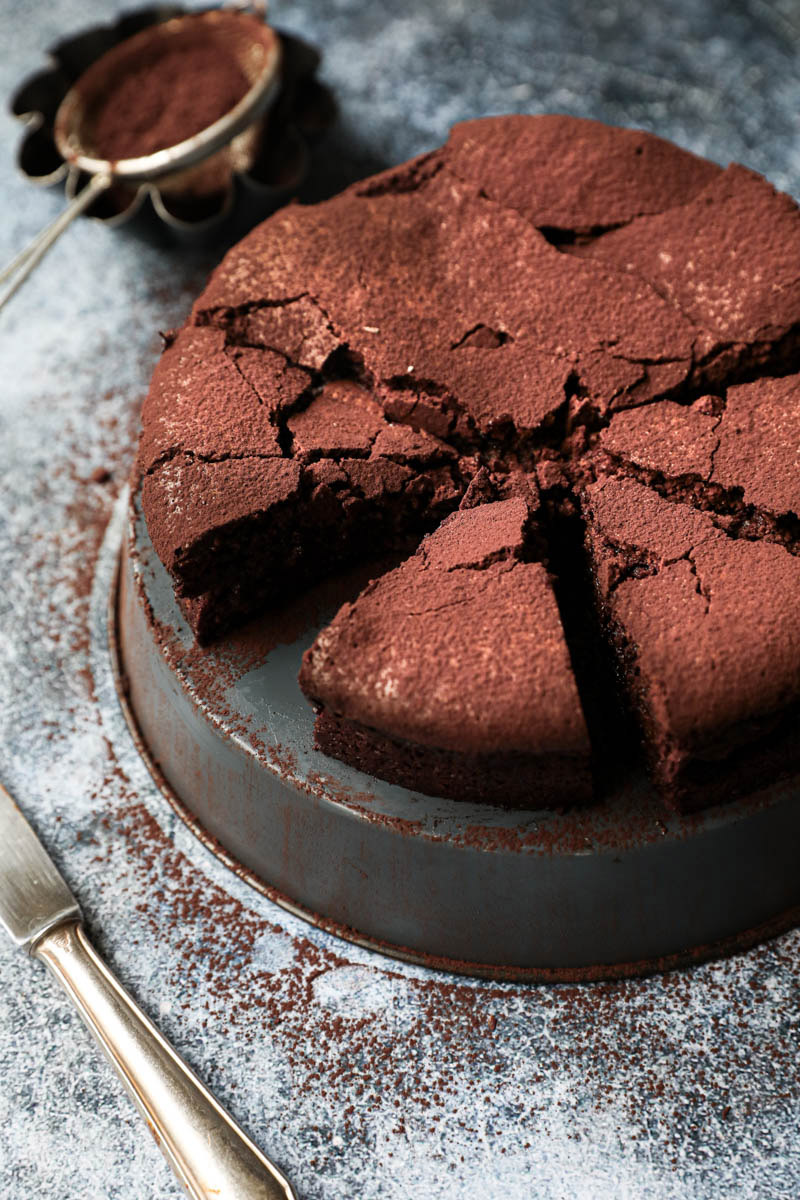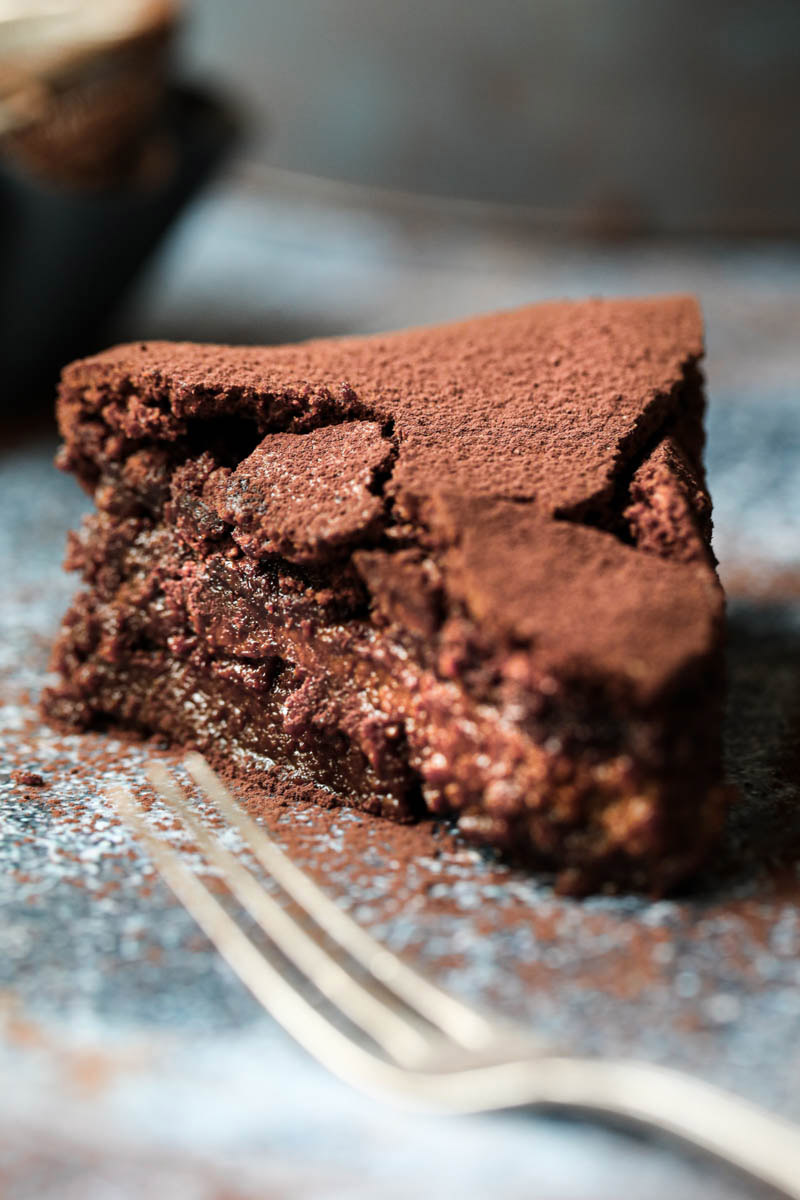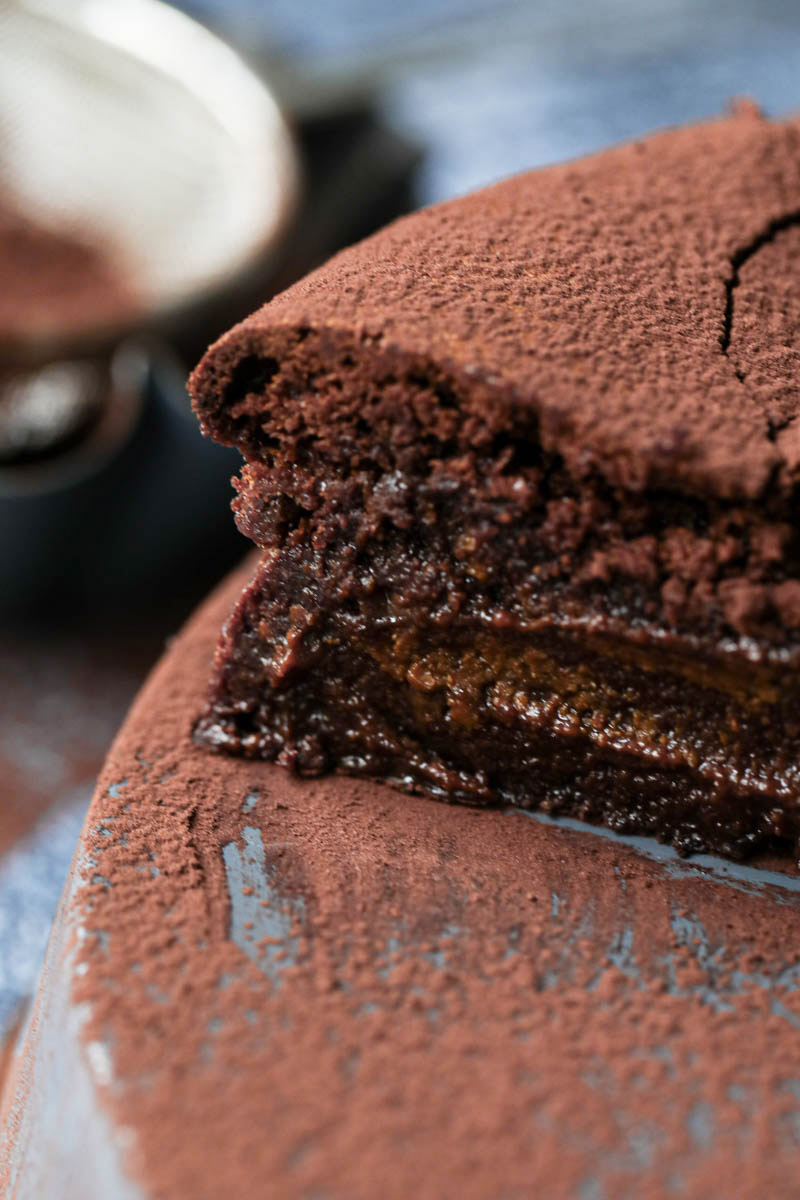 How to store this chocolate fudge cake?
You can keep this cake at room temperature, properly covered, for up to 4 days. It does not need to be refrigerated.
Is this chocolate fudge cake gluten free?
Yes. It is flourless and gluten free. Not diet though.
Variations
You can skip the dulce de leche filling and top the cake with the remaining 1/3 of the batter, and then continue baking through.
You can also bake this chocolate fudge cake in one go (without the dulce de leche though!). Its super good. Baking times will vary to 45 to 50 minutes. Verify by inserting a skewer at the centre of the cake. It should come out almost clean.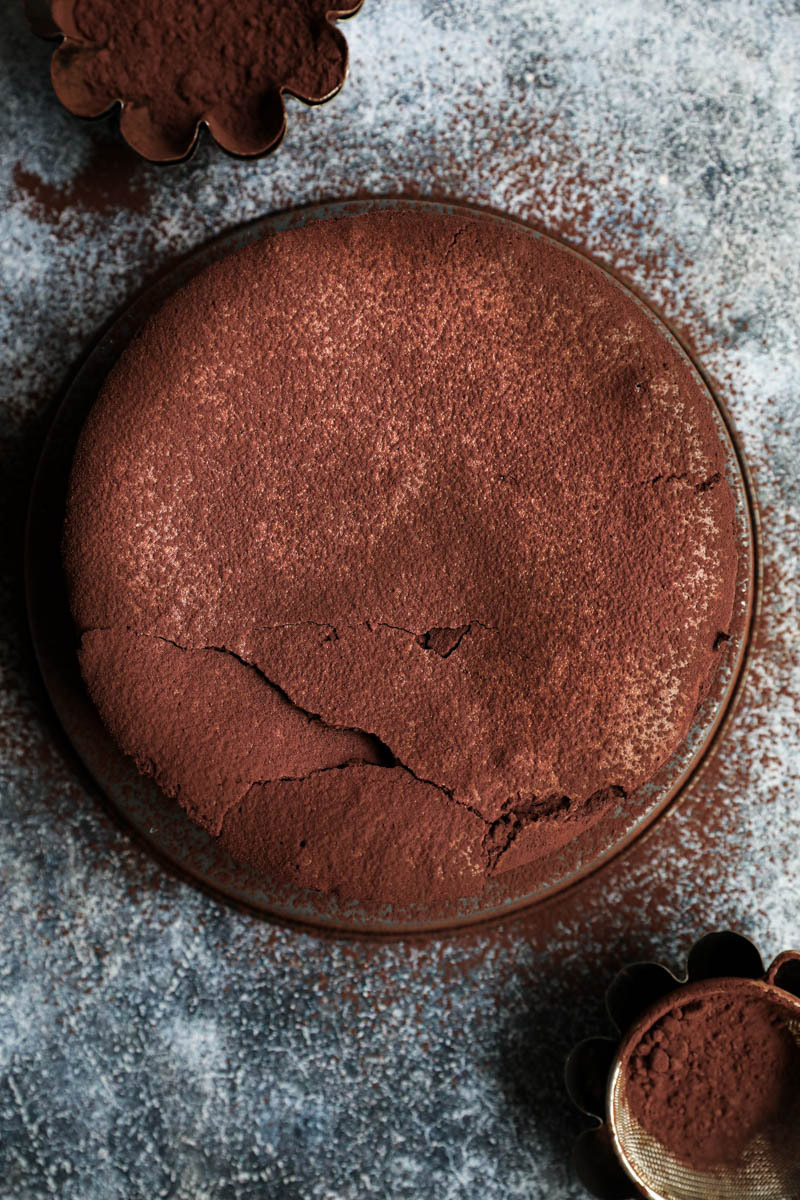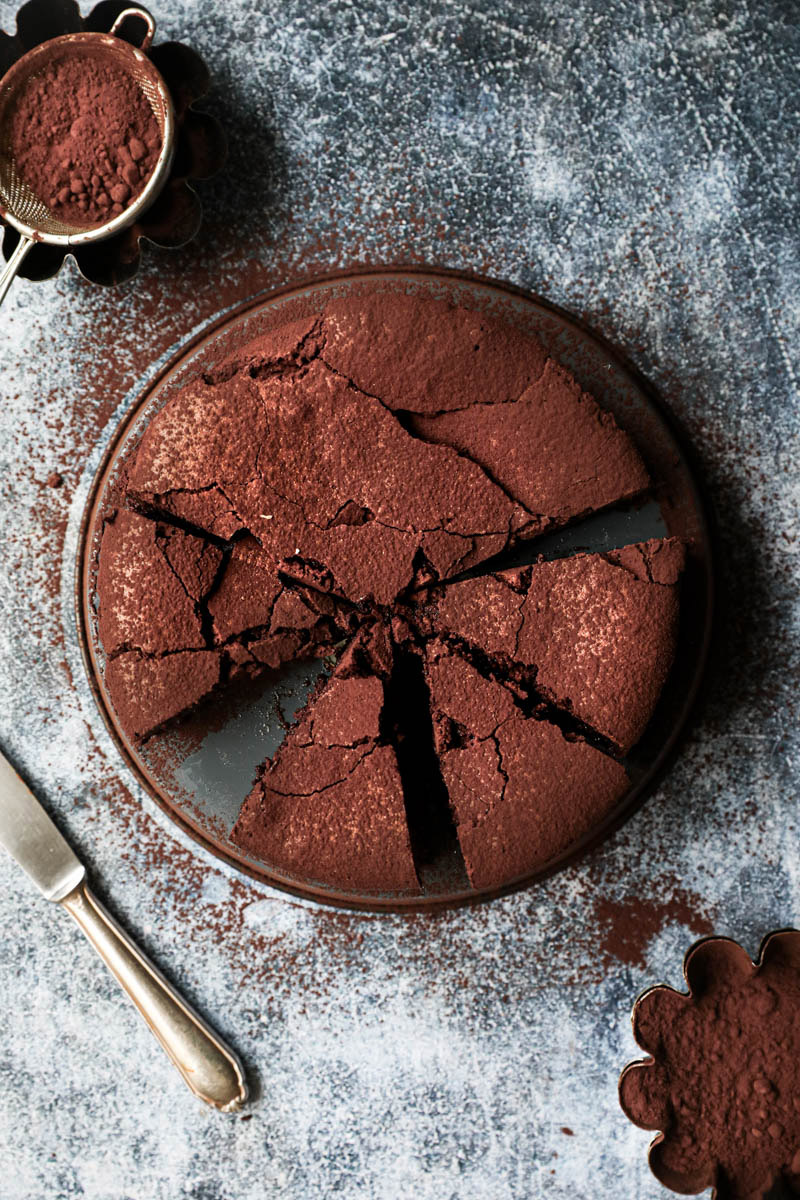 The ingredients used in all recipes on this site are measured using the metric system. I use a
scale
to be precise with my measurements and ensure good results. If you would also like to use a scale, here are some:
USA
,
Canada
,
UK
,
Australia
,
France
.
Subscribe to the newsletter
Cook Time:
1 hour 15 minutes
Total Time:
1 hour 30 minutes
---
Butter

120 g

Dark Chocolate (70% cacao)

180 g

Brown Sugar

145 g

Water

55 g

Eggs

3

Salt

2 g

Dulce de Leche

120 g

Cocoa Powder
If you made this recipe I would really appreciate it if you leave a rating or comment below! Also, if you share on social media please use #cookwithbelula, I would love to see what you create!