This chocolate dulce de leche cake was a classic at my house growing up. It still is. It is also the cake you have at every little kid's birthday party (or its vanilla variation). Safe to say we use to have it very often back in the day. A little confession: I still make this cake for my birthday every year!! I love it. So simple yet so delicious. Hope you love this chocolate and dulce de leche cake recipe as much as I do!
What is chocolate dulce de leche cake?
Chocolate dulce de leche cake is usually composed of a chocolate cake filled with argentine dulce de leche (or any other dulce de leche really lol) and covered in a chocolate dulce de leche ganache.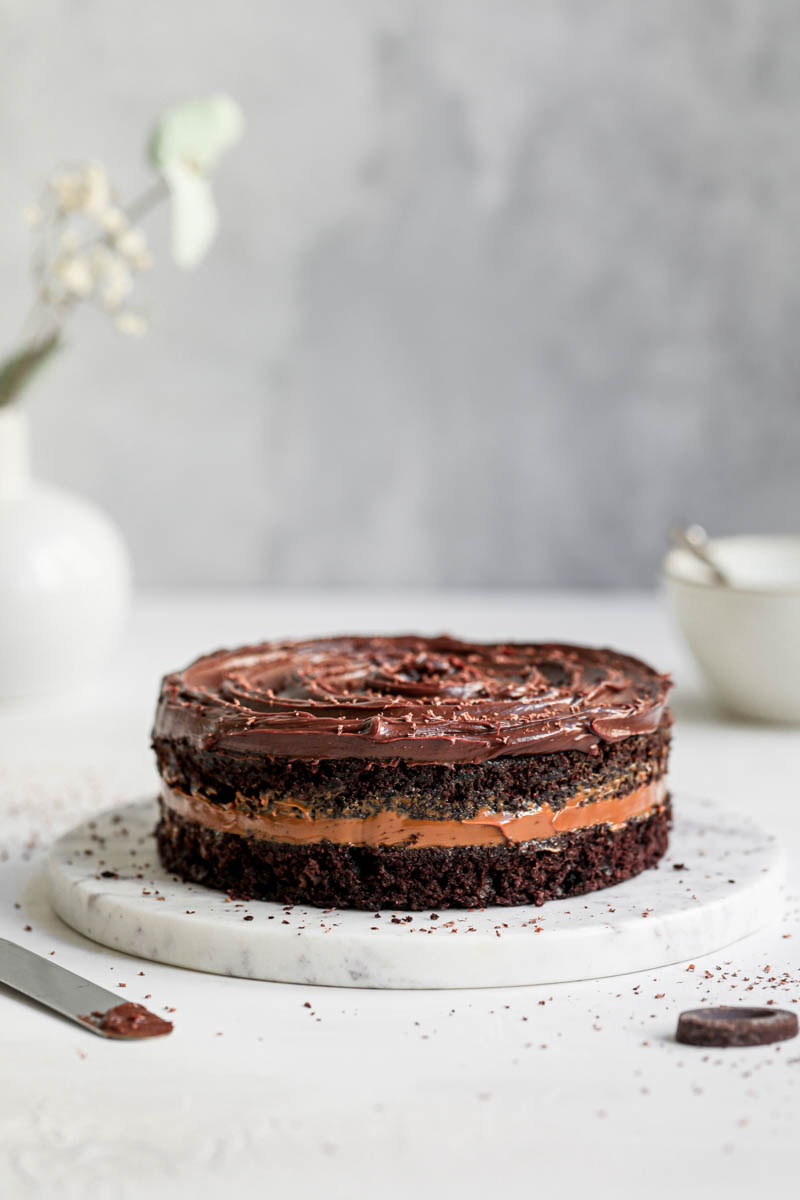 How to make mayonnaise chocolate cake?
This mayonnaise chocolate cake is an adapted version of the one in Bouchon Bakery's book. It is simple to make, and the result is a super moist cake. Do not be discouraged by the mayonnaise in there. Give it a try.
First whisk the eggs and the sugar until the mixture is thick and pale yellow. When you lift your whisk, the mixture should hold together (it will take 10 minutes give or take).
Secondly, add the mayonnaise and whisk to combine.
Finally, using a spatula, fold in half the dry ingredients and half the water. Fold in the second half of the dry ingredients and the rest of the water. Make sure its properly incorporated to the batter.
A note: It is important to use good quality cacao for this recipe! I use Valrhona cacao.
Last note: remember to sift your dry ingredients before you add to the batter.
Why put mayonnaise in chocolate cake?
Mayonnaise is added in chocolate cake as a replacement to oil or butter, the fat necessary to make any cake. Mayonnaise makes chocolate cake crumb extremely moist, and its especially good for layer chocolate cakes such as this one.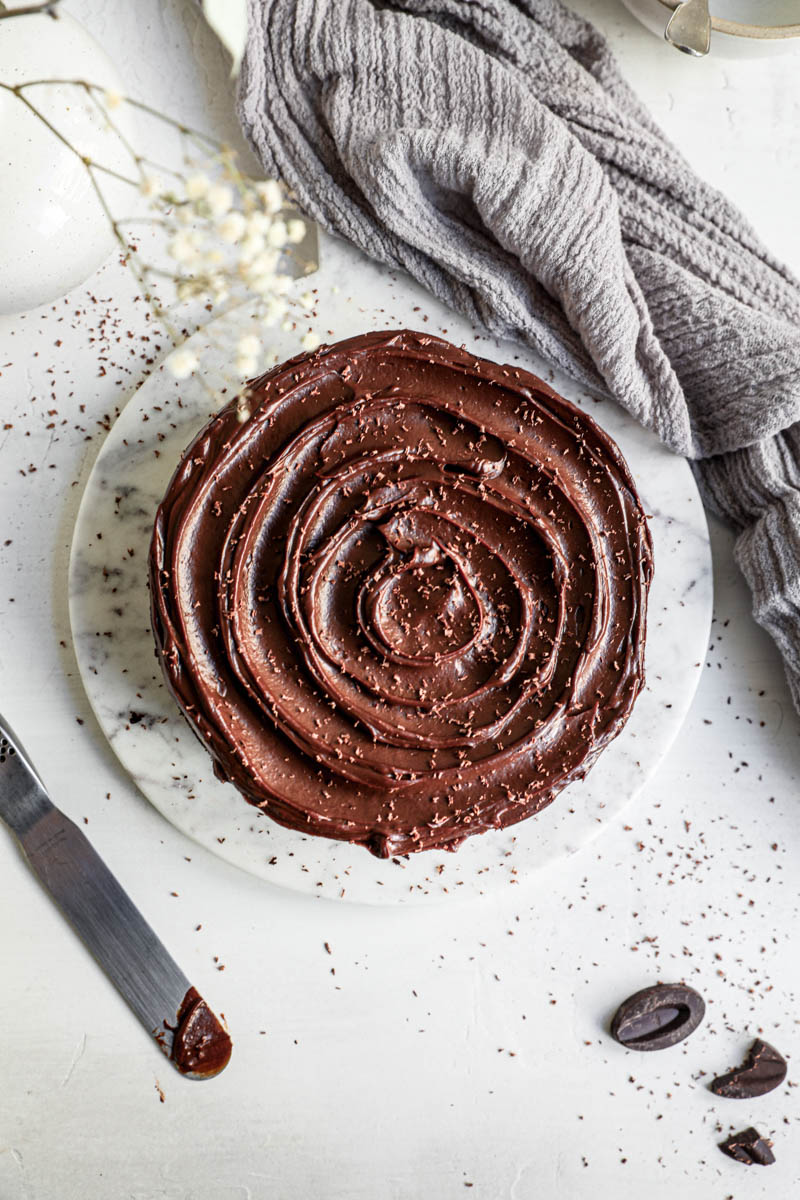 Can you freeze mayonnaise chocolate cake?
You can absolutely freeze this cake. It is a good idea to work with the freezer if you want to plan and have things prepared in advance. To do so:
Let it cool down at room temperature.
Cover in plastic wrap and transfer to a freezer bag.
Freeze for up to a month.
Defrost overnight in the refrigerator.
How to make chocolate dulce de leche ganache?
The most important thing when making a chocolate ganache is to keep your whisk perpendicular to the chocolate/cream mixture and mix slowly. This will result in a smooth, bubble free, shiny ganache!
To make this chocolate dulce de leche ganache you must:
Bring the cream to simmer and pour it over the chocolate and dulce de leche.
Let it sit for 5 minutes.
Using a whisk gently and slowly mix until combined.
Add the butter and mix until incorporated.
Cover with plastic wrap and let it cool down at room temperature.
A note: if the ganache hardens too much, you will not be able to work with it to cover the cake. In that case, place it over a water bath until you bring it to the right consistency to work with.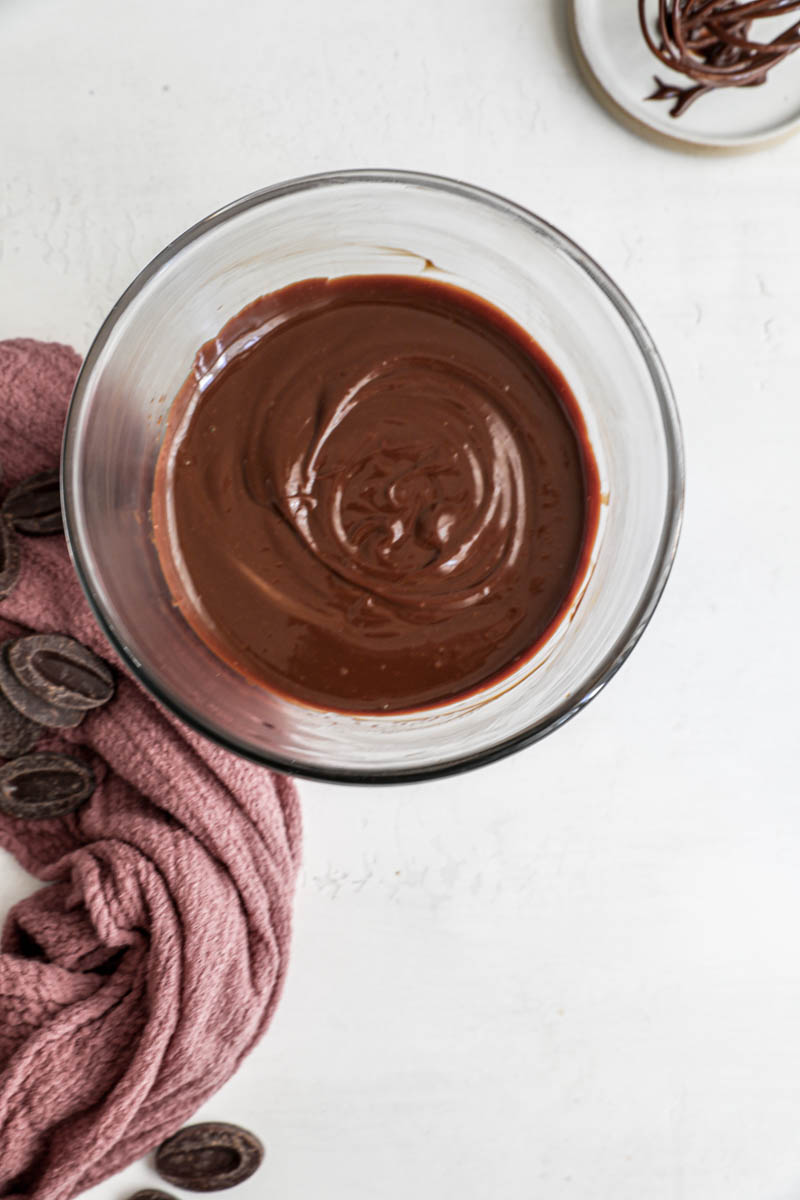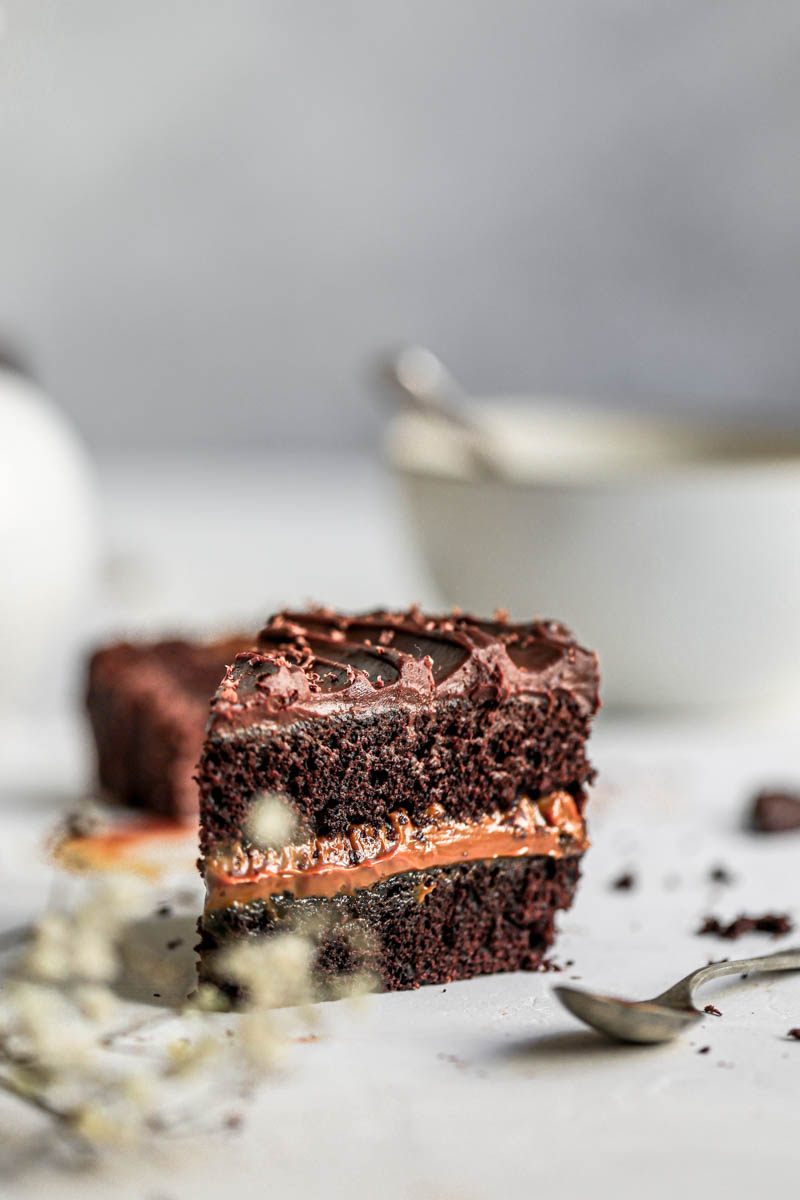 How to assemble de chocolate and dulce de leche cake
Line the springform pan where you baked the cake with plastic wrap.
Once the cake has completely cooled off, cut in half or in three equal parts. Make sure the cake rounds are of the same height. Cut off the top curved part of the cake.
Place the bottom round inside the pan and cover with dulce de leche. Spread evenly using an offset spatula or the back of a spoon.
Place the second round on top of the dulce de leche layer. Repeat with the remaining dulce de leche and cake round.
Cover in plastic wrap and refrigerate for 1 hour.
Remove from the pan and place the cake on a wire rack.
Cover the cake with the ganache using an offset spatula.
Transfer to a serving plate and keep at room temperature for 2/3 days.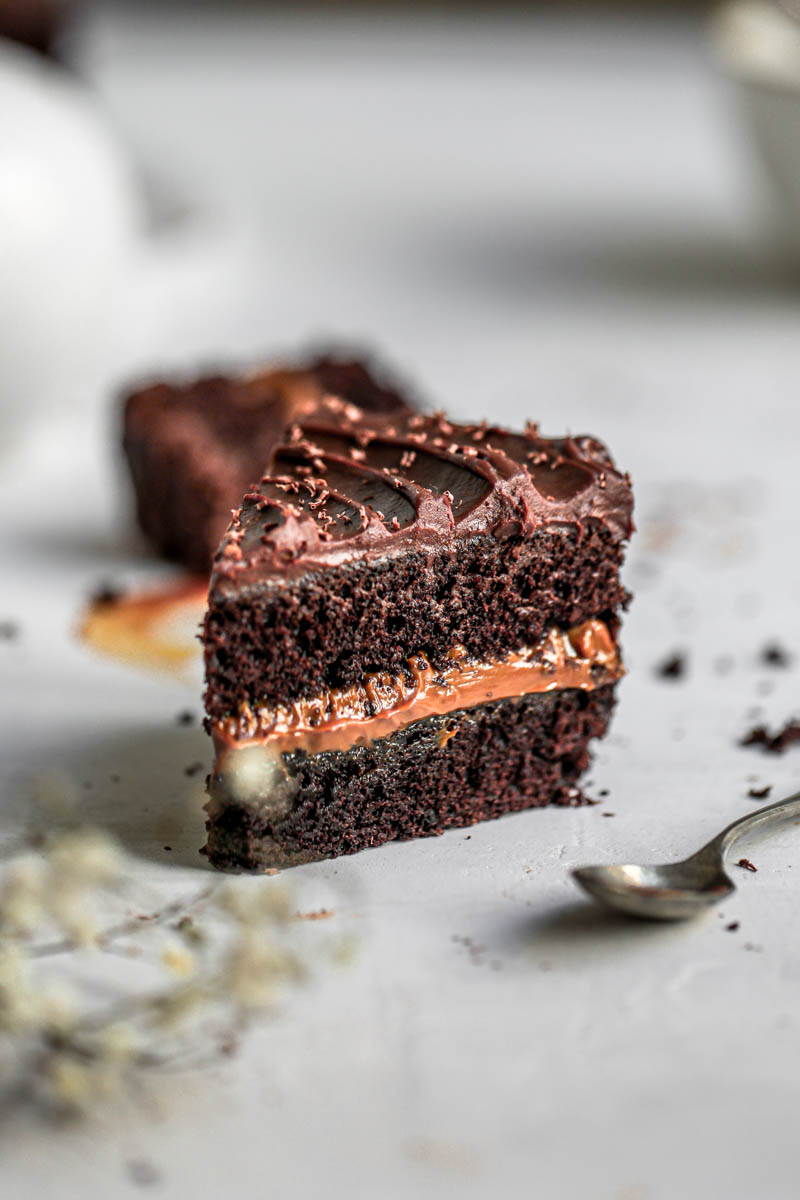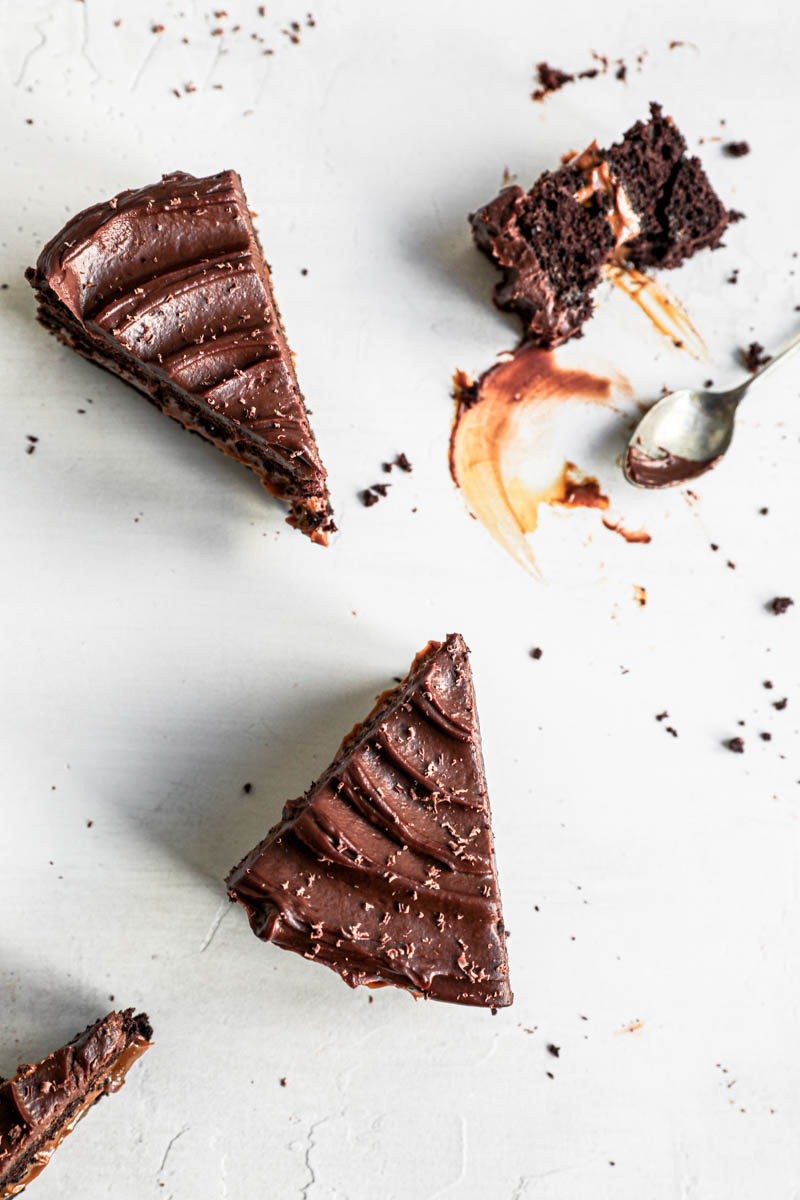 If you made this recipe I would really appreciate it if you leave a rating or comment below! Also, if you share on social media please use #cookwithbelula, I would love to see what you create!