One of my favorite desserts of all times. This salted caramel tart brings me back to Argentina in a heartbeat. Maybe this is why I love making it (and eating it 😉) so much! Other than the fact that it is delicious! Hope you enjoy it as much as I do!
Ingredients to make this tart
Shorbread pastry or sable dough: you can find a step by step and complete recipe here Shortbread Crust.
Salted caramel: there as a detailed explanation of how to make salted caramel below. I like to use vanilla bean for flavour.
Chocolate: use good quality chocolate. I like to use Valrona Chocolate.
Whipping cream: make sure it has high fat content. Not the diet stuff.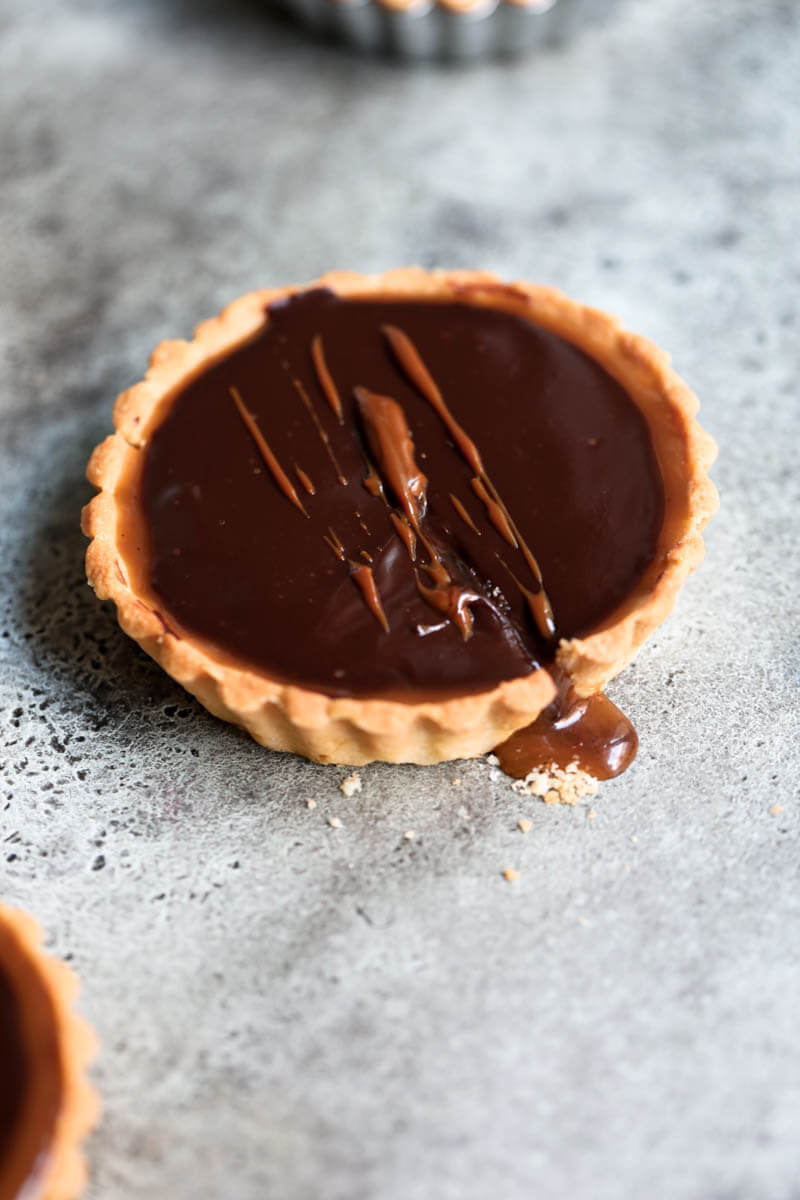 How to make salted caramel
First, be sure to use a big pot as the caramel makes some big bubbles when the cream is added that may cause overflow.
There are 3 steps to make this salted caramel recipe:
Using the water and the big sugar quantity in the recipe make a caramel. Once the caramel gets to a light brownish colour it will start to fume a little. At this point you are ready for the next step.
Over medium heat whisk in the cold butter cut in cubes and the salt. Once it has properly incorporated remove from the stove.
Whisk in the hot cream/sugar mixture. Then let it rest until there are no more bubbles.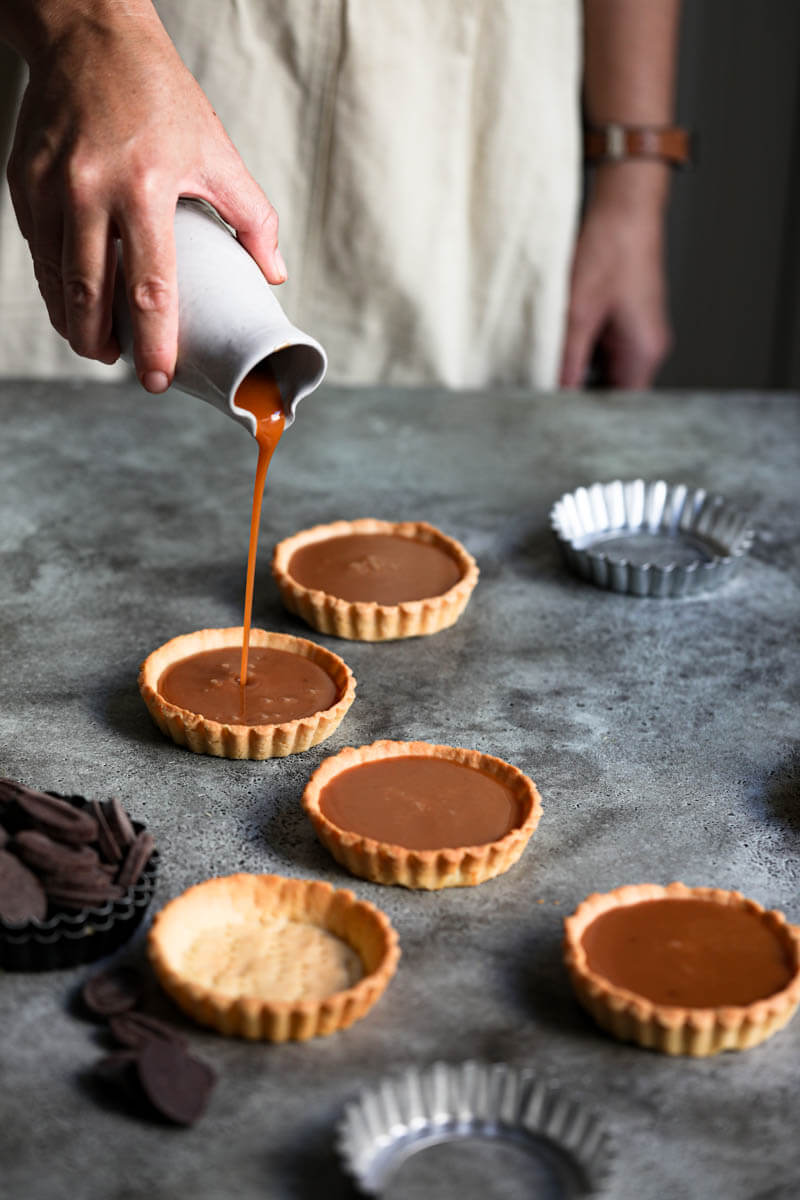 Salted or Unsalted butter
I prefer to use unsalted butter and add the salt myself. This way I can control how much salt I want in the salted caramel as well as the type of salt I will be using. I like to use fleur de sel 😊.
You can use salted butter if you prefer to do so.
What is chocolate ganache
Chocolate ganache is a mixture of whipping cream and chocolate, usually in equal parts. It is made by pouring hot cream over the chopped chocolate and mixing them together.
Depending on the utilisation you will give your ganache you can make it more liquid or less liquid. For this tart, as it will be used as a glaze it is a little more liquid.
This can be managed by the cream to chocolate ratio of your ganache.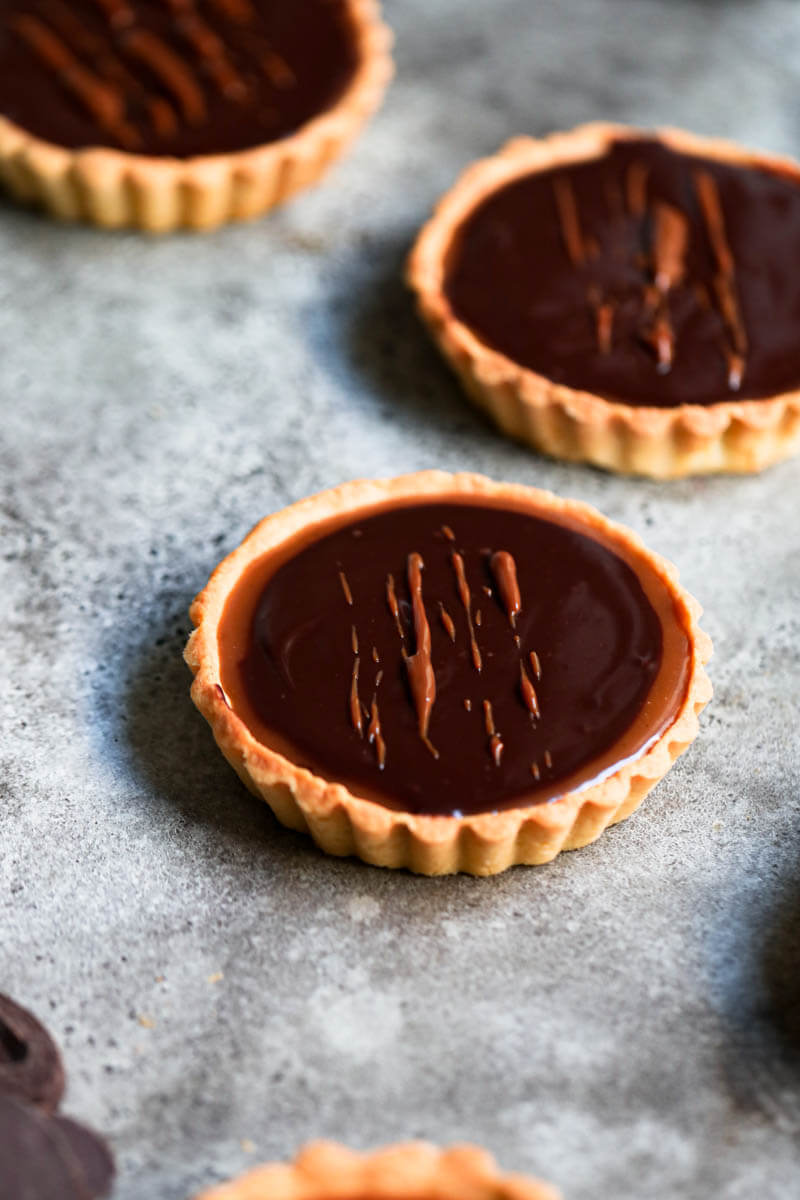 How to make chocolate ganache
Making chocolate ganache is rather simple.
First bring the cream to a simmer over medium heat. And pour over the chopped chocolate! Let it rest for about 3 minutes.
Secondly, using a small whisk start stirring very slowly at the centre of the bowl. Once you notice that the colour begins to change, meaning that the chocolate and cream are coming together nicely, you can speed up your movement!
Finally, once the chocolate and cream have come together, add the butter, and mix until combined.
For the purposes of this tart, use the ganache in its liquid state to glaze the tarts.
A note:
The most important thing when making a ganache is: keep your whisk perpendicular to the chocolate/cream mixture and mix slowly. This will result in a smooth, free of bubbles, shiny ganache!
How to put together this chocolate and salted caramel tart?
You can either make one 20/22 cm tart or 6 small tartelettes using this recipe. The assembly of this tart recipe is quite easy:
Line the tart tins with the crust and bake them. Let them cool of over a wire rack.
Fill the tartelettes with the salted caramel leaving 2mm to the border. Refrigerate for about 2 hours, until the caramel has set.
Once the caramel has set, prepare the chocolate ganache and while the ganache is still liquid pour onto the salted caramel tarts and spread evenly over the surface. To do this pick up the tart with both hands and tilt it slightly so that the ganache evenly distributes over the whole surface. Use circular movements.
Let the tartelettes sit at room temperature until the chocolate ganache has set.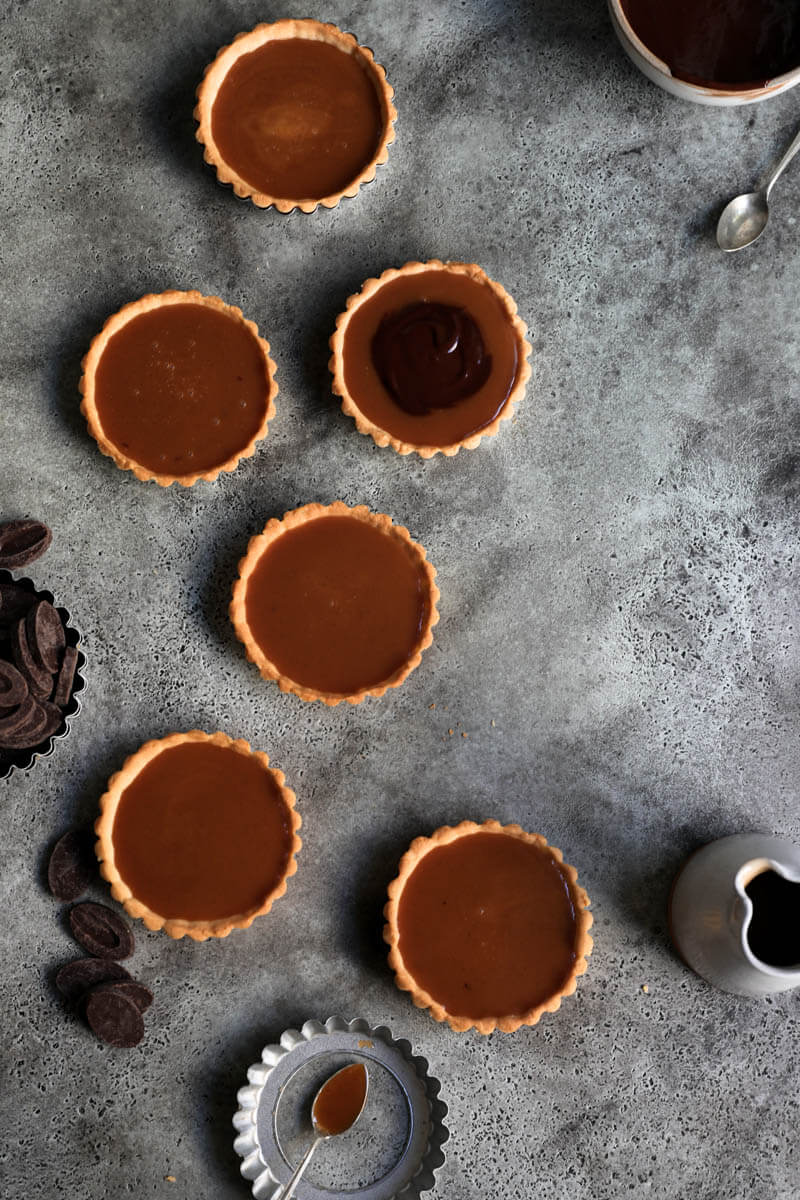 How to store this salted caramel tart?
This tart should be kept in the refrigerator. It keeps for up to 4 days.
Variations for this salted caramel tart.
In Argentina we usually have this tart filled with dulce de leche instead of salted caramel. It is a great combination too if you ever want to try it.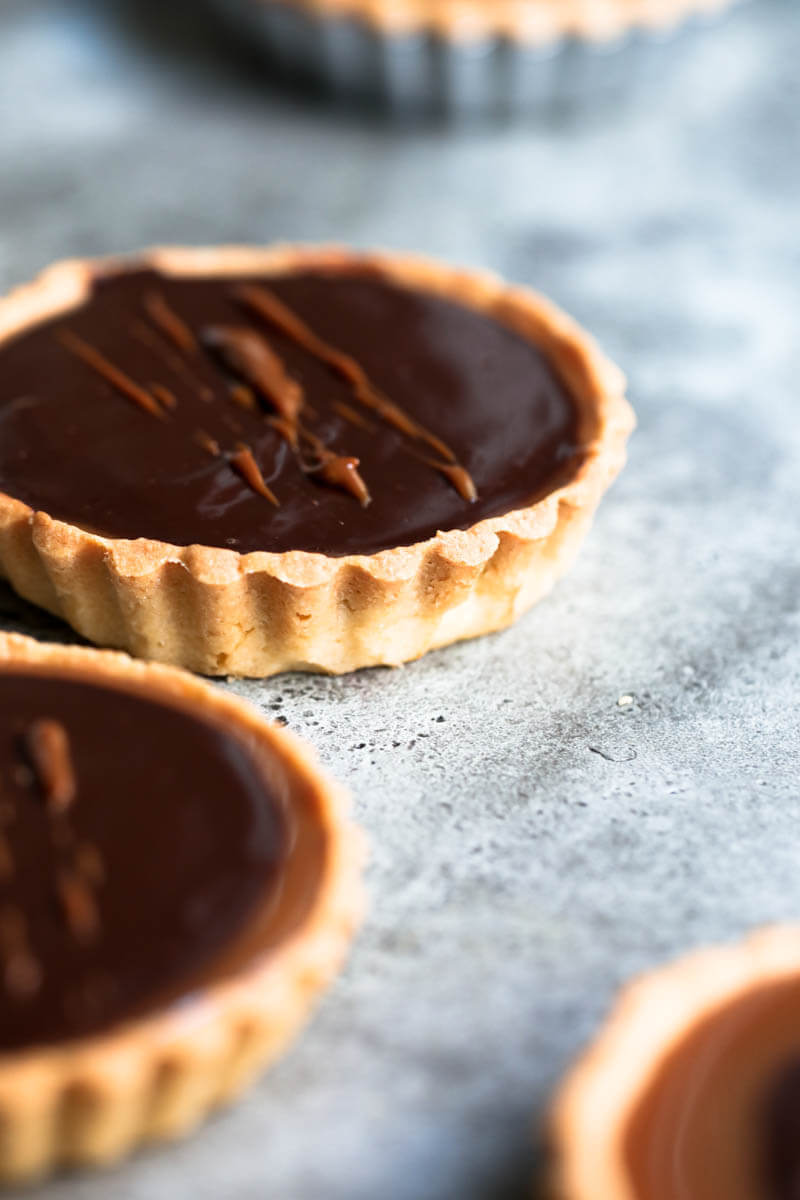 If you made this recipe I would really appreciate it if you leave a rating or comment below! Also, if you share on social media please use #cookwithbelula, I would love to see what you create!