Dark Chocolate Ganache Raspberry Tart
This dark chocolate ganache tart has an almond shortbread crust, filled with raspberry jam, fresh raspberries, and silky dark chocolate ganache. The best chocolate raspberry tart.
I love a good chocolate tart and this recipe kicks it up a notch! This dark chocolate ganache raspberry tart is so easy to make you will treasure it forever and ever. It is made using my homemade shortbread crust (you can replace it with store-bought tart crust if you prefer), filled with homemade raspberry jam, fresh raspberries, and a luscious, silky dark chocolate ganache. This chocolate raspberry tart is the perfect dessert for any given occasion. I hope you love it as much as they did at home. Can't wait for you to make it.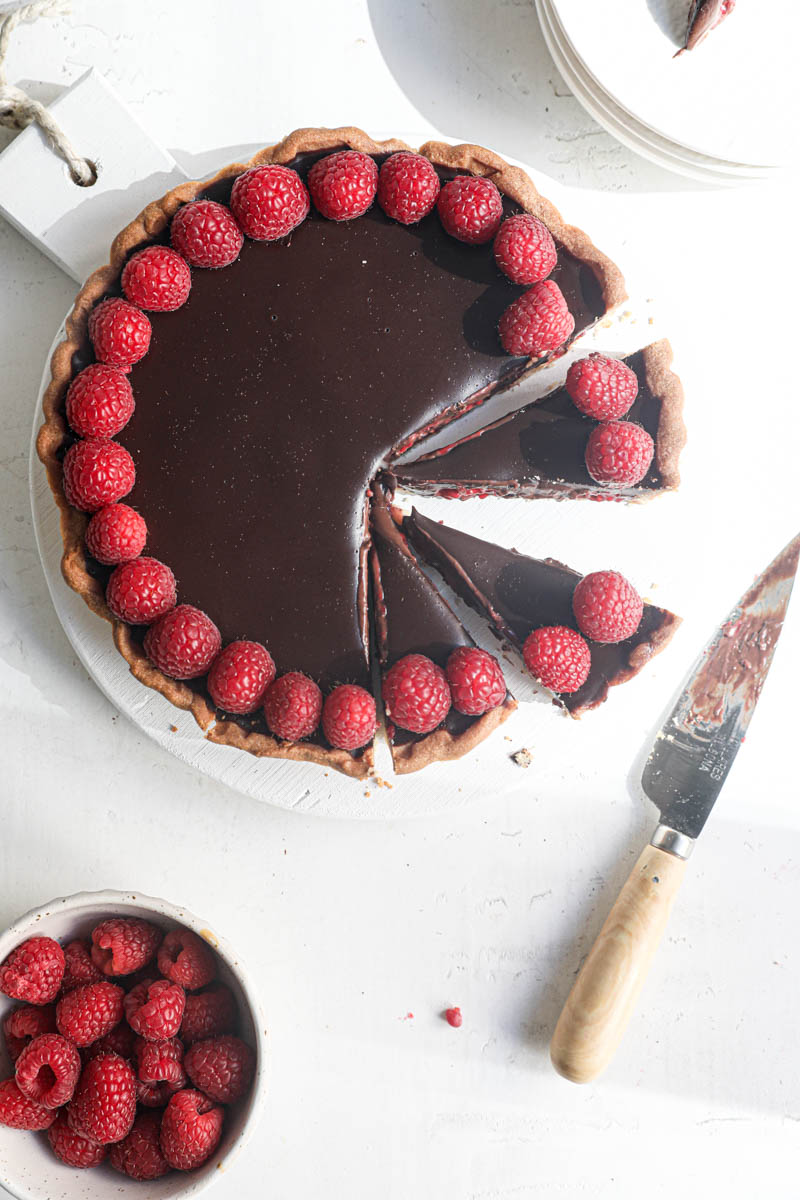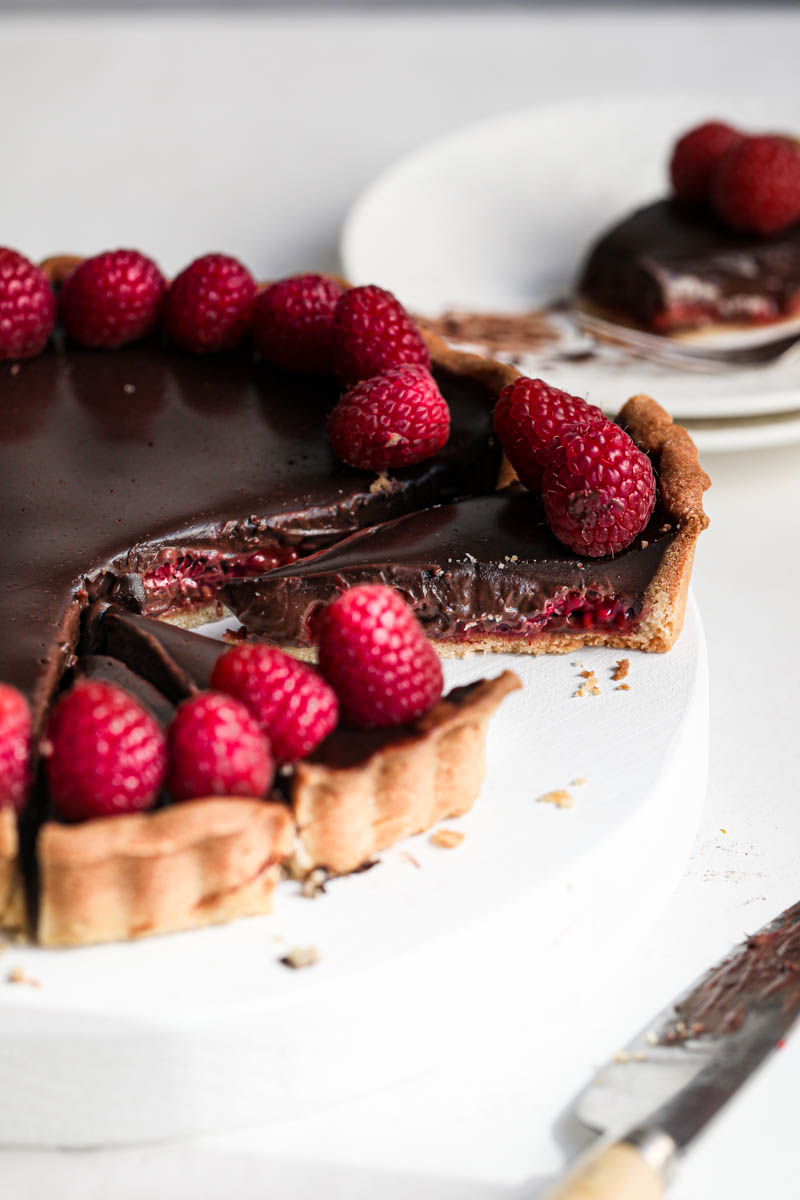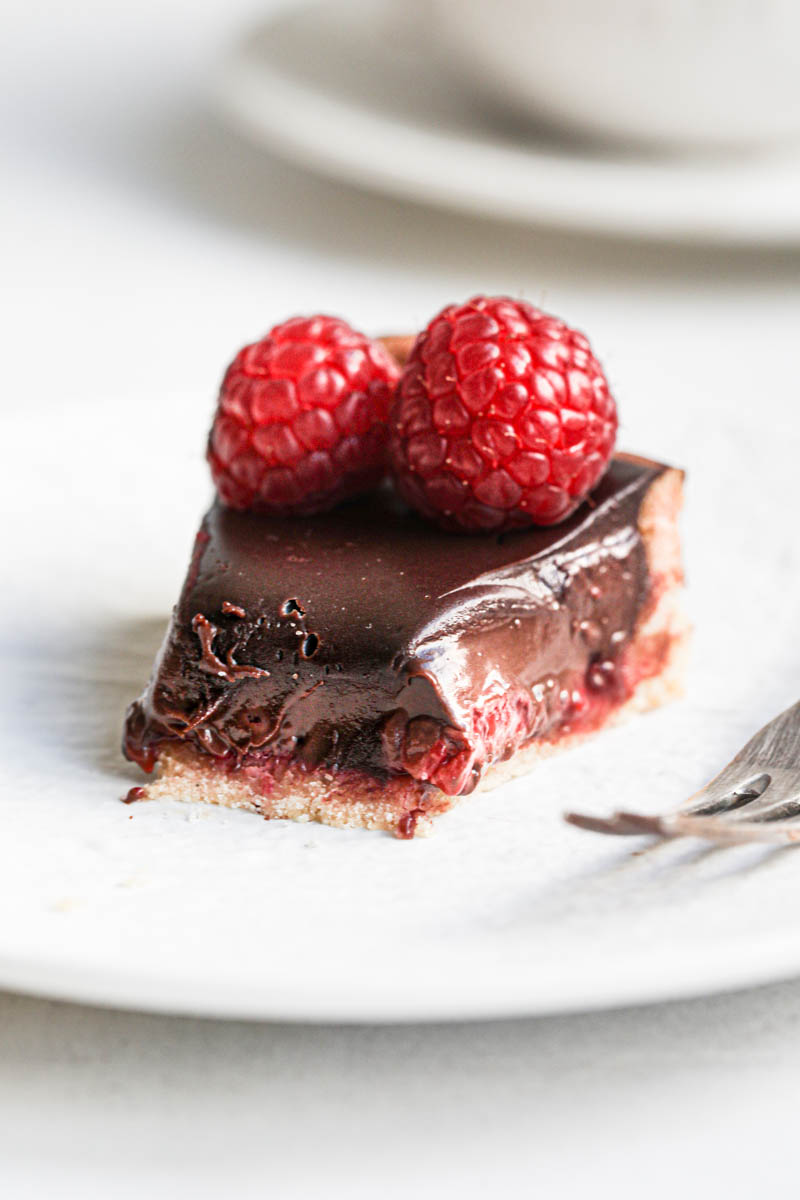 Ingredient & Material Notes
Tart tin: this recipe calls for a 20 cm/8 inch tart tin with a removable bottom.
Dark chocolate: to make the silky chocolate ganache, use good quality chocolate. I personally use Valrhona or Callebaut.
Fresh raspberries: for the filling. Don't use frozen raspberries as they will make the crust soggy and the ganache watery.
Raspberry jam: I like to make my own - you can find a good recipe here: raspberry jam. However, feel free to use any kind of jam you like.
Shortbread crust: I make my almond homemade shortbread crust recipe which is absolutely divine. If you are not inclined to make your own, you can always use the store-bought kind.
How to make this recipe
To make this chocolate ganache raspberry tart you simply have to:
Make and pre-bake the shortbread crust
Fill the tart with raspberry jam and fresh raspberries
Make the chocolate ganache
Fill the tart with the ganache
Decorate the chocolate ganache tart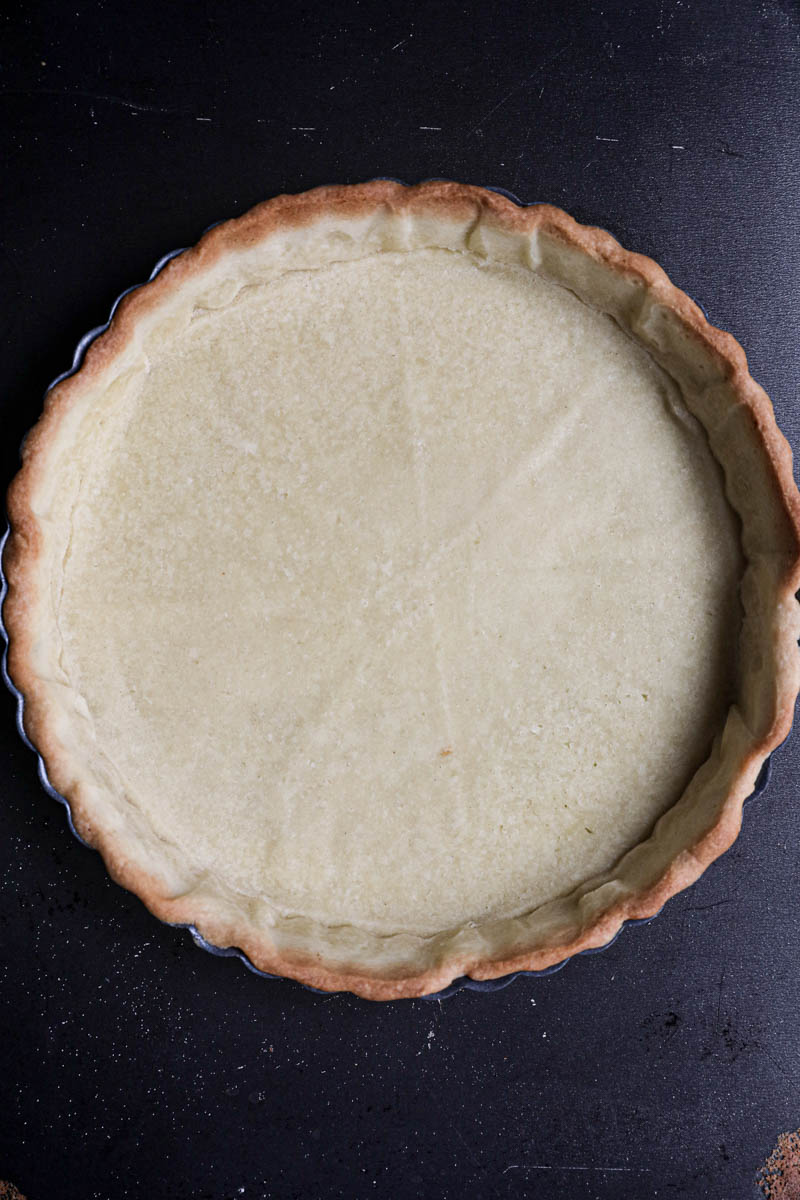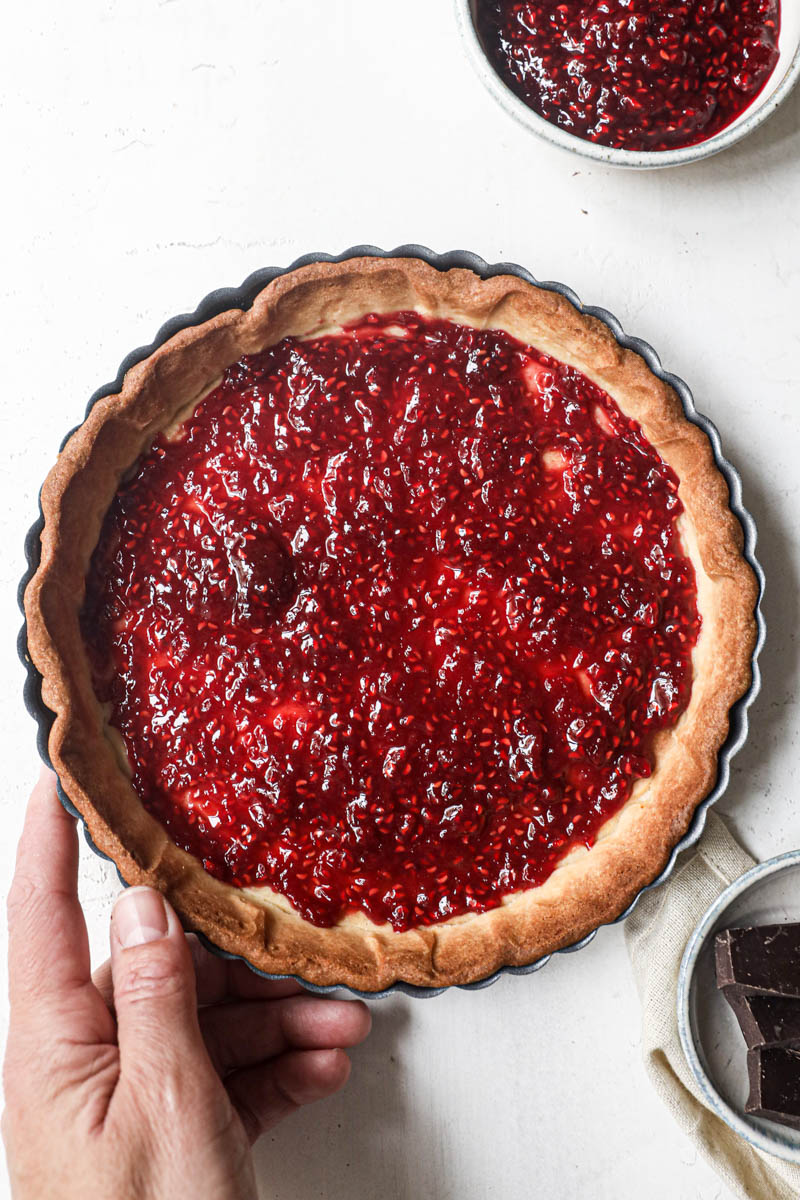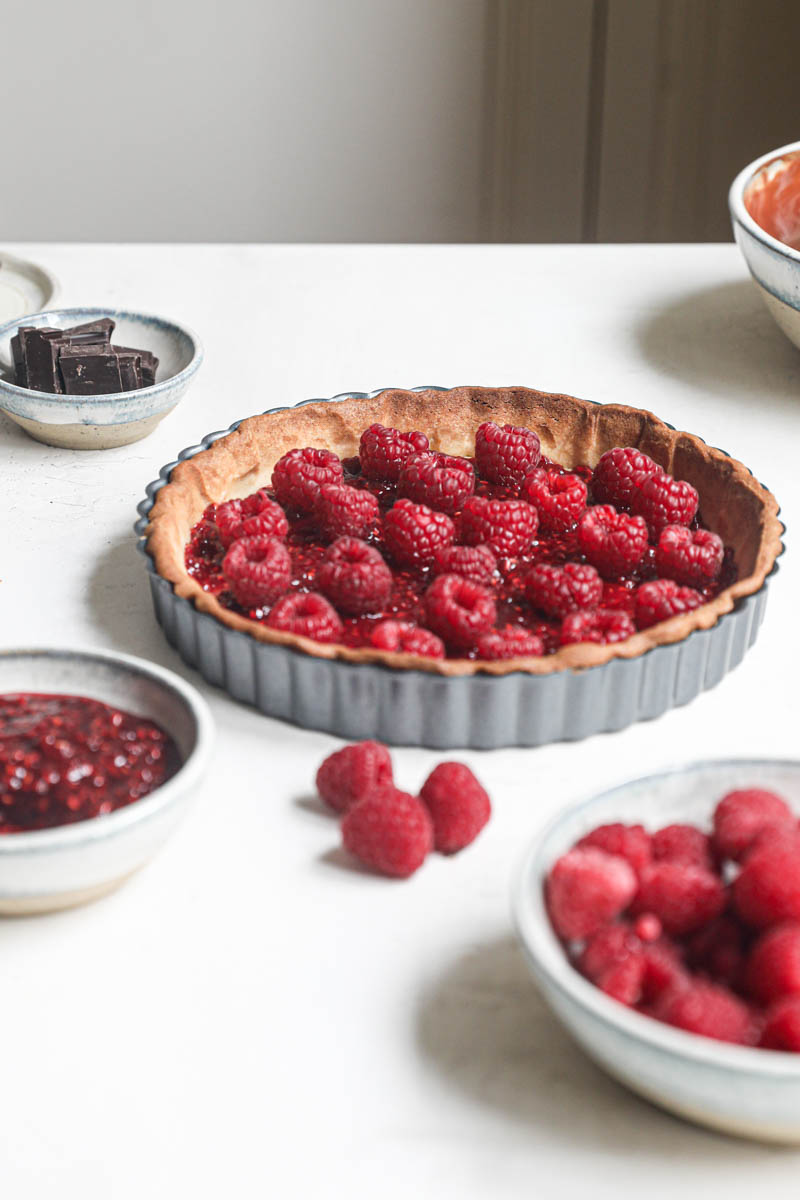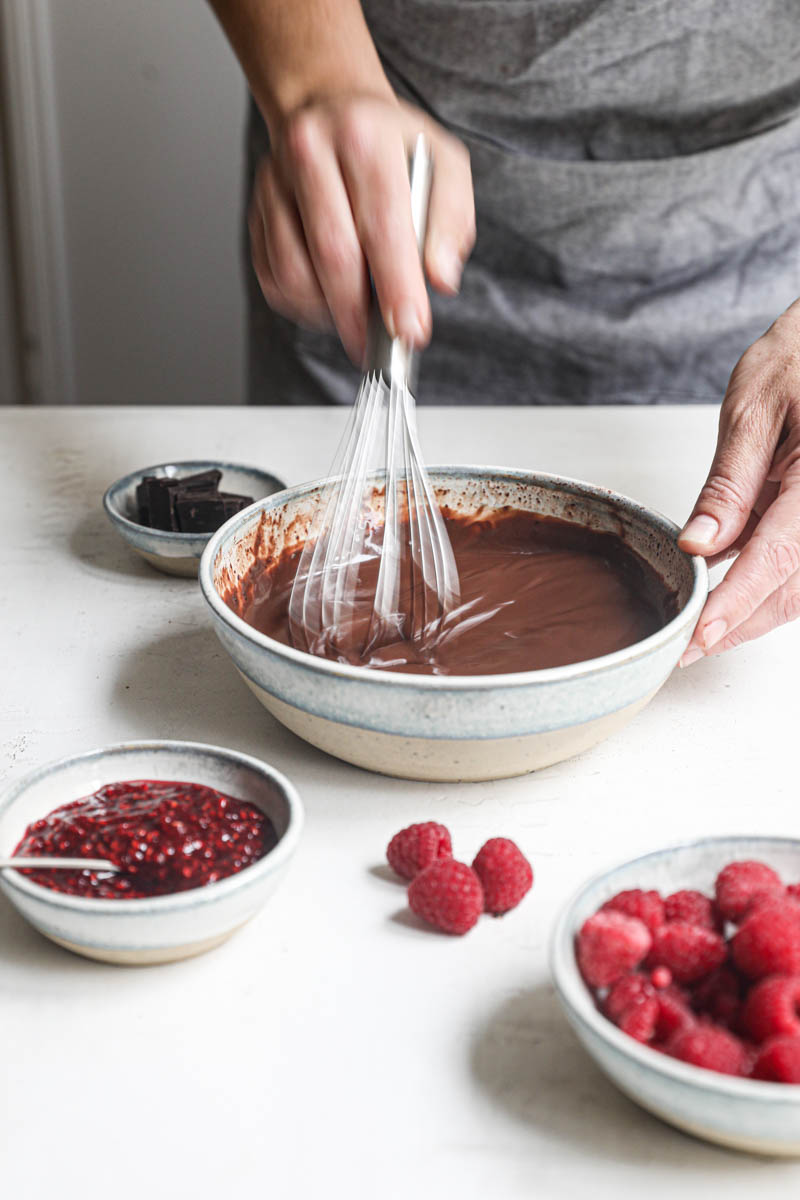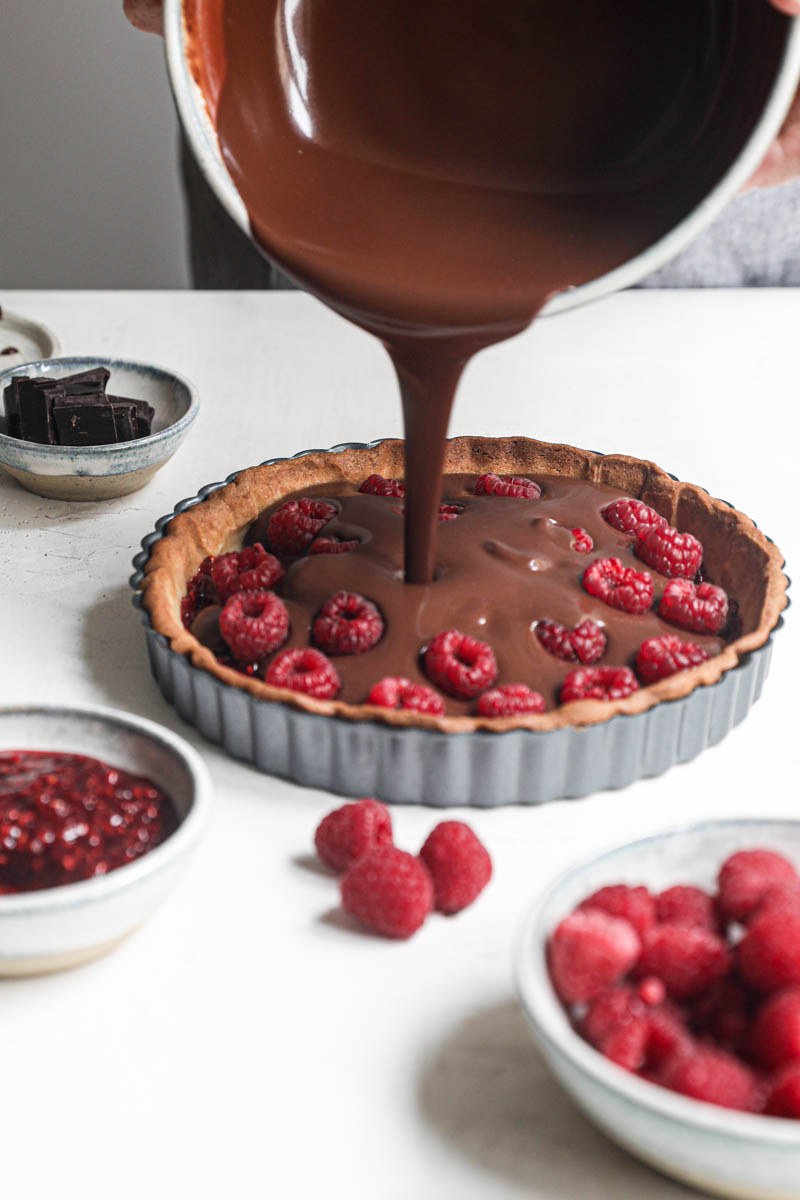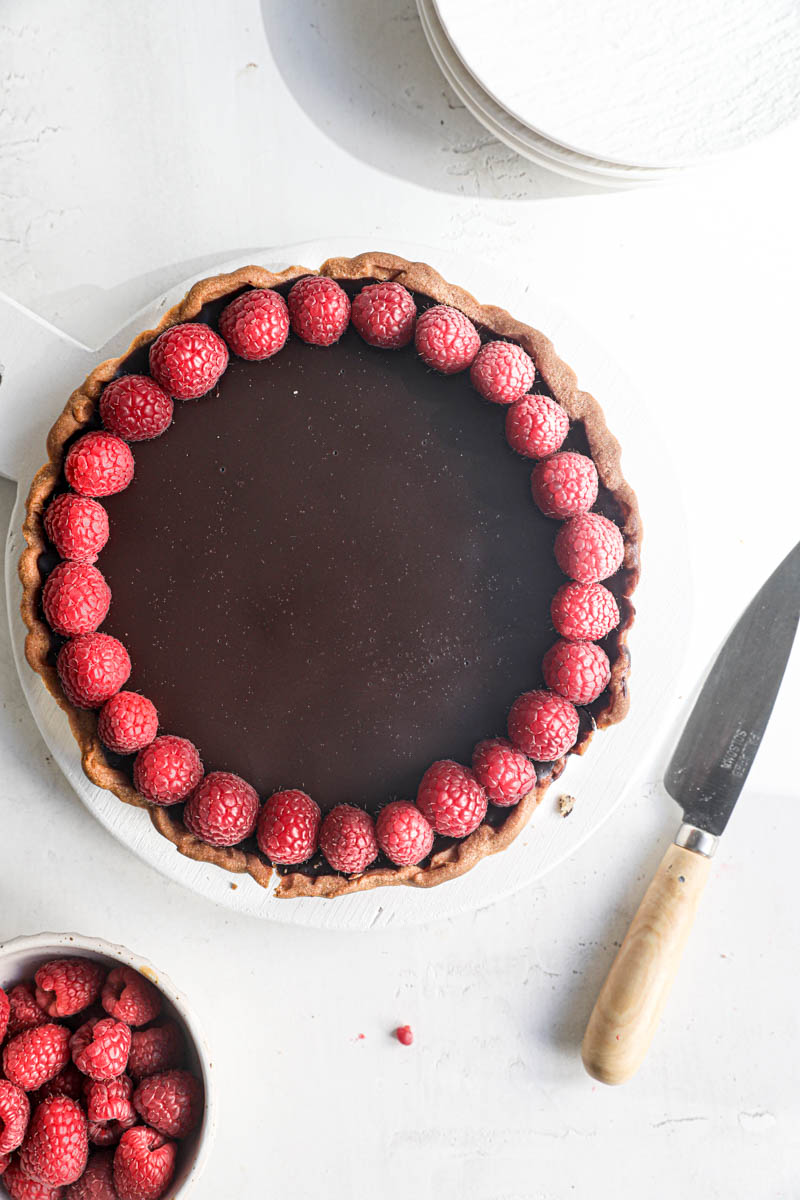 Recipe notes
To get all the tips and tricks on making the shortbread pastry and lining a tart tin, please check this recipe for homemade shortbread tart crust.
When pre-baking the tart crust make sure to bake it until golden. If you want to make it extra crunchy and prevent it from becoming soggy, once the crust is golden, brush the base with a light layer of egg whites, then bake for an extra 5 minutes, or until the egg whites have completely dried off.
Make sure the tart shell has completely cooled off before you start filling it.
Slice the fresh raspberries in half and place them facing down on the bottom of the shortbread crust.
You can refer to this post for all the tips and tricks when making the chocolate ganache: dark chocolate ganache.
Make the chocolate ganache once the tart shell has been baked and filled with the jam and the fresh raspberries.
Once you have made the chocolate ganache, immediately pour it over the tart shell going all the way up to the border.
Let the chocolate ganache raspberry tart set overnight at room temperature.
Use the leftover ganache to decorate the tart after it has properly set.
You can either pipe the ganache onto the tart or spread it using a spatula or the back of a spoon if you don't feel comfortable using a piping bag.
Expert notes
If you don't slice the raspberries and use whole ones, they risk being taller than the crust borders. This is important as you need an even surface when pouring the chocolate ganache, otherwise once it has set, cracks will form on the surface. Before filling the tart shell with the chocolate ganache, place it somewhere it doesn't need to be moved for the next couple of hours. As the ganache is pretty liquid when first poured, if you attempt to move the tart, you risk to spilling the ganache.
DO NOT place this tart in the refrigerator. It will make the ganache hard, and it will lose its silky, smooth texture.
Make ahead
Some elements of this chocolate raspberry tart can be made ahead, others can't:
Shortbread crust: it can be made ahead and kept refrigerated for up to 24 hours. You can even make it, line the tin, and keep the lined tart tin, covered in saran wrap, in the refrigerator until ready to bake for up to 24 hours.
Raspberry jam: can be made and kept in the refrigerator for up to 1 month.
Chocolate ganache: it has to be made the moment you are ready to fill the tart shell.
Storage tips
This chocolate ganache tart must be kept at room temperature. It keeps for up to 3 days.
Freezer instructions
I don't recommend you freeze this chocolate ganache tart.
Variations for this recipe
You can make this recipe without the raspberries or the raspberry jam. Simply fill the tart shell with the dark chocolate ganache and you'll have a simple and delicious chocolate tart.
You can replace raspberries with blueberries if you prefer.
recipe in this Chocolate Mousse Pie with Oreo Crust recipe.
The ingredients used in all recipes on this site are measured using the metric system. I use a
scale
to be precise with my measurements and ensure good results. If you would also like to use a scale, here are some:
USA
,
Canada
,
UK
,
Australia
,
France
.
Subscribe to the newsletter
Total Time:
1 hour 20 minutes
---
Dough
Dark chocolate ganache
Heavy Whipping Cream

250 g

Dark Chocolate

270 g

Unsalted Butter

25 g
Filling
Fresh Raspberries

50 g

Raspberry Jam

80 g
Finishing touches
Fresh Raspberries

100 g

Chocolate ganache

80 g
If you made this recipe I would really appreciate it if you leave a rating or comment below! Also, if you share on social media please use #cookwithbelula, I would love to see what you create!