White Chocolate Mousse with Mango Jelly
This white chocolate mousse is a no bake dessert that is both delicious and easy to put together. This light and airy mousse is topped with a mango jelly.
When my mom had friends over there was almost always mousse as a dessert. As a kid I remember being so happy when I would discover it was white chocolate mousse on the menu. This recipe is easy to make and can be put together rather fast. It is the ideal dessert for entertaining, born to impress your guests. The mango jelly topping makes this the best no bake dessert recipe ever! Hope you love it as much as they did here!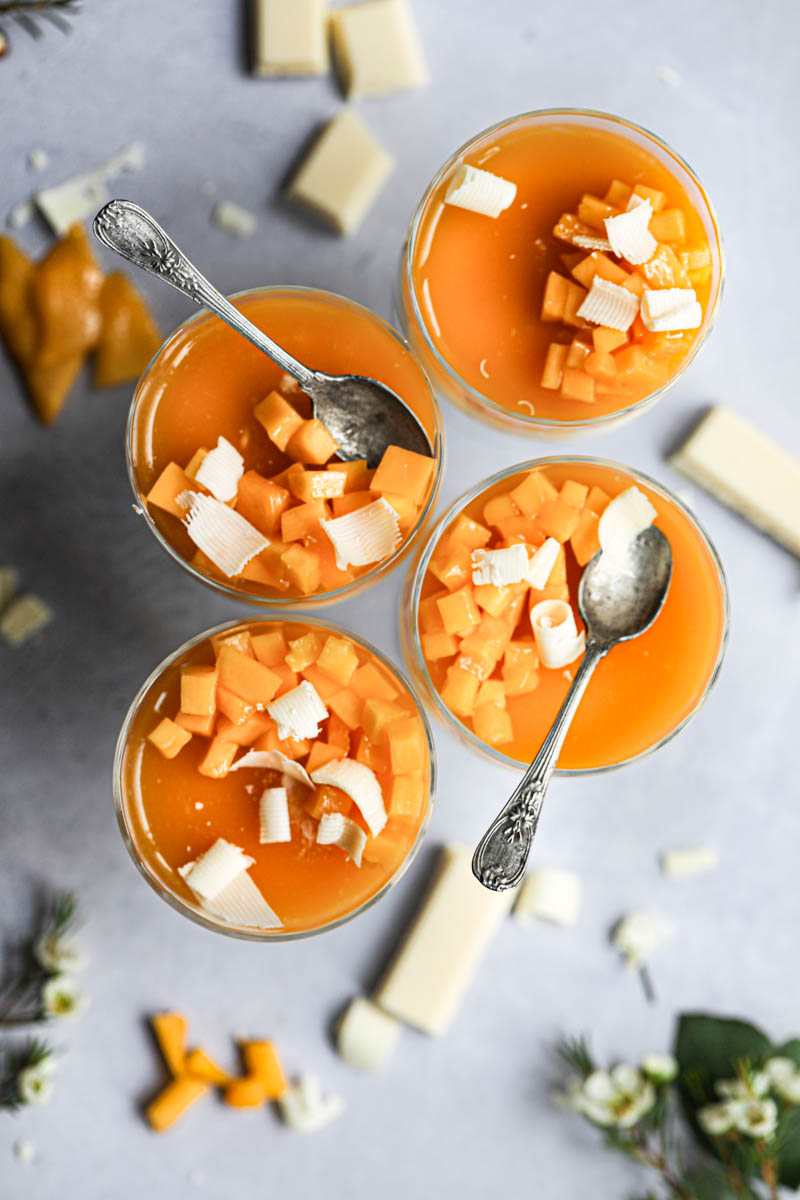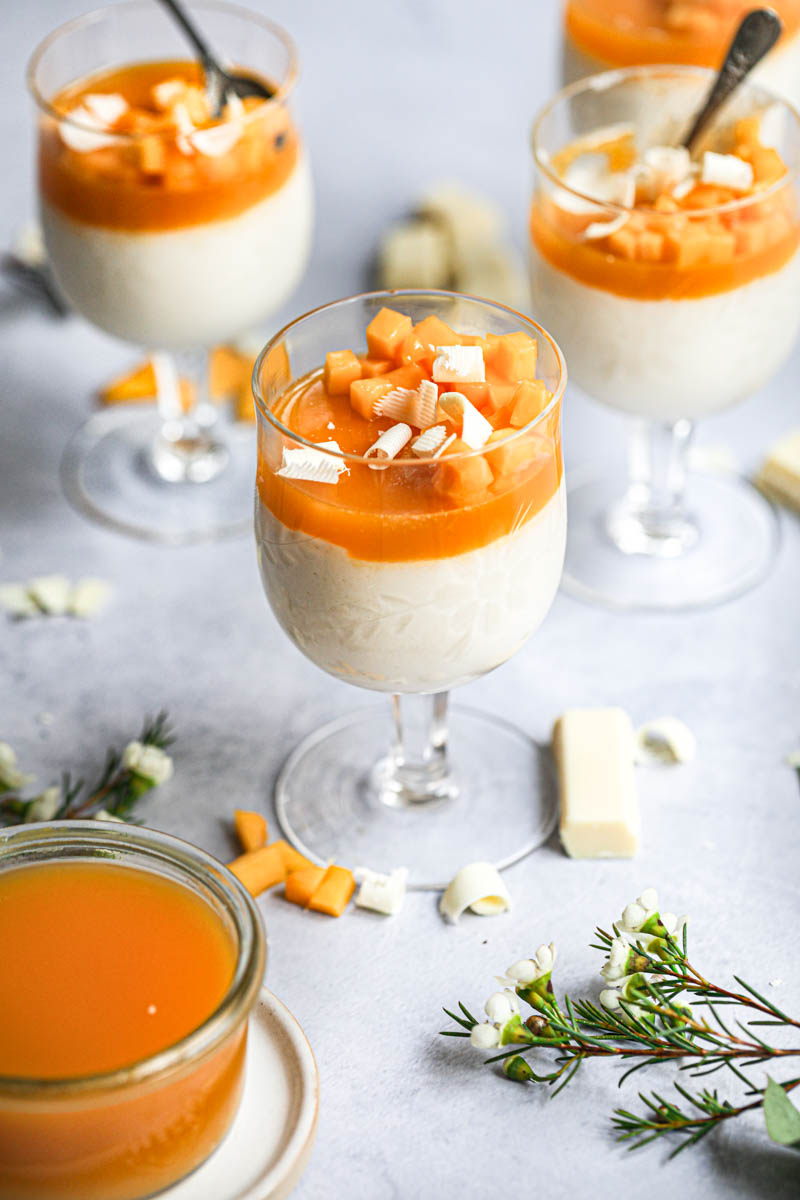 What will you need to make this recipe?
Very few ingredients are needed to make this delicious no bake dessert recipe:
White chocolate, the star of this recipe. I like to use good quality chocolate and usually work with either Callebaut or Valrhona white chocolate.
Heavy cream or whipping cream. It must be with a 30% fat content minimum. No low fat is allowed, or the cream won't allow for proper whipping! It must be very cold to be able to whip the cream.
Egg whites must be at room temperature. If you are worried about eating unpasteurized egg in your dessert you can quickly remedy this. To pasteurize egg at home you must put them for 1 minute in boiling wate and then transfer immediately to ice cold water for 1 minute.
Sugar. It doesn't have a lot, only the necessary amount to help whisk the egg whites.
Mango juice. You can either buy a natural no added sugar mango juice or make your own if you have a juicer. I used mango juice, as I don't (sigh!) have a juicer.
Gelatine. I use gelatine sheets (gold), that have to hydrated in ice cold water for about 10 minutes, and then squeezed to remove the excess water before you use them. You can replace the 1 gelatine sheet by 5 ml (1 teaspoon) of gelatine powder. To read more about different kinds of gelatine you can check this out this article.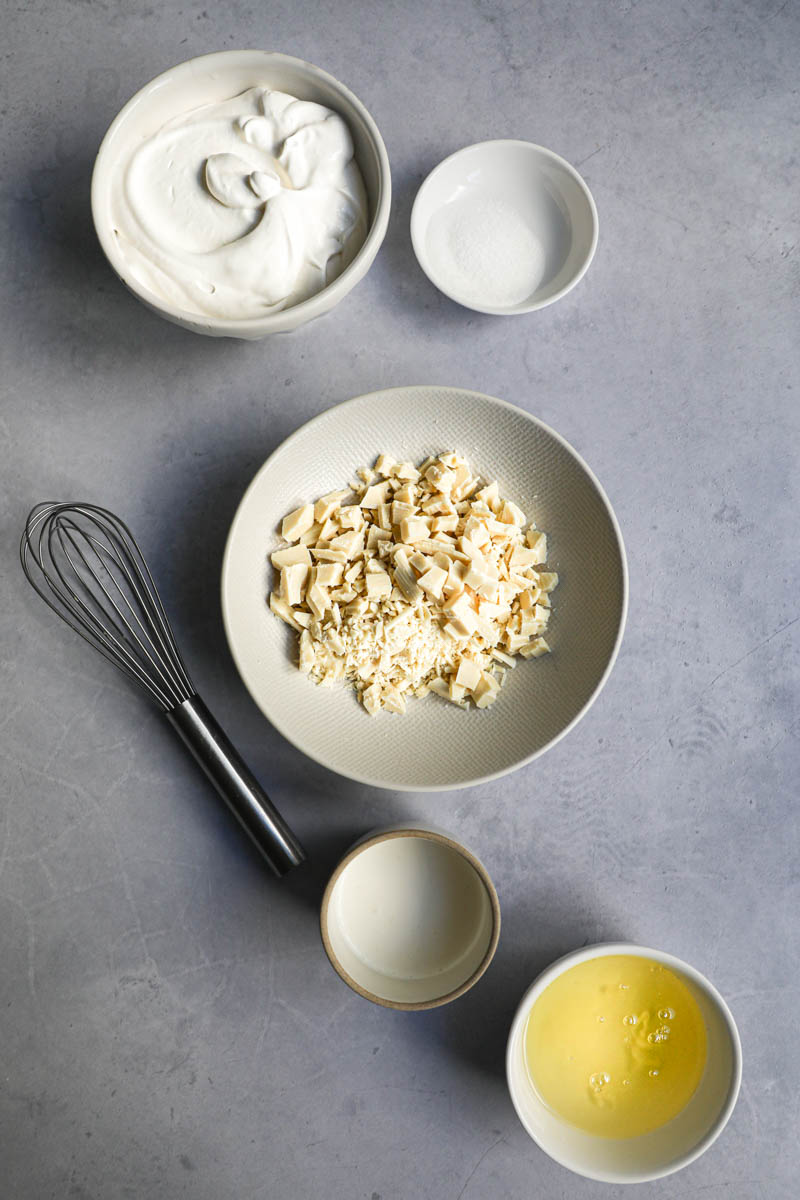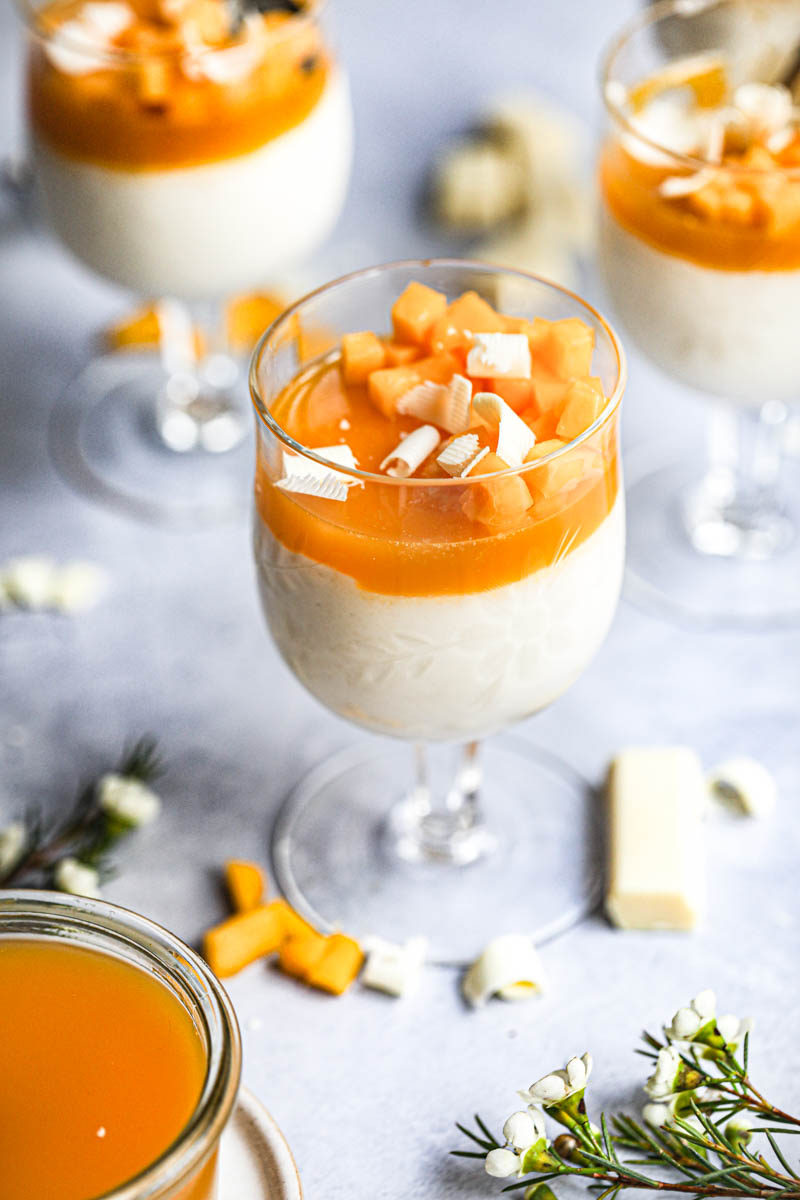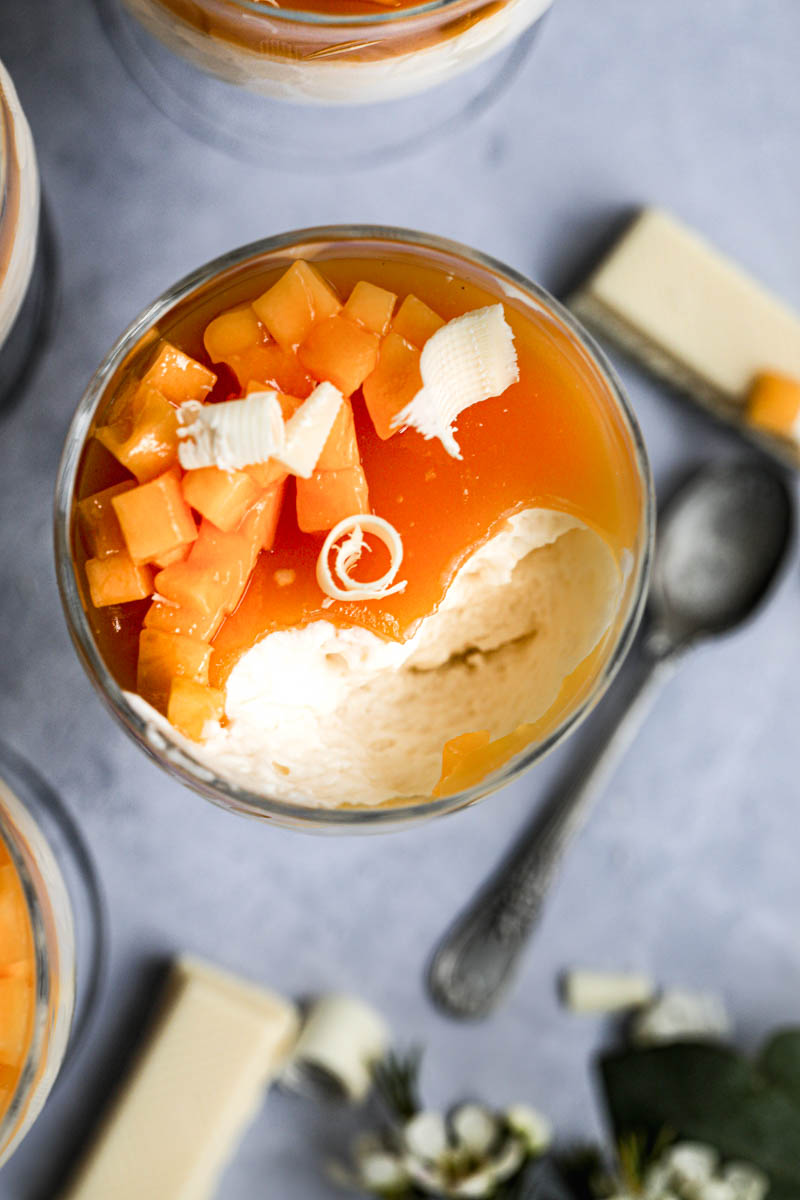 Where to serve the mousse?
You can either make one big mousse and use a salad bowl or serve this no bake dessert in individual portions in which case you can use glasses, wine glasses or ramequins. Either way you must refrigerate the mousse in the container you will serve it.
How to make white chocolate mousse?
To make this easy French white chocolate mousse recipe you have to mix 3 components together:
The whipped cream: whip the 150 g of whipping cream to soft peaks and keep refrigerated until ready to use. A few tips: cream must be chilled and very cold, and to ensure success place your mixing bowl in the freezer for 15 minutes before beating the cream.
The white chocolate ganache: chop the white chocolate in small pieces and melt it over a water bath (or using the microwave, 10 seconds at a time). Bring the 80 g of whipping cream to a simmer and pour over the chocolate. Let it sit for 1 minute and then whisk until smooth. Set aside.
The egg whites beaten to soft peaks once the ganache and the cream are done. To do so, beat the egg whites with 10% of the sugar at medium low speed. Add the remaining sugar when the egg whites are almost done and then whisk for 30 seconds at high speed.
Now you are ready to make the white chocolate mousse: simply fold in the whipped cream into the ganache until smooth and fully incorporated. Finally fold in the egg whites in 2 additions, delicately so you don't deflate the egg whites. You can either do this using a rubber spatula or a whisk.
Using a piping bag or a ladle, fill 6 small wine glasses up to ¾ of the rim with the mousse batter. Cover in plastic wrap and refrigerate overnight.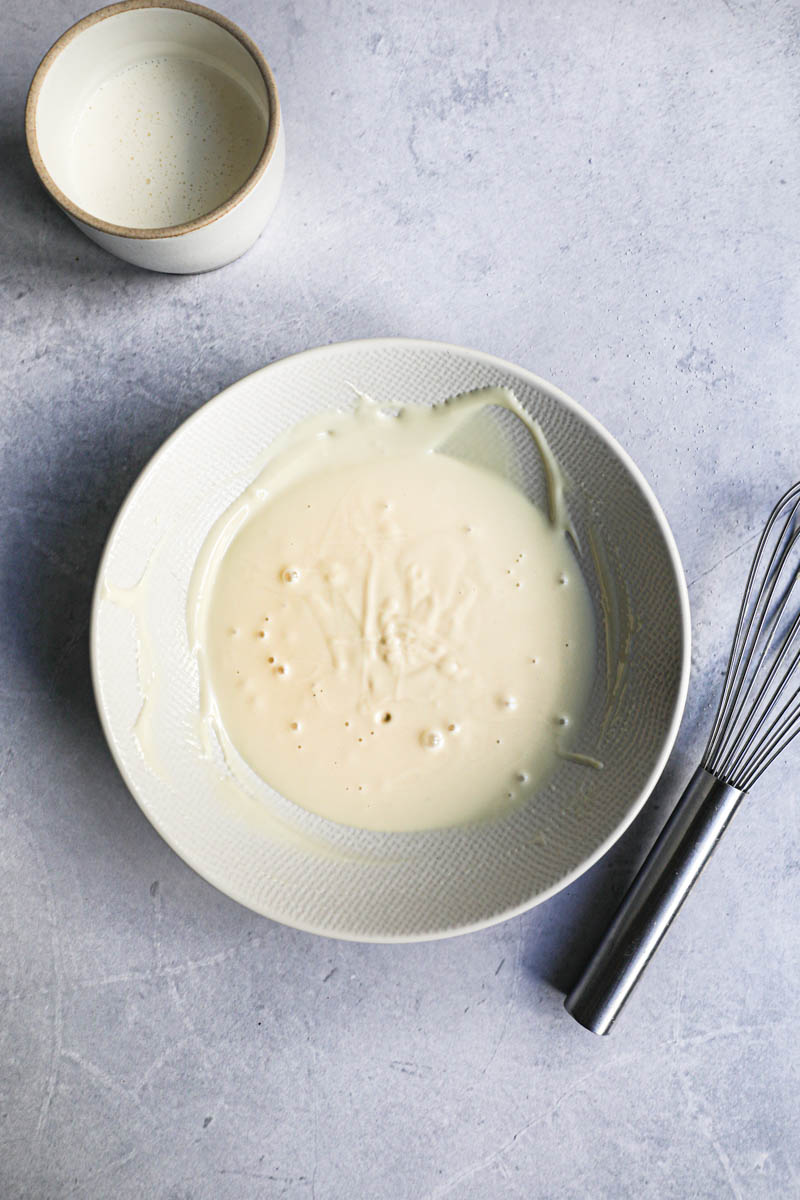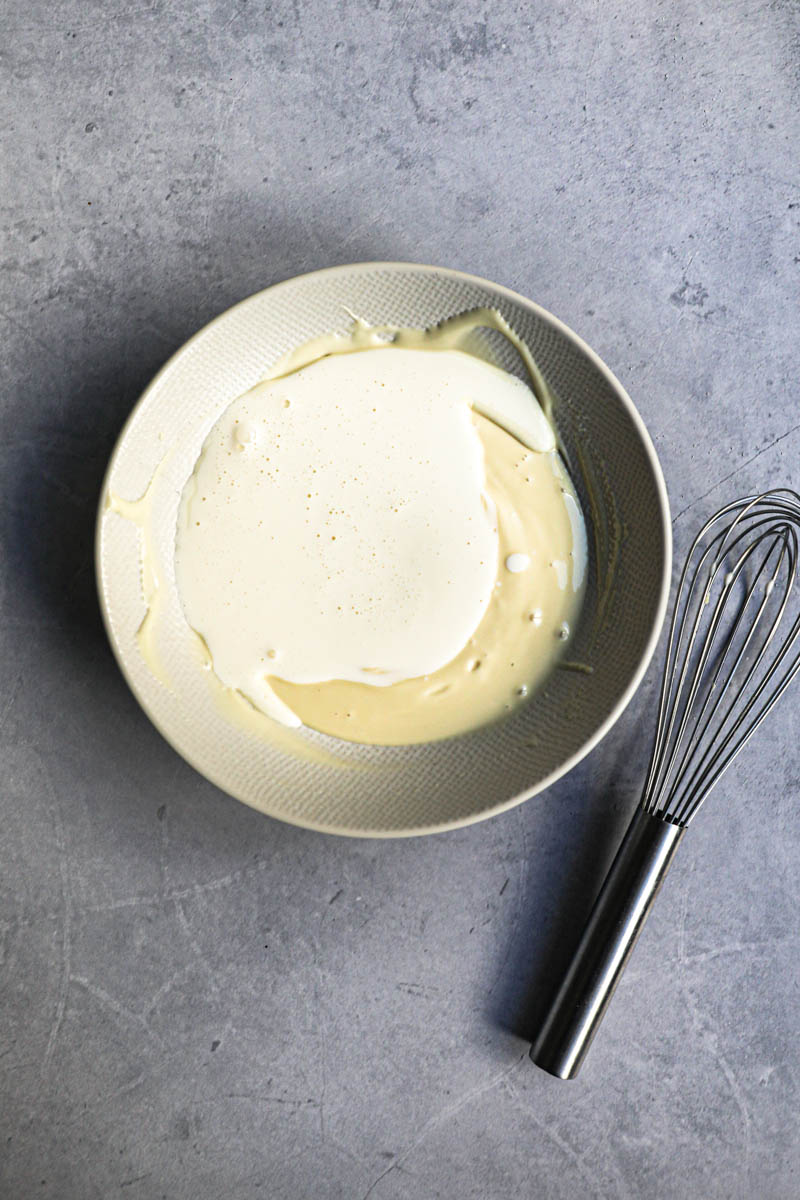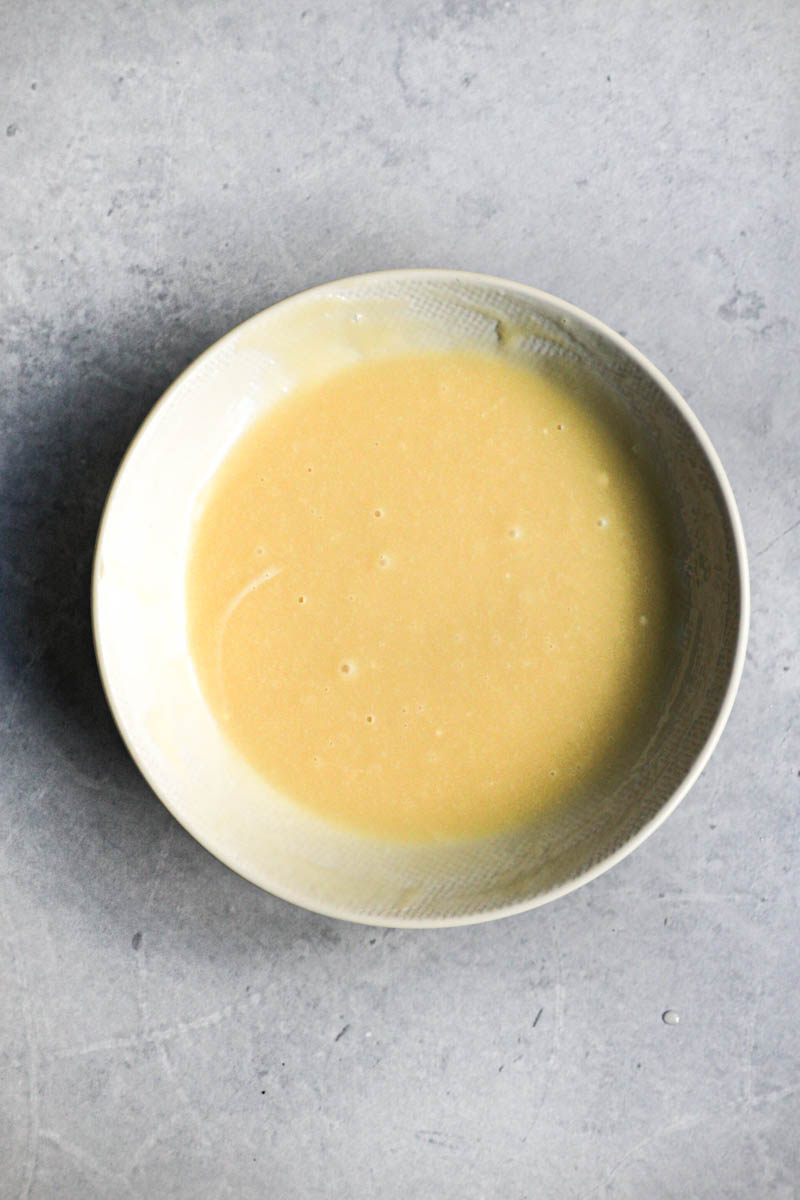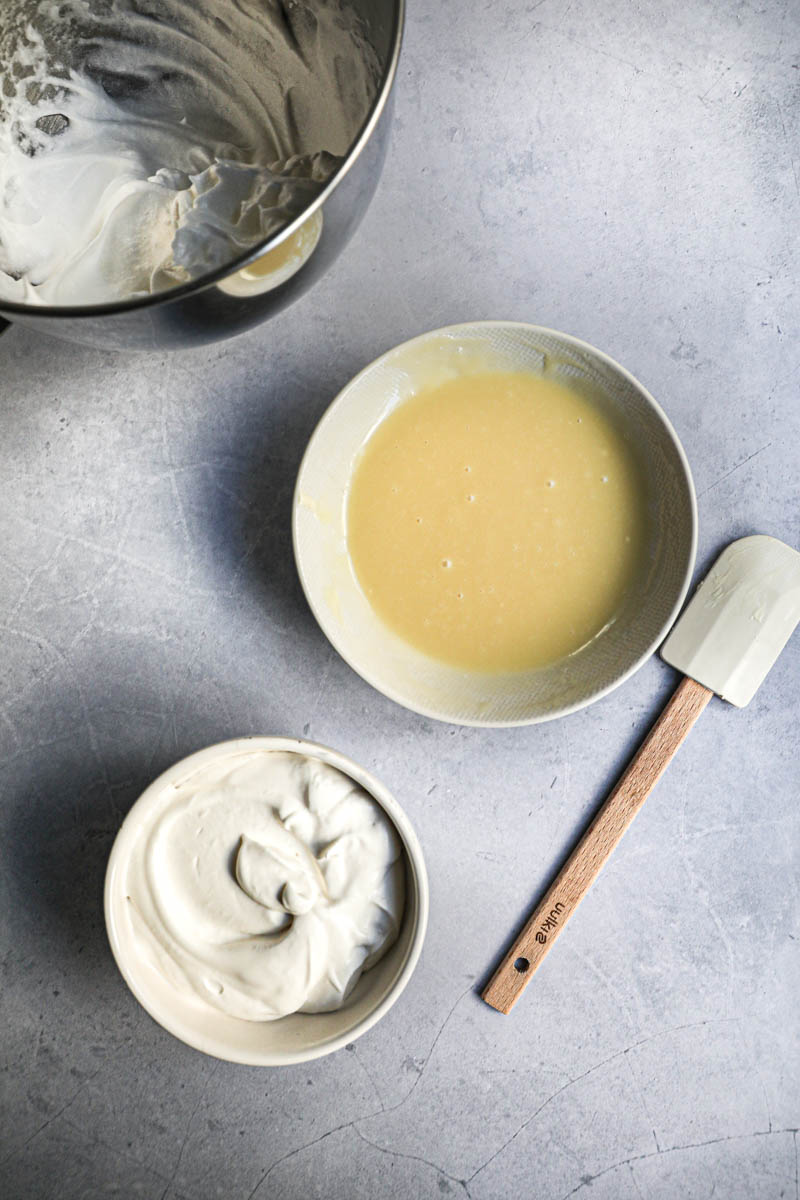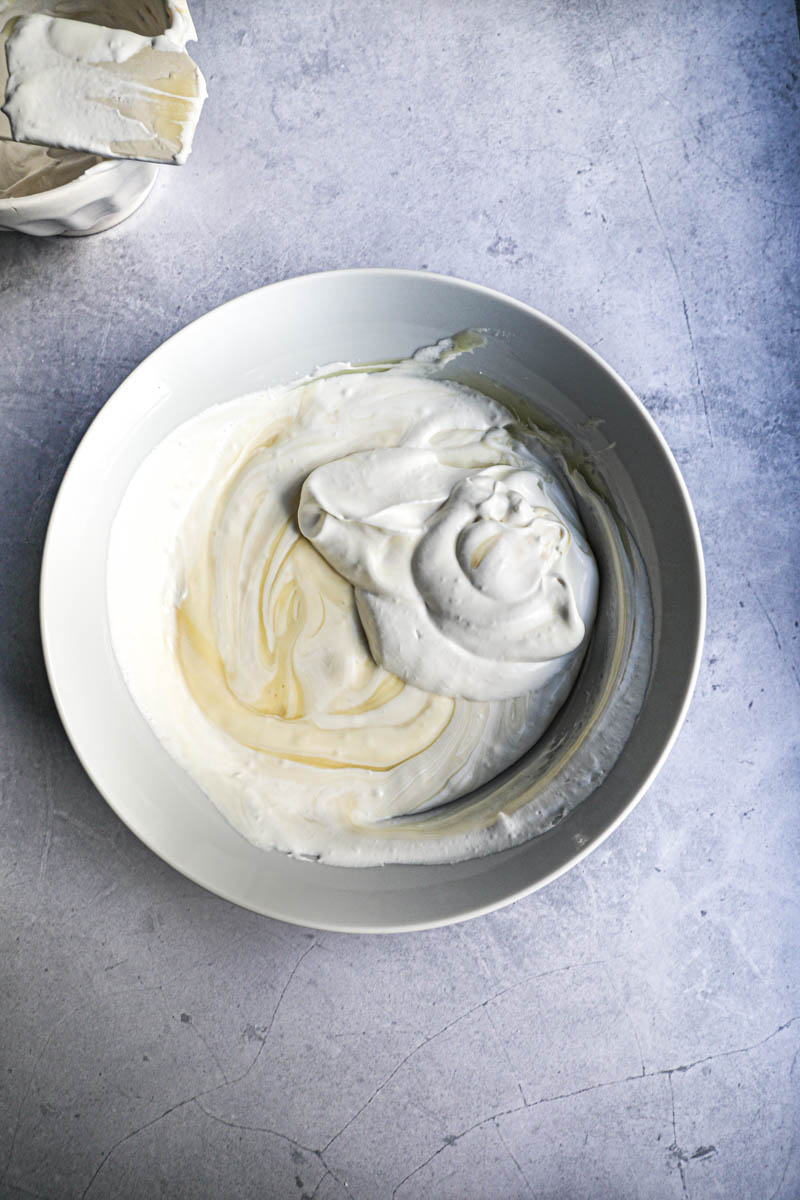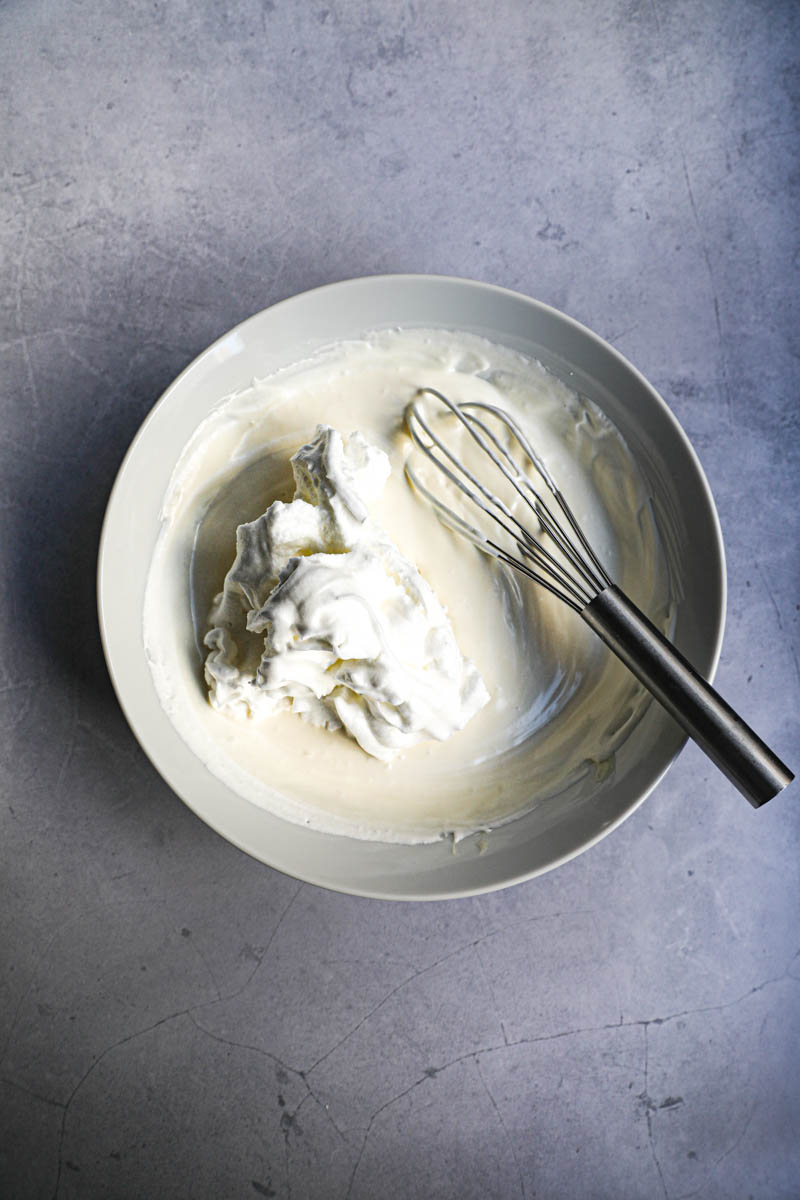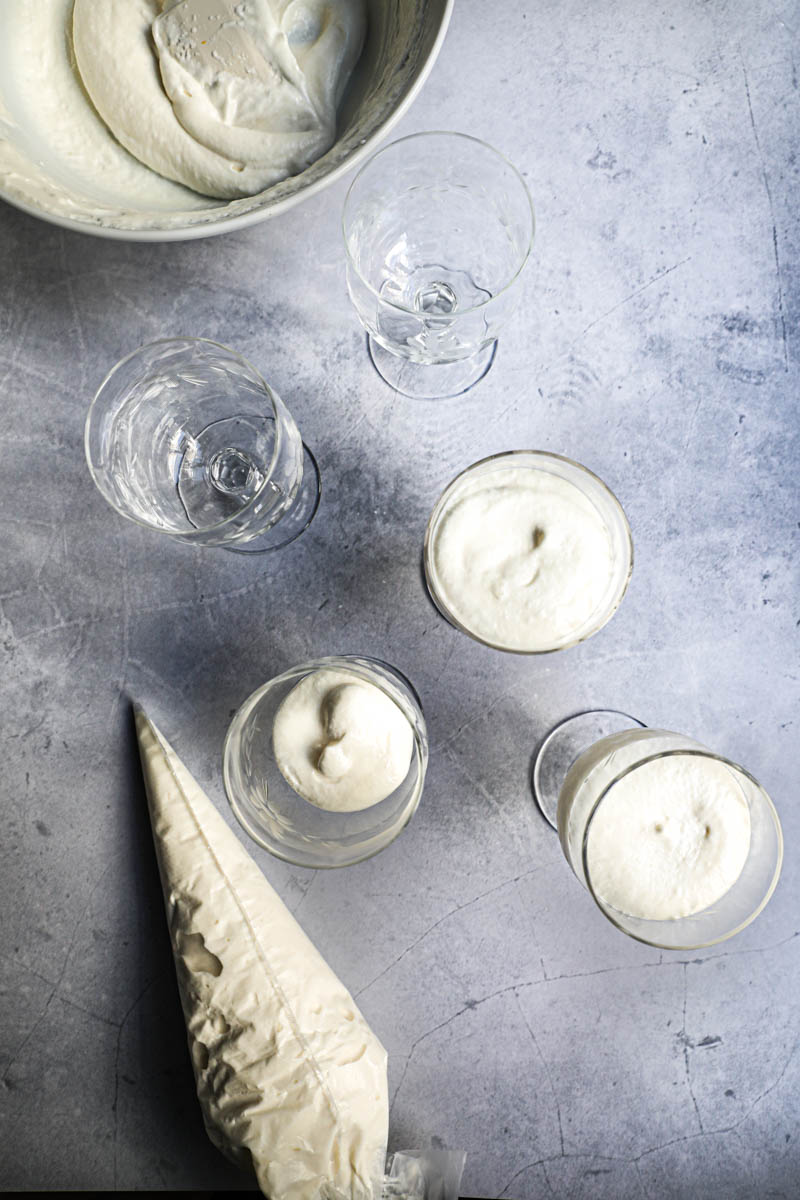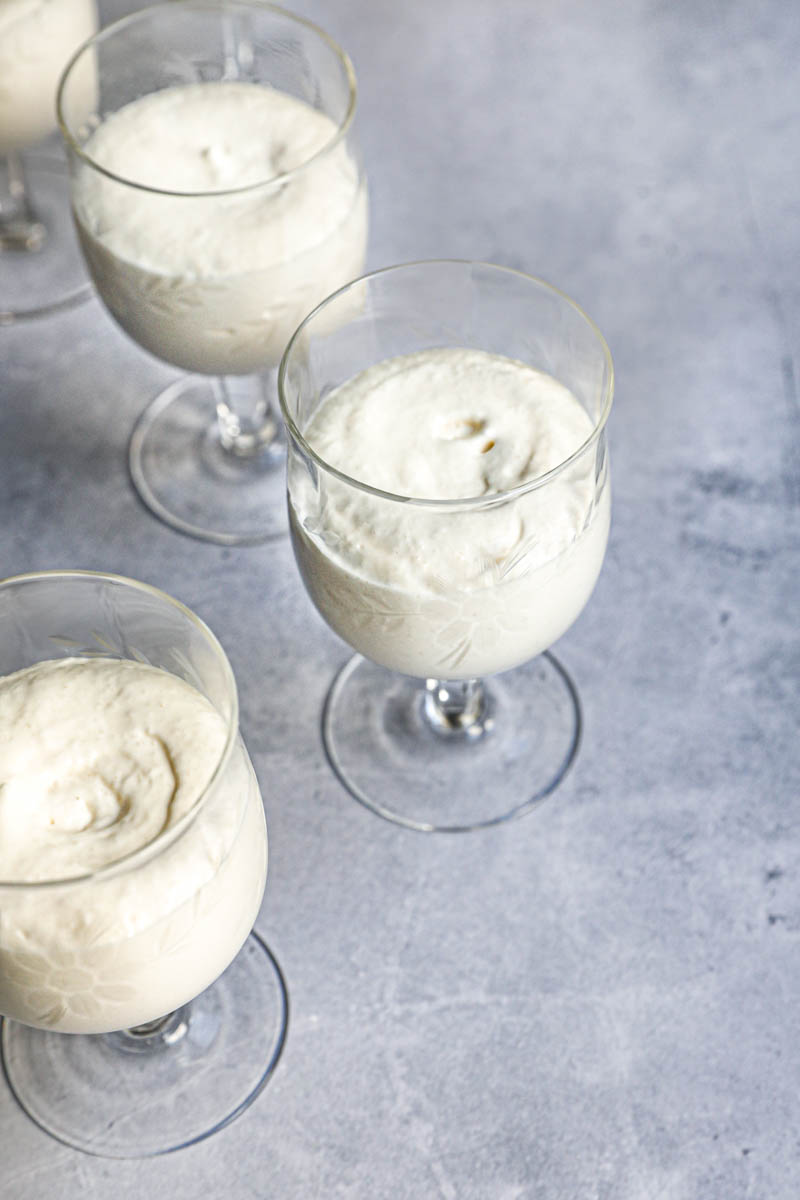 How to make mango jelly?
You must prepare the jelly once the white chocolate mousse has completely set and a few hours before you are ready to serve this dessert. The mango jelly needs about 2 hours to properly set.
To make this jelly, first soak the gelatine sheet in ice cold water. Bring 1/3 of the mango juice to a boil and whisk in the hydrated gelatine (make sure to squeeze it to remove excess water before adding it in). Finally pour the juice/gelatine mixture over the remaining 2/3 of the mango juice and whisk to combine.
Immediately top the already set mousse with a layer of jelly (about 0.5 cm/0.2 inches) and place in the refrigerator until set.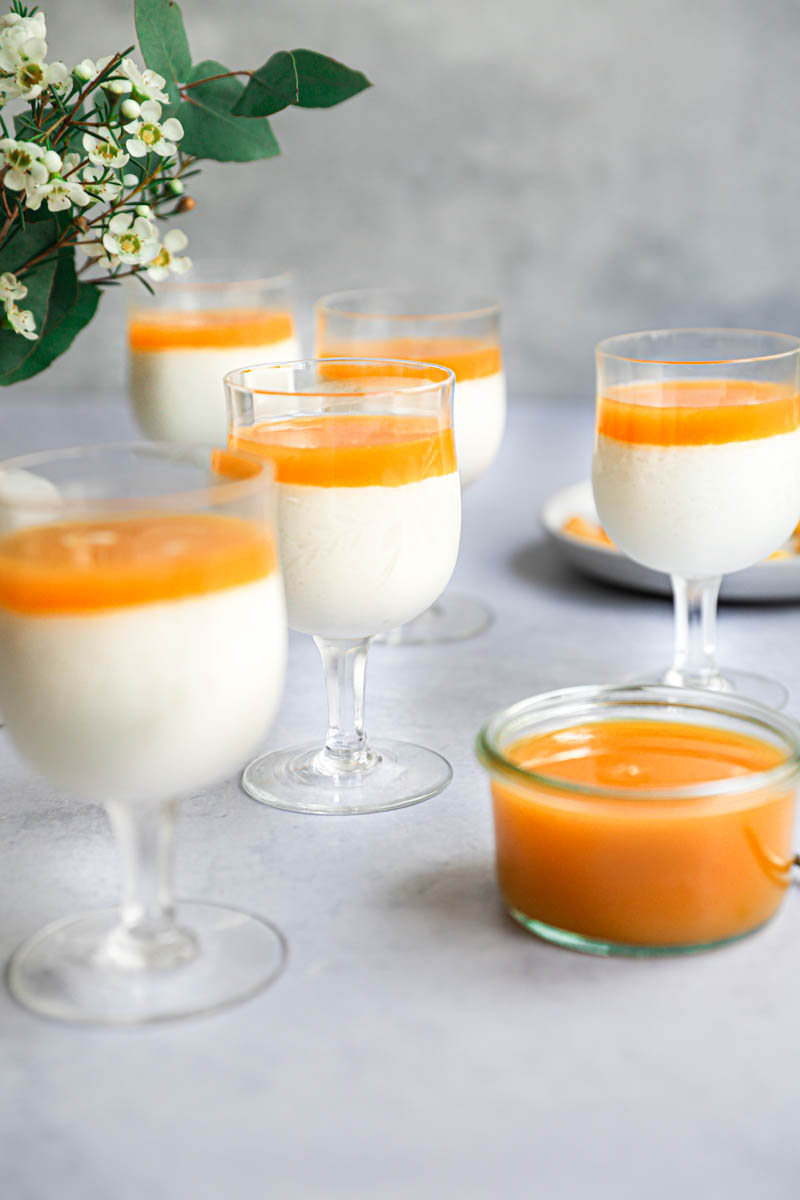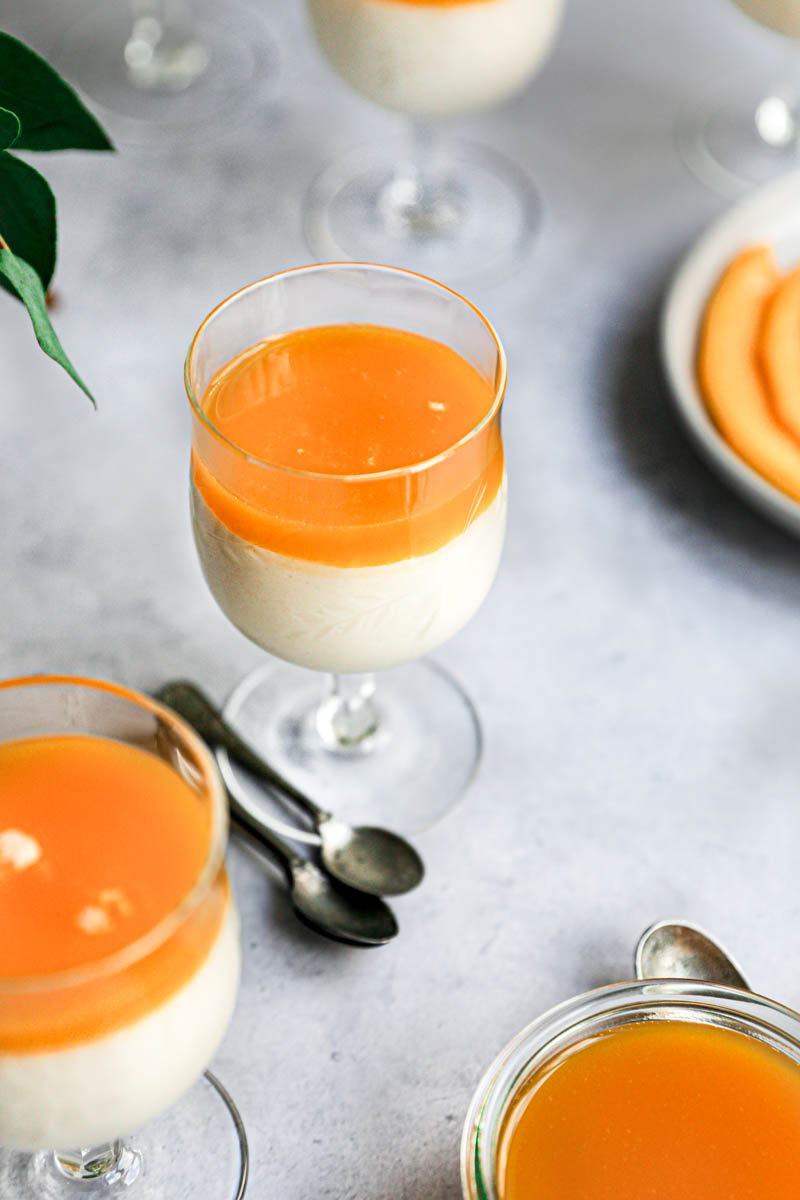 How to serve this white chocolate mousse?
Once the jelly has completely set (test by slightly moving the glass, the jelly shouldn't budge if it has set!) top with fresh diced mango and white chocolate shavings! Enjoy!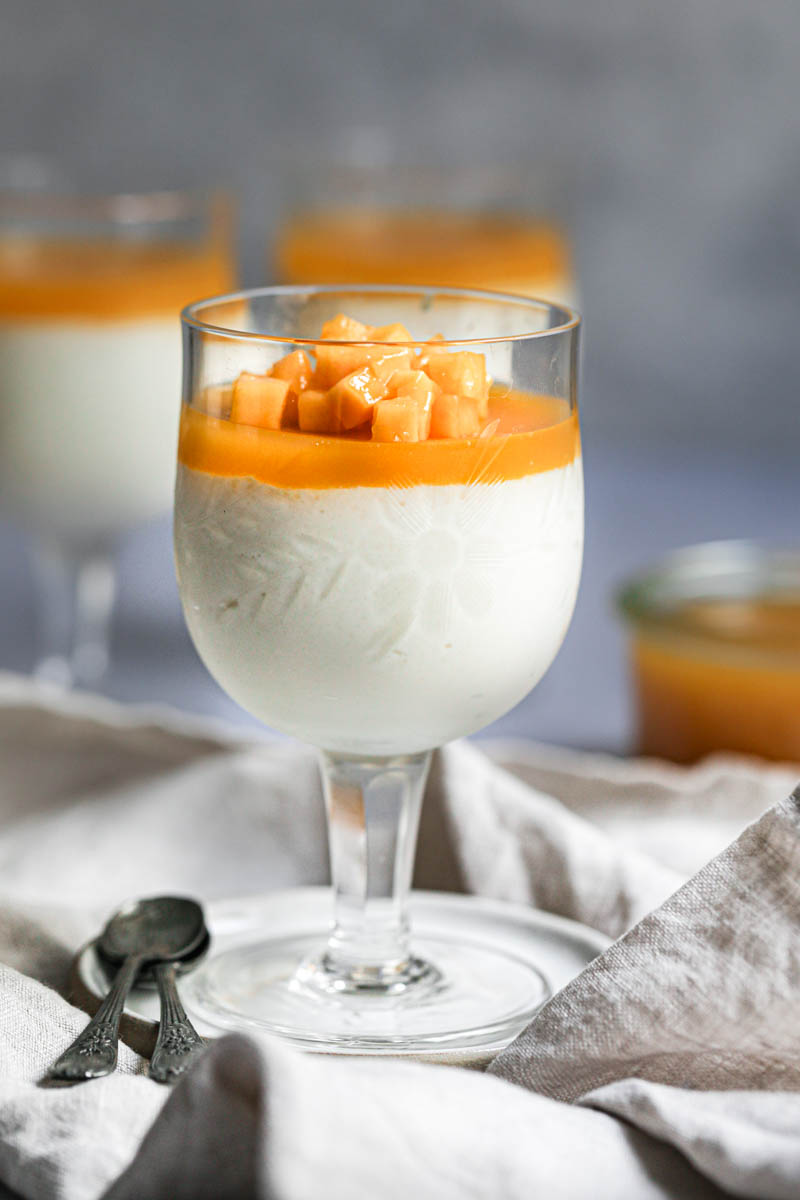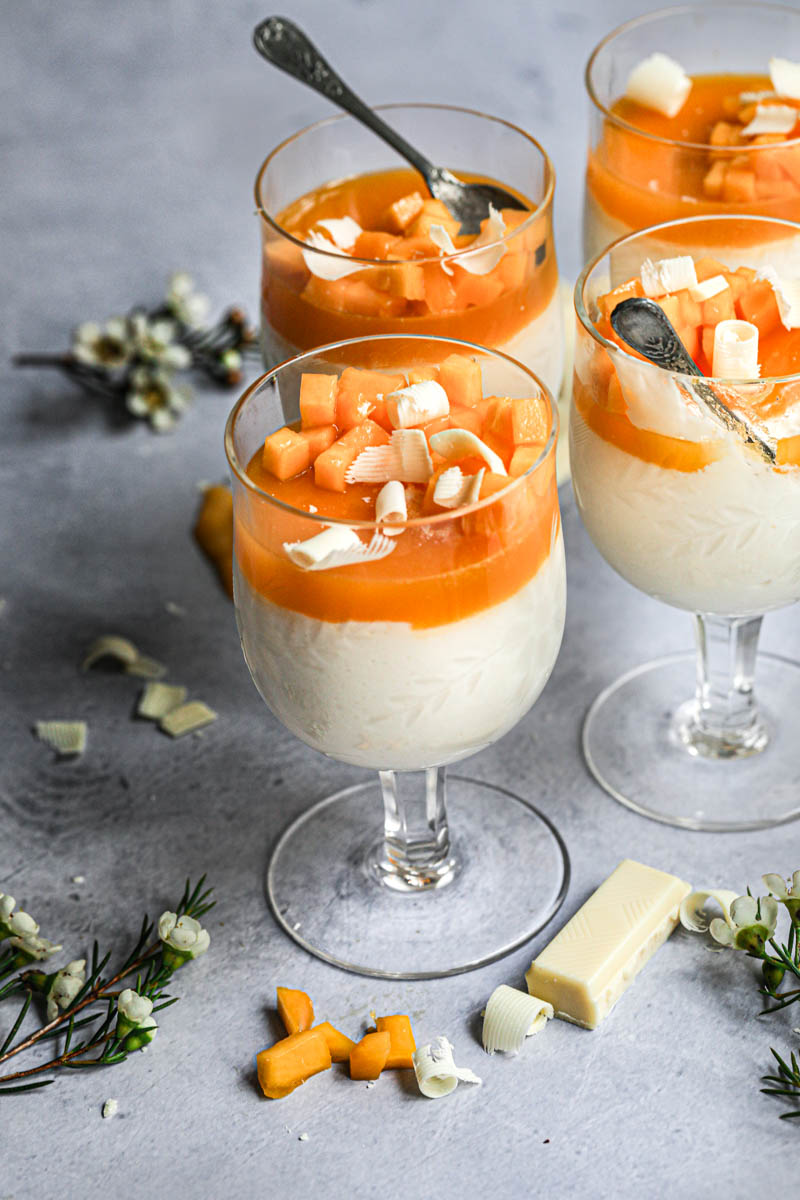 Other topping options for this dessert
If you don't like mango, you can either leave this dessert as is, or top your white chocolate mousse with:
Hot dulce de leche and some French meringue kisses for a little crunch.
The ingredients used in all recipes on this site are measured using the metric system. I use a
scale
to be precise with my measurements and ensure good results. If you would also like to use a scale, here are some:
USA
,
Canada
,
UK
,
Australia
,
France
.
Subscribe to the newsletter
White Chocolate Mousse
White Chocolate

160 g

Cream

80 g

Egg Whites

80 g

Sugar

10 g

Heavy Cream

160 g
Mango Jelly
Mango Juice

125 ml

Gelatine Sheet (or 1 tsp / 5ml of powdered gelatine)

1
If you made this recipe I would really appreciate it if you leave a rating or comment below! Also, if you share on social media please use #cookwithbelula, I would love to see what you create!