White Chocolate Mousse
Airy, creamy delicious white chocolate mousse topped with a red berry sauce and crunchy meringues.
The Sunday after New Year's we went to brunch with some friends. It was pouring rain and freezing cold. We had decided to meet outside of a restaurant we like, but off course there was a huge line. Estimated waiting time: 1 hour. Under the rain off course. So in an act of pure wisdom we decided against it.
We didn't go far... Right next door there was a restaurant and it had availability. A very easy decision. So in we went. It was a buffet kind of brunch, it was ok. And we were starving so I guess you could say the perfect combination. What was out of this world, and what kept me up at night was one of the desserts they were offering that day. And yes you guessed right: white chocolate mousse.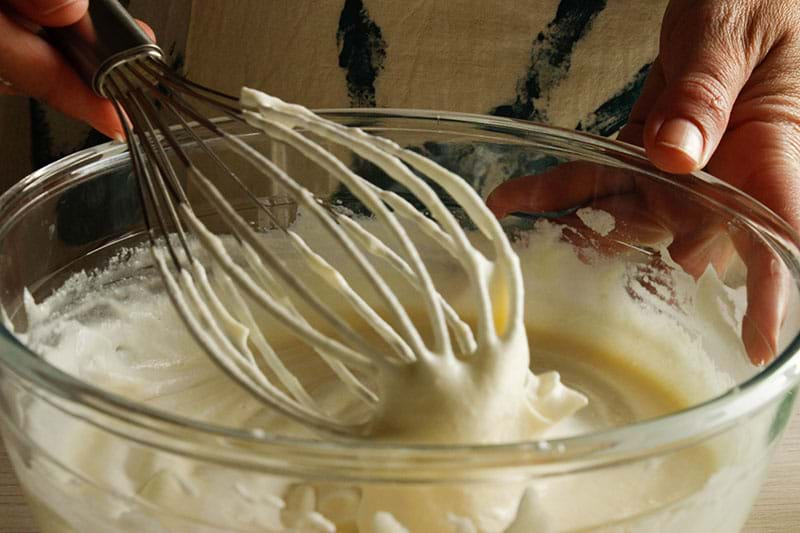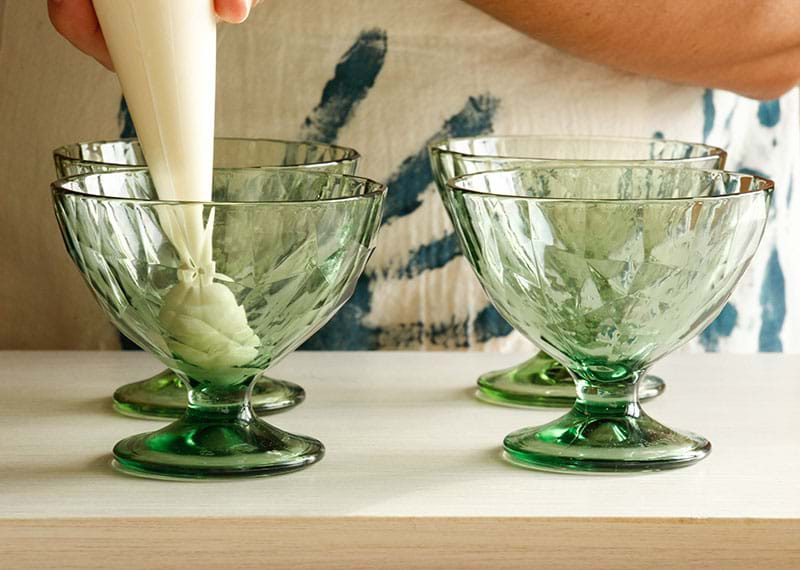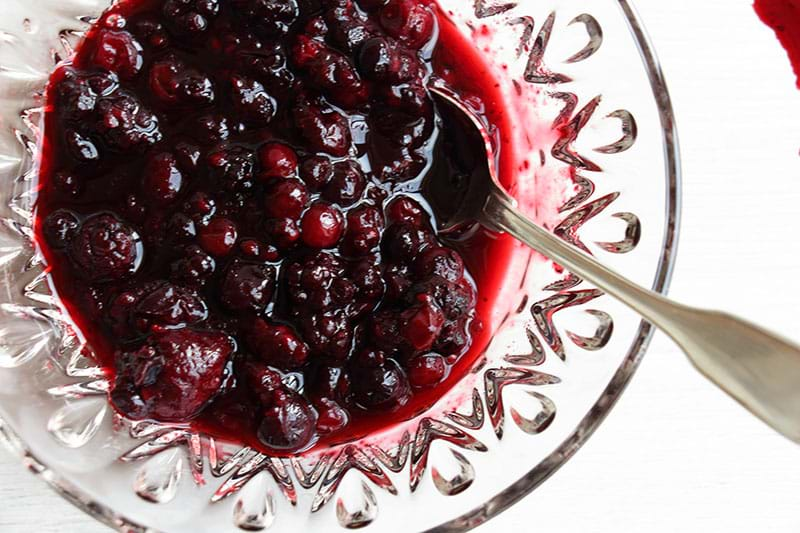 It was delicious, and it got better with every bite. I realized I hadn't had this dessert for ages and felt confused being that I like white chocolate mousse so much. Apparently I had forgotten about this fact for some reason. Right then and there I silently decided I was going to make one soon. Very soon.
I went back to and old recipe of mine and played a little with it. Plus I decided to add some things to this magnificent dessert to make it a little more complete. I topped the mousse off with a berry sauce to give it a little tartness plus some crunchy meringues! The meringues were a good idea! Let me tell you that.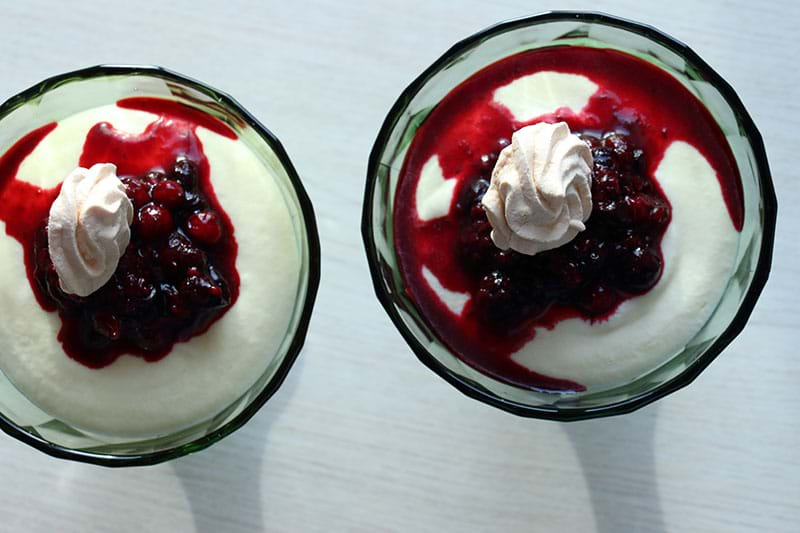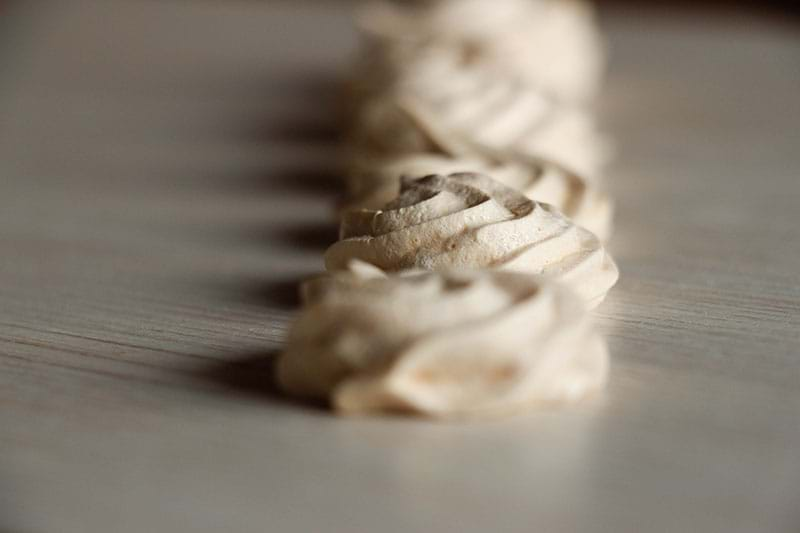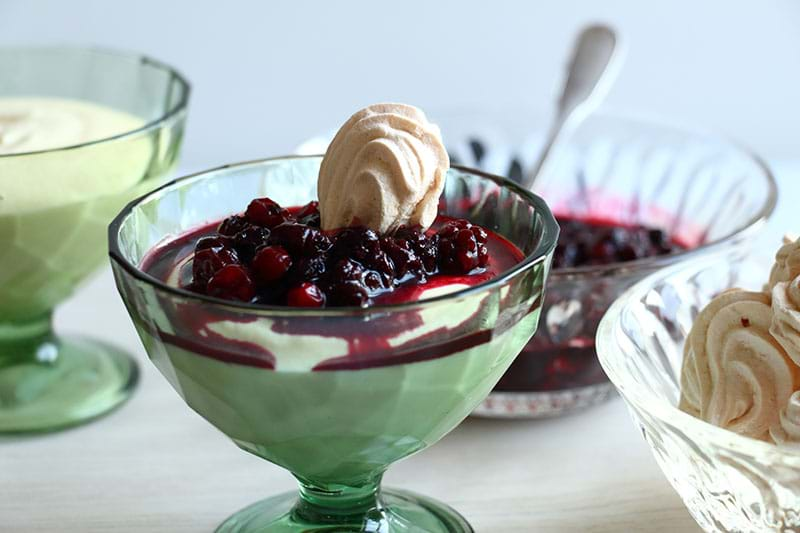 The additions are completely up to you. You could just prepare the mousse if you don't feel like doing too much work!
For the meringue, I used the recipe from Donna Hay Magazine.
I hope you enjoy it as much as we did over here!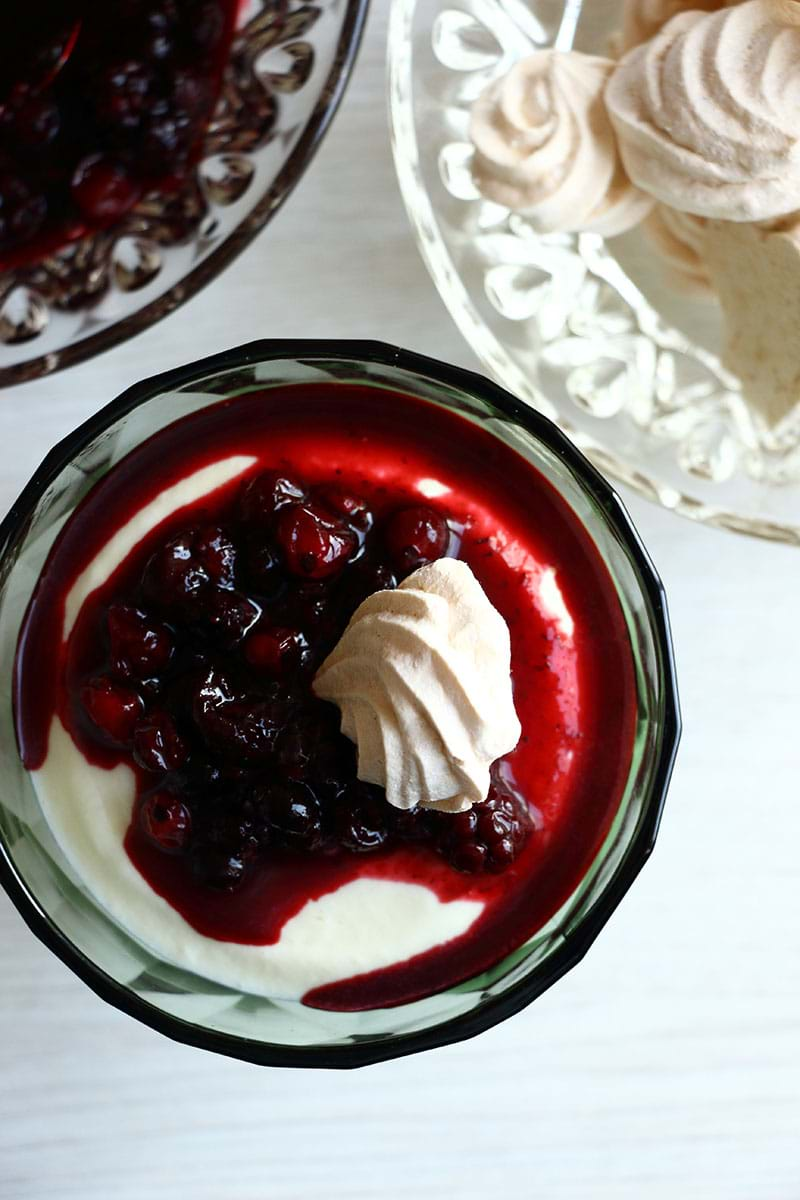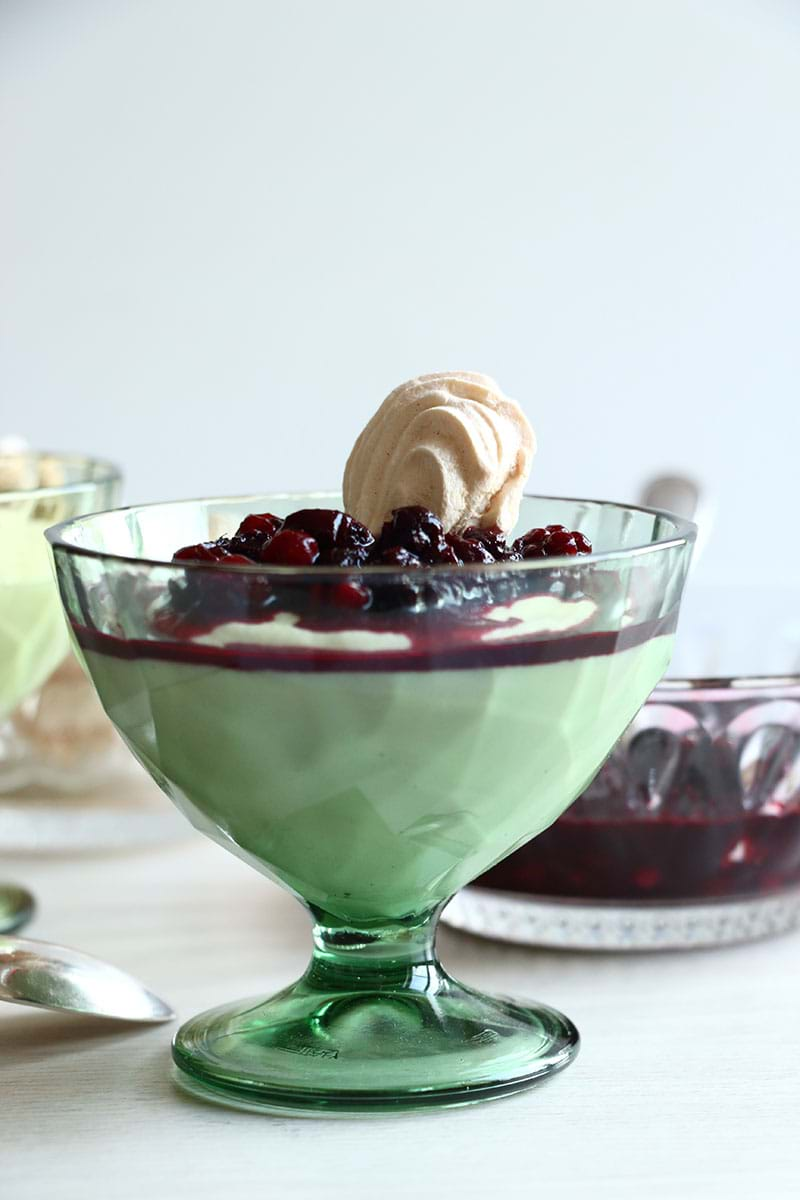 The ingredients used in all recipes on this site are measured using the metric system. I use a
scale
to be precise with my measurements and ensure good results. If you would also like to use a scale, here are some:
USA
,
Canada
,
UK
,
Australia
,
France
.
Subscribe to the newsletter
White Chocolate Mousse
White Chocolate

160 g

Cream

80 g

Egg Whites

80 g

Lemon Juice

1 drop

Heavy Cream

150 g
Red Berry Sauce
Sugar

30 g

Red Berries

200 g
Meringue
White Vinegar

0.5 tsp

Sugar

110 g

Egg Whites

80 g
White Chocolate Mousse

1. Chop the white chocolate.
2. Over a double broiler or using the microwave (10 seconds at a time) melt the white chocolate. Meanwhile heat the cream but don't bring it to a boil. Pour the cream over the melted chocolate and let it sit for some minutes. Using a whisk start mixing from the center until the ganache has been formed.
3. Let it cool down covered in plastic wrap.
4. In the meantime whip the heavy cream to a soft consistency. Transfer to a plastic container and refrigerate until you need to use it.
5. Once que ganache has cooled down but has not completely set yet, whisk the egg whites to stiff peaks. Add the lemon juice drops towards the end to make it shiny.
6. Add the egg whites to the ganache in 2 times. Whisk in 1/3 of the egg whites, and then add the remaining 2/3 folding them in gently so as not to break them.
7. If you don't feel like doing any of this, just transfer to a big serving bowl.
7. Tip: If you don't have a piping bag, you can use a small ladle to transfer the mousse onto the individual recipients.
7. Transfer the mousse to a piping bag (no tip needed) and proceed to fill your individual molds. Refrigerate for at least 3 hours or until the mousse has set. I prepare them a day in advance.
7. Fold in the whipped cream.

Red Berry Sauce

1. In a pot over medium-high heat mix together the red berries and the sugar. Bring to a boil. Cook for 2 minutes and remove from the stove.
2. Transfer to a plastic container, cover in plastic wrap and let it cool down before refrigerating.

Meringue

1. Pre-heat the oven to 140 degrees Celcius.
2. Whisk the egg whites until the formation of stiff peaks. Add the sugar one tablespoon at a time at intervals of 30 seconds. Once you have added in all of the sugar scrape down the sides of the bowl and mix for 6 minutes at medium-high speed. Add the white vinegar and mix for 4 more minutes.
3. Transfer the meringue to a piping bag with the piping tip of your choosing and pipe small meringues onto the baking tray. Bake until crispy!
4. It took mine 1 hour to be ready, the time will depend entirely upon the following combination: oven temperature and meringue size!
5. Turn off the oven and let the meringues cool down inside.
6. Transfer into a hermetic container.
7. Tip: I baked my meringues at 100 degrees and that took a little longer! The reason why is that my first batch rapidly colored at 150 degrees. My oven is not the best!! So my best advice is to test out your own oven!
8. If you don't feel like doing this part, you can always buy some pretty meringues at the nearest pastry shop! That being said I think it's worth your while!
9. So if you decided to make them but you don't have a piping bag/piping tip or you just don't feel like going into so much trouble just transfer the meringue onto a baking tray and using the back of a spoon, a spatula or even better an offset spatula, just distribute it evenly.
10. You can then break it down in small pieces using your hands!

Finishing Touches

1. When you are ready to serve dessert take the mousse out of the refrigerator. Add a tablespoon of berry sauce to each individual mousse and top of with some mini meringues or pieces of crushed meringues. This is totally up to you! I can only tell you that a lot of meringue is a good dose.
2. If you have prepared one big mousse serve as many plates as necessary. Then you will add the sauce and the meringues on top of each portion.
3. Tip: The mousse keeps in the fridge for a couple of days.
If you made this recipe I would really appreciate it if you leave a rating or comment below! Also, if you share on social media please use #cookwithbelula, I would love to see what you create!