This is an easy, French strawberry mousse recipe: you only need 4 ingredients, and it comes together quickly. It has a strawberry custard like base mixed with whipped cream, and it is made without gelatin. I love this strawberry mousse because its fresh, fluffy, light and it means summer is around the corner. Hope you enjoy it! If strawberry is not your thing, you can make this white chocolate mousse or this dulce de leche mousse instead!
Ingredient notes
Eggs: this recipe calls for large sized eggs.
Strawberries: to make the mousse you can either use fresh or frozen strawberries. However, for topping the mousse once its ready, I recommend using fresh strawberries, the frozen kind risks to make it runny.
Whipping cream: full fat, if not you won't be able to whip the cream to soft peaks. It must be kept cold and chilled until the very moment you are ready to whip it!
Additions: you can add roasted almonds or meringue kisses along with the fresh strawberries as a topping, to give this dessert some extra crunch!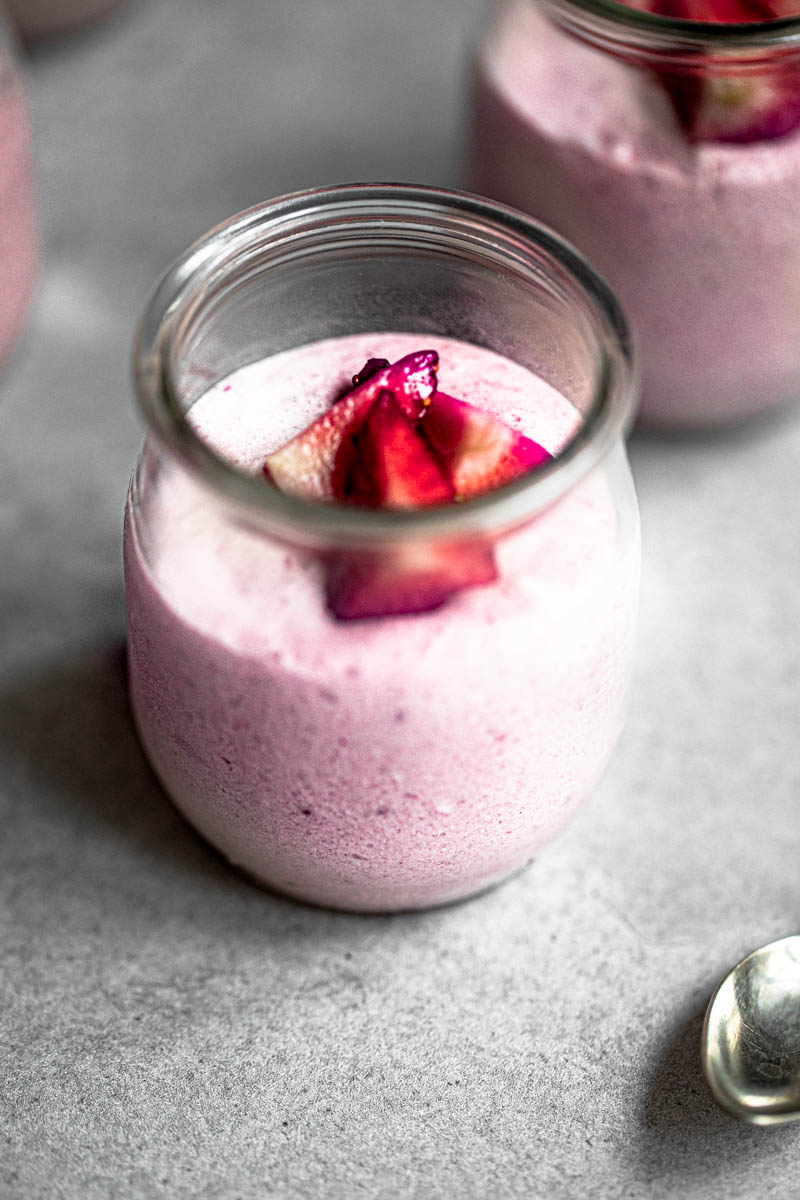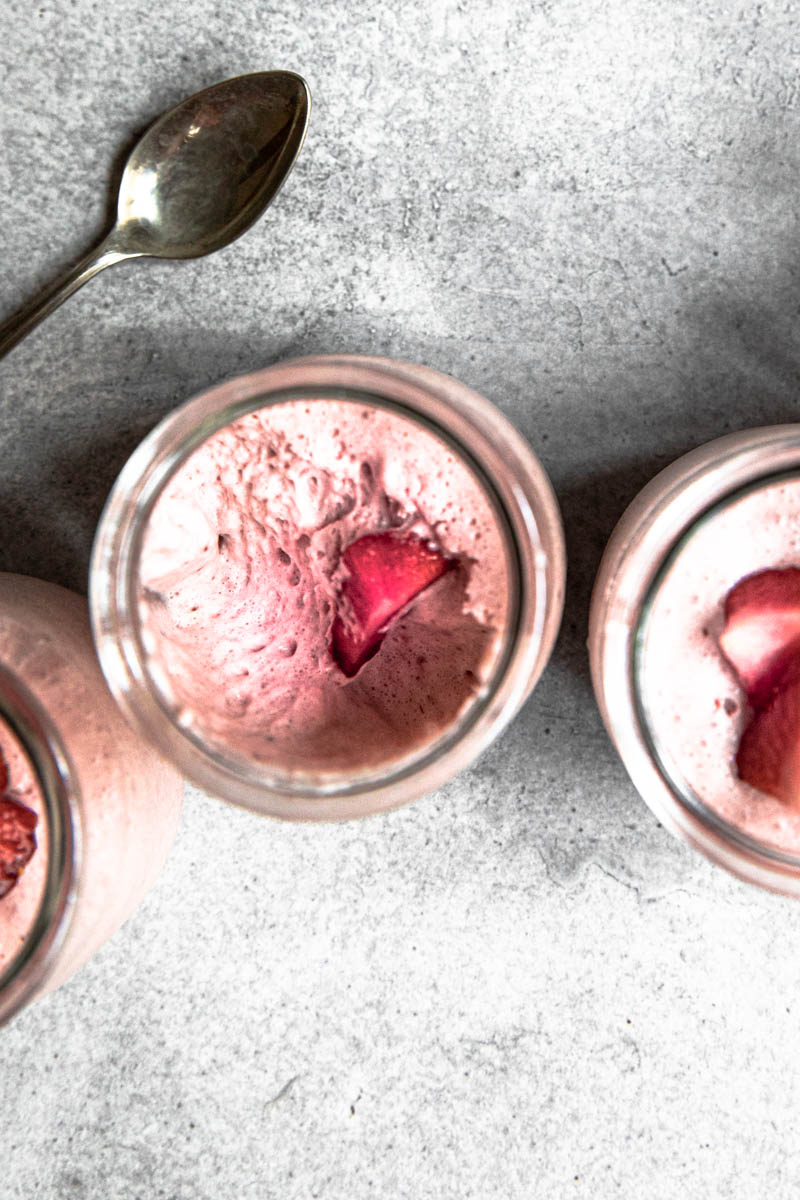 About the containers you can serve this dessert in
I like to serve this dessert mousse (and any mousse really) in small individual containers: it can be mini ramequins, small dessert cups, old yogurt glass containers, shot glasses (if you will be serving other desserts as well). Whatever you like and have at home.
You can also serve it in one big dessert bowl and then spoon the mousse onto smaller bowls when you are ready to eat it.
How to make this recipe
This easy recipe only has 2 main components:
Whipped cream
A kind of strawberry custard: the same technique and procedure that is used to make custard where milk is replaced by strawberry puree.
Once both are ready you simply need to mix.
Step-by-step instructions
First you need to whip the cream and keep it covered in the refrigerator.
Secondly, we make the strawberry custard. Blend the strawberries (fresh or frozen) to make a puree and over a medium heat bring the strawberry puree to a boil. In the meantime, whisk together the egg yolks and the sugar.
Pour half of the boiling strawberry puree onto the egg yolk/sugar mixture and whisk to combine. Pour this mixture back onto the pot with the remaining ½ of the strawberry puree and cook over medium heat (always stirring with a spatula, or plastic spoon) until it has thickened (83/85 degrees Celsius/ 182 F). You should be able to coat the back of a spoon with it.
Whisk at medium speed until the strawberry mixture has completely cooled off and gained in volume. It should be dense and lighter in color.
Finally, fold in the whipped cream, gently and lovingly. And voila, your mousse is ready.
Fill the containers with the mousse and refrigerate overnight.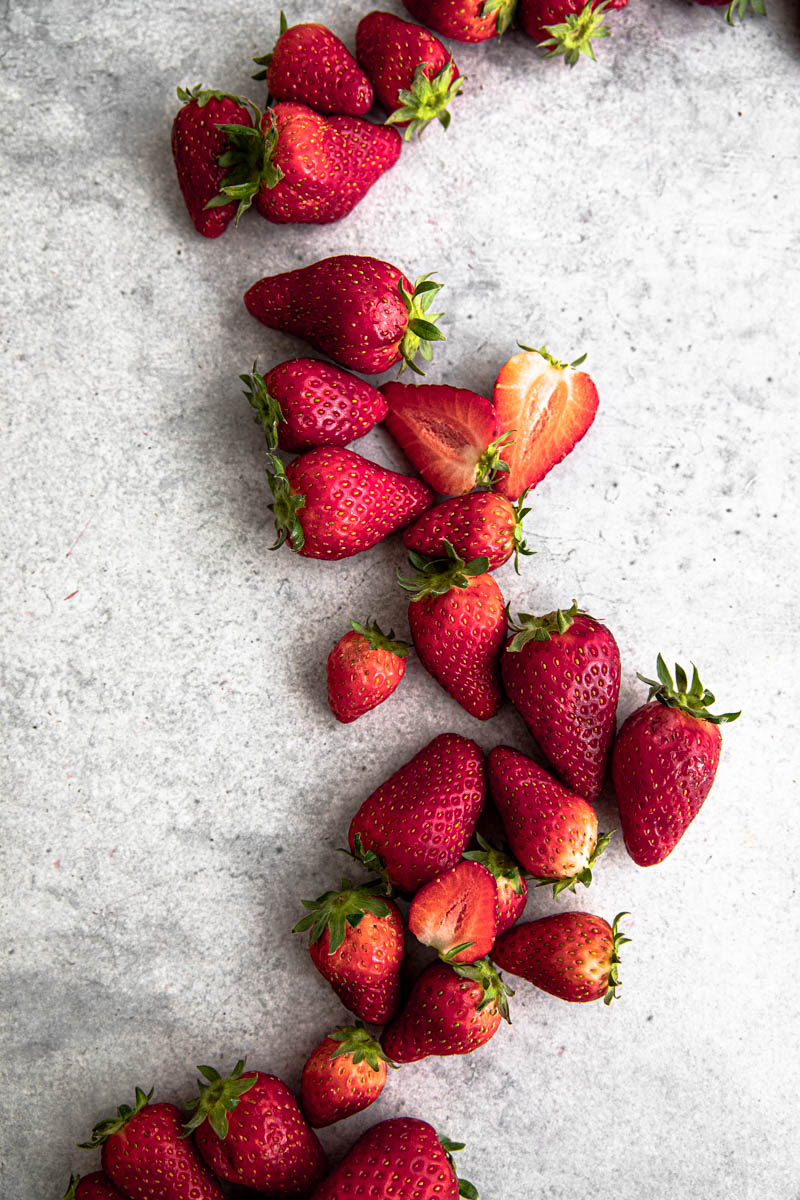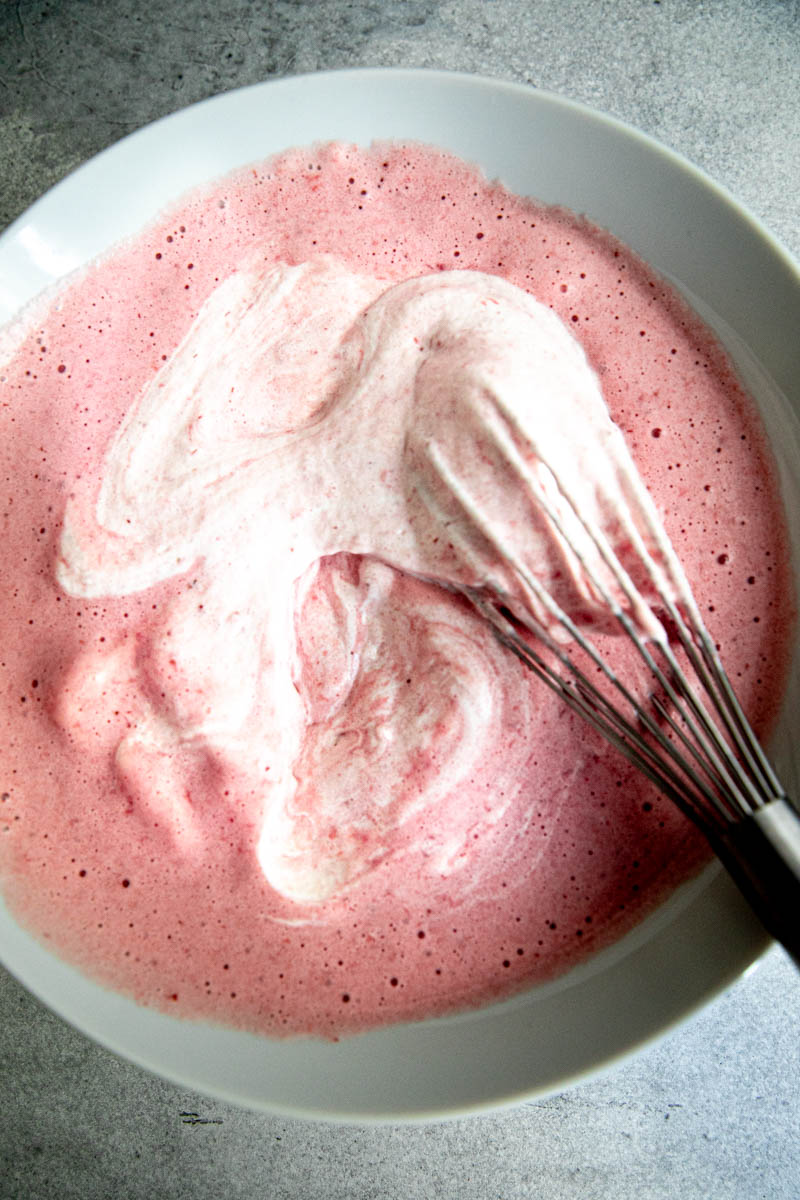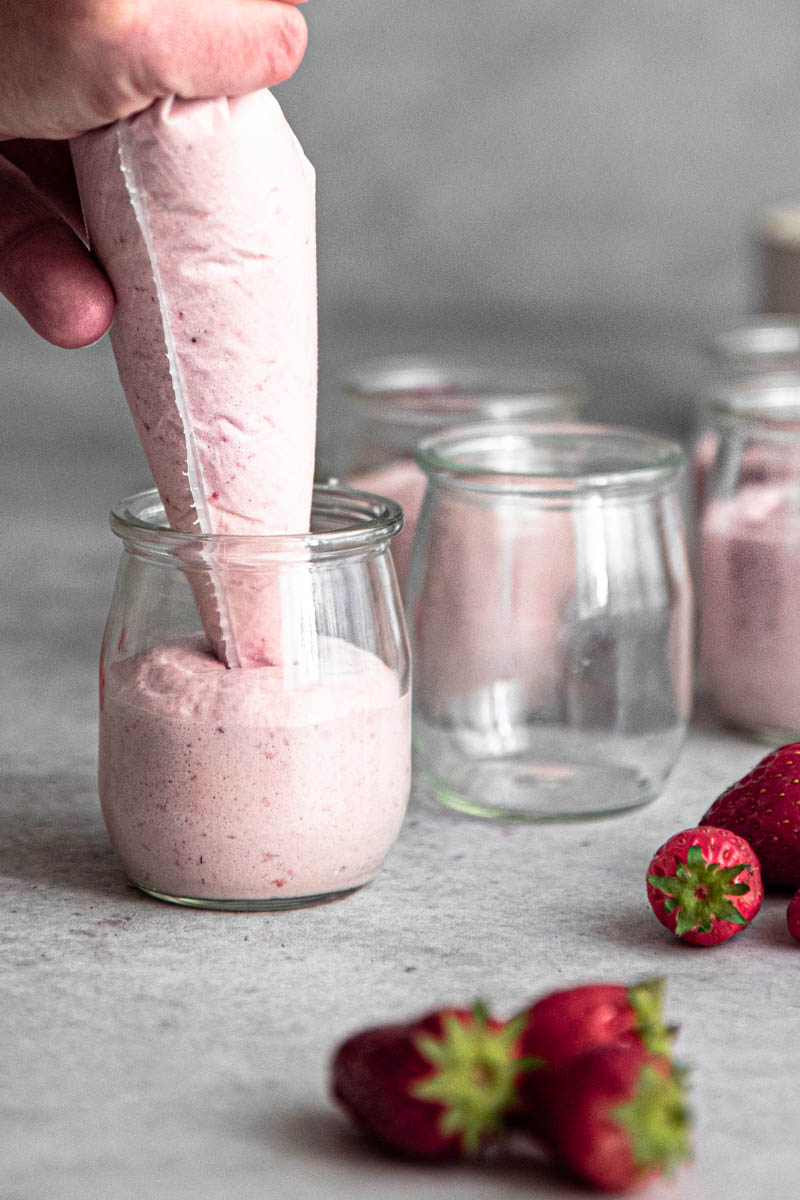 Recipe notes
If you would like a smoother mousse, you can strain the strawberry pure before heating it up.
If you don't have a thermometer, to verify whether or not the custard is ready you should coat the back of a spoon with it, then run a finger along the middle of the spoon. If the custard is not runny, then it means its done. If the trace of your finger becomes invisible after a few seconds, then continue to cook it on the stove.
Custard must not boil. If it does, you have gone too far, and you must start over.
How To Pasteurize Eggs At Home To Make Strawberry Mousse?
To pasteurize eggs at home you should:
First put them for 1 minute in boiling water.
Then transfer immediately to ice cold water for 1 minute.
Expert tips
You can use this recipe as a cake filling. If you want to make it a little firmer you can add gelatin. Here is how you should do this:
Dissolve 7 g of powdered gelatin in 10 ml of warm water. Or hydrate 2 leaves of gelatin in ice cold water.
Add the gelatin to the strawberry/egg yolk mixture while still warm.
Whisk until it has cooled down and gained in volume.
Fold in the whipped cream.
Serving tips
Strawberry mousse must be served cold. It must chill for at least 12 hours.
You can serve this strawberry mousse topped with fresh strawberries. You can add some toasted almonds or meringues to add some crunch to this French dessert.
Storage tips
This dessert can be kept, refrigerated for up to 4 days. You can cover the containers to prevent a thin layer crust from forming on the top.
Top with the fresh strawberries when you are ready to serve.
Freezer instructions
Cover the containers with film wrap and place in the freezer, keeping them straight. The mousse keeps for up to 1 month in the freezer.
To defrost: place in the refrigerator overnight. Top with fresh strawberries right before serving. Enjoy!
Variations for this recipe
If you freeze strawberry mousse you will end up with a delicious no churn homemade strawberry ice cream. If you choose to transform the mousse into ice cream, here are a few tips you should follow:
Make sure to add in some fresh strawberries before freezing. Fold them in gently. You can also add some chocolate chips if you like the chocolate strawberry combination.
Wrap the container twice in plastic wrap and then transfer to freezer bag. If you use a container that has a lid it would be great. This will help minimize crystallization.
Let the strawberry ice cream sit at room temperature for a few minutes before serving. Enjoy!
Substitutions
You can replace the strawberries in this recipe for other berries like raspberries, blueberries, and blackberries.
If you made this recipe I would really appreciate it if you leave a rating or comment below! Also, if you share on social media please use #cookwithbelula, I would love to see what you create!