Pumpkin Ricotta Quiche (Savoury Fresh Pumpkin Pie)
This Pumpkin ricotta quiche recipe is made with a homemade quiche crust, filled with fresh pumpkin sage puree, ricotta, and parmesan. The ultimate savory pumpkin pie!
This pumpkin quiche recipe is super simple and ideal for every occasion, brunch, lunch or even a light dinner! It's the savory version of a fresh pumpkin pie! Made with a homemade quiche crust, filled with a mixture of fresh pumpkin puree flavored with sage and butter, ricotta and parmesan cheese, plus eggs and heavy cream to keep this filling together! Hope you love it as much as I do!
Material & Ingredient Notes
Quiche crust: you can use store bought or make your own. You can find a delicious recipe with step-by step instructions here.
Pumpkin: use a small pumpkin between 800 g /1 kg, which will make a little over the 300 g pumpkin puree this recipe calls for. You can replace with butternut squash.
Sage: use fresh leaves to flavor the pumpkin while its cooking in the oven.
Ricotta cheese: must be drained to remove the excess water.
Parmesan cheese: grated.
20 cm/8 inch tart tin. I really like to use this one, with perforations at the base and the sides that will unsure the crust is properly baked through.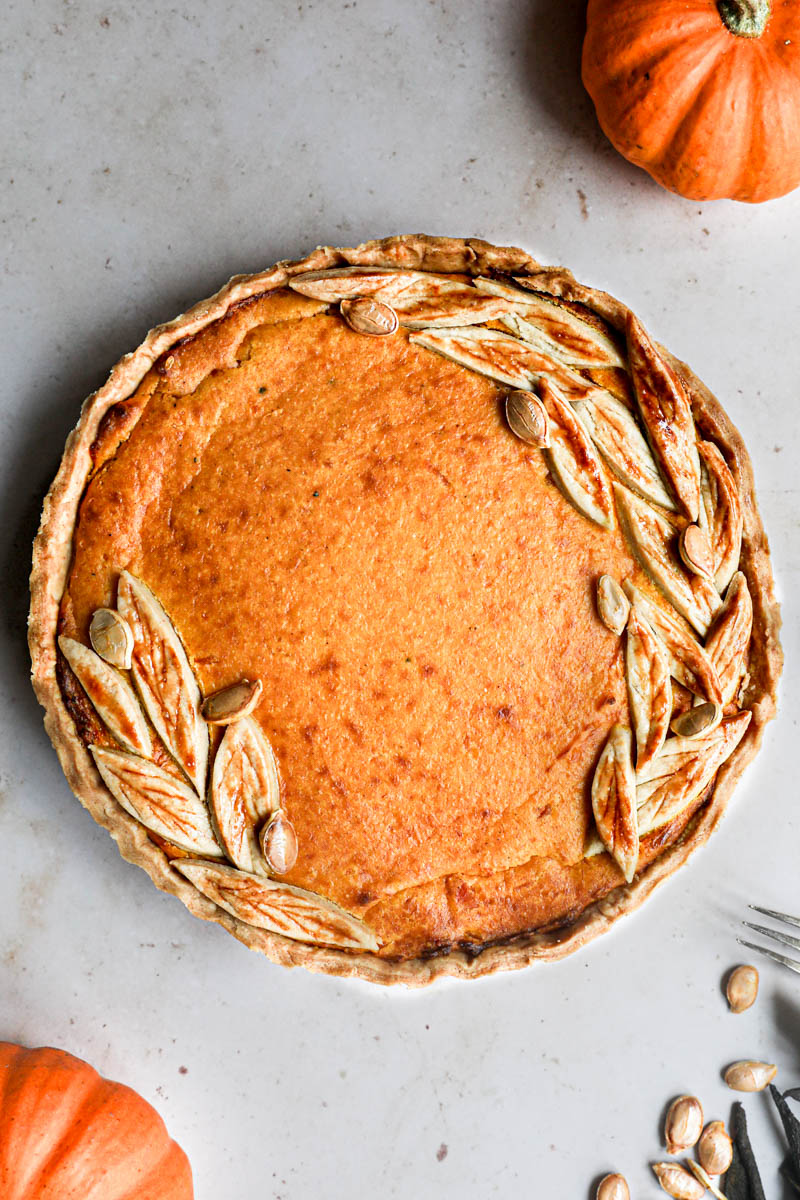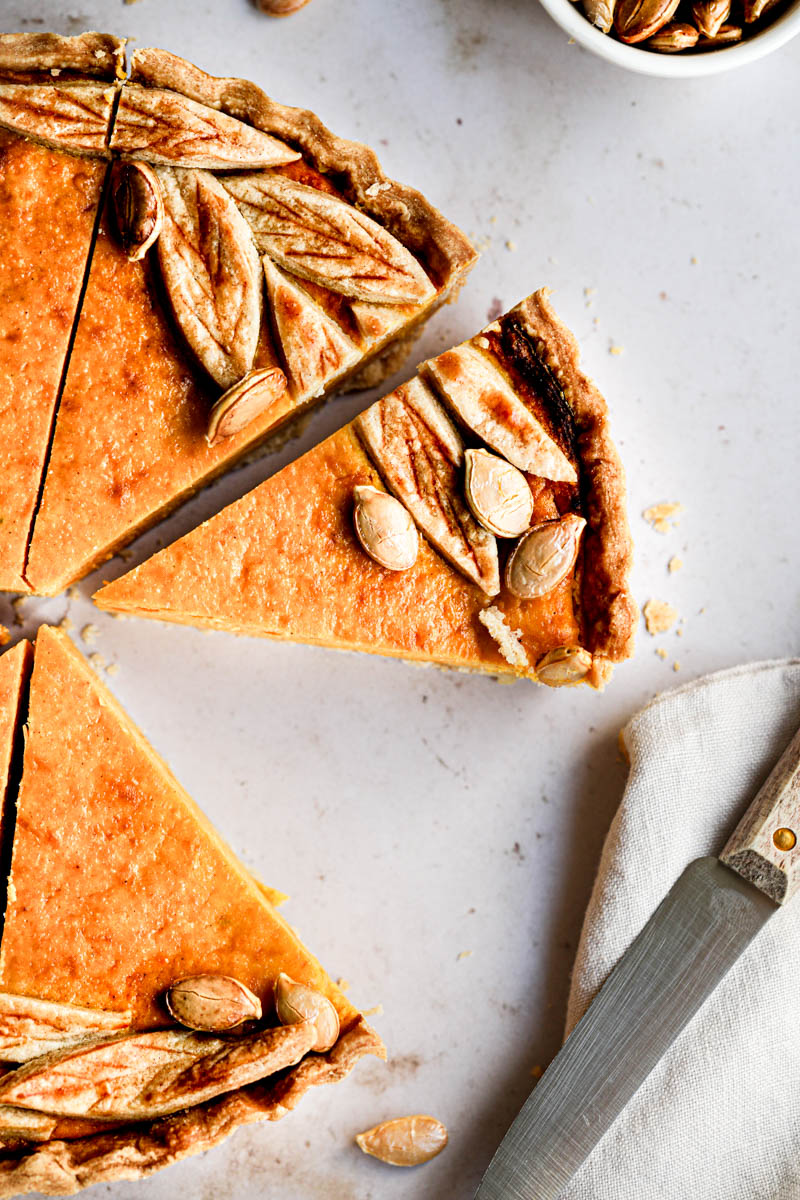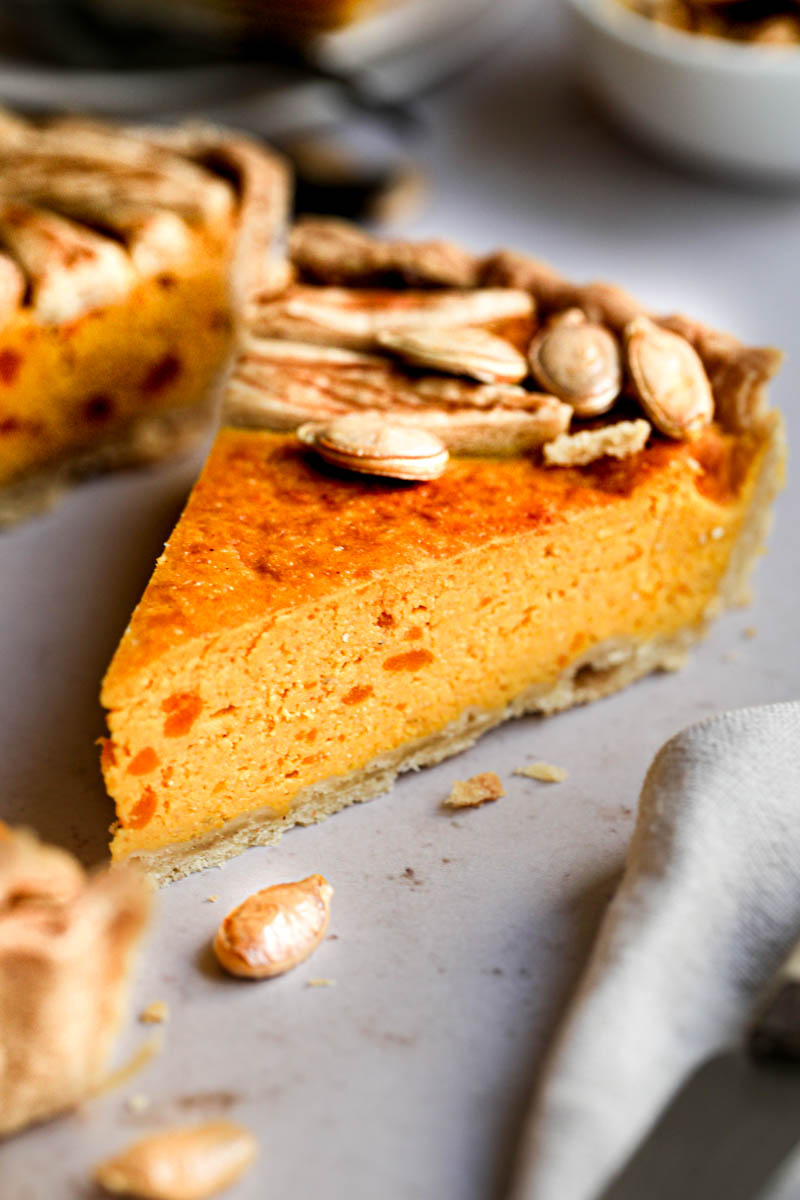 How to make this recipe
This pumpkin ricotta quiche recipe is easy to make. You must:
Line and quiche tin with shortcrust pastry and bake until golden.
Cook the pumpkin with sage and butter and prepare the filling.
Fill the baked quiche crust with the fresh pumpkin filling.
Top with leaves made from the pastry trimmings.
Bake until golden!
Enjoy!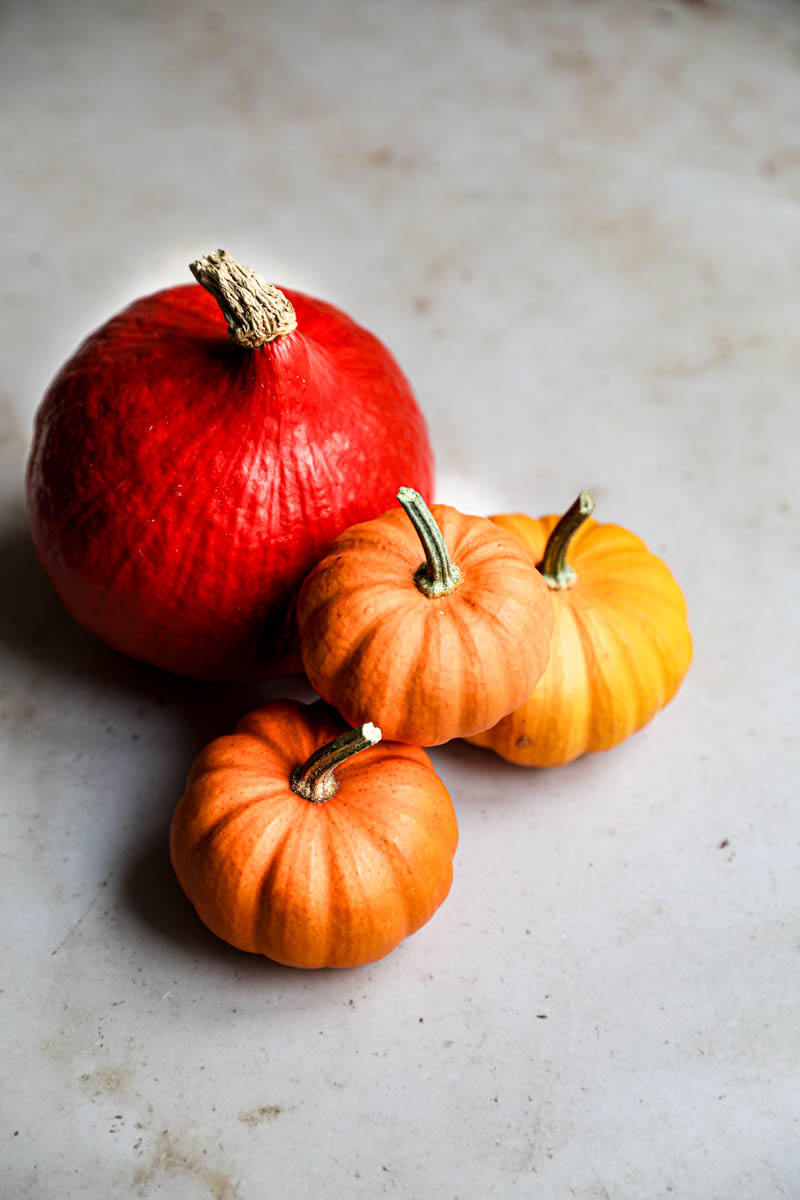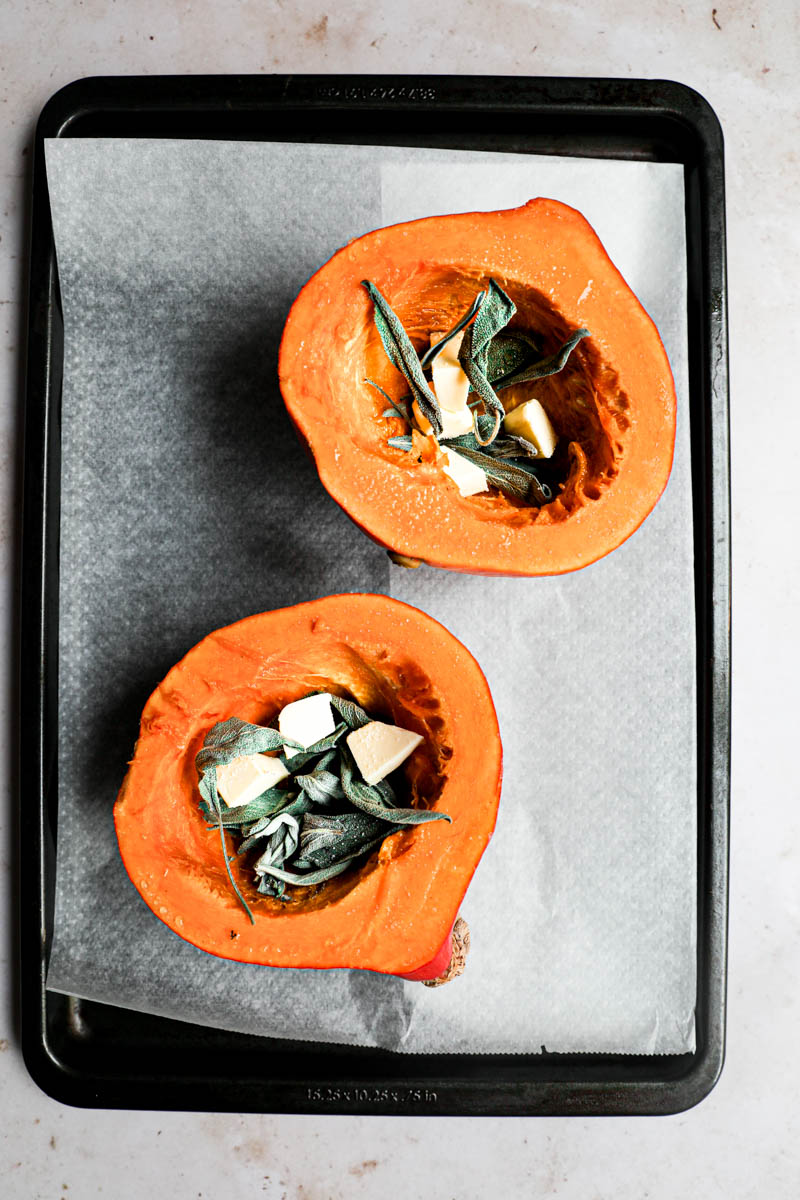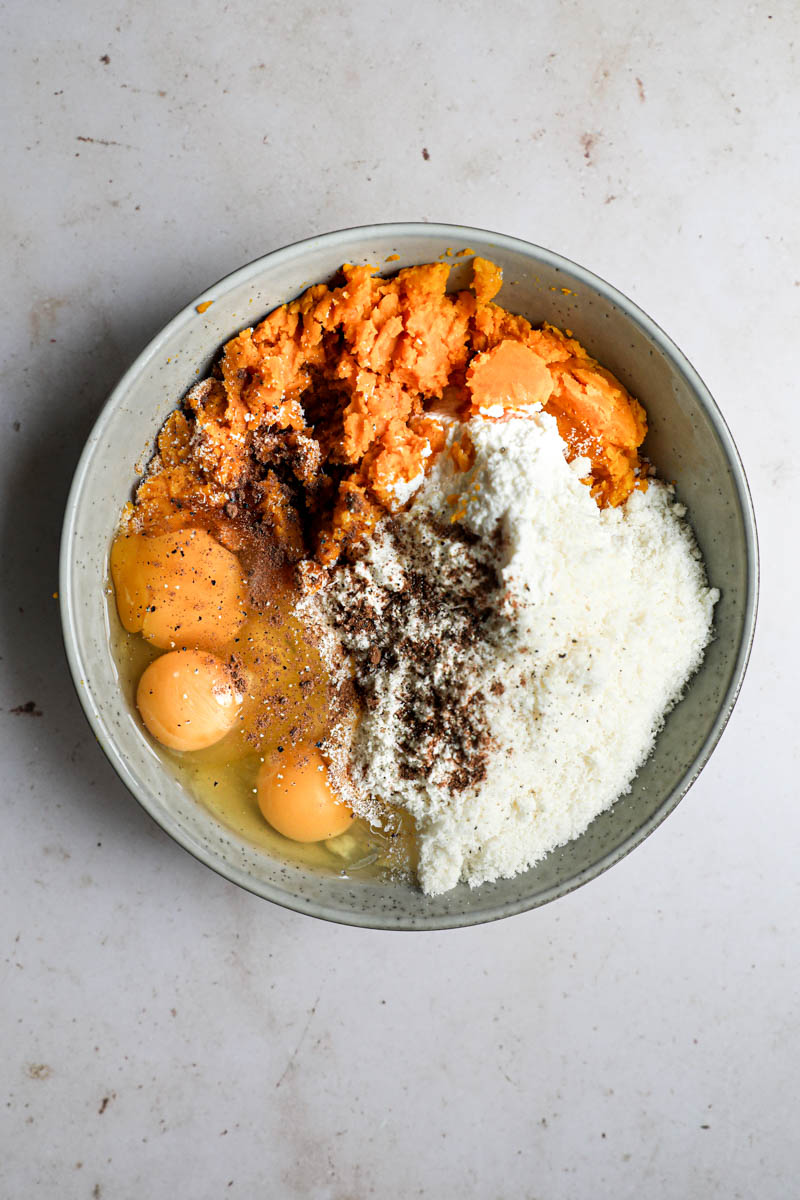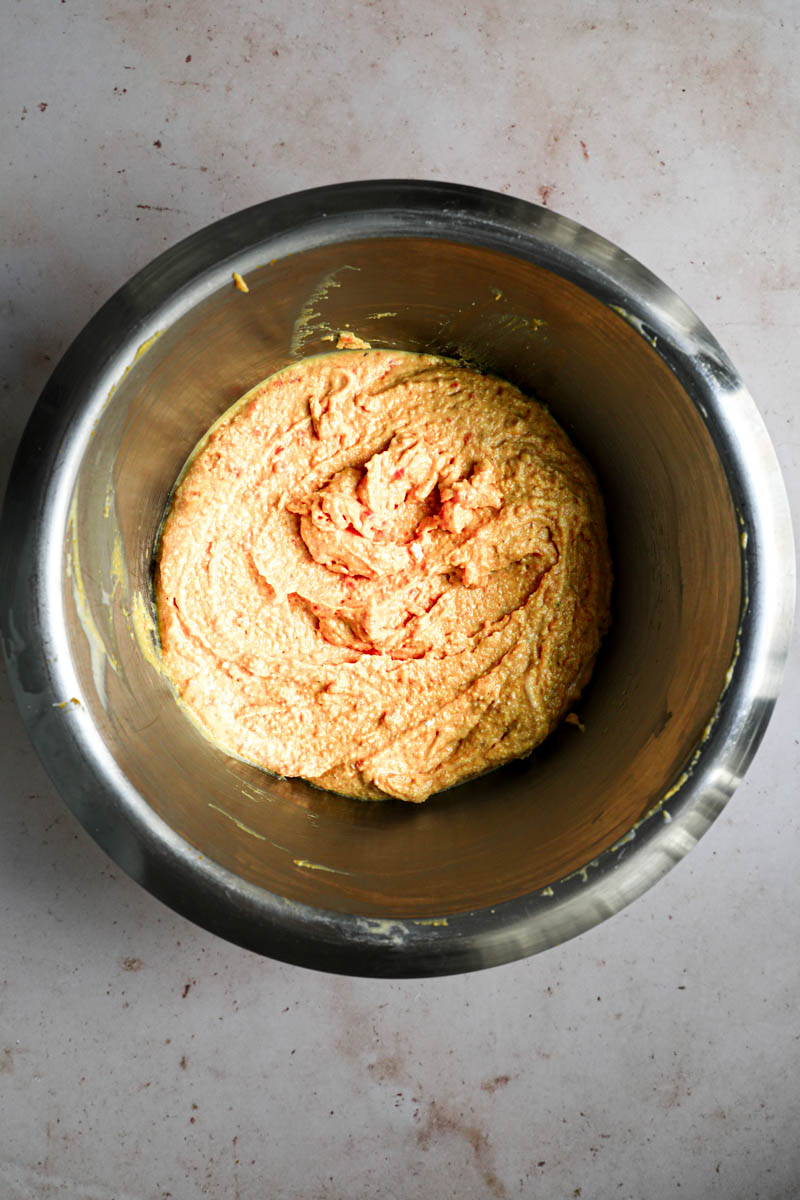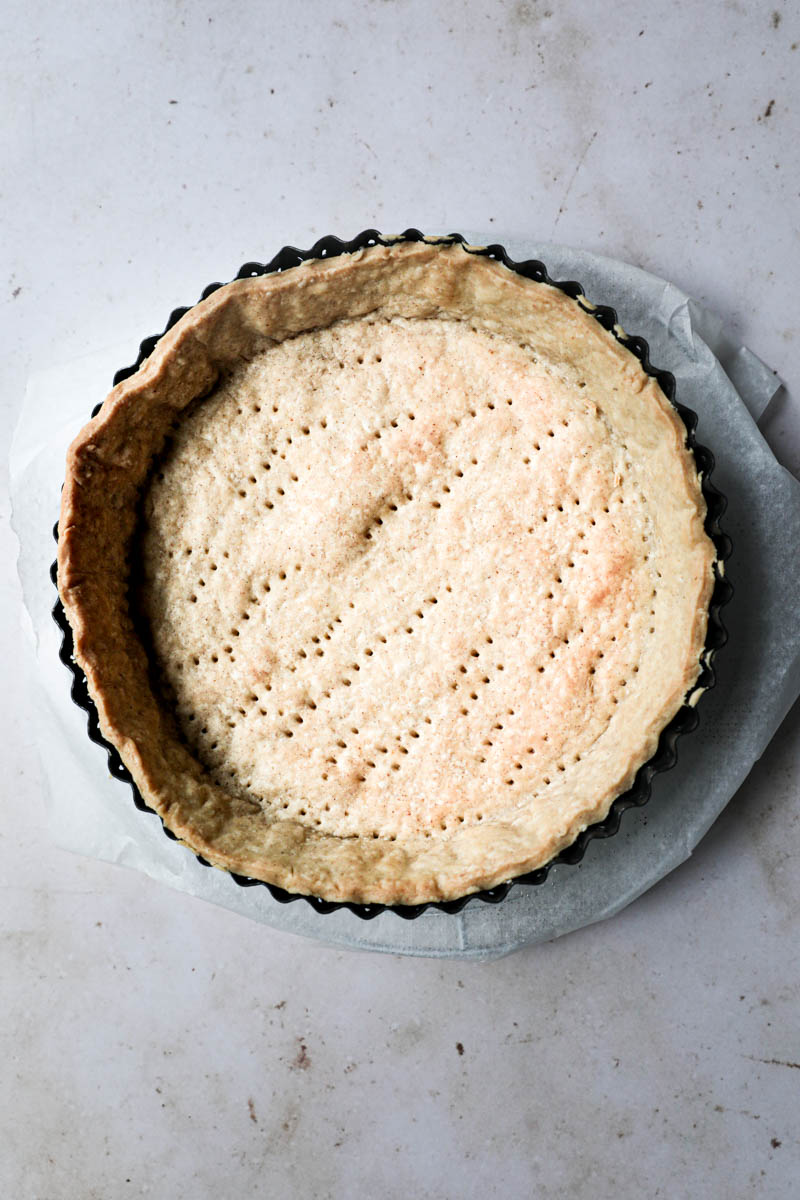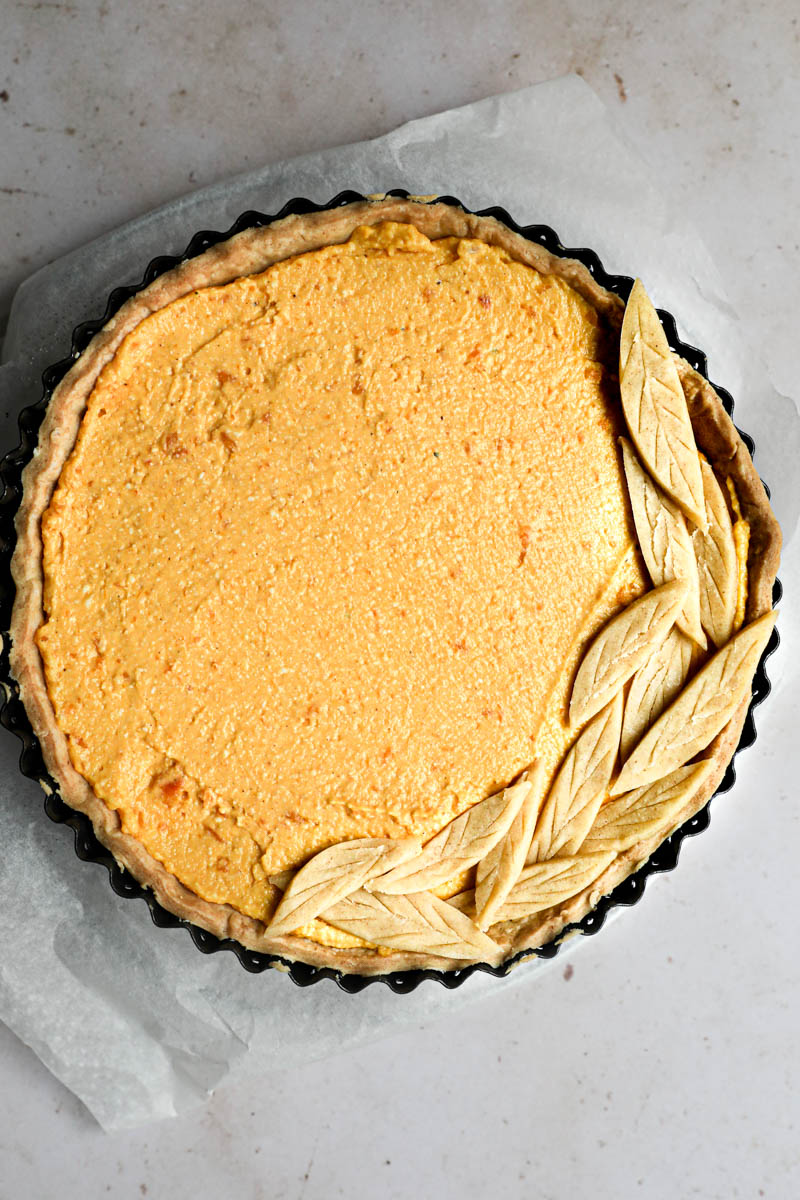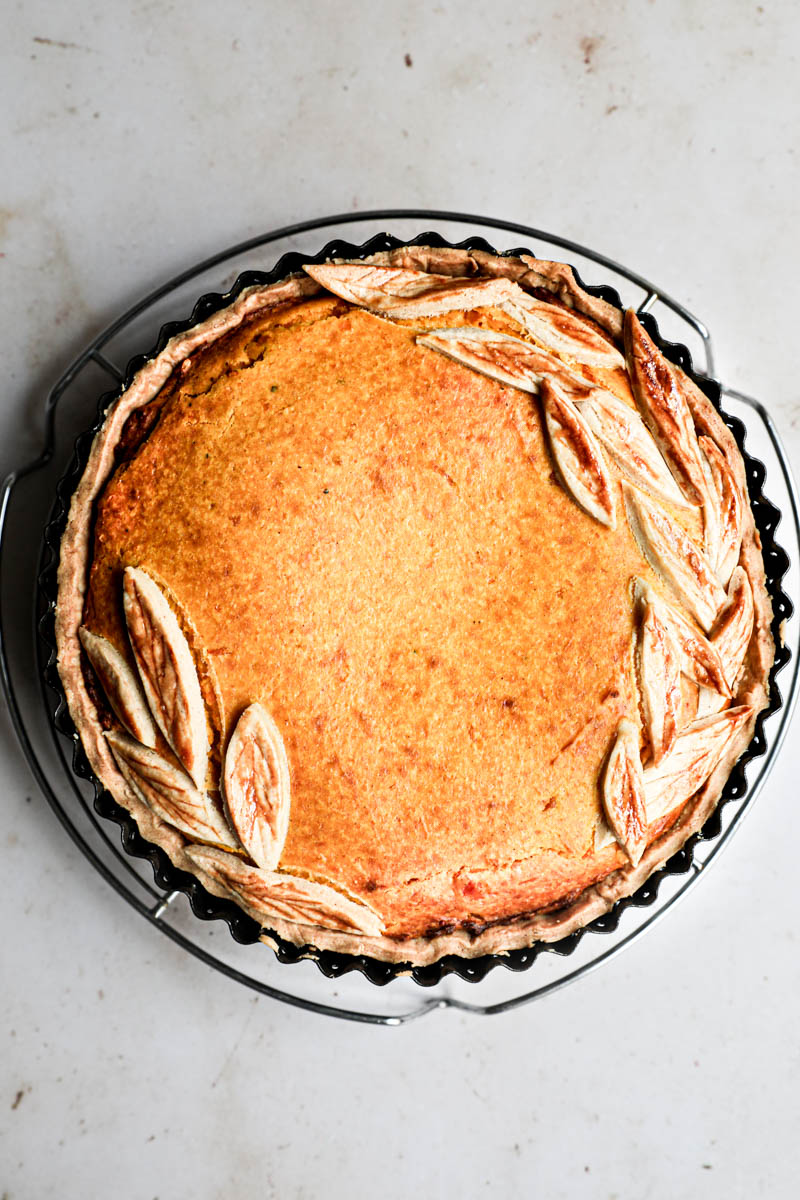 How to make the leaves to decorate this pumpkin quiche
Once you have lined the tin with the quiche crust, place the trimmings in the fridge for about 30 minutes.
Roll it out to 4 mm. Using a knife or leave shaped cookie cutter, cut out small, shaped leaves from the pastry.
Using the back of a knife, score each leaf imitating a real-life leaf: one line across the middle and smaller lines going from the middle to de side.
Cover with film wrap and refrigerate until ready to use.
Recipe notes
For tips and rolling out the crust, lining the tart tin and pre baking the pastry, you can refer to this recipe where I go over every detail.
To remove the pumpkin quiche from the tin, place the tin over an inverted bowl. Let the sides of the tin fall onto the counter. Then slide spatula between the bottom of the tin and the quiche crust, making sure nothing is stuck. Then slide onto a serving plate, lovingly!
Ricotta cheese must be drained from the excess water before mixing into the filling.
To bake the pumpkin: slice in half, remove seeds, fill with sage leaves and butter cut into small cubes. Sprinkle with salt. Cover in aluminum and bake until tender.
To strain: place over a strainer for 30 minutes. Then pat dray with a paper towel.
You can replace half the heavy whipping cream with milk if you are looking to make this pumpkin quiche a little lighter.
Brush the crust leaves with egg wash (1 beaten egg + salt), then place on the edges of the quiche.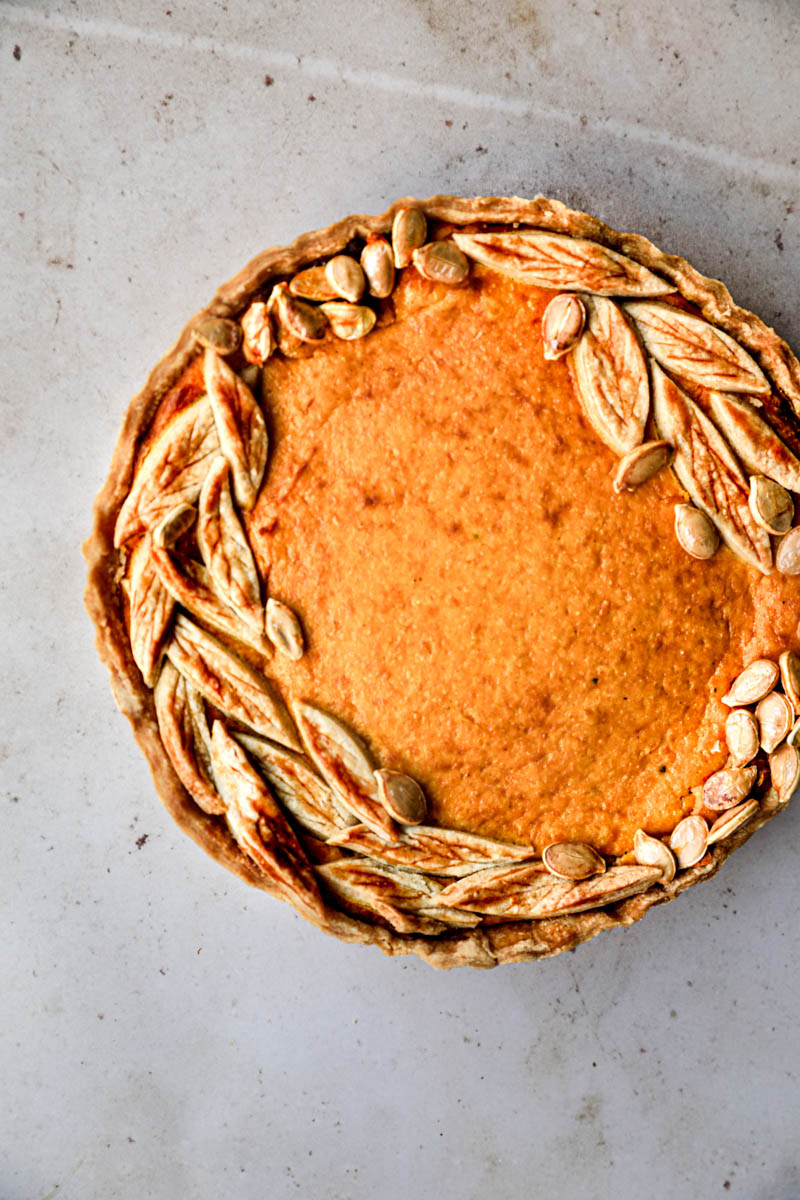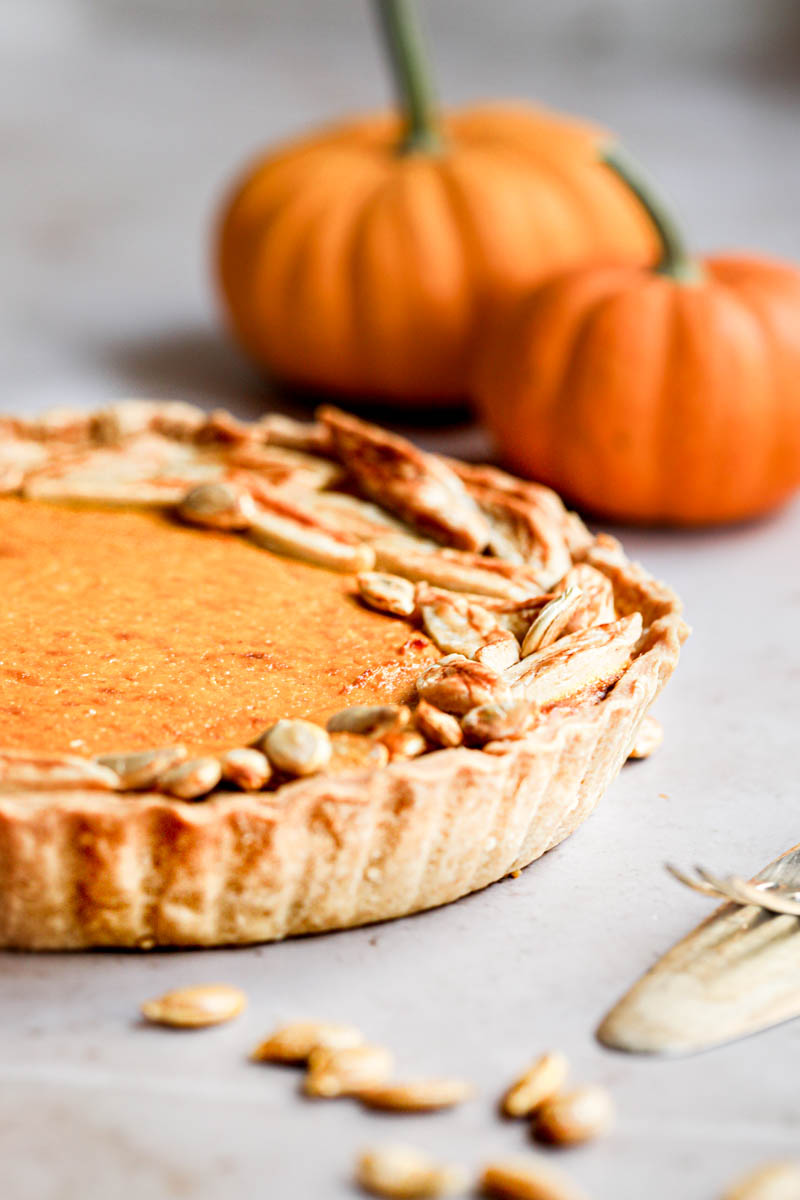 Experts Notes
Baking times are always an approximation and should be adjusted according to your own oven. And in this case, the size of the pumpkin and the thickness to which you have rolled out your pastry.
You can roast the pumpkin seeds to add to the quiche once it has been baked.
Making ahead
Quiche crust: can be made u p to 2 days in advance. You can keep is covered in film wrap in the refrigerator. Or you can roll it out, and line the quiche tin, cover in film wrap and keep the tart tin ready for the oven in the refrigerator. Also, for up to 2 days.
Baked pumpkin puree: the pumpkin can be baked, then scooped out and kept in an airtight container for up to 5 days in the refrigerator.
Storage tips
You can keep this pumpkin ricotta quiche in the refrigerator, covered in fil wrap for up to 5 days.
To serve reheat for 10 minutes at 200 C° (400 F). Or remove from the refrigerator 1 hour before you are ready to eat and eat at room temperature.
Freezer instructions
You can freeze this savory pumpkin pie once it has completely cooled off. Cover in film wrap, 2 or 3 times, then place in a freezer bag or freezer container. It keeps for up to 1 month.
You can also slice the quiche and freeze the slices separately.
To defrost: place in the refrigerator overnight. Then warm up for 20 minutes, covered in aluminum foil at 180 C° (360 F).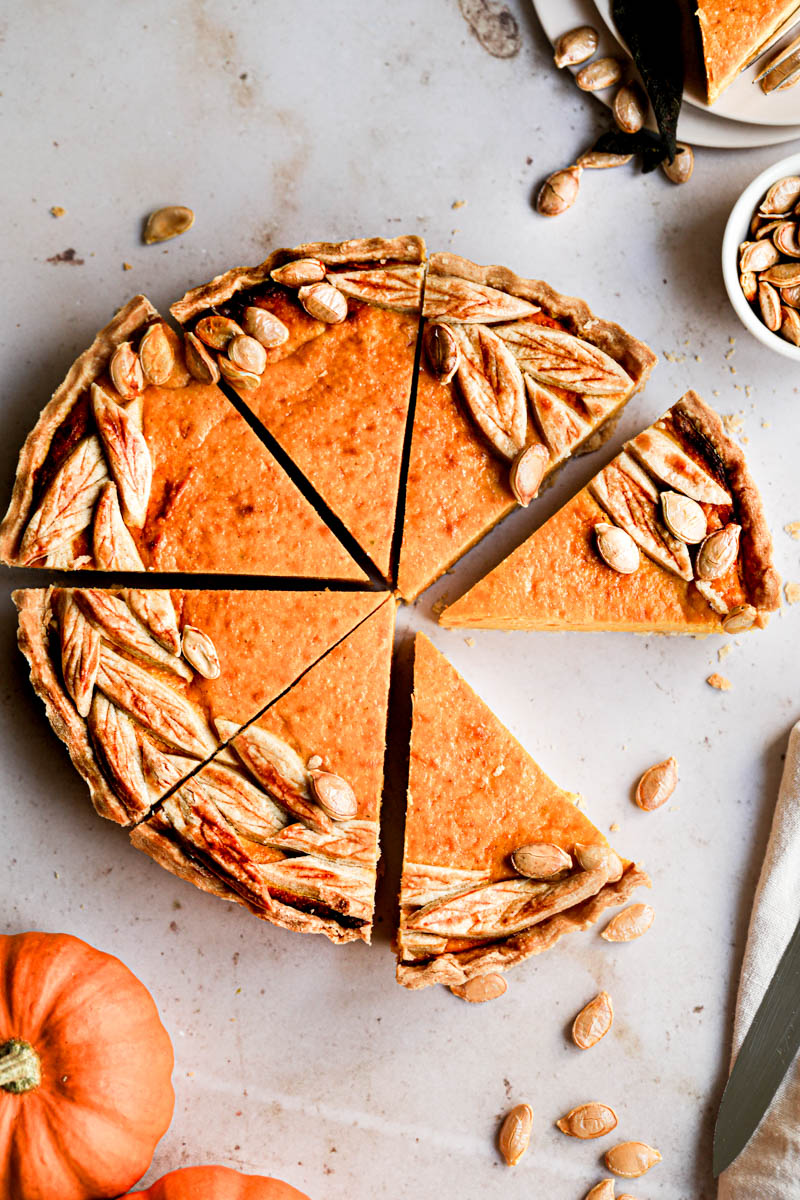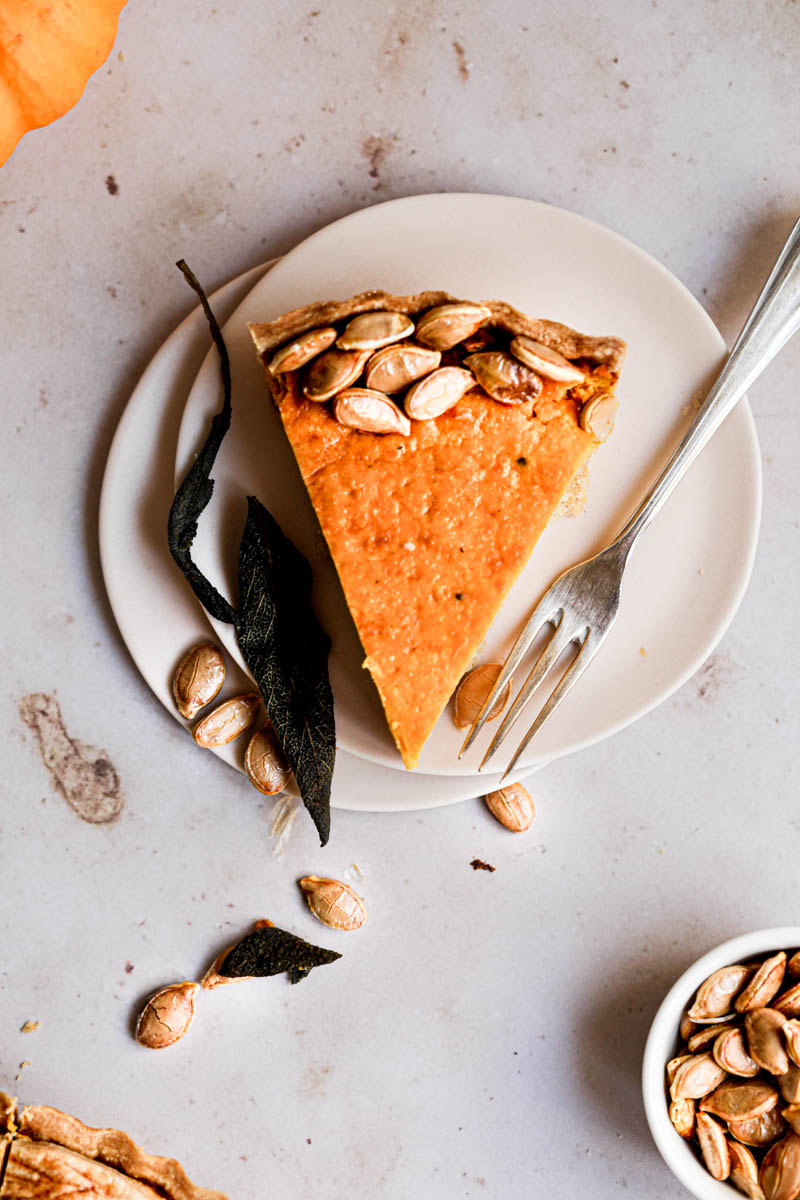 Variations to this recipe
You can replace ricotta cheese with cream cheese if ricotta is not your thing!
Pumpkin can be replaced with butternut squash.
You can replace half the parmesan with mozzarella cheese.
The ingredients used in all recipes on this site are measured using the metric system. I use a
scale
to be precise with my measurements and ensure good results. If you would also like to use a scale, here are some:
USA
,
Canada
,
UK
,
Australia
,
France
.
Subscribe to the newsletter
Cook Time:
1 hour 10 minutes
Total Time:
3 hours 10 minutes
---
Quiche Crust

1

Small Pumpkin (300 g puree)

1 kg

Ricotta

120 g

Parmesan

80 g

Eggs

3

Heavy Whipping Cream

100 g

Nutmeg

Butter

40 g

Sage (bunch)

1

Salt
If you made this recipe I would really appreciate it if you leave a rating or comment below! Also, if you share on social media please use #cookwithbelula, I would love to see what you create!