Cherry Tomato Pasta
A pasta dish, served with cherry tomato sauce, basil, and Parmesan. This weeknight dinner recipe can be prepared in 20 minutes.
After a long day no one wants to spend three hours cooking dinner. This cherry tomato pasta dish is so easy to make, so tasty, and delicious! You only need a handful of ingredients. And you can make it in under 20 minutes. One the greatest weeknight dinner ideas!
Ingredients you will need to make cherry tomato basil pasta
To make this perfect and easy weeknight dinner you need a handful of:
Olive oil: a good quality one that you love.
Cherry tomatoes: must be fresh.
Parmesan: freshly grated, preferably.
Basil leaves: pick some that are beautiful and smell amazing 😊.
Garlic
Pasta: the kind you have at home will do.
What kind of pasta to use for this cherry tomato pasta recipe?
You can use any store-bought pasta you like. If Italian brand better. De Cecco or Delverde are my favorite.
I enjoy this cherry tomato sauce with either linguini or spaghetti. Completely up to you!
And you can also use homemade pasta if you like to make it! You can find a recipe here Mint, Peas & Ricotta Tortellini.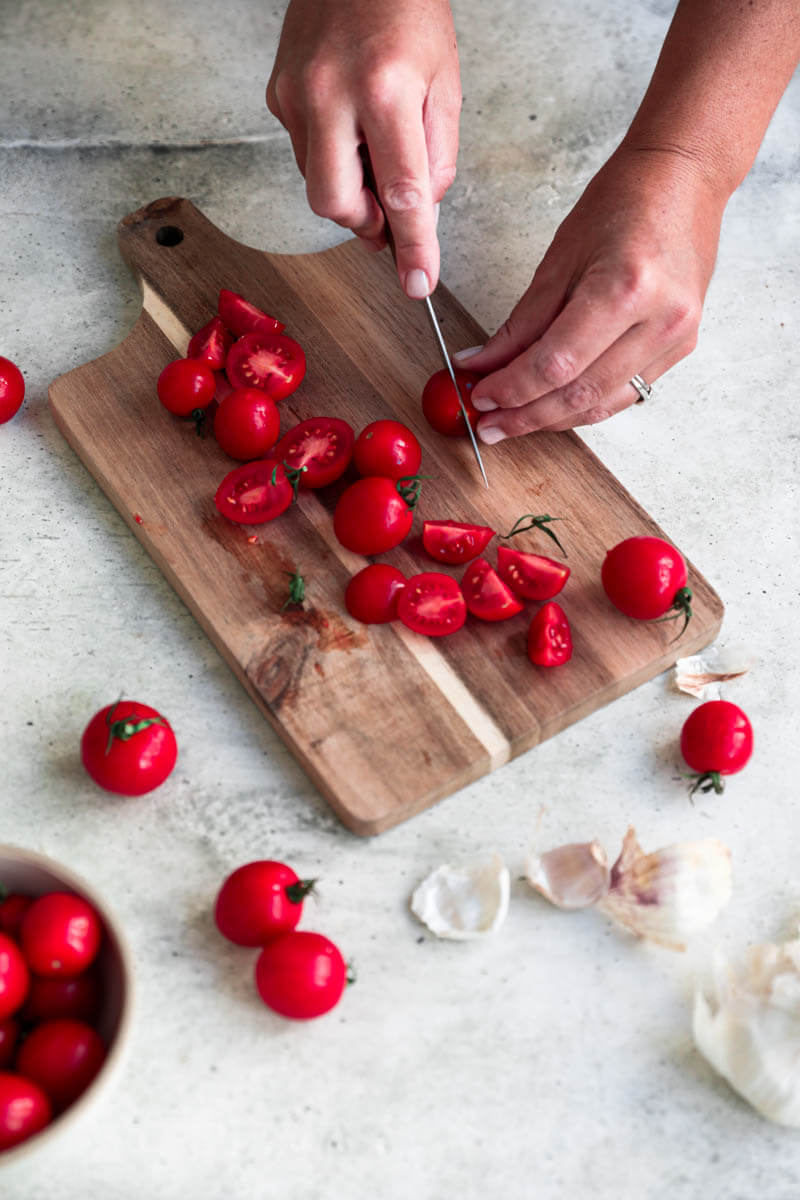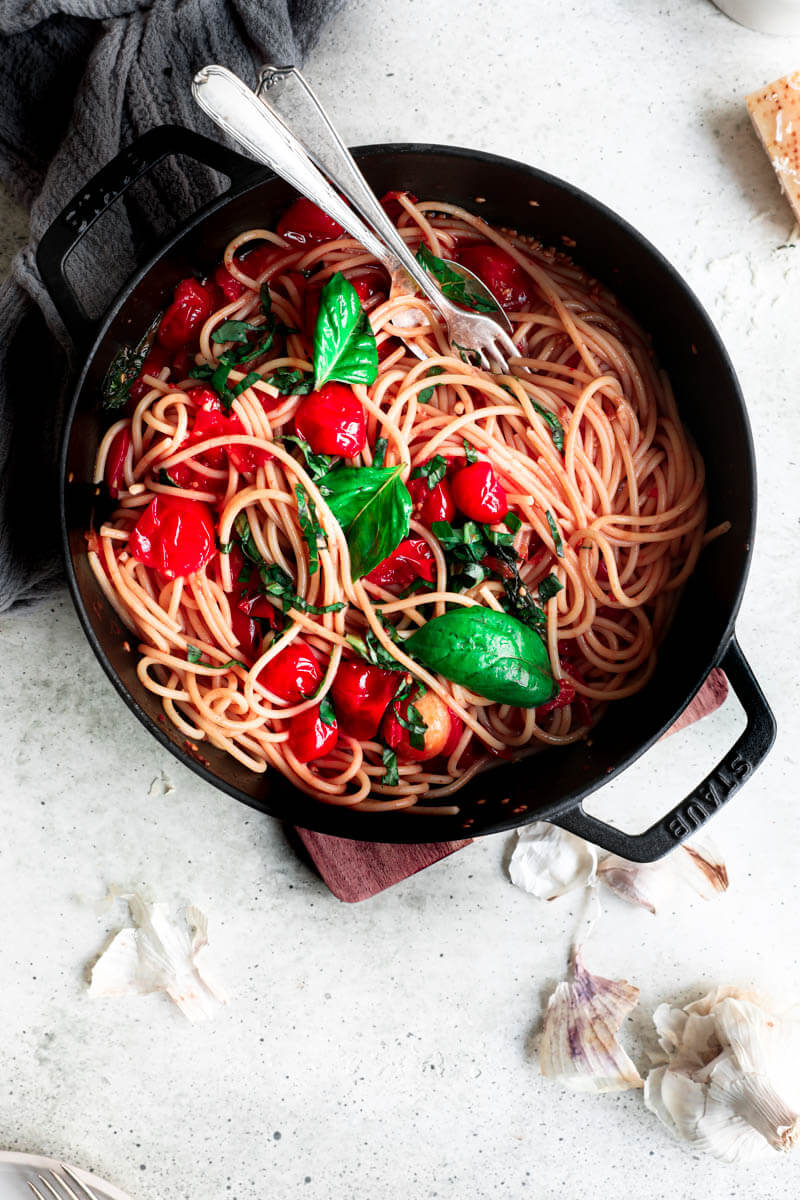 What kind of cherry tomatoes to use to make this fresh cherry tomato sauce?
I normally use grape cherry tomato or bloody butcher (what I can most commonly find here in Paris). If you want to learn a little more about the best cherry tomatoes, click here The 10 Best Cherry Tomatoes.
How to make fresh cherry tomato sauce
Making this cherry tomato pasta sauce is rather easy and super-fast. Almost no prep involved! All you need to do is:
Half and seed the cherry tomatoes. Keep the liquid.
Pour the olive oil onto a pan and add the crushed garlic cloves. Once the olive oil is hot, add the cherry tomatoes and the cherry tomato liquid. Season with salt and let cook over medium-high heat, stirring from time to time for about 10 minutes.
Adjust seasoning to taste with salt and pepper.
Done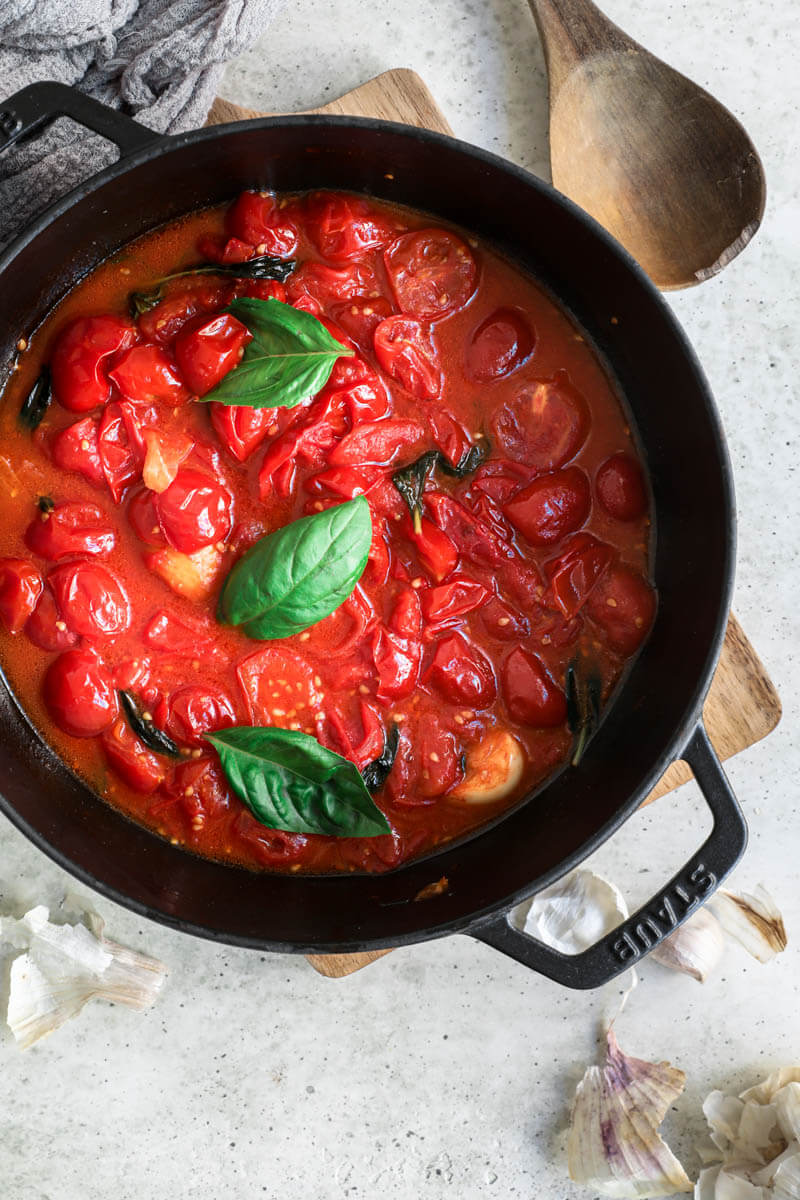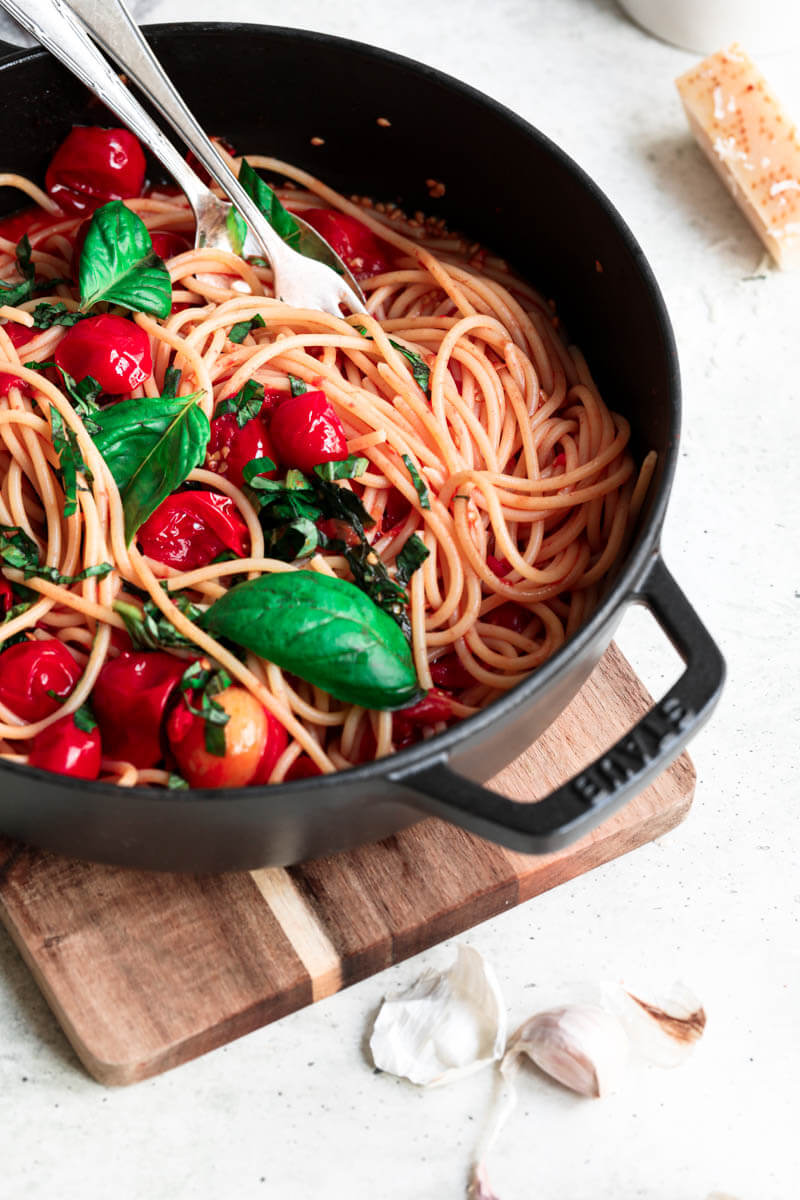 How to serve this cherry tomato pasta recipe
Once the cherry tomato sauce is ready, mix in the cooked pasta, a little of the water pasta was cooked in and toss.
Sprinkle with freshly grated parmesan and sliced fresh basil. Serve.
Enjoy this delicious recipe that makes for a healthy weeknight dinner!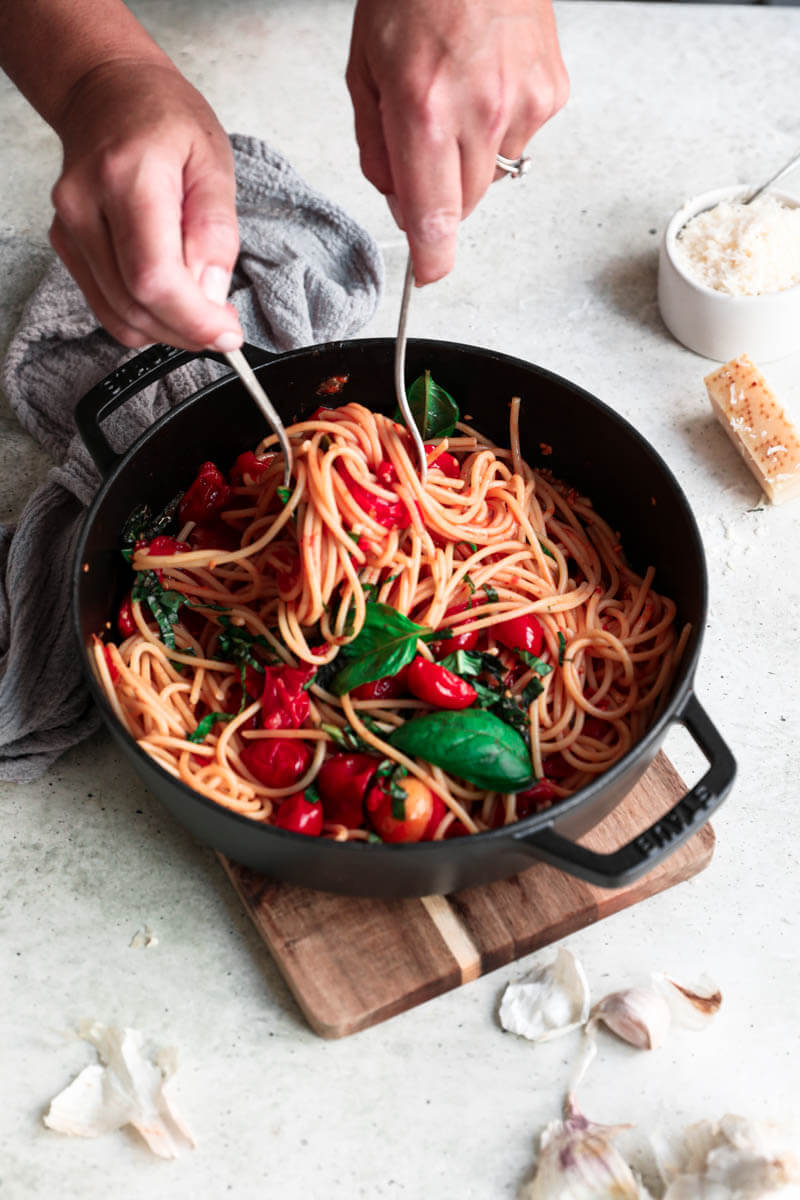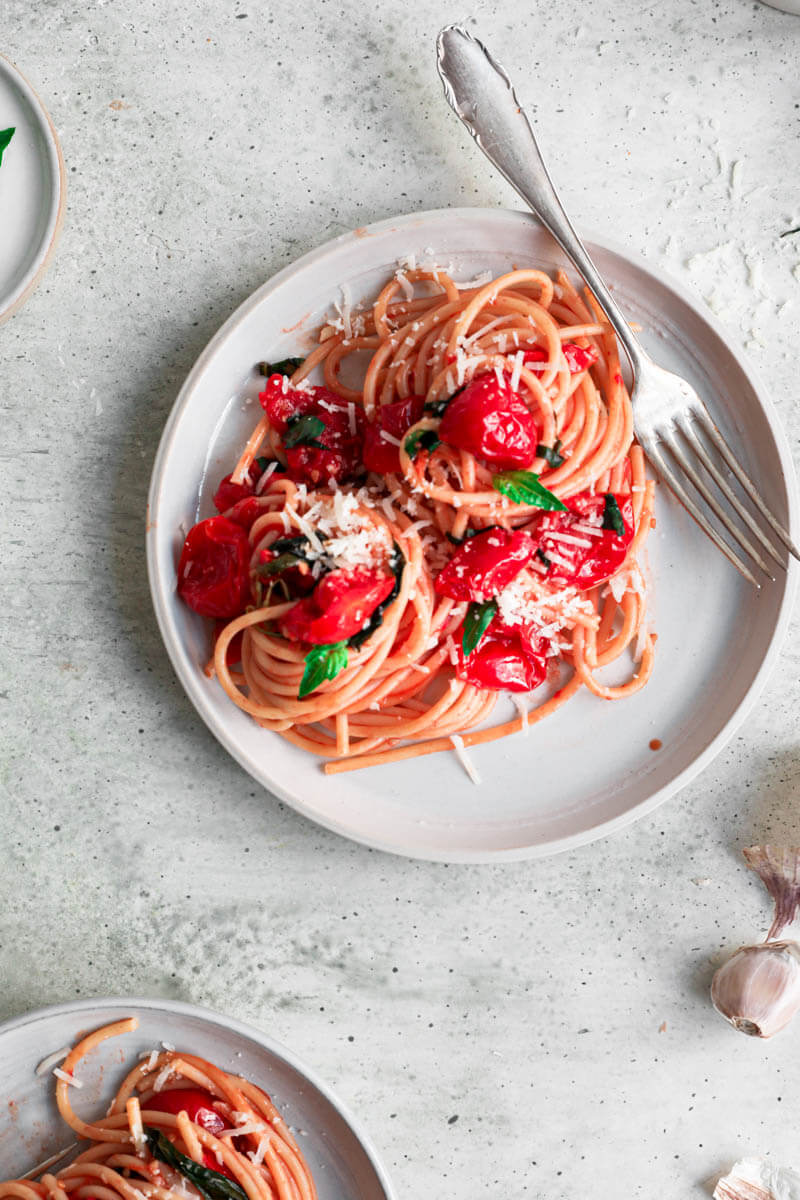 The ingredients used in all recipes on this site are measured using the metric system. I use a
scale
to be precise with my measurements and ensure good results. If you would also like to use a scale, here are some:
USA
,
Canada
,
UK
,
Australia
,
France
.
Subscribe to the newsletter
Pasta

500 g

Coarse Salt

Garlic Cloves

5

Cherry Tomatoes

700 g

Basil Leaves

Olive Oil

4 tbsp

Parmesan Cheese

Salt

Pepper
If you made this recipe I would really appreciate it if you leave a rating or comment below! Also, if you share on social media please use #cookwithbelula, I would love to see what you create!