Classic Linzer cookies are one of my favorite cookies ever. It is a cookie version of the Linzertorte and Austrian tart from the city of Linz that dates back to the 17th century. The Linzer cookie is a smaller, cuter version of this traditional tart. It has an almond flour dough, and it is filled with jam.
The cookie dough just melts in your mouth and is the perfect balance between flaky and airy! This Linzer torte cookie version is delicious and straightforward. It's two buttery lemon-scented almond cookies filled with homemade raspberry jam. These almond raspberry Linzer cookies are perfect for enjoying all year round and are an excellent idea to gift over the holiday season. I hope you enjoy them as much as I do!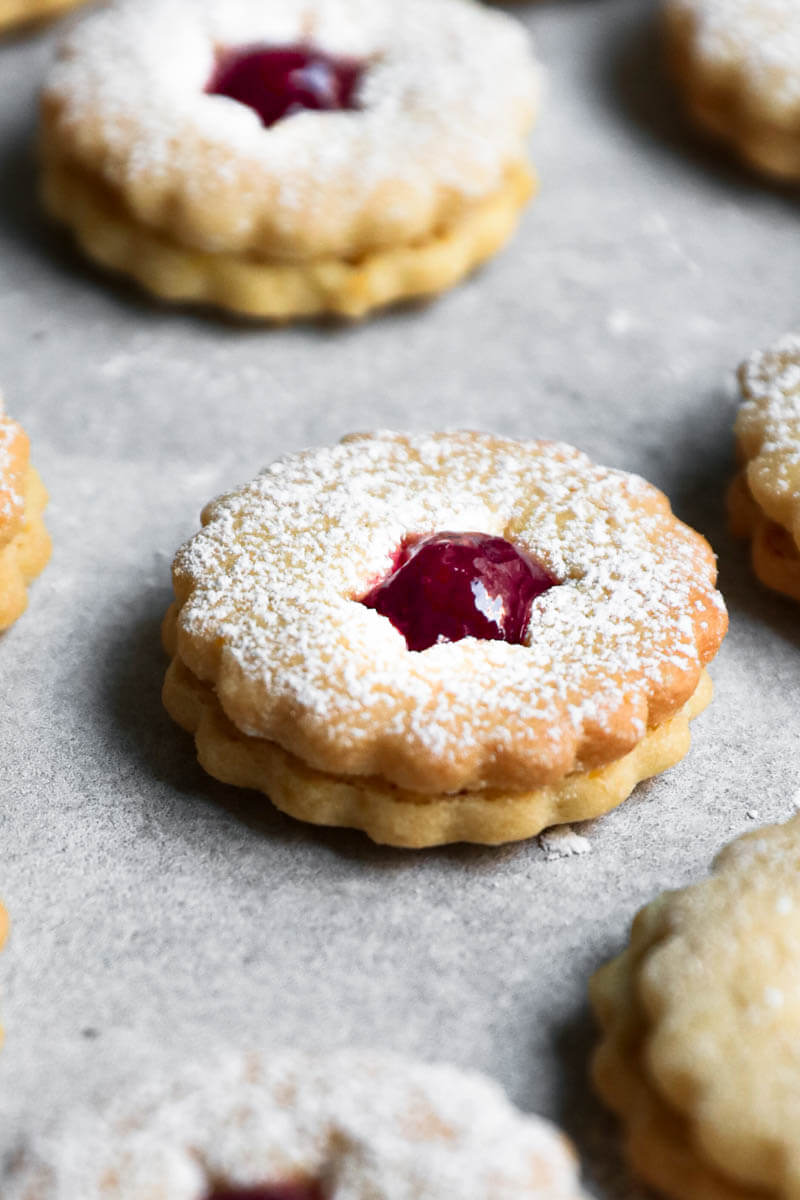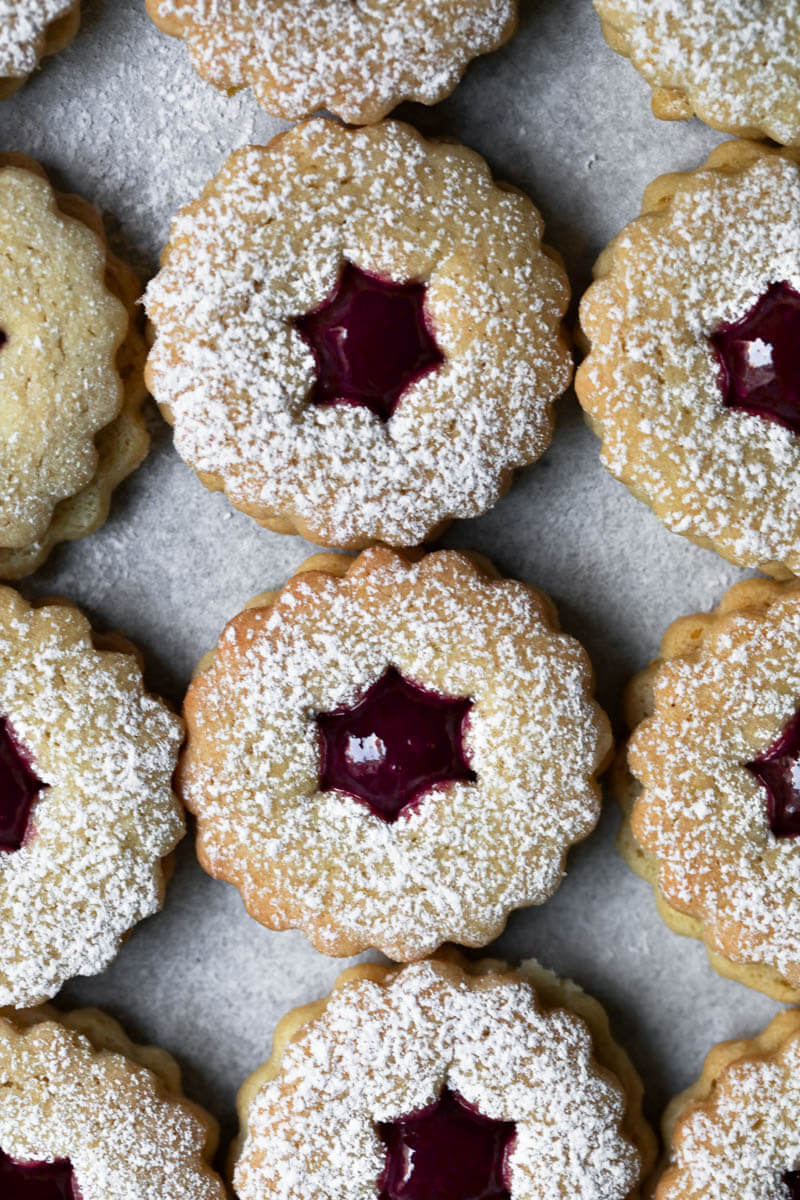 Ingredient Notes
Raspberry jam: You can either use a store-bought kind or make your own, which is relatively easy and delicious. You can find a simple recipe here Raspberry Jam-Filled Brioche Donuts
Spices: This recipe calls for ground cinnamon and ground cloves. They are optional, but I think they are worth adding!
A word on cookie cutters
I have done this recipe many times, and this is the first time I have used a proper linzer cookie cutter Christmas Linzer Cookie Cutters. This one has 2 cookie cutters, one for the bottom cookie, one for the top cookie with the hole incorporated in the cutter.
However, they can be made with any cookie cutter shape you like and have at home. The only requirement is to have 2 cutters: one for the bottom round and a smaller one to make the hole on the top cookie round.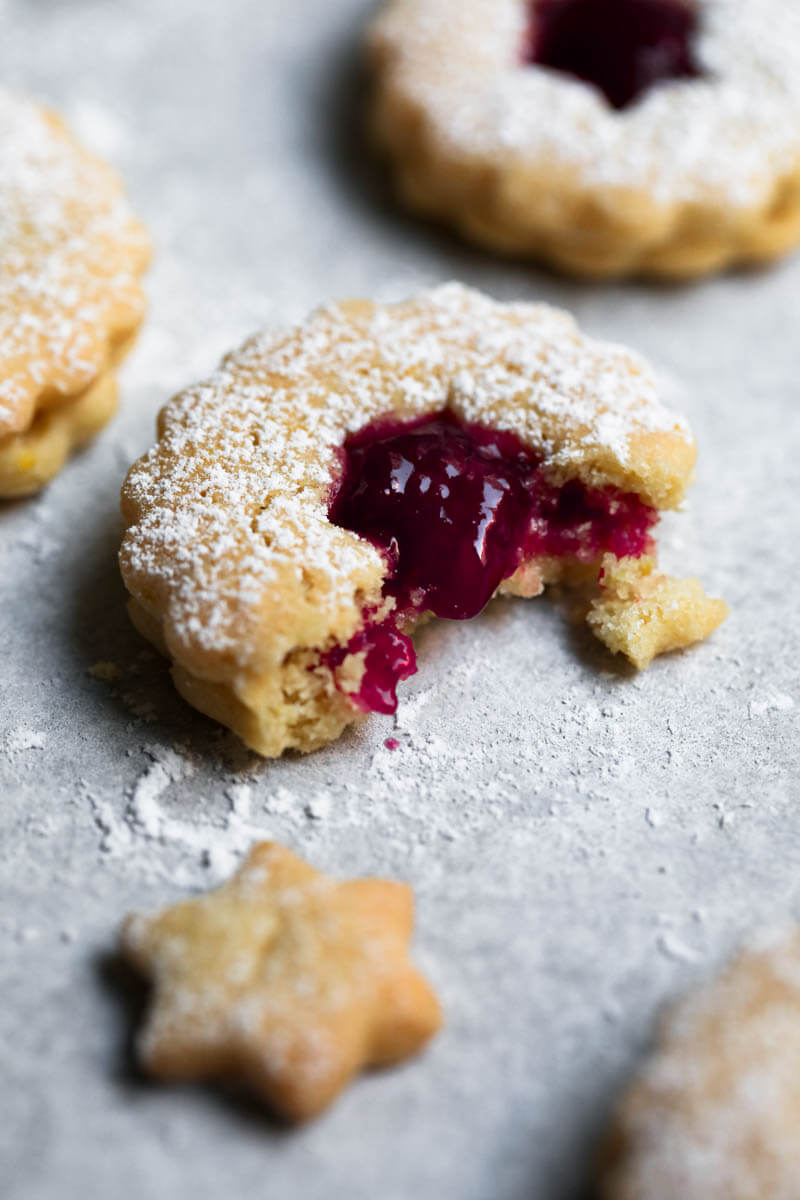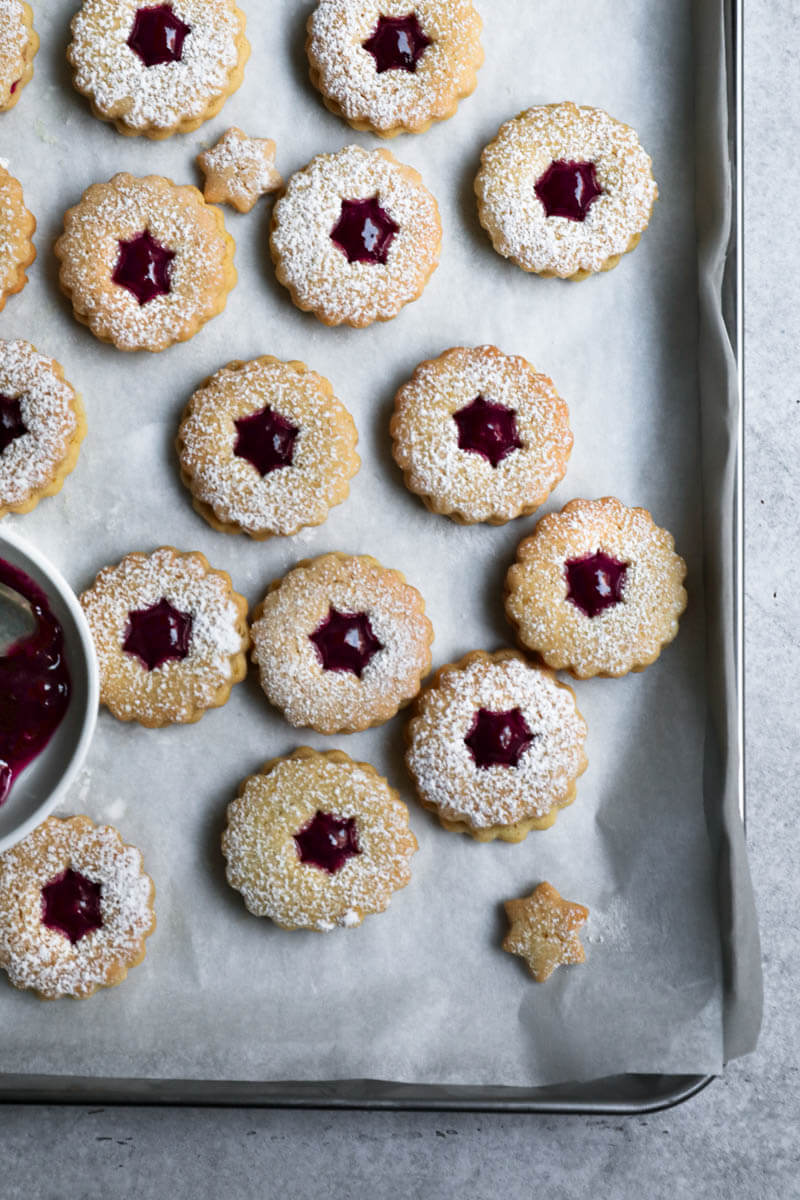 How to make this recipe
Make the cookie dough
Roll out, cut, and bake the cookies
Once the cookie rounds are baked and cooled off, and you are ready to eat them, dust the top cookies with powdered sugar (the ones with a hole in them 😊)
Add ½ a teaspoon of raspberry jam onto the bottom cookies.
Press down with a cookie top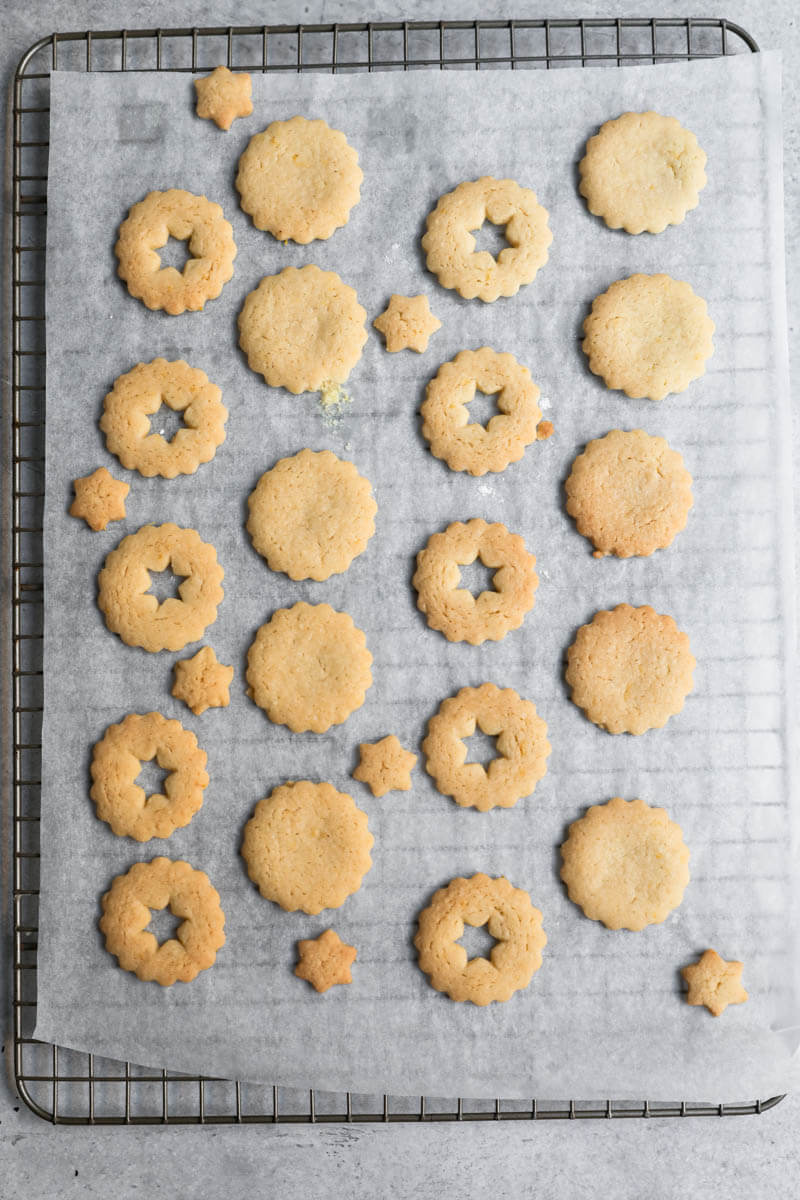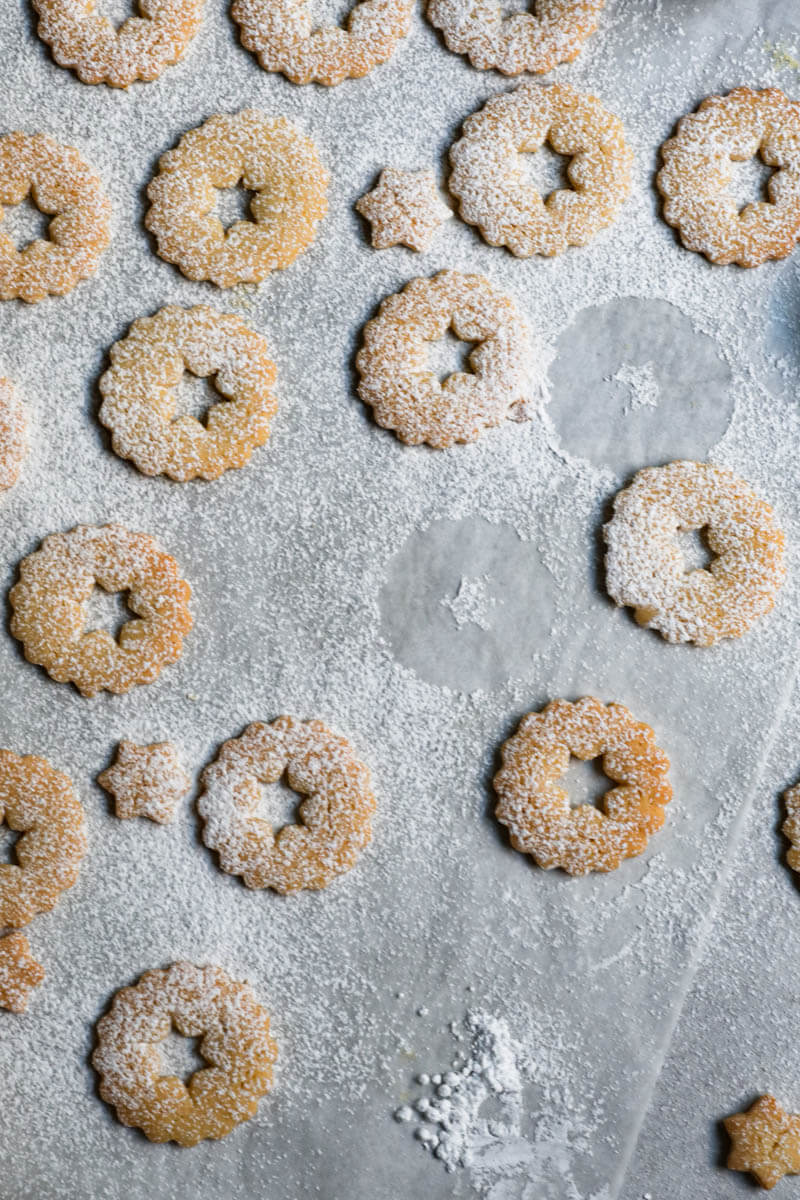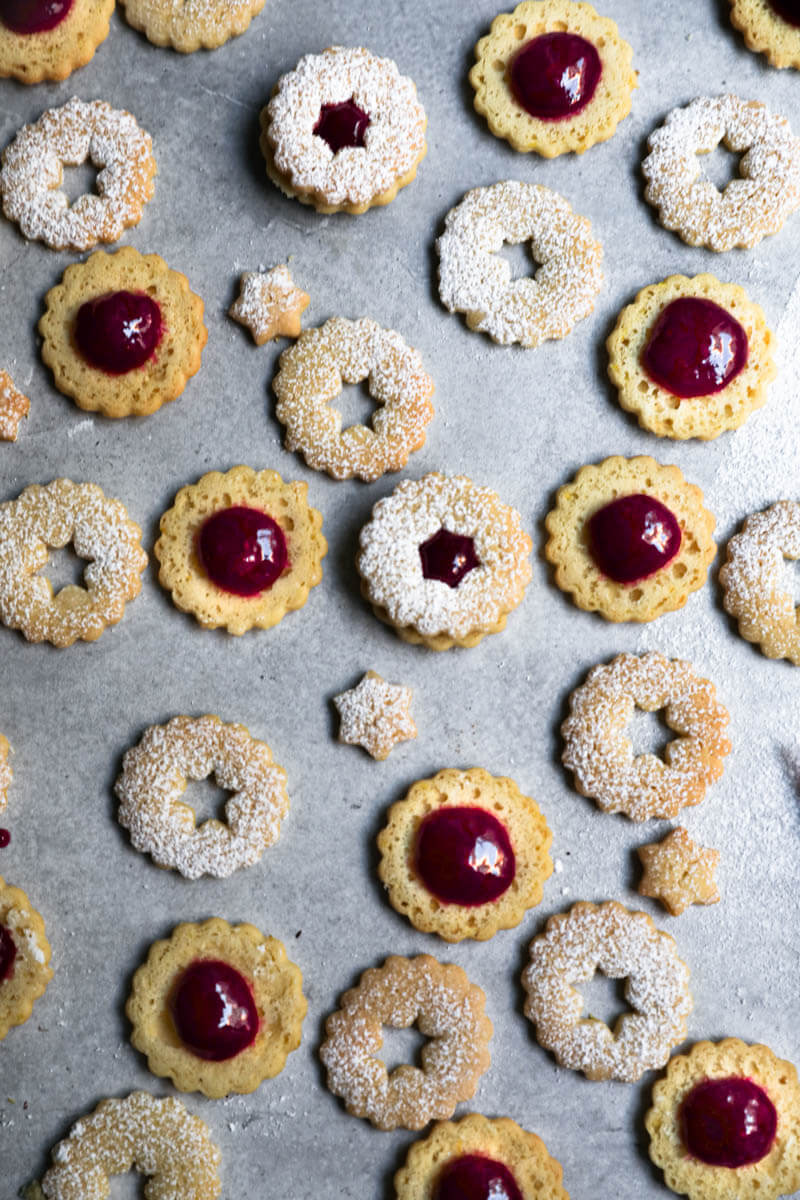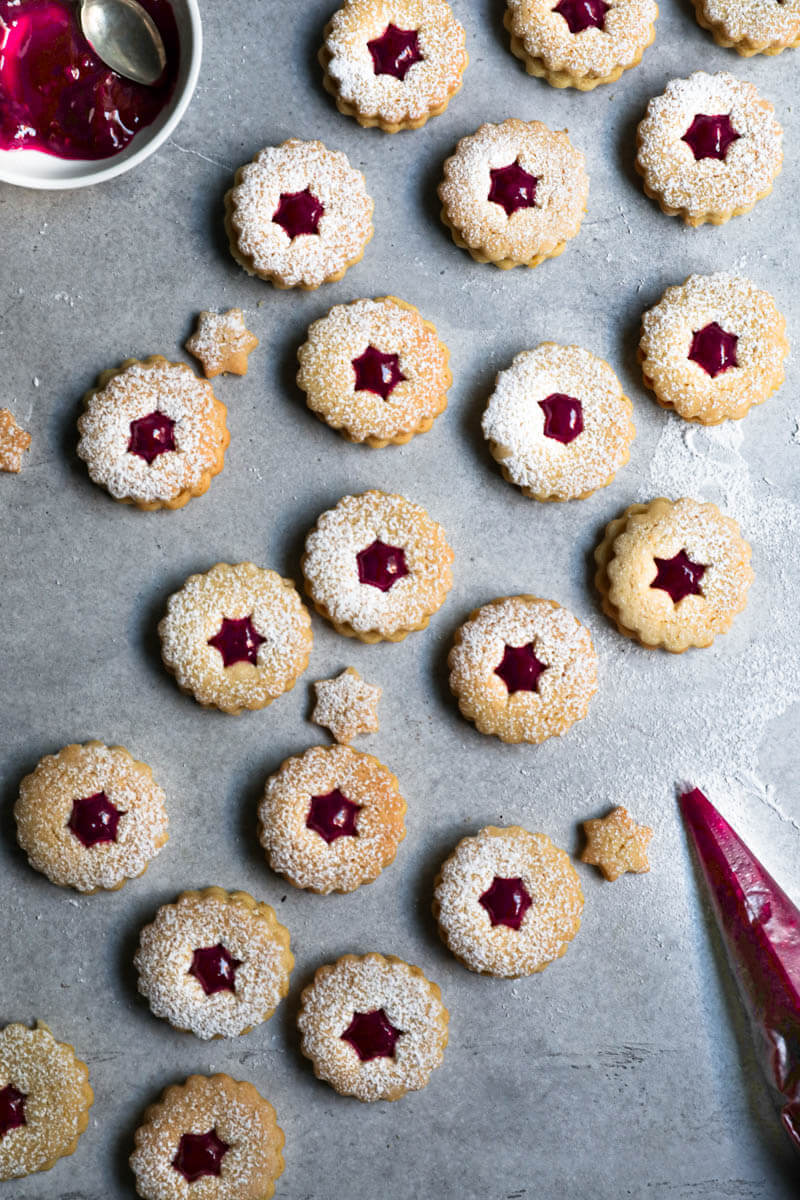 Recipe notes on the almond Linzer cookie dough
Making the dough is easy. You can follow the step by steps below. Make sure not to overwork the dough, but it's essential to be aware because of its high butter content and the use of almond flour in the dough, it's more challenging to roll out than other cookie dough. Here are some pro tips that will help:
After making the dough make sure to chill it for at least 2 hours.
Divide the dough into two parts to make it easier to roll it out. If it is smaller, you can work faster, and it's also easier to move around. Place the half you are not working with back in the refrigerator.
Always keep your work surface lightly floured. Then, pick up the dough by rolling it around the rolling pin to add some flour if necessary.
Work as fast as possible.
If at any moment you feel the dough has become too soft to work with, pop back in the refrigerator.
Place the rolled-out dough in the refrigerator for another 30 minutes before cutting out the cookie rounds.
You can also roll out your dough sandwiched between 2 pieces of parchment paper, lightly floured.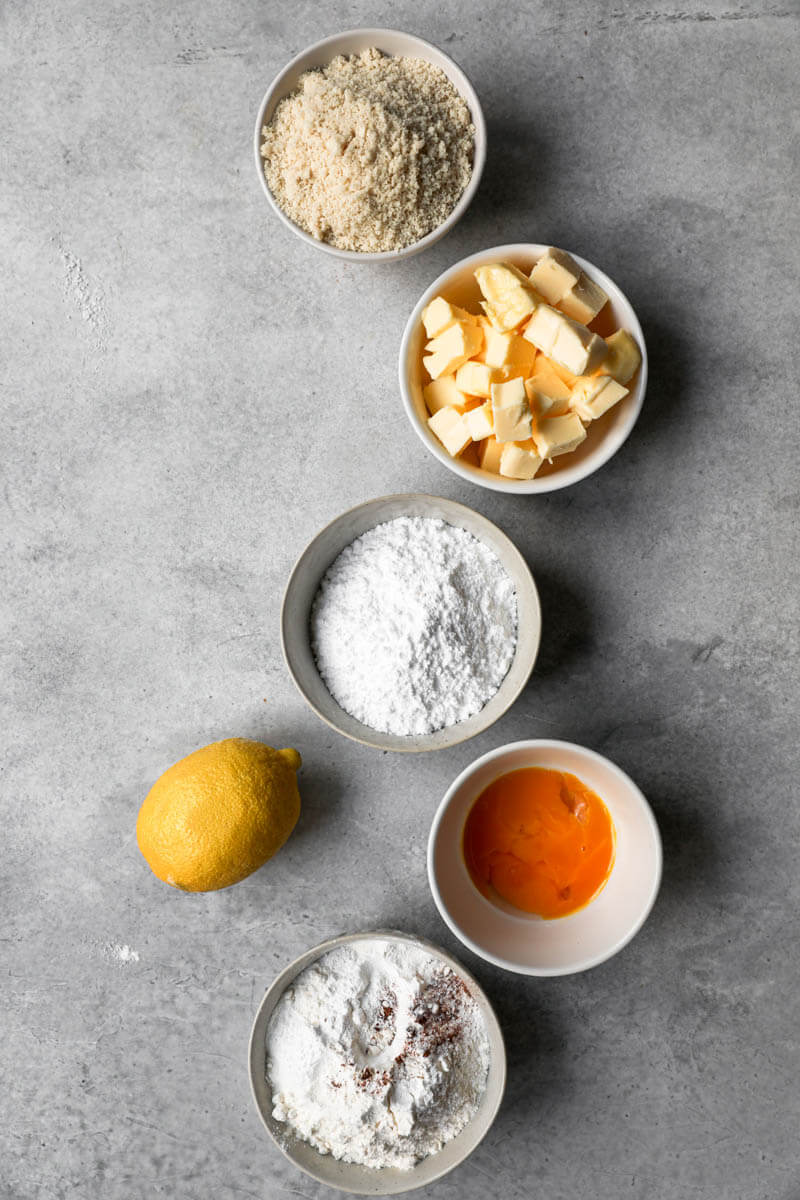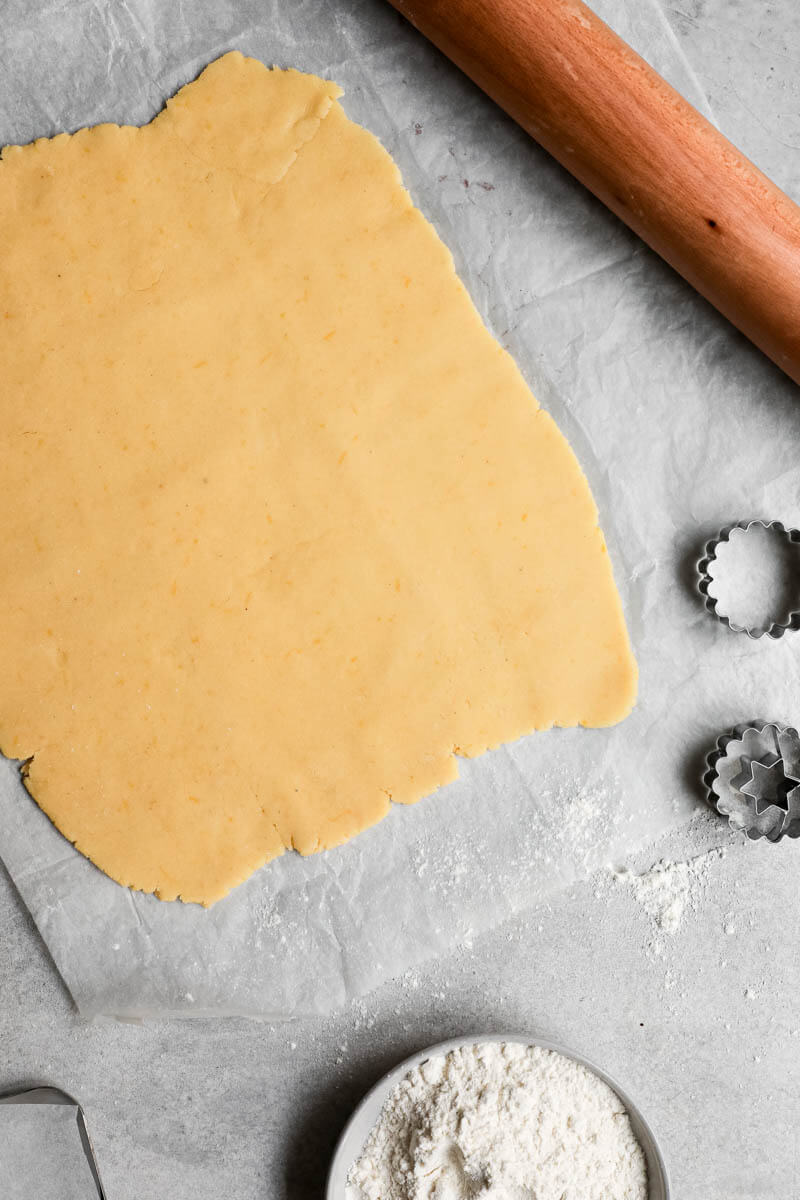 Notes on shaping the Linzer cookies
Since the dough is very pliable, it must be kept cold to get clean cuts with the Linzer cookie cutter or any cookie cutter you use. To make the Linzer cookies, you need to:
Work in batches.
Use the first half of the rolled-out dough to cut the bottom rounds. Use a 4.5 cm (1.8 inches) cookie cutter to cut the rounds and immediately place them on a baking tray lined with parchment paper. Space out the cookies. If using a 30x40 cm baking tray, 20 cookies are the ideal number.
If you notice that it is hard to obtain a clean-cut cookie, refrigerate the dough until it is cold enough to work with.
Bake for about 10 minutes or until they are lightly colored.
While baking, work with the second batch of rolled-out dough and cut out the bottom cookies.
If you have the special Linzer cookie cutter: just place the rounds on the lined baking tray and make sure to remove the center.
If you use a regular cookie-cutter, place the whole cookie round on the lined baking tray. Refrigerate for 15 minutes. Cut out the hole in the middle using a smaller cookie cutter.
Bake for about 9 minutes until they are lightly colored.
Let the cookies sit on the baking tray for 5 minutes before placing them on a rack to cool off. They are fragile, so be careful.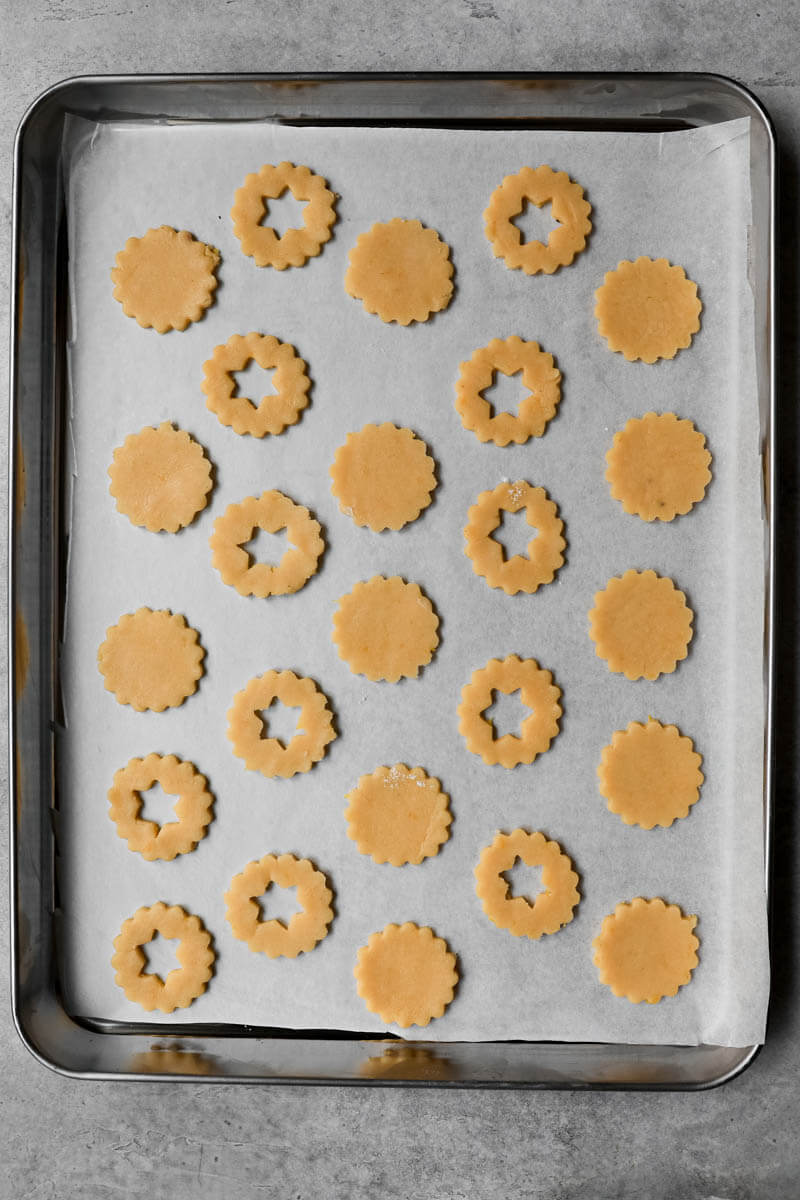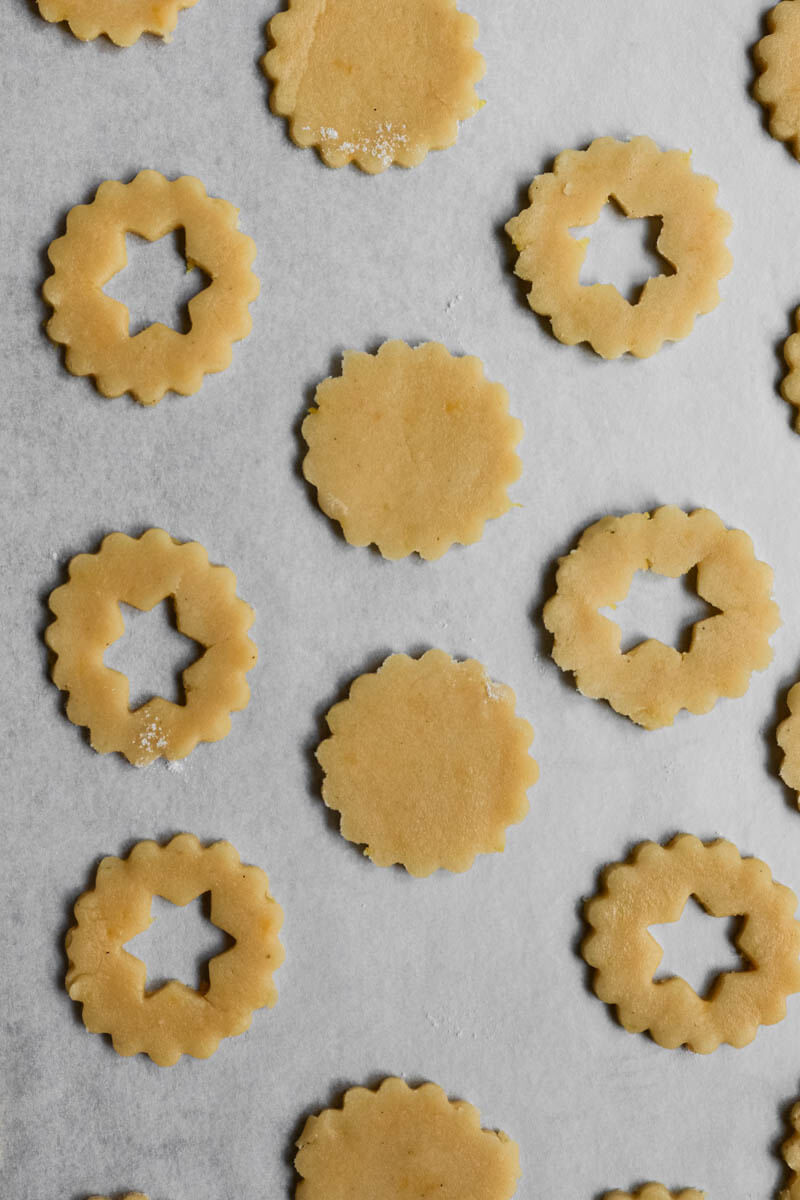 Storage tips
Once baked, the cookie rounds can be kept for up to 5 days in an airtight container.
Once filled with the raspberry jam, they are best if you have them on the same day. They will become soggy afterward.
Pro tip: keep the baked cookie rounds safely stored and assemble only when you are ready to have them! Must be eaten fresh 😊.
Freezer instructions
You can freeze the Linzer cookie rounds by following the simple tips listed below.
Before baking:
Once you cut the rounds, place them on a baking tray lined with parchment paper close together. They shouldn't be touching one another, so leave space. Cover with plastic wrap or parchment, and freeze. Once they have frozen, transfer to a freezer bag or airtight container. They keep for up to 3 months.
To defrost: Place on a lined baking tray and sit at room temperature for 20 minutes before baking. Cool off and fill with raspberry jam.
After baking:
Let them cool off, then store in a freezer bag or airtight container. They will keep for up to 1 month.
To defrost: Place on a wire rack for about 1 hour. Then proceed to fill with raspberry jam.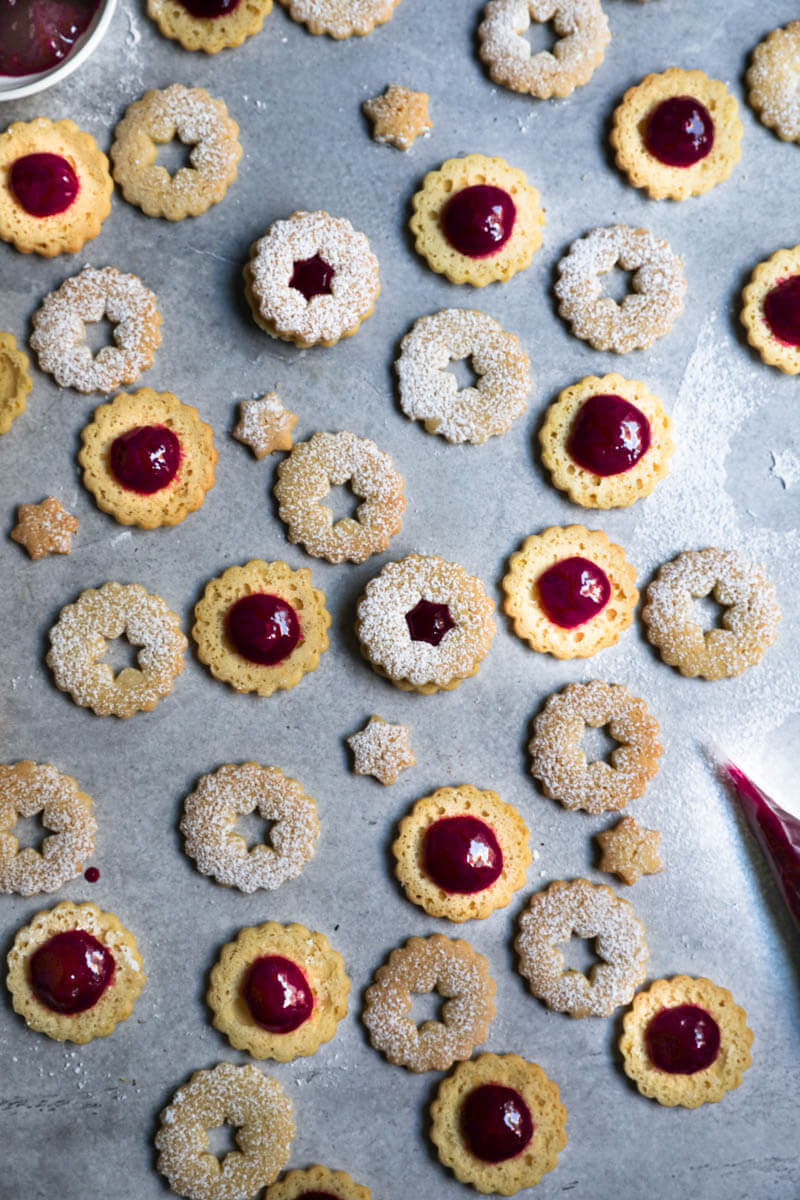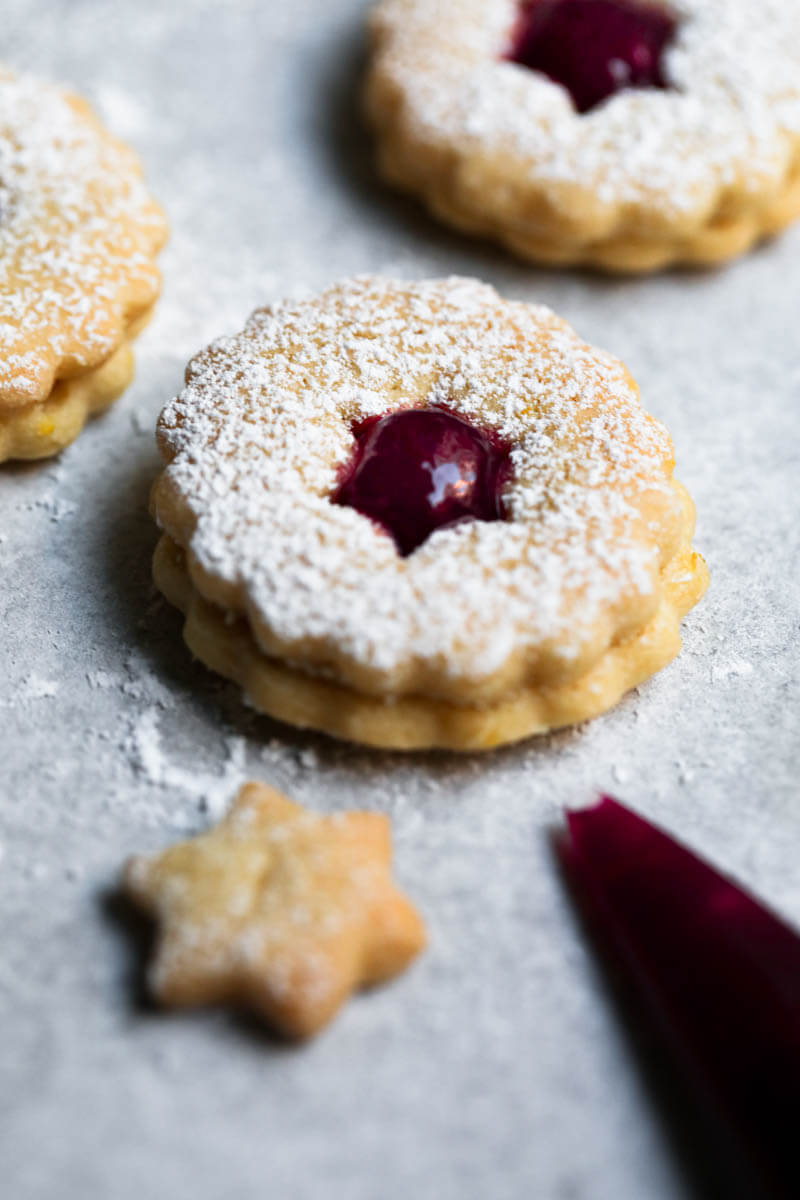 Variations for this recipe
You can use any jam you like and have at home.
If you feel like making a homemade raspberry jam, you can find a delicious recipe here Raspberry Doughnuts.
You can also fill them with dulce de leche, Nutella and even lemon curd 😊.
If you made this recipe I would really appreciate it if you leave a rating or comment below! Also, if you share on social media please use #cookwithbelula, I would love to see what you create!