Raspberry Doughnuts
A brioche dough, deep fried, rolled in sugar and filled with raspberry jam.
I am delighted to say the recipe I shared last week was a huge success! It makes me so happy when people write to me telling me that they made one of my recipes and that they loved it... and apparently, the chocolate fudge cake was a big hit! So, if you ever make any of my recipes, don't be shy, leave a comment and share with me. It makes my day!
In the spirit of making things I like, I thought I would make doughnuts. Because I've always loved doughnuts, even if in Argentina they are not a big thing. Every time I had the chance to travel I would indulge in one or two of these. My all-time favourite doughnut was one filled with raspberry I had at a small bakery a million years ago when I visited London with my parents. I have no idea what the bakery's name is tough so I could never eat one again!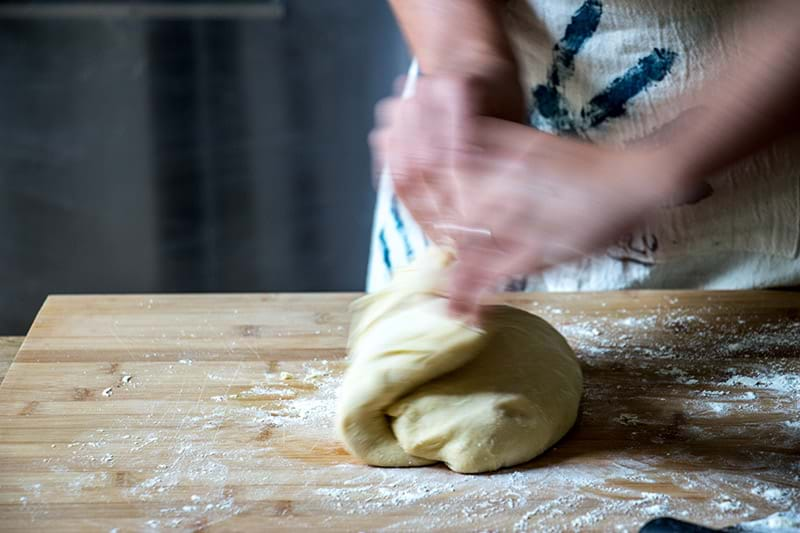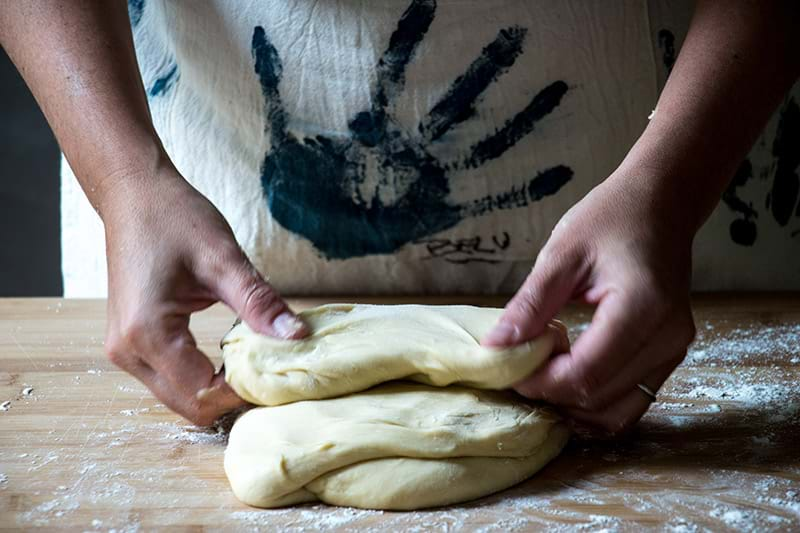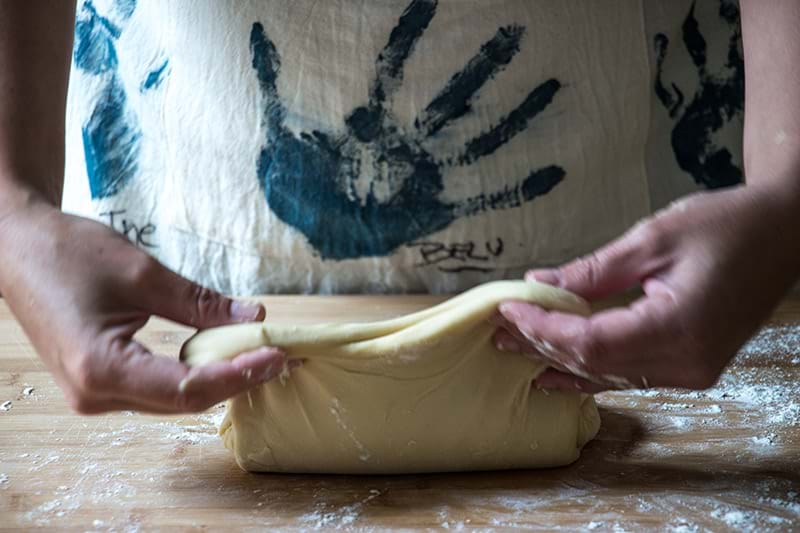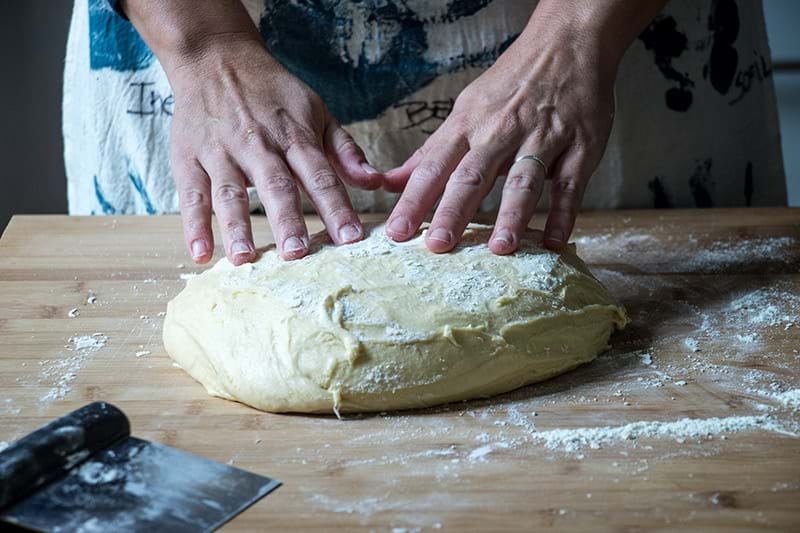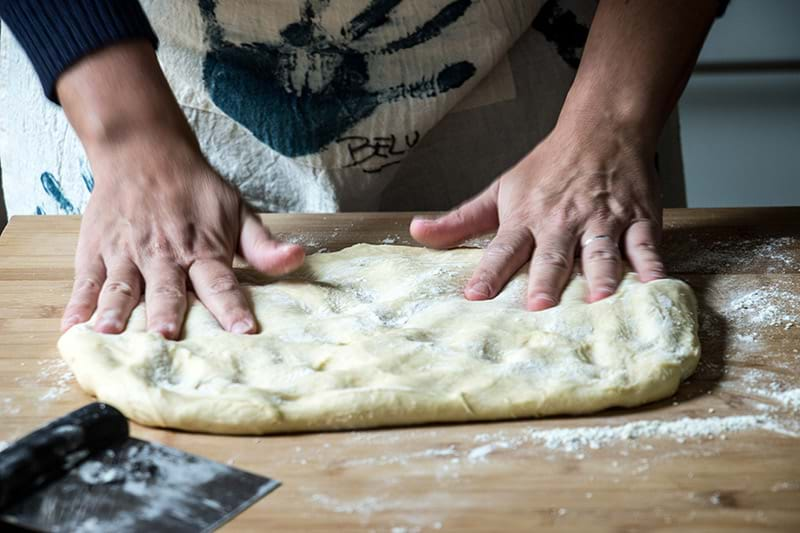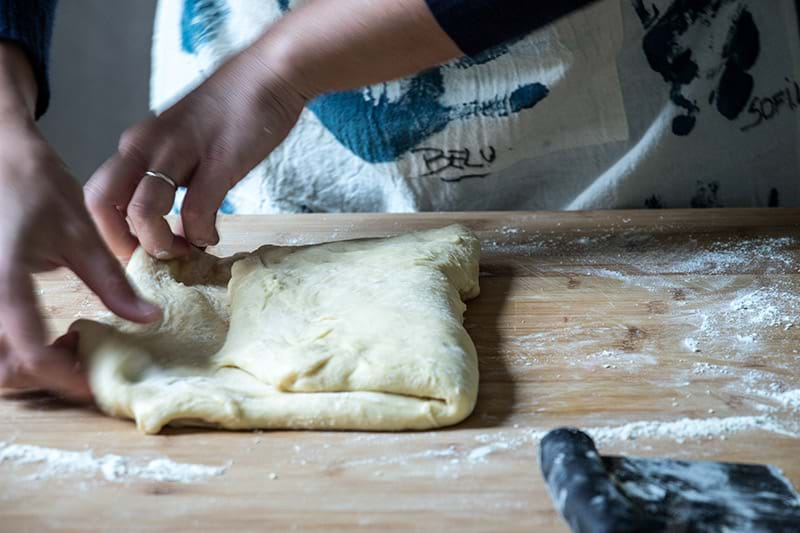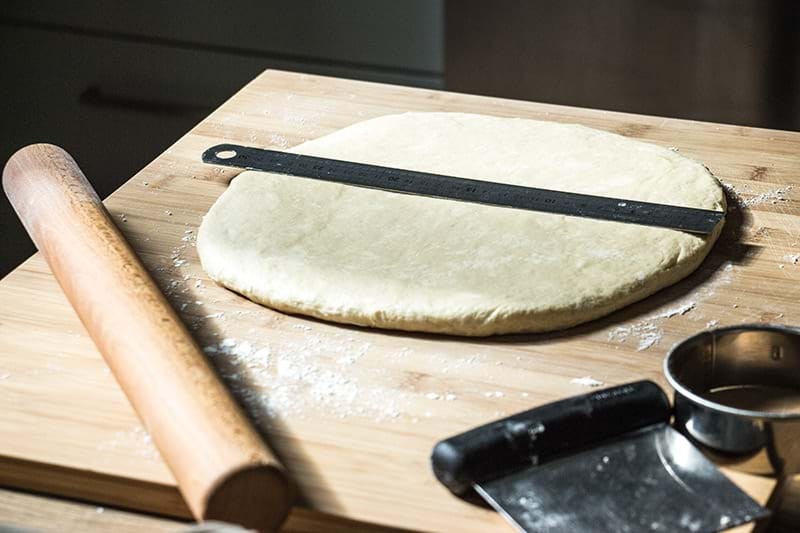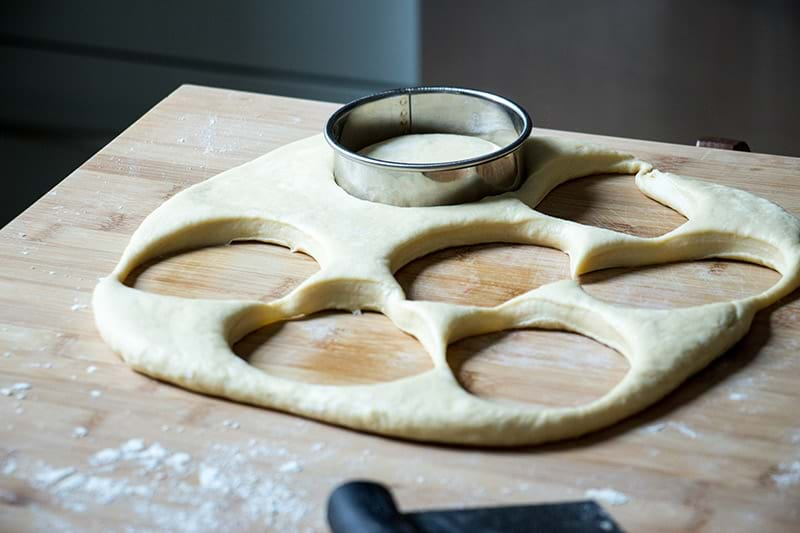 After the croissant class I taught last week I realized I still had some fresh baker's yeast in the fridge; the debate about what to do with it lasted about 5 seconds! I knew the answer even before I asked myself the question :) It was going to be doughnuts 100%.
However, I didn't want to eat all of them because I am trying to pay attention a little to what I eat... So I chose a recipe that only makes 8 doughnuts (plus all the little ones you can make out the scrapes of dough), decided I was only going to taste the little version and finally my husband would take the rest to work and share with his colleagues. So, that was it.
About the recipe, I used the doughnut recipe from Bouchon Bakery. It's a brioche recipe but with a lot less butter than a regular brioche would have. We are going to fry it and fill it with jam, so no need to make it that rich in butter as per Thomas Keller :) I agree.
Last thing, the actual making part of the recipe doesn't take long. Resting times on the other have do. So be patient! Doughs don't like to be in a hurry.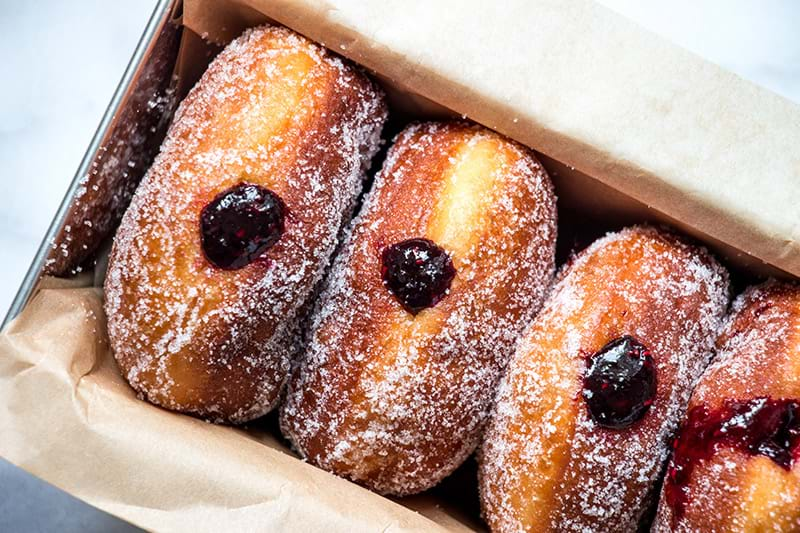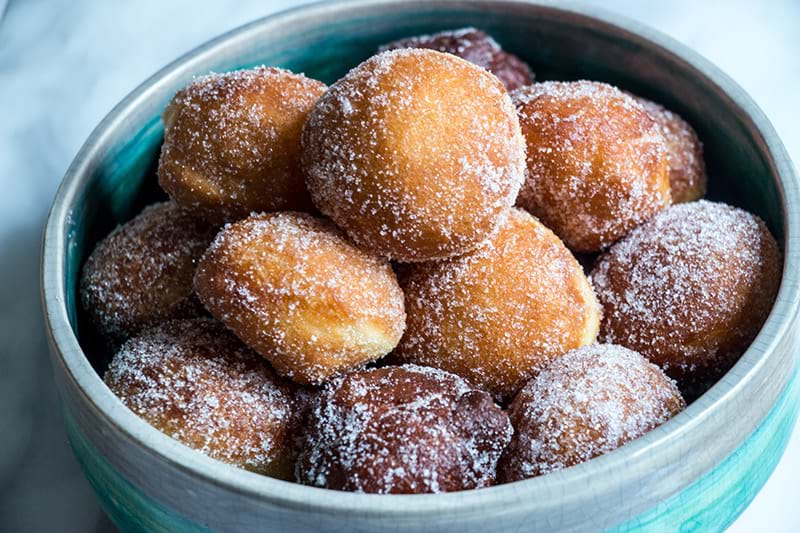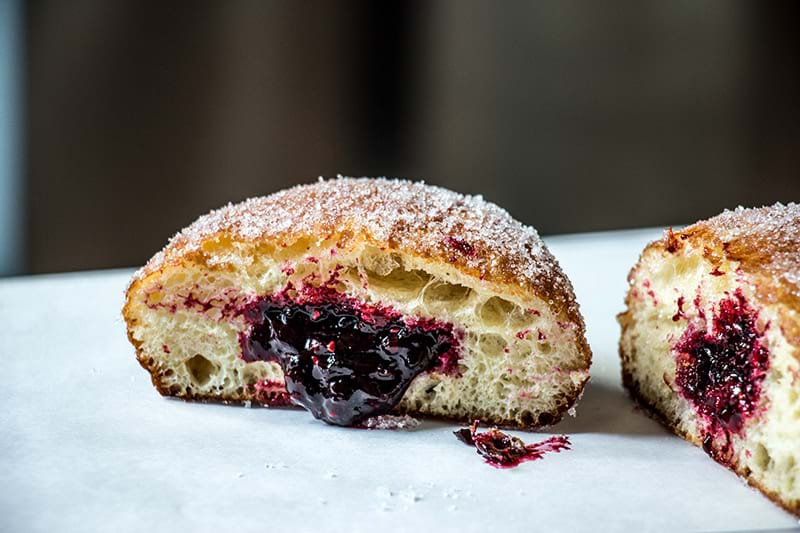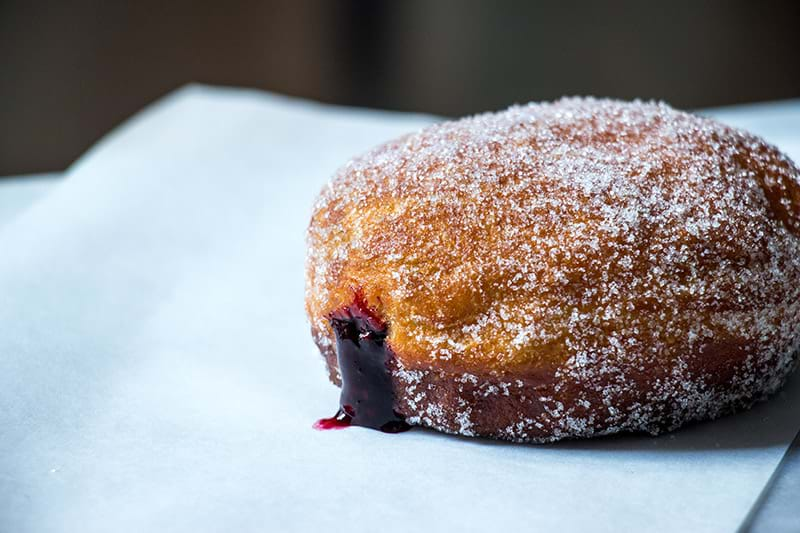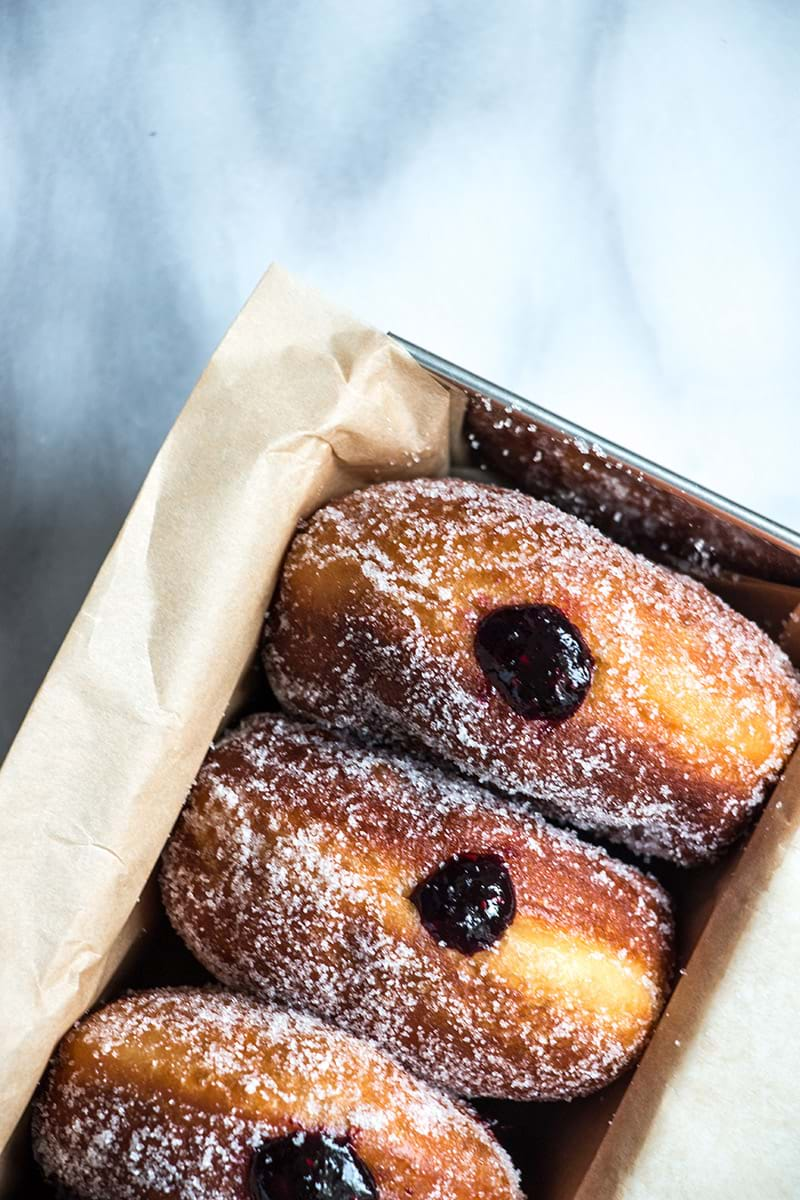 The ingredients used in all recipes on this site are measured using the metric system. I use a
scale
to be precise with my measurements and ensure good results. If you would also like to use a scale, here are some:
USA
,
Canada
,
UK
,
Australia
,
France
.
Subscribe to the newsletter
Total Time:
6 hours 25 minutes
---
Dough
Flour

510 g

Baker's Yeast (fresh)

27 g

Whole Milk

212 g

Sugar

74 g

Eggs

111 g

Salt

9 g

Butter (unslated)

55 g
Raspberry Filling
Pectin (if you have any)

10 g

Lemon Juice

Sugar

210 g

Raspberry Pulp

50 g

Raspberries

500 g
Finishing Touches
Dough

1. Dissolve the yeast in the milk.
2. Using the hook attachment of your stand mixer mix all the ingredients (except for the butter) at low speed during 4 minutes.
3. Add the butter (it should be at room temperature) in 3 additions to the dough. Wait until it has been properly incorporated to the dough before adding more butter. Mix for 30 minutes also at low speed.
4. At this point transfer the dough onto a lightly floured surface and shape it into a rectangle. Be gentle! Going from left to right fold 2/3 of the dough on itself and then fold over the remaining third.
5. Repeat the operation from bottom to top. Transfer the dough onto a lightly flowered bowl. Make sure the seams of the dough are facing down. Cover with a plastic wrap and let it raise for 1 hour at room temperature.
6. Transfer the dough once again onto a lightly floured surface and gently press it down using the palms of your hands to get rid of all the gaz. Shape it into a rectangle and repeat the operation of folding the dough as you would an envelope. Transfer to a bowl, cover with plastic wrap and refrigerate overnight.
7. Transfer onto a lightly floured surface and roll out a circle of 30 cm of diameter. Transfer to baking tray lined with a greased parchment paper. Chill the dough for 30 minutes in the refrigerator or 10 minutes in the freezer.
8. Using a 9-cm round cutter cut out 9 rounds. Pose on a baking tray lined with parchment paper, cover in film wrap (very loose... don't wrap very tightly because it will stick to the doughnut and then when removing it you will damage it!) and let raise for about 1.5 hours in a warm place.
9. 10 minutes before the 1.5 hours are up start heating the oil gently and bring the temperature up to 170/180 degrees Celsius. Prepare a cooling rack and a bowl with sugar.
10. Deep fry one doughnuts at a time for about 2/3 minutes on one side then turn and fry for one more minute or until golden. Place on the cooling rack and let it cool for 5 minutes. Then transfer to the sugar bowl and coat the doughnut. Place back on the cooling rack.
11. Note: While frying, the oil will go past the desired temperature, so make sure you remove from heat from time to time to regulate the temperature. (You can still fry out of the heat!)

Raspberry Jam

1. Mix the raspberries and the raspberry pulp in a pot and heat them up over medium heat. In the meantime, mix the pectin with 2 tablespoons of the sugar. If you are not using pectin avoid this step.
2. Add the sugar/pectin mixture to the fruit and whisk energetically. Then add the rest of the sugar and place the sugar thermometer inside the pot. Cook the jam to 102 degrees Celsius.
3. If you don't have a sugar thermometer, then bring the mixture to a boil and cook for 10 extra minutes approximately. You can tell the jam is cooked because the big bubbles it makes at the beginning have calmed down and now they are smaller in size and even amongst them.
4. Tip: Use a big pot because otherwise you risk it to overflow and spill all over. Cleaning jam is messy! Avoid this at all cost. I know I do.
5. Transfer the jam to a container and let it cool down. Then cover with film wrap and refrigerate. Be sure to use it once is cold.

Finishing Touches

1. Make a small incision on the side of every doughnut. Transfer the raspberry jam to a piping bag. Insert the piping bag in the incision and pipe as much jam as the doughnut will let you. If it's properly filled some jam should come out of the doughnut as you remove the piping bag.
If you made this recipe I would really appreciate it if you leave a rating or comment below! Also, if you share on social media please use #cookwithbelula, I would love to see what you create!