Quick French Puff Pastry Apple Tart with Caramel Sauce
An easy French apple tart recipe, made with a puff pastry base, filled with vanilla-scented apple compote, thinly sliced apples, and topped salted caramel sauce.
This version of the classic French puff pastry apple tart or "tarte fine aux pommes" is easy and delicious. This perfect dessert will not only impress your guests, but they will love you forever, too. This recipe is made with a flaky crust that melts in your mouth and is filled with homemade apple vanilla compote, fresh apples, and topped with salted caramel sauce. You cannot go wrong with this quick apple tart! A scoop of vanilla ice cream is the perfect pairing. 😊
Ingredient notes:
This recipe calls for 4 main components:
Puff pastry: you can either do it yourself or use a store-bought kind. For this recipe I used a store-bought puff pastry. If you feel like adventurous and want to make your own, you can find a recipe here Professional Baker's Best Puff Pastry Recipe.
Apple compote: recipe follows. If you do not feel like making your own, you can buy your favorite one. I recommend you give it a shot as it is effortless to make.
Apples: choose a kind that has low content of water like Golden or Elstar.
Salted caramel sauce: recipe follows.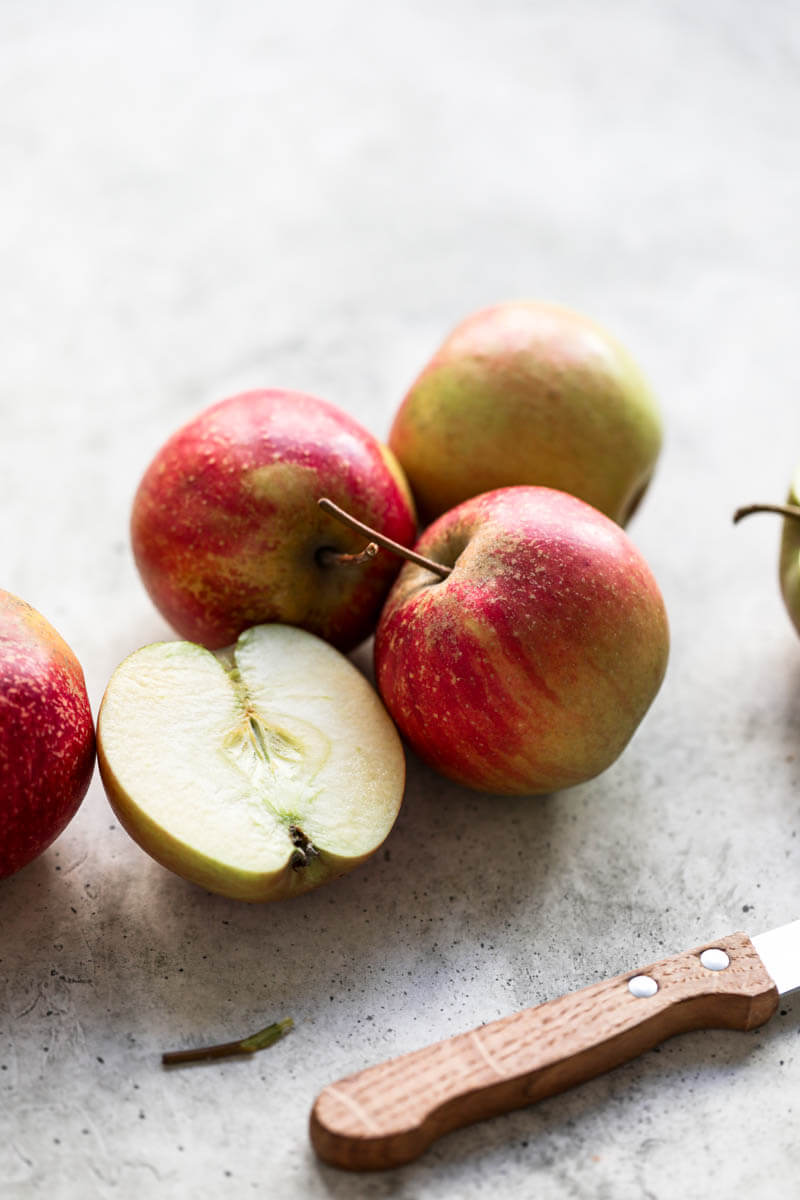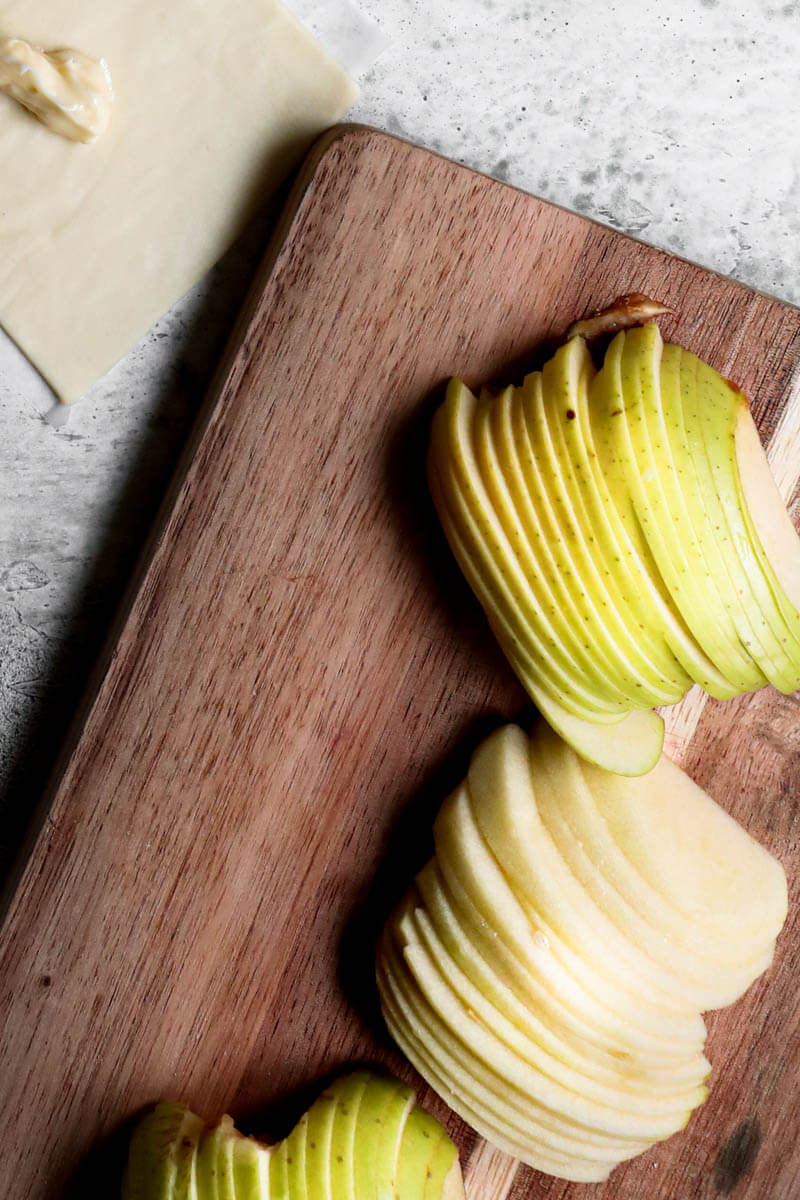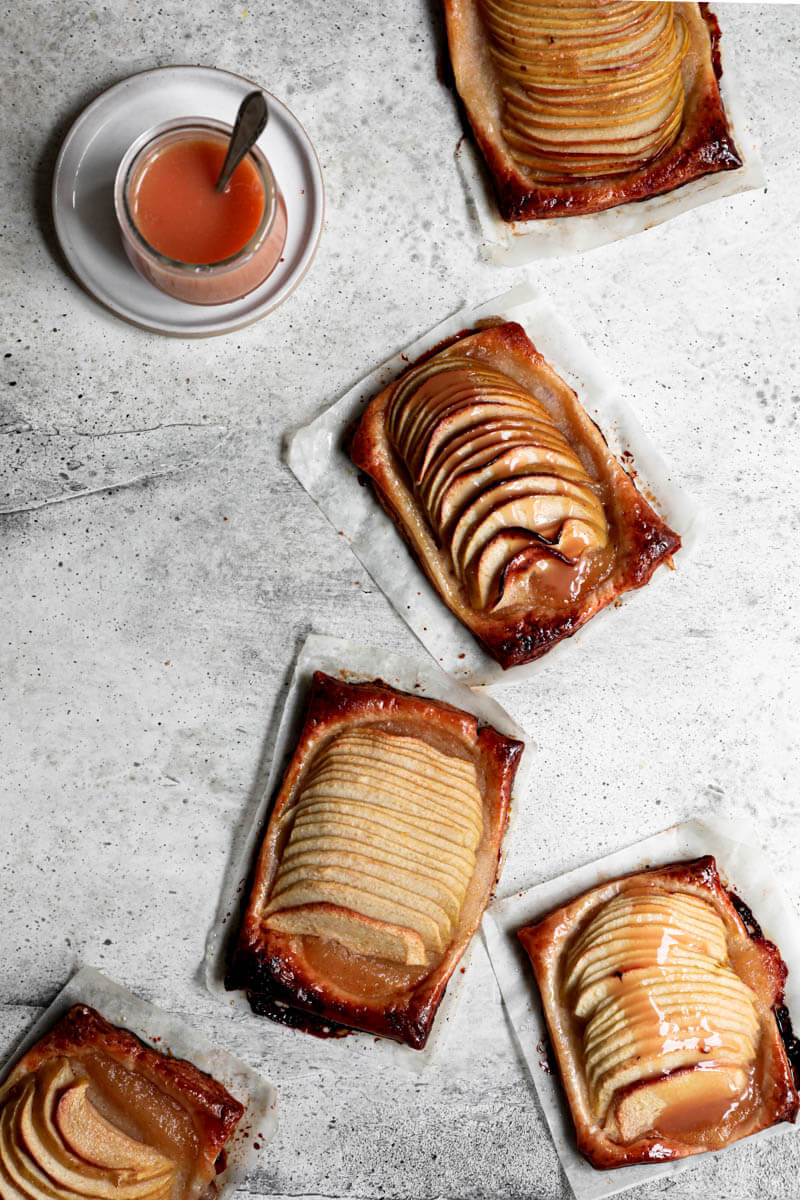 How to make this puff pastry apple tart recipe
Once you have all your ingredients gathered, it's time to get started! You'll love the ease of this apple tart with caramel sauce.
Cut the puff pastry in rectangles a little wider than the apples you're using. Lengthwise they should be 10 cm. Once you have them cut, cover, and refrigerate.
Halve the apples and remove the center. Make sure to slice as thinly as you can. You can leave on the peel or not - it's up to your preference.
Line a baking pan with parchment paper and put the puff pastry rectangles on it.
Add one dollop of apple compote at the center of each puff pastry. Top with half a sliced apple and press gently down.
Brush with melted butter. Be generous - you can never use too much butter! Once done, sprinkle with sugar.
Bake at 200 C° until golden.
As soon as they are out of the oven, you're going to want to brush with syrup. Again, be generous!
Drizzle with salted caramel sauce to serve.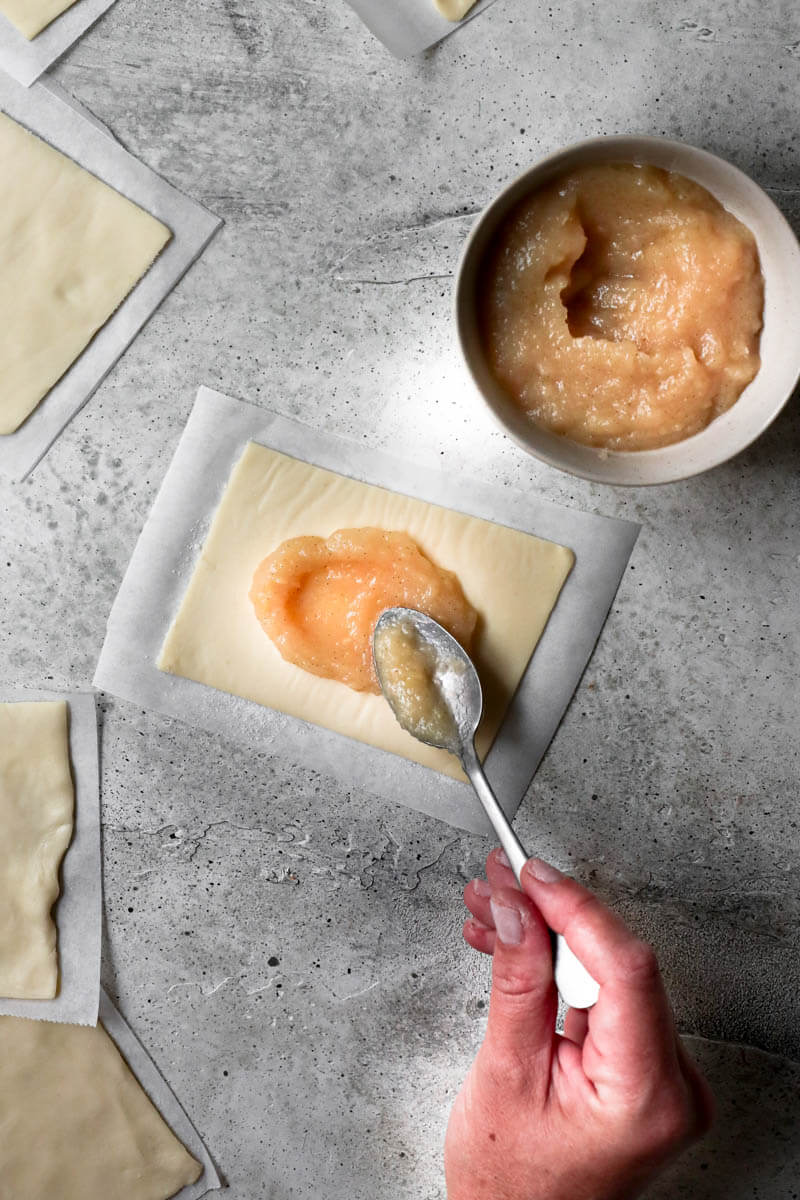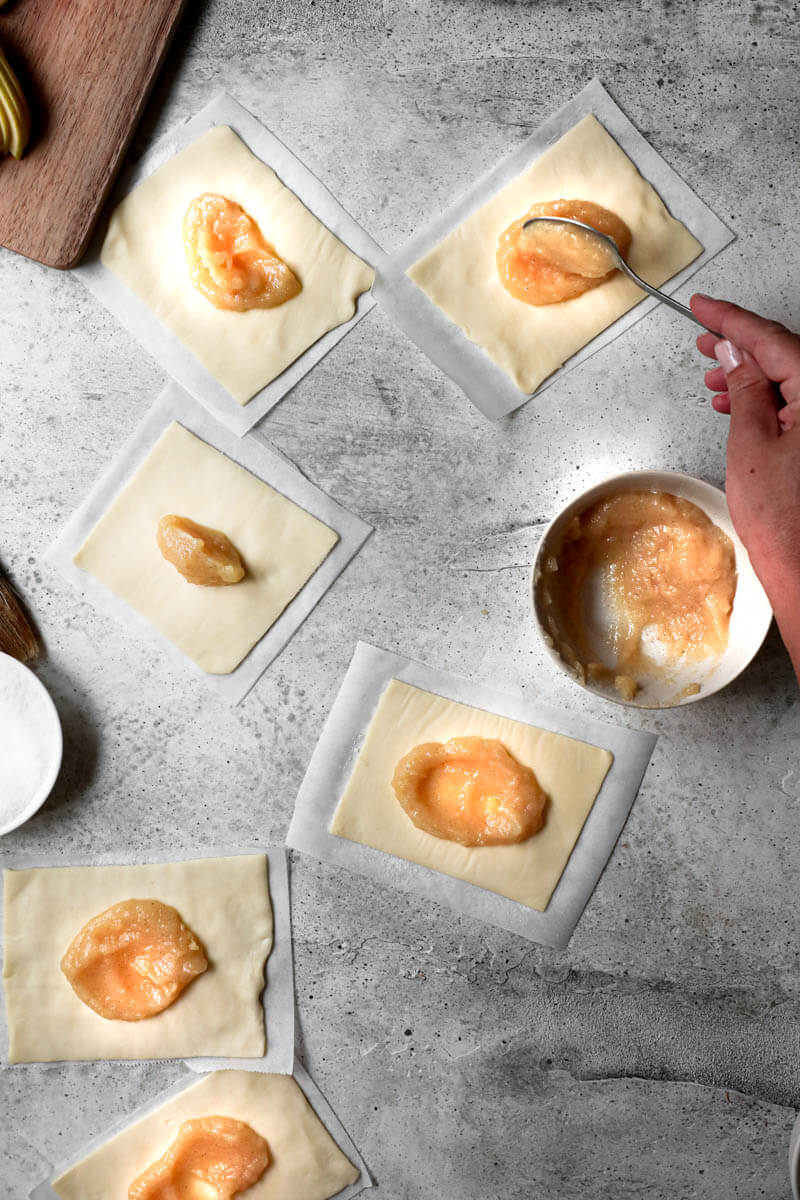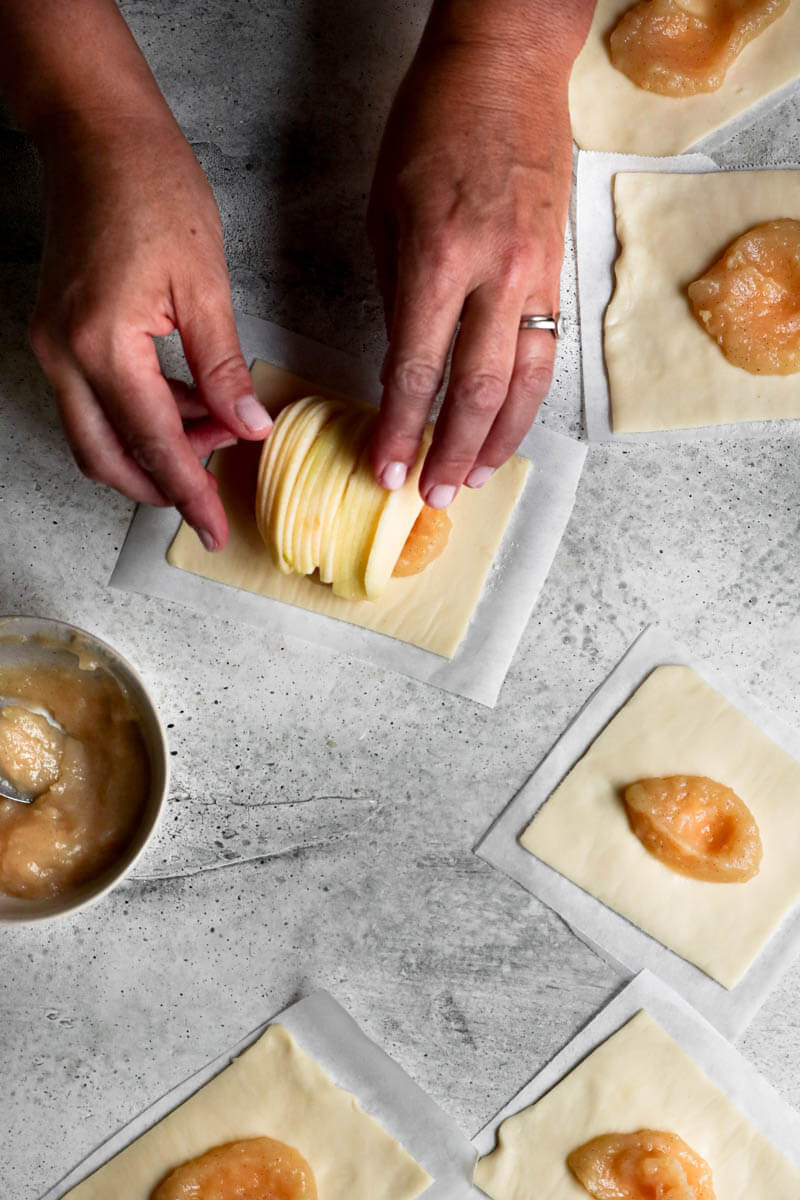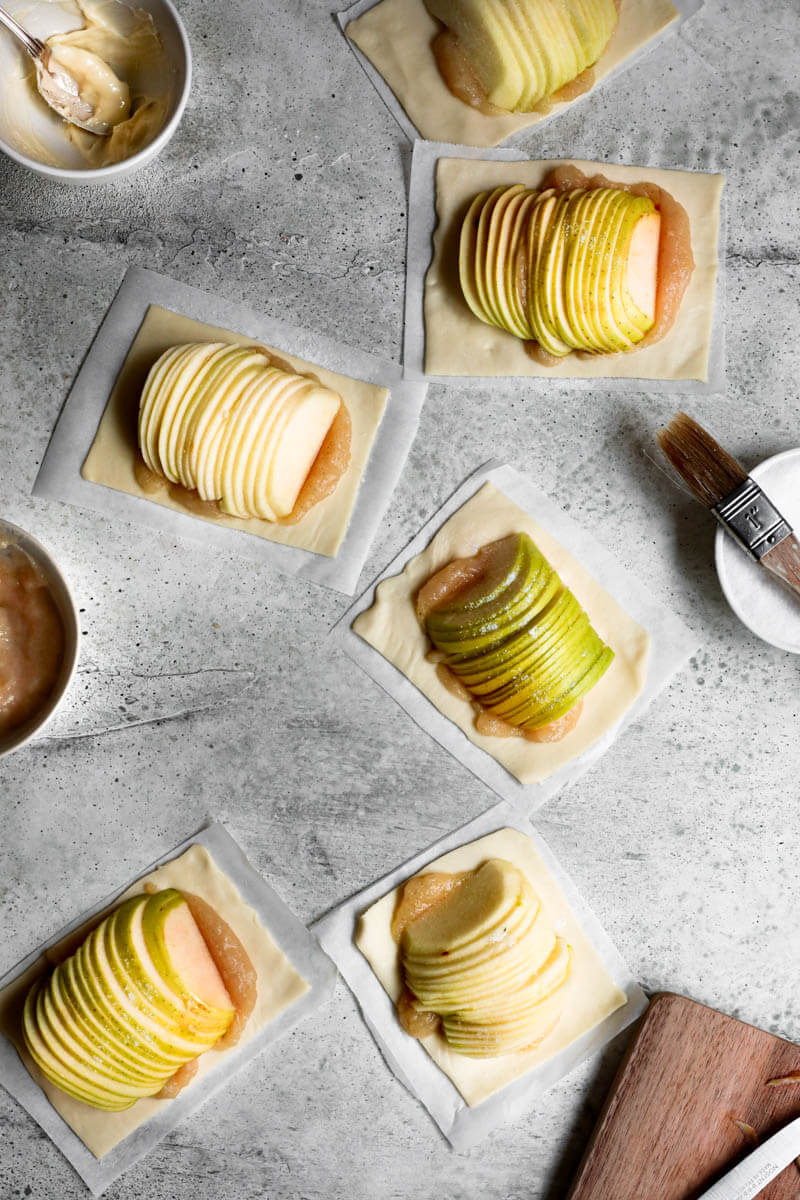 Step-by-step-instructions: apple compote
This is the easiest apple compote you will ever make. And the most delicious.
To make this simple compote recipe:
Peel and slice the apples into small cubes
Transfer to a pan and add a scraped vanilla bean
Cover with a piece of parchment paper
Let it cook over medium-low until the apples are tender
Puree the apples, transfer to a container, cover and refrigerate
Step-by-step instructions: caramel sauce
To make the salted caramel sauce:
First, make caramel using water and sugar.
Once the caramel starts fuming and the bubbles become smaller, pour in the hot cream, whisking simultaneously. Next, add the salt. Make sure to use a big pot because when you add the hot cream, it risks overflowing!
Remove from heat and let the caramel sit until the bubbles have subsided.
Whisk in the remaining cold cream.
Transfer the caramel to the clean bowl (the one you have already prepared over a cold-water bath 😉) and let it cool down.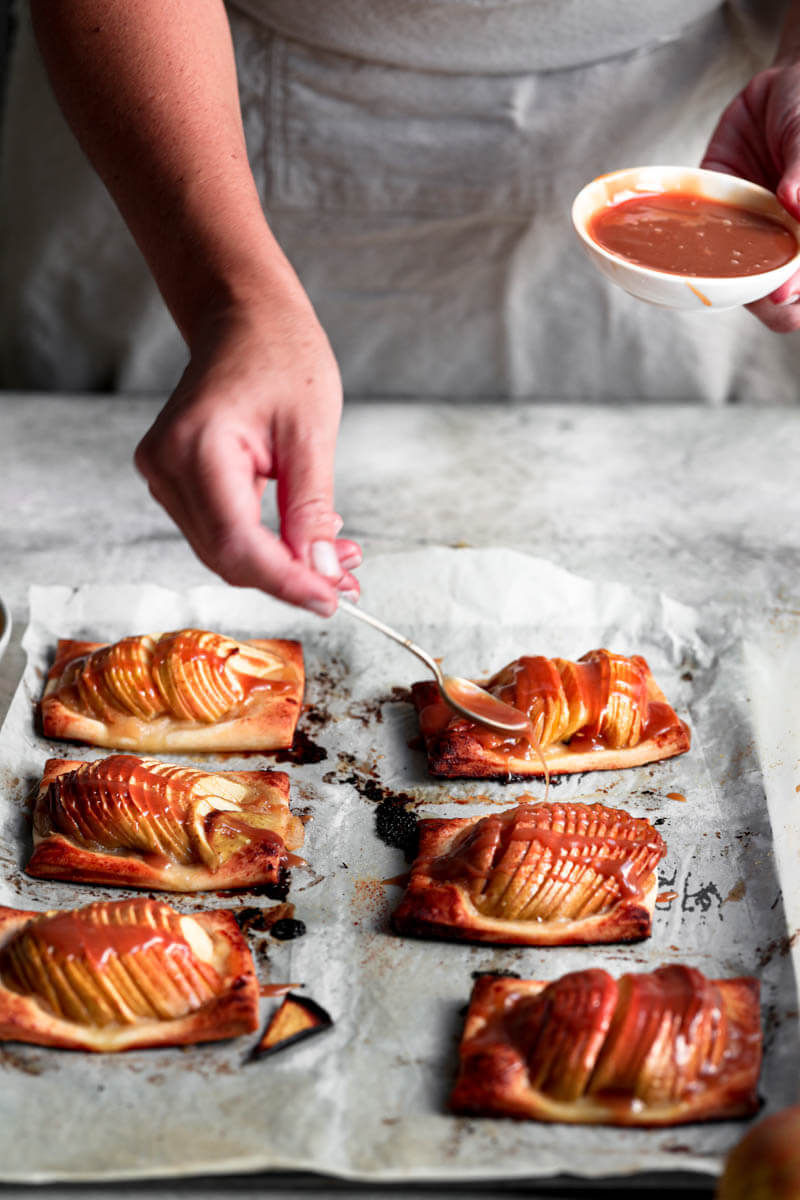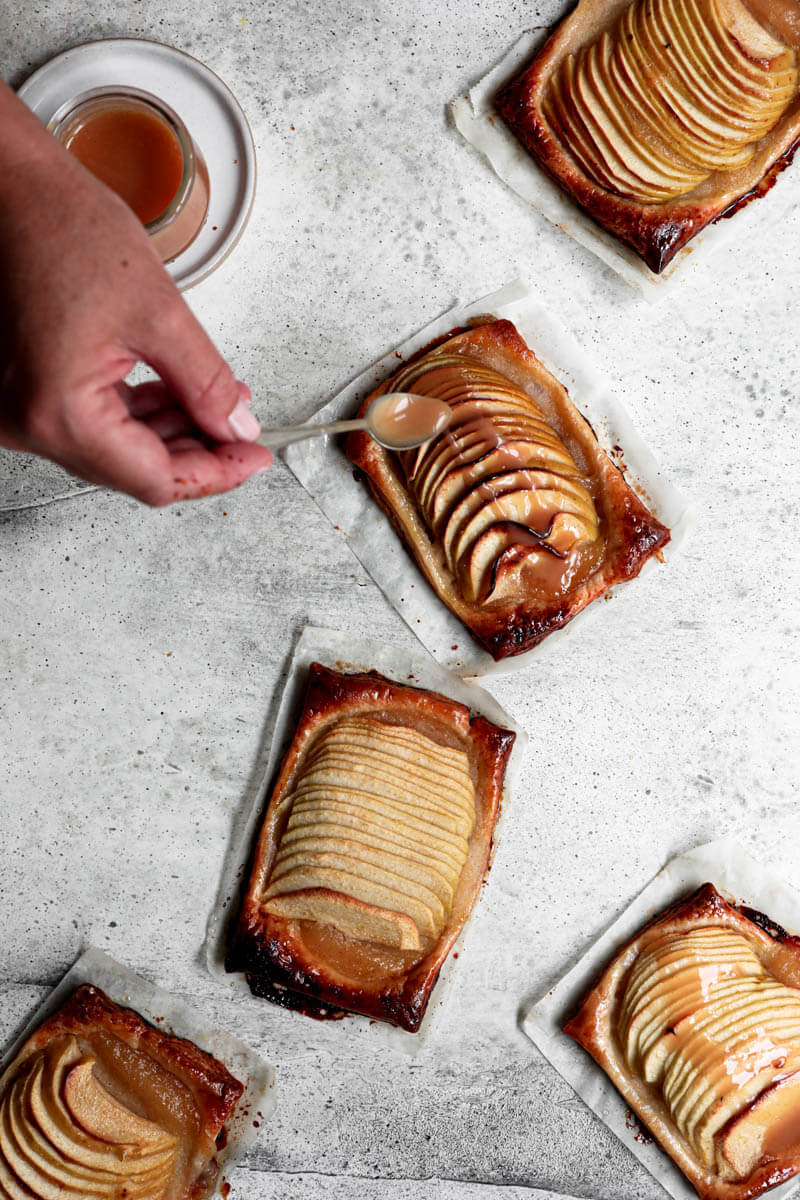 Recipe notes
To make the salted caramel sauce, you will need to weigh out and have all the ingredients ready separately. It goes fast, so you need to be prepared. That is the key to success with this simple French apple tart.
Make sure to divide the heavy cream into two separate containers. This is because one half will be added to the caramel hot, and the other half will be added to the caramel cold.
Also, prepare a cold-water bath with a clean bowl on top. You will use this to bring the temperature of the caramel down quickly. This way, the cooking stops, and you can obtain the right consistency for the caramel sauce.
Expert notes
Add some lemon juice to the apples to prevent them from browning while you are slicing them.
To keep the bottom puff pastry from getting soggy:
Brush the base of each puff pastry rectangle with softened butter
Sprinkle with sugar
Turn them around and proceed with the filling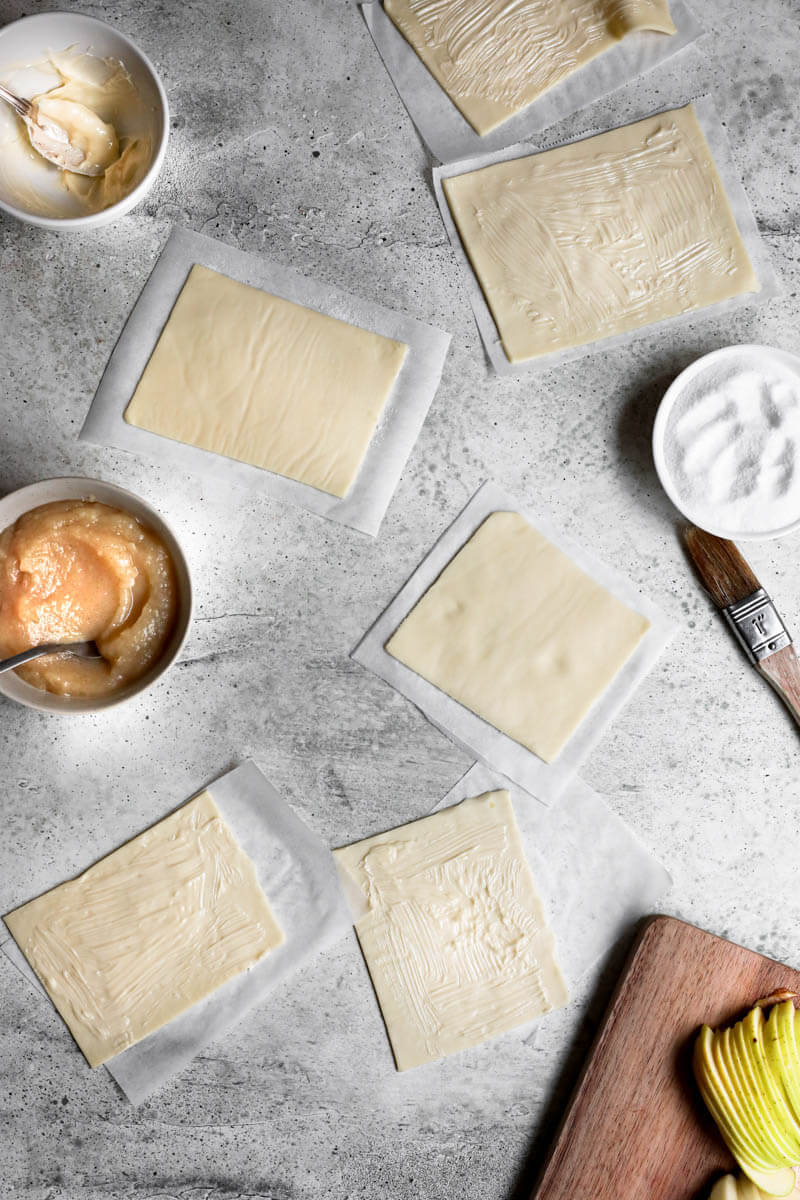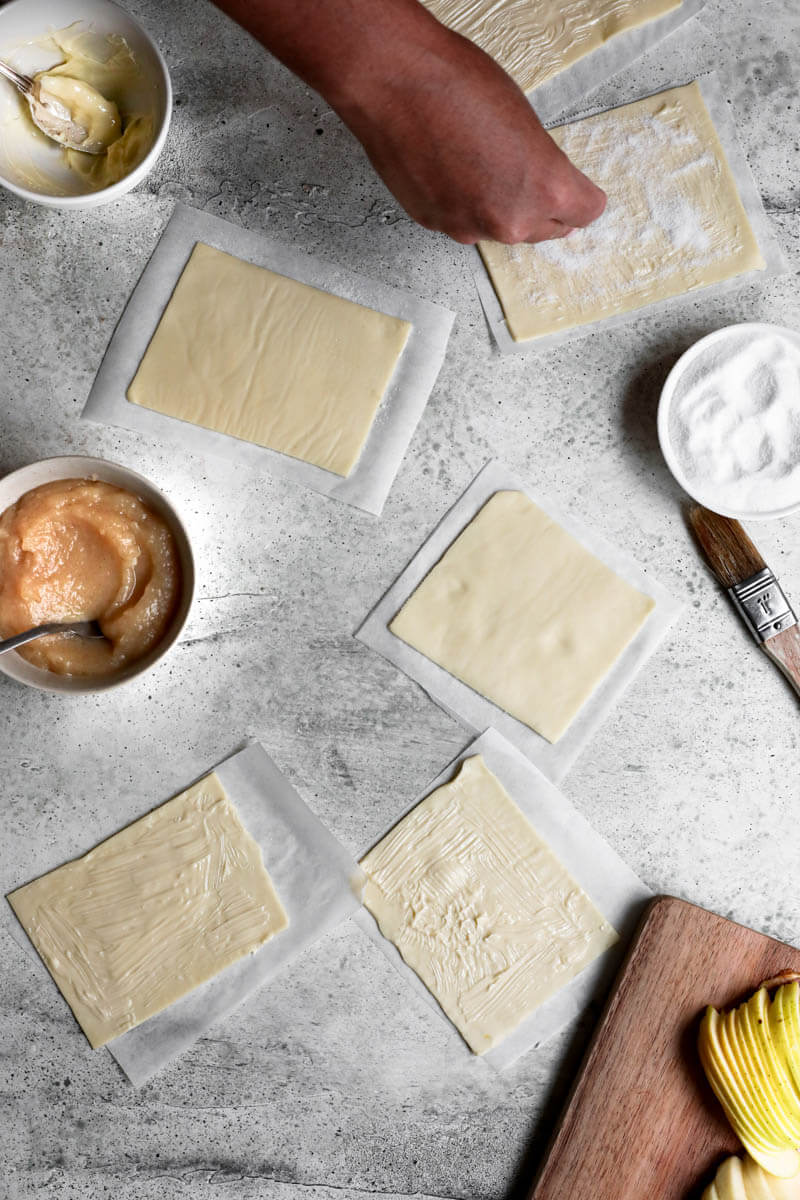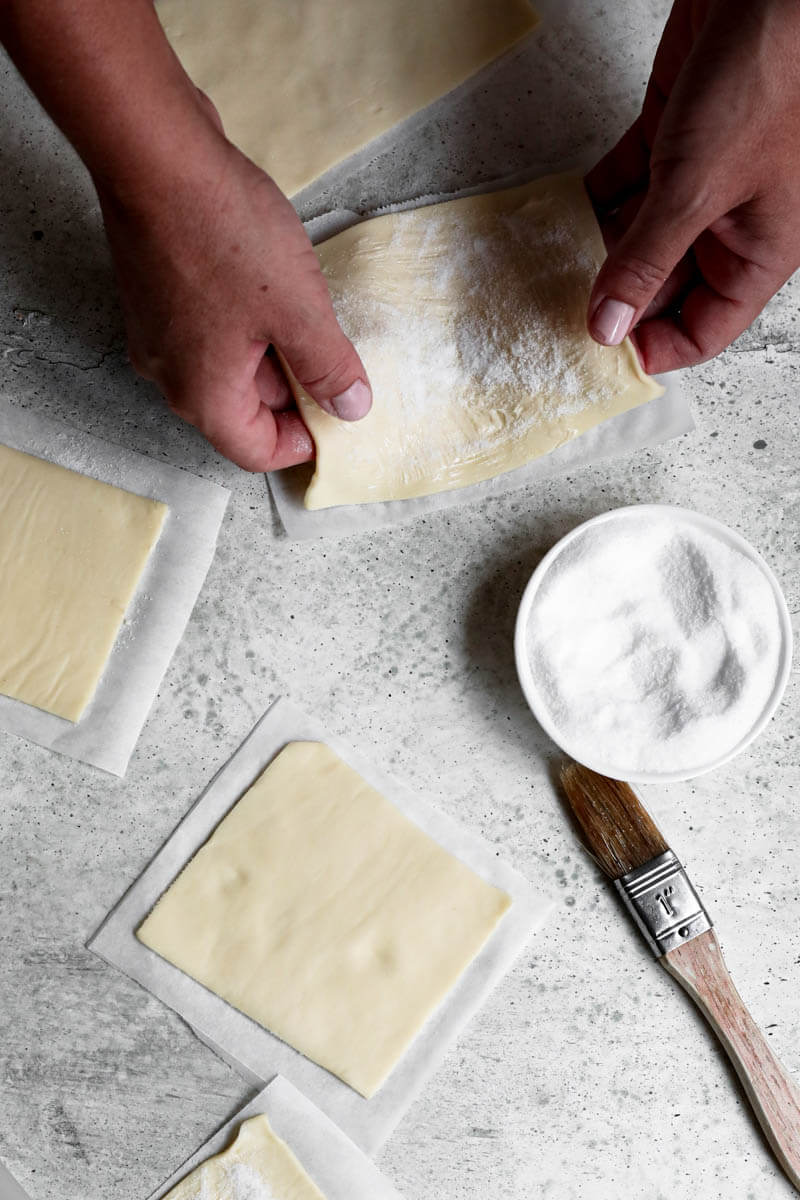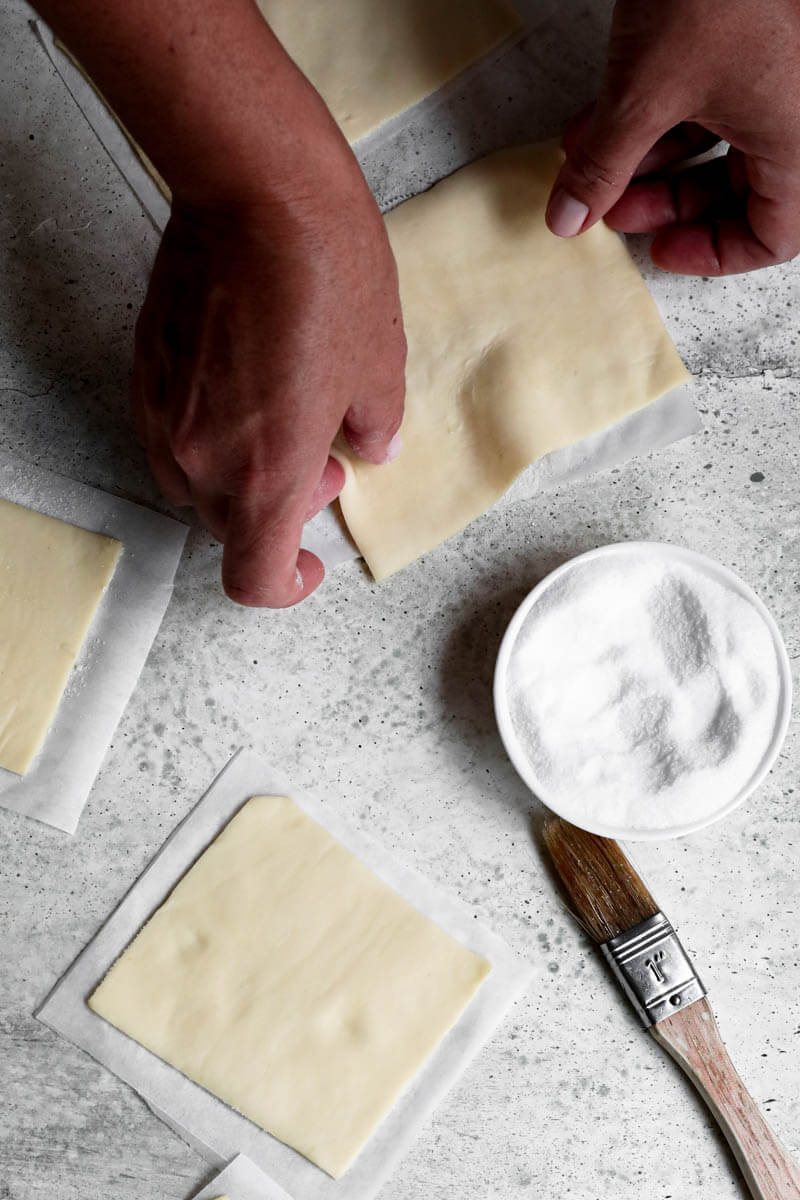 Storage tips
Keep covered in the refrigerator for up to 3 days. Slightly warm up in the oven when ready to serve. Reheat until just warm and drizzle with warm caramel sauce.
Freezer instructions
I don't recommend freezing this apple tart. This simple apple dessert is better when eaten fresh.
Variations for this quick apple tart
You can replace the apple compote with apricot jam!
You can use regular sable dough if you cannot find puff pastry. Here is a good recipe Shortbread Crust. If you do, make sure to roll it our real thin.
You can make this apple dessert gluten free by making this Gluten-Free Puff Pastry, With Cannelle et Vanille's Aran Goyoaga by Aran Goyoaga.
The ingredients used in all recipes on this site are measured using the metric system. I use a
scale
to be precise with my measurements and ensure good results. If you would also like to use a scale, here are some:
USA
,
Canada
,
UK
,
Australia
,
France
.
Subscribe to the newsletter
Total Time:
1 hour 15 minutes
---
Apple Compote
Apples

2

Vanilla Beans

0.5
Salted Caramel Sauce
Sugar

100 g

Water

40 ml

Heavy Cream (hot)

80 g

Heavy Cream (cold)

80 g

Table Salt

1 pinch
Assembly
Puff Pastry

2

Apples

3

Butter

100 g

Sugar

80 g
If you made this recipe I would really appreciate it if you leave a rating or comment below! Also, if you share on social media please use #cookwithbelula, I would love to see what you create!