Pistachio Raspberry White Chocolate Tartlets
This pistachio raspberry white chocolate tartlets recipe is made with a pistachio shortbread base, raspberry almond financier, raspberry jam, and white chocolate pistachio ganache.
This recipe for pistachio raspberry and white chocolate tartlets is a showstopper. It's relatively simple to put together and, at the same time, quite an impressive dessert. This is perfect for serving when entertaining as it makes delicious individual servings. This dessert is composed of a pistachio shortbread crust filled with a raspberry almond financier layer, raspberry jam, topped with a white chocolate pistachio ganache and fresh raspberries. This dessert is then made into individual tartlets, but you can also make one big pistachio raspberry tart if you prefer. I hope you love this dessert as much as we did at home!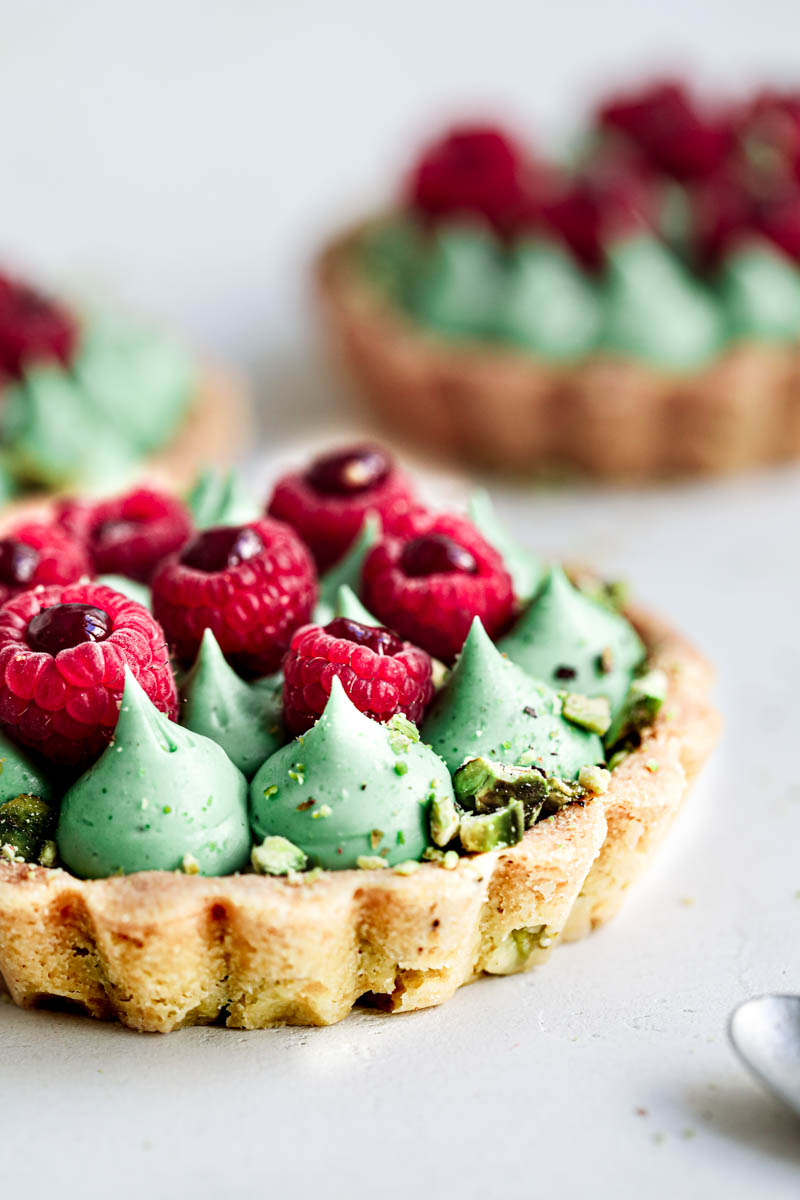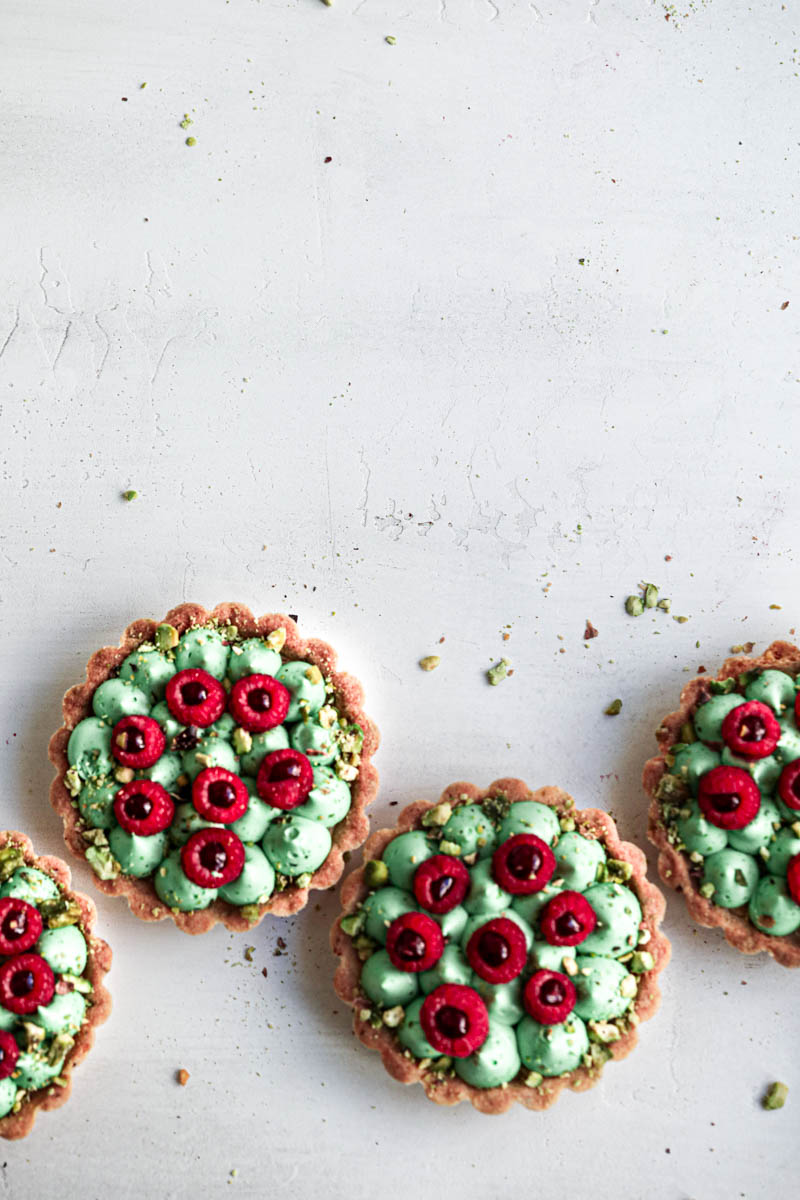 Ingredient & Utensils Notes
Pistachio paste: I recommend using an unsweetened one. A great option can be found here.
Raspberry jam: You can use a store-bought kind, or if you feel like making your jam, you can find an easy and delicious recipe here.
White chocolate: I like to either use Valrhona or Callebaut.
Fresh pistachios: This is what is used in the crust to give it some extra crunch. It's important to note that the pistachios must be unsalted.
Raspberries: You can use frozen ones for the financier batter and fresh raspberries to top the tartlets.
Tartlet tins: You need 6 10 cm tartlet tins for this recipe.
How to make this recipe
To make these pistachio raspberry tartlets is straightforward. You must:
Make the white chocolate and pistachio ganache the night before and let it refrigerate overnight.
Make the pistachio shortbread tart crust, roll it out, line the tartlet tins, and bake them.
Make the raspberry almond financier batter.
When the crust is baked and slightly golden, fill each tartlet with the financier batter. Bake until golden.
Whip the white chocolate pistachio ganache until it forms soft peaks. It should also be smooth and shiny.
Assemble the tartlets in this order. Start by topping with a thin layer of raspberry jam, then pipe small kisses of ganache until completely covered, and finally top with some fresh raspberries. Enjoy!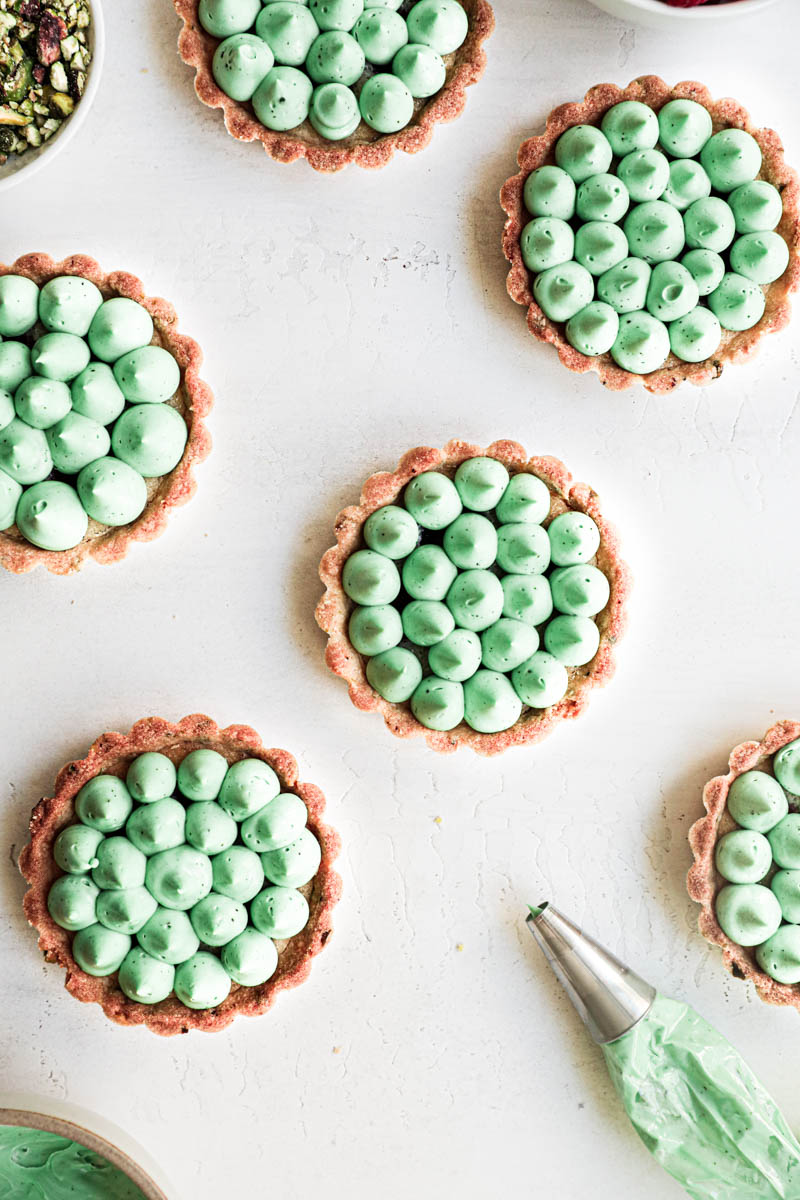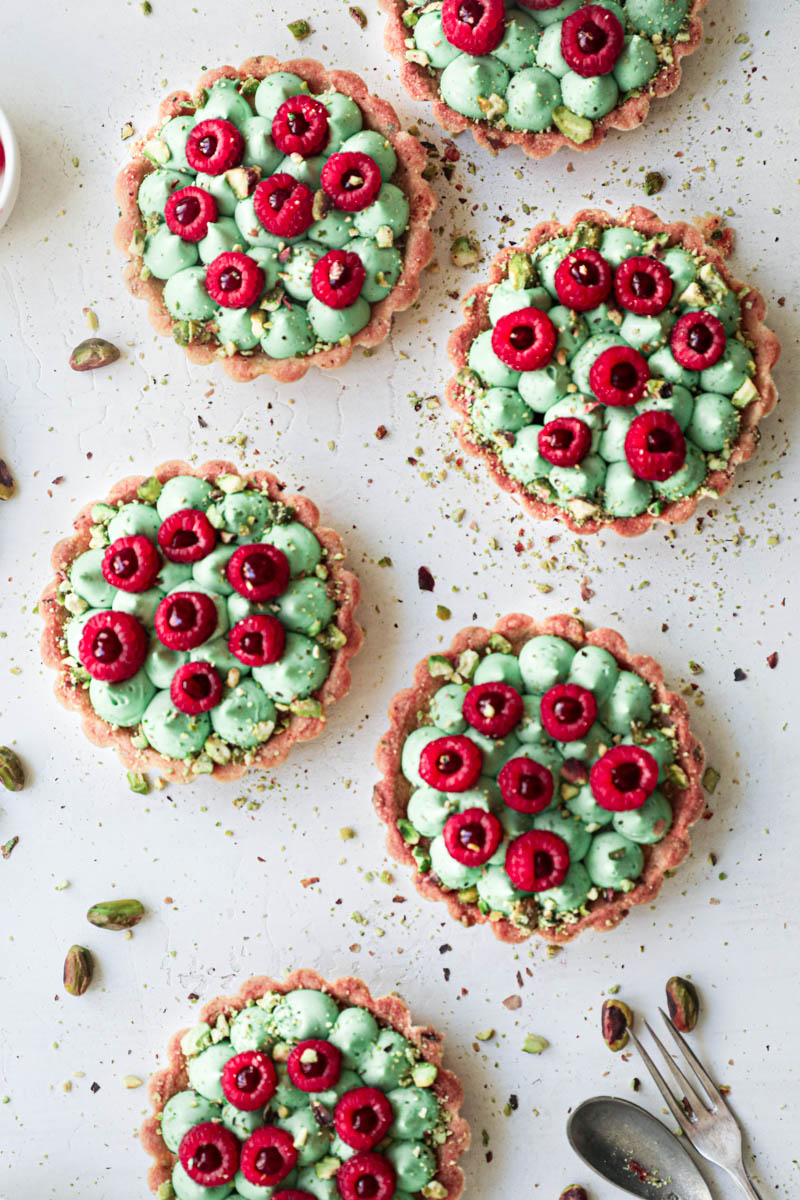 How to make pistachio shortbread
Making pistachio shortbread crust is like making any other shortbread crust. First, add the ground pistachios in with the flour at the end.
You can watch how to make shortbread crust here: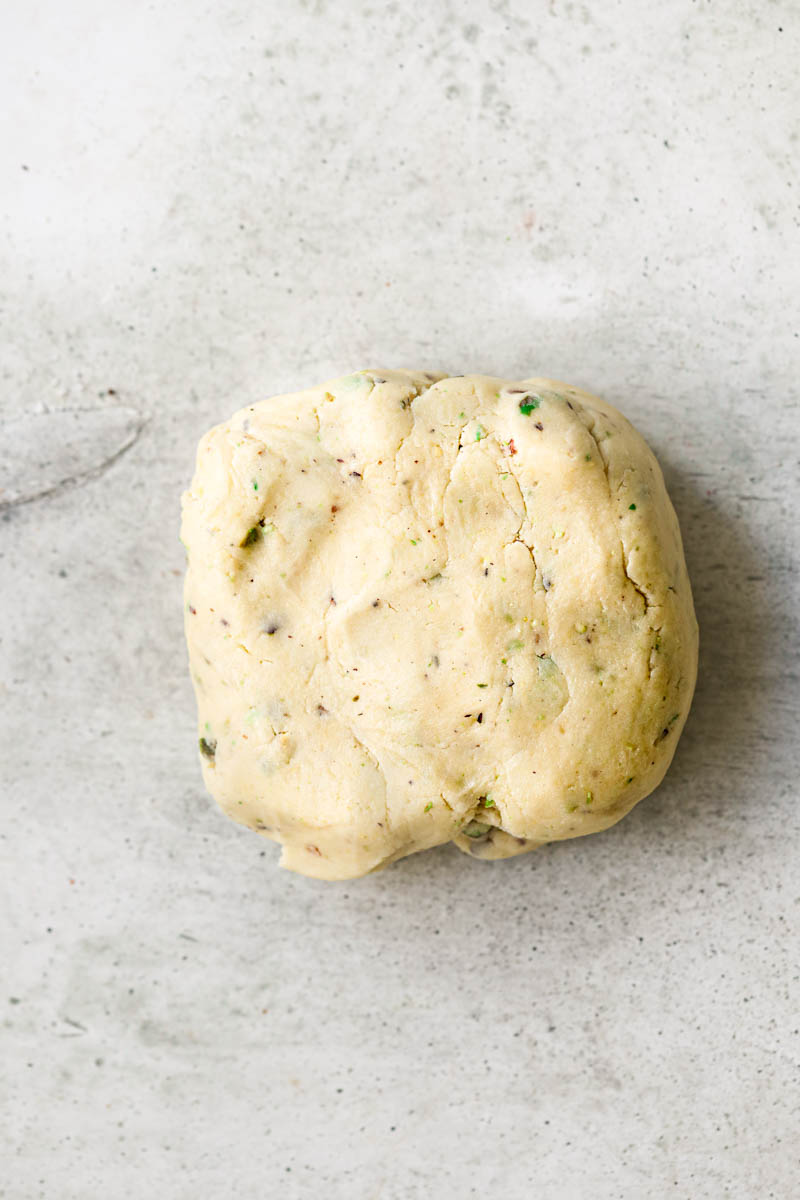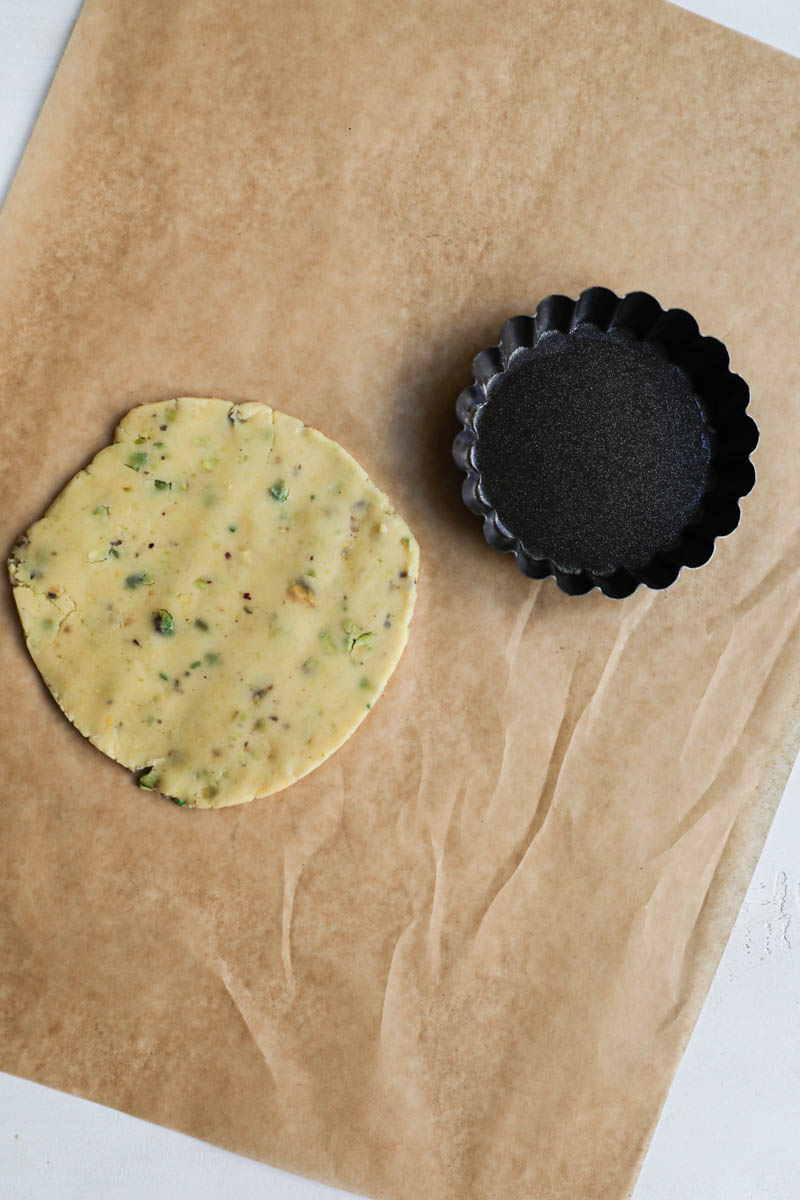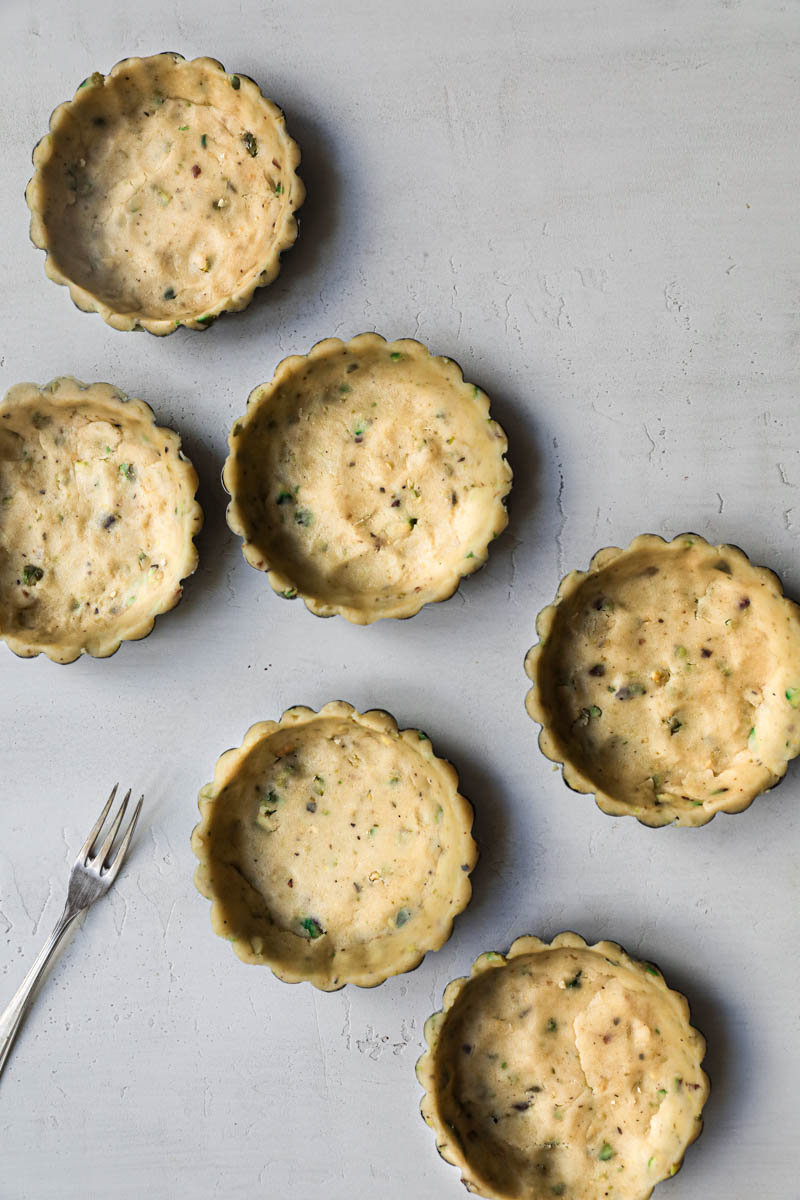 Baking tips
Preheat the oven to 170 C°/340 F.
Divide the dough into six pieces and roll out the shortbread crust 3 to 4 mm thick. Be sure to line the tartlet's tins with the dough.
Line the inside of the tartlets with parchment paper and fill them with pie weights or rice. Bake for 10 minutes and then remove the paper with the weight.
Bake an extra 10 minutes until slightly golden, and once done, fill each tartlet with the raspberry financier batter.
Bake until financiers are set and golden. This will take about 25 minutes.
Remove and let cool down at room temperature.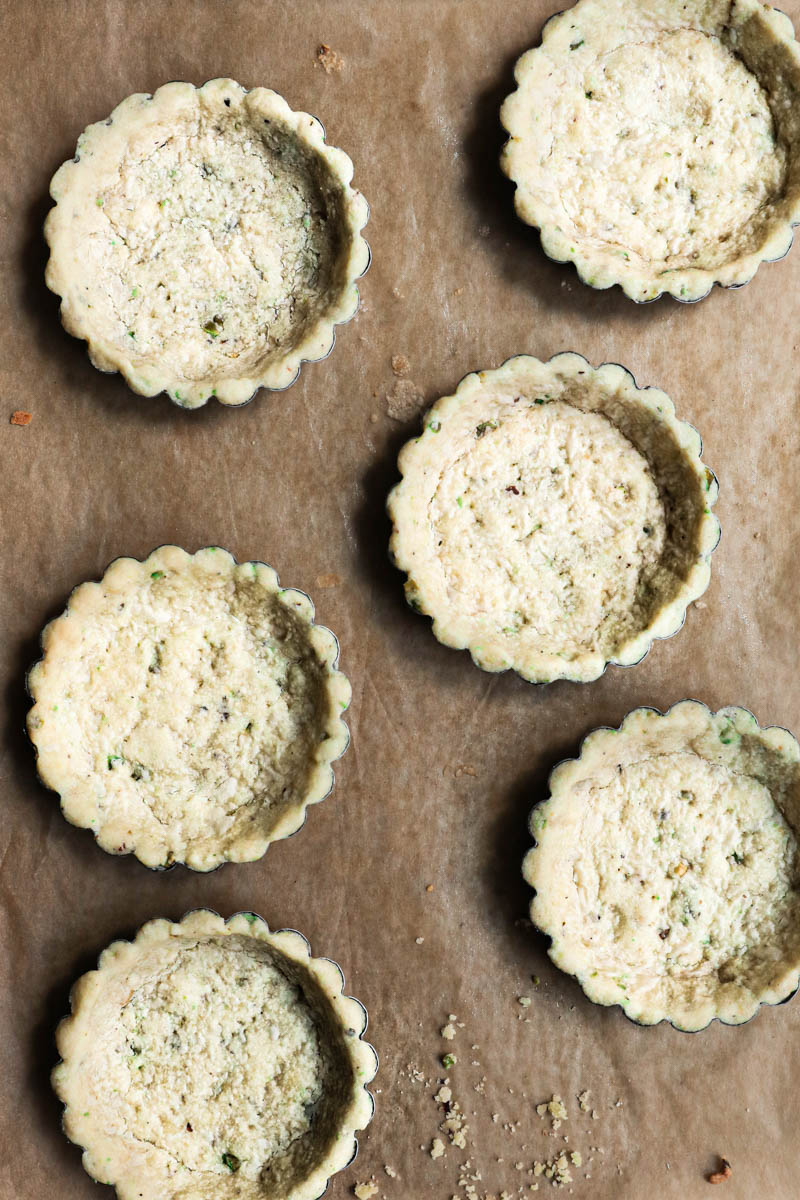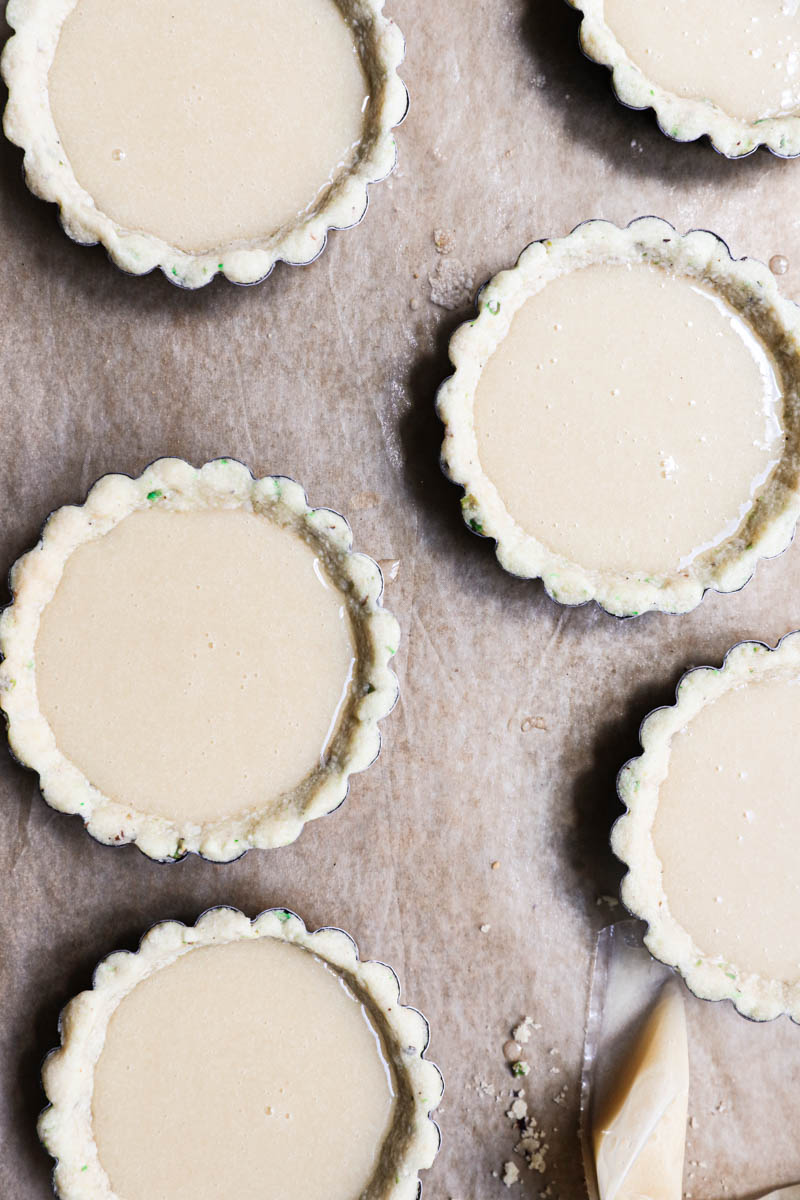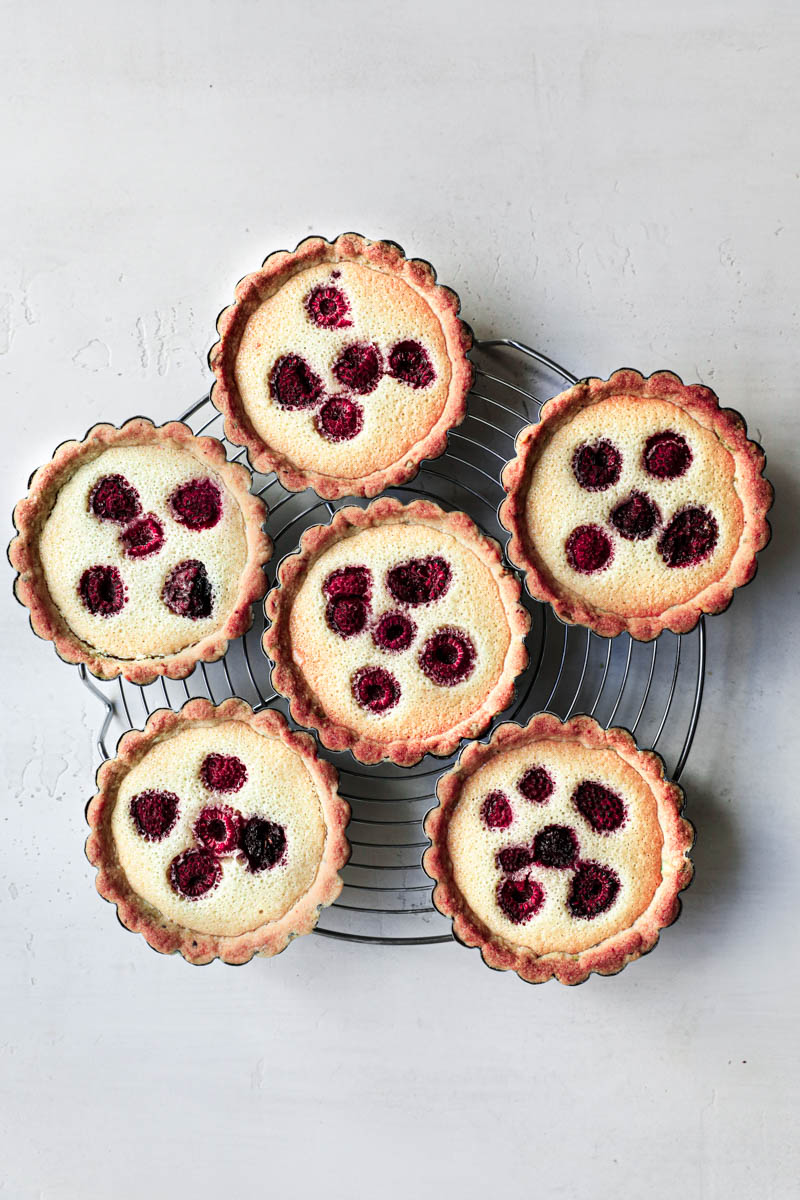 How to make pistachio white chocolate ganache
Melt the white chocolate over a water bath
In the meantime, bring the cream to a simmer and then remove it from the stove.
Whisk in the pistachio paste until it has completely dissolved into the cream.
Pour the cream over the melted white chocolate and whisk to combine.
Transfer onto an airtight container and refrigerate overnight.
Recipe notes
When working with the shortbread crust, use the refrigerator to your advantage. As the dough softens, it will become challenging to work with. Just pop it back into the fridge for 20 minutes or so. Make sure to cover it, so it does not dry out adequately.
Also, keep the pieces of dough you are not always working with in the refrigerator.
After you make the shortbread crust refrigerate for about 2 hours before rolling out.
Butter the tins because it helps when lining them with the crust. This will help the crusts slide into the containers directly making the job easier.
After you roll out and line the tins, refrigerate for 30 minutes to 1 hour before baking. You can get all the tips and tricks on how to roll out this dough and how to line a tart tin here.
Fill the tartlets with the financier batter up to ¾ of the tartlet rim.
Constantly stir when melting the white chocolate over a water bath.
After transferring the ganache to a container, cover with plastic wrap (it should be touching the surface of the ganache) and then cover with the container's lid.
The ganache needs to be refrigerated overnight before you whip it and apply it to the top of the raspberry tartlets.
Use a number 8 piping tip to decorate the tartlets.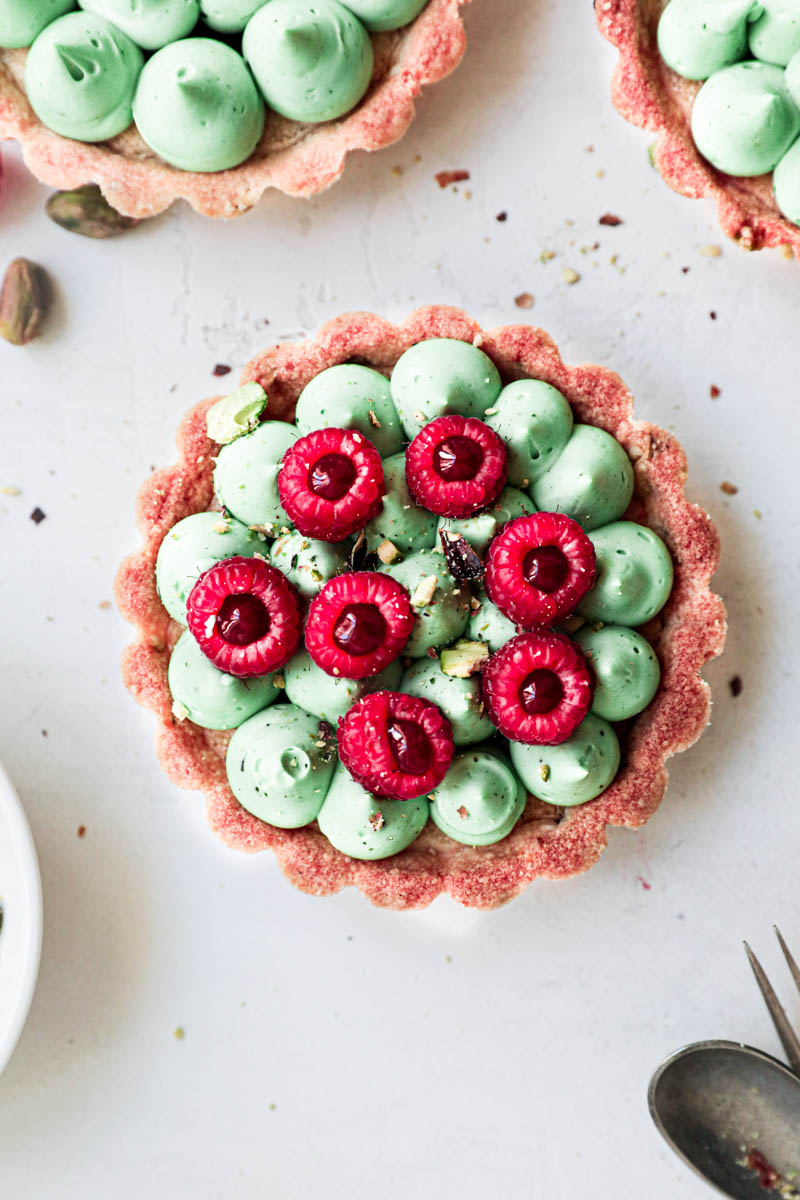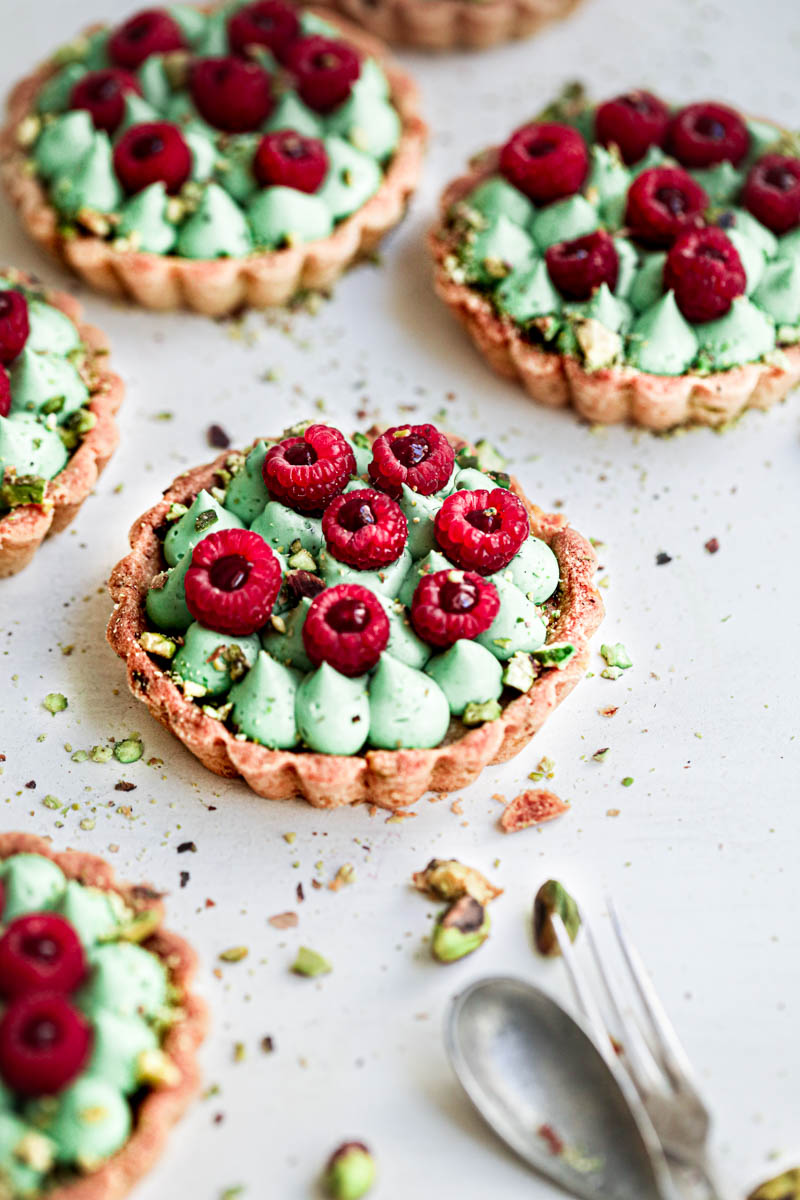 Expert notes
Make sure to properly prebake the tartlets before filling them with the financier batter, or the base will remain soggy. The base should be golden before you add the financier batter.
If the ganache is not chilled correctly, you won't be able to whip it to stiff peaks, and piping it onto the tartlets will be very difficult as it will not hold up.
I recommend blending the ganache with a hand blender to make it extra smooth. This will also get rid of any pieces of pistachio paste that might still be there.
If you are not comfortable using a piping bag, you can use a spoon to garnish the tartlets with the ganache. Then, just use the ack of the spoon to make some swirls!
Storage tips
Once assembled, the tartlets must be kept in the refrigerator and stored in an airtight container. They keep for up to 2-3 days.
Freezer instructions
I don't recommend freezing these tartlets once they have been assembled.
However, you can freeze the tartlets once they have been baked with the financier inside. Let them completely cool down, and then wrap each tartlet in plastic wrap and place them in a freezer container. They can be frozen for up to 1 month.
To Defrost: Place in the refrigerator overnight. Then proceed to top with the ganache and the raspberries, following the recipe instructions.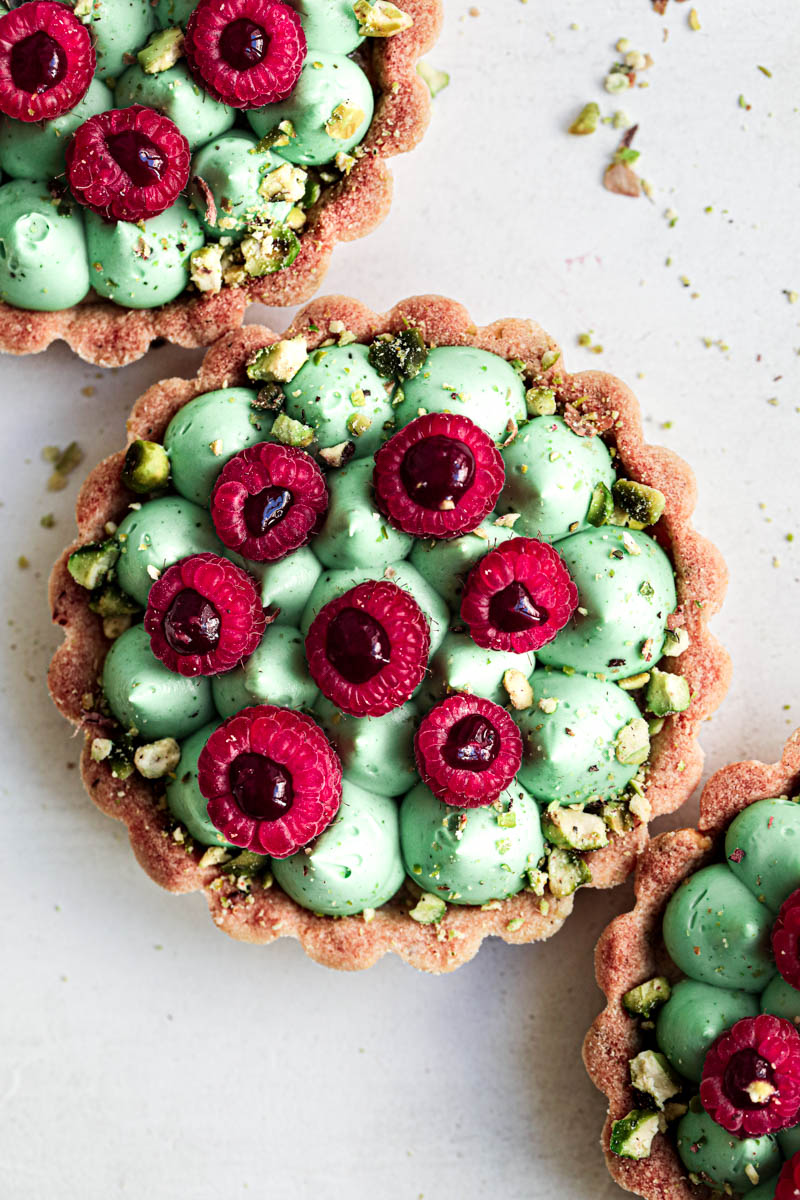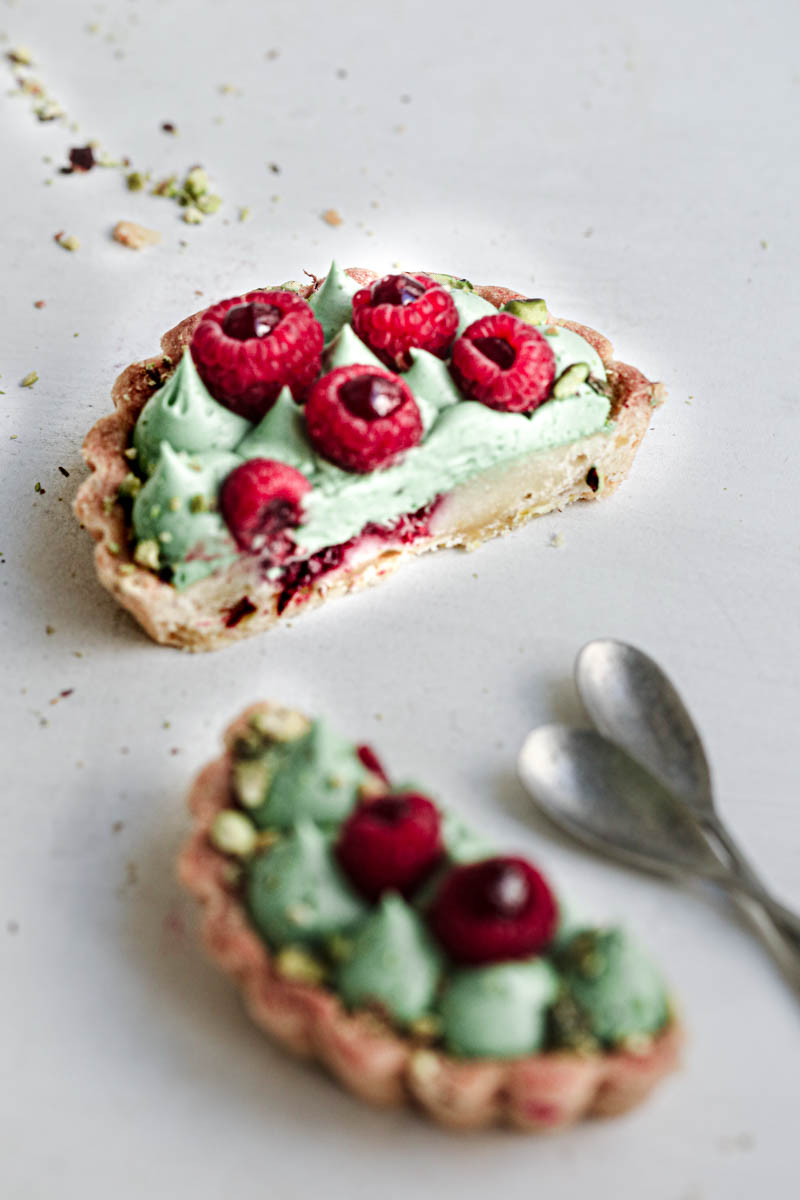 Making ahead
Pistachio Shortbread: This can be made up to 48 in advance and kept wrapped correctly in the refrigerator. Let it sit at room temperature for 5 minutes before rolling it out.
Financier batter: You can make it 24 hours in advance. This should be kept in the refrigerator stored in an airtight container.
Baked tartlets with financier: You can bake up to 2 days in advance and keep in the refrigerator adequately covered.
White chocolate pistachio ganache: This can be made up to 48 hours in advance and kept stored in an airtight container in the refrigerator.
Assembled tartlets: These can be kept for up to 2 days in the refrigerator.
Variations to this recipe
This recipe can be made into one 22 cm (9 inches) tart.
If you don't have pistachio paste, you can make the ganache only white chocolate and add some crushed pistachios over the top after piping it onto the tart.
The ingredients used in all recipes on this site are measured using the metric system. I use a
scale
to be precise with my measurements and ensure good results. If you would also like to use a scale, here are some:
USA
,
Canada
,
UK
,
Australia
,
France
.
Subscribe to the newsletter
Prep Time:
1 hour 20 minutes
---
Pistachio Shortbread Crust
Unsalted Butter

100 g

Powdered Sugar

50 g

Egg Yolks

1

All-purpose Flour

150 g

Grounded Pistachios

25 g
Almond Raspberry Financier
Powdered Sugar

45 g

Granulated Sugar

20 g

Almond Flour

25 g

Flour

25 g

Egg Whites

65 g

Butter

65 g

Raspberries

100 g
White Chocolate Pistachio Ganache
White Chocolate

200 g

Heavy Whipping Cream

200 g

Pistachio Paste

40 g
Assembly of the Tartlets
Raspberry Jam

50 g

Fresh Raspberries

300 g
If you made this recipe I would really appreciate it if you leave a rating or comment below! Also, if you share on social media please use #cookwithbelula, I would love to see what you create!