Chocolate Dipped Pistachio Madeleines
These chocolate dipped pistachio Madeleines are flavored with ground pistachios and pistachio paste. French madeleines are delicious small cakes shaped like shells.
French Madeleines are small cakes that get their shape from pans with shell-like depressions. They are a traditional treat from the Lorraine region in northeast France. These pistachio madeleines are easy to make, you just need to follow some tips and notes so that you get that beautiful bump. These chocolate-dipped madeleines are moist, buttery, and full of flavor thanks to the pistachio paste and the freshly ground pistachios in the batter. And to make them even better they are dipped in a light chocolate glaze and topped with crushed pistachios. I hope you love them!
Material & Ingredient Notes
Butter: needs to be unsalted and with high-fat content. When added to the madeleine cake batter it should be melted and hot (60 C°).
Honey: gives the batter a nice moist touch and prevents the madeleines from drying out.
Pistachio paste, for the extra pronounced pistachio flavor. Try to get one that has no added sugar and it is made purely of pistachios like this one Pariani 100% Pure Sicilian Pistachio Paste.
Grounded pistachios, for the crunch and the flavor.
Madeleine pan.If you don't have one, you can still bake them in a muffin tin, they will taste just as good! Don't let the madeleine pan stop you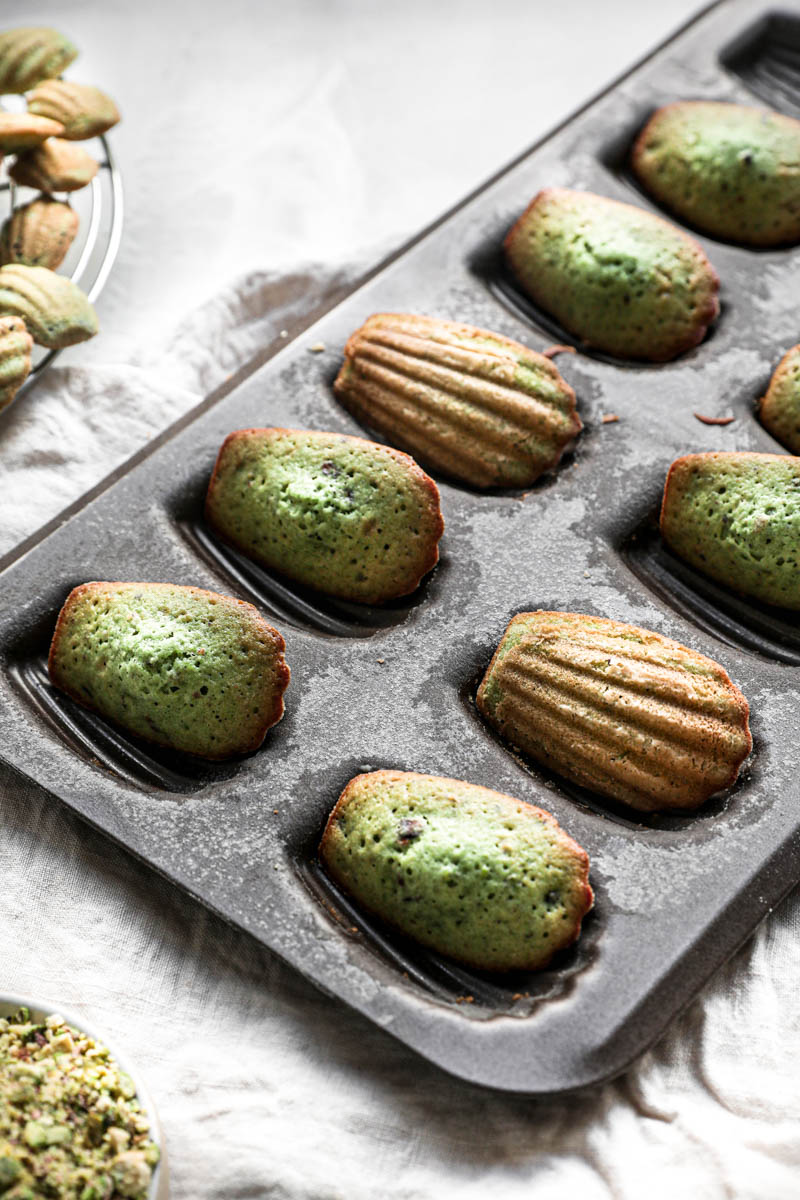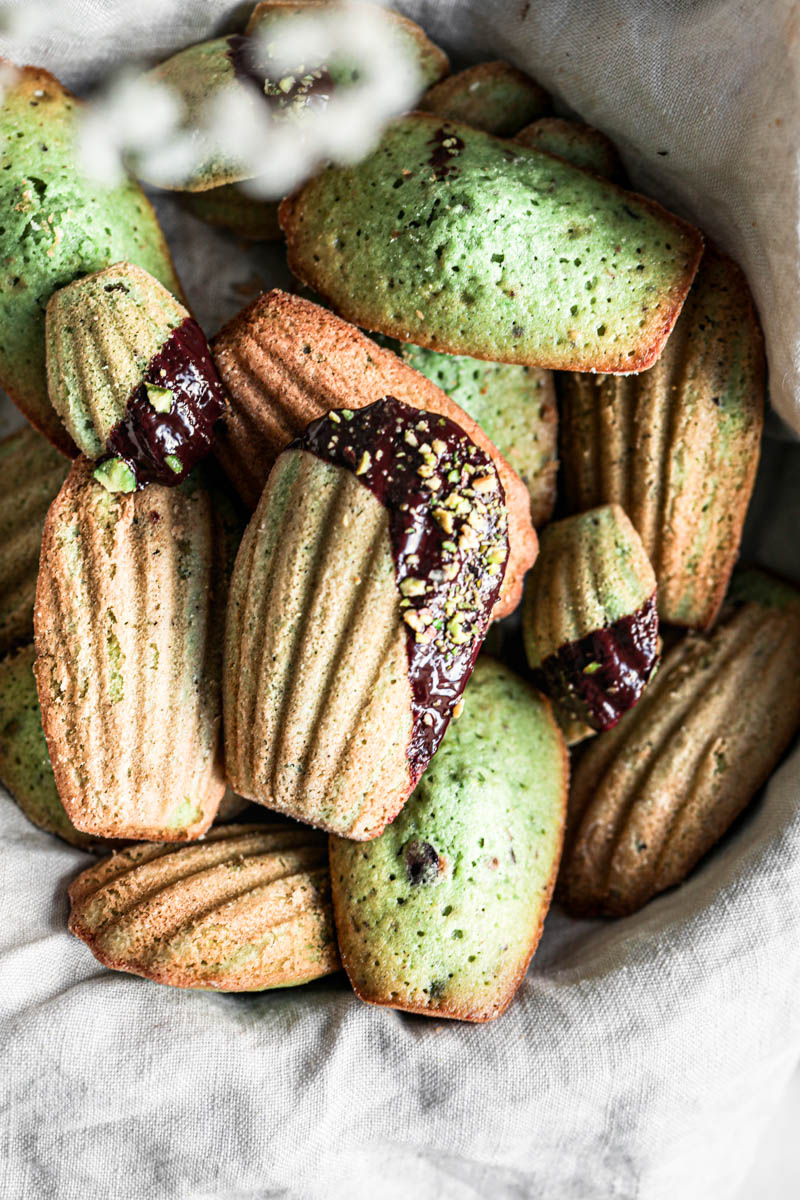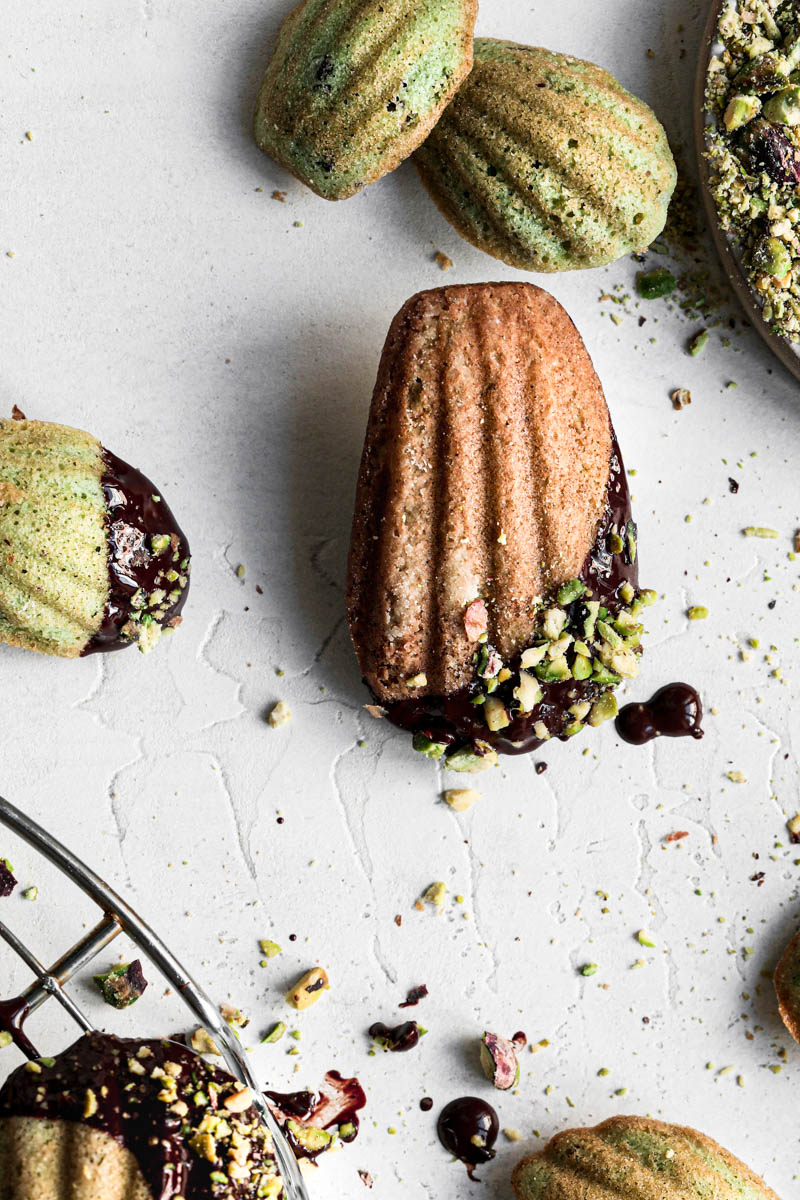 How to make this recipe
Making these chocolate dipped pistachio madeleines is straight forward:
Make the pistachio madeleine batter
Bake the pistachio madeleines
Prepare the chocolate glaze
Dip the madeleines in the chocolate glaze
Enjoy!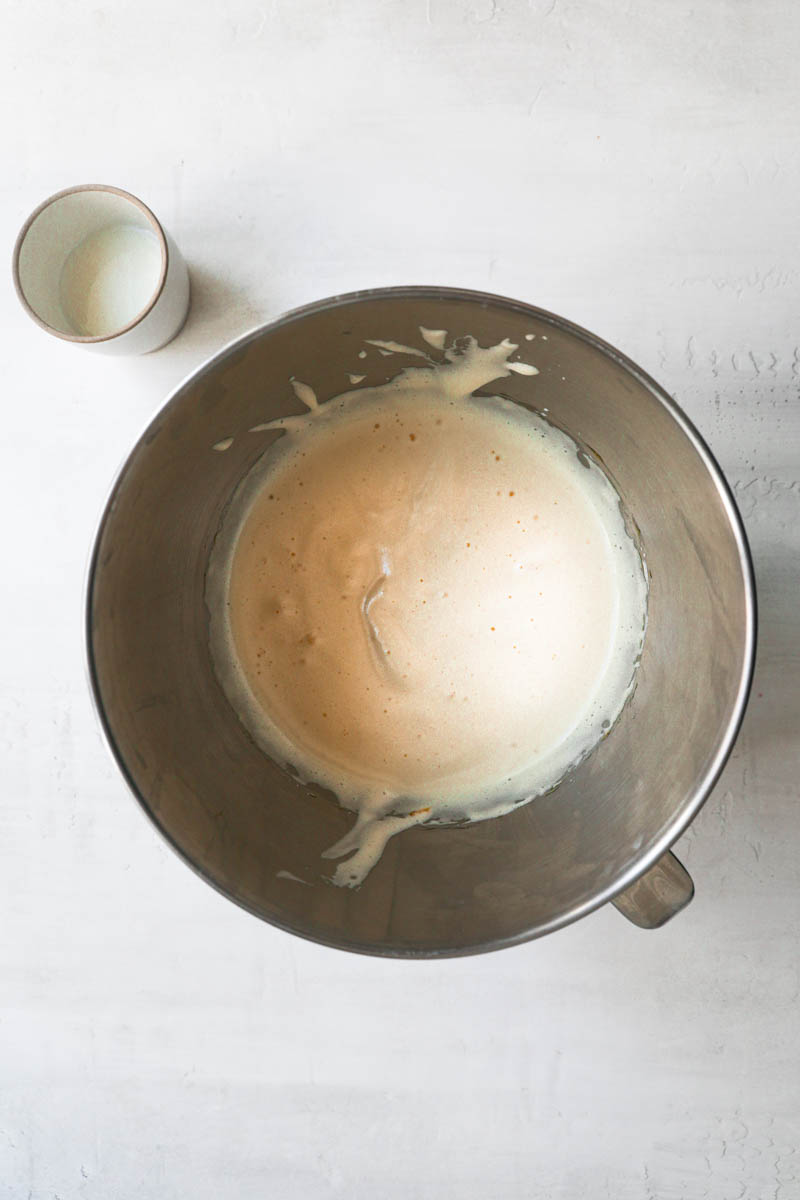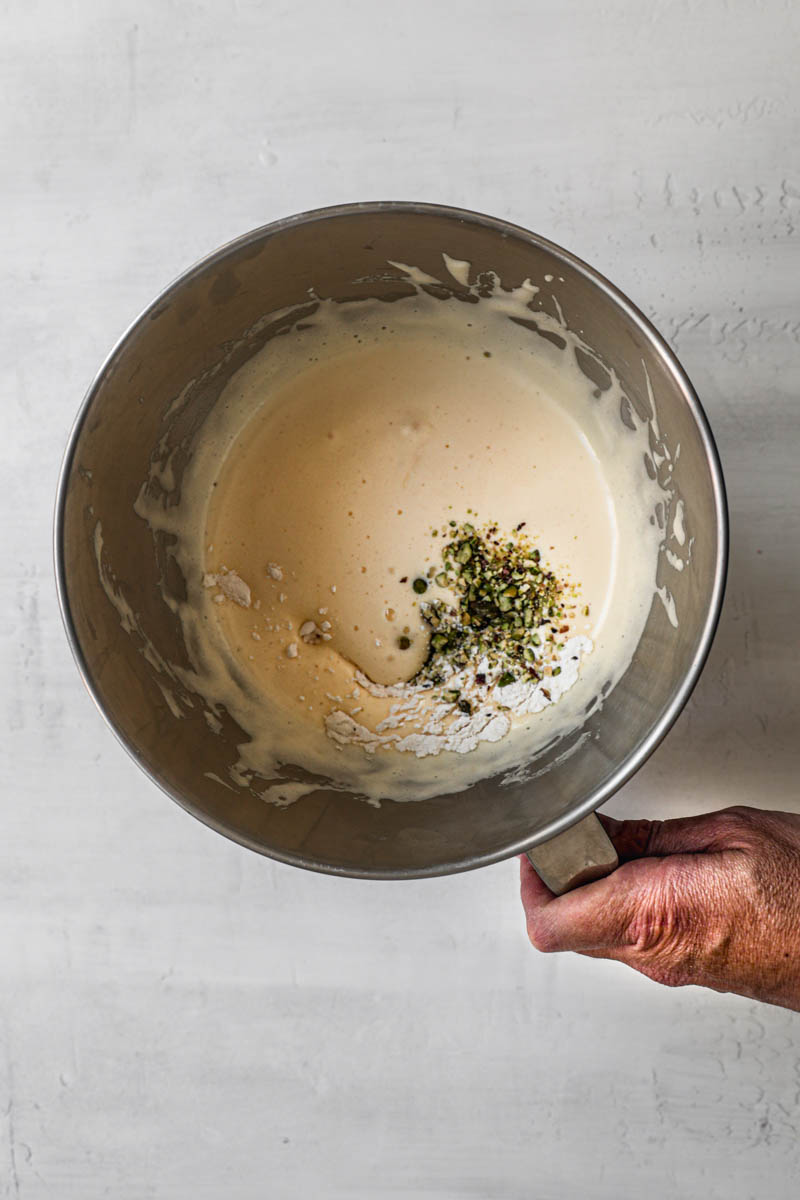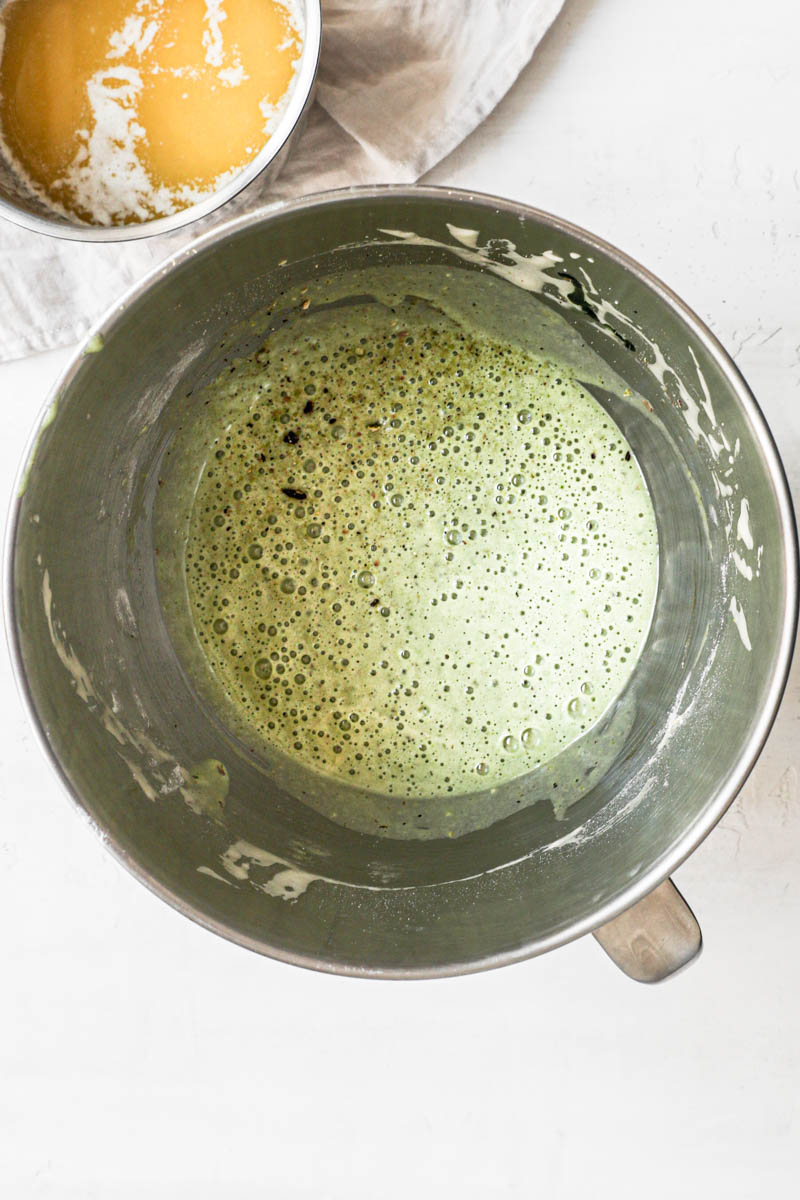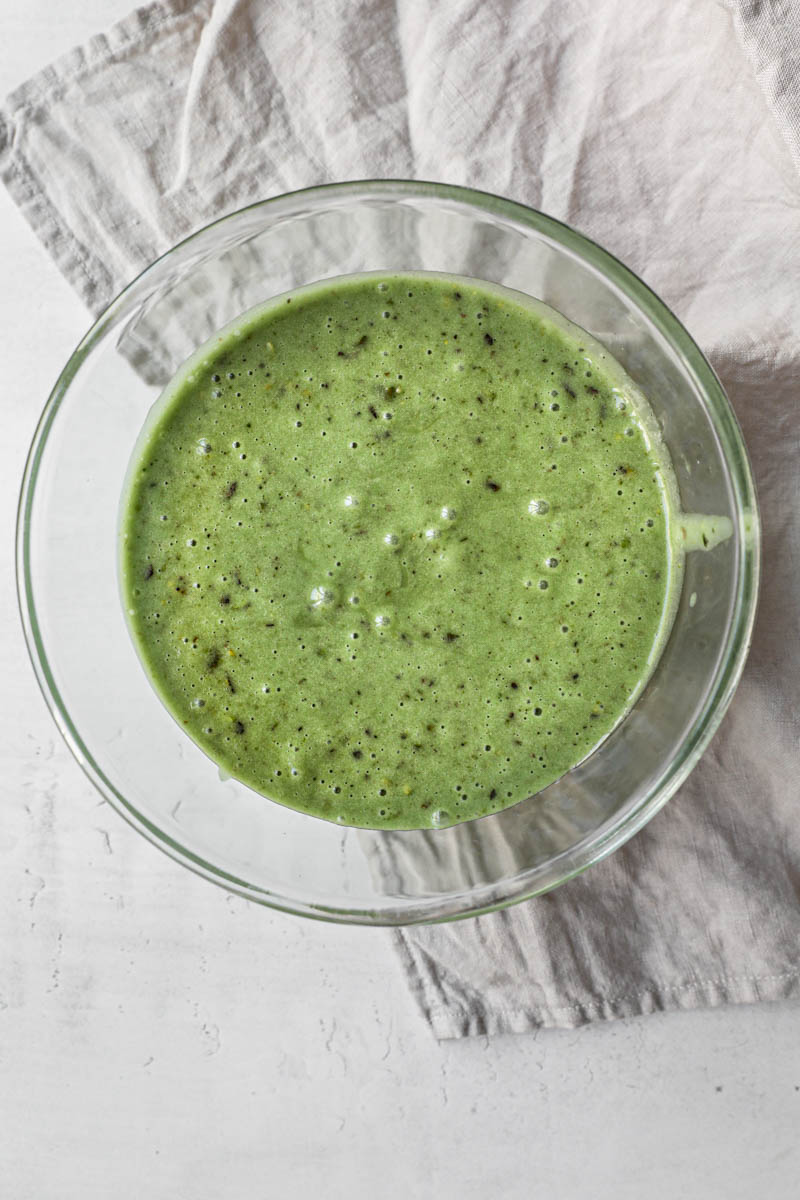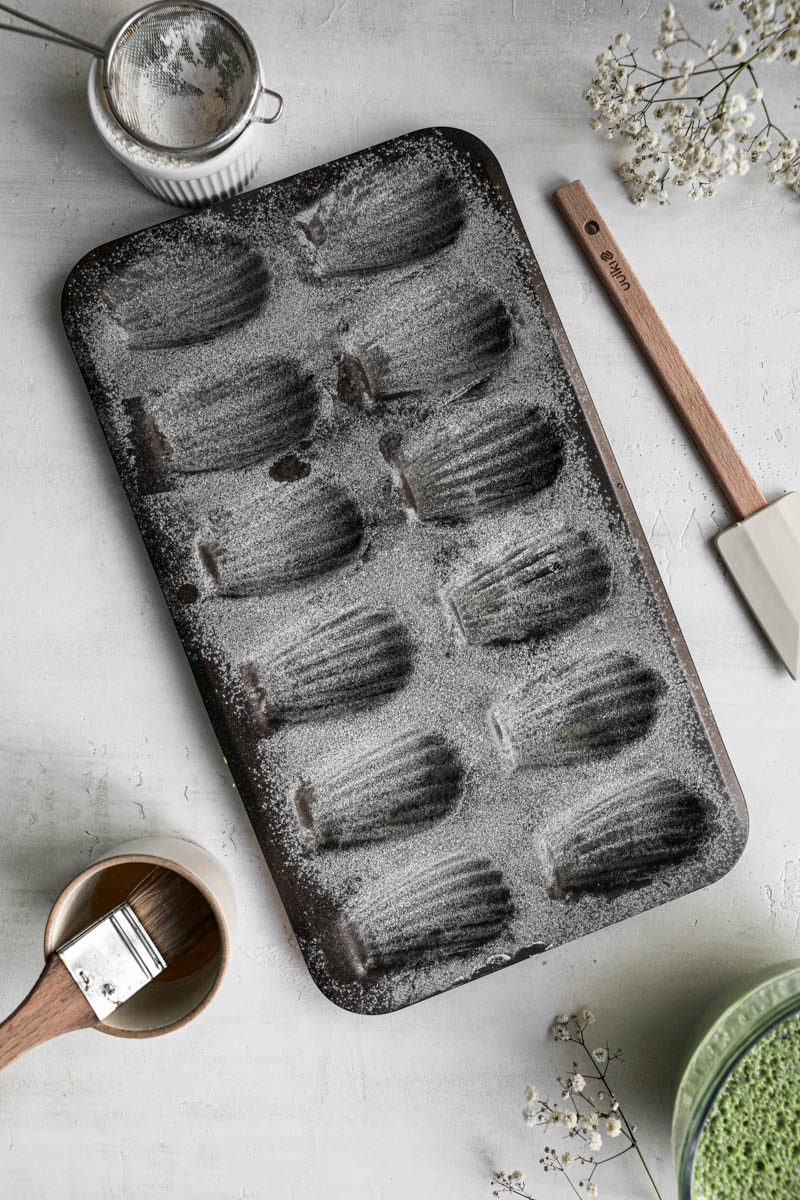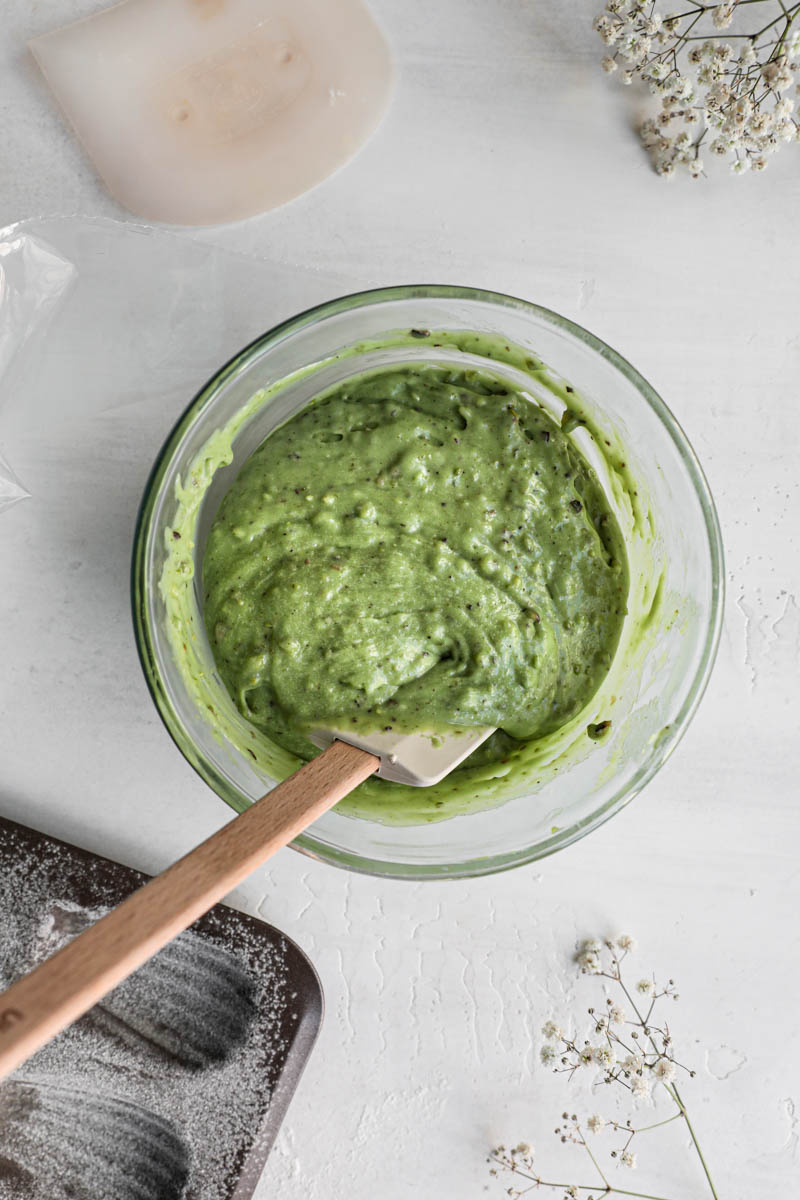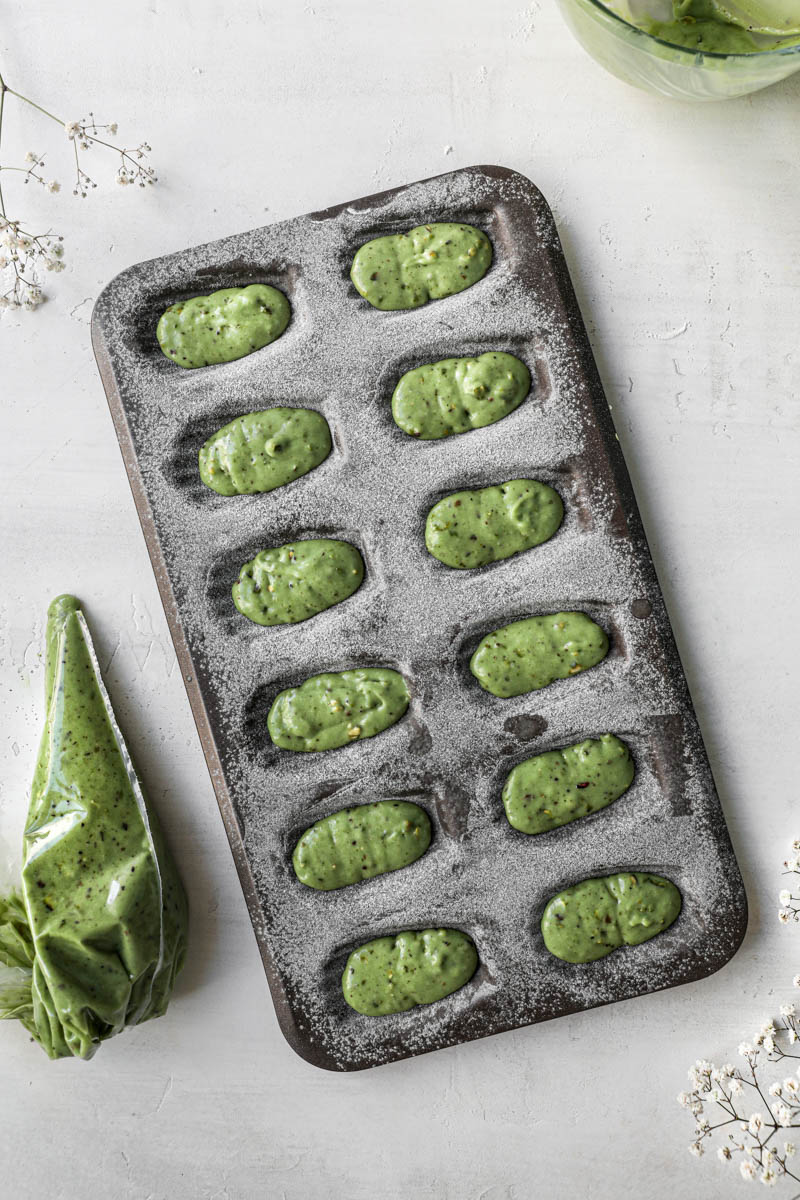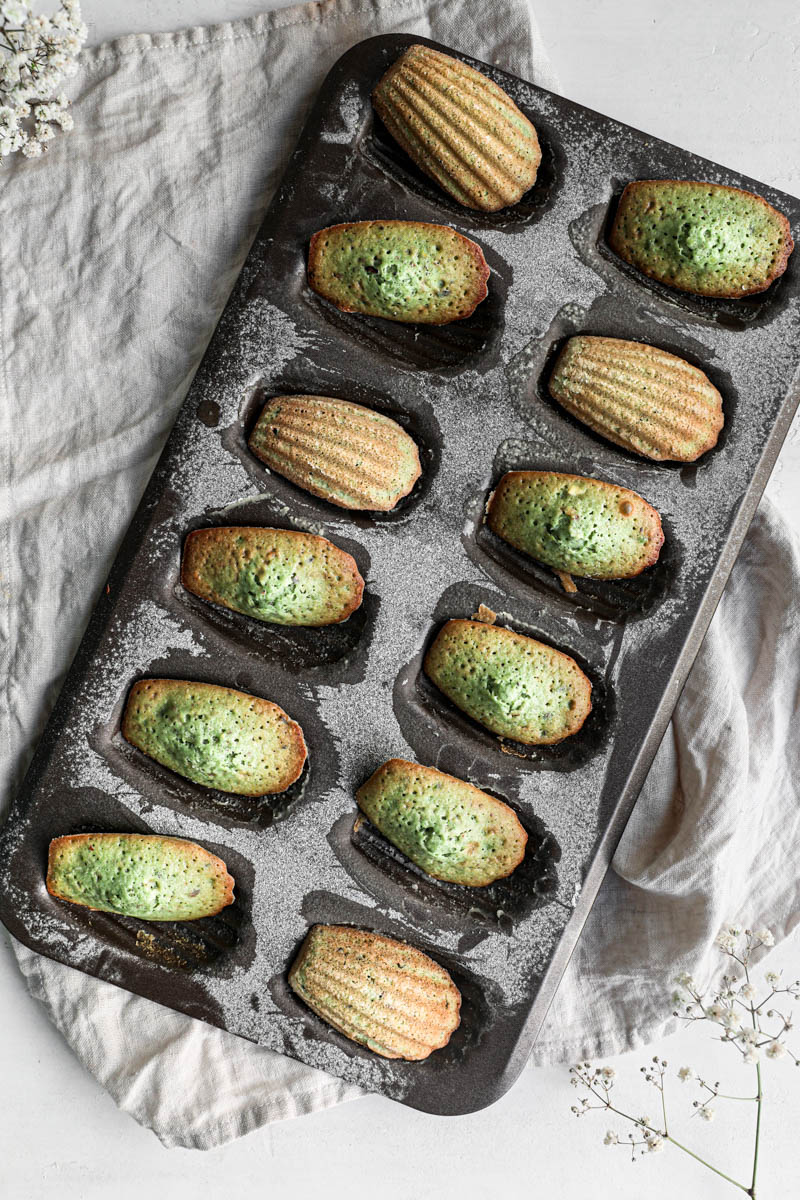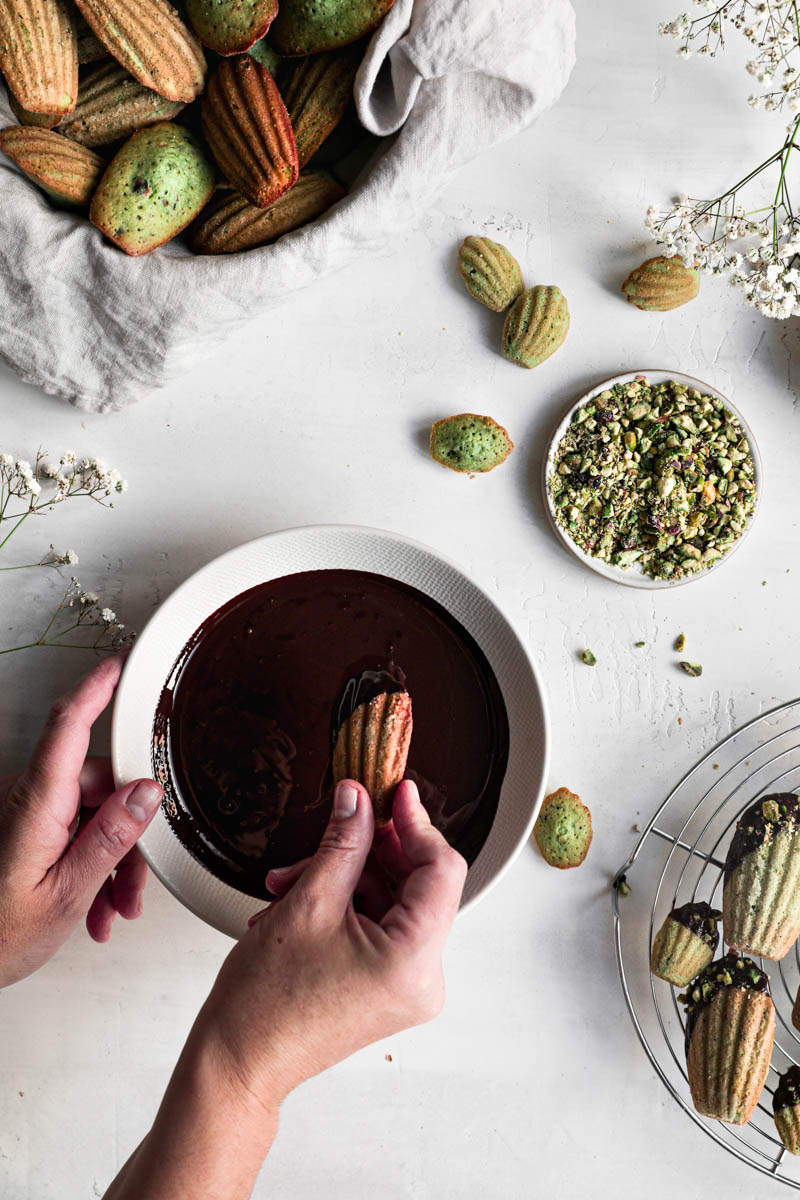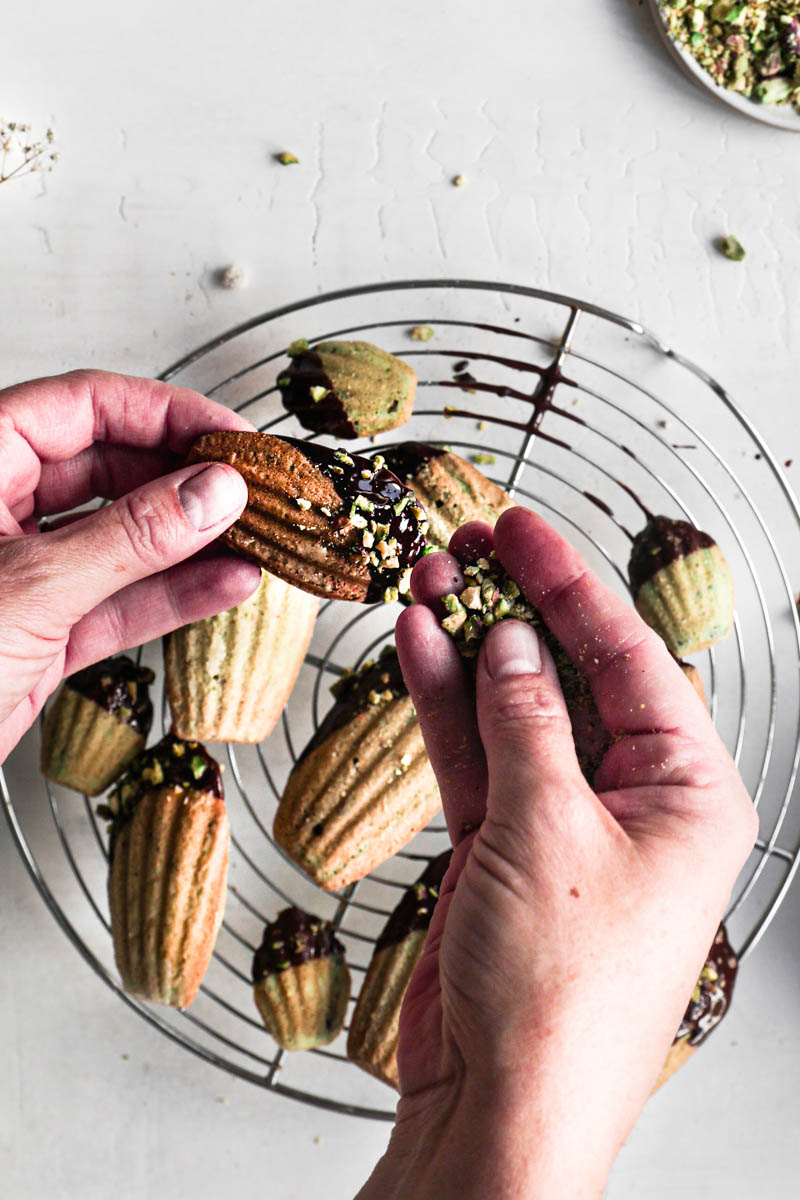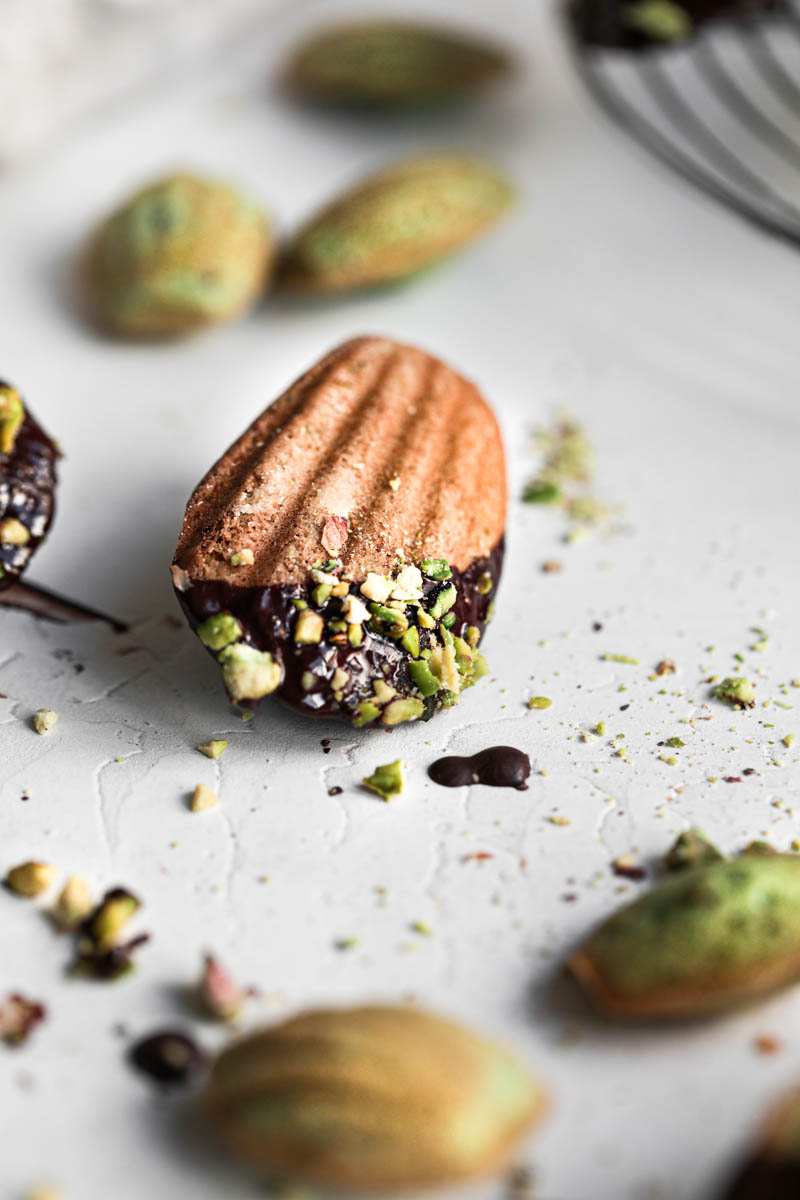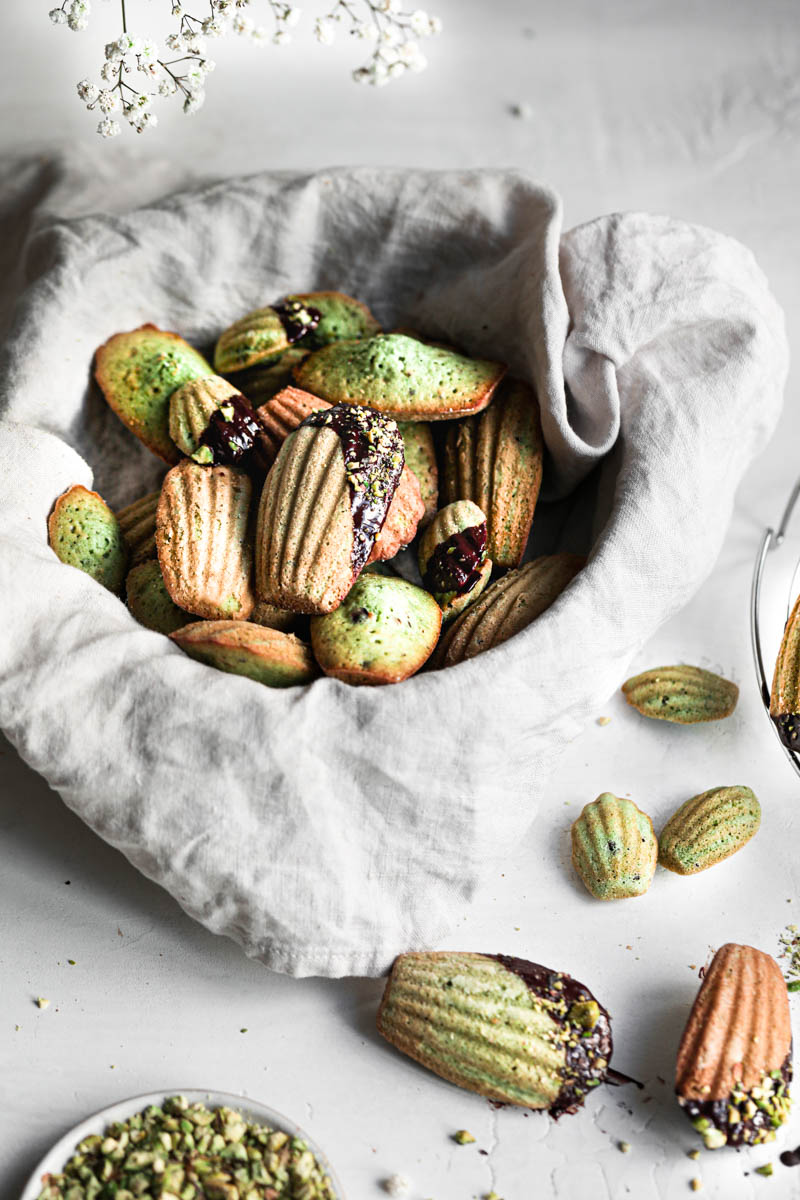 Recipe notes
Before you start prepare all the ingredients to make the pistachio madeleine batter.
Butter should be hot when incorporated into the batter (about 60 °C).
You can ground the pistachios using a food processor or by placing the pistachios in a bag and tapping them with a rolling pin.
When preparing the batter, use a mixer and simply mix in the ingredients in the order stated in the recipe, including the flour, which you can also whisk in quickly.
Once the batter is ready, it needs to rest in the refrigerator for 24 to 48 hours, so plan accordingly.
It is very important to butter and flour the madeleine pan using softened butter and a brush. This will help the pistachio madeleines to slide and evenly grow while baking (amongst other things. See below!)
When ready to bake, don't forget to smooth out the madeleine batter before filling the madeleine pan with it!
Each oven is different so make sure to test and adjust the cooking time according to your oven.
When you remove the pistachio madeleines from the oven, immediately turn them on the side inside the madeleine pan to make sure they don't stick to it.
Notes on how to get the beautiful madeleine bump
Chill the madeleine cake batter: once you have finished making the batter, transfer to an hermetic container and refrigerate for a minimum of 24 hours and up to 48 hours. The hermetic shock from putting a cold batter inside an extremely hot oven will help get that bump.
Filling the madeleine pan: this is the most important key to your success! If you fill the shell depressions too much, the batter will overflow, and you won't get those nice little bumps. Make sure to fill the madeleine pan to ¾ of the rim of each shell depression. It may seem that you are not being generous, don't worry. Don't be tempted to fill them with more batter.
The oven should be preheated to 180 C°/360 F. Place an empty baking tray in the middle rack of the oven to help with the thermic shock.
Notes on the chocolate glaze
To make these chocolate dipped Madeleines is super easy. Some tips to follow:
Chocolate can be melted over a water bath or in the microwave at 10-second intervals and then mixed with the sunflower oil.
Keep it warm until you are ready to use it!
Pistachio madeleines must be completely cooled down before glazing.
Dip the madeleines into the chocolate glaze then shake to remove any excess. You can dip as much or as little of each madeleine as you like.
Top with some ground pistachios before the chocolate glaze sets so that they stick to the chocolate.
Let the chocolate glaze set completely before serving the pistachio madeleines.
Storing tips
You can keep these pistachio madeleines stored in a hermetic container, at room temperature, for up to 3 days.
Freezer instructions
You can freeze them once they have completely cooled down (before dipping into the chocolate glaze), wrapped individually in saran wrap, and then placed in a freezer bag. They keep for up to 1 month.
To defrost, let them sit at room temperature for 2 hours. Unwrap, glaze, and enjoy!
Variations to this recipe
If you feel like having regular madeleines, you can find a classic lemon brown butter madeleine recipe here Madeleines.
You can serve these pistachio madeleines without the chocolate glaze, just sprinkle them with powdered sugar.
The ingredients used in all recipes on this site are measured using the metric system. I use a
scale
to be precise with my measurements and ensure good results. If you would also like to use a scale, here are some:
USA
,
Canada
,
UK
,
Australia
,
France
.
Subscribe to the newsletter
Pistachio Madeleines
All-purpose Flour

130 g

Baking Powder

6 g

Butter

125 g

Sugar

80 g

Milk

40 g

Honey

20 g

Eggs

3

Salt

2 g

Pistachio Paste

20 g

Grounded Pistachio

50 g
Chocolate Glaze
Dark Chocolate

150 g

Sunflower Oil

15 g

Crushed Pistachios

50 g
If you made this recipe I would really appreciate it if you leave a rating or comment below! Also, if you share on social media please use #cookwithbelula, I would love to see what you create!