Pistachio French Madeleines
Madeleines are small cakes shaped as a shell. This French madeleine recipe is flavored with grounded pistachios and pistachio paste and glazed with a rich chocolate glaze.
I remember baking madeleines for the first time, when I was 10 years old, during our long summer break. What a wonderful treat to share with others. I made this is pistachio madeleine pastry recipe for the first-time years ago to bring along to our first team tennis meet, a little pick me up after or before each match! Girls loved them, and I immediately thought I should share the recipe here too! I hope you love them as much as they did!
What are madeleines?
Madeleines are small cakes shaped as shells acquired from being baked in pans with shell like depressions. They are a traditional bake from the Lorraine region in northeast France.
What will you need to make these pistachio French madeleines?
The usual suspects: flour, baking powder, sugar, milk, eggs, salt.
Butter: needs to be unsalted and with high fat content. When added to the madeleine cake batter it should be melted and hot (60 C°).
Honey: gives the batter a nice moist touch and prevents the madeleines from drying out.
Pistachio paste, for the extra pronounced pistachio flavor. Try to get one that has no added sugar and it is made mostly of only pistachios like this one Pariani 100% Pure Sicilian Pistachio Paste.
Grounded pistachios, for the crunch and the flavor.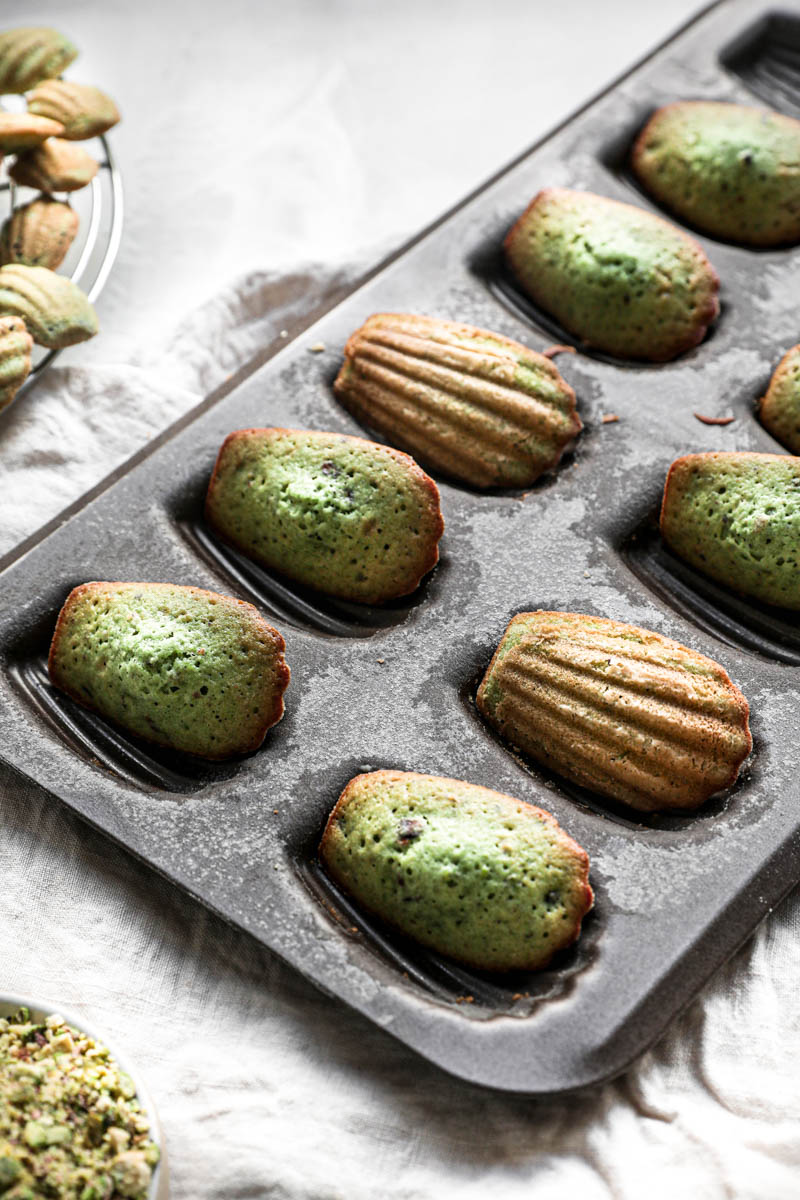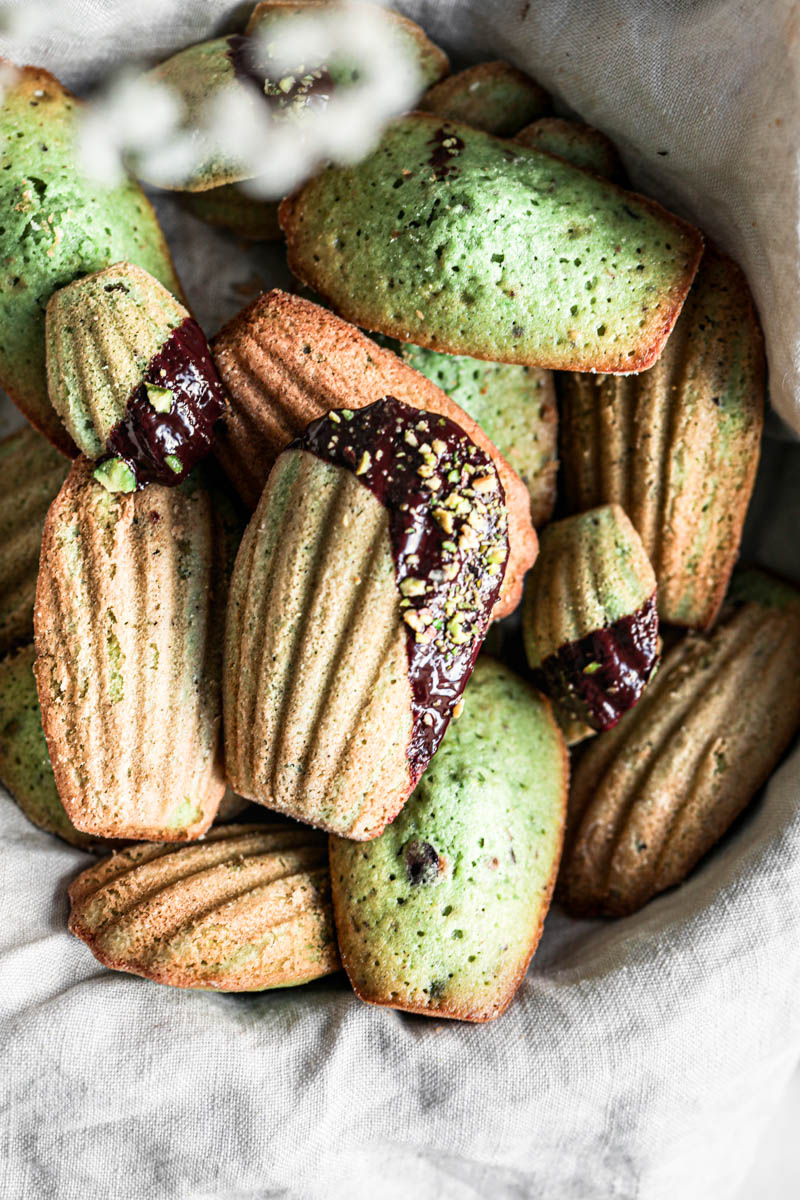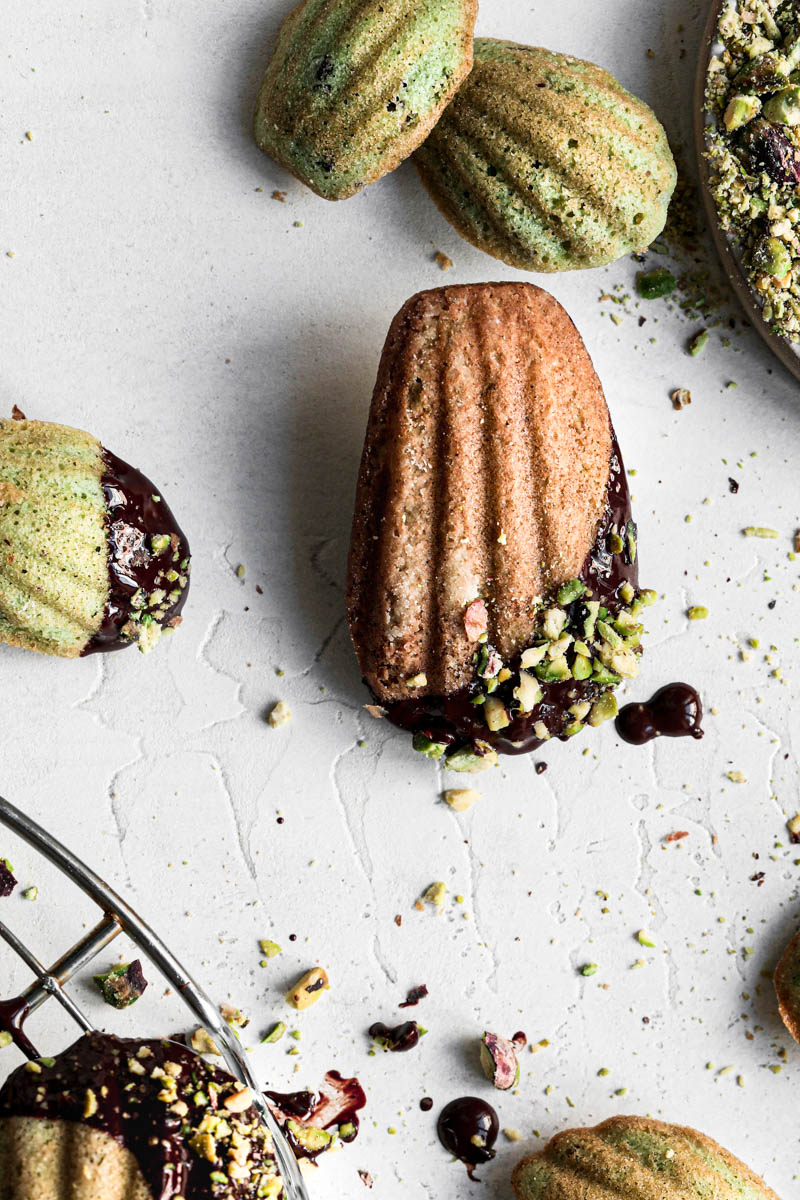 How to make madeleines?
Making the actual madeleine cake batter is straight forward. You simply must:
Get ready: sift the flour with baking powder and salt and set aside. Warm the milk and mix in the honey. Melt the butter: it should be hot when incorporated to the batter (about 60 °C). Finally ground the pistachios.
Then, prepare the batter, by simply whisking in the ingredients to your mixing bowl in a certain order:
Blanch the eggs and the sugar.
Once they are blanched whisk in the milk/honey mixture.
Then add the flour/baking powder/salt mixture, the grounded pistachios and the pistachio paste and continue to whisk at low speed until incorporated to the batter.
Finally add the hot melted butter and continue to whisk at low speed. Scrape the sides of the bowl.
Transfer the batter to a hermetic container and refrigerate for a minimum of 24 hours and up to 48 hours.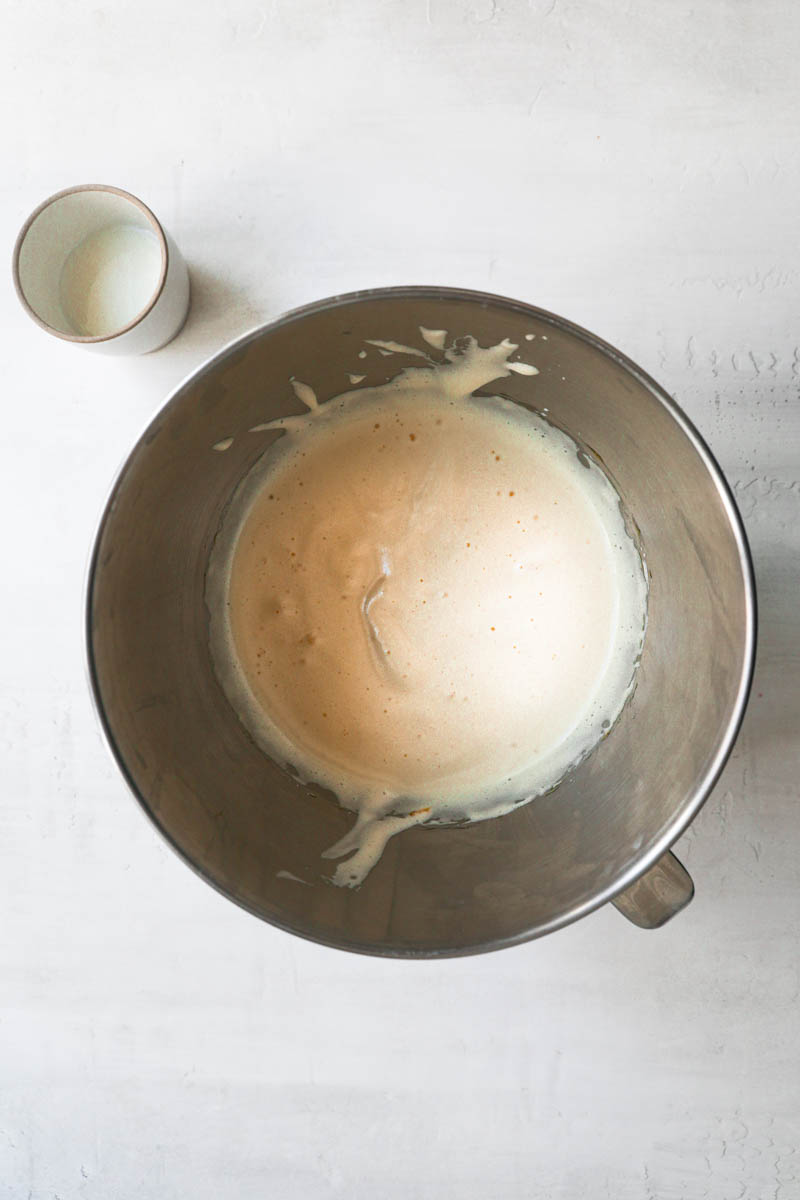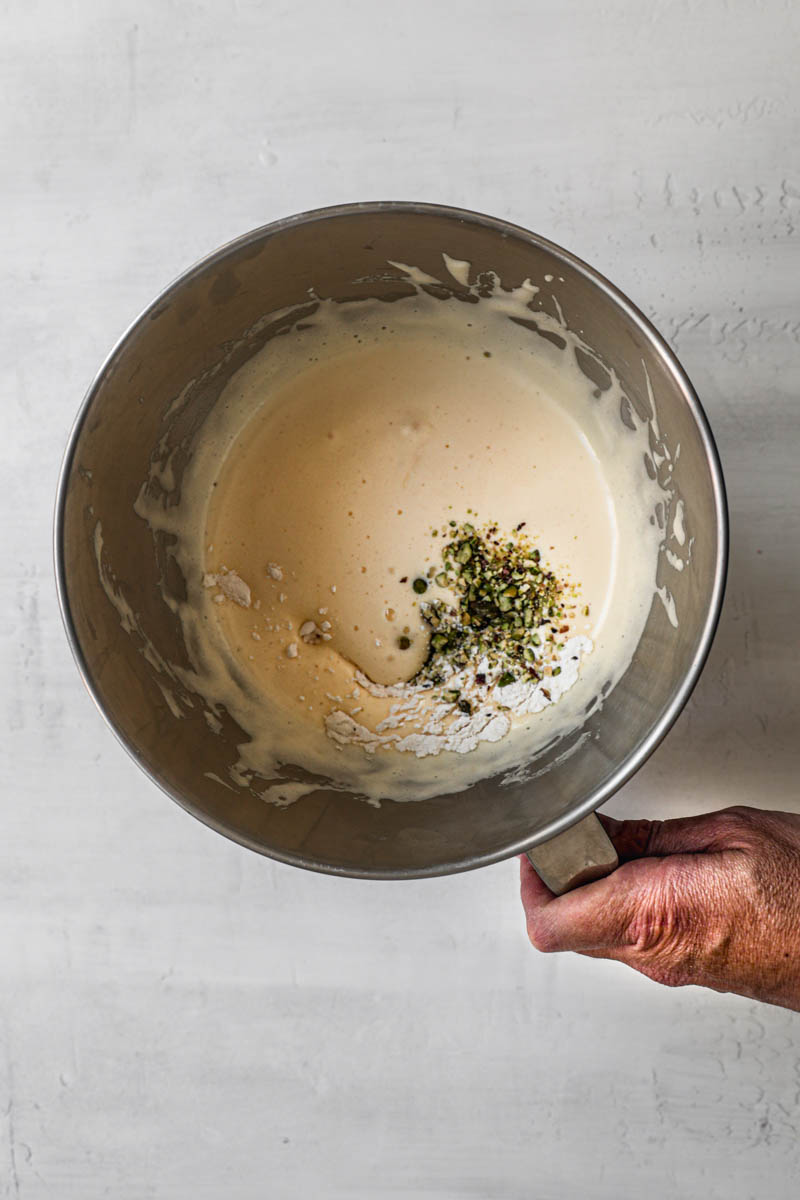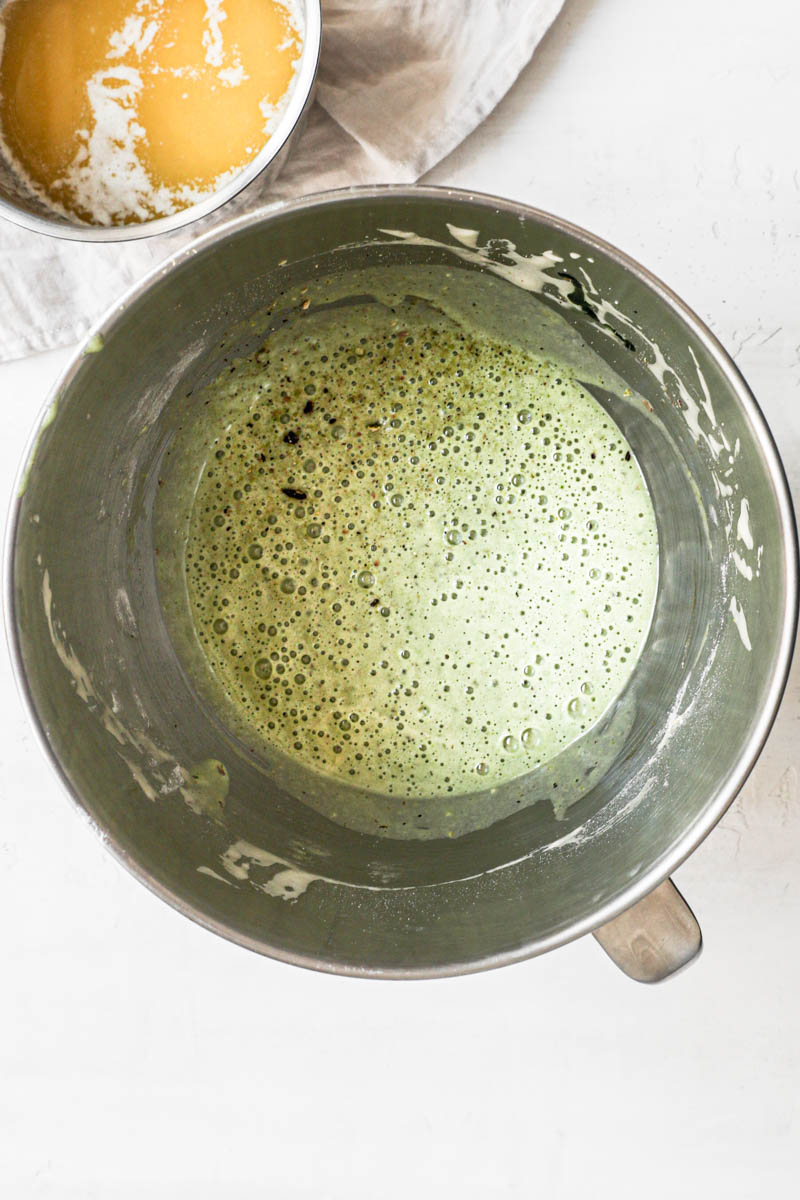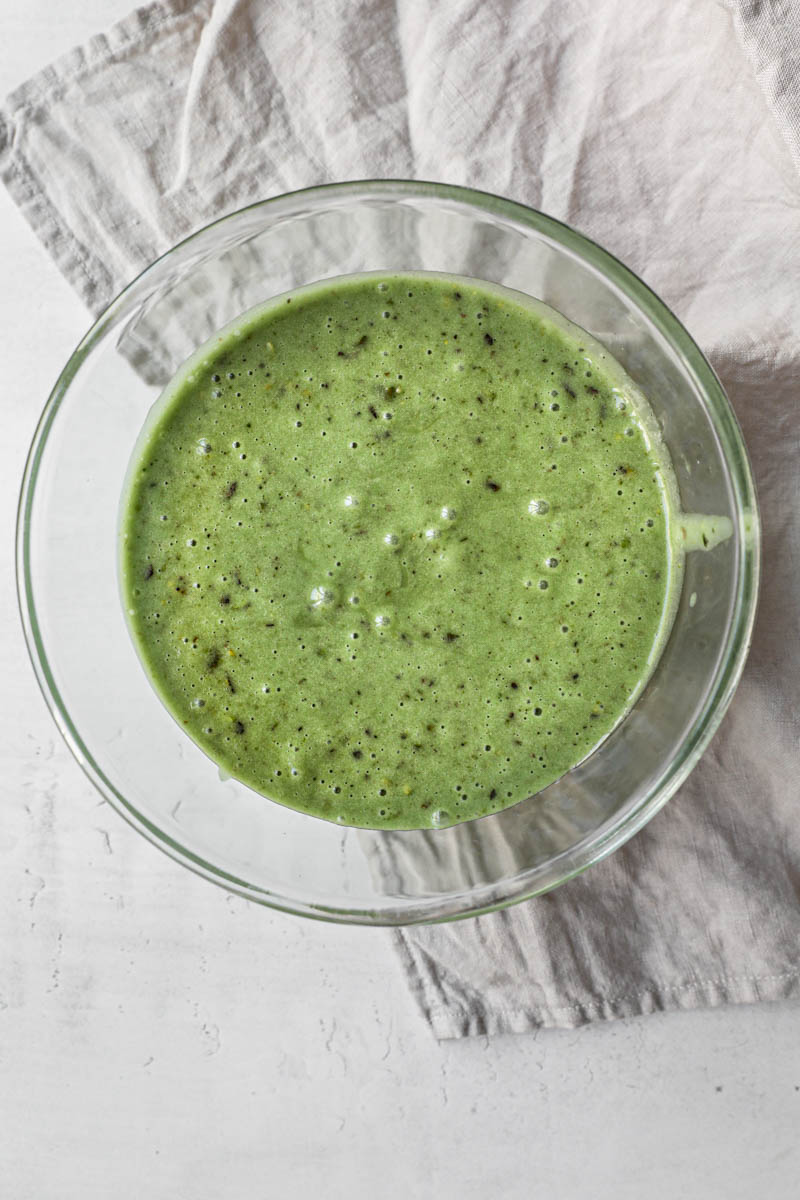 How to bake madeleines?
Pre-heat the oven to 180 C°/360 F° (in convection function if it is available to you) and place an empty tray in the middle rack of the oven.
Butter the madeleine pan with melted butter. Use a brush and make sure there is not too much butter.
Flour the pan by dusting flour over it using a small strainer. Remove the excess flour by turning over the pan and slightly tapping it on the side.
Remove the madeleine batter from the fridge and using a spatula smooth it out until you obtain a homogenous batter.
Transfer the batter to a pipping bag and fill each shell depression up to ¾ of the rim.
Place the madeleine pan on top of the hot baking tray inside the oven and bake for 10 minutes, until the small bump has formed, and the edges are slightly colored.
Note: each oven is different so make sure to test and adjust the cooking time according to your oven.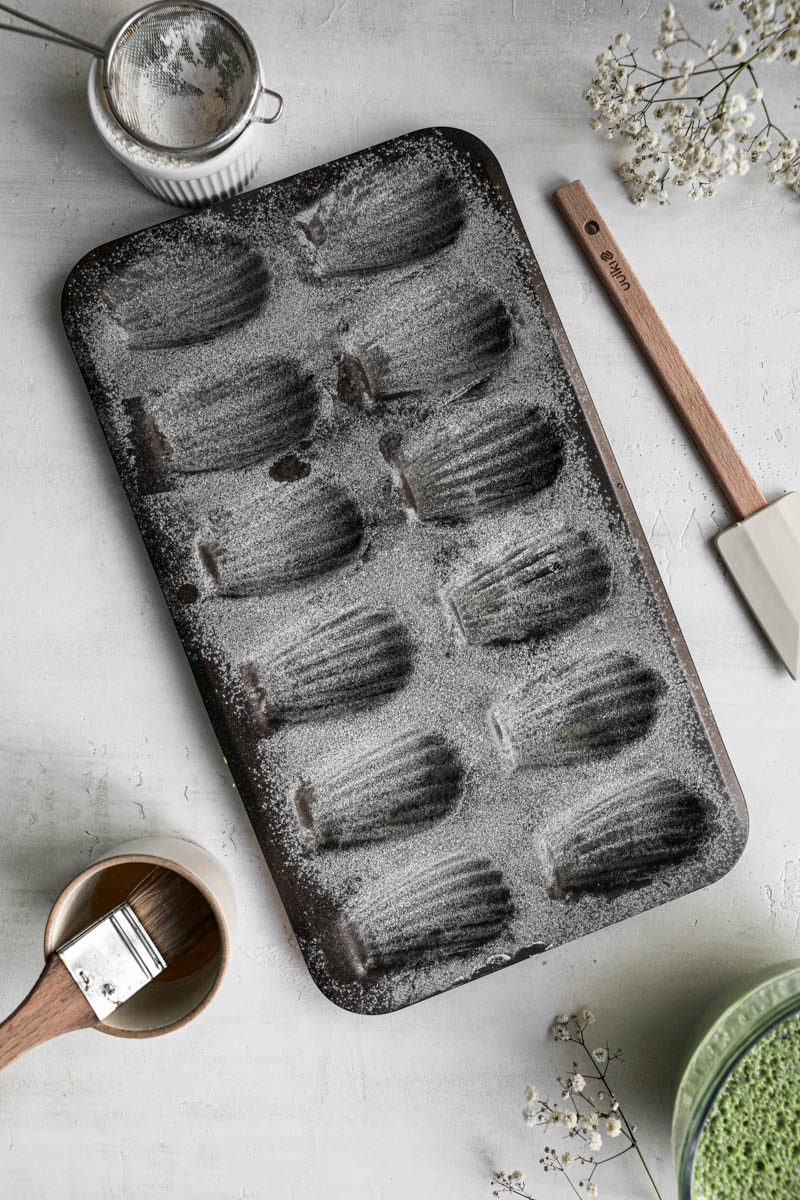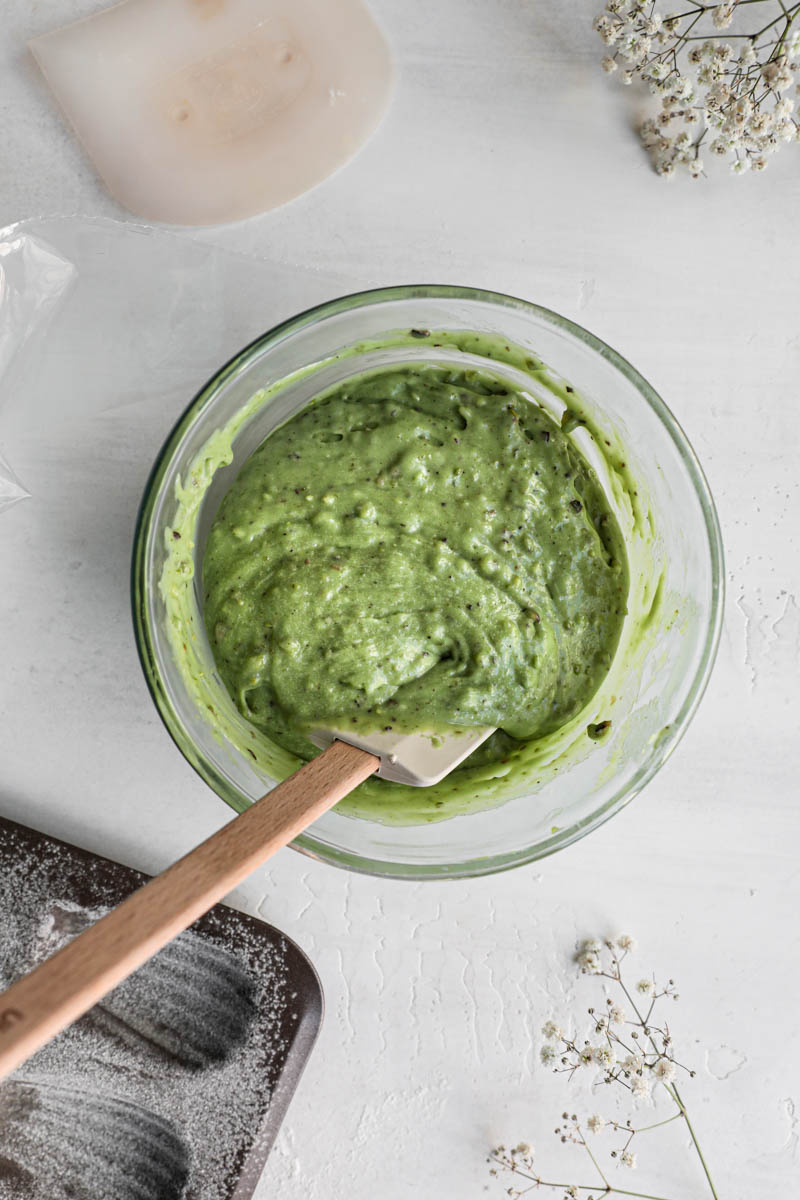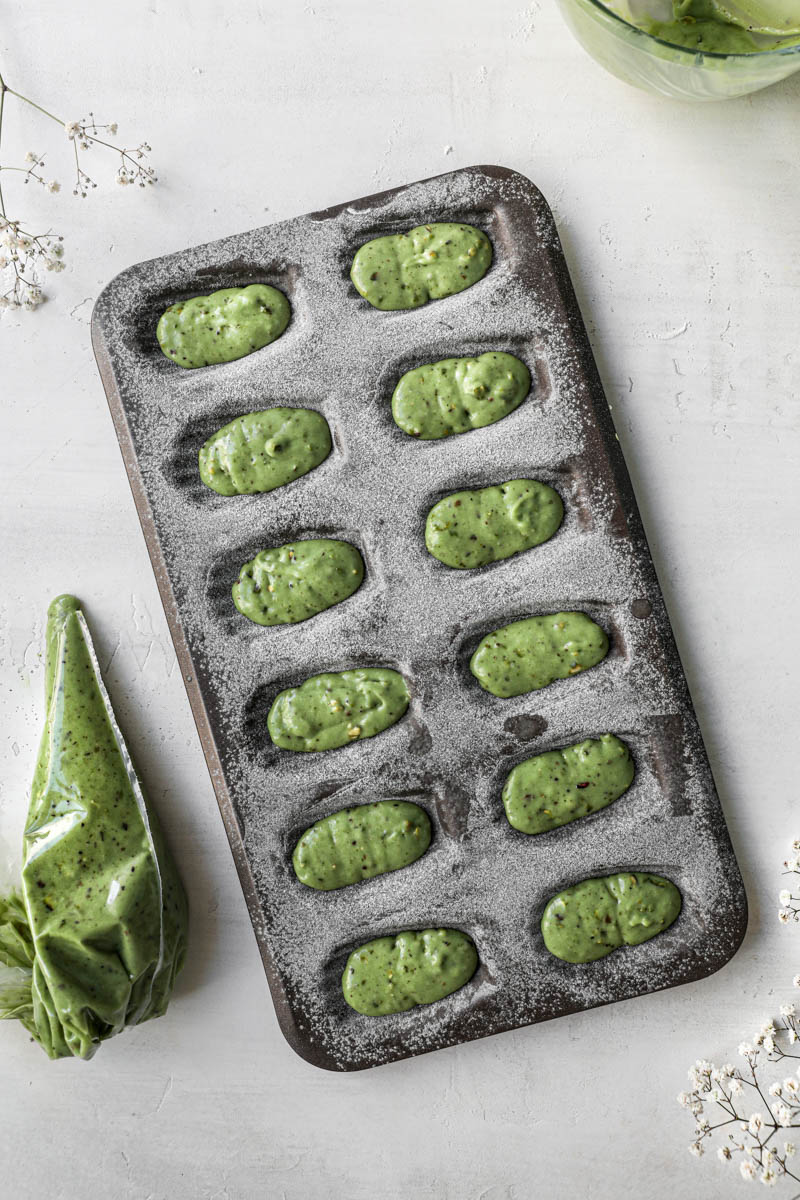 Some tips to get that bump!
Chill the madeleine cake batter: once you have finished making the batter, transfer to a hermetic container and refrigerate minimum of 24 hours and up to 48 hours. The hermetic shock from putting a cold batter inside an extremely hot oven will help get that bump.
Filling the madeleine pan: this is the most important key to success! If you fill the shell depressions too much, the batter will overflow, and you won't get those nice little bumps. Make sure to fill the madeleine pan to ¾ of the rim of each shell depression. It may seem that you are not being generous, don't worry. Don't be tempted to fill them with more batter.
The oven should be preheated to 180 C°/360 F. Place an empty baking tray in the middle tack of the oven to help with the thermic shock.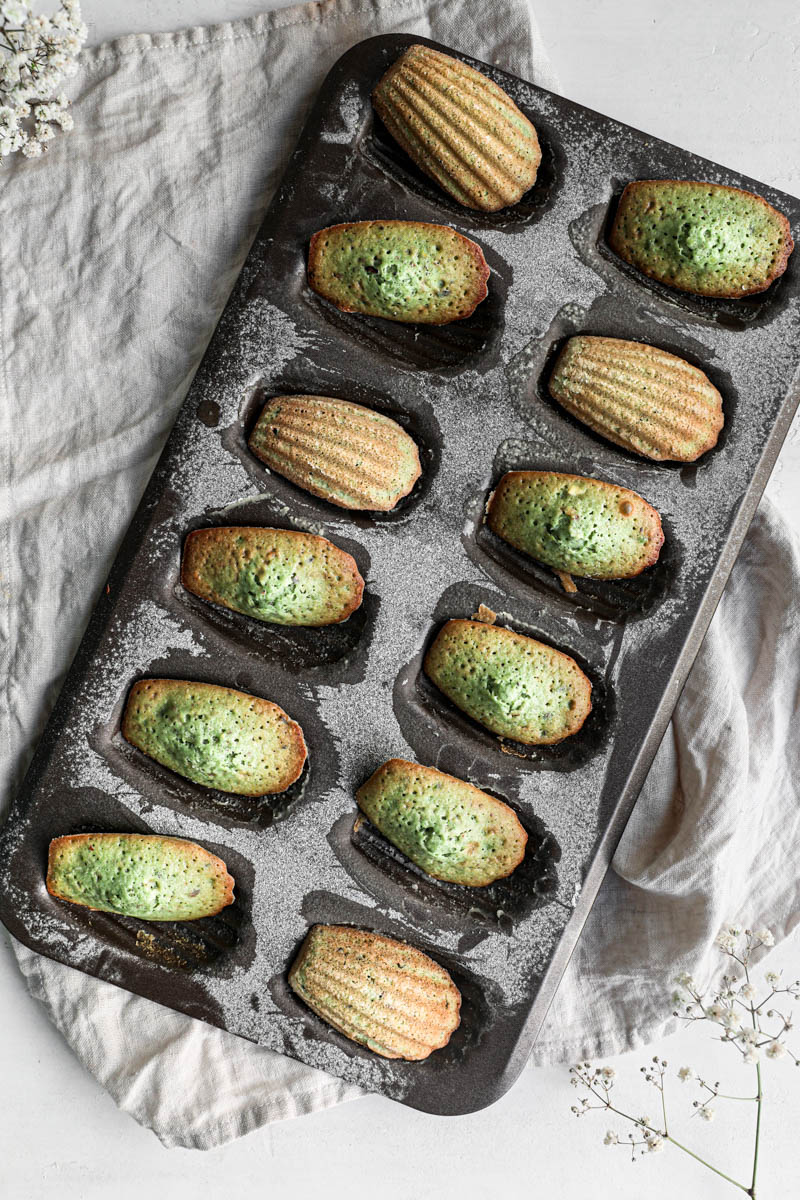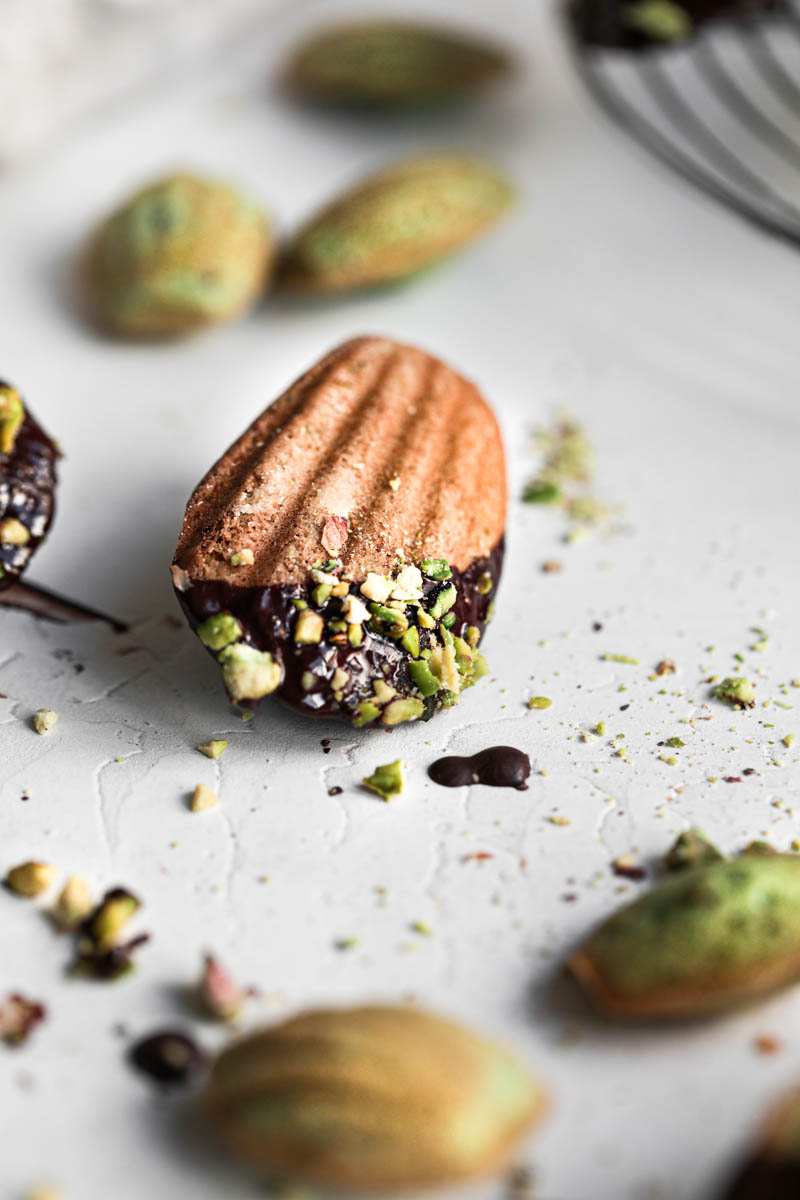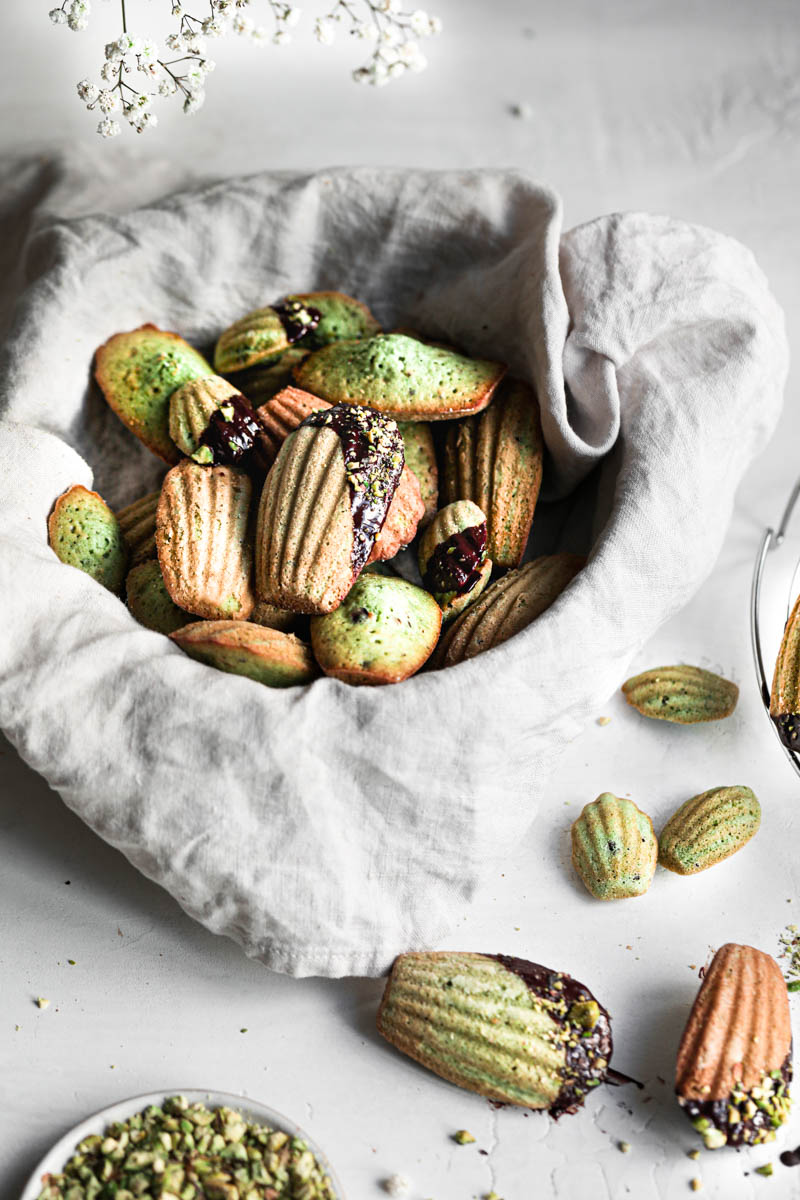 The chocolate glaze for these pistachio Madeleines
So easy you'll be surprised! Just melt the chocolate over a water bath (or in the microwave at 10 second intervals) then add the sunflower oil and mix to combine. Keep it warm until you are ready to use!
Once the madeleines have completely cooled down, dip 1/3 (or ½) of each Madeleine into the chocolate glaze for few seconds. Then remove it and shake slightly it to that any excess glaze can drip off. Place over a wire rack and sprinkle with grounded pistachios. Let the chocolate glaze set before serving them!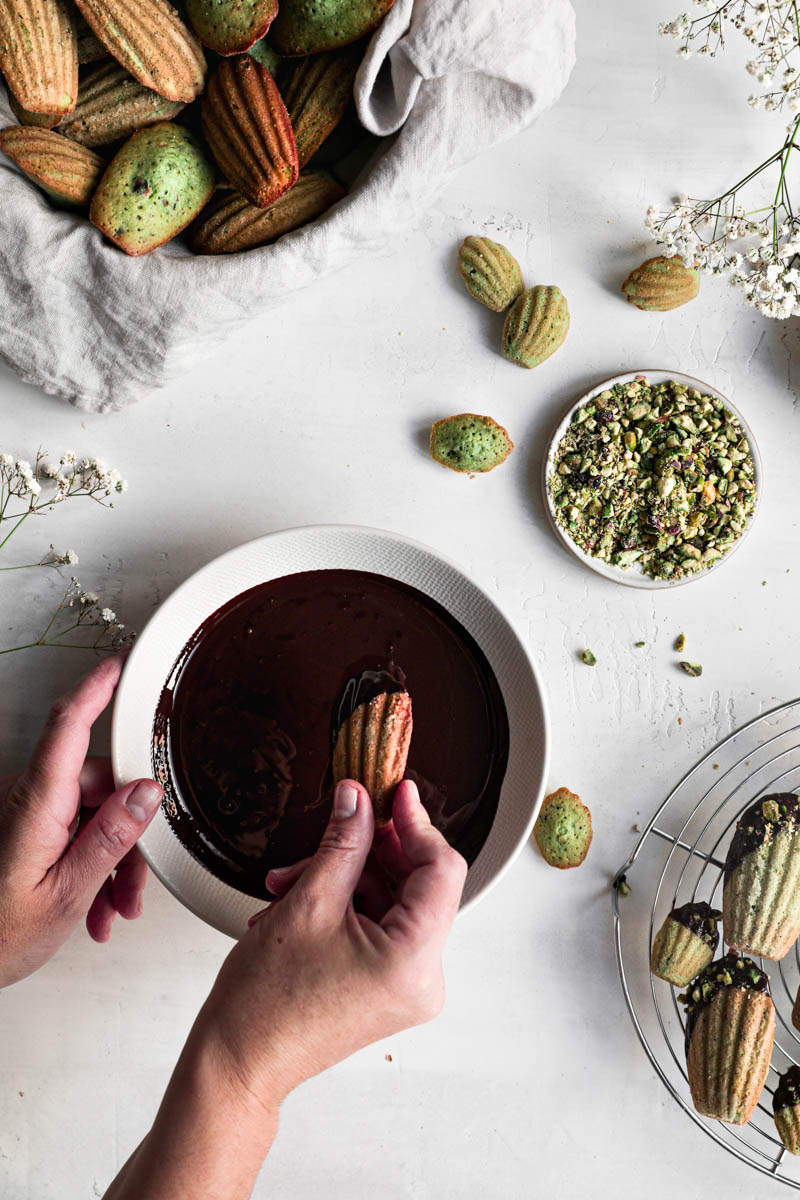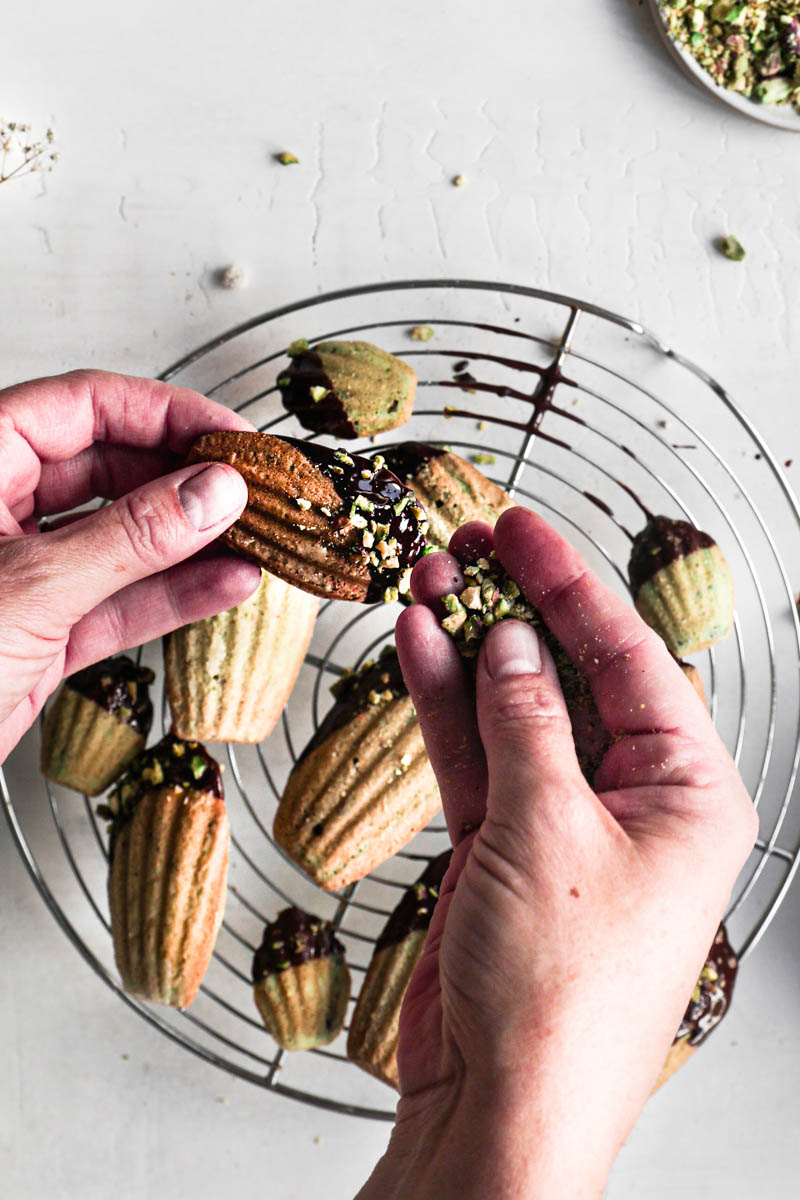 How long con you keep madeleines?
You can keep madeleines store in a hermetic container for up to 3 days.
You can freeze them once they have completely cooled down, wrapped individually in plastic wrap and then placed in a freezer bag. You can keep for up to 1 month.
To defrost, let them sit at room temperature for 2 hours. Unwrap, glaze, and enjoy!
Variations to this recipe
If you feel like having regular madeleines, you can find a classic lemon scented madeleine recipe here Madeleines.
You can serve these pistachio madeleines without the chocolate glaze, just sprinkled with powdered sugar.
The ingredients used in all recipes on this site are measured using the metric system. I use a
scale
to be precise with my measurements and ensure good results. If you would also like to use a scale, here are some:
USA
,
Canada
,
UK
,
Australia
,
France
.
Subscribe to the newsletter
Pistachio Madeleines
All-purpose Flour

130 g

Baking Powder

6 g

Butter

125 g

Sugar

80 g

Milk

40 g

Honey

20 g

Eggs

3

Salt

2 g

Pistachio Paste

20 g

Grounded Pistachio

50 g
Chocolate Glaze
Dark Chocolate

150 g

Sunflower Oil

15 g

Crushed Pistachios

50 g
If you made this recipe I would really appreciate it if you leave a rating or comment below! Also, if you share on social media please use #cookwithbelula, I would love to see what you create!