Easy Fluffy No Bake Vanilla Blueberry Cheesecake with Gelatin
This easy homemade no bake vanilla blueberry cheesecake recipe is light, fluffy and made with gelatin and lemon zest. With a blueberry topping sauce and fresh blueberries.
A few years back I hosted a pop-up restaurant at our tiny studio apartment 3 times a week. It went on for about a year. The very first dessert I served my guests was this homemade fluffy no bake cheesecake, and it was a huge success. It is made with a speculoos cookie curst, a fluffy vanilla bean and lemon zest filling that sets with the help of unflavored gelatin and it is covered with a blueberry topping sauce and fresh blueberries. This recipe is for 8 people. I repeated this dessert over and over and every single person loved it. Hope you will like this easy no bake blueberry cheesecake as much as they did!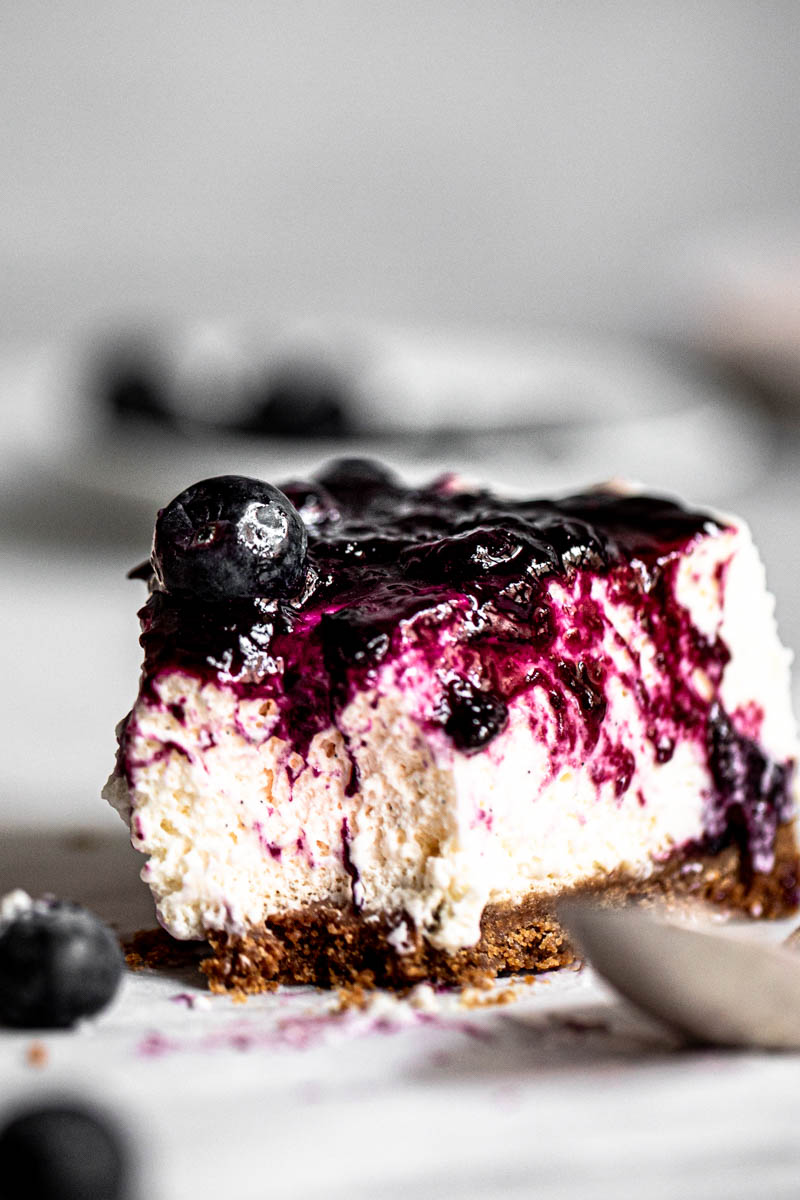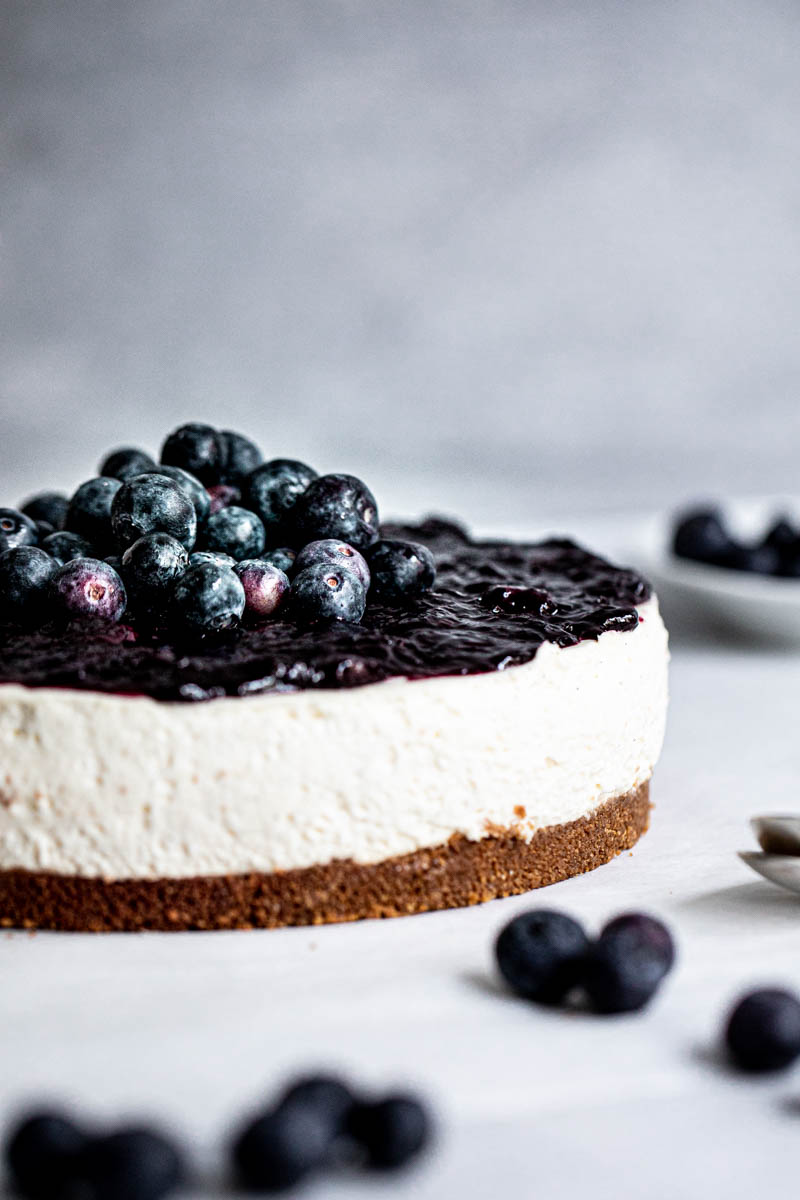 Ingredient notes
Speculoos cookies for the crust. If you feel like doing them yourself here is a recipe to make these cookies Speculoos. Or you can buy these lotus biscoff cookies that I love and use all the time.
Butter for the crust: melted.
Cream cheese: it must be at room temperature. You can leave outside of the refrigerator for at least one hour before you make this no bake dessert. I use Philadelphia cream cheese.
Whipping cream: must have full fat content. It is added into the batter once it has been already whipped.
Lemon: both the lemon zest and the lemon juice are used in this recipe. Lemon zest must be freshly grated to keep all the flavor and preventing it from drying out.
Gelatin: the recipe calls for unflavored gelatin leaf. You can replace with unflavored gelatin powder. See below for instructions.
Vanilla bean: scraped. You can watch a video of how to scrape a vanilla bean here. You can replace the vanilla bean by vanilla extract. Add a small spoonful.
Blueberries: to make the blueberry topping sauce you can either use fresh or frozen blueberries. Then I like to finish off with some fresh blueberries on top of the sauce (this is optional, though highly recommended).
Notes on the cake pan
You can use a springform cake pan 20 (8 inches) in diameter. You should line the sides of the pan with parchment paper. Butter the mold then cover the sides with parchment paper (butter will help the paper stick to the pan!) and then butter the parchment paper.
You can use an 8-inch cake ring. In this case you can place the cake ring on top of a baking tray/sheet lined with parchment paper and line the inside of the ring with parchment paper or with plastic cake collar. Can't recommend the collar enough, it makes the removing the ring so easy! Then once chilled transfer the cheesecake onto a serving plate and remove the cake ring.
If you are not going to unmold the cheesecake, use a round baking dish or serving dish. The sides should be at least 2 inches high.
How to make this recipe
To make this fluffy easy dessert first you should prepare your crust, and while its chilling in the refrigerator you can put together the batter. Once it is sitting in the fridge, go ahead and prepare the blueberry topping sauce and keep it chilled until the moment are ready to serve the no bake cheesecake.
Step by step instructions
To make the crust is extremely easy: mix the cookie crumbs and melted butter until you have a sandy consistency. Then use a spoon to evenly spread it along the bottom of your pan. Refrigerate for 30 minutes.
To make the filling: beat the eggs, the lemon zest and sugar, until it is pale yellow and has gained in volume. Then add the cream cheese with the scrapped vanilla bean (or vanilla extract). Once incorporated add the lemon juice with the gelatin. And finally fold in the whipped cream. Transfer to the springform pan and refrigerate overnight.
And finally, for the blueberry sauce bring to a boil the blueberries, sugar and water and cook until you obtain the desired consistency. I prefer it on the dense side to spread over the cheesecake. You can also make it more liquid and serve it directly over each slice of cake individually, once served on a plate.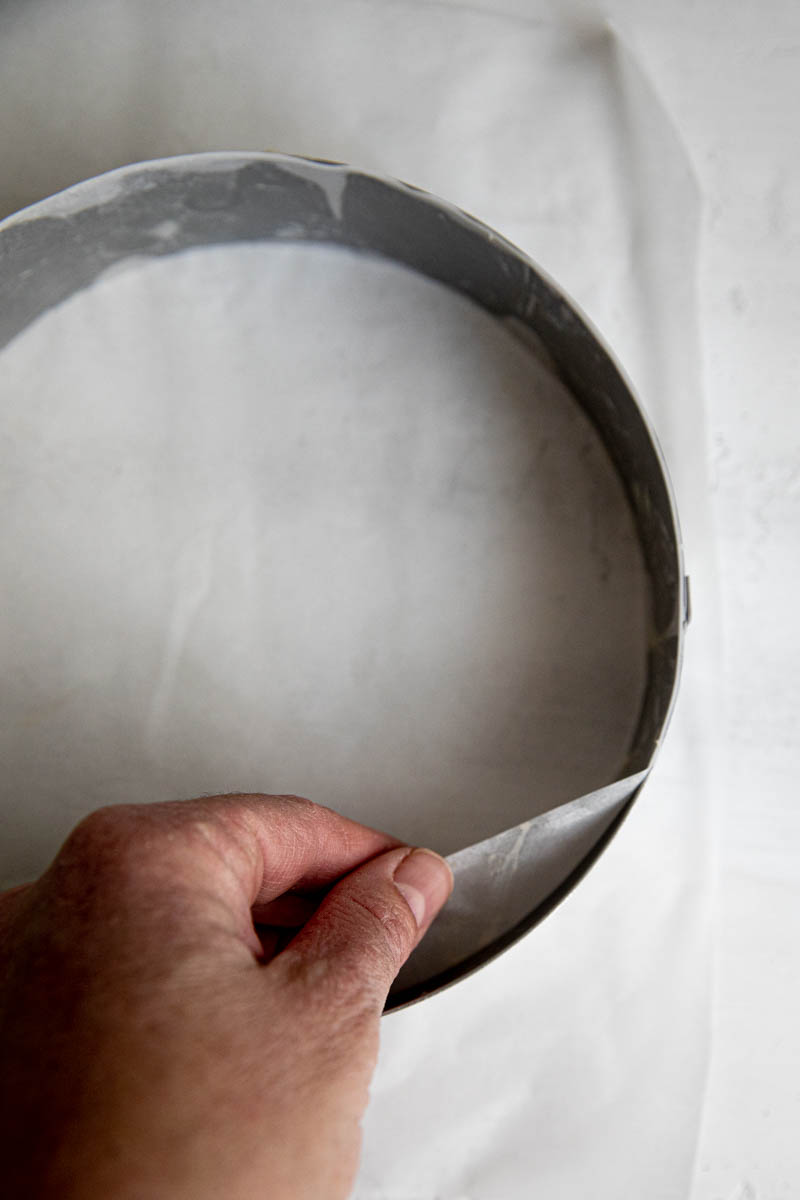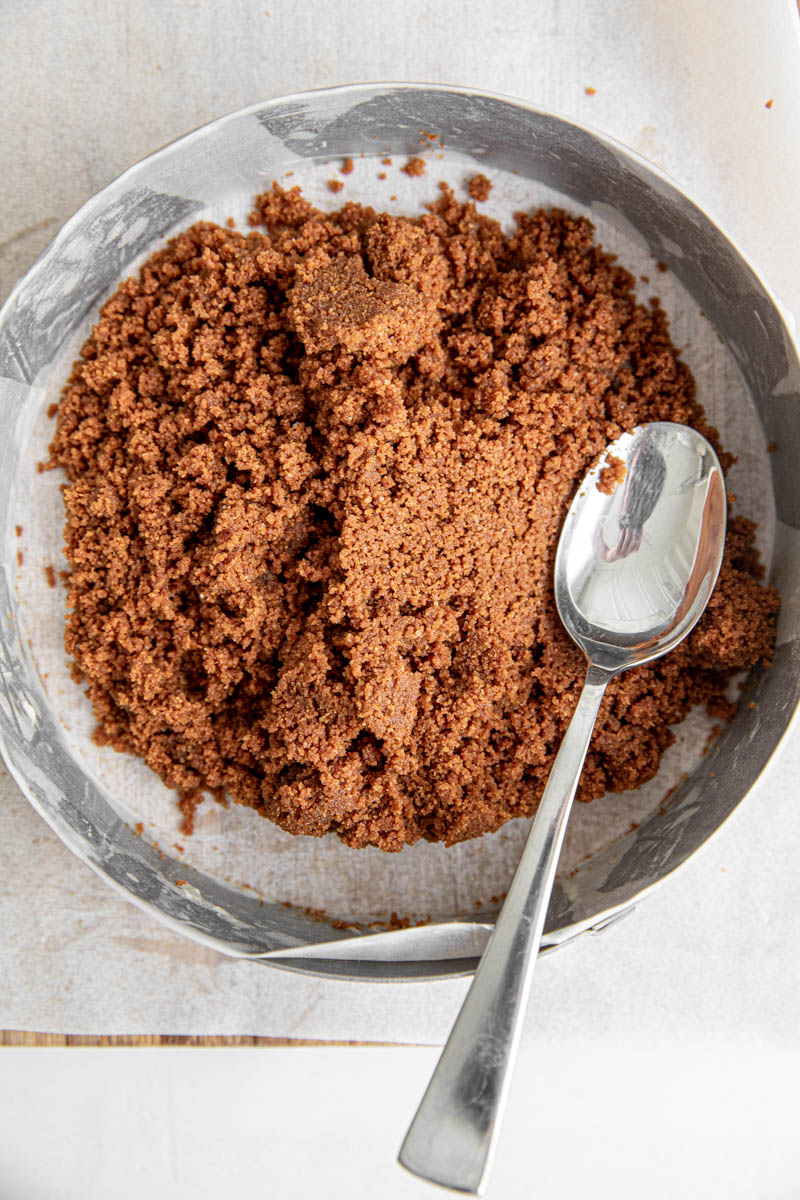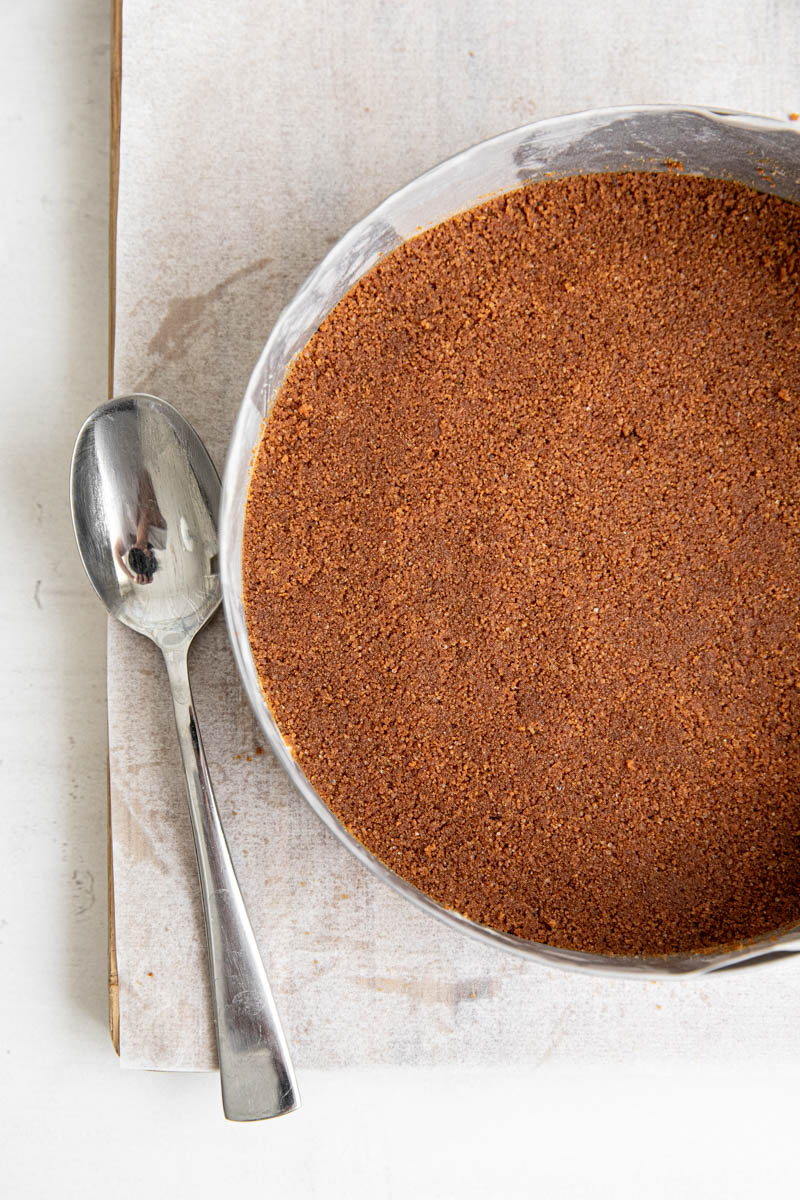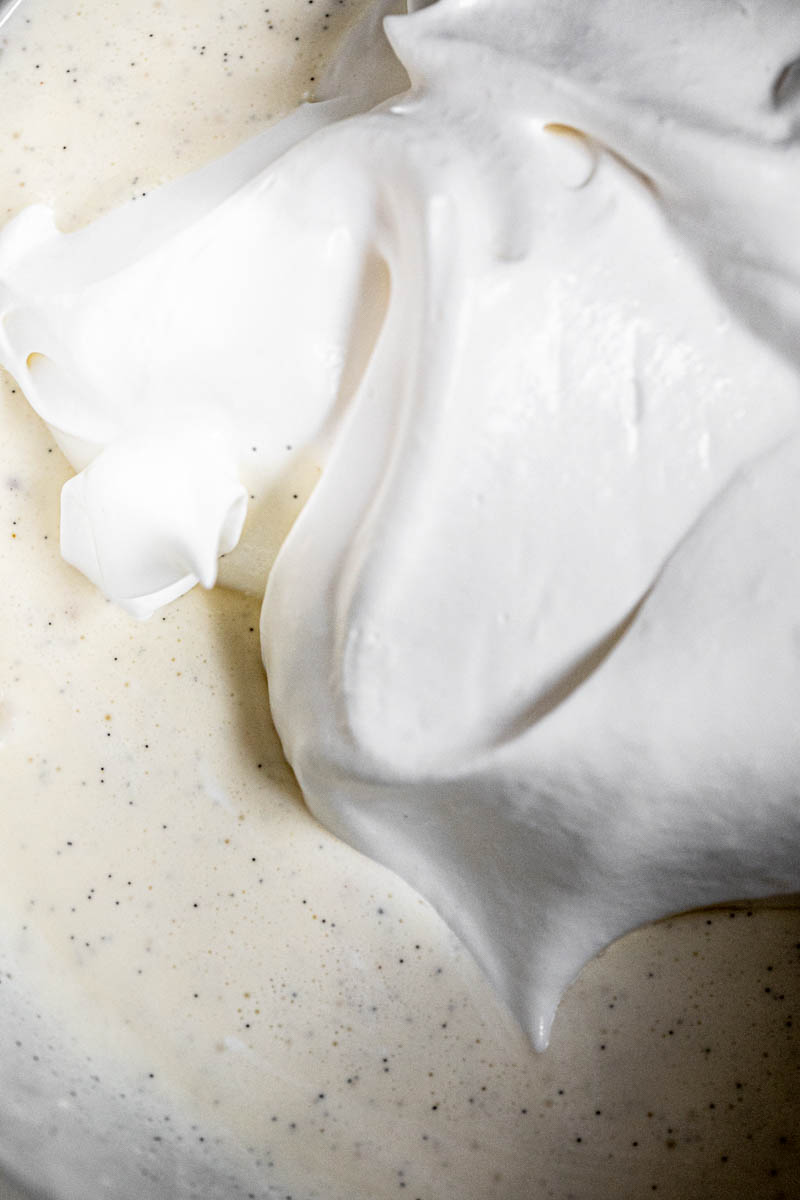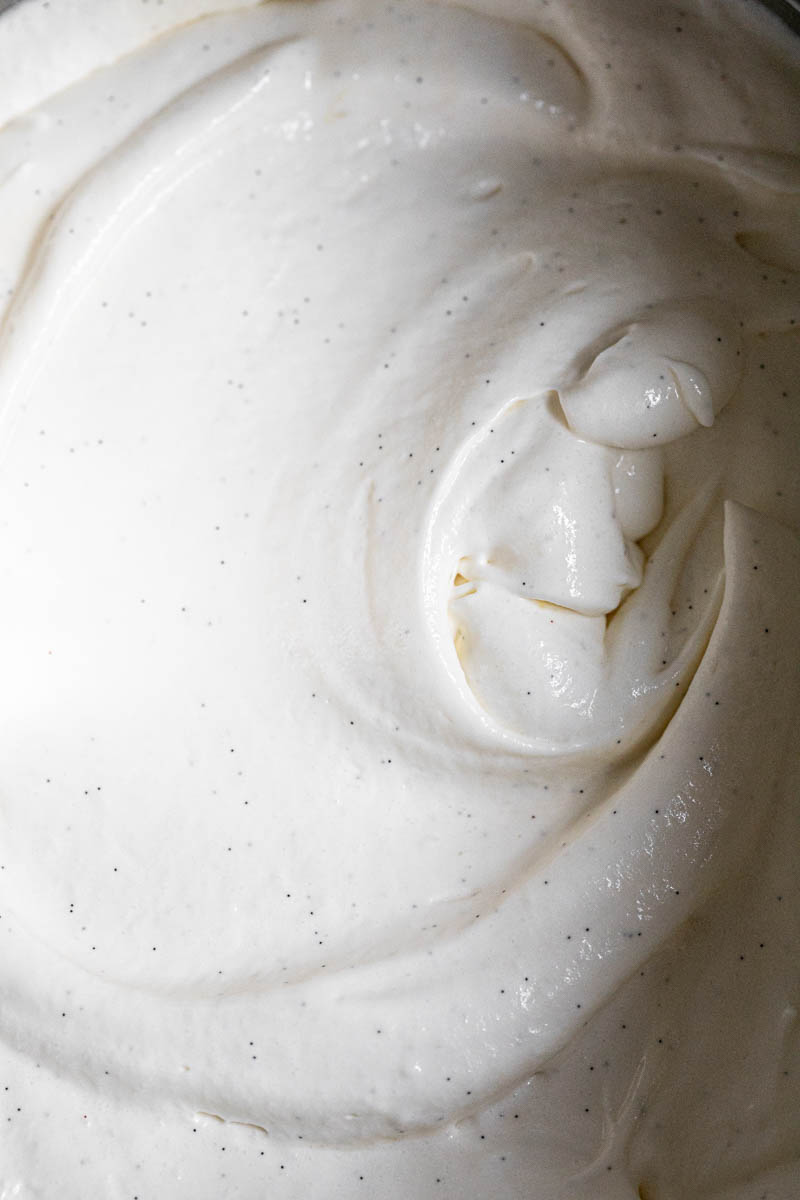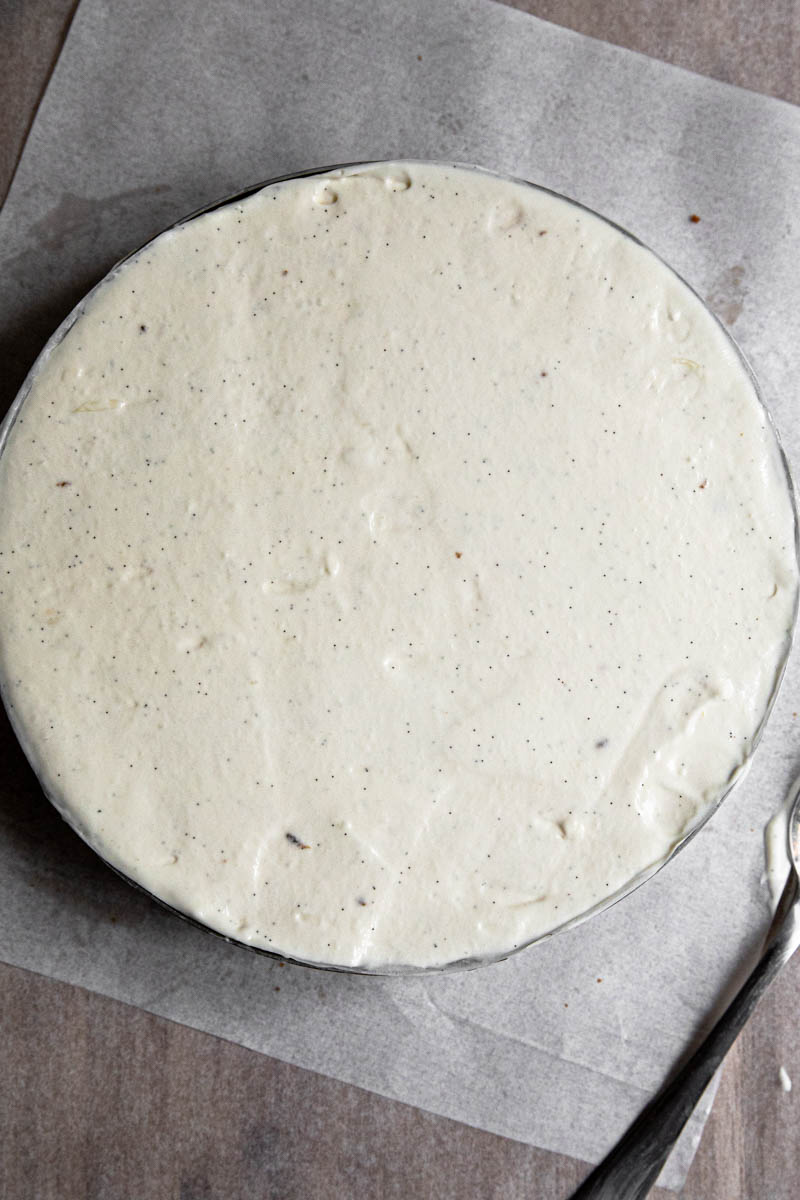 Recipe notes
You can use a food processor to turn cookies into cookie crumb. If you don't have one, place the cookies inside a bag and tap with a rolling pin until they are completely broken down.
Place the gelatin leaves in ice cold water and let it hydrate for about 10 minutes. Then squeeze hard to remove the excess water and dissolve into the warm lemon juice. You will add this into the batter after the cream cheese has properly incorporated.
Scrape the sides and the bottom of the bowl before adding each ingredient into the batter.
Expert notes
Keep the cream cheese at room temperature for 1 hour before you start making this recipe. It will help avoid lumps in your filling.
Once the filling is ready, immediately transfer into the cake pan with the chilled crust as this filling sets rapidly. This will help obtain a smooth top.
Place the no bake cheesecake in a safe spot in the refrigerator, where it won't be moved until the next morning.
If you are not comfortable using raw eggs, you can pasteurize them at home before using them. To do so: place the eggs in boiling water for 1 minute, then transfer to bowl with ice cold water and let them sit for another minute. Remove and use as instructed in the recipe.
A word on gelatin: leaf gelatin vs. powder gelatin
Leaf gelatin needs to be hydrated in ice cold water. After about 10 minutes, squeeze the leaves. Either incorporate into a warm batter or warm to make it liquid when adding to cold batter. In this recipe, dissolve the gelatin leaves in a warm lemon juice before incorporating into the batter.
Powder gelatin should be dissolved in warm water and incorporated also in a liquid state. This recipe calls for dissolving the gelatin in the warm lemon juice.
Serving tips
Once the cheesecake is completely chilled remove from the cake pan or cake ring and place on a serving plate or cake stand.
Cover with the blueberry topping sauce and top with fresh blueberries. Enjoy!
Note: you can also slice and serve the cheesecake and top with the sauce once placed on each individual plate.
Storing tips
This no bake cheesecake keeps in the refrigerator for up to 3 days.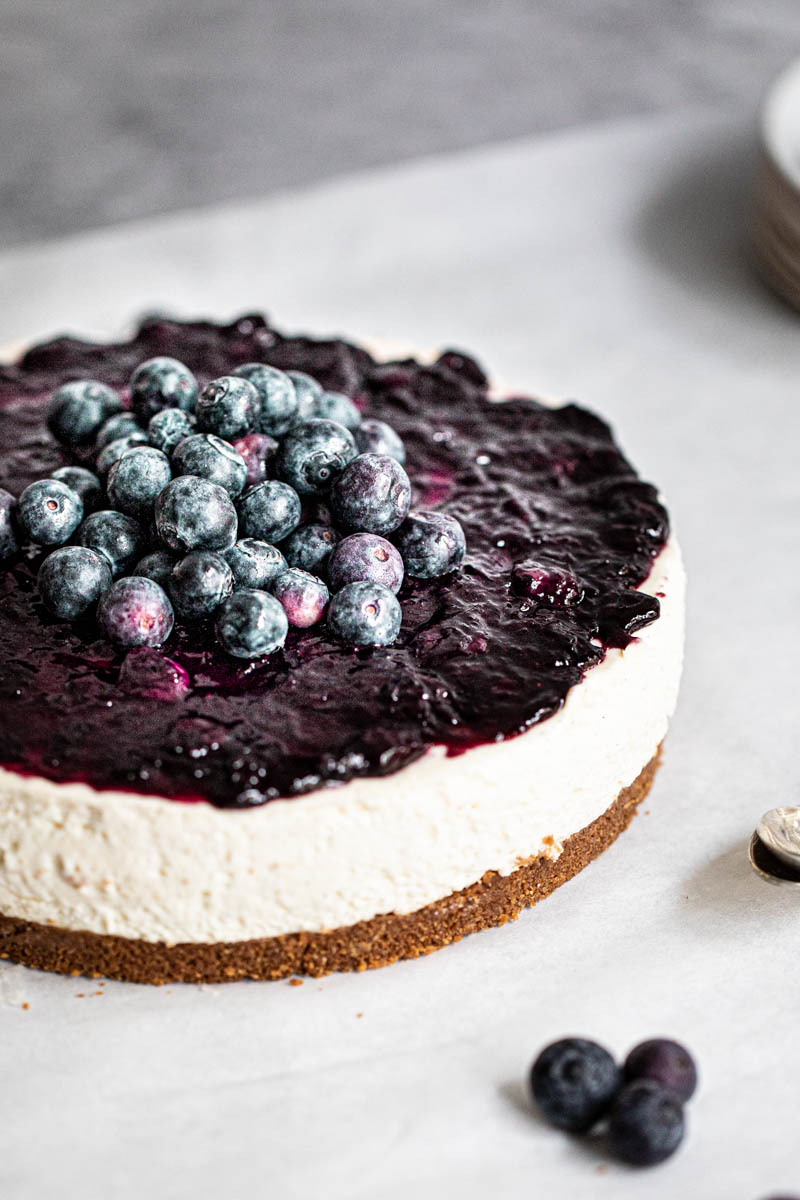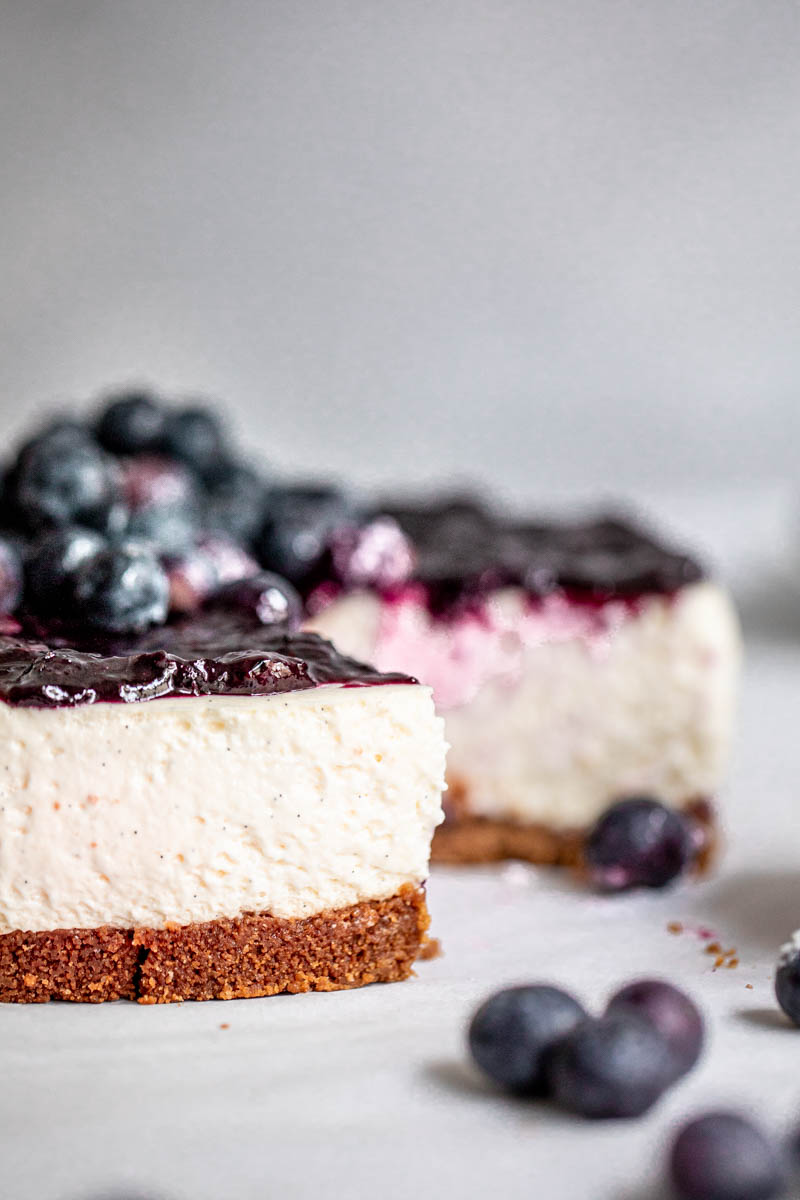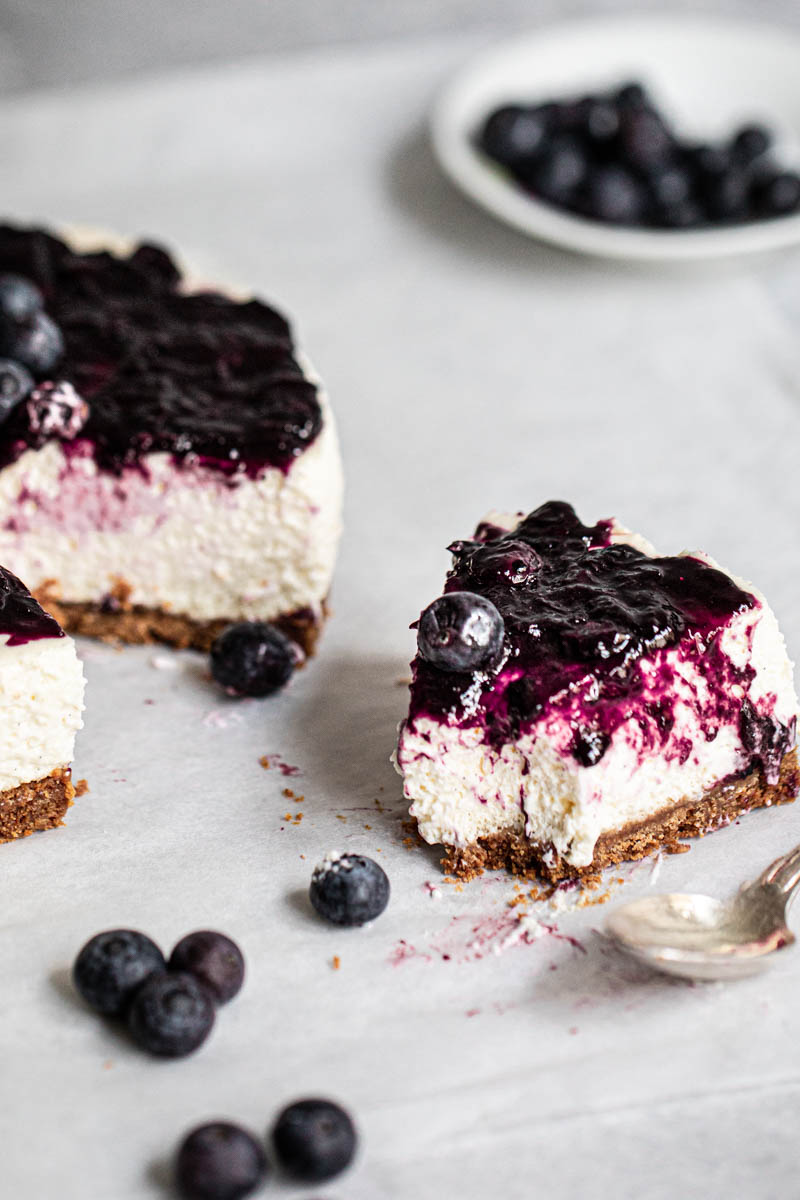 Freezing instructions
You can freeze no bake cheesecake before you top it with the blueberry topping sauce. Once its properly chilled, remove from the pan/ring. Cover it with plastic wrap, place on a baking tray and transfer to the freezer. Once its frozen remove the baking tray and transfer to a freezer bag. It keeps for up to 3 months.
To defrost: place it on a serving platter and place in the refrigerator overnight. Decorate with the blueberry sauce before serving.
Variations of this recipe
You can easily transform this recipe into a no bake strawberry cheesecake by simply swapping strawberries for blueberries in the recipe.
Or you can make it a no bake raspberry cheesecake by topping it with this raspberry jam.
If you want to make a no bake blueberry cheesecake pie instead, it is easy! Prepare a pie or tart dough and bake it until golden. You can find a pie dough recipe here. Let it cool down at room temperature and prepare the no bake blueberry cheesecake filling. Transfer the filling on to your cooked pie crust and chill in the refrigerator overnight. Top with the blueberry sauce. And there you go you have your no bake blueberry cheesecake pie.
Note: If your pie dish or tart mold are not as high as 5cm/2inches you should divide the recipe for the filling in 2.
The ingredients used in all recipes on this site are measured using the metric system. I use a
scale
to be precise with my measurements and ensure good results. If you would also like to use a scale, here are some:
USA
,
Canada
,
UK
,
Australia
,
France
.
Subscribe to the newsletter
Speculoos Cookie Crust
Speculoos Cookies (lotus biscoff)

140 g

Butter

60 g
Fluffy Vanilla Lemon Cheesecake Filling
Sugar

70 g

Eggs (small)

2

Lemon Juice

0.5

Lemon Zest (the zest of 1 lemon)

1

Gelatin Leaves ((or gelatin powder 7 g))

2

Heavy Cream

210 g

Cream Cheese

200 g
Blueberry Topping Sauce
Blueberries

125 g

Sugar

40 g

Water

30 g
If you made this recipe I would really appreciate it if you leave a rating or comment below! Also, if you share on social media please use #cookwithbelula, I would love to see what you create!