Traditionally in France, the savory crepes are called galettes and made with buckwheat flour. Those are the ones you can buy on the street and eat while enjoying your day out. These are not them. You can also make the classic crepe batter into a savory one and then have fun finding all kinds of savory crepe fillings. At cooking school, we made ones filled with clams, and they were delicious. And, in Argentina, savory crepes are often on the menu of many homes: growing up the classics at our house were ham and cheese, corn and spinach. This mushroom and chicken crepes is my favorite, and I hope you will love it too!
What is a crepe?
A crepe is a very thin pancake made with eggs, milk, flour, and butter. They can be sweet crepes filled with chocolate, Nutella or simple sprinkled with sugar. And they can be made into savory crepes if filled with a savory filling.
Crepes are originally from Brittany, France. However, they now enjoyed nationwide. You can find many small crepes stands in many cities around France.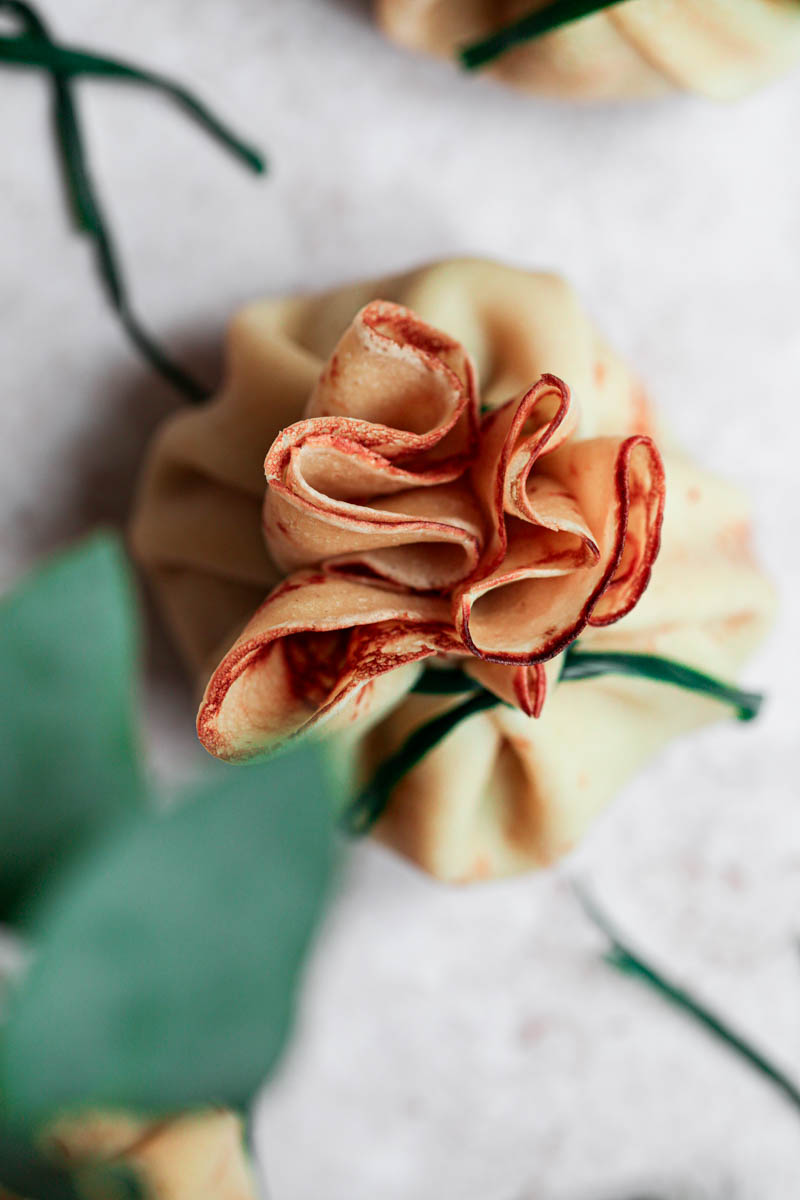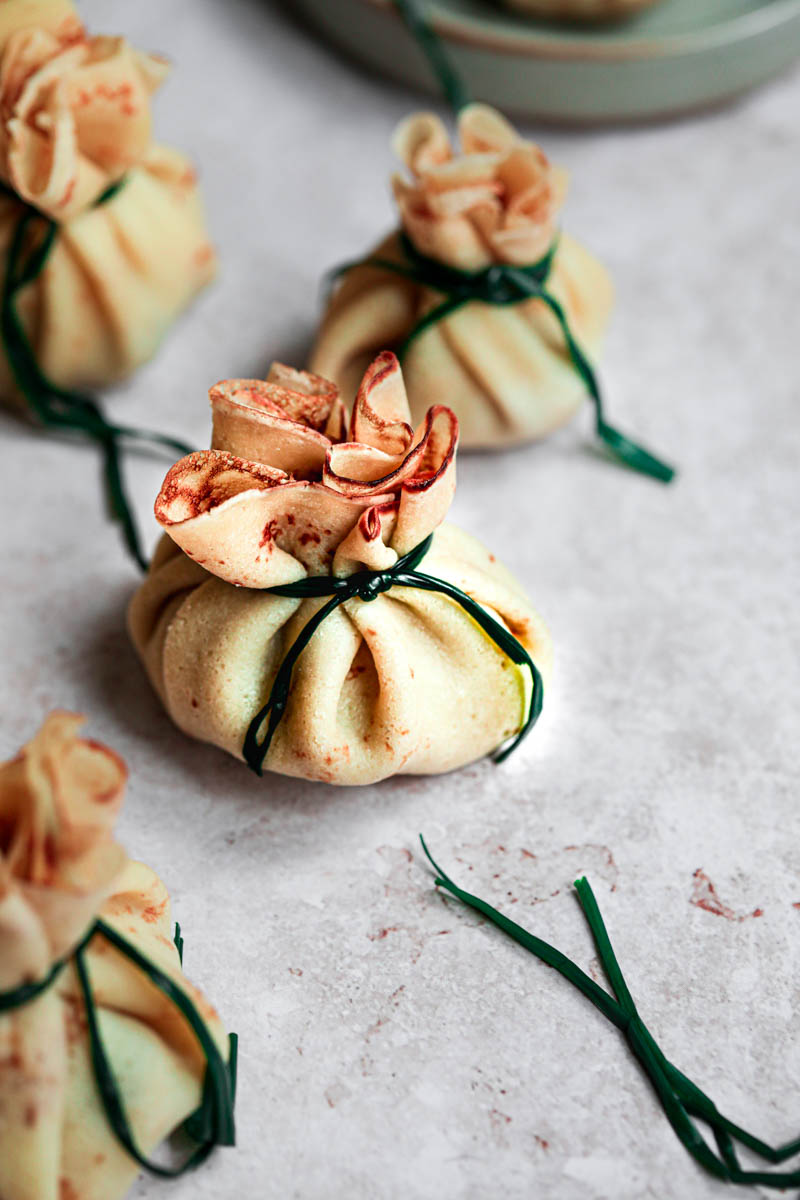 How to pronounce crepe?
You can listen how to pronounce this French word here.
What will you need to make these chicken crepes?
Simple pantry ingredients: milk, eggs, flour, salt, white wine, butter, cream, shallots.
Roasted chicken: I always use leftover chicken, preferable the thigh/legs because they are not as dry as the breasts. But breasts are ok too.
Mushrooms: I used the classic white mushrooms, but you can replace them by any kind you like. Dry porcini or portobello would go nicely in this recipe too!
Chives: I blanch them and use them to wrap the little crepes. You can simply fold your crepes as I explain later in the post, and simply avoid the chives altogether.
A crepe pan. This is the best crepe pan I ever owned, and I love it. However, until recently I have always made my crepes in a non-stick small pan.
How to make crepe batter?
Making this crepe batter recipe is rather easy and straightforward. You have to prepare it 1 day ahead as it needs to rest in the refrigerator at least 12 hours, and up to 36 hours. All you need to do is:
Melt the butter over low heat. Set aside.
In a bowl mix the egg and half the milk. Whisk in half the flour and the salt. Add the rest of the milk and then the rest of the flour. Whisk until crepe batter is smooth and has no visible lumps.
Add the melted butter and whisk once again.
Cover with film wrap and let it rest in the fridge overnight.
Note: If you notice lumps in the batter, you can mix it using an immersion blender and then strain it over a fine mesh strainer. Then cover and refrigerate.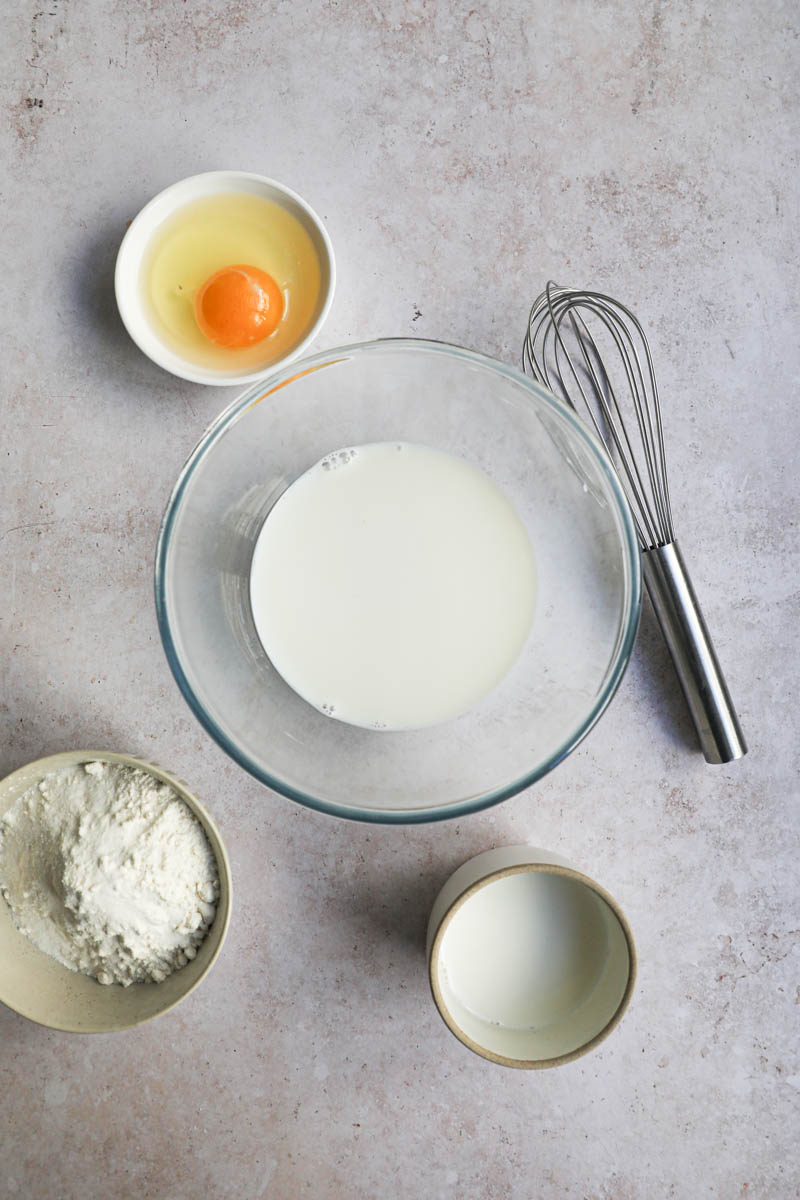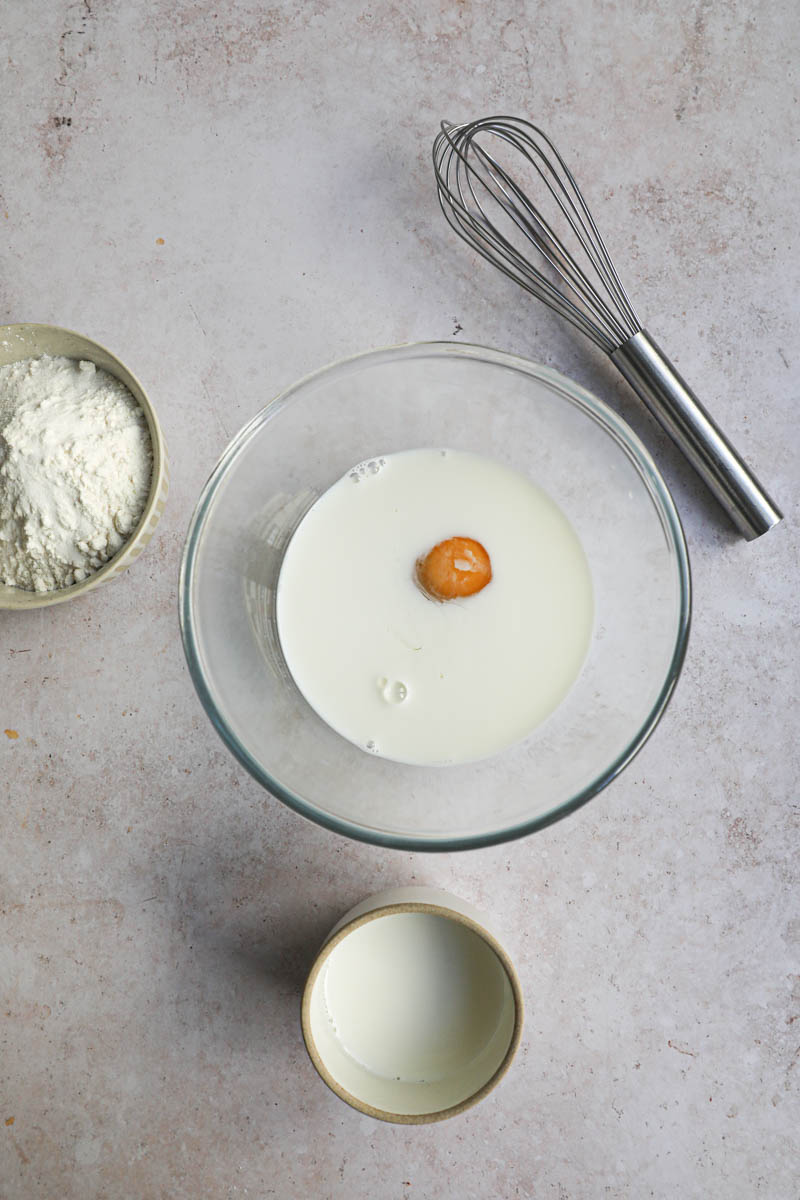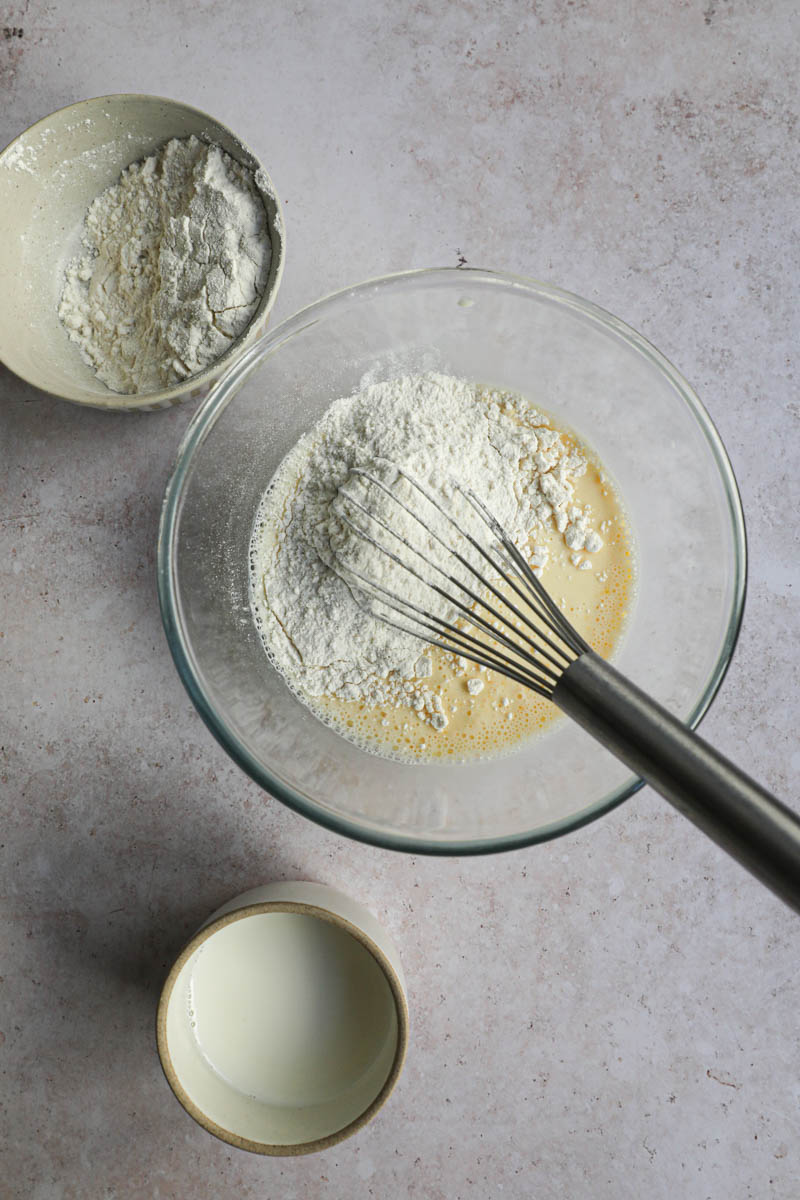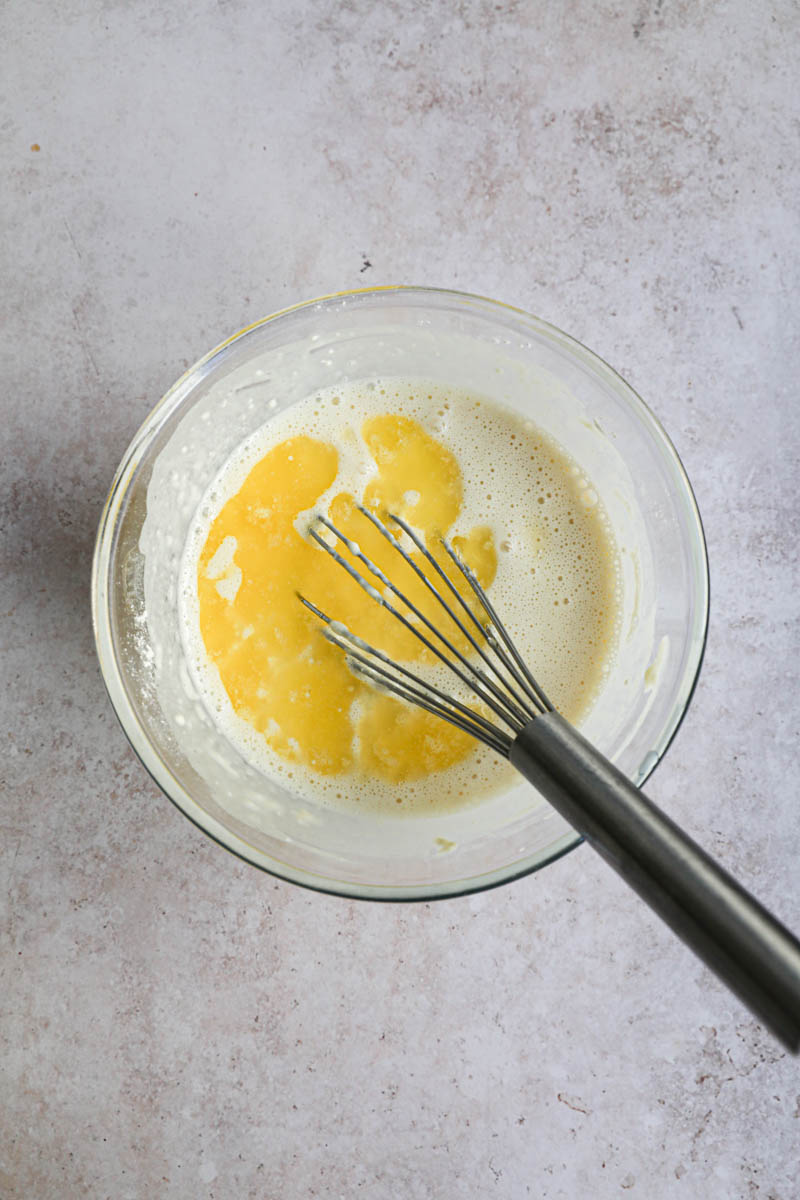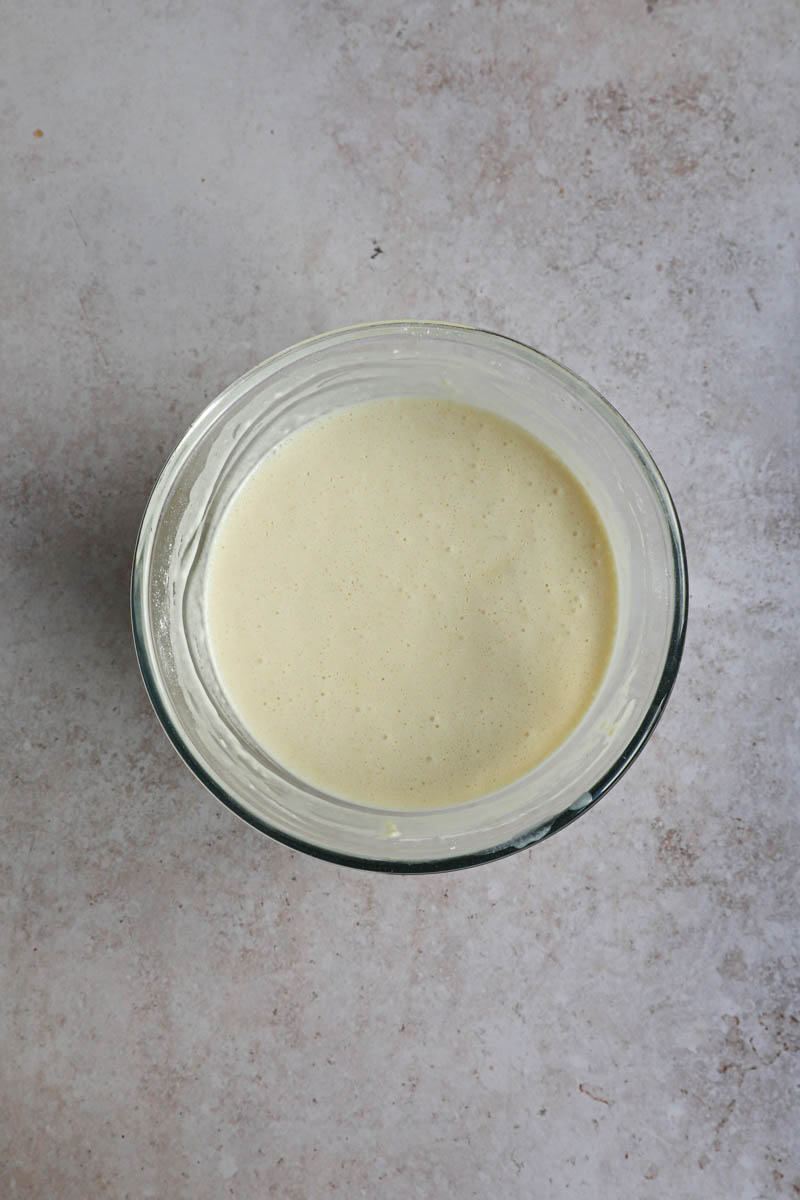 How to make this mushroom and chicken savory crepe filling?
The filling needs be cold when assembling the crepes. It needs to be refrigerated at least for 2 hours. Have this in mind when prepping to make the recipe. I like to make both the crepes and the filling ahead, say in the morning or night before. And the just assemble and bake in the oven when its dinner time (or lunch time).
To make this crepe filling recipe, you must:
Prep the ingredients: Chop the shallots and thinly slice the mushrooms. Pull the chicken legs using your hands.
Over medium heat, melt the butter in a sauté pan. Add the shallots and cook until tender over medium, low heat. Season with salt. Add the mushrooms and season them with salt. Once they are almost cooked add the chicken and mix all the ingredients well together.
Add the white wine and cook for a 1 or 2 minutes, until the alcohol evaporates. Add the cream and cook for a few minutes, until it has reduced and there is no more apparent liquid left. Season to taste.
Finally sprinkle the flour over the filling and mix well. You'll notice your filling will come together! Cook for an extra minute.
Remove from heat, transfer to a hermetic container (don't cover yet) and let it cool down a little at room. Cover and refrigerate until it has cooled down completely. About 2 hours.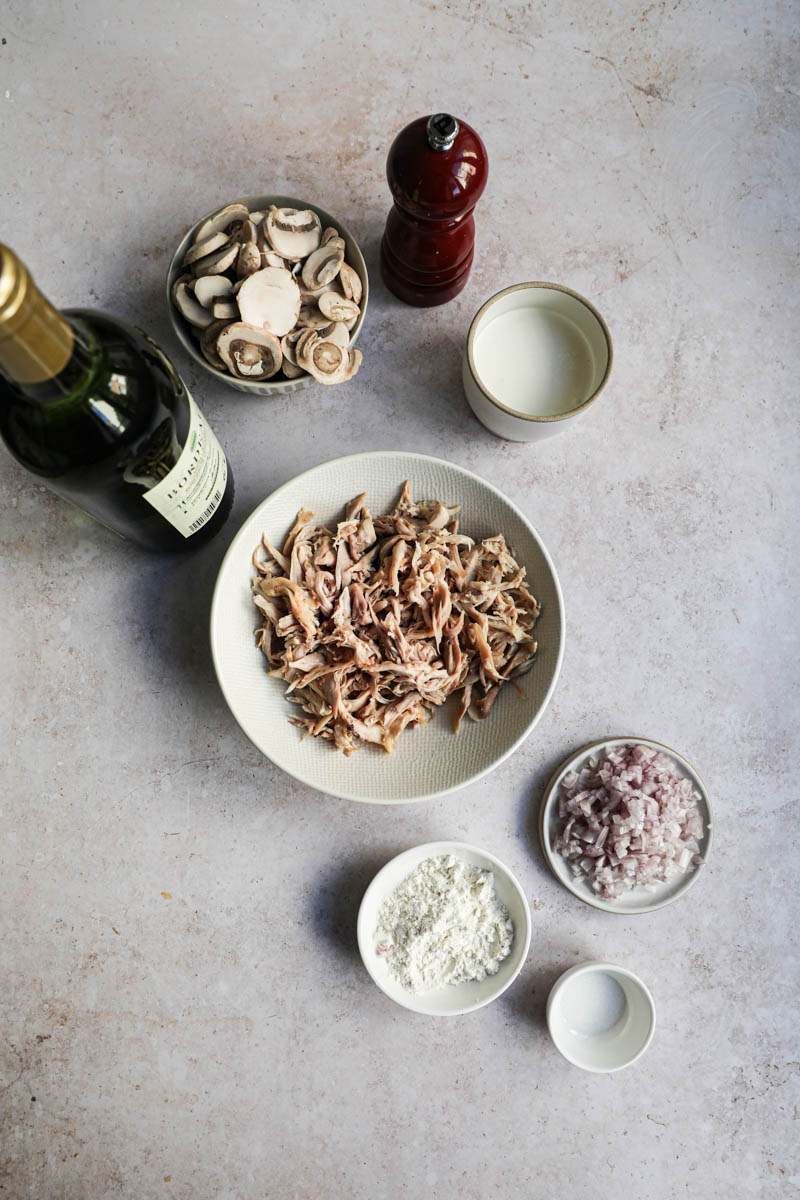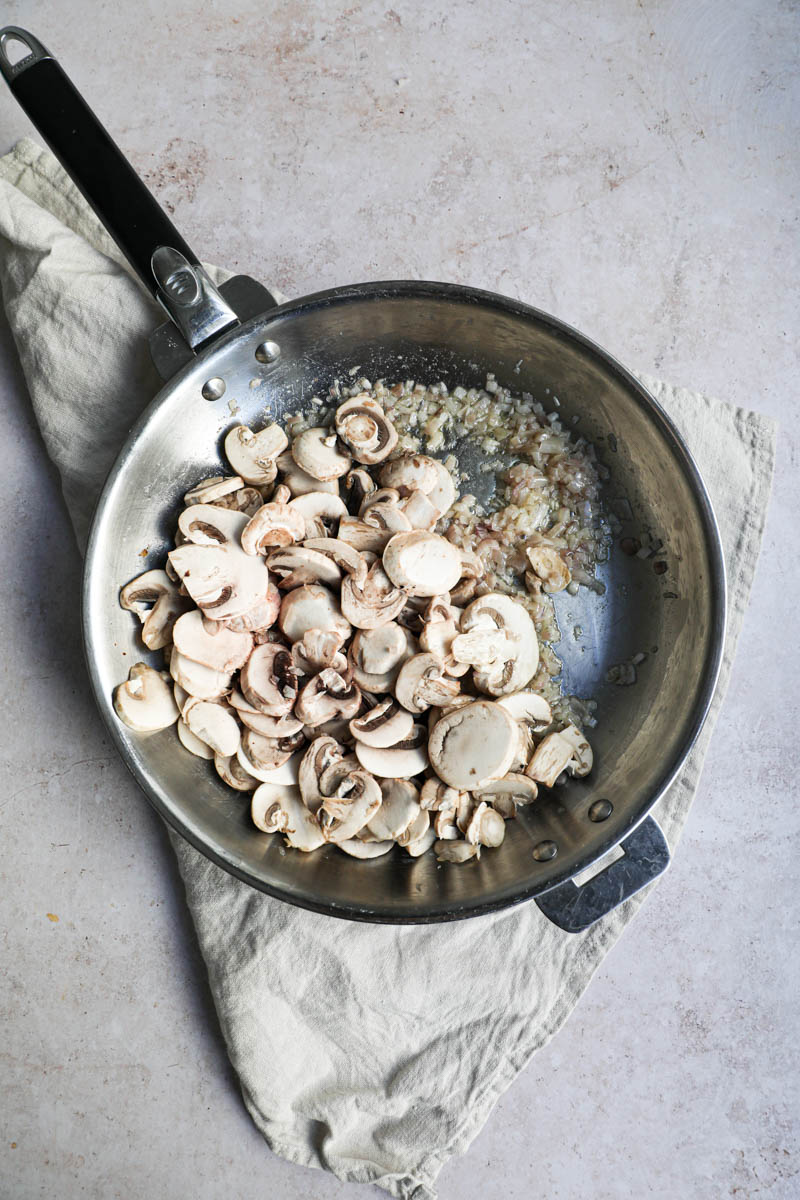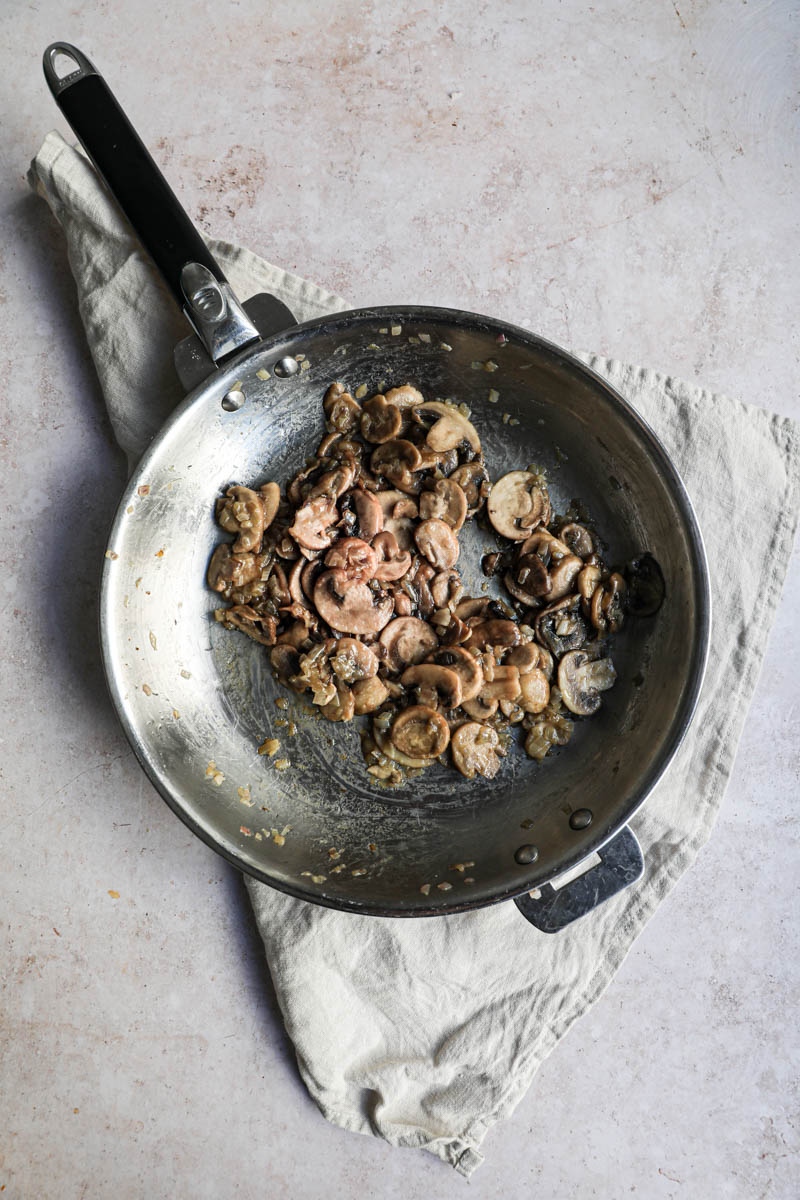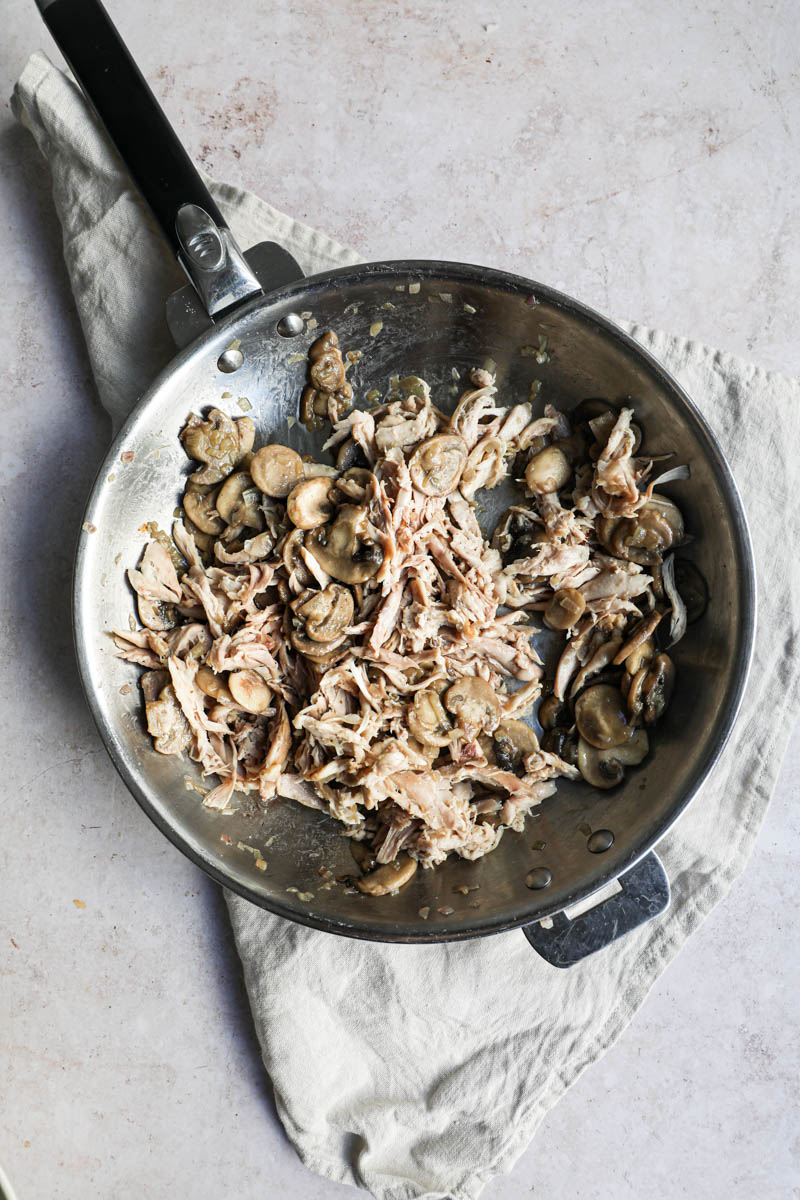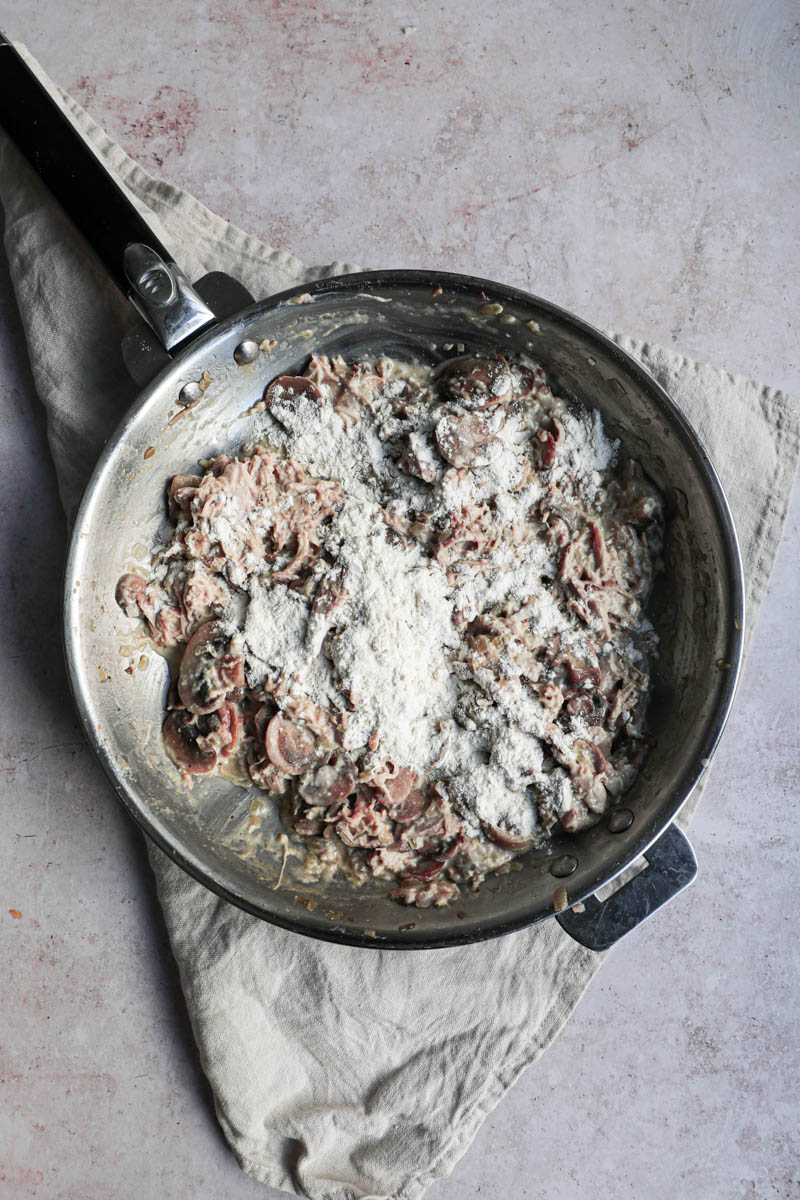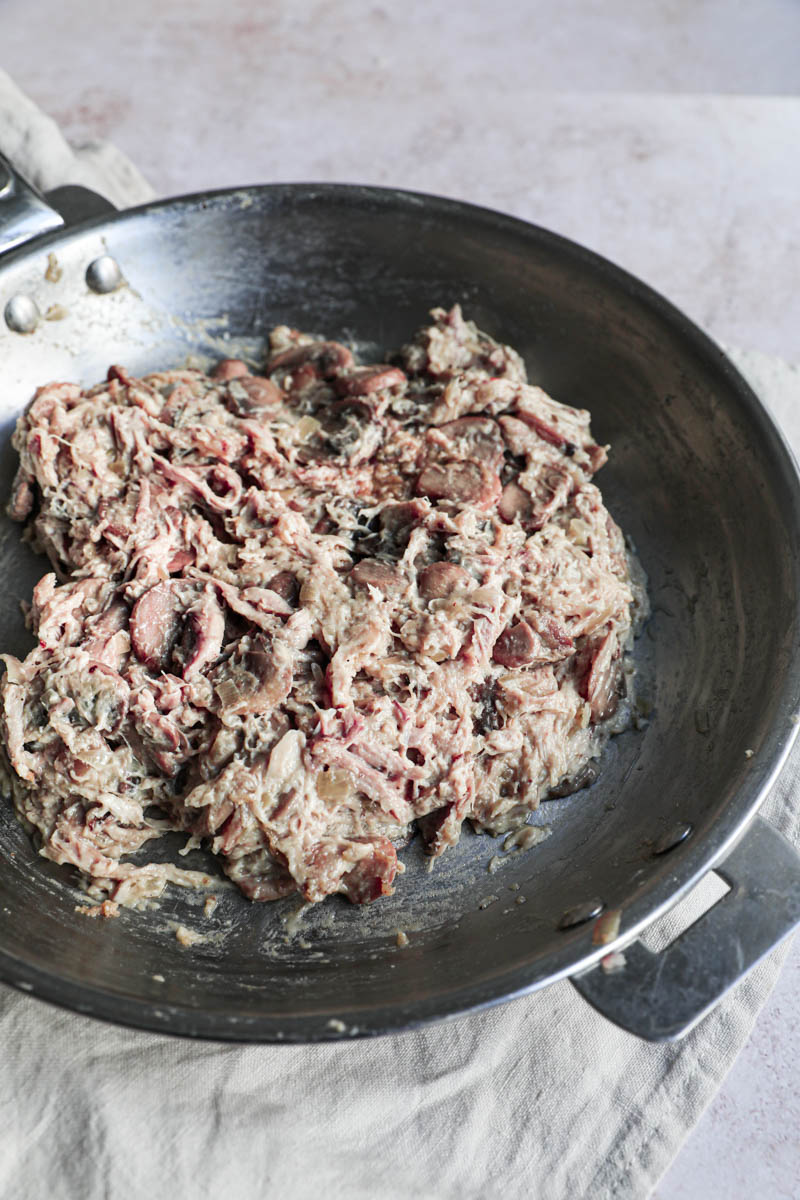 How to cook the crepe batter and make crepes at home?
Two things that are important when making crepes: the pan should be extremely hot and the batter must have spent the night in the refrigerator.
To cook your crepes, you must:
Give the crepe batter a good stir to homogenize it.
Place a crepe pan (or a regular sauté pan if you don't have one. I don't and it works just fine) over high heat.
Add a little piece of butter and when it's sizzling remove the excess with a paper towel making sure you grease all of the pan's surface.
Using a ladle scoop a portion of the batter onto the extremely hot pan and move the pan in circular movements until the batter is evenly distributed on the pan.
Cook for a few minutes, until the bottom has lightly coloured and then flip the crepe over either with your hands (if fingers resist heat!) or using a spatula. If you are brave, you can flip it in the air!
Cook for an extra minute and remove the crepe from the pan.
Repeat until you have used up all the crepe batter.
Keep the crepes always covered to prevent them from drying up.
Notes:
The first crepe almost always breaks and ends up not being used, because even when we think the pan is really hot, it still isn't! Don't let this discourage you! Remember to add a little butter after you cook every crepe, and to use a paper towel to properly distribute it on the pan surface and remove the excess!
If you will not assemble the chicken crepes right away, you can cover the crepes with plastic wrap and refrigerate until ready to use. They keep in the refrigerator, safely stored for up to 3 days.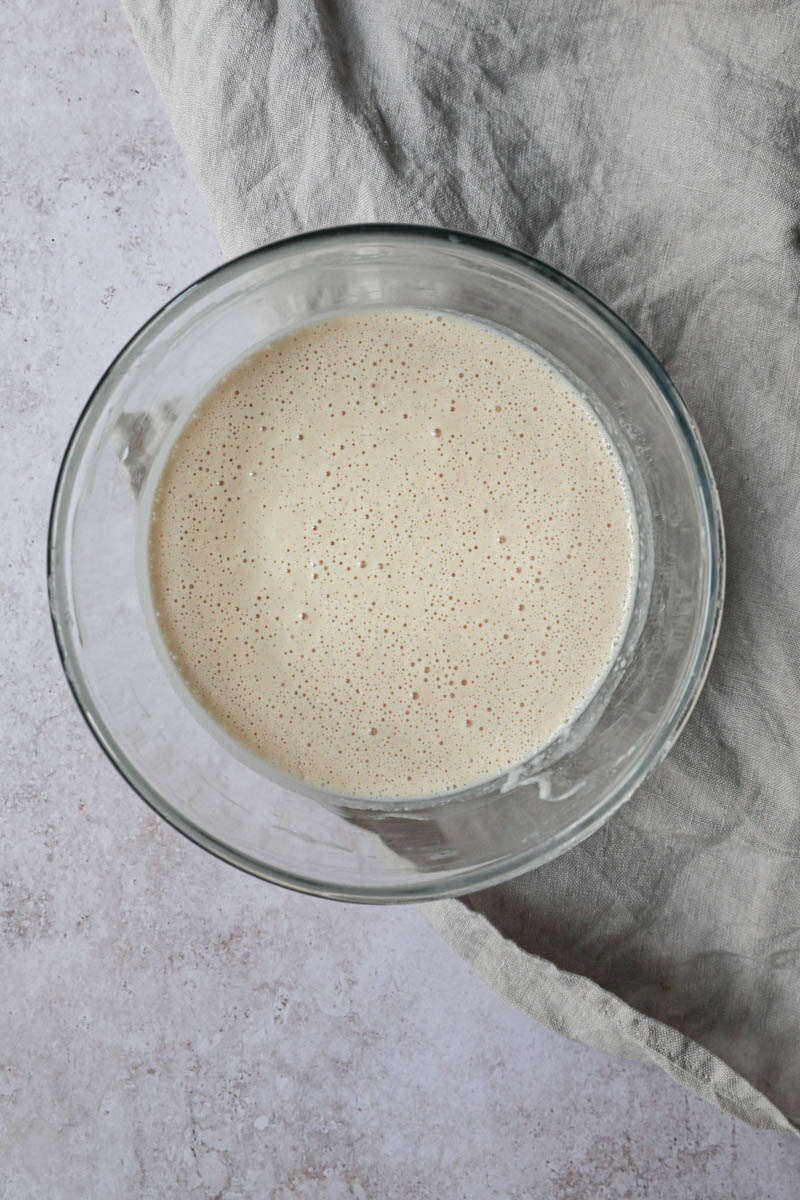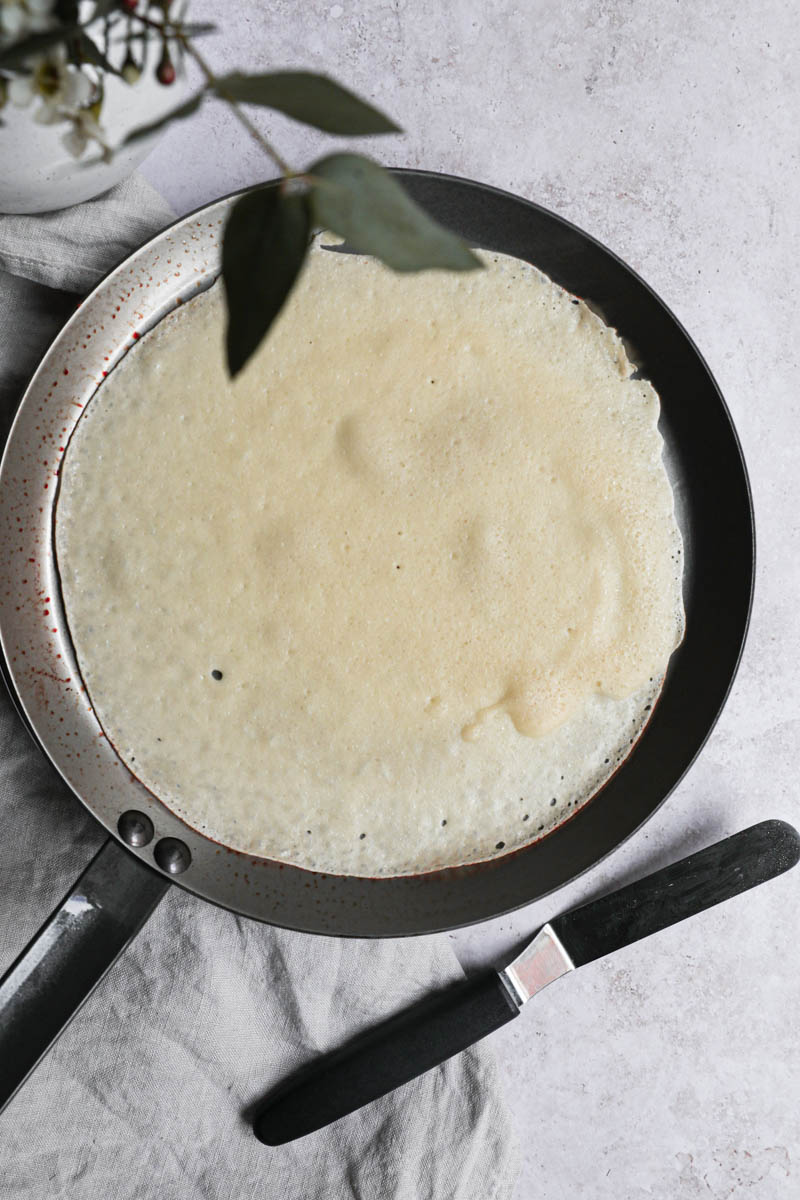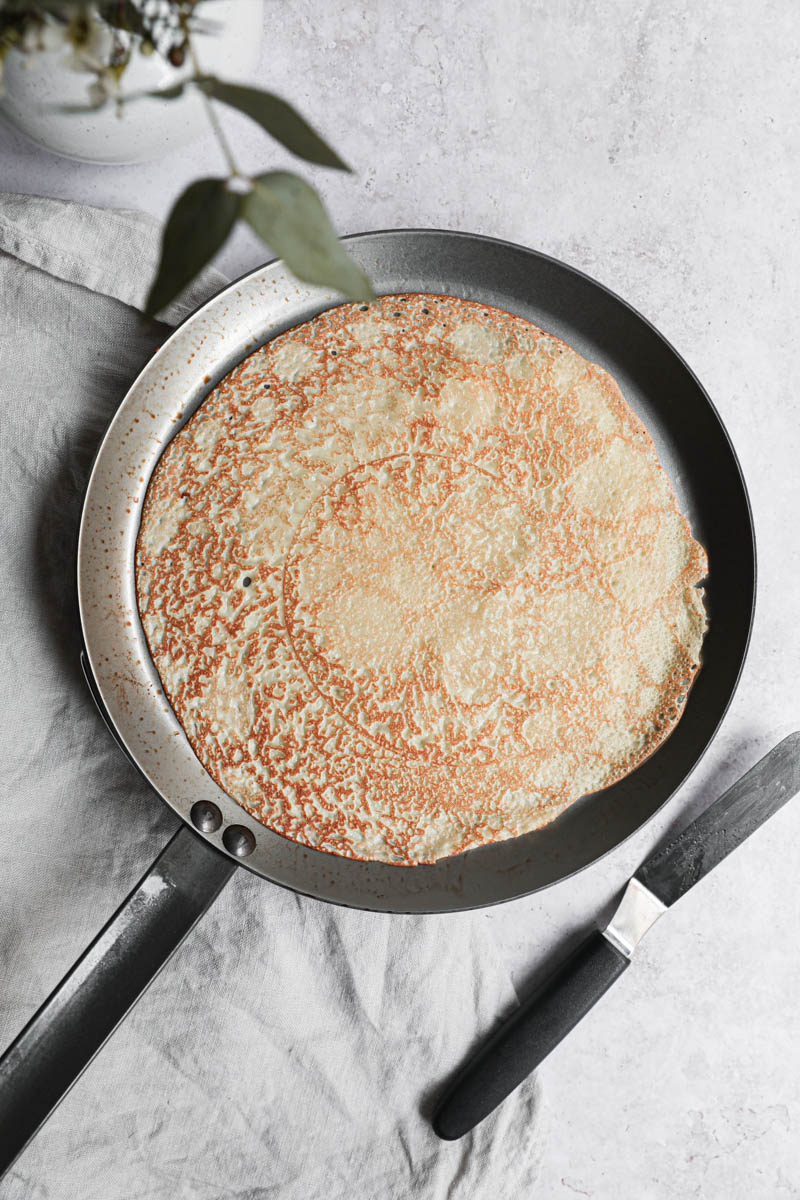 The parmesan cream sauce
This parmesan cream sauce recipe is so easy to prepare. It will take you 10 minutes if you take your time! After all, making the crepes was a little work, so now we rest!
To prepare it, you must simply let the cream and the parmesan cook in a pot over medium heat until it has reduced its volume by about ¼. It should be thick in consistency, to be able to cover the crepes. Don't forget to season with salt and pepper.
Once the sauce is ready, cover with aluminium foil and set aside until ready to use.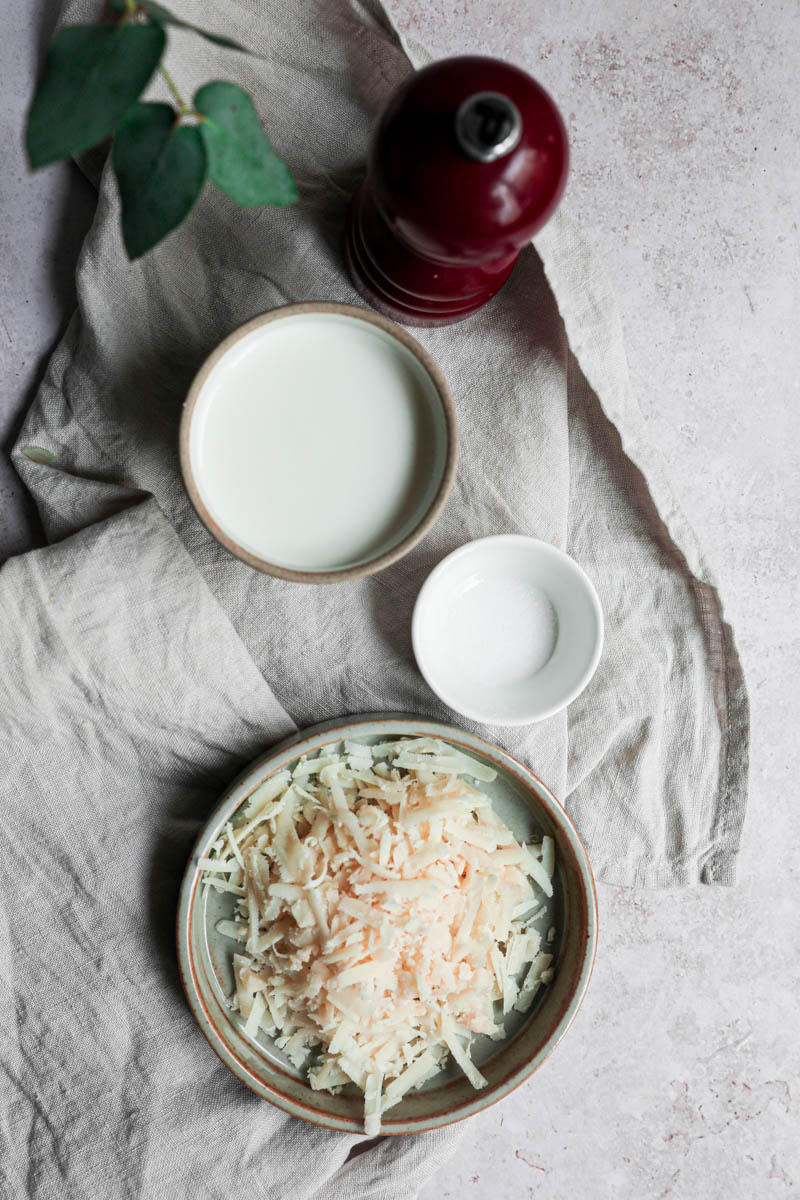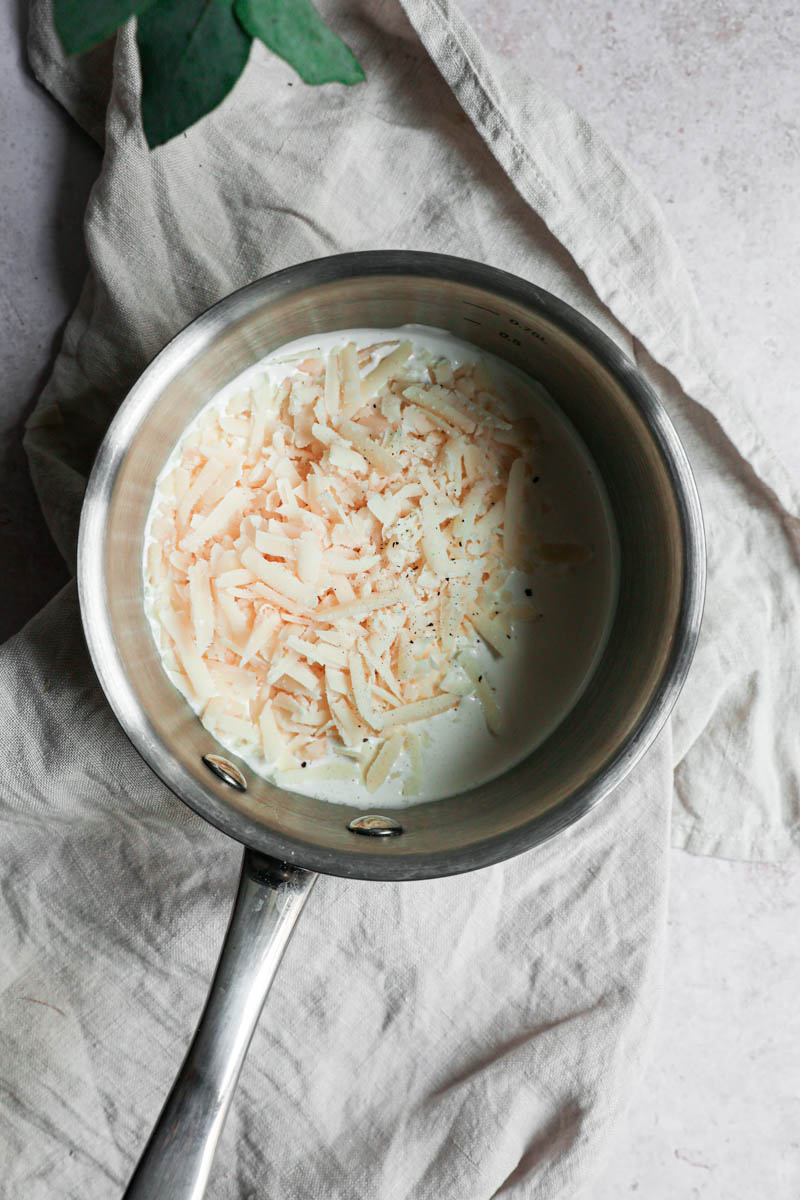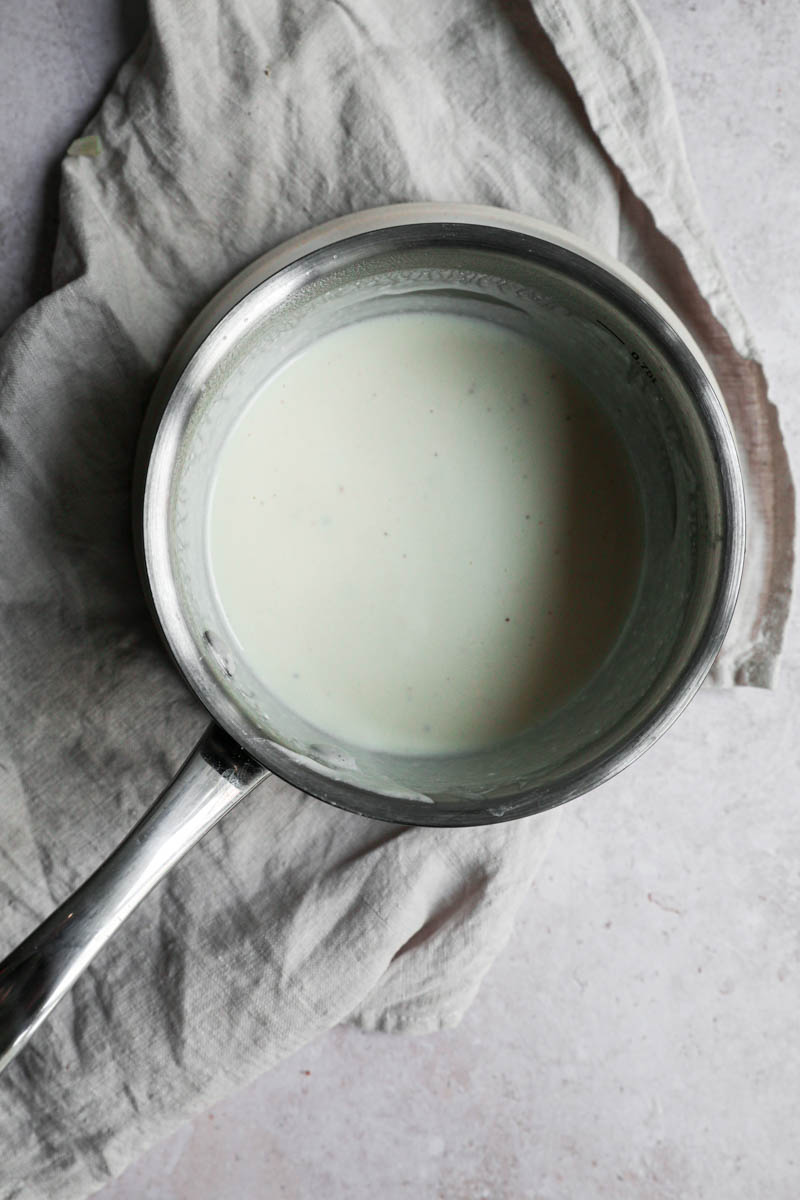 How to blanch chives?
Before you start the assembly, if you want to close mushroom and chicken crepes as I did, sort of wrapped like a little gift, you must blanch the chives. To do so:
Bring a pot with salted water to a boil.
Place the chives and let them cook for 30 seconds.
Remove the chives and immediately place in a bowl with ice cold water.
Once they have cooled down, remove and pat dry with paper towel.
Because they have been blanched you can now tie knots with the chives without them breaking!
How to assemble this savory crepe recipe?
To assemble the crepes, you must have all the components ready. Crepes cooked. Filling chilled. Chives blanched. Parmesan cream sauce ready. You can then proceed to:
Pre heat the oven to 180 degrees Celsius.
Butter a baking tray and set aside.
Spread the crepes all over your working surface and then scoop a generous spoonful of filling at the centre of each one.
Fold the crepes by pulling all the edges together at the top and then tying one or 2 chives around it.
Place the crepes on the baking the tray and cover with the parmesan cream sauce.
Bake in the oven until golden.
Note: you can also bake the crepes, without the sauce, covered in aluminium foil to prevent them from drying up. Once they are hot, remove from the oven, serve, and pour the parmesan cream sauce over.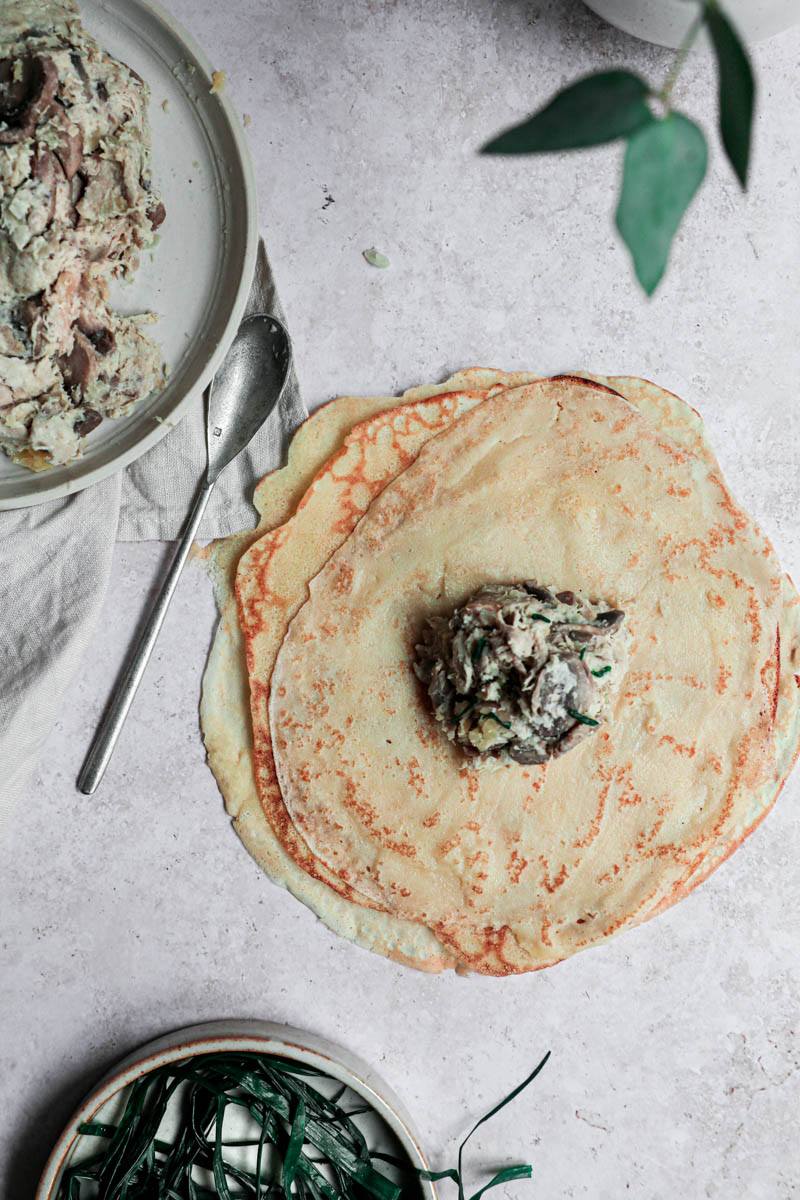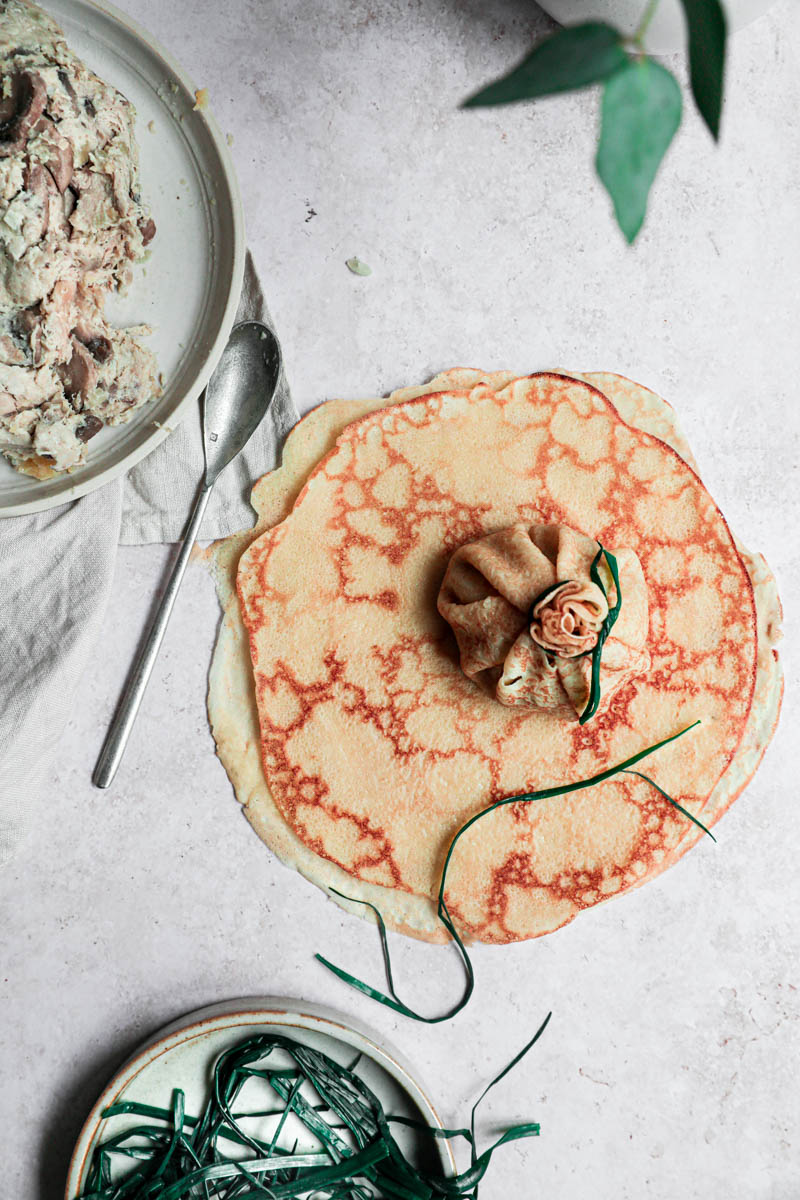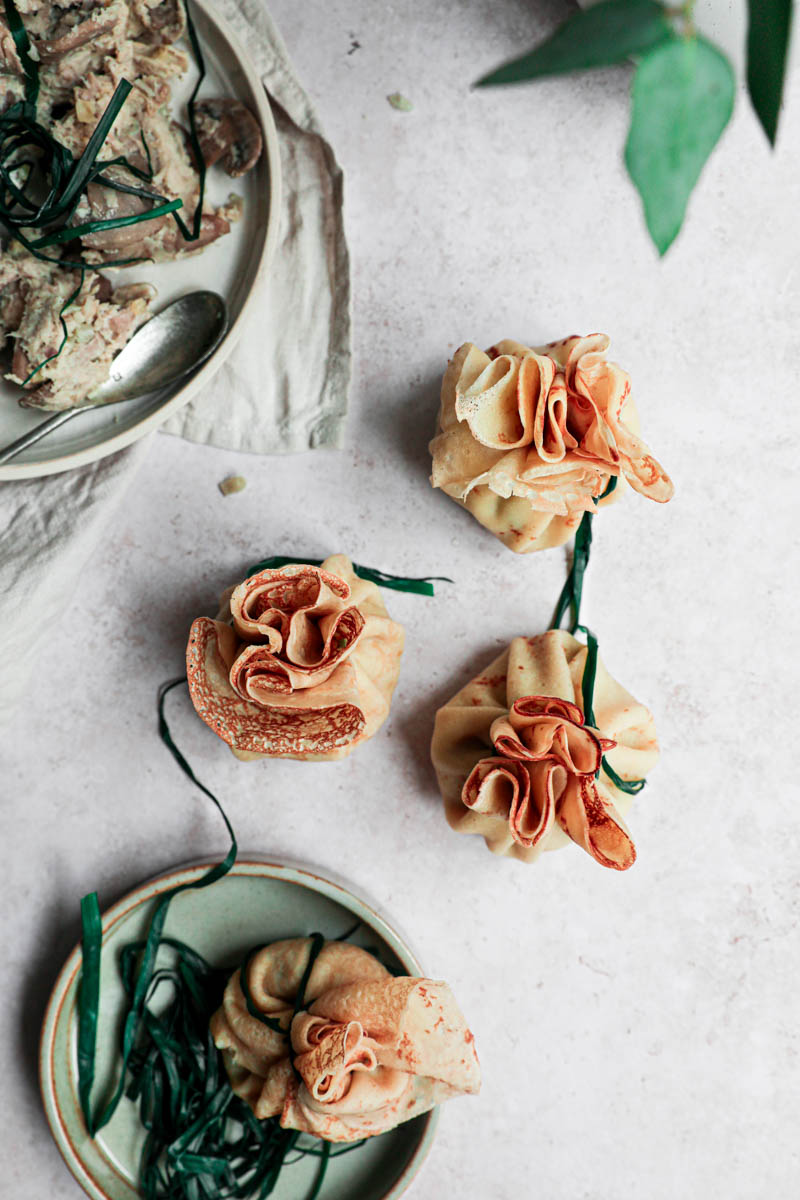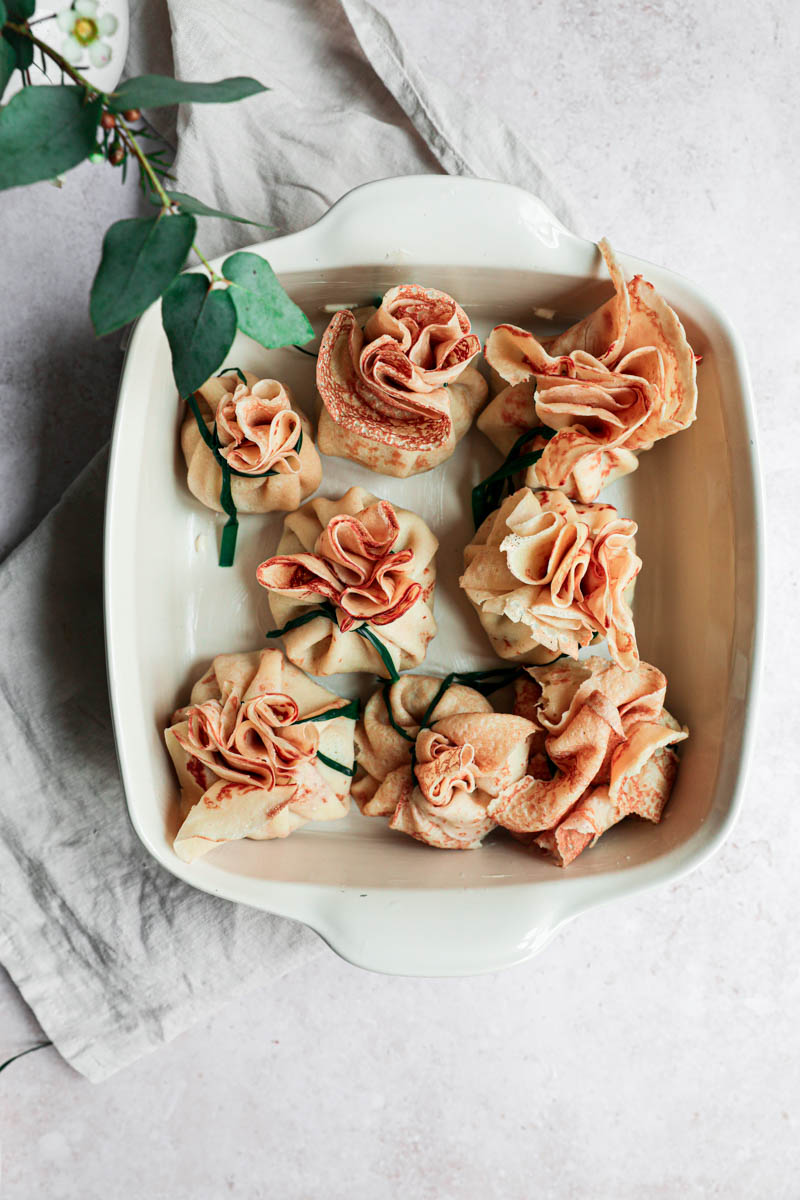 Other ways to fold the savory crepes.
Like you would a burrito, by folding the sides onto one another (you should get a slightly squared form).
You could roll them like cannelloni,
Or fold them in a triangular way, by first folding it in half and then in half again. In this case the filling should be placed in one of the 4 quarters of the crepe.
Other savory crepe filling ideas
These are a few that I had growing up:
Spinach & cheese. Find the recipe for the filling in this Spinach Empanada Recipe.
Pumpkin filling
Ham & cheese
Chicken curry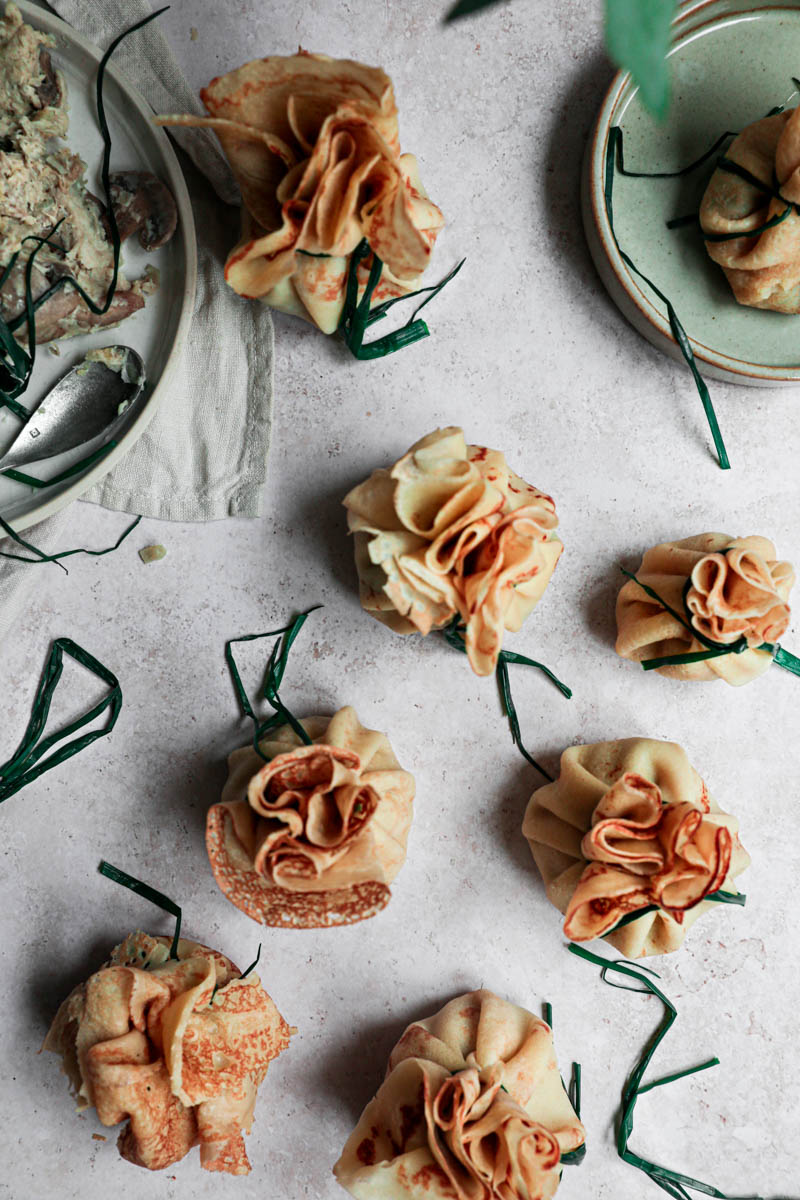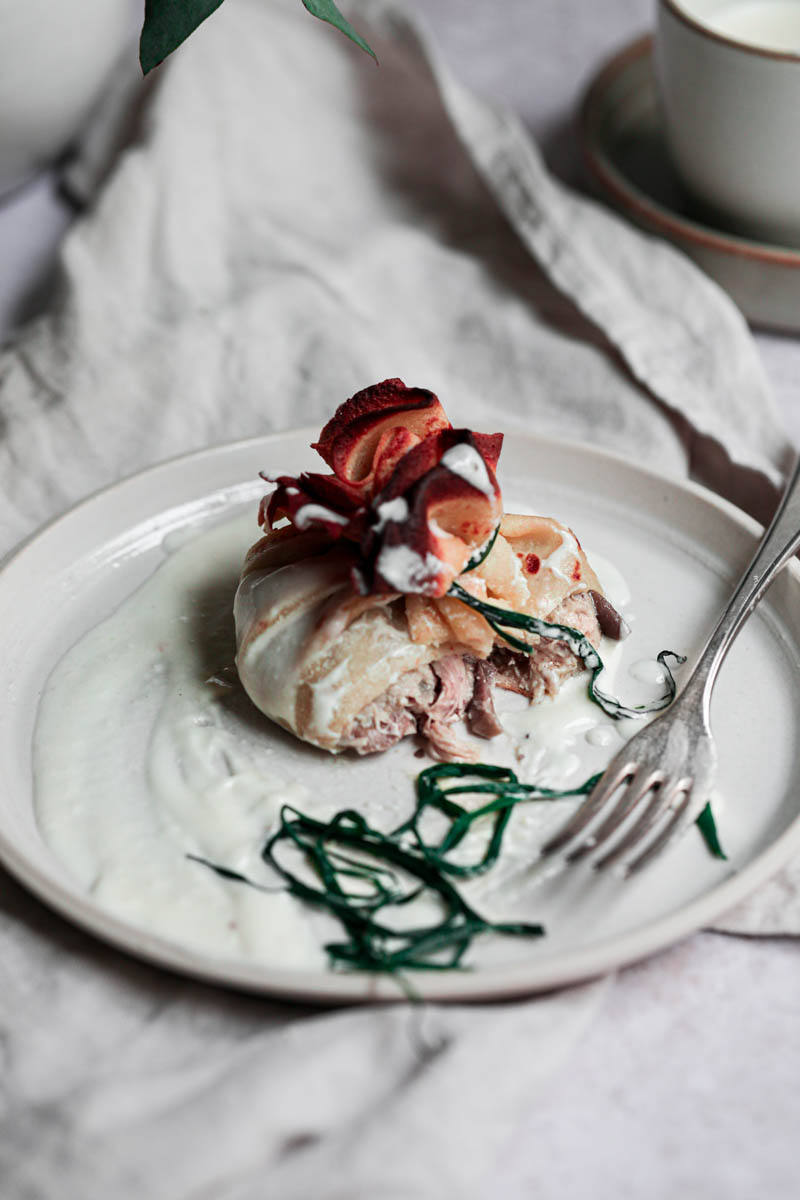 If you made this recipe I would really appreciate it if you leave a rating or comment below! Also, if you share on social media please use #cookwithbelula, I would love to see what you create!