French Chocolate Cake with Whipped Cream Filling & Meringue
This French chocolate cake recipe is simple and easy to make. It is enriched with a layer of dulce de leche and whipped cream filling and topped with Swiss Meringue.
This recipe is made of a simple French chocolate cake. This chocolate cake is topped with a layer of dulce de leche and another layer of whipped cream filling, and finished off with a glossy delicious Swiss Meringue. This is a dessert looks fancy, but it is super easy to put together! All you really need is to master the French chocolate cake, especially the baking time so that is remains super soft! Then you are good to go! And it can be made into a gluten free cake too! Can't wait for you to try it!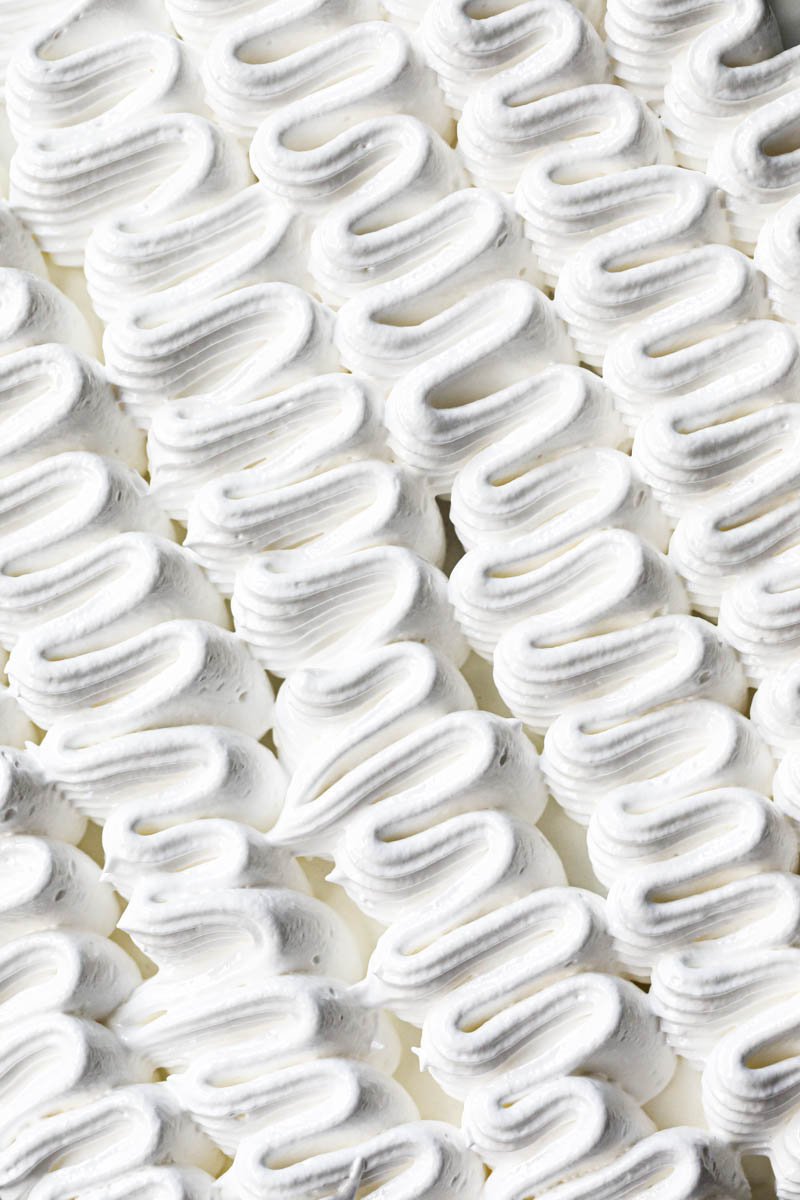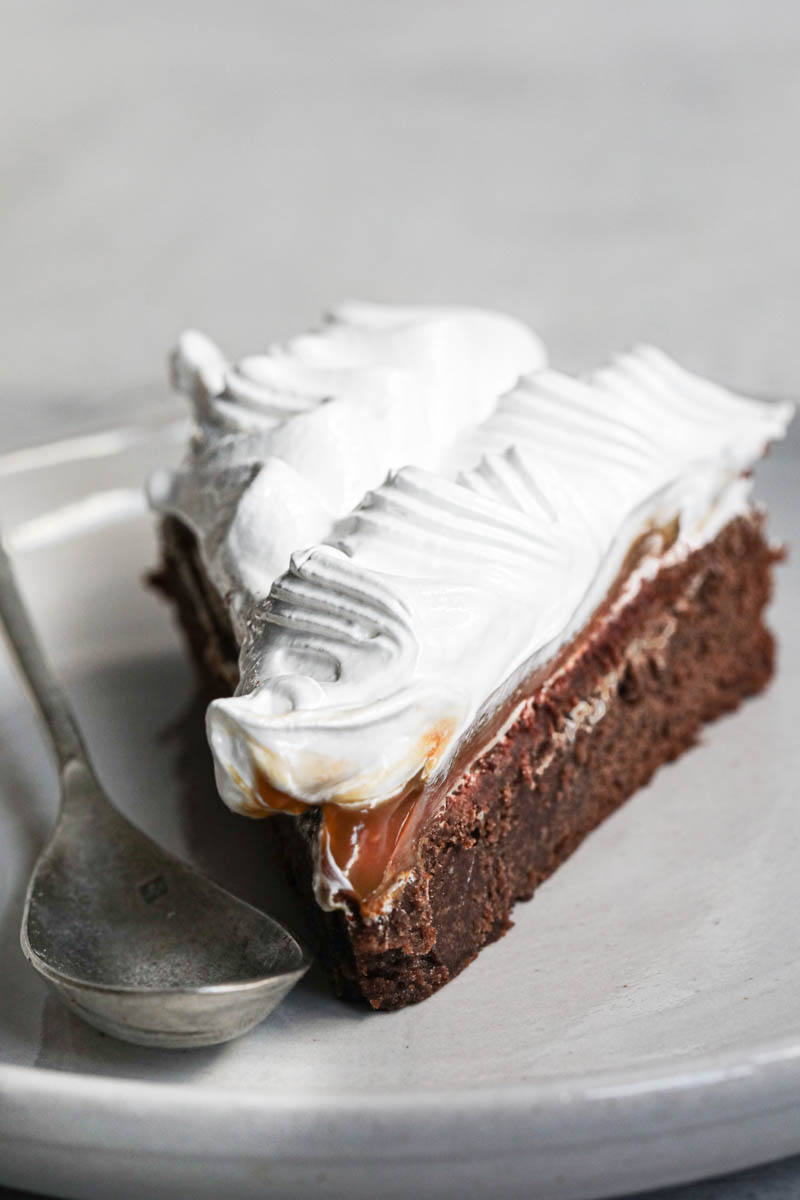 Material & Ingredient Notes
How to make this recipe
Make the French chocolate cake
Top the chocolate cake with dulce de leche and whipped cream filling
Cover the cake with glossy Swiss Meringue
Enjoy!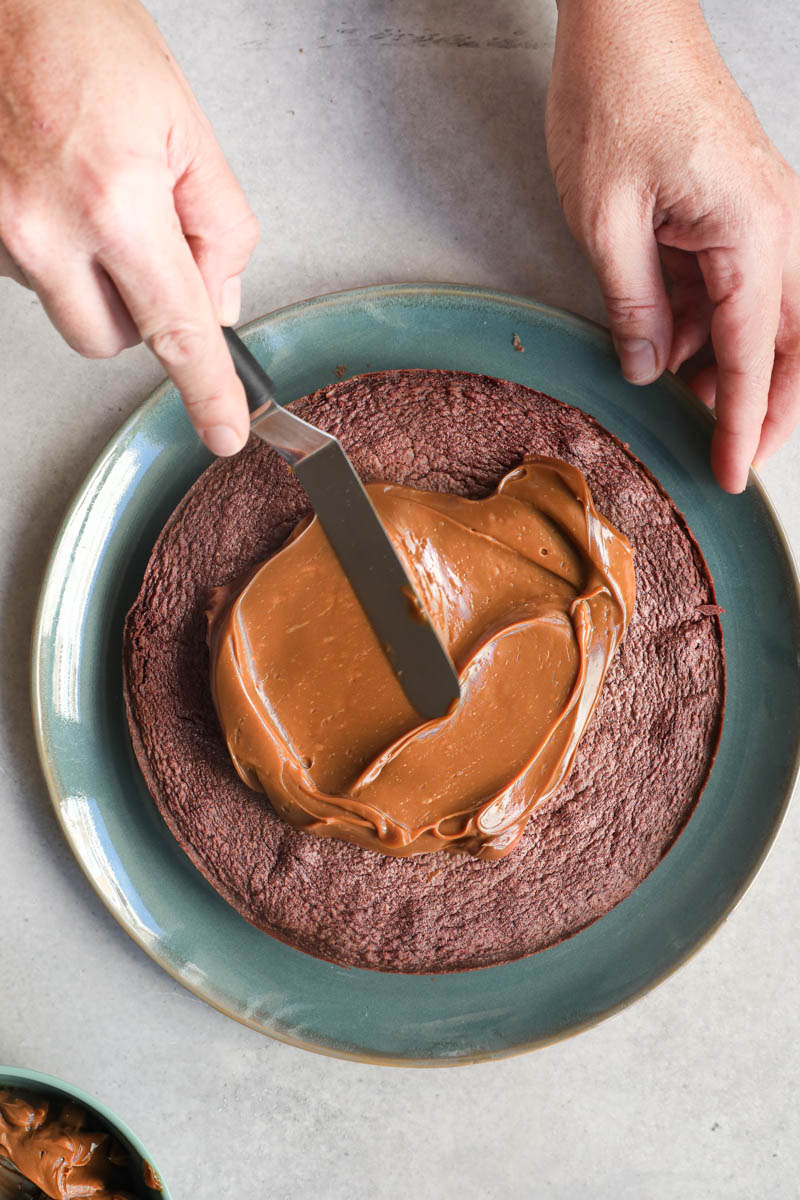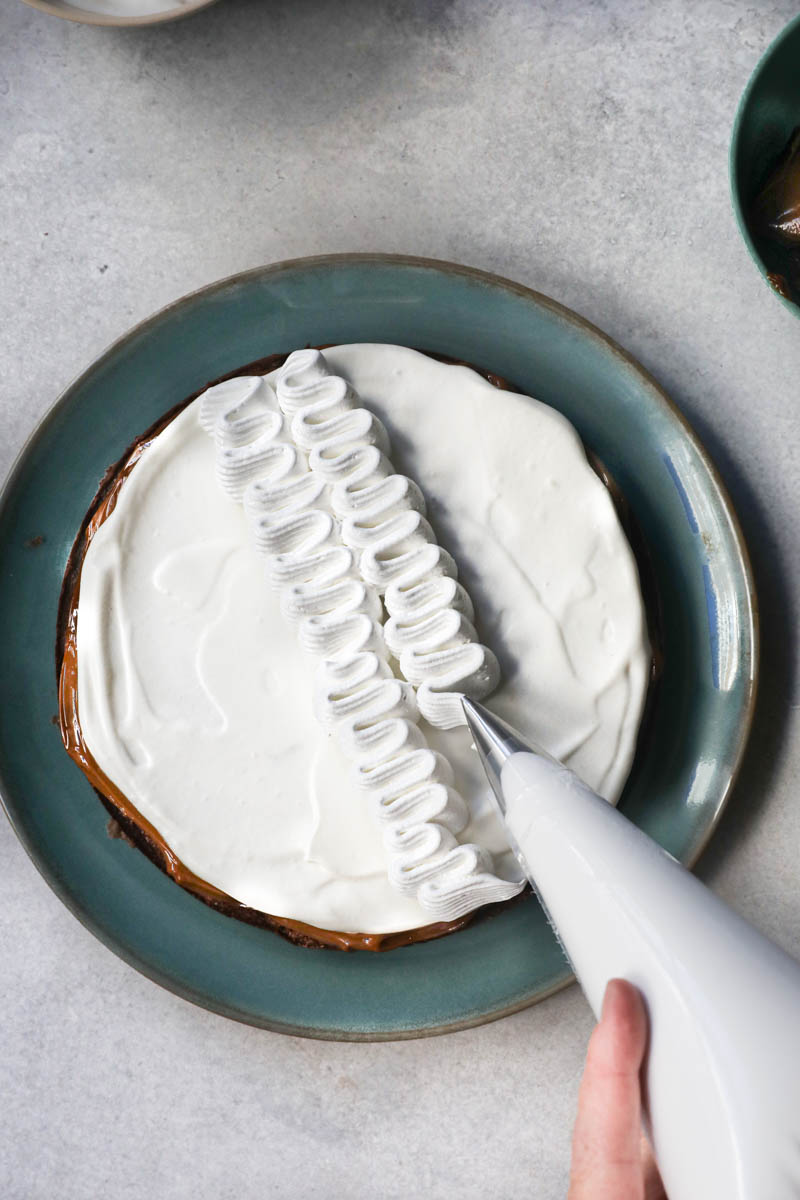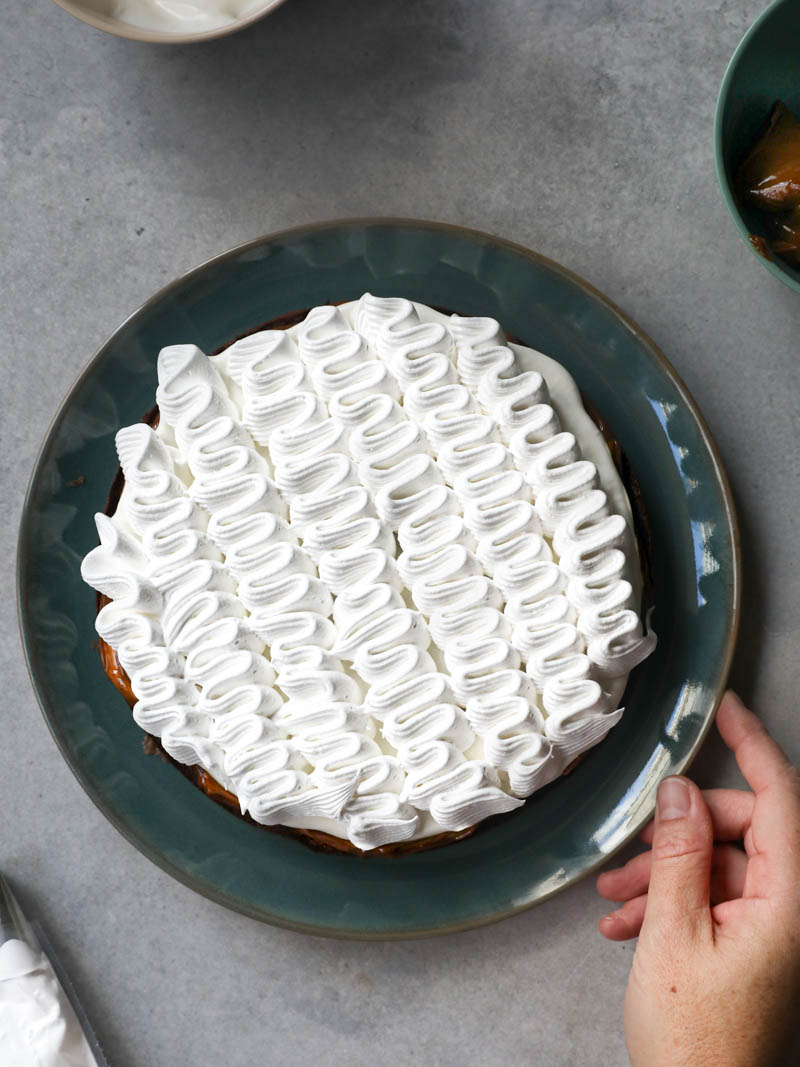 Notes on how to make this French Chocolate Cake
Prepare the cake pan before you start to make the cake. It is important to be able to remove the cake from the pan without major accidents!
To ensure French chocolate cake success: spray the pan with baking spray or brush with melted butter. Then cover the bottom of the pan with a round of parchment paper and re-spray so that the paper sticks to the pan.
Use a paddle attachment to mix this cake!
Scrape the sides of bowl before adding in a new ingredient!
The butter/sugar mixture should be light coloured and fluffy. This step is important, so be patient. It should take about 10 minutes.
When adding the eggs and dry ingredients in, you will see that the mixture kind of breaks apart. No worries this is normal because of all the fat present in this mixture (butter and egg yolks!). Just keep beating until the mixture is smooth before adding in the second egg.
Chocolate should be folded in at the very end. Make sure its properly melted and there are no chocolate lumps in there.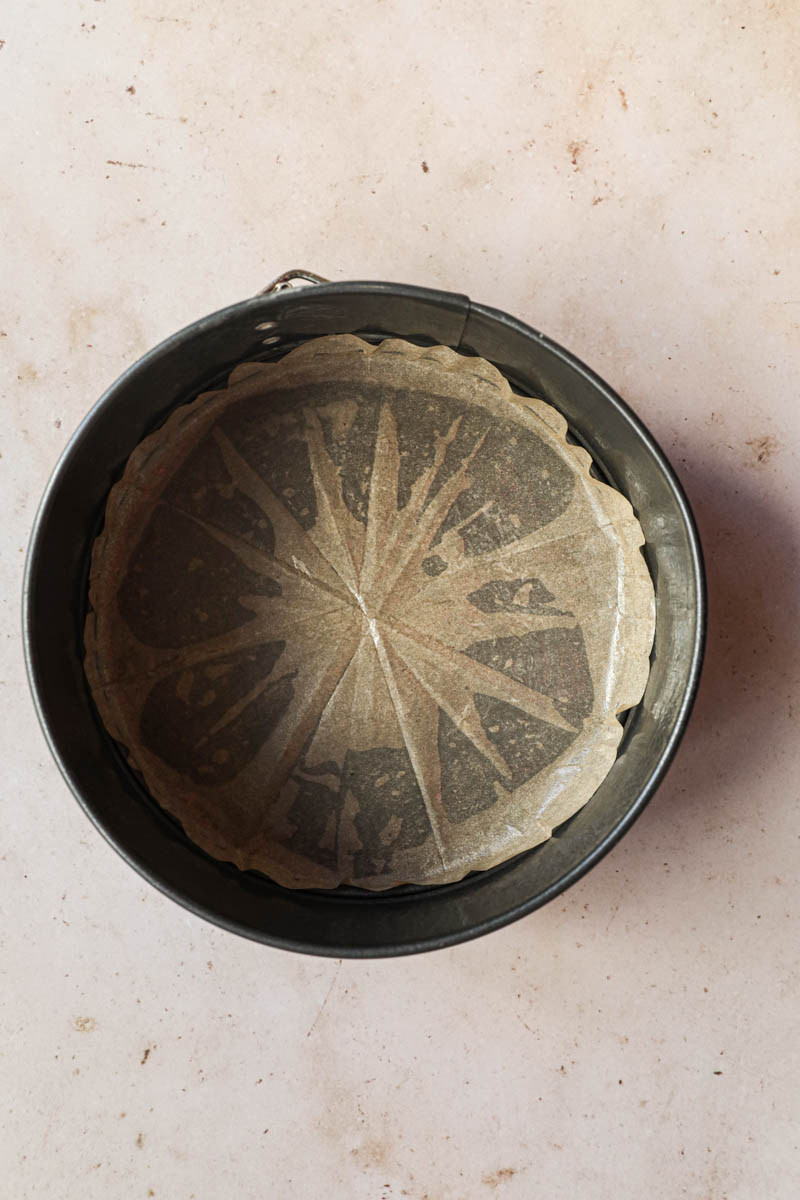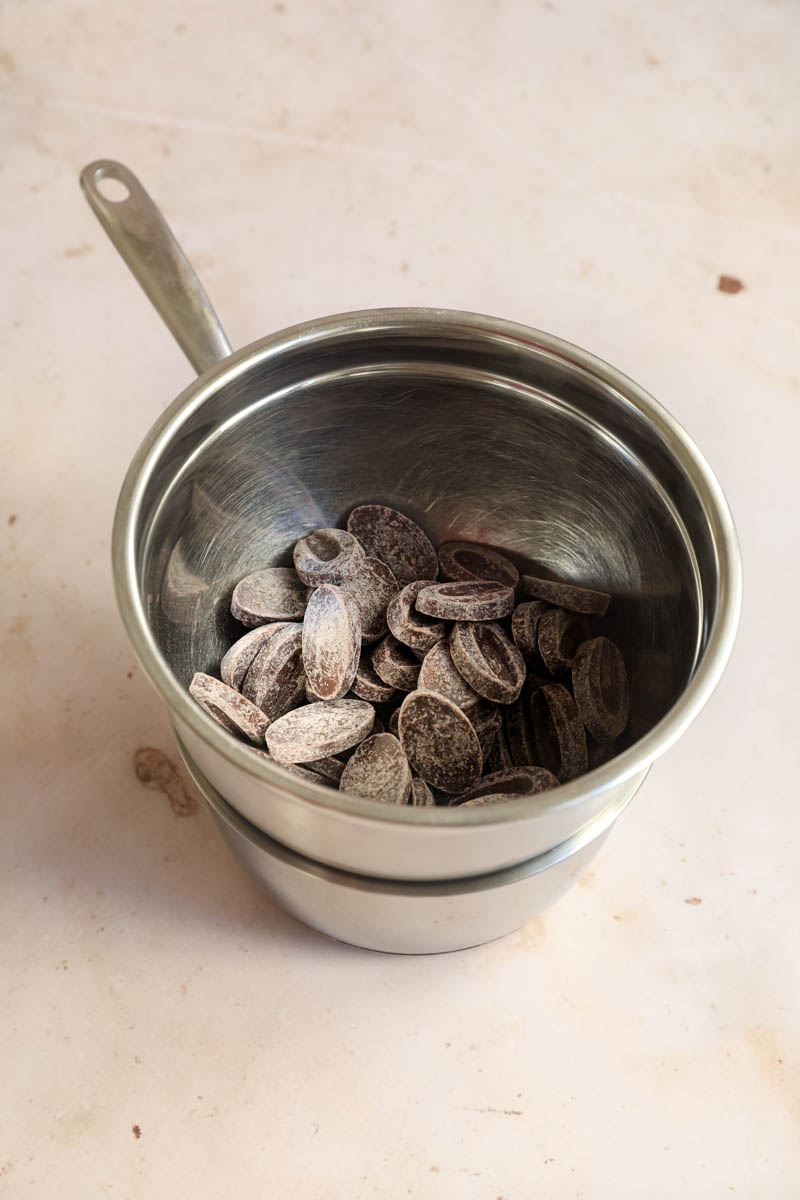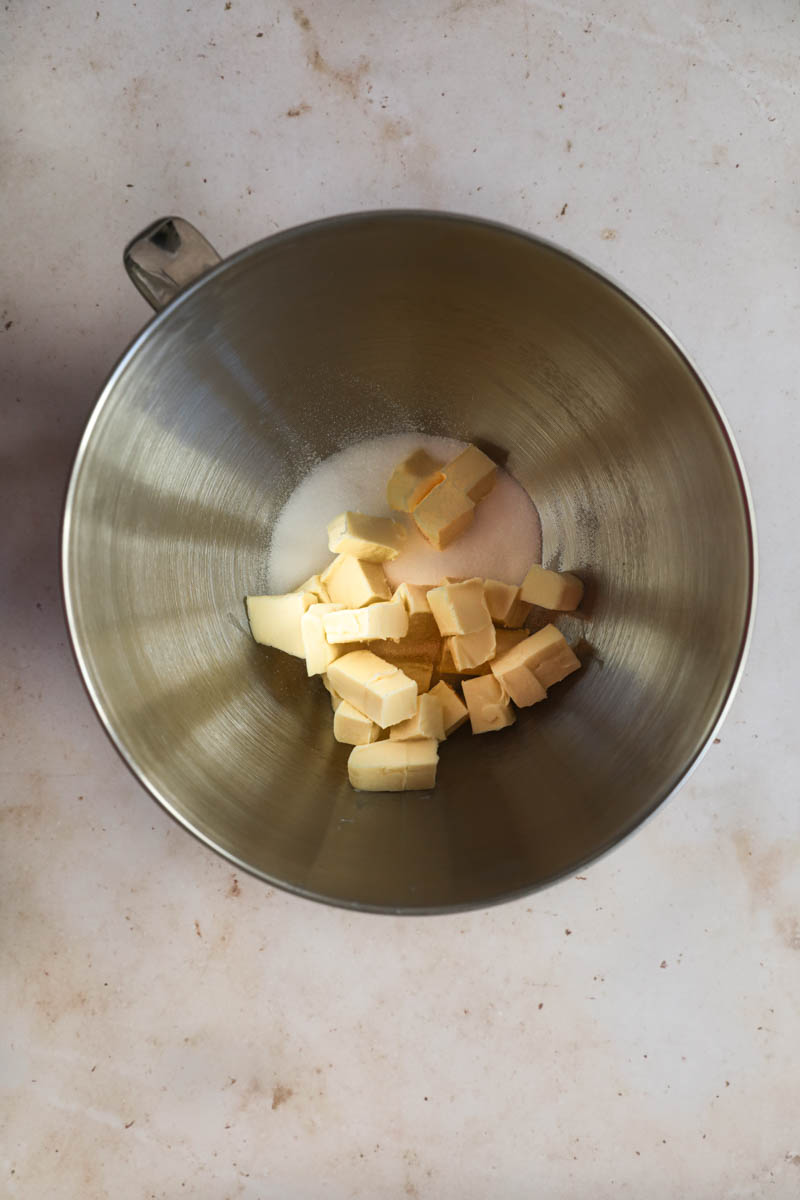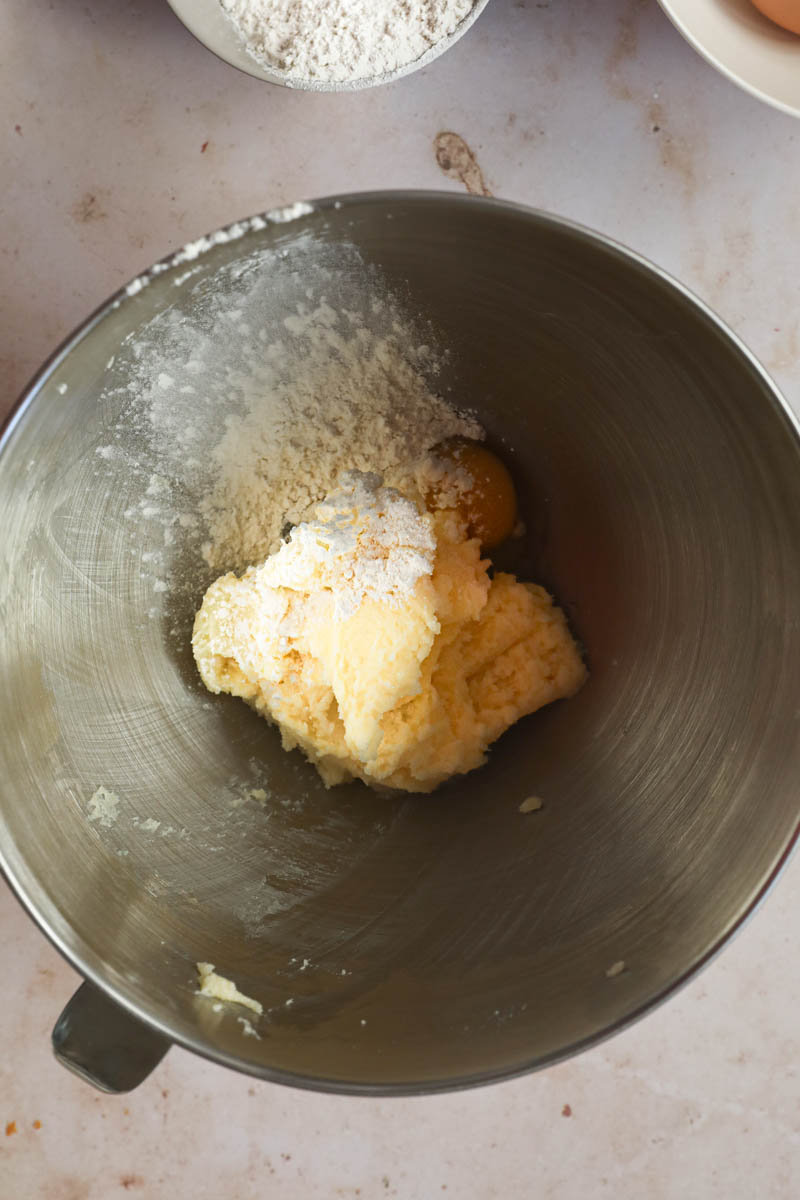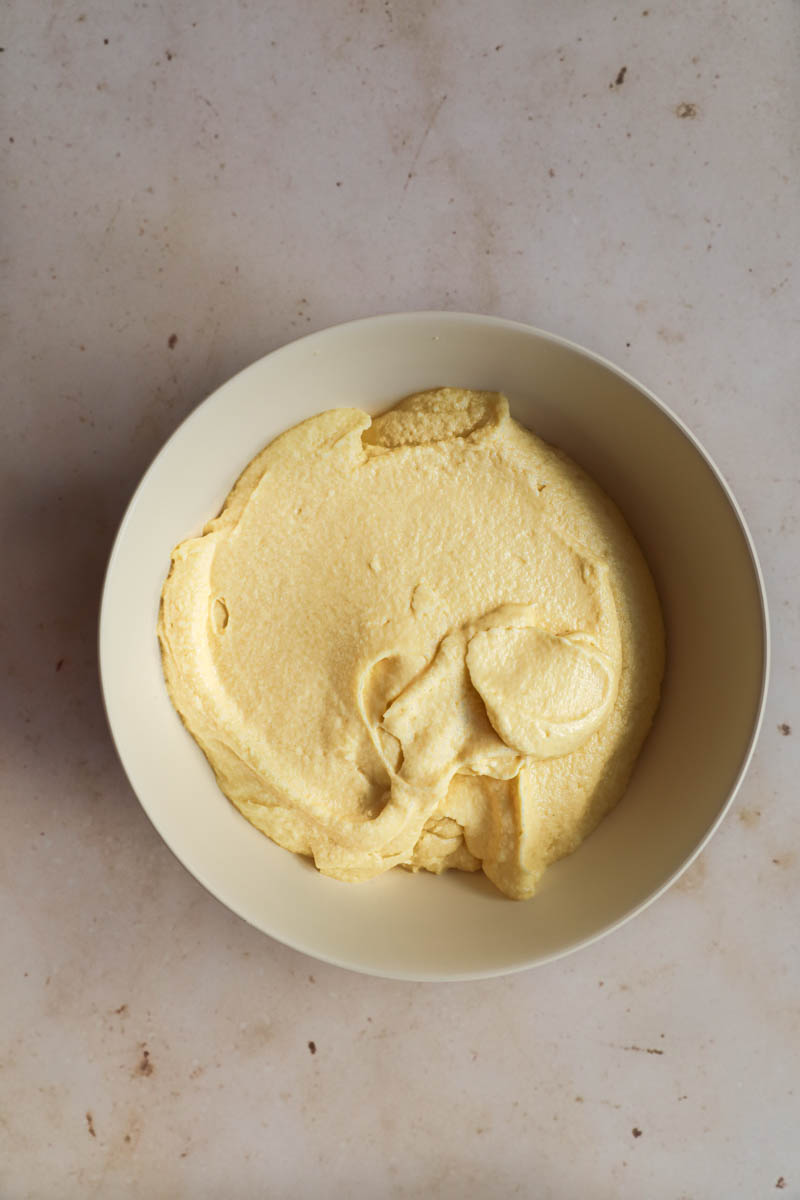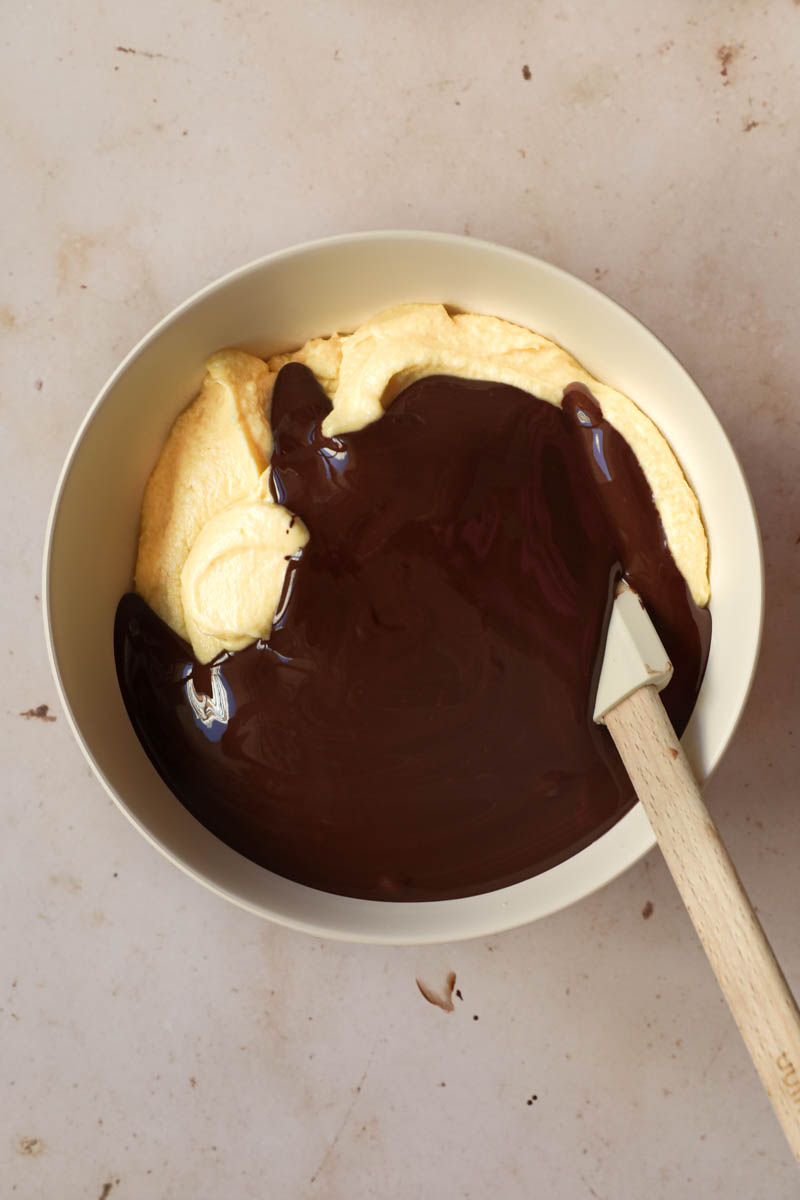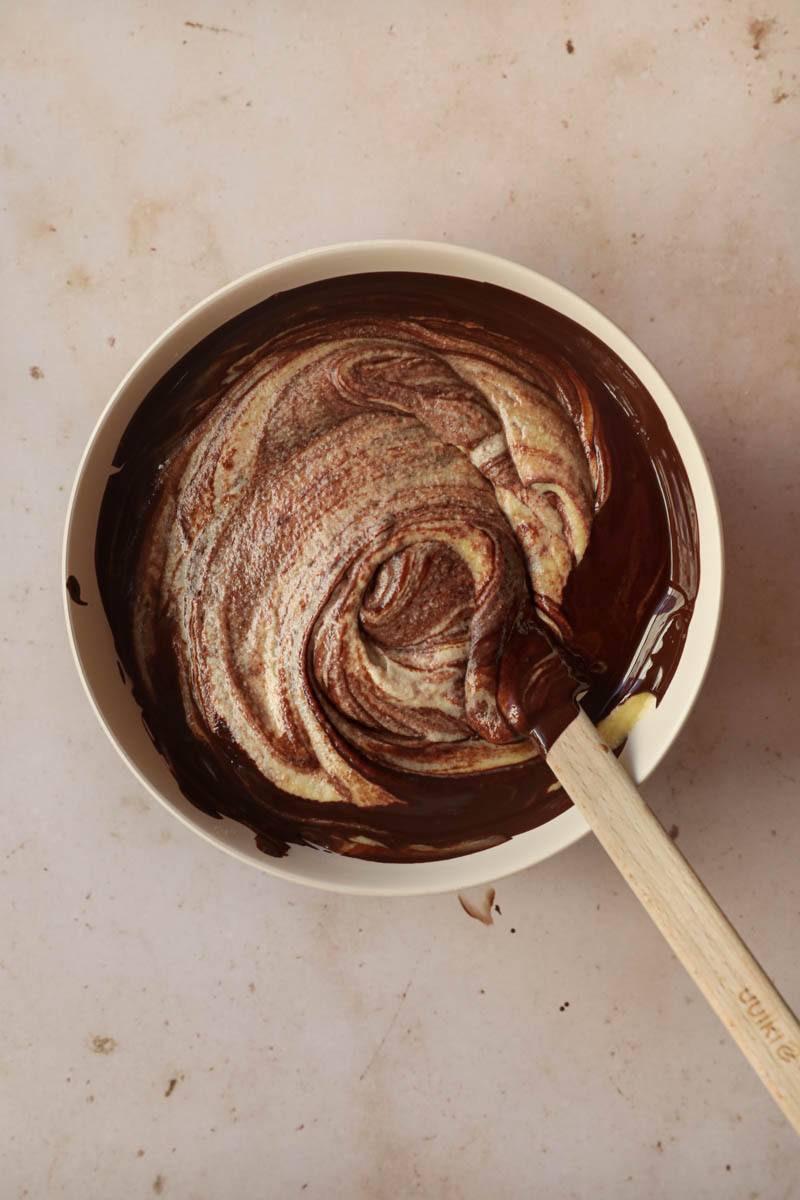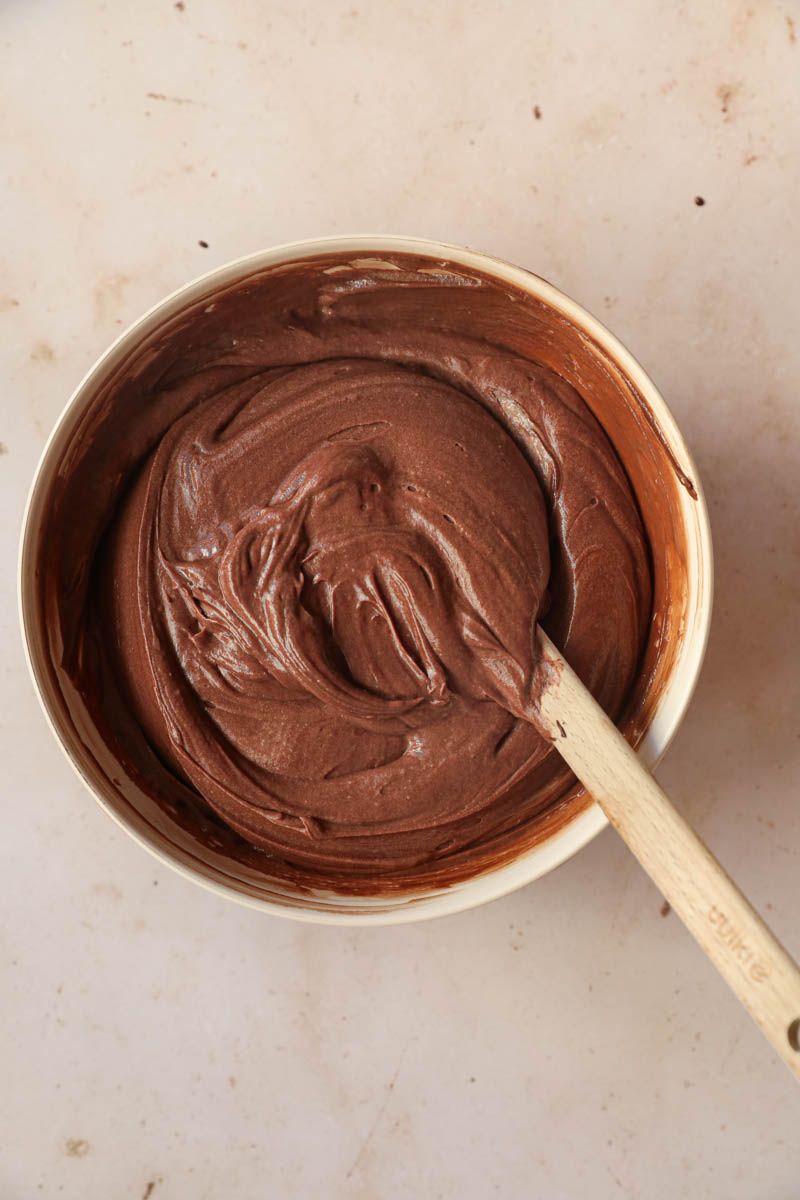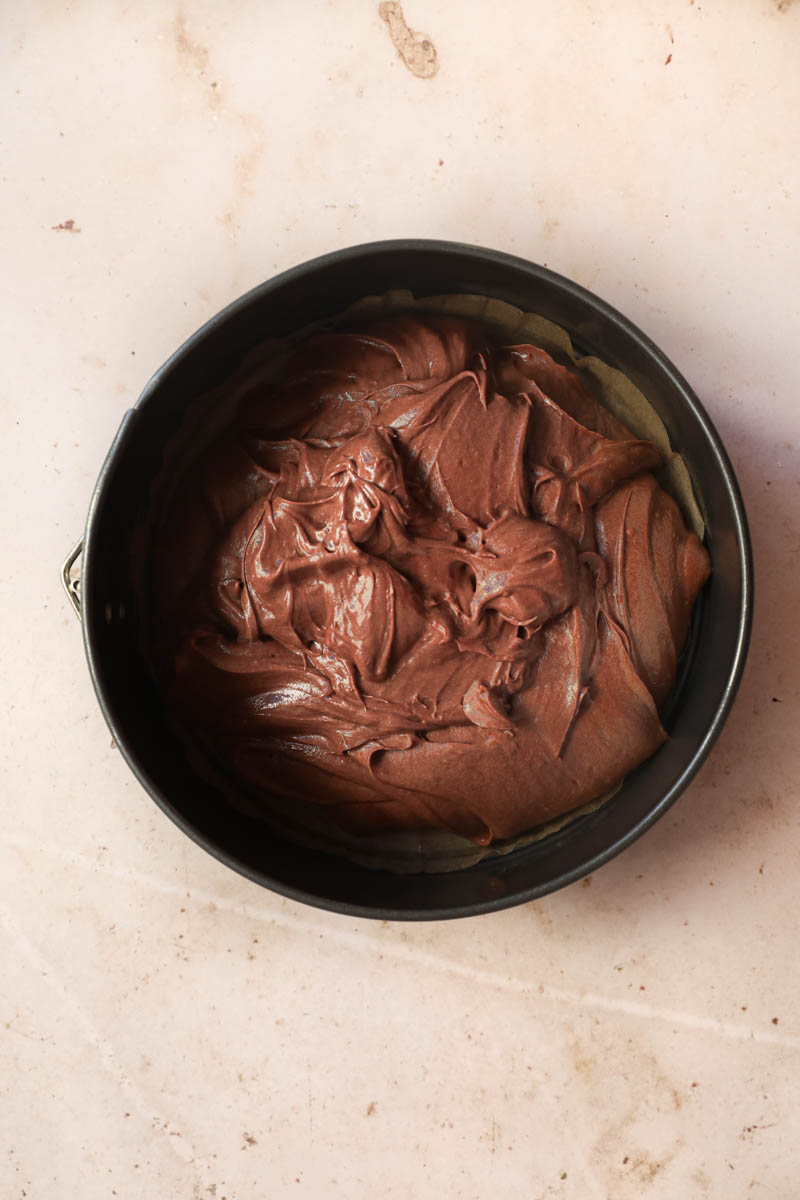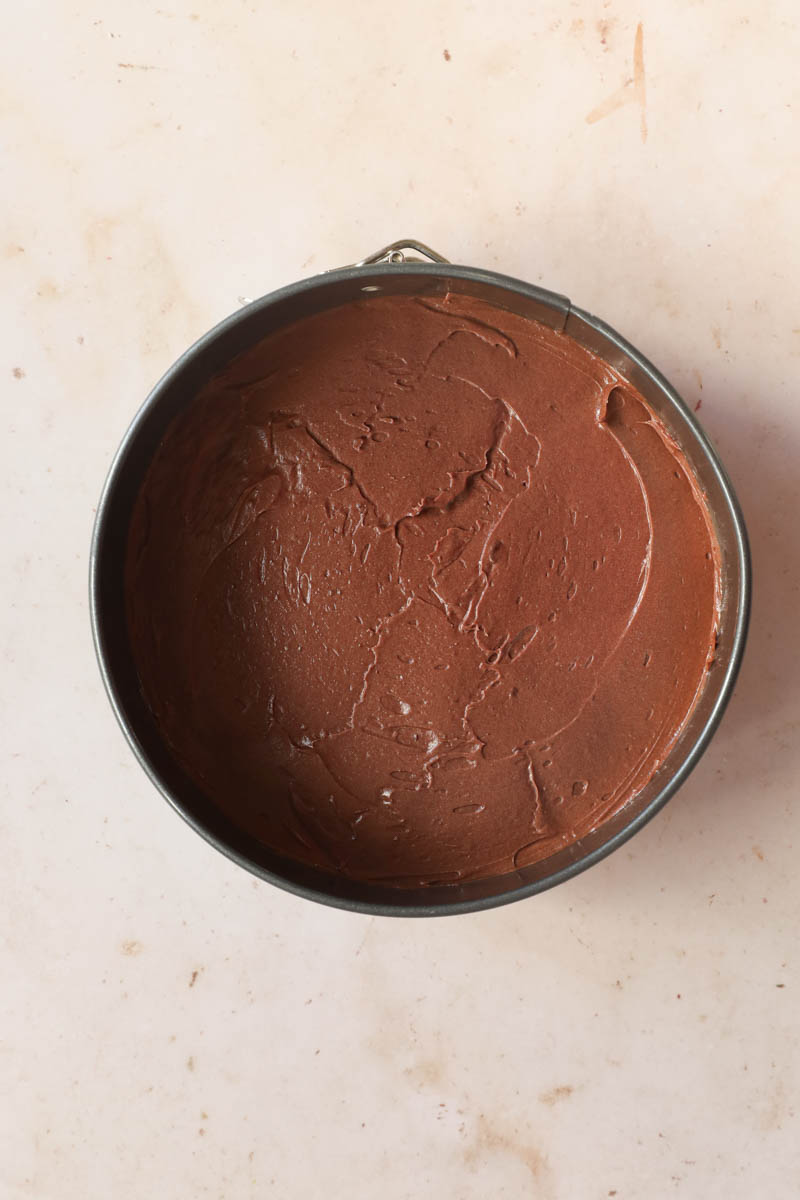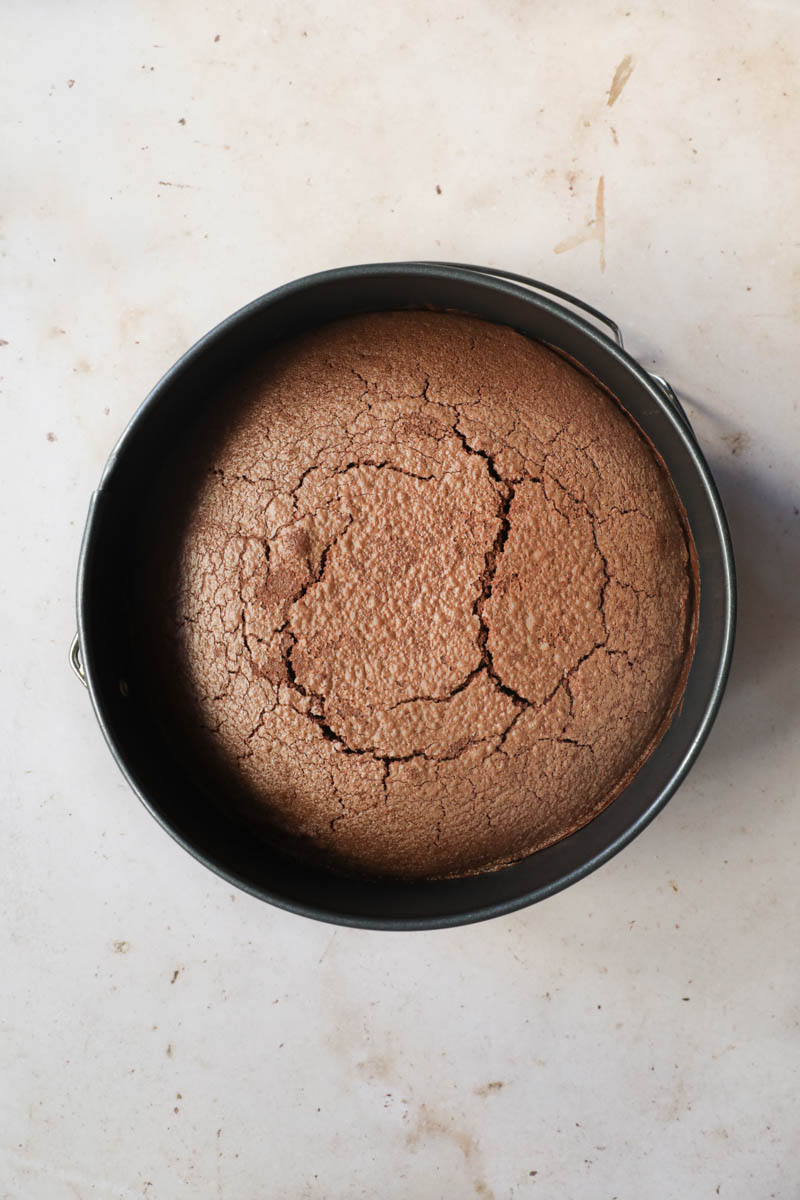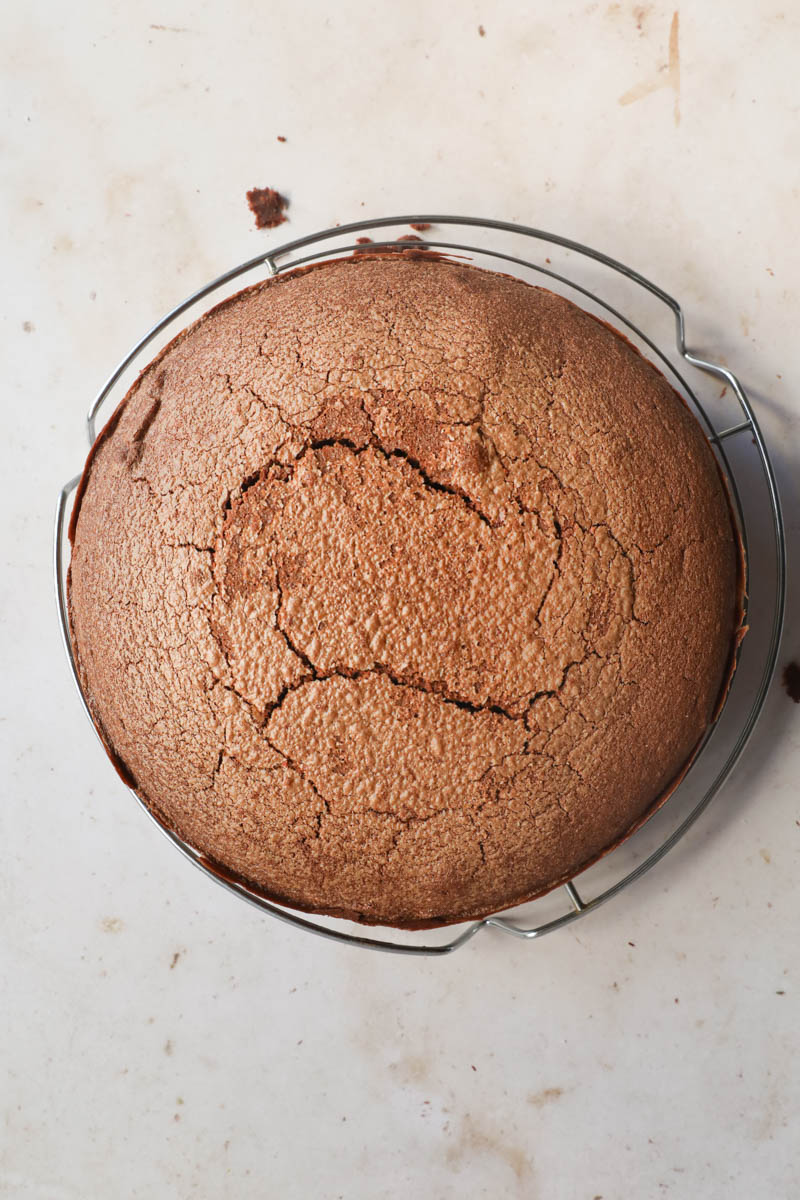 Recipe notes
Baking time is approximate. Always. Ovens are different, so baking time might vary. You must look out for texture. The cake is done when you insert a cake tester in the middle and it comes out slightly humid.
When filling the cake, let the cake set in the refrigerator after each layer has been added.
Leave space without dulce de leche filling to avoid it from spilling over.
Whipped cream must be beat to stiff peaks so that it can hold the meringue without breaking apart.
To top with the Swiss meringue, you can use a piping bag as I did, or you can use a spatula to cover the cake with the meringue if piping is not your thing.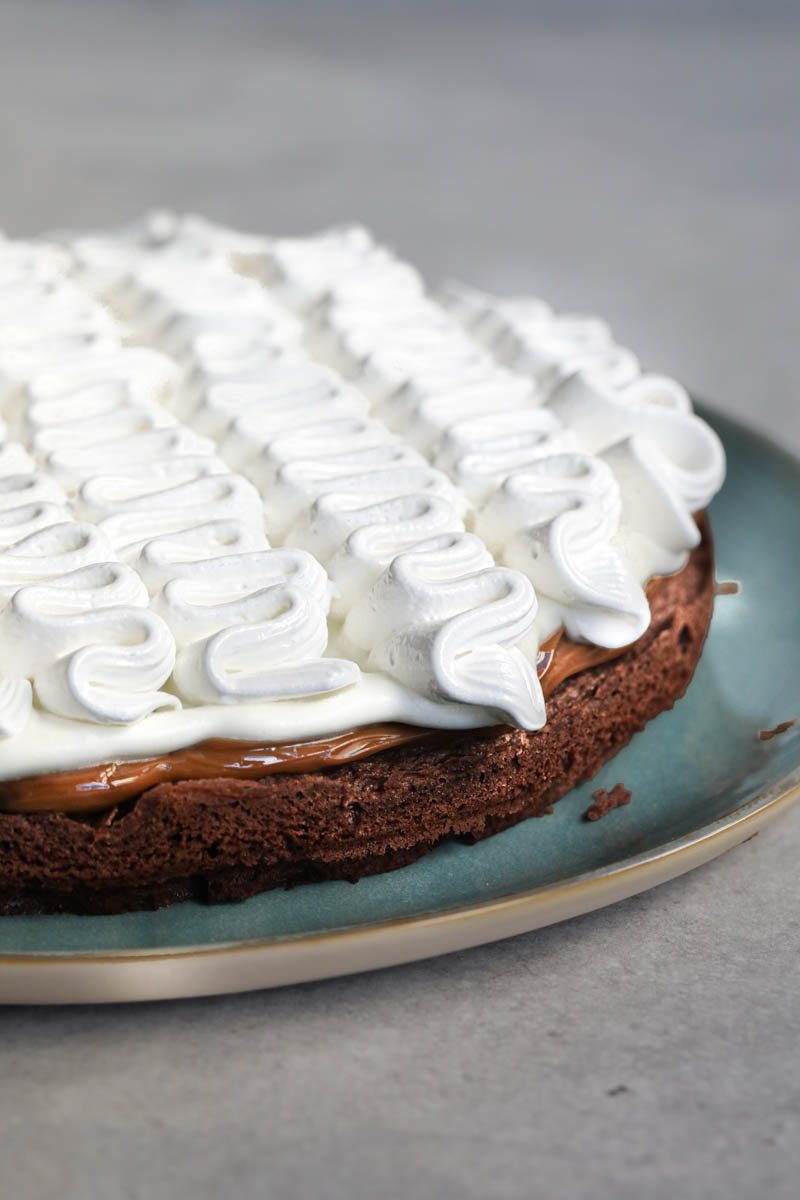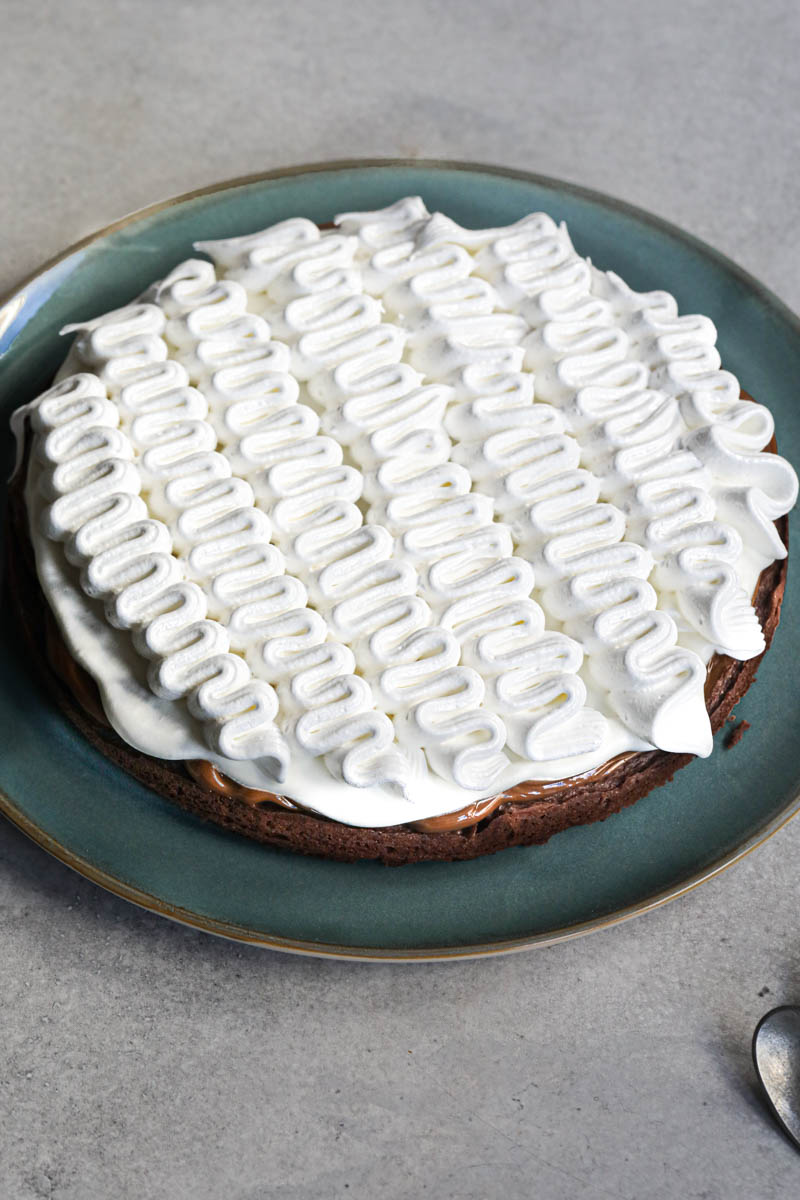 Storing tips
This French chocolate cake must be kept in the refrigerator. It lasts for up to 3 days after it has been filled and topped with the meringue.
It keeps at room temperature (without the filling and the meringue), for up to 1 week.
Freezer instructions
This French chocolate cake can be frozen, without the cream, dulce de leche and meringue have been added.
Once it has completely cooled off, cover in saran wrap, and place in a freezer container. It keeps for up to 1 month.
To defrost: place at room temperature overnight. Then proceed to top the chocolate cake with whipped cream filling and meringue frosting. Or enjoy as is, with a little powdered sugar dusting!
Make ahead
French chocolate cake: can me made up to 5 days in advance and kept at room temperature. Then fill with the dulce de leche, cream and meringue and keep refrigerated.
Variations to this recipe
This chocolate cake can be enjoyed as is, without the filling and the meringue topping. Simply dust with powdered sugar, maybe add a scoop of vanilla ice cream or vanilla custard sauce, and enjoy!
You can make this French chocolate cake gluten free, by simply replacing the amount of flour in the recipe for the same amount of corn-starch.
The ingredients used in all recipes on this site are measured using the metric system. I use a
scale
to be precise with my measurements and ensure good results. If you would also like to use a scale, here are some:
USA
,
Canada
,
UK
,
Australia
,
France
.
Subscribe to the newsletter
Total Time:
2 hours 15 minutes
---
French Chocolate Cake
Dark Chocolate

100 g

Unsalted Butter

90 g

Sugar

75 g

Flour

30 g

Eggs

2
Whipped Cream Filling
Dulce de Leche

250 g

Whipping Cream

80 g
Swiss Meringue Topping
Egg Whites

100 g

Powdered Sugar

200 g
If you made this recipe I would really appreciate it if you leave a rating or comment below! Also, if you share on social media please use #cookwithbelula, I would love to see what you create!