Financiers are one of my favourite French pastry classics. During my first year living in Paris, my neighbourhood bakery had the best ones: airy, buttery, and moist. Perfect treat to eat on the go. And that is exactly what I did almost every day on way back home from pastry school! The happiest times. I loved them even more when I learned that these French almond cakes were so easy to make. You can be sitting down with a cup of coffee having delicious financiers in about 30 minutes from now. Go pre-heat the oven 😉.
What is a Financier Cake?
Financiers are small French almond cakes flavoured with almonds and brown butter. They are exquisite. They are traditionally baked in rectangular moulds, and that is where their name is derived from: because of their resemblance to a gold ingot.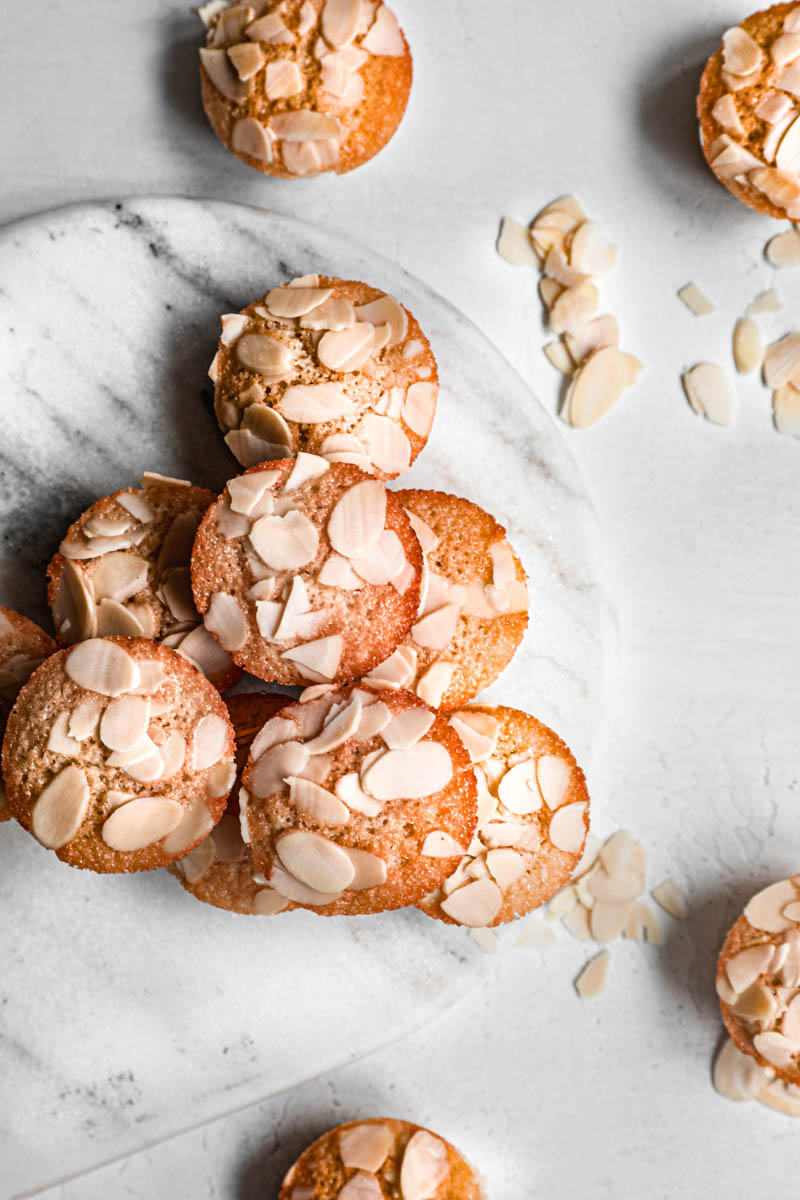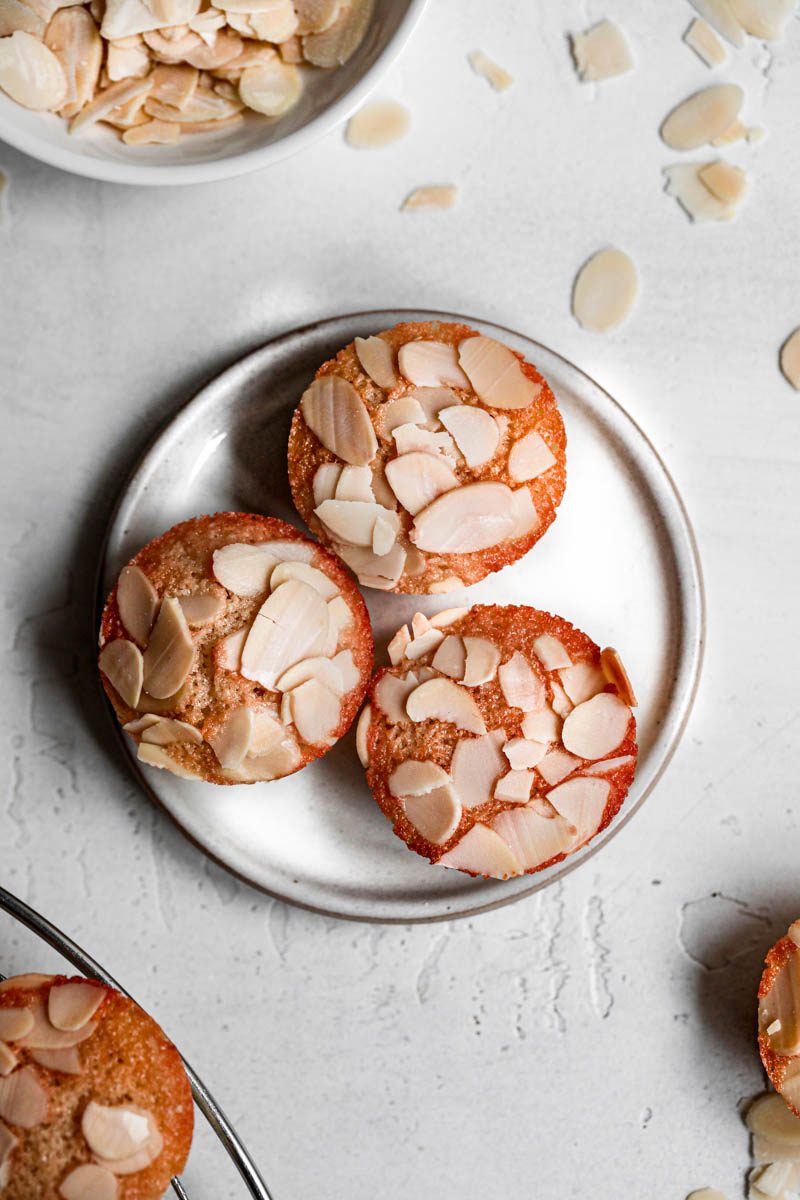 What will you need to make this financier recipe?
This recipe is so easy to make, all you need is one bowl and 30 minutes from start to finish! And a few other things:
Utensils: a bowl and a whisk
Usual suspects: flour, powdered sugar, baking powder.
Almond flour, for that special taste.
Brown butter: for the extra nutty flavour. In French it is known as "beurre noisette" which translates to hazelnut butter, because it kind of smells like hazelnut once it has browned.
Egg Whites. I tend to use old egg whites; this is great example of a what to do with leftover egg whites. You can also try this Pavlova recipe!
Sliced almonds to decorate these small cakes.
Financier pan. If you don't have one, a small muffin pan will do the trick. In this occasion, I went with the muffin option, because I love a round shape!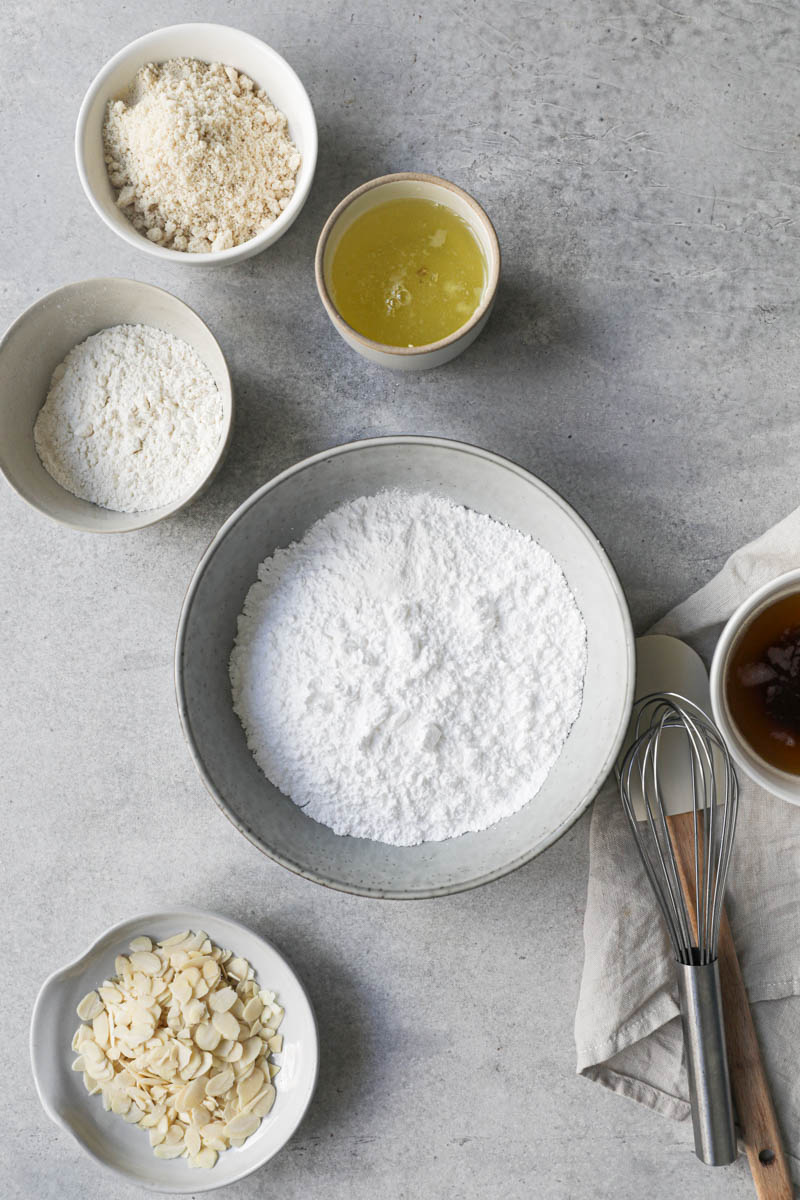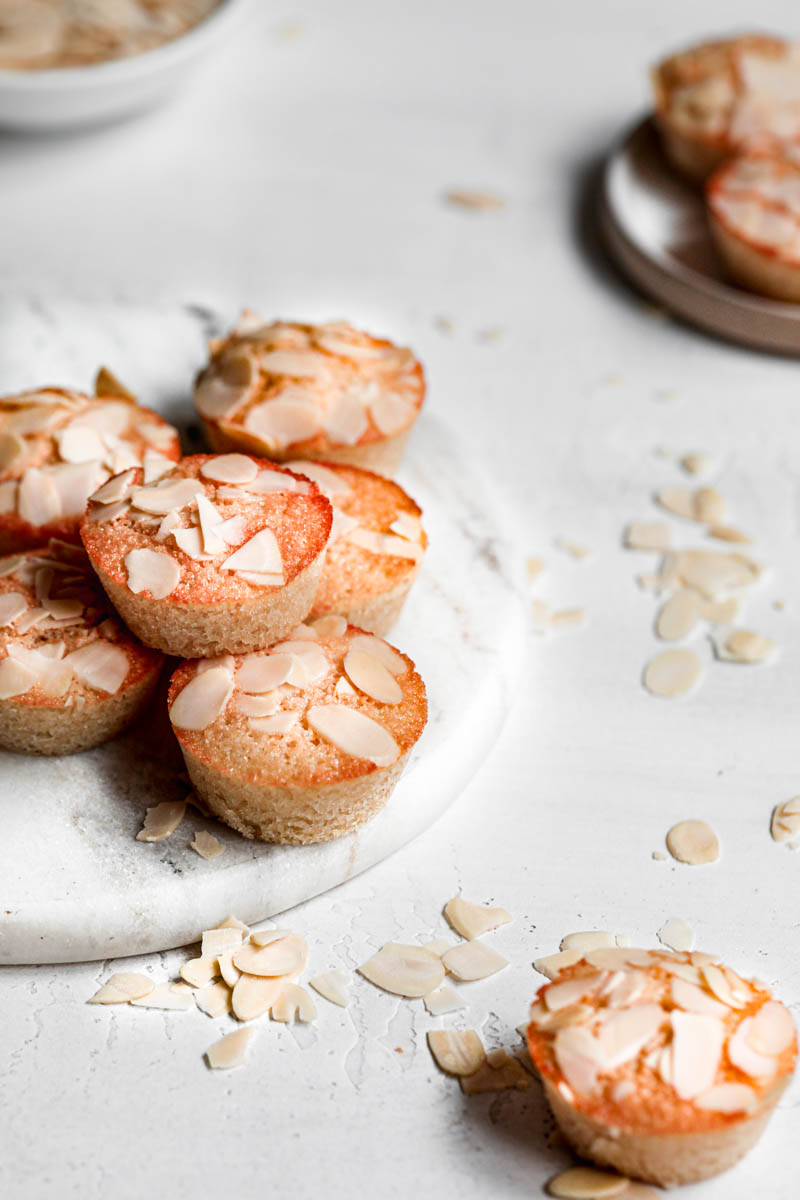 How To Make Financiers?
Prepare all your ingredients before starting. This includes making brown butter and separating the egg whites from the egg yolks.
You can watch how to separate egg whites here.
To make brown butter: in a small casserole melt the butter until it has attained a nice brown colour and it smells like hazelnut (in French it is called "beurre noisette" – literally hazelnut butter). When browning the butter, be attentive. The line between brown butter and burnt butter is very slim (if your butter burns, the financiers will have a bitter aftertaste). If you want (I prefer to do so, but it's not life altering!) you can strain the brown butter to get rid of any impurities it might have.
And the rest is easy: in a bowl whisk all the dry ingredients (almond flour, flour, baking powder and powdered sugar) together. Add the egg whites and whisk until they have incorporated into the batter. Finally whisk in the brown butter.
Yes. You are done. Believe it! Now the baking part.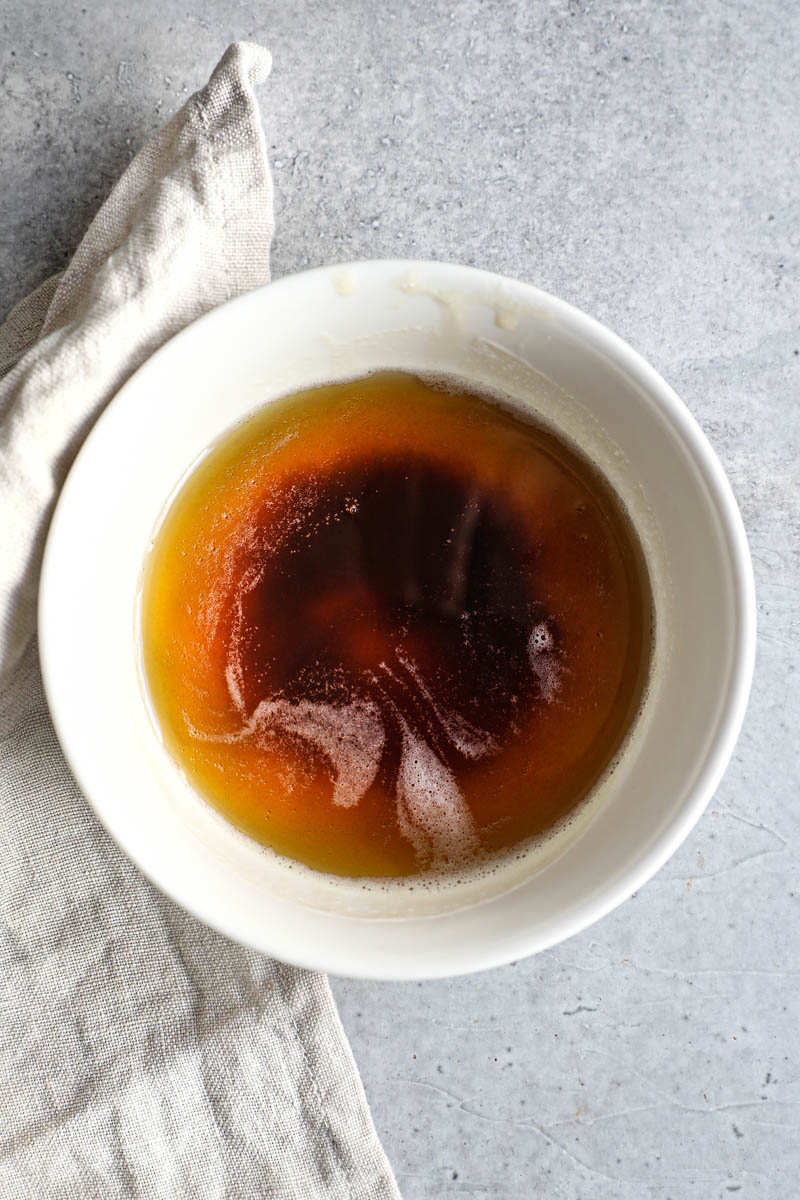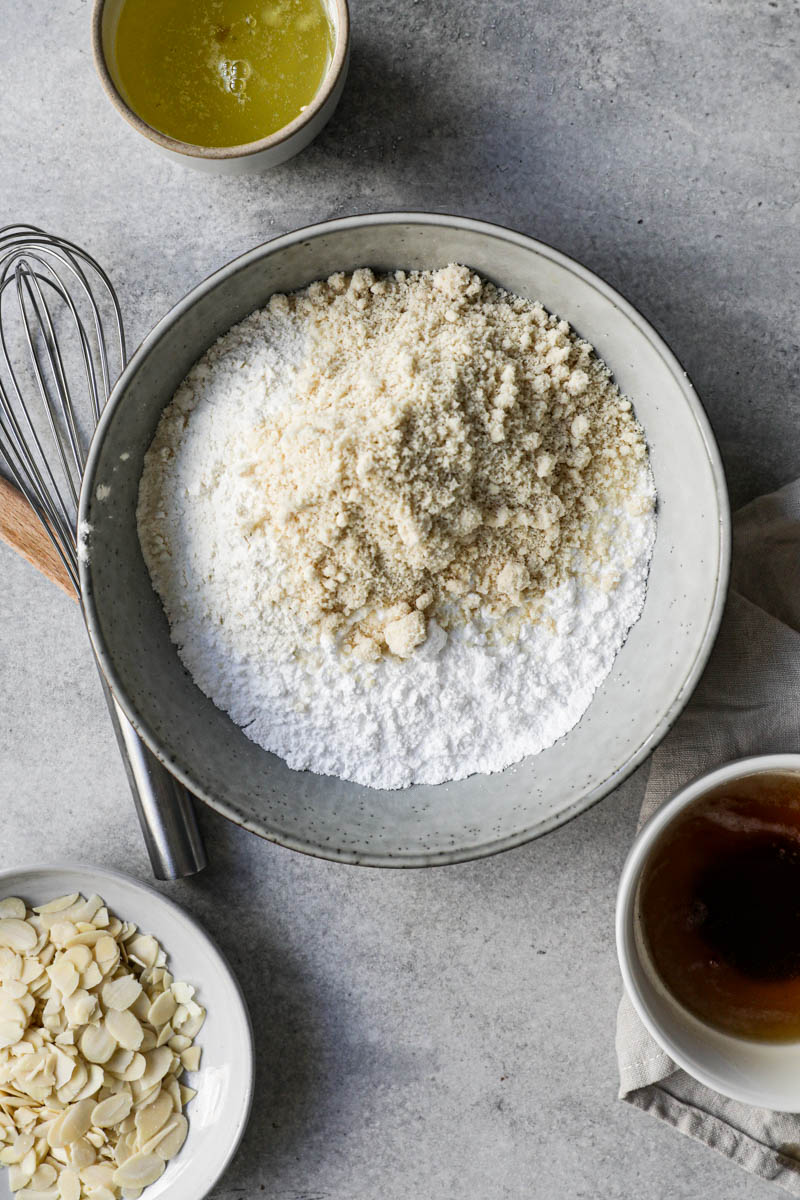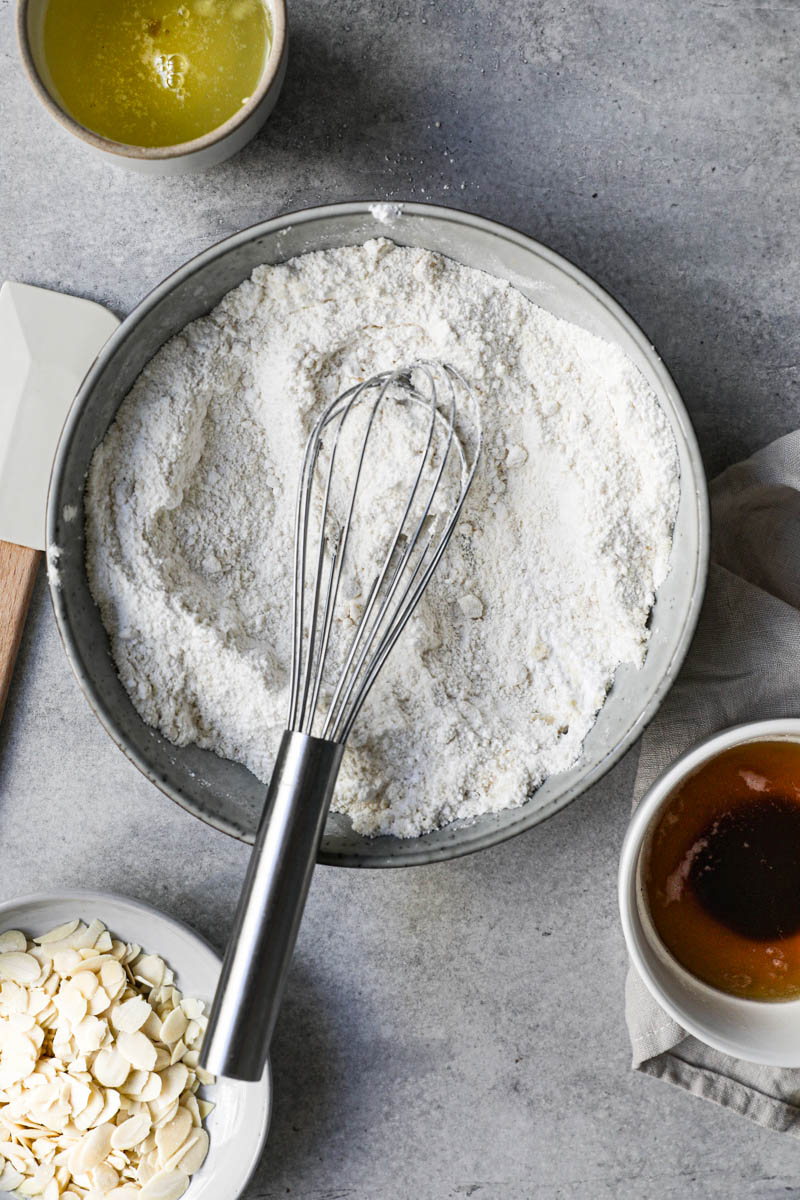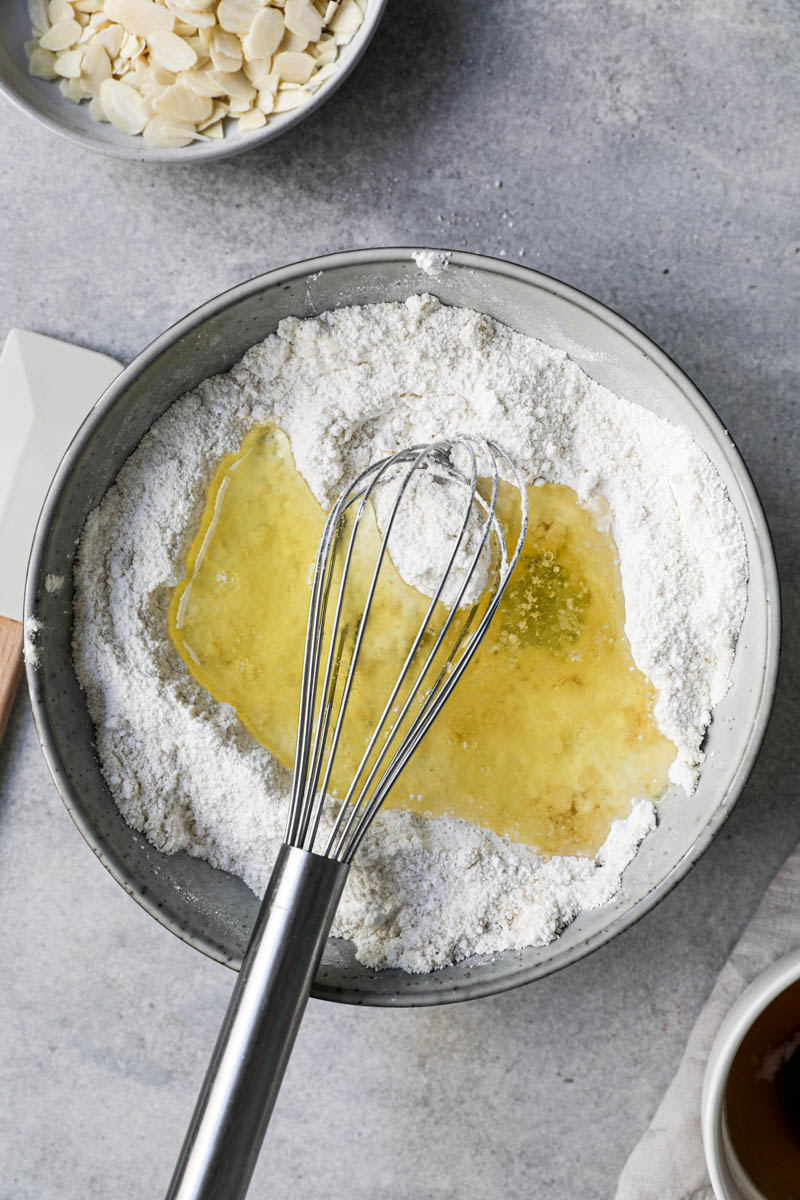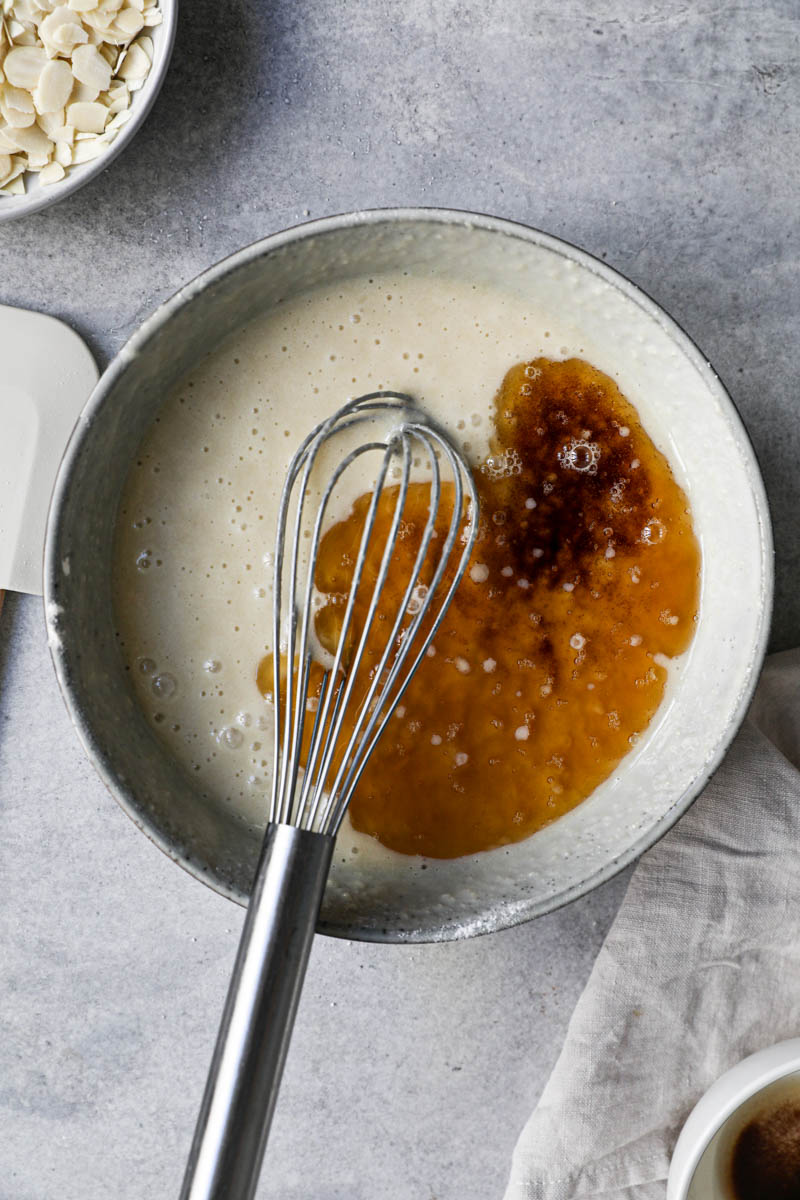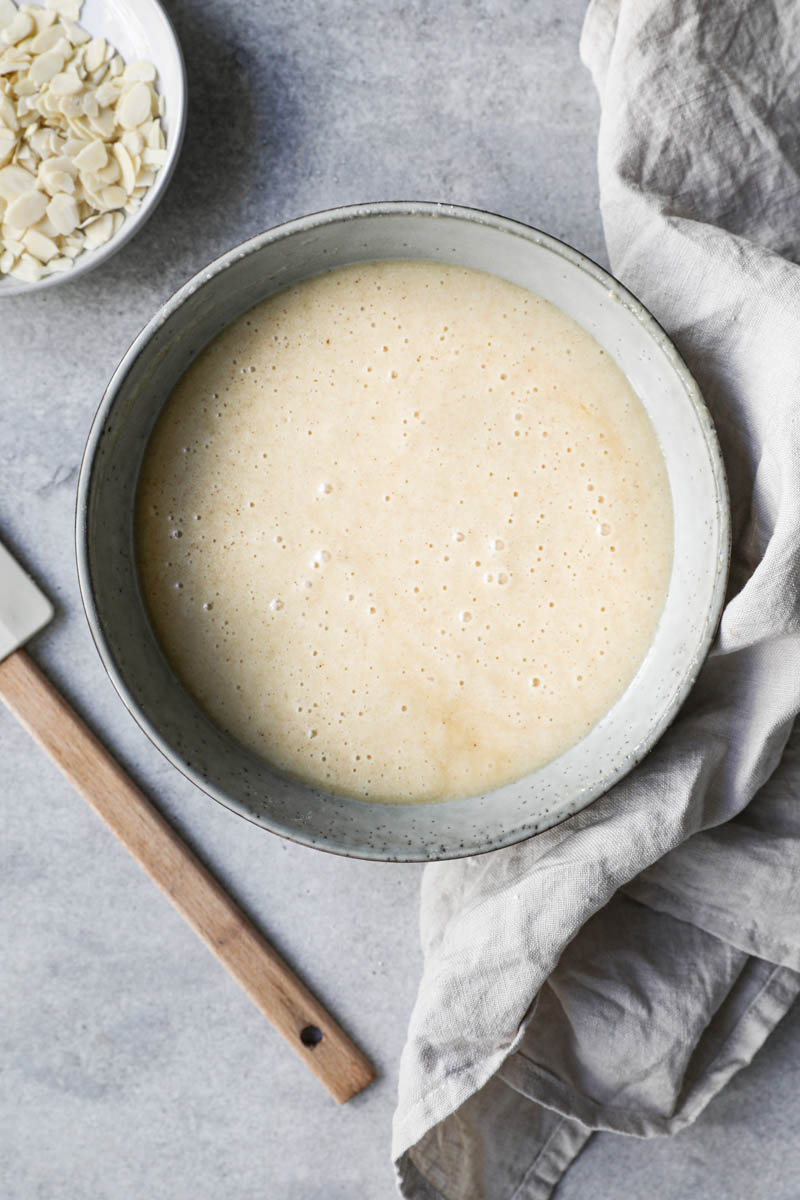 How to Bake these small French almond cakes?
Baking financiers is straight forward:
Pre-heat the oven to 180 degrees Celsius (360 F).
Thoroughly butter the financier pan (or the muffin pan if you are using this option) using a brush and melted butter. This is especially important as financiers stick to the pan.
Transfer the financier cake batter to a piping bag and fill in the pan to ¾ of the rim. It will look empty, but it's perfect. Don't go overboard with the filling.
Add some sliced almonds on top of every financier.
Bake until golden. About 12 minutes.
Note: Time is just to guide you, it's not exact. Each oven is different. And each mould is also different. Get to know your material, the 12 minutes are a guide.
You know the financiers are ready if you insert a skewer at the centre and it comes out clean.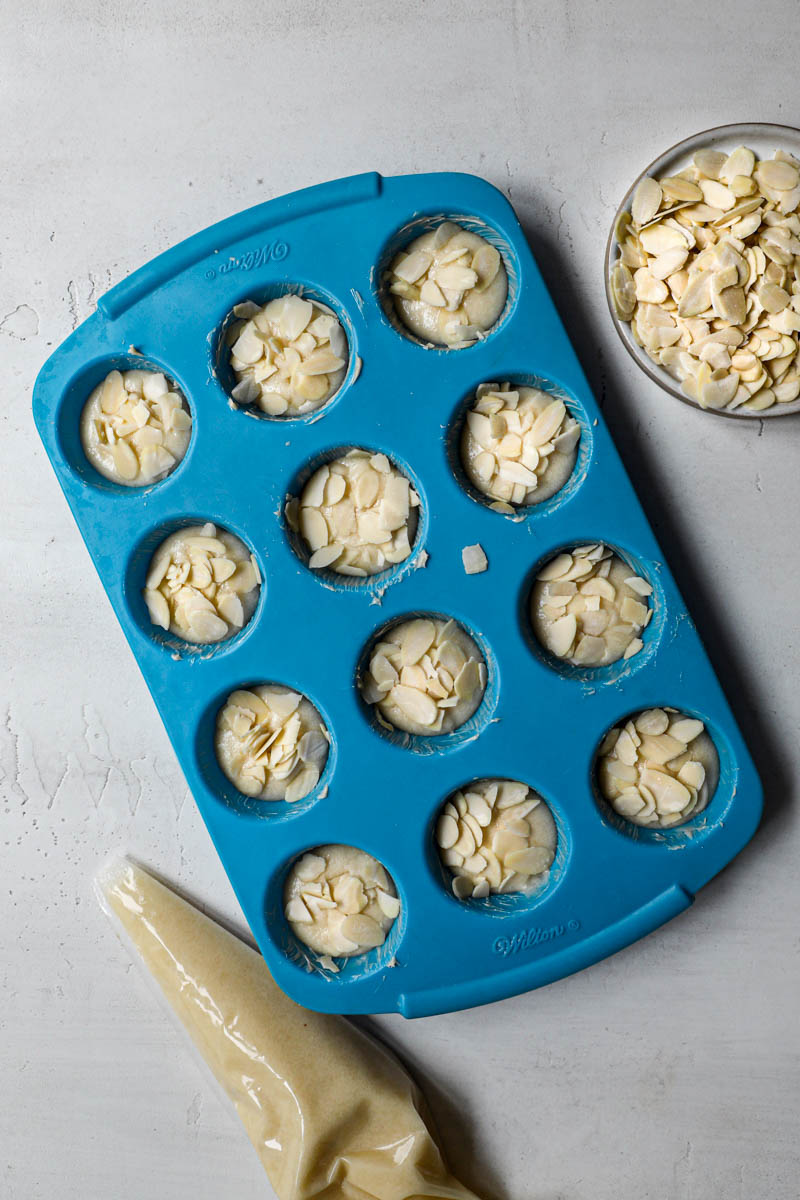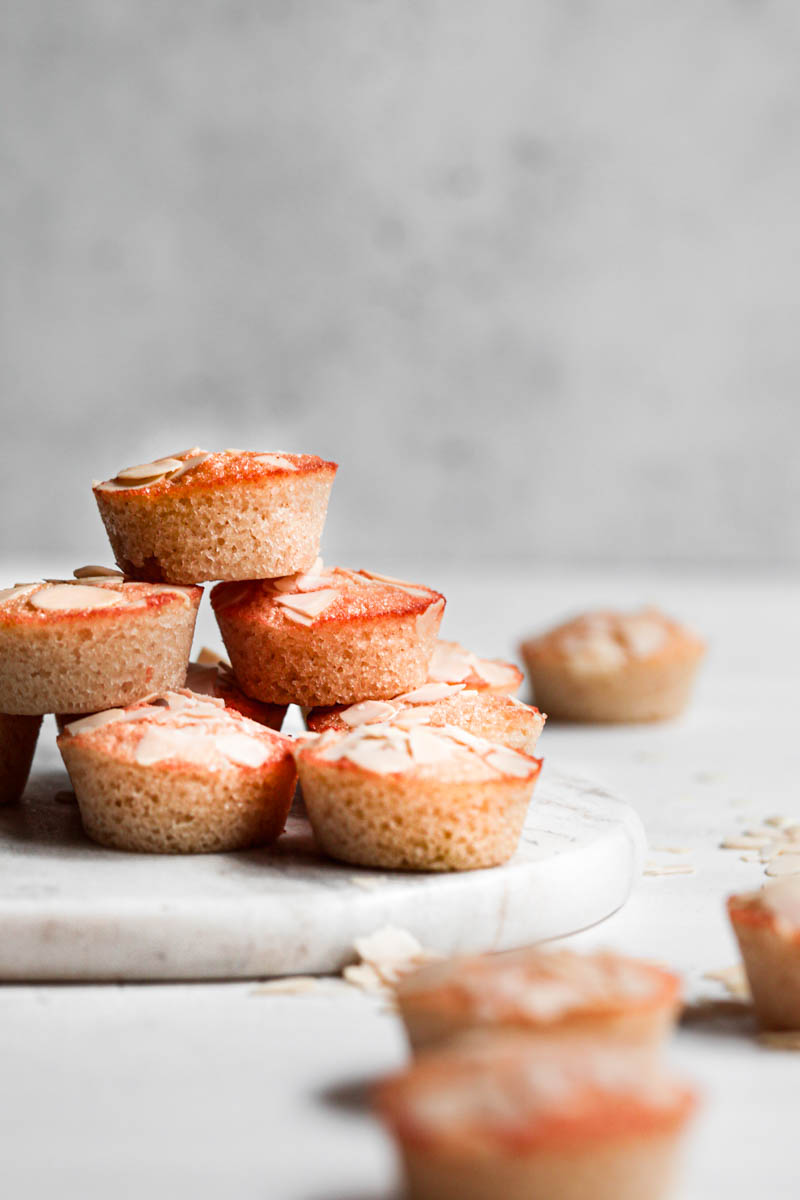 Can Financiers Be Made Gluten Free?
Most definitely these French almond cakes can be altered and made gluten free. You need to replace the all-purpose flour by a gluten free flour mix. And voila you have a gluten free cake.
Variations to this Financier recipe
You can make these into raspberry financiers by simply replacing the sliced almonds by raspberries. After you have filled the moulds, place one raspberry at the centre of each almond cake and press gently to insert. Bake as instructed in the recipe.
You can also replace the almond flour by hazelnut flour and make these hazelnut financiers.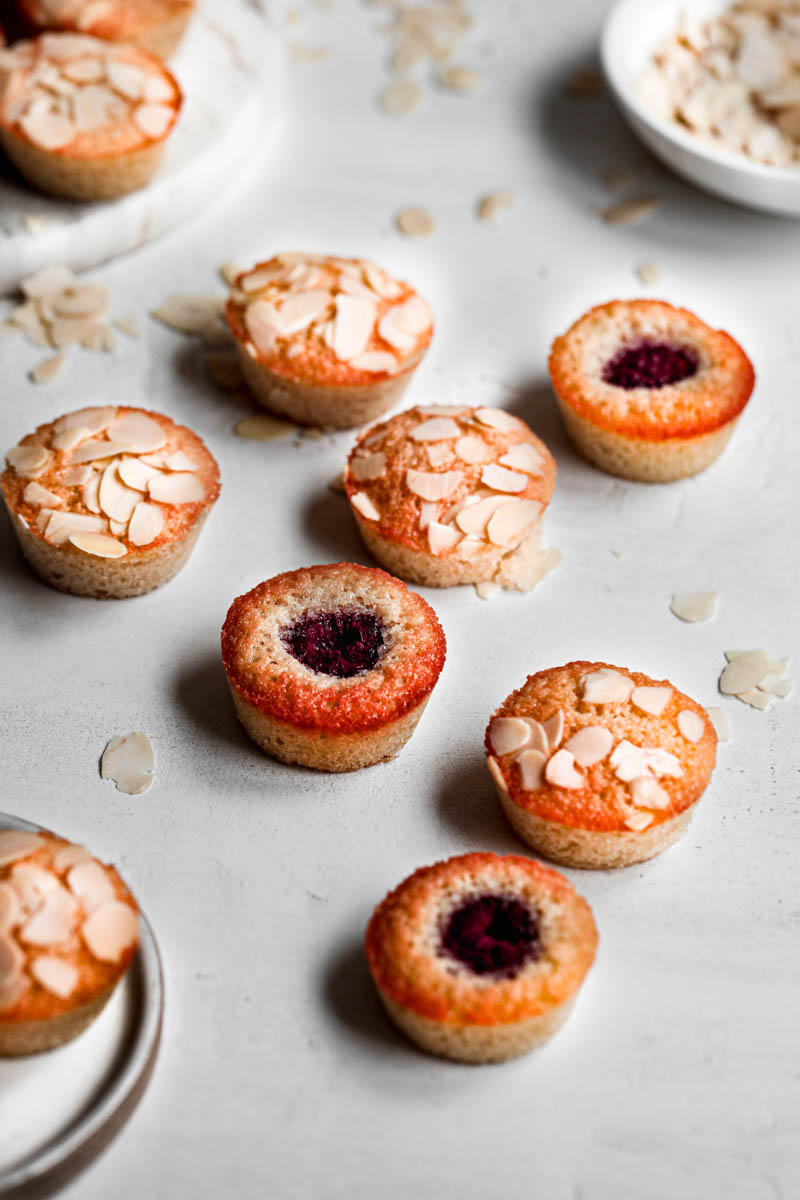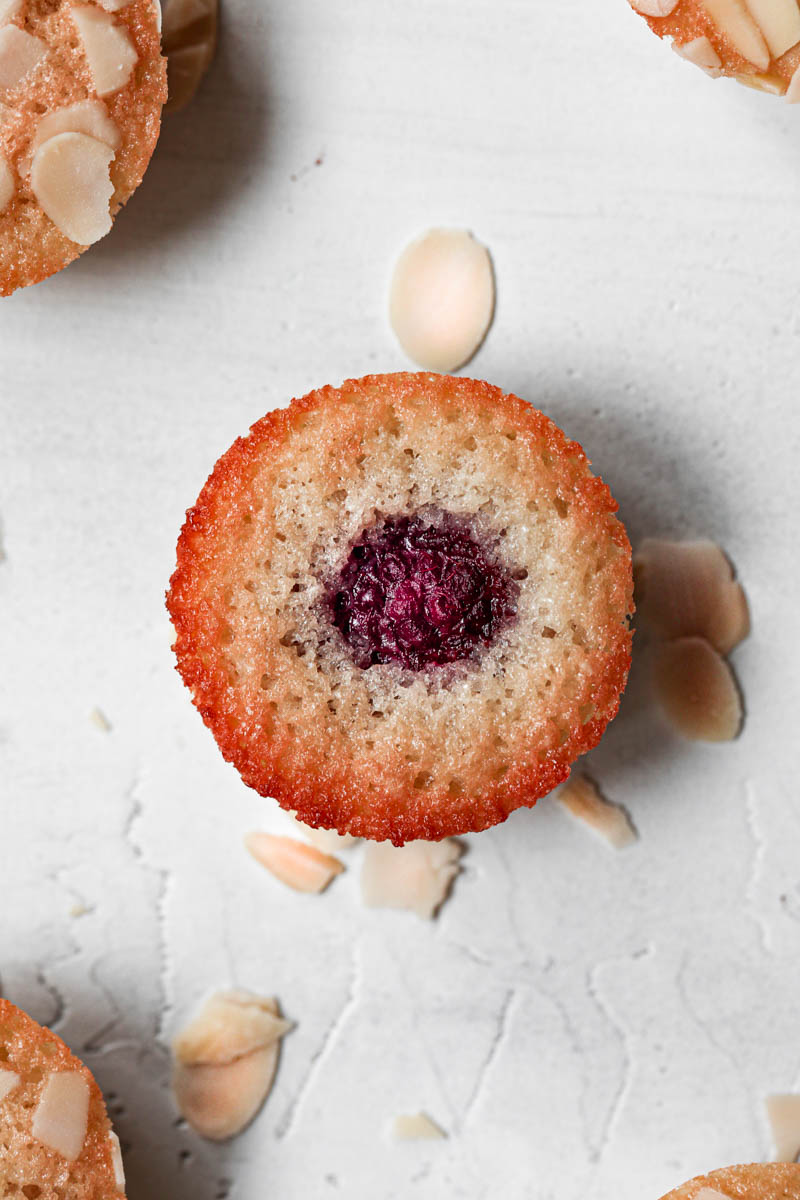 Freezing Financiers
French almond cakes can be frozen for up to 2 months, wrapped in plastic wrap and safely stored in a freezer bag or an airtight container.
To defrost: let it sit, wrapped, 1 hour at room temperature. Then remove the plastic wrap and enjoy!
If you made this recipe I would really appreciate it if you leave a rating or comment below! Also, if you share on social media please use #cookwithbelula, I would love to see what you create!