Chocolate ganache truffles are one of my favorite things to gift! Such an easy treat to make and at the same time so delicious, rich, and decadent: perfect for a homemade valentine's day gift! Or any other kind of gift really: my sweet neighbor went on a trip for a couple of days, and she came back with a present for Leon, my son. So, we made traditional French dark chocolate truffles as a big thank you! This is an easy chocolate ganache truffle recipe, that will make you look like a real pro! Hope you like them! If you are more into chocolate cakes, then this Chocolate Fudge Cake is for you!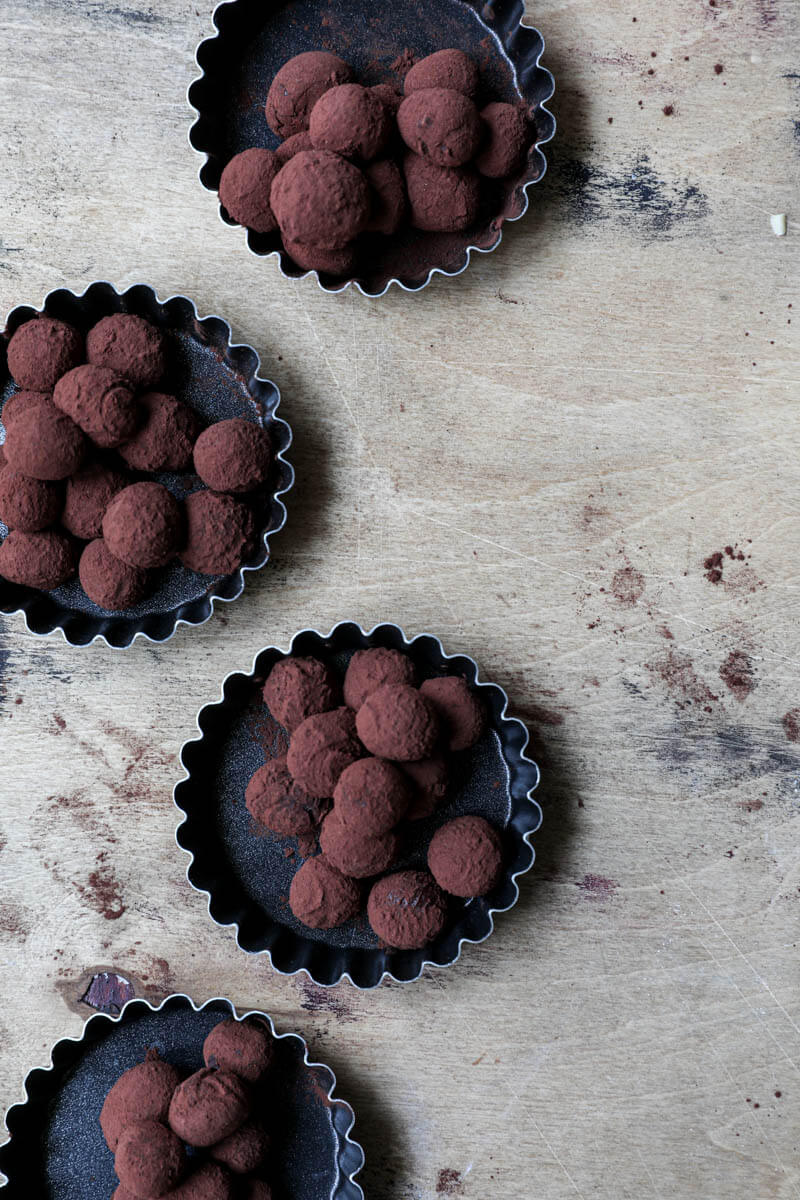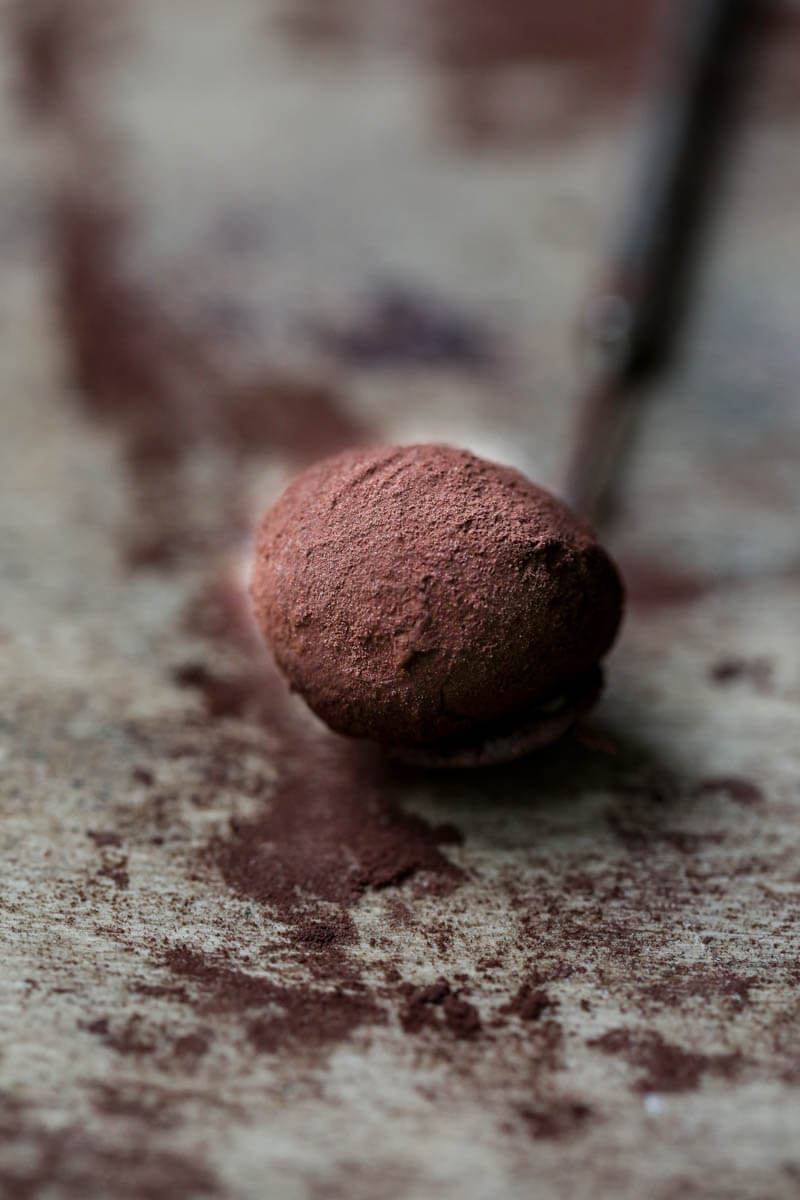 What is a chocolate ganache truffle?
They are a chocolate confectionery made of chocolate ganache, covered in cacao powder.
Traditional truffles are made of dark chocolate; however, you can flavor the ganache with whatever you like and make a rum truffle, or a chocolate and raspberry truffle por example.
Their name comes from the similarity it holds to the other truffles: the edible fungi. Which are also delicious!
Material & Ingredient Notes
Whipping cream: must be whole fat cream: over 35 % of fat content.
Glucose syrup or corn syrup: it is important because it act as an anti-crystalizing (keeps the ganache from getting too hard).
Butter: unsalted and with over 82% fat content.
Dark chocolate: use a good quality one with over 60% cacao. I like Valrhona: either this 64% Valrhona Dark Chocolate - 64% Cacao or 70% Valrhona Dark Chocolate - 70% Cacao.
Cacao powder: also use a good quality cacao, that has no sugar in it. I use Valrhona or Callebaut Cocoa Powder.
Gloves: you will need gloves to roll the truffles into spherical shape.
A chocolate dipping fork: if you don't have one, you can use a 2 skewers or a very thin dessert fork.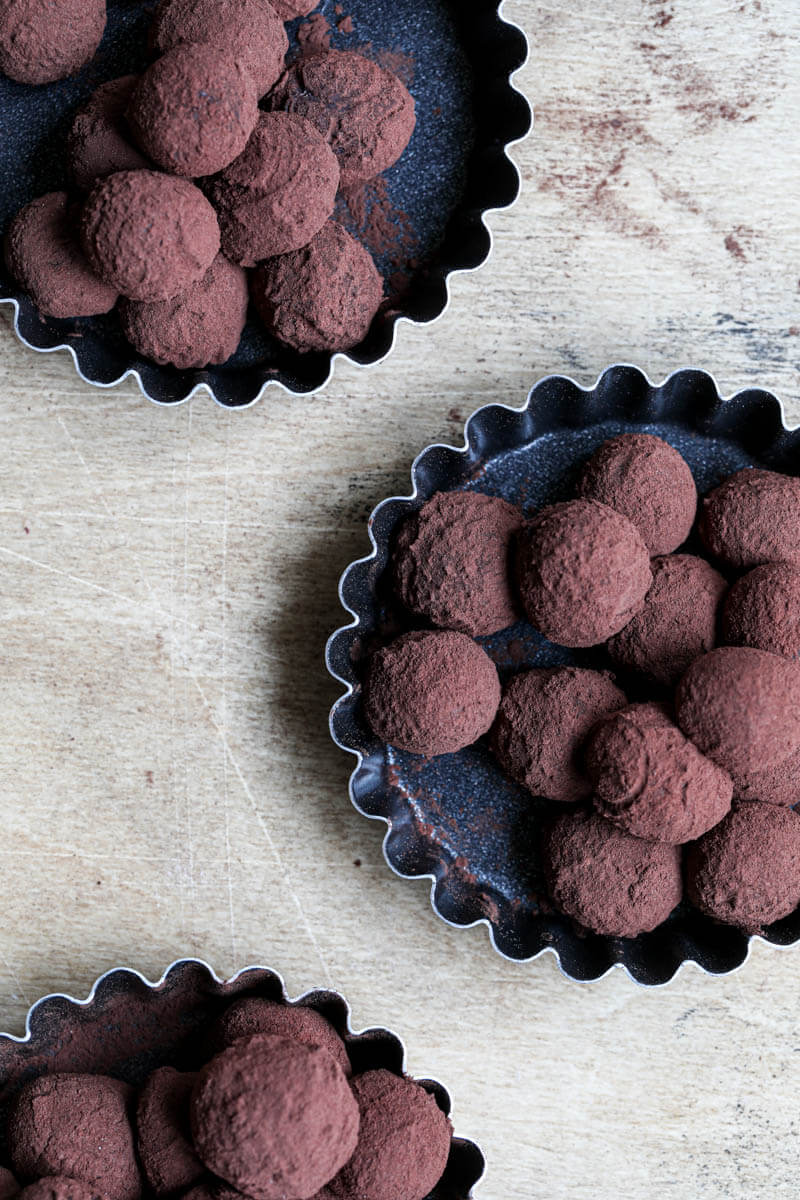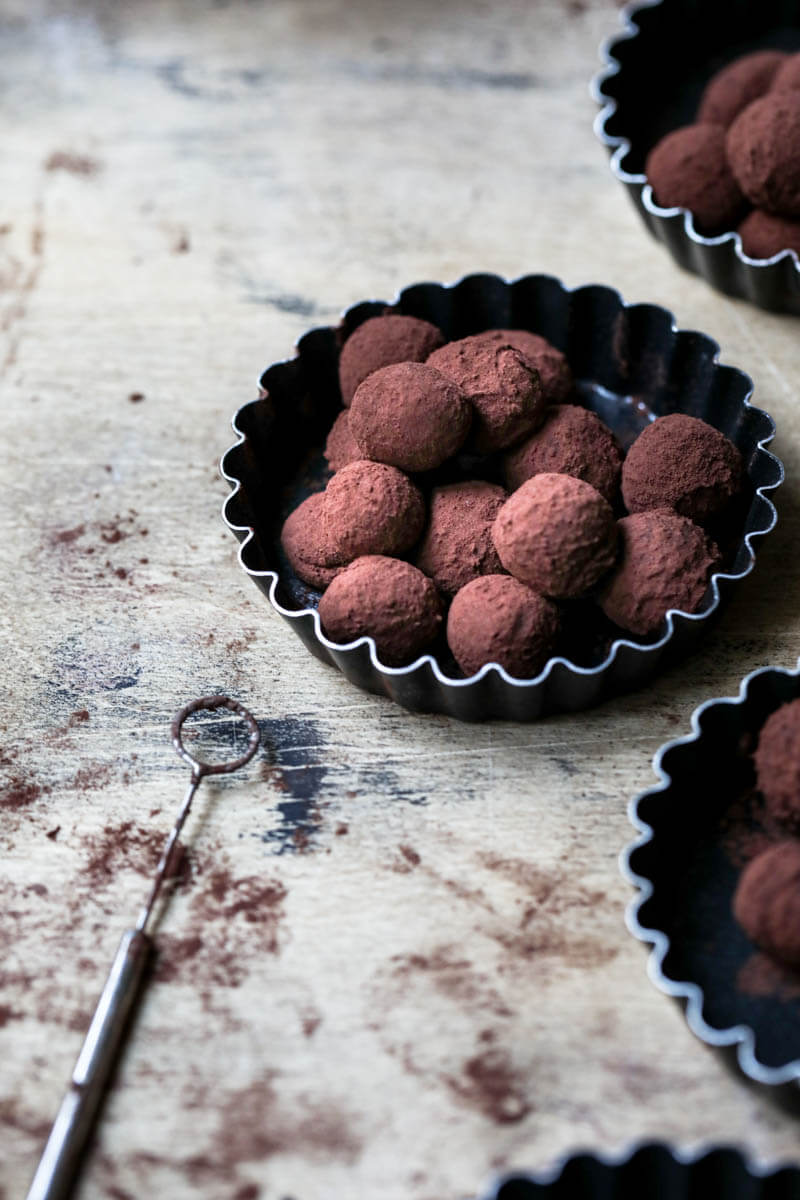 How to make dark chocolate ganache truffles?
This chocolate truffle recipe is easy and very straightforward! When making these little balls of heaven there are 3 main steps you need to follow:
Make the dark chocolate ganache: bring the corn syrup and cream to a boil and pour over the chopped dark chocolate. Let it sit for 3 minutes and then using a whisk emulsify the mixture until you obtain a shiny and smooth chocolate ganache. Mix in the softened butter. Let it sit covered with plastic wrap or beeswax wrap overnight at room temperature.
Shape the ganache into small spheres.
Dip the dark chocolate ganache spheres in tempered dark chocolate.
Roll the truffles in cocoa powder.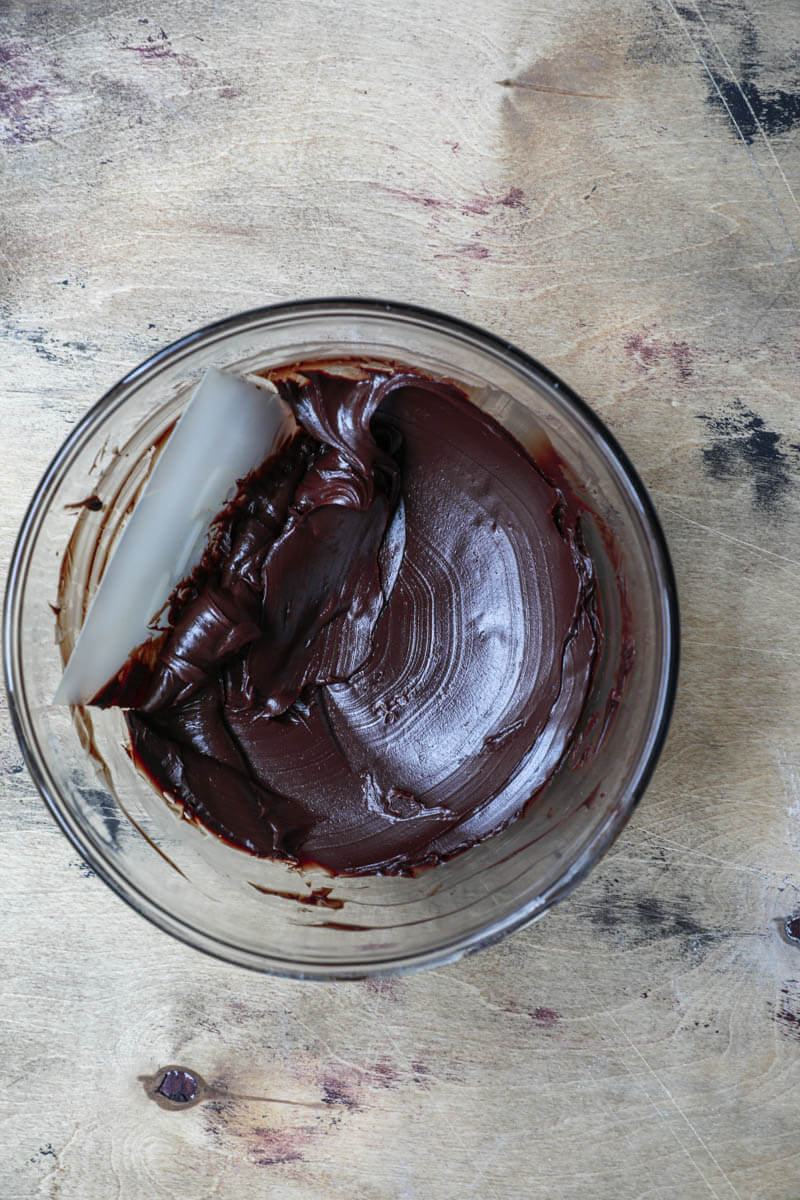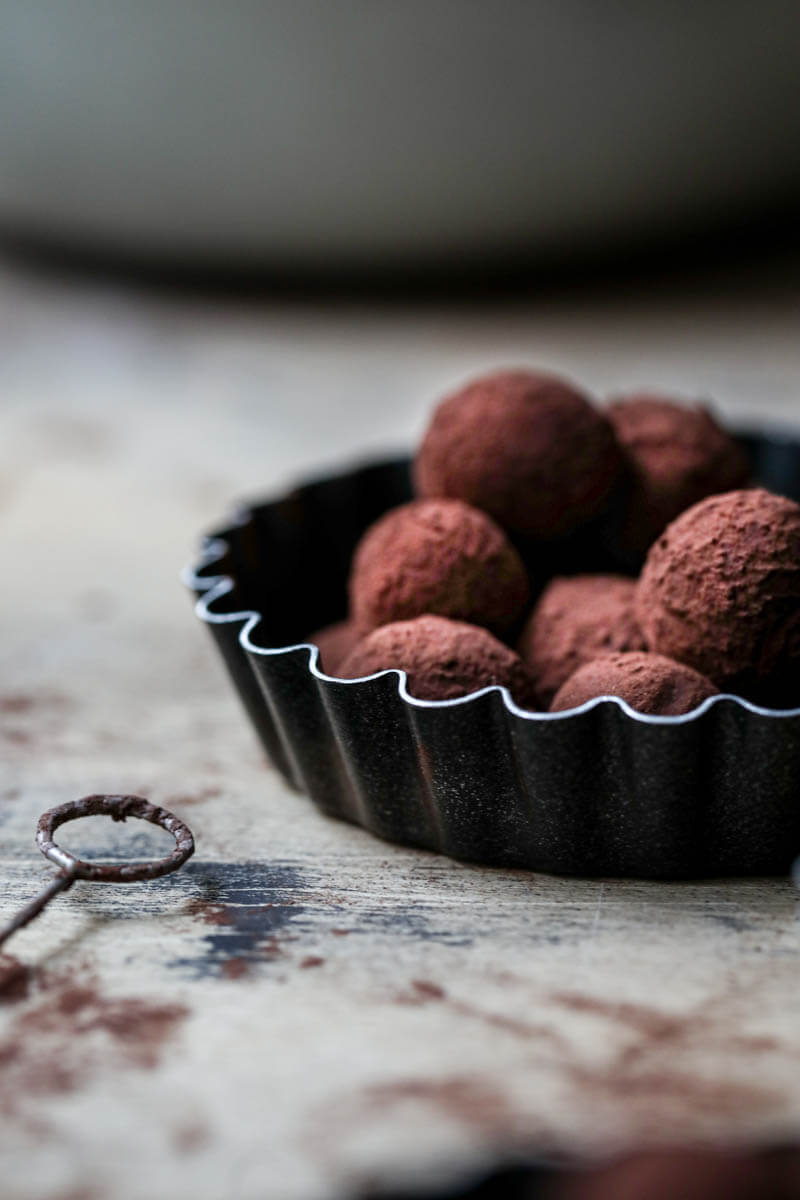 Notes on the chocolate ganache:
When you are emulsifying the chocolate and cream/corn syrup you want to avoid creating air bubbles. To do so, make sure your whisk is perpendicular to the bowl: hold it very straight. Secondly your circular movements should be small and slow, and let them get bigger as you see the color of the mixture changing at the center.
Cannot stress this point enough. Let the ganache rest overnight: you will see how its texture goes from completely liquid to a smooth like paste you can work with. If you do not wait, the next step will prove difficult!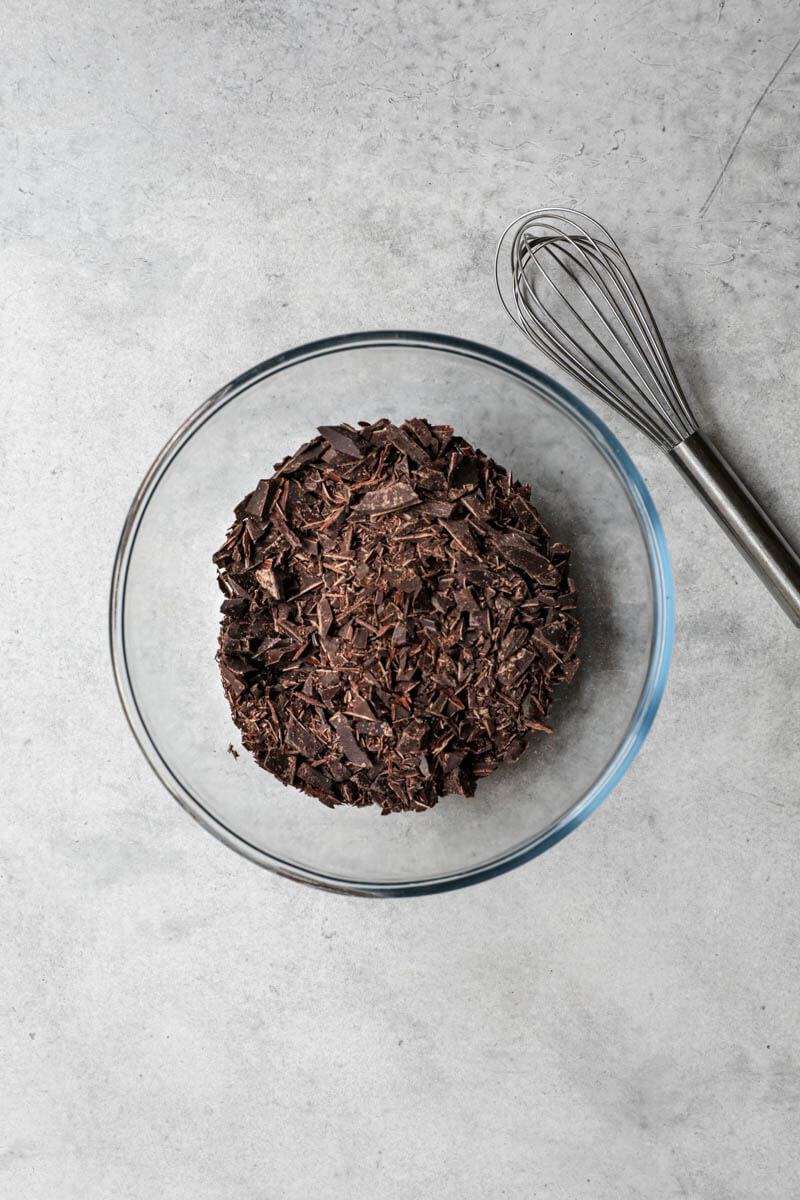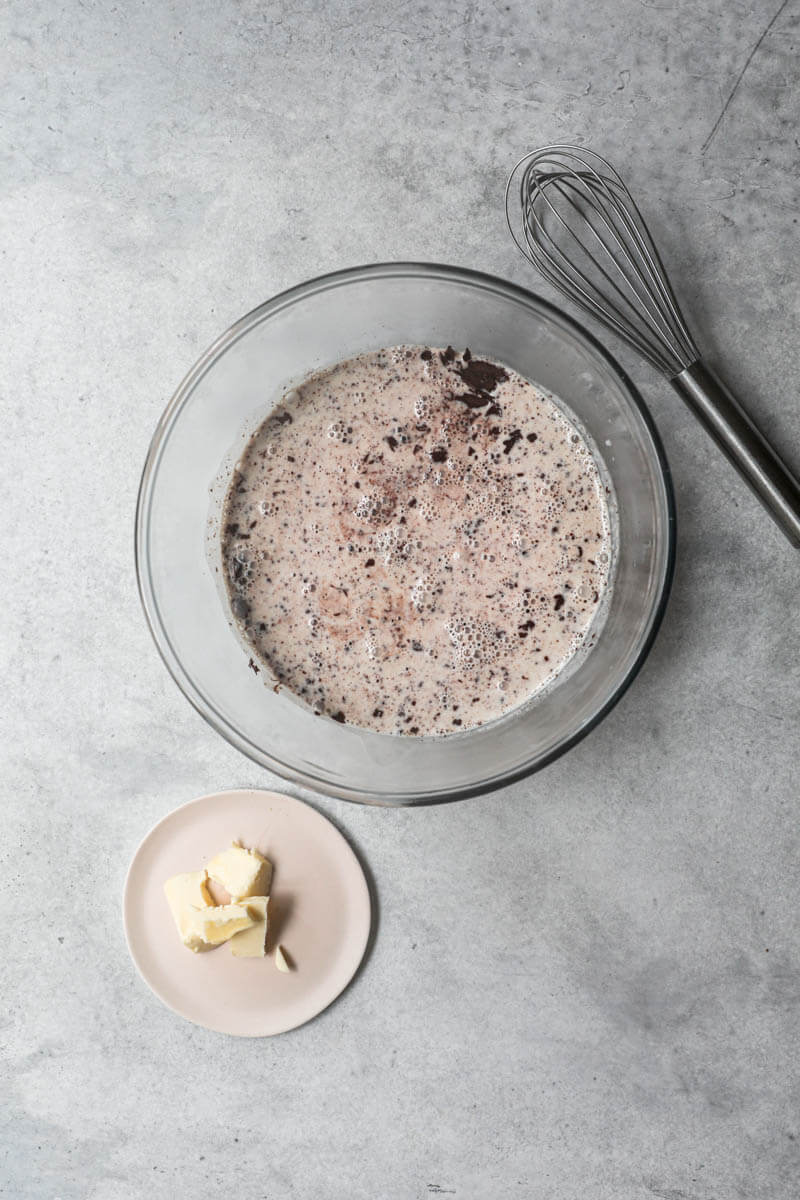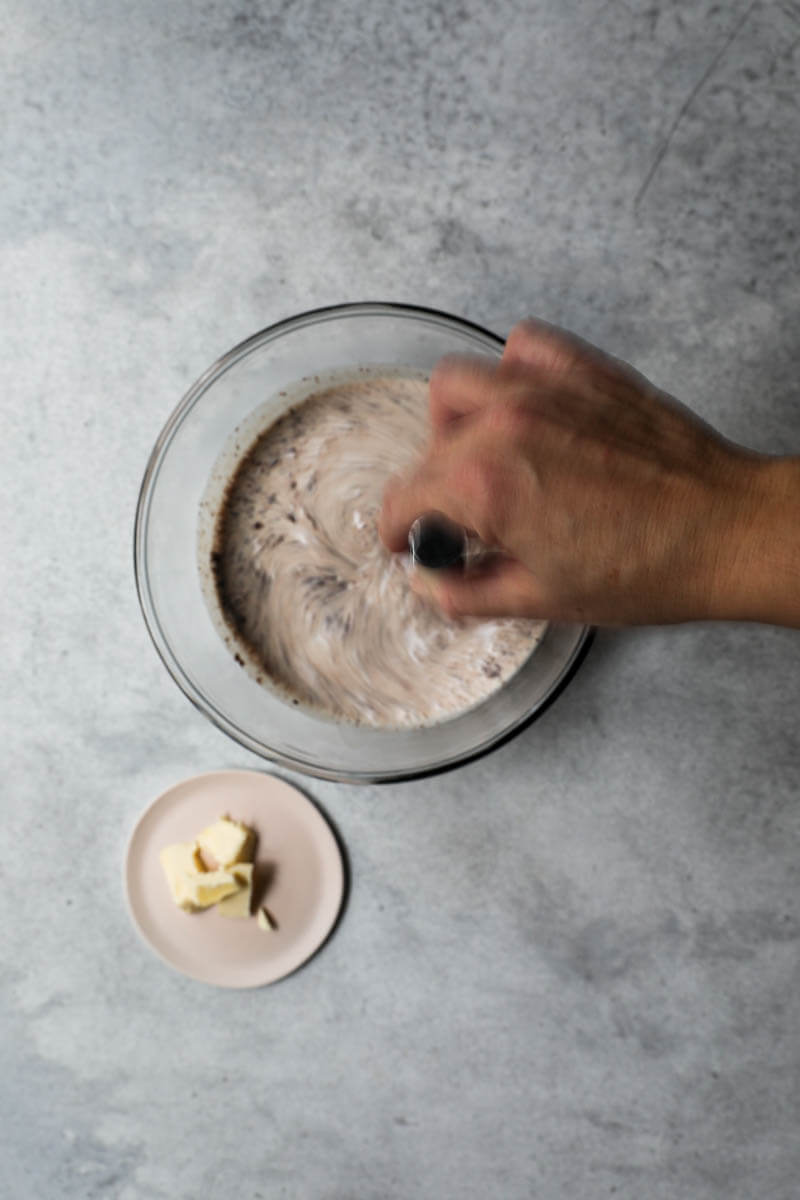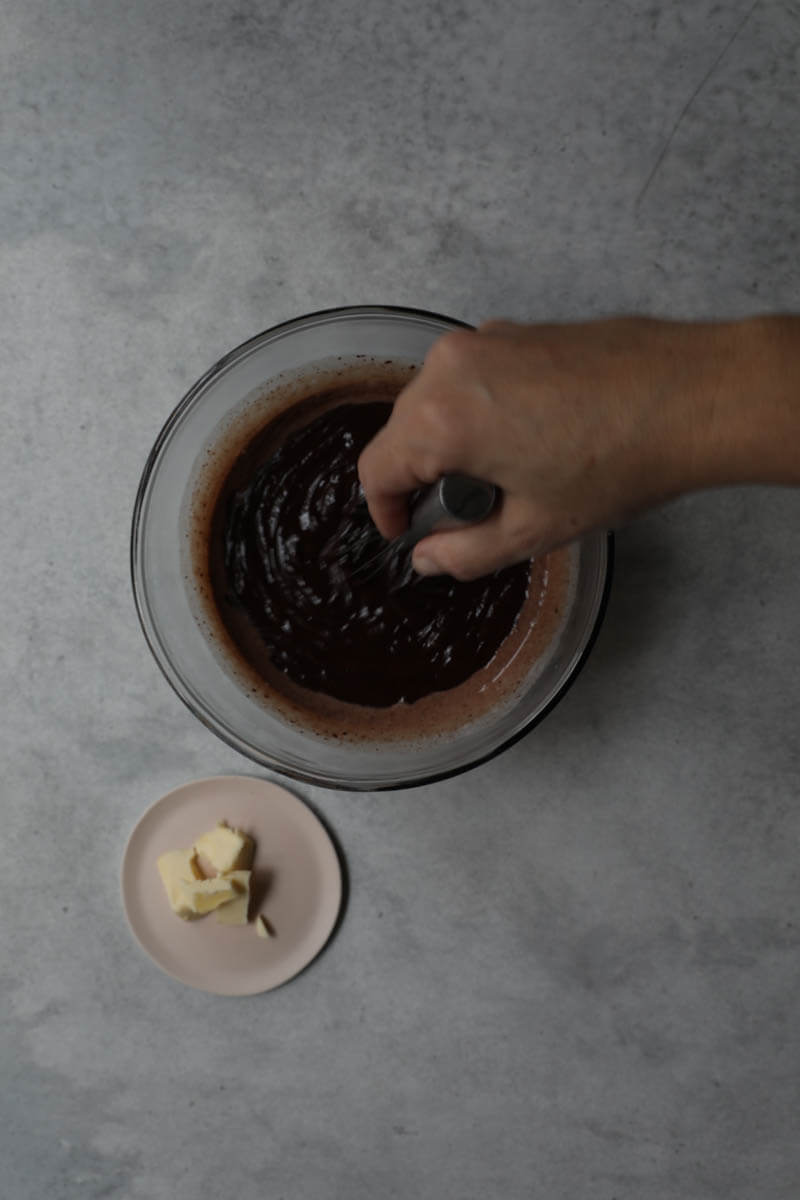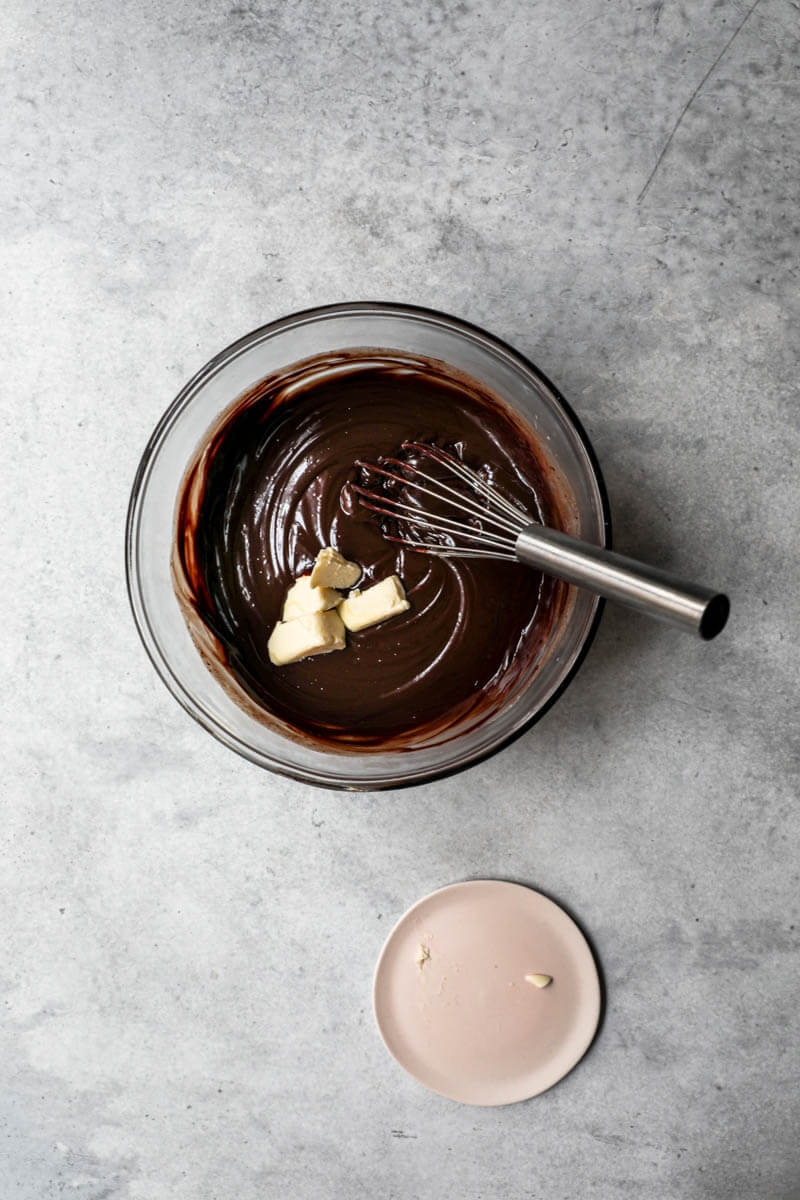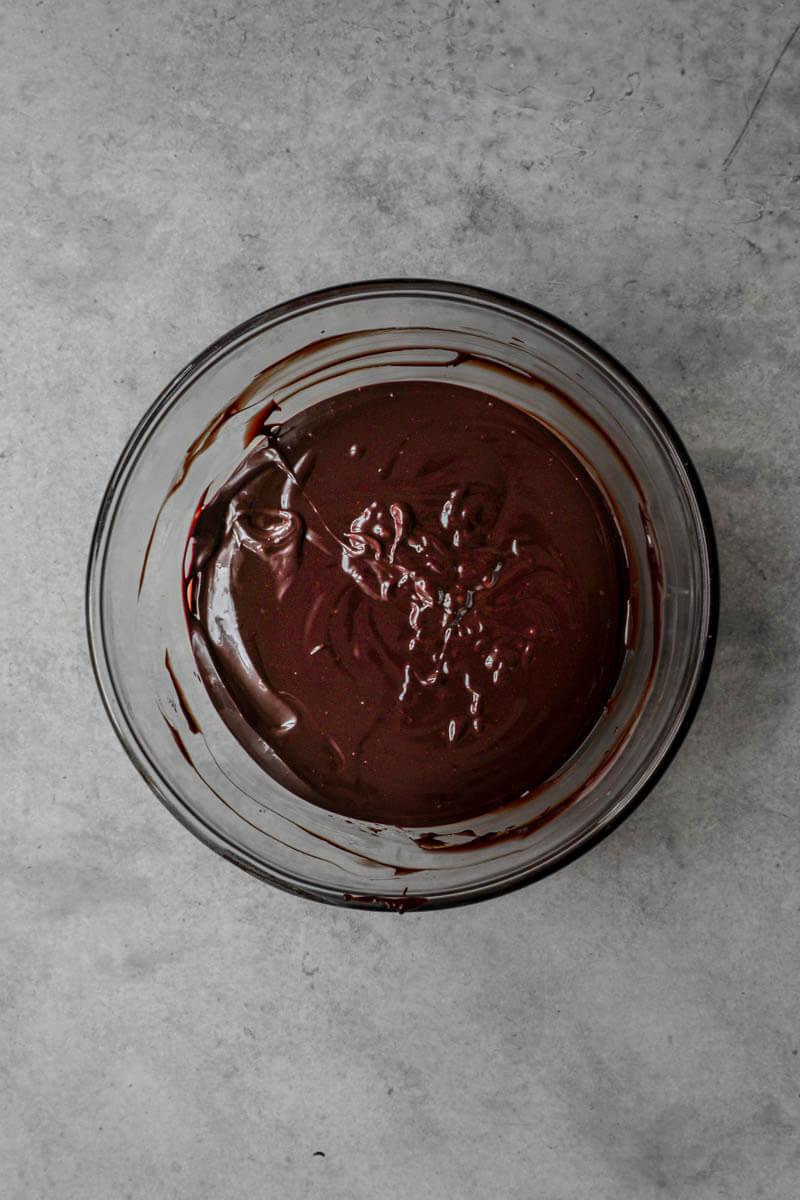 Notes on shaping the dark chocolate truffles
There are some important steps you must follow:
Work in batches when shaping the truffles so that the ganache is easy to shape into spheres and doesn't become too soft.
Cover a baking tray with plastic wrap. Transfer the ganache onto a pipping bag and pipe out small half spheres onto the baking try. Refrigerate for 1 hour.
Using gloves: stick two little half balls together and roll into a spherical shape.
Put the small balls on a clean baking tray lined with plastic wrap.
Using your hands cover each ball with a super thin layer of melted tempered chocolate and place on a plate or tray filled with cocoa powder.
Roll the truffles in the cocoa powder until they are properly covered and place on a fine mech sieve.
Give them a little shake to remove the excess cocoa.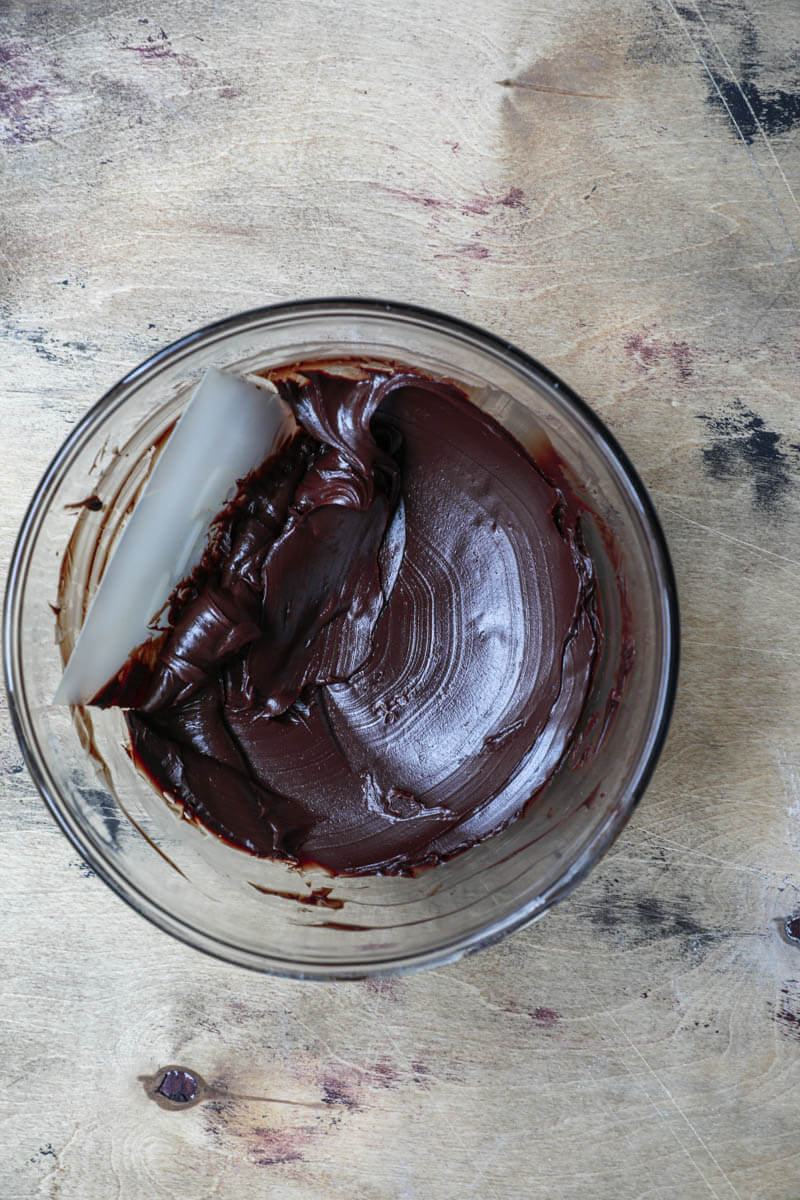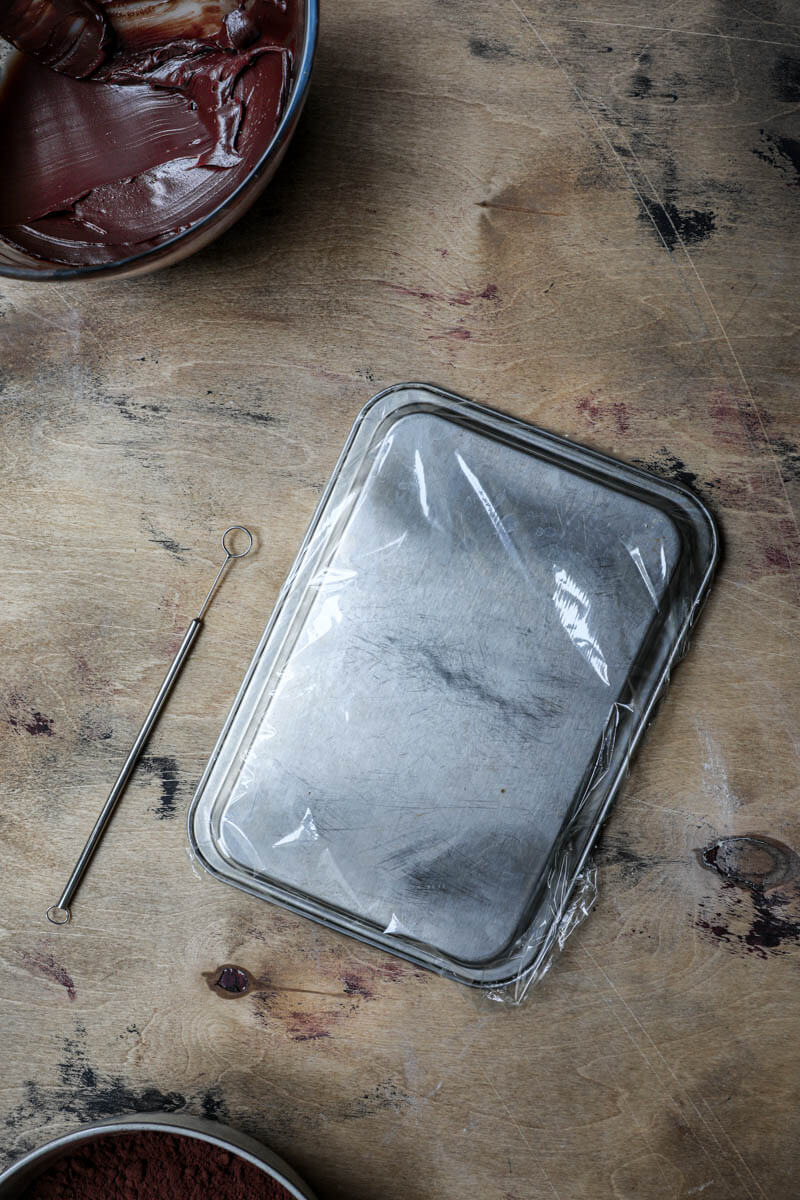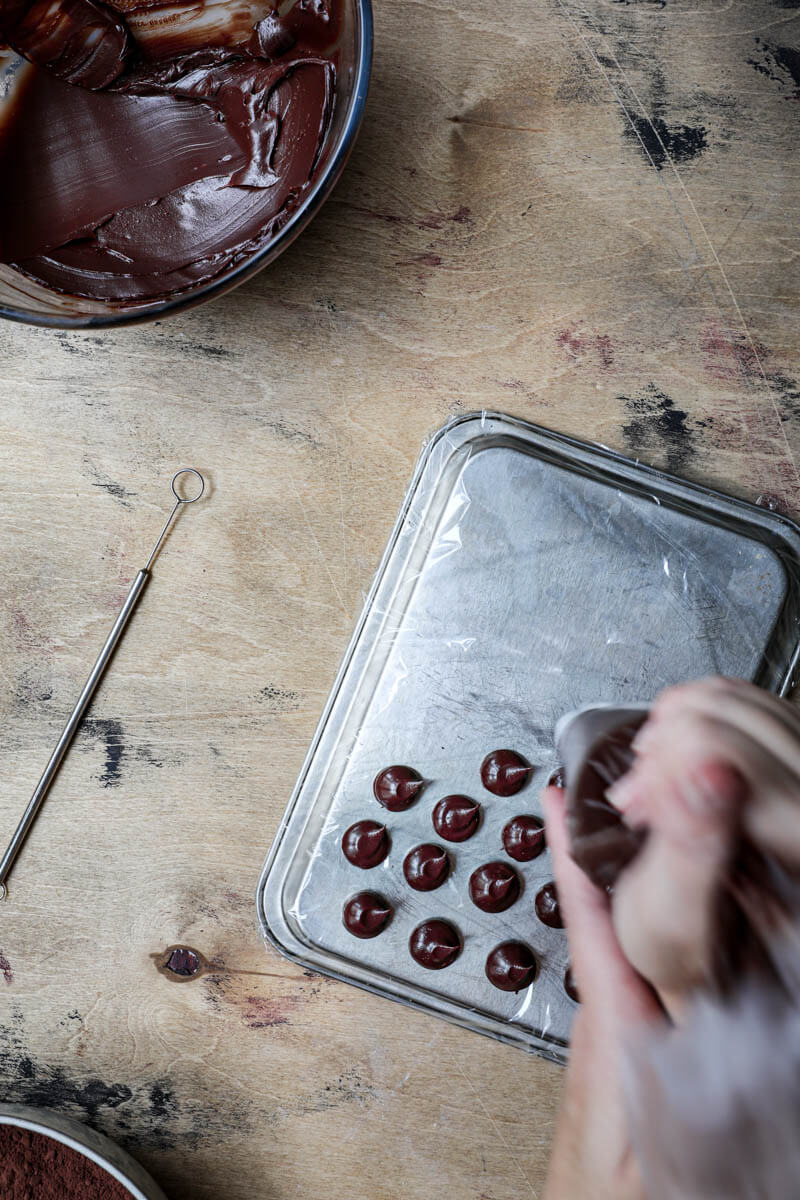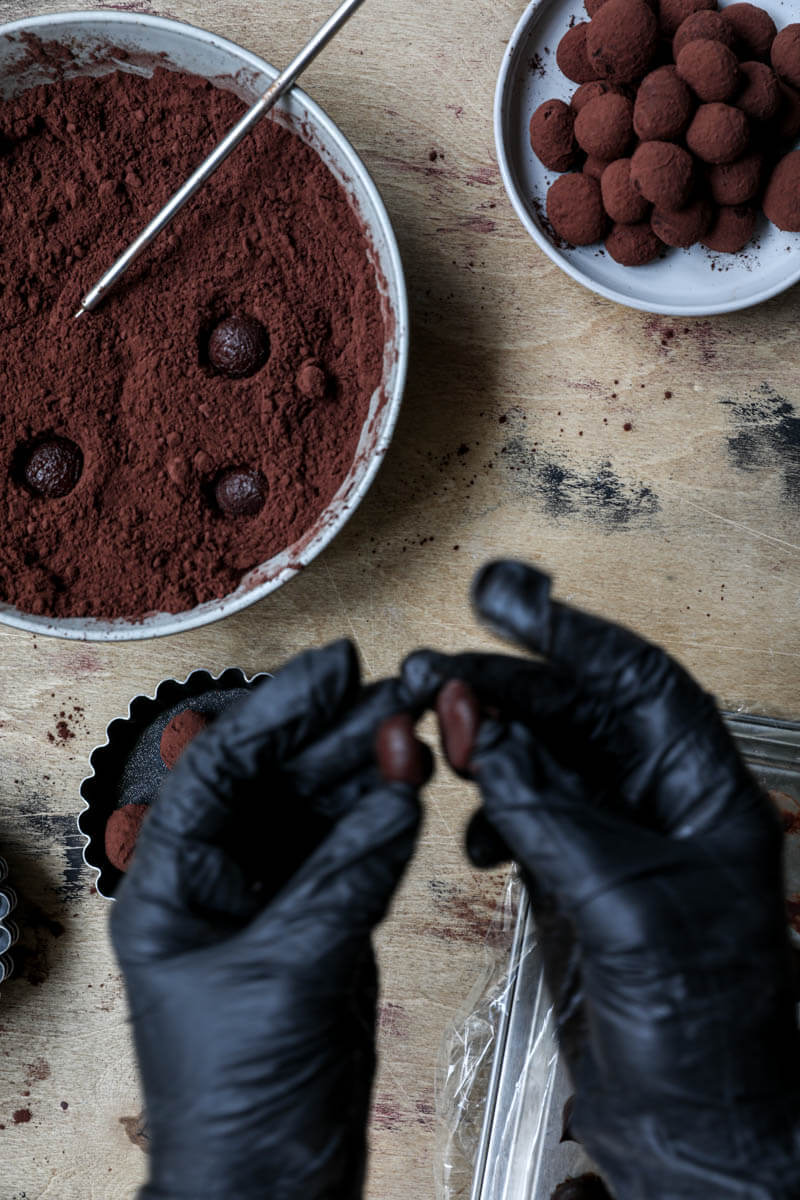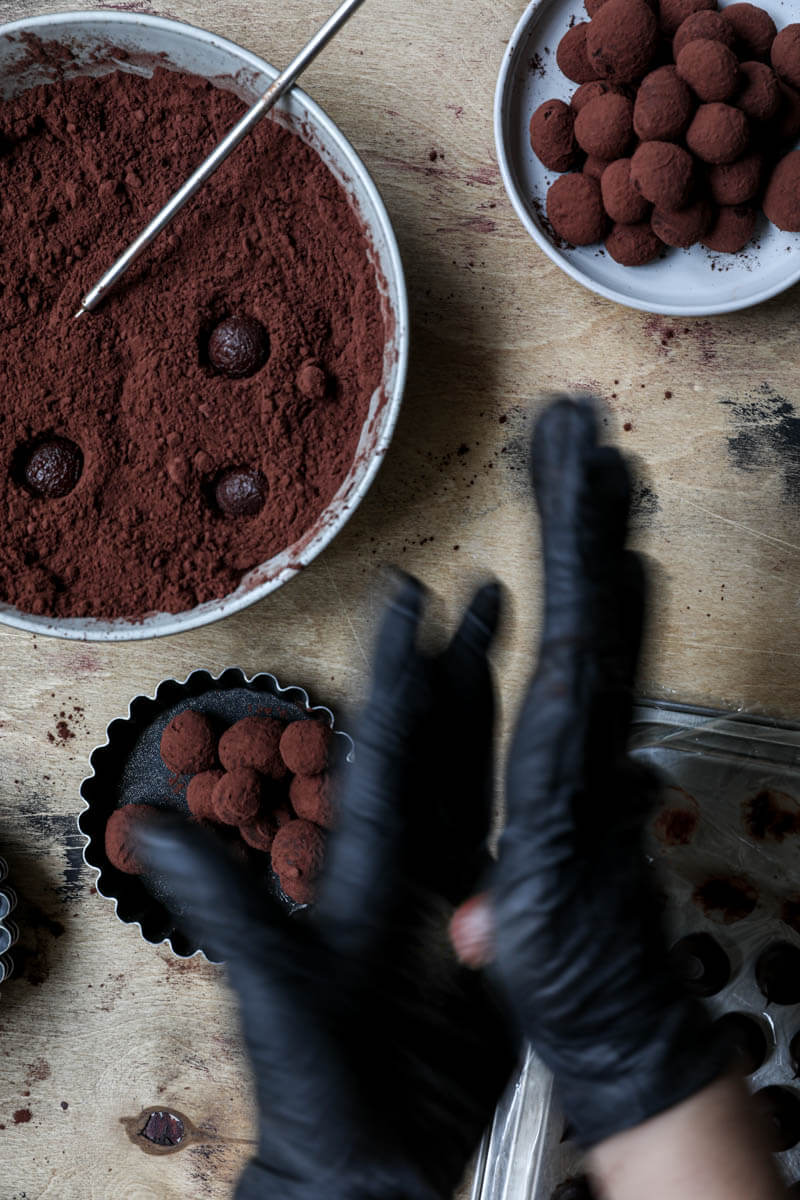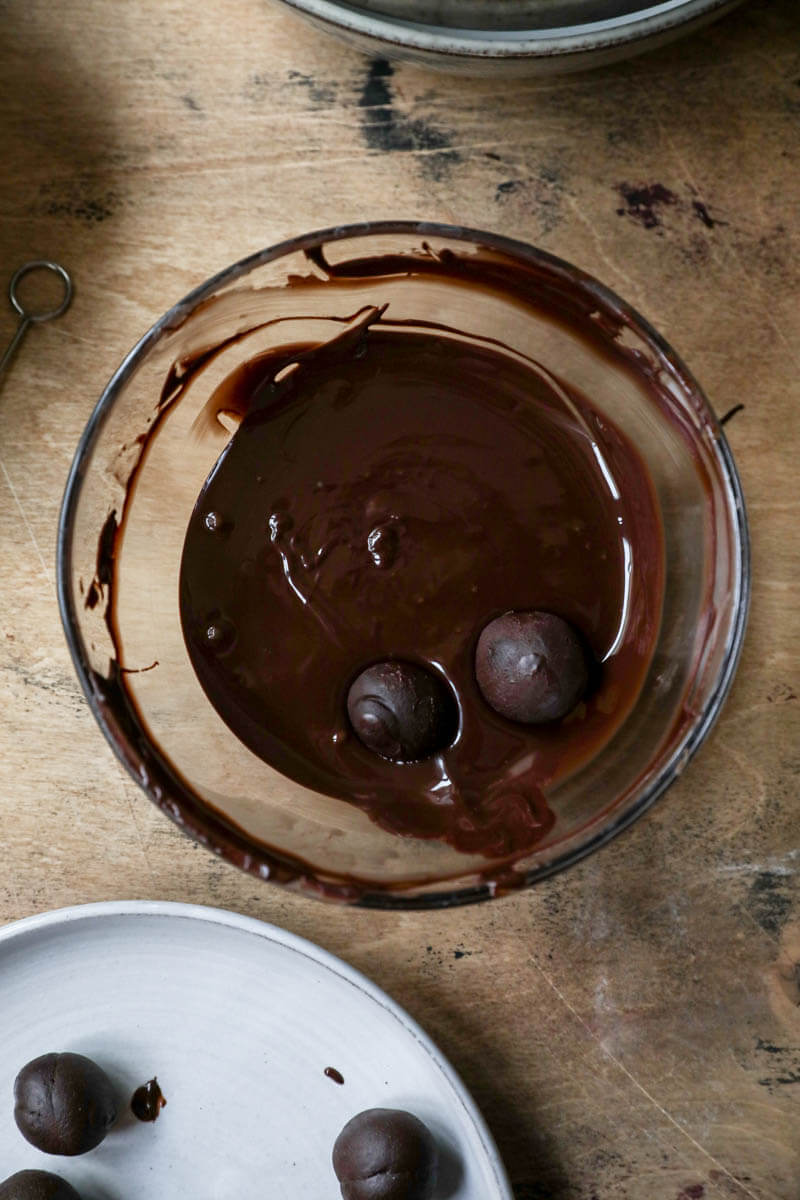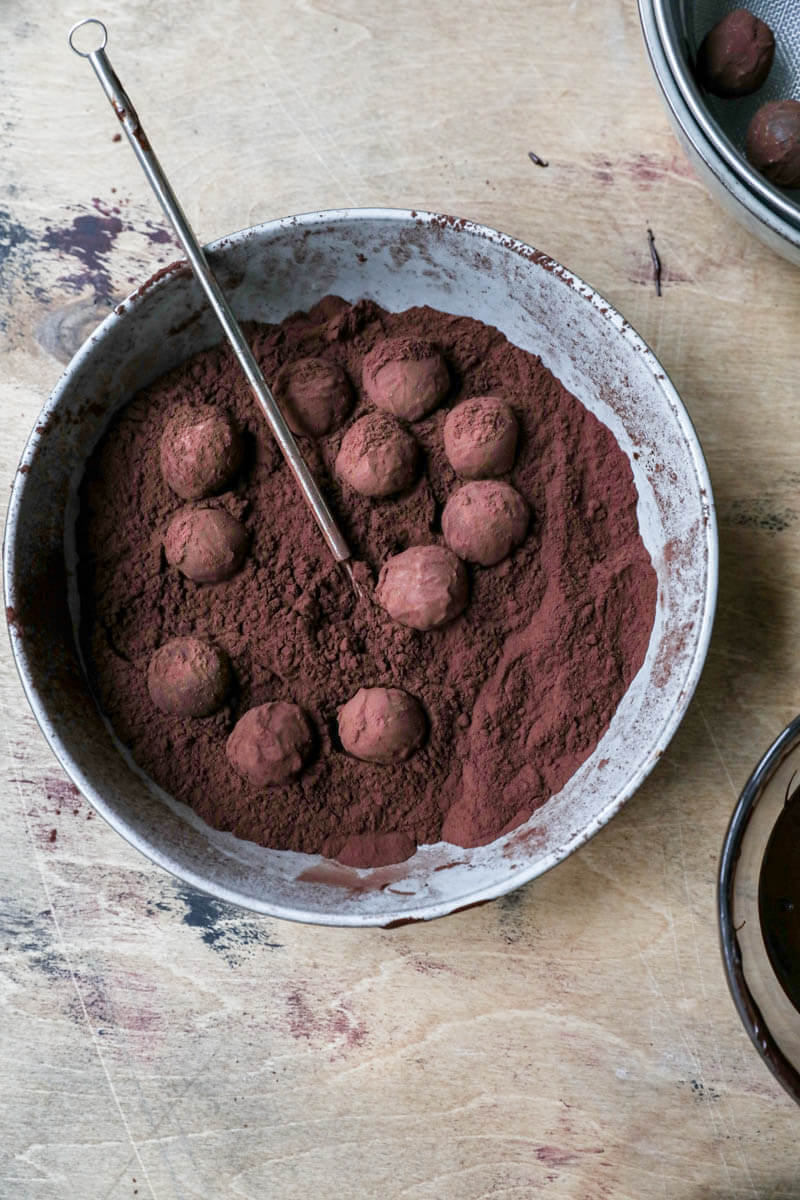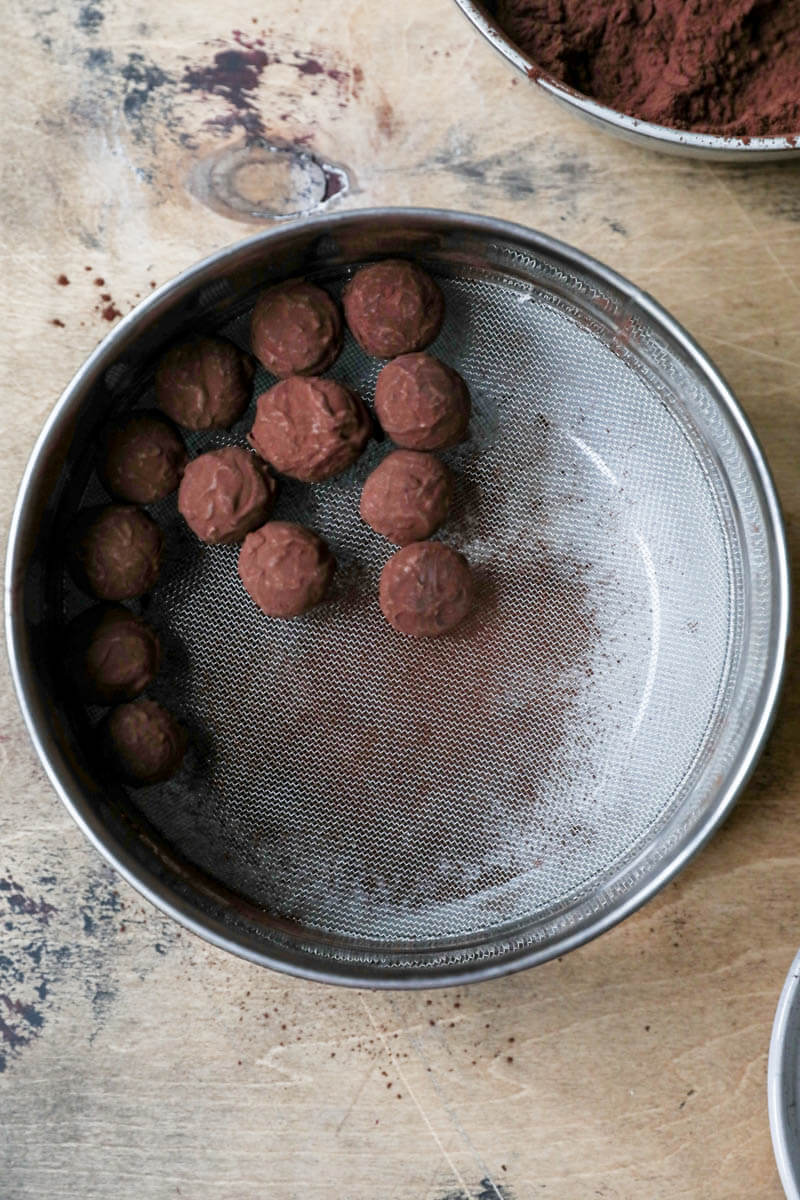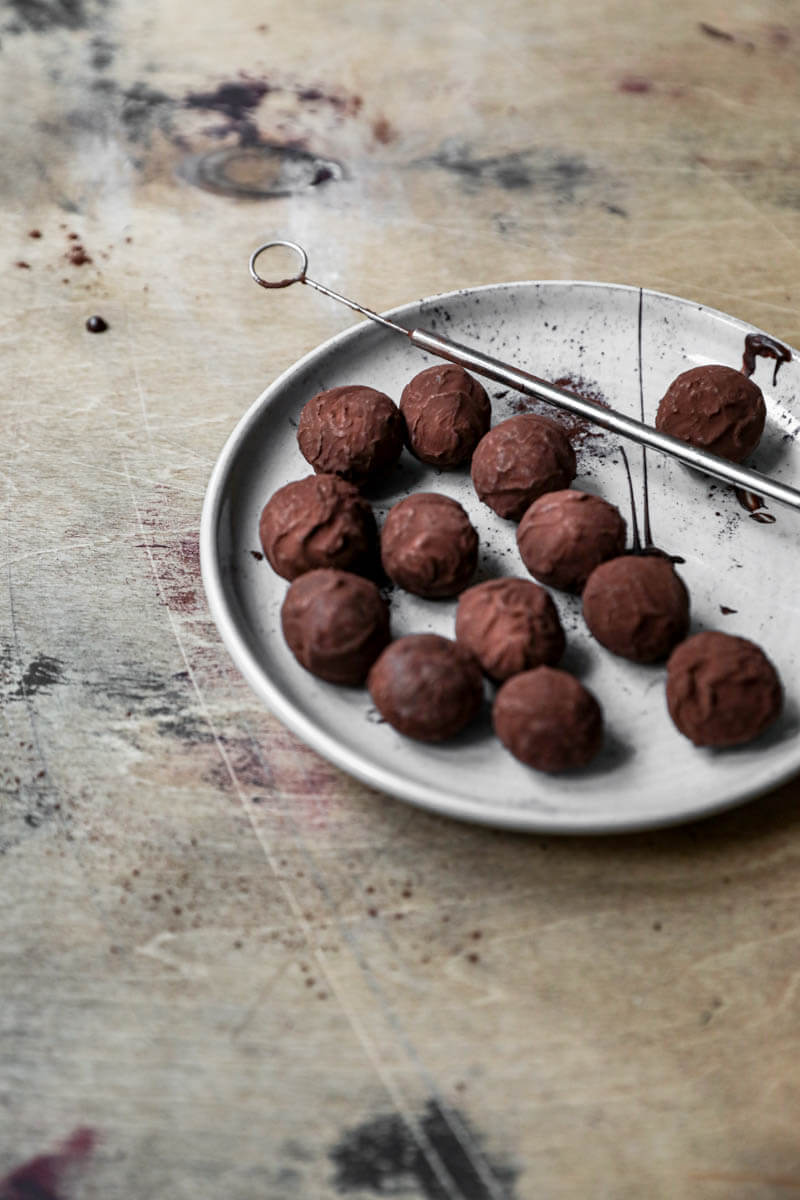 Note on tempering chocolate
You should temper chocolate when coating sweets or candies because otherwise the chocolate will not solidify when back and room temperature and will melt in your hands. On the contrary if you use tempered chocolate it will solidify and shine once it is back at room temperature.
Tempering chocolate is not difficult, you do need a thermometer though. It is the process of heating chocolate, then bringing the temperature back down, and then up again to stabilize it and be able to coat candies and confections without the chocolate melting in your hands.
Each kind of chocolate follows its own tempering curve, in this case, the dark chocolate curve is as follows:
Heat the chocolate to 48 C° over a water bath.
Bring down the temperature to 27 C°.
Heat it back up to 31 °C. It is now ready to use!
If you want to know more on tempering please check this video and detailed explanation How-To Temper Chocolate.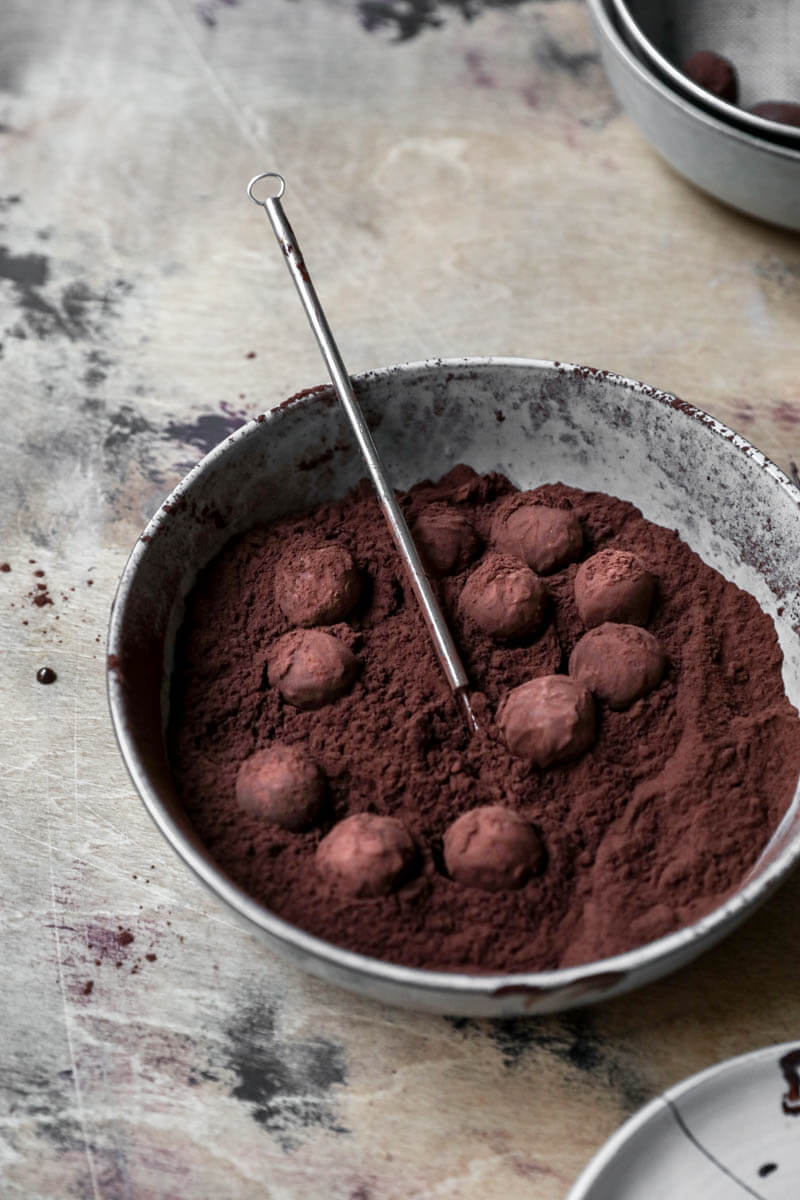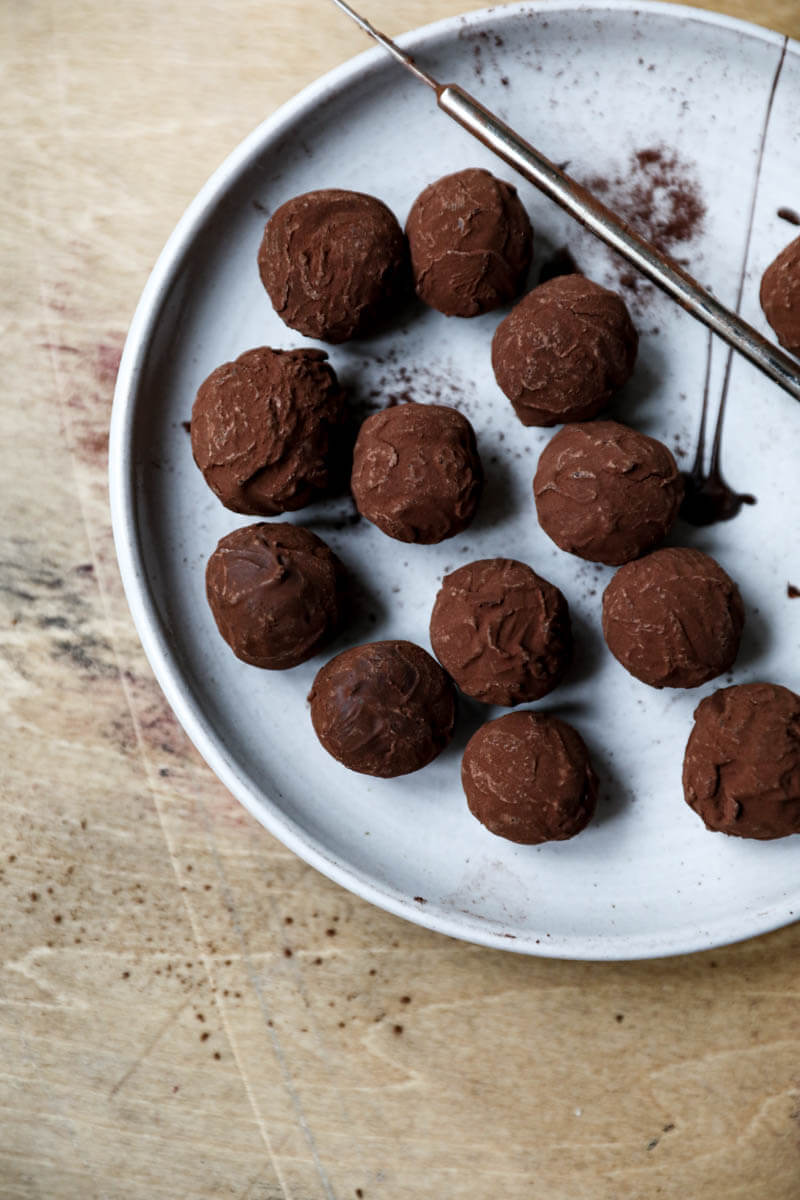 Expert notes: Skipping the tempering
If you do not want to trouble yourself with tempering chocolate (totally get it) you have 2 options:
Because you are then rolling the truffles in cocoa powder you can coat them with a super thin layer of melted chocolate chips. They will hold their ground and you will not have melted truffles on your hands. Not the same taste tough!
You can skip the coating part altogether. Spoiler alert: truffles will not hold their shape as well as when they are coated with melted chocolate before rolling in cocoa! Still a valid option though!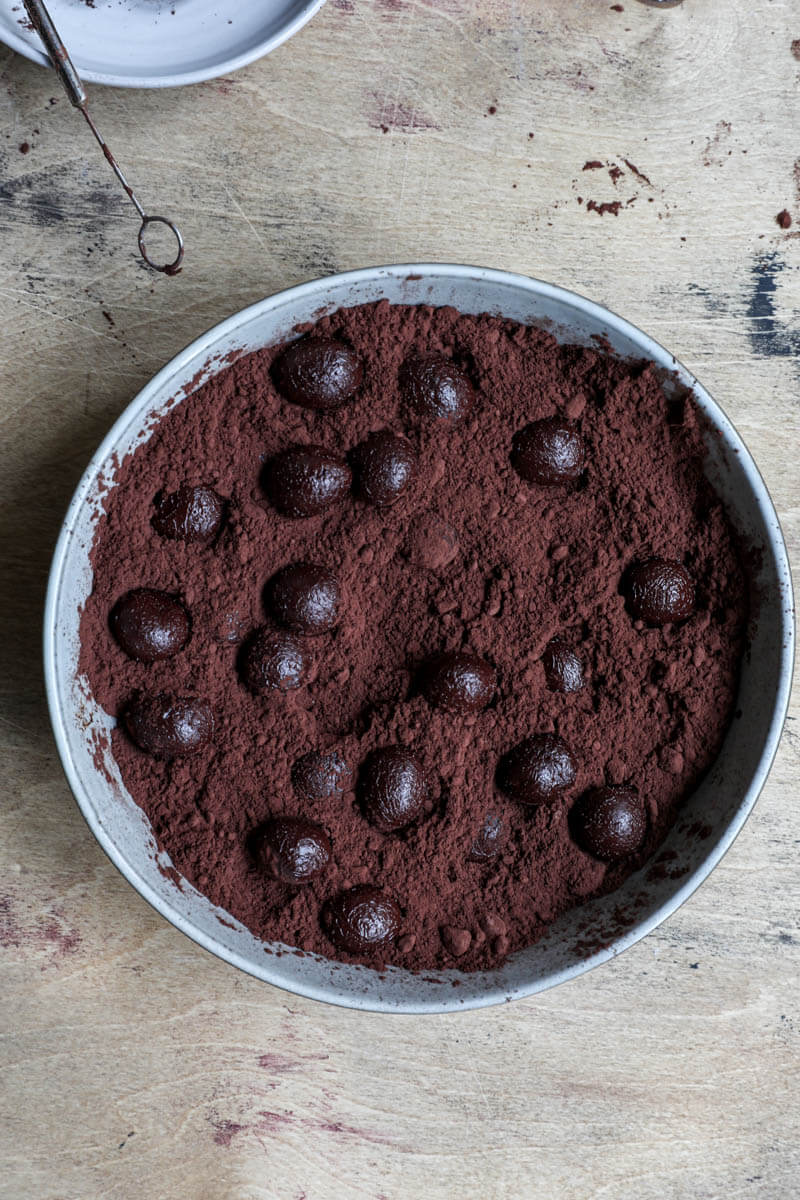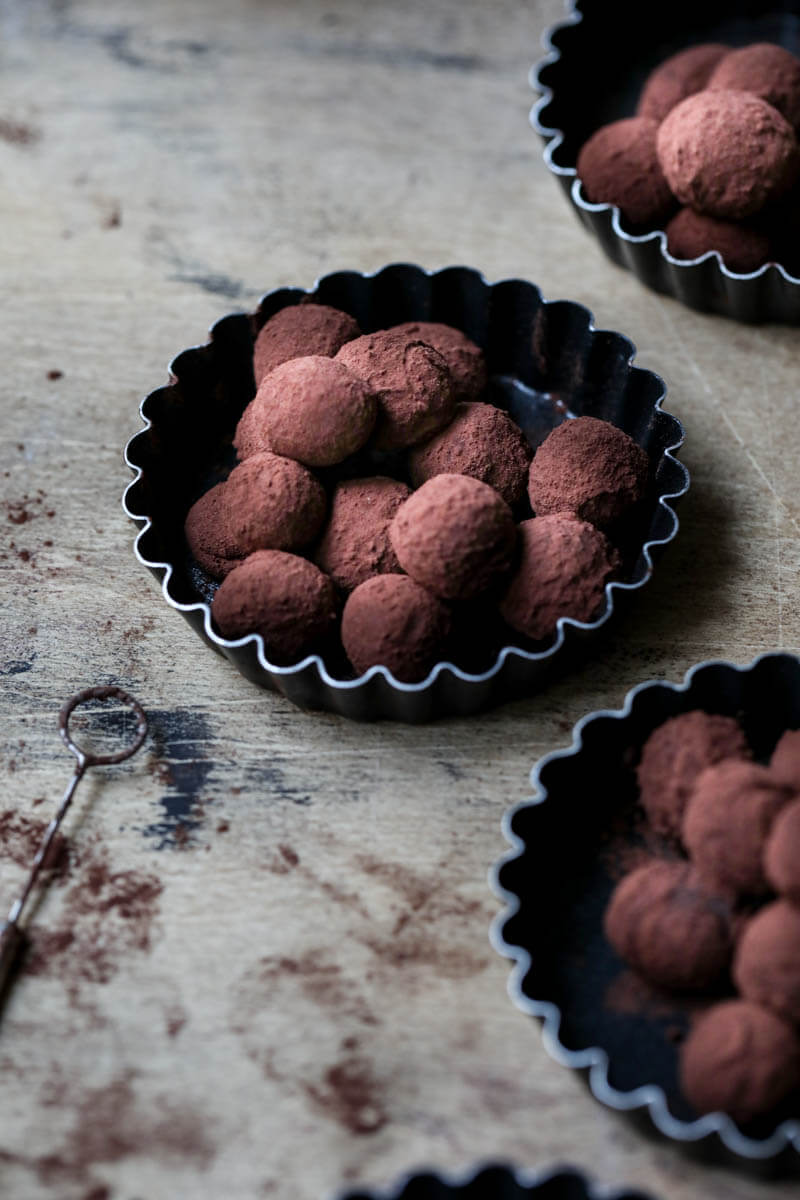 Storage notes
These traditional dark chocolate truffles should be kept at room temperature. They last for up to two weeks.
They also keep well if stored in little plastic bags to gift someone.
If you want to keep in the refrigerator, they will last for up to 2 months.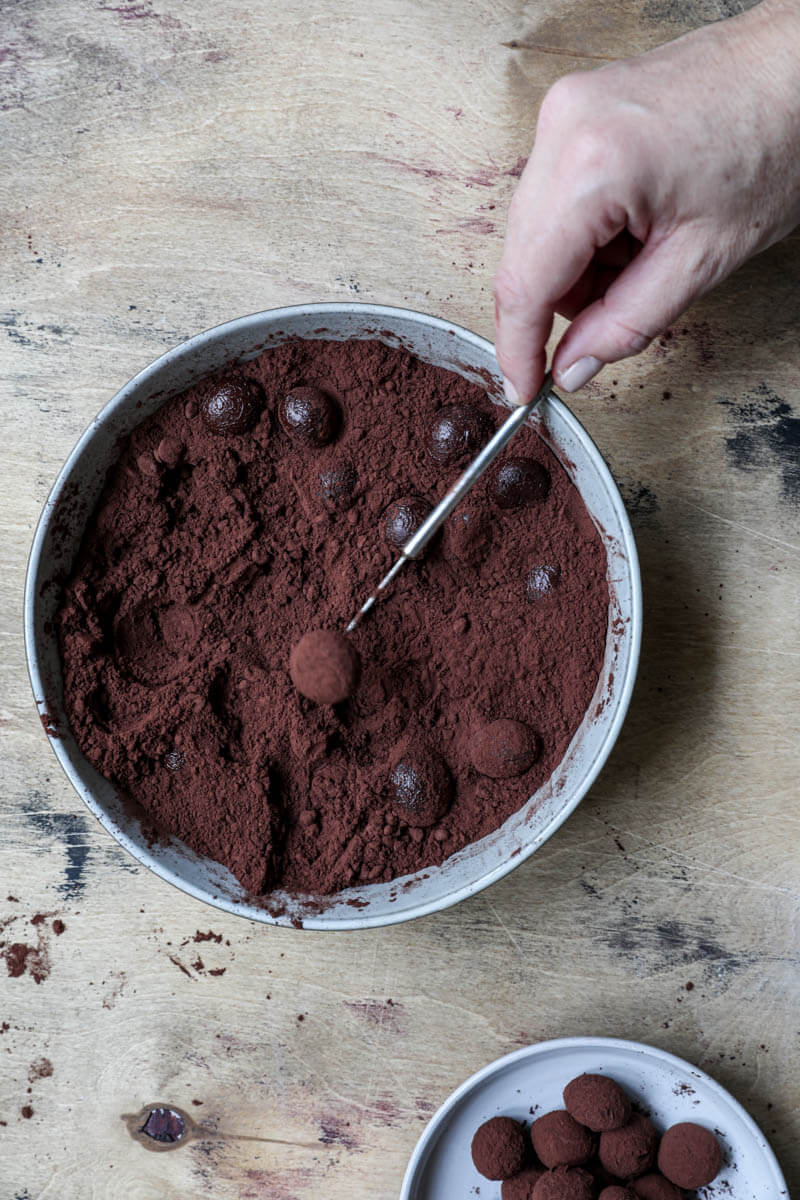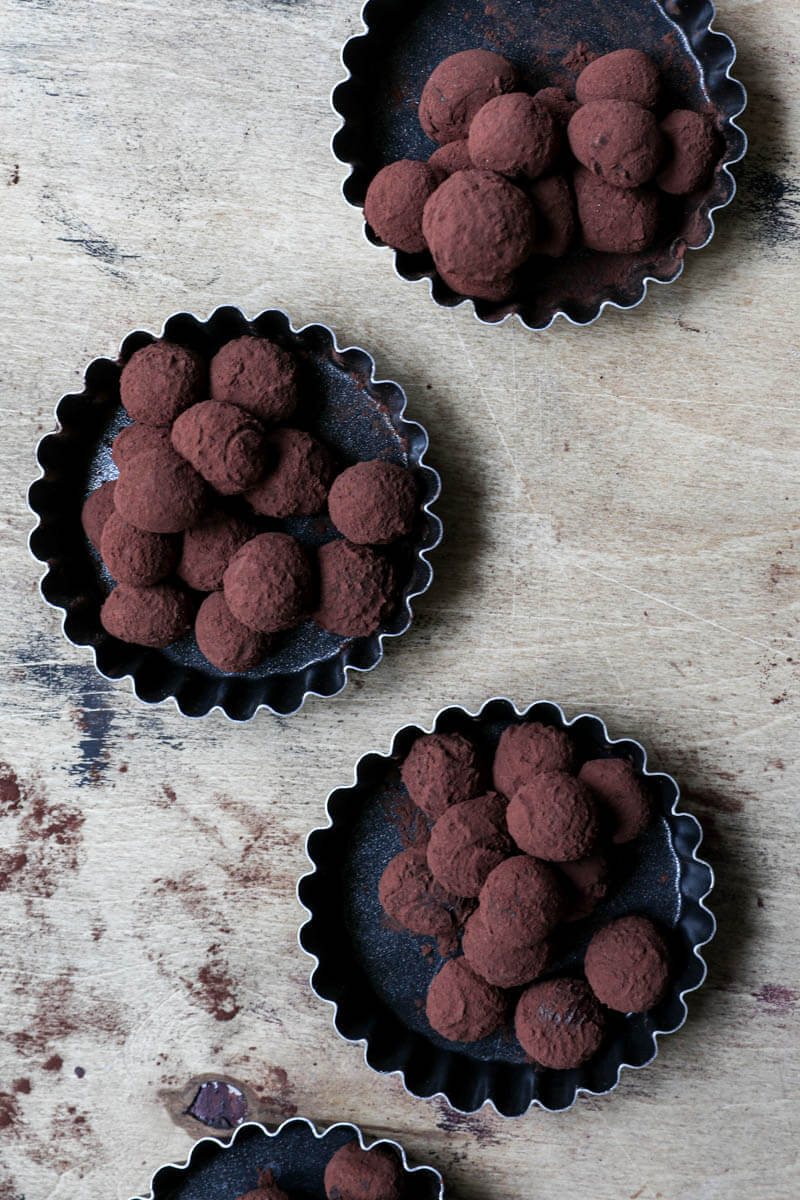 Variations to this dark chocolate truffle recipe
If you want to flavor the French chocolate truffles with alcohol like whisky or rum, you can! All you need to do is add 5% of the total recipe weight of whisky or rum in with the chopped chocolate.
For this recipe, you should add 35 g of your favorite alcohol!
If you made this recipe I would really appreciate it if you leave a rating or comment below! Also, if you share on social media please use #cookwithbelula, I would love to see what you create!