Cinnamon Rolls
This brioche cinnamon rolls recipe is made with a simple brioche bread dough and topped with a light milk icing. These easy small batch cinnamon rolls recipe is a keeper.
These homemade brioche cinnamon rolls are so light and fluffy you won't be able to wait until they have cooled down to eat them all! This small batch cinnamon rolls recipe makes only 8 rolls and itis easy to put together. It's made with French brioche dough , that is refrigerated for 24 hours, then filled with a generous layer of butter, cinnamon, and brown sugar, and later covered in a light milk icing that makes these cinnamon rolls extra moist and irresistible. You will find all the tips, and tricks to make extra fluffy and moist homemade cinnamon rolls. Can't wait for you to try this recipe!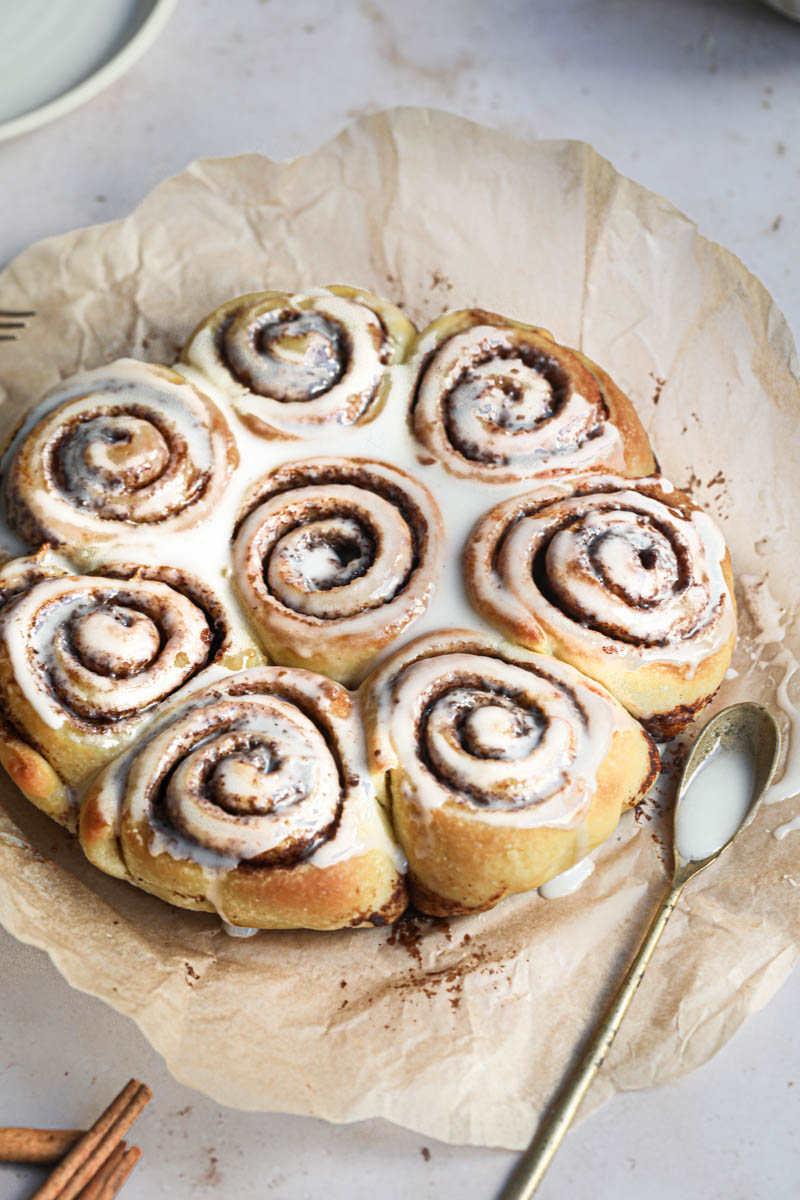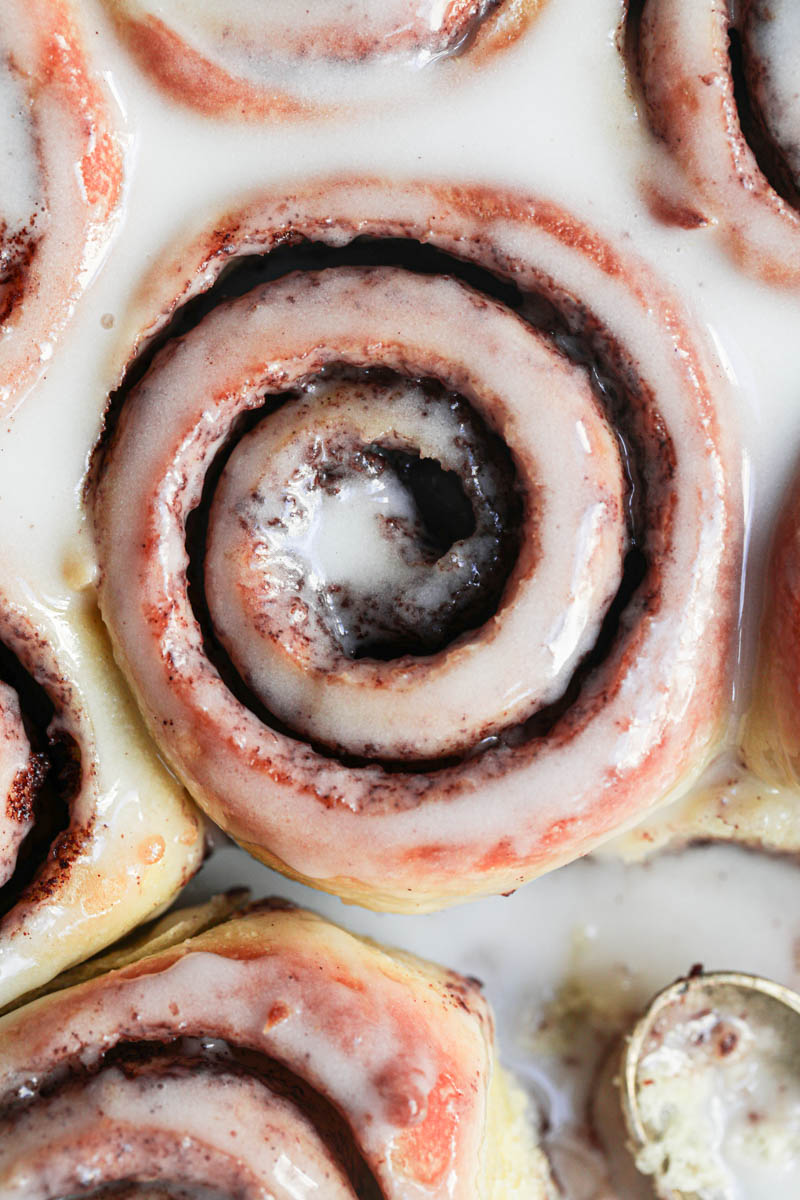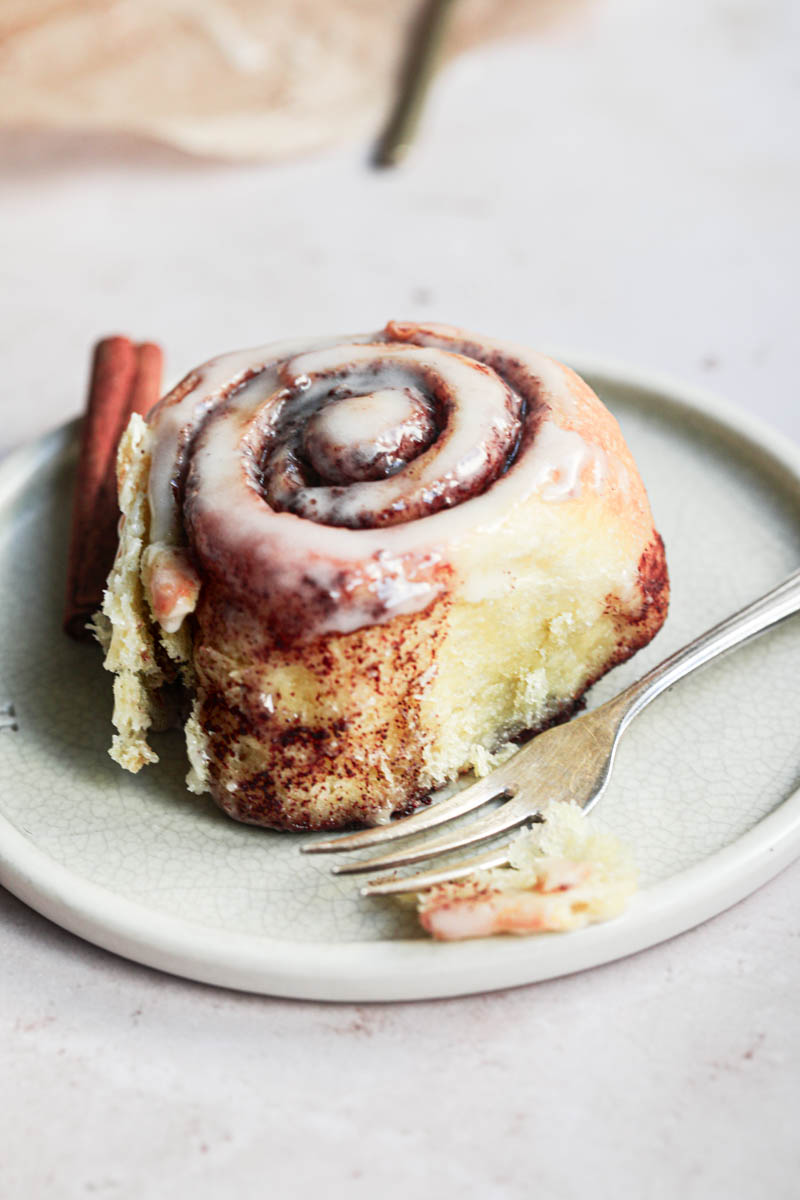 Ingredient & Material Notes
Butter: no less than 82% fat content and should be unsalted
Bread flour: to give the brioche cinnamon rolls some extra strength.
Pecans: they give the pinwheels an extra crunch!
A 22 cm in diameter round cake pan or cast-iron pan. You can use a square pan if you prefer (personally, I think they look better in a round pan).
Sewing string to cut the cinnamon rolls
How to make this recipe
To make this easy brioche cinnamon rolls recipe you must:
Make the French brioche dough
Prepare the cinnamon filling
Roll out the dough to 24 cm x 30 cm.
Spread the filling onto the dough.
Roll the dough onto itself and cut the cinnamon rolls.
Place the brioche cinnamon rolls on a round cake pan and let them rise
Bake until golden.
Cover with the light milk glaze.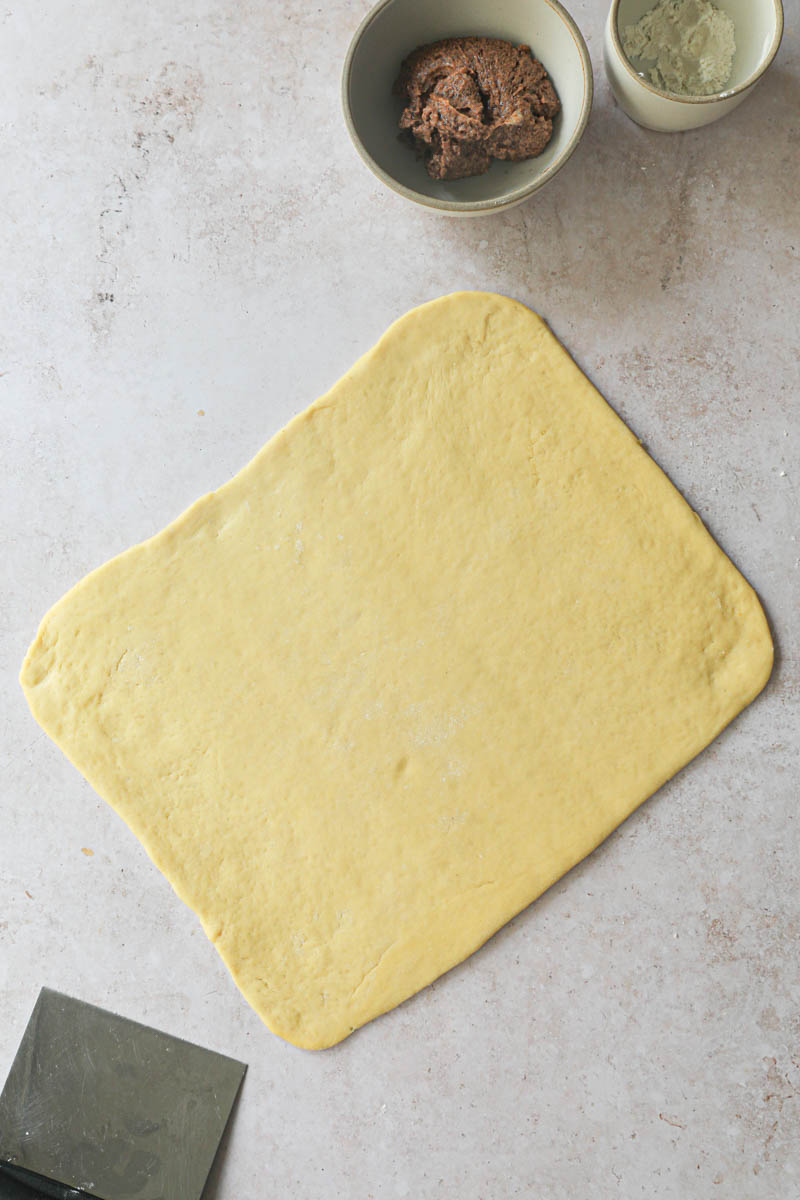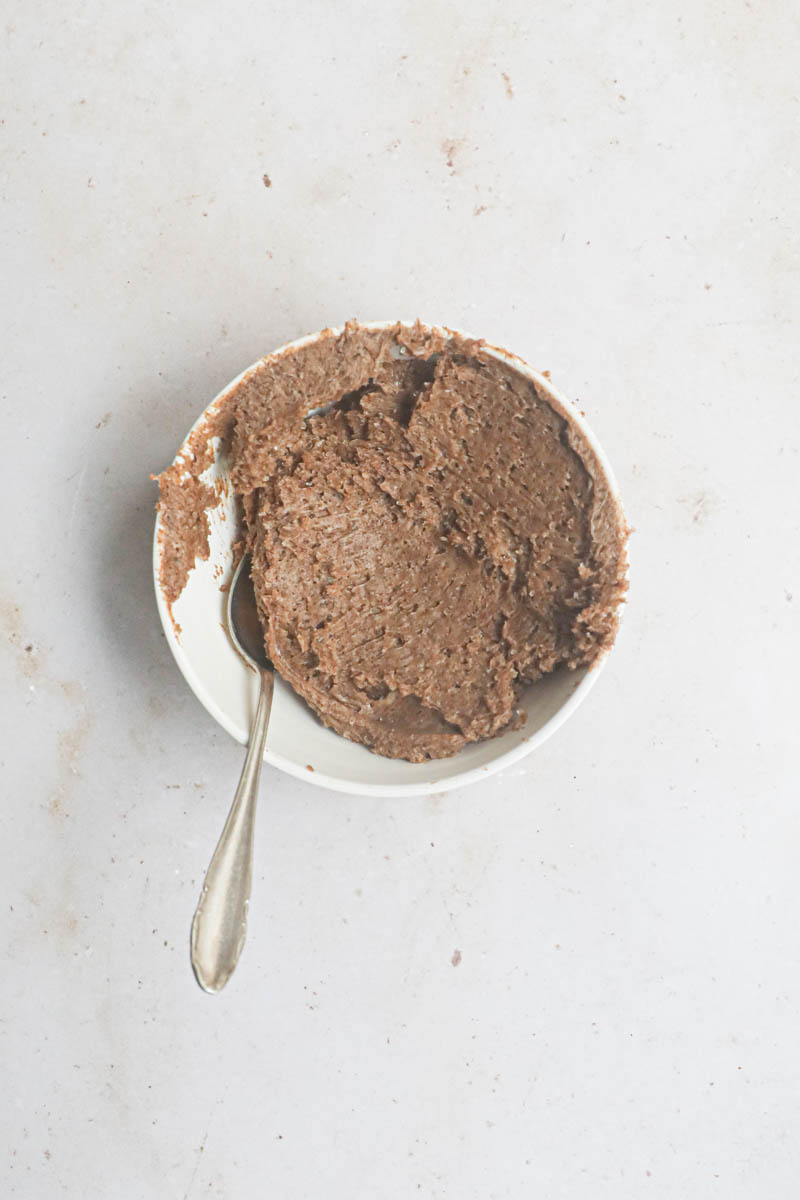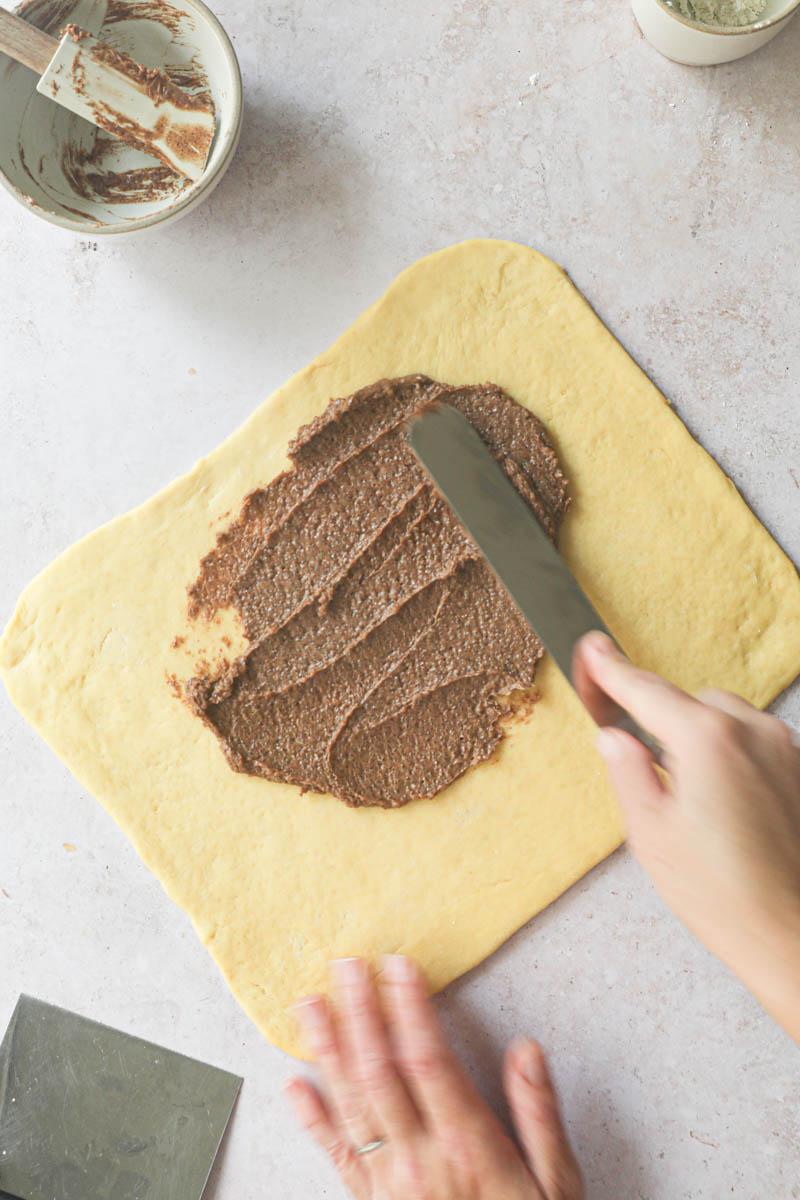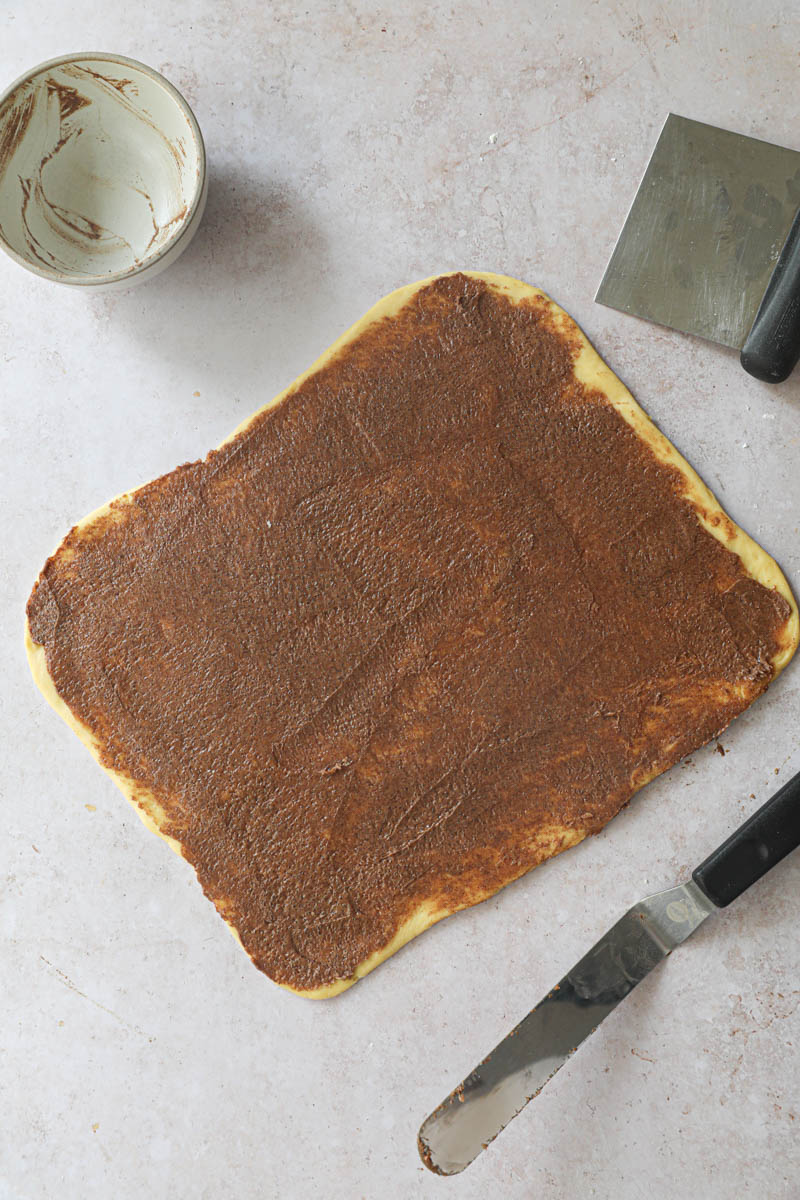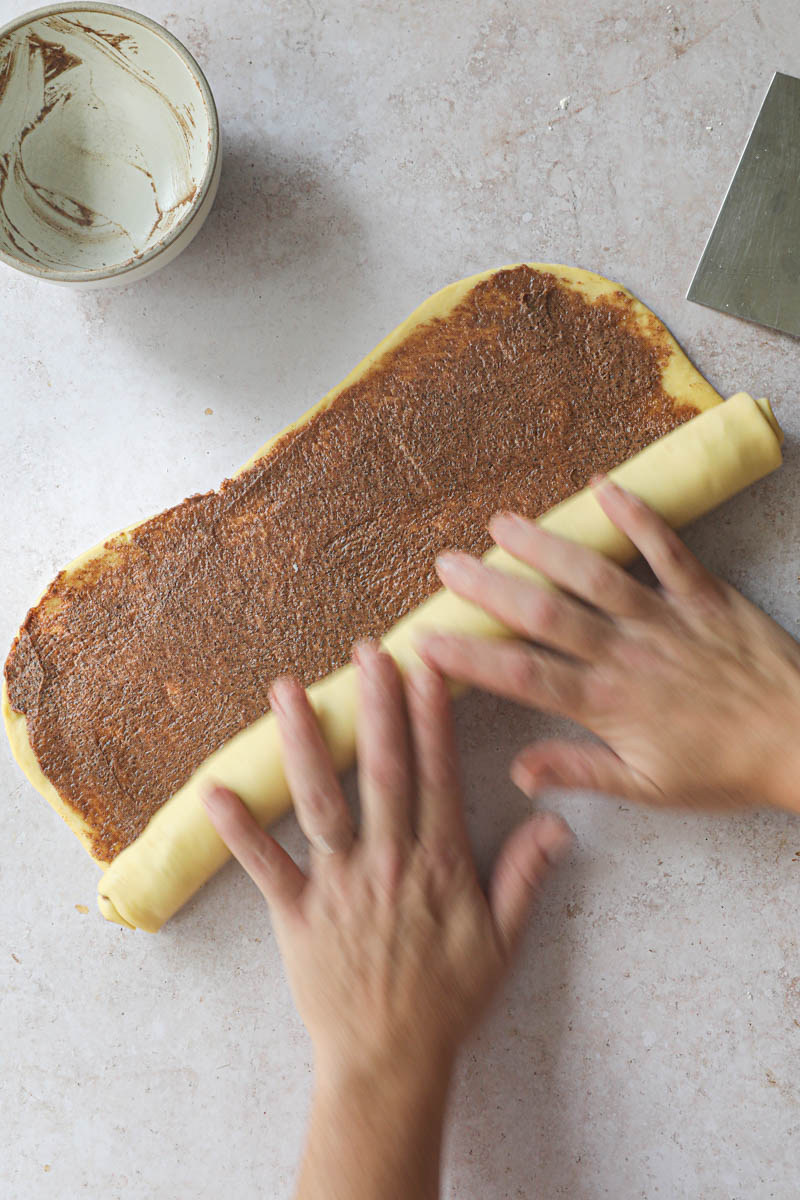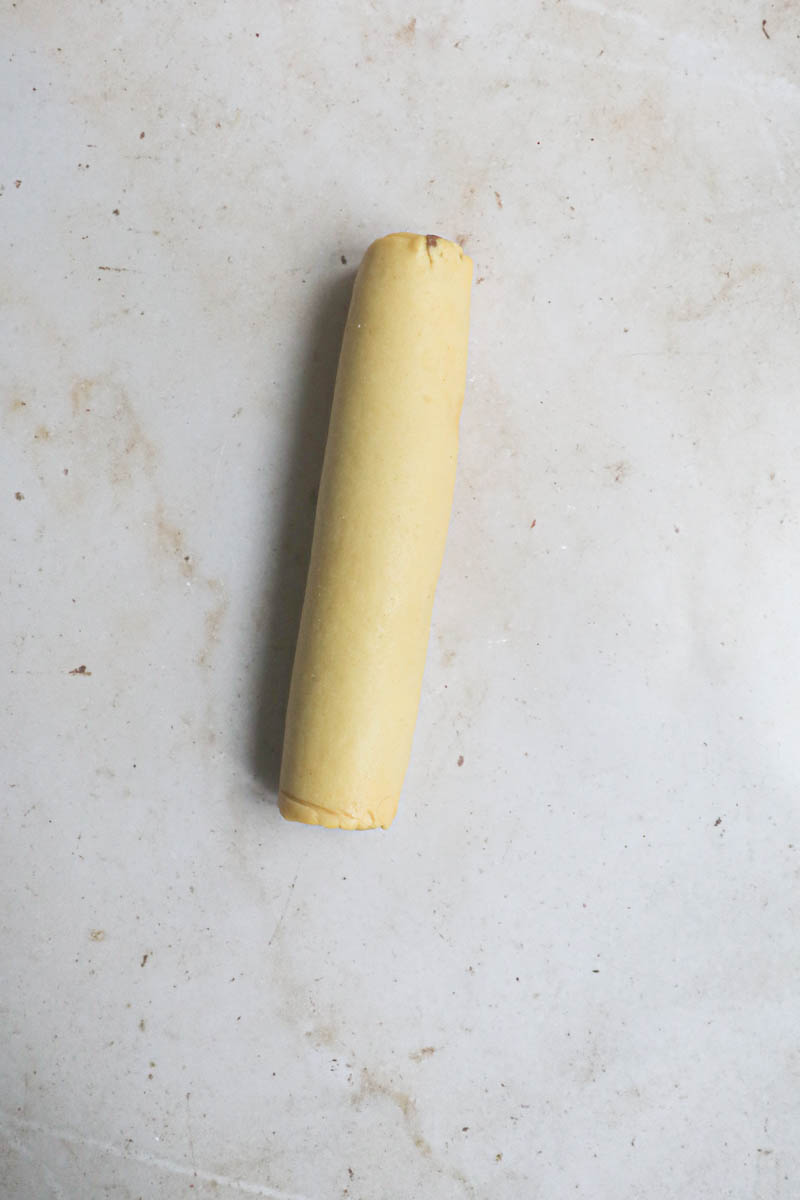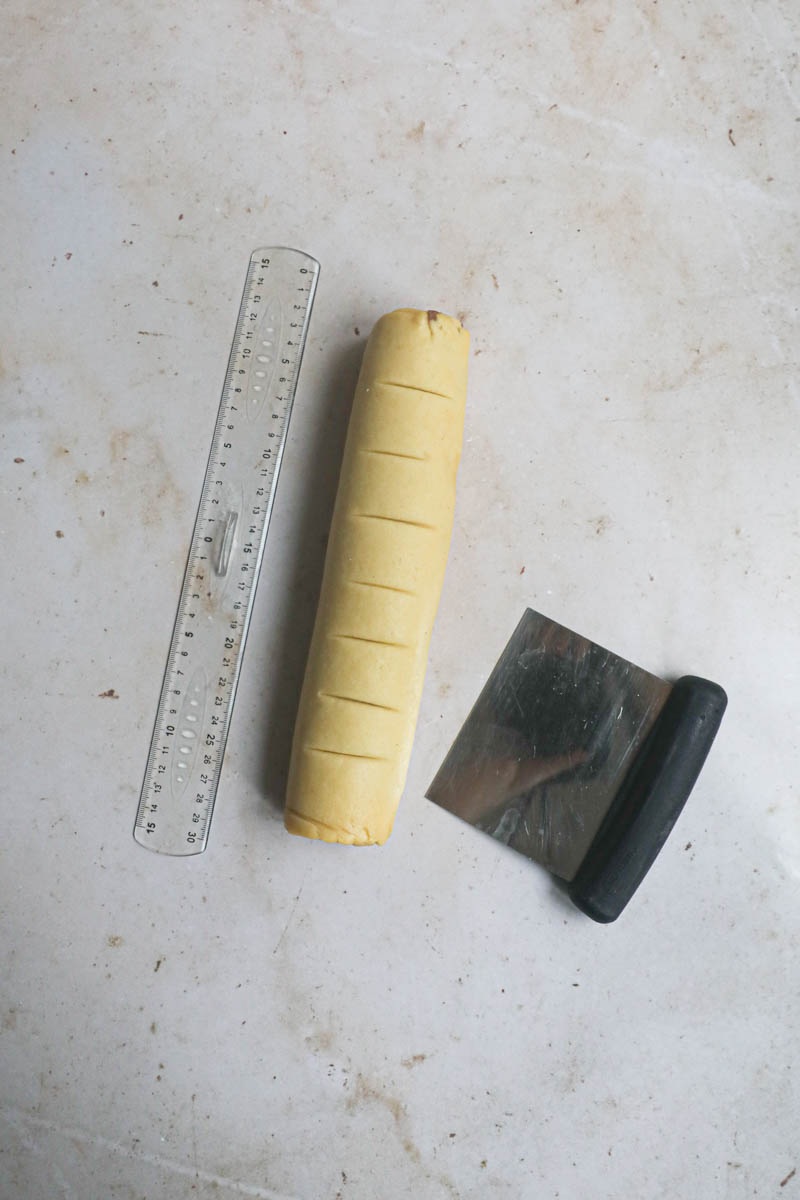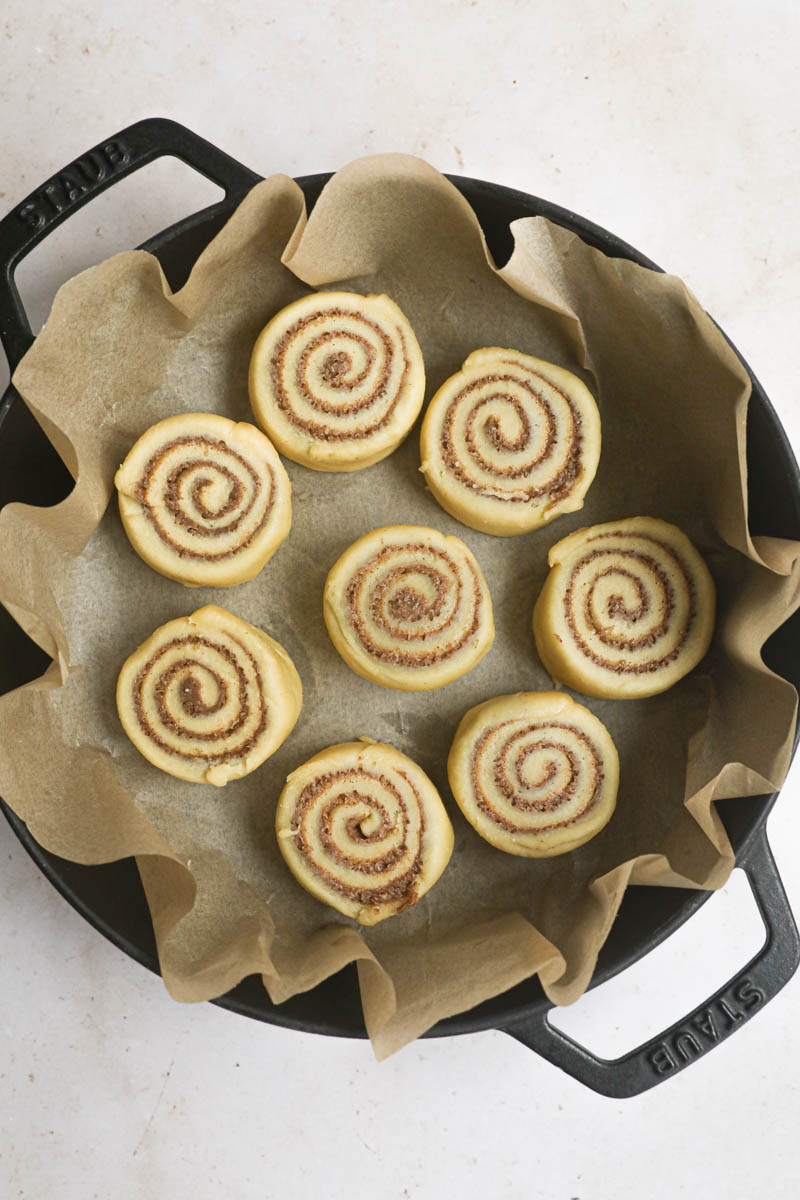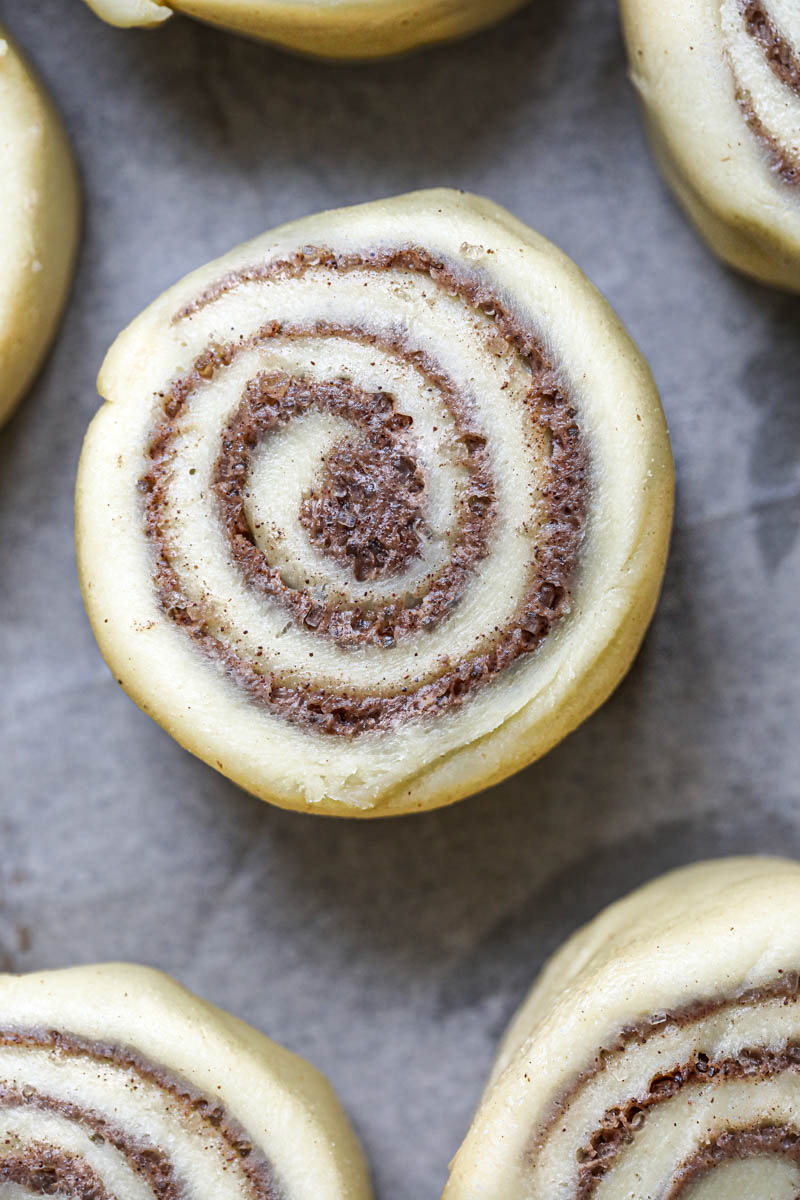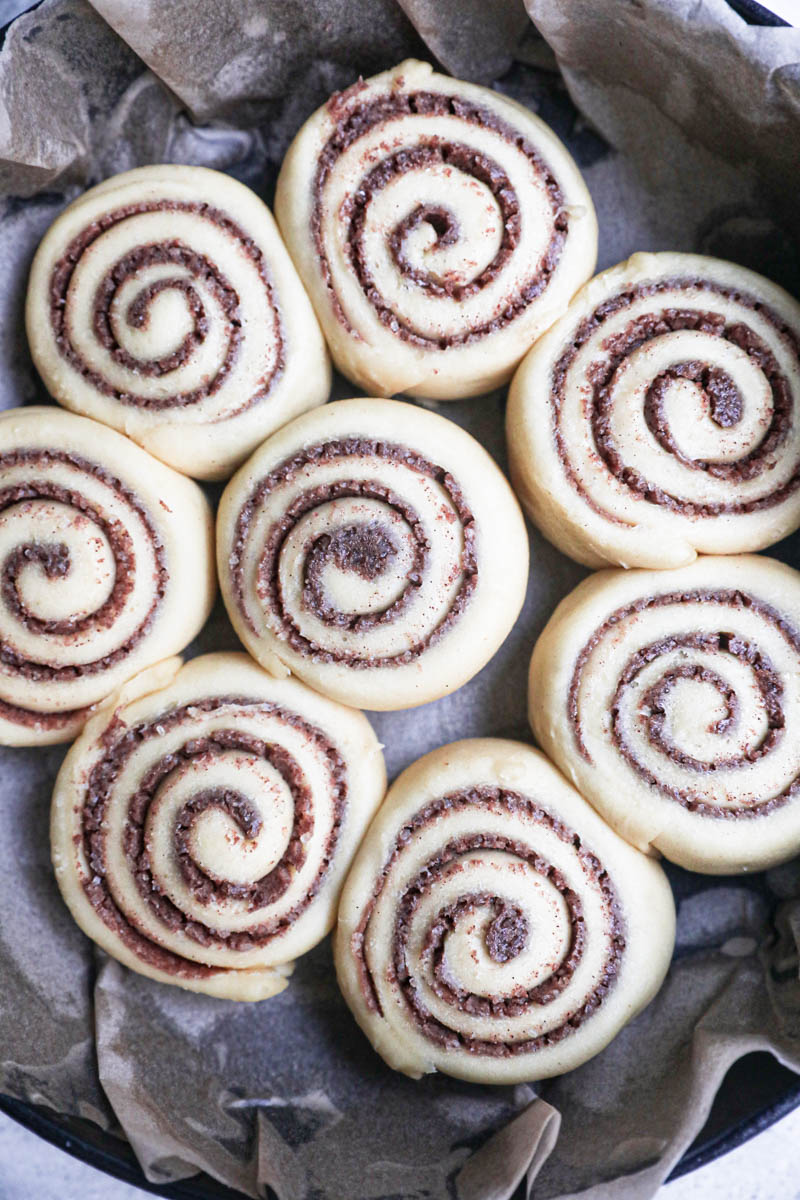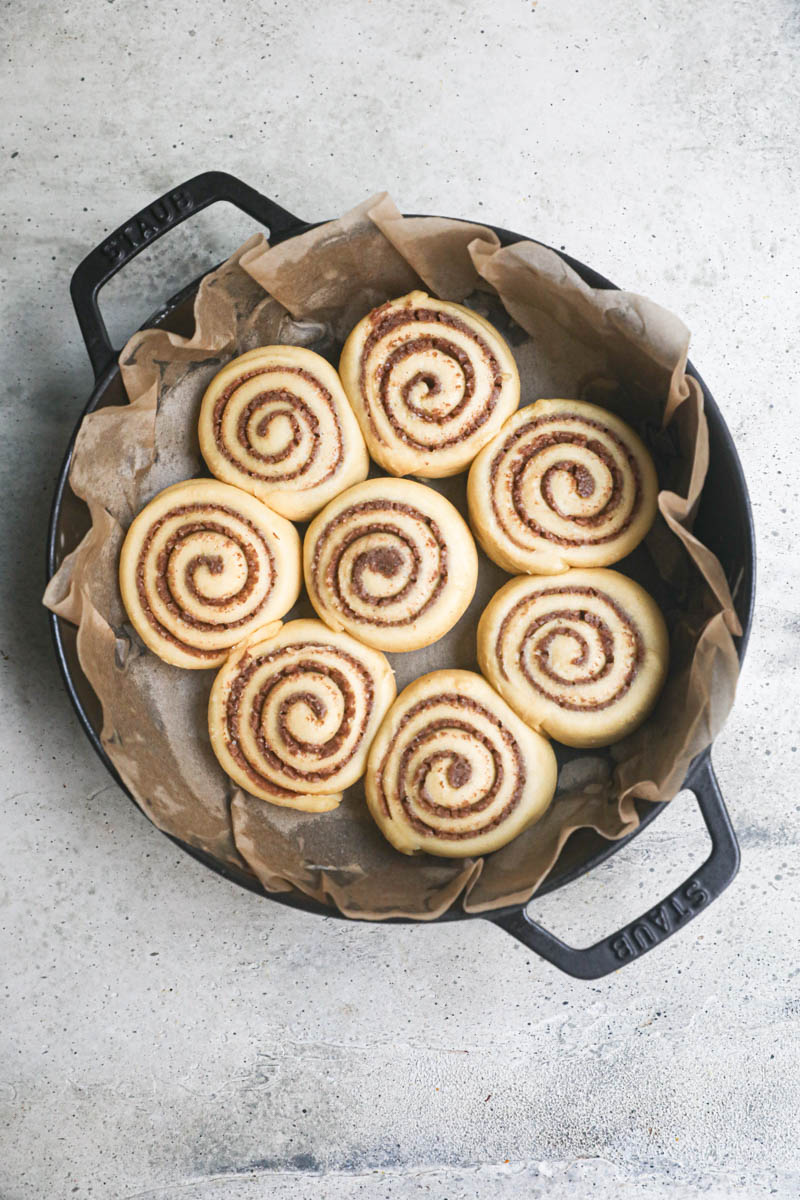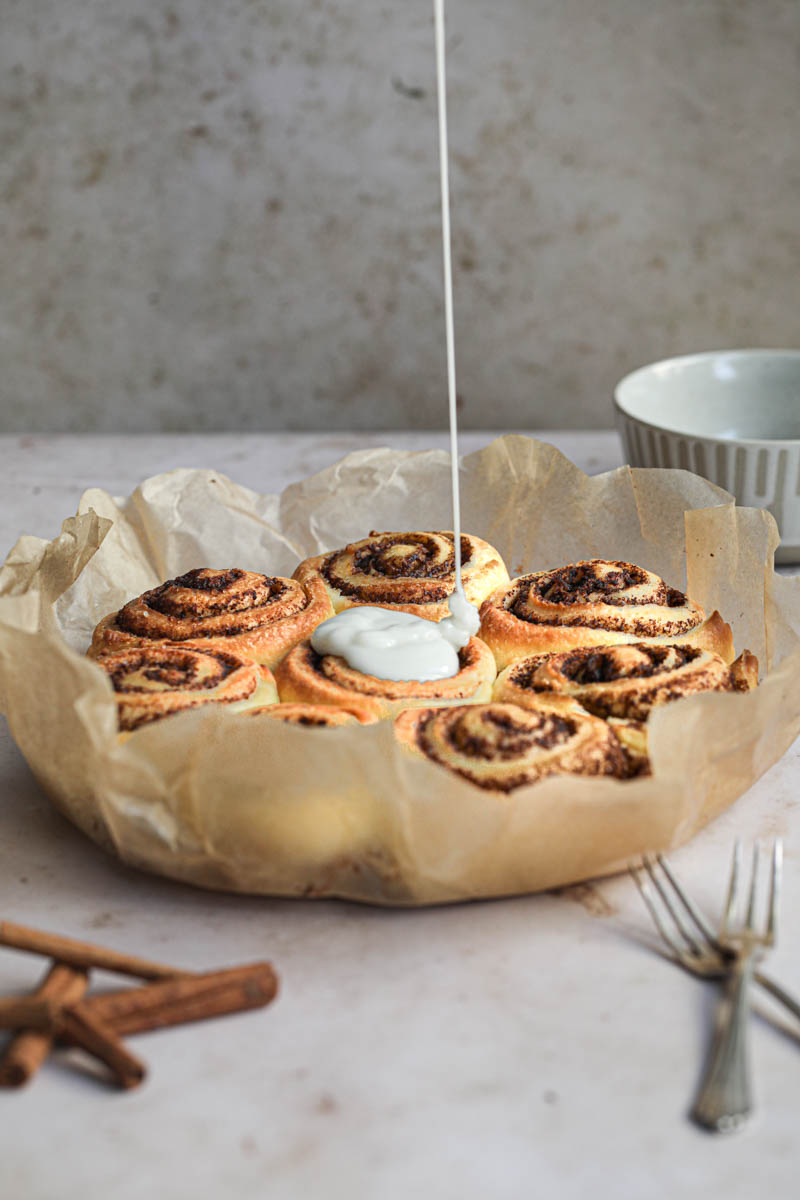 Recipe Notes
The brioche cinnamon roll dough must rest in the fridge for 24 hours after the initial raise; Prepare accordingly.
For step-by-step instructions and tips on how to make this French brioche dough, you can check this post.
Roll out the dough to a rectangle of about 24 cm x 30 cm.
When rolling the dough onto itself. Start from the short side. Roll tightly.
Use a piece of sewing string to cut the cinnamon rolls; this will avoid crushing the rolls and all those layers, as would be the case if using a knife.
Rising time is about 1 hour 30 minutes. It will depend on how cold or hot your room temperature is. The ideal temperature is 29 C° if you were using a fermentation chamber.
These rolls bake fast; about 20 minutes. Baking temperature is 170 C° (340 F)
Let these small batch cinnamon rolls cool down before covering them with the milk glaze.
A word on the icing: the recipe makes for an icing that is on the lighter side of things, as it adds moisture to the rolls. If you would like to make it thicker, add less milk to the sugar.
Expert Notes
You can either butter the pan or line it with parchment paper. Both work well.
When spreading the filling, it might look as if it is not enough, but it is. To make spreading the filling easier you can place little drops of filling all over the dough and then spread them evenly.
This recipe calls for 8 rolls. You can use a knife or scraper to mark the log into 8 equal pieces - this will help you know where you must cut.
Place the cinnamon rolls in a circle., with one roll at the center and 7 rolls around it, leaving space between them as they will grow quite a bit while proofing.
Making ahead
These small batch cinnamon rolls can easily be made into overnight cinnamon rolls! The next morning all you must do is bake them! To do so you:
Make the brioche dough as instructed in the recipe.
Refrigerate for 2 hours instead of 24 hours.
Then remove from the fridge and assemble the rolls as instructed in the recipe.
Place in the cake pan, cover in saran wrap, and refrigerate overnight.
The next morning, remove them from the refrigerator and let them sit at room temperature for about 1 hour.
Bake as instructed in the recipe!
Enjoy!
Storing tips
They are better when freshly baked. However, these brioche cinnamon rolls keep nicely for about 2 to 3 days stored in an airtight container.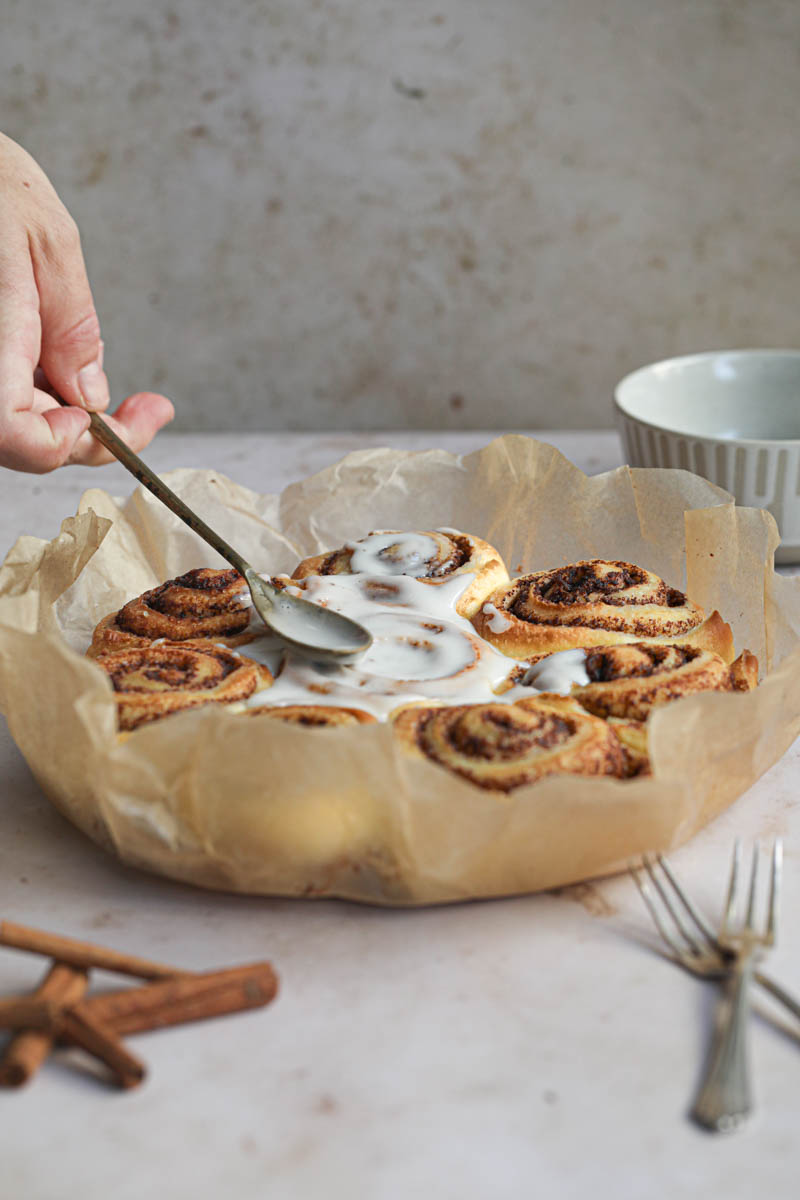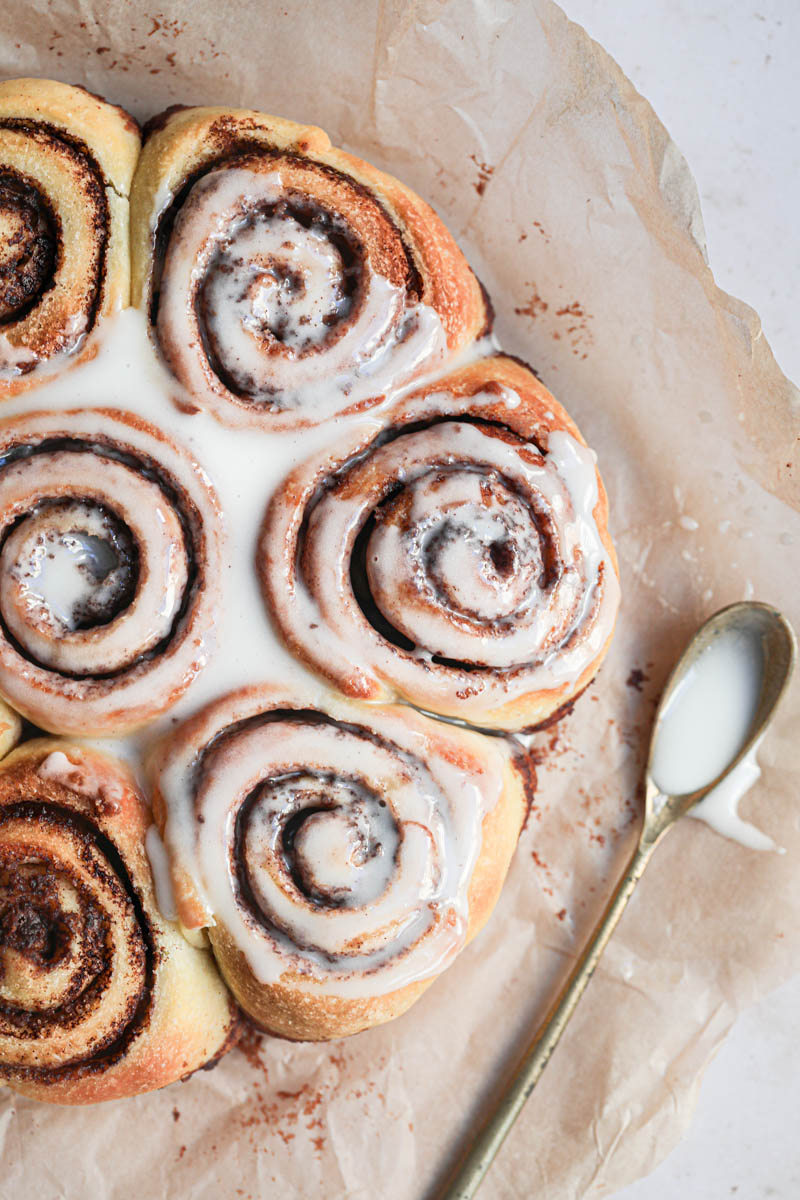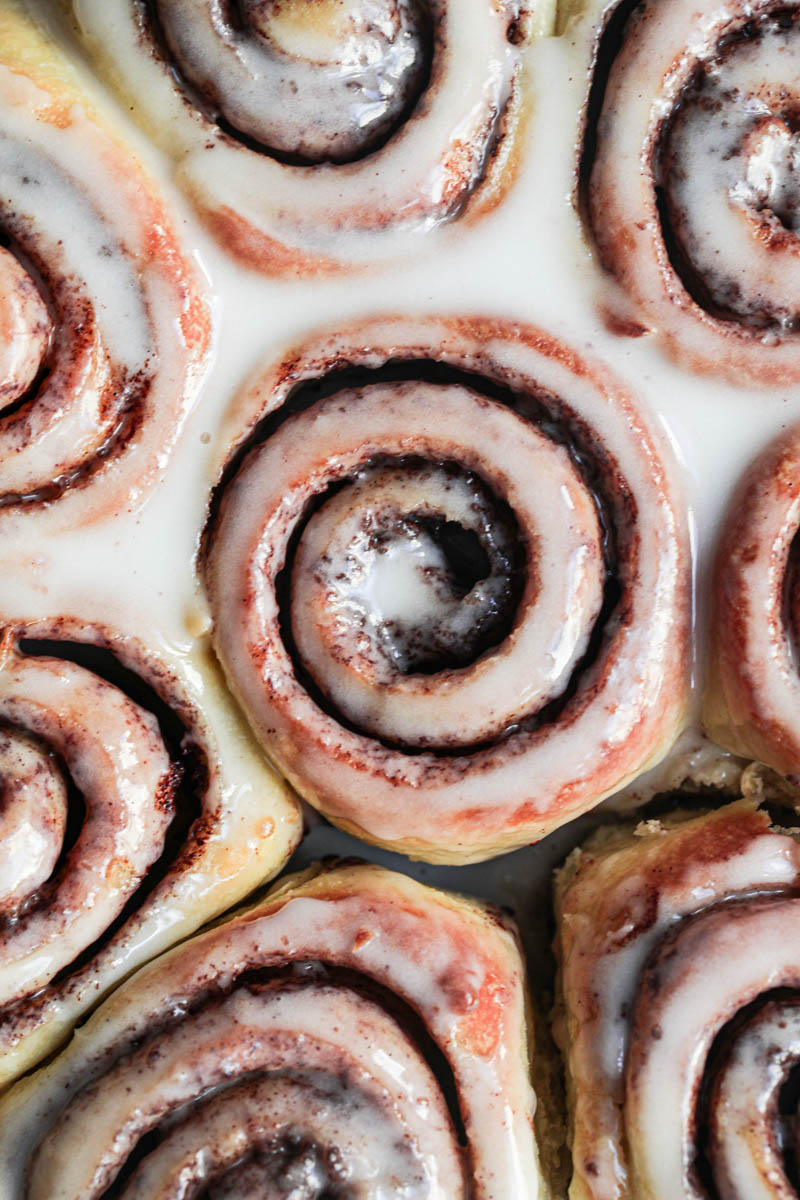 Freezer instructions
If you are not going to eat the whole batch (even if it's a real small batch) you can freeze them. To do so you:
Let them cool down completely.
Pull as many rolls as you would like to freeze before you cover them with the glaze.
Cover in saran wrap, then place in a freezer bag or container
Place in the freezer. They keep for up to 2 months.
To defrost: Remove from the freezer and let them sit at room temperature for about 1 hour. Then warm them up for 3-5 minutes at 200 C° (400 F). Enjoy!
Variations to this recipe
You can make these brioche cinnamon rolls into chocolate cinnamon rolls if you change the filling. To do so, once you have rolled out the dough, spread chocolate pastry cream over the dough, then sprinkle with cinnamon, and proceed as instructed in the recipe.
You can change the icing and use a homemade cream cheese frosting instead. You can find a good recipe here.
Finally, you can bake these rolls individually. To do so you:
Butter a small muffin tray.
Place each brioche cinnamon roll inside the baking tray.
Cover with saran wrap and proceed as instructed in the recipe.
The ingredients used in all recipes on this site are measured using the metric system. I use a
scale
to be precise with my measurements and ensure good results. If you would also like to use a scale, here are some:
USA
,
Canada
,
UK
,
Australia
,
France
.
Subscribe to the newsletter
Total Time:
4 hours 40 minutes
---
Brioche Cinnamon Roll Dough
Whole Milk

10 g

Baker's Yeast

8 g

Eggs (large)

2

Salt

1 pinch

Granulated Sugar

20 g

Bread Flour

200 g

Unsalted Butter

100 g
Cinnamon Roll Filling
Butter

105 g

Ground Cinnamon

7.5 g

Brown Sugar

75 g
Homemade milk icing for cinnamon rolls
Icing Sugar

155 g

Milk

30 g
If you made this recipe I would really appreciate it if you leave a rating or comment below! Also, if you share on social media please use #cookwithbelula, I would love to see what you create!