Chicken & Mushroom Crepes
A thin crepe dough filled with mushrooms and roasted chicken topped with a parmesan cream and baked in the oven.
A couple of weeks ago I had friends over for dinner all the way from Argentina (and some from Paris too!) and I had to come up with a menu. I knew that some of my guests like to eat simple (like me!) and I didn't want to make pasta. I suddenly saw the crepes in my head and I knew they were the chosen ones!
I haven't made or eaten one of these in ages. All the more reason to get cooking! My friends loved loved them!! So I decided to share them on the blog... just one hiccup; I'd taken almost no photos... And the ones I did take were not all that great.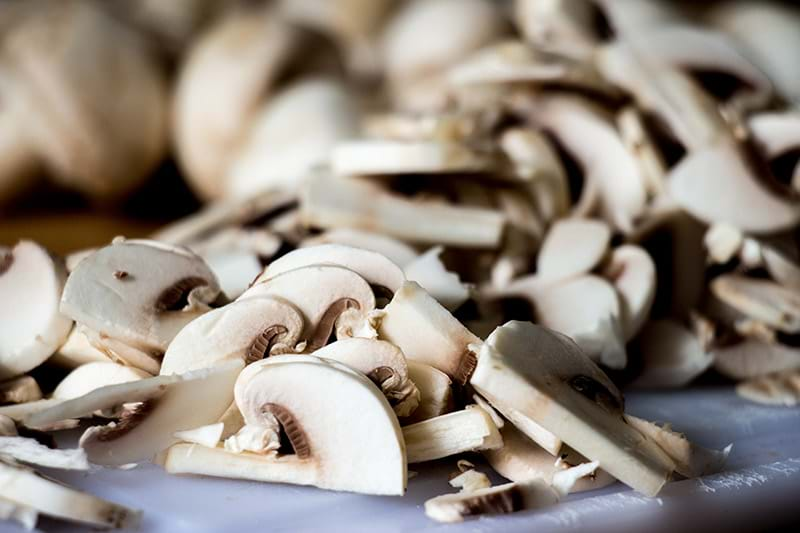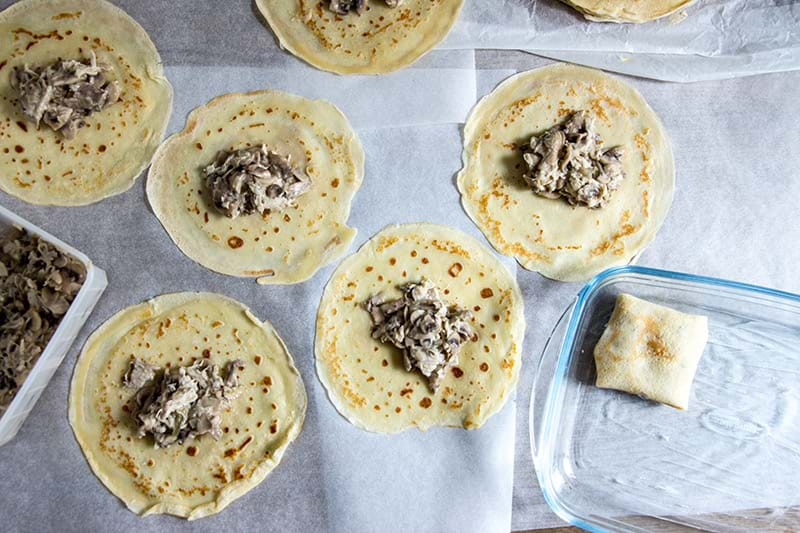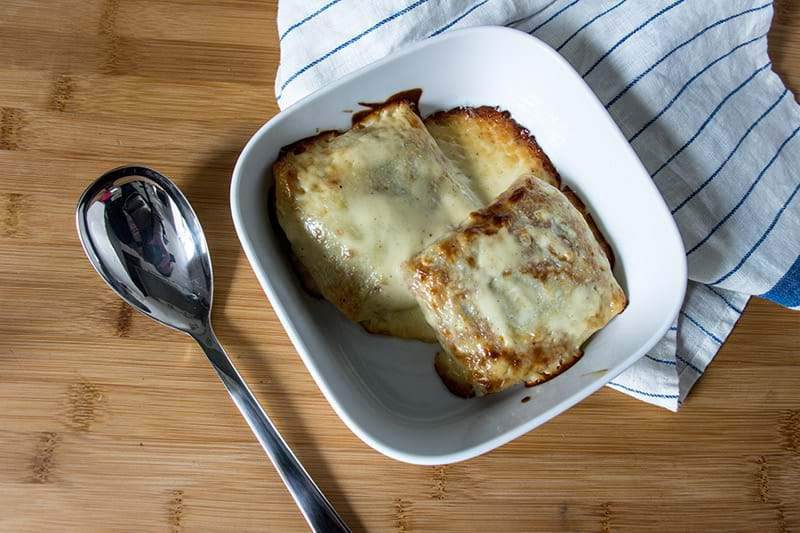 Lucky for you guys, last Friday I had some good friends from London coming for dinner and I decided to make them again and take pictures this time! However, you'll notice that before baking there are a lot of them, and on the baked photo there are only two! This is because I made two extra ones, that we had for lunch the next day to be able to take a photo! Night time photos are not so great when you photograph with natural light!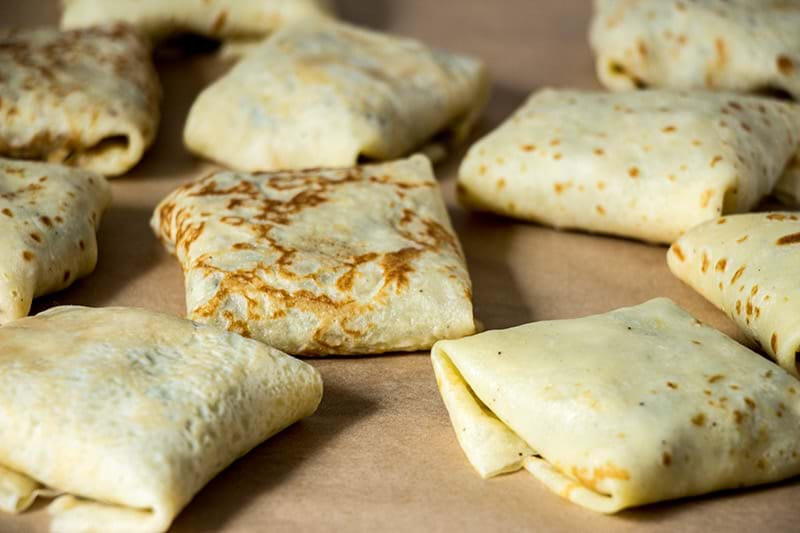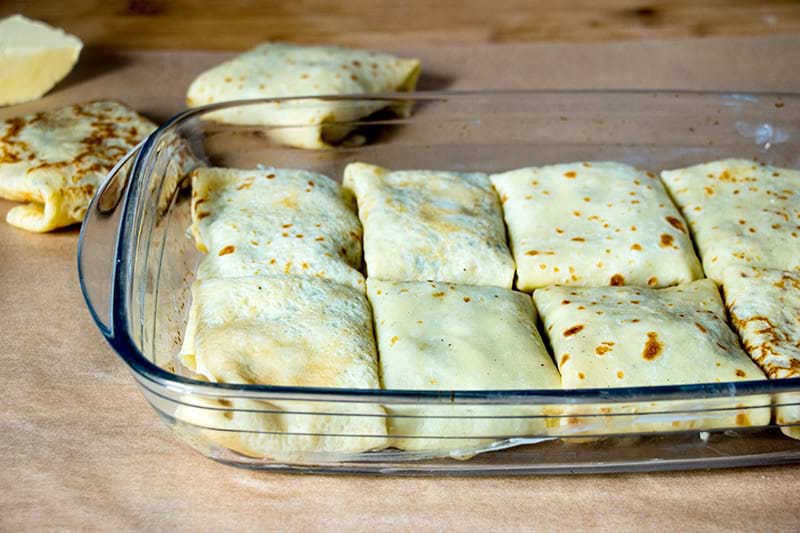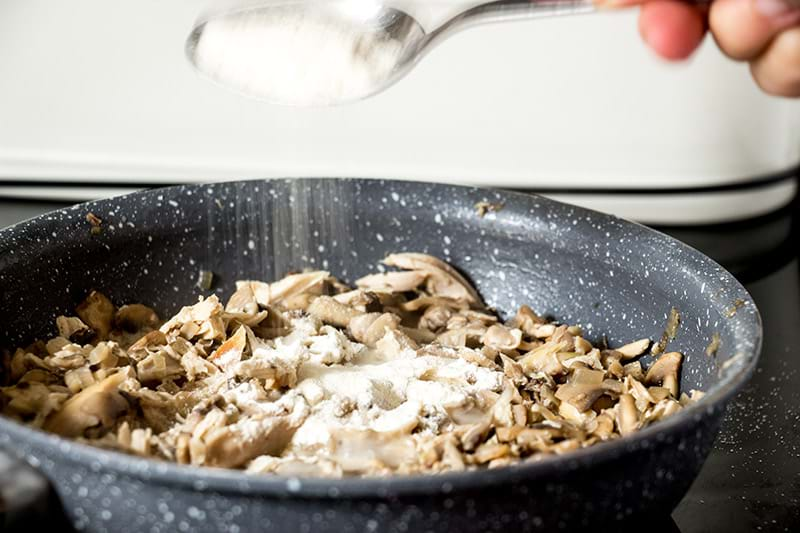 By the way my London friends also loved the crepes!
This is the story of this crepes! You will love them, love them! And probably your family and friends will love you for them. :)
One small chicken related detail: I used roasted chicken and then pulled it using my hands. However, if you don't feel like roasting chicken or can't find roasted chicken in your market you can just buy regular chicken breasts, season with salt and pepper and sear them in olive oil and cook in the oven. When still warm pull the chicken breasts into small pieces. The important part is that the chicken should be pulled!
The ingredients used in all recipes on this site are measured using the metric system. I use a
scale
to be precise with my measurements and ensure good results. If you would also like to use a scale, here are some:
USA
,
Canada
,
UK
,
Australia
,
France
.
Subscribe to the newsletter
Total Time:
2 hours 20 minutes
---
Crepe Dough
Whole Milk

250 ml

Eggs

1

Flour

125 g

Salt

5 g

Butter

20 g
Filling
Flour

1.5 tbsp

White Wine

3 tbsp

Shallots

2

Chicken (small)

0.5

Mushrooms

250 g

Salt

Pepper

Butter

Cream

0.25 cup
Parmesan Cream
Pepper

Salt

Parmesan

120 g

Cream

300 ml
Crepe Dough

1. You have to prepare it with anticipation because it needs to rest overnight in the fridge.
2. Melt the butter over low heat and remove from the heat. Reserve.
3. In a bowl mix the egg and half the milk. Add half the flour (and salt) and whisk all the ingredients together. Add the rest of the milk and then the rest of the flour. Whisk until the dough is smooth. Add the melted butter and whisk once again.
4. Cover with film wrap and let it rest in the fridge overnight.
5. Note: If you notice lumps in your dough you can mix it using a hand mixer and then strain the dough over a fine mesh strainer. Then cover and refrigerate.

Filling

1. Chop the shallots and the mushrooms. Pull the chicken.
2. Over medium heat melt the butter in a sauté pan. Add the shallots and cook until tender over medium, low heat. No need to colour them. Add the mushrooms. Once they are almost cooked add the chicken and mix all the ingredients well together.
3. Add the white wine and cook for a few minutes until the alcohol evaporates. Add the cream and cook for a few minutes. Season to taste. Sprinkle the flour over the filling and mix well. You'll notice your filling will unite together!
4. Remove from heat and let it cool down a little. Cover and refrigerate until it has cooled down.
5. Note: You can also prepare the filling the day before so it's cold when you assemble the crepes! It's easier to work with.

Cooking

1. Put a crepe pan (or a regular sauté pan if you don't have one. I don't and it works just fine) over high heat.
2. Add some butter and when it's sizzling remove the excess with a paper towel making sure you grease all of your pans surface.
3. Using a ladle scoop a portion of the dough onto the pan (it has to be very hot!) and make sure it covers the whole surface. You can move the pan in a circular form to help the dough expand!
4. Cook for a few minutes and then flip the crepe over either with your hands (if fingers resist heat!) or using a spatula. If you are brave you can flip it in the air!
5. Repeat the operation until you have used up all of the dough.
6. Keep the crepes covered at all times to prevent them from drying up.

Parmesan Cream

1. In a pot mix the cream and the parmesan. Let it cook over low heat until it has reduced its volume by ¼ approximately. Season to taste, cover in aluminum foil and set aside.

Assembly

1. Pre heat the oven to 180 degrees Celsius.
2. Butter a baking tray and set aside.
3. Spread the crepes all over your working surface and then scoop a generous spoonful of filling at the center of each one.
4. Now close the crepes by folding the sides onto one another (you should get a slightly squared form). You can close them whichever way you prefer though... You could roll them like cannelloni, or fold them in a triangular way. Completely up to you!
5. Place the crepes on the baking the tray and cover with the sauce.
6. Bake in the oven until golden.
If you made this recipe I would really appreciate it if you leave a rating or comment below! Also, if you share on social media please use #cookwithbelula, I would love to see what you create!