I love cake. Such an easy and delicious treat. And citrus cake holds a special place in my heart. And blood orange is just irresistible. First time I ever saw a blood orange was when I was working at Hotel Meurice in Paris. It was my first day and chef said to get all the citrus in the fridge (probably 150 give or take): "make juice", said the chef. So, I started, and when I got to my first blood orange, I got scared and thought I got the wrong fruit, and the chef might kill me. Juice was not orange, but pink/purple. Happy I can laugh about it now! I have been a fan ever since. They taste so good. Hope you like this blood orange cake recipe.
What is a blood orange?
A blood orange is a variety of orange that has almost a red flesh. To know more about them check What is a Blood Orange. Blood orange season goes from December to April. My favourite one is the Sicilian blood orange. Best orange juice I have ever had!
Can blood orange be replaced?
Yes! You can use any other citrus like lemon, mandarin, grapefruit and regular orange. They will all work super well with this cake.
I already have a killer lemon cake recipe on the site though!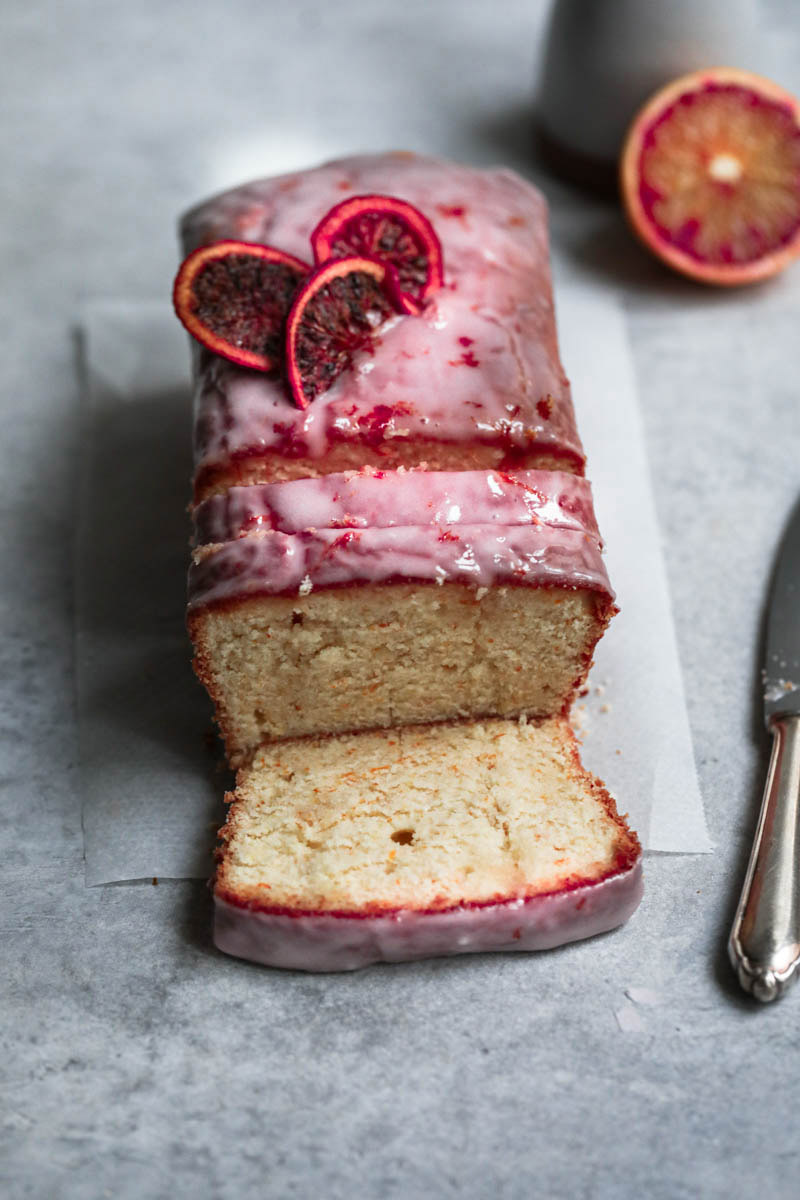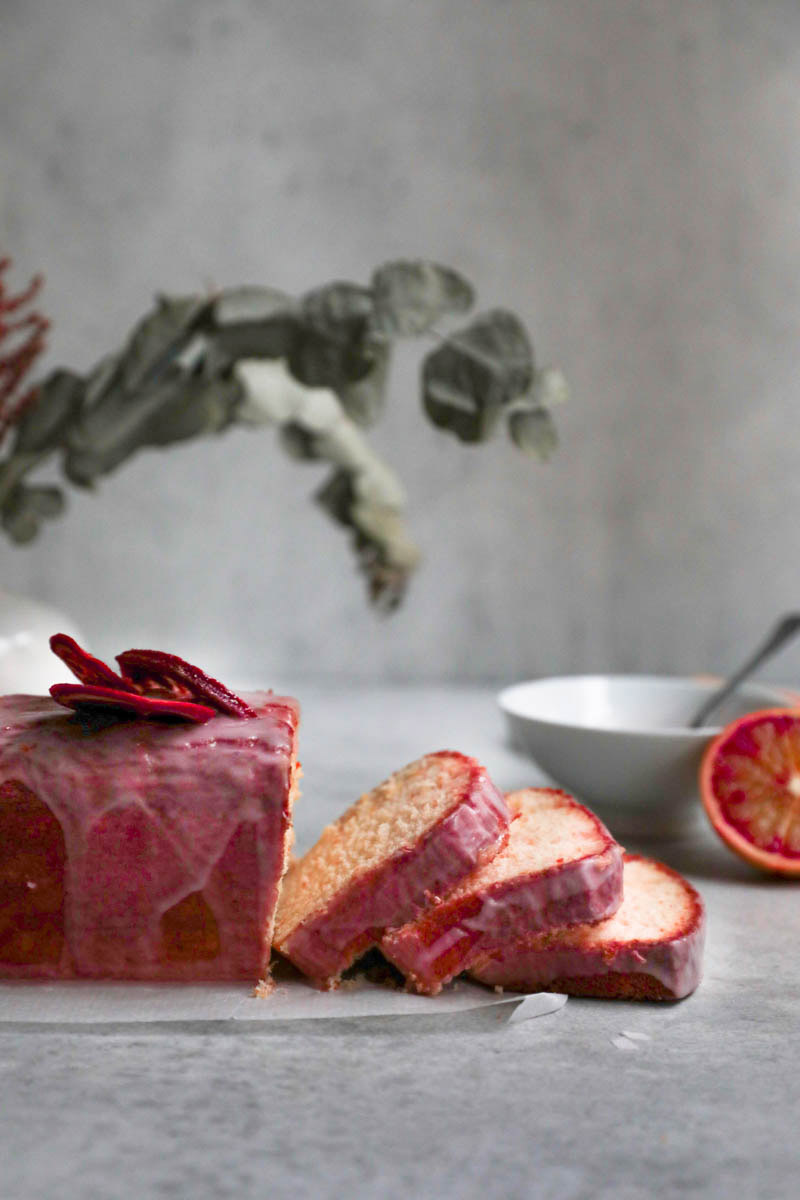 What cake pan to use and how to use it.
I used a regular loaf pound cake. Dimensions: 20 cm long x 7.5 cm high x 11 cm wide.
Spray with baking spray and line with parchment paper. Then spray again. You can also butter and flour the cake pan, the classic way! Make sure to use softened butter.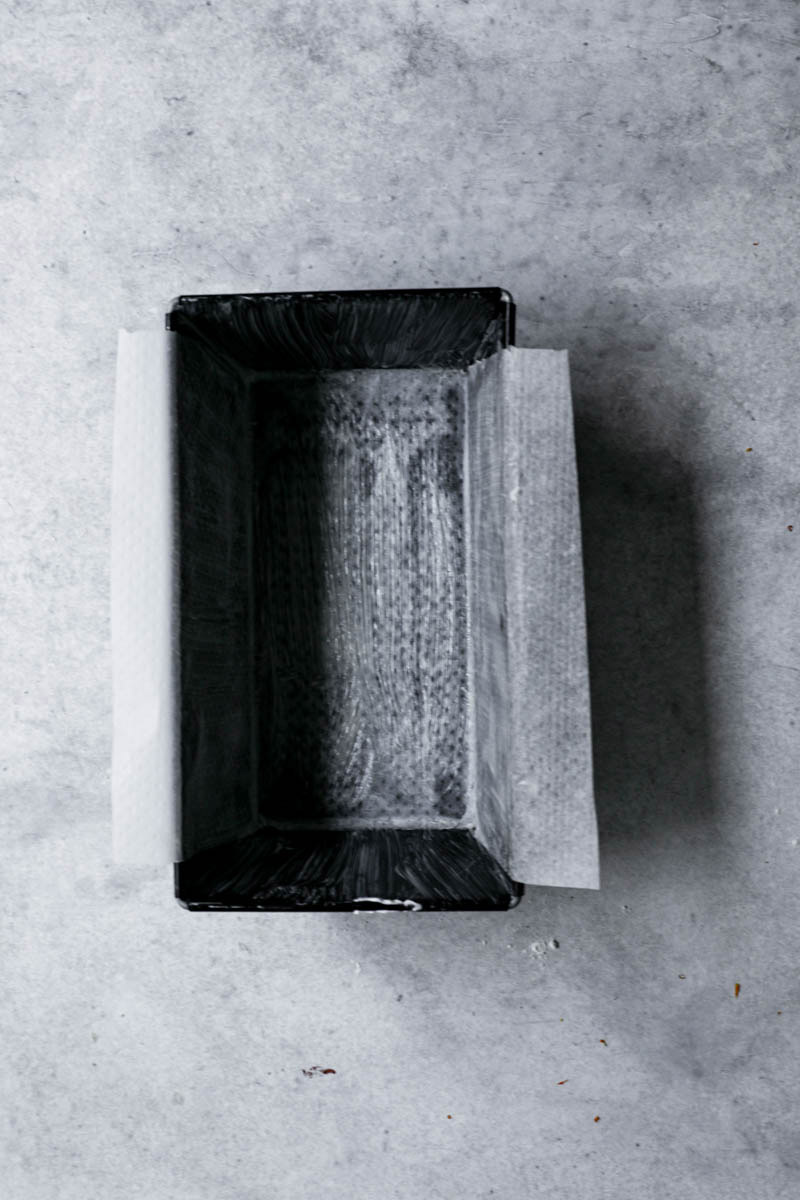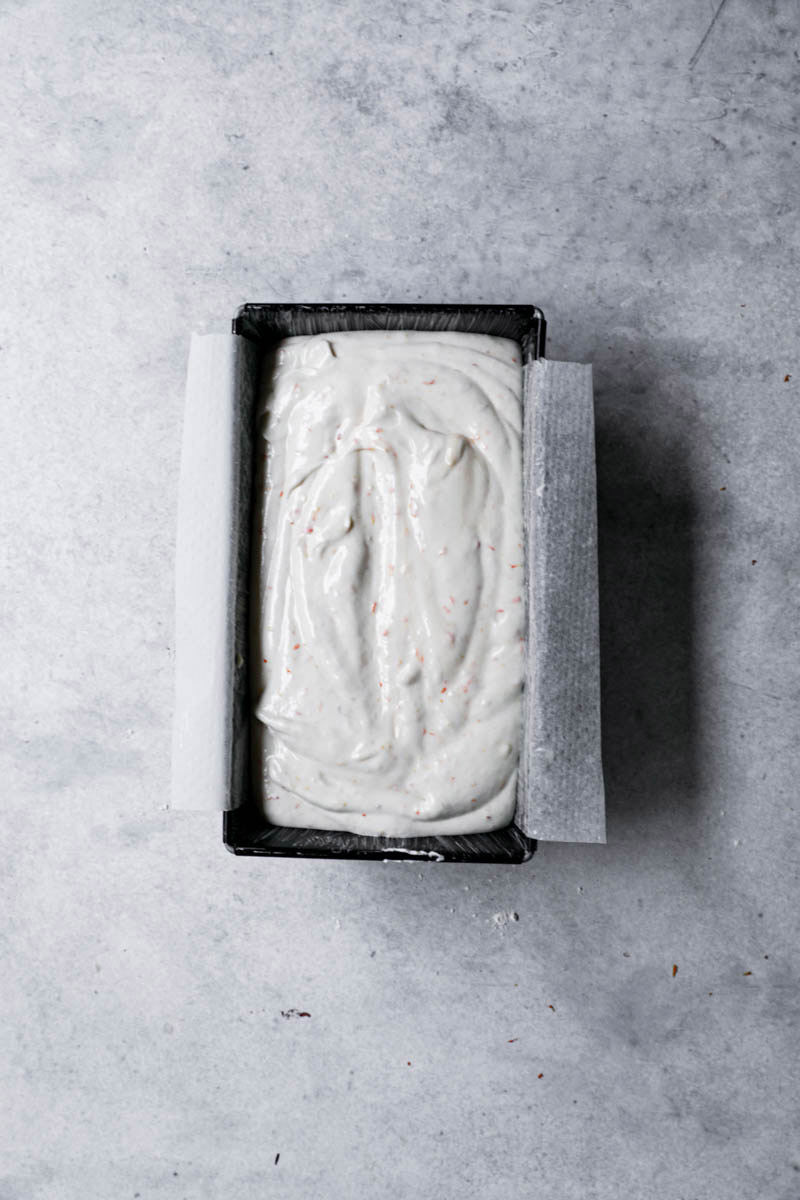 How to make blood orange cake?
Blanch eggs and sugar and the blood orange zest: this is a key step; it will give all the sponginess to your cake. You need to whisk them about 10 minutes, until you can make a little drawing of batter using your whisk. This is called "ribbon stage".
Fold in the flour until properly mixed in and then add the blood orange juice.
Finally fold in the whipped cream: do this in 2 additions. Be gentle so that the cream and the batter do not deflate.
Transfer to the greased and lined cake pan and bake at 170 C° for 45 minutes.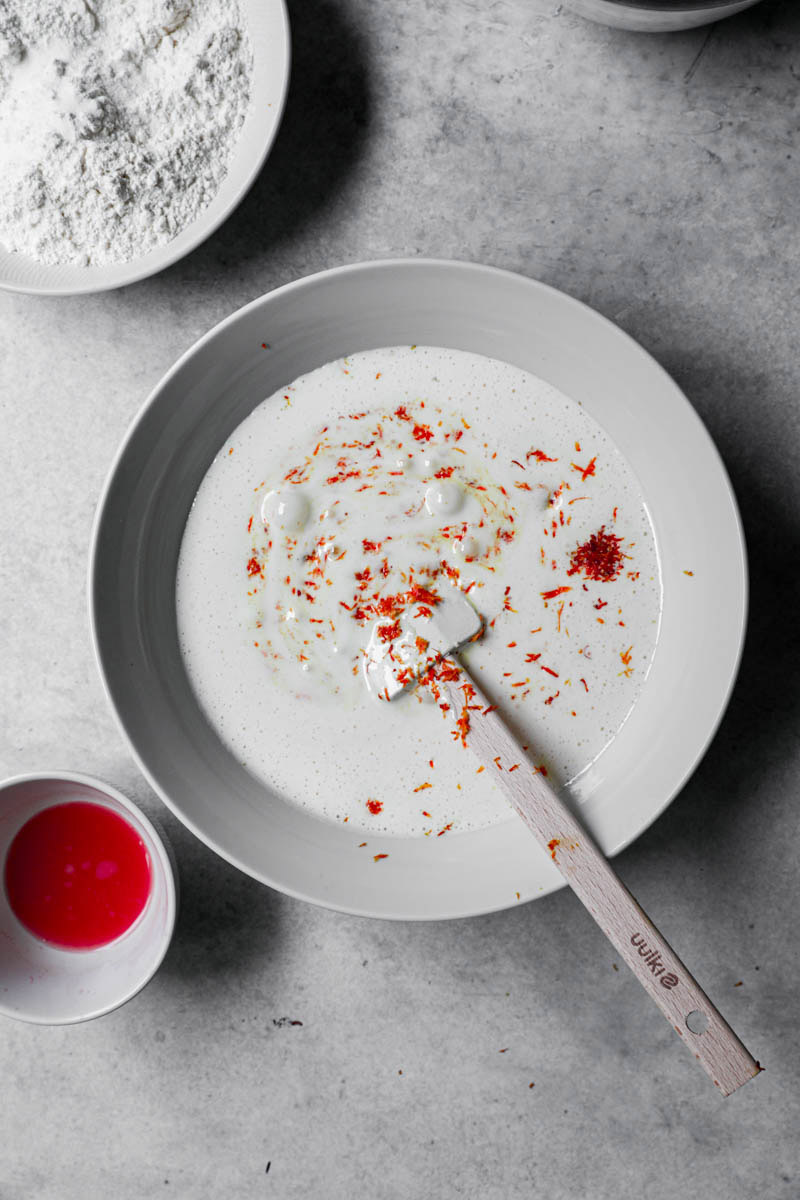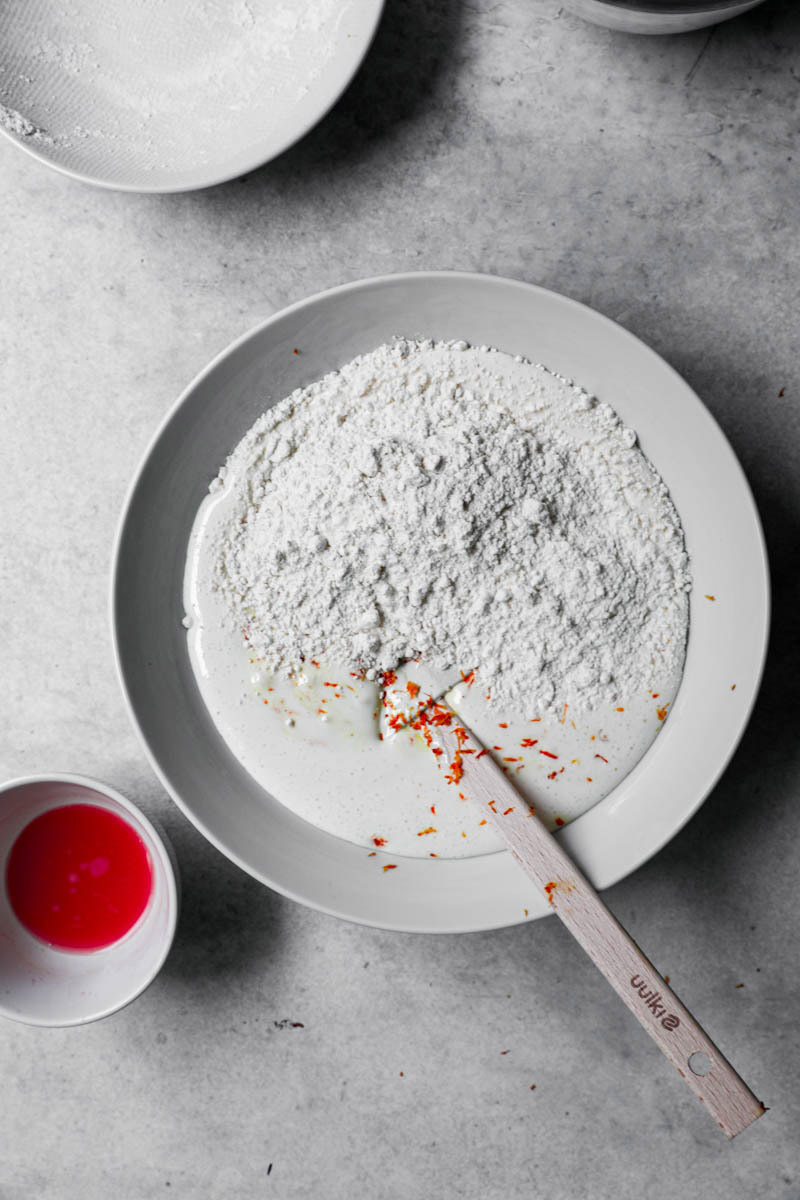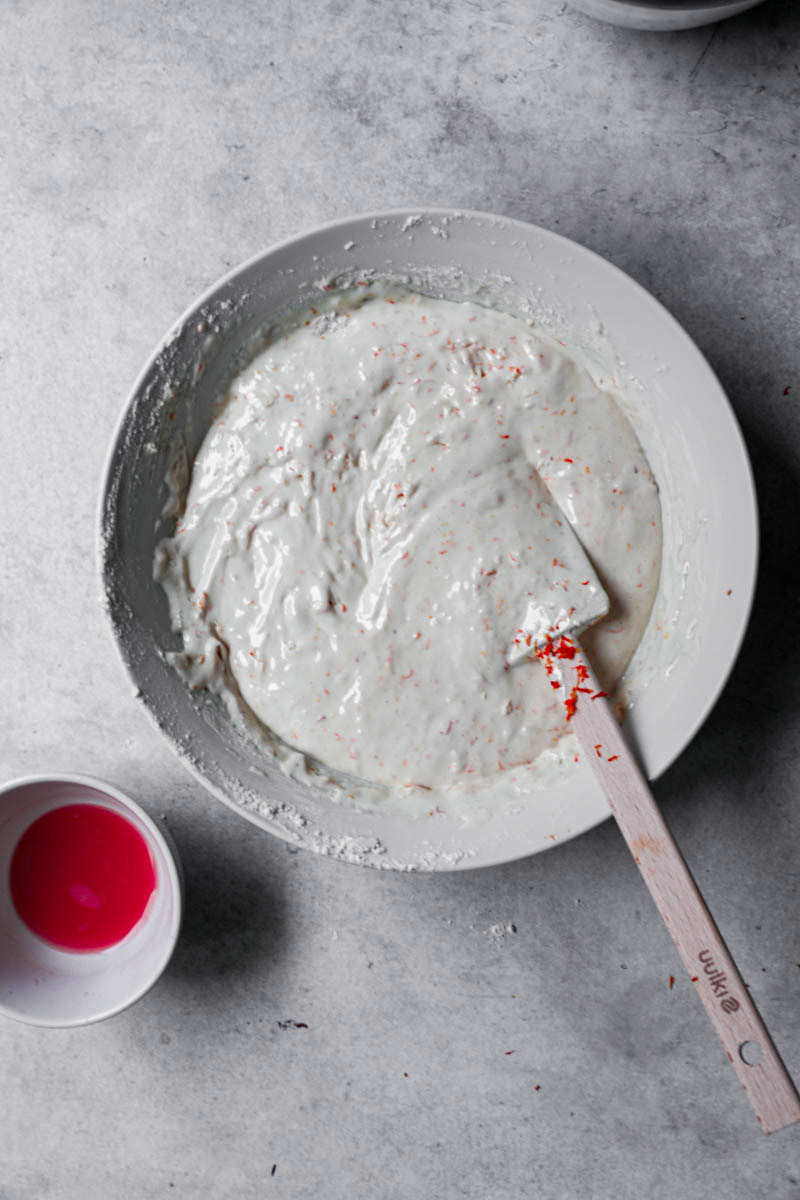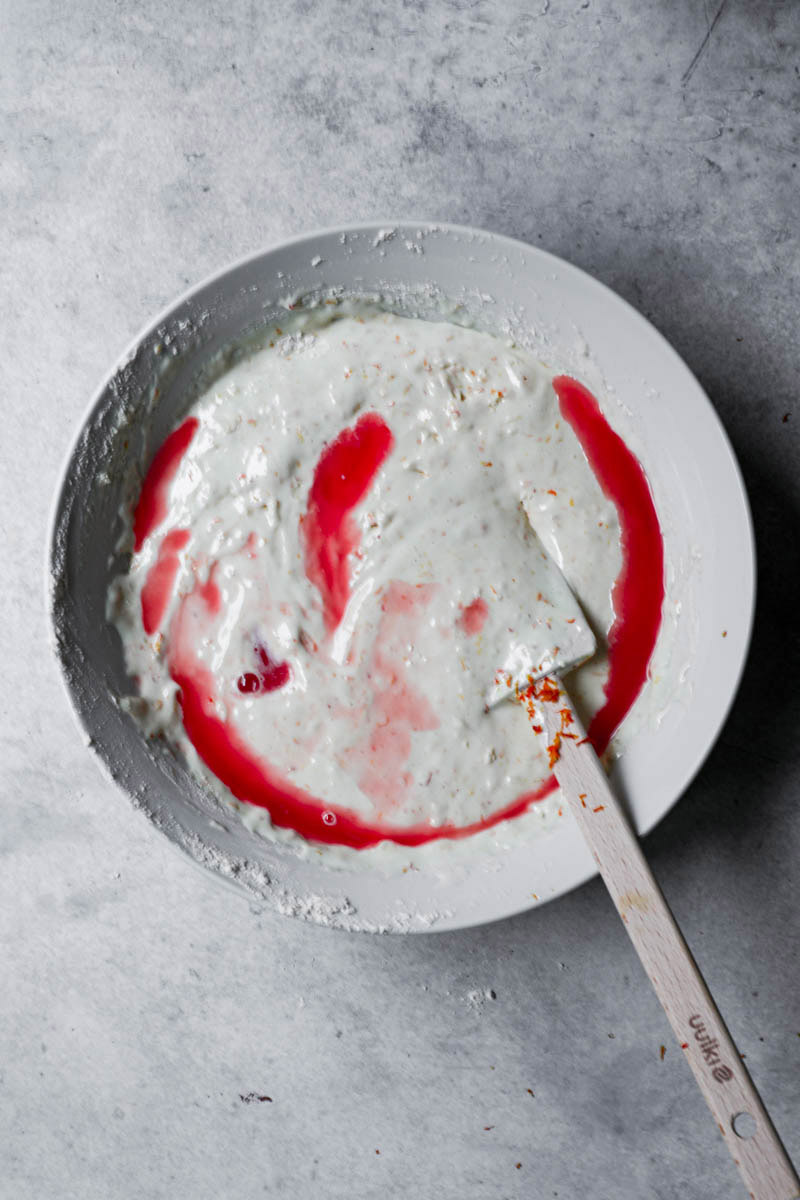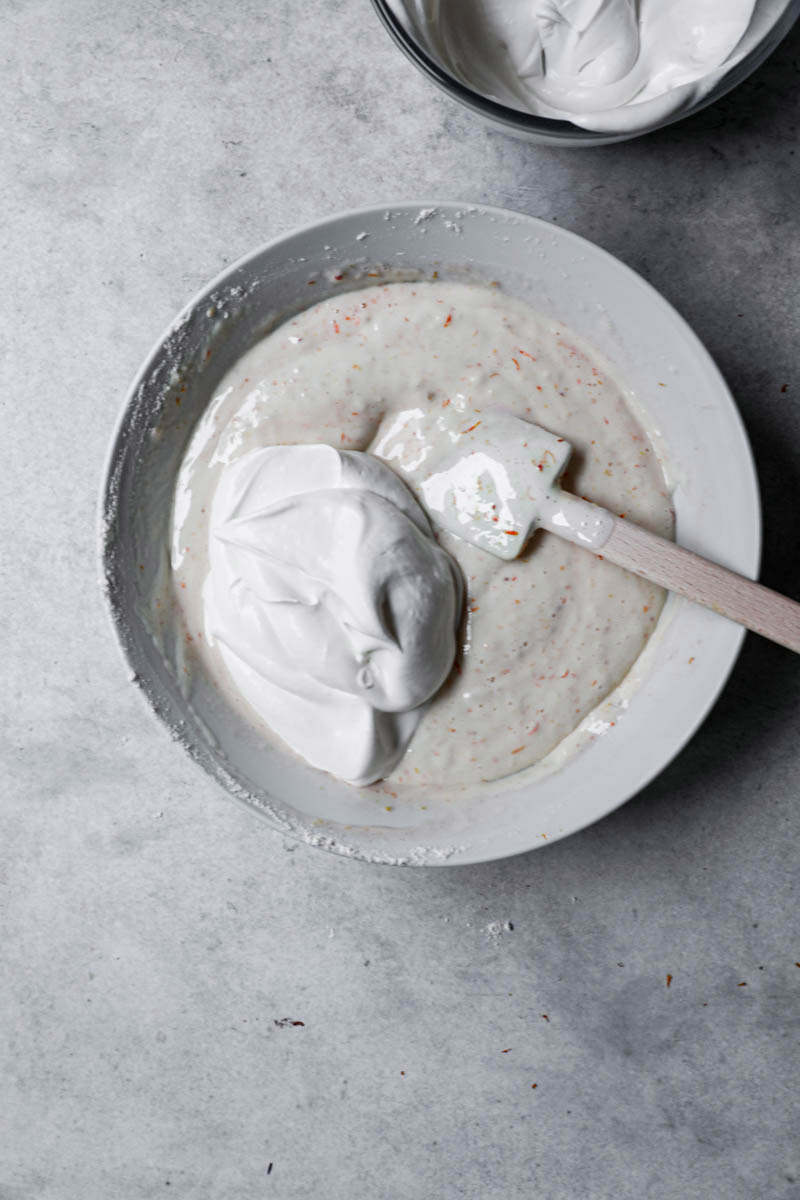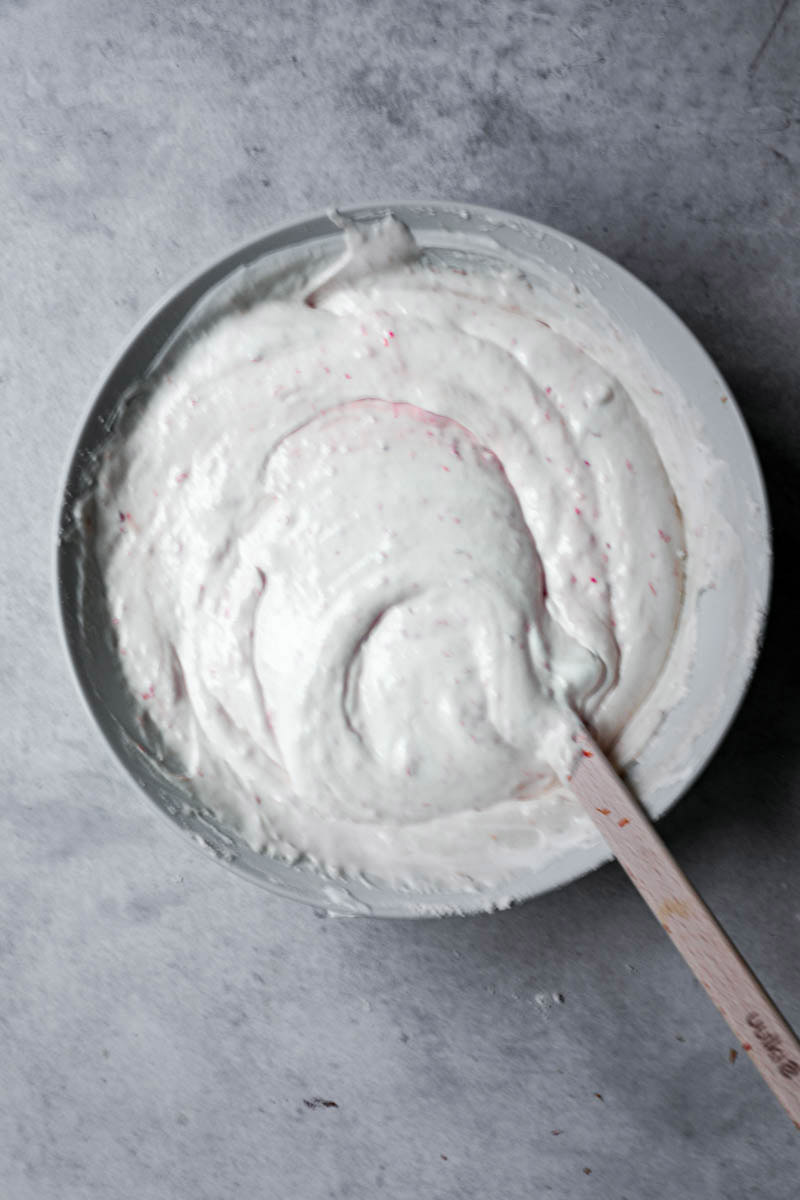 Be prepared: make ahead
You can make the cake one day ahead and refrigerate properly covered in the cake pan. Before baking, let it sit at room temperature for about 30/40 minutes.
Baking & unmoulding this blood orange cake
Estimate baking time: 35/40 minutes, until golden. I say estimate because baking time varies with each oven and place. If this the first time making it, be attentive, and write down how long it took with your oven. It will be the same after that.
To test if the cake is ready simply insert a skewer, cake tester (I love mine, and they cost nothing!) or knife at the centre. If it comes out clean, remove from oven. If there is a little crumb on there, bake for a few extra minutes.
Unmould the cake when it is still hot! Run a knife between the cake and the pan, and finally use the flaps of parchment paper to remove from the mould (flip the cake pan on to a wire rack until the cake falls off, if you simple buttered your loaf pan).
Let it cool down completely before glazing!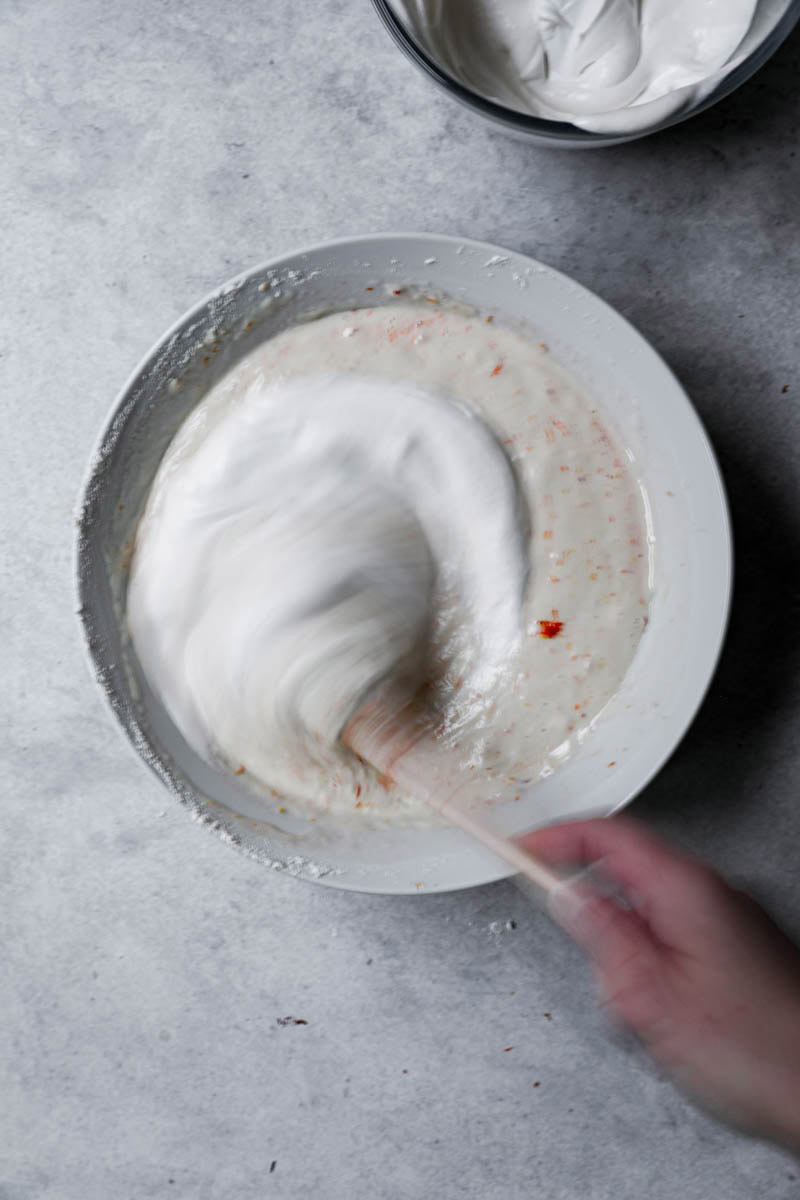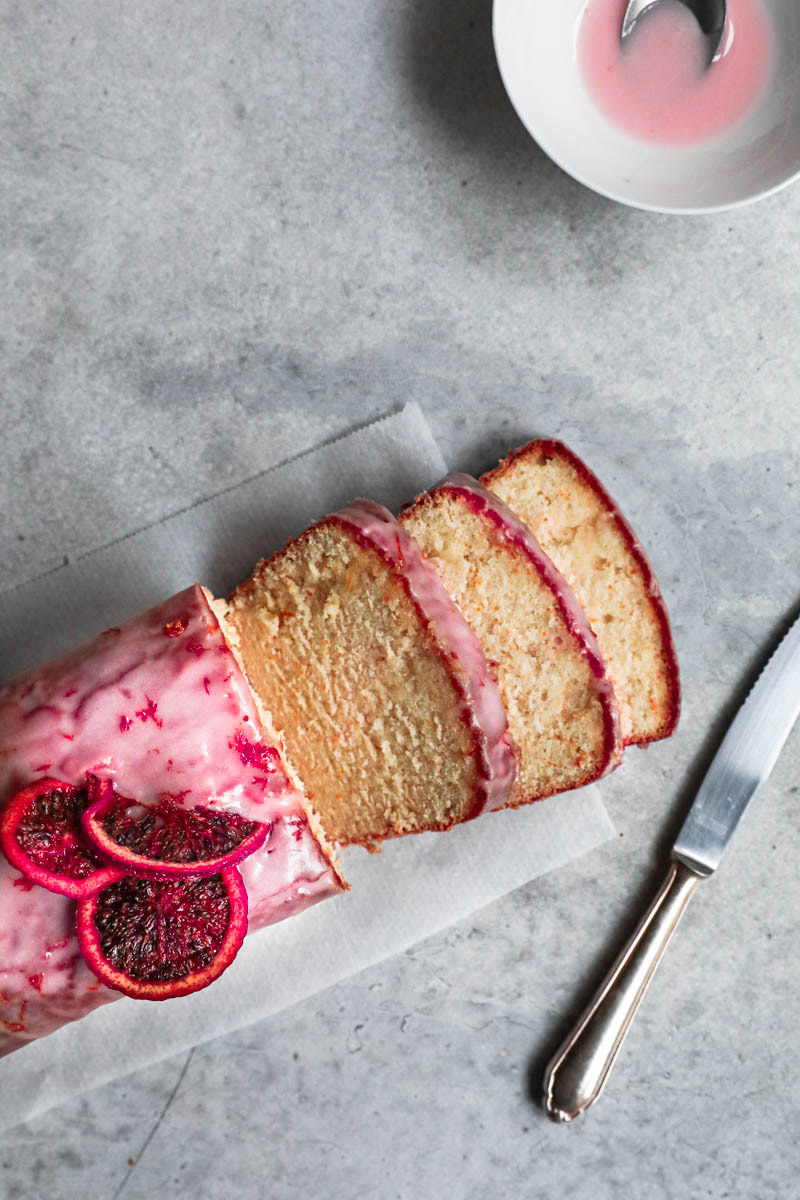 Blood Orange glaze
In my opinion glaze is a personal thing. Some people like it on the thicker side, others prefer it lighter. I am right in the middle.
To get the consistency you like: add the juice to the sugar slowly (not the other way around), mixing constantly until you are happy with the glaze.
Once you are, cover the blood orange pound cake with the glaze and let it set at room temperature before slicing it!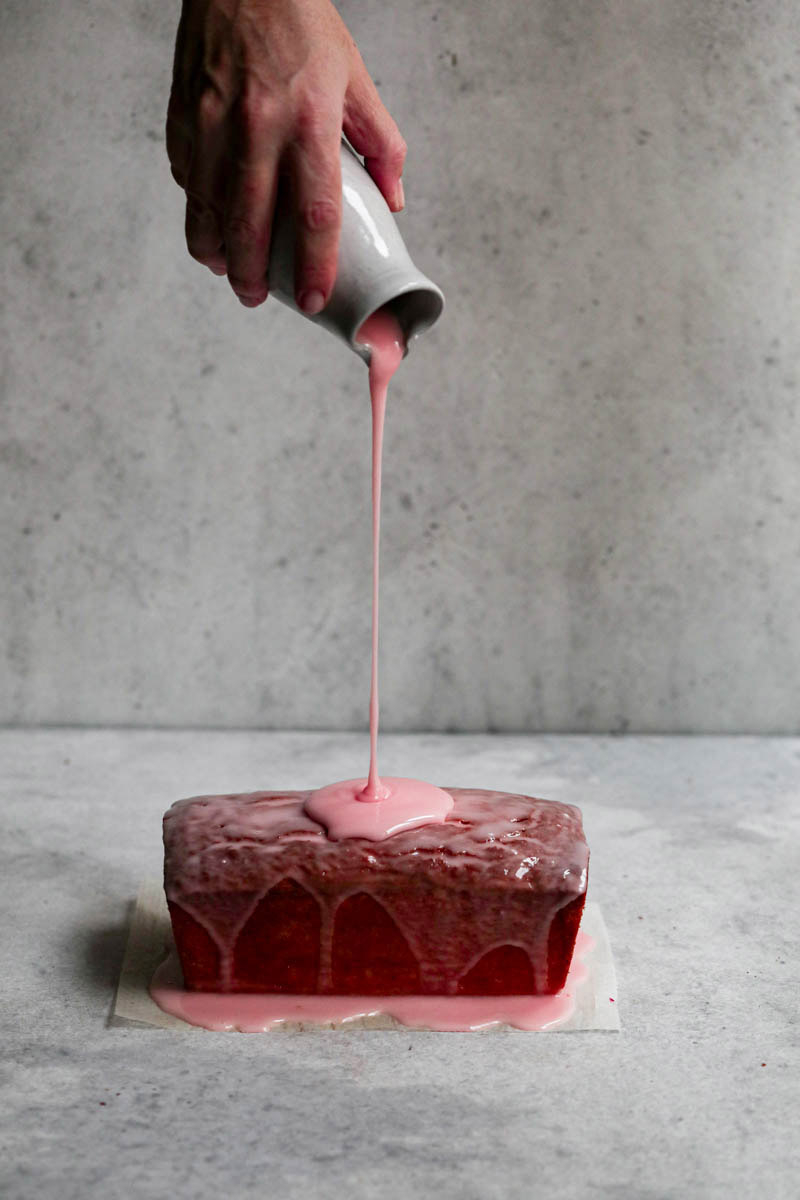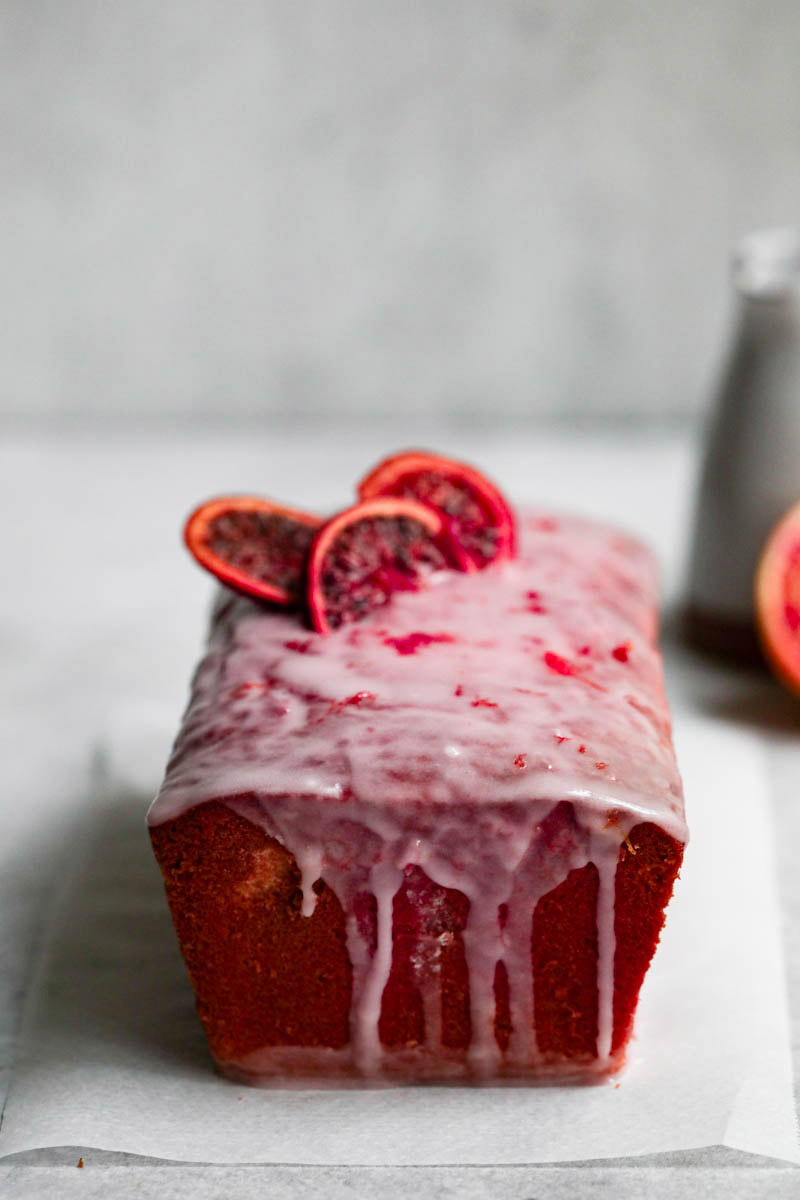 About freezing this cake
Blood Orange cake can be frozen before glazing. Just let it cool down completely, cover in plastic wrap 2 or 3 times and place in the freezer. It keeps for up to 3 months.
To defrost: let it sit at room temperature overnight. Glaze. Enjoy!
If you made this recipe I would really appreciate it if you leave a rating or comment below! Also, if you share on social media please use #cookwithbelula, I would love to see what you create!