Blood Orange Pound Loaf Cake
This blood orange pound cake is moist and fluffy, scented with blood orange zests and glazed made with freshly squeezed blood orange juice. An easy blood orange loaf cake.
This blood orange pound cake recipe is super easy to put together and it results in moist and fluffy loaf cake that is later topped with blood orange glaze. A very flavourful treat as is scented with both the peel and the juice from the blood orange. This blood orange loaf cake can be made into a Bundt cake too, and if you can't find blood oranges where you live, regular oranges work great as well. Finally, you can also glaze this cake with rich chocolate ganache instead of a light glaze as it pairs perfectly with oranges. Can't wait for you to try it!
Material & Ingredient Notes
A variety of orange that has almost a red flesh. To know more about them check What is a Blood Orange. Blood orange season goes from December to April. My favourite one is the Sicilian blood orange. Best orange juice I have ever had! If you can't find them, they can be replaced with regular oranges!
A regular loaf pound cake. Dimensions: 20 cm long x 7.5 cm high x 11 cm wide.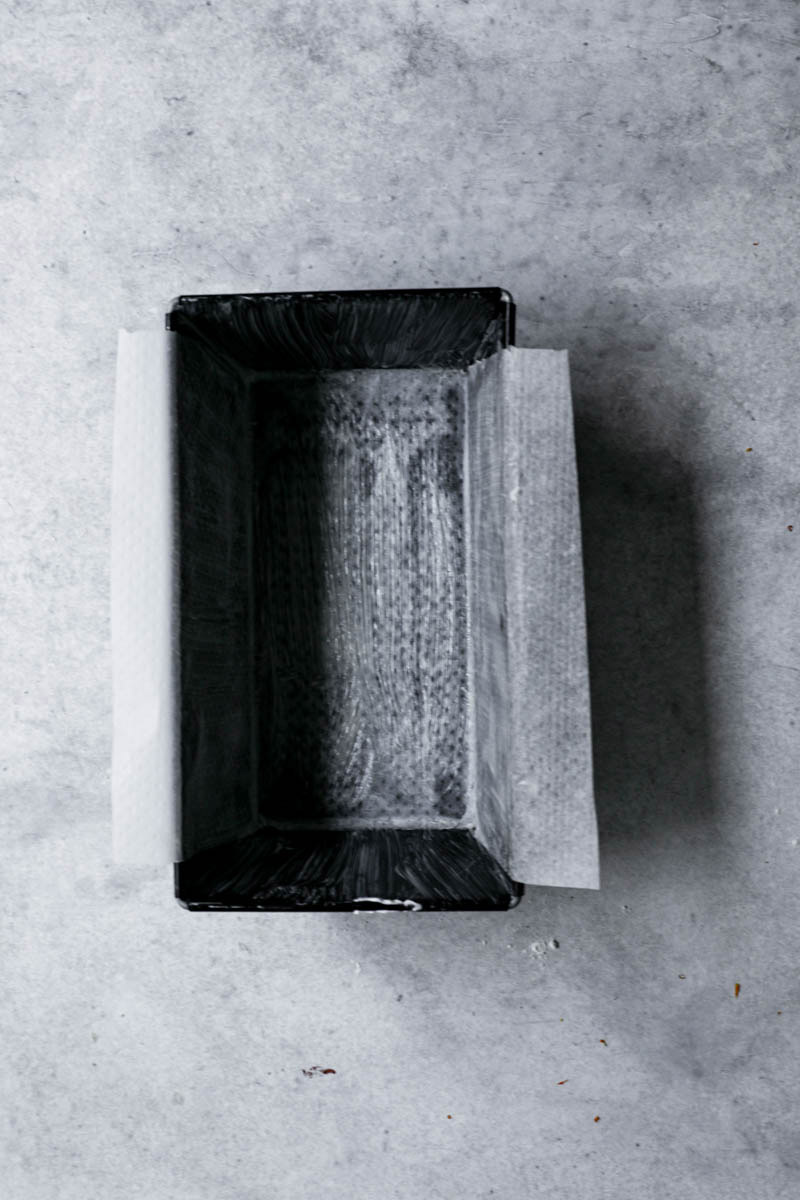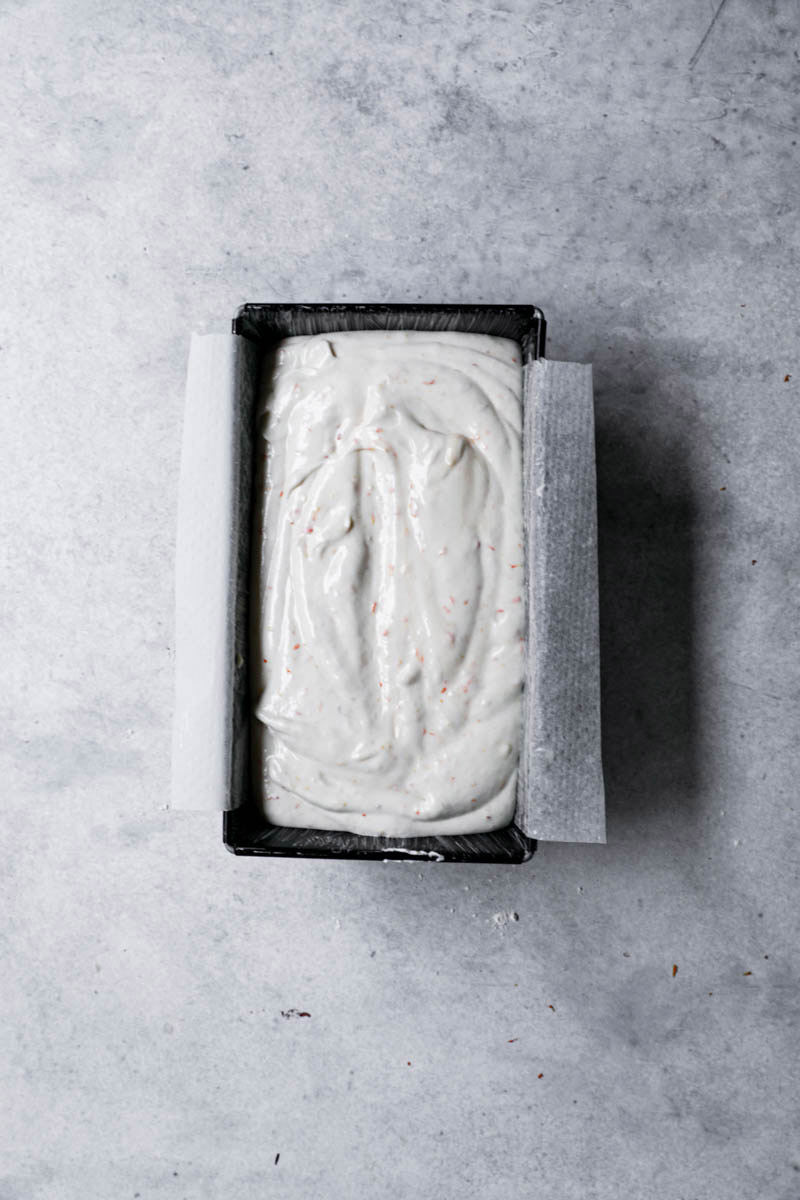 How to make this recipe
Grease and line the loaf pound cake pan
Make the blood orange pound cake batter
Prepare the blood orange syrup
Bake the blood orange loaf cake
Brush the cake the syrup while still hot
Glaze the blood orange cake once it has completely cooled off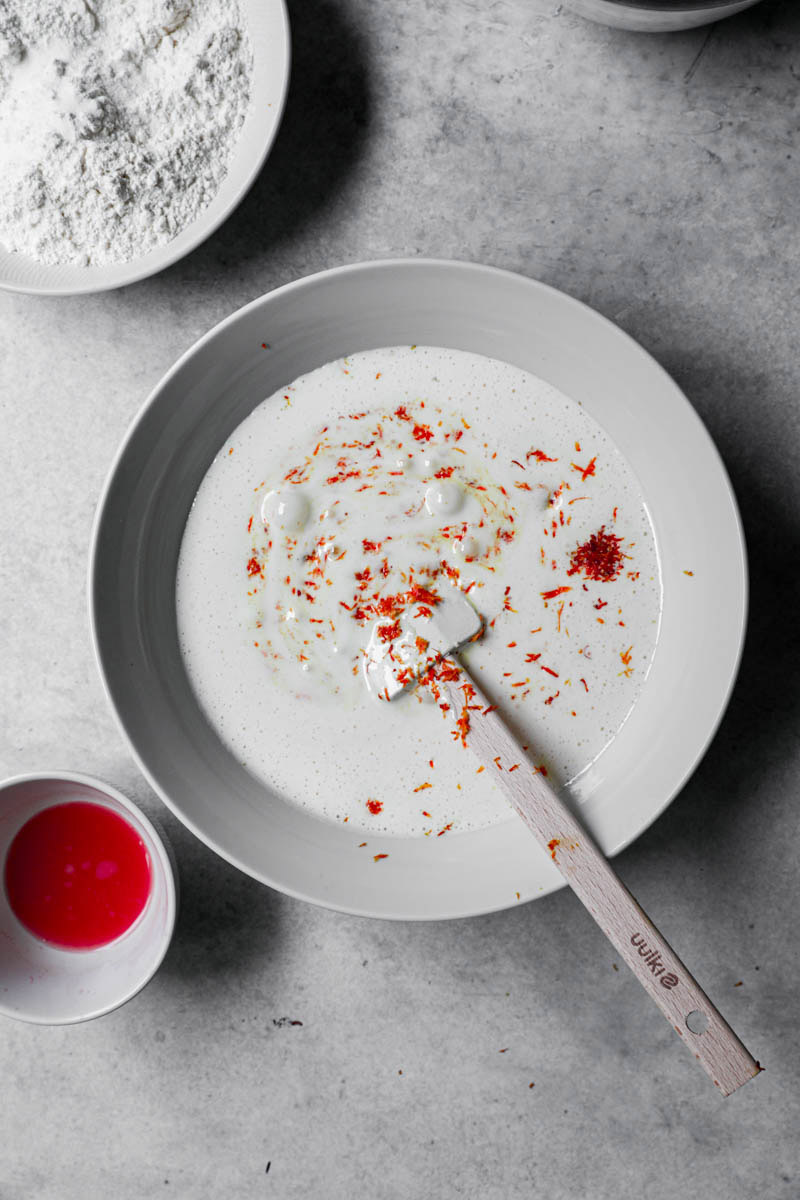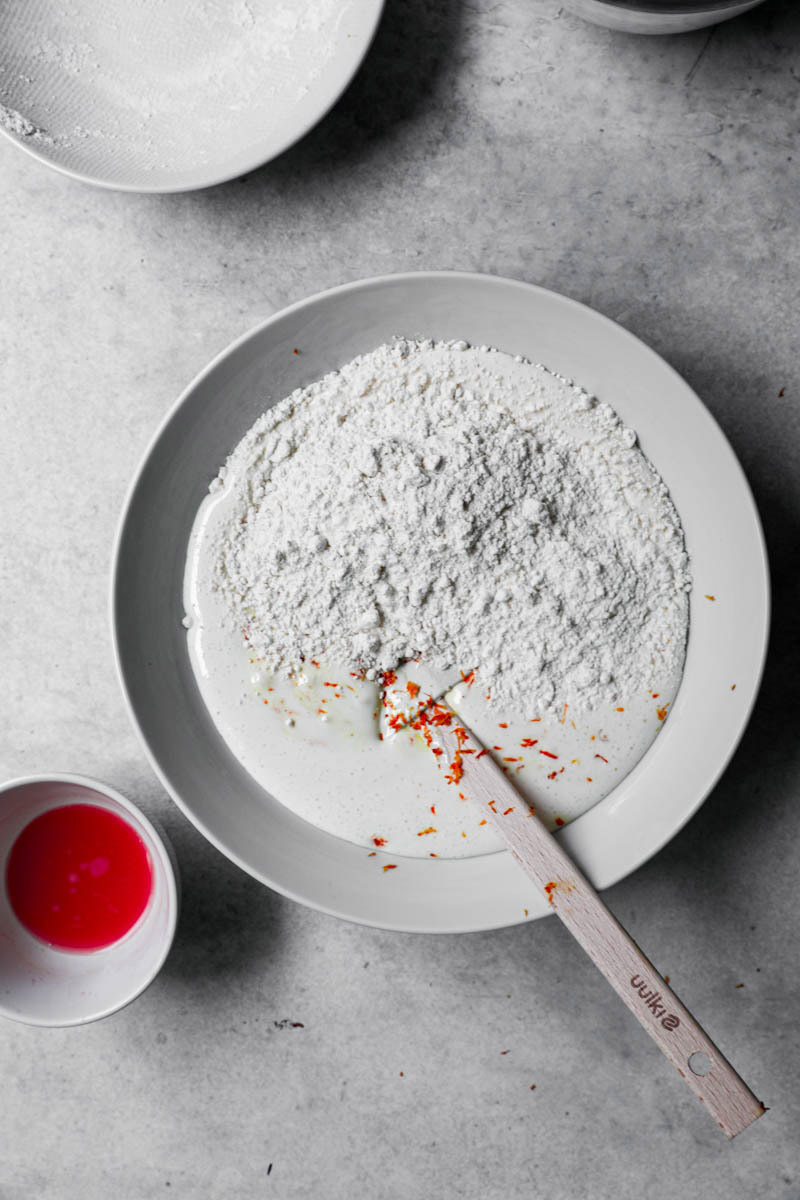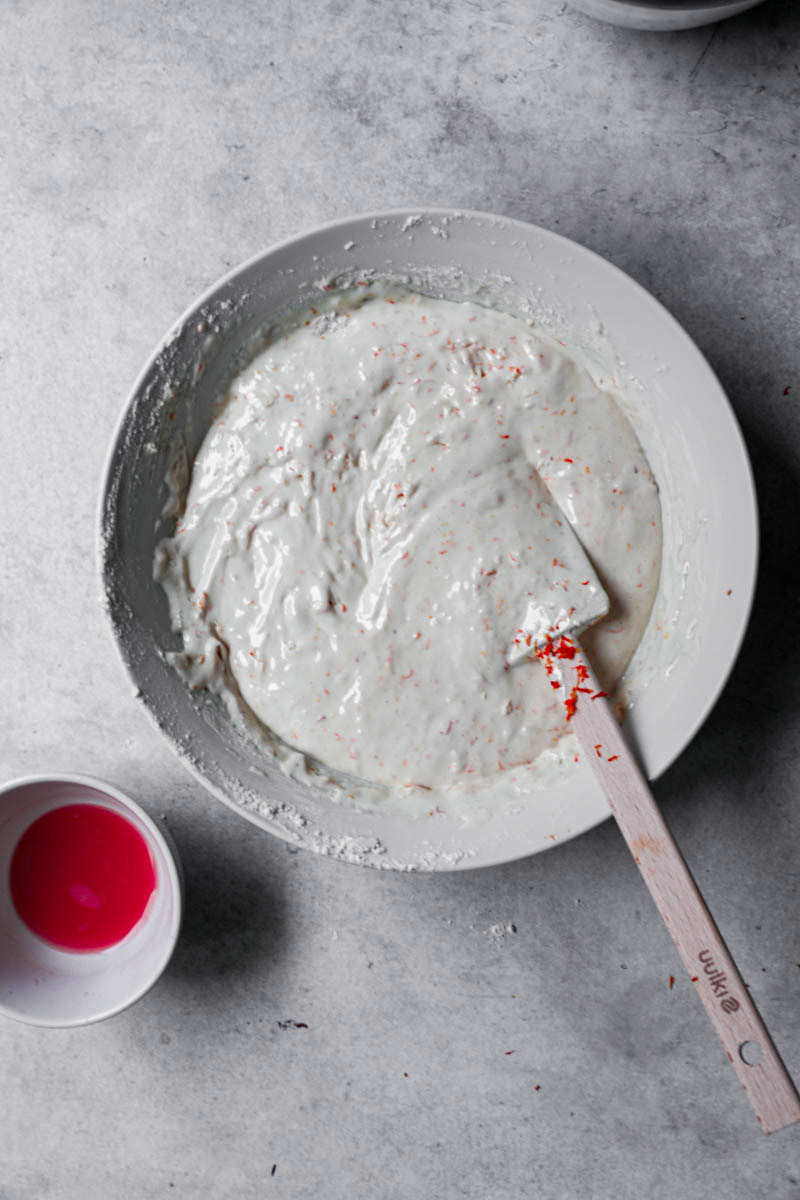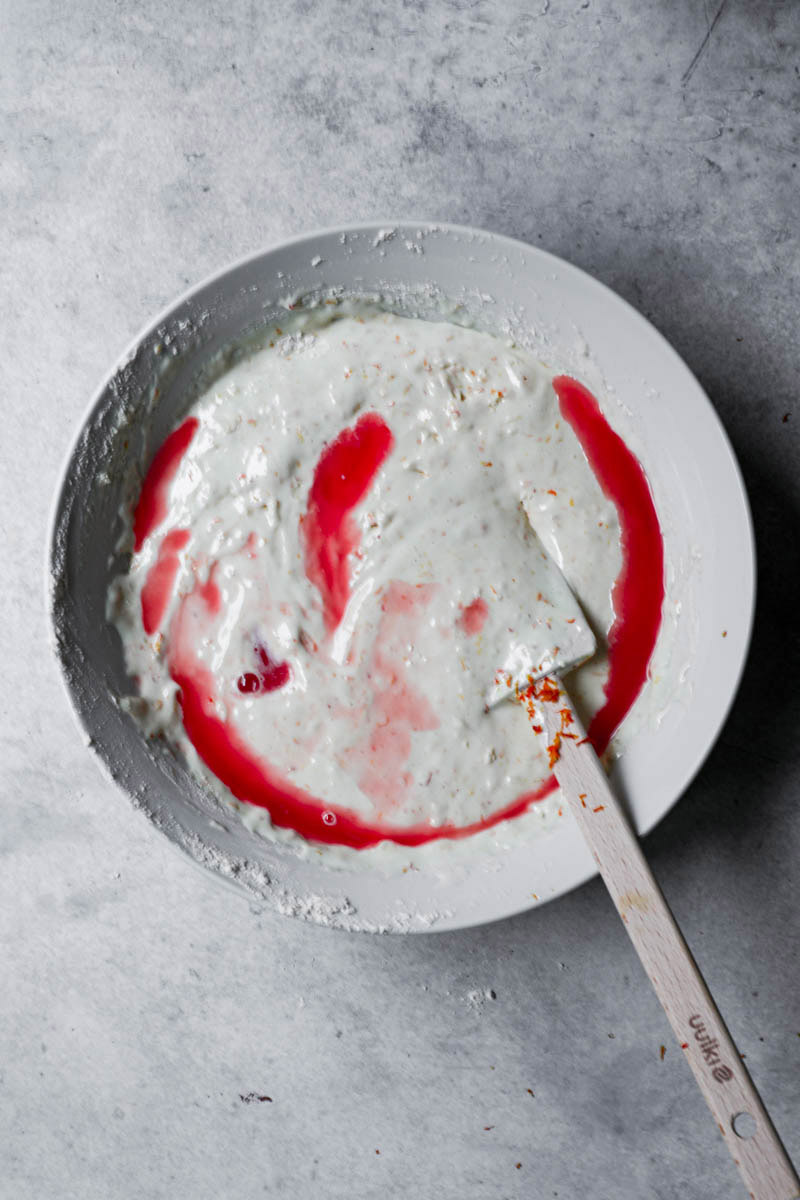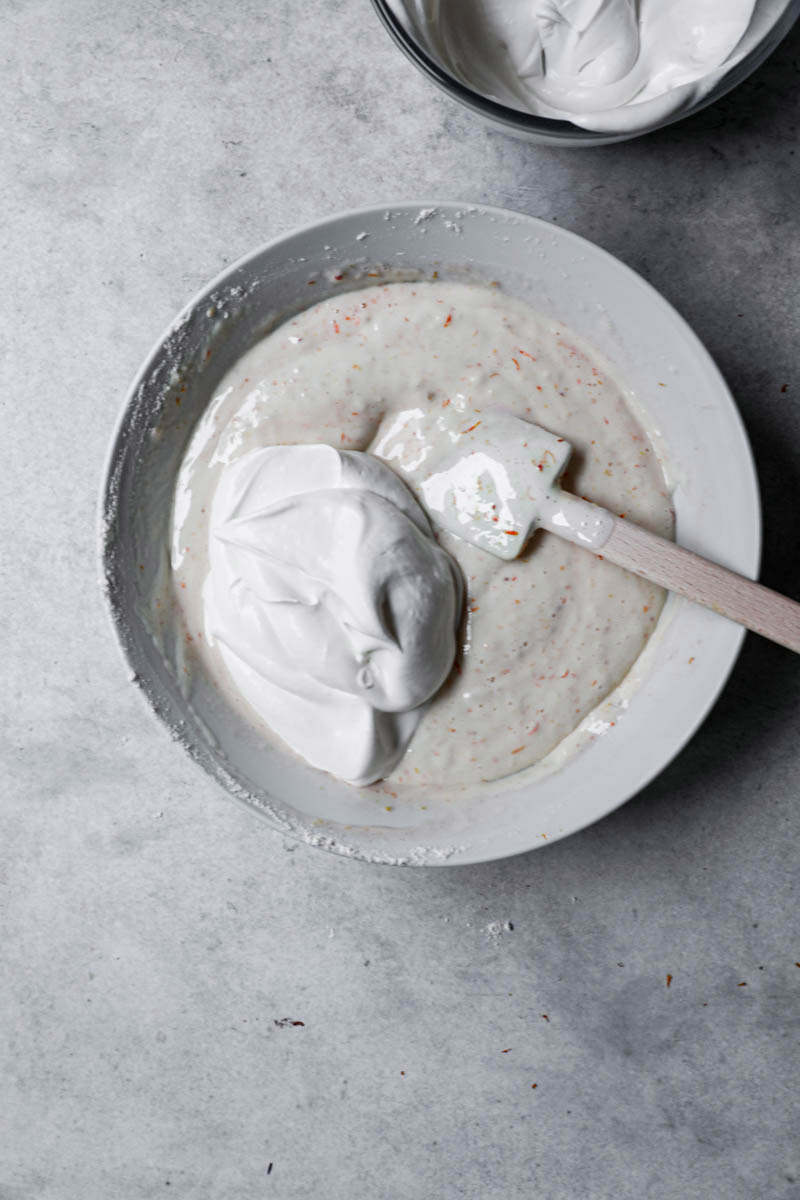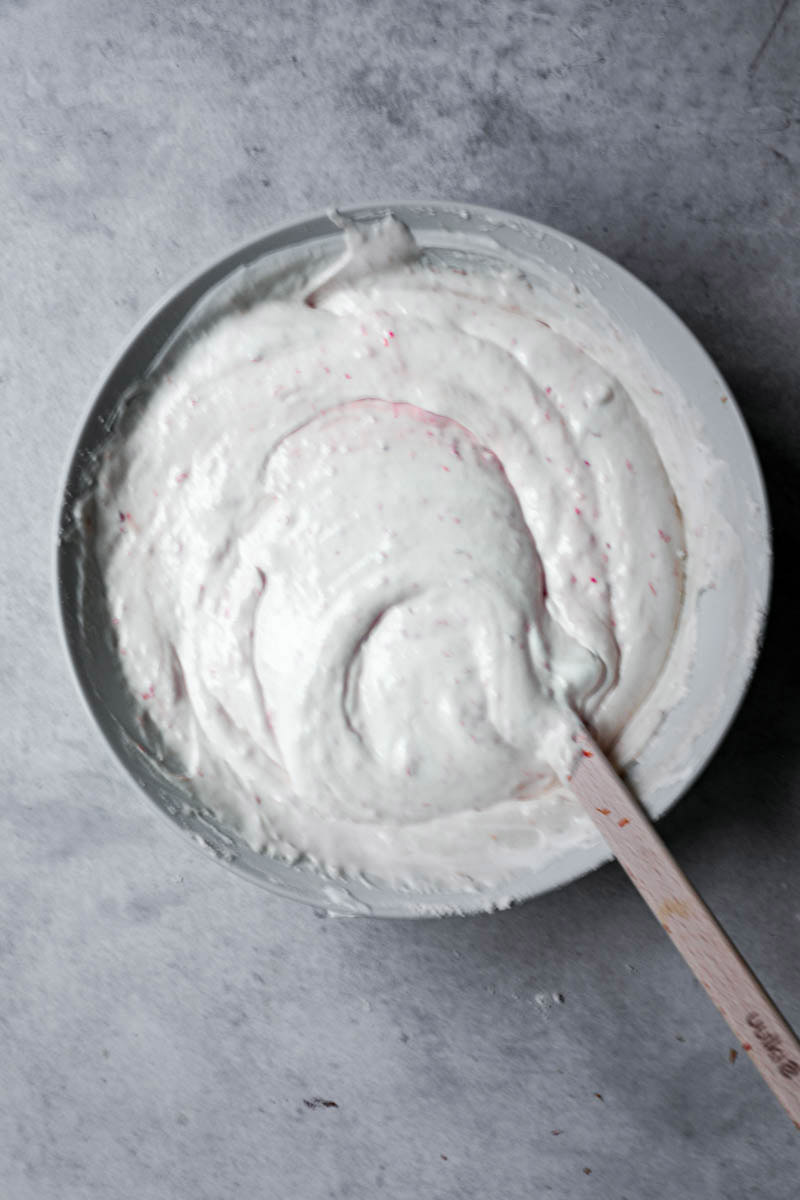 Recipe notes
Blanching the egg and the sugar will give all the sponginess to your cake. You need to whisk them about 10 minutes, until you can make a little drawing of batter using your whisk. This is called "ribbon stage".
Sift the flour so that there are no lumps in the blood orange loaf batter.
Spray the loaf pound cake pan and line with parchment paper. Then spray again. You can also butter and flour the cake pan, the classic way! Make sure to use softened butter.
Estimate baking time: 35/40 minutes, until golden. I say estimate because baking time varies with each oven and place. If this the first time making it, be attentive, and write down how long it took with your oven. It will be the same after that.
To test if the cake is ready simply insert a skewer, cake tester (I love mine, and they cost nothing!) or knife at the centre. If it comes out clean, remove from oven. If there is a little crumb on there, bake for a few extra minutes.
Unmould the cake when it is still hot! Run a knife between the cake and the pan, and finally use the flaps of parchment paper to remove from the mould (flip the cake pan on to a wire rack until the cake falls off, if you simple buttered your loaf pan).
Pinch the cake with a skewer all over the surface to make sure it absorbs all the syrup and remains moist!
Let the blood orange pound cake cool down completely before glazing!
In my opinion glaze is a personal thing. Some people like it on the thicker side, others prefer it lighter. I'm right in the middle. To get the consistency you like: Add the juice to the sugar slowly (not the other way around), mixing constantly until you are happy with the glaze.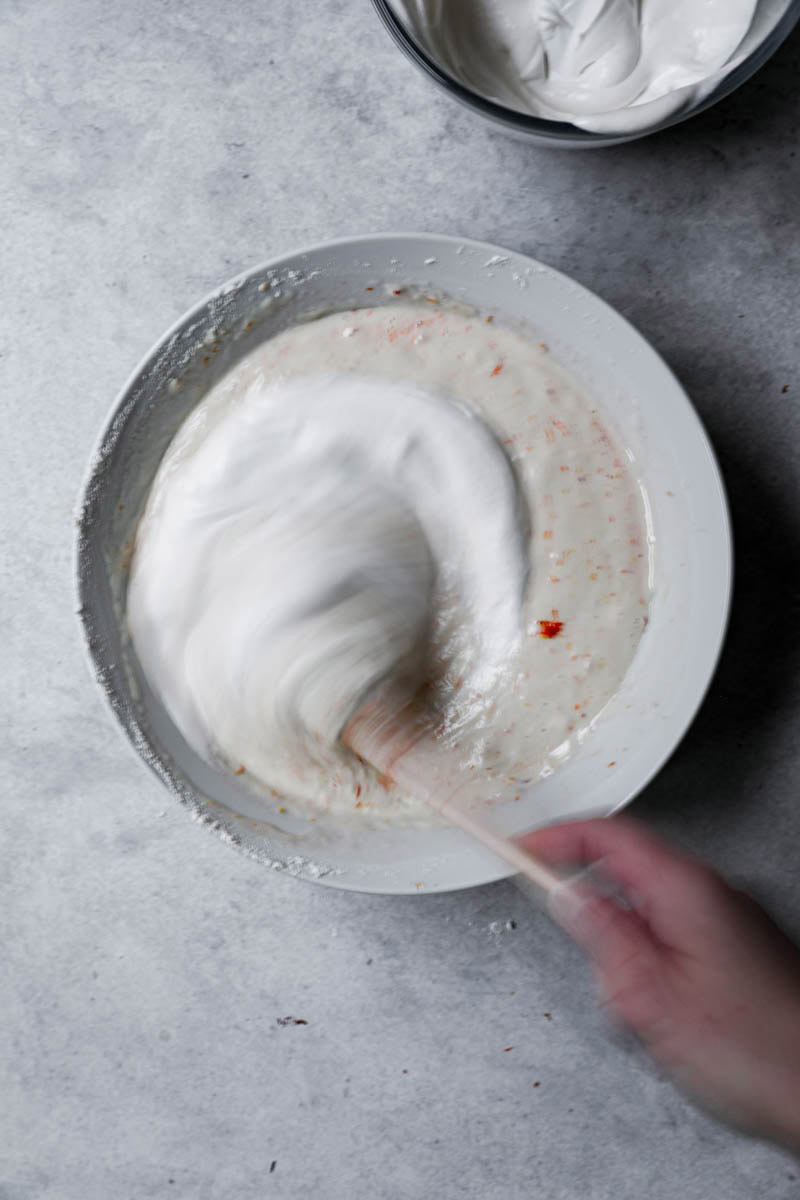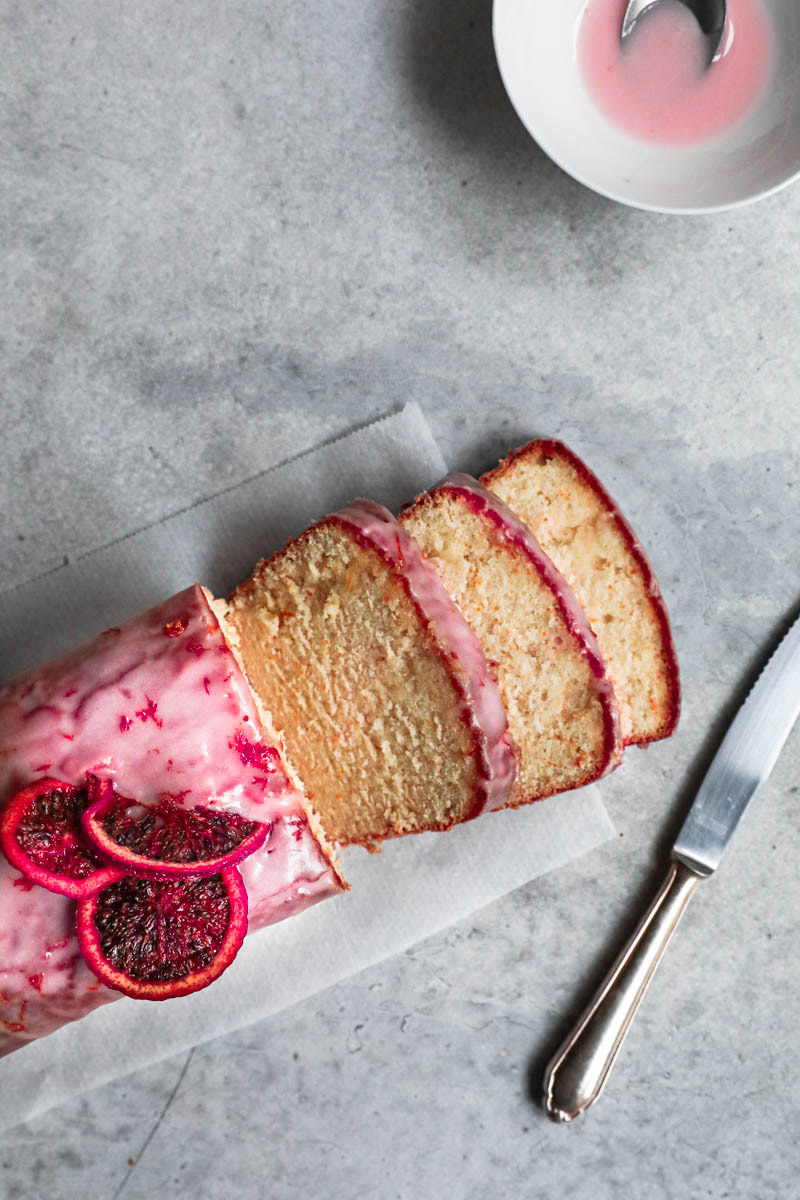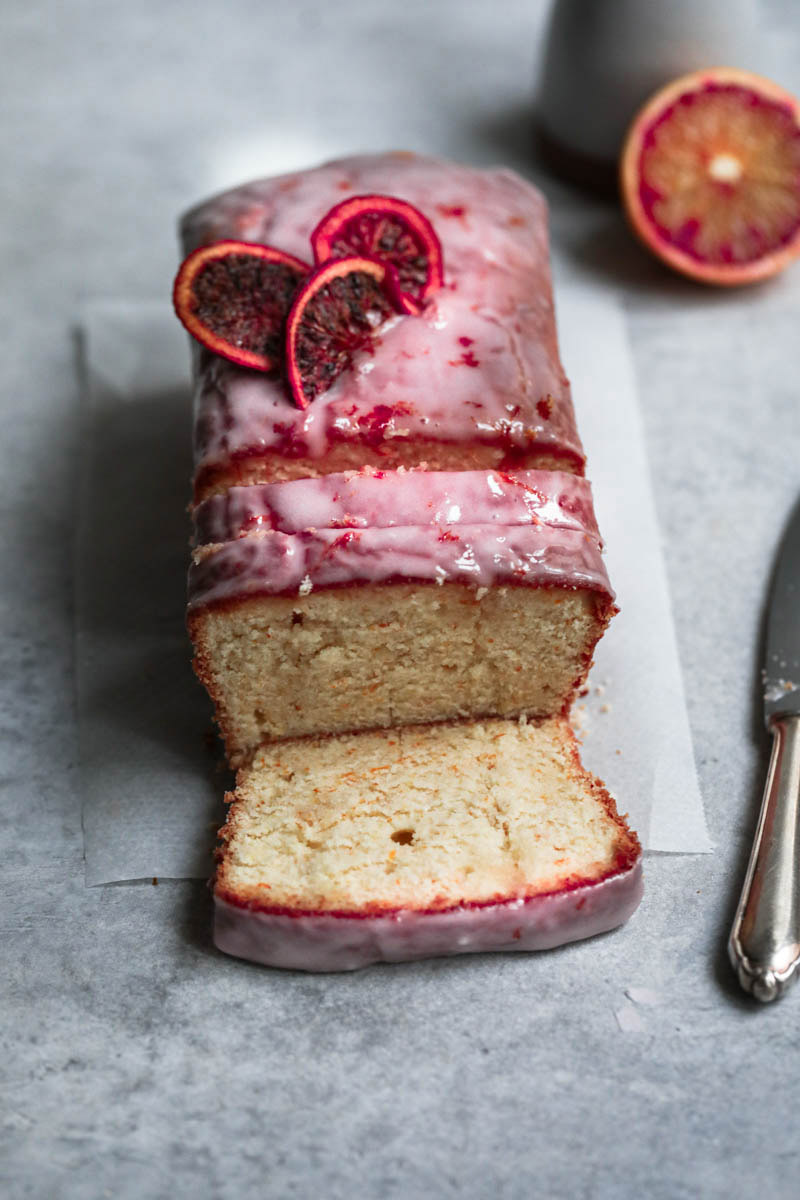 Be prepared: make ahead
You can make the cake one day ahead and refrigerate properly covered with saran wrap in the cake pan. Before baking, let it sit at room temperature for about 30/40 minutes.
Storage tips
Keep the blood orange pound cake at room temperature. Once it has been sliced cover the open edge with saran wrap to prevent it dries out.
It keeps for up to 4 days.
Freezer instructions
Blood Orange cake can be frozen before glazing. Just let it cool down completely, cover in plastic wrap 2 or 3 times and place in the freezer. It keeps for up to 3 months.
To defrost: let it sit at room temperature overnight. Glaze. Enjoy!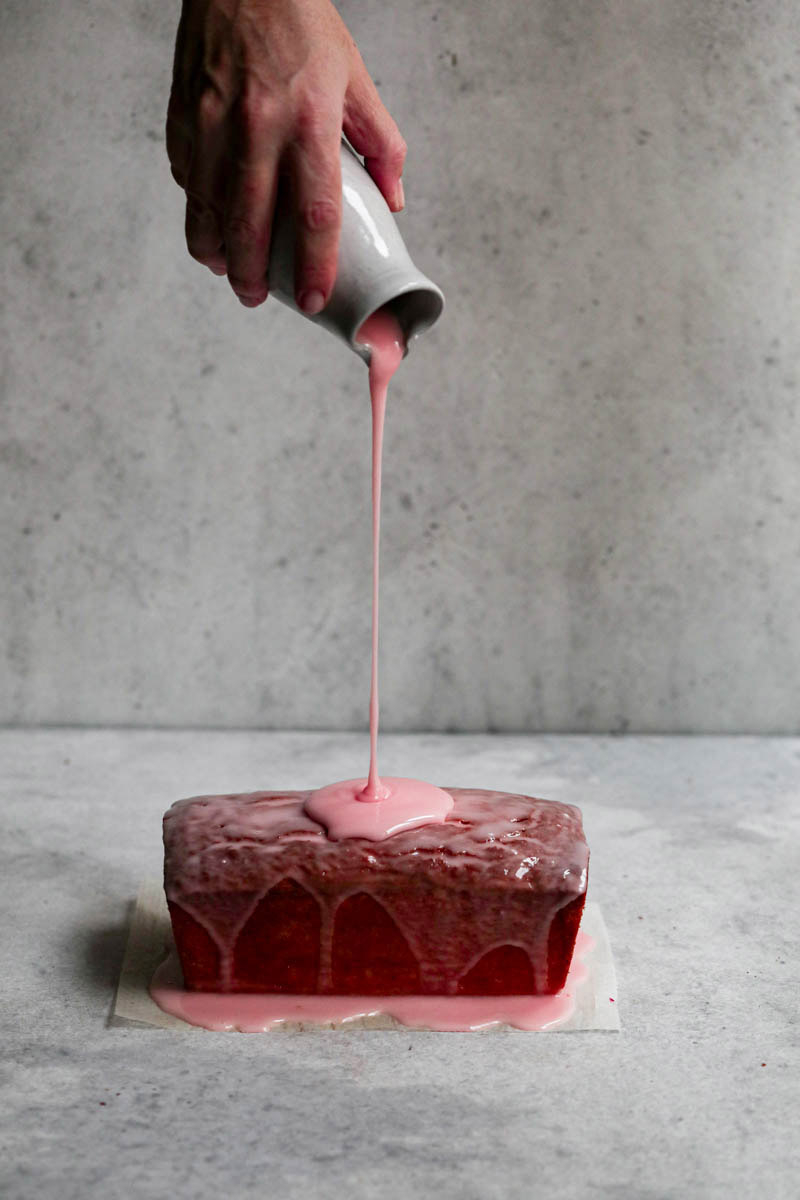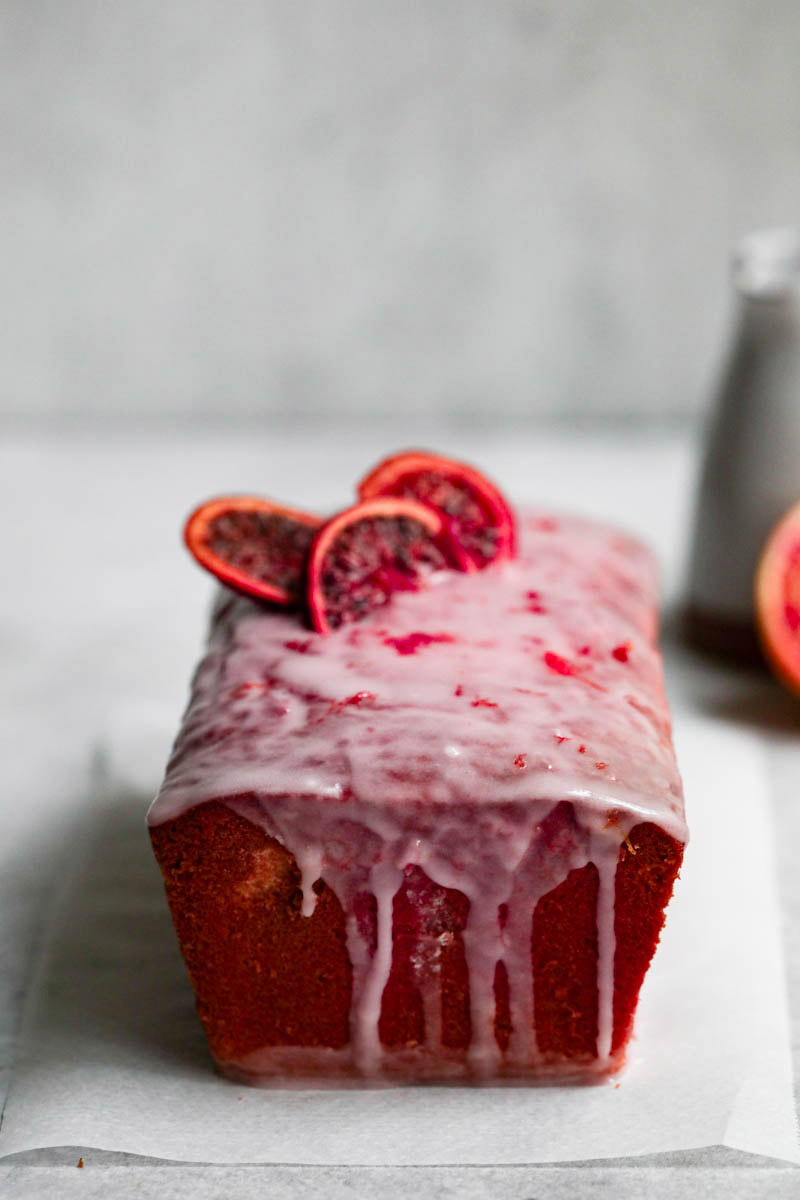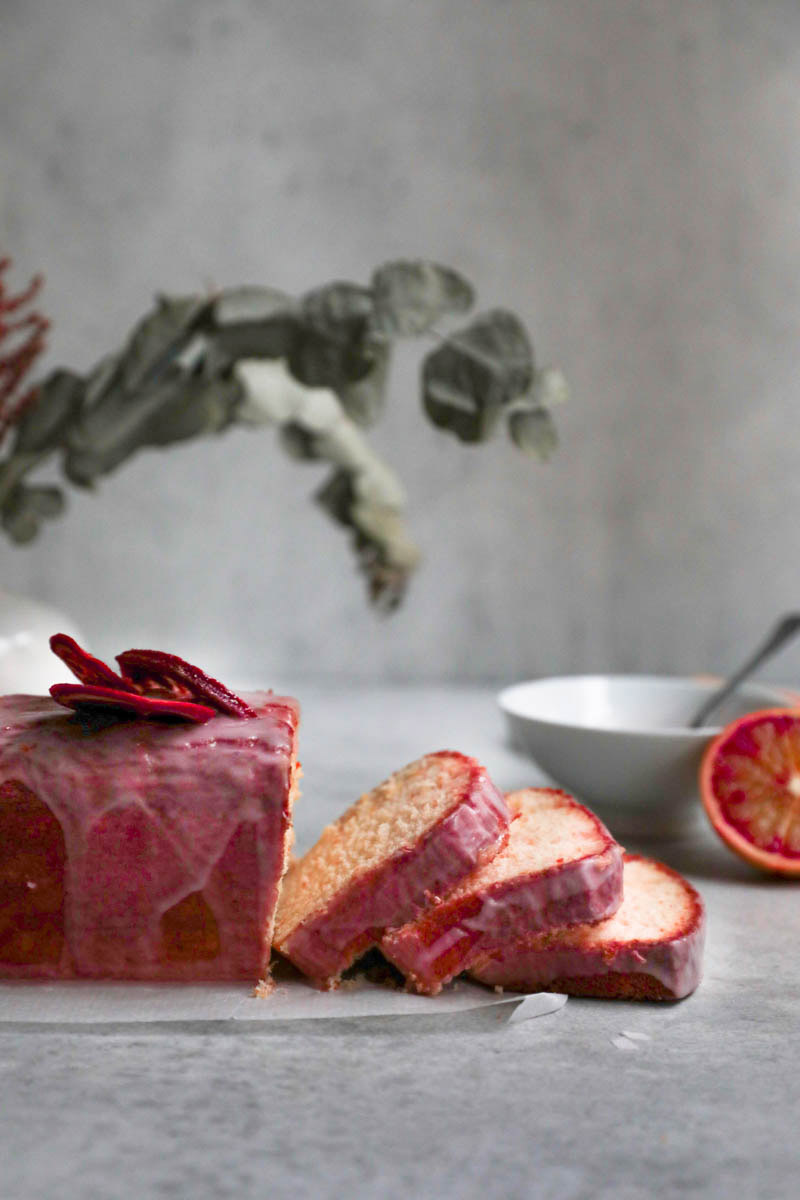 Variations to this recipe
You can use any other citrus like lemon, mandarin, grapefruit, and regular orange. They will all work super well with this cake.
I already have a killer lemon cake recipe on the site though!
You can replace the blood orange glaze with chocolate ganache to make it extra delicious!
The ingredients used in all recipes on this site are measured using the metric system. I use a
scale
to be precise with my measurements and ensure good results. If you would also like to use a scale, here are some:
USA
,
Canada
,
UK
,
Australia
,
France
.
Subscribe to the newsletter
Cake
Sugar

200 g

Eggs

3

All-purpose Flour

200 g

Salt

5 g

Cream

210 g

Blood Orange Zest (zest of 3 oranges)

3

Blood Orange Juice

50 ml
Blood Orange Syrup
Water

40 ml

Blood Orange Juice

40 ml

Sugar

80 g
Glaze
Blood Orange Juice

75 ml

Powdered Sugar

250 g
If you made this recipe I would really appreciate it if you leave a rating or comment below! Also, if you share on social media please use #cookwithbelula, I would love to see what you create!