I started making my own empanadas when I moved to Paris. To be honest, back home, I always had them delivered, it was a Sunday night ritual at our house growing up: empanadas, pizza and ice cream. We Argentineans do love a good, flakey and juicy beef empanada! There is probably as many beef empanada recipes out there as there are people who like making them. And to top things off, in Argentina, there also is a different type of empanada in almost every province of the country. The variety is infinite. This is mine, which is a simple and easy beef empanada recipe. It's a favorite at our house! Hope you like it 😊.
What are beef empanadas?
Beef empanadas are hand pies, made with a flakey and buttery dough filled with ground beef, scallions, onion and ground chili. They are delicious!
Where do beef empanadas originate?
Empanadas originate in the Arab world. It was the moors that brought them over to Spain during their invasion that started in the 711 AD. The Spanish adopted them, and then exported them to Latin America when it was their turn to invade and conquer. Almost every country in Latin America has their own version of beef empanada, or any other kind of empanada. My version is Argentinean; we take beef empanadas very seriously 😊.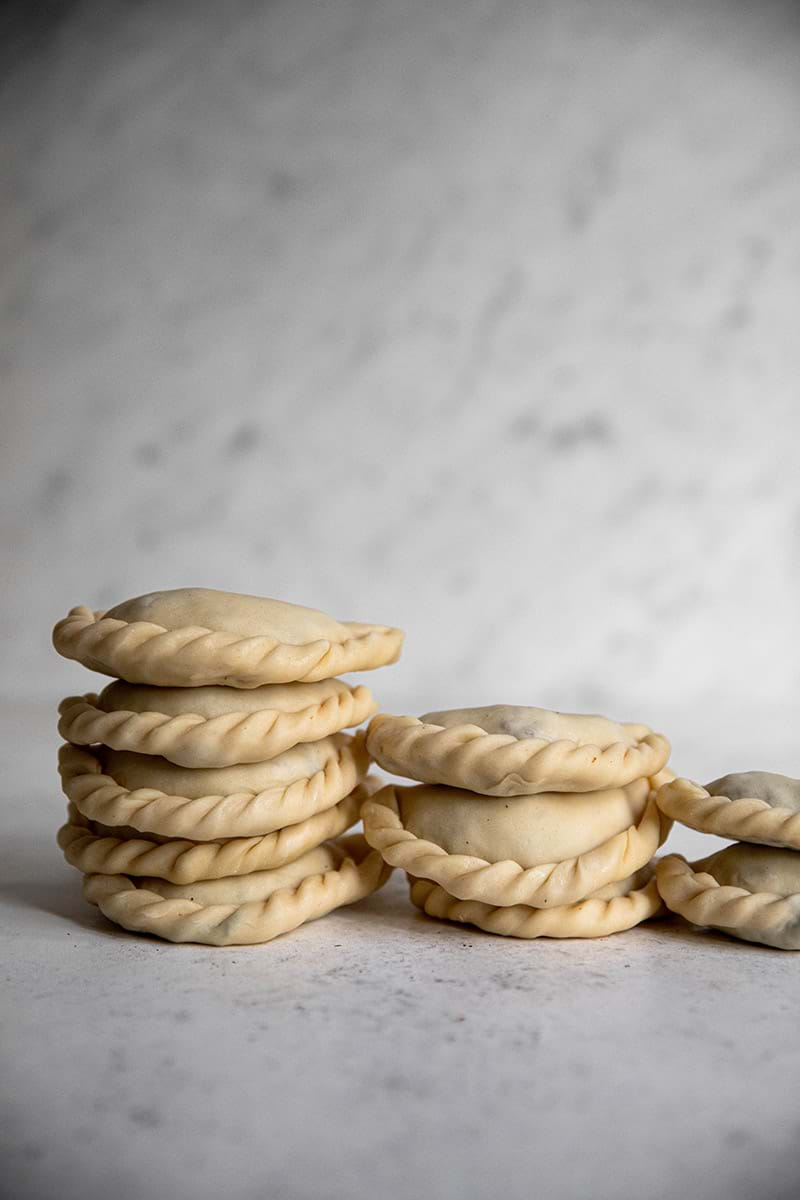 What you will need to make beef empanadas:
24 disks of dough for turnover/empanada. If you feel like making your own, you can check this recipe out Spinach & Mozzarella Empanadas.
Ground beef
Onion
Scallions
Ground chili
Salt & pepper
Butter and olive oil
How to make the dough for beef empanadas?
It's simple. It just takes a little patience, because you need to keep chilling the dough to be able to roll it out nicely and keep the round shape you need to make these beef turnovers.
I have been making my own dough ever since I moved to Paris. Once you get the hang of it, you will not want to go back! If you want to give it a try, I explain in full detail how to make it here Spinach & Mozzarella Empanadas.
How to make the filling for beef empanada?
When making beef turnovers ending up with juicy and delicious filling in my experience has always been the hardest part. After years of perfecting the recipe, and after many times of ending up with dry beef hand pies here is how I make juicy beef empanadas:
Cook the onions in butter over low heat, real slow, letting the soak in all that fat. Remember to salt them. Once they are cooked through, add in the white part of the scallions thinly sliced and cook for about 5 minutes. Add more butter.
Add the chili flakes and cook over high heat for about a minute. Remove from heat and add in the green part of the scallions thinly slices and give it a good stir.
Note: the mixture should be buttery. This will assure a juicy empanada.
Season your meat and cook the ground beef in a pan over high heat and some olive oil. Do this in small batches. Transfer the cooked ground beef to the vegetable mixture. Repeat until all the ground beef is cooked.
Do not cook all at the same time, or you will end up boiling the meat because the temperature of the oil will go down fast if a big quantity of cold meat is added at the same time.
Mix the beef and the onion/scallion mixture and taste. Adjust seasoning to taste. If you like them on the spicy side, ad some more ground chili.
Transfer to a hermetic container and refrigerate until cold. I like to refrigerate overnight. The filling keeps for up to 3 days in the refrigerator.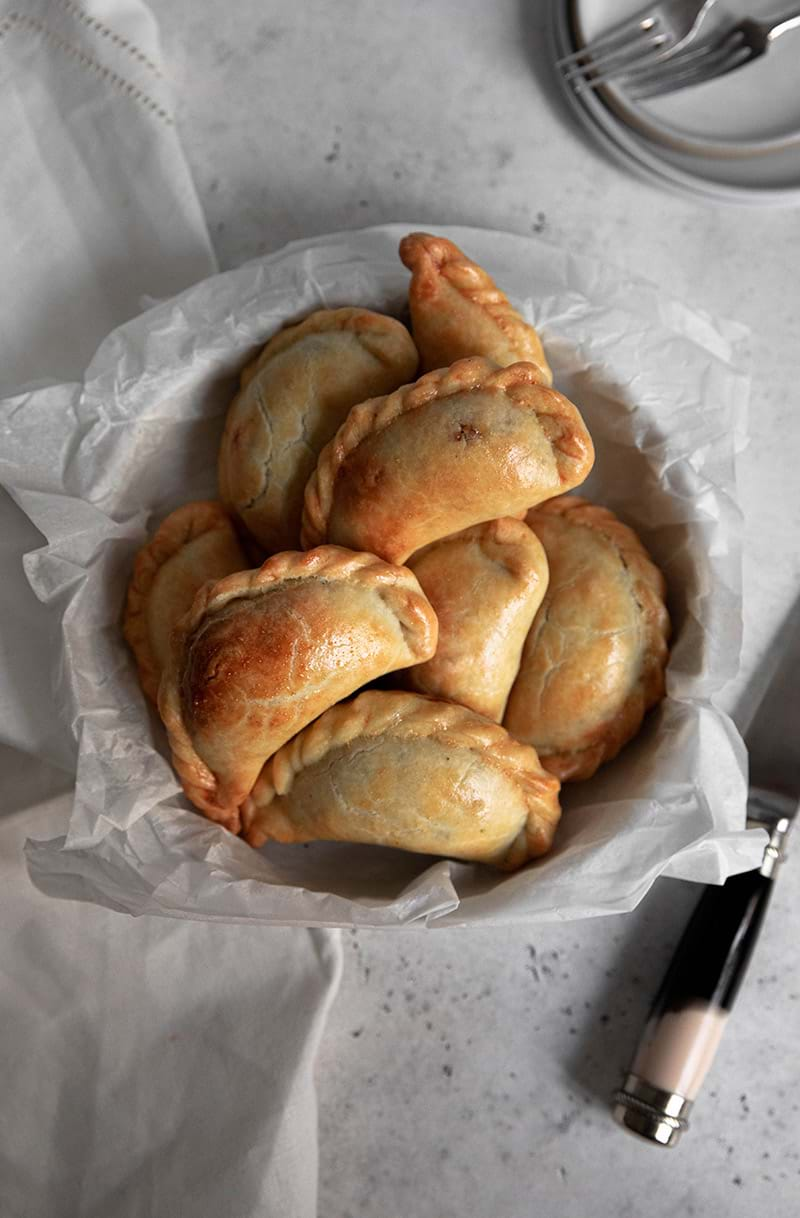 How to assemble beef empanadas?
Make sure both dough and filling are properly chilled.
Dispose the dough disks on your countertop and add a generous spoon of the filling at the center of each one. Add a dash of butter.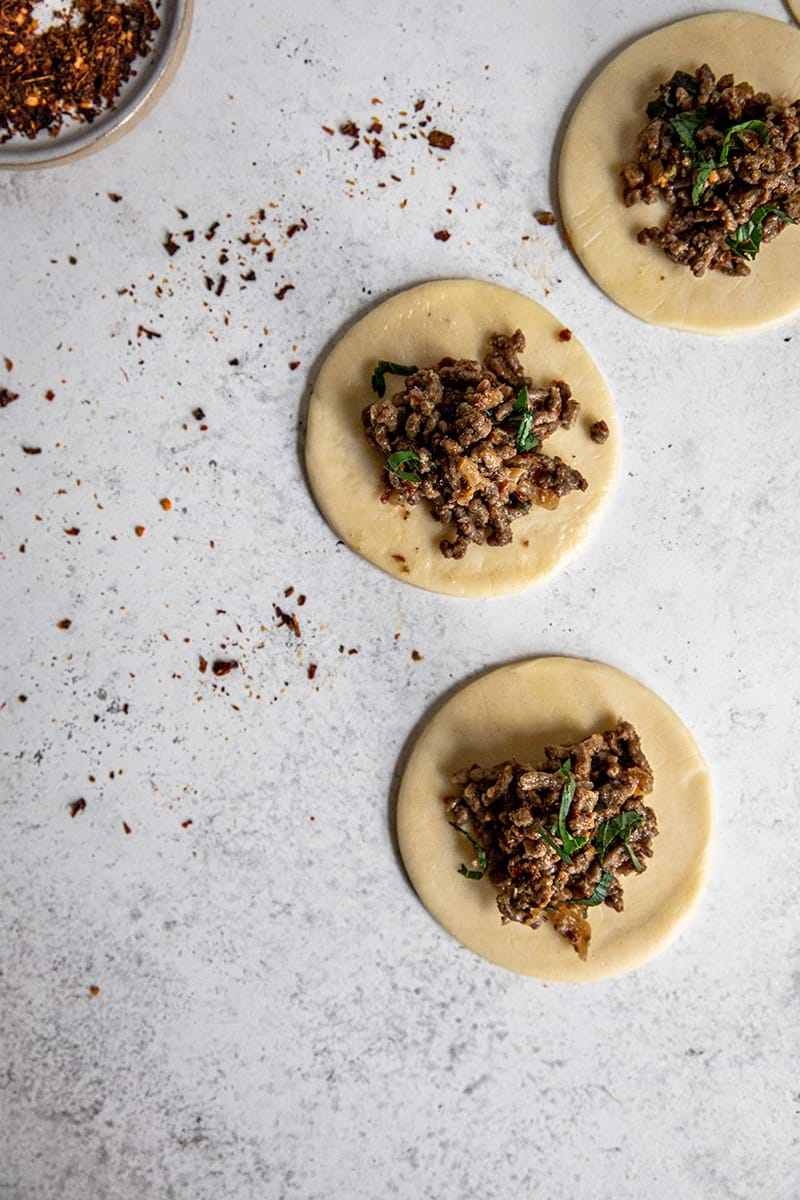 Fold the dough over the filling and use your fingertips to press the dough around the filling, sealing the empanada tightly. Now you have a half moon.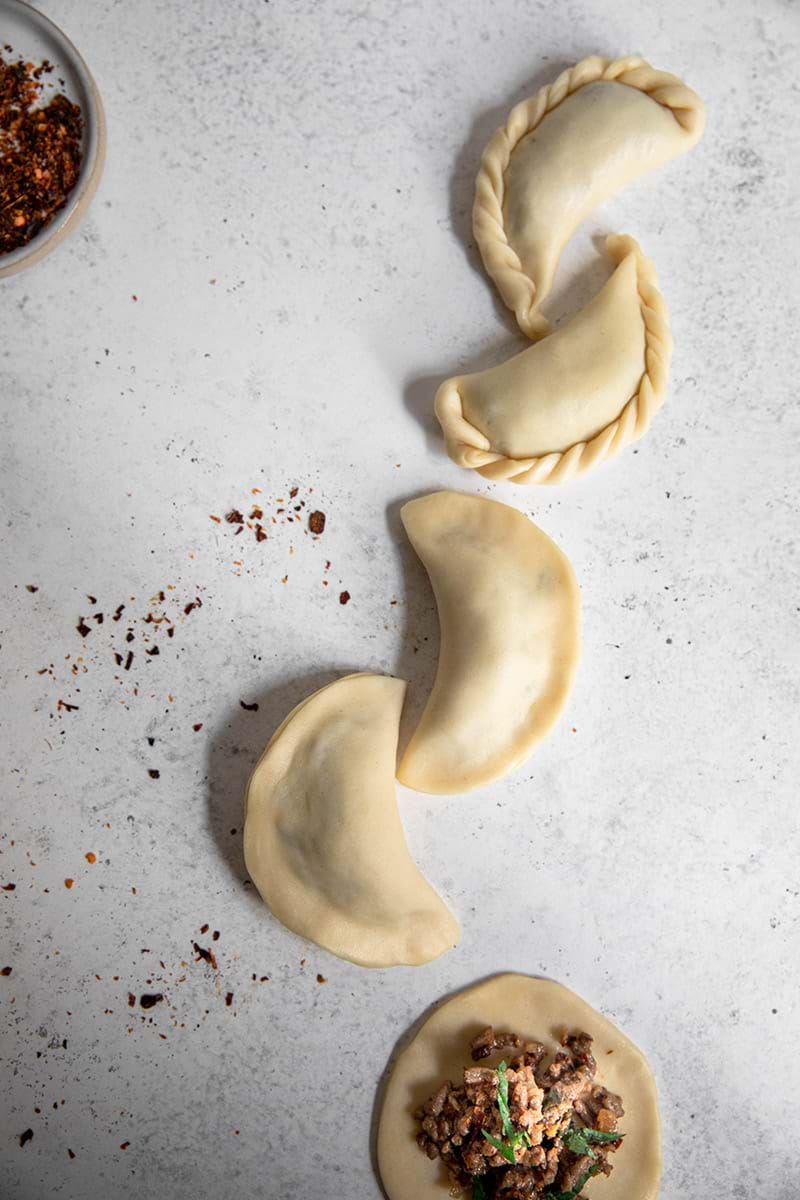 You should work fast to avoid the dough from drying out and becoming warm because it makes the job more complicated.
Working in batches of 6 empanadas at a time is a great idea.
The final step is to crimp the edges: you can use a fork or try any crimping that you like best. The one pictured here is the classic one we do in Argentina for meat empanadas.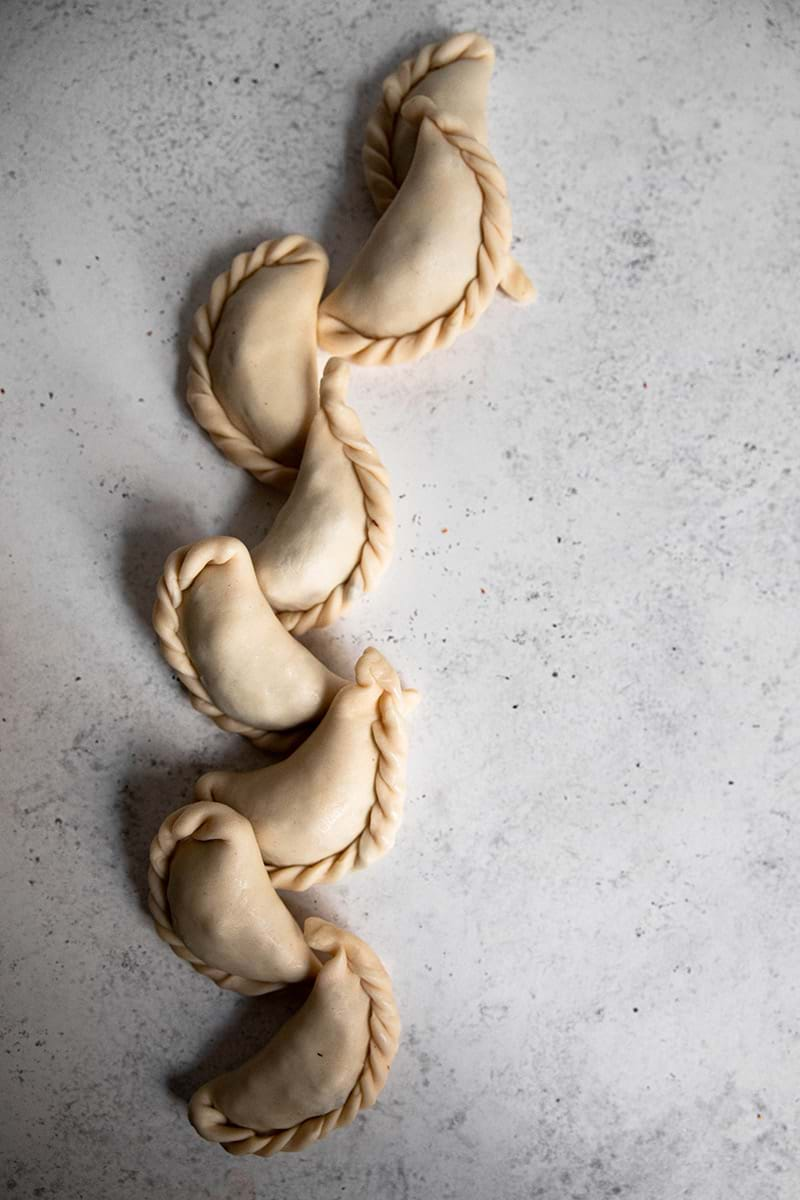 Transfer to a baking tray lined with parchment paper.
How to bake beef empanadas?
Prepare you egg wash: beat 1 egg, a dash of cream and a pinch of salt.
Brush your empanadas with the egg wash twice.
Bake at 200 degrees Celsius (400 F) until golden. About 20 minutes.
How to serve beef empanadas
You should dip your beef empanada in some decadent chimichurri sauce. You can find an amazing recipe by Argentinean Chef Francis Mallmann here Francis Mallmann's Chimichurri.
Freezing Beef Empanadas
You can freeze beef turnovers raw. Freeze on a sheet tray lined with parchment papers first, and once they are frozen transfer to freezer bags. They keep for three months.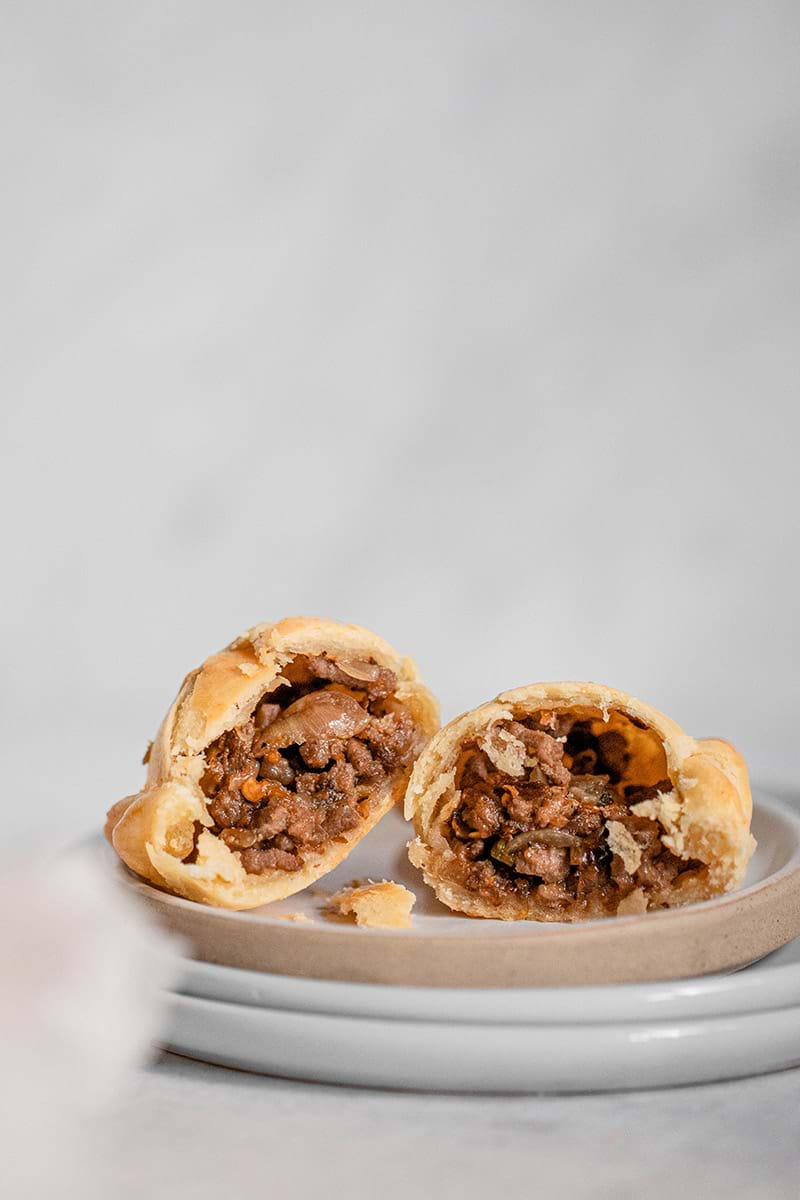 If you made this recipe I would really appreciate it if you leave a rating or comment below! Also, if you share on social media please use #cookwithbelula, I would love to see what you create!