Before I came to France, I did not even know Yule log cake existed. After my first Christmas here, I understood that the "Bûche de Noël", as it is called here, is a big deal for French people. Every bakery has their own version of this traditional dessert, and the creations are quite impressive. There are even special moulds for the modern version of the yule log cake. This version is a simpler one. A classic one. A homemade one. And an incredibly good one. If you are looking for Christmas dessert ideas, you are in the right place 😊. Hope you love it!
What is yule log cake?
A Yule log is a traditional dessert served in France, Switzerland, and Belgium where it is called bûche de Noël. It is made of a roll cake covered in chocolate frosting. It is meant to represent a real yule log in a miniature form.
It is traditionally served at around Christmas time.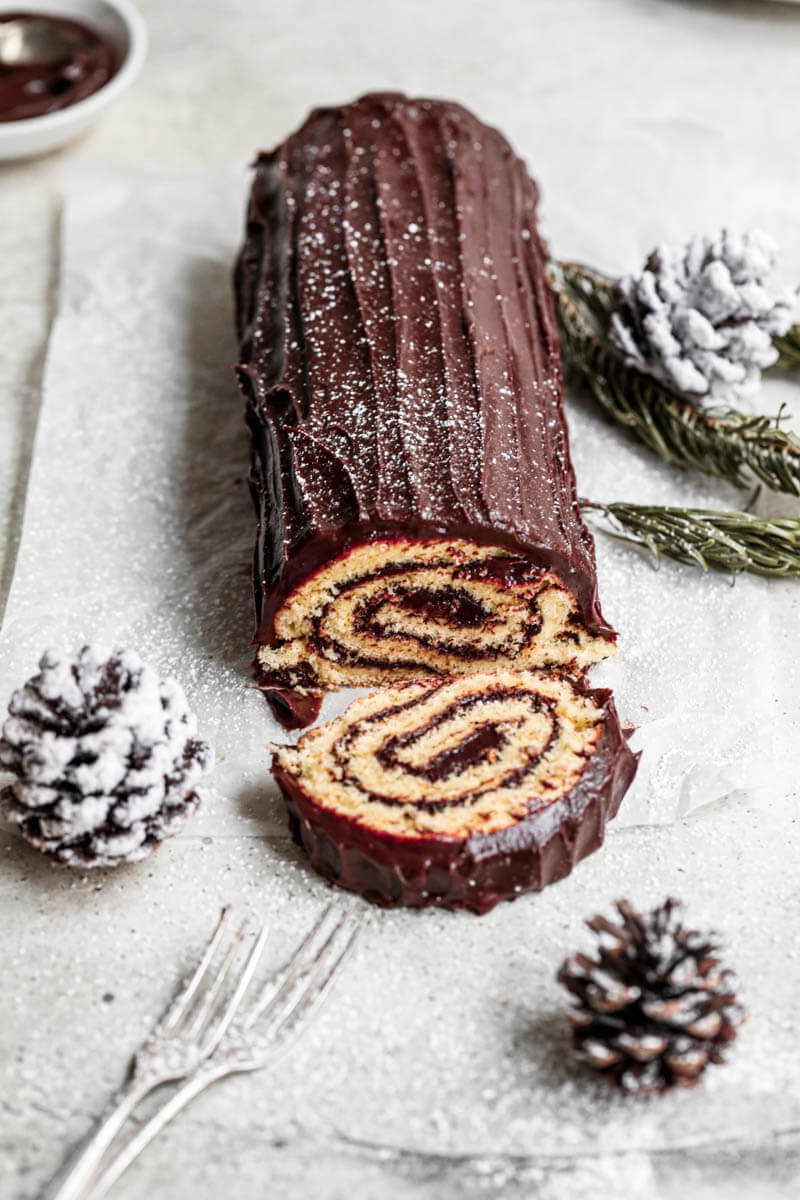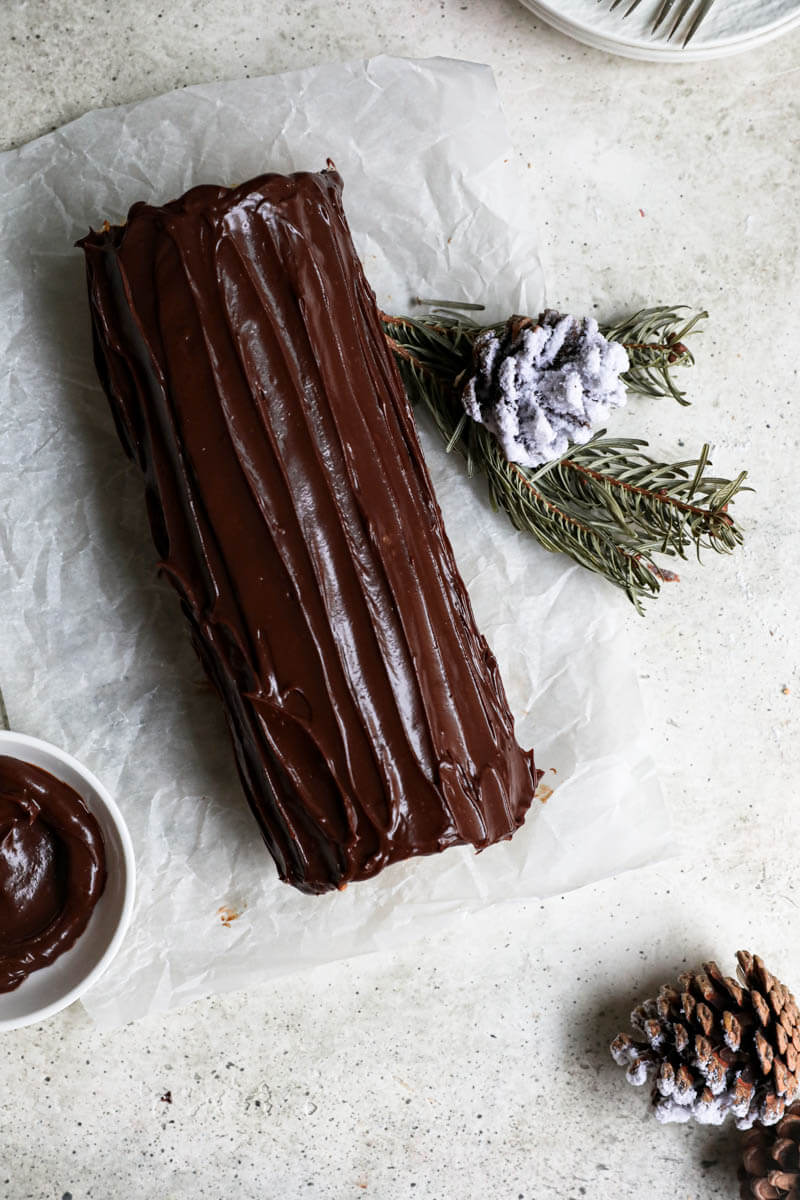 How to make the roll cake for this recipe?
This roll cake recipe is not hard to make. There are some tips and tricks I share below to make it a huge success!
Grease and line a 30x40 cm tray with parchment paper.
Beat the egg yolks, the egg and sugar until it has doubled in volume and changed to a pale-yellow colour. About 10 minutes if using an electric mixer. Set aside.
Beat the egg whites until they form soft peaks. Start with a pinch of the 30 g of sugar. When they are almost ready, add the rest of the sugar and beat at maximum speed until they hold stiff peaks. It is important not to overbeat the egg whites because they will break and become liquid.
Fold in the egg whites into the egg yolk/sugar mixture delicately.
Fold in the melted butter. To do this, add a little cake batter into the melted butter and whisk until combined. Pour this mixture back onto the cake batter and fold in delicately.
Finally, fold in the sifted flour. Make sure to this slowly to avoid deflating the cake.
Transfer onto the lined tray and spread evenly using a pastry horn or an offset spatula.
Bake at 220 C° for 9 minutes.
Invert the cake onto a parchment paper dusted with powdered sugar as soon as you remove it from the oven. Peel off the parchment paper that was on the bottom of the yule log cake as it baked.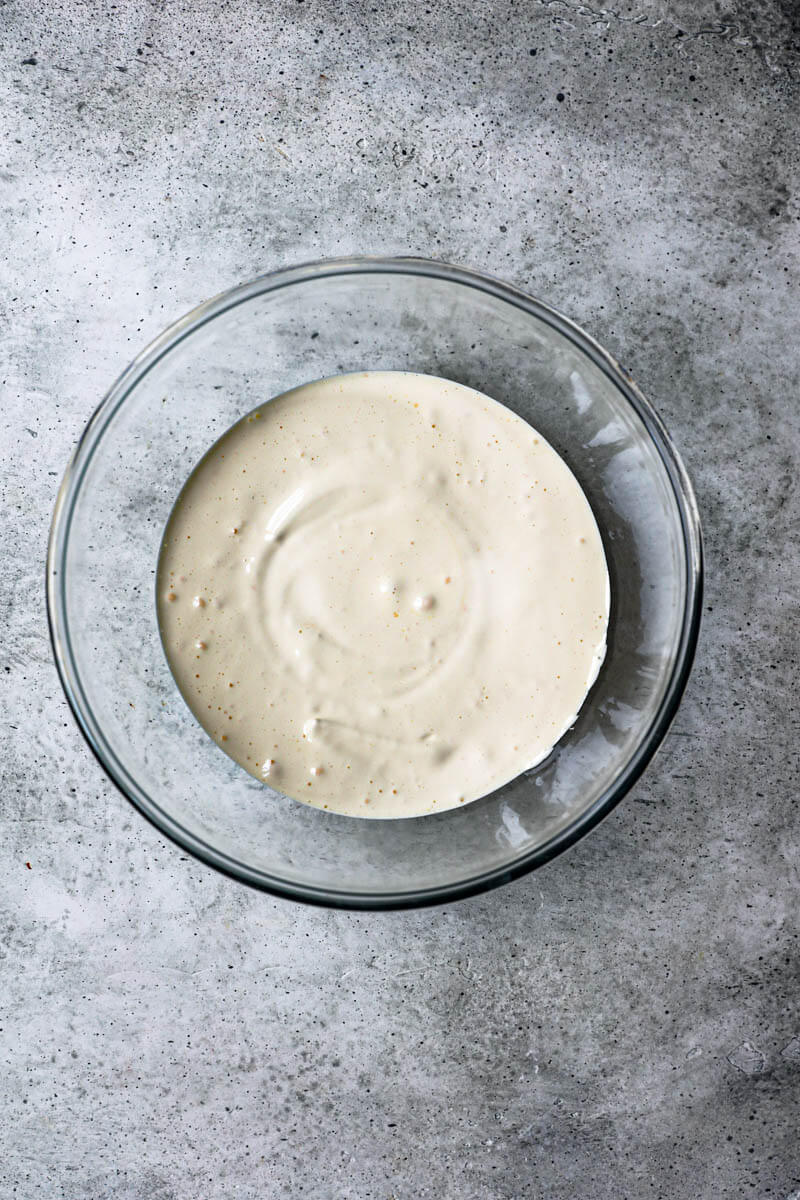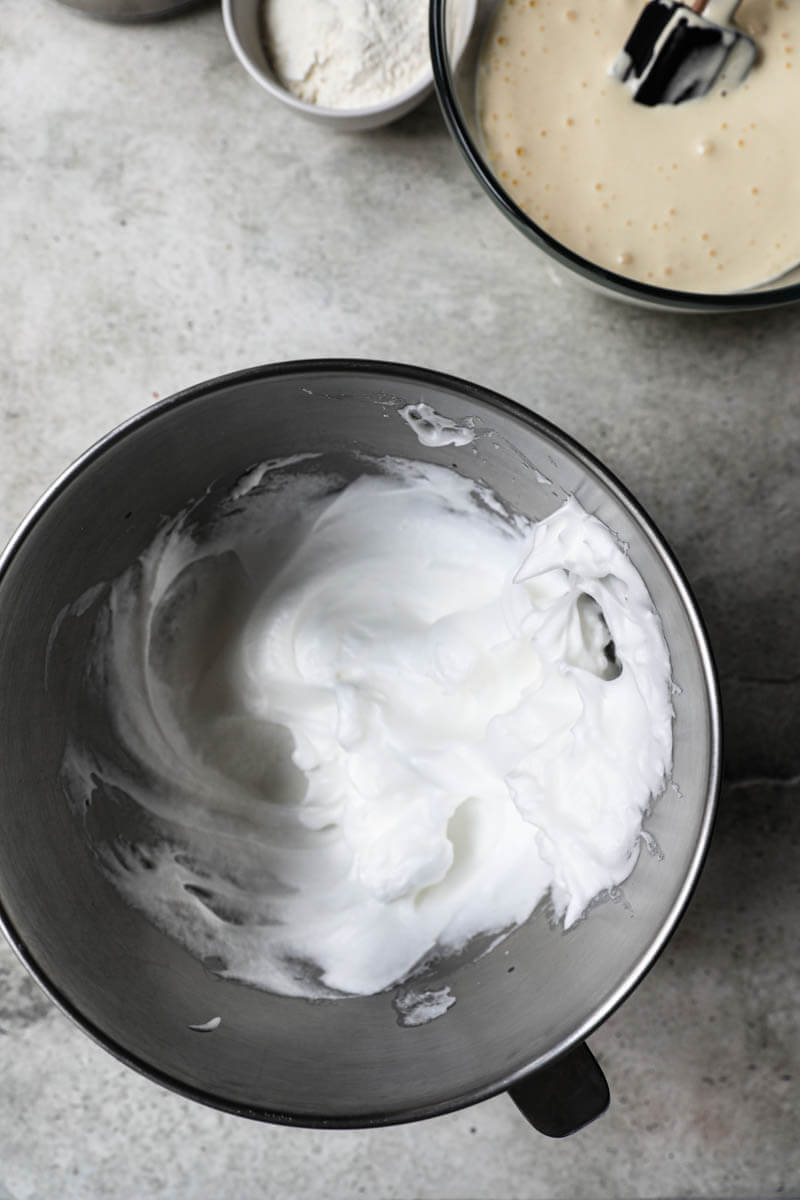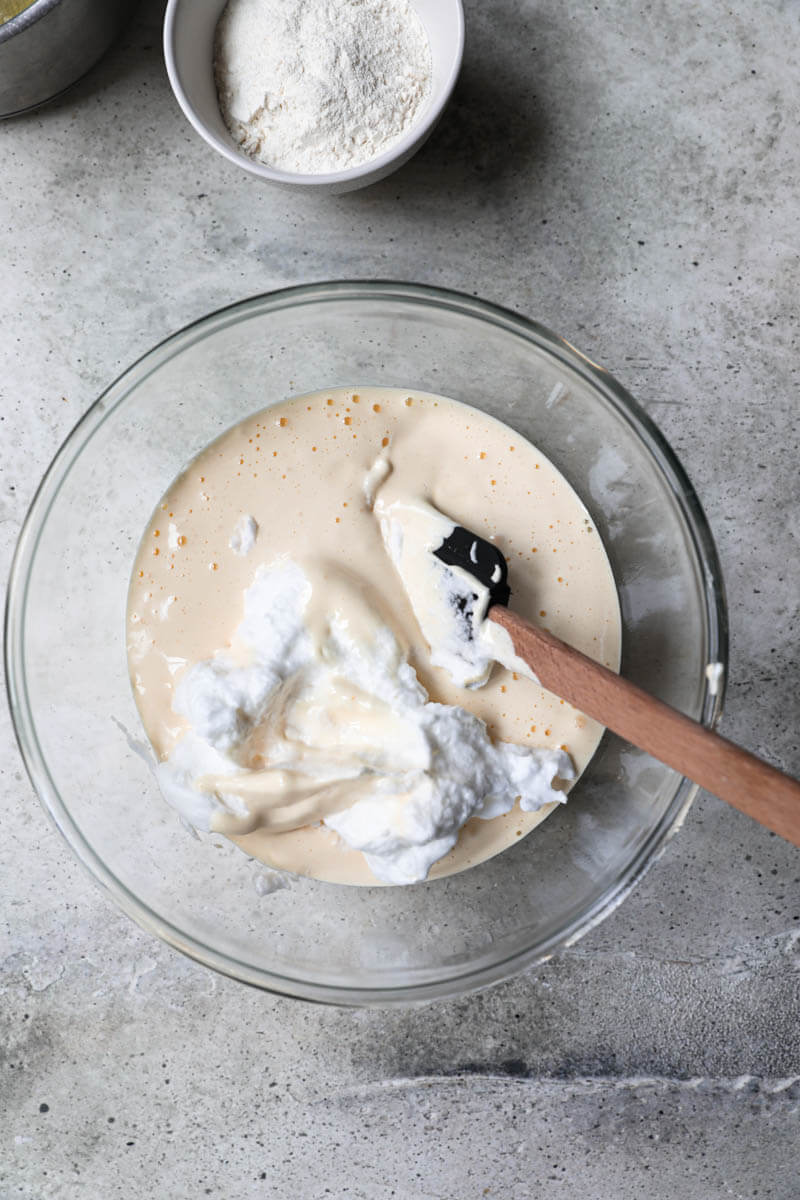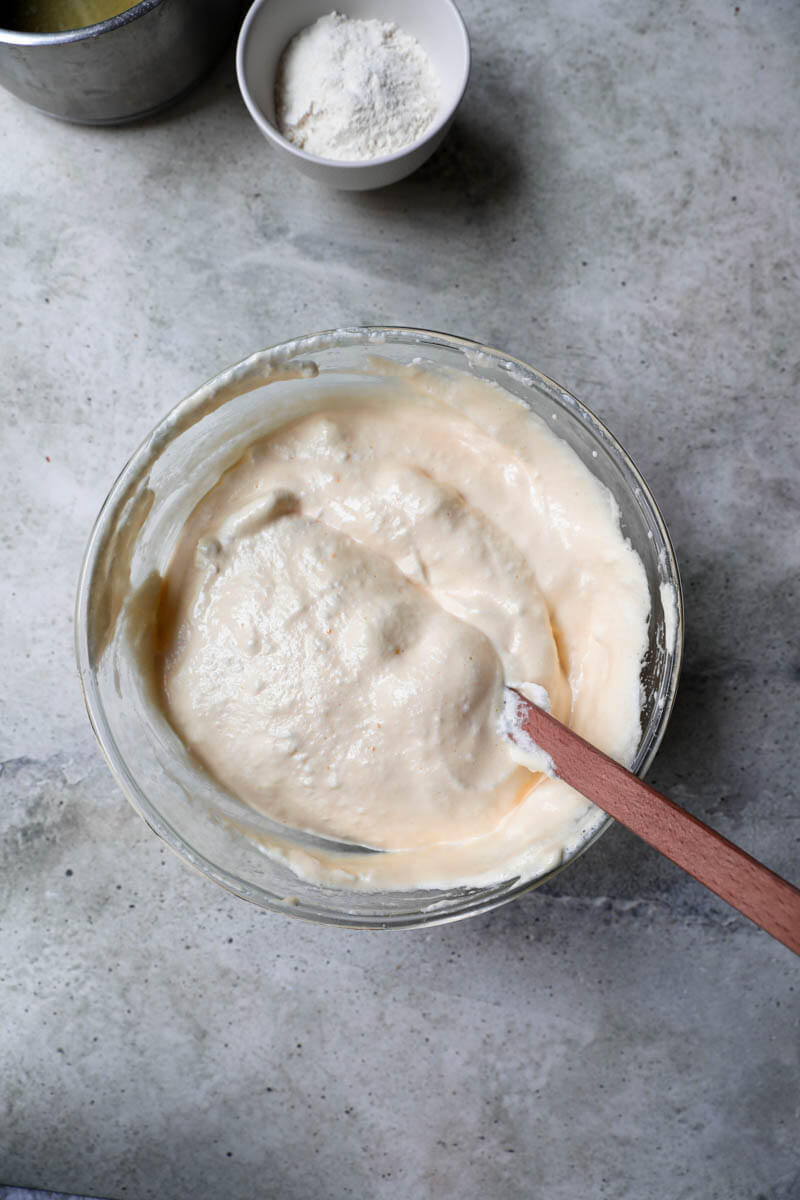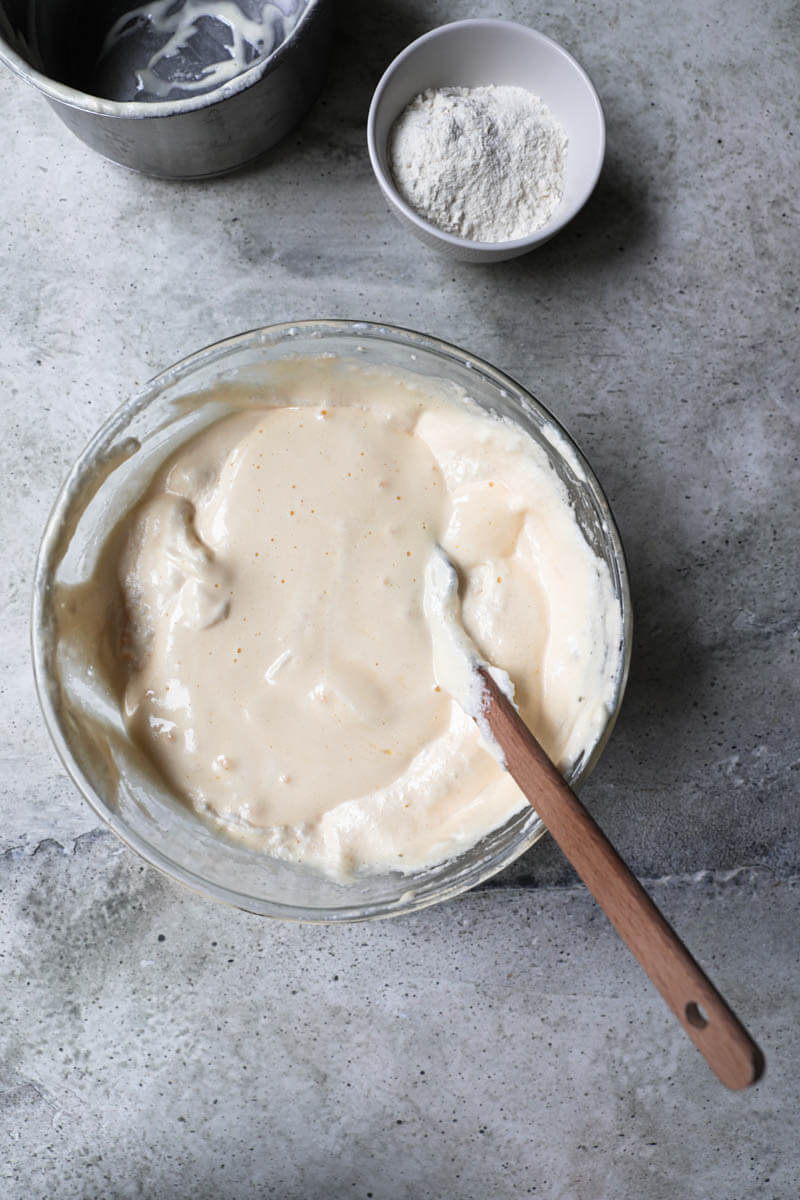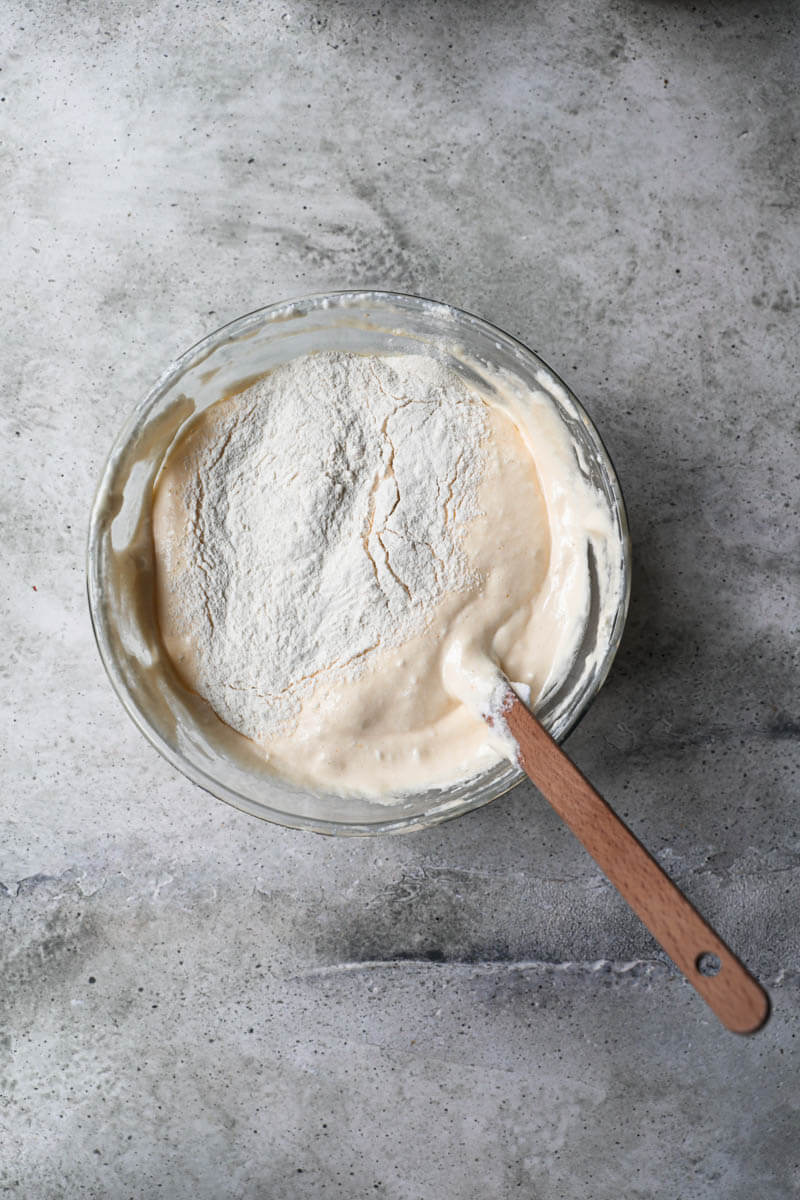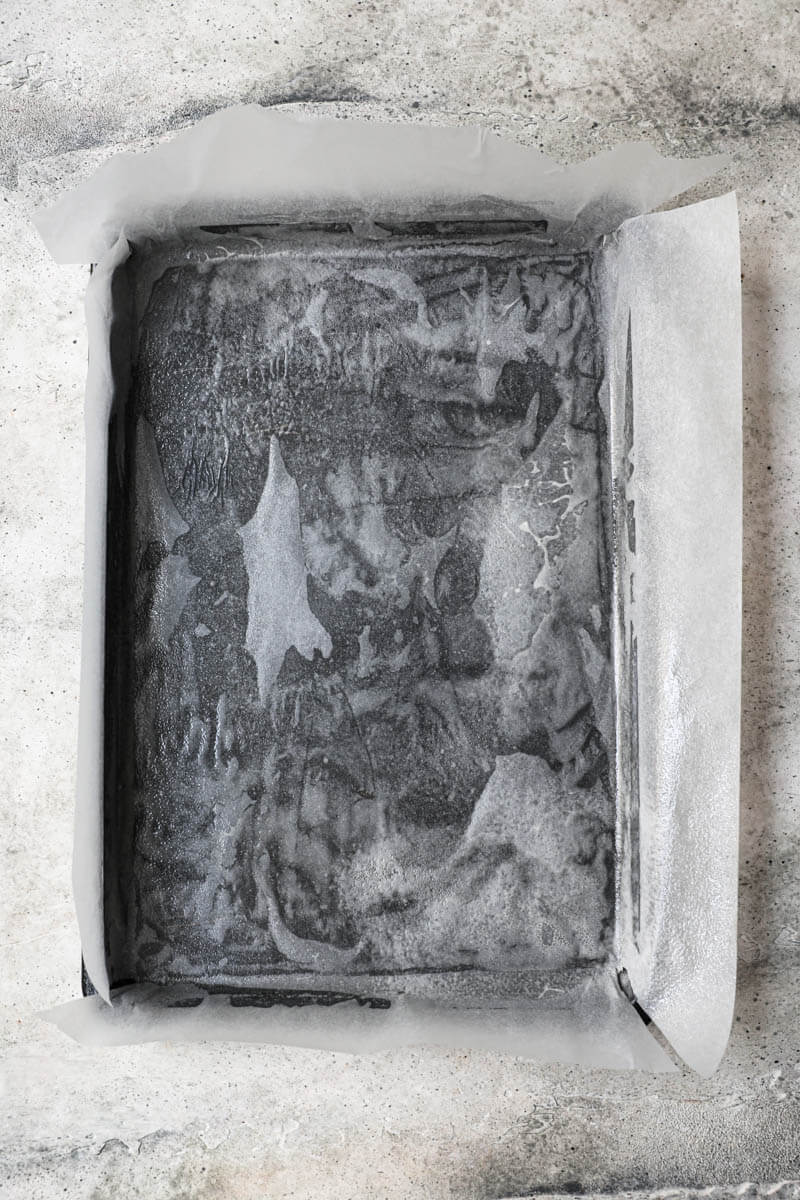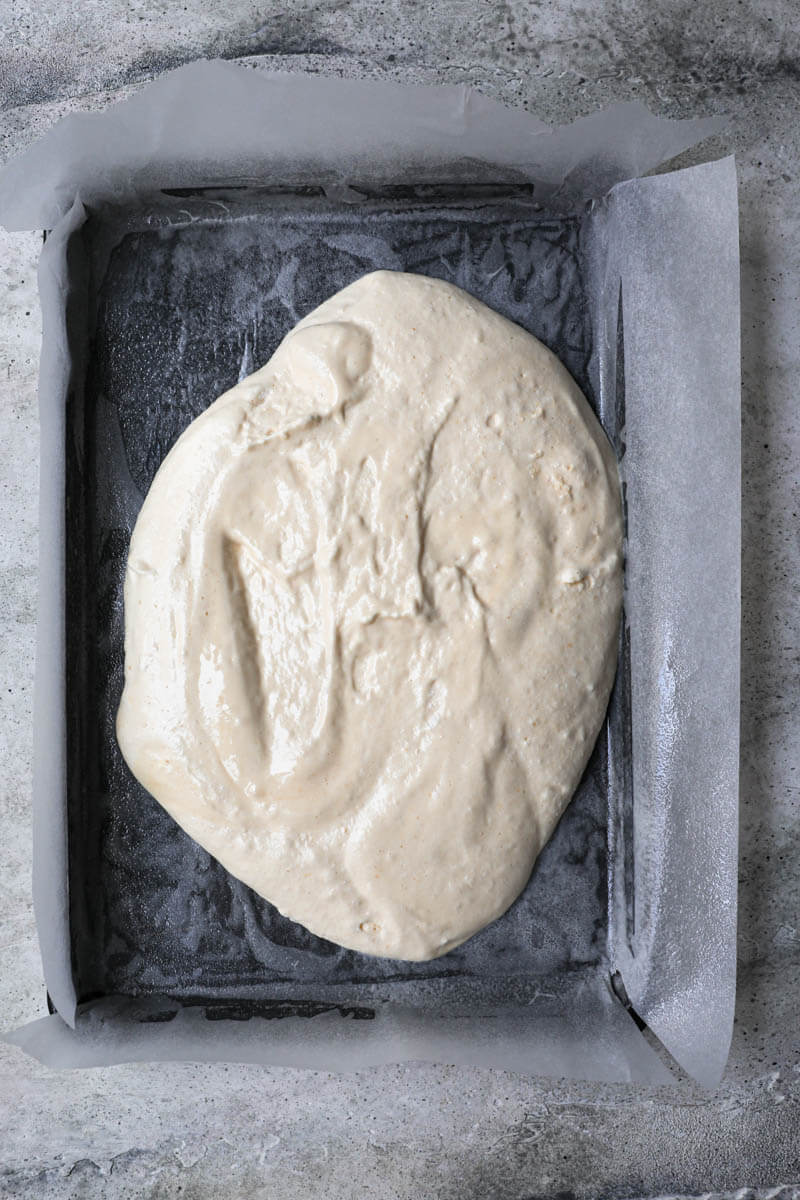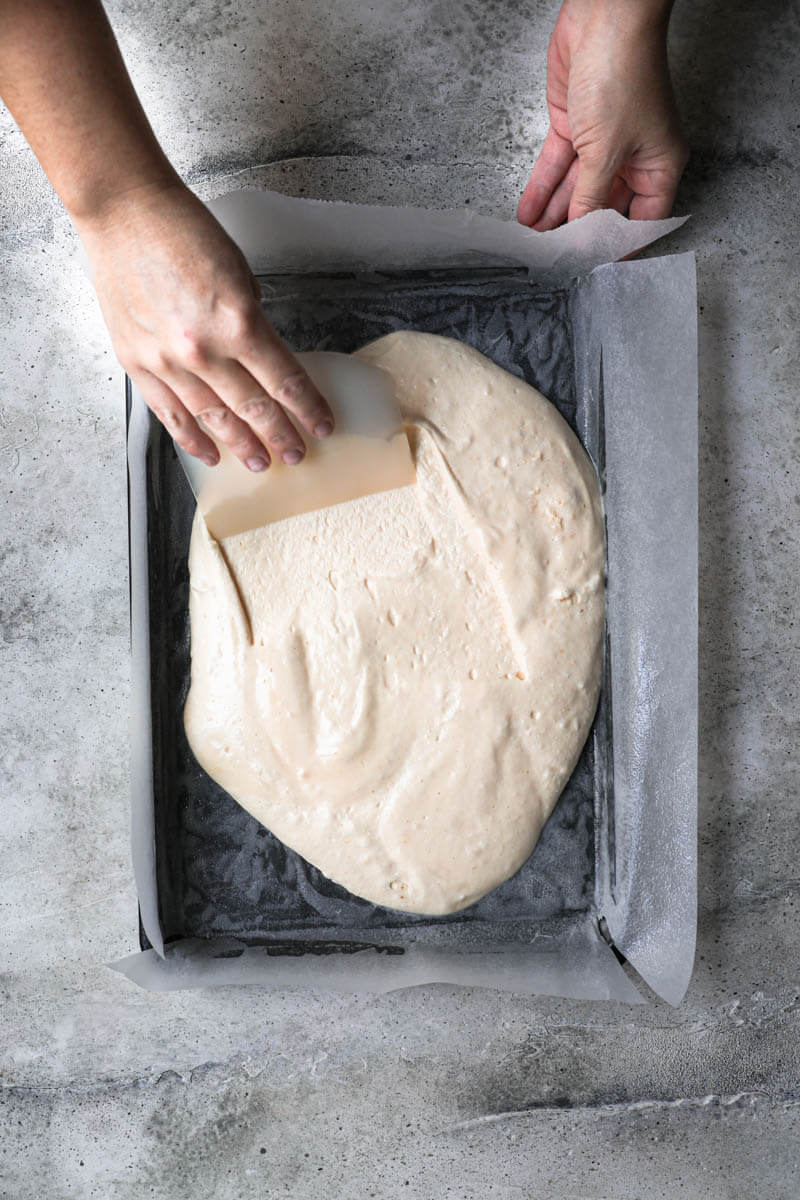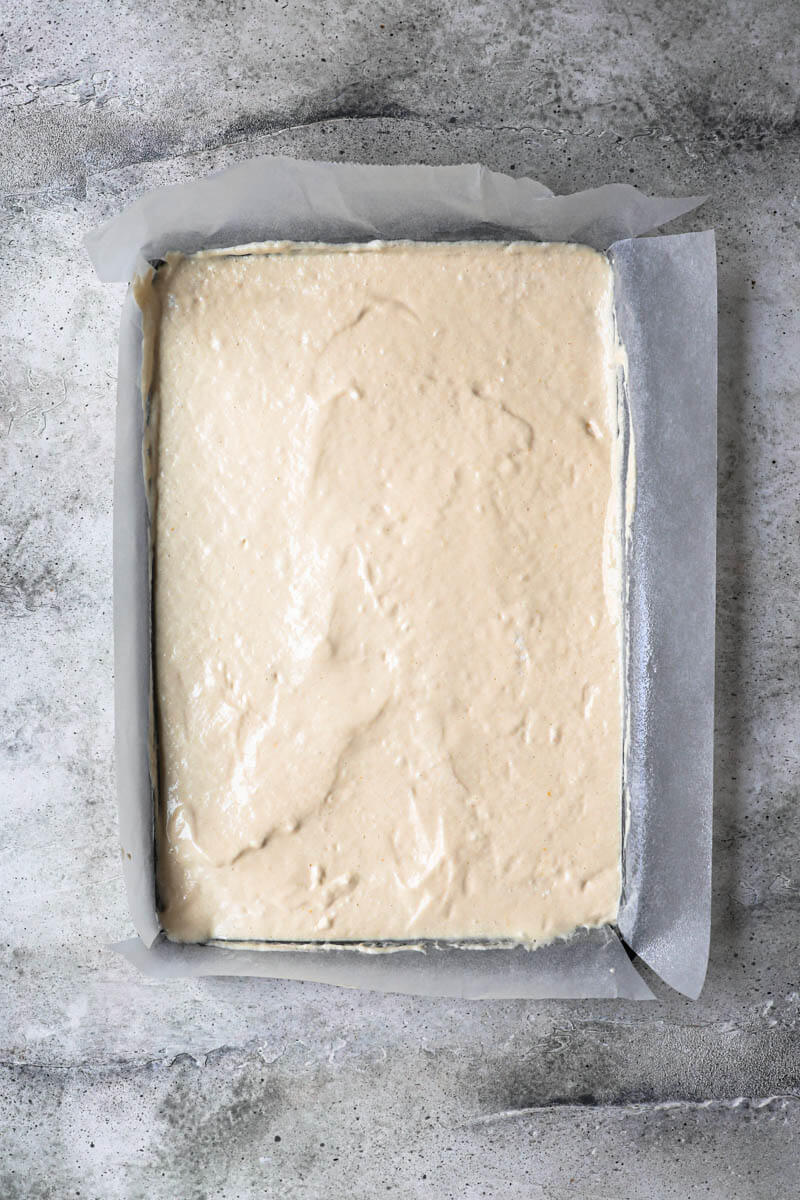 How to roll yule log cake?
Rolling the yule log cake without it cracking is not an easy task. There are many ways of going about this, according to the internet. Lucky for you I have tried them all. And this is what really works:
As soon as you remove the cake from the oven turn onto a piece of parchment paper dusted with powdered sugar. Leave about 2/3 cm of free parchment paper on the short end (long end does not really matter).
Using a serrated knife cut the edges to make the cake straight. Cut the edge of one of the short sides of the cake diagonally.
Dust with powdered sugar.
Fold the 3 cm of parchment paper over the cake on the short that has a straight edge end and slowly start rolling it as tightly as possible. This must be done when the cake is still warm!
Let it cool down rolled and covered with the parchment paper.
Once it has cooled down, unroll, fill and decorate your yule log cake.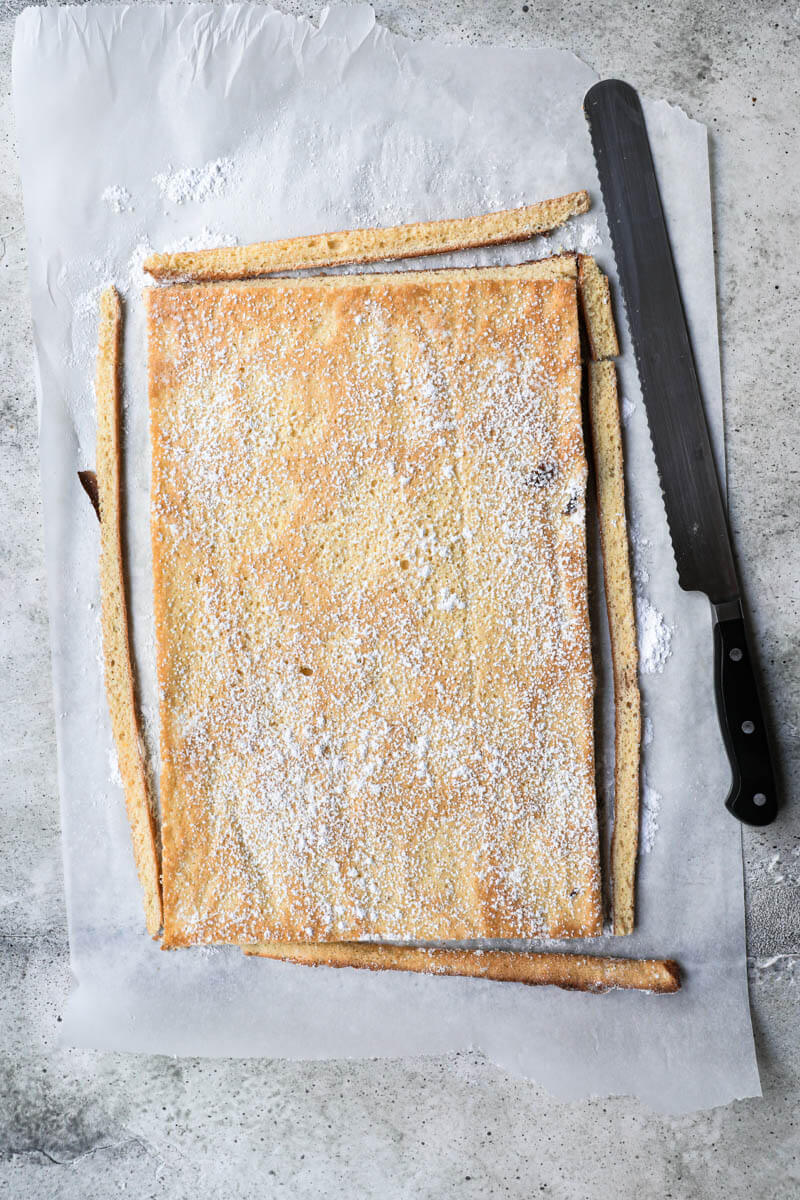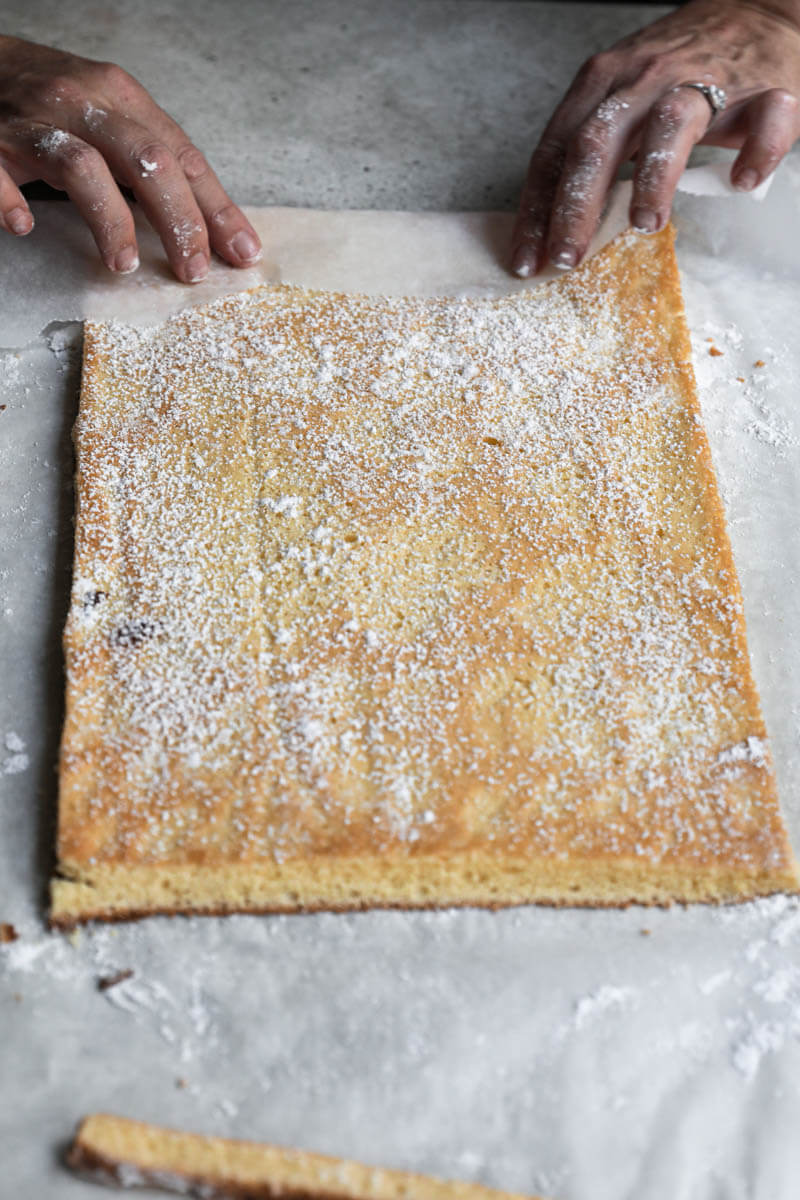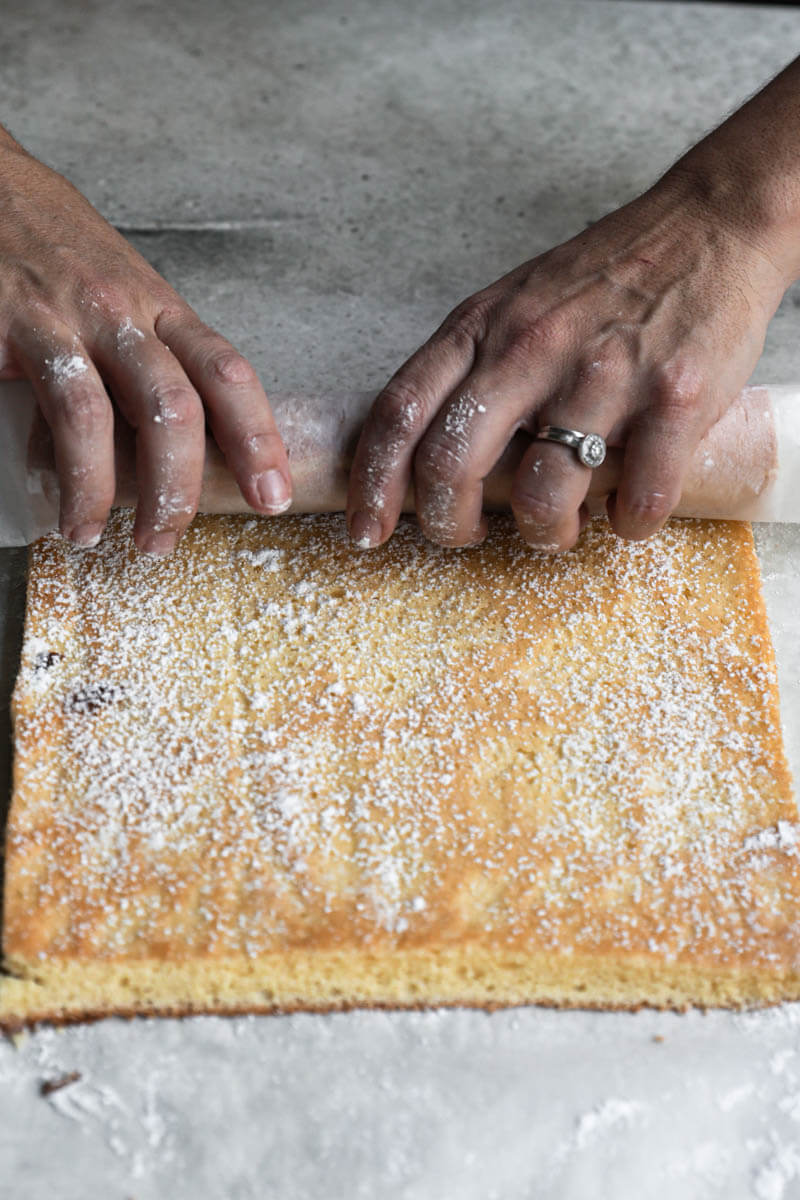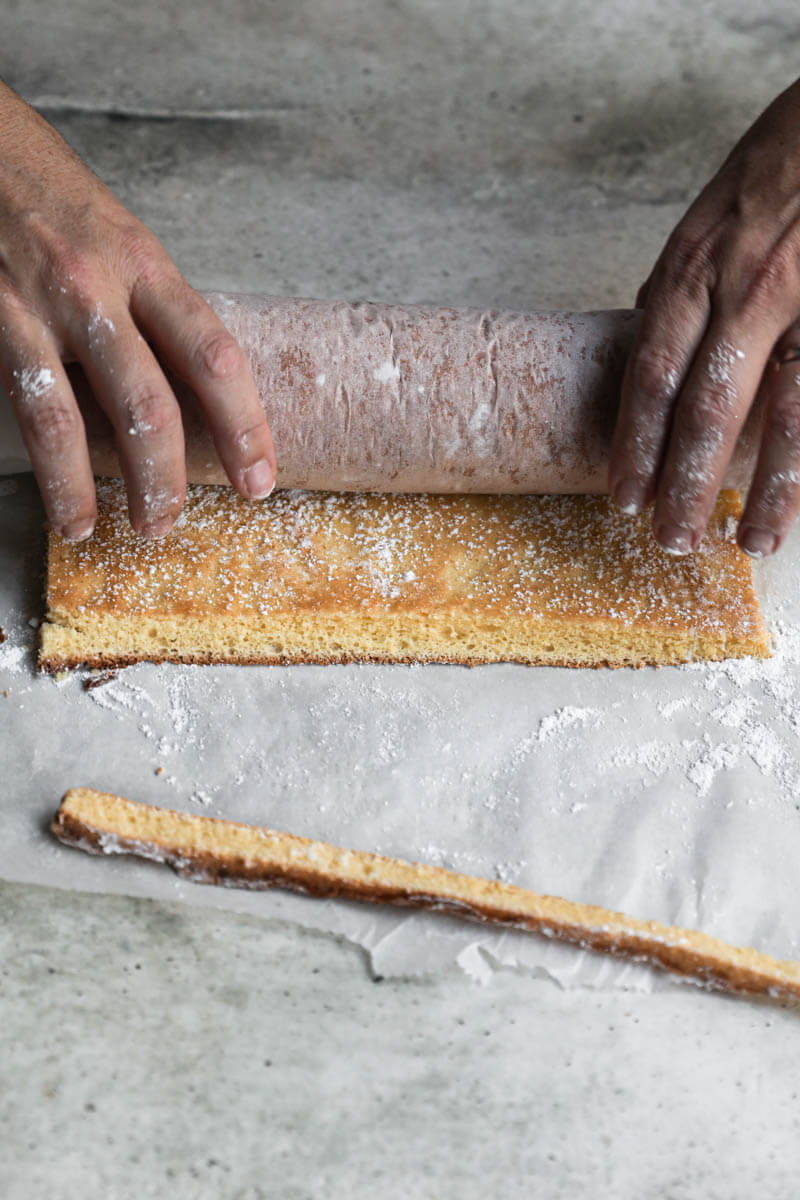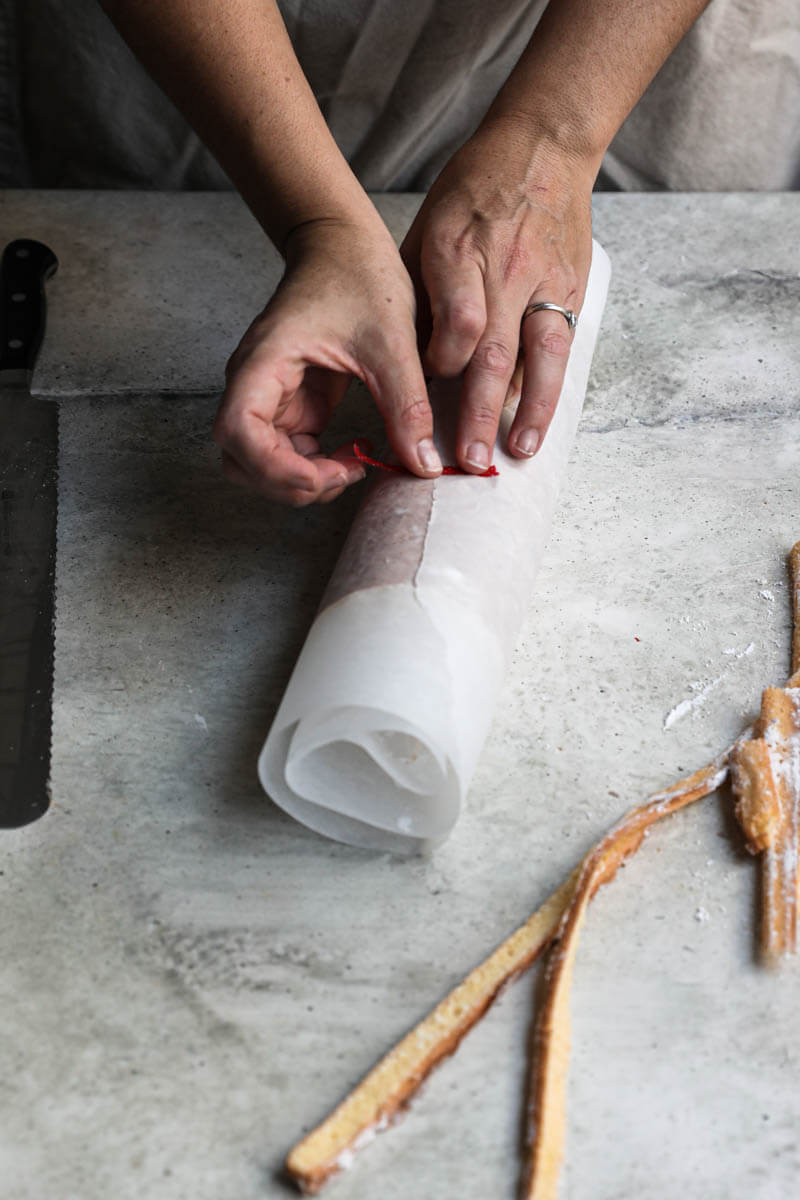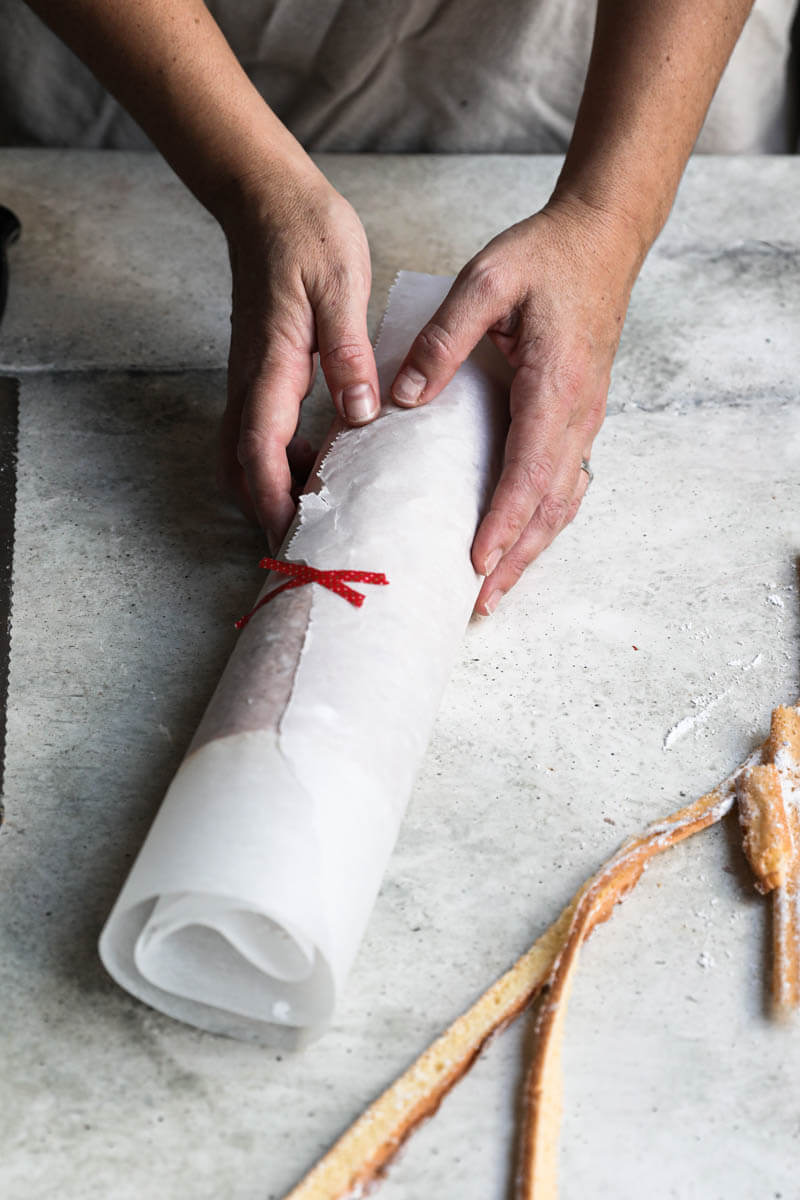 How to make yule log cake?
This yule log recipe is very straight forward. You only need to assemble 2 components:
A roll cake: it should be cold when you assemble the cake
Dulce de leche & chocolate ganache: must be prepared the day before and kept covered at room temperature.
Once both elements are ready to go, you must:
Cover the roll cake with a thin layer of dulce de leche & chocolate ganache.
Starting from the narrow end roll it very slowly as tightly as possible.
Cover with ganache and make it look like a Yule log using a small spatula or a fork.
Enjoy!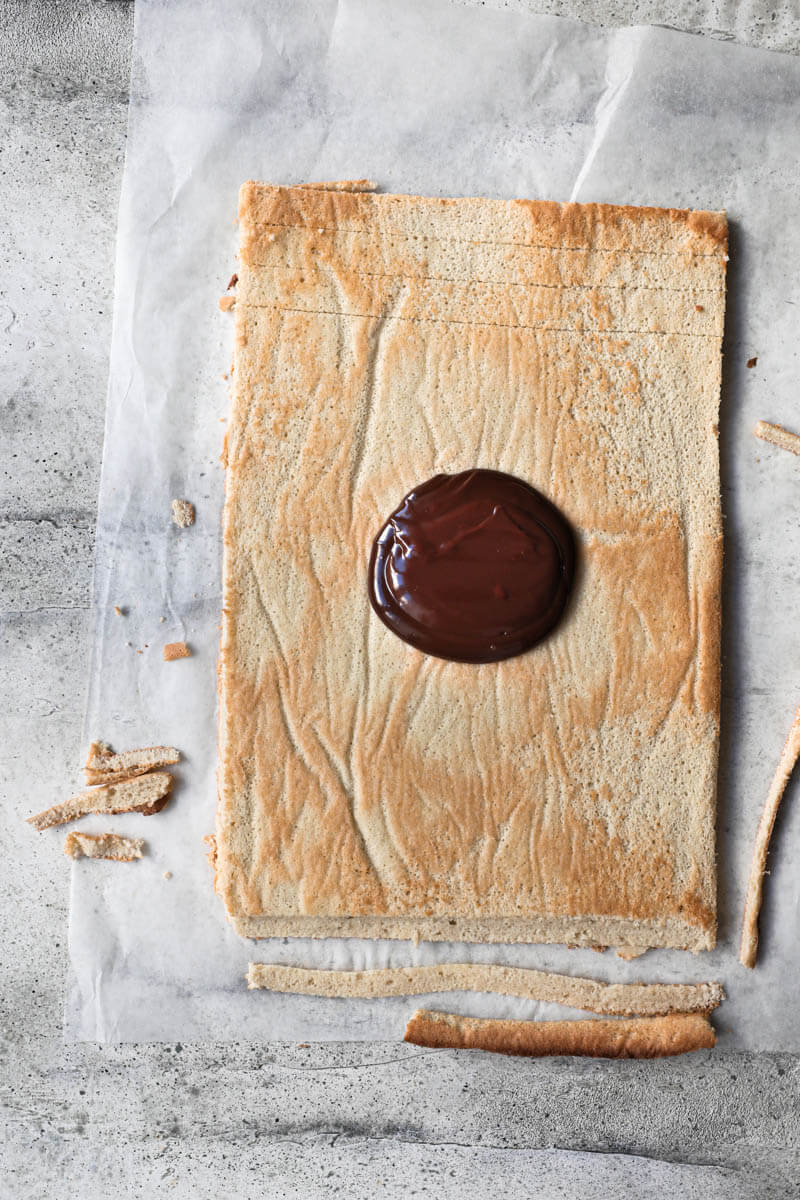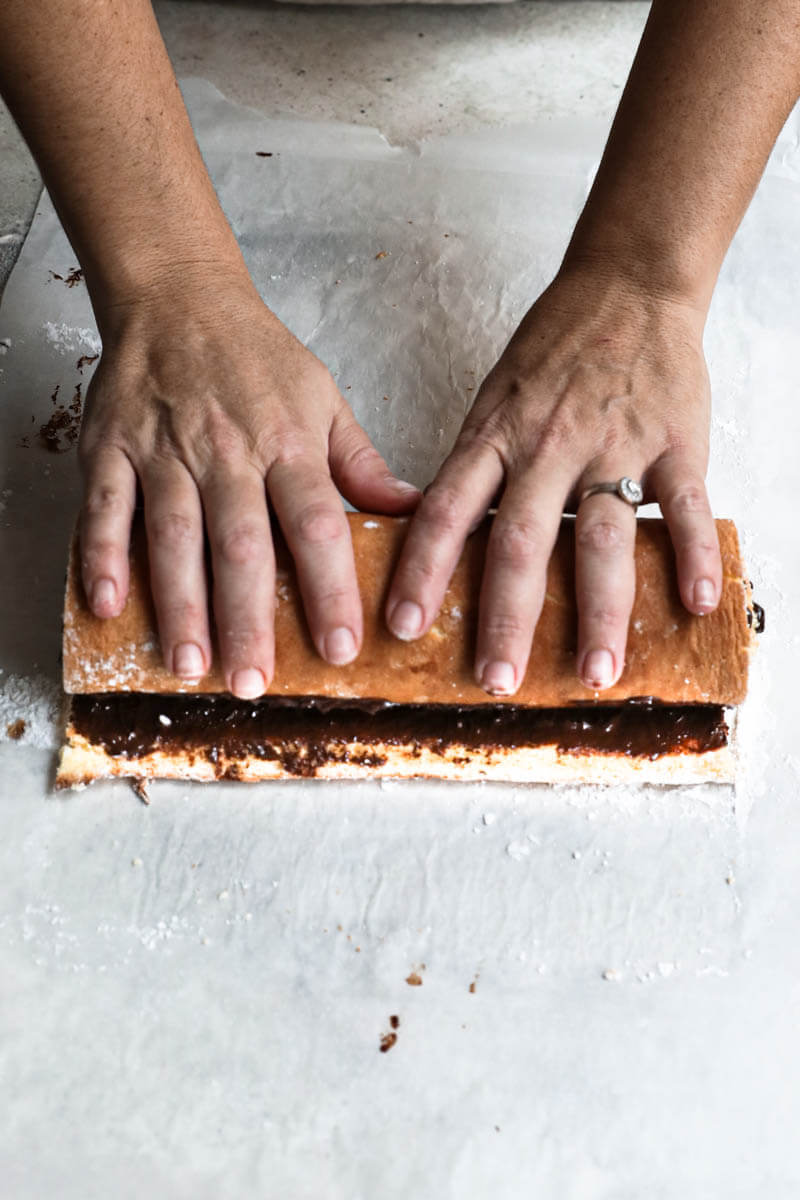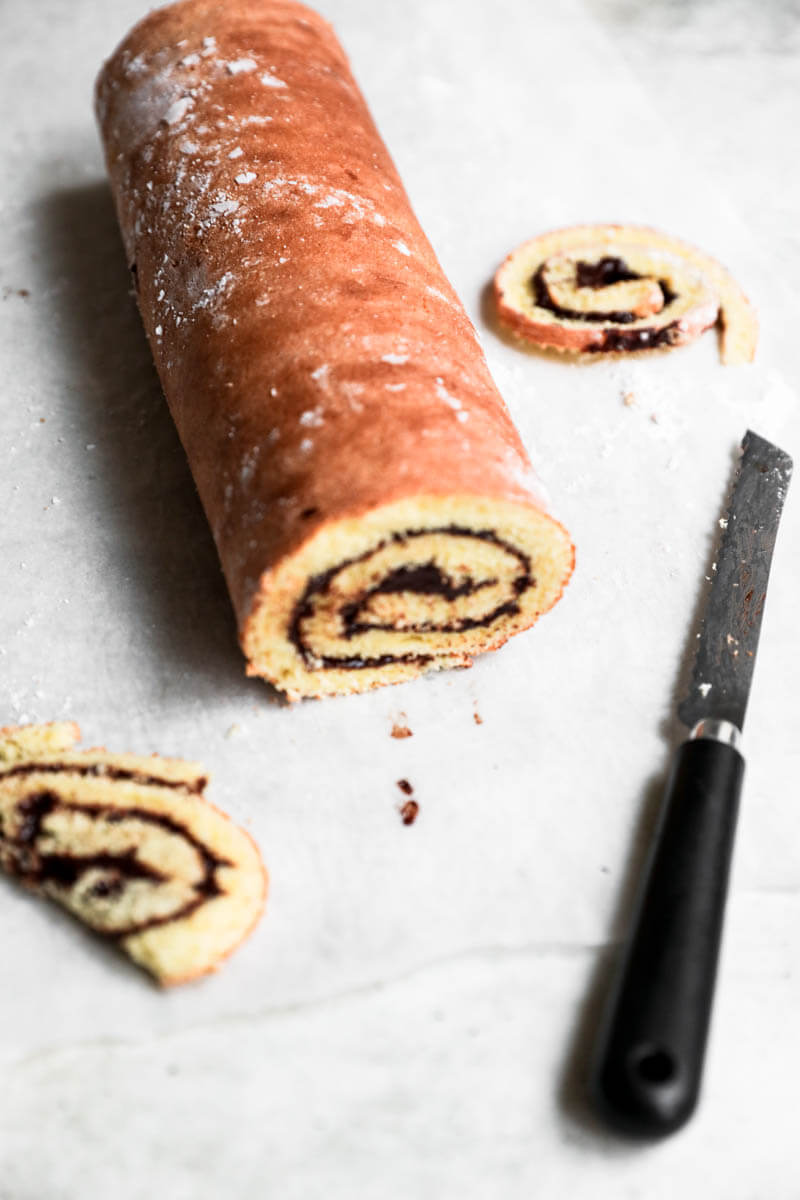 How to decorate a Christmas yule log cake?
To decorate the yule log cake, you must:
Have the chocolate dulce de leche ganache ready. You want to make it a day in advance, so it has time to properly set and obtain the texture needed to decorate your cake.
First transfer the cake to a cutting board.
Then, cover with a generous layer of chocolate dulce de leche ganache leaving the ends exposed.
Finally, using a fork or a small spatula create bark lines in the cake that emulate a real yule log. Have fun with this part! Does not have to be perfect!
Transfer onto a serving plate and enjoy!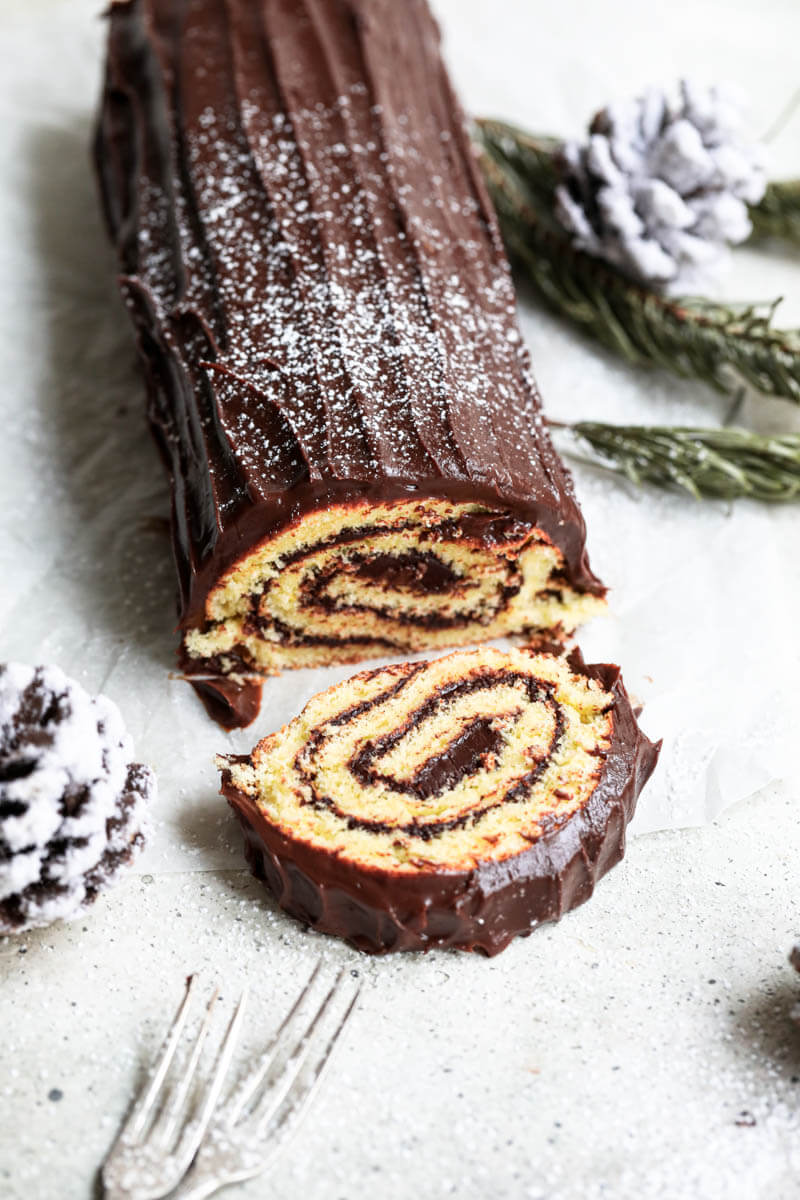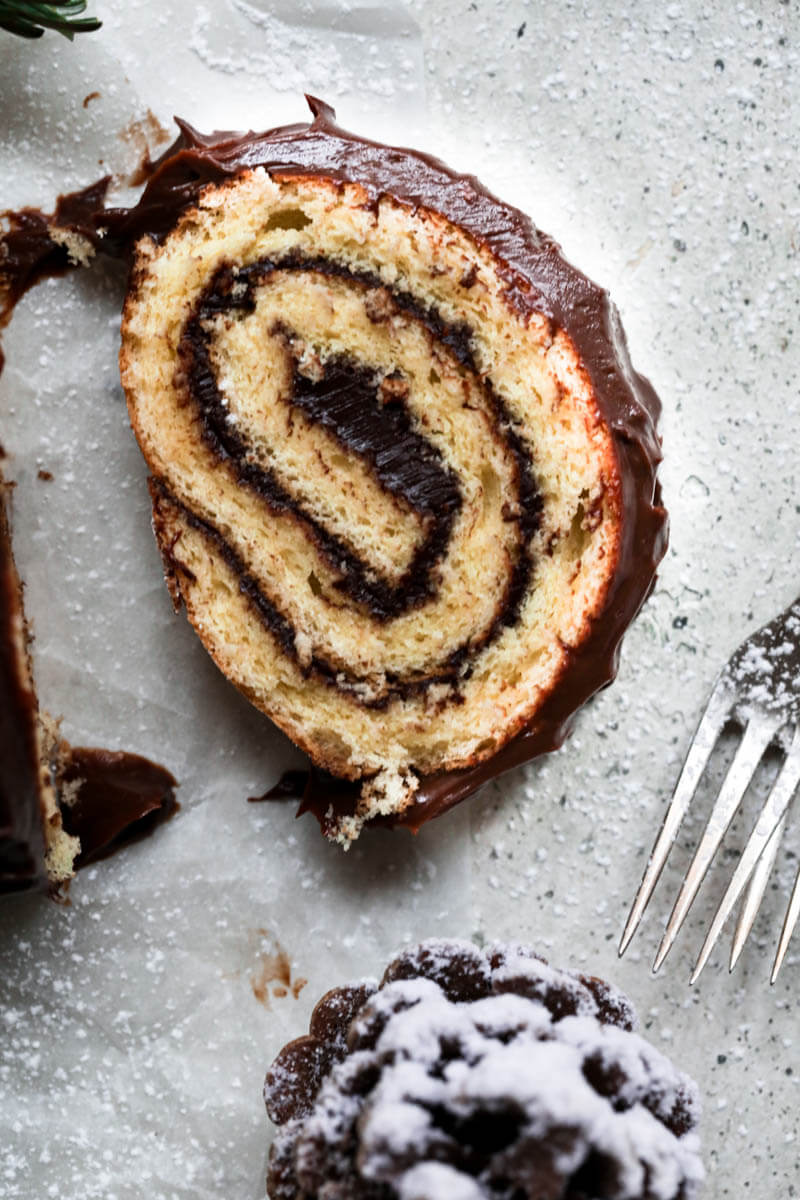 Can a yule log cake be frozen?
Once it has been decorated, the yule log cake cannot be frozen.
You can freeze the roll cake, rolled, and covered in parchment paper.
To defrost: Let it sit at room temperature for about 4 hours. Unroll delicately, fill and frost with the dulce de leche ganache. Make sure is has completely defrosted before unrolling.
However, I personally prefer to have this it freshly baked.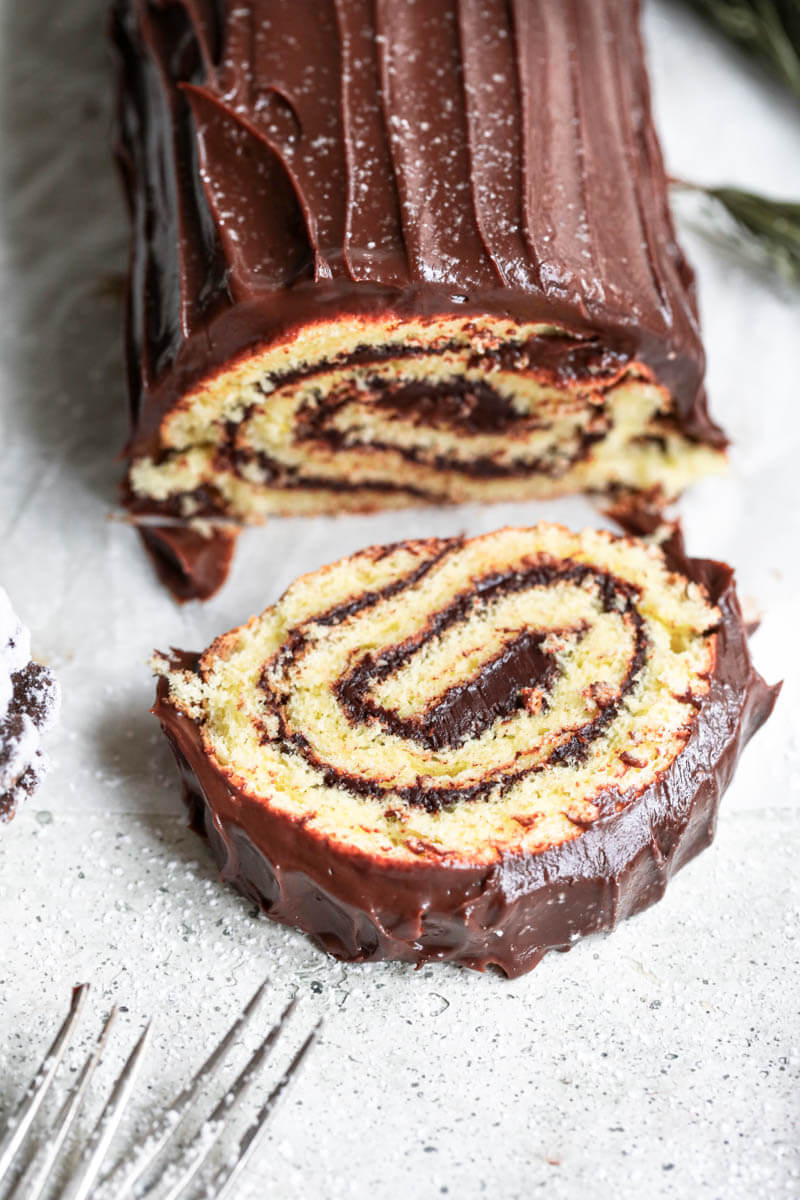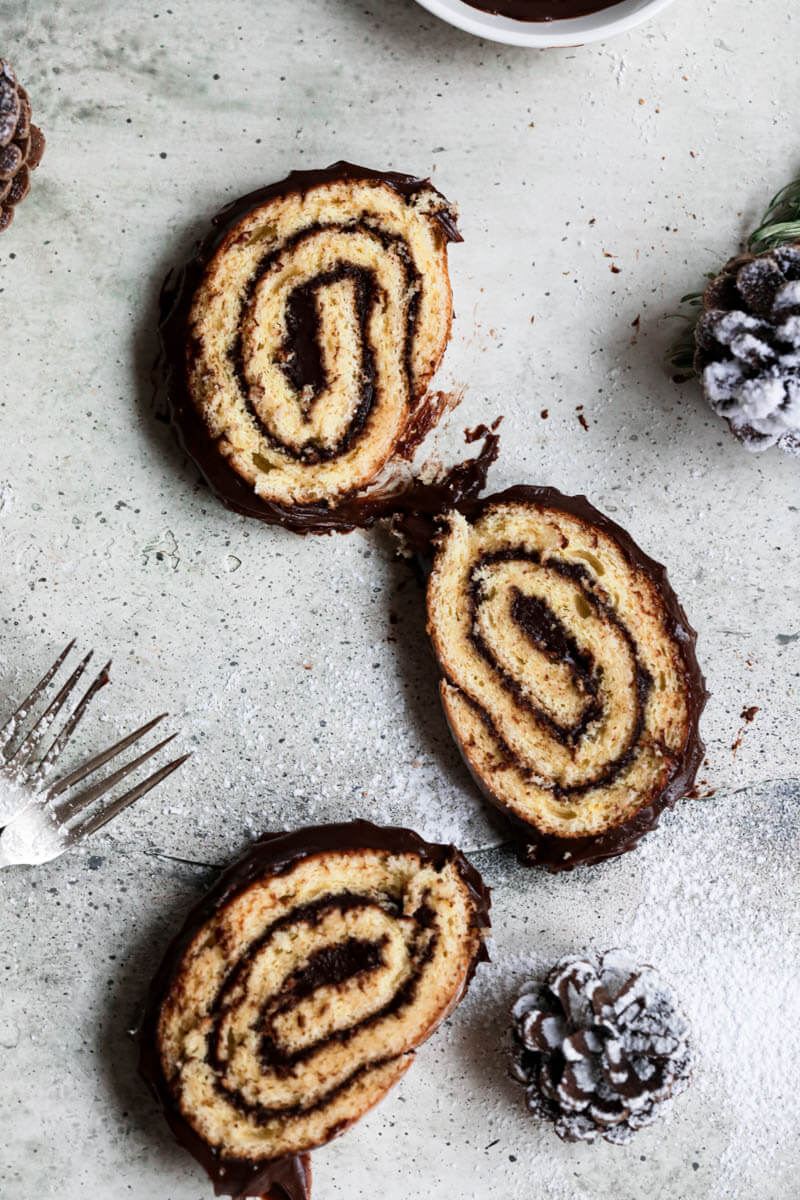 If you made this recipe I would really appreciate it if you leave a rating or comment below! Also, if you share on social media please use #cookwithbelula, I would love to see what you create!