One of the best combinations out there: white chocolate and raspberry! This cake is highly addictive, and people might want to be friends with you just to have a slice, lol. Seriously, it is incredibly good: moist, and tartness of the raspberries works perfectly with the sweetness of the white chocolate. Hope you enjoy making and savoring it as much as I did!
About the cake pan
I made this white chocolate raspberry cake recipe into a Bundt cake, because they are so pretty, and I think it really shows off how good it is! I used this pan from Nordic Ware. It has the capacity for 10 cups of cake batter.
However, you can use a loaf cake pan if you do not have a Bundt cake pan. You can use any shape and size you like, but do not forget to adjust the baking time accordingly!
Here are a few tricks to make sure you cake turns out great:
Butter must be softened; this means it should have the consistency of mayonnaise. Butter is softened at 16 C°. You can soften butter in the microwave, at intervals of no more than 10 seconds each. Verify the consistency after 10 seconds, mix and continue to heat it if necessary. Avoid melting the butter! You can also leave the butter at room temperature if it is hot enough.
Coat the raspberries in flour, then cut them in half in freeze them for a couple of hours before adding them to the batter. This way you will not completely crush them when incorporating into the batter.
White chocolate should be chopped into small size cubes. Use good quality chocolate, like this Valrhona Ivoire Chocolate.
How to make white chocolate and raspberry cake?
After that, putting together this cake batter is straight forward:
Mix the flour, the baking powder, and salt and set aside. I call these the dry ingredients moving forward.
Mix in the softened butter and the sugar until fluffy.
Add the honey and mix to combine.
Add the eggs and the vanilla extract and mix to combine.
Add half of the dry ingredients and mix until incorporated into the batter. Add half the milk and mix to combine. Repeat the procedure with the other half of the dry ingredients and the milk.
Fold in the raspberries and the chopped white chocolate.
You are now ready to bake the cake!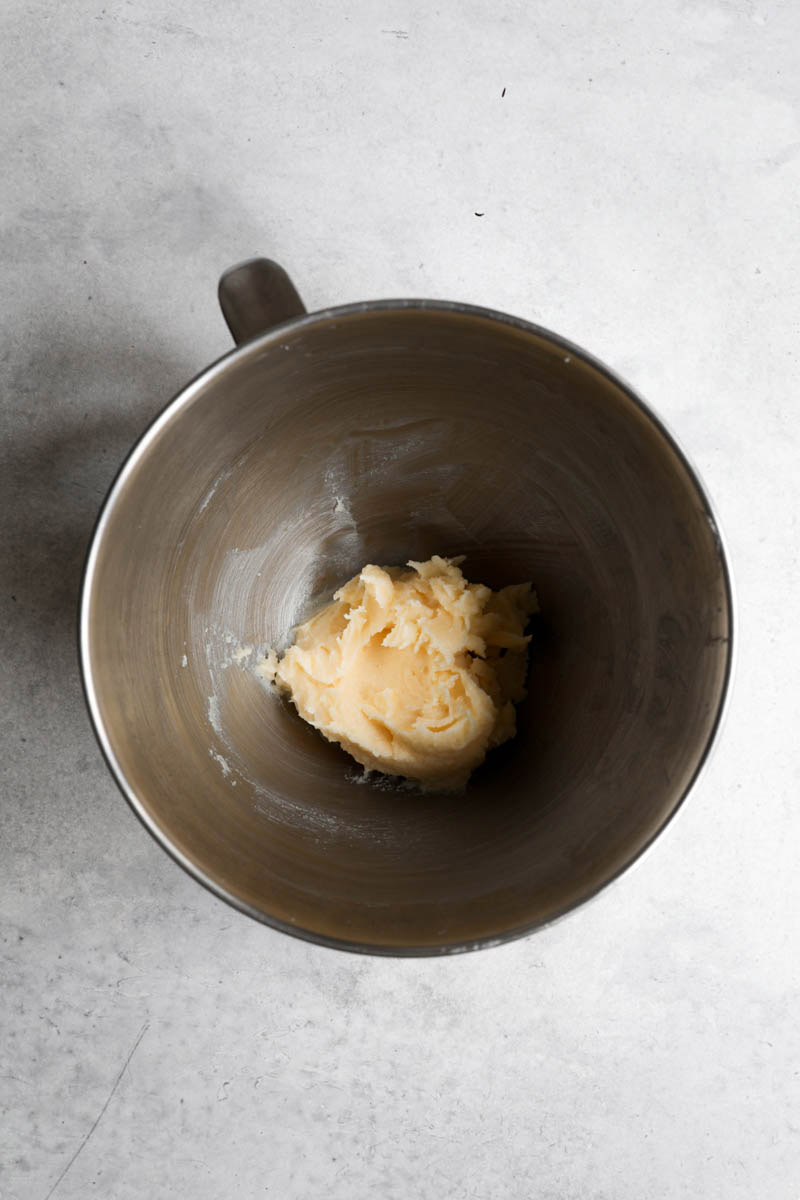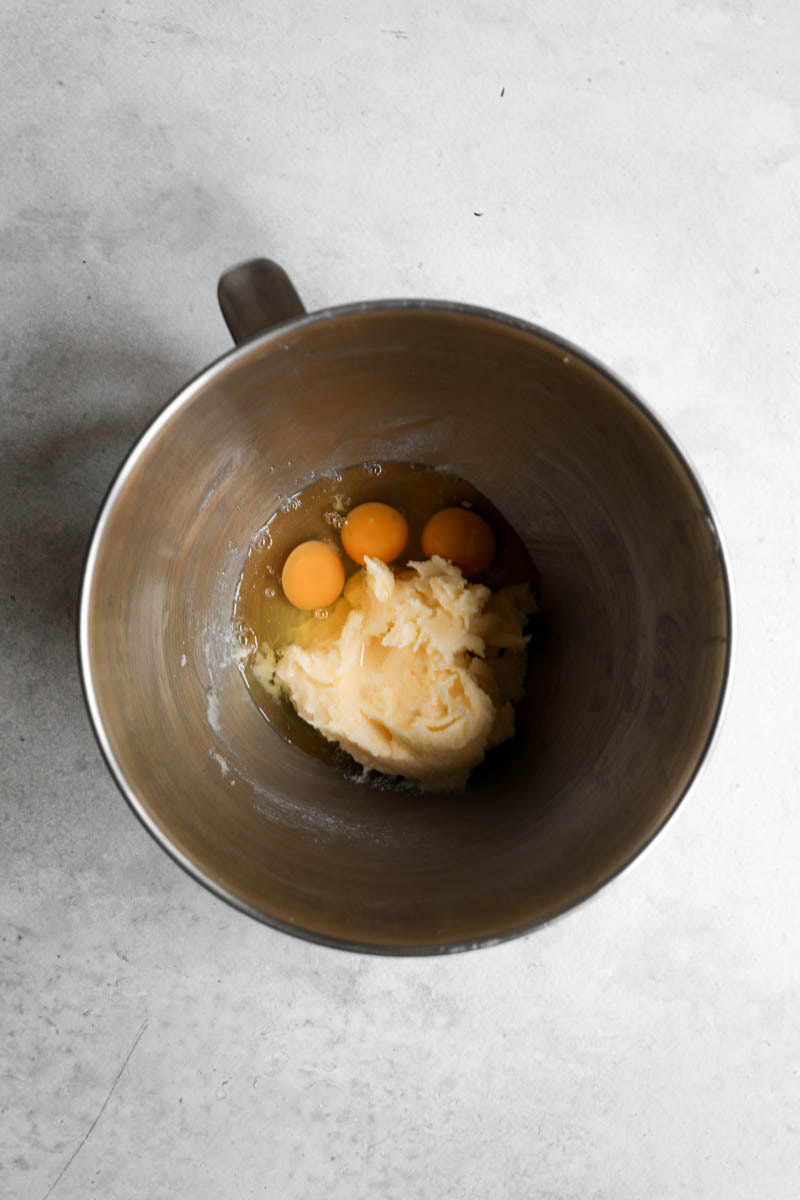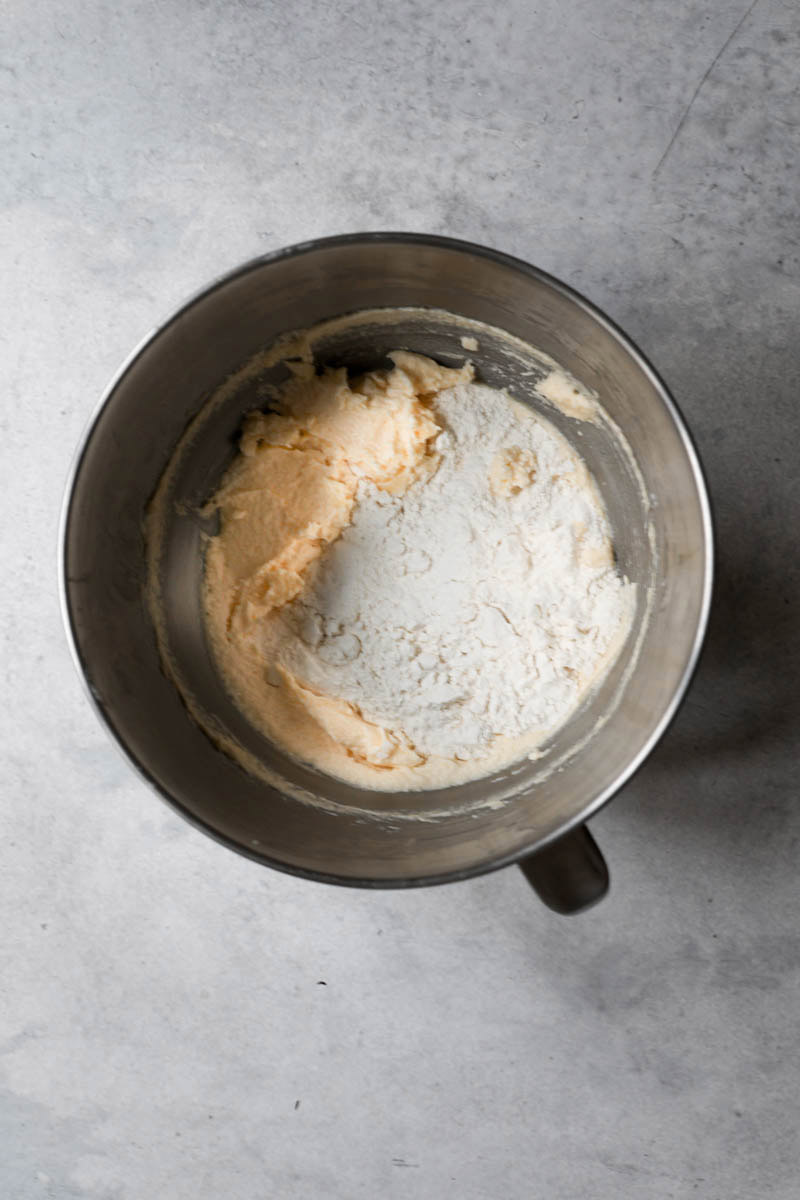 To chill or not to chill before baking?
That is the question! If you are a planner, and prefer to eat this cake freshly made, you can make the batter ahead, transfer to the Bundt cake pan, cover with plastic wrap, and refrigerate overnight. You can chill it for up to 24 hours.
Once you are ready to bake, let it sit at room temperature for 30 to 40 minutes. Then bake and glaze as instructed in this recipe.
Baking the cake
Two important things when baking this cake, and any other cake for that matter:
Make sure your oven is pre-heated!
Butter and flour your cake pan like your life depended on it. Using a brush, and softened butter, cover every little corner of your Bundt cake pan! This is the reason why you will be able to unmold this Bundt cake and eat it!
Then transfer the cake batter onto the pan and distribute evenly using an offset spatula or the back of a spoon. Bake for 45/50 minutes approximately. Check by inserting a skewer, a cake tester, or a knife into the cake; if it comes out clean then you can remove from the oven.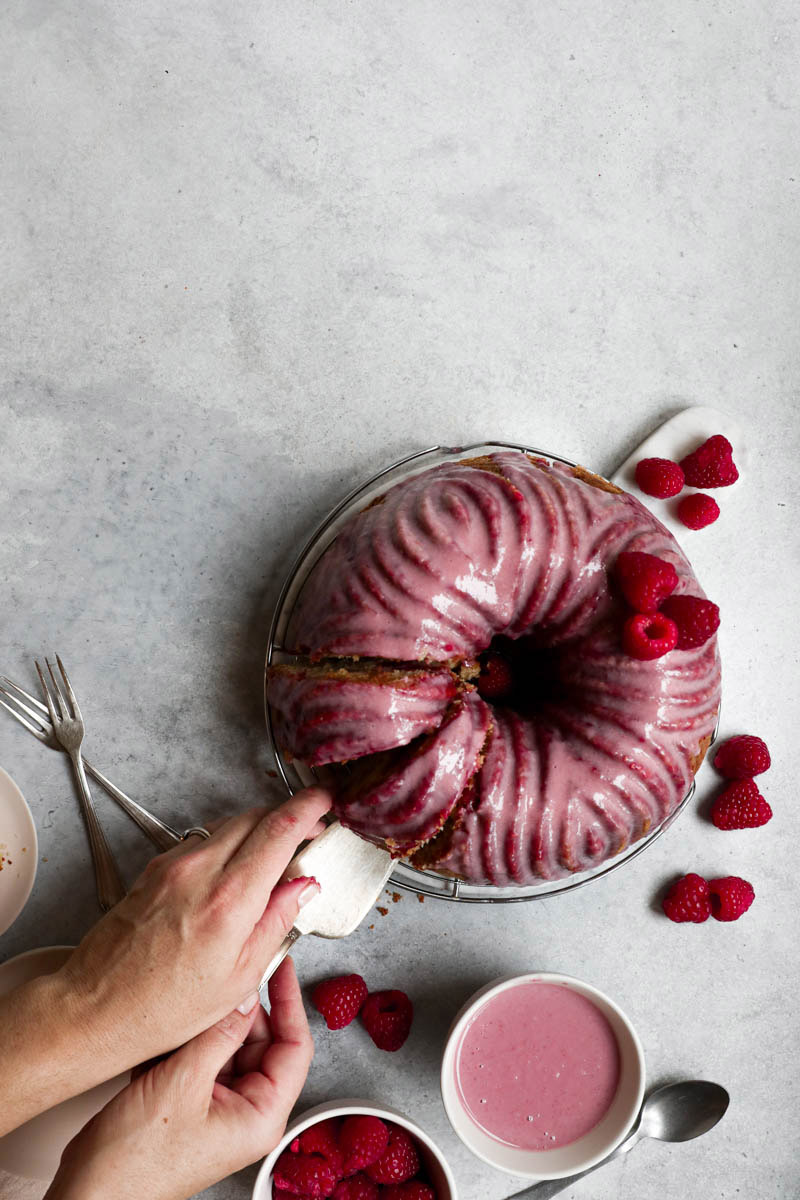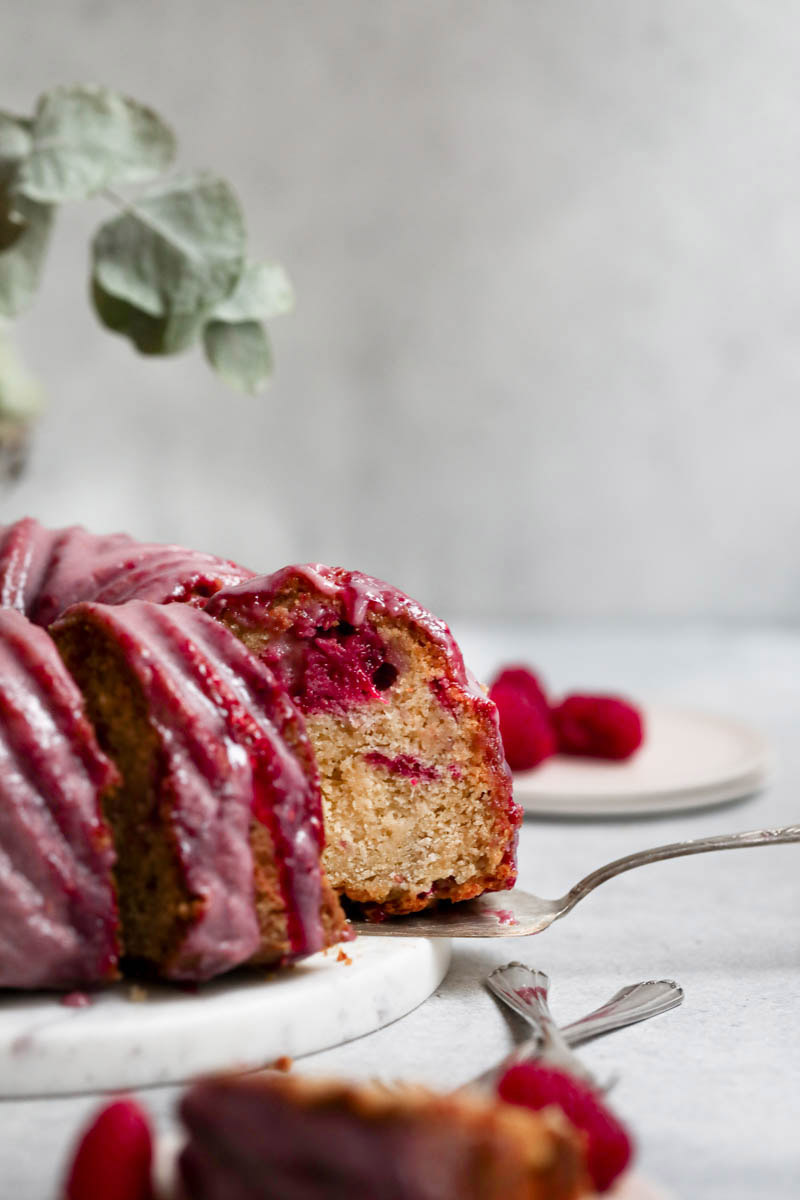 How to get the cake out of the Bundt pan?
Let it sit in the pan for 5 minutes.
Then turn the pan over a cooling rack, let it rest for a couple of minutes and then remove the Bundt cake pan. Use gloves or 2 kitchen towels to avoid burning your hands.
Let the white chocolate raspberry Bundt cake sit at room temperature until it has completely cooled off.
The glaze: a raspberry white chocolate ganache
To make this raspberry white chocolate ganache recipe, you simply must:
Puree the raspberries and strain over a fine mesh sieve to remove the seeds. Weigh out the 100 g needed after you have strained the raspberry pulp.
In a small pot, bring the whipping cream and the raspberry pulp to a boil. Pour over the finely chopped white chocolate and whisk until combined.
Let the ganache set for 5-10 minutes, then pour over the white chocolate raspberry cake.
Let it set before slicing the cake.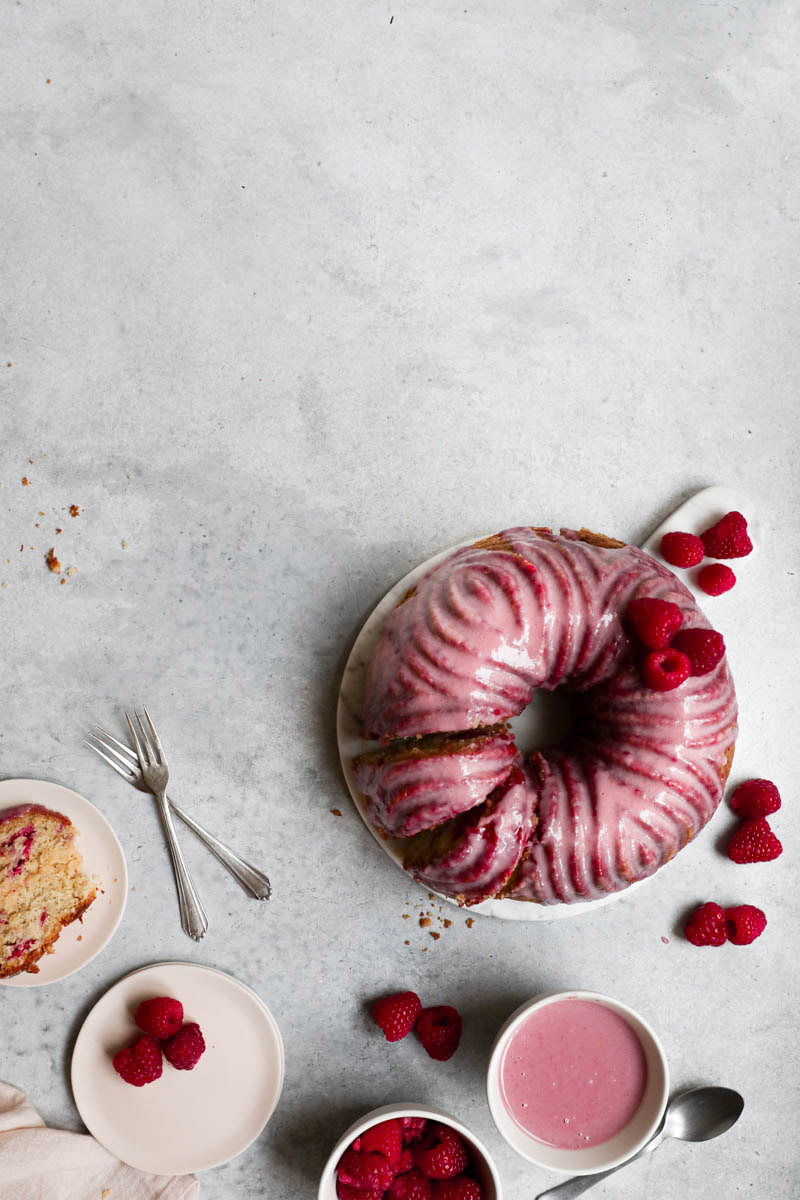 Storing this Bundt cake
Once it has been frosted with the white chocolate ganache this cake keeps at room temperature for up to 4 to 5 days. You can cover it with a cake keeper or a bowl to protect from dust.
Once it has been sliced you can cover the cut edges with plastic wrap to prevent the cake from drying up.
Variations to this white chocolate raspberry Bundt cake
You can choose to cover the cake with a different frosting if you are not a fan of white chocolate ganache.
A simple raspberry glaze will do the trick. You can get a recipe here Raspberry Glazed Cake Donuts.
You can also just dust with powdered sugar and call it a day!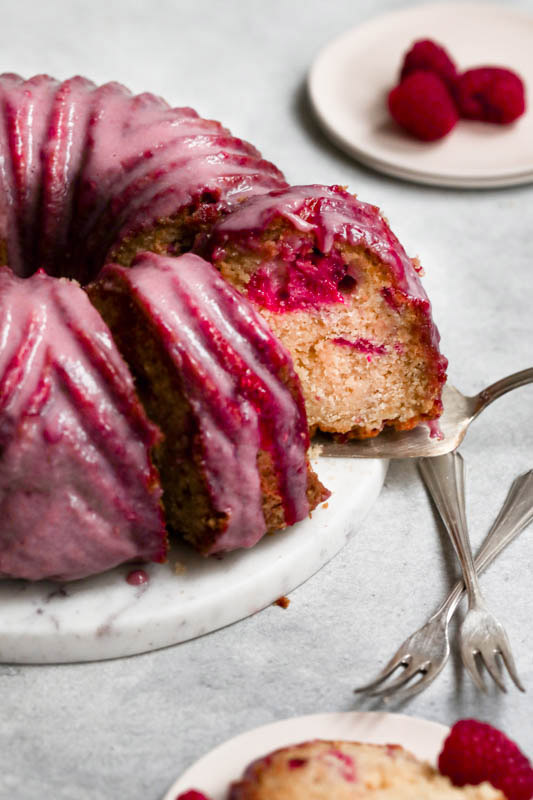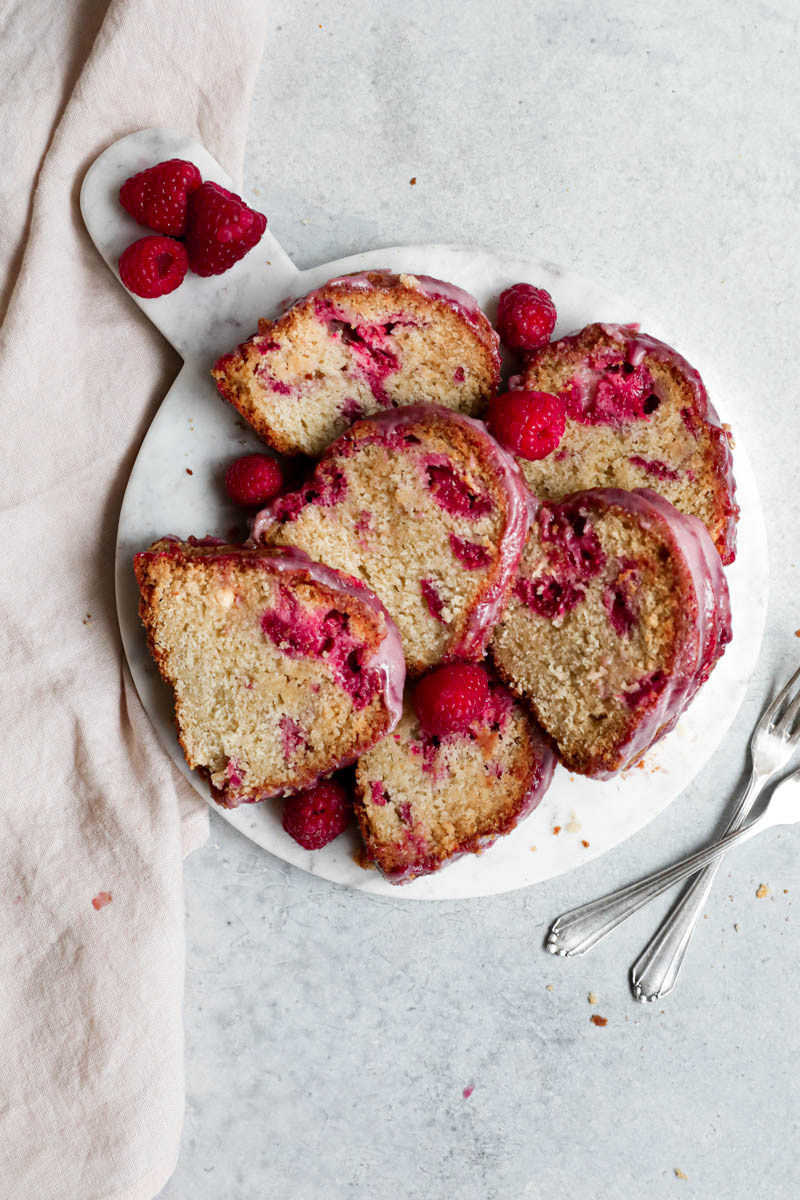 If you made this recipe I would really appreciate it if you leave a rating or comment below! Also, if you share on social media please use #cookwithbelula, I would love to see what you create!